It's VIP all the way with Pooches & Pinot
At Pooches & Pinot we understand how much you love spending time with your pooch – so why not bring him or her or them on a Yarra Valley wine tour!
In fact, we go one step better, we organise your whole itinerary, book it all in, pick you up from your house* and drive you on your very own private tour?!
*(up to 75kms from Healesville)
Why choose Pooches & Pinot?
'Puppy for a Day' let's you do a private day's tour with Henry (red Koolie who loves licking people) or George (white Schnoodle who enjoys cuddles, as long as they are quickly followed by a treat).  They'd love to spend the day out with you, showing you all their favourite places in their own back yard – take them for a walk on the lead and enjoy their company at the pet-friendly wineries and places we visit.
Just tick that box when you enquire.
(The boys don't charge for their time with you, but if you'd like to make a donation of up to $10, we will match it and donate it to our chosen doggy charity which this year is the RSPCA)
We arrange your entire day's itinerary, booking you in to all the best pup-friendly places our region has to offer.  Collecting you from your door* in one of our comfortable Mercedes touring vans (which comfortably seat up to 6 people and 2 dogs) we chauffeur you around our beautiful Yarra Valley like VIPs for the day, sharing all the best dog-friendly spots with you.  You've got three tours to choose from – the Half Day Tour (which we run mid week for the lightweights/time-poor amongst you), the Full Day Tour (for the leisurely hedonists) and the Dog's Bollocks Tour (for those seeking rockstar royalty treatment).
If you're celebrating a birthday or a special occasion, let us 'big it up' for you – we will have a delicious cake made for you, to be brought out at one of the wineries with glasses of sparkling.
Your puppy dog will be adored wherever we go and will get to enjoy treats during the day (with your permission) from none other than Laila & Me.  Our fabulous tour guides are happy to look after 2 dogs per tour – as long as the 2 dogs live together or know one another well and are used to socialising together. Prior to booking we ask you to sign a Doggy Disclaimer form, which ensures we've covered off all the important admin stuff like all vaccinations are up to date, what meds your dog is on etc.
*(free pick up within the Yarra Valley, for addresses up to 75 kms from Healesville, additional charges apply)
Take the time to enjoy a whole day out in the valley with your pooch and your own personal guide.  The day has a lovely relaxed feel, with enough time to enjoy all the tastings you want as well as truly taking your time over lunch at one of the Yarra Valley's most gorgeous dog-friendly cafes, there's no rushing on a full day tour.  You can enjoy an adventure walk at a super local spot, or fit in another tasting –  we're all about flexibility so you get the most out of your day.  And it's fully inclusive, your tastings and lunch are included in the price, as is your pooches hand sewn bandana!  If this sounds like what you're after, enquire now and see if we have availability.
Inclusive of all tastings, a beautiful hand sewn doggy bandana, sumptuous lunch & doggy treats (from Laila & Me).
Pickup : 10am
Return : 5pm
Tastings : 4 to 5 (depending on time)
Lunch : at a delightful pup-friendly cafe
Dogs : 2 max
1 person : $419 per person
2 people : $279 per person
3 people : $229 per person
4+ peeps :$189 per person
Upgrade to the Dog's Bollocks Tour
Take it to the next level
This is the VIP version of our Full Day Tour.  With bells on.  It's our all singing, all dancing option where once again you don't put your hand in your pocket all day long AND comes with the following extras:
For just $30 more per person:-
Upgrade to a winery lunch with a wine-tasting first where you get to choose your glass of wine to enjoy with lunch.
Have sensational photos taken of you and your pooch on your adventure, written up in a cheeky blog (check them out here) and sent to you as a lovely keepsake.
Receive a complimentary bottle of our favourite local Yarra Valley wine at the end of your tour.
These extras make a great Full Day Tour EVEN GREATER!
Inclusive of all tastings, winery lunch, doggy treats, a gift of a bottle of wine and your very own personalised blog with photos.
Pickup : 10am
Return : 5pm
Tastings : 5/6 depending on time
Lunch : Winery Lunch (eg Gourmet platter, Wood Fired Pizza or Pasta with a glass of wine)
Dogs : 2 max
1 person : $449 per person
2 people : $309 per person
3 people : $259 per person
4+ peeps :$219 per person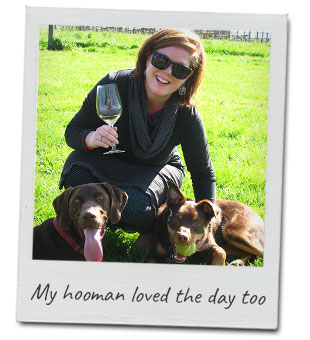 We created this tour for those of you who want to visit the valley mid week and can't spend a full day touring with us.  😢 But if you have the time, one of our full day tours is much more leisurely for you and of course we can fit heaps more in, AND include a beautiful lunch where you can sit back and really savour it.
On our half day tours, you can choose a morning or afternoon tour, and we'll pick you up from your Yarra Valley accommodation* and take you for a gin, cider or beer tasting paddle with your puppy by your side, and then visit up to three dog-friendly cellar doors before dropping you back to your accommodation.  Please note there isn't time on the half day tour to have lunch, so we recommend you have lunch before we collect you (gin tasting on an empty stomach can have curious outcomes!) :-)
*(free pick up within the Yarra Valley, for addresses up to 75 kms from Healesville, additional charges apply)
Inclusive of all tastings, hand sewn doggy bandana & doggy treats for your hound (from Laila & Me).
| | Morning Tour | Afternoon Tour |
| --- | --- | --- |
| Pickup | 10am | 1pm |
| Return | 2pm | 5pm |
Tastings : 4
Dogs : 2 max
1 person : $299 per person
2 people : $169 per person
3 people : $129 per person
4+ peeps :$109 per person
What date is good for you?
Check our calendar to see if your date is available then hit the button to start organising your pawfect day out.
Check out our video
to see why
you should book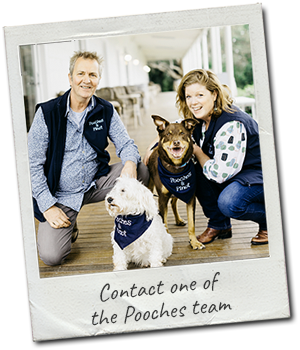 We love questions – so fire away.  Email us a quick question or use the tour enquiry form and we'll get back to you with answers as soon as we can.
Or feel free to give us a call if easier on 0488 046 993
Ask Jeff – he's Top Dog around here