Hey everyone, my name's Mushu and I'm 2 and I'm as brave as the dragon in Moulin, that I'm named after!  In other words, yup, I look fierce but am all bluster and frightened of everything.  But you know the funniest part – everything's frightened of me, because I am a big strong staffie x kelpie.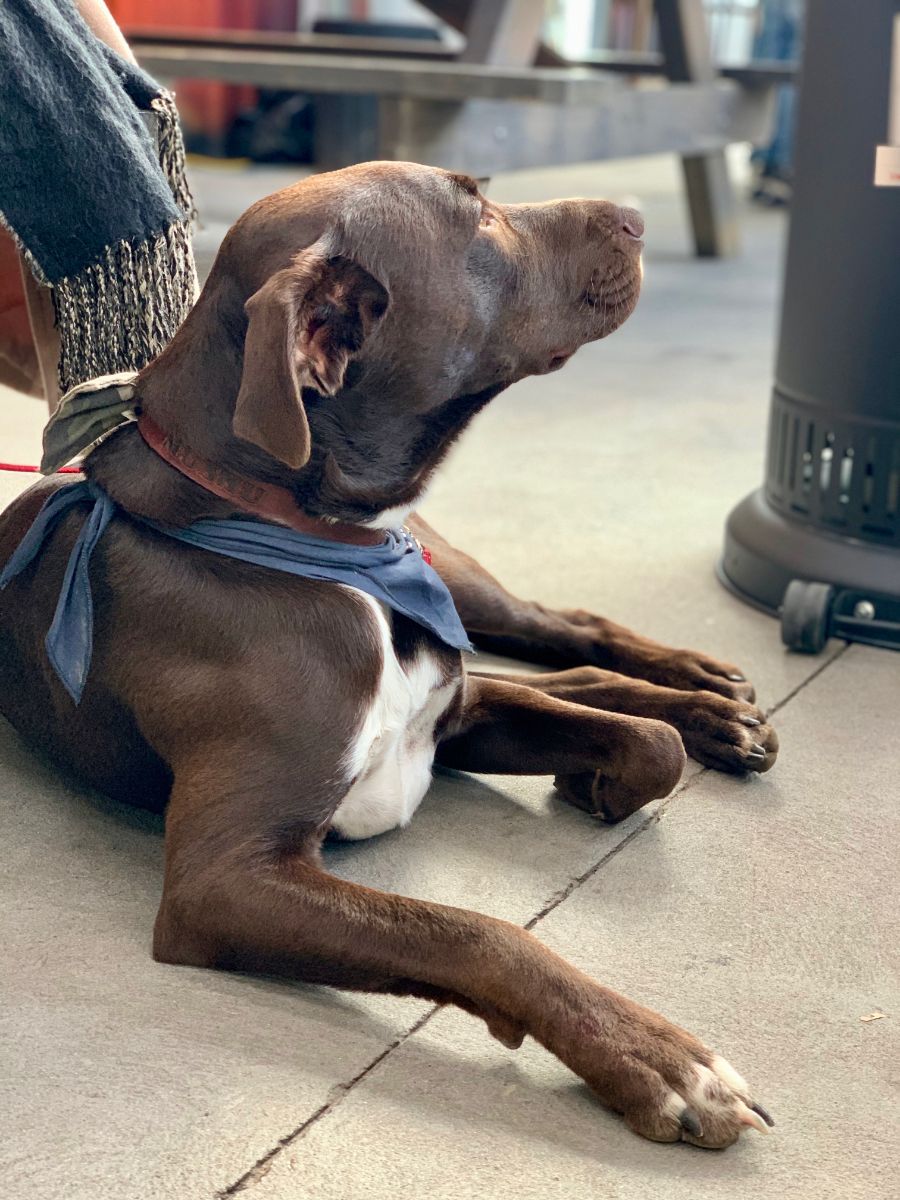 So anyway, I live in Churchill in the Latrobe Valley with my Ma and Pa, and they are the coolest cats ever.  My Ma is a fat jockey (man I'm not being rude, it's how she introduces herself to everyone – it means she races the picnic races and doesn't have to be as skinny as the skinny jockeys) and my Pa is Marlon, that's right, as in Brando, and he pumps ENORMOUS iron in the gym.  He's a bodybuilder muscle man kind of a guy and I adore him.  I go to work with Mum every day at the stud and the farm and help her train the horses which I'm terrified of!
But, we just did the coolest thing ever and I have to tell you about it because we've just got home and we're all knackered, but we had SO MUCH FUN I'm surprised it's even legal!
Mum booked us a weekend away in the Yarra Valley and we stayed at the apartment at Wiggley Bottom Farm and we had all our meals catered for because we had booked the Rock n Roll weekend package.  So, when we finally rocked up there on Friday night at 9pm (bcs Mum had been racing at Cranbourne that day) we found all these great meals in the fridge.  And even better, we got to use the awesome kitchen in the Tiny House to cook our meals, so that was a hoot!
And on Saturday, we woke to the most incredible views ever and I met some gorgeous dogs through the fence that I thought would play with me and be my friends and I offered them my squeaky ball and one of them, a Dalmatian called Polly, nicked off with it to the end of the lawn and didn't bring it back!  My Mum retrieved it for me (thanks Mum) and after we'd been cooked up our breakfast, I put my bow tie on ready,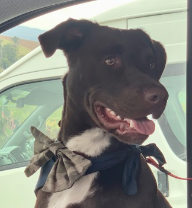 and this kind lady called Helen arrived in a massive Mercedez van and fell in love me at first sight (her words not mine) and gave me a bandana to wear and had a list of places to take us to, to try their wines and ciders and gins and all sorts.  And it was really funny right, because Dad made a big speech in the van on the way to the first winery, that he's not really a wine drinker and then spent the rest of the day loving every wine he tried and downing them all – I think we may have converted him!!
The first winery we went to was called Helen & Joeys and they had pet unicorns all over the place which I found quite scary – I spotted one as we were coming up the driveway so I was on guard!  But it was the coolest place and a lovely lady called Mel did our tasting and explained what each grape was and how they'd treated it and you should have seen the look on my dad's face when he drank their wines – it was like he'd never tried anything like it before.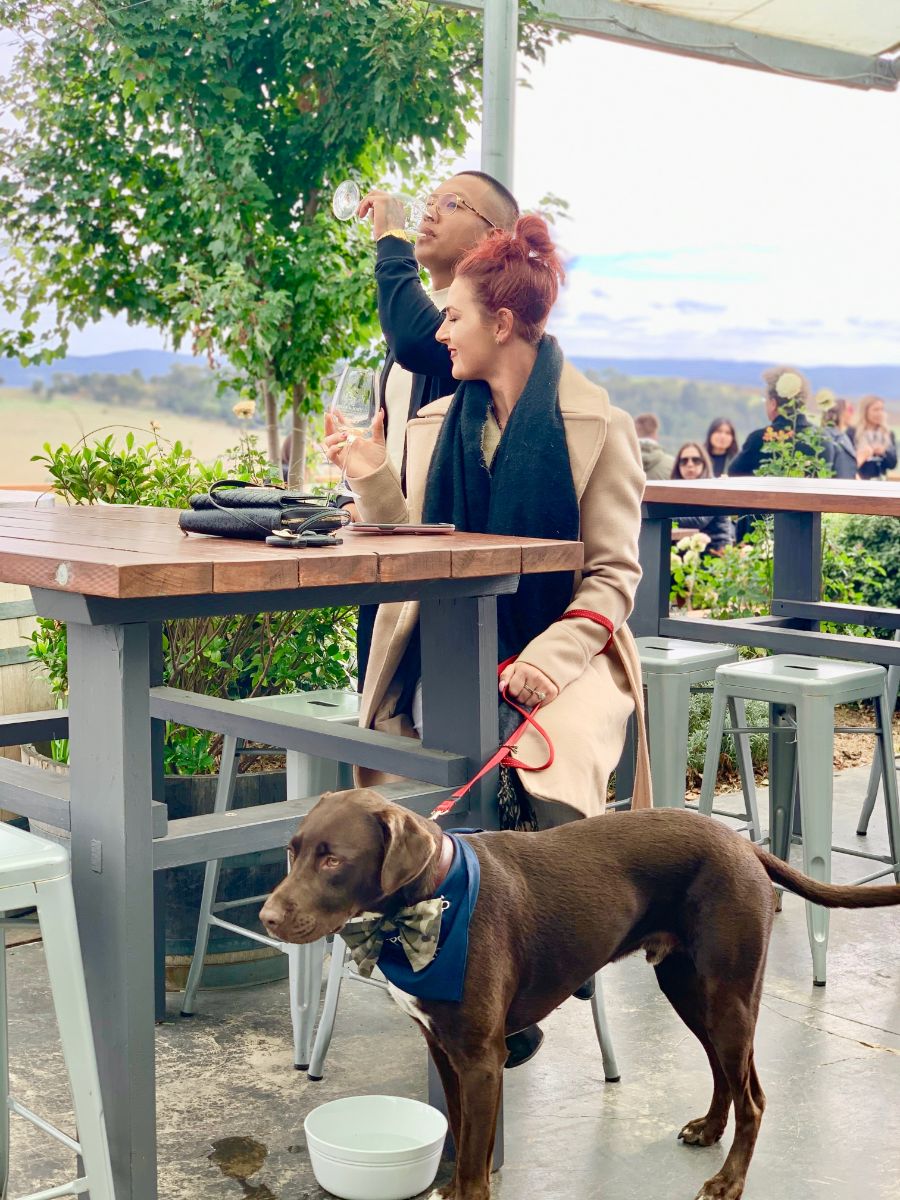 And this was where the adoration began really – I decided (at speed) to go and bravely check out the unicorn and I was nearly there when this mob of hysterical girls descended on me wanting to photograph me, stroke me and make oooohing and OMG noises all over me. So here I am trying to face my fears and get next to the unicorn and I'm mobbed.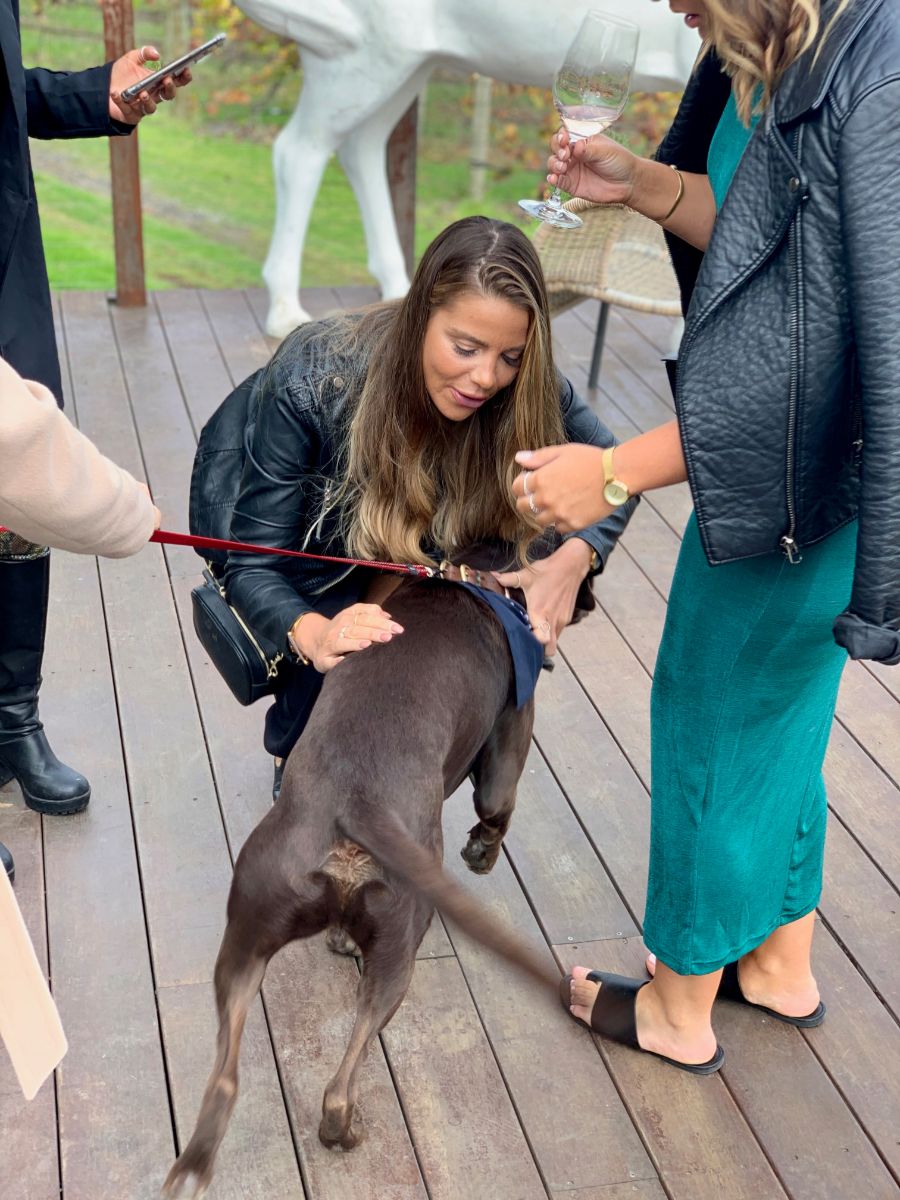 I indulged them for a moment til out of the corner of my eye I spotted a kangaroo lying down between two rows of vines.  And look, I'm a lover not a fighter, but I'm still 'interested' in wildlife, so I wanted to get a closer look.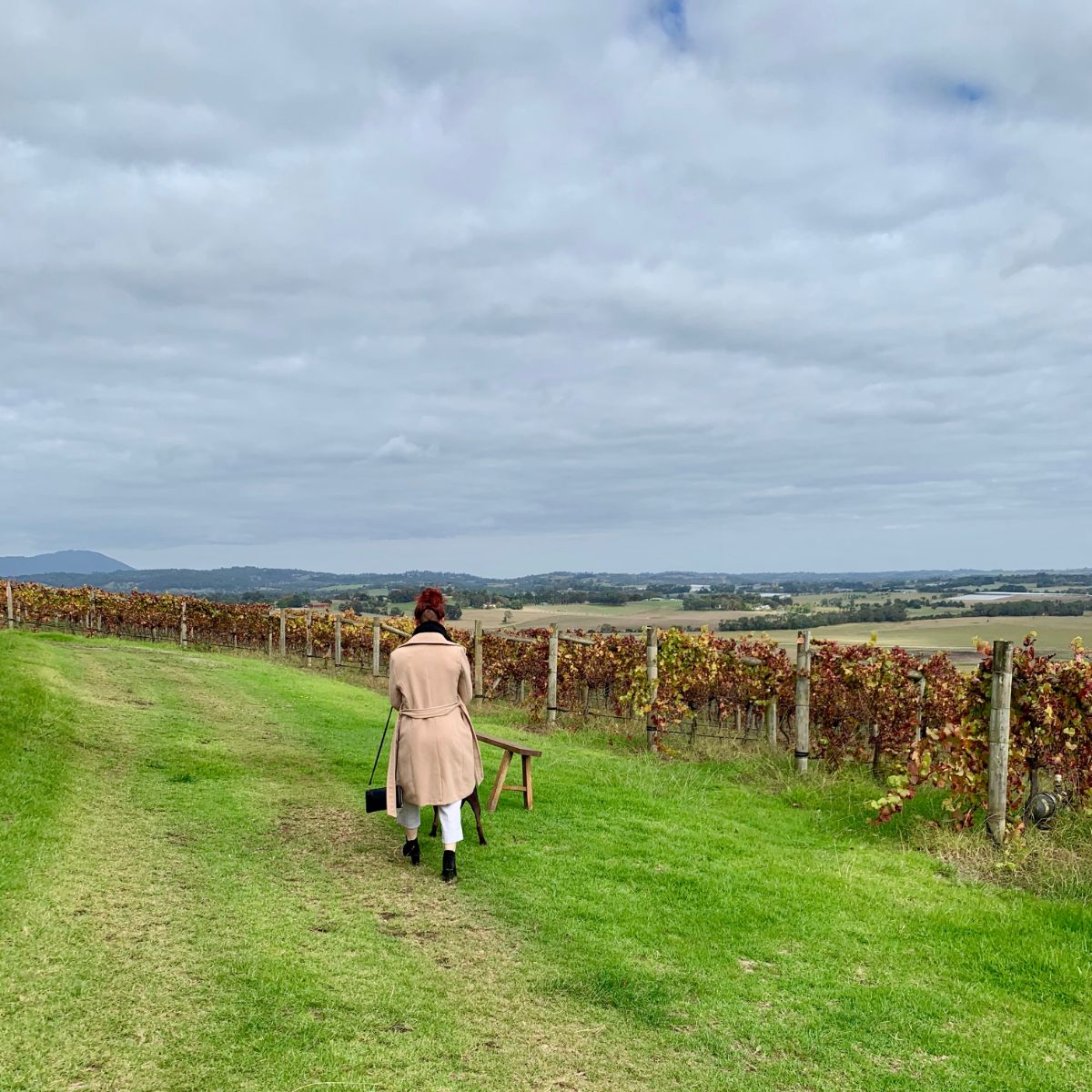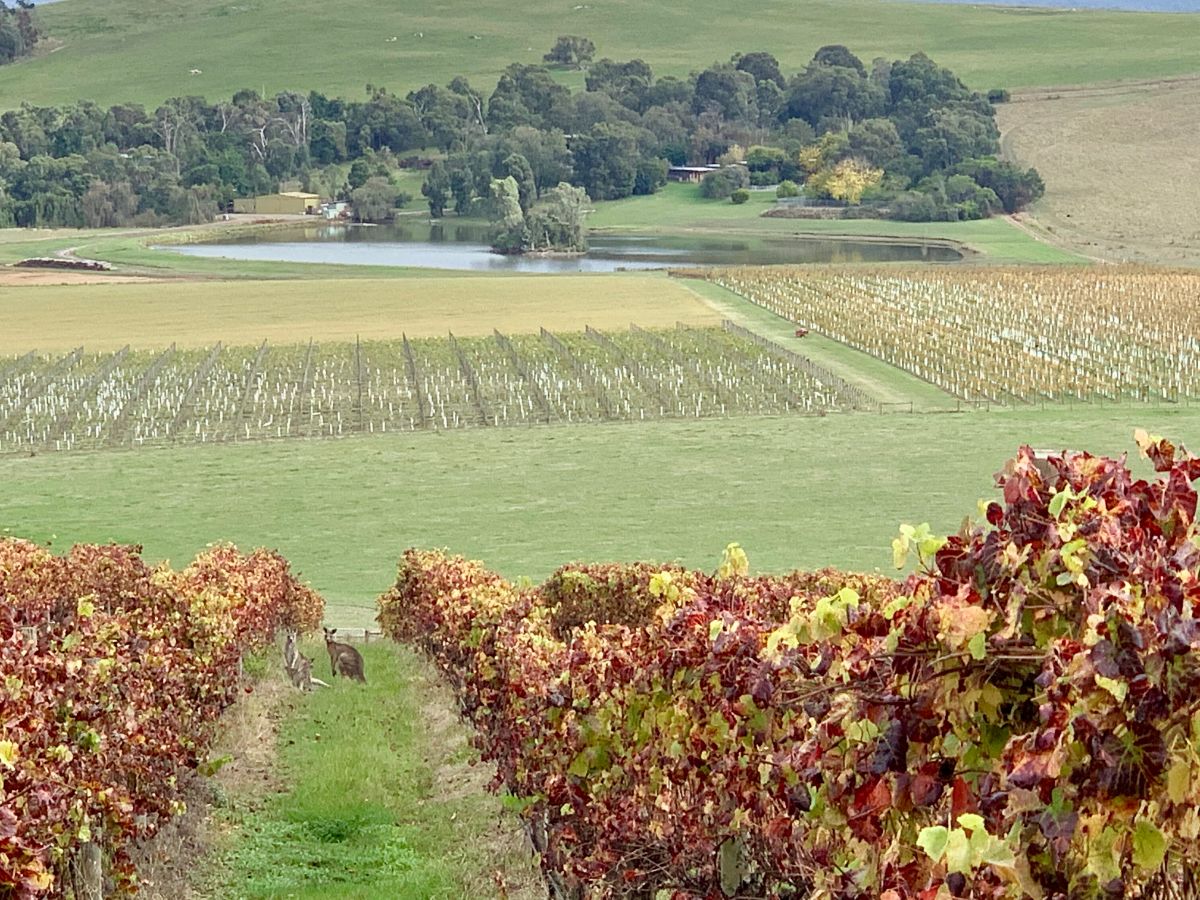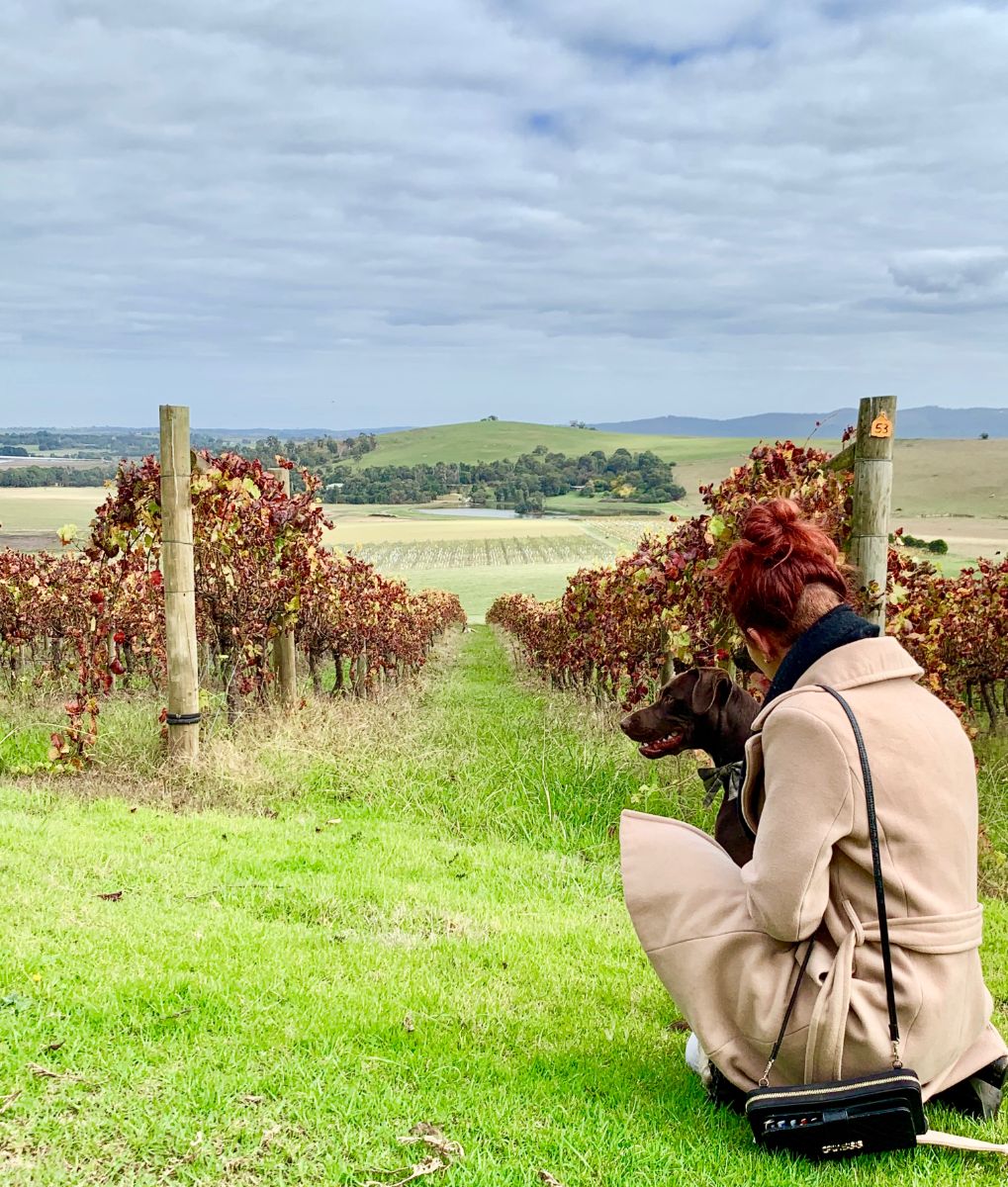 Once we got down to the roos I was a ridiculously well-behaved boy and I sat calmly and watched them and posed for Helen to take my photo while she heaped praise on me saying I am a credit to my parents whatever that means.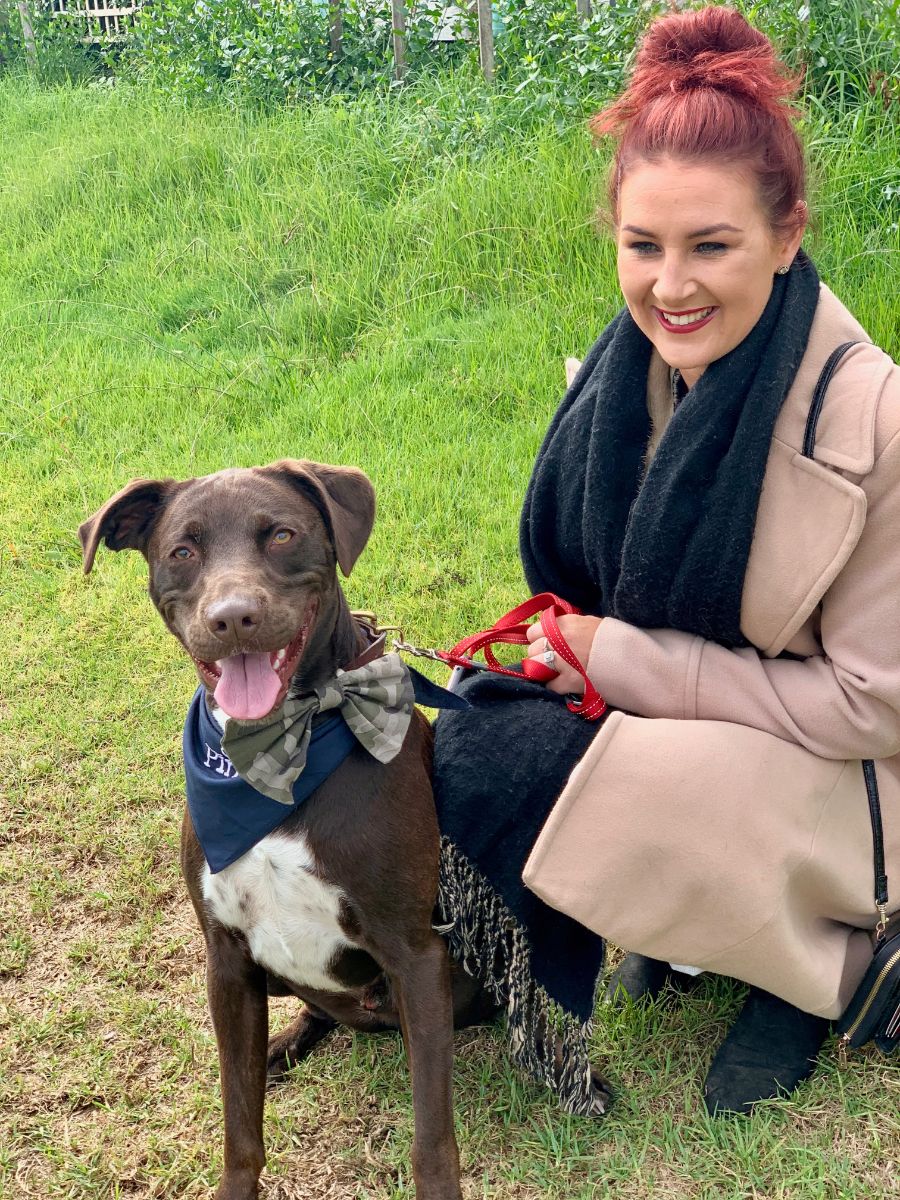 Once the photoshoot was over and Dad had purchased his favourite wine, we set off for Punt Road for more wines.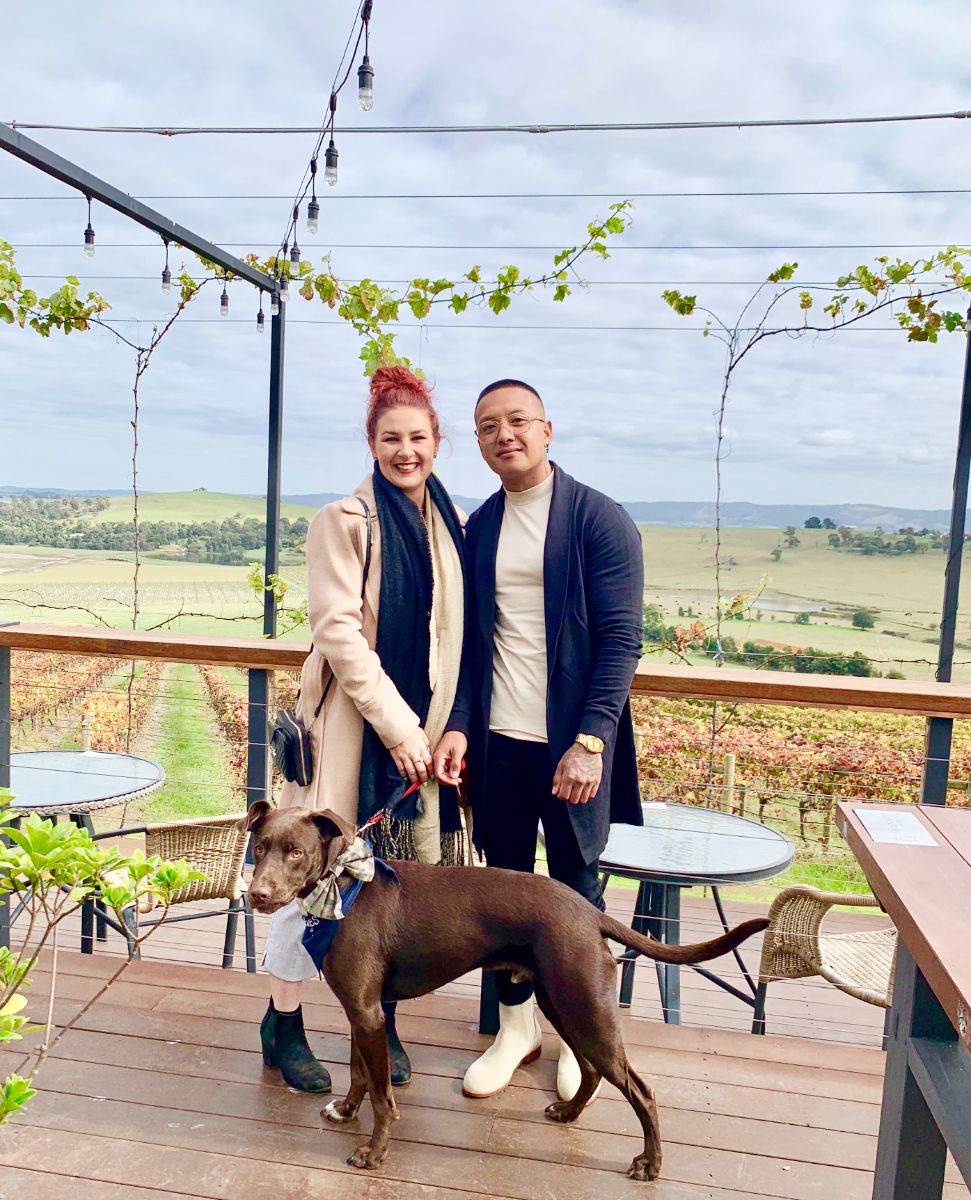 Here we met a man called Des and a lady called Katie and they looked after my Mum and Dad and fed them wines while I dragged Helen off for an explore.  God everything smelt so good and there was another small dog there and apples all over the trees and so much to see and do, AND a group of people on the tables near us who were dying to meet me, so I did the rounds (if I could hold a pen I'd have been signing autographs people)!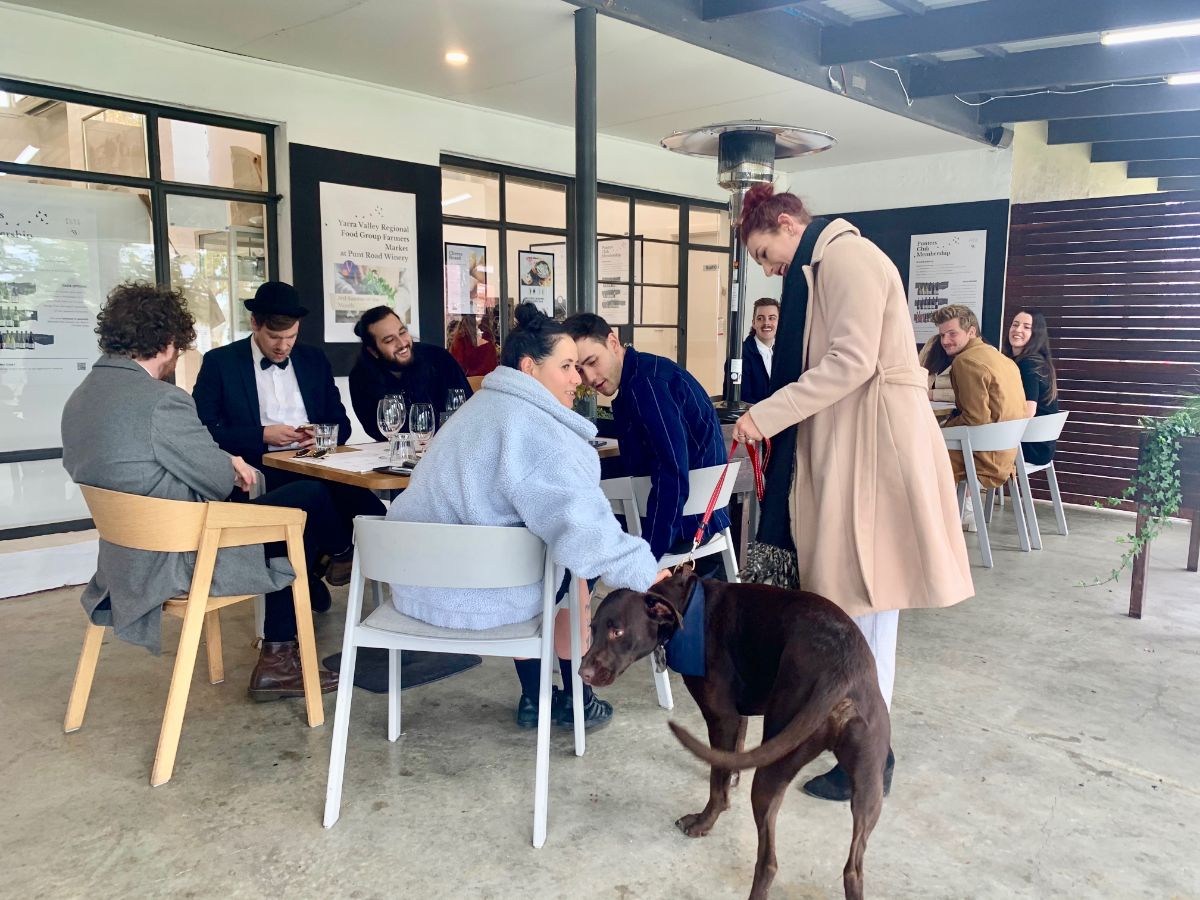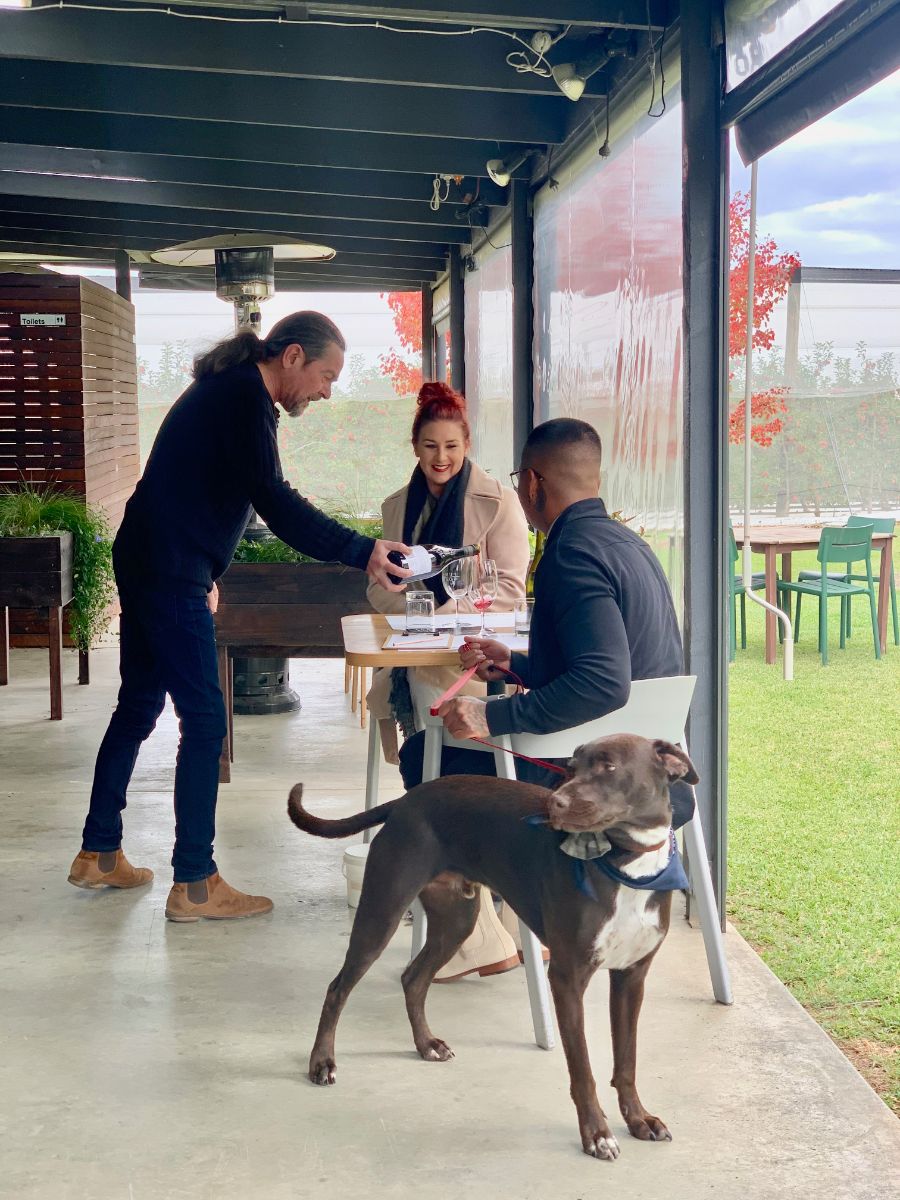 And I was seriously treated like a rock star – with bowls of water everywhere I went, Laila & Me liver treats from Helen's pocket, plus an entire bag of them in the car and pats galore!!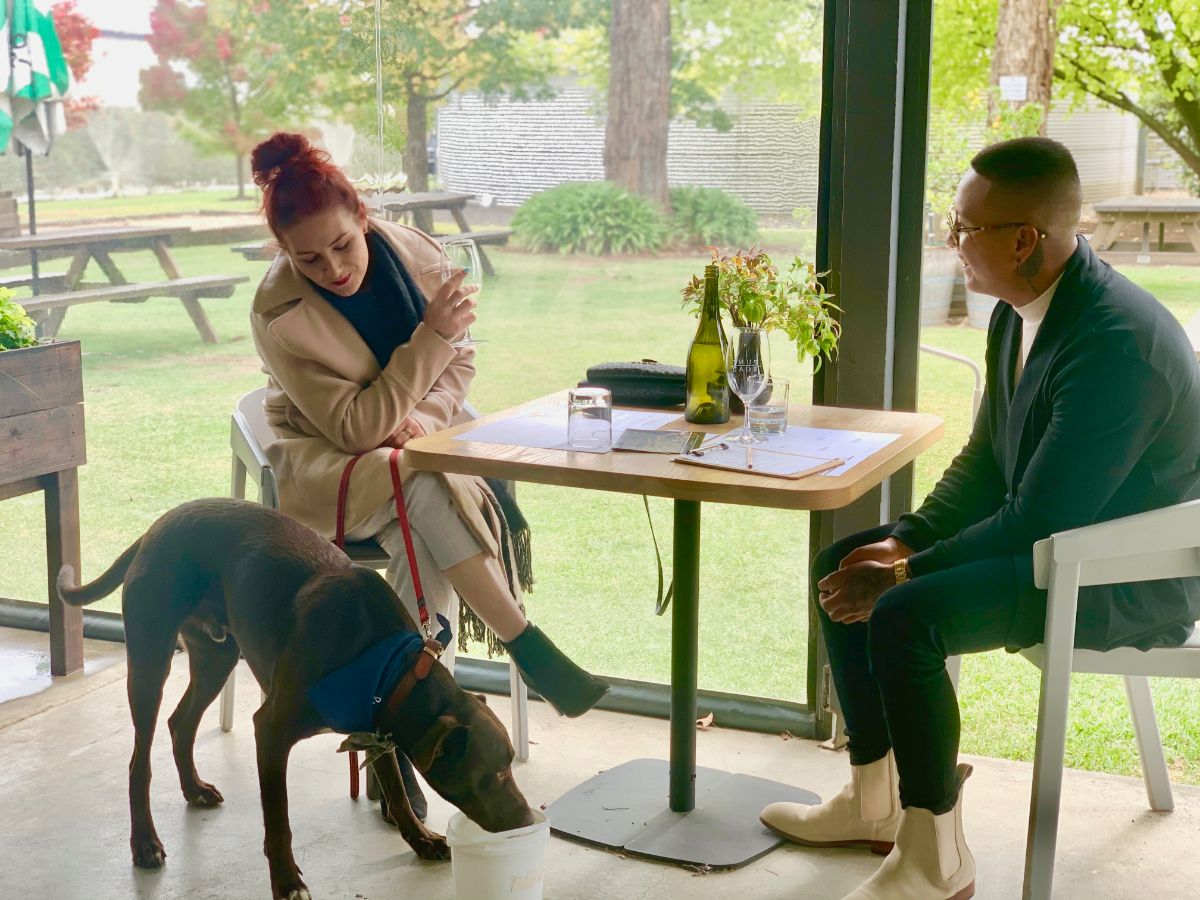 Helen had heard my parents saying they like cider and given that Punt Road is surrounded by apple orchards, Helen suggested we have a cheeky cider tasting paddle at the nearby pop-up bar Napoleone Cider – to which none of us said no, so over we went.  And look how cool it is, in the grounds of Punt Road Winery, this old shipping container serves cider to people!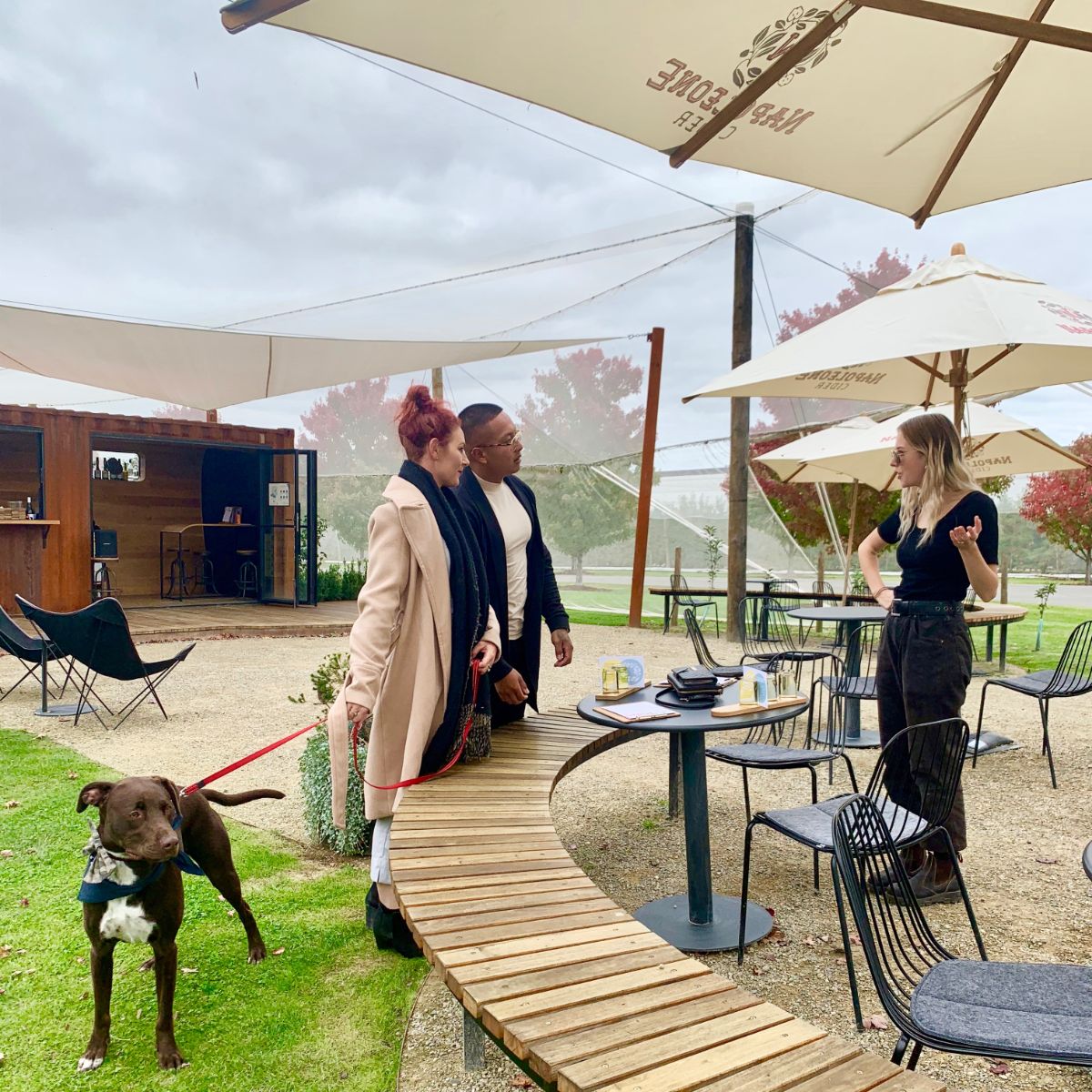 I met and got a back scratch from the manager Rob and heard all about his dog up in Kinglake and even got to see pics of it and then he said to me I could go and help myself to an apple fresh from the tree!  We all loved that – Dad had never had a fresher apple!  And look at the colour of them, they look fake they're so pink!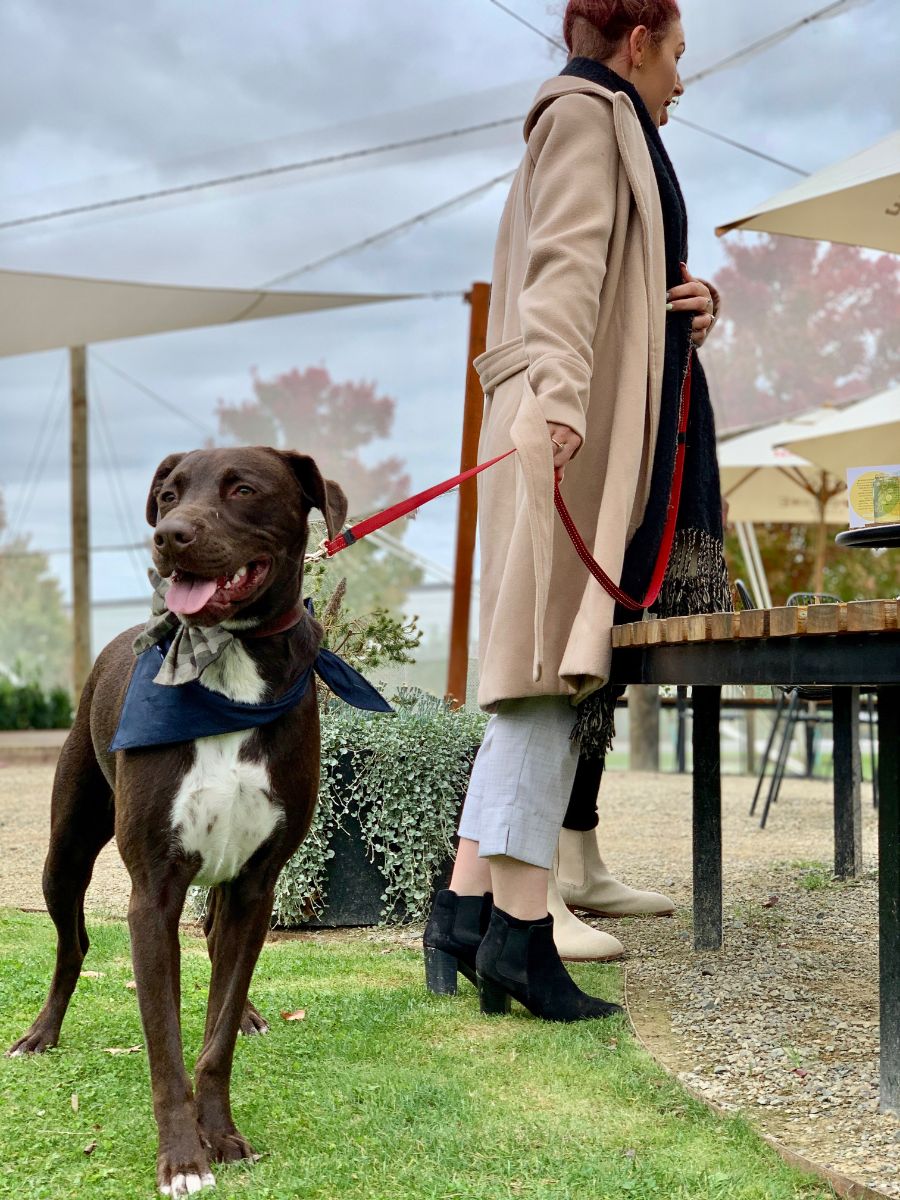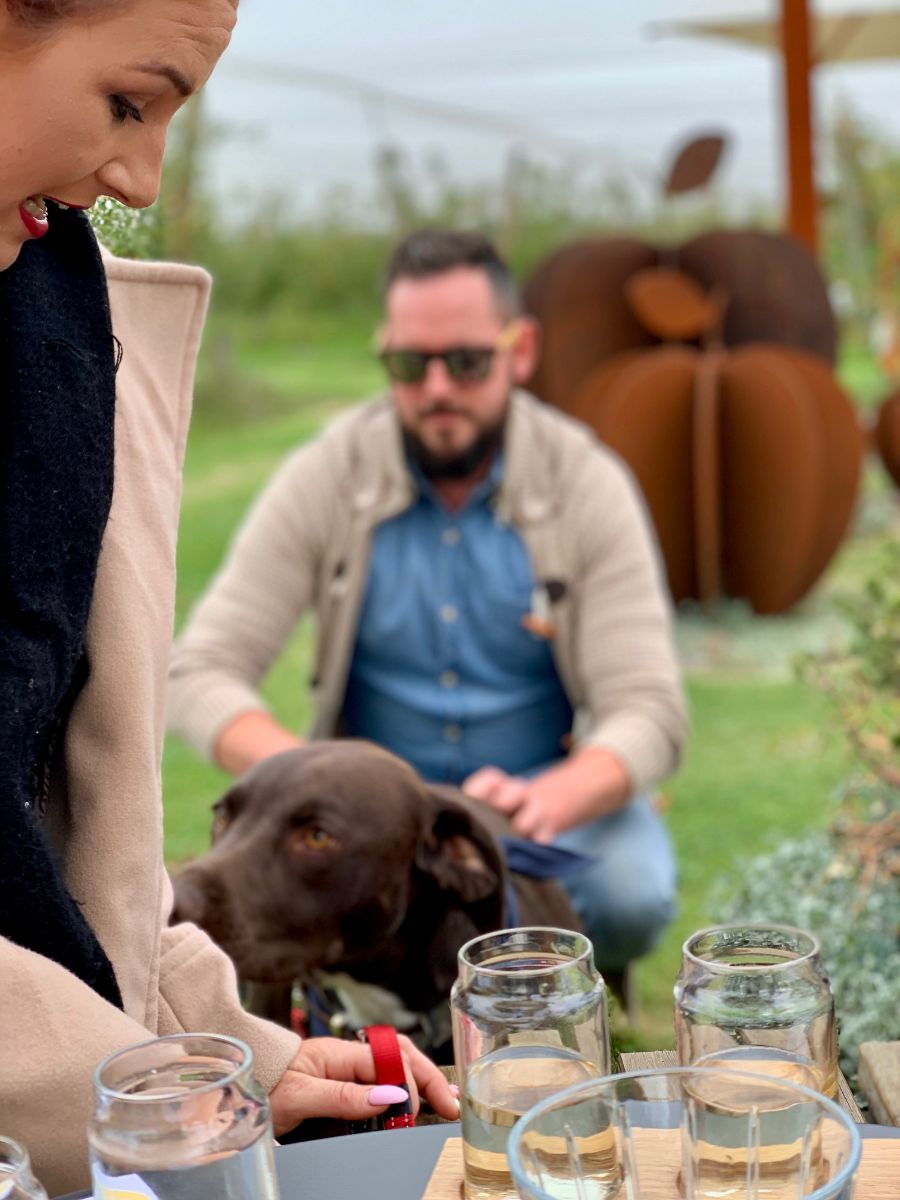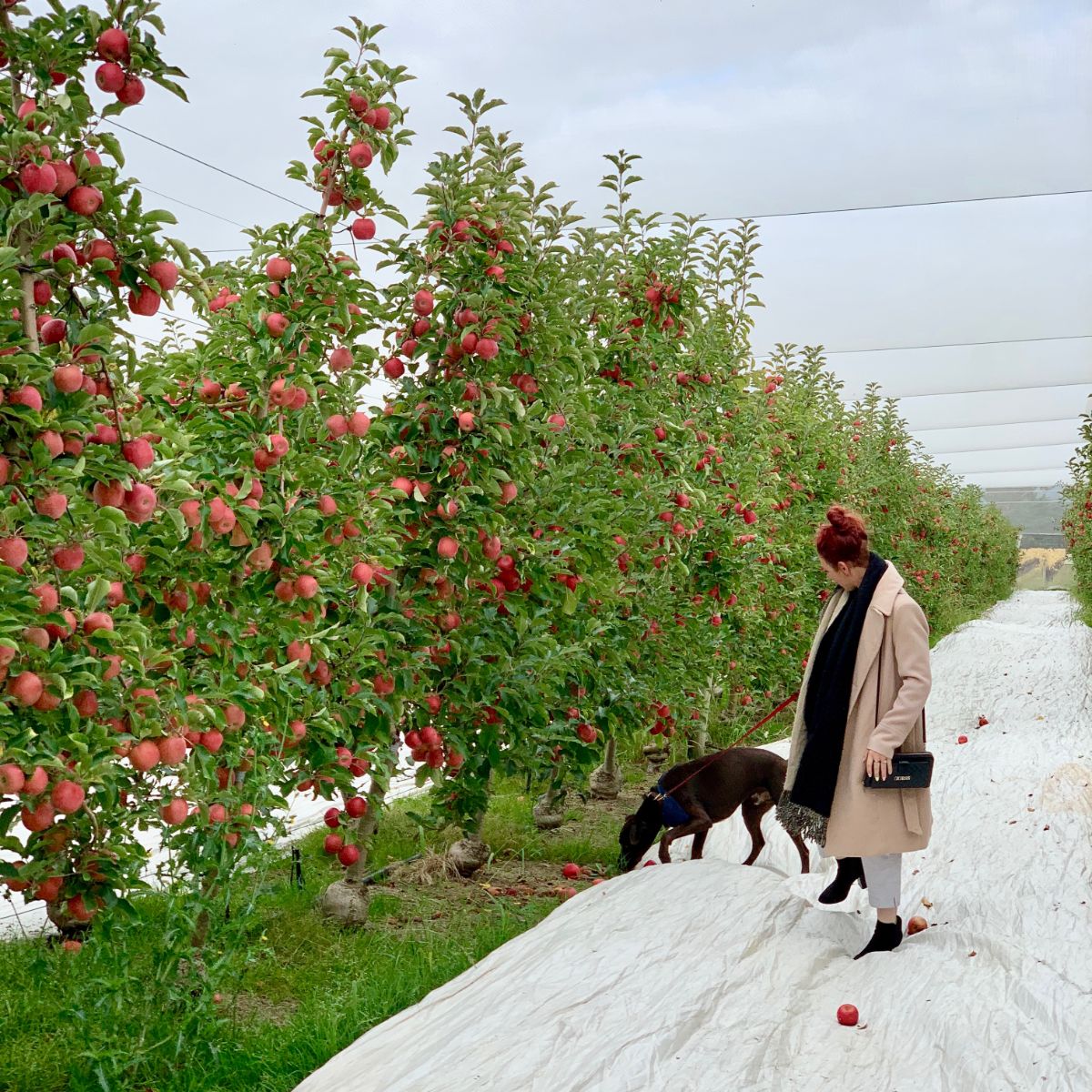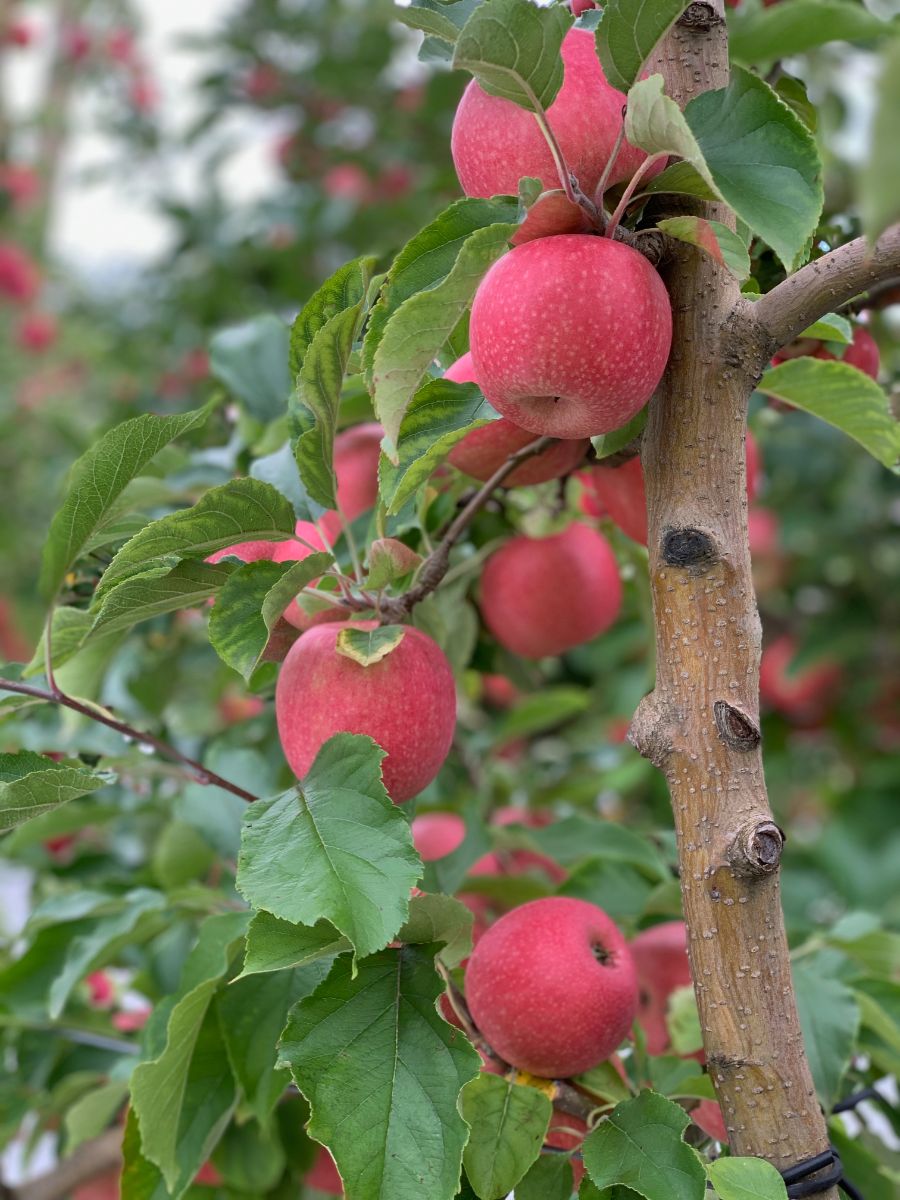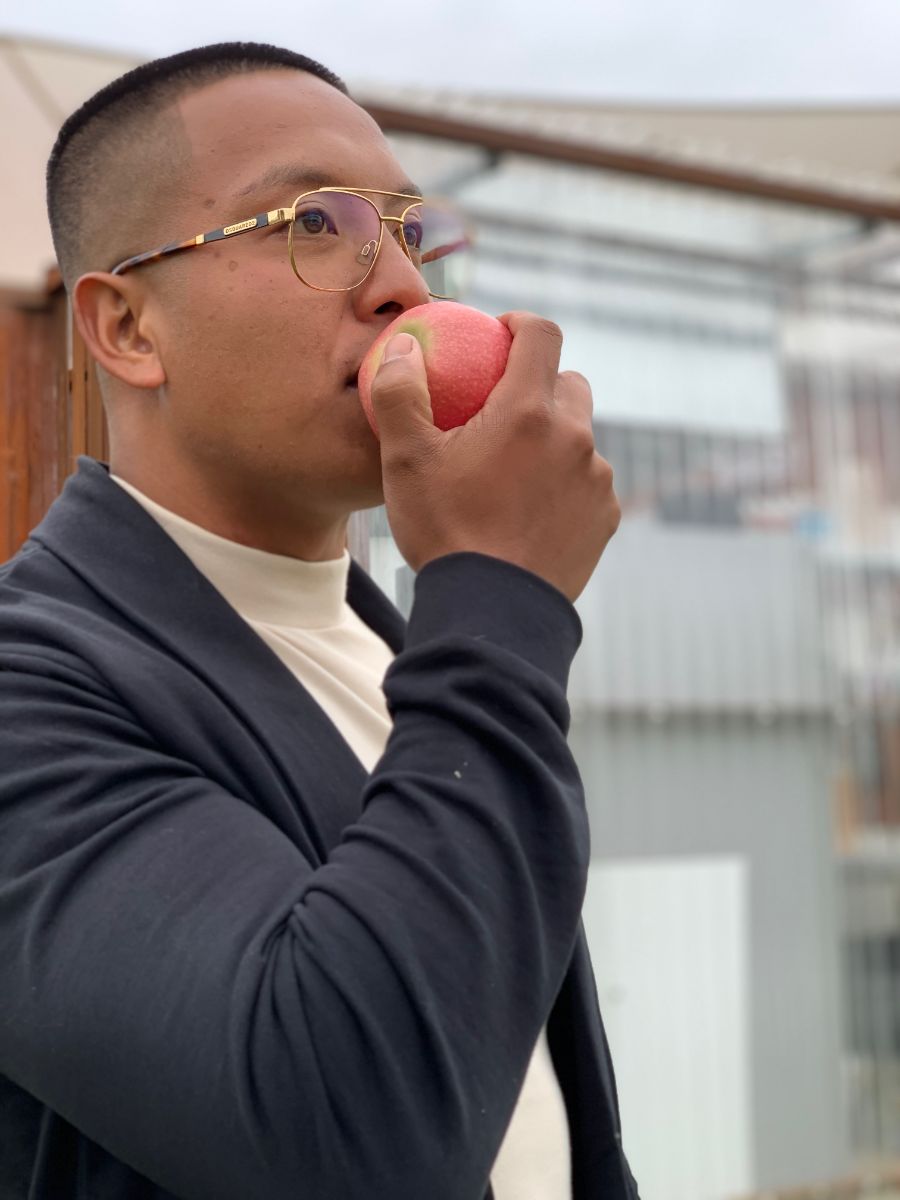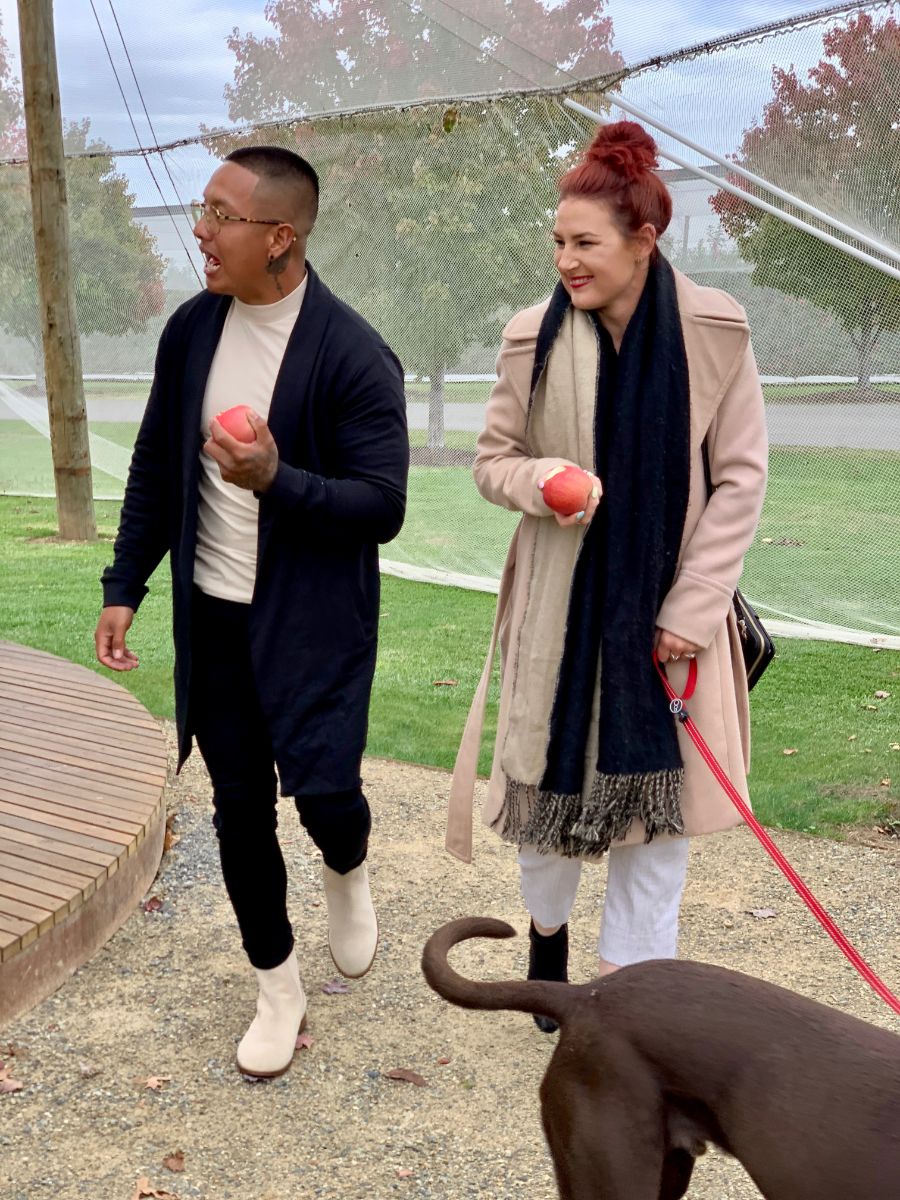 By now it was time to eat as Dad was getting a bit squiffy (the man doesn't drink, his body is a temple) so fortunately, our next stop was Yering Farm Wines, where we'd be having lunch.  So as Gio did a gorgeous wine tasting with my folks, I dragged Helen off to the lawn where from nowhere she produced a ball thrower, two smalls girls and a collie called Coco (Jeez, she thought of everything) and we spent the next hour chasing balls, tear arsing around.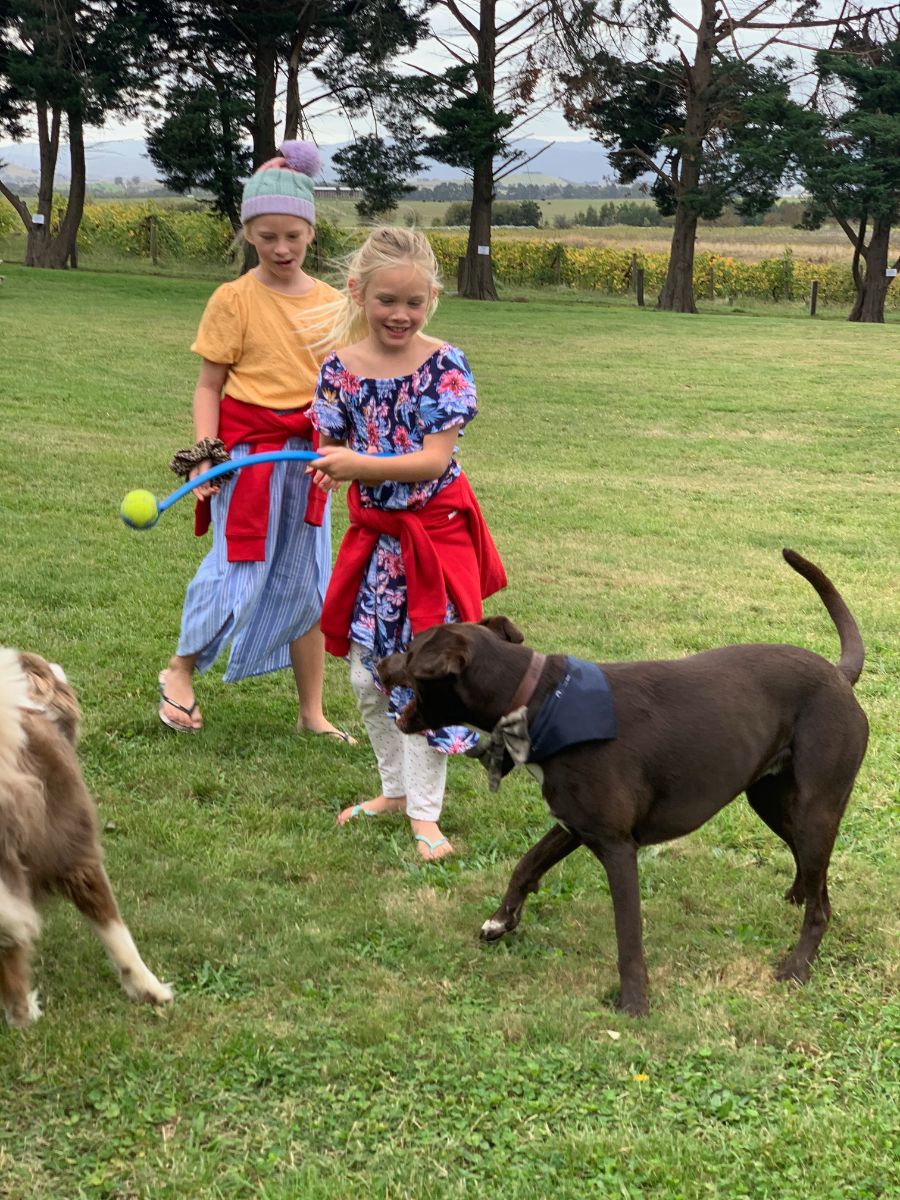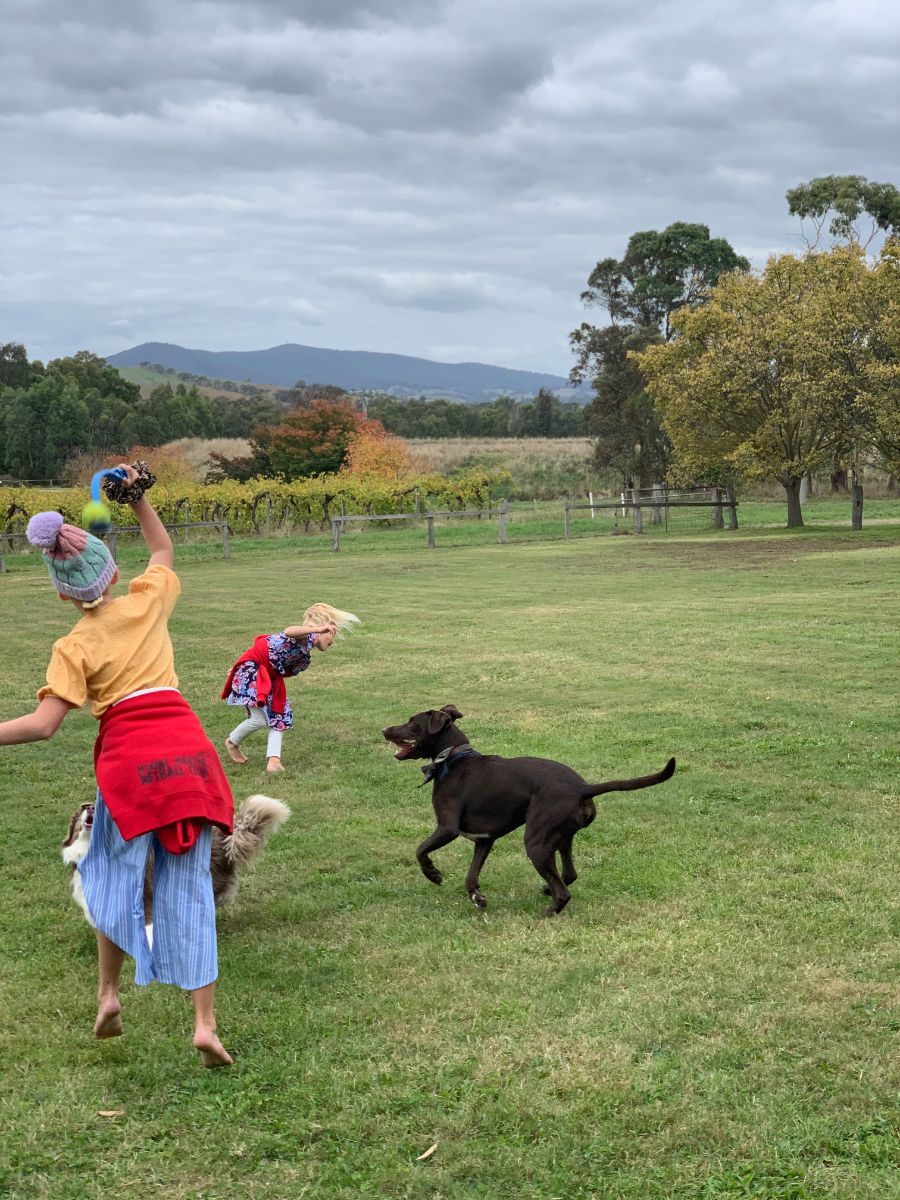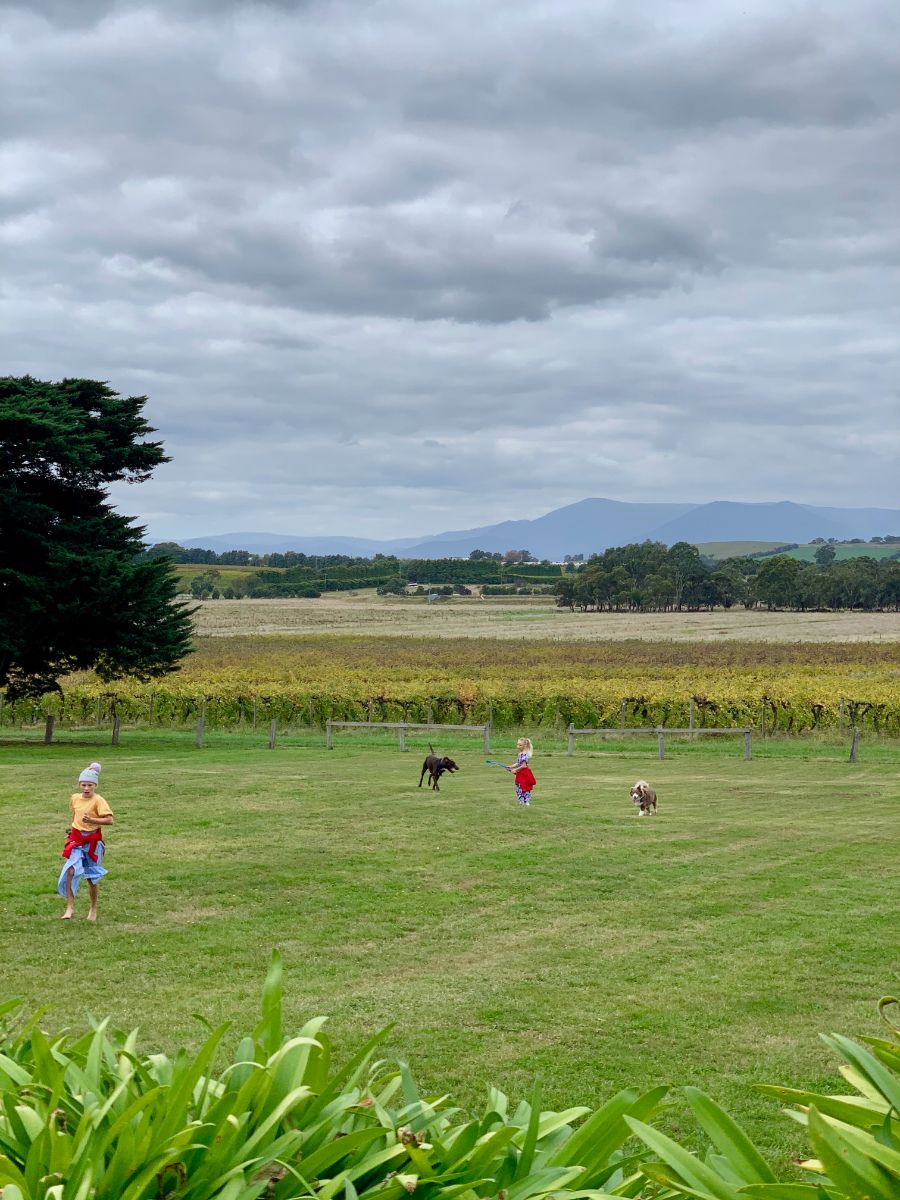 And as my parents enjoyed a fabulous plater lunch, I leapt in and out of the water butt to cool off and have a slurp – we were all VERY HAPPY.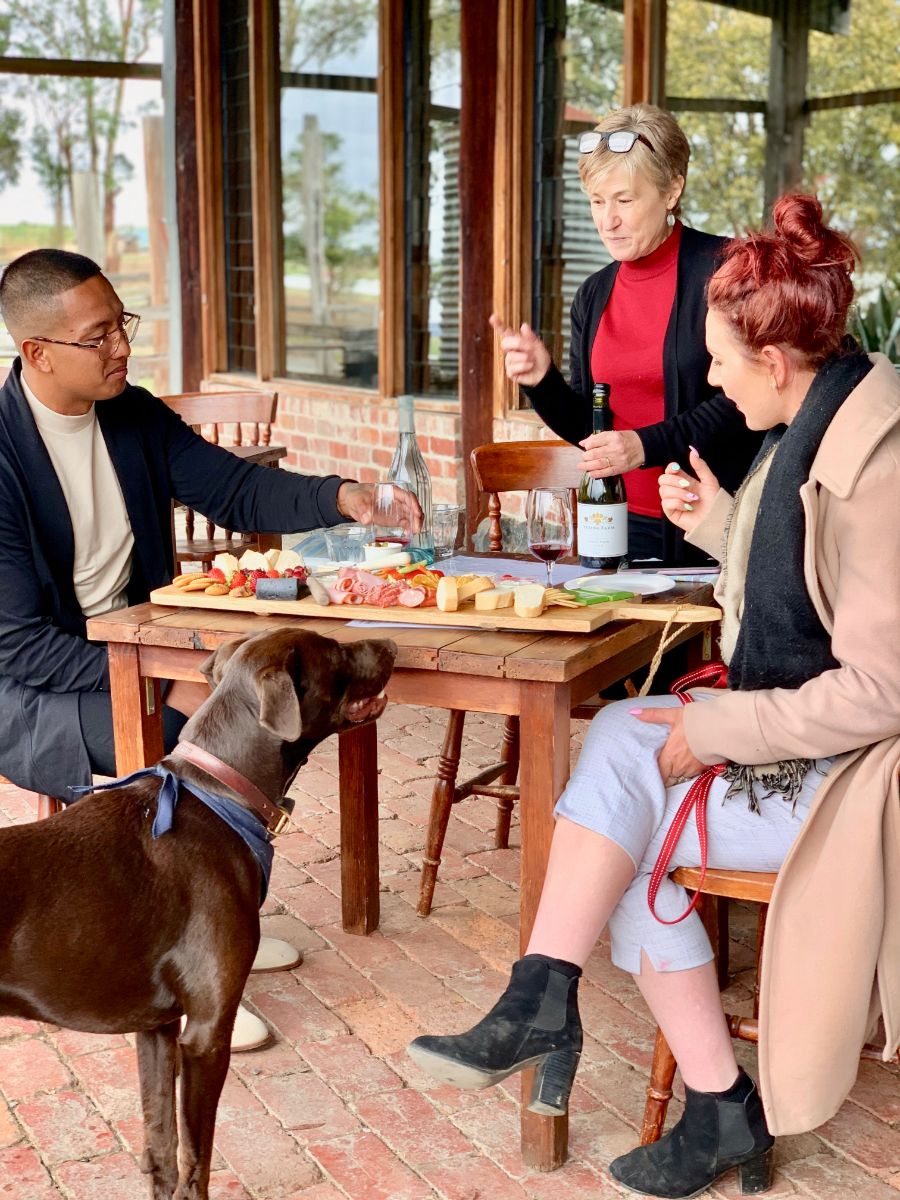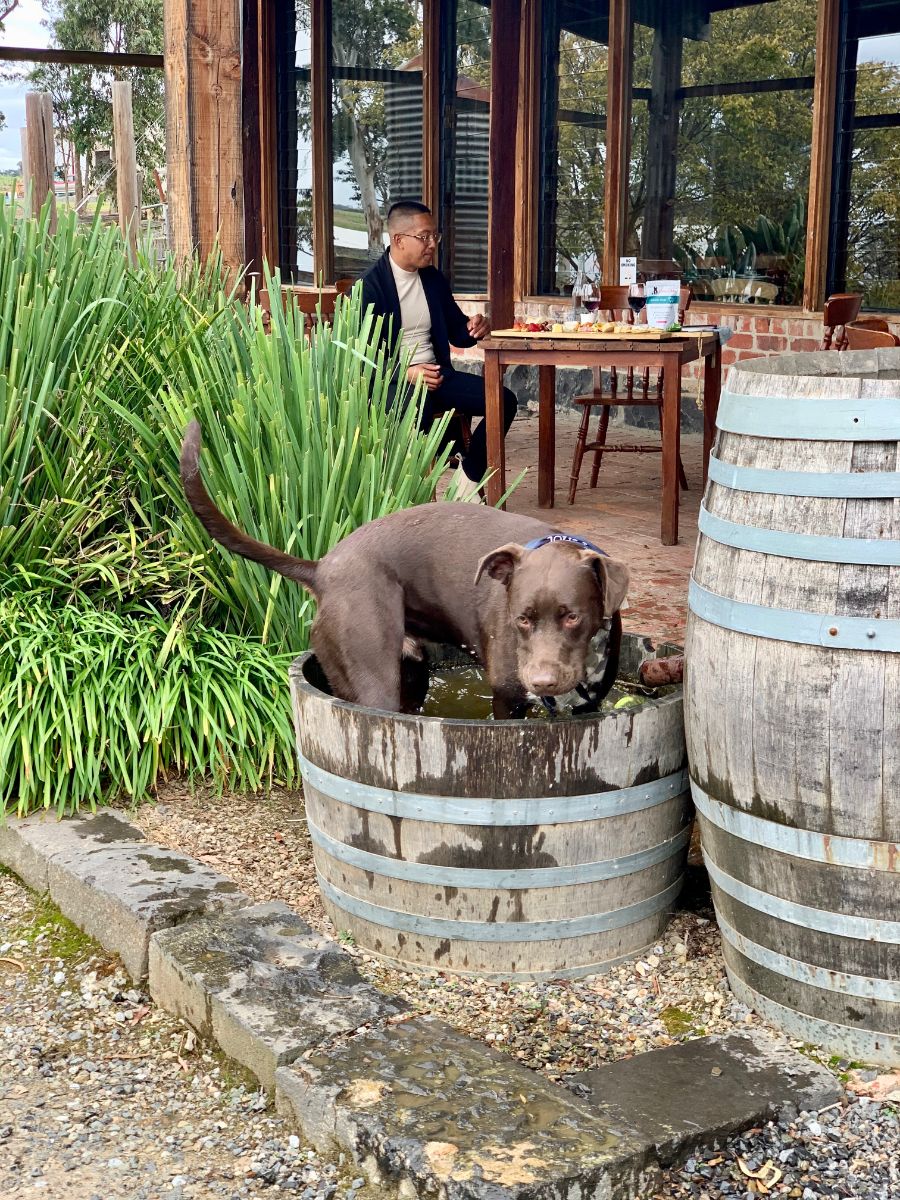 Embarrassingly I had to have my paws wiped before I got back into the van (that's my mum for you)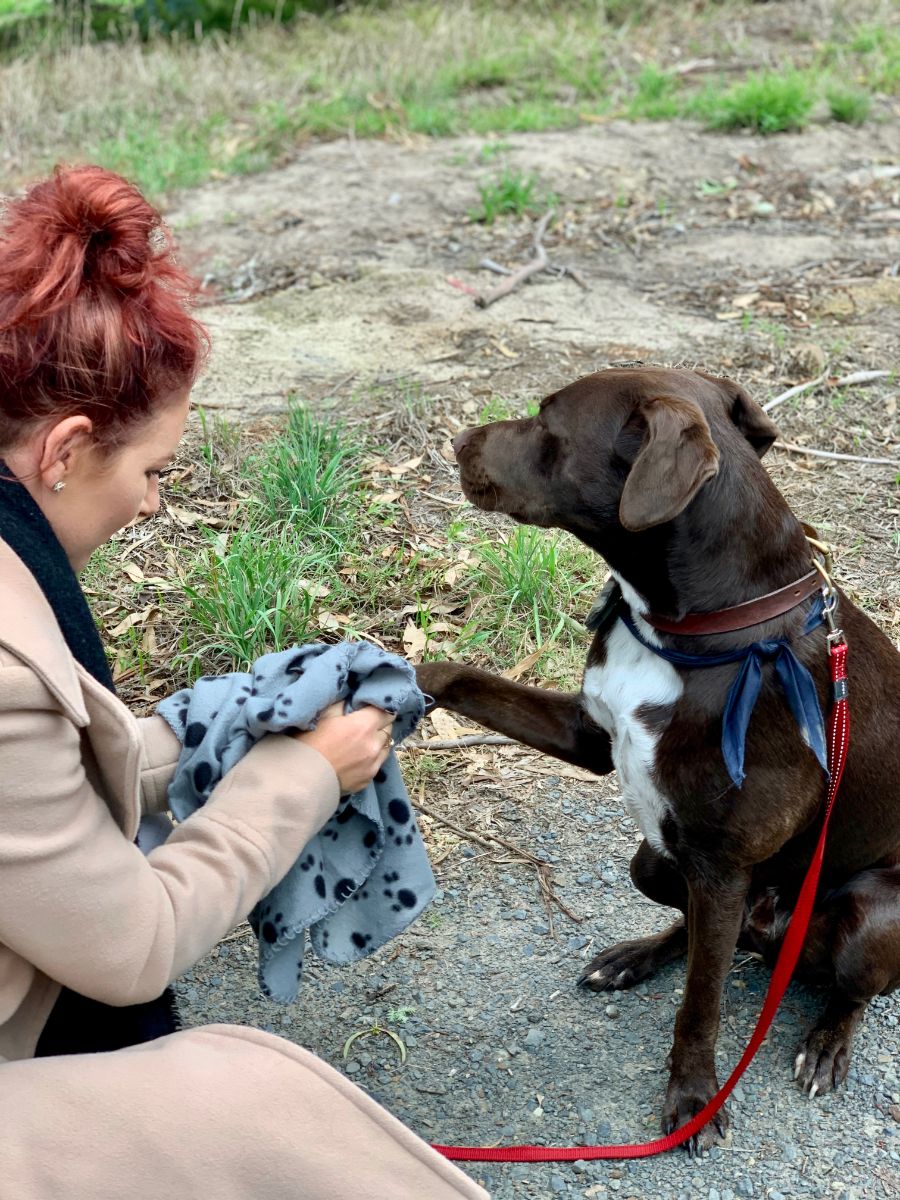 but it was a good job she did in hindsight as I then decided that I might drive for a bit, give Helen a break you know, so into the driver's seat I hopped.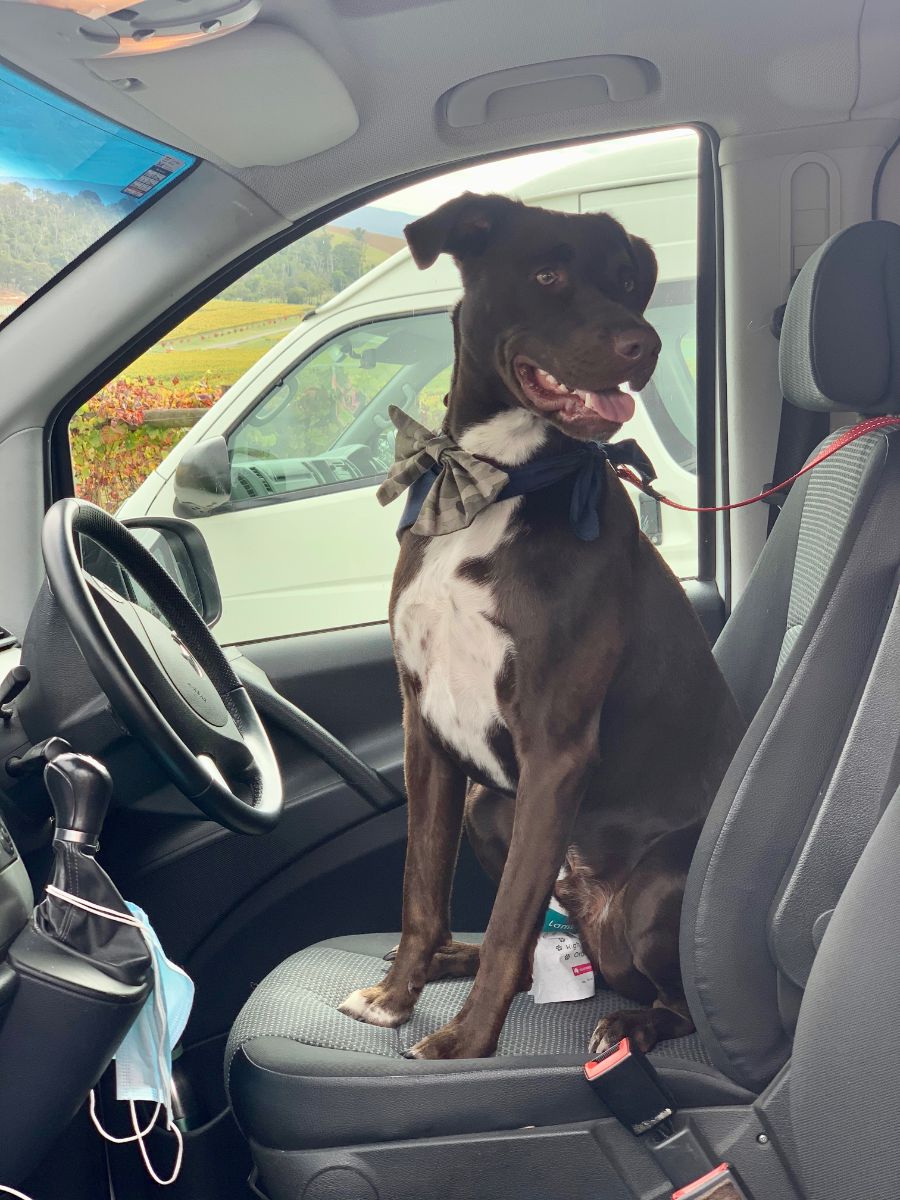 They all laughed like I'd done something funny and Helen said she was fin driving so we set off for Boat O'Craigo which made my parents laugh because Mum's Dad is called Craig and if only he had a boat… We had a great time at BOC (look at me abbreviating like I'm a local) and Jason looked after us and did a grewat tasting with y folks and my Dad's eyes were getting wider and wider with delight at everything he tried.  By now he had two rating systems going.  The 'really' rating system and the 'ooooohh' rating system.  The highest scoring wine of the day got a staggering 5 really's – as in I really really really really really like this one!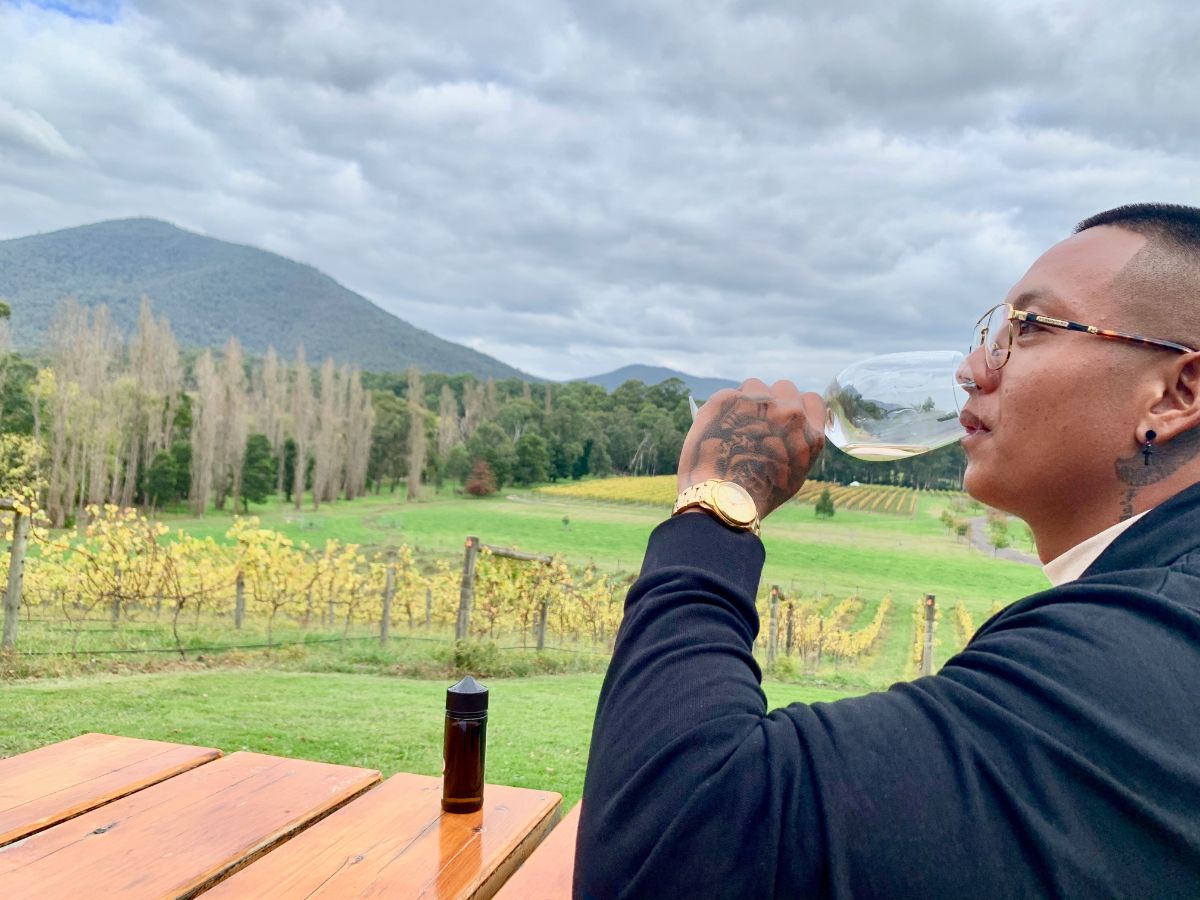 The view was brilliant and I had my eyes peeled for more resting roos, and the proverbial happened, I was mobbed again!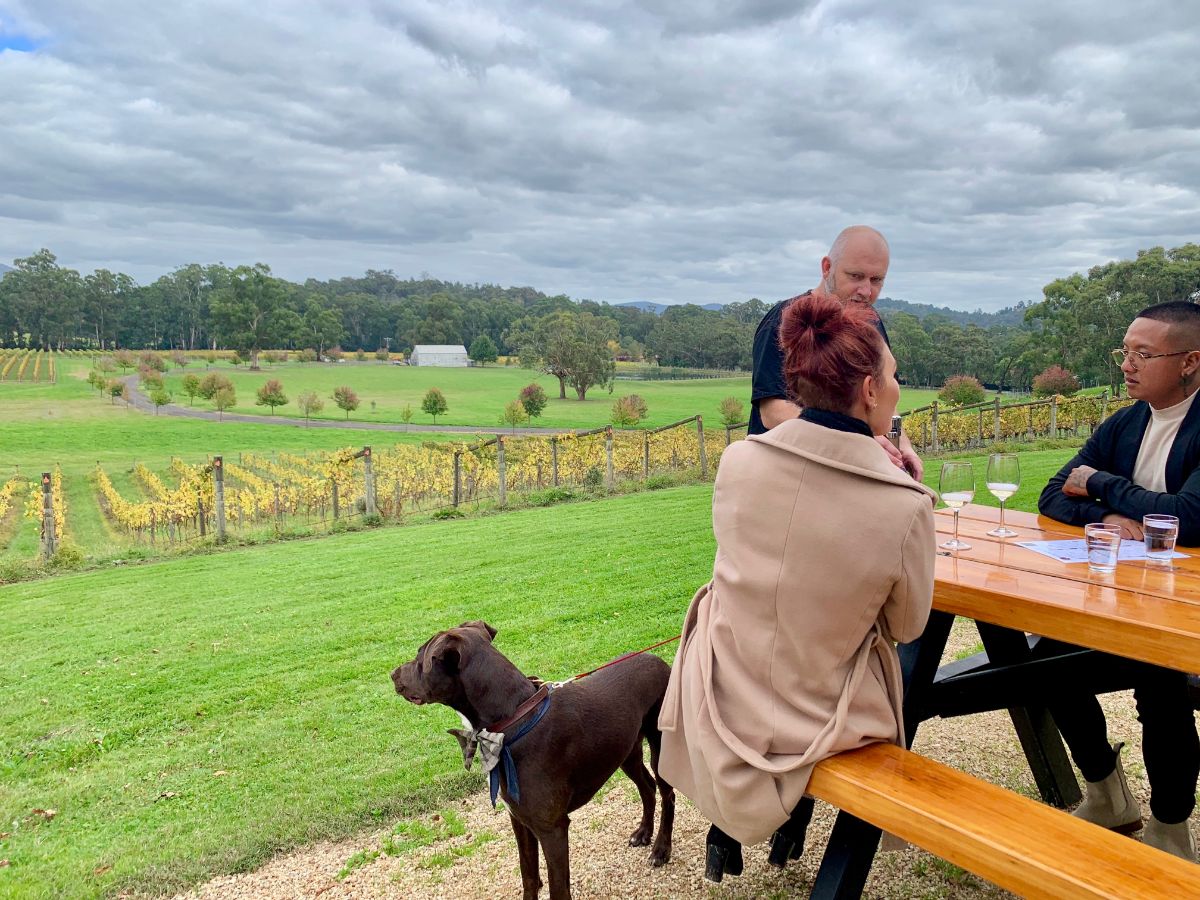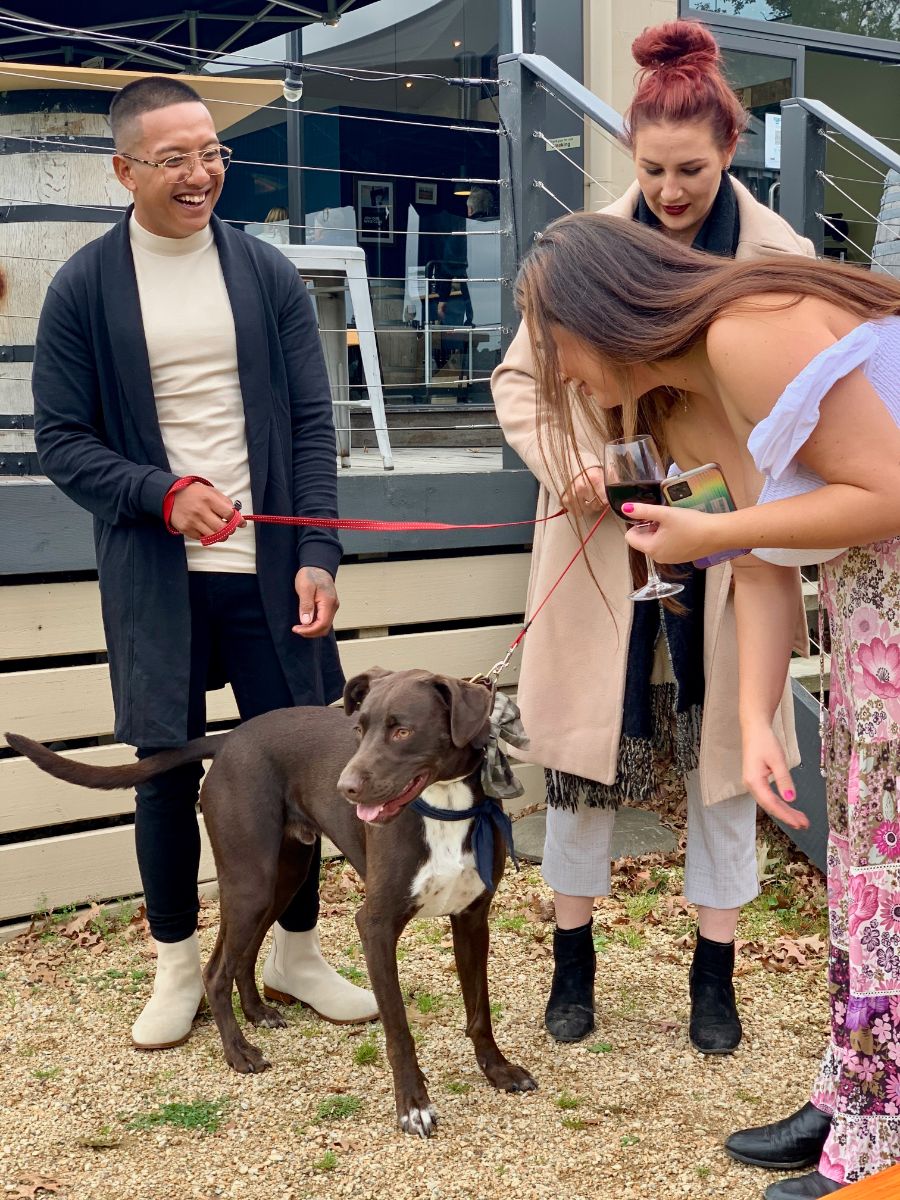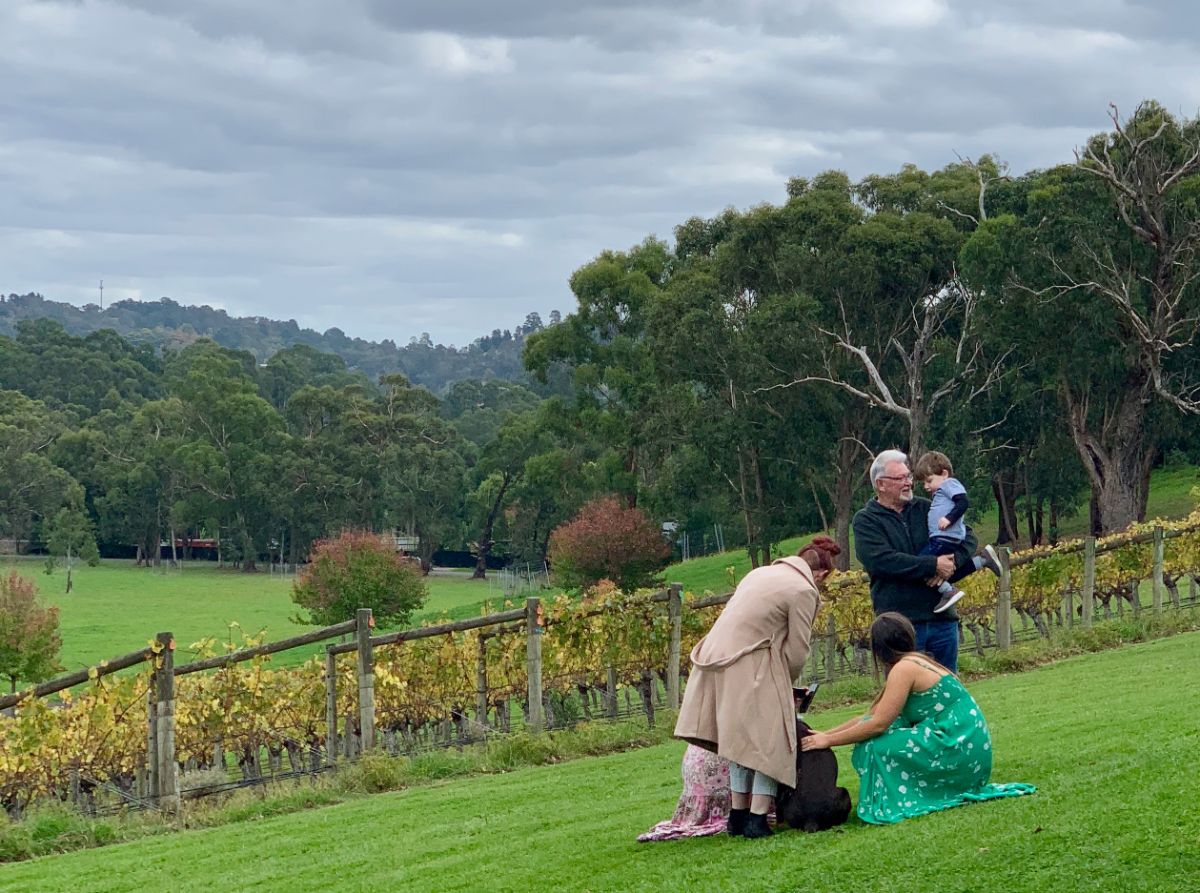 We even got to try a grape variety that no-one else is growing in the valley and that Helen hadn't heard of and sniggered that it sounded more like a cruise ship than a dry Austrian wine, but still, according to my dad it was really really nice!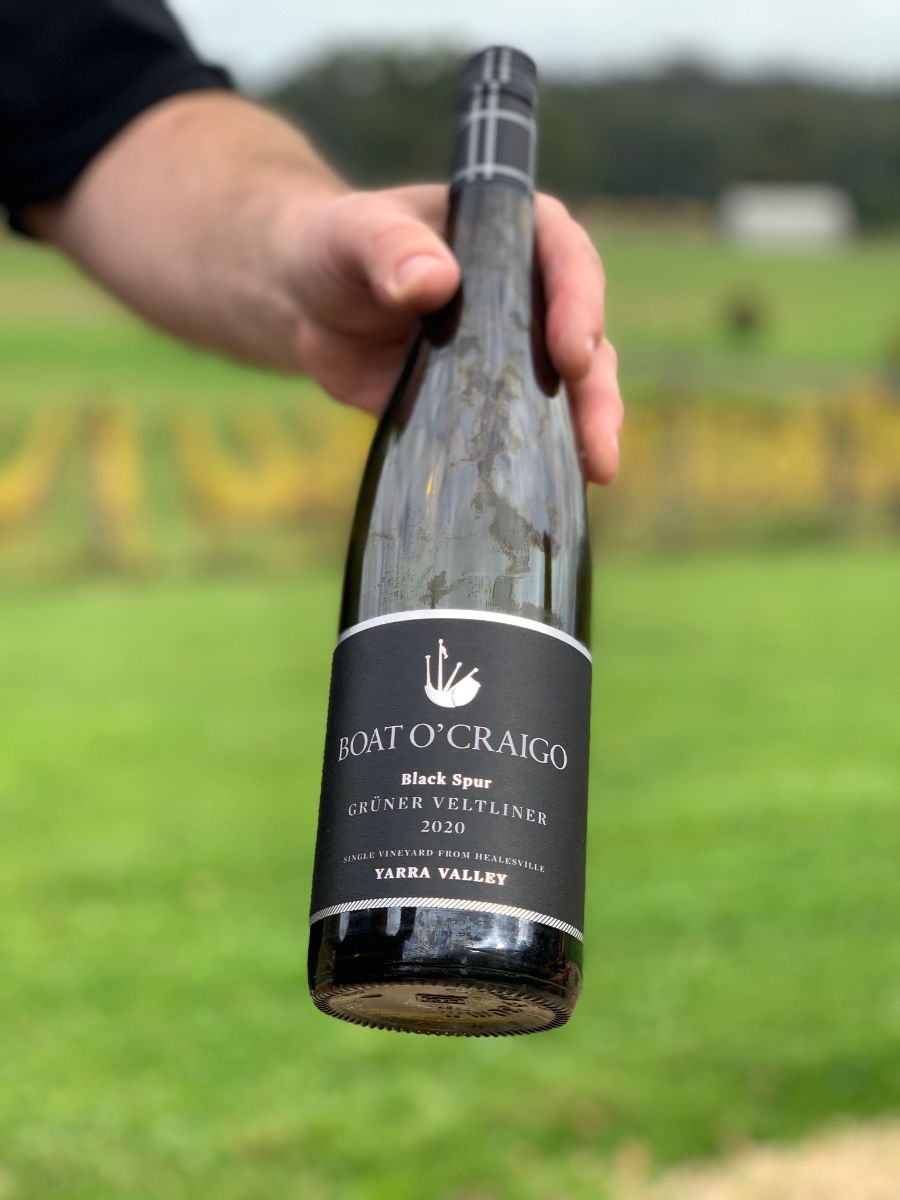 Next stop was Payten & Jones, and Helen bigged it up saying it was one of her faves and when we got there we could straight away see why – it has such a funky urban vibe totally different to the other wineries we'd been to that all had views and were high up hills.  This one has a view of Four Pillars Gin Distillery over the road and we sat in a covered courtyard where they make the wine and it was REALLY REALLY REALLY REALLY REALLY good.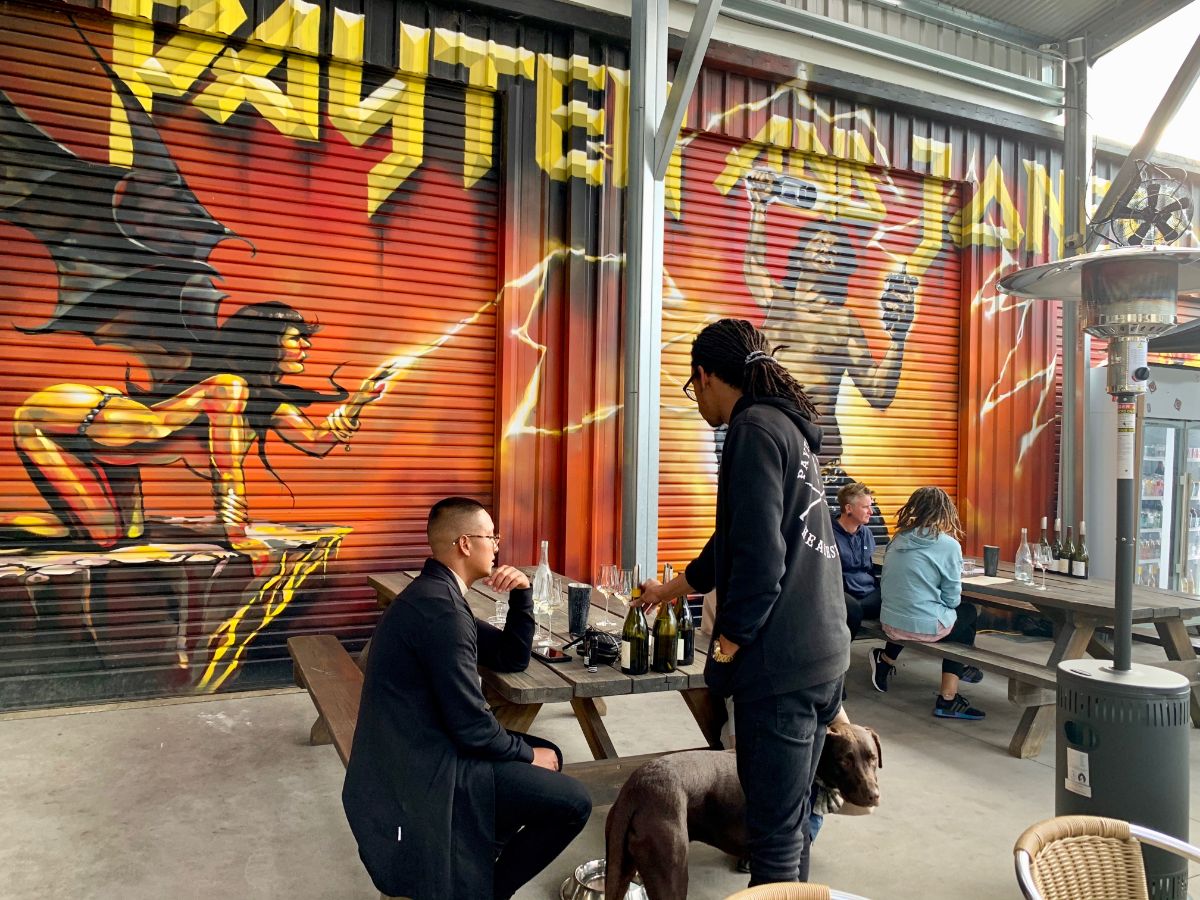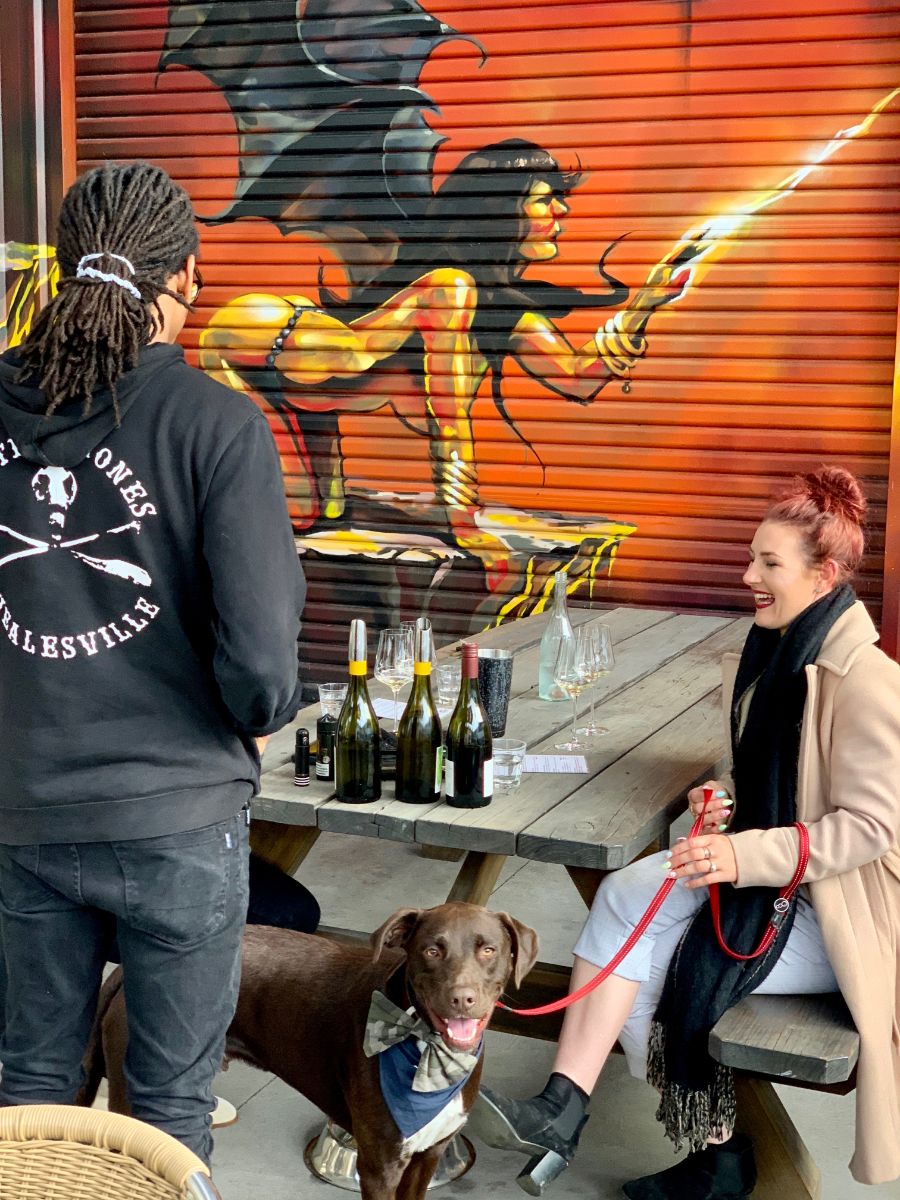 I met Ovarn from Jamaica who used to be scared of big dogs like me because back home in Jamaica I'd have been a guard dog and bred to be aggressive.  Look how well he took to me – so well in fact, he took my lead and we went off together to get the bottles of wine for the tasting – I was a wine dog for a moment there and LOVED IT really a lot!
After Dad disgraced himself with more 'reallys' than anybody could keep count of and bought some wine we went over the road to Four Pillars to cleanse our palettes with gin (was Helen joking?  I'm still pondering that one).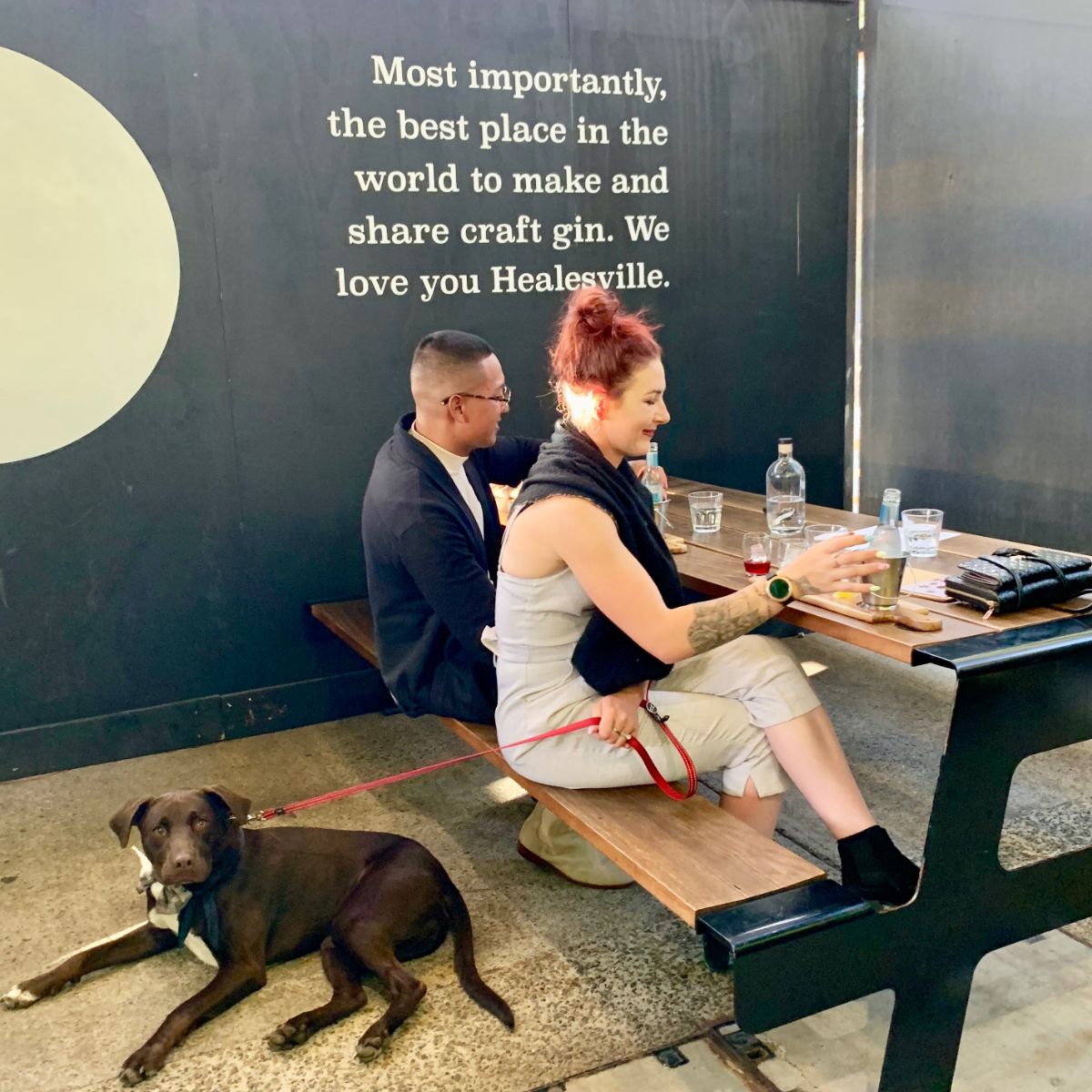 The staff all heard I was here and one by one they came out to meet me and delight in stroking me and my ears got a serious workout.  I met everyone – Teddy, Lizzie, Lucy, their names are all a blur now!