Half Day
Monday – Thursday ONLY
Gin, cider or beer tasting
Up to 3 wine tastings
Full Day - Dog's Bollocks
Available 7 days
Gin, cider or beer tasting
Up to 5 wine tastings
Platter Lunch with Wine

Complimentary bottle of wine
Full Day
Available 7 days
Gin, cider or beer tasting
Up to 4 wine tastings
Cafe Lunch
| # of people | Half Day | Full Day |
| --- | --- | --- |
| 1 | $ 339 | $ 469 |
| 2 | $ 418 | $ 658 |
| 3 | $ 507 | $ 867 |
| 4 | $ 556 | $ 996 |
| 5 | $ 695 | $ 1245 |
| 6 | $ 834 | $ 1494 |
Dog's Bollock's:
Add $39/person
Pick up:
within the Yarra Valley – FREE
Up to 75kms from Healesville – $82 to $275
We arrange your VIP itinerary, starting with door-to-door pick-up* of your group in our Mercedes touring van (up to 6 people and 2 dogs) & bring you to the Yarra Valley's best dog-friendly venues and places.  You've got 3 tours to choose from – the Half Day Tour (which is a mid-week special), the Full Day Tour (for the leisurely hedonists) and the Dog's Bollocks Tour (for those rockstars among you).
If you're celebrating a birthday or a special occasion, let us 'big it up' for you – & have a delicious cake made for you, which we'll present you with when we arrive to pick you up for your tour, and we'll pop it in your fridge with a bottle of the region's finest sparkling (made using méthode champenoise no less) to enjoy when you get home.  And tick our blog option if you'd like photos and a blog from your day (written by your dog of course – like this) sending to you after your tour!
Let us put together a Yarra Valley Hamper for you full of our region's tastiest and most well-known produce – for you to give as a gift or enjoy yourselves.  Choose a sweet hamper, or savoury or even a mix of both!
Your puppy dog will be adored wherever we go and will get its very own hand-embroidered P&P bandana and enjoy treats during the day (with your permission) from none other than Laila & Me.  Our fabulous tour guides are happy to look after 2 dogs per tour – as long as the 2 dogs live together or know one another well and are used to socialising together.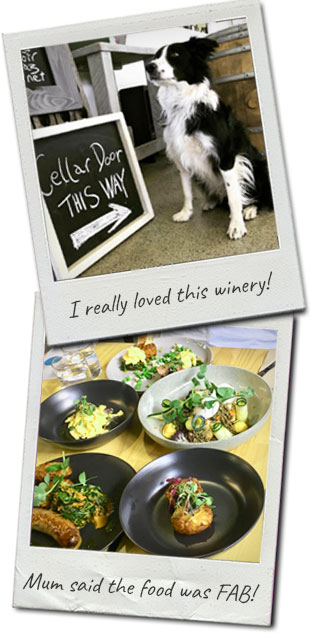 Take the time to enjoy a whole day out in the valley with your pooch and your own personal guide.  The day has a lovely relaxed feel, with enough time to enjoy all the tastings you want (usually 4) as well as truly taking your time over lunch at one of the Yarra Valley's most gorgeous dog-friendly places – there's no rushing on a full-day tour.  After lunch we'll have a lovely walk (with on and off-leash options) at a super local spot, or fit in another tasting –  we're all about flexibility so you get the most out of your day.  And it's fully inclusive: your tastings and lunch are included in the price, as is your pooch's hand-embroidered bandana and gourmet treats!  If this sounds like the kind of tour you're after, enquire now and see if we have availability.
Inclusive of all tastings, a beautiful hand sewn doggy bandana, sumptuous lunch & doggy treats (from Laila & Me).
Pickup : 10am
Return : 5pm
Tastings : 4 to 5 (depending on time)
Lunch : at a delightful pup-friendly cafe
Dogs : 2 max
Upgrade to the Dog's Bollocks Tour
Take it to the next level
This is the VIP version of our Full Day Tour.  With bells on.  It's our all-singing, all-dancing tour, where once again you don't put your hand in your pocket all day long AND it comes with the following extras:
For just $39 more per person:-
Enjoy a sumptuous platter lunch with a glass of wine at one the Yarra Valley's best dog-friendly wineries.
Enjoy an extra wine tasting (before your lunch so you can choose a glass to have with lunch)
Receive a complimentary bottle of our favourite local Yarra Valley wine at the end of your tour.
These extras make a Full Day Tour EVEN GREATER!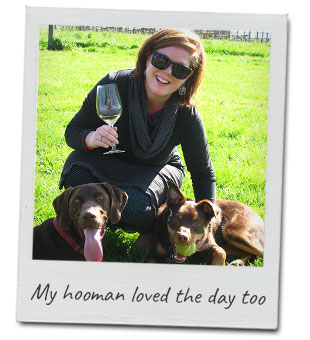 We created this tour for those of you who want to visit the valley mid-week and can't spend a full day touring with us.  😢
On our half-day tours we pick you up from your Yarra Valley accommodation* at 1pm and visit up to 3 dog-friendly cellar doors (plus we can include a gin/beer/cider tasting if that's your thing) before dropping you back to your accommodation between 5 – 6pm.  As there isn't time on the half-day tour to have lunch, we recommend you have lunch before we collect you (wine tasting on an empty stomach can have curious outcomes!).
*(free pick up within the Yarra Valley, additional charges apply for addresses up to 75 kms from Healesville)
Inclusive of all tastings, hand sewn doggy bandana & doggy treats for your hound (from Laila & Me).
Tastings : 2-3
Dogs : 2 max