Hey, I'm Lola and I have the best job in the world – accompanying my Mum Helen, an Instagram Influencer, on excursions.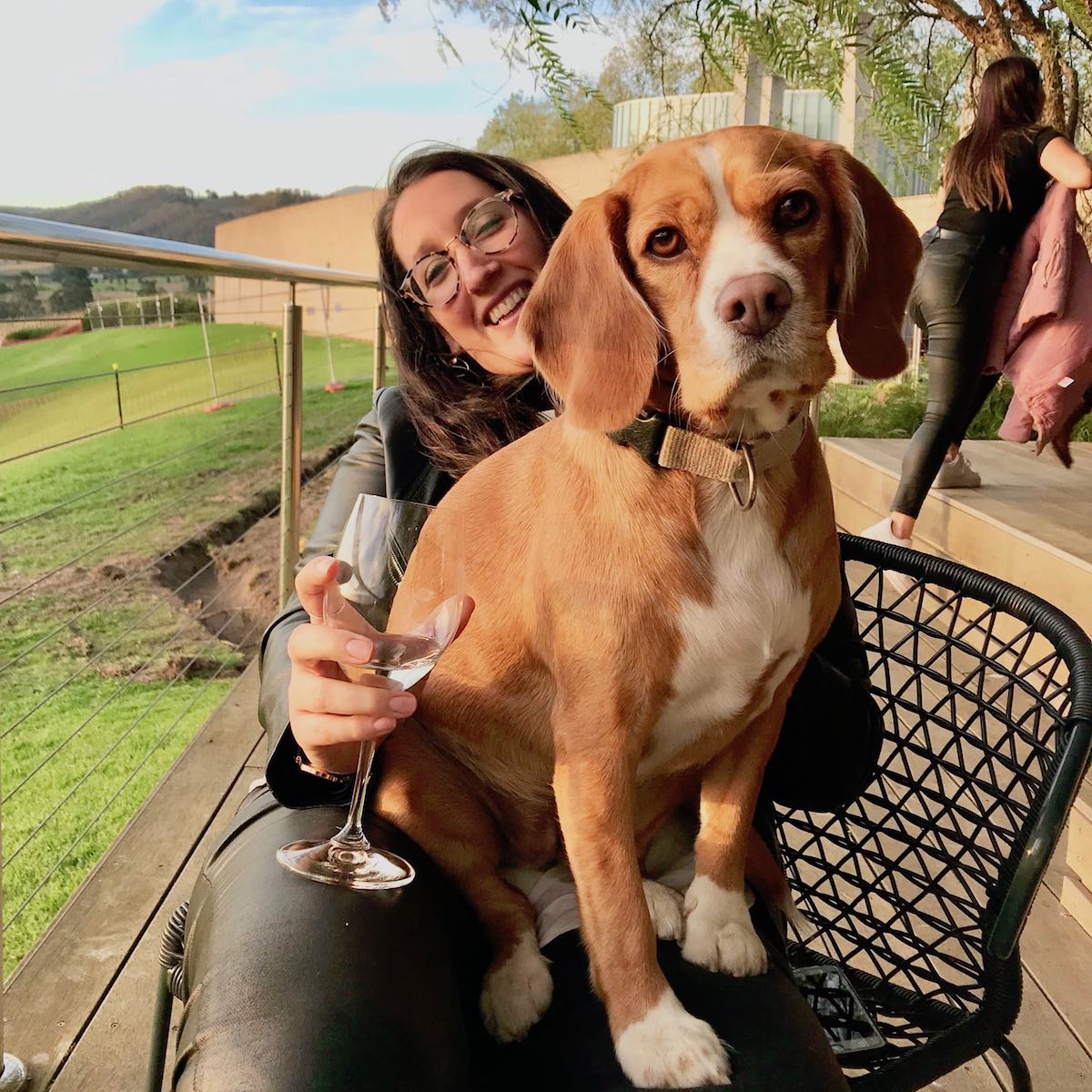 We all came and sensibly stayed at Wiggley Bottom Farm (so that we could ALL enjoy our wine tour and not have to think about driving anywhere afterwards) and we were super wowed by our accommodation in the apartment, it suited us down to the ground.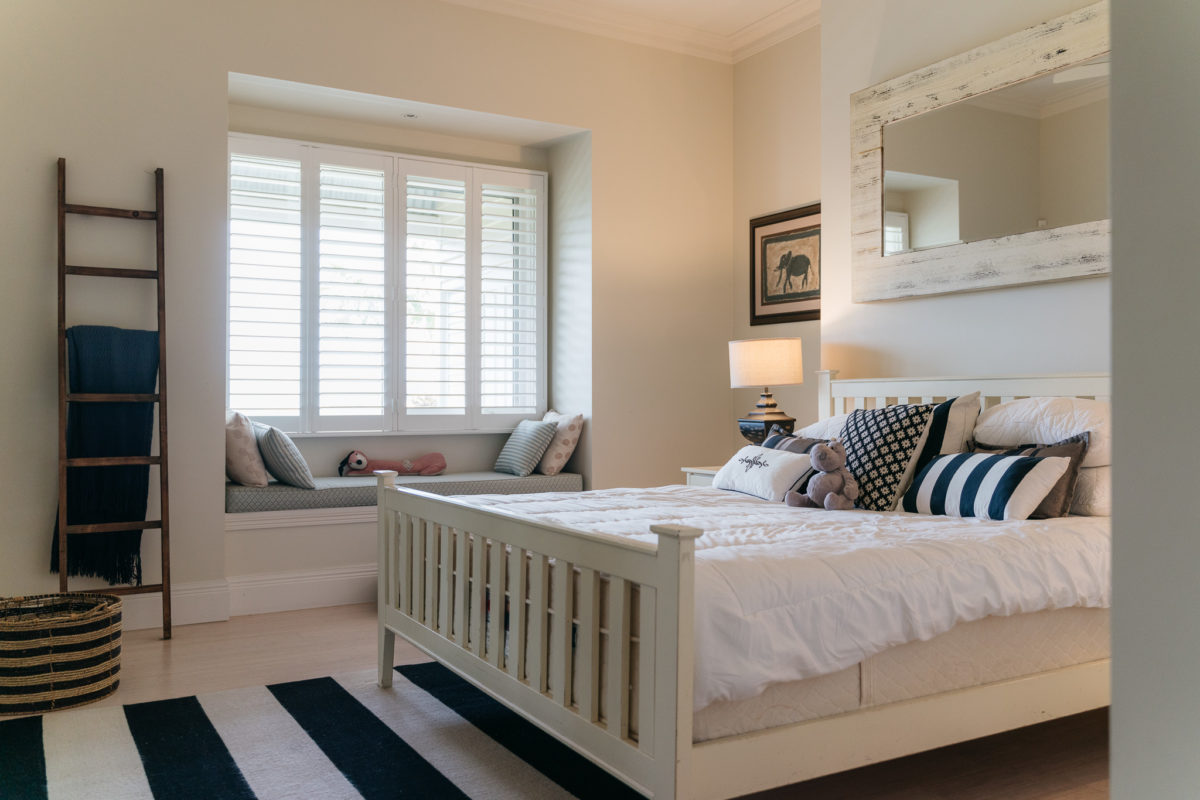 Jeff the nice man from Pooches & Pinot picked us up from our accommodation in a white movie star's kind of touring van and took us straight to Four Pillars (where they make gin that everybody raves about, even abroad!!) where I was mobbed like a movie star as it happens, by staff as well as fans!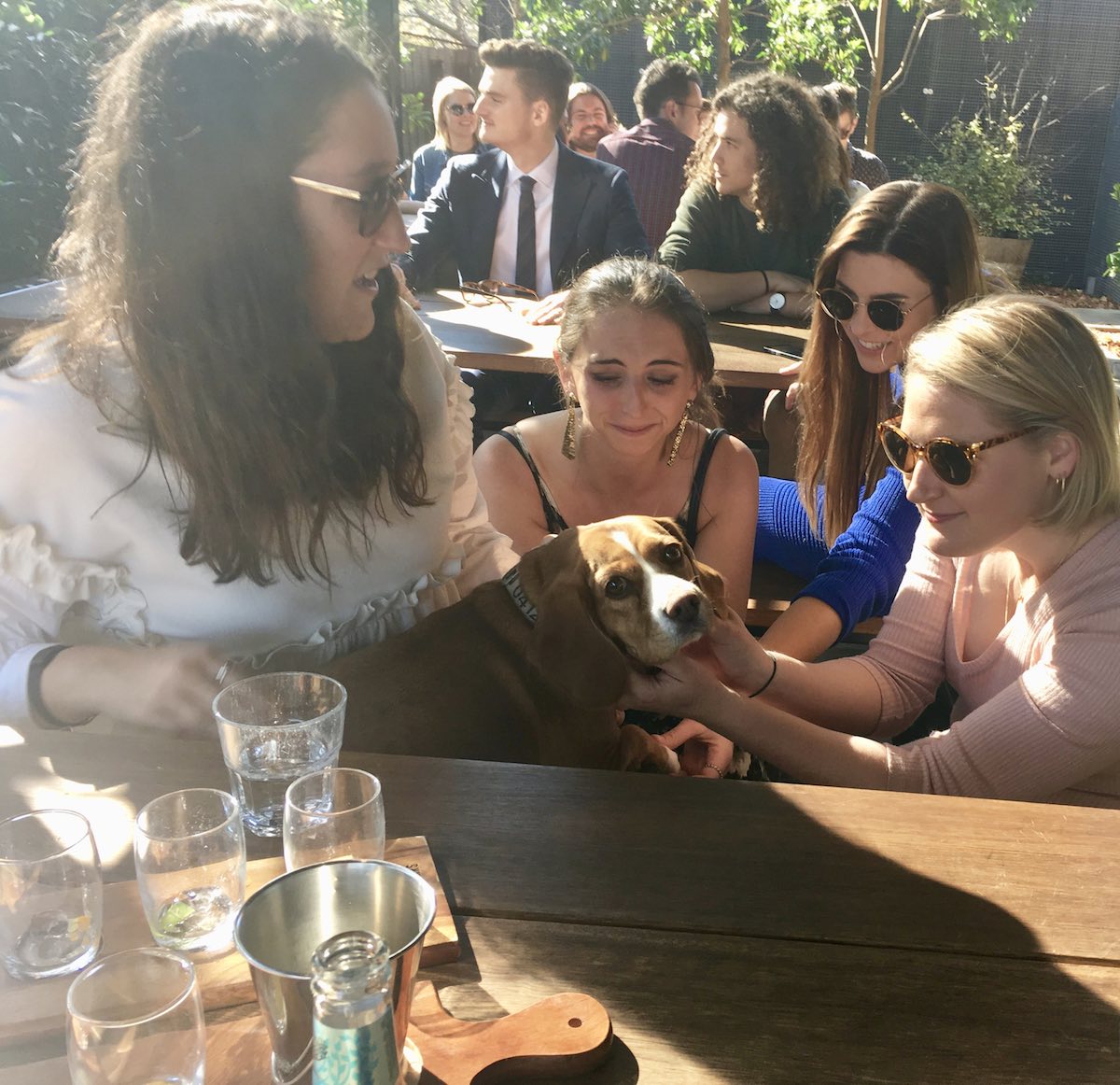 Can someone pass me a drink!?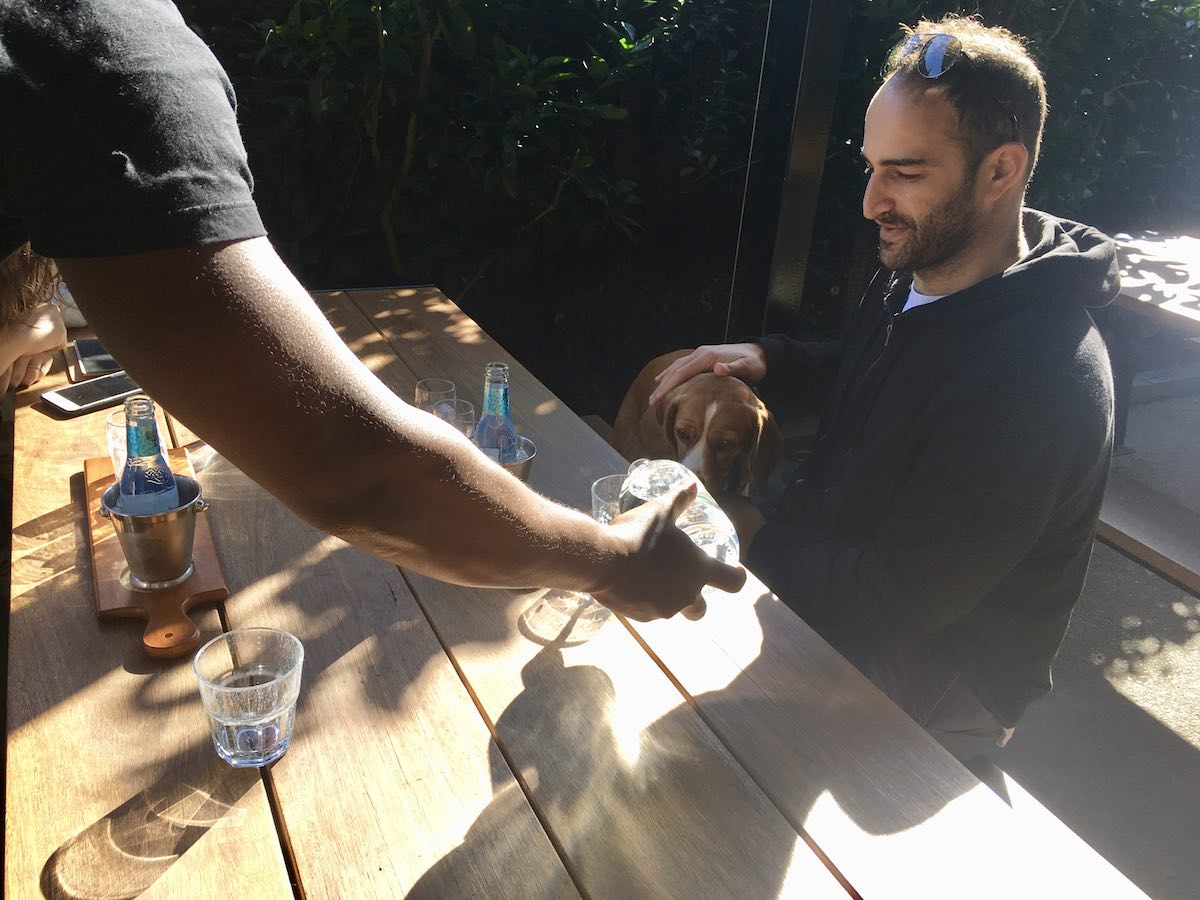 thanks mate!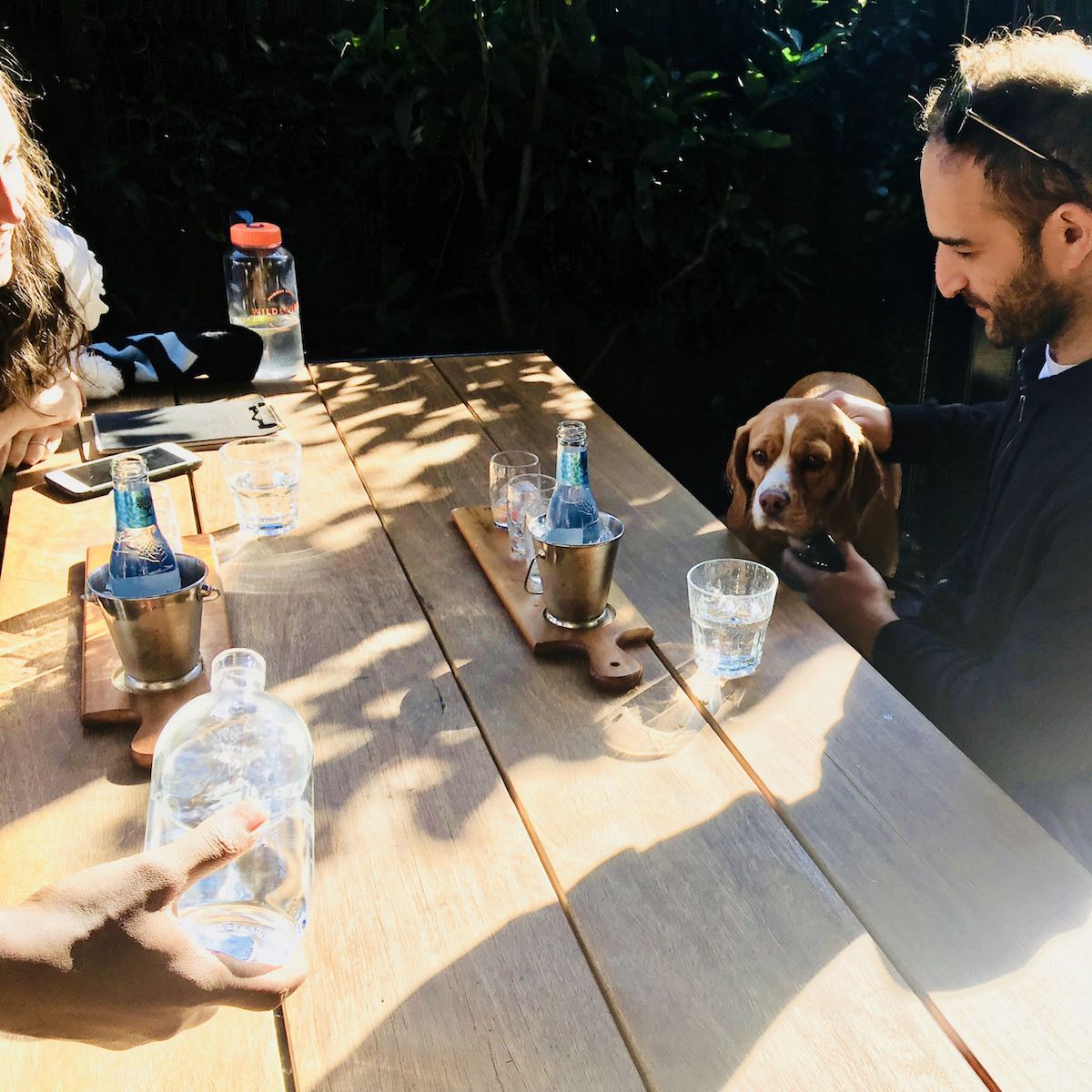 (err, Dad, I think he's pouring water, not gin – what's going on?  I'm not driving, Jeff is!)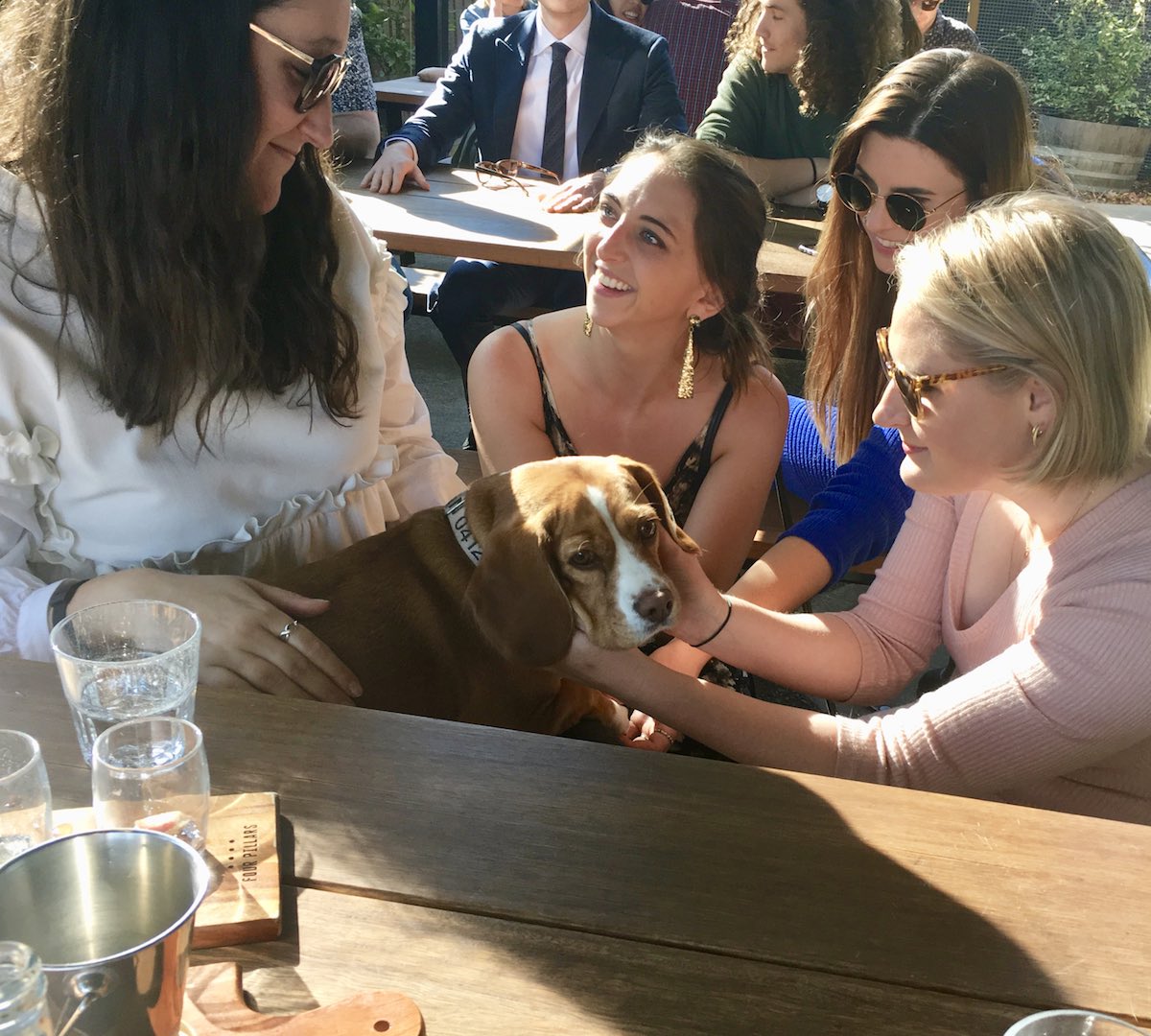 Me being a chick magnet.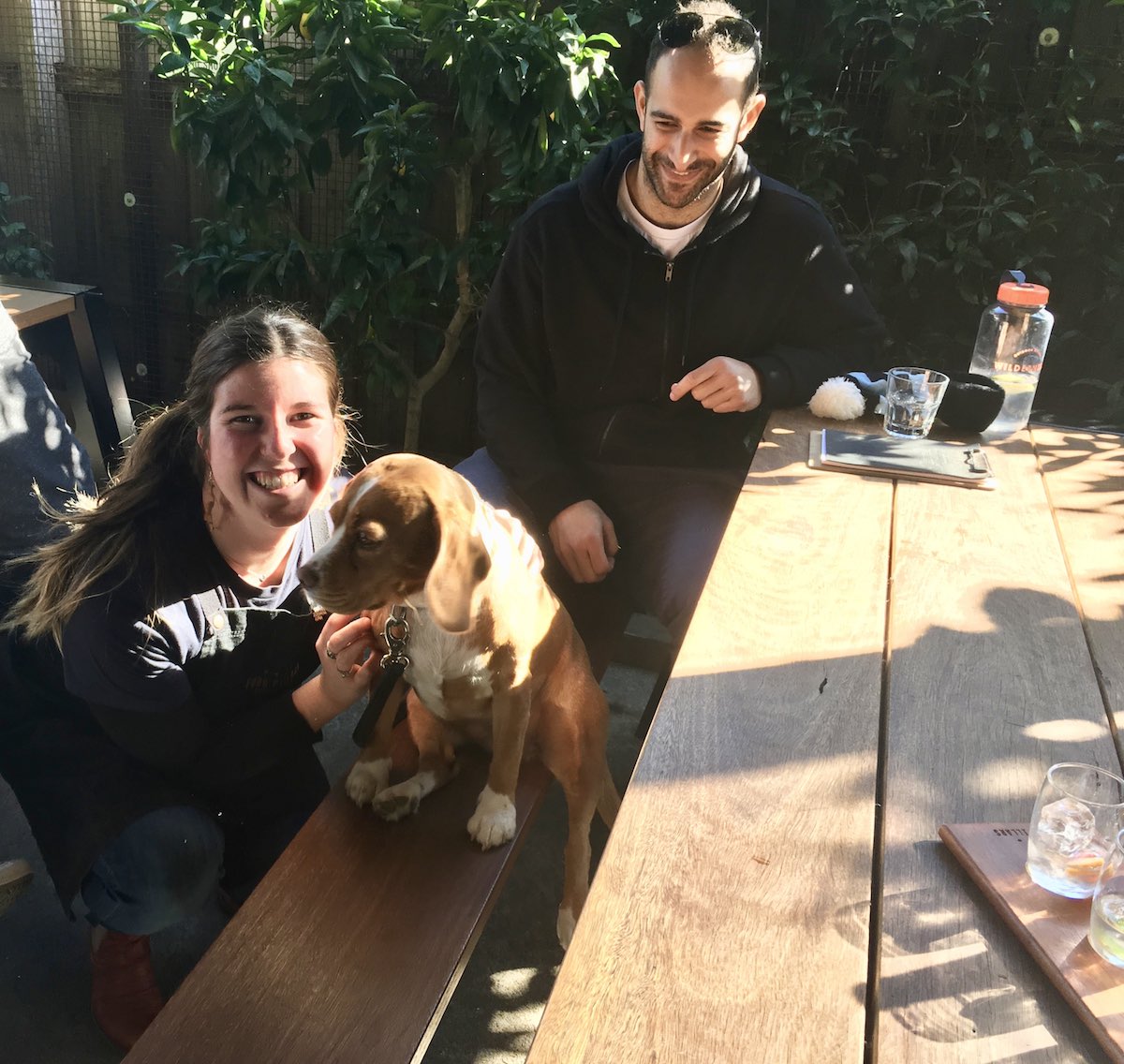 This is Marlee, she works at Four Pillars and fortunately loves dogs and gin in equal measure.  She's my kind a gal.
After all that mobbing and attention, I was pleased to get over the road to Payten & Jones where it was way calmer. We just hung out at the cellar door, tried their wines, talked about gorillas, that kind of thing, you know.  V cool place.  Totally my wavelength.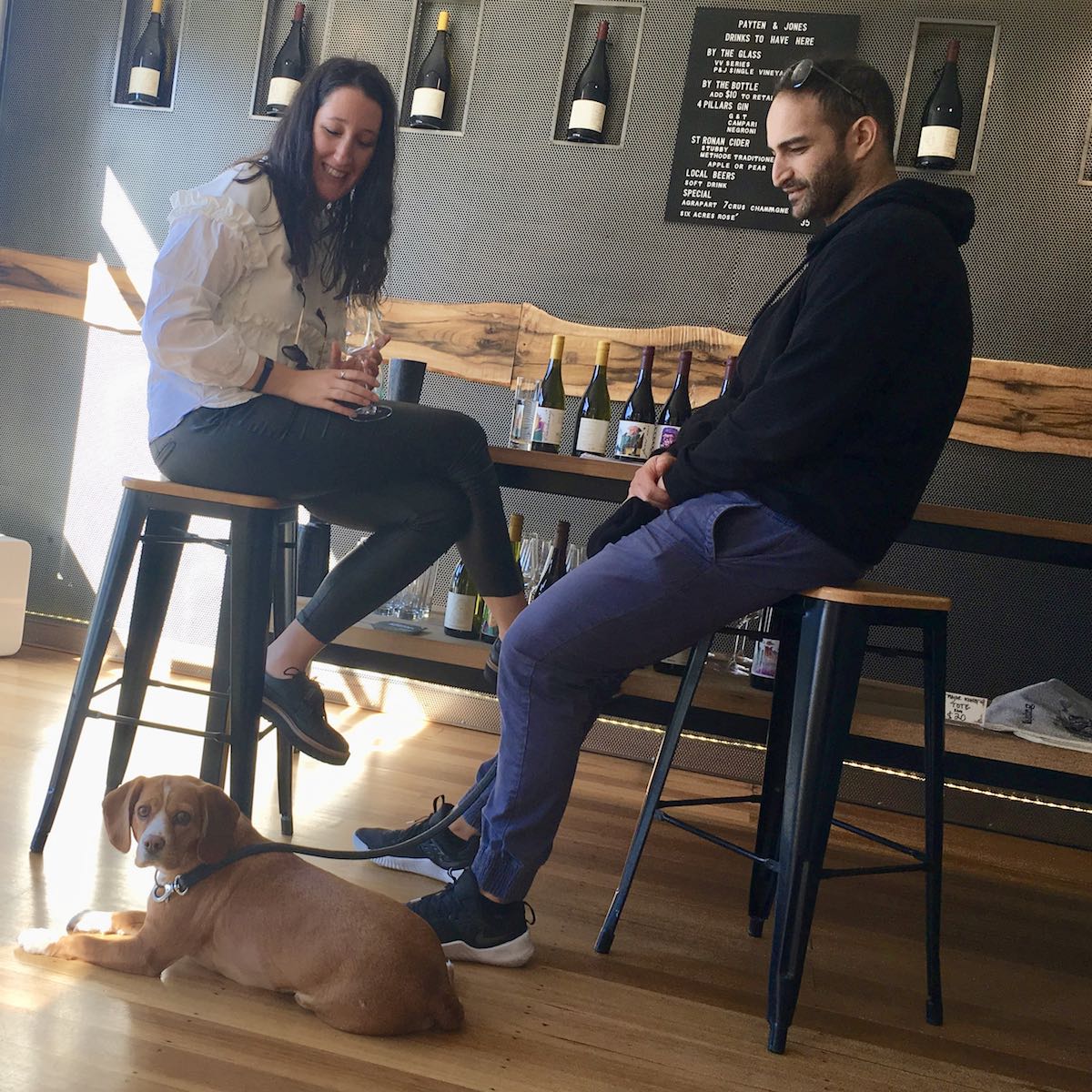 After all this drinking it was high time we got some food in our bellies so Jeff took us to a great dog-friendly cafe up the road in Healesville called My Little Kitchen (even tho it isn't his, it's Ben's – so for my money, it should really be called Ben's Little Kitchen – to avoid confusion but anyway, I'll leave that with them to sort out.) They looked after us beautifully and brought bowl after bowl of great smelling food and I got really excited thinking the sausage was for me but, turns out it wasn't!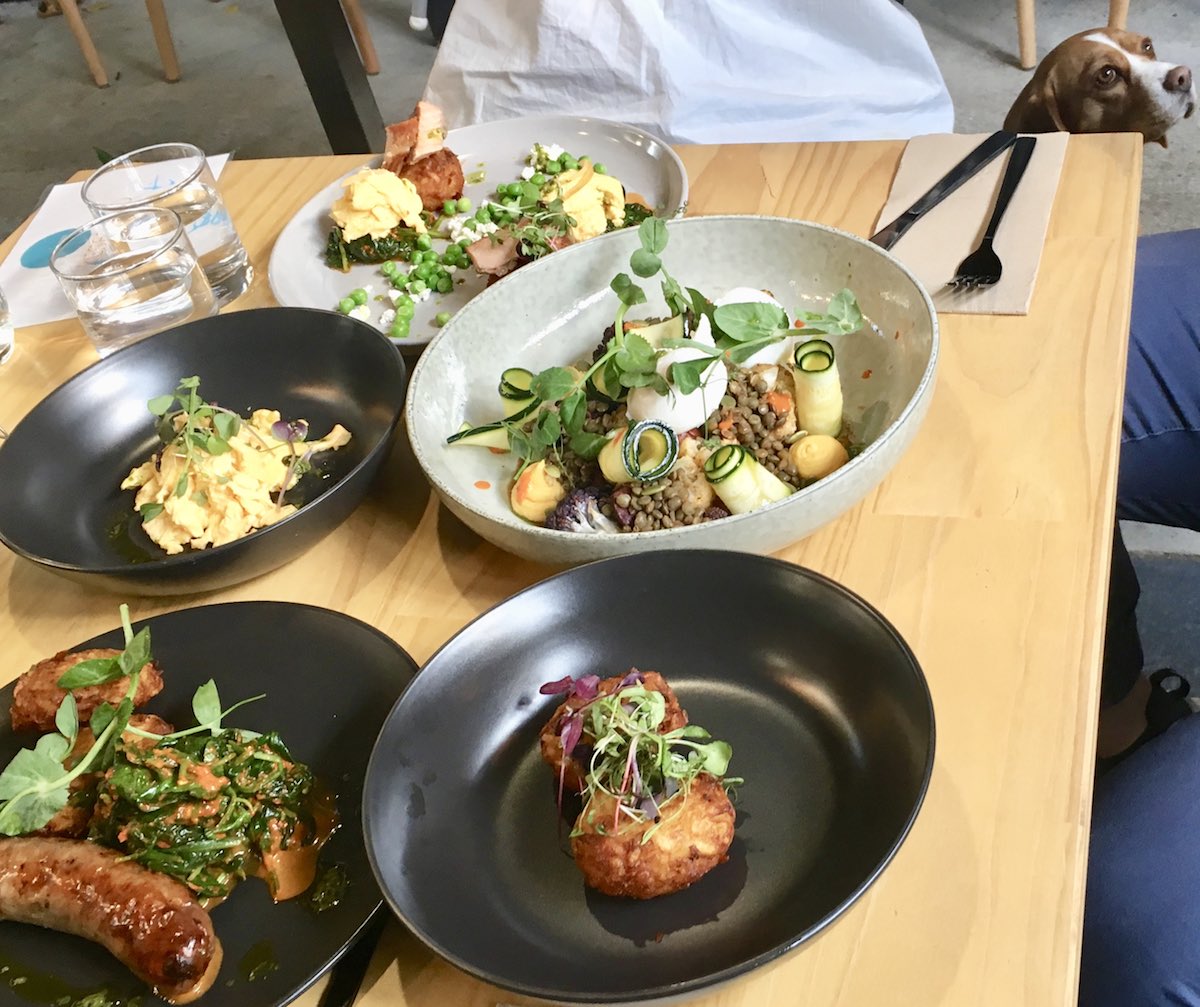 In what felt like seconds, the delicious smelling food had all been hoovered up and was all gone and we were hitting the road in the touring van agin, but this time for a W A L K.  Yessiree, I was a very happy girl to hear this.
We went to a top secret location called Donnelley's Weir (why are you looking at me like that, is was called that, I heard Jeff telling my folks?!) and I got to run through the water and then found a bridge to run back over and charged around in the bush like a proper country dog and everything smelt wonderful.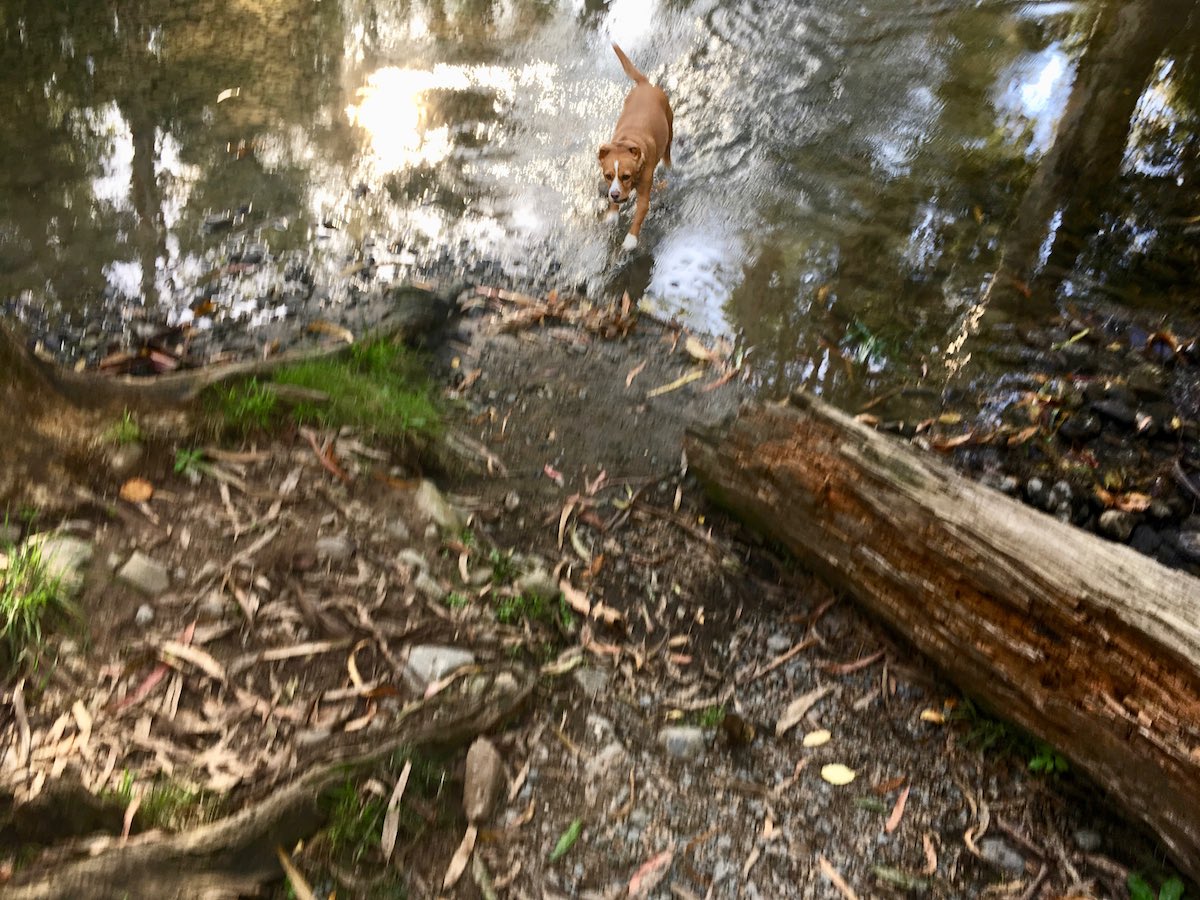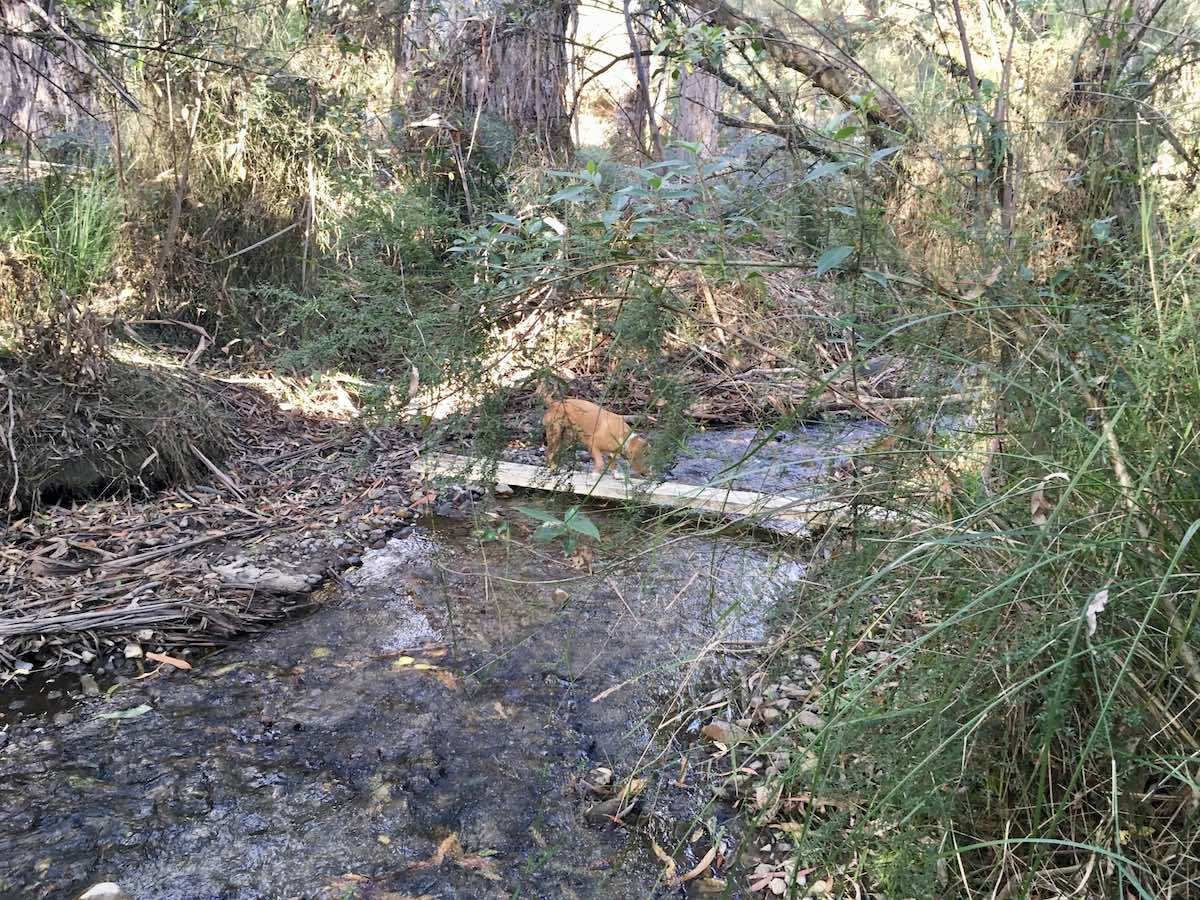 After all this excitement I was pretty tired and thirsty so when we got back to the van Jeff gave me some water in a bowl and then we set off to meet 'the Lovely Emma' at Maddens Rise.
Here's me riding shotgun and looking at everything rushing past the window.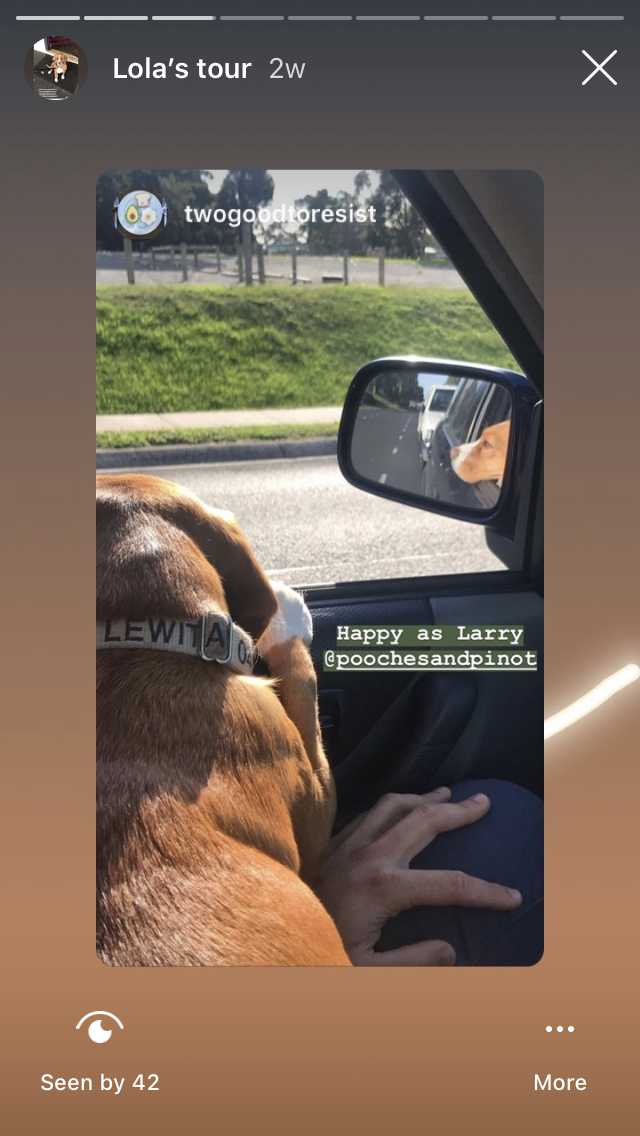 'The Lovely Emma' suits her name, she really is lovely. She gave me water too and a tour of the cellar door she runs at Maddens Rise.  I don't think humans quite understand what a busy time we dogs have when we get somewhere new as we have to check it out, every square inch of it, and deduce who has been here, how long ago and whether that's good or bad and do we need to let them know we too are here now!  Meanwhile the humans are asking us questions and making a fuss of us not perhaps realising just how busy and important we are.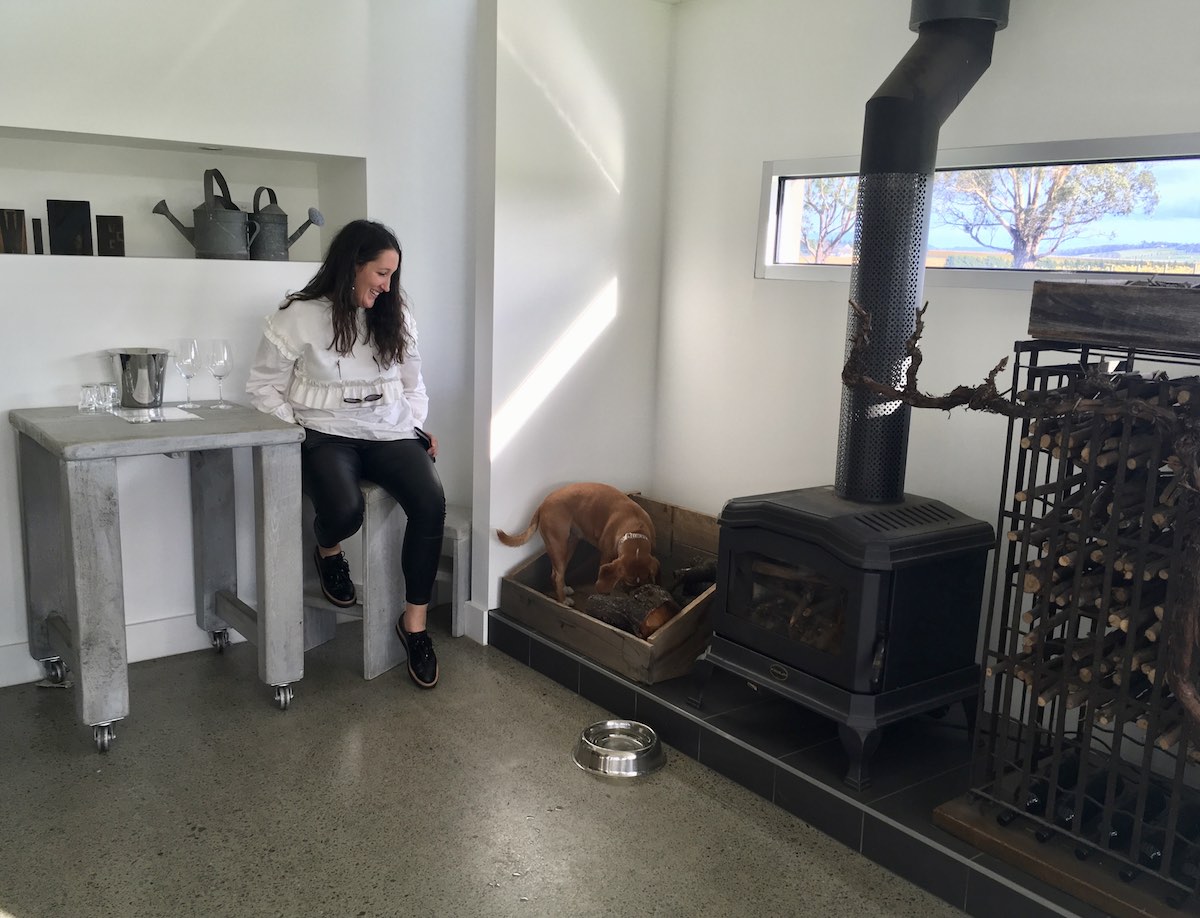 I even had to check the log basket – seriously, in this day and age, you can't be too careful.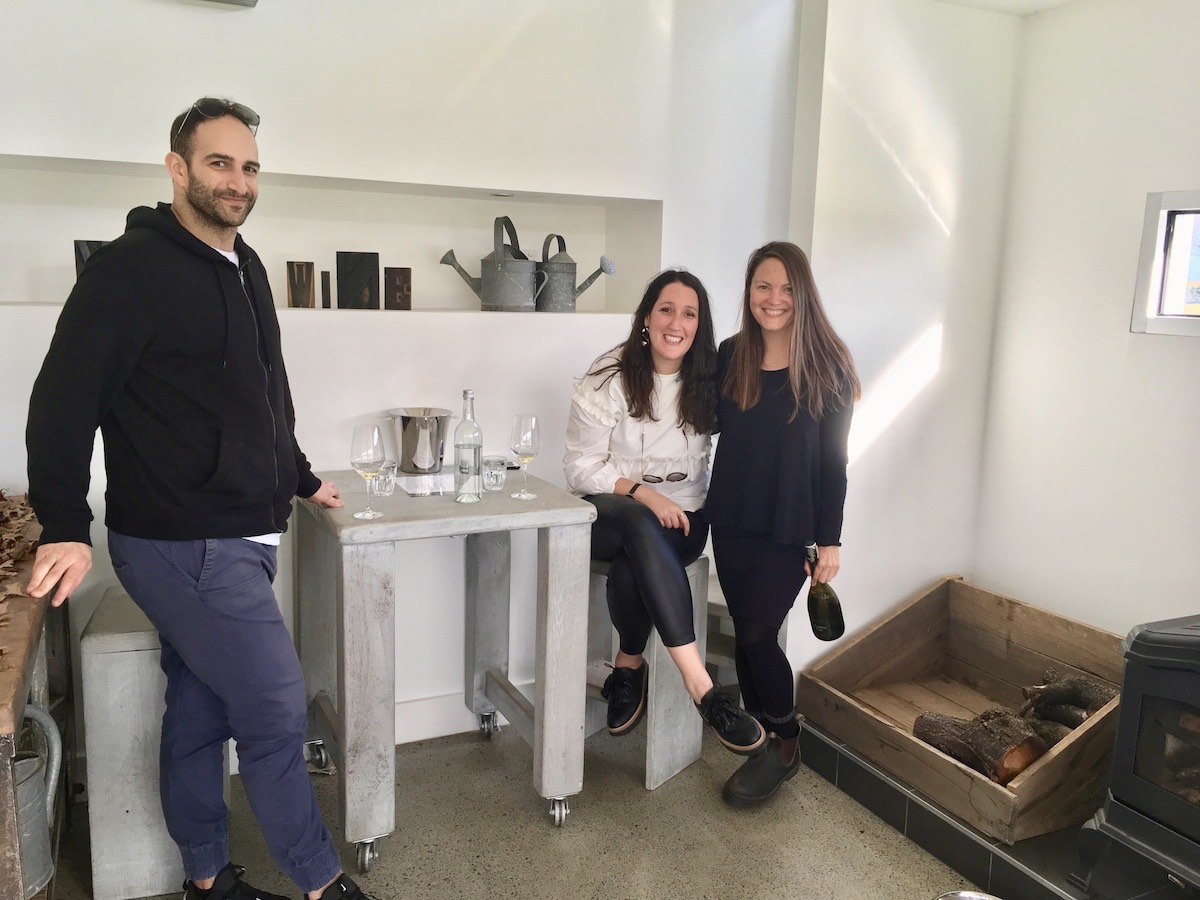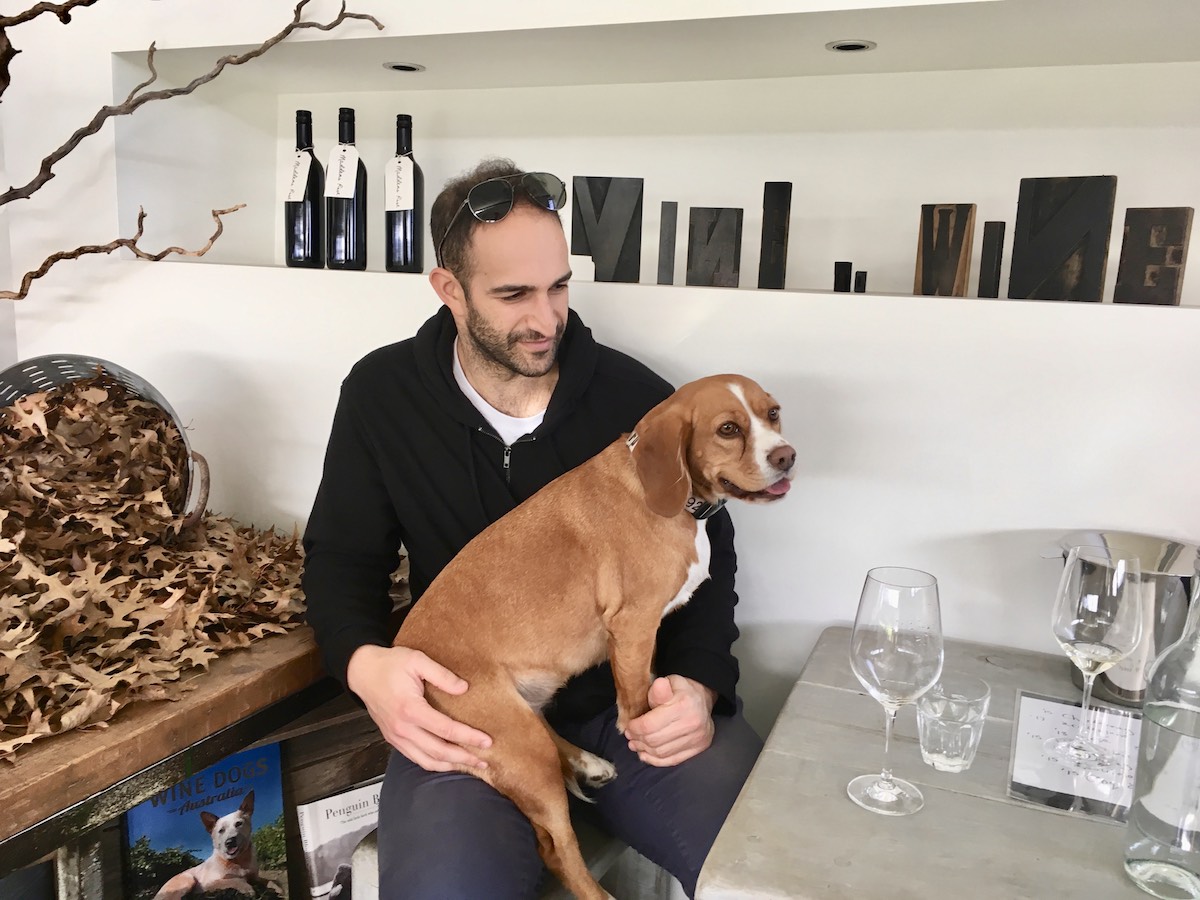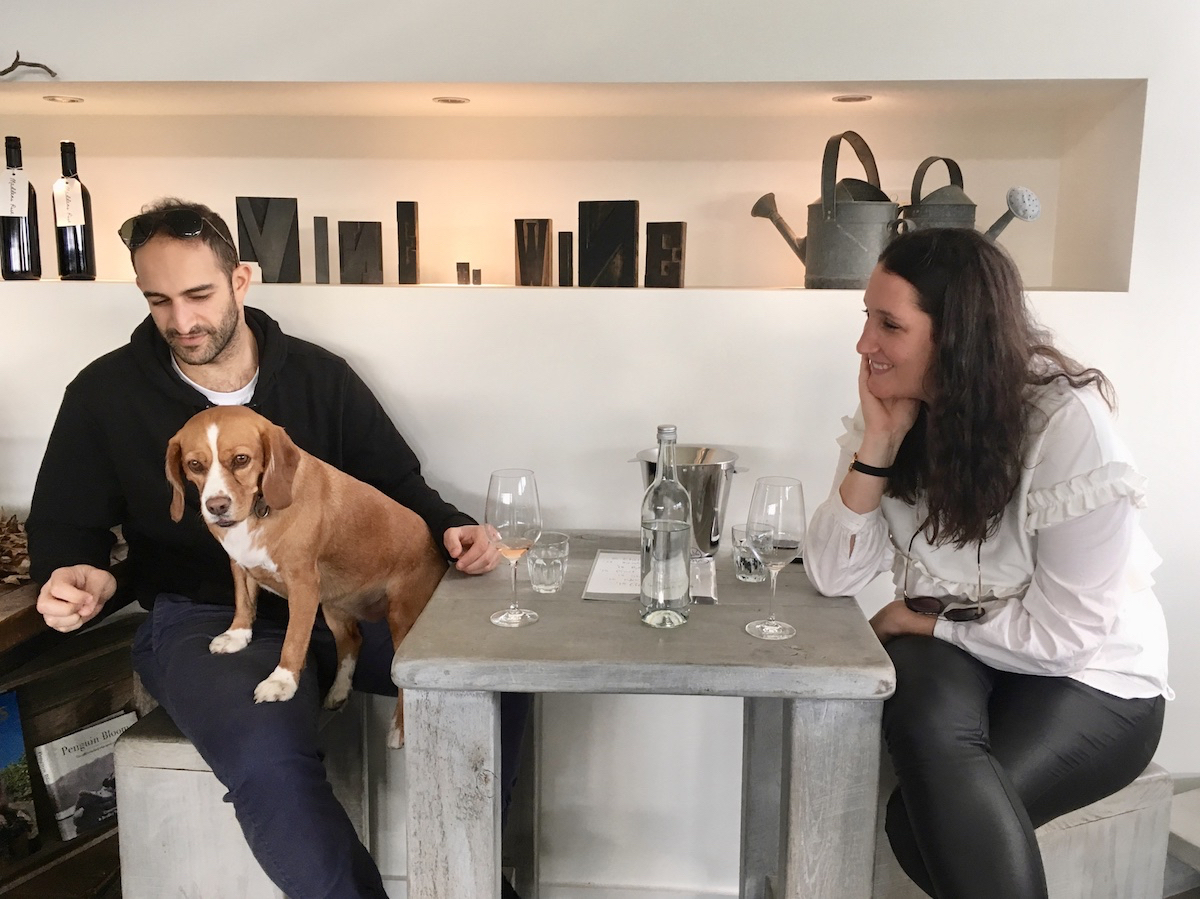 My folks like Maddens Rise's wine a lot, and really loved how tiny and cosy their cellar door is and that I can be inside with everyone, it's great, I felt very at home here.  We said our goodbyes and got back in the van as Jeff had another treat instore for us.
He said we had time, before it got dark, it being winter and all, to go to one last winery, TarraWarra Estate, where we could all sit out on the pepper tree deck together and share a bottle of wine (Jeff's shout apparently) as the sun started to sink behind the vines.  It's ideal there as I could run around on the lawns when I got a bit bored of their conversation (just saying) and then I could come back and be adored by everyone else on the deck and have cuddles with my Mum.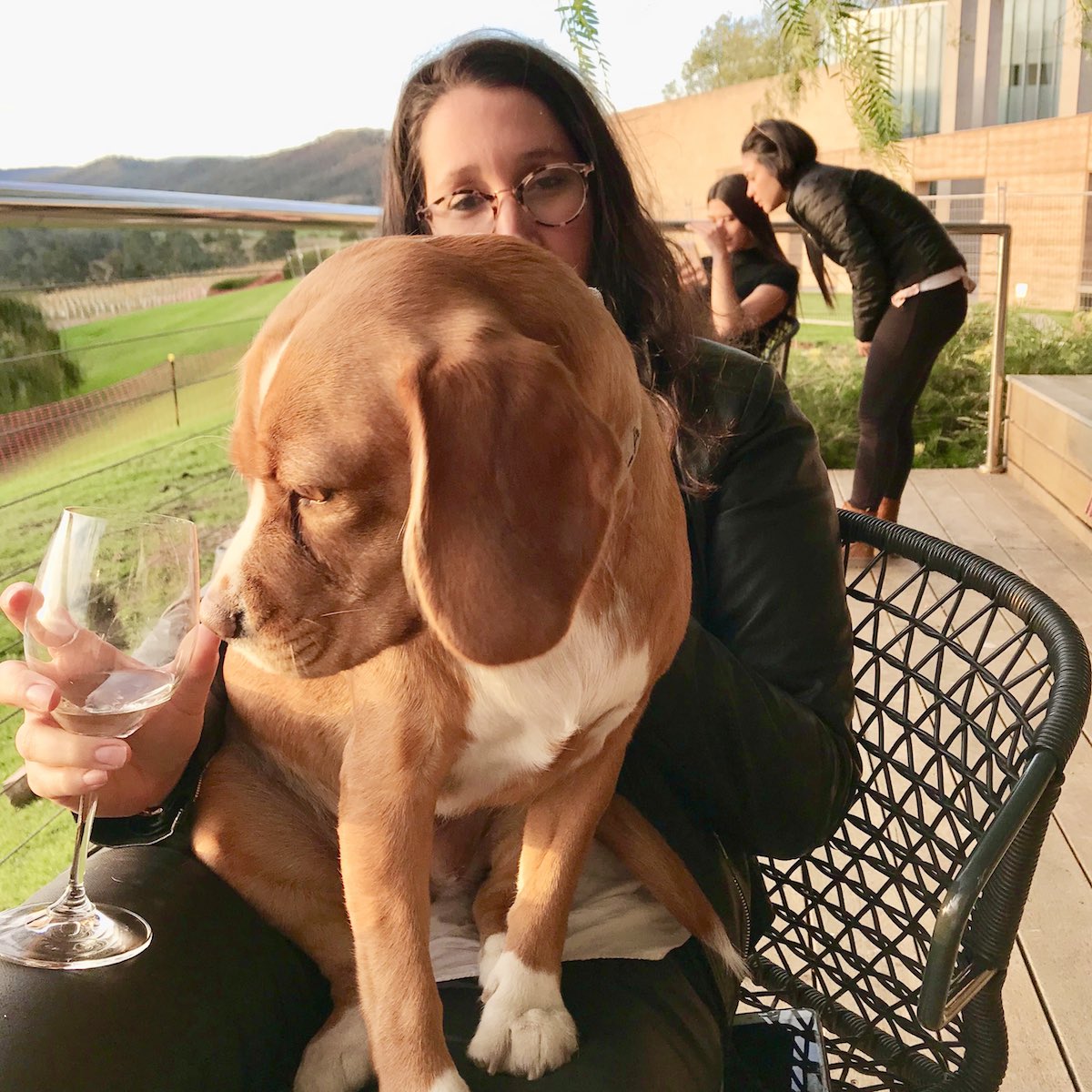 Here I am sniffing her wine – well , I see the humans doing it and I wanted to try.  Smells fine. Still seems an odd thing to do mind you!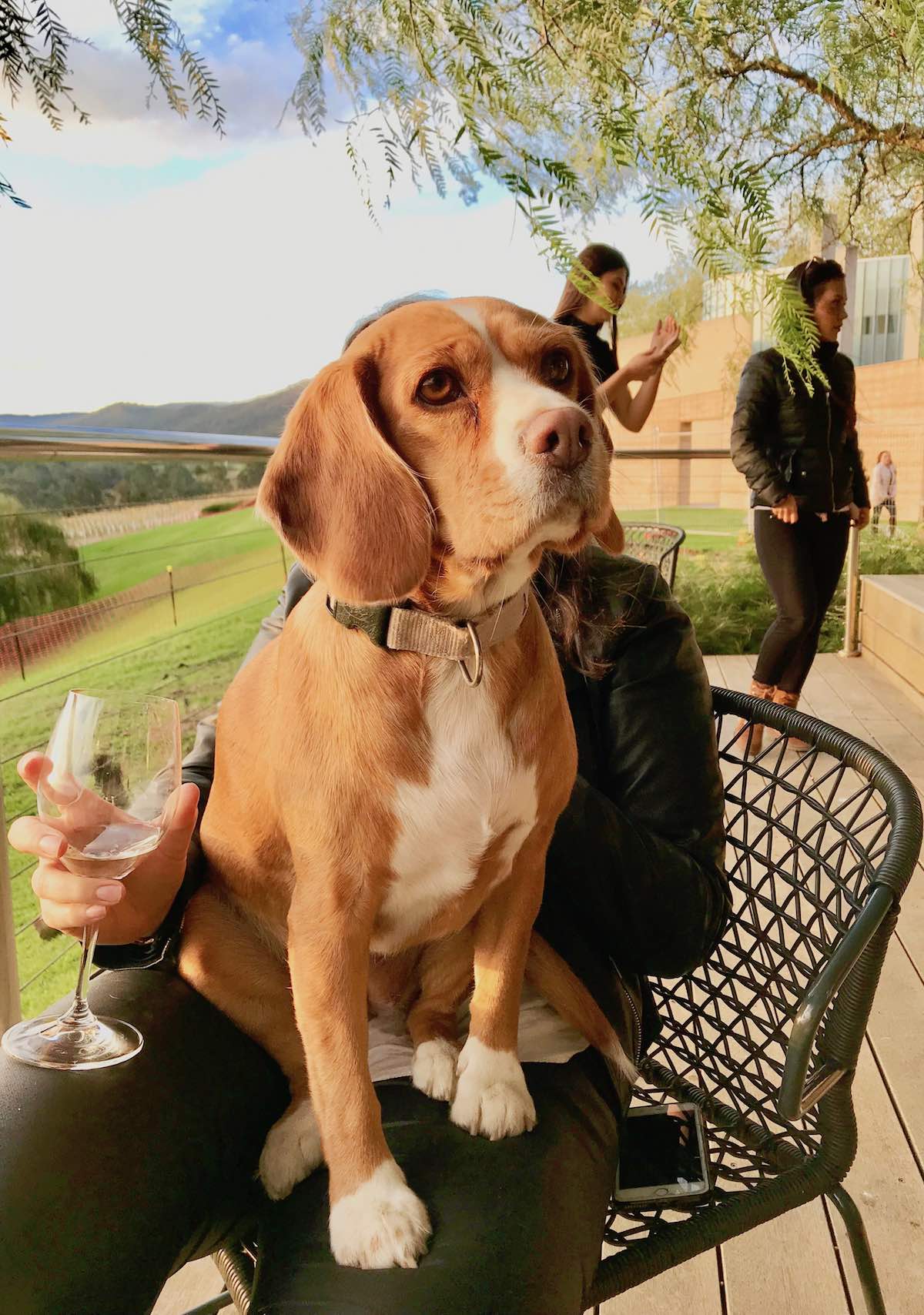 Here's Jeff cuddling me a little bit too enthusiastically.  He's great tho, he took me for walks here at TarraWarra.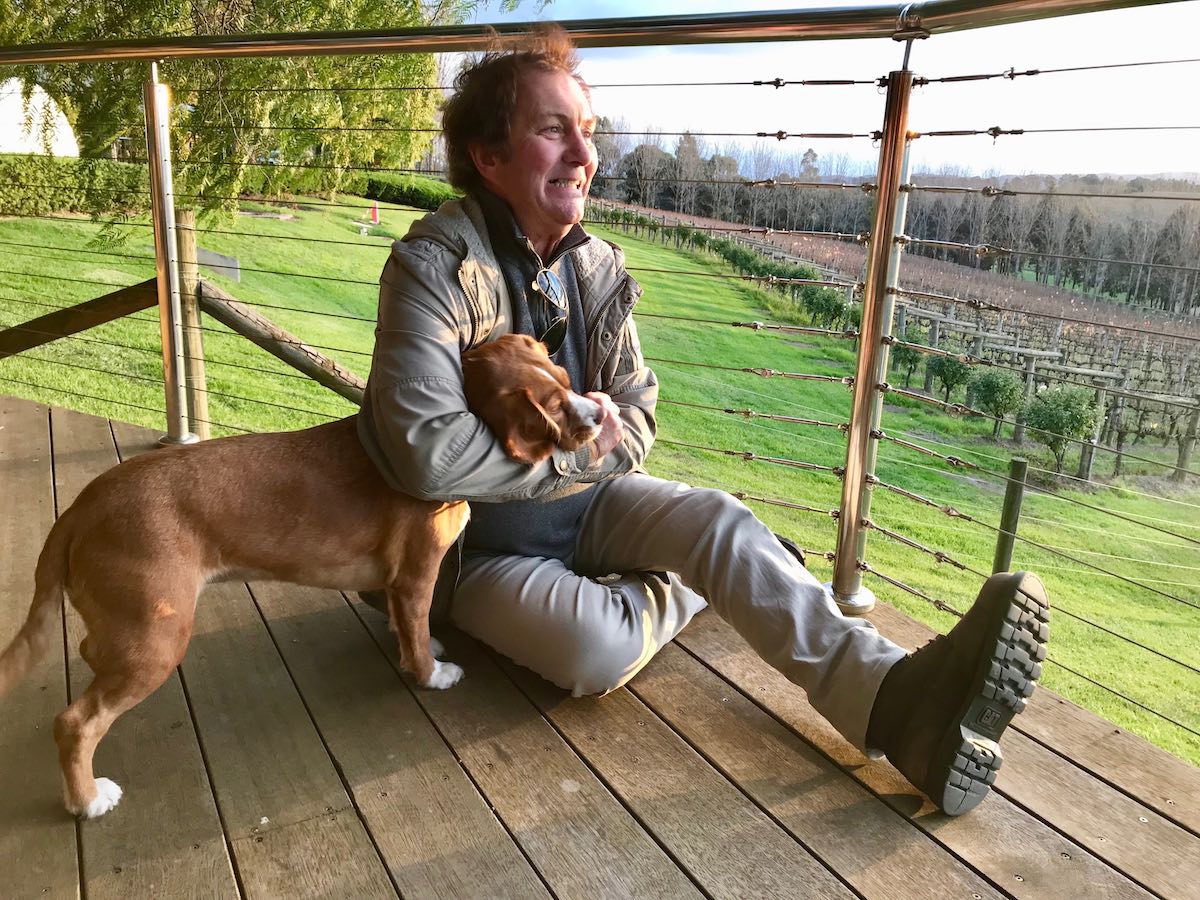 And then before you can say Jack Rabbit, I find myself on a very nice lady's lap and everyone's photographing me again, saying how well I match their outfits!  Rent-a-Dog-Day clearly!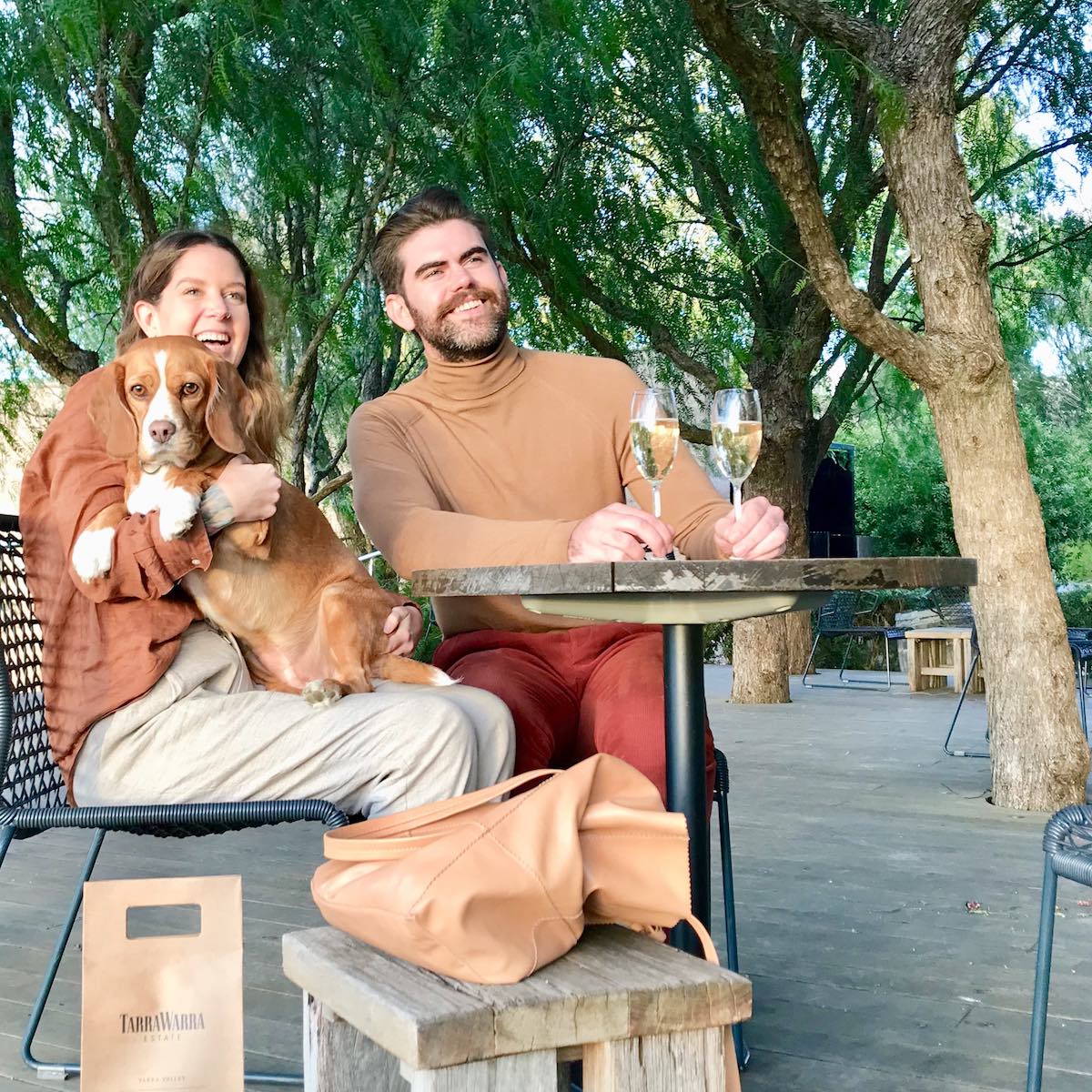 After a day filled with excitement I was pretty bushed and happy to head back to our apartment (after a quick visit to Healesville's famous fabulous deli Kitchen & Butcher that Jeff knew Mum would LOVE).  I was looking forward to kennelling up with my folks in front of the fire, reminiscing about our super day out and watch them eat the lovely cheese they'd just bought at Healesville's lovely deli.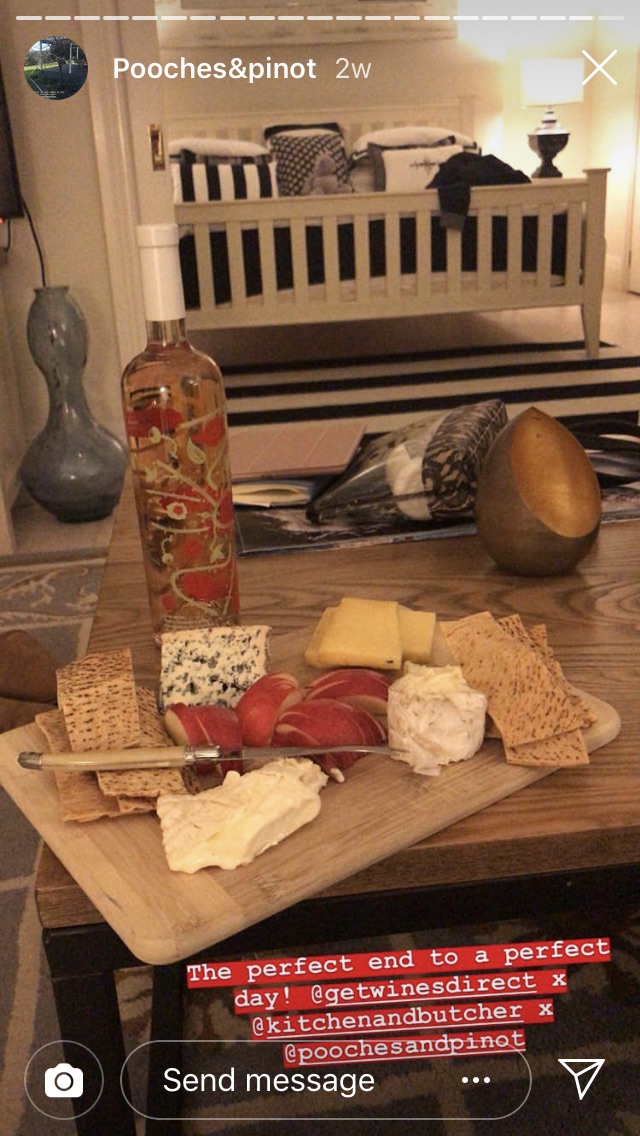 I REALLY liked exploring the Yarra Valley, and everyone was so welcoming to me – I think I should come here more often, so I'll be back and I'll def suggest we stay at Wiggley again and do another tour with Jeff, he's cool and he says there's heaps more places to take us for tastings.