Well hello there, the name's Toby – I'm the good looking one – the pure bred Cavalier King Charles Spaniel (the other dog is channeling the ewok from Star Wars, I'll leave it for you to work out which one I am!).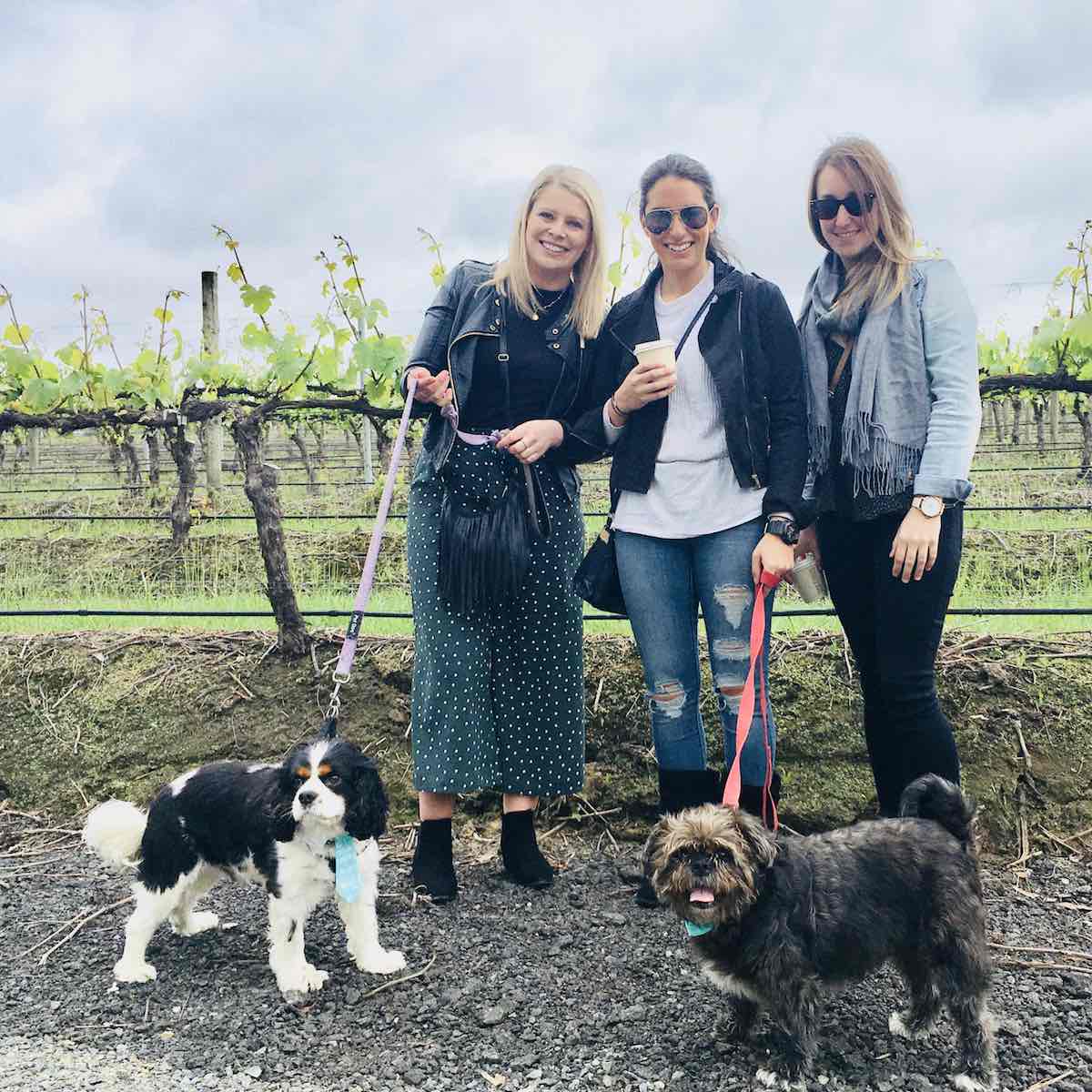 I arranged for my friend WPC Charlotte to come on a wine tour for her spectacularly old birthday (30 – I know!) with some friends plus the ewok. Can you believe she owns a few canines, and chose the ewok of all of them to come on tour today!?  Extraordinary and perplexing.  Bet the ewok can't wait to get back to the others to show off about her day!
We all arrived by train which was fun, with the great unwashed, but soon transferred to our Mercedes which I was much more comfortable with and when invited to climb into the boot I declined politely and sat in the main car with the humans – thank you very much. Guess where the ewok travelled!! She knows her place.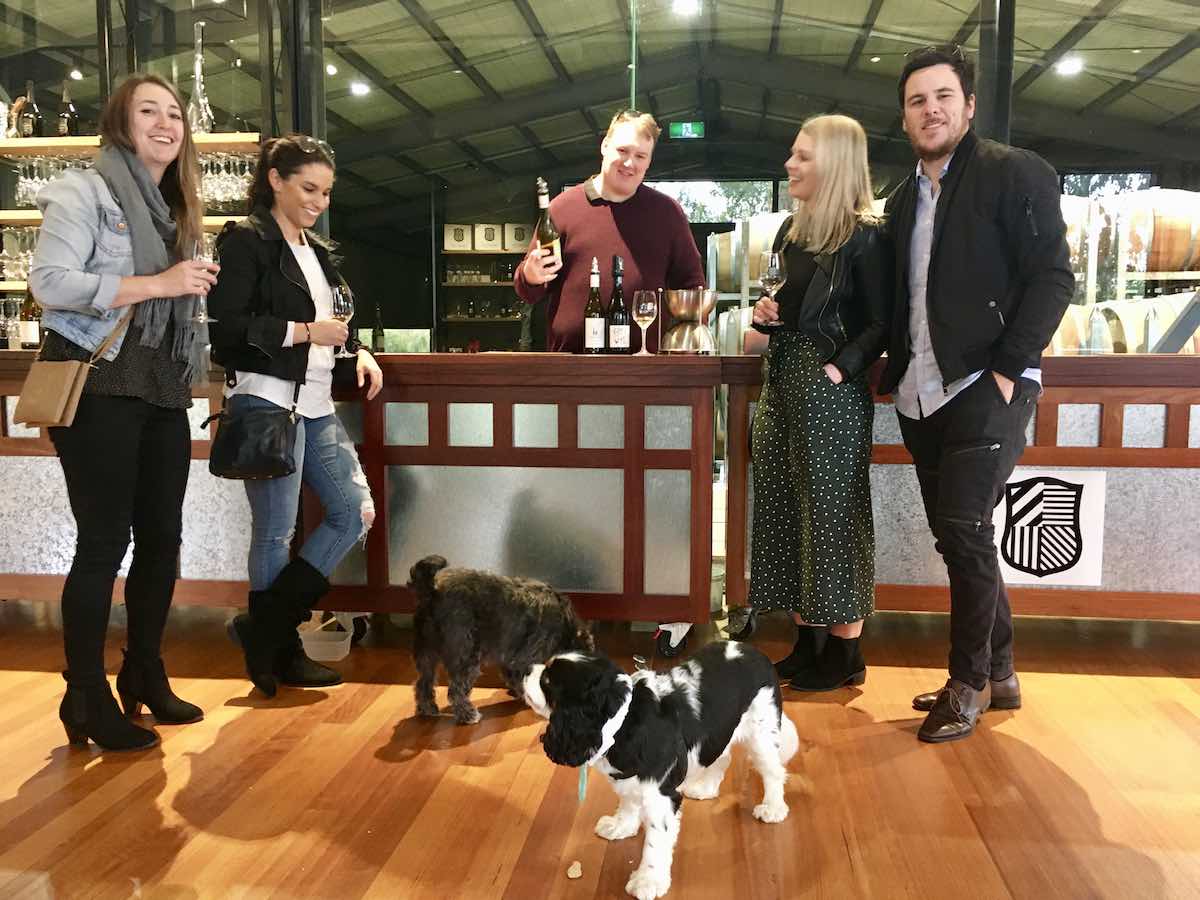 Went to Helen's Hill where I was royally received by all the staff – Scott, Ross and Marissa. Tho they forgot the red carpet, clearly missing the fact I am a royal – not to worry, one does not concern oneself with such minor enfractions! Scott did a fantastic tasting for our humans, which I observed from behind the bar –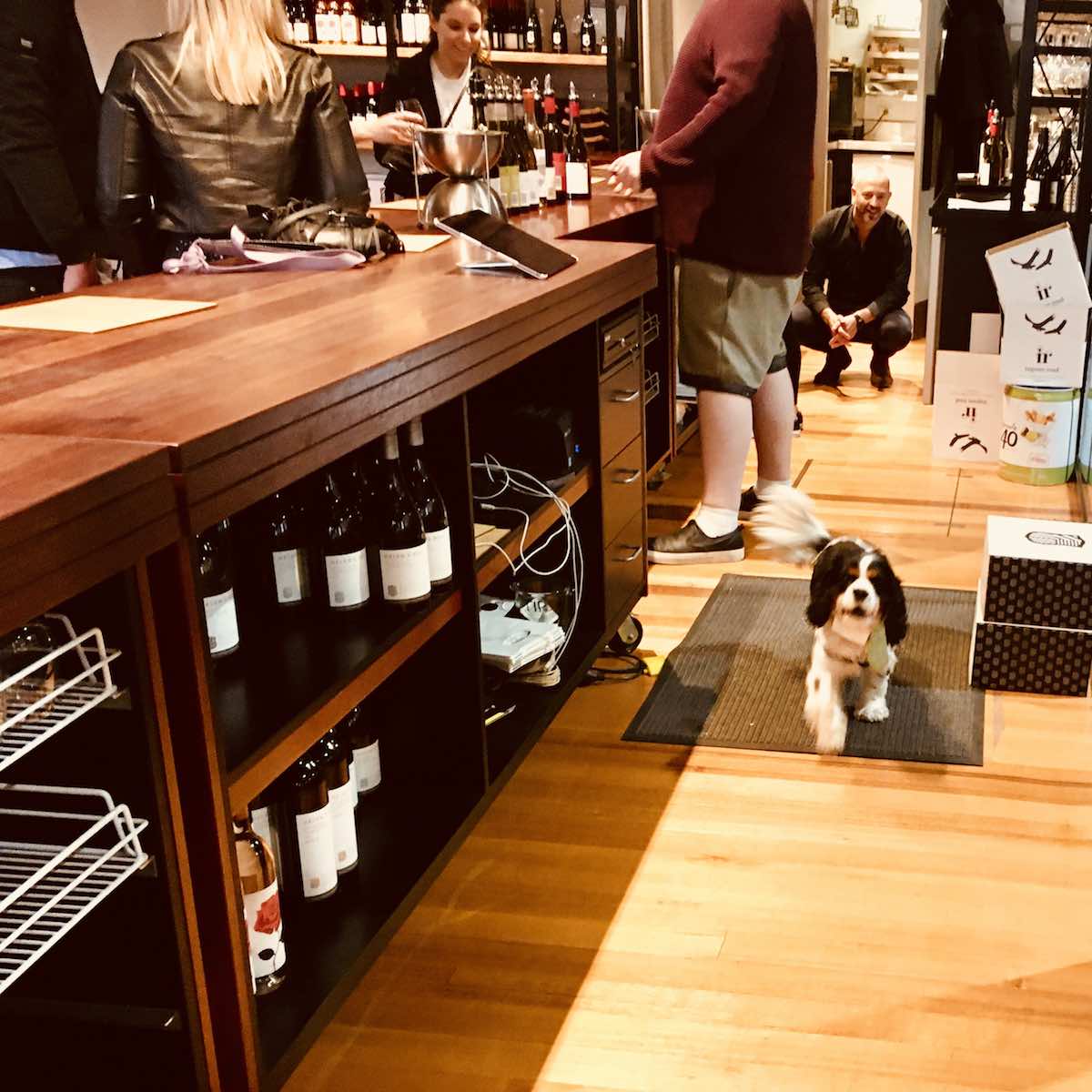 I feel it's my duty to see everything from every angle and I was most pleased with the ship shape operation they are running. Keep Calm and Carry On everybody. As you were.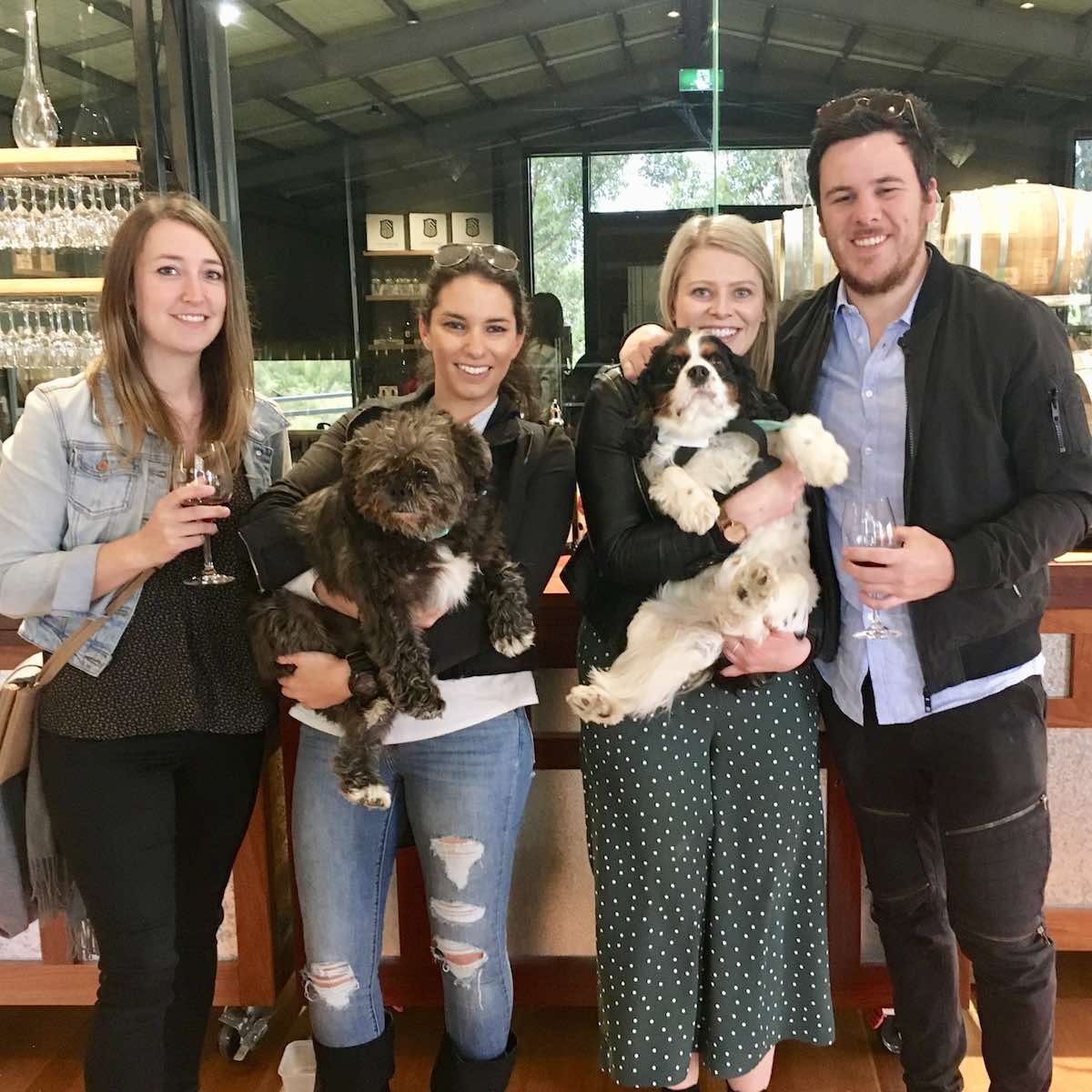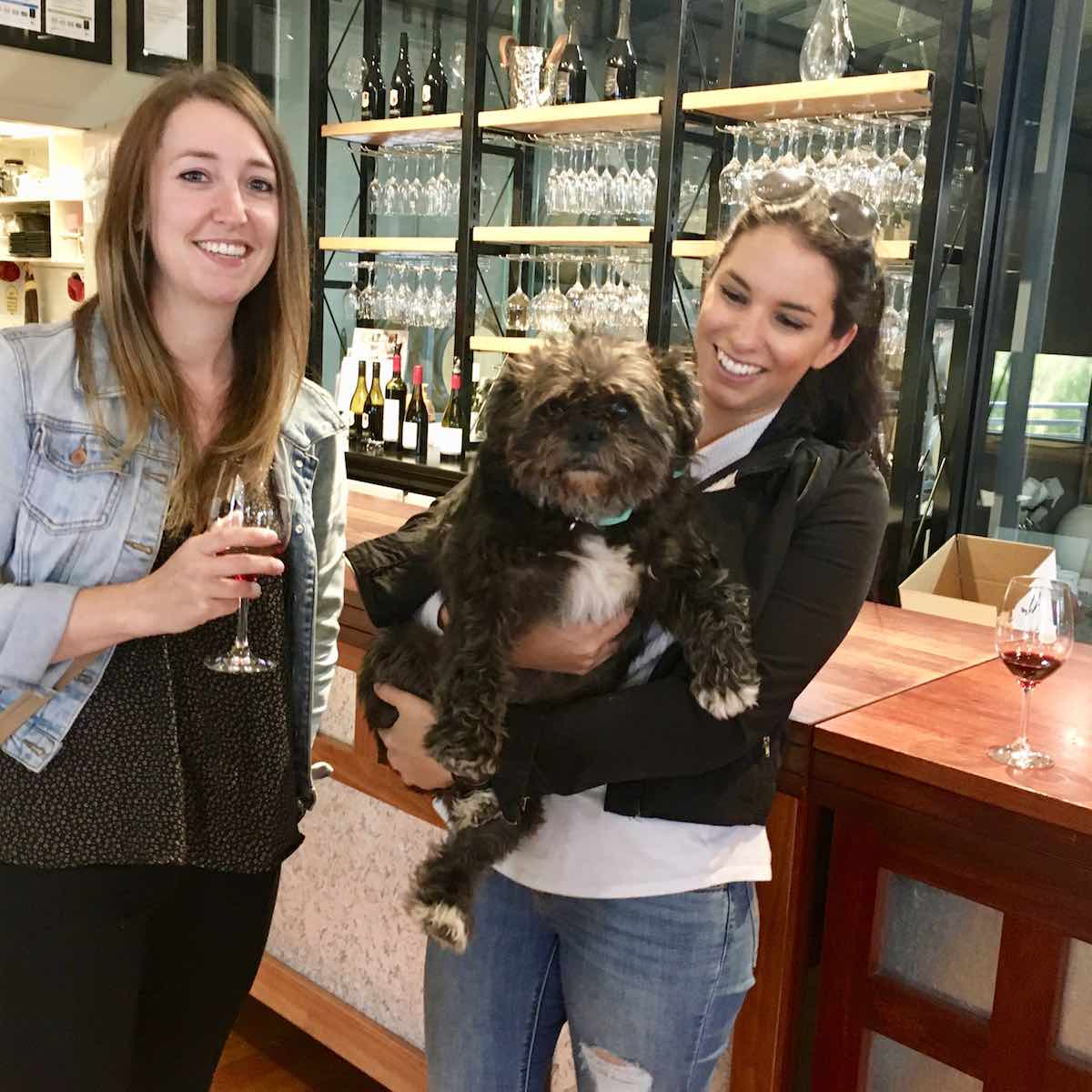 Next we visited Helen & Joey's for a wine tasting and we decided to brave the elements and had our tasting on the deck. We had the place to ourselves to begin with, but then true to form, people heard we are here and started arriving.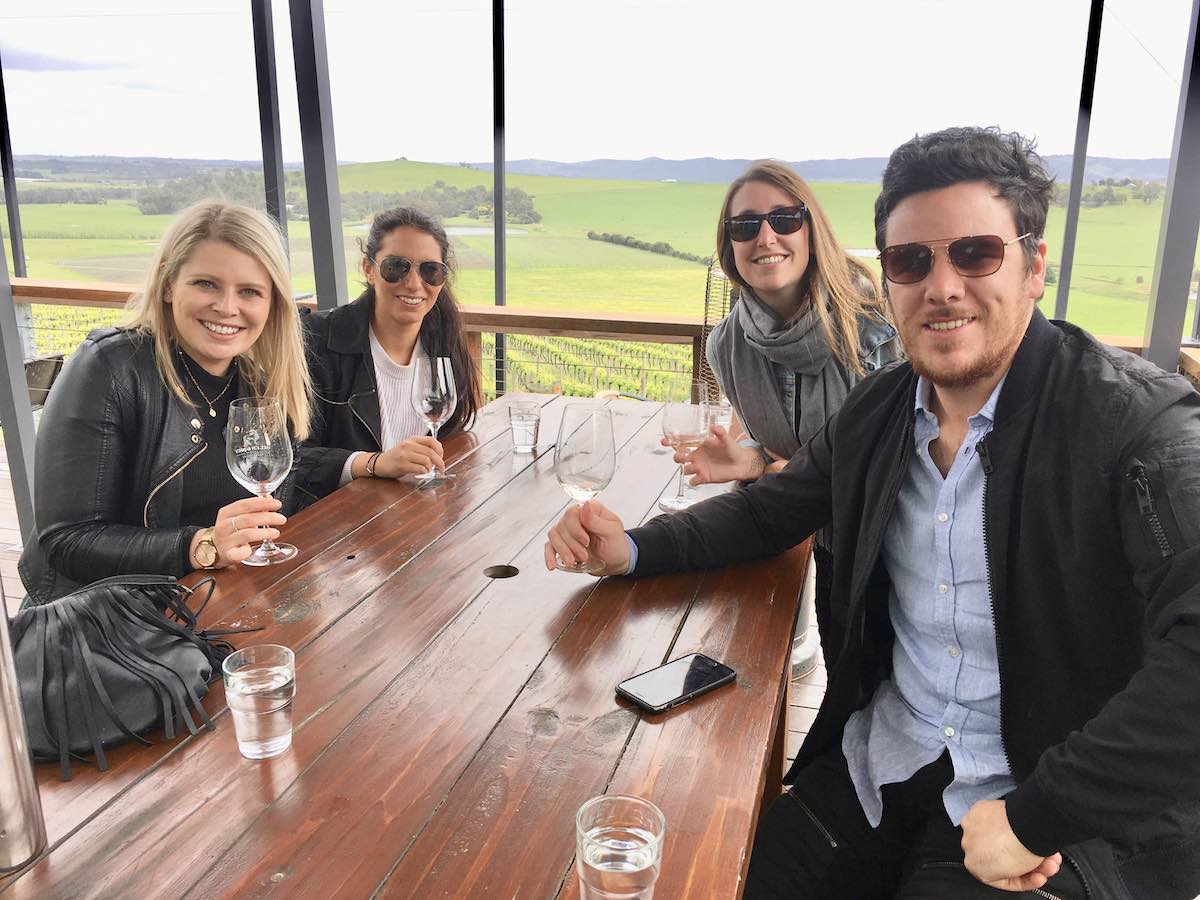 Fraser did our tasting and us pups just hung out and listened. A group arrived all wearing hats. At first I felt inadequate that our group didn't also have a theme, but when I'd worked out that most of them weren't rocking their hats I felt OK that we were all 'sans chapeau'. And I made up for it given I was in collar and tie. And poor ewok was in a bow tie – dear oh dear, misread the situation and got the dress code all wrong, what can I say!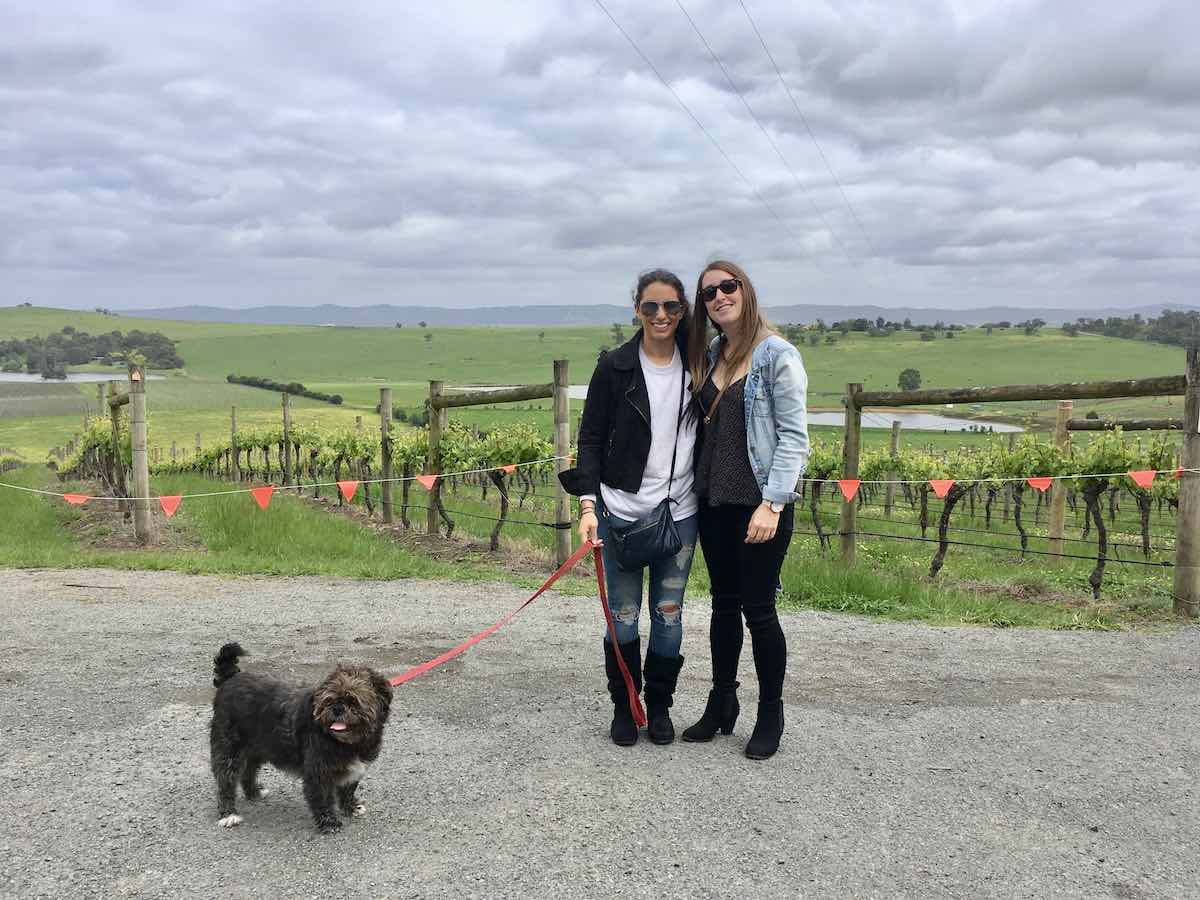 After the wine tasting, we all bravely stood next to a unicorn which fortunately turned out to be friendly and ate none of us.  Look at me being adored!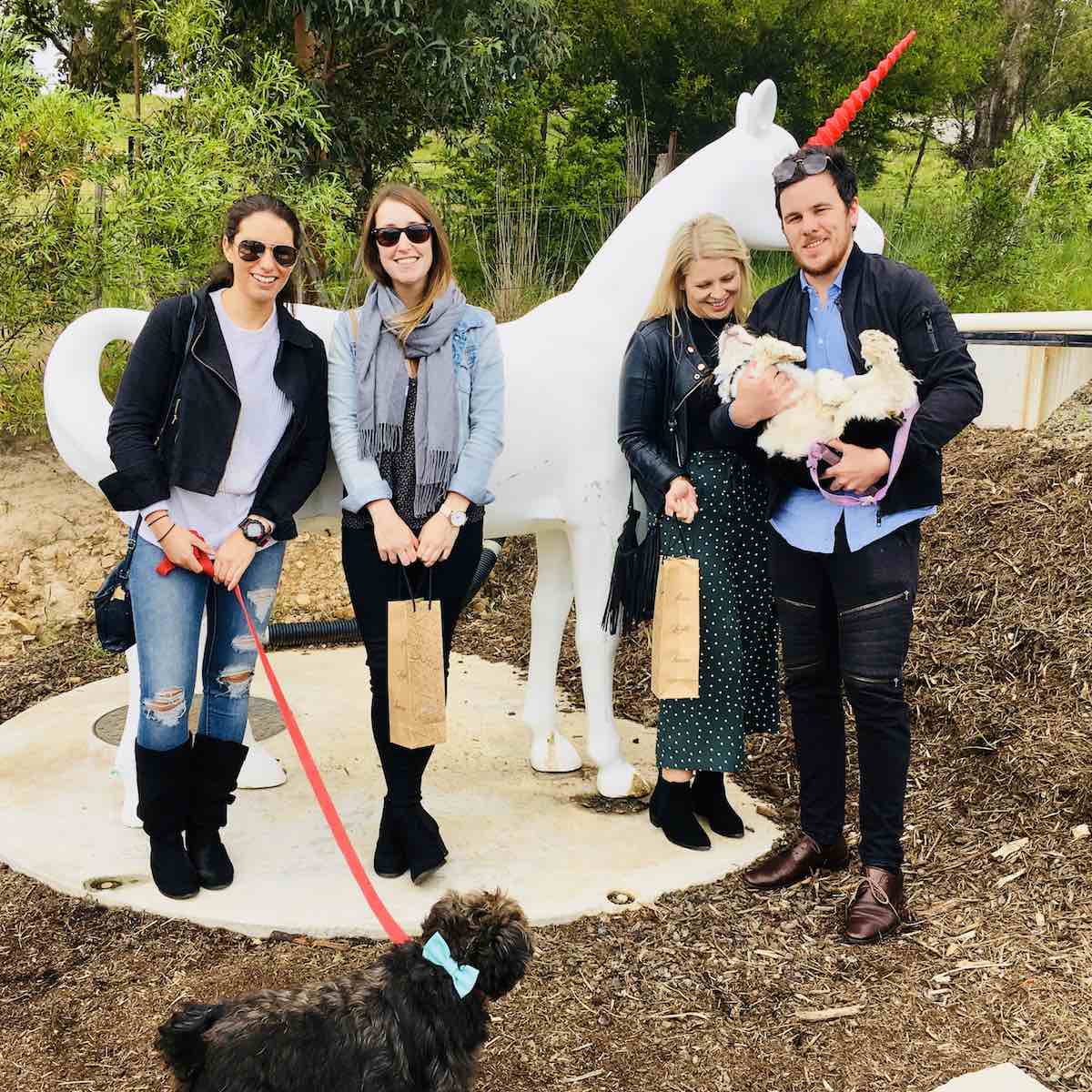 Our next port of call was Yering Farm where I just had to scamper around on the grass for a while because it was so much fun (and real – not like the astro turf from where I come from!).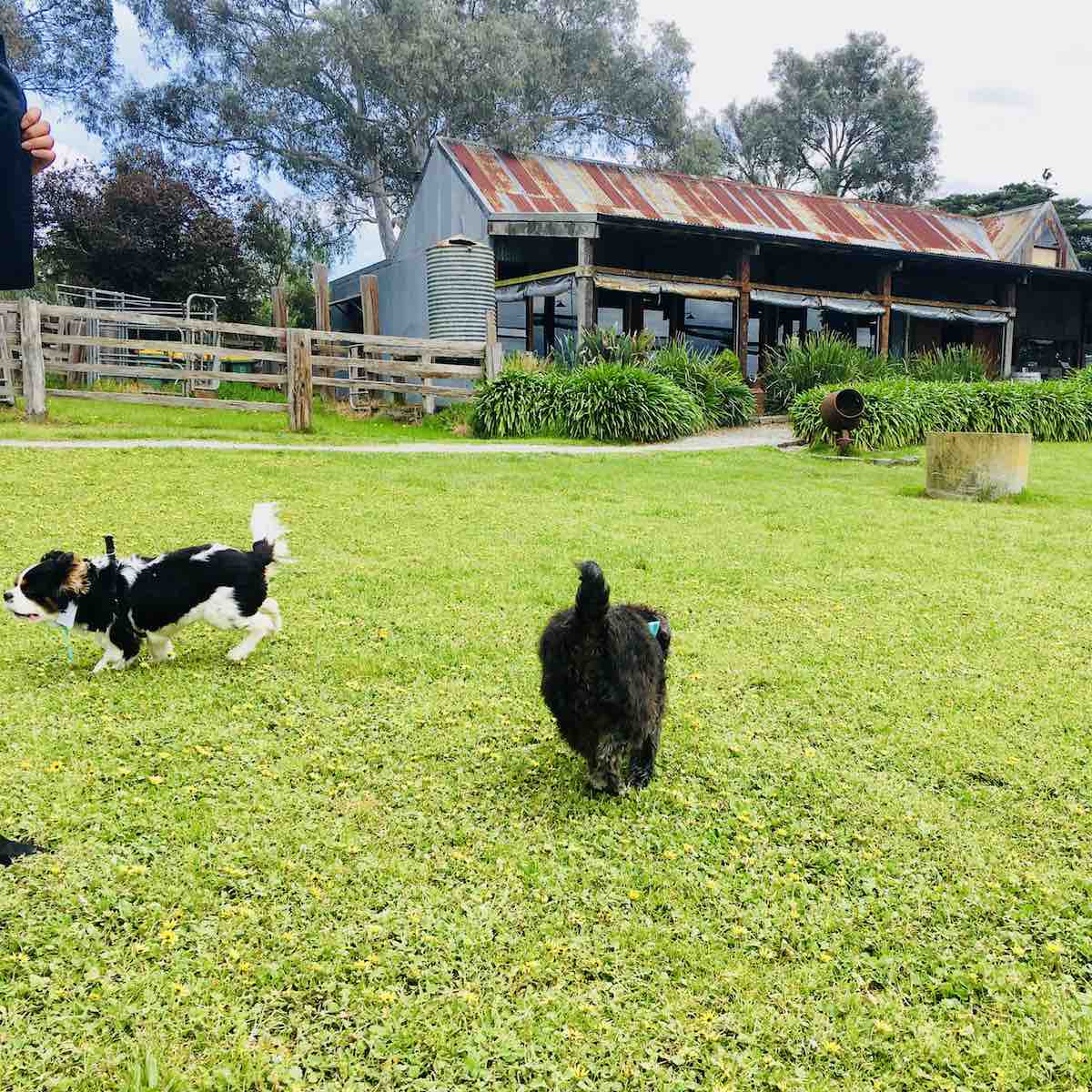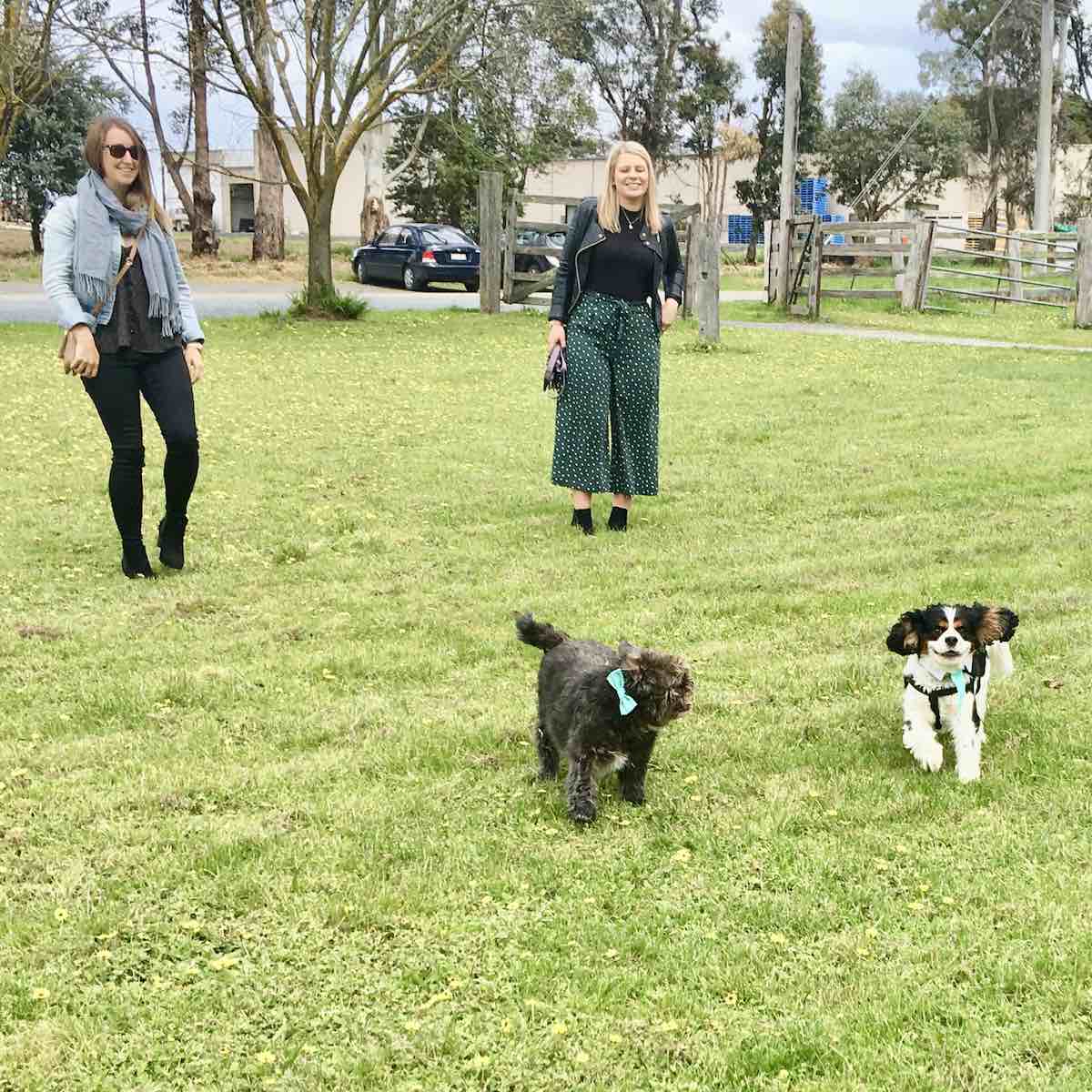 We then went inside a huge barn for our tasting with a lovely man called Brian (I've not met a Brian before, I wonder if he's the same one the Monty Python crew made a film about?)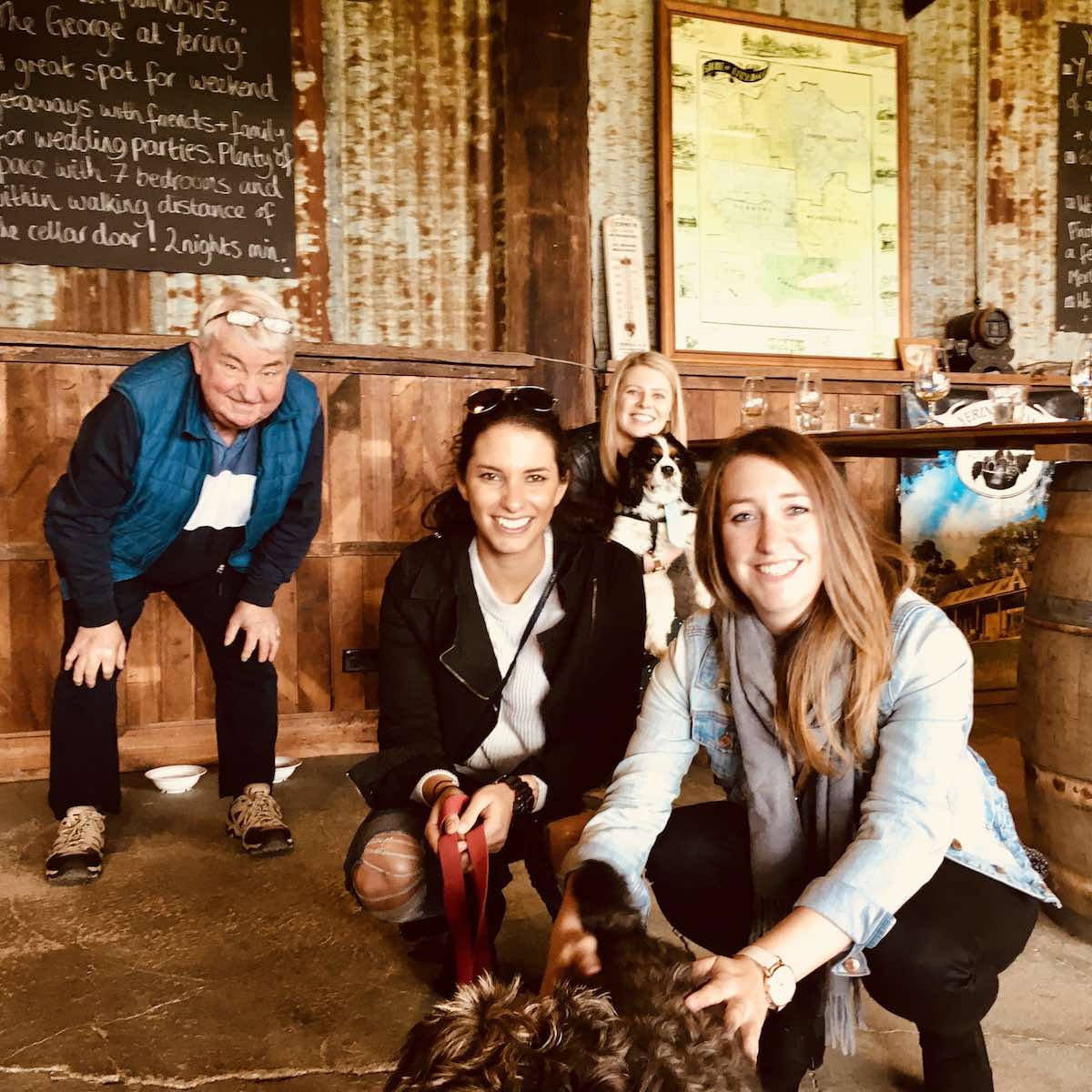 Imagine my dismay when I realised we were being followed. The hat crew turned up and made a fuss of me all over again – did they not recognise me from before? Apparently they did but couldn't resist! Lucky for me, they seemed to also enjoy the company of the ewok, which got me off the hook a bit!  Here's me hiding from them!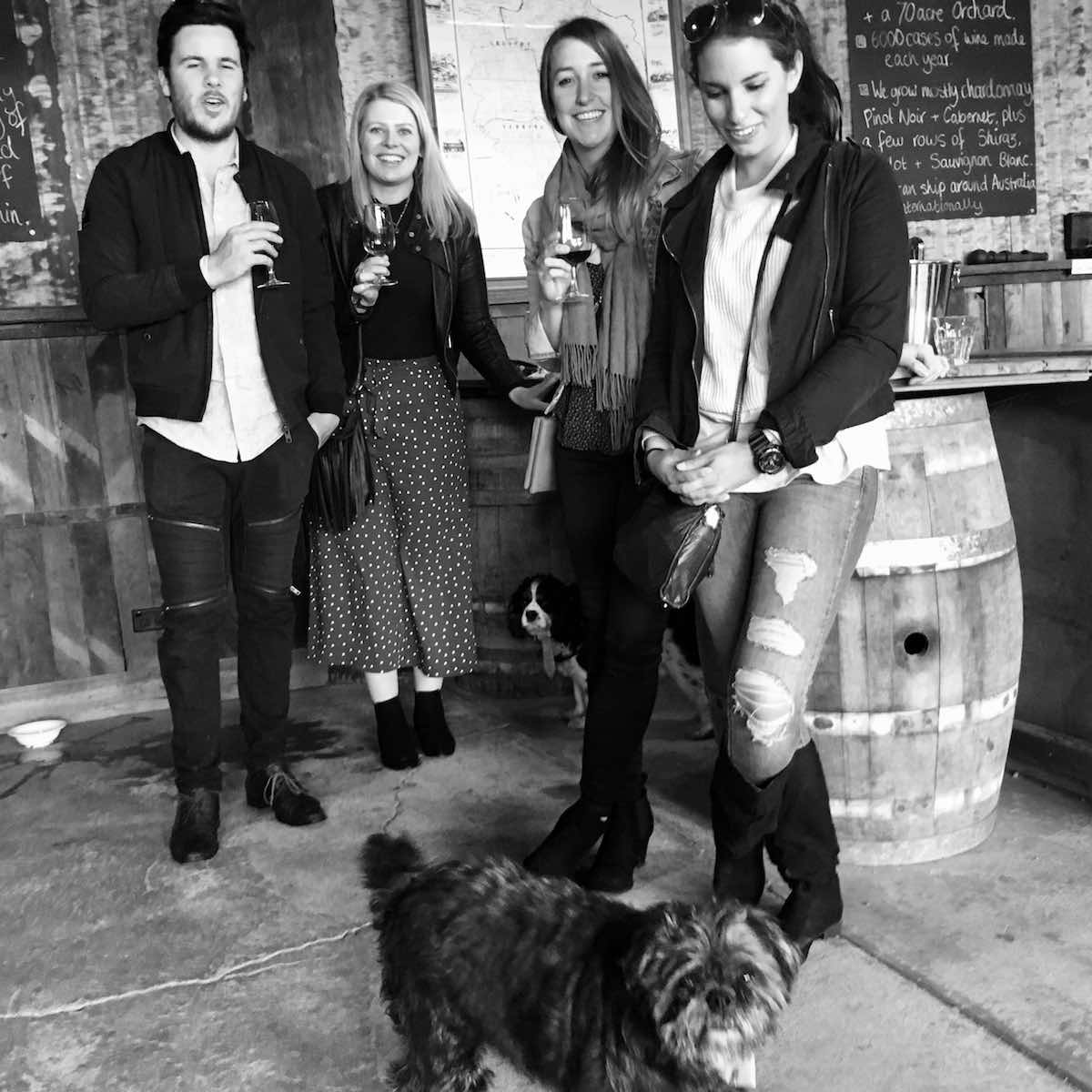 Jeff disappeared promising lunch which got me all excited. But then came out with fabulous food for all the humans and only this very small tub of treats for me and the ewok. Quiche baked that very morning for the humans, wine (which we saw none of ALL day) fresh French baguette, Italian salami, prosciutto, marinated vegetables, olives, dips, gooey cheese, and what did they give me and the ewok? Only chicken wings and crispy lamb lungs – presentation people, presentation!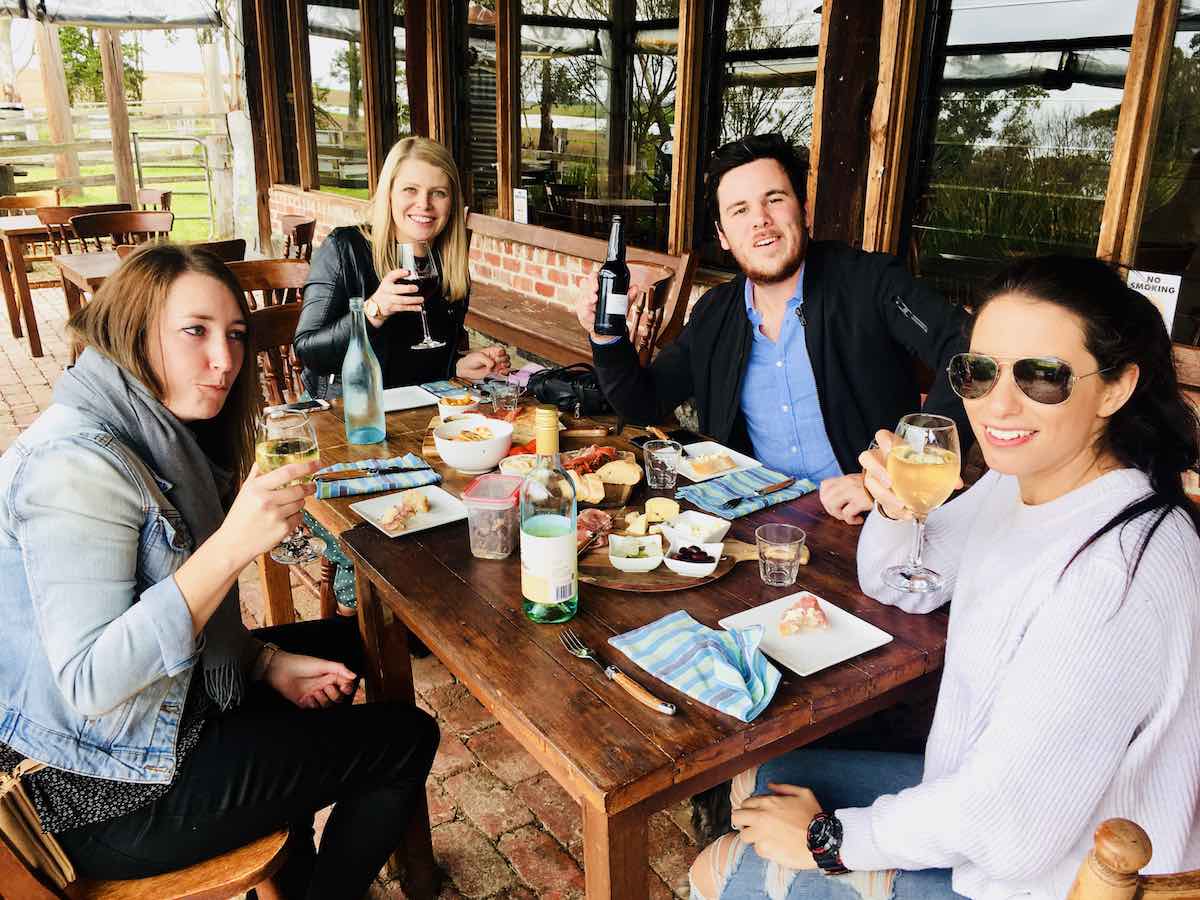 We went at such a leisurely pace, it was so nice not to be rushed, and after lunch we mosied on down the road a short way to Maddens Rise a gorgeous tiny place for yet another a wine tasting.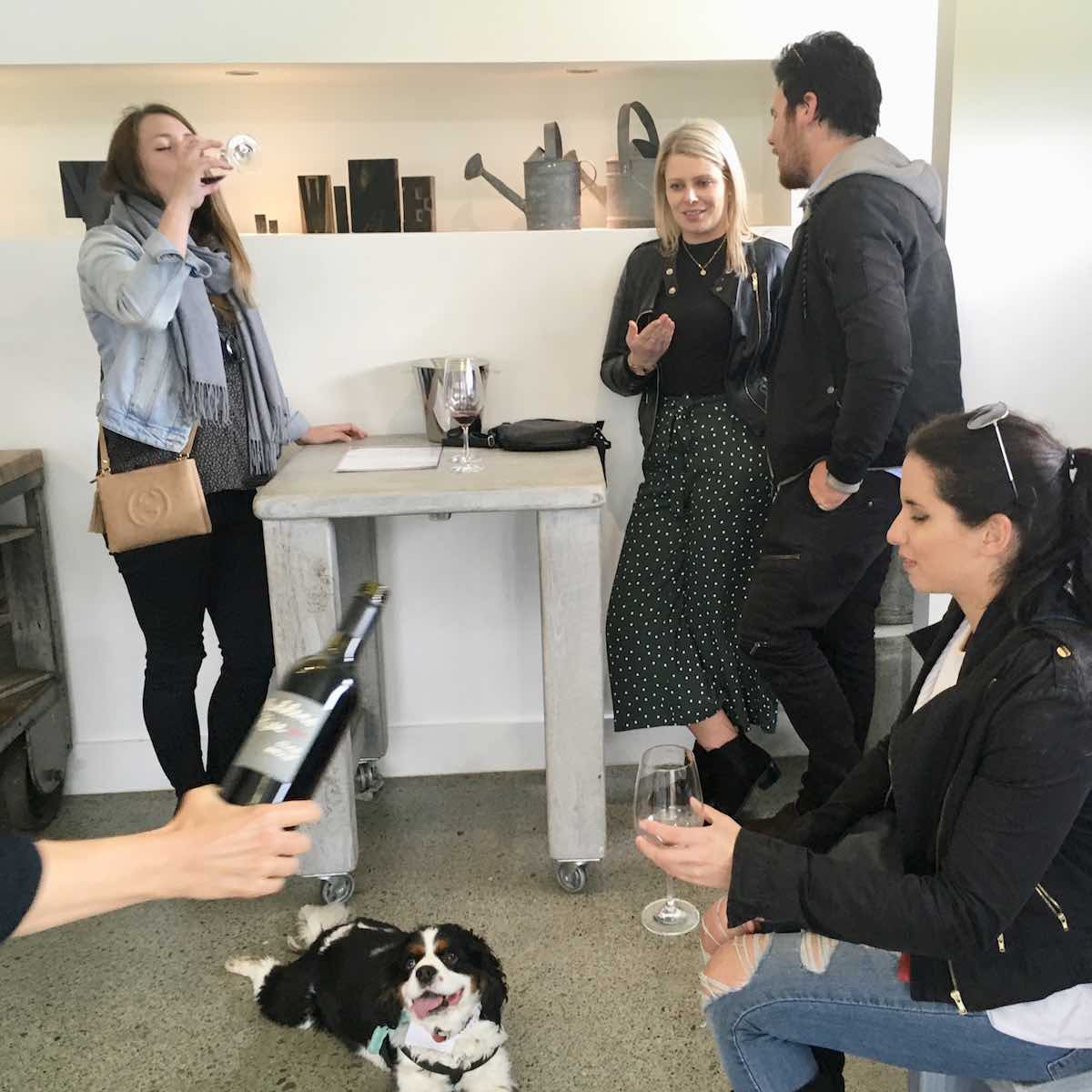 We were shown to our spot for our wine tasting and then Jeff disappeared again but then appeared almost immediately with candles burning on a cake which Charlotte had the quick foresight to extinguish – must be her WPC training that kicked in, good job she was alert and quick thinking. Everyone thought it was marvellous and Jeff gave them all a bit of cake to try and glasses of wine with fizz in it and there were plenty of happy murmurings – like when I get a lamb lung and there was plenty of licking of lips! This on fire cake must be a real treat for humans!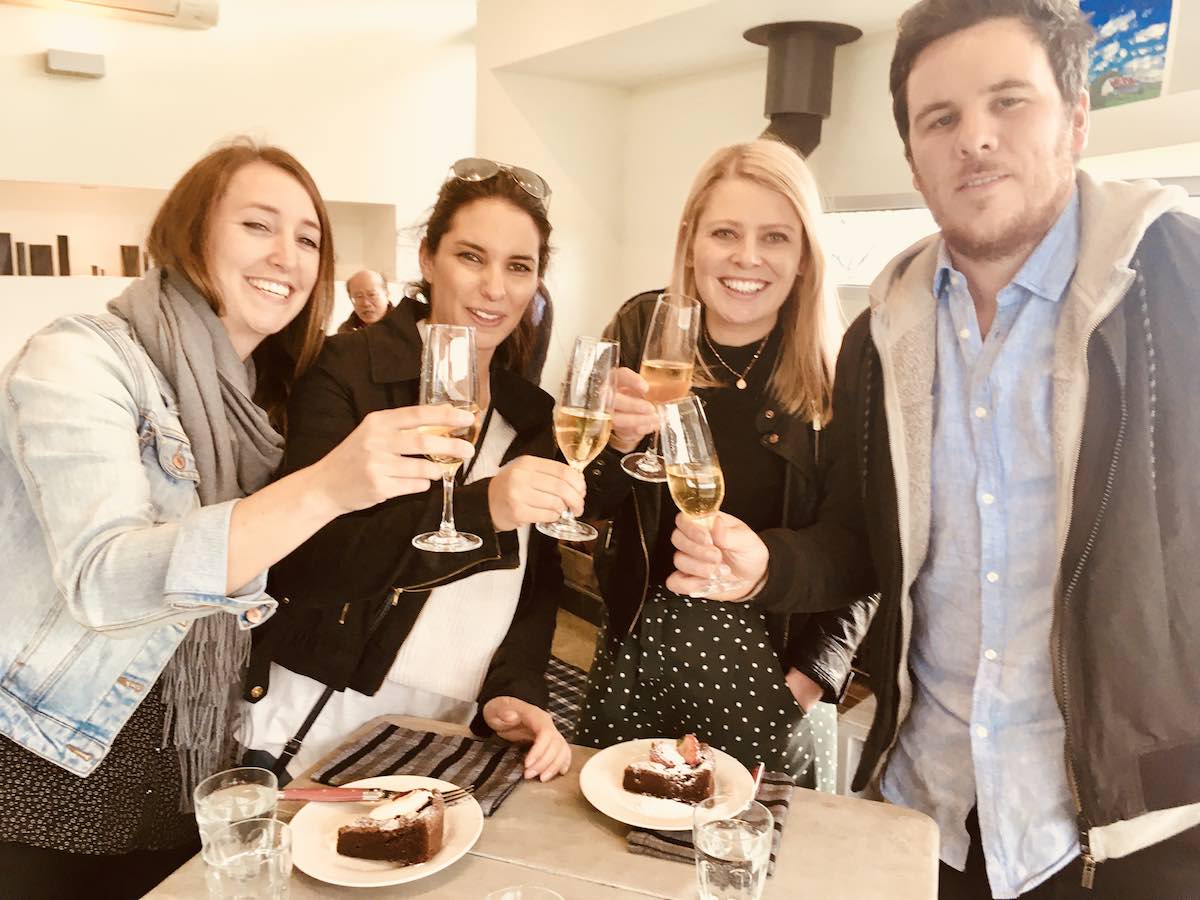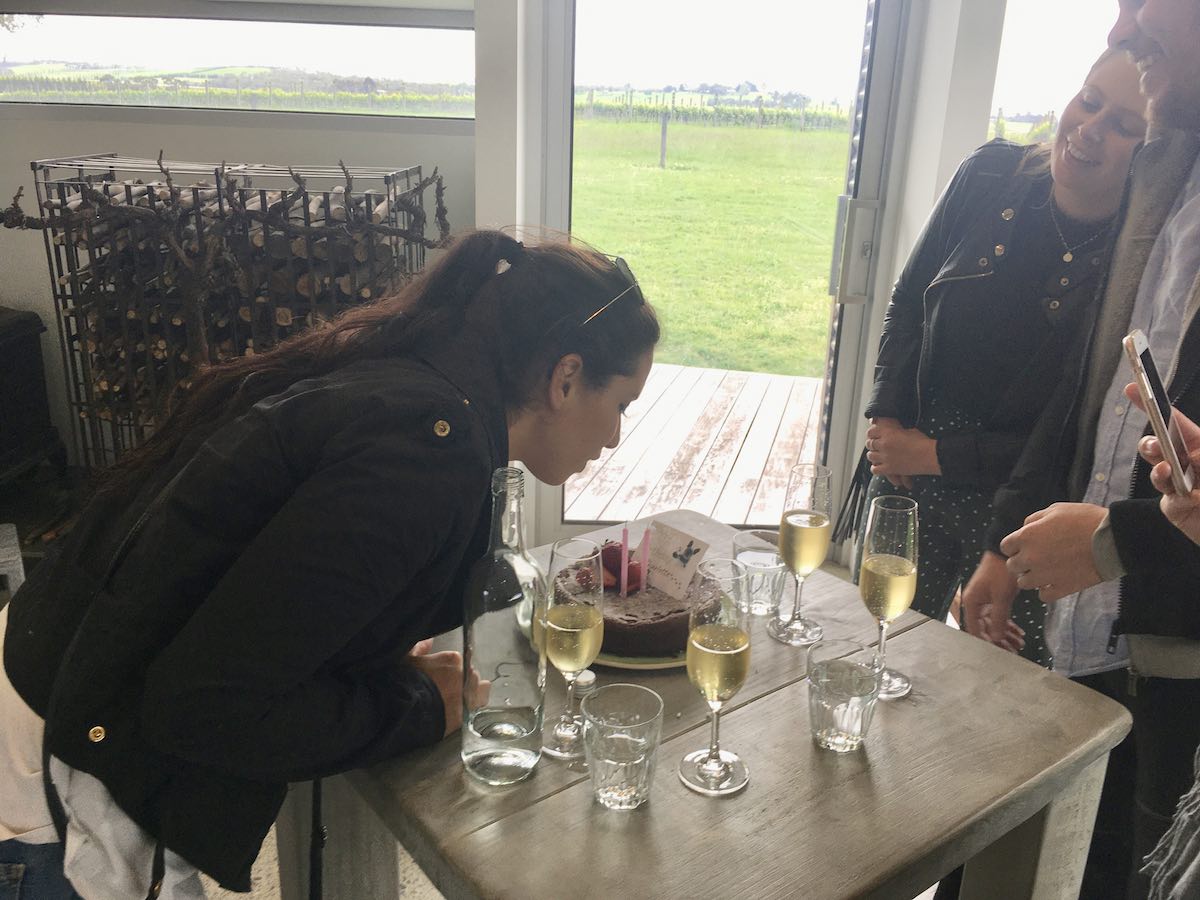 After cake we adjourned outside so that the humans could sit and drink and we (that's ewok and me) could chase birds and run around like maniacs. (in our minds) I ran and ran and ran off lead (while ewok sat) and I was having a ball and Jeff and our humans were delighted by my antics and running while they sat drinking (well, not Jeff – he was driving).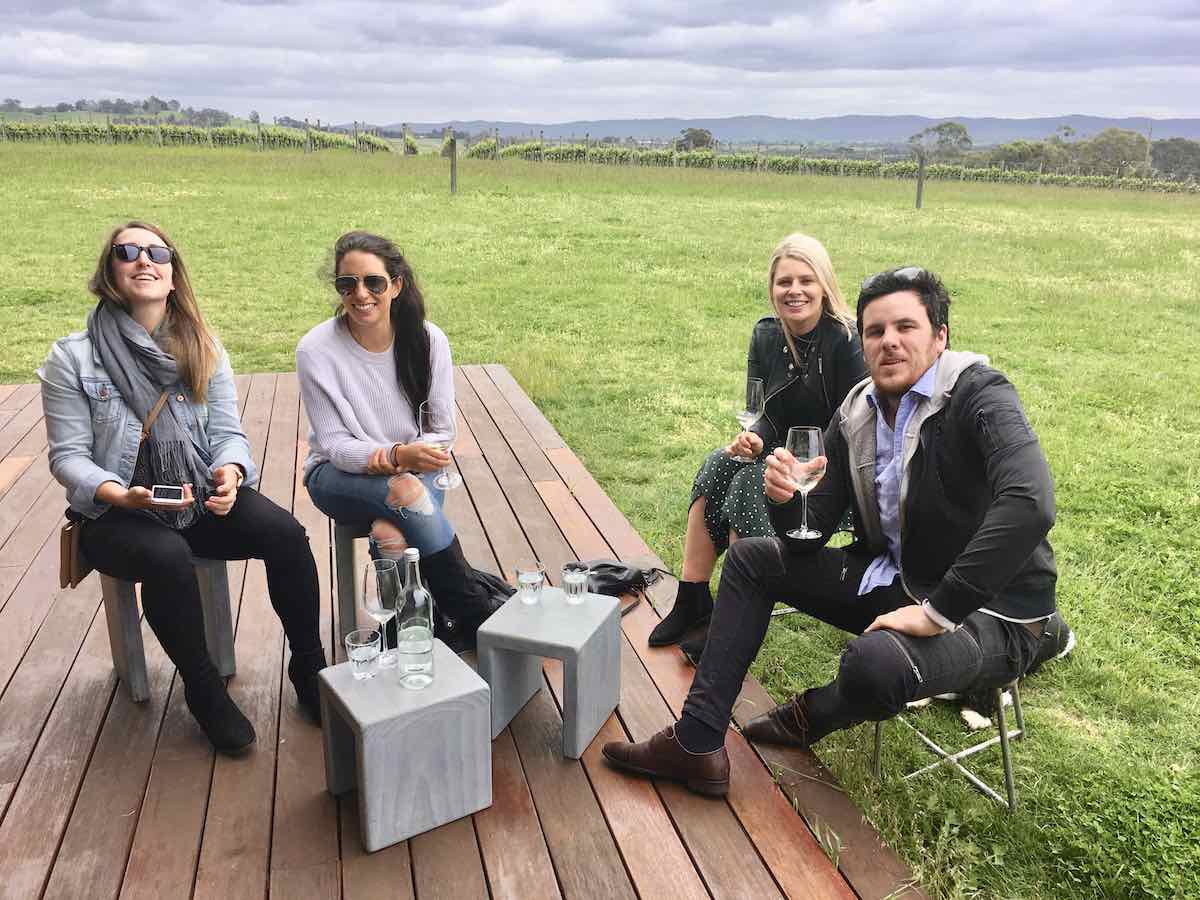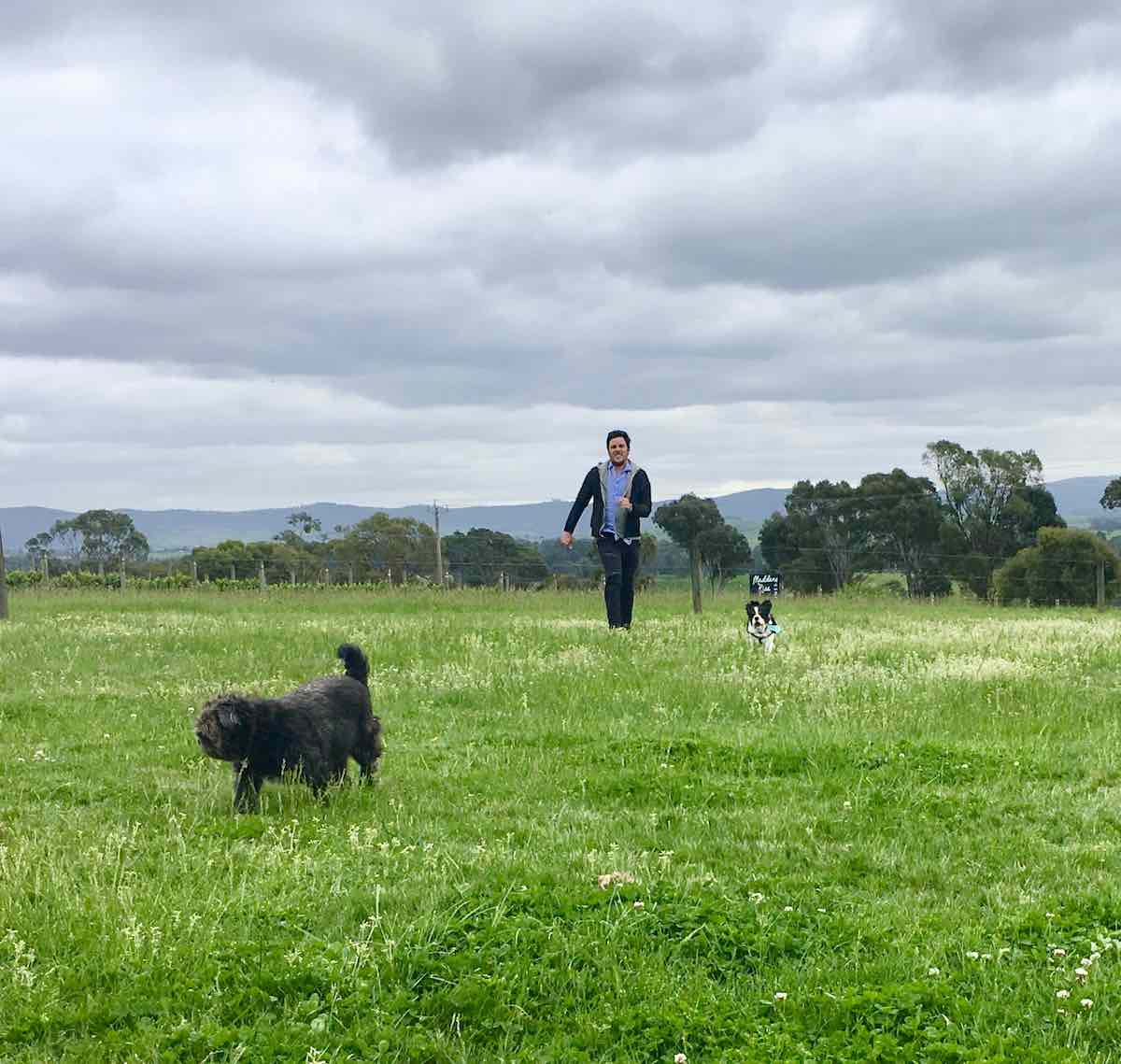 Here I am being the poster boy for Maddens Rise.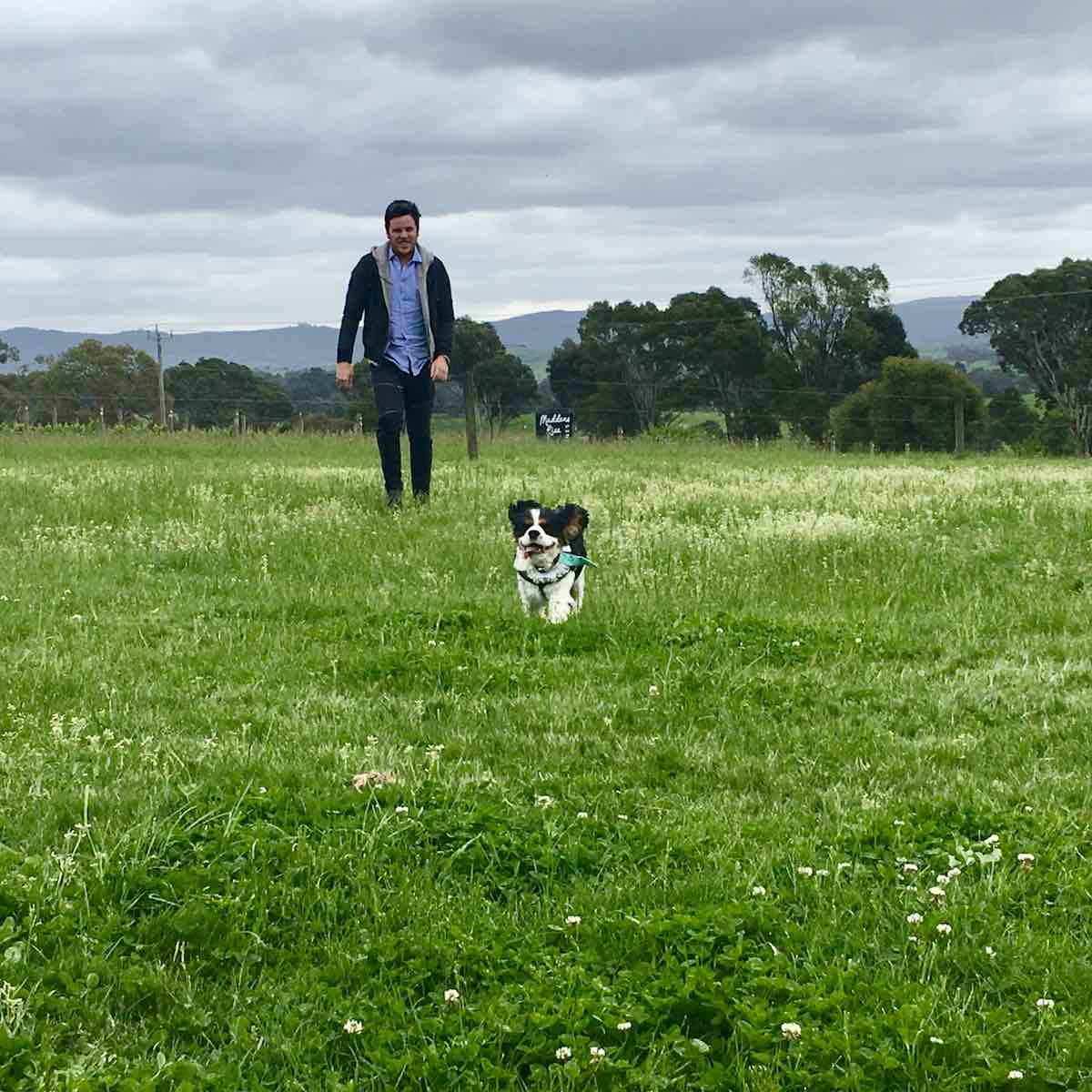 Susie, once again, showed her discerning palate when it came to wine by recognising the lovely soft tannins in the wine they were trying and lo and behold out came Ben, the cellar door hand, who then described the lovely soft tannins they were all experiencing in the Shiraz they were trying – hats off to you
Susie bcs the others were clueless, including me (only bcs no-one offered me any)!
Jeff thought at this point it would be great if we all cleansed our palate's with a little beer tasting and I have to admit I got rather excited at the thought of a quick refreshing pot!  So we arrived at Watts River Brewery who it turns out were having a party, not for Charlotte but for their 3rd yr anniversary. We set ourselves up at the back of the brewery and a lovely lady kept bringing out little samples of their beers for us to try. Us being my humans. Overlooked again! And we all played ping pong (well I was relegated to referee as I struggled to hold a bat with my paws, especially after all that swallow chasing). So I reclined instead for some repose on a velvet upholstered striped armchair. Jeff, despite being the only sober human among them, got beaten hands down – how shameful – he clearly needs to re-watch Forrest Gump!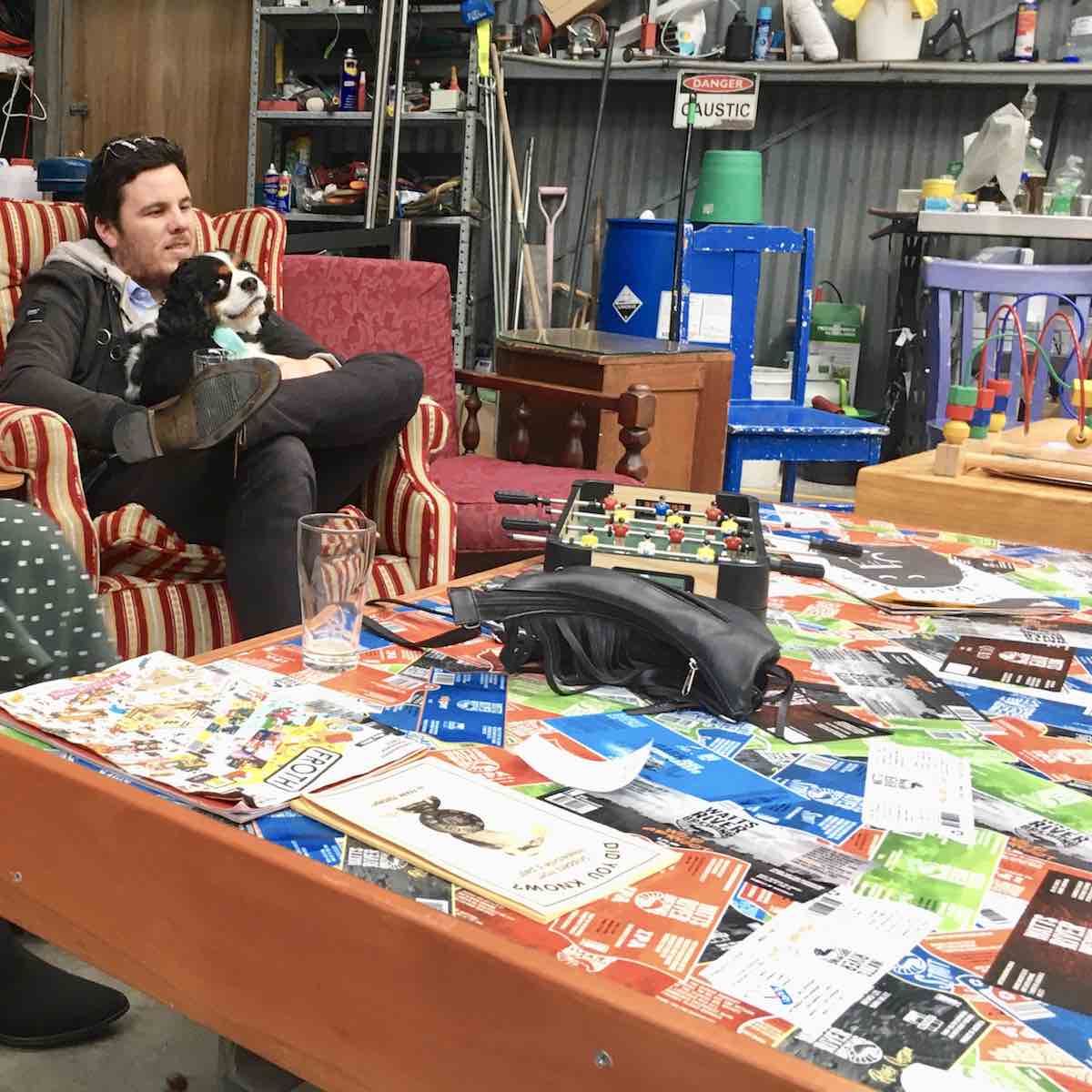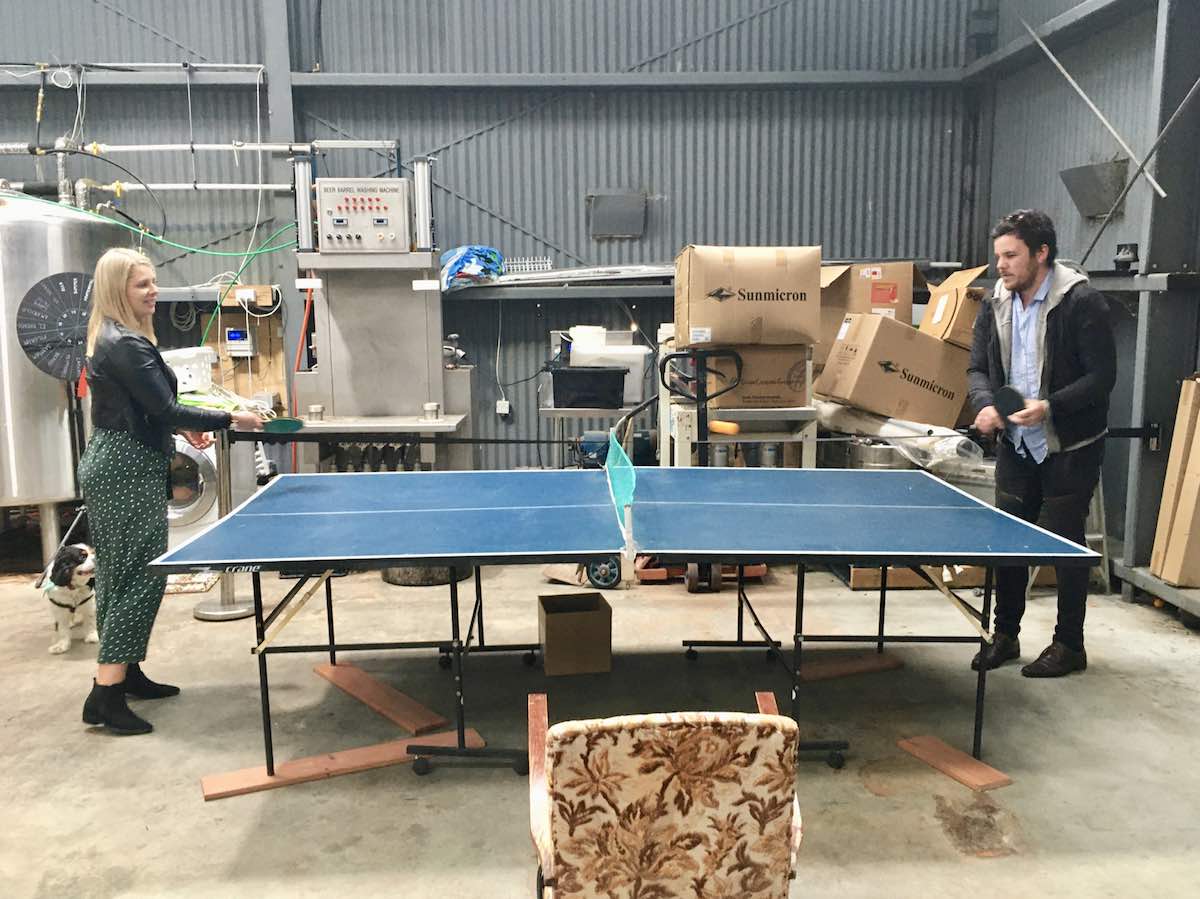 Some small people (called children) started annoying us banging small judges gavels (who armed these kids?!?) so fortunately WPC Susie was with us and she flashed her police badge at them and had a long conversation with them about the importance of cleaning their teeth! Seemed to work, altho I was sure she was a WPC not a dentist, but it worked a treat on the annoying small folk so who am I to care!!
We needed to catch our train, so Jeff got us all in the van and drove us down to Lilydale and we narrowly missed having to stop for jam donuts which would have CLEARLY meant we missed our train. But just as well, as my Mum and Dad are about to head off on a bikini wearing holiday in the Cook Islands, so best they were avoided!!
Said our good byes to the lovely Jeff quickly as our train was sitting there waiting for us (oooh pressure) who loaded us all up with all the wines we'd bought during the day AS WELL AS two bottle of fabulous looking own label Pooches & Pinot wines which we'll hopefully all get to sample later when we get home!  'All' meaning me as well!  One can only live in hope.  Tho I'm quiet tired – here's me flat out at Watts River Brewery!