Well hello there – tis King Arthur here, holidaying with my half brother Prince Charles and our two most loyal servants, Nicci & Hayden, in the Yarra Valley.
Our Royal Residence this weekend is known to the locals as Wiggley Bottom Farm and we found it much to our liking.   There was even a young Dalmatian hand maid for me to fall in love with – her name is Polly Waffle.  Look how deeply in love we are.  Parting shall be such sweet sorrow.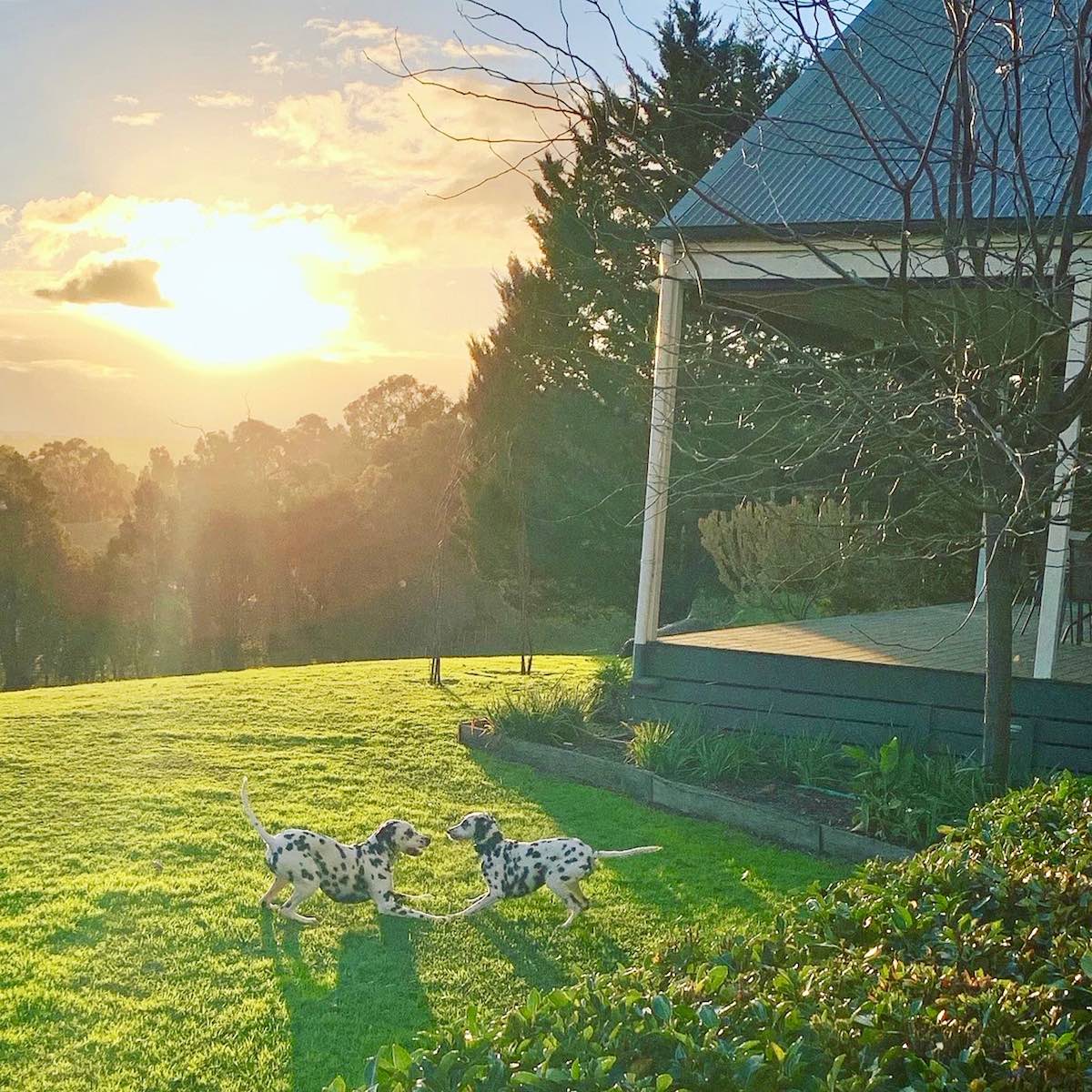 On Saturday, Charles and I had arranged a day out for our loyal servants as a reward for their tireless service.  A good man called Jeff took us to see the local sights in his shiny white carriage (Mercedes touring van).  Charles and I travelled in the back, like the royalty that we are, with beds laid on for us and treats in a bag that I sniffed out immediately – and which Jeff rudely removed 'for later' (the cheek of these commoners)!   Here's a selfie of me with Jeff.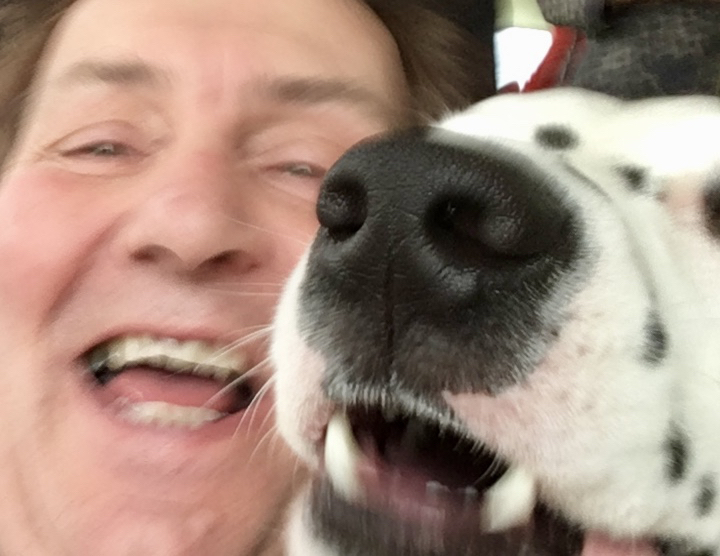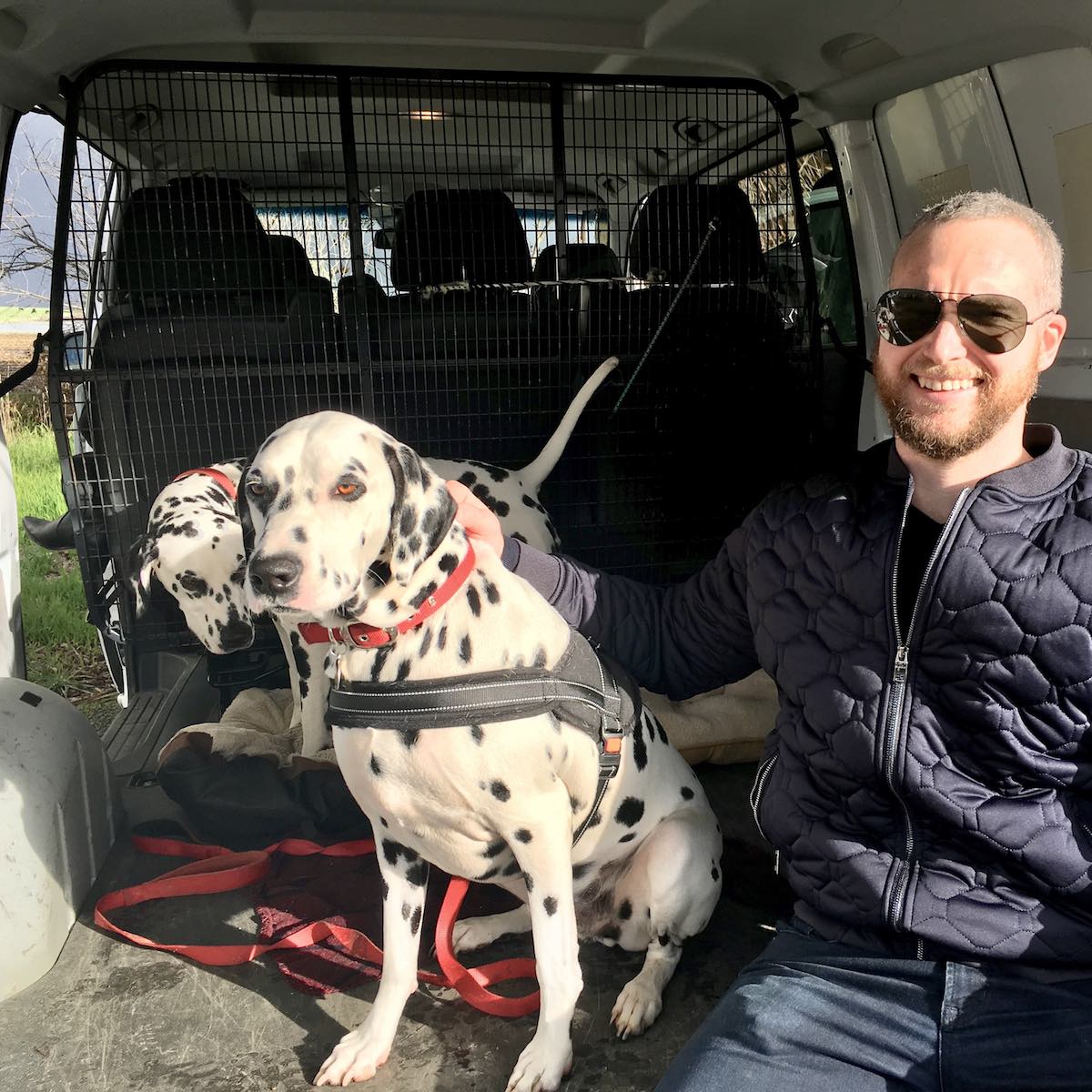 The Royal Entourage arrived at Maddens Rise for our first engagement of the day.  It's known as a cellar door, and tis exceedingly small, but what it lacks in square footage it makes up for in huge personality and we were received like the Kings that we are, by Emma, the nicest serving wench I've had to pleasure to wag my tail at.  She gave us sticks to chew in her cellar door and we roamed around introducing ourselves to everyone there, bidding them good day and we found it most pleasant to let our guard down and mix with the common folk for once.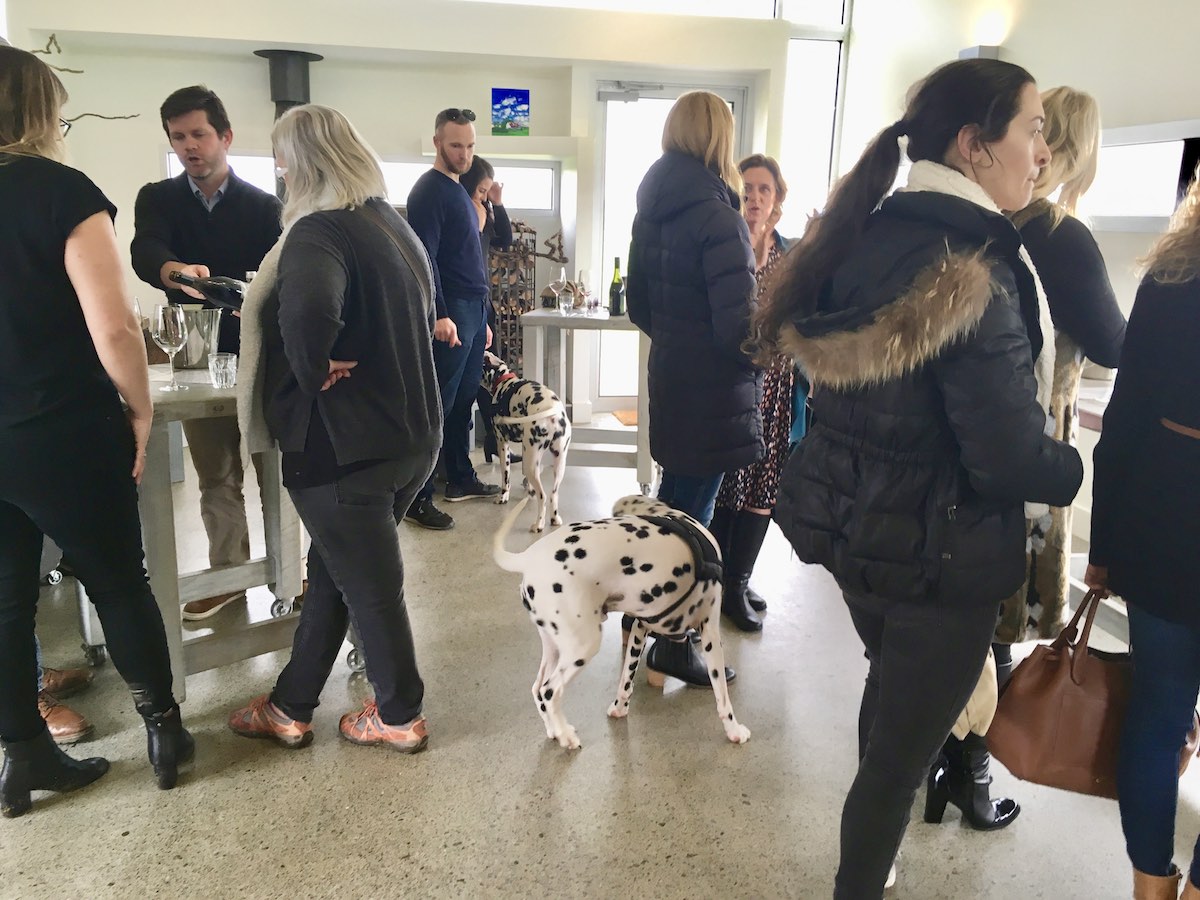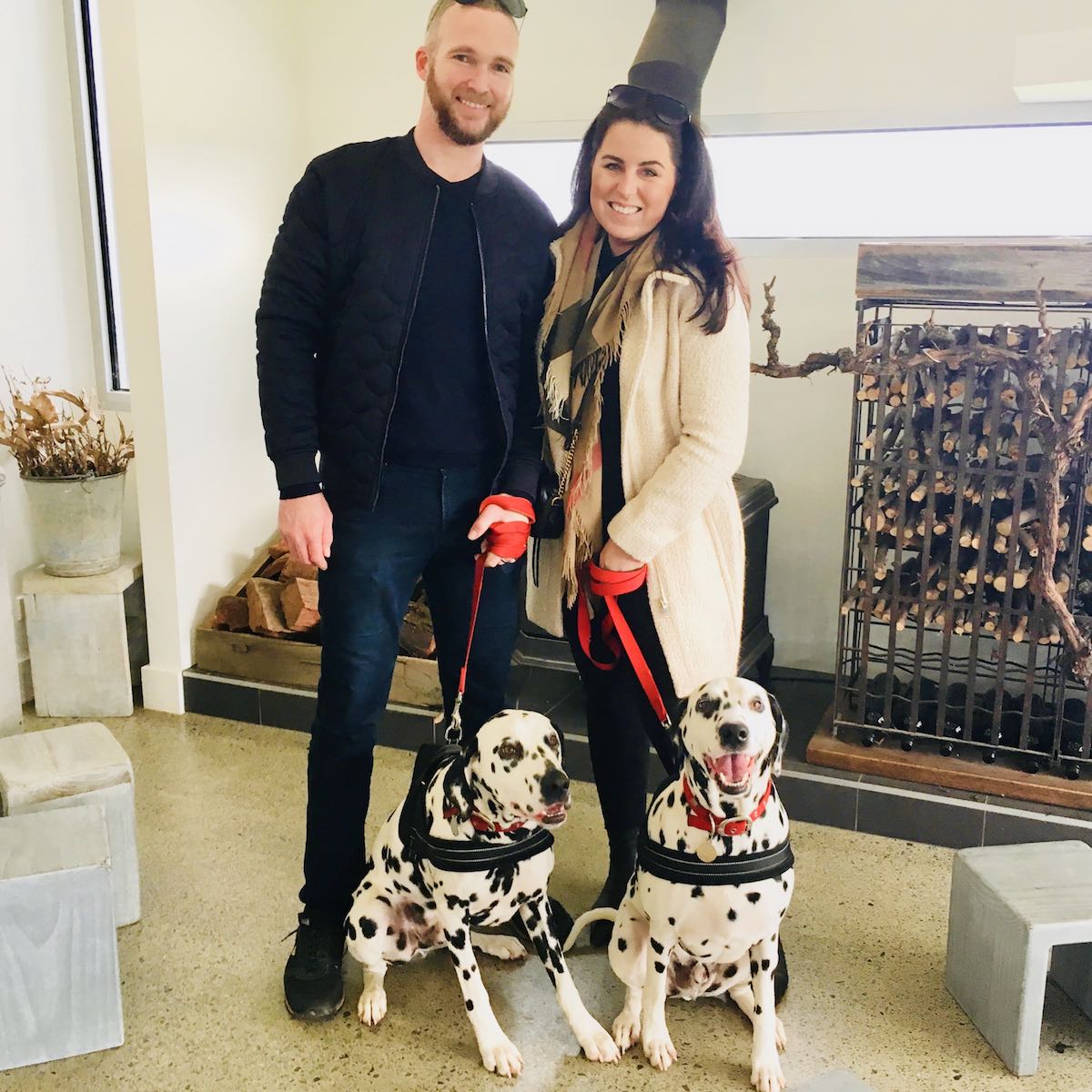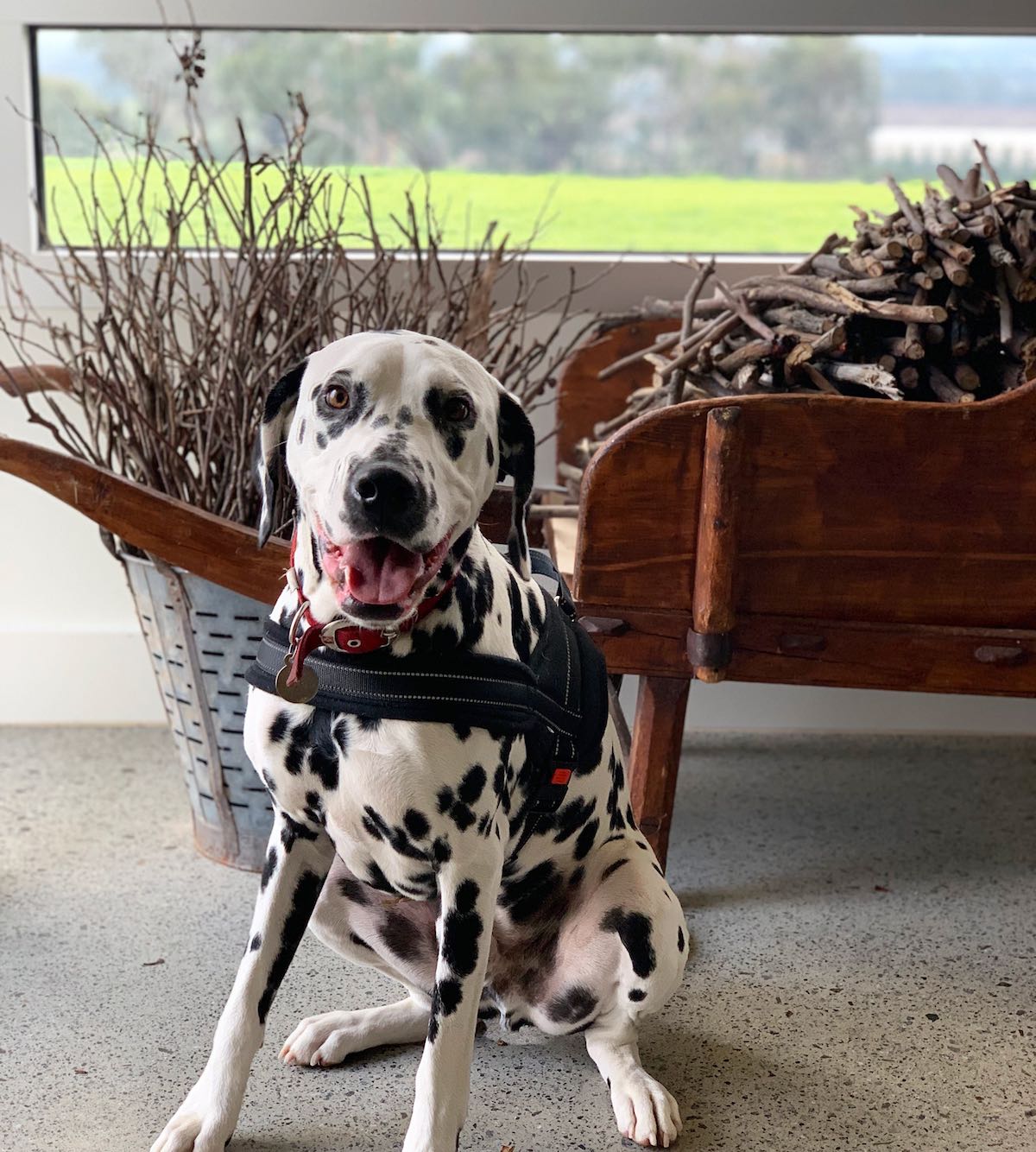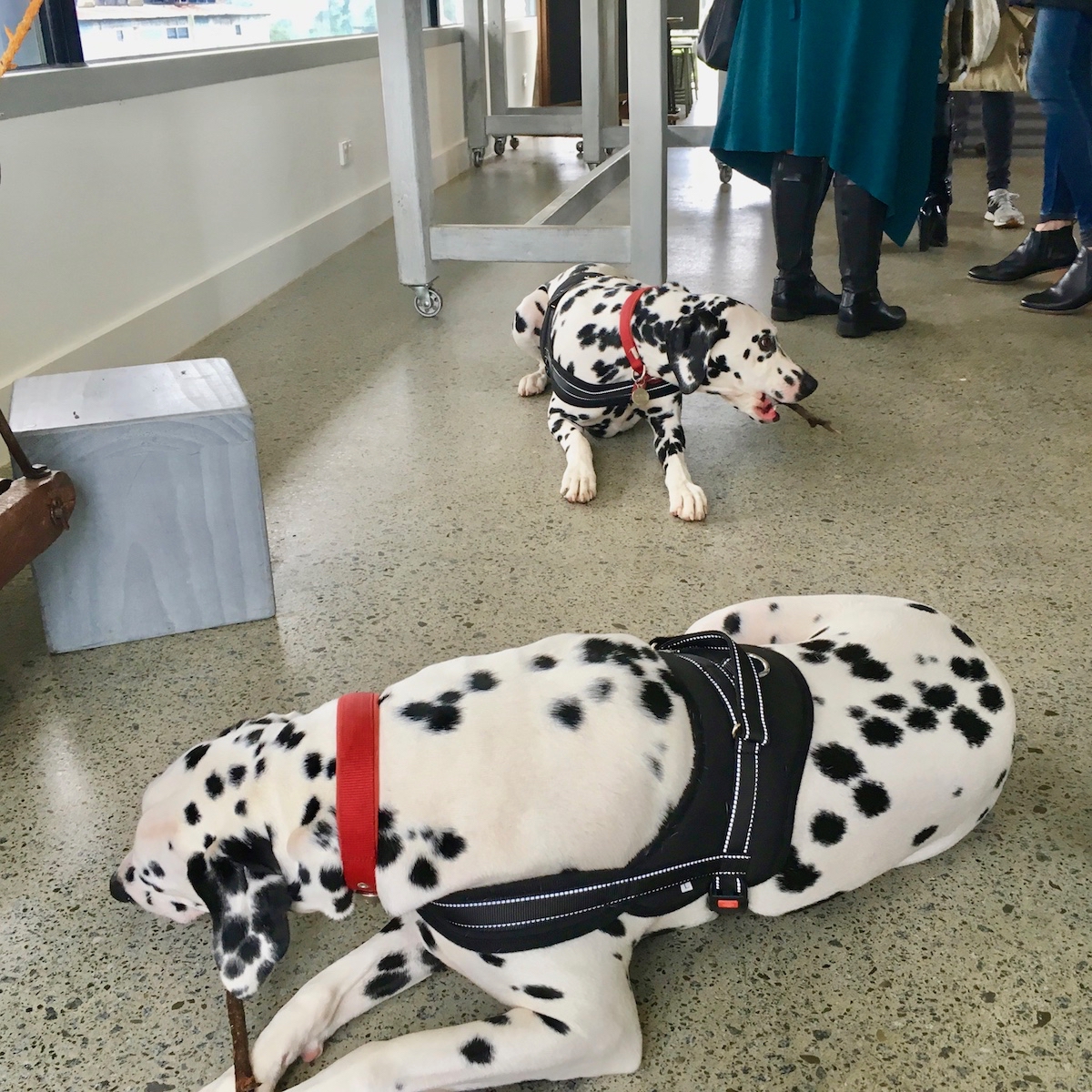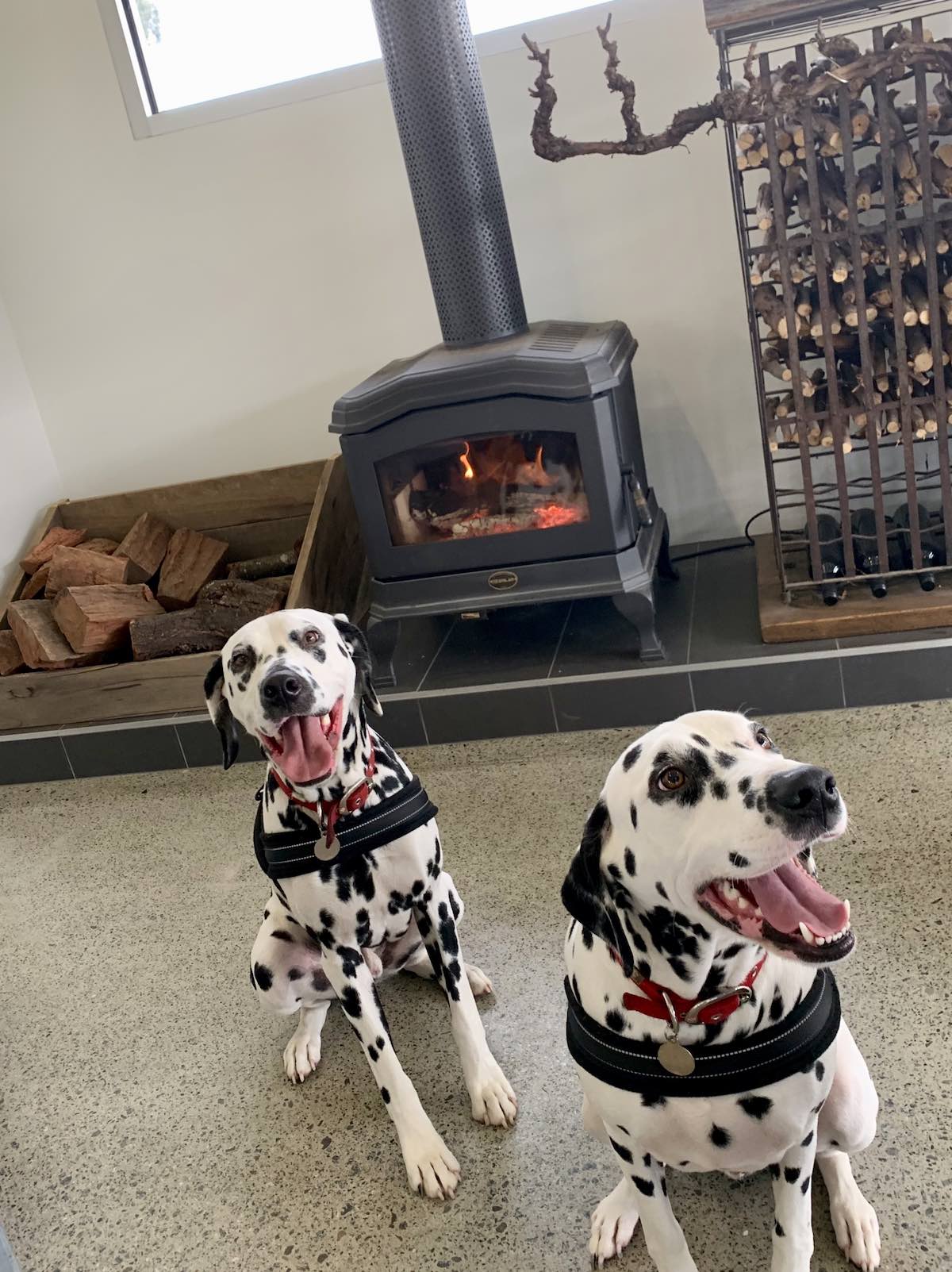 We even shared a stick!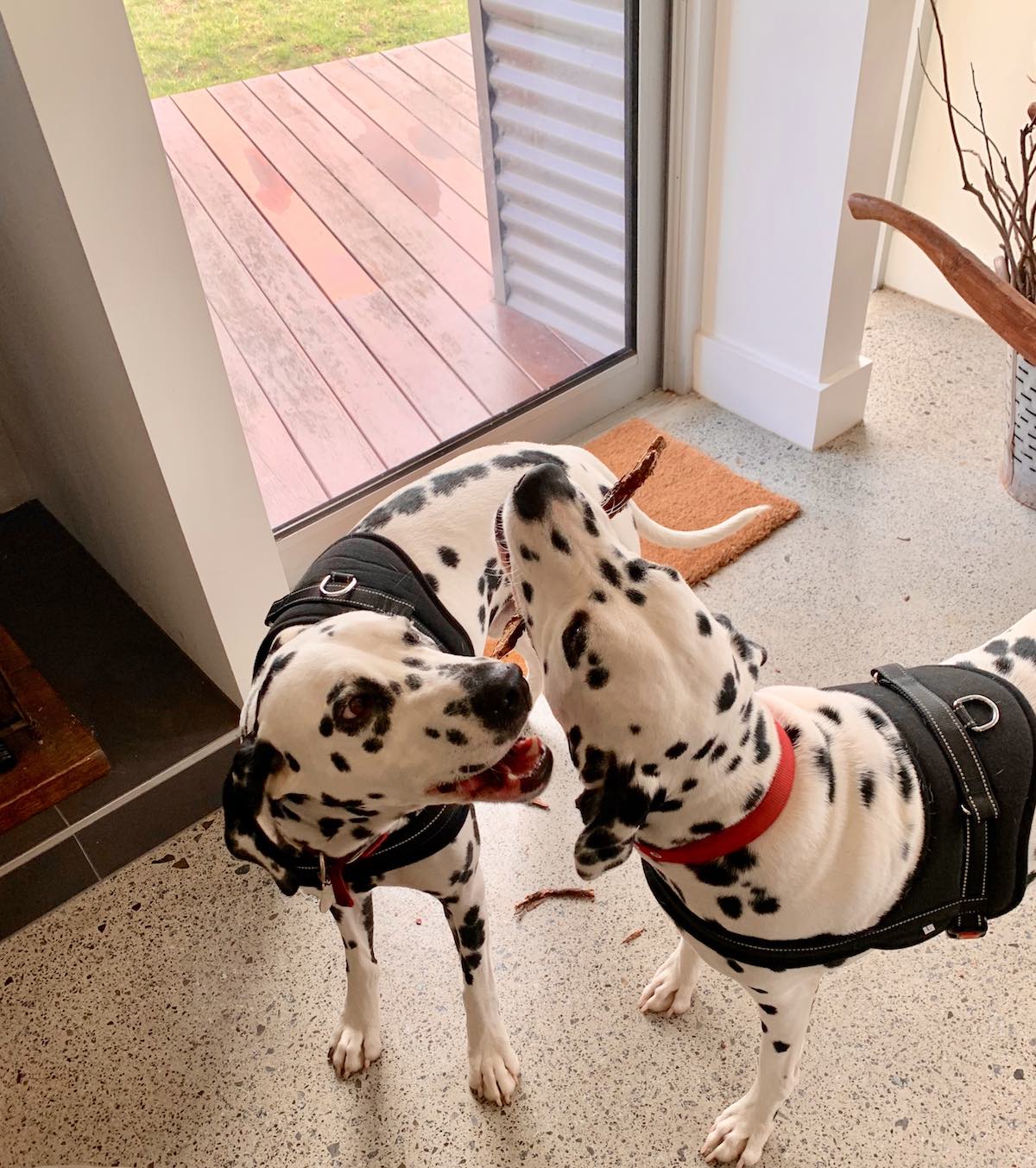 During our 'stick tasting', we noticed that every refreshment offered to our loyal servants was imbibed with great haste and enthusiasm – this we learnt later was referred to as 'a wine tasting', and would you believe, it happened at every place we went to – quite extraordinary.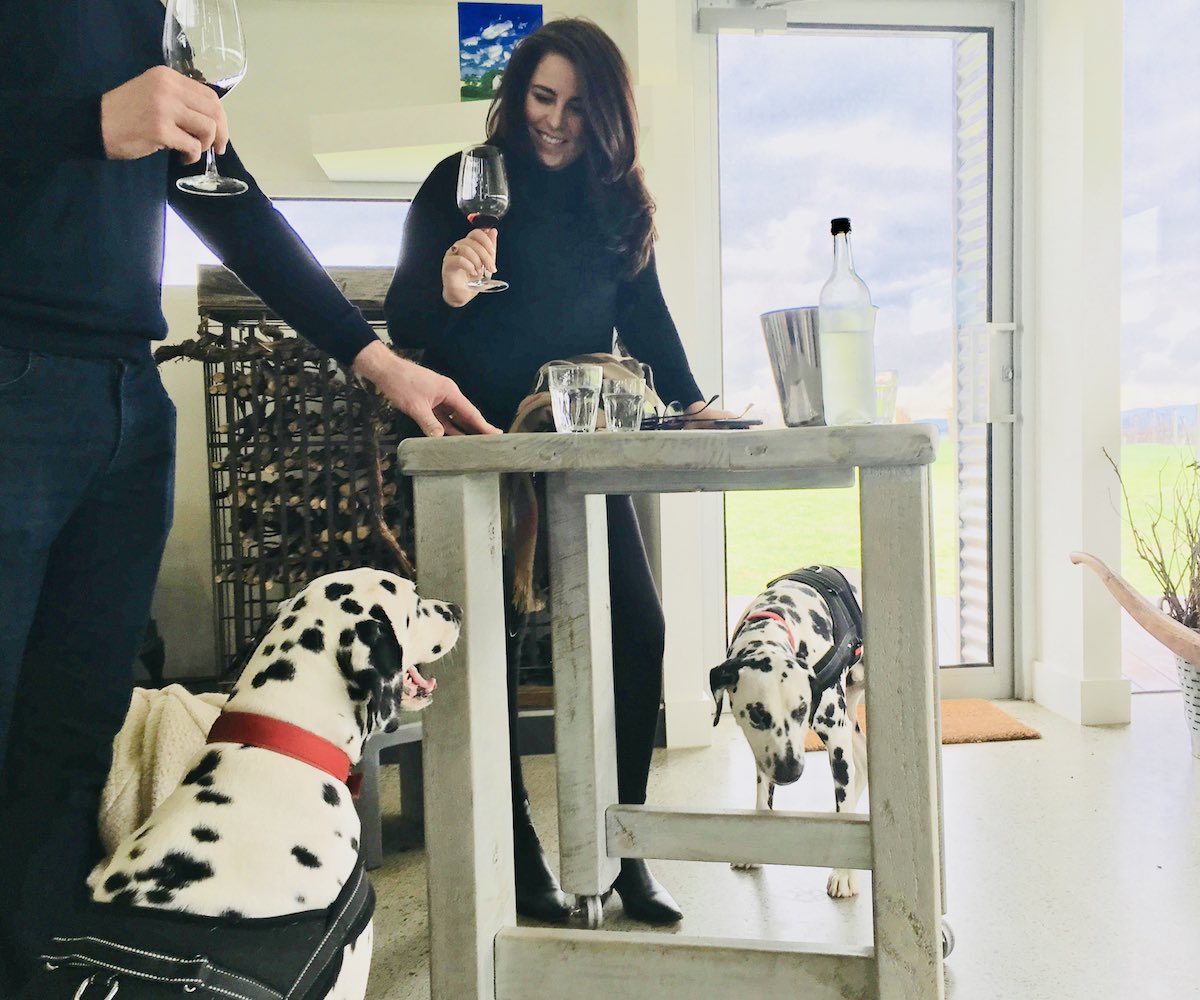 When we got out at our next stop we were surprised to see minstrels playing on the verandah of an old hay shed in which much merriment was being had.  Jeff explained to our loyal servants that this was an ancient festival being carried out to celebrate the Winter Solstice (typical heathens!) and many places in the valley were serving 'The Shortest Lunch' today.  Charles and I had fortunately already partaken of our usual salmon lunch, prepared earlier by our loyal servants.  A man called Steve poured our loyal servants some different coloured wines and they all talked about them at great length until a delicious aroma escaped from someone's bottom which caught everybody's attention.  Jeff looked at Hayden, Hayden looked at Nicci, she nodded in Charles' direction, Charles pointed an accusing paw at me and none of us wanted to accept responsibility.  Until we saw the culprit Ralph, the cellar door dog – it was clearly him, so I growled at him to let him know I knew.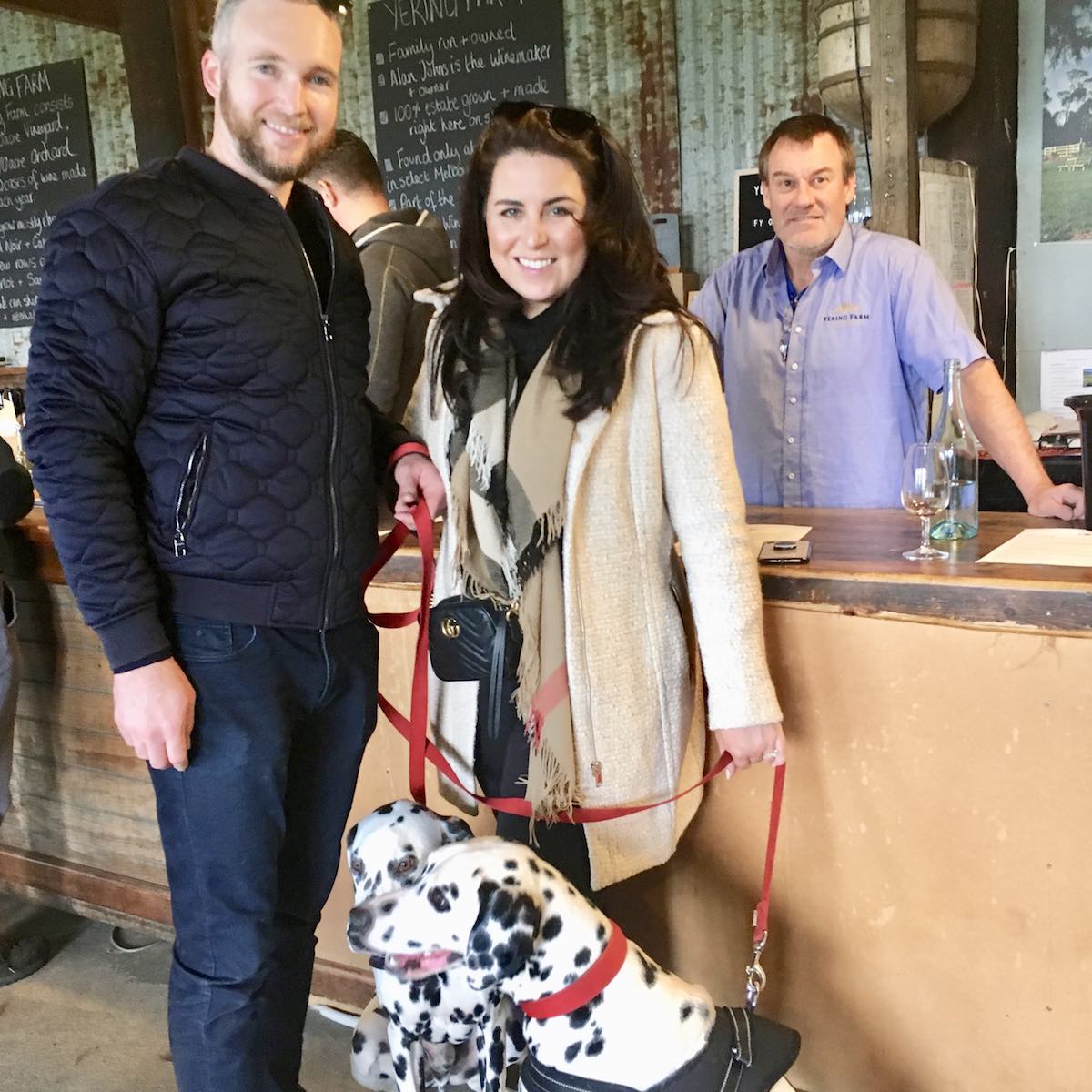 Once back in the carriage, it was a jaunty little drive to the hamlet of Healesville where 4 clever men (Four Pillars) make see-through wine and call it gin and EVERYONE raves about it, even back in the mother country.  We were led out to a garden courtyard where a charming Lady in Waiting called Lizzie showed us her tats (of her beautiful dog BARBARA ANN) – which made me pine for Polly Waffle – oh how I miss her.  Our loyal servants chugged down three gins a piece, all the while extolling the virtue of this elixir – which to be frank looks exactly like the stuff we call water and drink out of our bowls.  It wasn't long before we realised we were being photographed by onlookers.  This happens everywhere we go, it's the price one pays for being a Royal.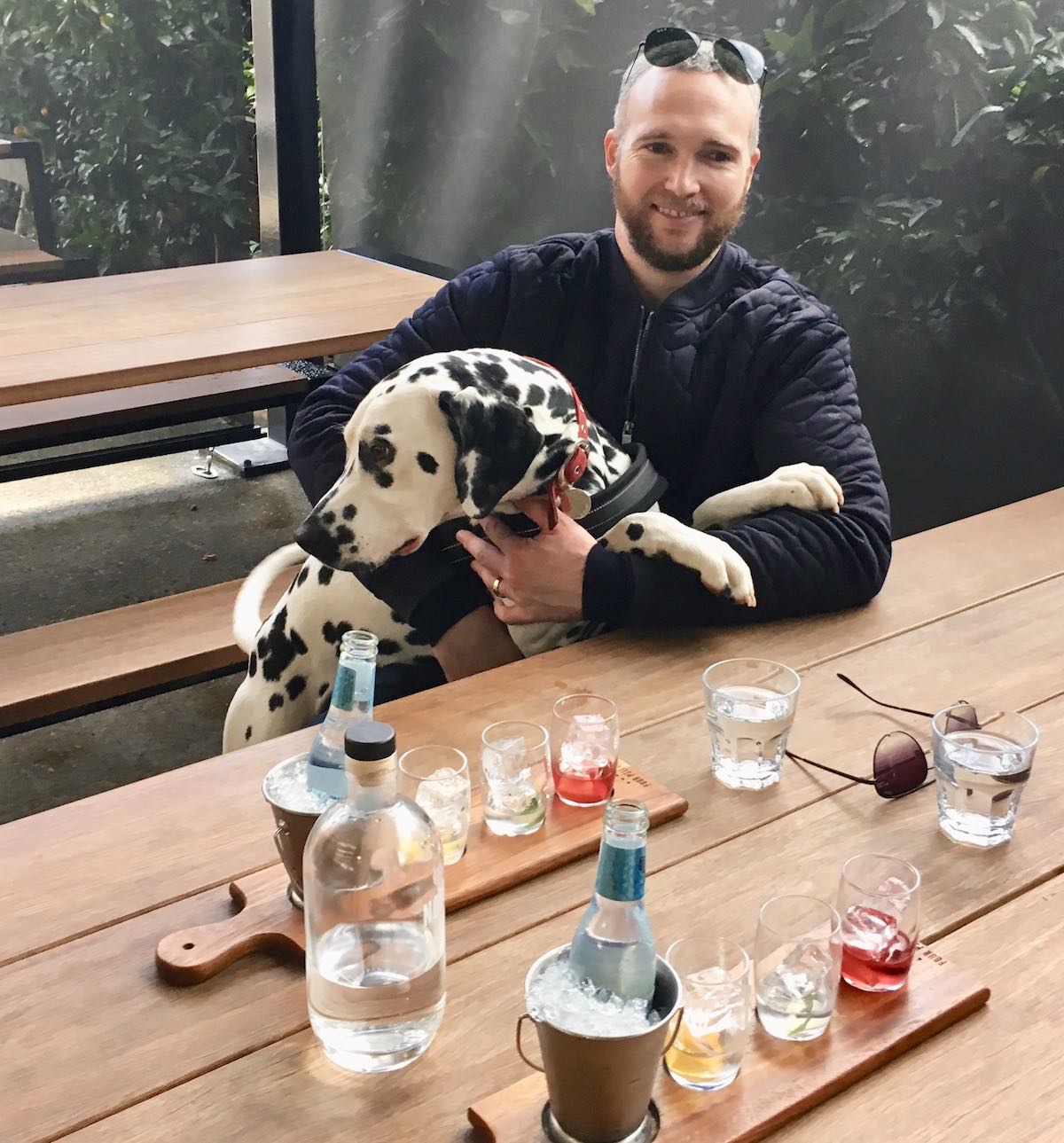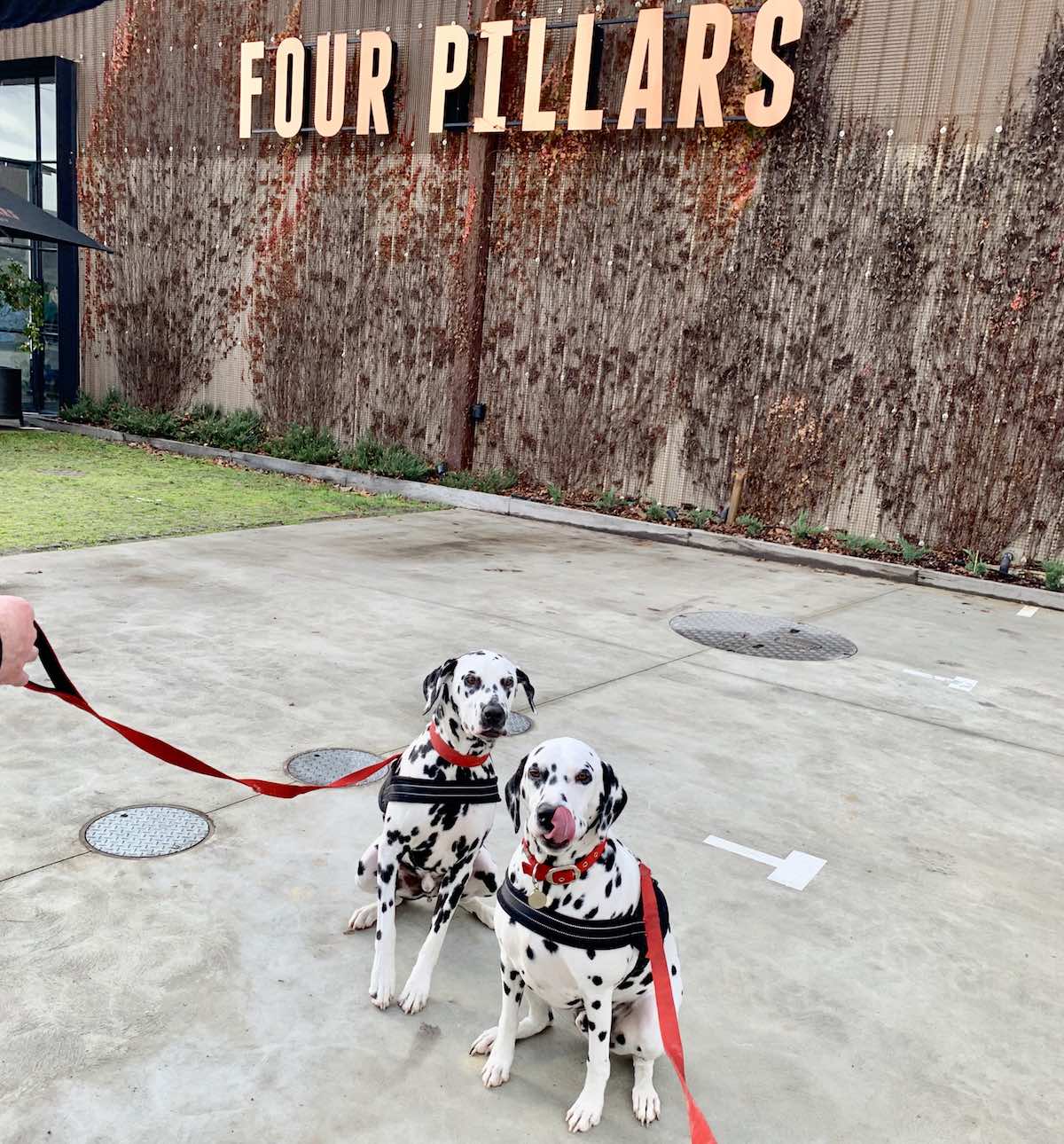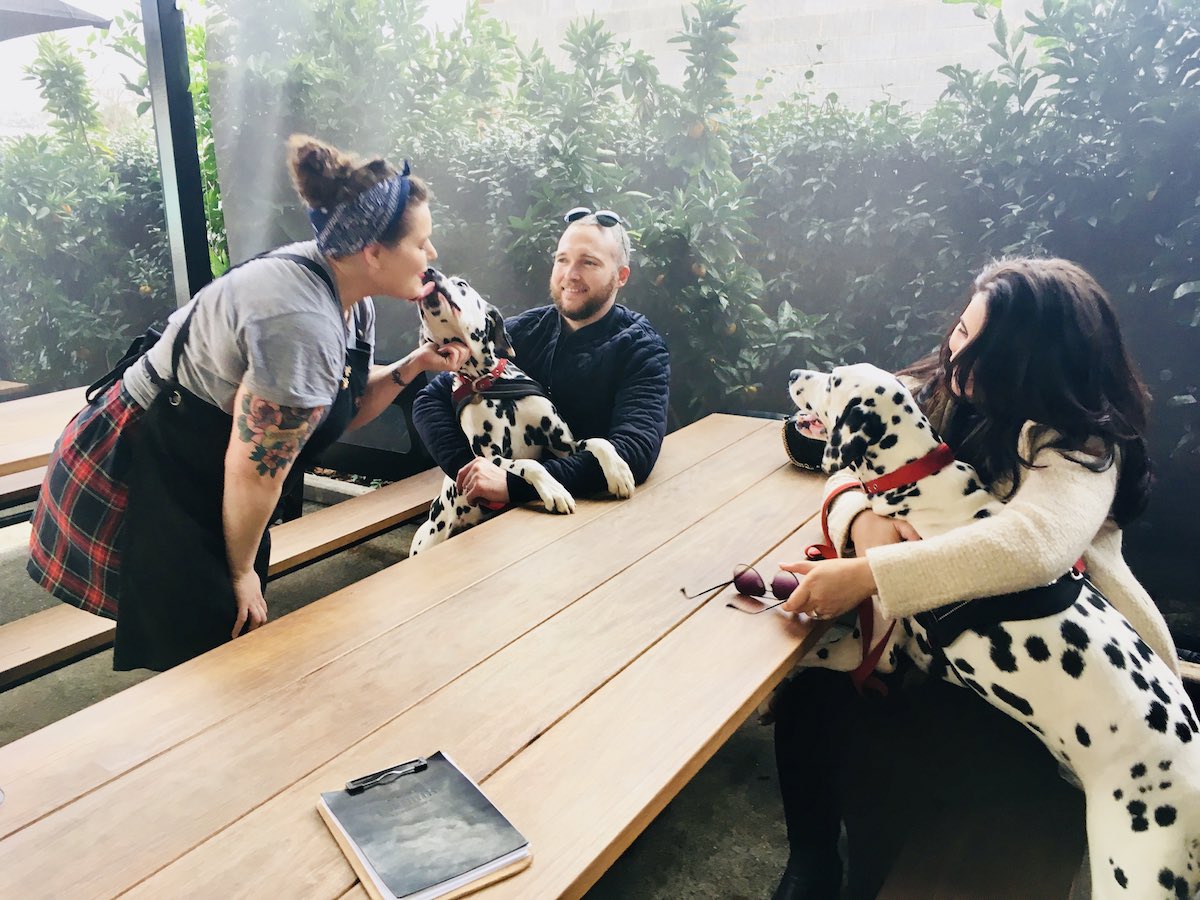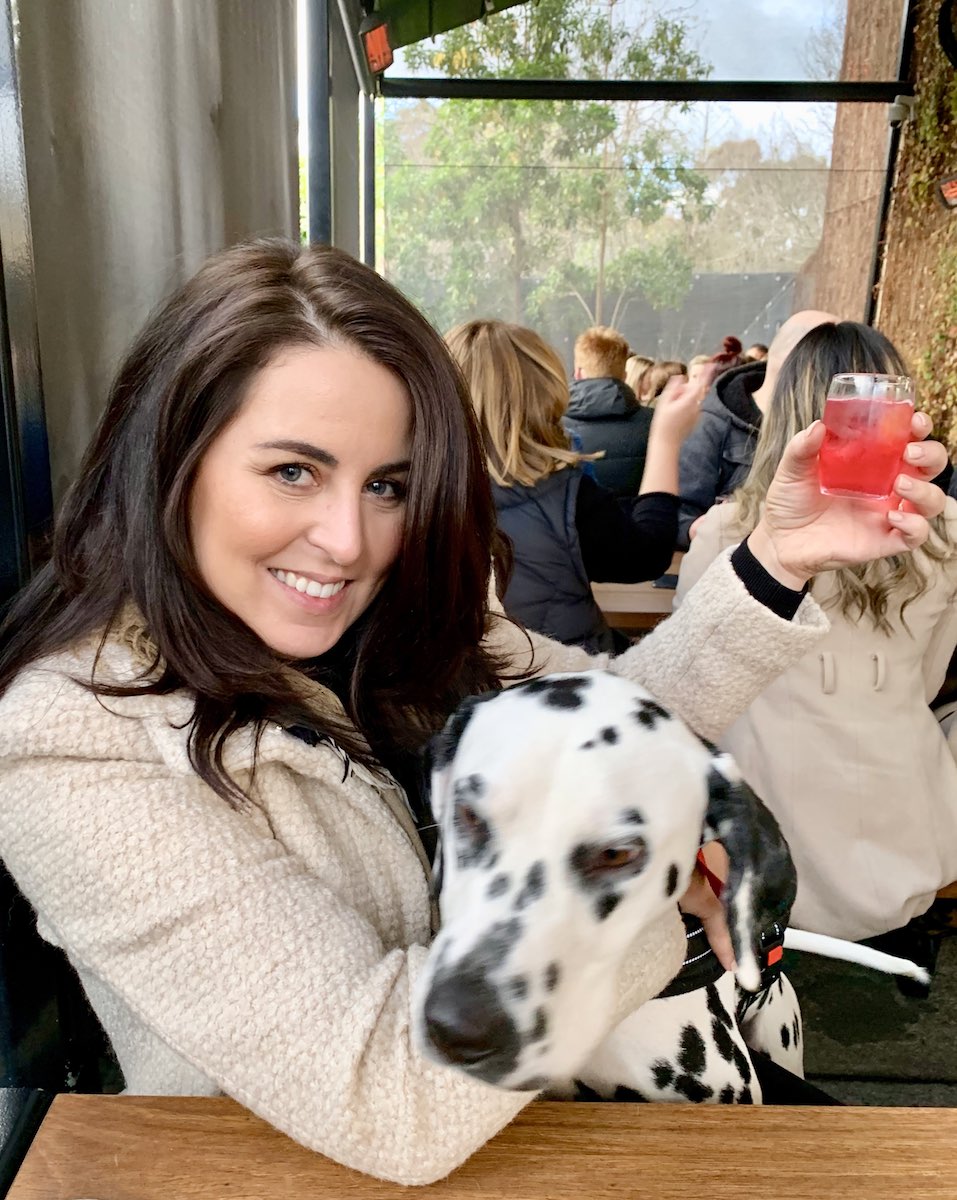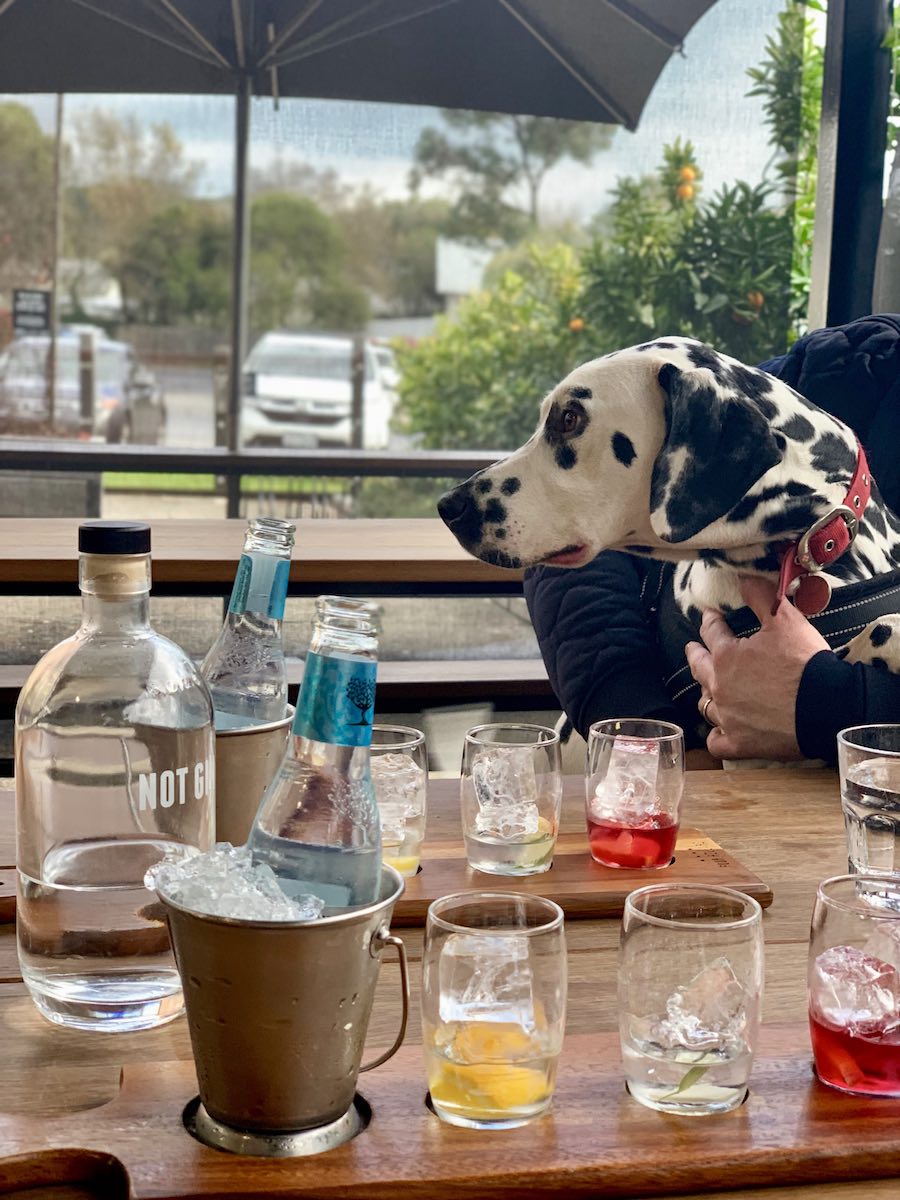 Jeff then explained our next engagement was merely across the road, so the carriage wasn't called for.  And no sooner had we put our paws across the threshold, than we were rushed through a busy cellar door full of people as a lovely French lass, Manu, called out a hearty Bonjour.  We were whisked us out to a sunny VIP spot in the courtyard, befitting of our royal status, and where most excitingly of all, Jeff finally gave us some of those treats I'd sniffed out earlier.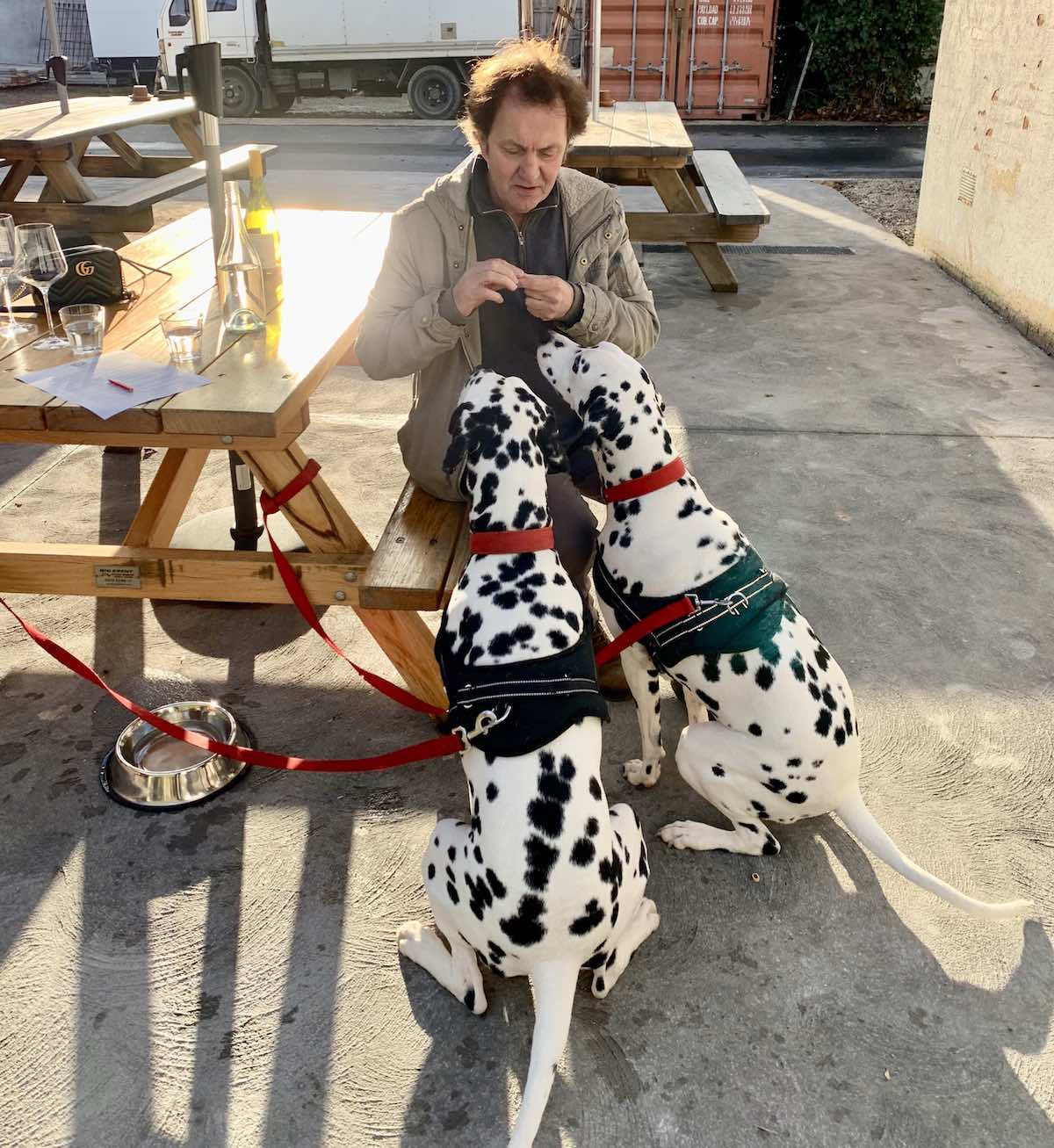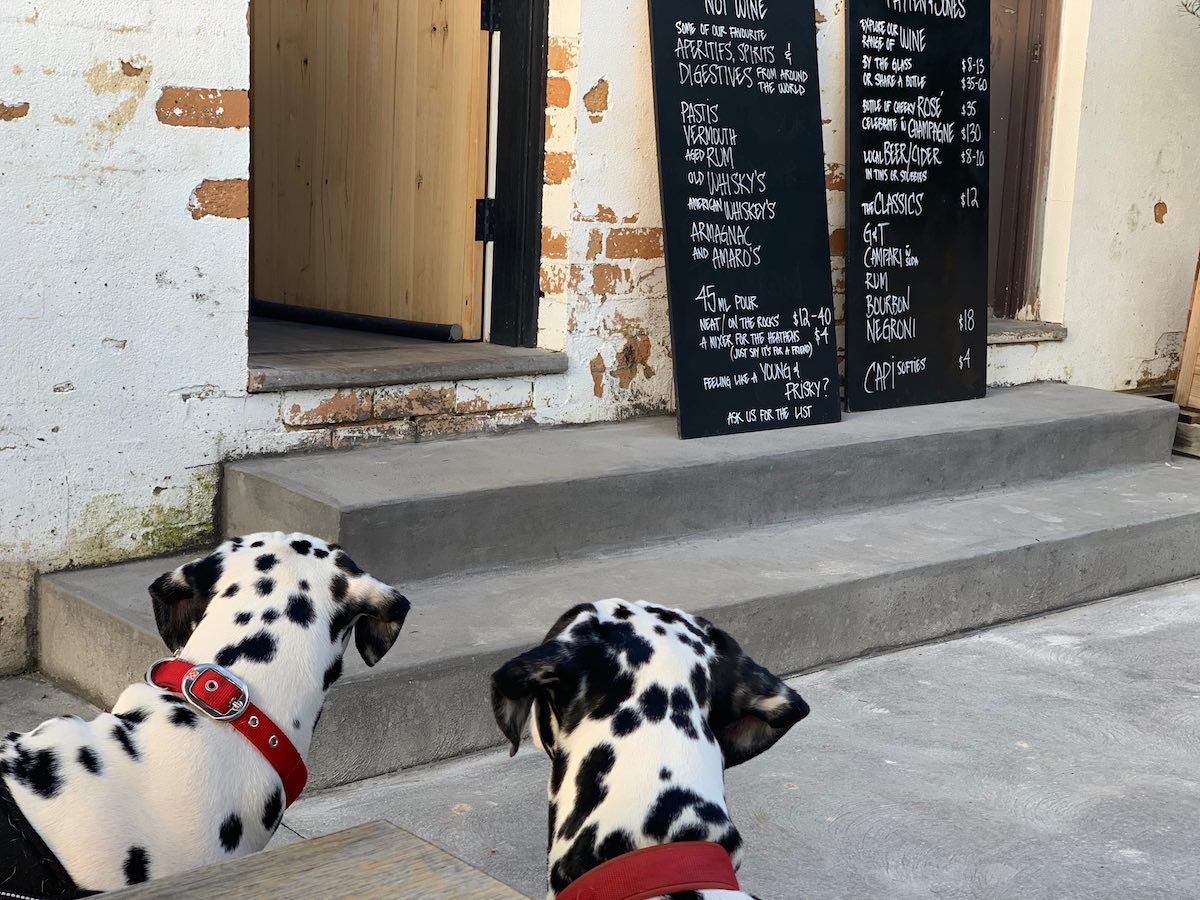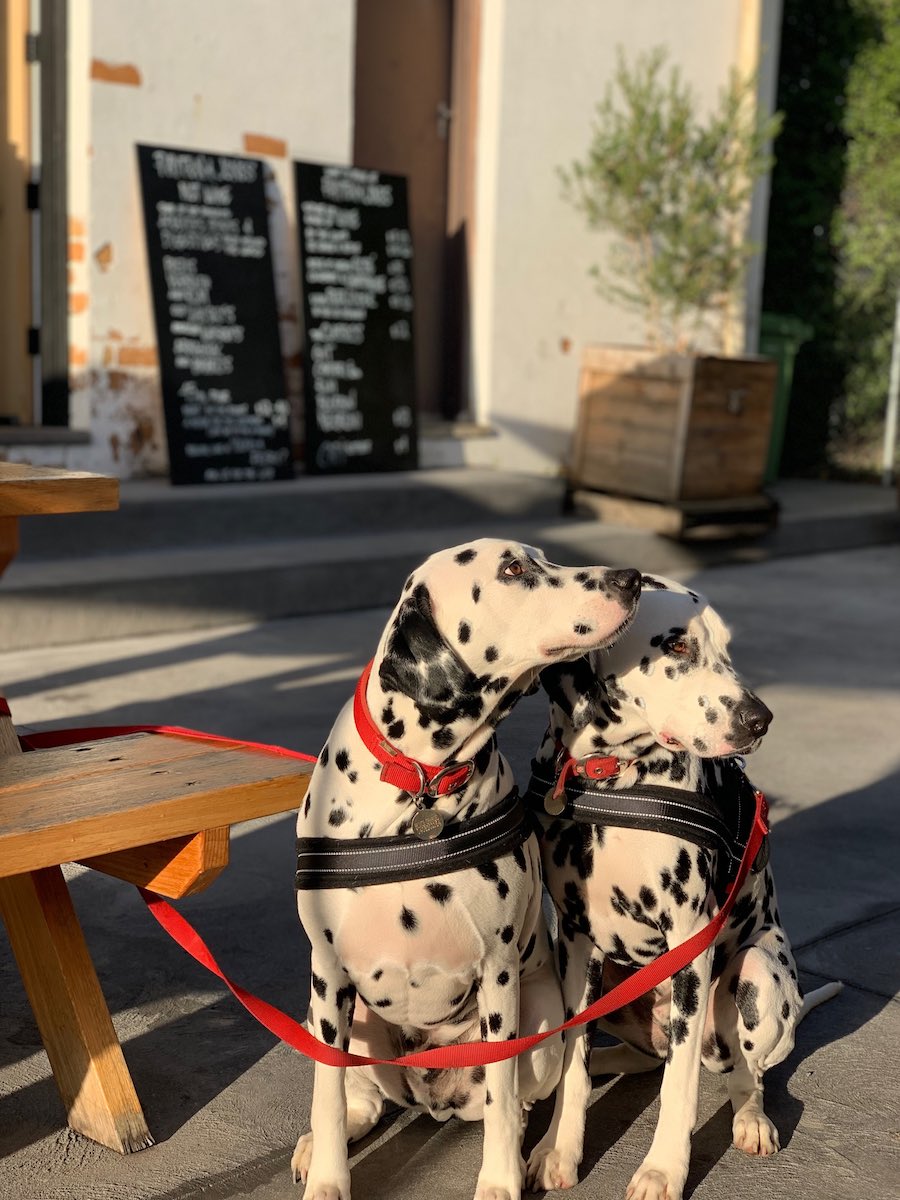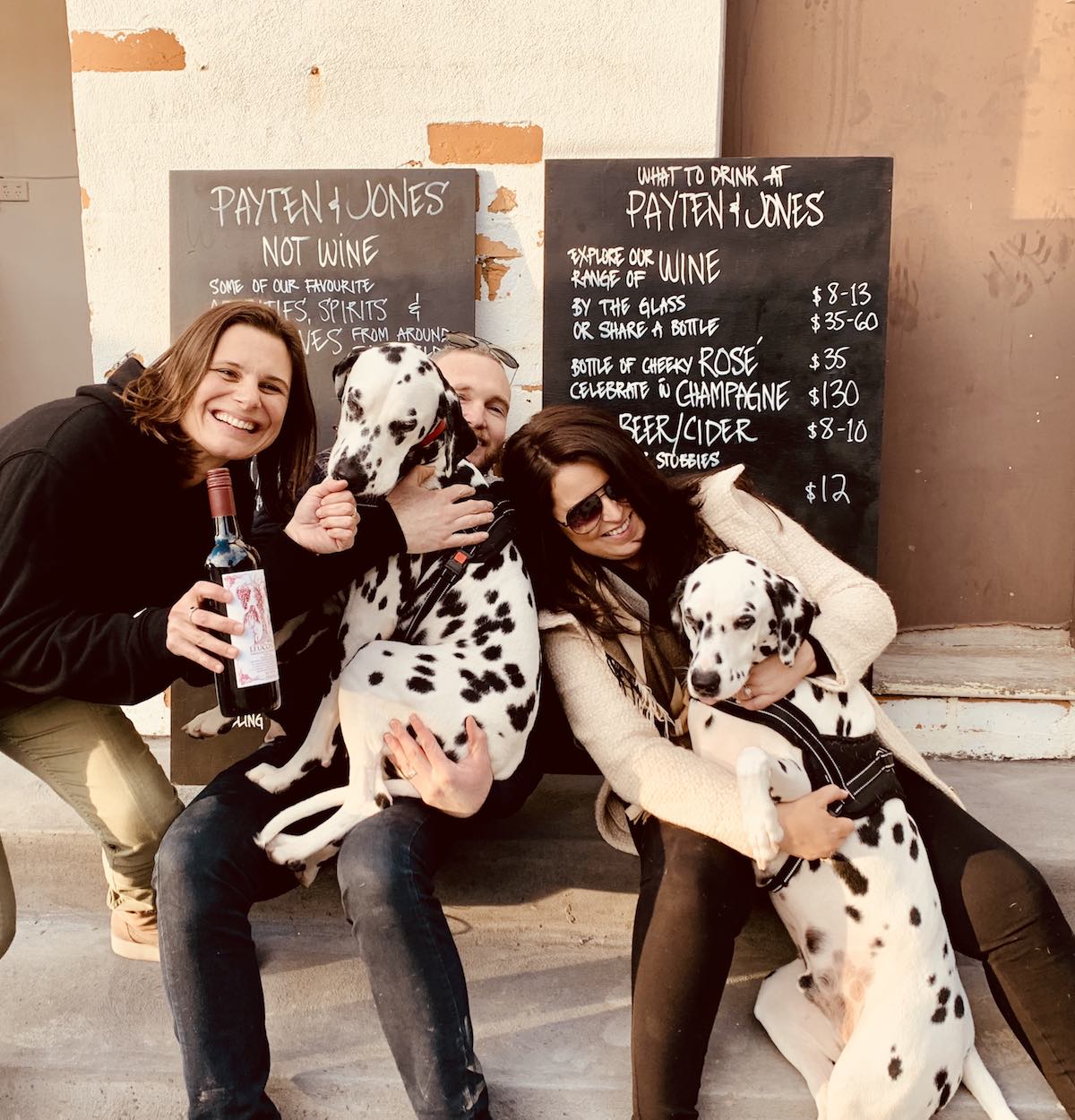 Manu brought out bottle after bottle of wines for our Loyal Servants to try and they oo'd and aaa'd over every one.  We liked her so much we didn't mind when she photobombed our photos (there's always one).
We said our good byes and boarded the carriage and made a short stop at Kitchen & Butcher, a providore where the Loyal Servants wanted to buy provisions for later.  And then headed to Levantine Hill at the request of the Loyal Servants who are big fans and are fond of the owners, and as they washed down their oysters with a bottle of Pinot, we took our positions for our final photo shoot of the day (we'd better not end up on the cover of The Australian Women's Weekly, with some fictitious rumour headline about how we can't even share a stick – preposterous).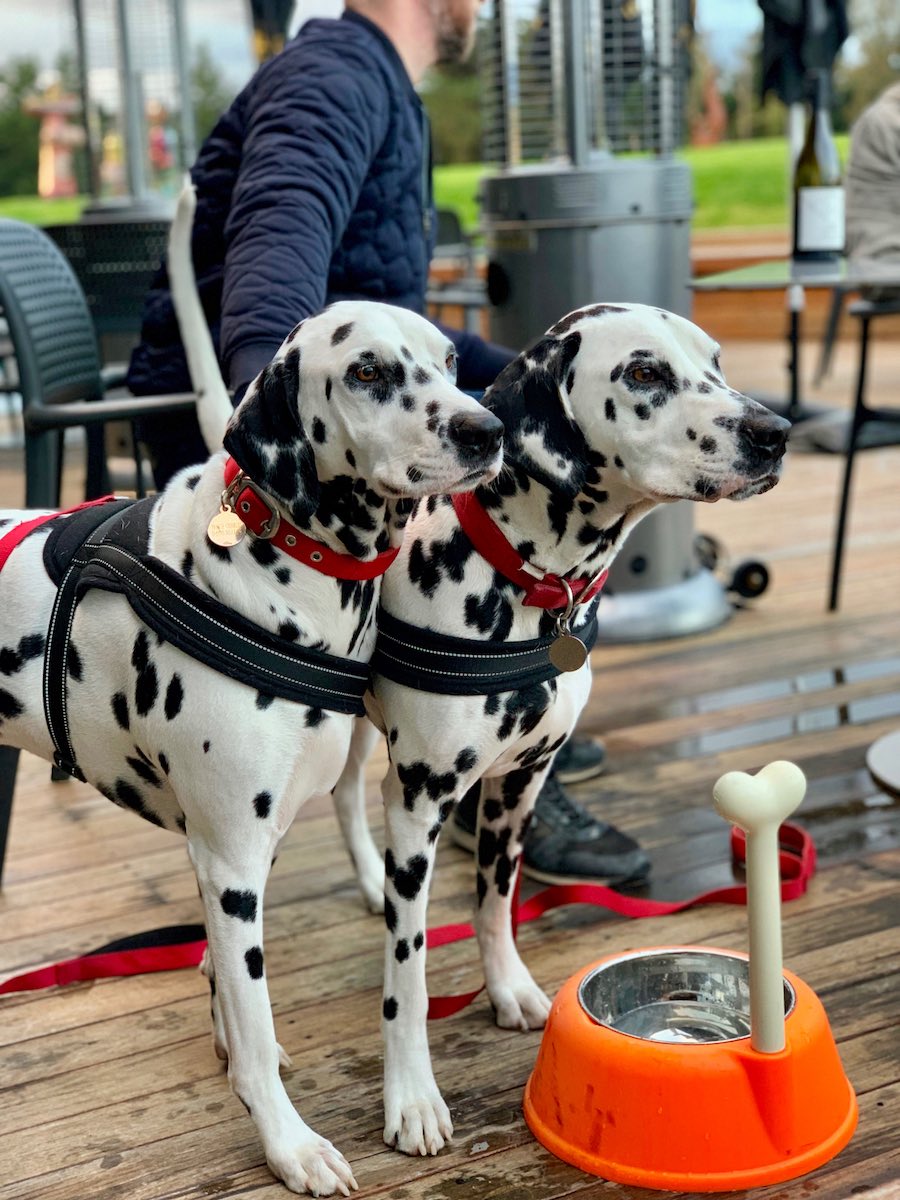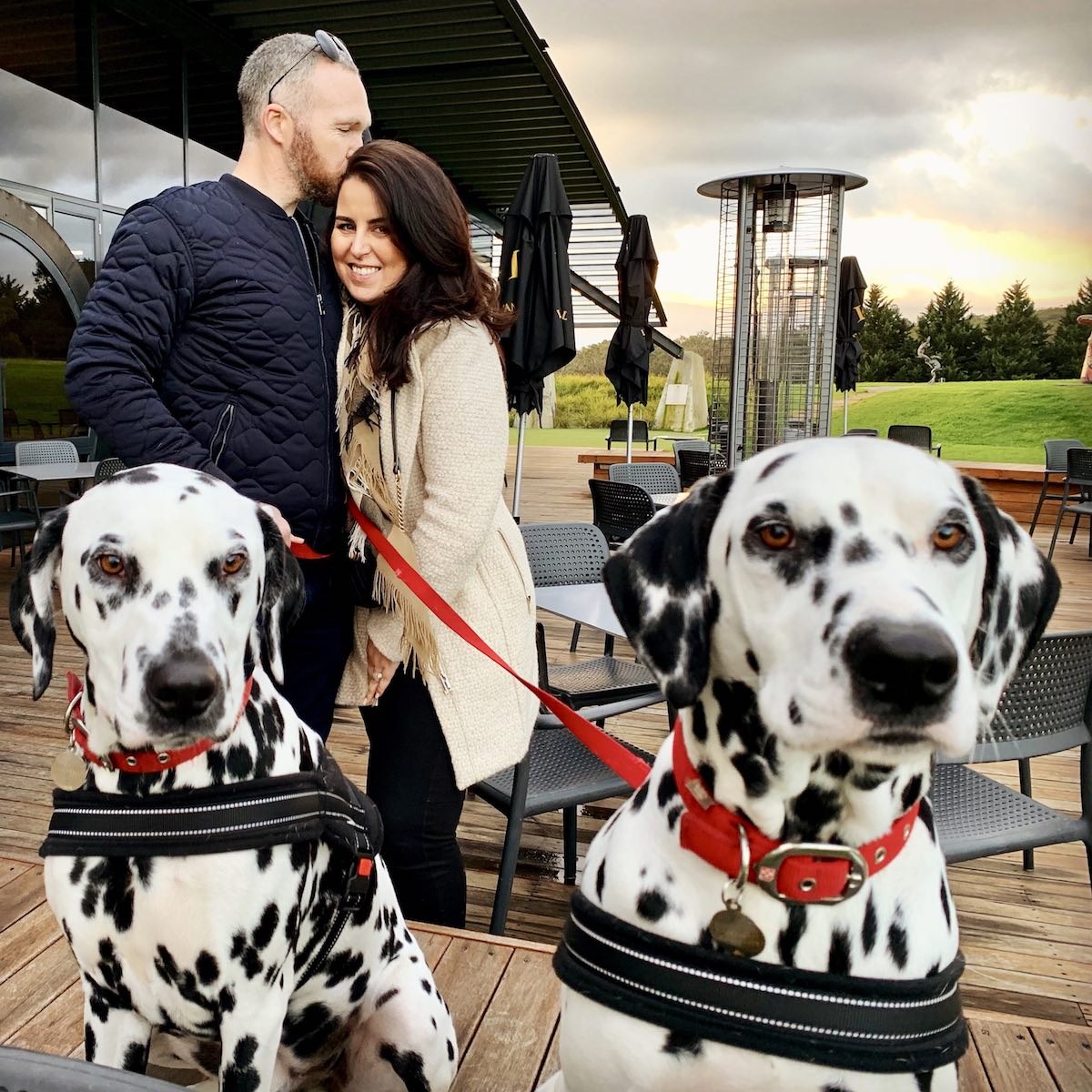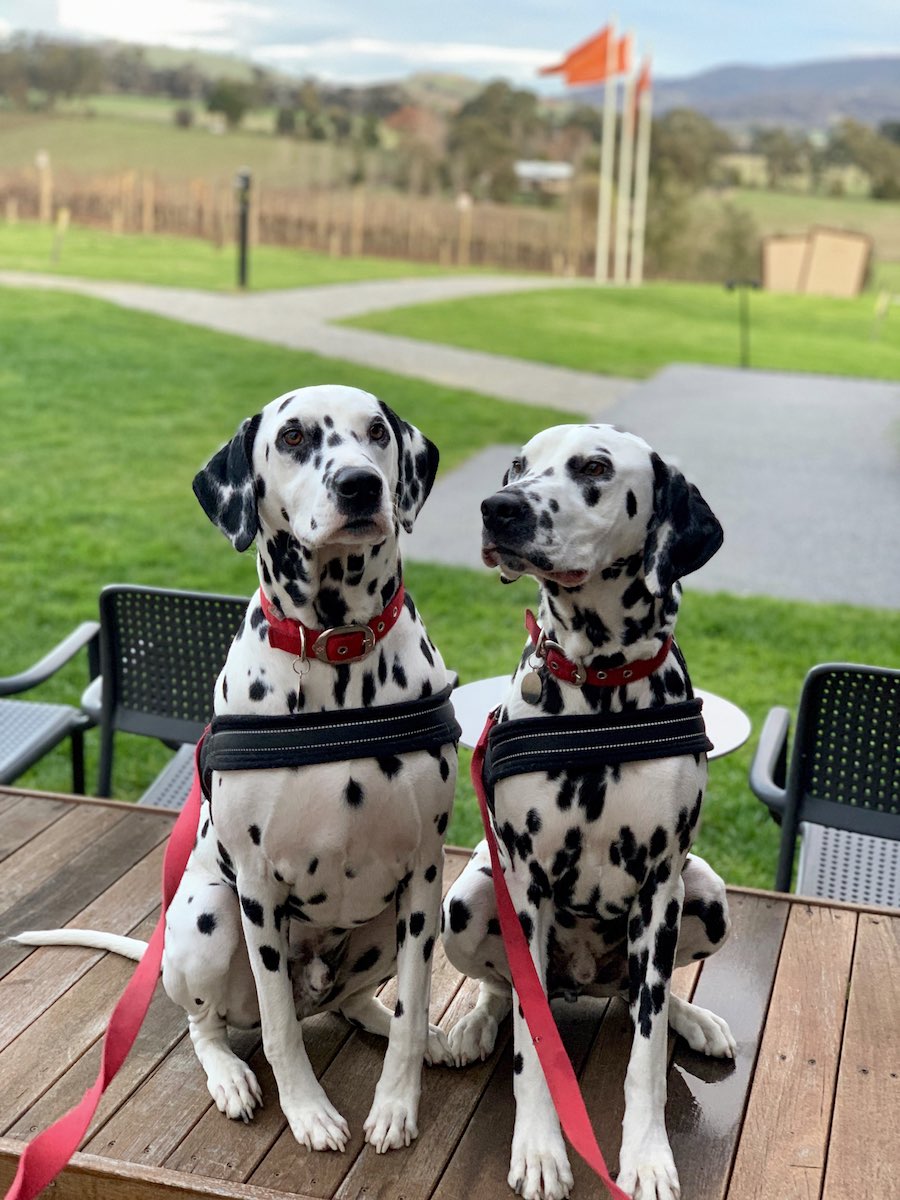 T'was then but a short drive back to our Royal Residence (Wiggley Bottom Farm) and as we approached my heart was pounding at the thought of being reunited with my darling Polly Waffle.  And there she was, front paws up on the fence, giving me the biggest most winning smile I've ever seen.  I barely had time to thank Jeff before I shot off to play with her – wanting to catch every last ray of light before the sun sank on what has been a day truly fit for a king (like me).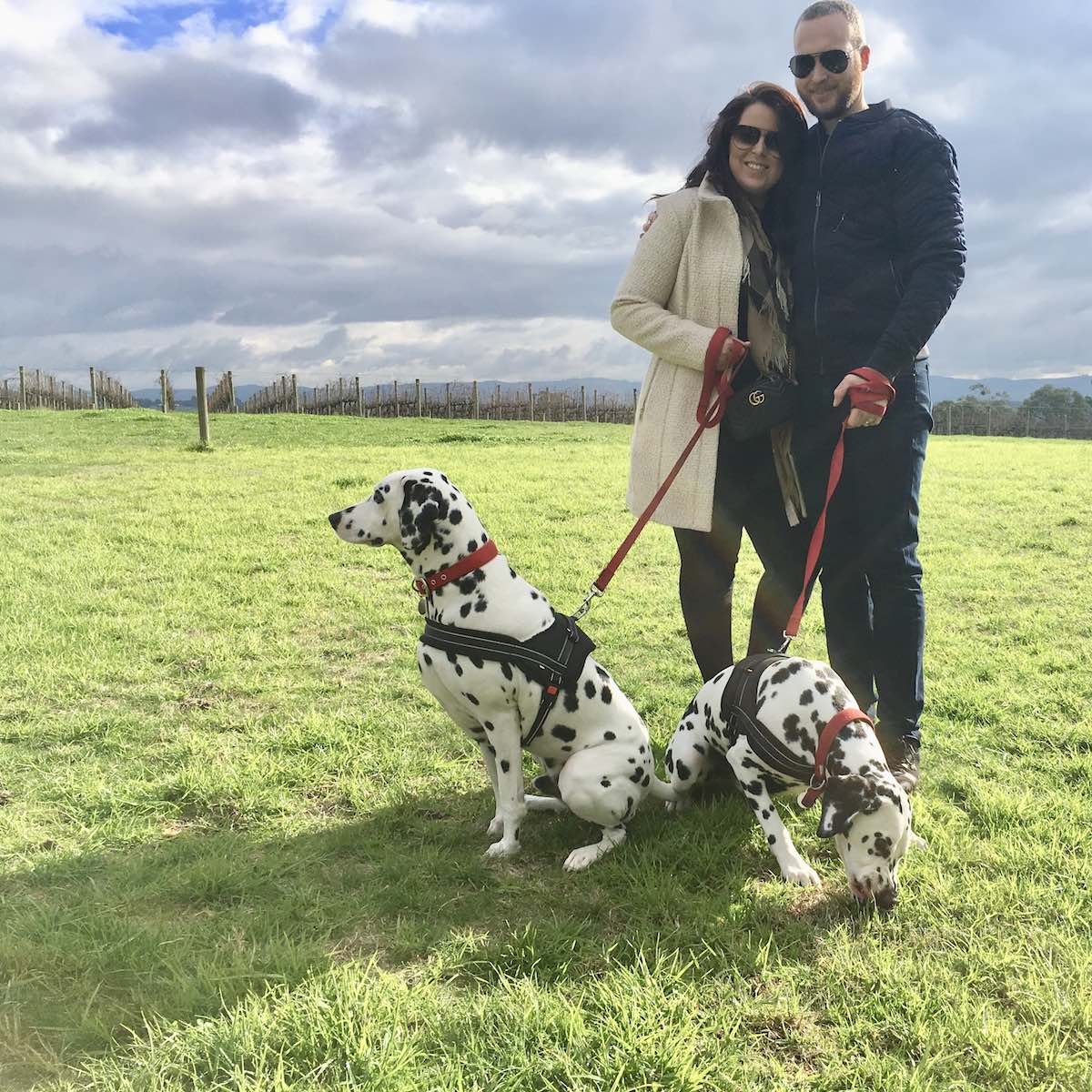 If you'd like the royal treatment from Jeffers, click the button below and tell him I sent you!