Hi, I'm Teddy I'm a rescue Airedale.  My humans have been threatening a road trip to a place called the Yarra Valley miles away from our home in the Adelaide Hills for a while now and the other day, all of a sudden, we all bundled into the Paj (what we fondly call our Pajero) with our beds and 'snacks for the journey' and off we set.  9 hours and a few wee stops later (and nearly getting bogged) we arrived!  Brilliant.
My humans are Mandy and Neil and they've been married for EVER.  25 years forever in fact and that's why we're on holiday – to celebrate being together for soooo long.  They brought me and Lucy along for the trip (she's an ageing Choc Lab who does a lot of sleeping these days) because their friends Sue & Bill at The Burrow told them we could all go on a dog friendly wine tour together with a fun man they know called Jeff in a white shiny van.  I know a fair bit about wine, coming from the Adelaide Hills, so I was thrilled that I get to come along too, check out some new terroir and sample a few different cool climate wine styles.
Jeff arrived and they were right, he is fun and his van is shiny and we piled in the back and there were beds for us to lie in and hints at all sorts of smells from other lovely smelling dogs.  It was pretty chilly so I popped my bandana on and also I like to dress for special occasions and it's not every day you celebrate your humans being together forever.
We pulled up at the first winery and I wasn't really ready for a sparkling tasting, so I suggested to Mandy & Neil they go on in without me while I took Jeff off for a walk.  They seemed happy with that, Lucy wasn't budging out of her nice warm bed in the van, so Jeff and I explored all the grassy spots we could find and admired the view and took a couple of selfies (Jeff right, me left).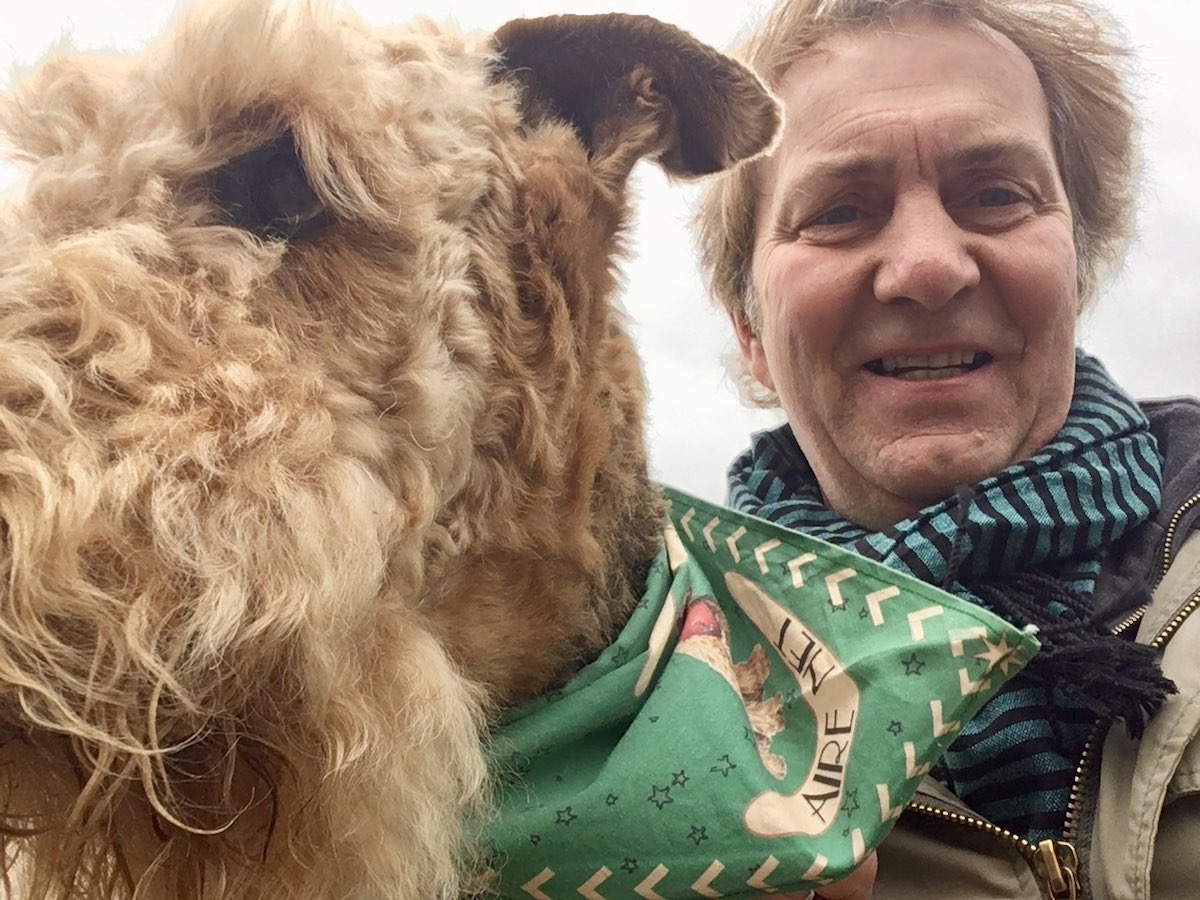 When Mandy & Neil returned they were grinning and carrying a lovely looking bag which I'll chew later, and they kept asking me to look at Jeff and have my photo taken.  Neil might be a Detective Sargent, but he's not very good at making me do as I'm told.  Here's me ignoring him and looking the wrong way.  I was keen for Jeff to get my profile – impressive isn't it?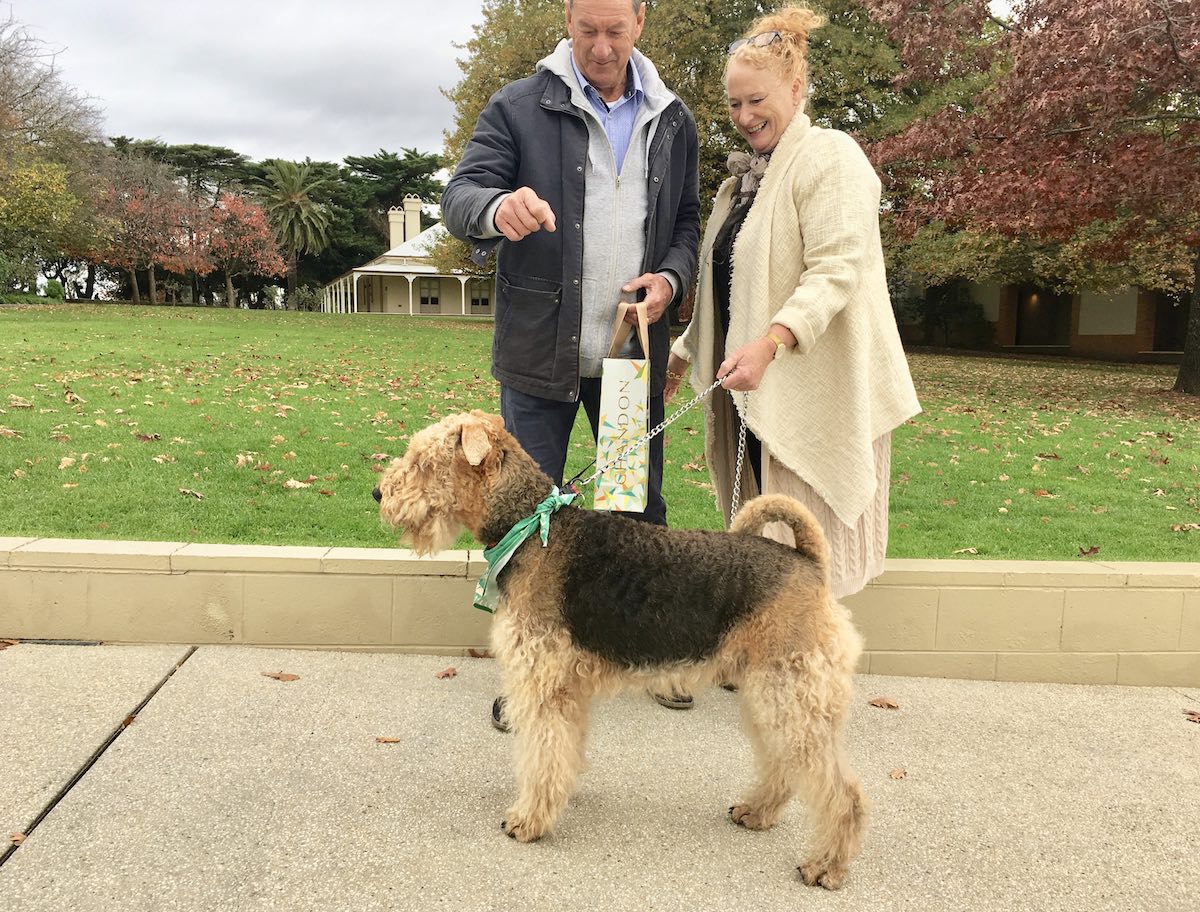 We drove on to a little town called Healesville and went into this fabulous place with a gorilla painted on the wall – I urged Lucy to come in with us (otherwise she misses out on everything) and I've heard their Pinot is very good and she's a lush when it comes to a good Yarra Valley Pinot. We met a nice man from Jamaica who gave Mandy & Neil wine to try.  He didn't seem to offer me any, (I'm wondering perhaps Jamaican dogs don't drink wine?) and look I didn't mind, I was busy looking fabulous and posing for Jeff.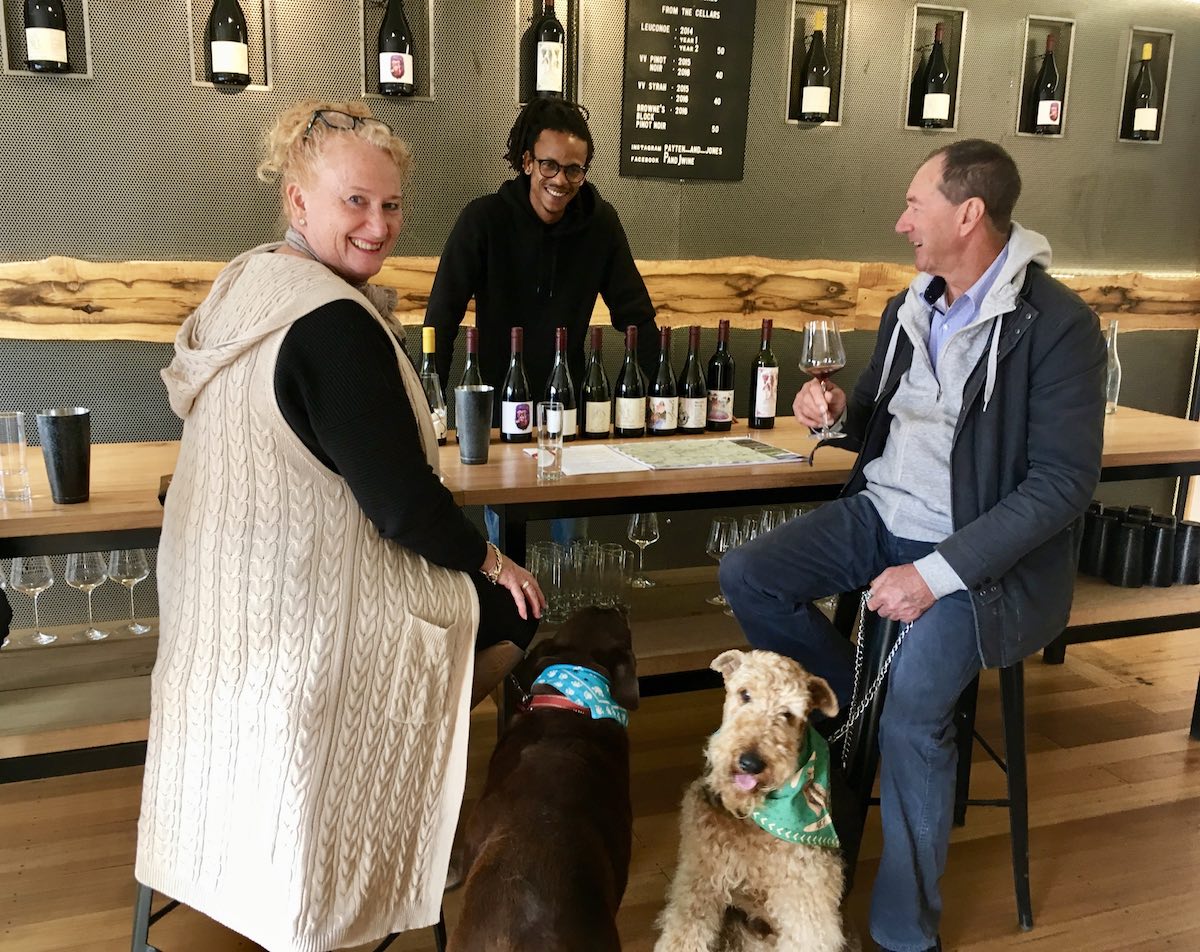 It did make me laugh though, as soon as we got outside Neil tried to make Lucy look at the camera and this time – SHE refused.  We do have such a laugh with him!!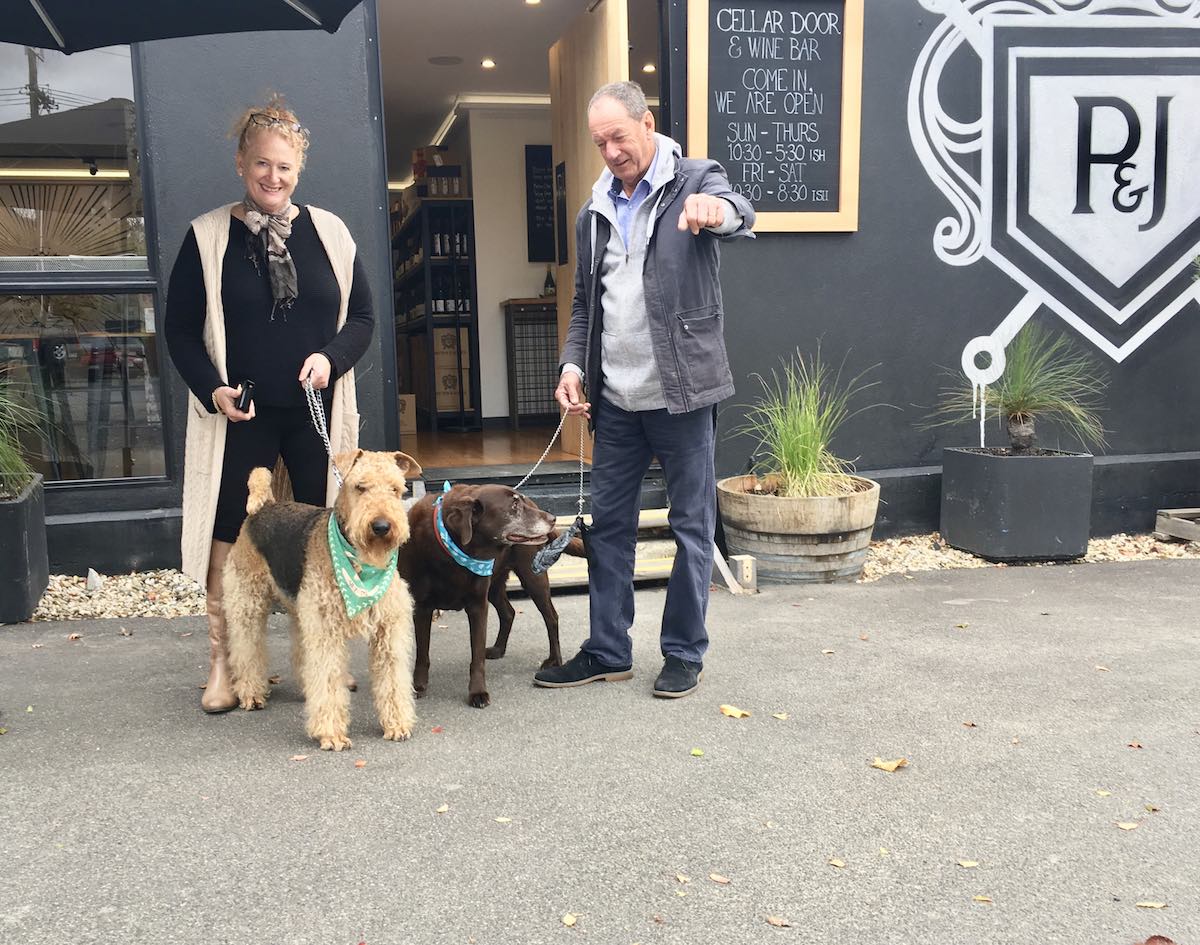 I was ready to stretch my legs a bit and we did, very briefly, walking across the road to the next place we were visiting – and this place makes gin (which is like wine but see through) and we were received like royalty.   I think Jeff had told them we were coming because we had barely sat down in this nice courtyard area under the heaters when this cool chick called Lizzie comes out and she's all over us.  She's got a tat of her doggo on her arm and she's cuddling me and stroking Lucy who is suddenly really quite pleased I made her get out of the van!  This Lizzie girl is great and while she's making a fuss of us she chats to Mandy & Neil about this see through wine stuff they make which people seem to really like and she then gives them a plank of wood with 3 small glasses on it and says 'Have a try'.  Neil being Neil scarfs his down in one and I look at Lucy and we nod knowingly, thinking 'Here we go!'  We've seen Mandy & Neil with gin before – they love it.  They had 3 each and all I can say is I'm glad Jeff and I are sober enough to drive!  Forget Lucy as a driver, her reactions really aren't what they used to be – she's slowing down is the old girl.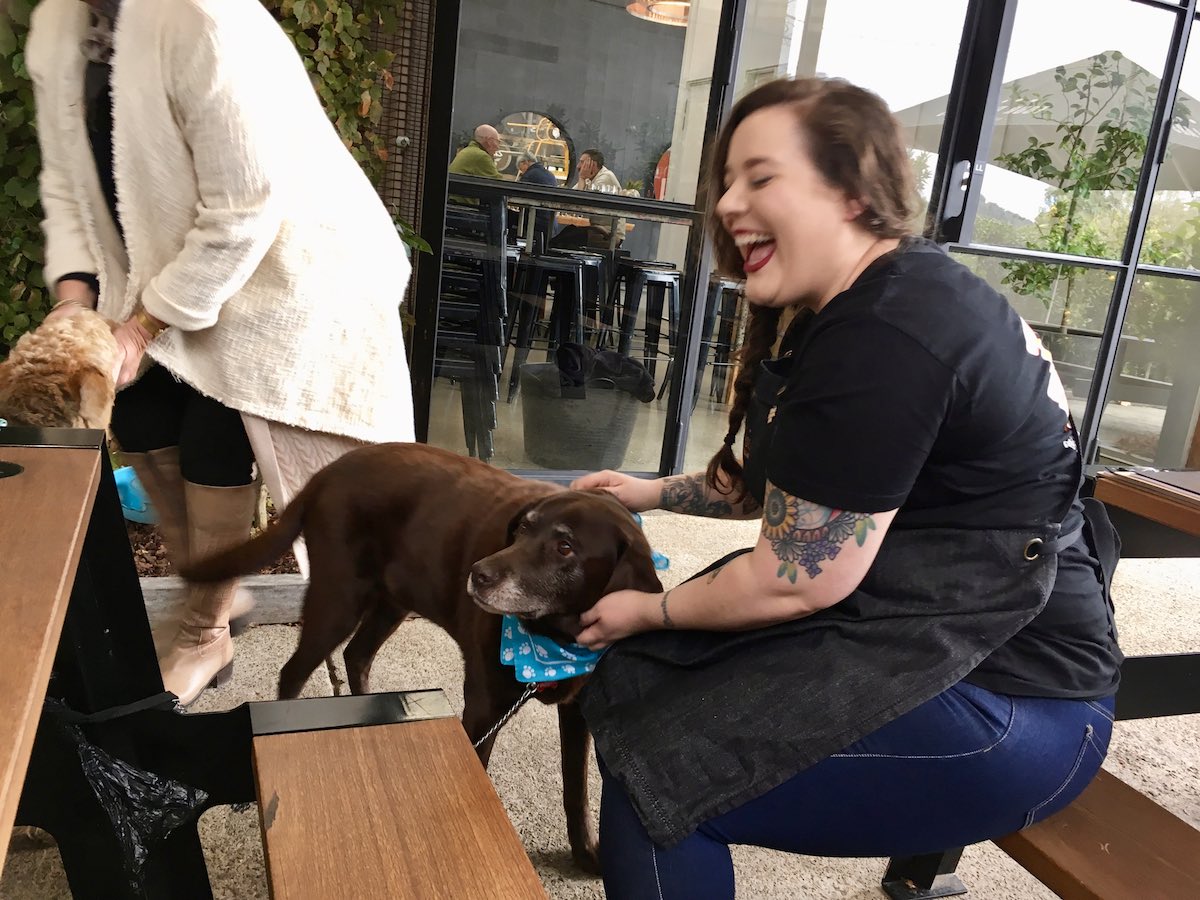 After sculling gin, Jeff sensibly suggests we go and have lunch somewhere and he drives us up this really long road and up a steep hill and we get out at this place called Soumah and we're on top of the world!  I can see for miles and it's really pretty.  Lucy and I decide to snuggle up in the back of the van and have a bit of quiet time while the humans go in and taste more wine and we have a snack or two – we're not big lunch eaters me and Luce – not like Mandy & Neil.  And Jeff, we gather he tucked into lunch too!  They're always eating these humans.
Mandy told us later that they chose what they each wanted for lunch off the menu and then did a wine tasting with the nice lady in a special room who helped them decide which wine would go well with their food.  Good job I wasn't there, as I would have joked that their palate would be 'beyond knowing by now' given the amount of wine and gin they've ALREADY scoffed down today and I might have been given one of those looks!!
They loved their lunch and apparently history was made – (I know, typical of me to be asleep and miss it) but when the nice lady came to ask Mandy if she'd like another glass of wine because yup, you've guessed it, she'd inhaled it before her lunch arrived, she replied 'No actually I won't thank you' and Neil exclaimed loudly that that was the first time he'd heard her say that in the 25 years forever that they've been married!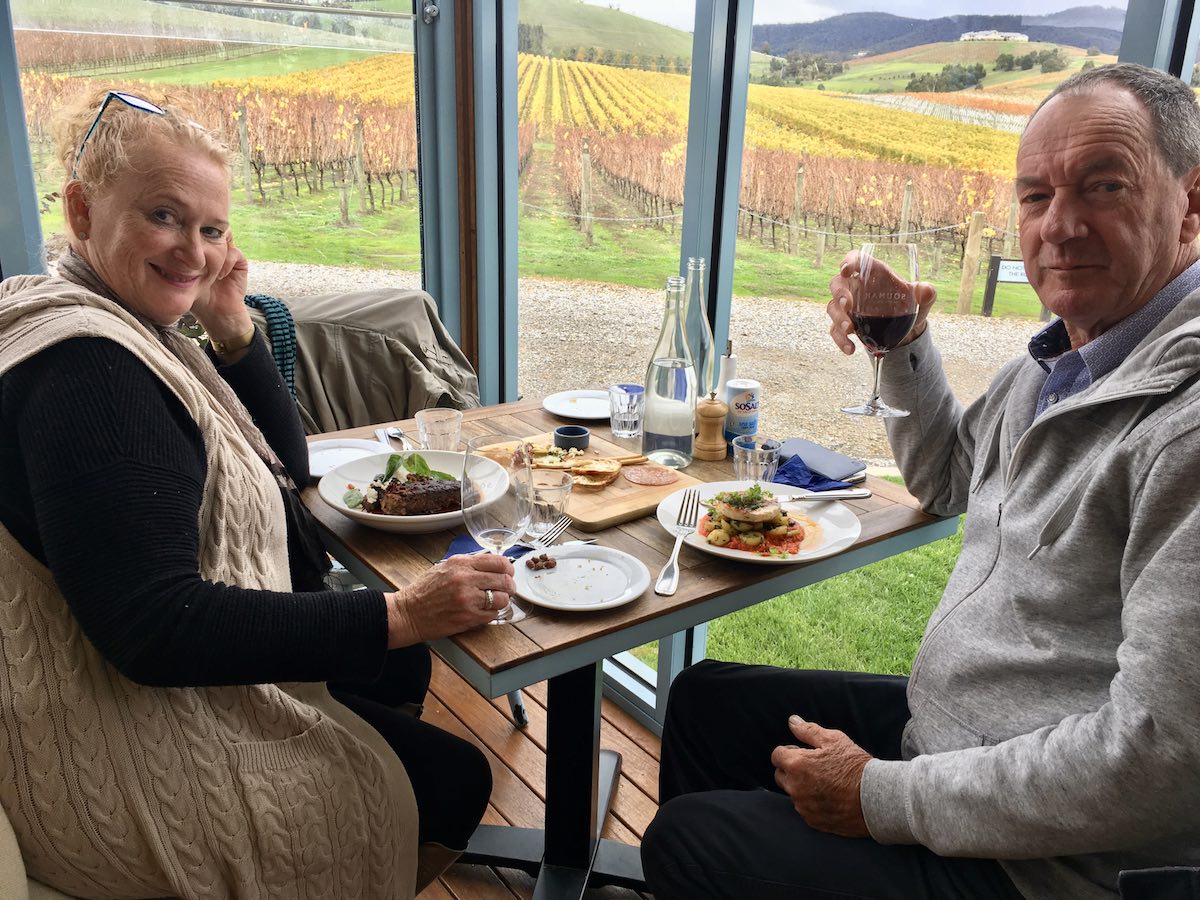 After my little snooze and their lunch we were all ready for a walk and Jeff said he knew just the spot to take us to – and we rocked up at this place called Donnelly's Weir and it was THE BEST.  Lucy and I ran around on this little country lane and there were sheep in one paddock and cows and horses in another and smells EVERYWHERE and no other people around and we had a ball.  At one point when I set off to investigate the sheep I heard Jeff say to Neil 'Do we need to put Teddy on the lead?' and Neil replied 'No, just turn around as if you're walking back and see what happens!' and he was right, as soon as I realised they were all leaving without me, I lost all interest in the sheep and charged after them.  We then splashed around in some water that went across the road (by 'we' I mean Lucy and me, the humans were funny about getting their feet wet!) and we rushed off into the bush to chase great smells and have a few wees to let other dogs know we'd been here.
After our bush adventure we climbed back into our touring van and I telepathically suggested to Jeff that he take us to Tarrawarra Estate – it worked and almost immediately I heard him saying to Mandy & Neil 'Let's go up to Tarrawarra Estate, you'll love it there'.  Good to know I've still got it!  And Jeff and I were right – they did love it there.  It was too cold for us all to sit out together on the pepper tree deck, which Pooches tours like to do with dogs, so I suggested that they go inside and taste more wine (because it had been well over an hour now between drinks) in the hobbit style cellar door and I'd keep Lucy company in the van (I secretly was ready for a nap after our adventure).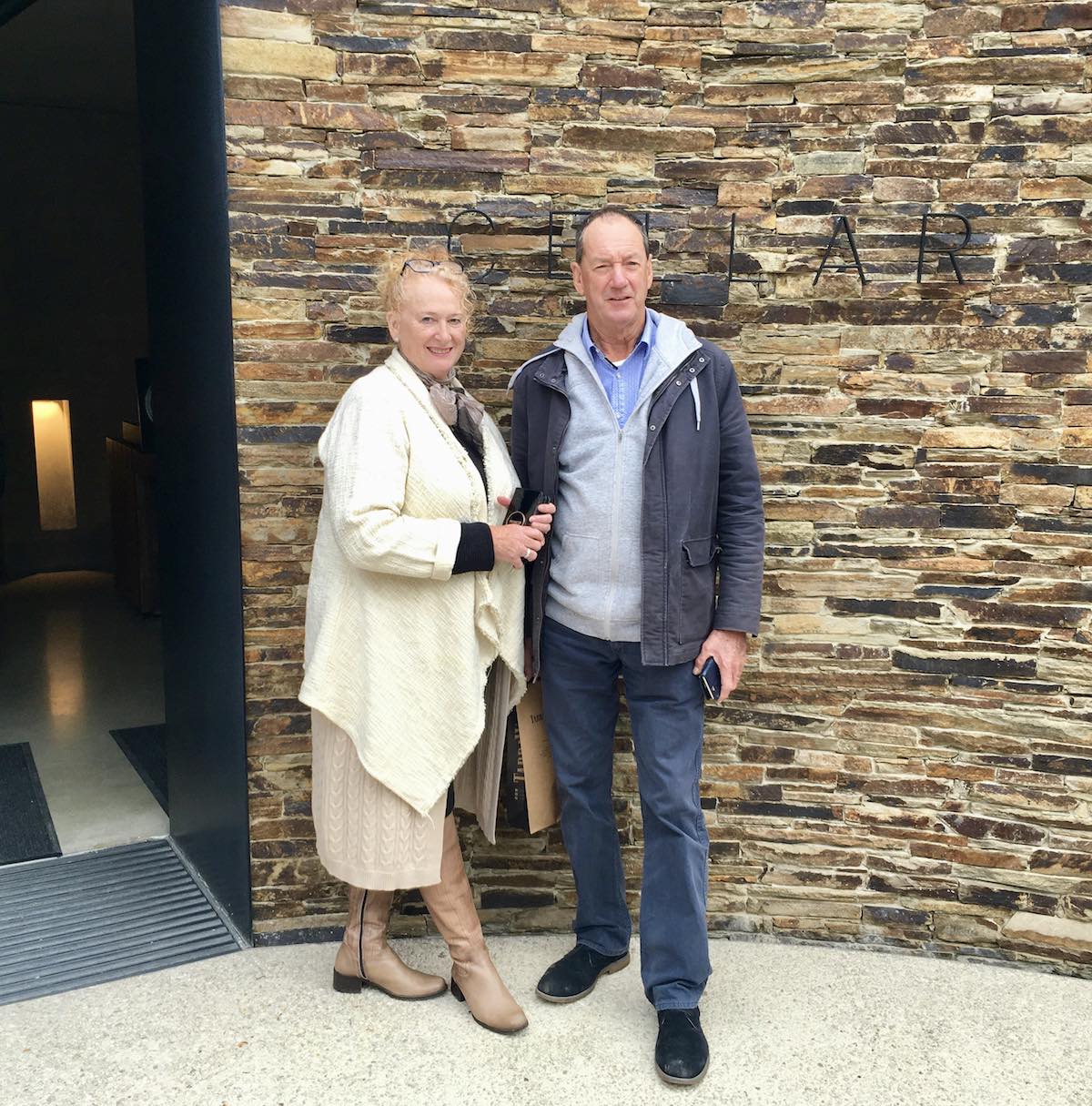 A nice man called Craig did their wine tasting with them and Mandy bought a bottle of their Roussanne 'for later'.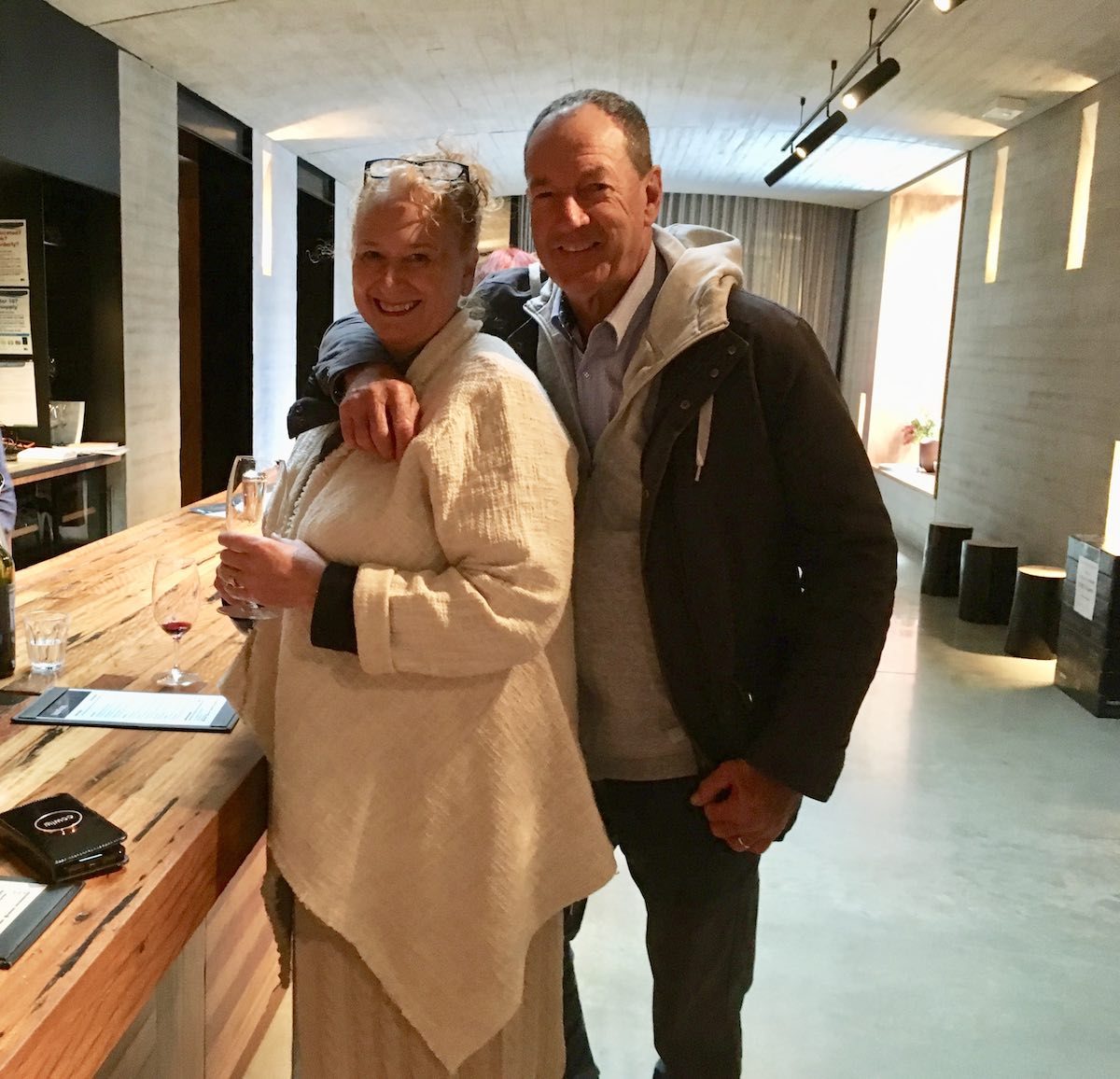 Neil did some posing outside in this space between the gallery and the restaurant – saying something about staging I Claudius in the space – so presumably this is him being Julius Caesar.  Good job he's better at detective work than acting hey!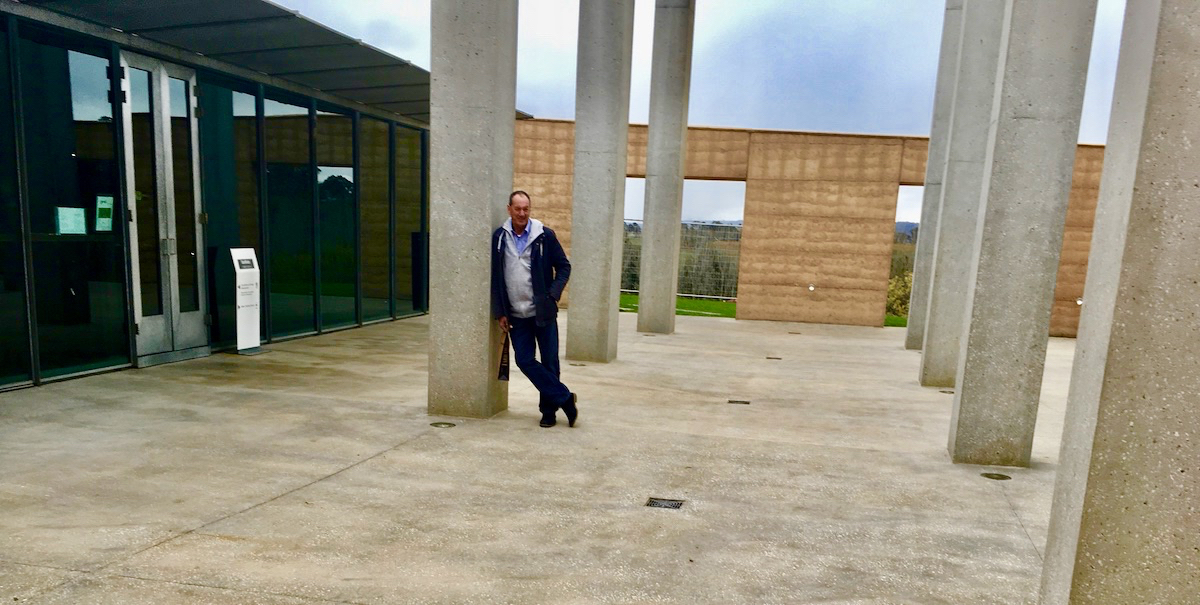 Meanwhile I too did some posing.  The van I was sitting in has Pooches & Pinot written on it so I thought it'd be funny if I sat in the driver's seat, so people walking by would think I was the tour guide, patiently waiting for my group.  And I reckon they did, til Jeff and the others came back and started taking photos of me and laughing and totally blew my cover!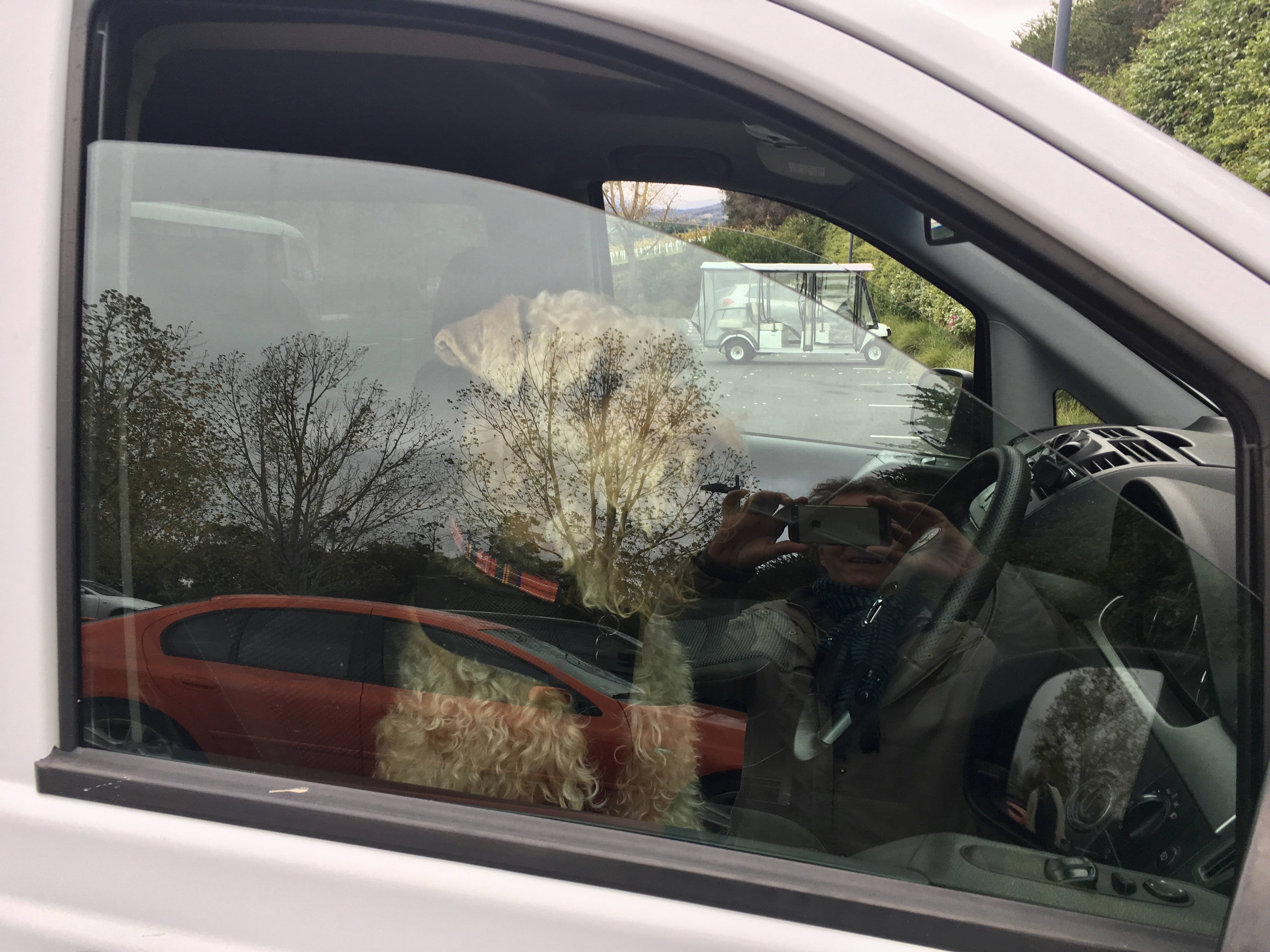 Jeff had suggested earlier to Mandy & Neil that he could take them to a place that sold great food so they could pick up bits for that evening's dinner as they clearly wouldn't be venturing back out again once he'd dropped them back – so that's where we went next, to a deli called Kitchen & Butcher and they came out laden with stuff.  Mandy had loved it in there – even got giddy about a stripy tea towel!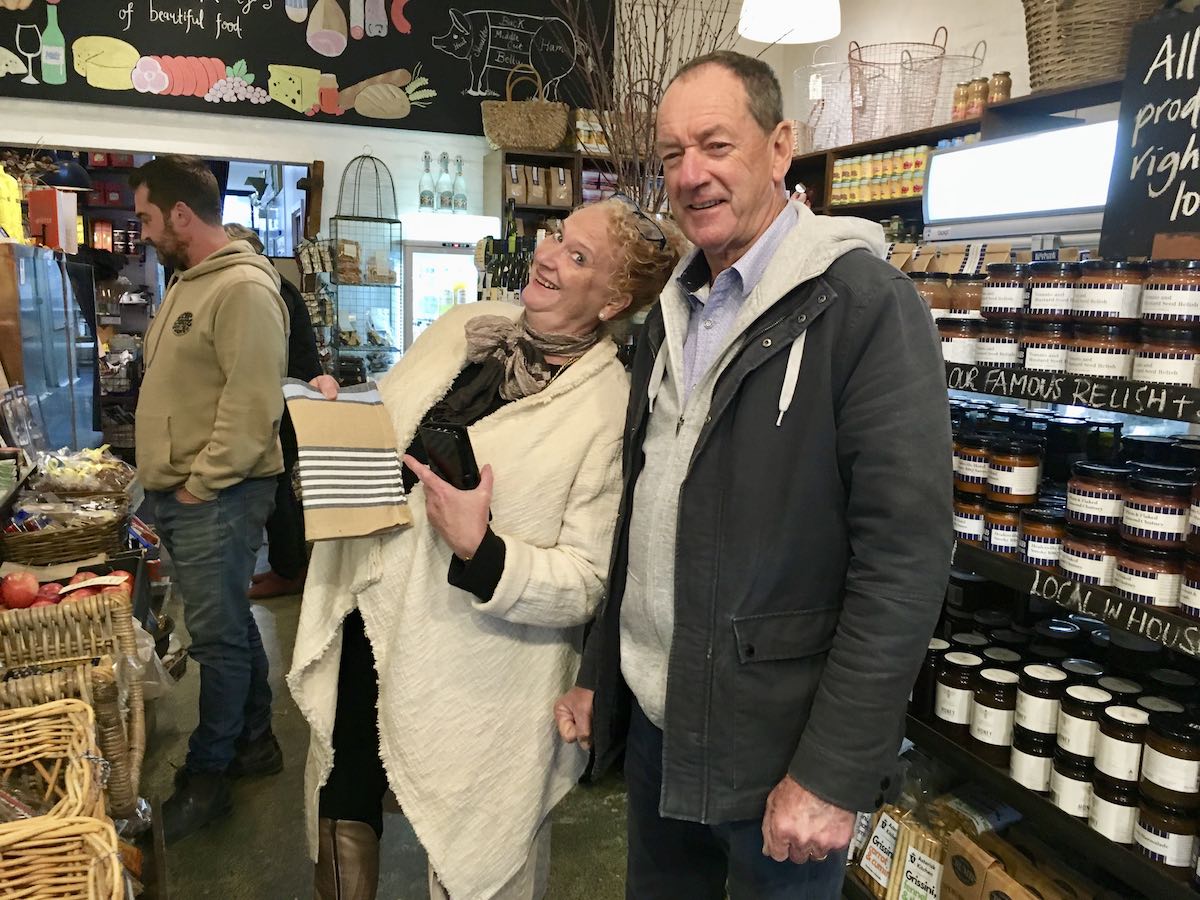 It was funny though because I waited in the van with Lucy, and we saw Jeff come out of the shop at one point and run down the road to another butcher's shop.  What was he up to?  We were intrigued.  Esp when we saw him come out of the butchers holding what looked to be a small Melton Mowbray style pork pie!   Then the penny dropped.  We know Mandy is partial to one and she'd have been thrilled that he knew just where to find one for her – at The Beef Joint.  That's the great thing about touring with a local man like Jeff, he knows where the pies are at!
We had one more winery to check out before we called it a day and Jeff drove us to Oakridge where Mandy & Neil did a tasting and Luce and I stayed kipping in the van.  Mandy liked the wines so much she couldn't decide which she preferred, the Chardy or the Sparkling, so I gather she drank them both, at the same time!  Clearly time to take her home!!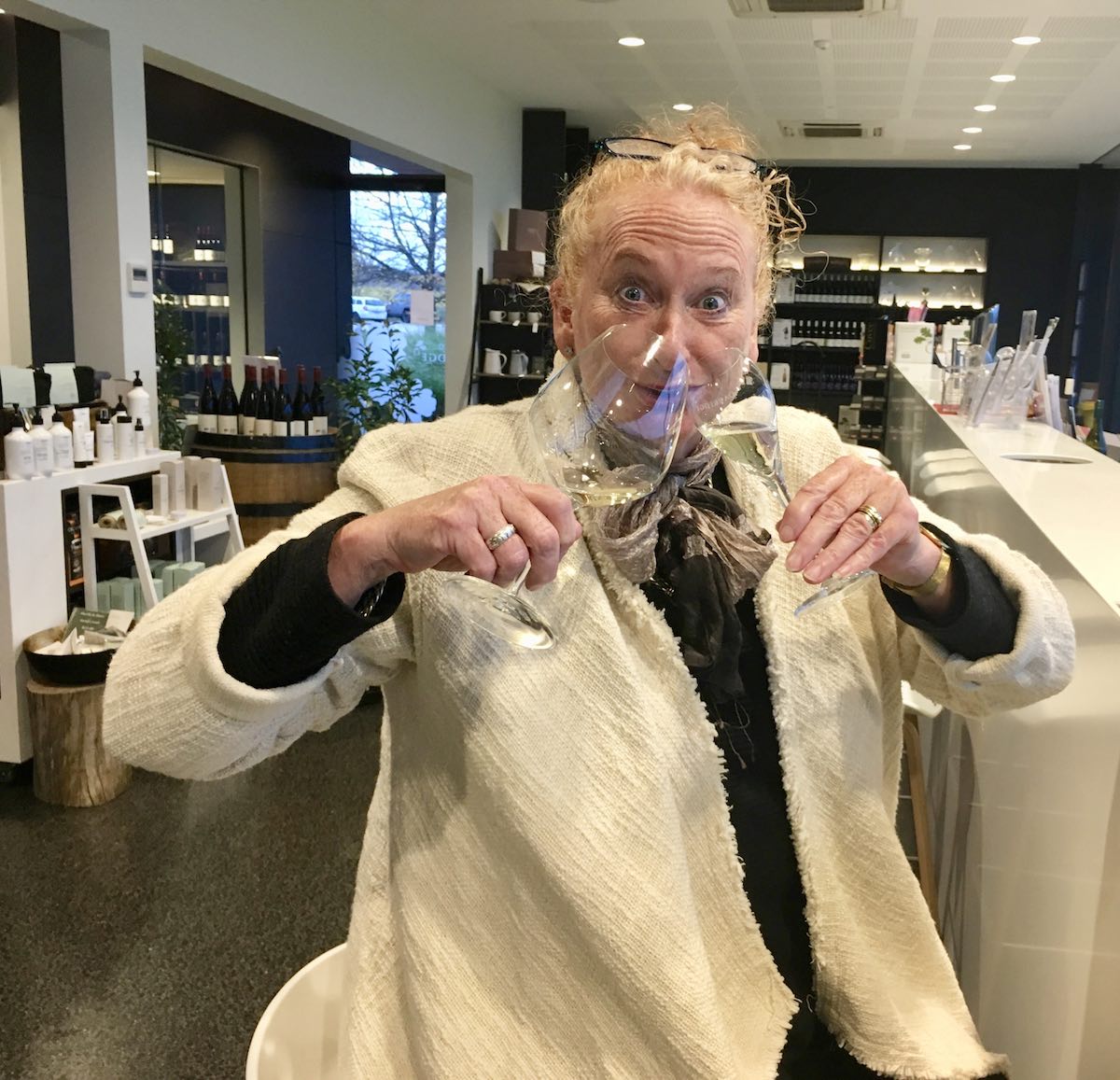 So, if you're reading this and you're a pooch who wants to take your humans on a wine tour with you in the Yarra Valley – you now know who to call.  Jeff – he's top dog and he's ace.  Check out the various tours they do and then call him on 0488 046 993 or email him at info@poochesandpinot.com.au