Well hello there, I'm Smudge, a 1 year old farm dog and I live on my grandpa's farm with cows, chickens and cats and my Ma April who just turned 21 – I know right, she's ancient! My Pa cleverly arranged for us to go away together to help her celebrate and we went to a farm in the Yarra Valley which had an entire cottage just for us.  And it's got a funny name – Wiggley Bottom Farm – I think because when you go there you have such a great time you can't help but wiggle your bum!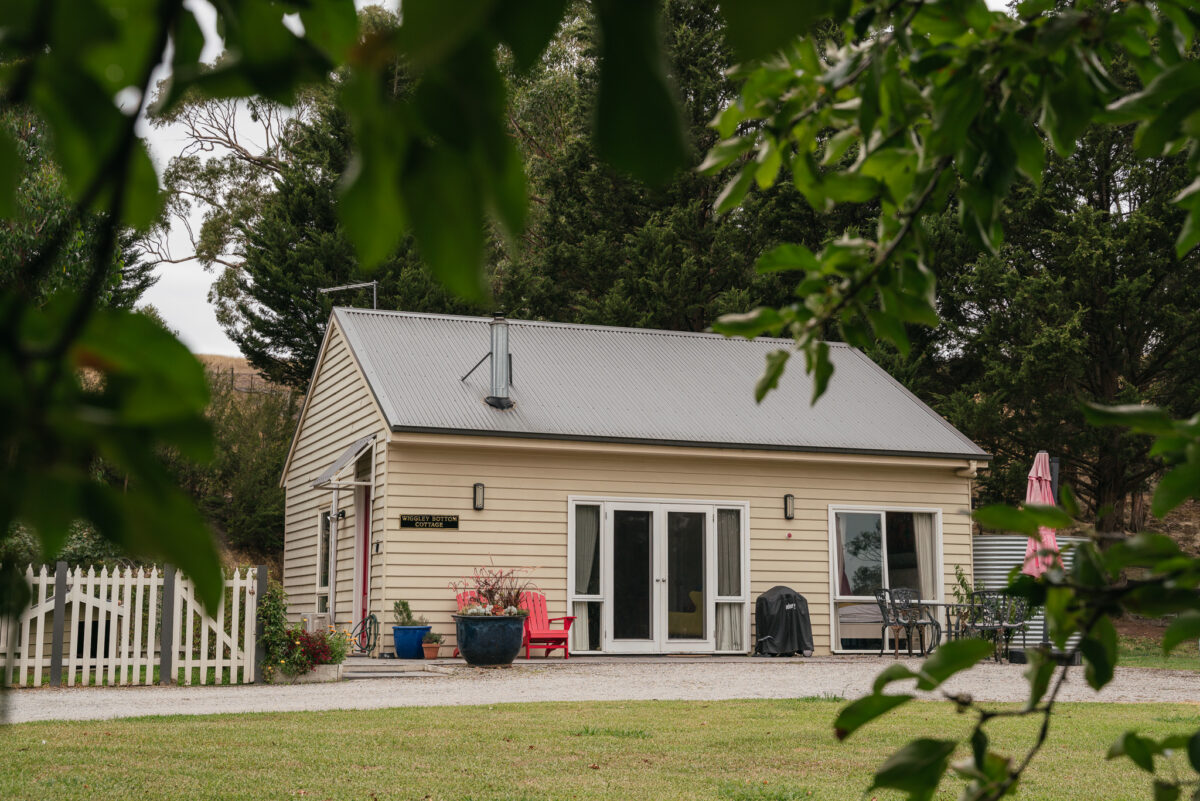 When we got there we found gorgeous food and drinks in the fridge for my Ma & Pa and a tin of treats for me – and while Pa had thought of everything, he'd actually forgotten to bring me any food!  🙈  So he headed back out to nearby Healesville and got me provisions – he's a star.
In the morning, at 10am on the dot, this cool dude called Jeff arrived with a huge shiny white van to drive us around in all day and there was a bed for me, all of my own, in the back.  I naturally tried to make a run for it (you take every opportunity you can) but then after a bit of coaxing with some Laila & Me liver treats, I jumped in and we were off to our first cellar door for the day.  Jeff has two vans, a white one and a black one that can take more peoples.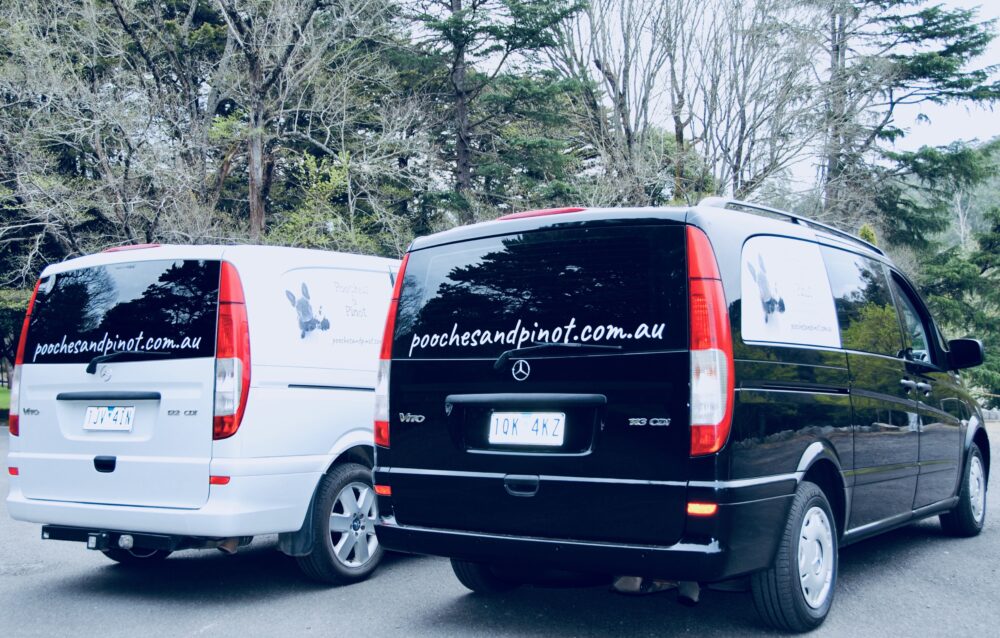 We arrived at this fabulous place called Helen & Joey Estate, high up on a hill where there was heaps to sniff and explore and I met this lovely lady called Mel who I couldn't stop kissing.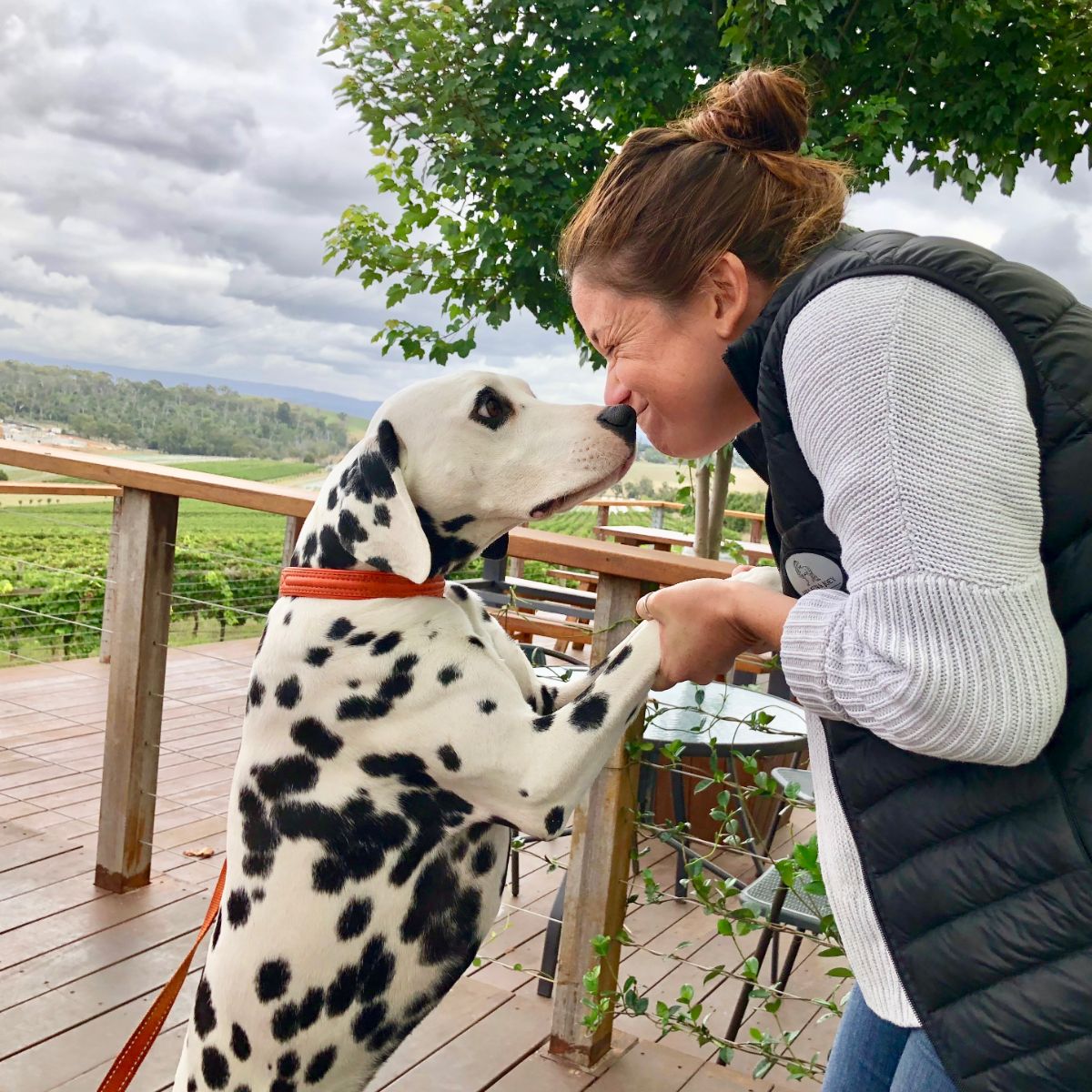 She loved me back and in between kisses, poured all sorts of different wines for Ma & Pa to try. My Ma likes a sweeter wine so loved their late harvest Chardonnay.   Mel brought over a lovely bunch of Sauvignon Blanc grapes and popped them on the table, so she could talk us through harvest – they started picking today and I gather they were sweet and delicious, (none were offered my way as they would upset my tummy).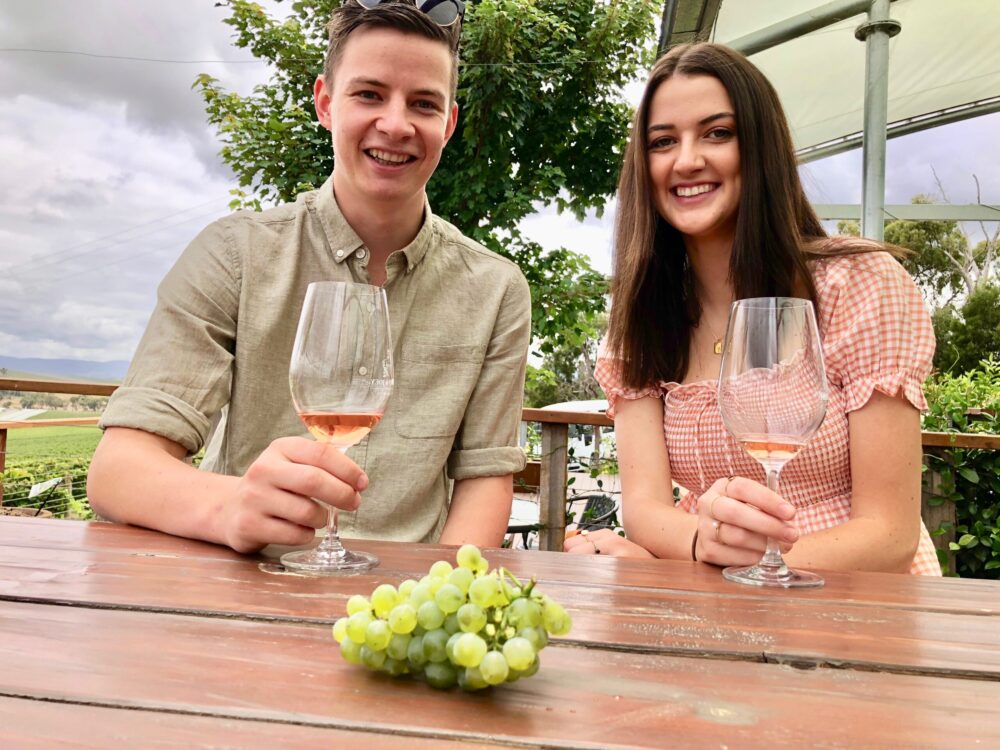 We loved it here – it was beautiful – and look at all these rows of grapes they've got to pick!!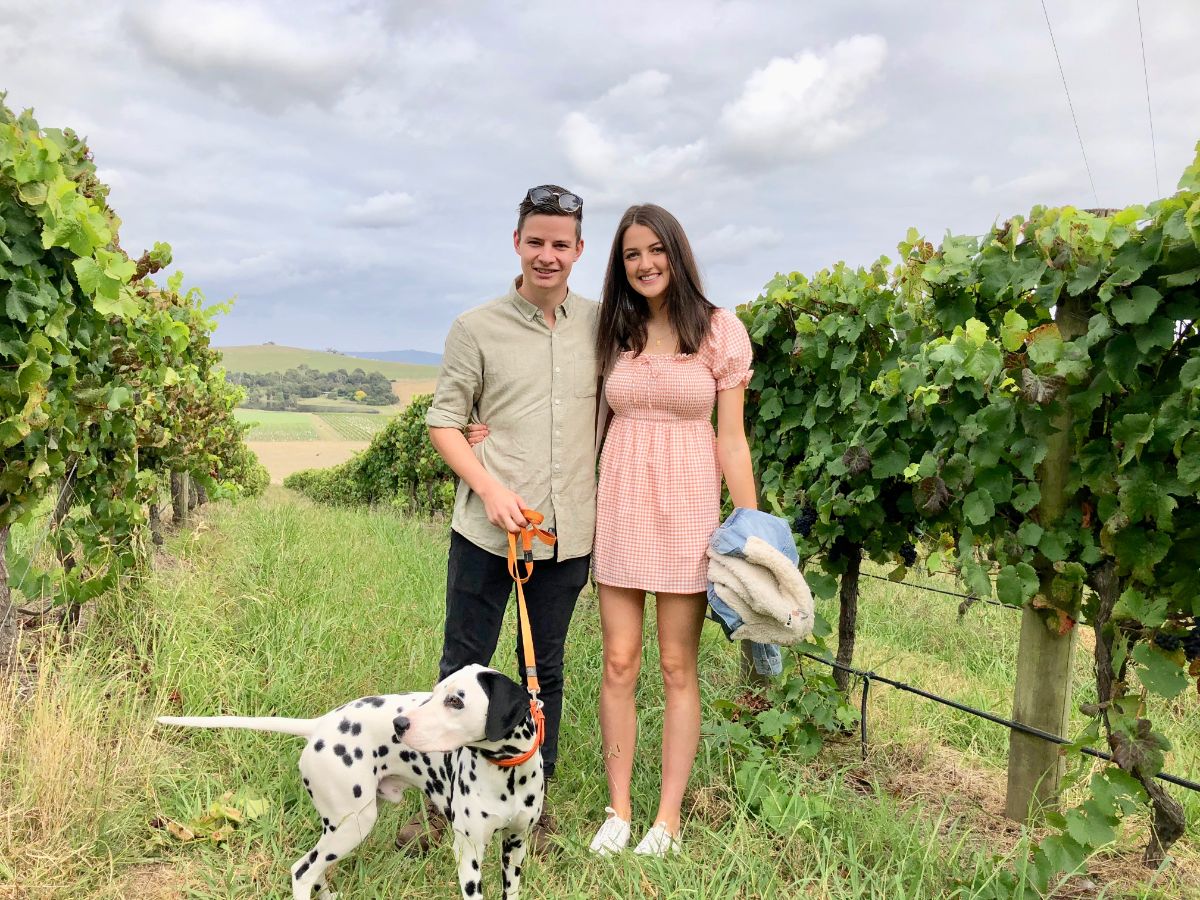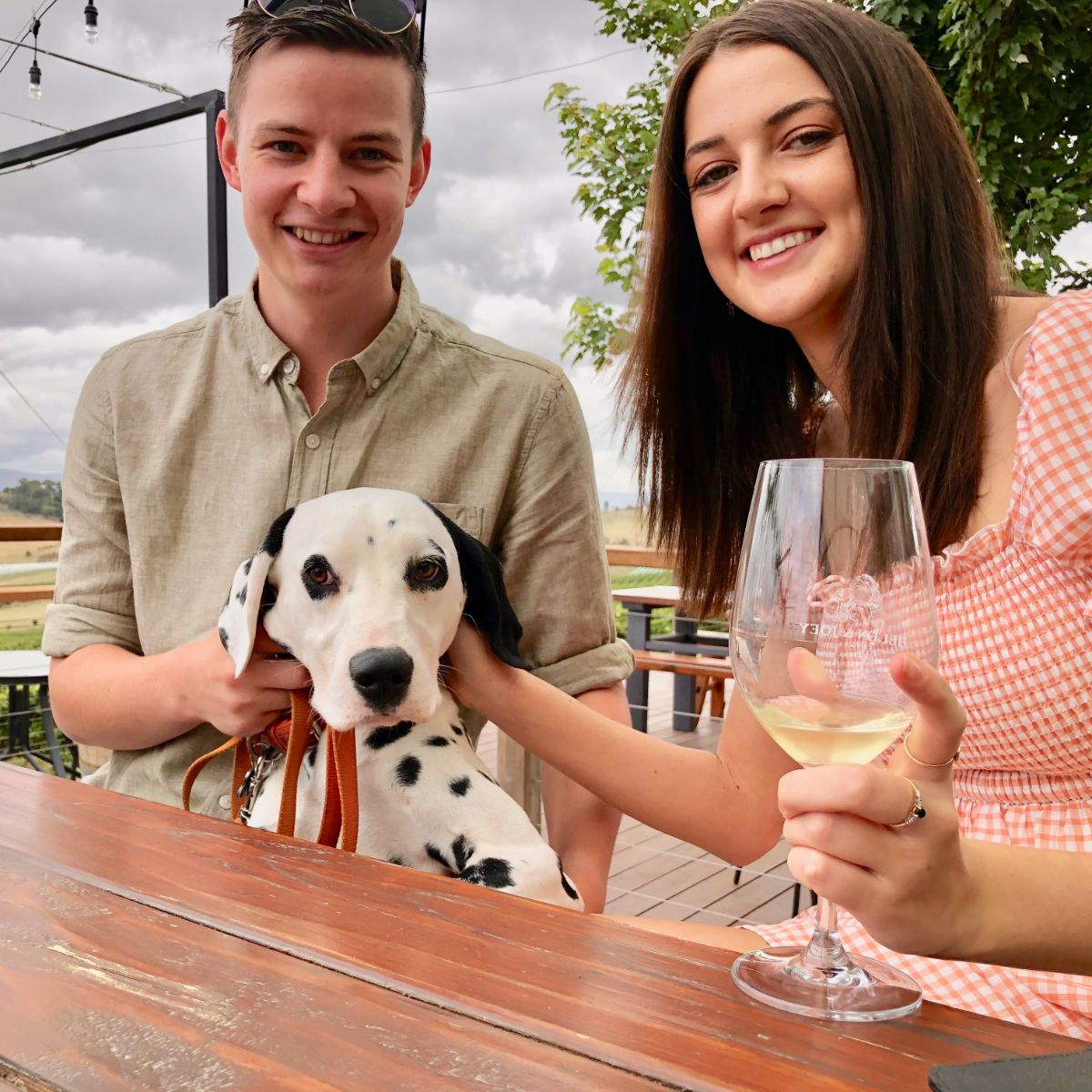 I took Jeff off, on a lead of course, for a bit of exploring – the smells were AMAZING – and then it was time to jump back in the van, as we were off to a farm next, so I was pretty excited.
But Yering Farm is a farm for grapes and apples, as opposed to dairy cows which is what I'm used to.  Still, there were perimeter fences that needed my attention, so I took Jeff to show them to him and we were pleased to report they were in good order. That's what us farm dogs do you see.   Meanwhile, Ma & Pa were having a great old time drinking cider and wine inside the cellar door which is a converted hay barn. Pa bought a bottle of wine called The George – which is his surname – which he's going to give to my other grandpa.  See what I mean about Pa being a top bloke!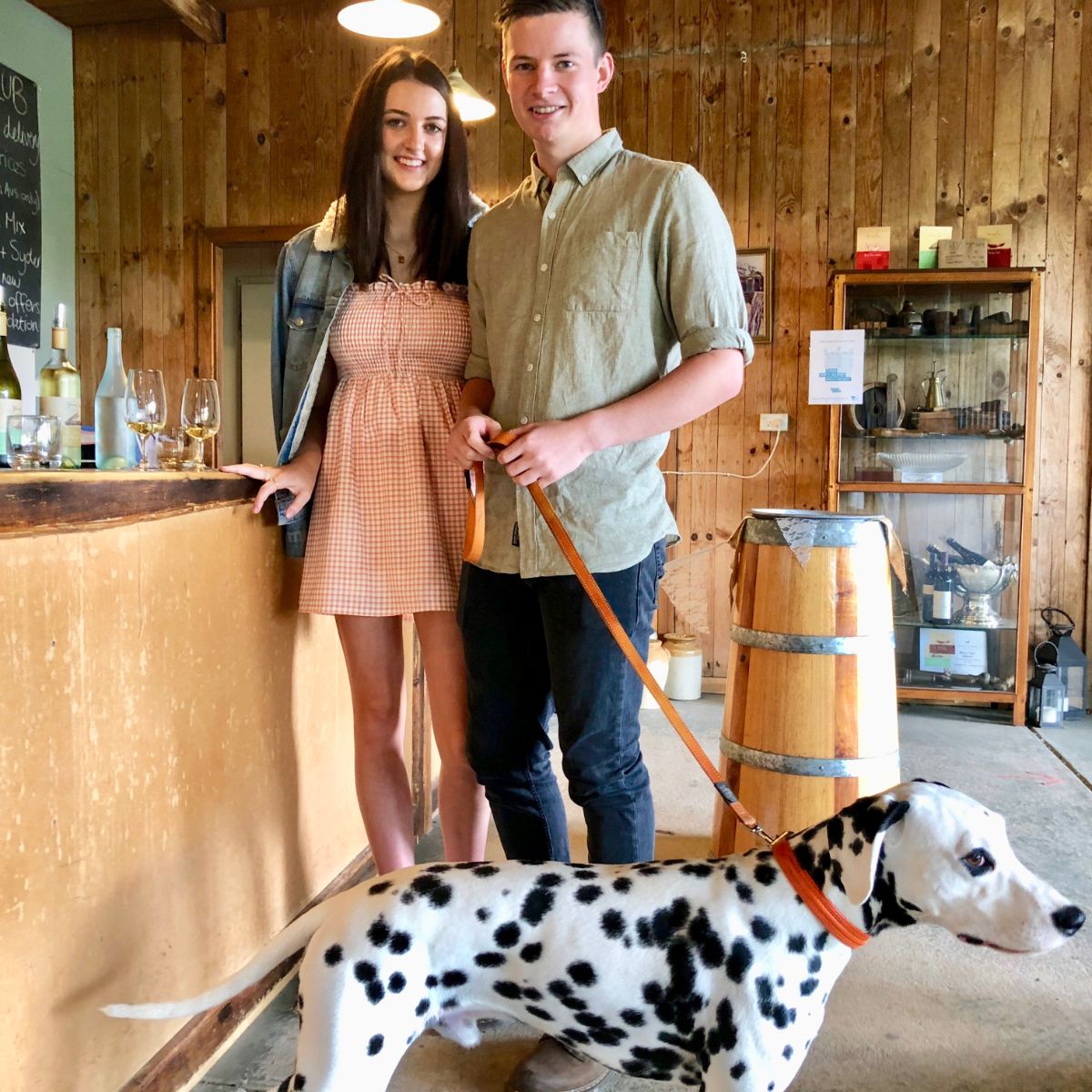 By now it was lunchtime, so Jeff took us to his favourite dog-friendly café in a great little town called Healesville and we pretty much had the place to ourselves, but boy oh boy, by the time we left it was heaving with people (this is what happens when you're a VIP and word gets out that you're in the area). I waited patiently for them to finish eating their sensational brisket and eggs benedict because I'd had a sneaky peek at the itinerary and knew after lunch we were going on a walk – yay, at a massive park called Maroondah Dam.
I did so much sniffing and exploring and Ma & Pa loved the view out over the water and could see for miles.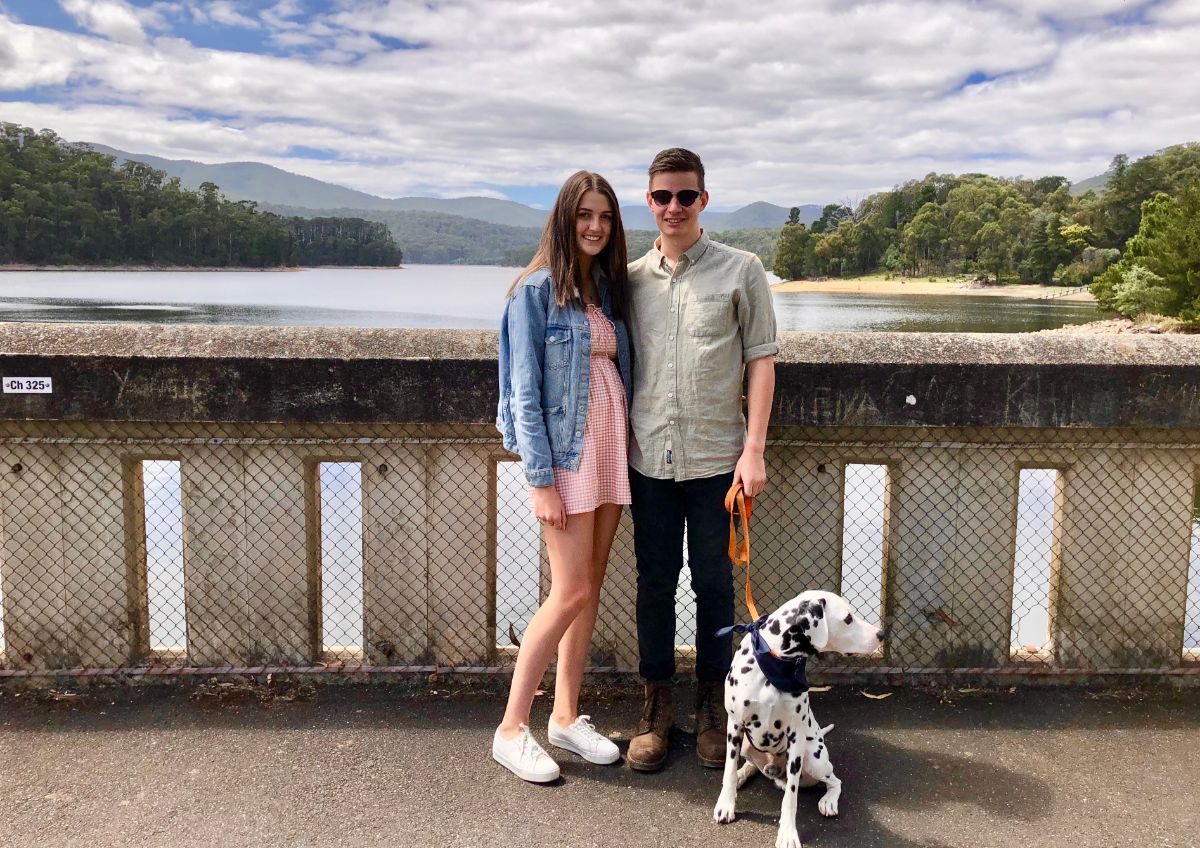 I was tempted to leap in for a swim but knew were off next to Four Pillars Gin distillery where I couldn't wait to meet Lizzie, as I'd heard that she loves dogs and wet kisses. And I was right – she DID. Look at her, she can't get enough of me!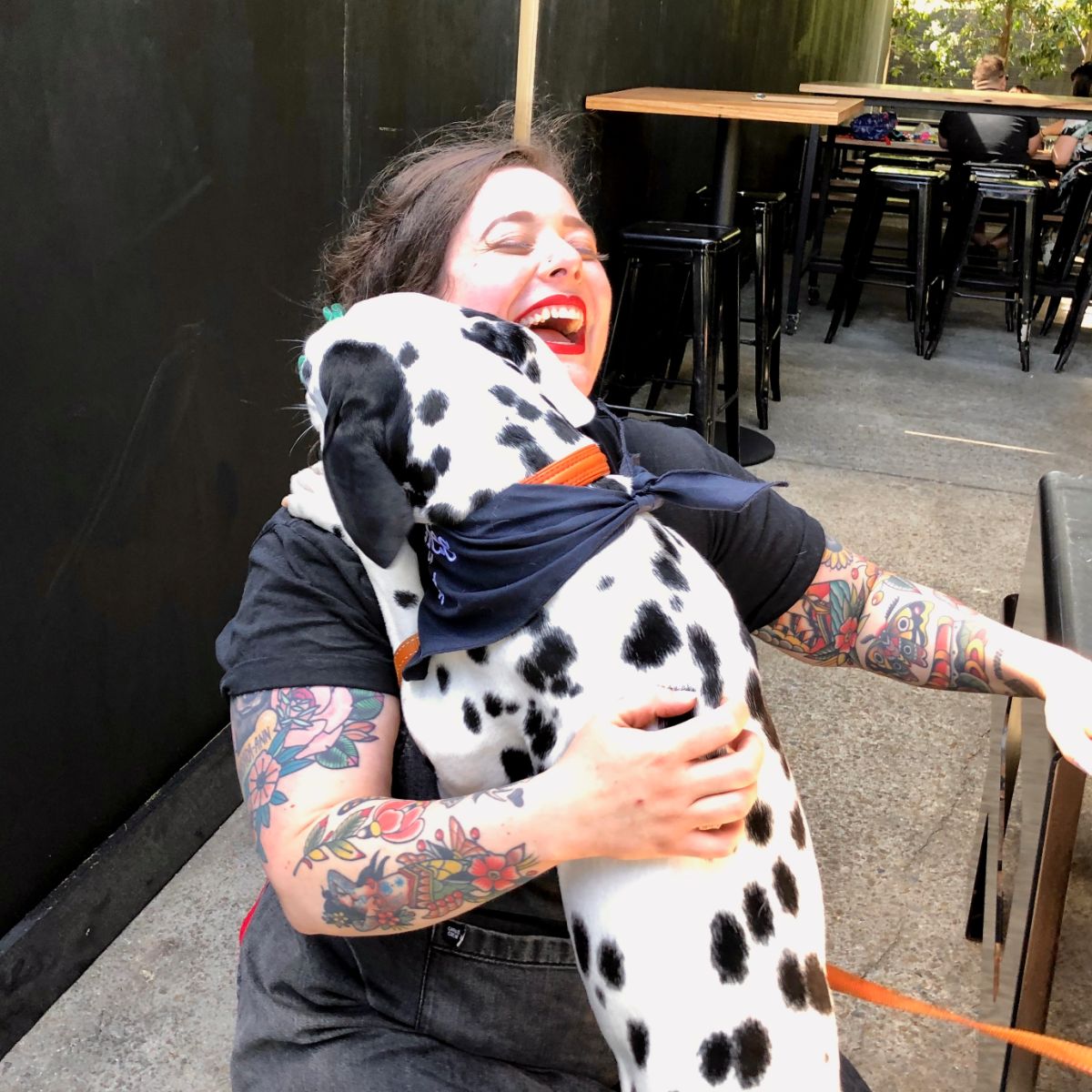 Ma & Pa tasted lots of different gins while I eyed off the bloody shiraz but didn't get a bloody drop!!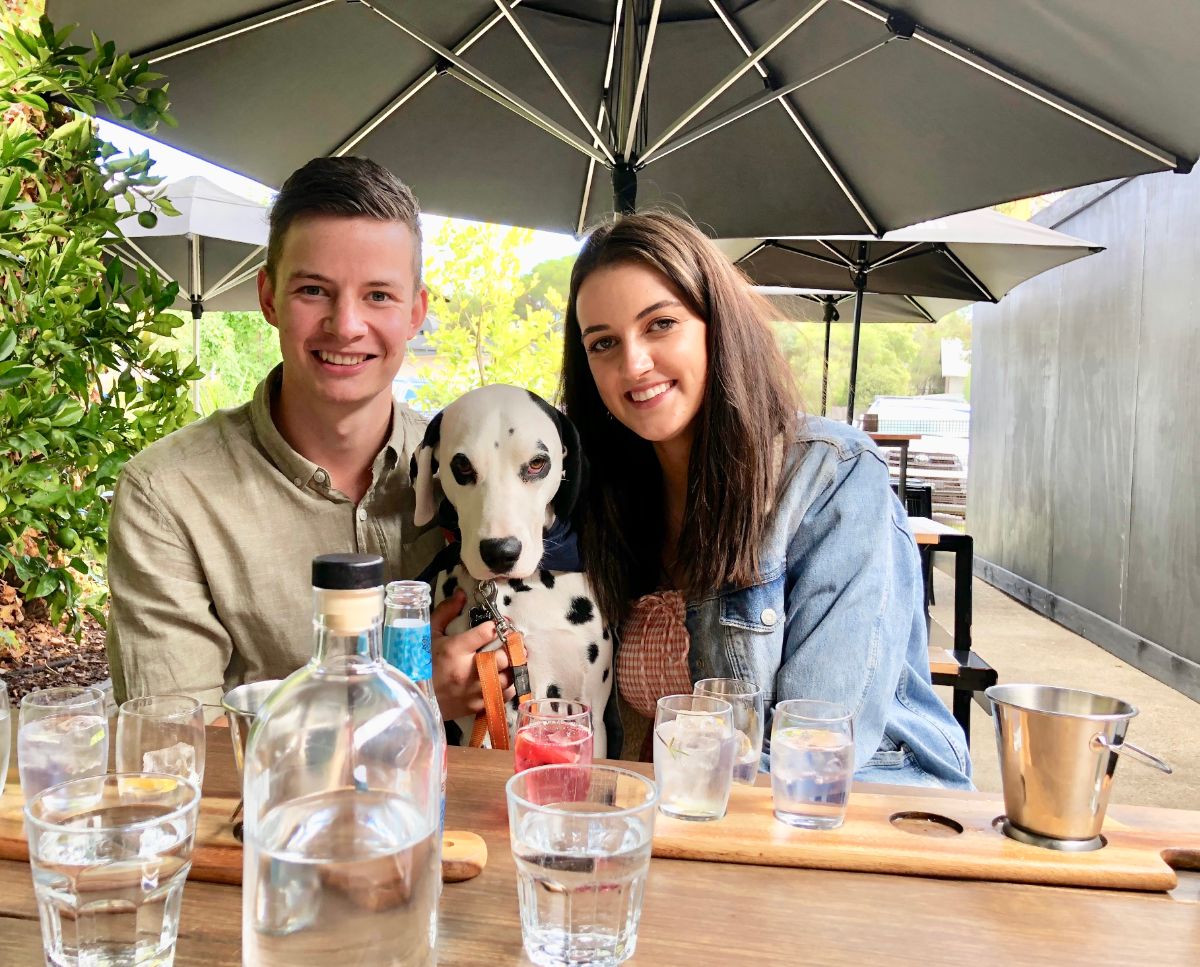 We all loved it there and after they'd finished draining their glasses, we sauntered across the road to our next cellar door, called Payten & Jones.
Before we'd even got to our table I found yet more ladies who needed kisses and hugs – gosh it's a super friendly place this Yarra Valley.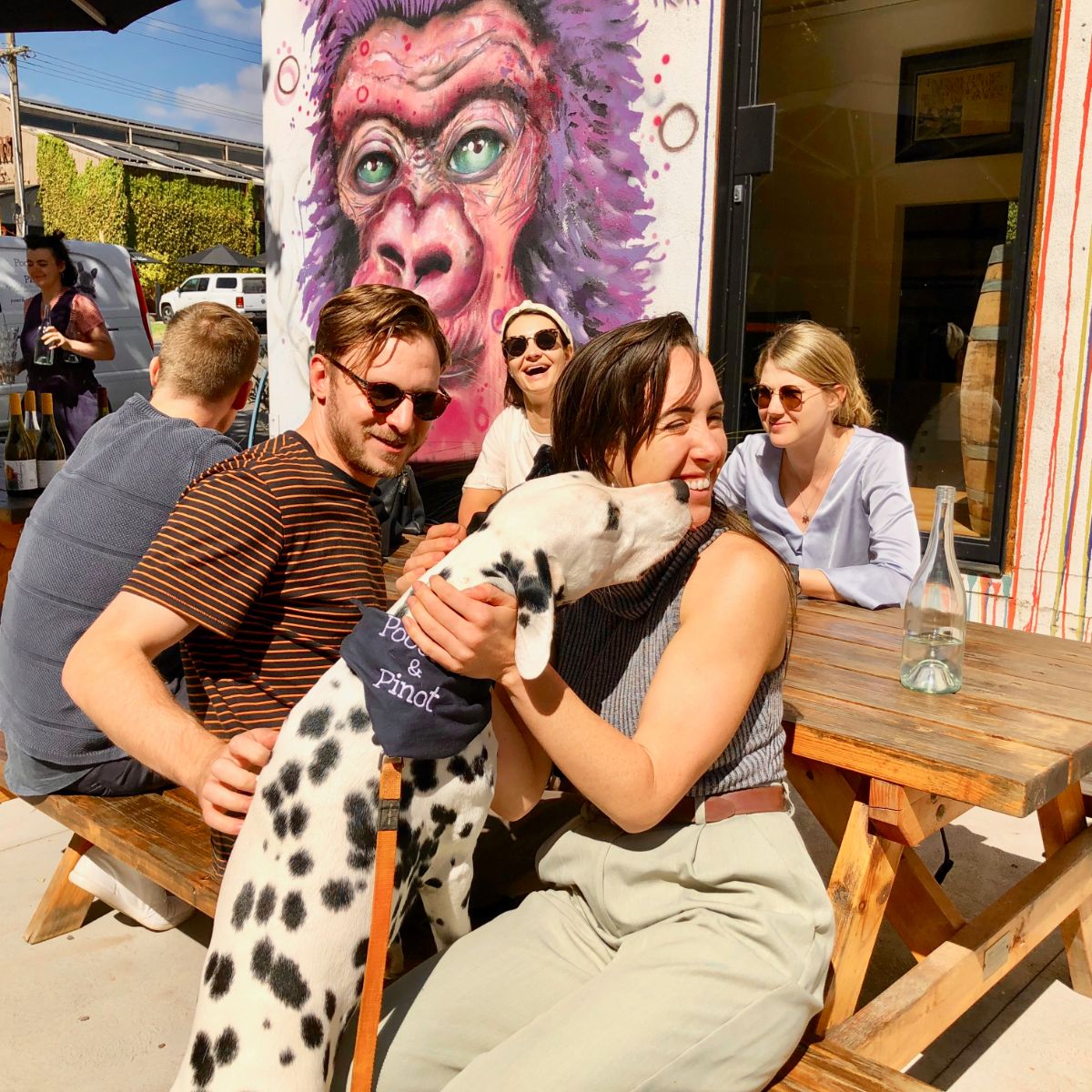 We had a lovely tasting and soaked up the vibe, I could have stayed well into the evening, as there were so many people to go and chat to.  And the wine's rather spesh too!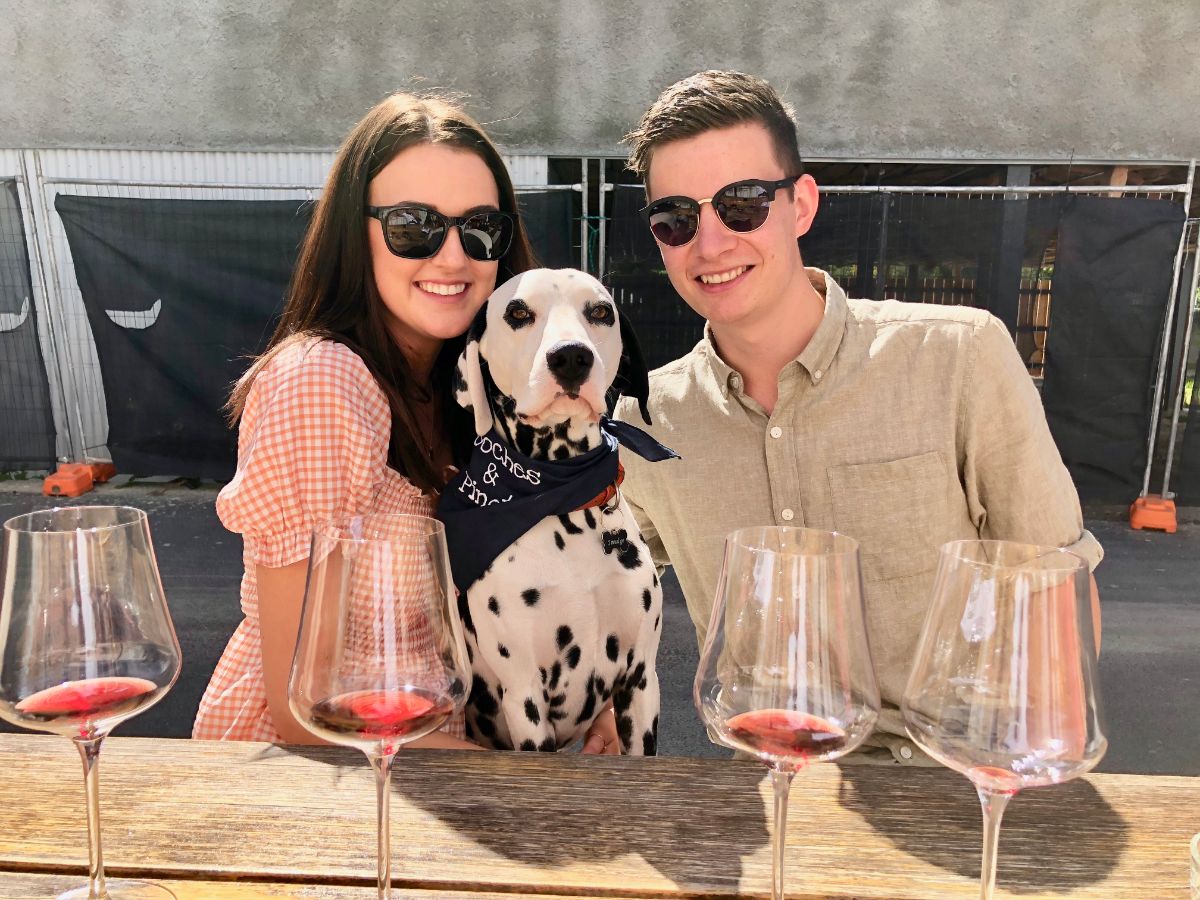 As we were leaving P&J (as I now call it) Jeff asked my pawrents what they had planned for supper and clearly they hadn't any, so we all agreed we should visit a nice deli up the road to get some yummy treats. So I kept Jeff company in the van with the boot open munching on more treats (god I love Jeff) so we could watch the people and the cars, while they went I shopping. I made yet more friends and waved at people as they went by and then my Ma & Pa returned with their supper.
We set off back to our cottage at Wiggley Bottom Farm and tho I was exhausted from all the kissing and making of new friends, I was certainly up for some more sniffing and exploring of the property (there are 15 acres for me to explore you know) but first had to wait patiently while Jeff helped my pawrents get all their souvenirs in brown paper bags out of the van and pose for a photo with them. Here's me trying not to look too impatient, and I might add, looking rather dashing in my Pooches & Pinot bandana. Not your average farm dog, me!!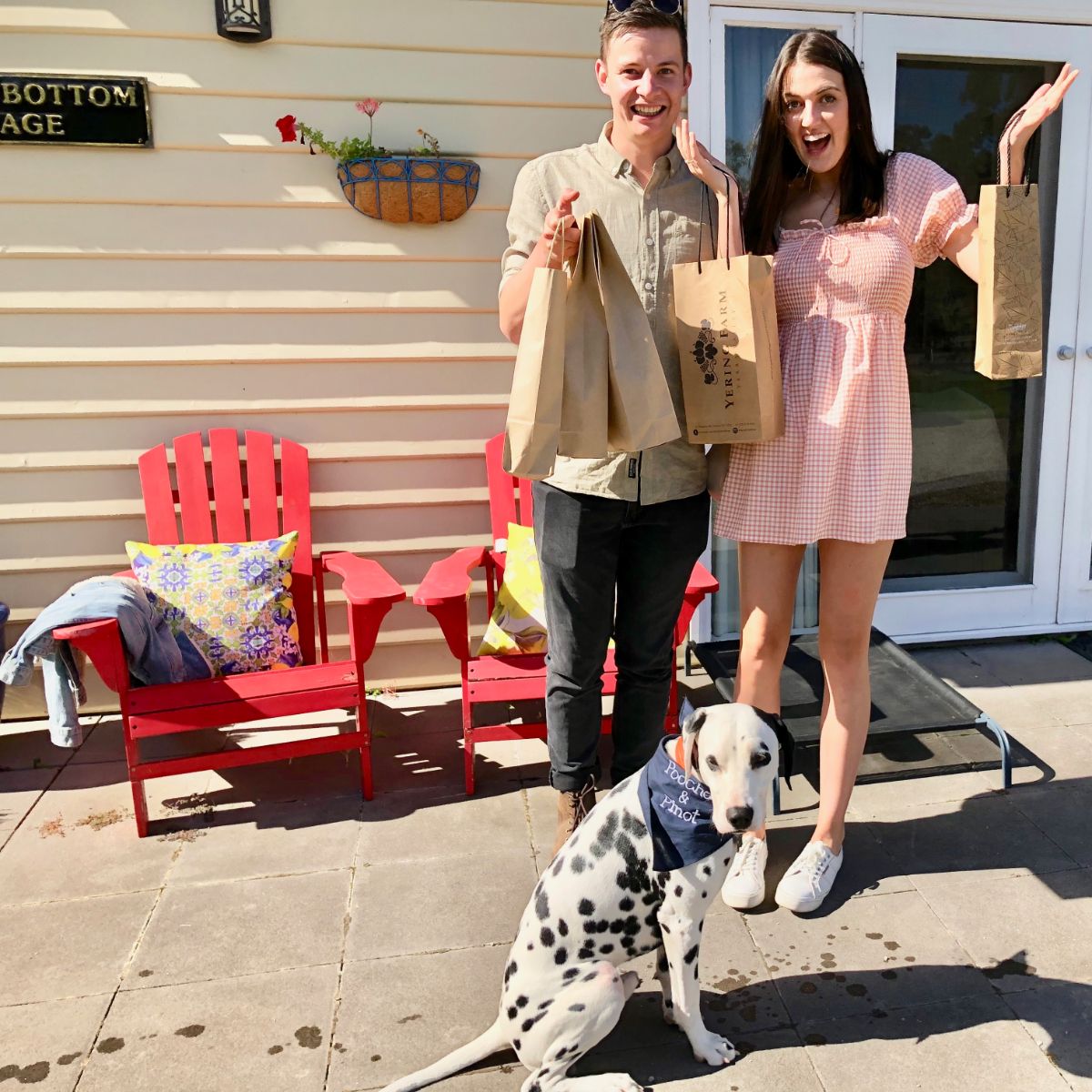 We thanked Jeff and waved him goodbye, and I took my folks for an explore around the property and would you believe, we got back to the cottage and found we (well, Pa) had locked us out! Fortunately the lovely lady Gillie who owns the farm had hidden a key in a secret place (no, I'm not telling you where! Honestly!!) for people just like us, so we were soon safely tucked up in our cottage ready for a big sleep after our terrific adventure around the valley.