Hi, I'm Oscar, a 10 yr old wiry Jack Russell, me and my new brother Neo pulled a late one last night, we didn't get back to Wiggley Bottom Farm, our holiday house we're renting in the Yarra Valley, til after midnight!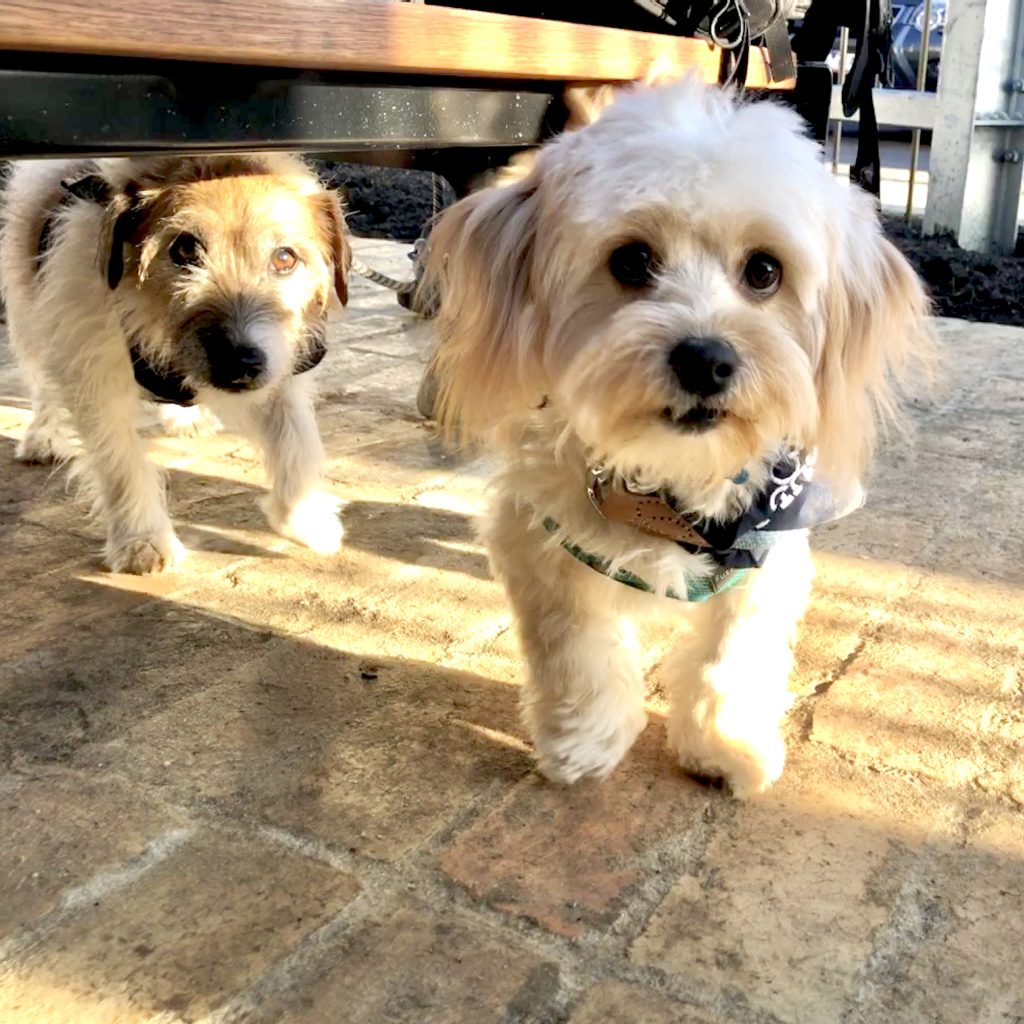 Why the late night you ask?  Well, you see, we were in a charity relay yesterday, to raise funds for Motor Neurone Disease.  So here we are, just woken up, all bleary eyed, when we see a van pulling up and some guy gets out and starts knocking on our door.  And suddenly everybody's getting all excited and stuff and asking me if I'm ready – and I mean, really?  Now?  We're going out on a tour – its a bit early isn't it?
And then I'm like, oh yeah, we're going on a wine tour with Pooches and Pinot, fantastic – I love wine.  My favourite is Pinot Doggio, (that's the Italian style dontcha know).
The first thing this van driver Jeff bloke does is give me and Neo some treats, then he shows Judd (my 11 yr old staffer) a big box under his seat full of lollies and chippies and stuff.  Clearly this Jeff bloke understands the hierarchy of our family; it goes me (obviously), then Neo (aged 6 months), then Judd, then Belinda, then Andrew… got it? 
Judd sat with Neo because he's very young!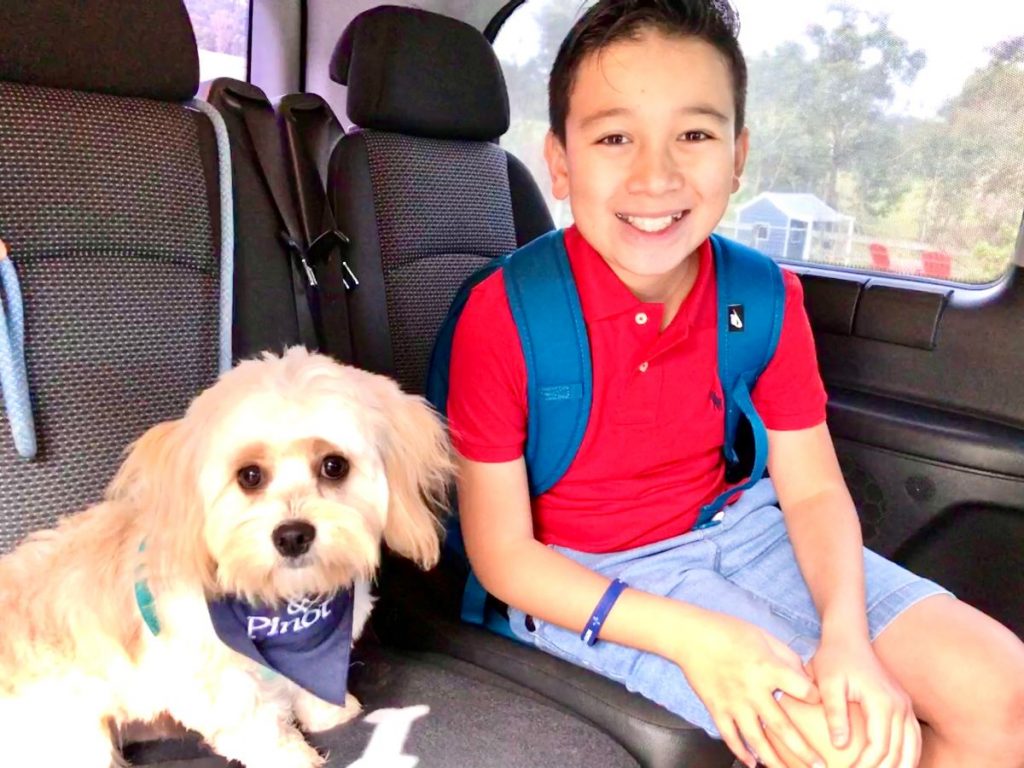 So, we pile into the van and we're off, Jeff bloke is taking us to a cellar door with fantastic views and really interesting wine and it's called Helen and Joey.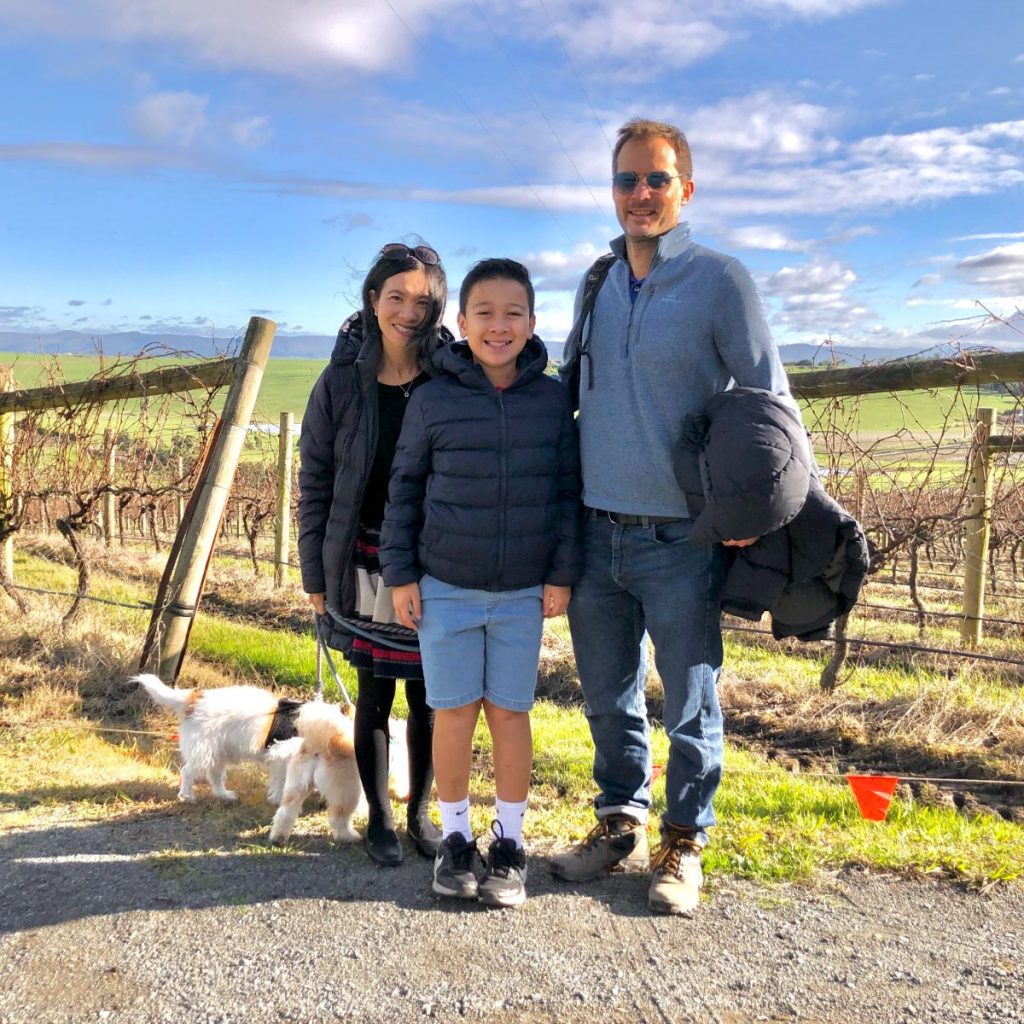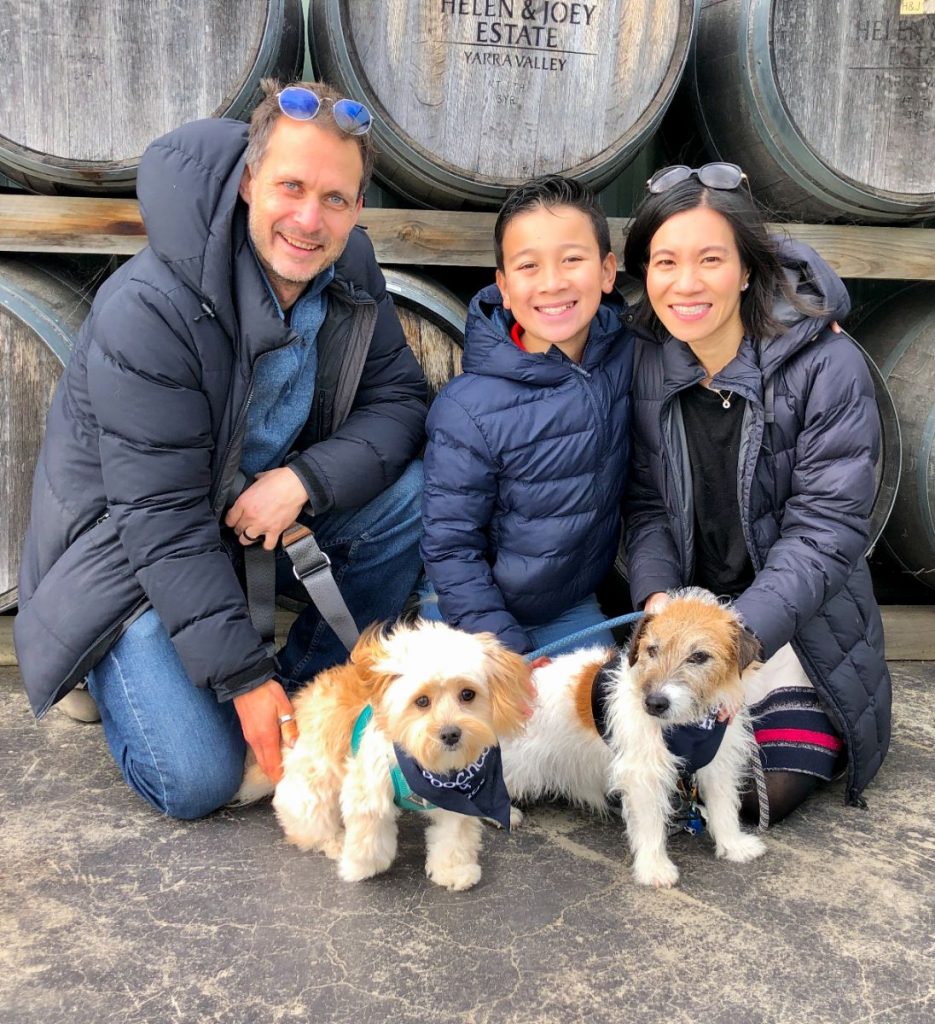 They seat us around a wine barrel and in typical Melbourne fashion, suddenly the sun breaks out, so none of us can see!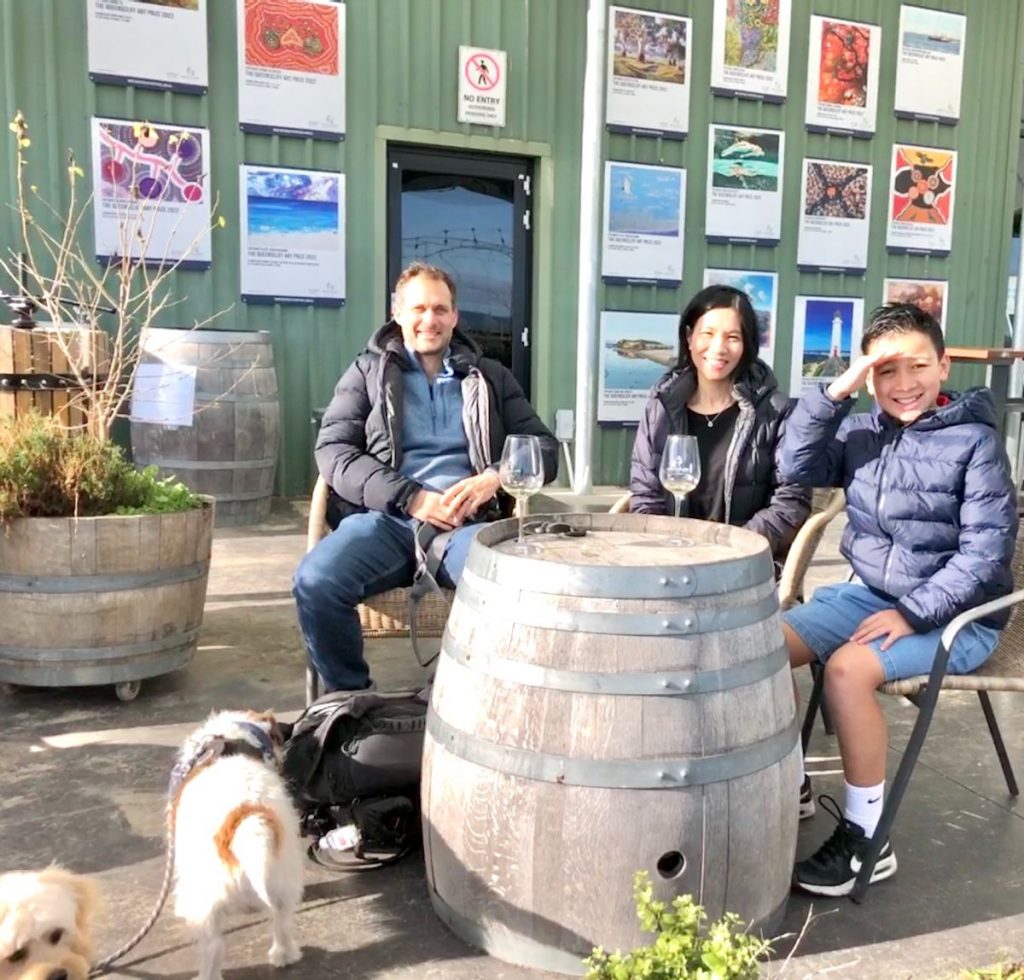 Jeff bloke lets Judd borrow his Ray Bans, and look how cool he looks!  What a dude!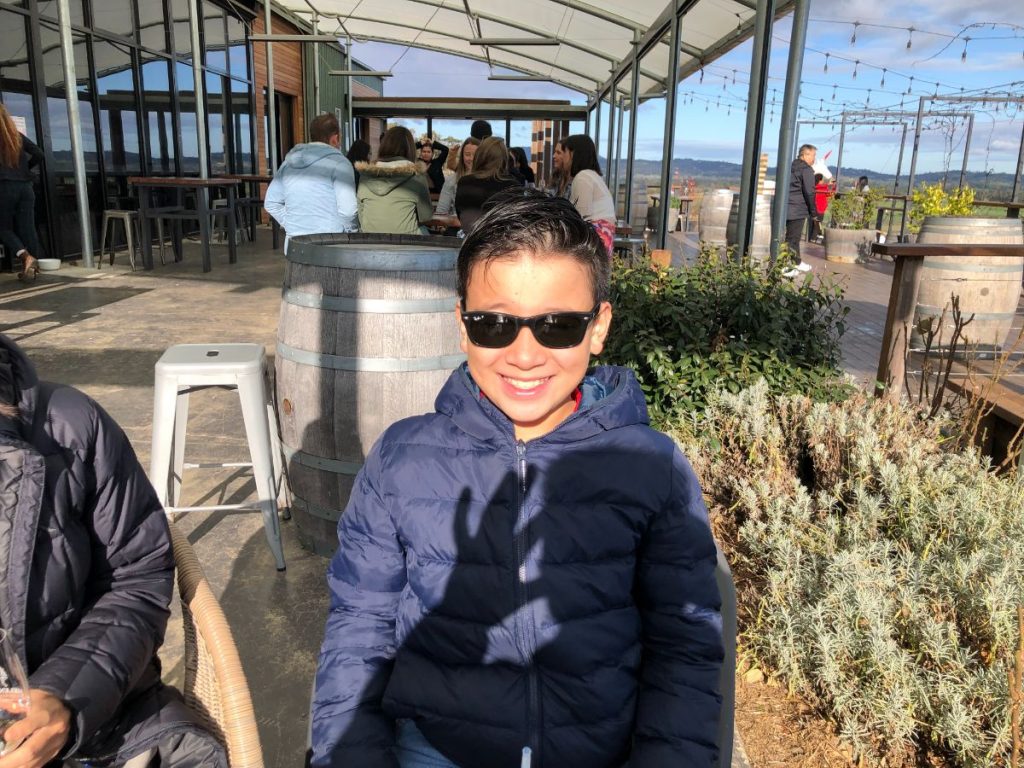 While Belinda and Andrew taste wine, Judd gets a yummy lemonade, we doggos are given sensational Yarra Valley water AND we realise we've been given the best seats in the house,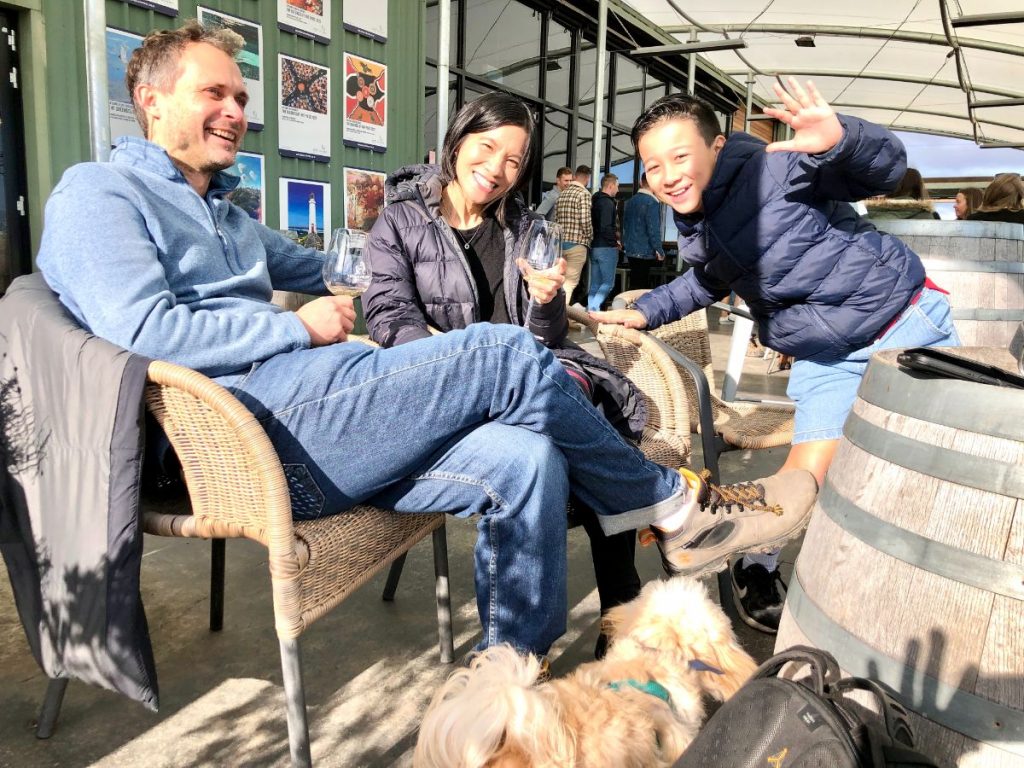 because soon we're being mobbed by a bunch of girls.  Man, we feel like rock stars and Judd starts to see the possibilities down the track – have dog meet girls!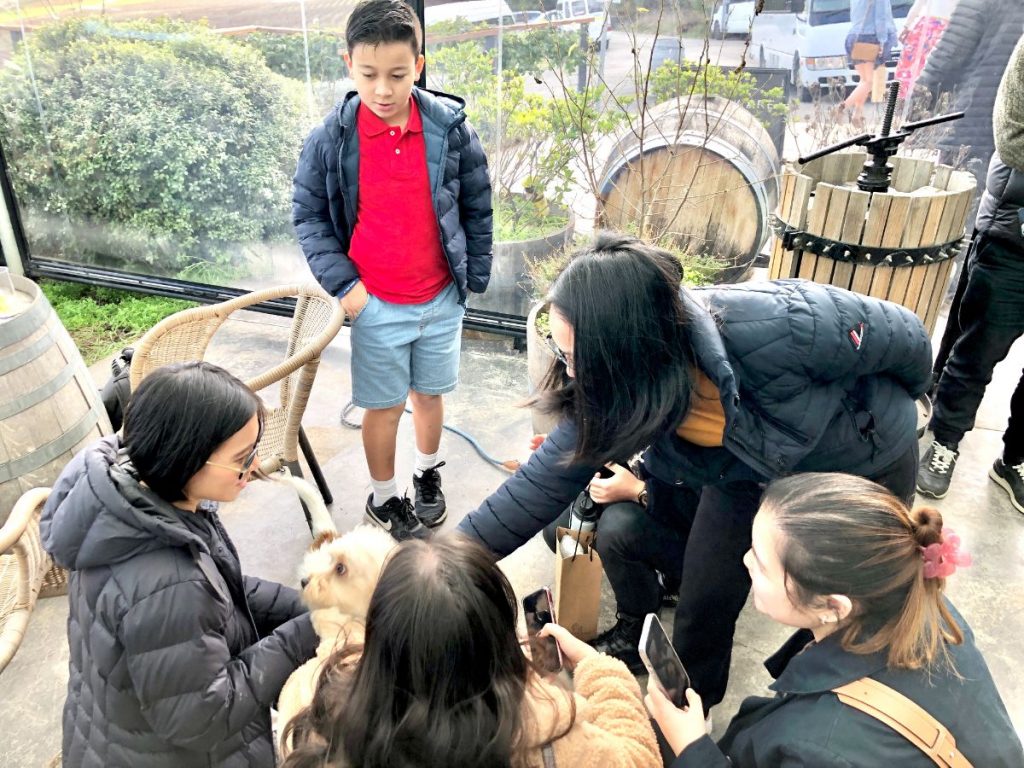 When we're not being mobbed, we're just really loving being out on tour as a family. (That's my happy face!)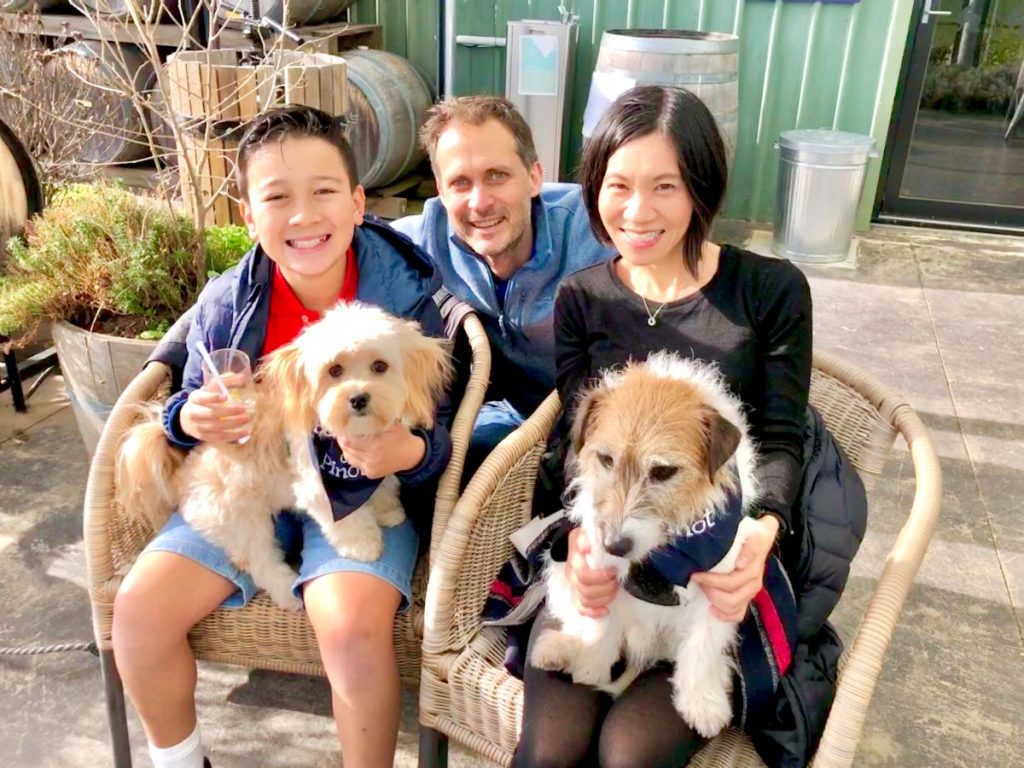 Andrew is clearly thirsty as he buys a few bottles before we leave and we head off to our next stop which is Yering Farm.  Oooh a real farm, I've heard speak of these mythical places, built for animals; room to run around a bit, and as we pull up, yes… I was right –  look at that lawn!  You beauty!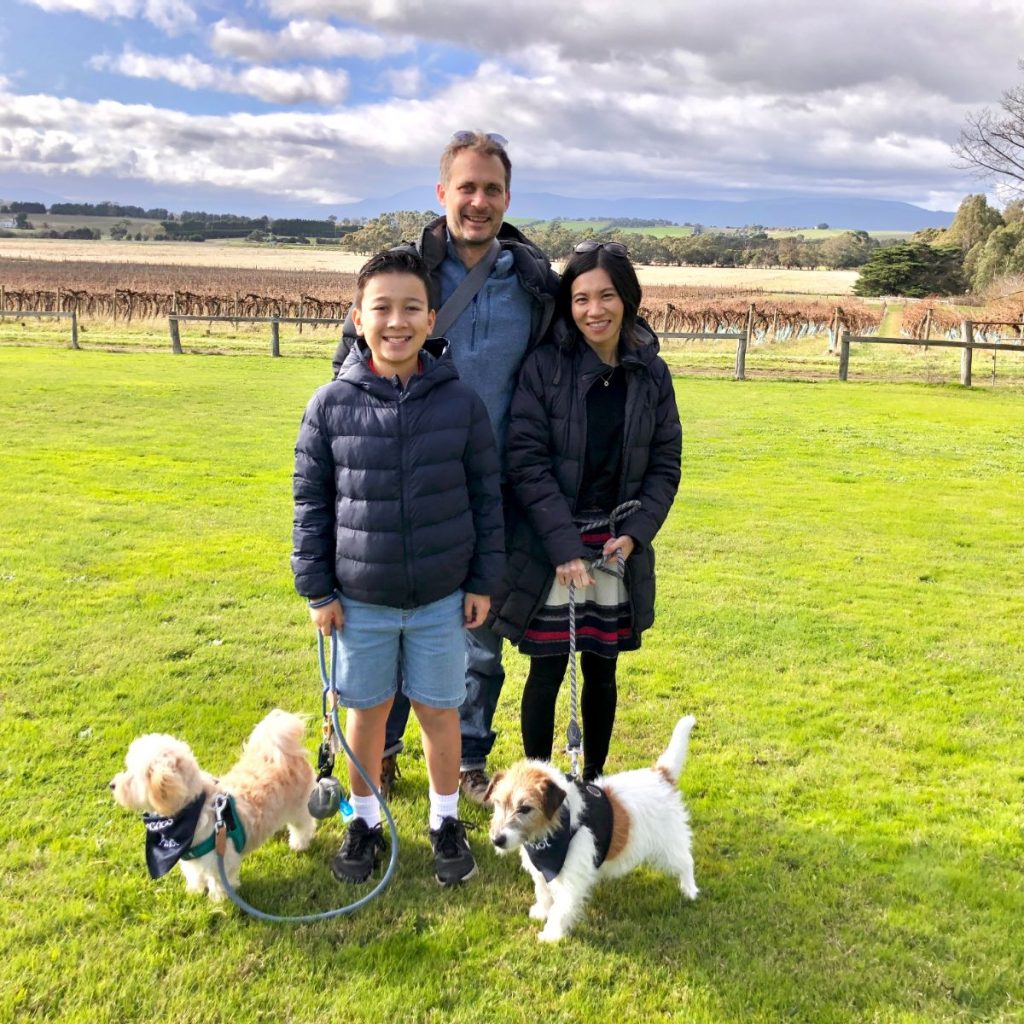 The place is packed, and Jeff explains they are celebrating an ancient custom called the winter solstice, at some of the Yarra Valley's smaller wineries.  I peer at the people – so this is what druids look like!   And honestly, you couldn't pick em, they just look like regular everyday folk, you'd never know!  Mum & Dad (Belinda and Andrew to you) don't seem the slightest bit concerned! (Look closely, you can see druids in the background, that's how close we were!)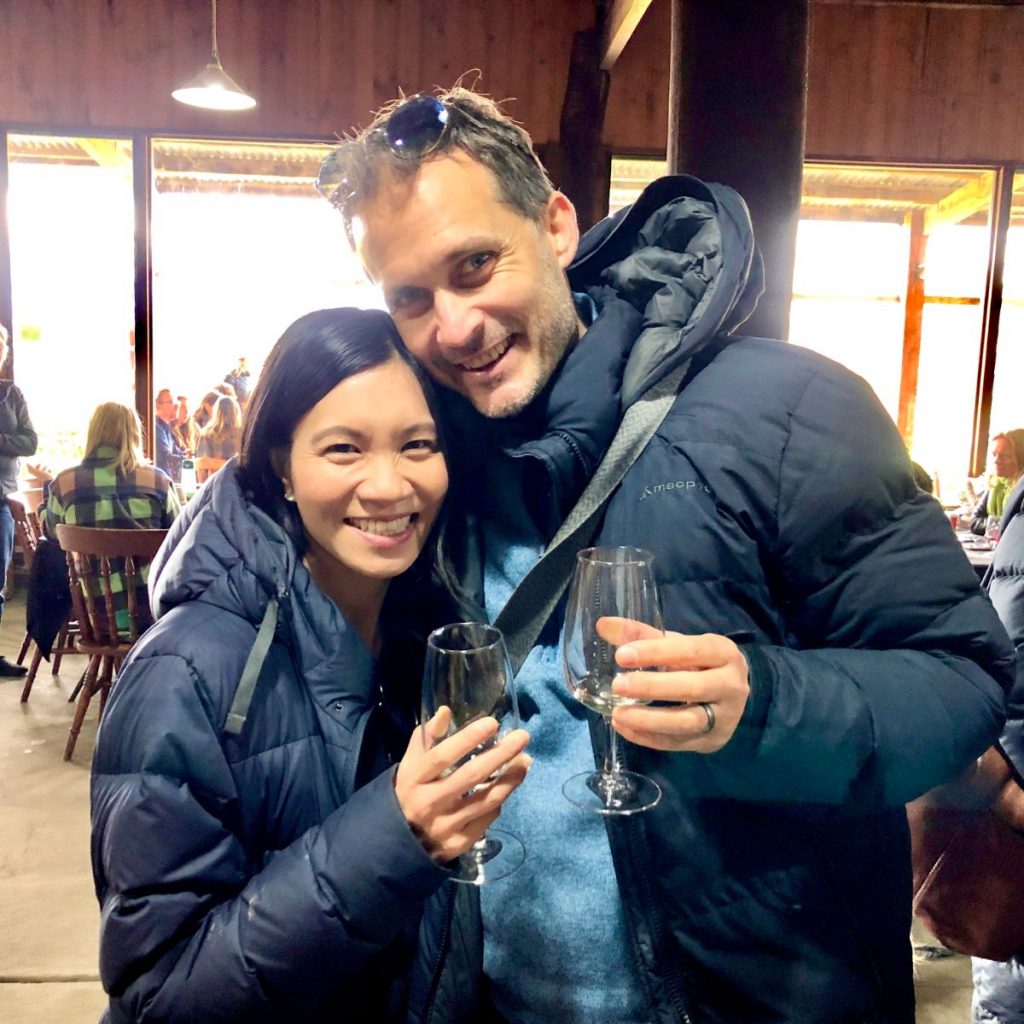 There are good cuddles, good wine, good walks; I'm lovin this wine tour lark!
Tummies are starting to rumble, I hear them with my extra sensitive ears.  Jeff bloke must have heard it too 'cause our next stop is lunch.  'Ah,' I think to myself, 'lunch,.. my favourite meal of the day!' 
We arrive at Greenstone Winery and Jeff bloke and Judd disappear into the kitchen and assemble platters of food for everyone except me and Neo.  Judd goes for a symmetrical layout, while Jeff bloke goes for classic colour and movement.  They both look great and we all tuck in – well, those sitting at the table do.  If you look closely, I'm right there in the 'catching crumbs' position.  Can anyone see Neo?  Nup, rookie!  So much to learn.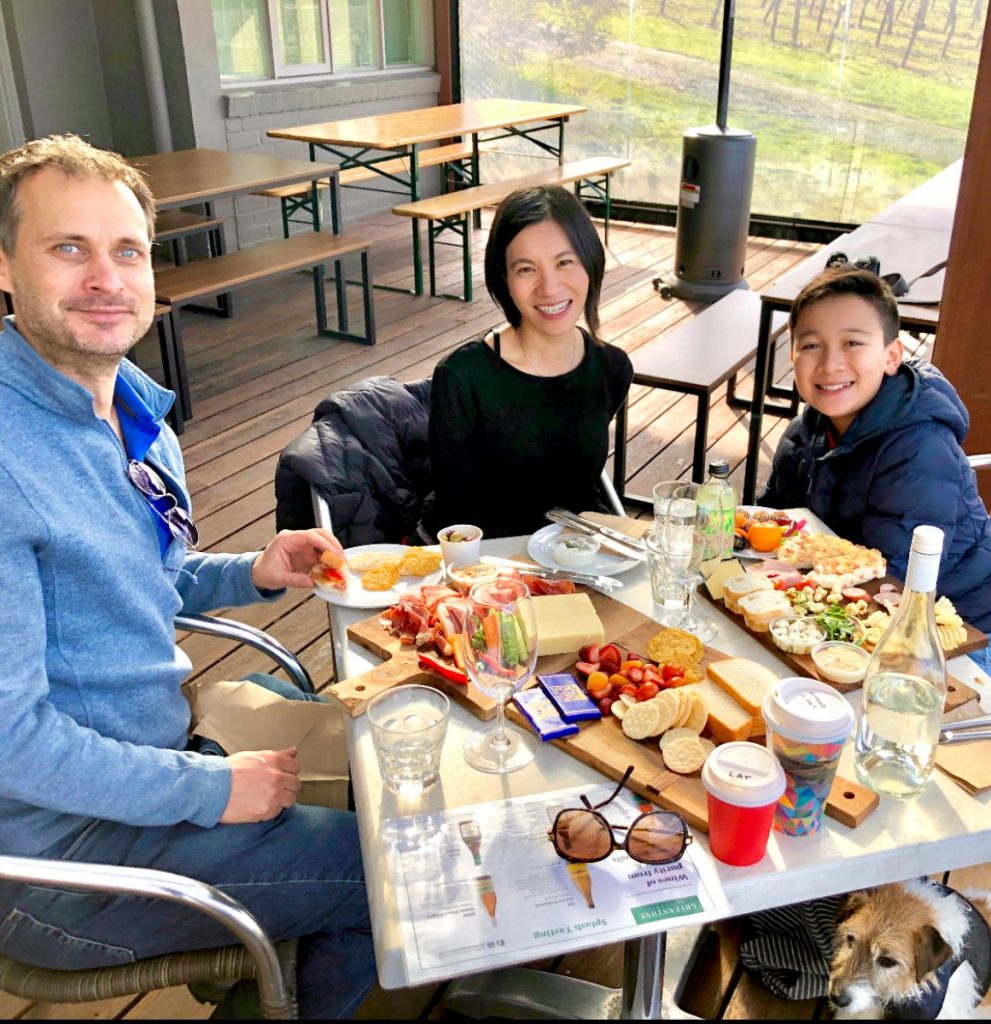 Judd does his party trick of throwing popcorn up and catching it in his mouth.  Four in a row he got.  Makes me so proud.  Clever boy.
The views are spectacular here, I could run for miles and miles before getting to a road!  The wine (looks and smells) delicious and the food (that happens to drop my way) is scrumptious.  We're ticking boxes people.
Also, something very important happened – the Carlton Freo game had started.  Judd and Belinda are big Carlton fans (yes, Judd IS named after the legend that is Chris Judd) and as it turns out so is Jeff (a fan, not named after Chris!)!  Poor Andrew barracks for Hawthorn (he's on his own there).  Freo score the first two goals and Judd seems worried.  Jeff offers sage and comforting advice – 'Don't worry, it's a long game.'
Jeff gets us going again and I hear him utter the best words in my world, 'Let's have a walk in the park'.  We pull up at Coronation Park in Healesville, named after Elizabeth, she's the lady that had a big party last week.  Now, I'm no monarchist, but she's is dammed impressive, keeping it together for so long.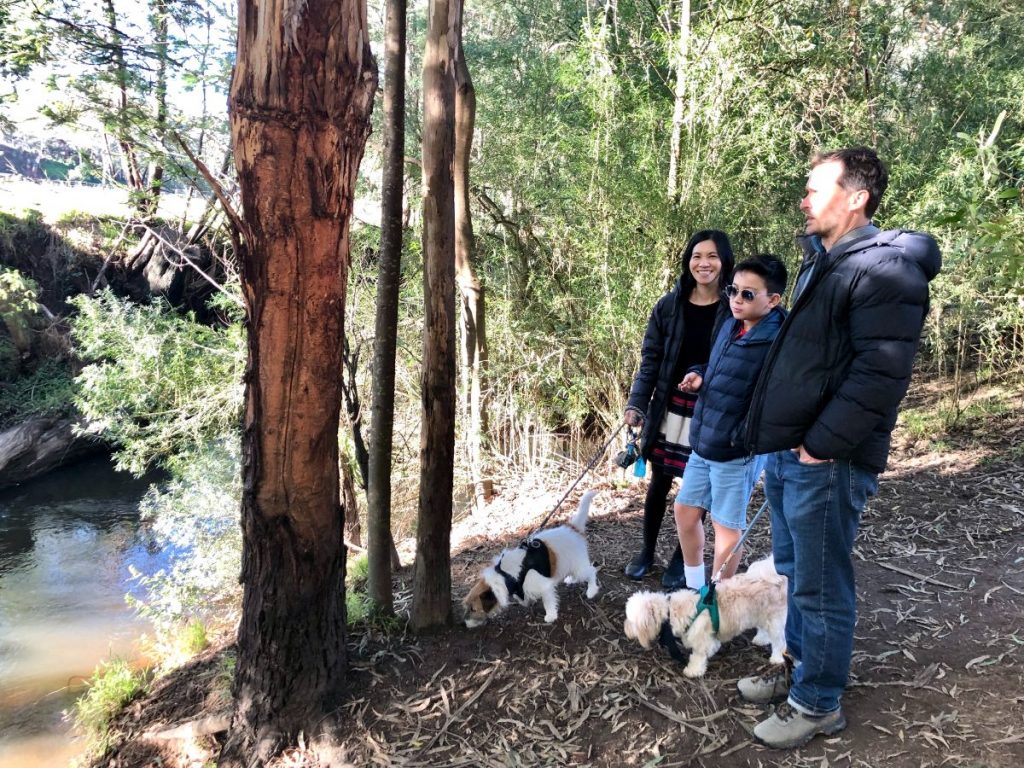 It's a brilliant walk, full of new and amazing smells, with leaves everywhere, bushes and trees galore that need weeing on, the most cockatoos I've EVER seen,(whoever organised this needs a medal)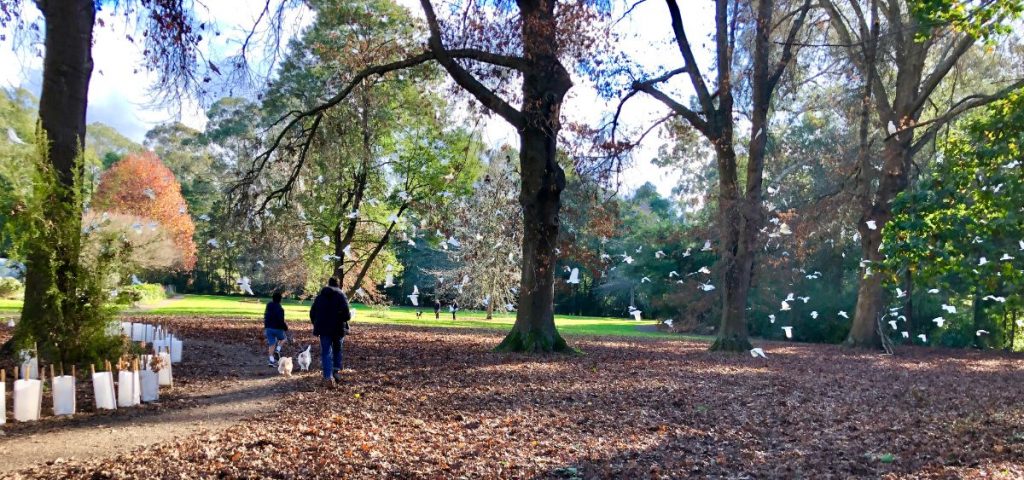 some other birds called rosellas, new dogs I haven't met before, a river called The WATTS, or was it The WHY?   See what I did there?  That's humour gold baby.
Carlton in front by 12.
Judd surreptitiously stood on a park bench and stole Andrew's Ray Bans and it was a good move because boy don't they look good on him?  That kid was born to wear expensive sunnies.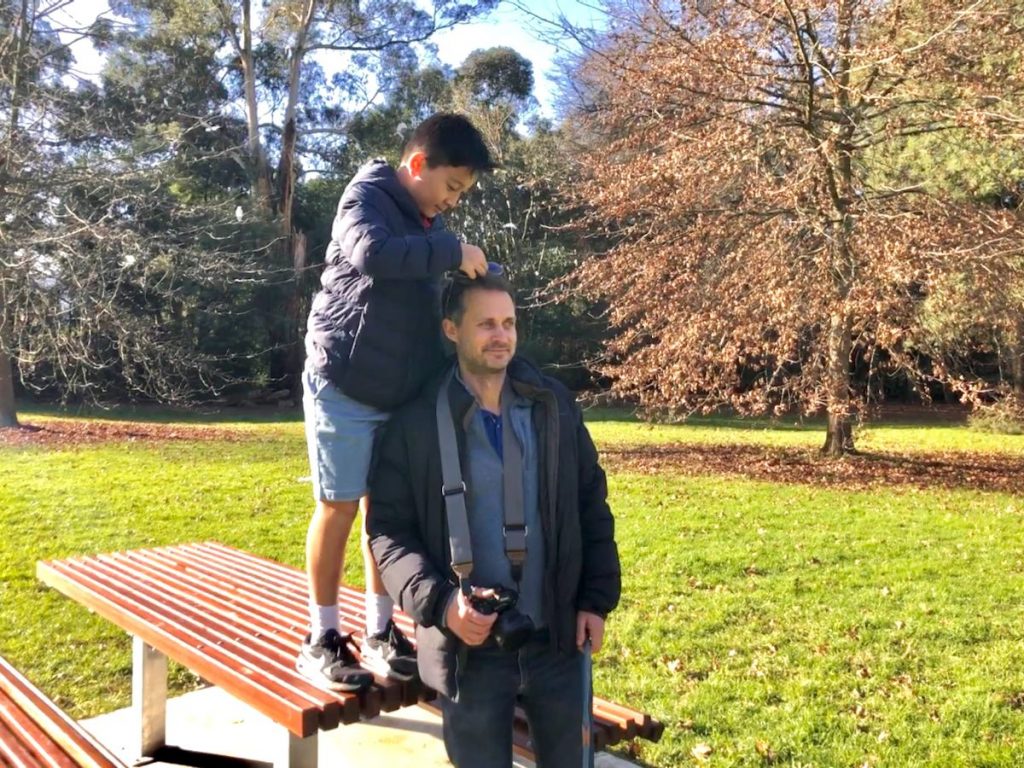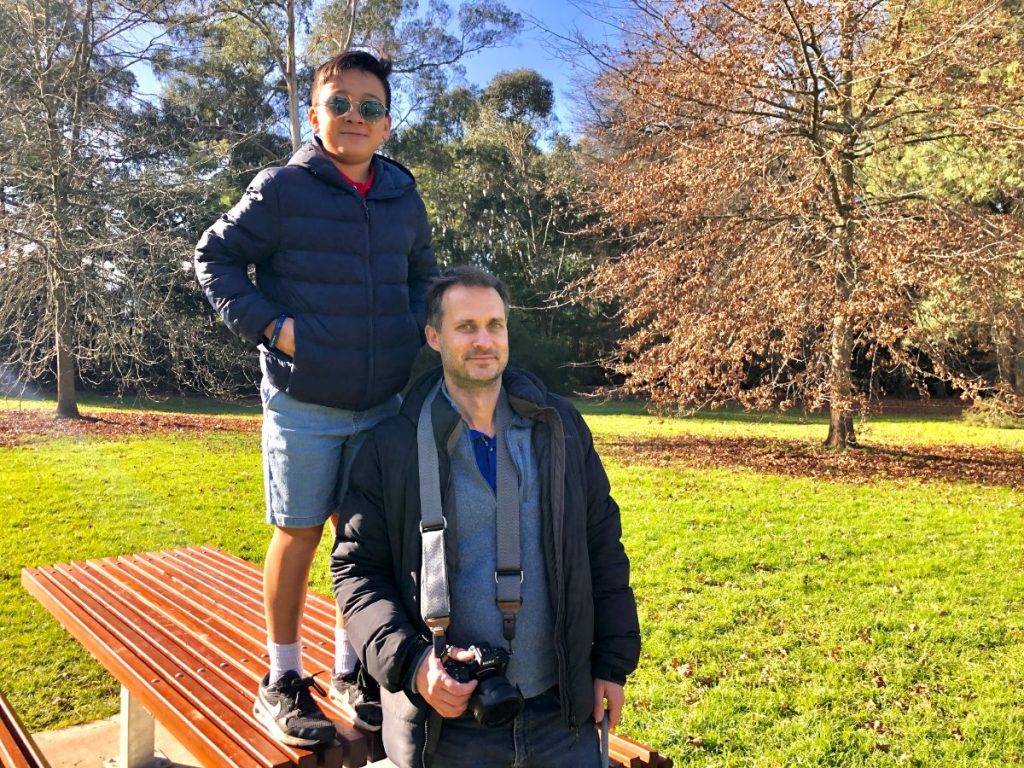 Our next place to stop and drink wine was just around the corner at a very cool winery called Payton and Jones. Or P & J as the locals call it.  Now this place is super cool, there's enormous scary creatures painted on the wall, there's glass after glass of wine to be tried, the place exudes 'cool'.  Check out Belinda and Judd and me and Neo scaring the demon dogs. (That's my brave face!)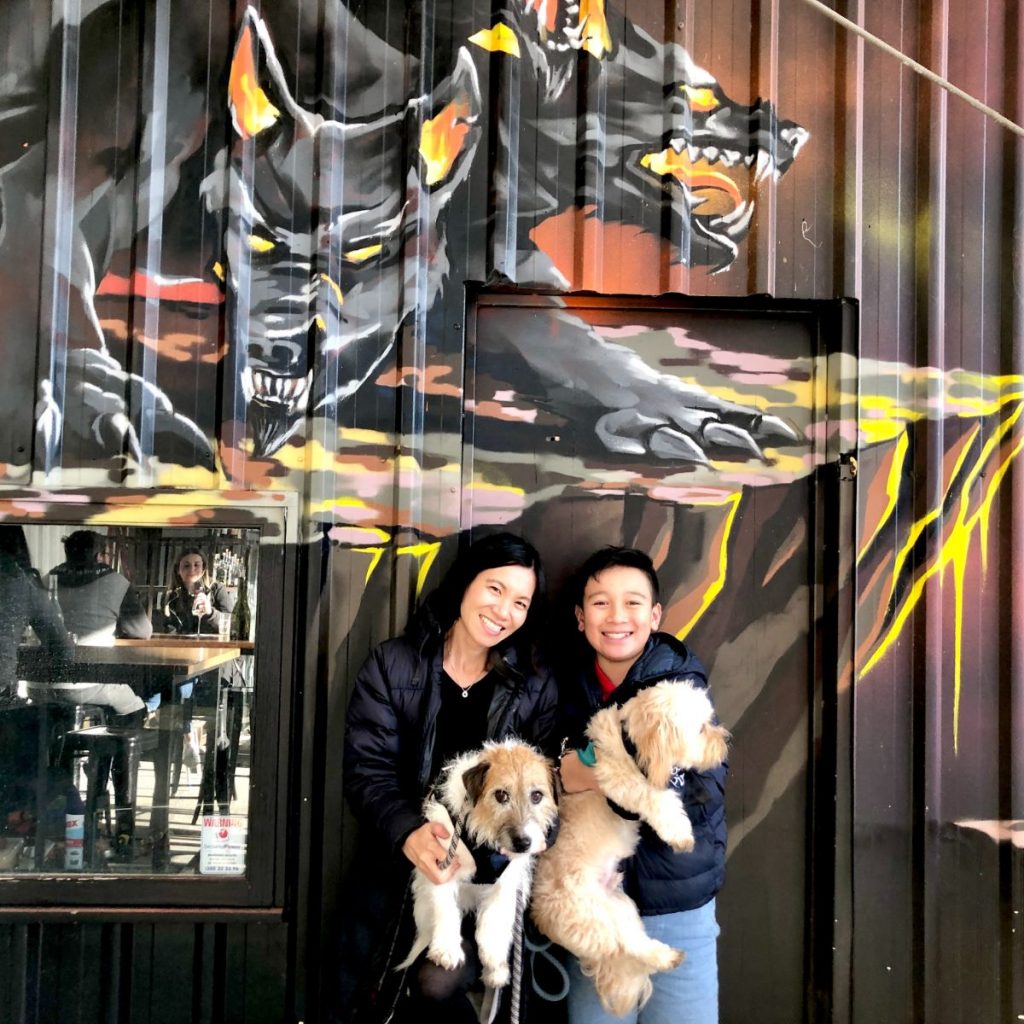 Carlton lead by 29.
We go to leave and Jeff bloke wants more pics.  I want more treats.  So I face the wrong way.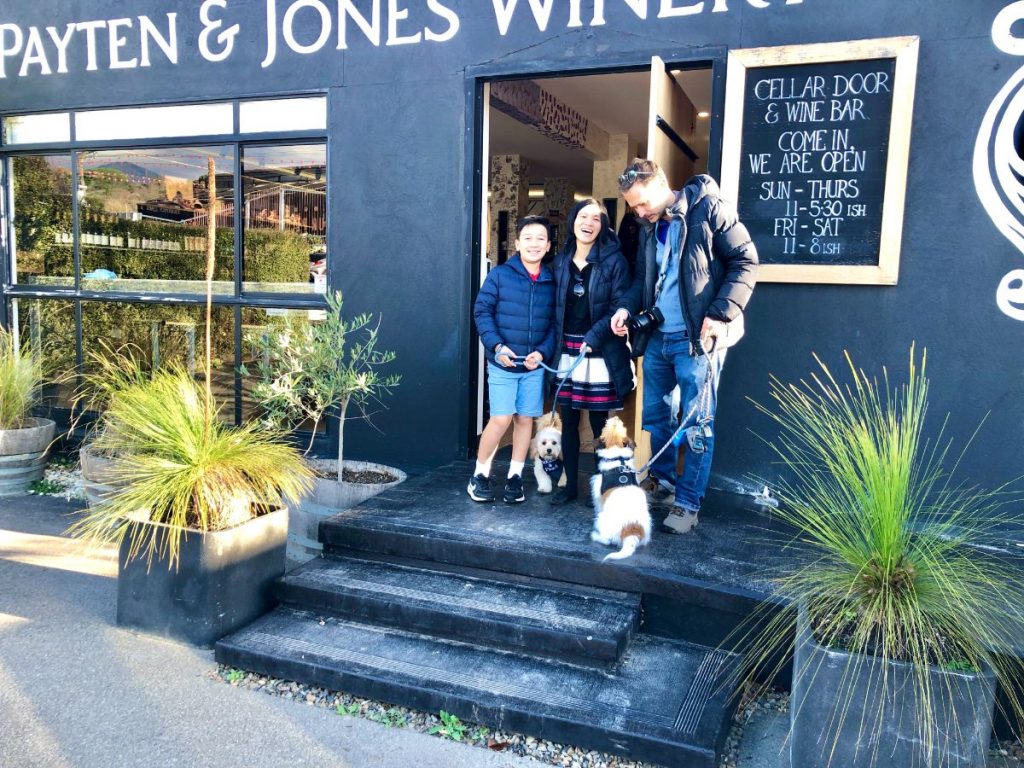 We then had the quickest walk, just over the road, to Four Pillars Gin Distillery, which is apparently the mecca of gin.  This place is HUGE and we sat outside and a dude brought out two pieces of wood with glasses on them with four different gins in them and a cocktail called Mocktail for Judd.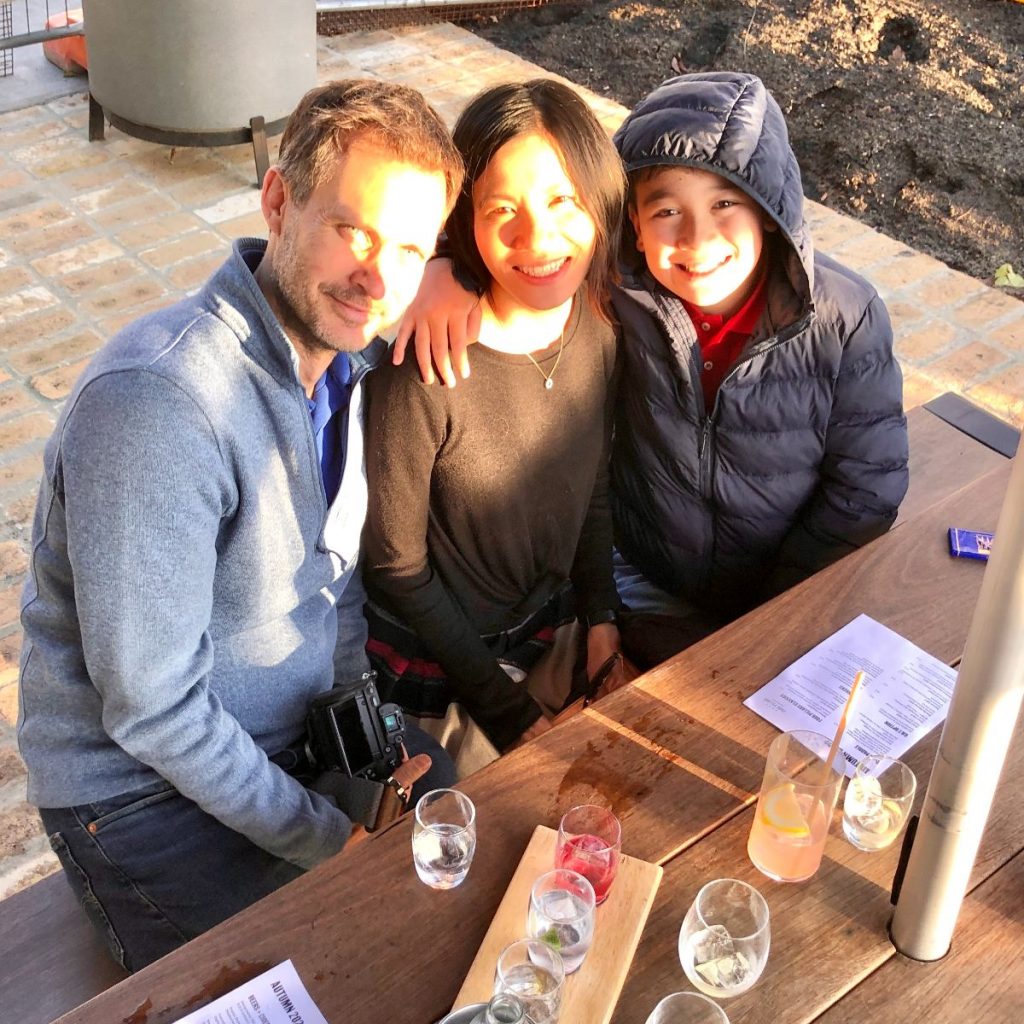 Carlton still in front.
My family tasted their gins.  Carlton wins.  See that, that's poetry man.
Neo, such a yougster, with so much to learn about pacing himself, has to be carried out to the van as we leave!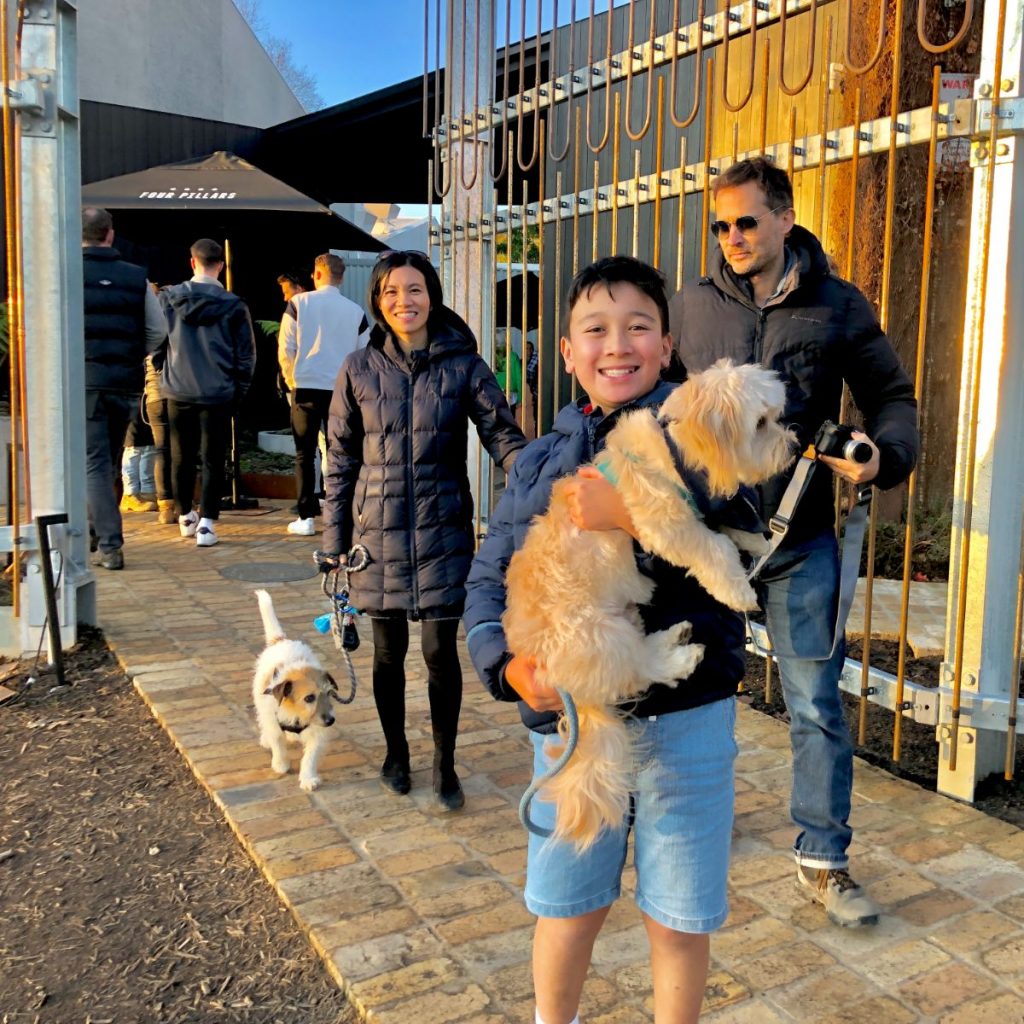 We drive back to Wiggley Bottom Farm and we're grinning – from the win,  from the joy-filled day we've had; everybody so happy, everybody so tired from the fun.  Jeff helps us unload rather a lot of purchases my staff have made.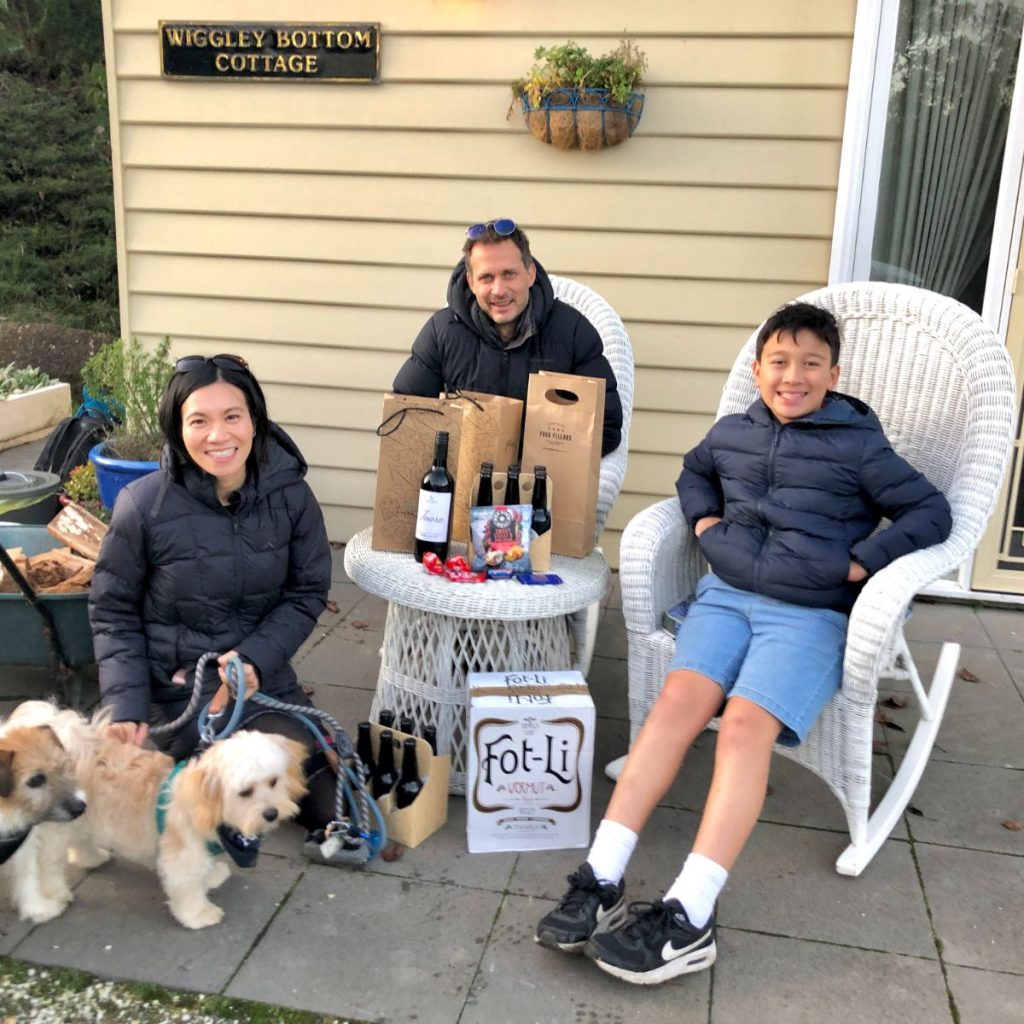 I'll look through the stash tomorrow and see if anyone thought to get me a bottle of Pinot Doggio.  A dog can always hope.  :-)