Hi there – I am Sasha and I'm a 6-yr old Staffie X rescue and I live in Kinglake and today I woke up on what is a typical Kinglake wintry kind of a day – misty, cold, damp, and our magnificent view has disappeared.  I peered out the window and it's like I'm in the clouds!  But it's Rob's 55th birthday today, so I worried we might all just pull the doonas over our heads and stay in our beds.  Til Zoe, my Mum, came in and told me to look lively and put my best shirt on, as we are going out for the day on a rather exclusive private wine tour to celebrate.  So I dressed in my favourite blue flanny to befit such an auspicious occasion; it really sets off my eyes.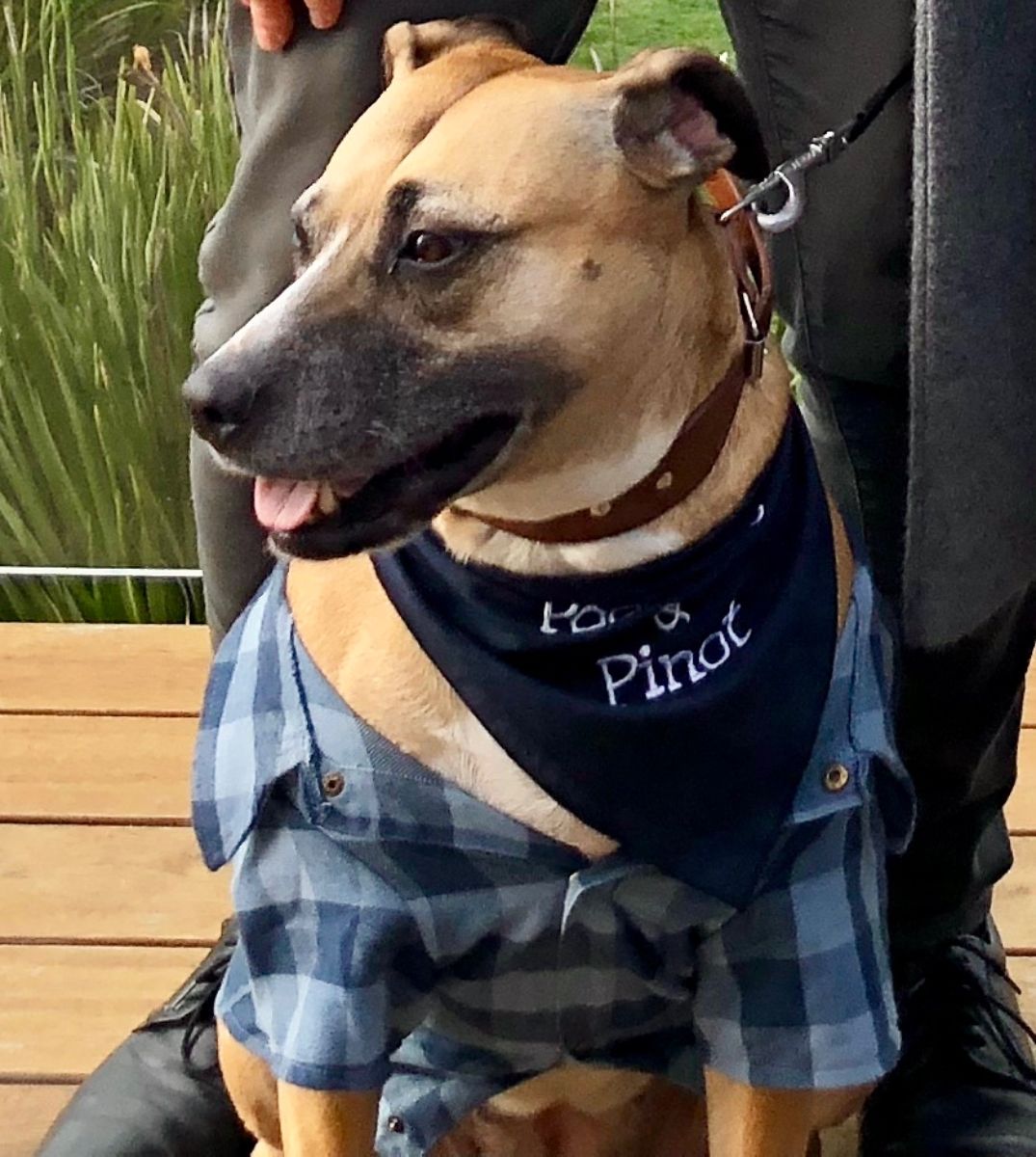 At 9.30am, we are collected by my driver Jeff, in a very smart Mercedes, who has prepared the entire rear compartment just for me – there's a dog bed, a bandana to wear (which just so happens to work with my chosen shirt – lucky), a bowl for water and even a seatbelt to secure me – which looks deliciously chewable – more on that later!
He comes bearing gifts, it was as if he knew it was Rob's birthday – and gives us a cake to put in our fridge to enjoy when we get home after this wine tour, along with a bottle of Yarra Valley sparkling wine, made the proper méthode champenoise way apparently. Which just means, it's made like the French would make it.  Good man.  I like him already.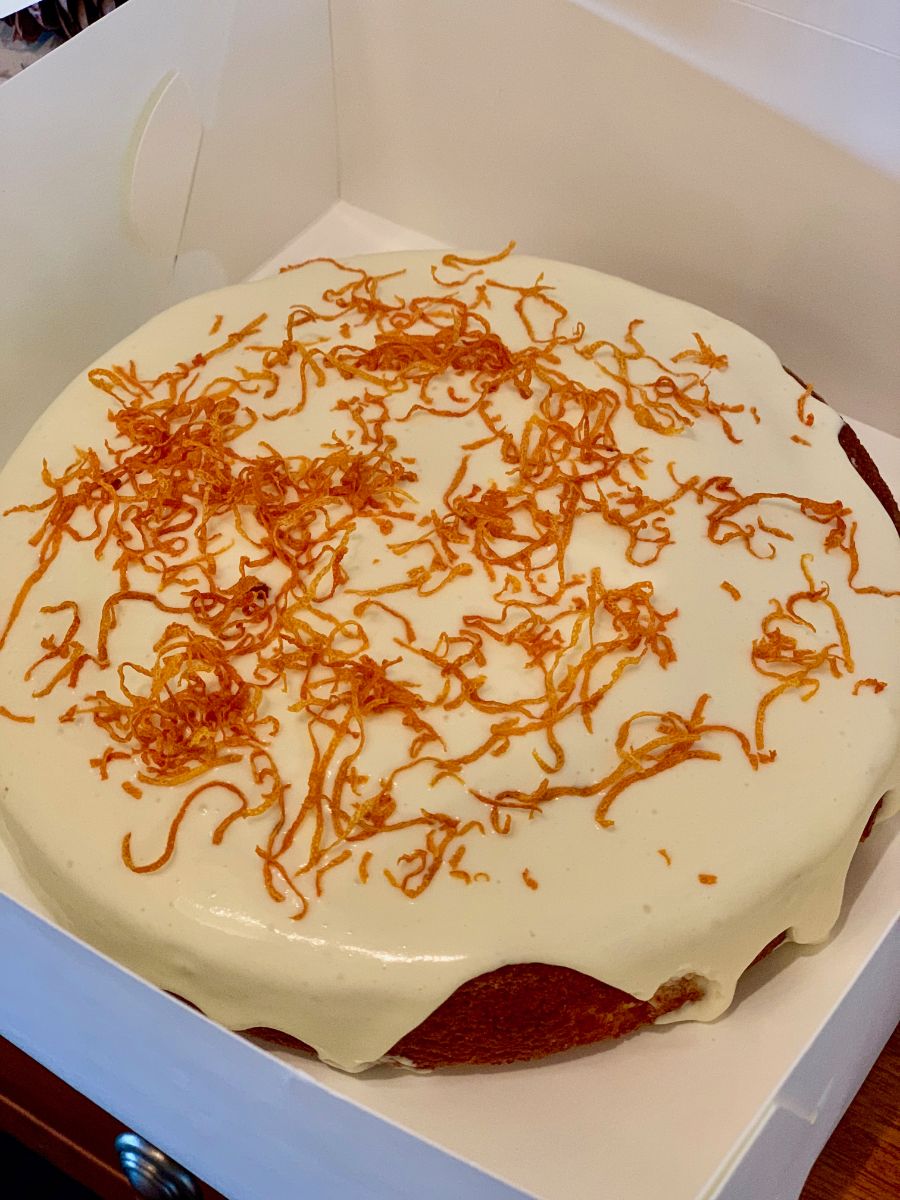 As we drove down The Slide (what we locals call the hill down into Dixons Creek) and into the valley, the cloud was lifting and we could see brilliant blue skies ahead, and by the time we arrived at our first winery, Greenstone, it had turned into a far better looking day.  Jeff, my driver, led us out onto the deck, where we posed for some photos as the backdrop is just staggering, one of the best views in the valley.  I tugged my shirt ever so slightly off my shoulder and gave it my best smile.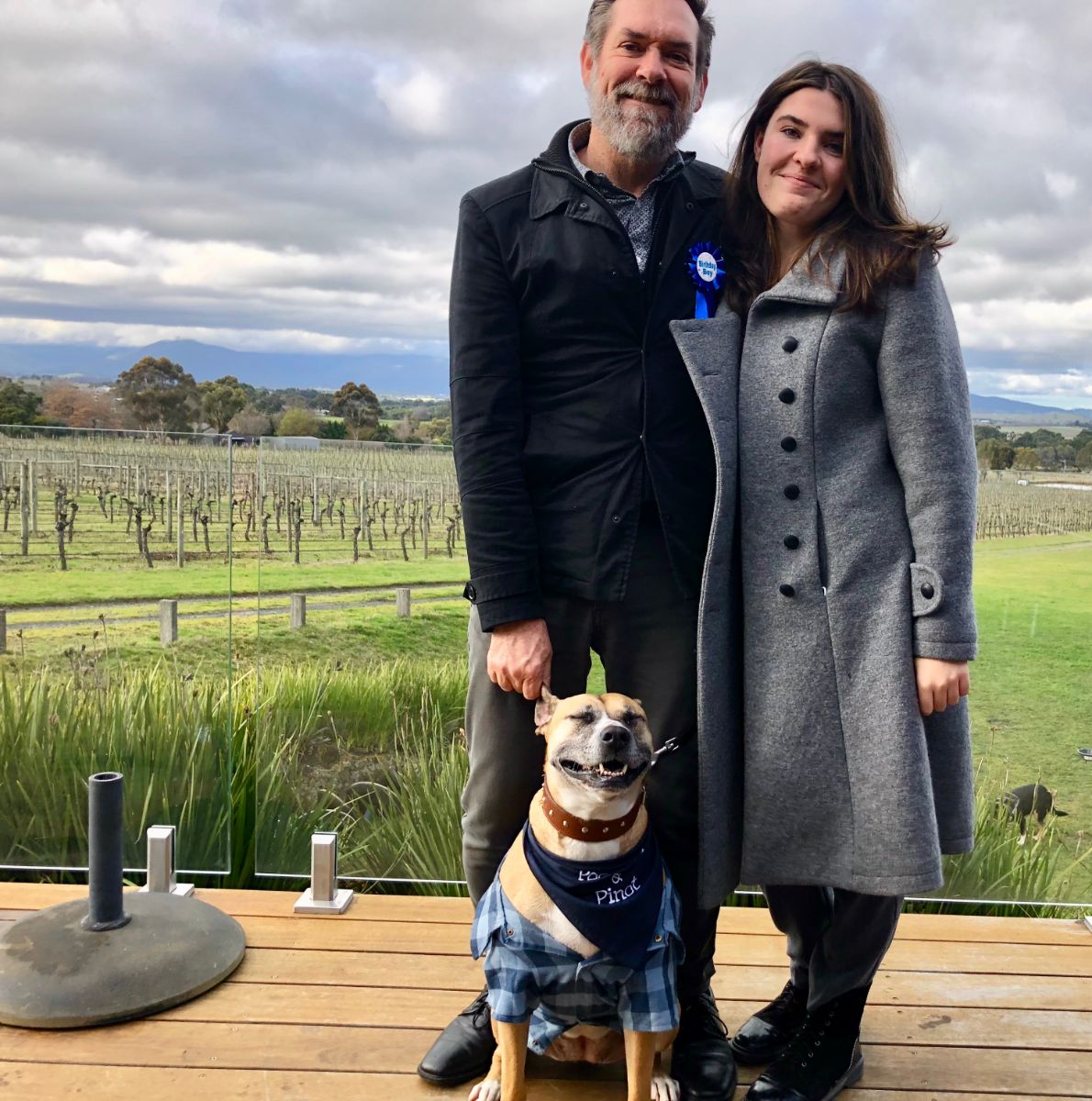 We were seated like VIPs and Zoe and Rob were presented with a board full of the most incredible smelling pastries, that I naturally wanted to get my paws on.  But they devoured the brekky without a thought for me, washed down with a wine tasting of Greenstone's finest wines, as they looked out at the immense view.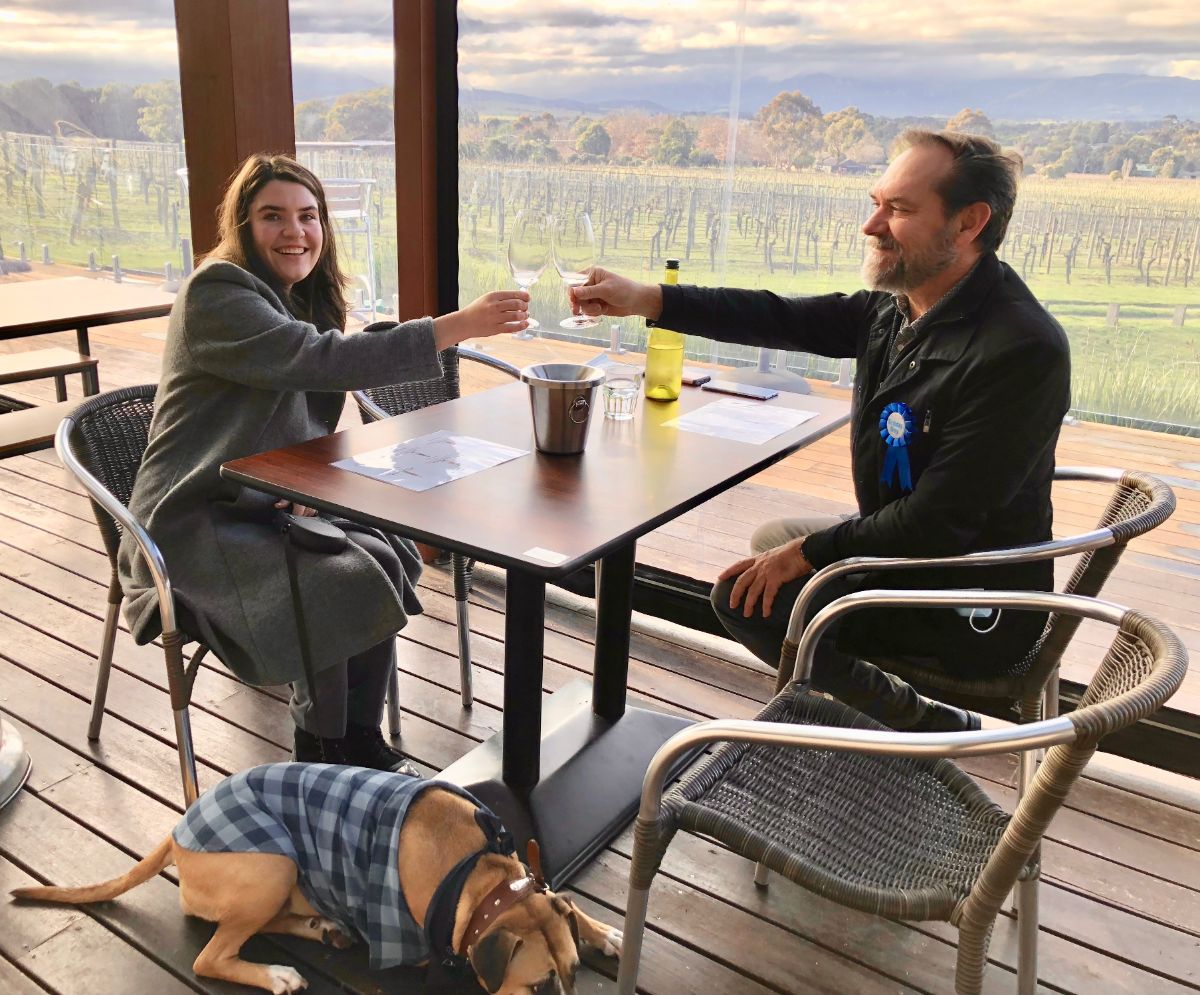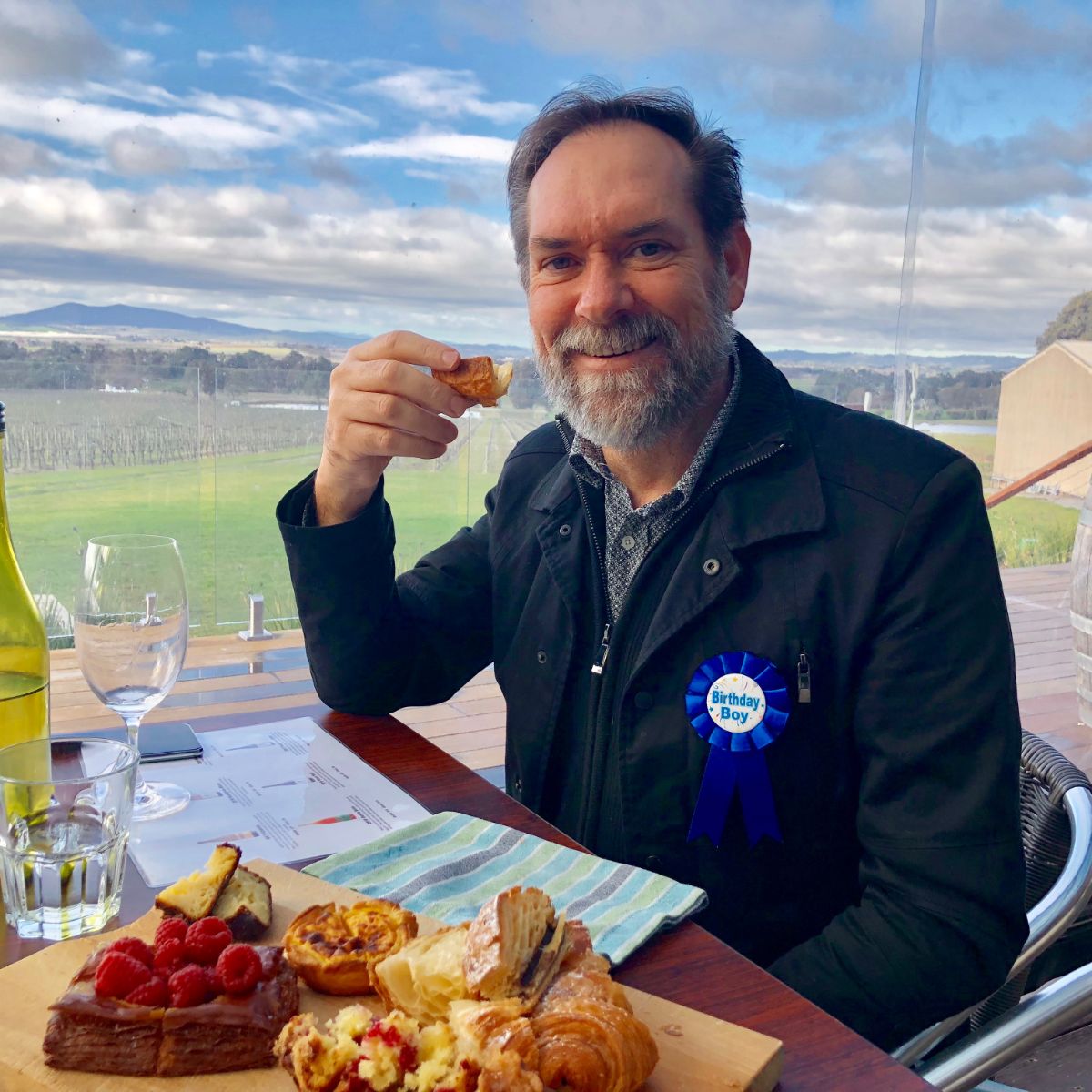 Jeff, my driver, clearly was in need of some exercise, poor man, so I offered to take him off around the grounds for a sniff and I pulled him along at quite a pace to really get his heart rate up, which he seemed to enjoy, and definitely needed.
Once Zoe and Birthday Boy had finished their coffees, and buying wine, we piled them back into the van and set off back up the Melba Highway to a tiny place called Corniola Wines.  It was so exciting to turn off the highway, because I've always wondered what happens down these lanes and normally we just whizz past them on our way home.  A lovely lady called Lucy greeted Jeff chatting away in Italian in the driveway and gave him a big hug, so we knew we were in for a treat here.  She then welcomed us (me included) into her shed which is where her husband Vince makes the wine and where we got to taste it – and it was just us, and she loved explaining all the grape varietals and nuances to Zoe & Birthday Boy.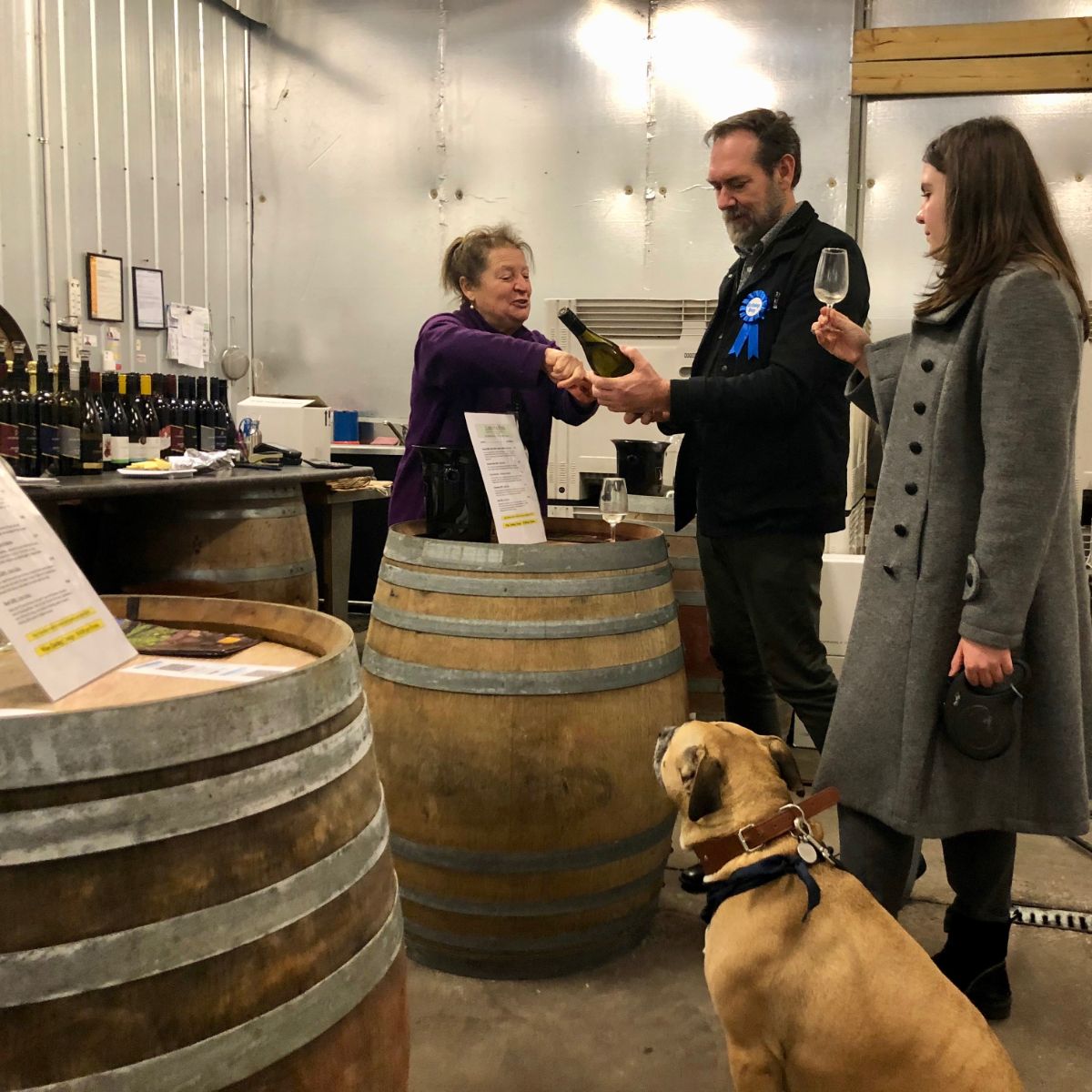 I learnt heaps (you can see I'm listening intently) – I'd never realised there was so much to this winemaking malarkey.  For instance, did you know that the grape Sangiovese comes from the Latin 'sanguis Jovis' – meaning Blood of Christ?  Me neither.  But now we all do.  I seriously can't wait to drop that into conversation in the park to stun my friends.
Lucy brought out a bottle of something lethal-looking which Birthday Boy was too wise/scared to try, but Zoe, different story folks, couldn't wait to get her paws around the glass.  It is called a 'fortified' and she liked it so much she bought a whole bottle, along with old vine Shiraz and Chardy!  Poor love must be very thirsty today.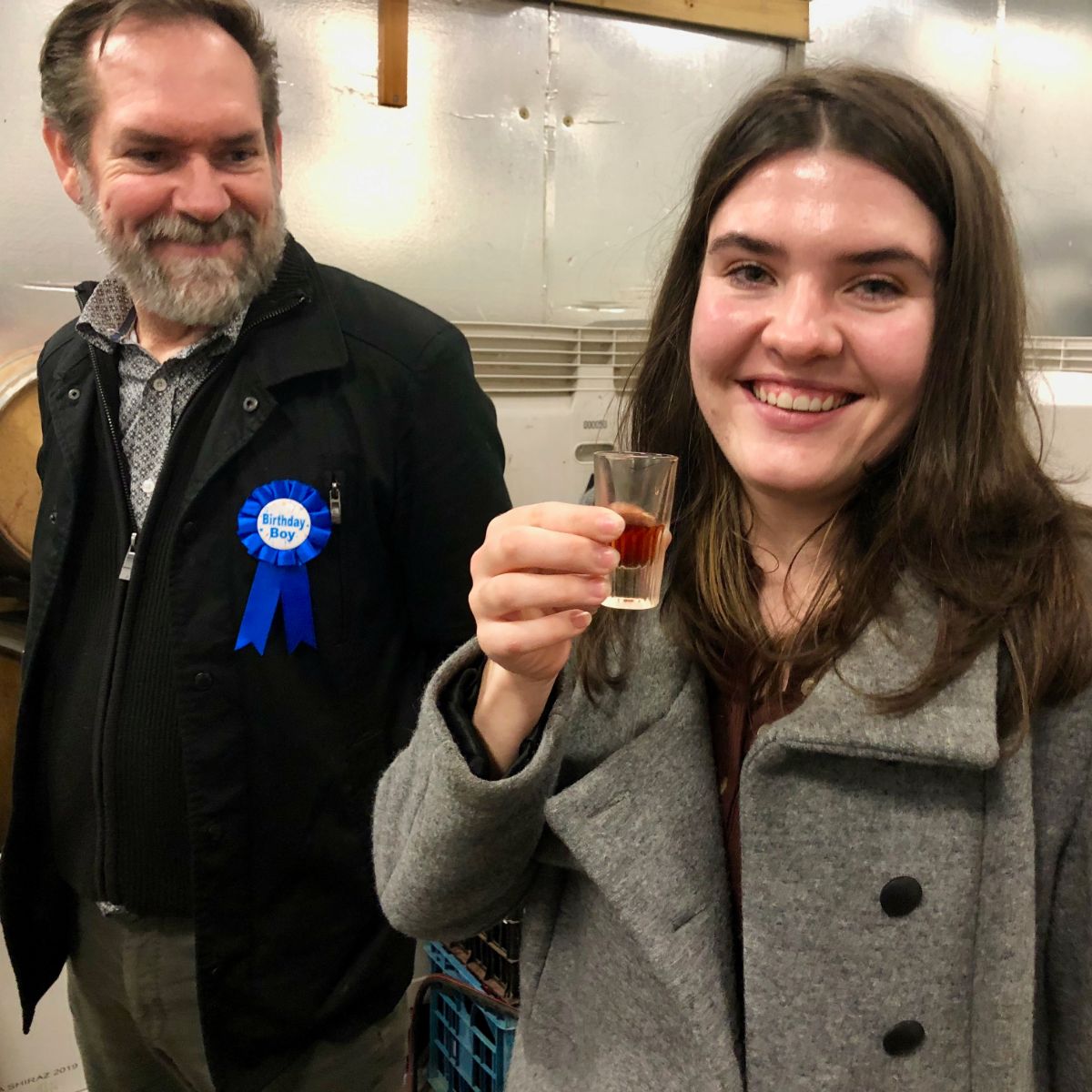 Now, dear Reader, let me explain that our family has this running joke that Zoe's brother, St Eoin (ludicrously spelt for a name that's pronounced Sinjun) is Rob's favourite child and everything he does is golden and he can do no wrong (tho don't ever ask him to water your garden!).  And Zoe takes it really well each time he's mentioned, but I roll my eyes and wonder how long I can take this ribbing before I have to bite Rob, as Zoe is clearly the best child (and my Mum) and in my eyes can do no wrong (and reader, you should SEE how beautifully SHE waters the garden!).  But… would you believe, my driver Jeff, sided with Rob and all day long, joined in the banter about how great flipping St Eoin is.  YAWN.
Anyway, after yet more St Eoin banter, we loaded our Corniola purchases into my van, and I took the opportunity to quickly change into my favourite pink jumper – as one should always dress for lunch.  And it was perfect timing on my part, as my driver Jeff then took us to the most fabulous place for lunch, called Steels Gate winery – which again, we've driven past countless times, and today we set foot in the place for the first time and it's instantly become a firm favourite with all of us, because I am warmly welcome there on their fabulous covered deck.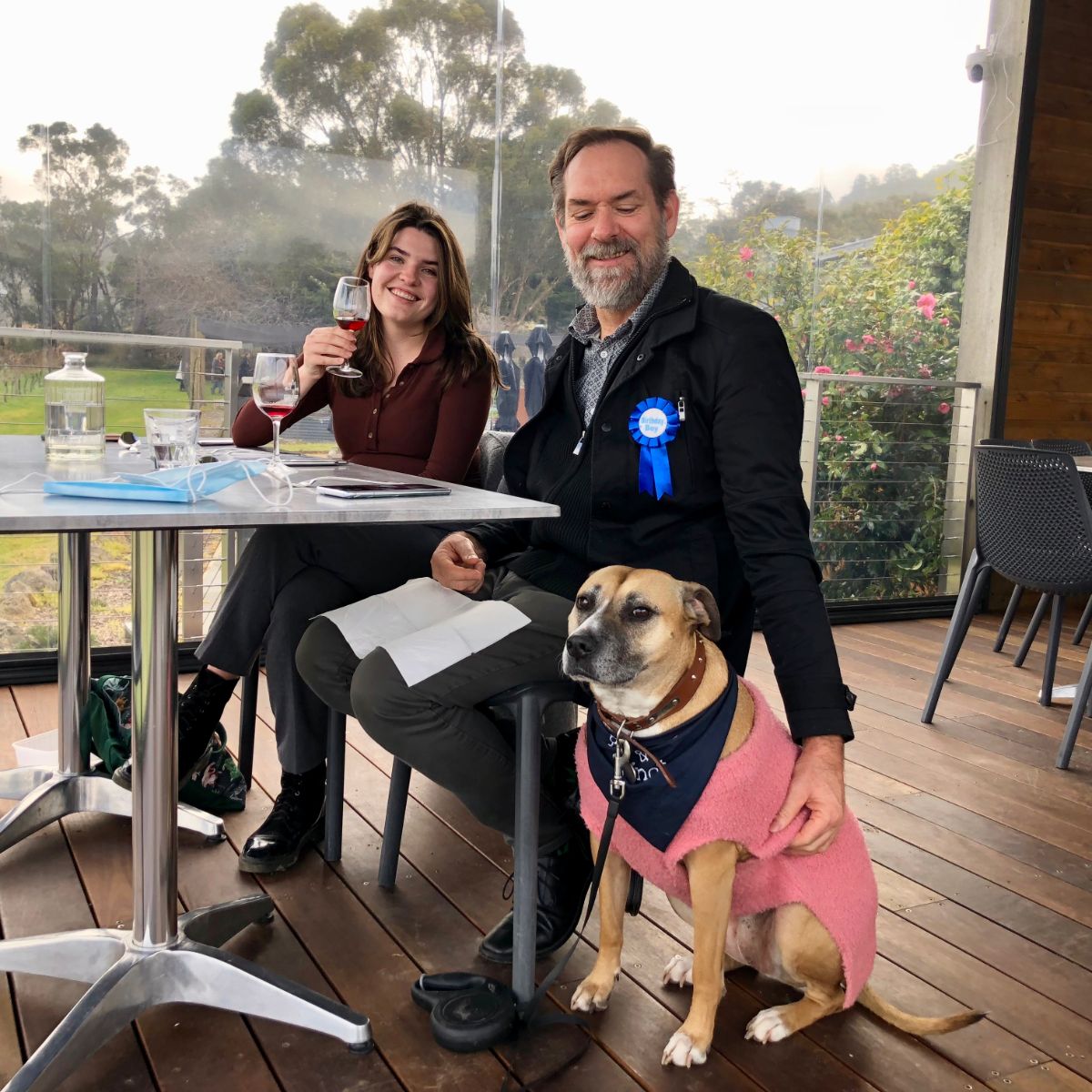 Brad, the gorgeous owner and vigneron (which means he makes the wine. Get me, all up on the lingo!) looked after us so well with our wine tasting and suddenly appeared with some sea barnacles which the humans proceeded to eat the gooey bit from!  #shakeshead  Now, as a dog, I have eaten some questionable looking things in my time, but these oyster things, are seriously next level people.  🙈
Their next course was a fish dish which paired beautifully with the chardonnay they had chosen, so while they were enjoying their lunch, Jeff fed me sensational Laila & Me liver treats, which I cleverly paired with Steels Gate Non-Vintage water (winning).  I had no food envy at all until the two desserts arrived and I found myself at eye level with them.  Oh God, so close people, so close.  The deconstructed cheesecake and my face were separated by a mere whisker – look!!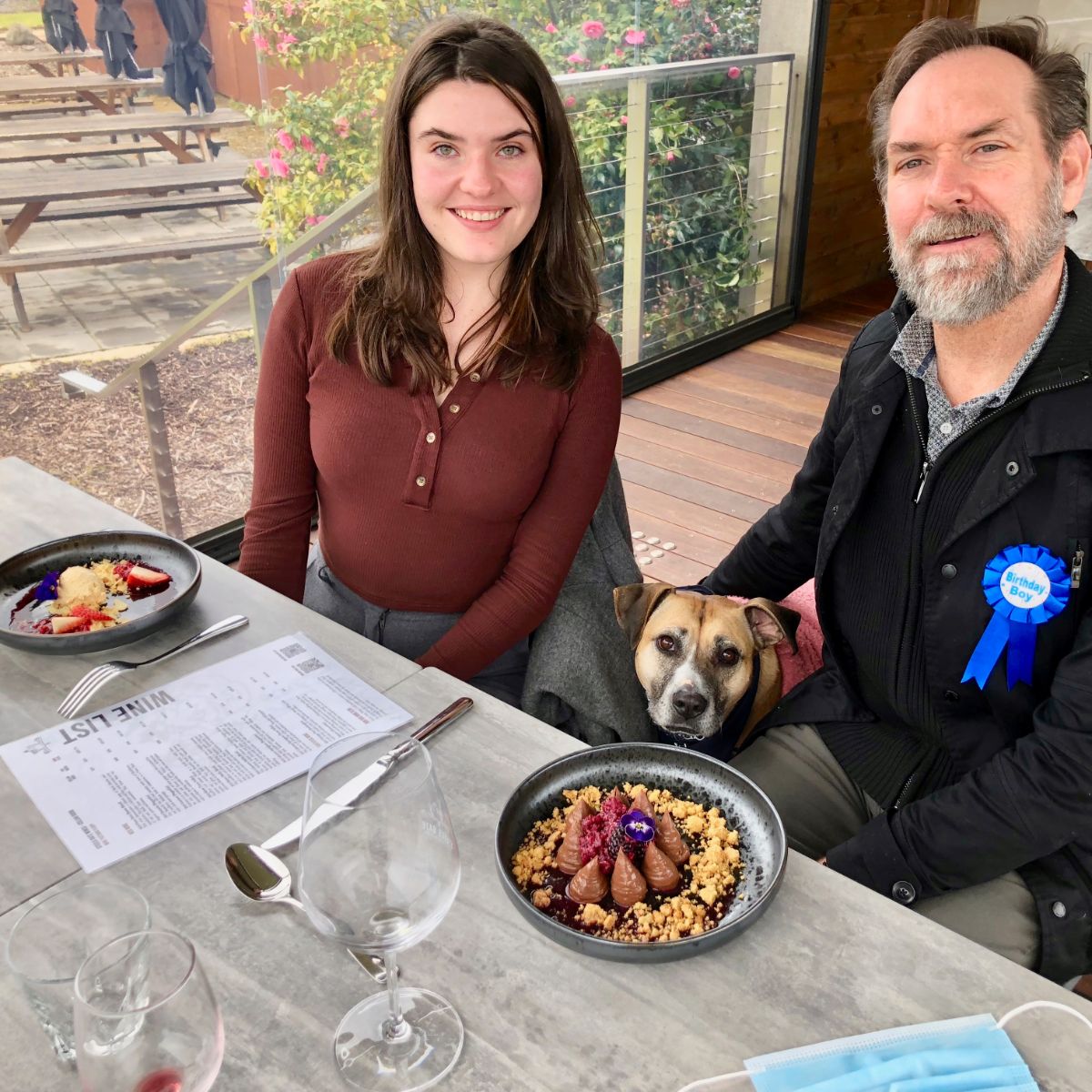 Anyway, it was all amazing and Rob bought so much wine at Steels Gate we had to have help carrying it all to my van!  And then after our goodbyes, off we set.  So we're whizzing back down the Melba Highway on our way to the next winery, and given that I hadn't been offered any of those yummy looking desserts, I decided to treat myself to a seatbelt.  And boy it tasted SO good.  So much so, before I knew it, hey presto, it had become two seatbelts and one bit was lying next to me and I was no longer attached to anything.  I couldn't wait to arrive at Punt Road winery so I could delight everyone and surprise them by leaping out of the van when they opened the door. The cleverness of me!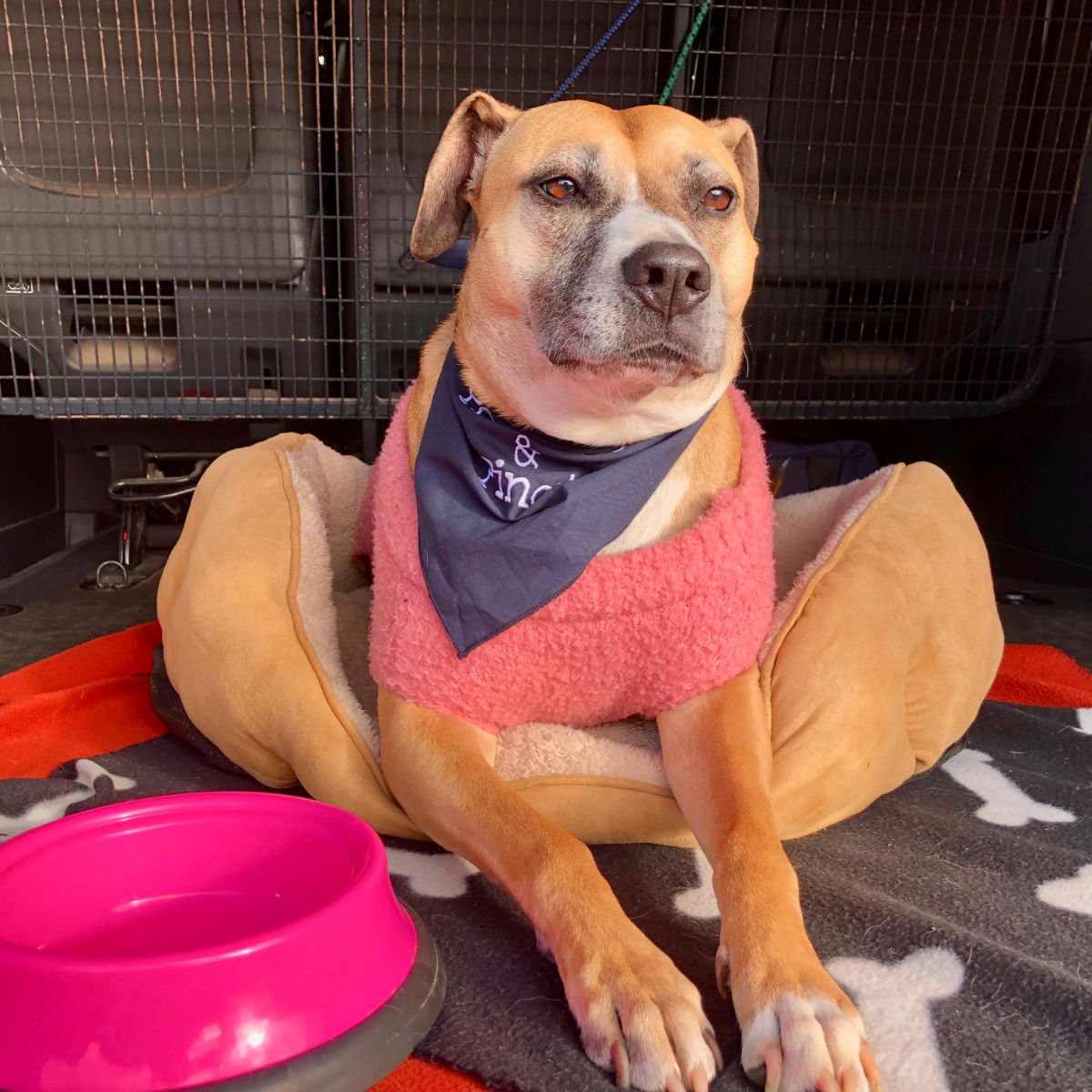 Oddly though, their faces crumbled when they saw I'd chewed through my seatbelt.  Weirdos.  Anyway, that was soon all forgotten and I was taken inside Punt Road's cellar door to meet lovely Katie who knows heaps about wine (and loves dogs, obvs) and she talked Rob & Zoe through their tasting.  I was a bit tired as you can imagine, after all that chewing, so I took the opportunity to rest quietly at their feet.
Once they'd finished, I couldn't wait to get to the next tasting, because I'd read on the itinerary (yes folks, I'm a dog who can read as well as write blogs) that it was a farm.  And man do I love farms!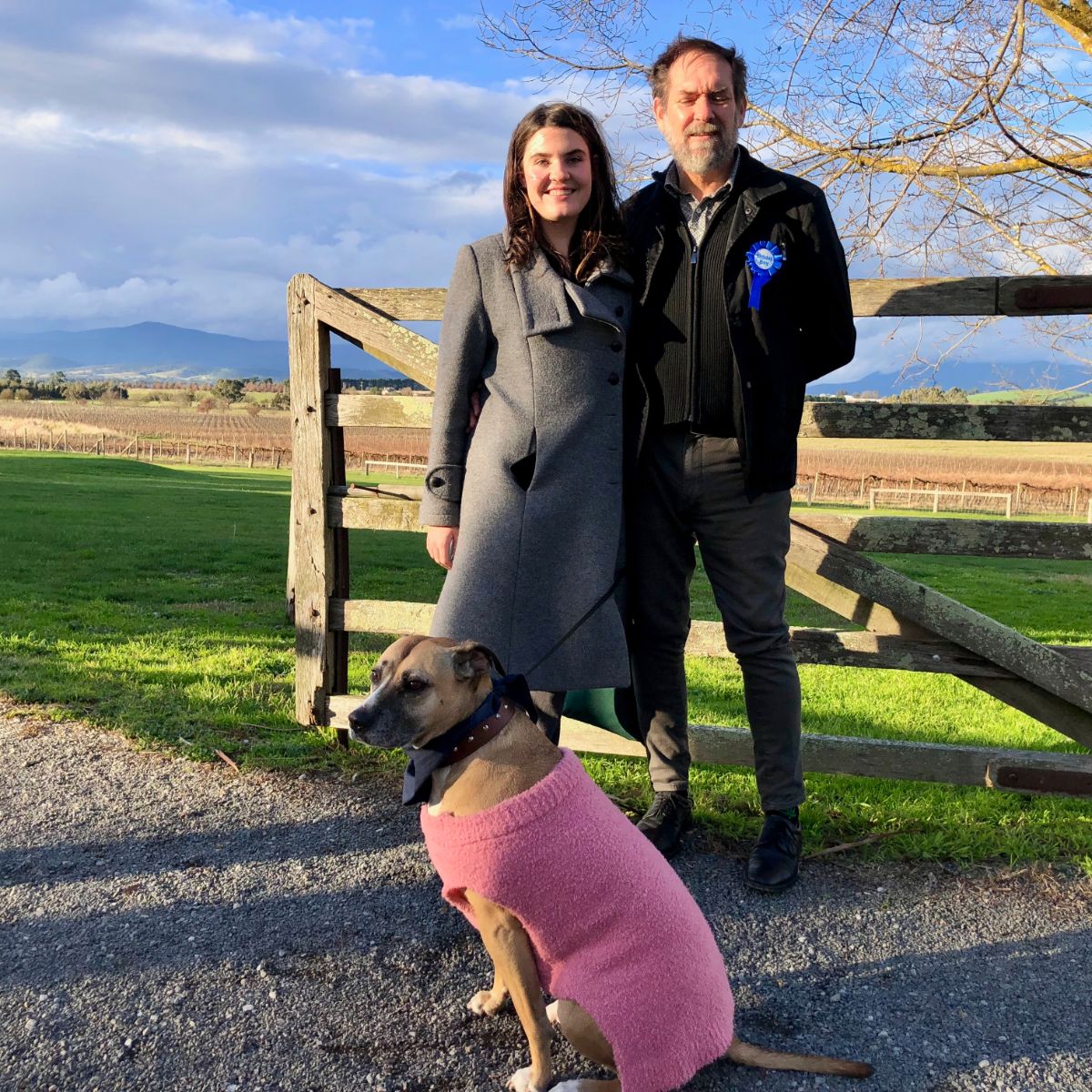 I charged up the path breathing in all the beautiful smells a farm affords, and in we went, inside the big barn that is their cellar door.  We went up to the counter and met the lovely Megan who was waiting to meet me and give me lots of cuddles and showed me a dog bowl she'd prepared for me full of their finest water – what a lovely gesture.
My driver Jeff disappeared into a room and I was about to follow him in, as my nose told me there was food in there, when he reappeared – carrying a wooden board laden with Rob and Zoe's favourite charcuterie and European cheeses which they wolfed down!  Quite where they found the room after that 3-course lunch is beyond me!  So, they're munching away and sipping on wines and I tried to tell them to save room for the birthday cake my driver Jeff had made for them, but they laughed, assuring me there's ALWAYS room for cake. I stared longingly at the platter and hoped for some crumbs to fall in my general direction, but they are annoyingly tidy eaters those two, so I just had to make do with more gourmet liver treats.
Can you believe they bought yet more wine, and we packed it into my driver's van, some of which had to come in the back with me there was so much, and having not been offered a drop of wine to drink all tour, I was sorely tempted to crack open 'a traveller' as we headed for the hills.
It was only when we unloaded all the purchases back at the house that I saw the full extent of their madness and to be honest I was a bit horrified at how much they'd bought.  I mean look!!  Zoe and Rob didn't even have the decency to look ashamed, so I did so, on their behalf.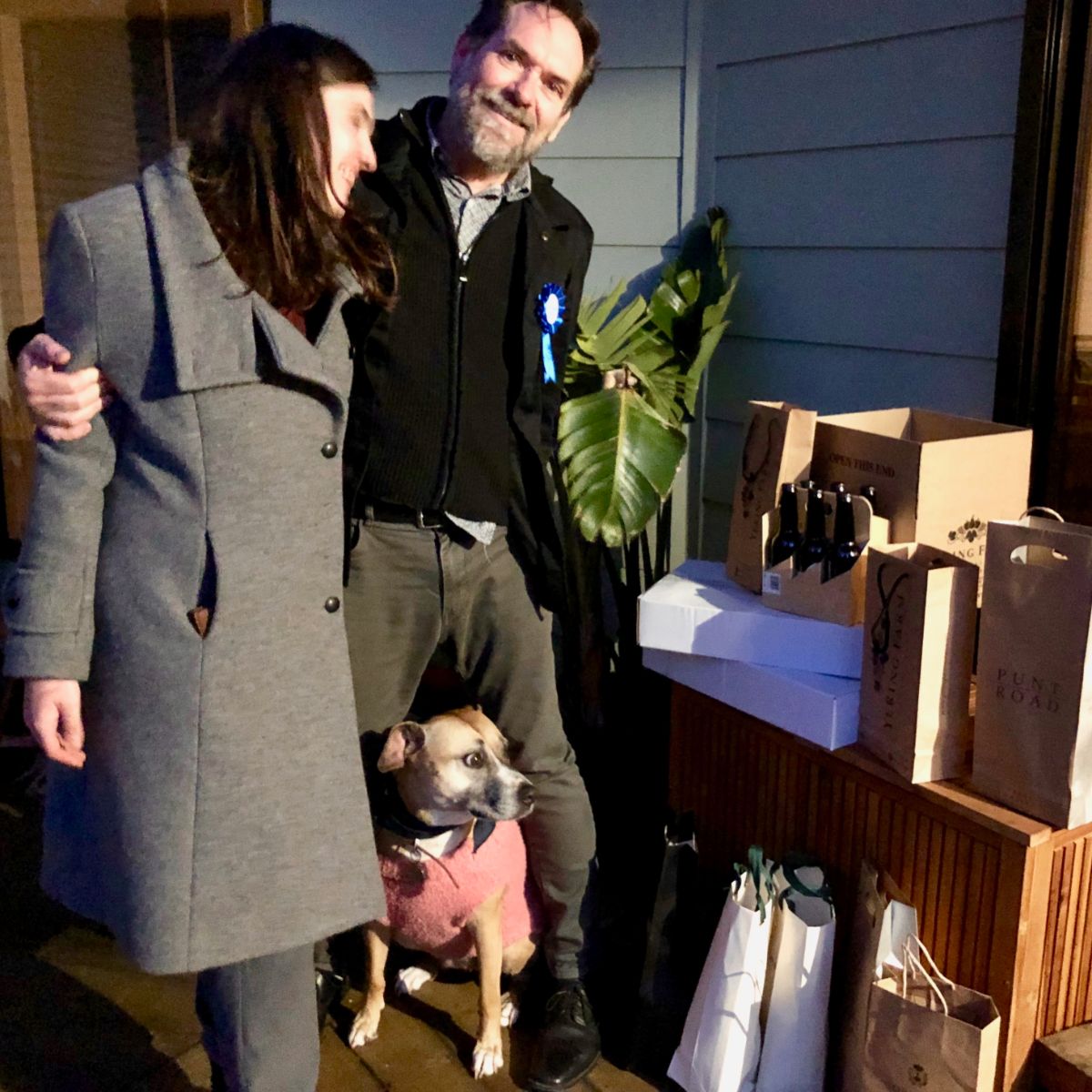 What is it with these humans and their wine?  Maybe it's a bit like me and seatbelts.
🙈😂