Yo, Puddles here (I'm the cute one in the chariot as I have arthritis) and my spunky younger flatmate Casper is the chick magnate!    He's a useful wing man to have, his phone is full of girls' numbers after today's tour!
We just did a Pooches and Pinot wine tour around the Yarra Valley's cellar doors with our pawrents Jack and Mingmei and frankly we wooed everyone we met, every place we went!
Jeff, the guy who calls himself Top Dog (justly so) from Pooches & Pinot knew all the best cellar doors to take us to where us pupsters are welcomed inside and we're greeted like rock stars and had a ball!  He collected us from our accommodation at Harvest Farm and we bonded with him immediately – maybe it was the way he lovingly loaded us all into his Mercedes van (there was a bed for each of us and treats and EVERYTHING)…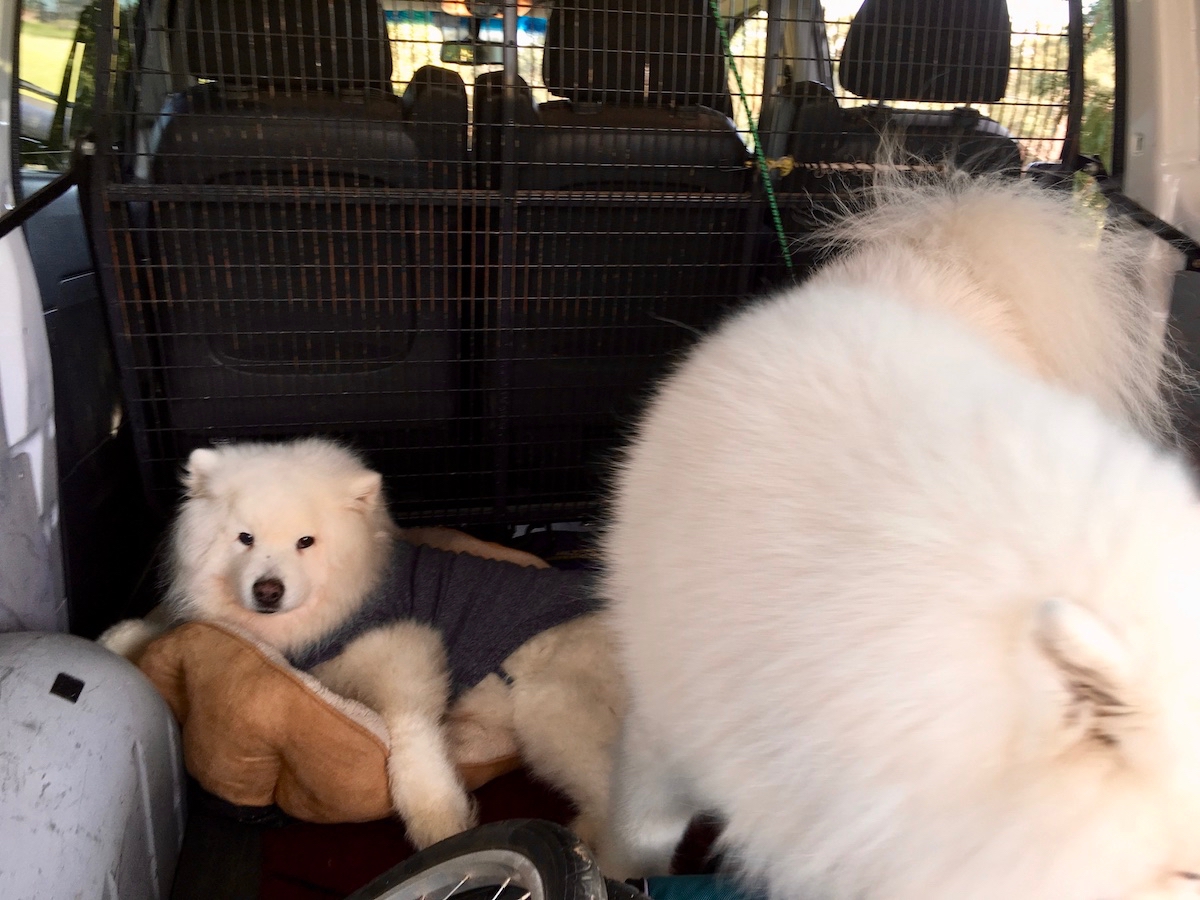 and the first place he took us was Helen & Joey's, way up high on a hill and the view was mind bending.  We sat out on their deck and Jason came and served us and gave my pawrents his fab wines to try, while we soaked up the view and let the wind ruffle our fur – it was a beautiful thing.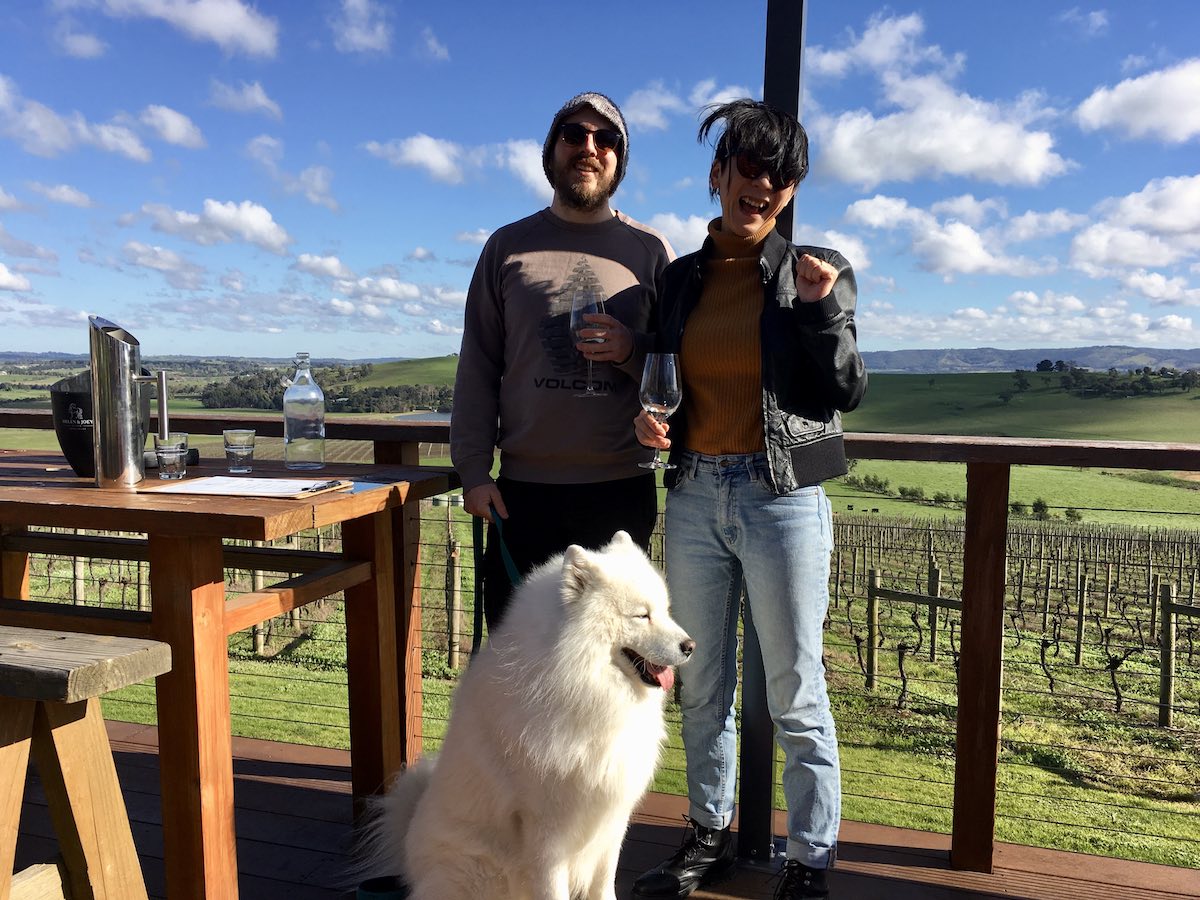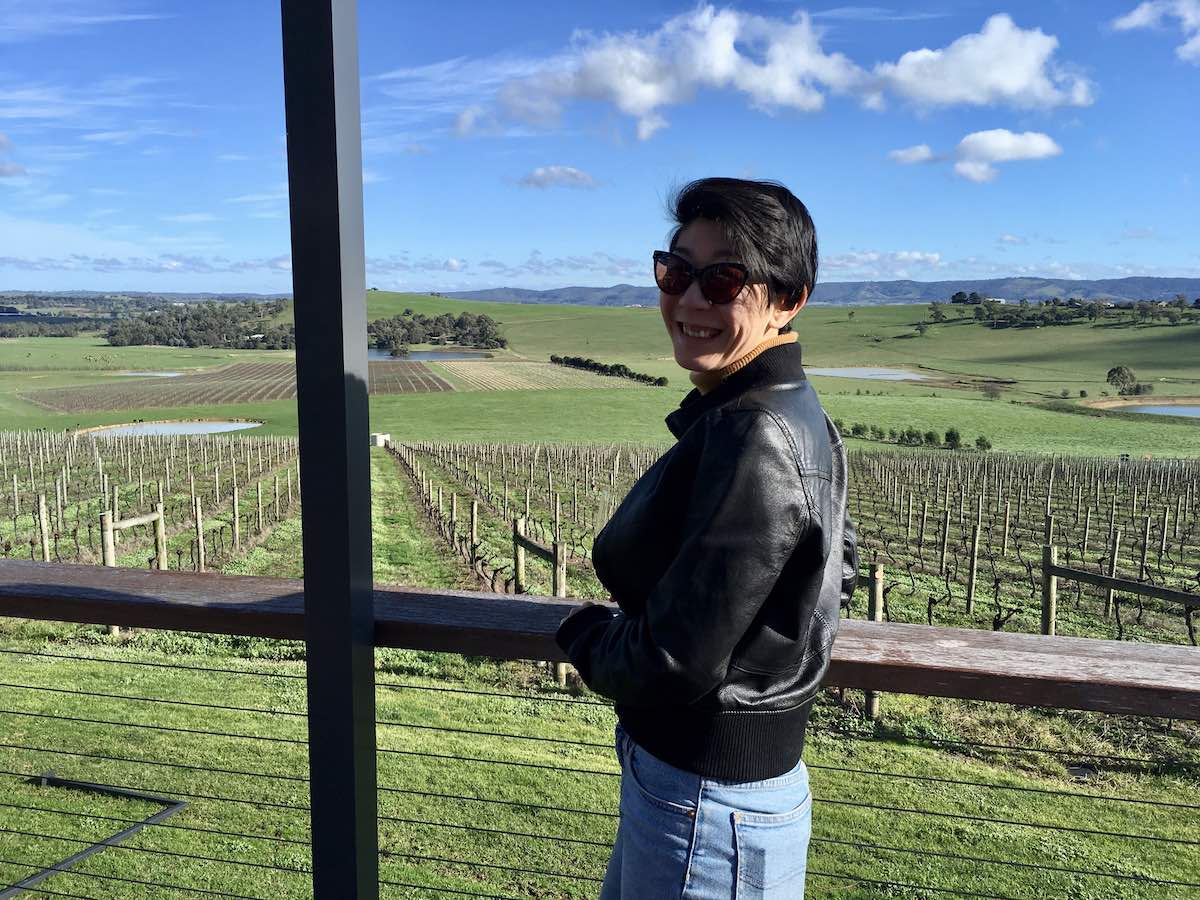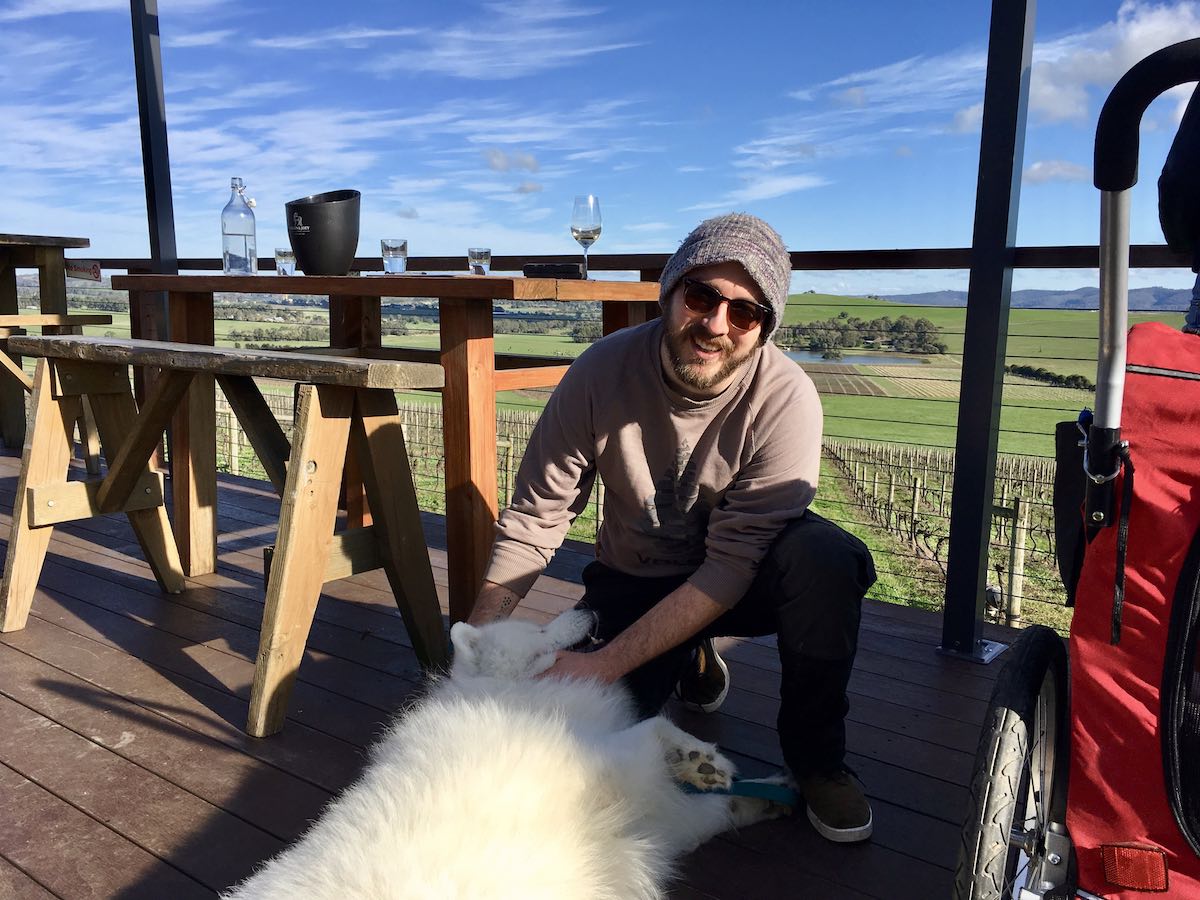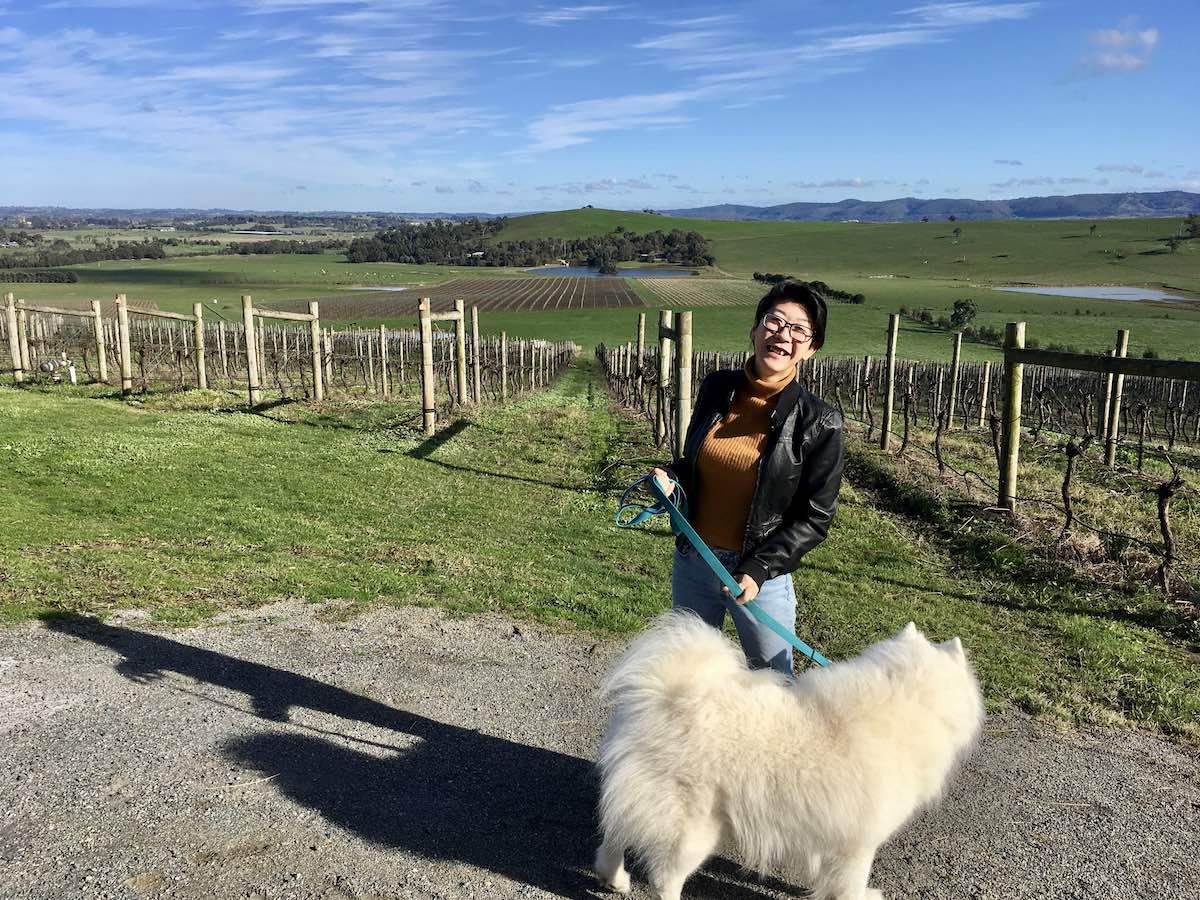 We even saw a roo in the vines – we're in the country after all (don't see too many of them at home in Noble Park I can assure you)!  Screw your eyes up and look down the vines in the next pic and you'll be able to see it!  Maybe.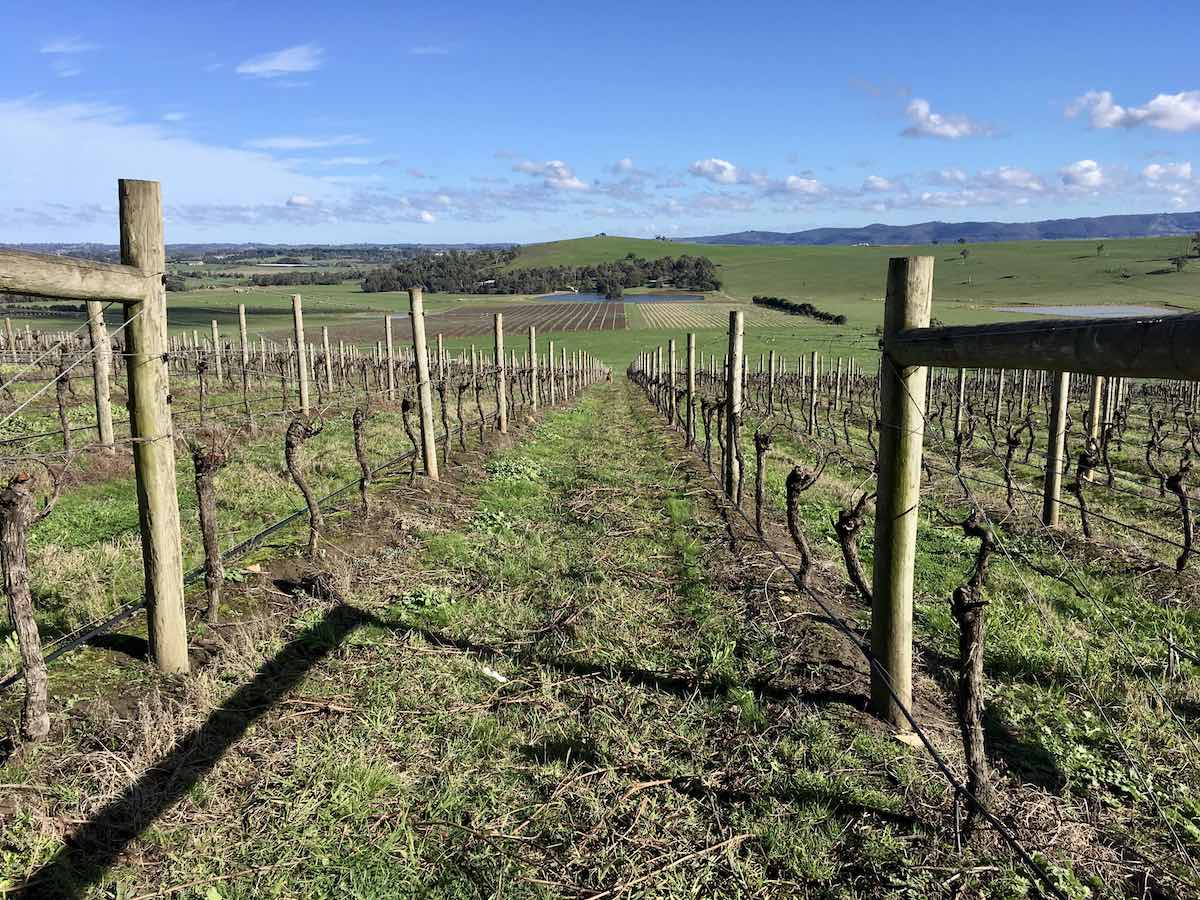 The folks bought wine and we all hopped back in the touring van and drove off to Yering Farm wines and honestly we couldn't move for women!  Women with cameras, women wanting a stroke, women coodgey-cooing us, women fawning all over me in particular thanks to my chariot, asking questions, reaching for me, I now know how Jagger feels.  Casper got a bit bored when he realised he wasn't getting as much attention as me (ppfff) and clearly wasn't going to be offered wine to taste, so he and Jeff went outside for a wander and had a man to man chat, and investigated ewes and lambs and vines while I stayed inside with the folks and to keep my fans happy.  It's a full time job, and I'm no flake, I take my responsibility seriously.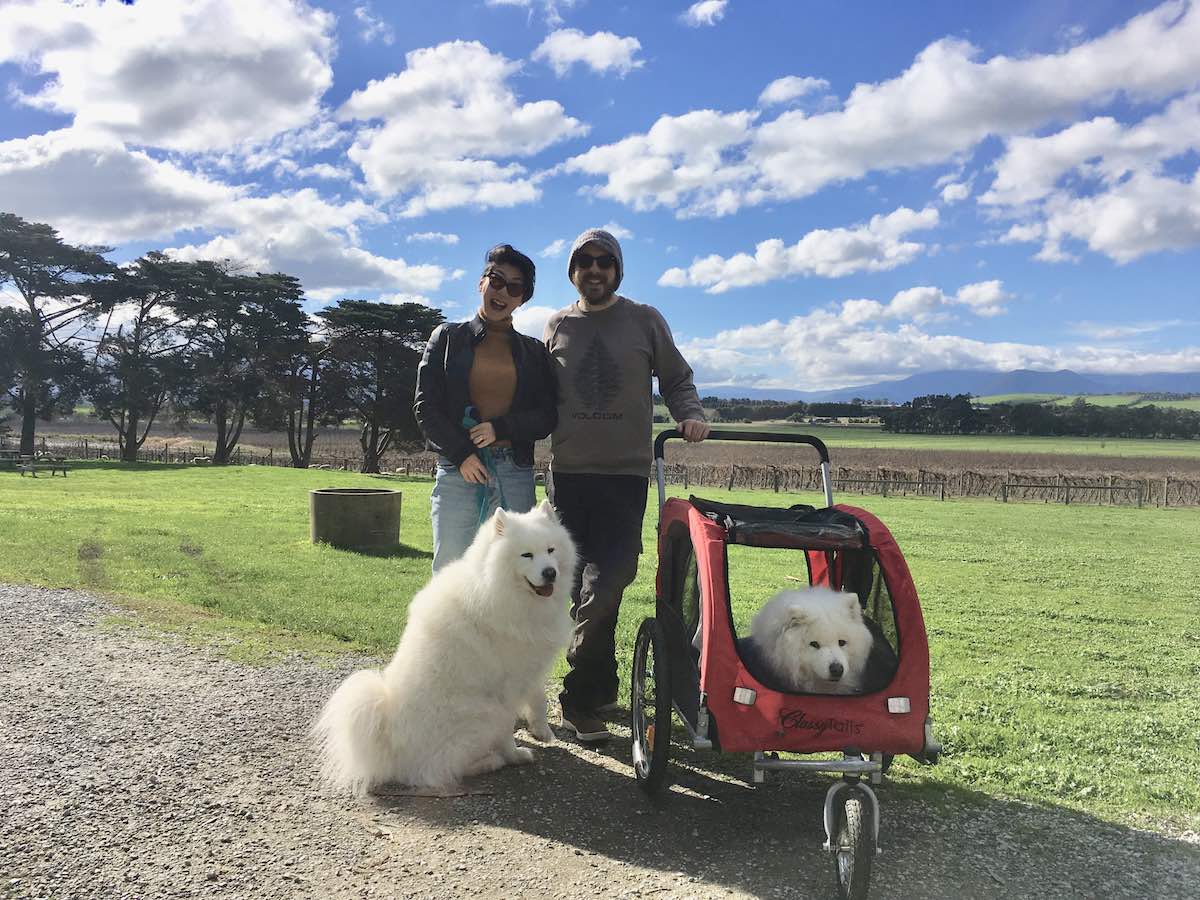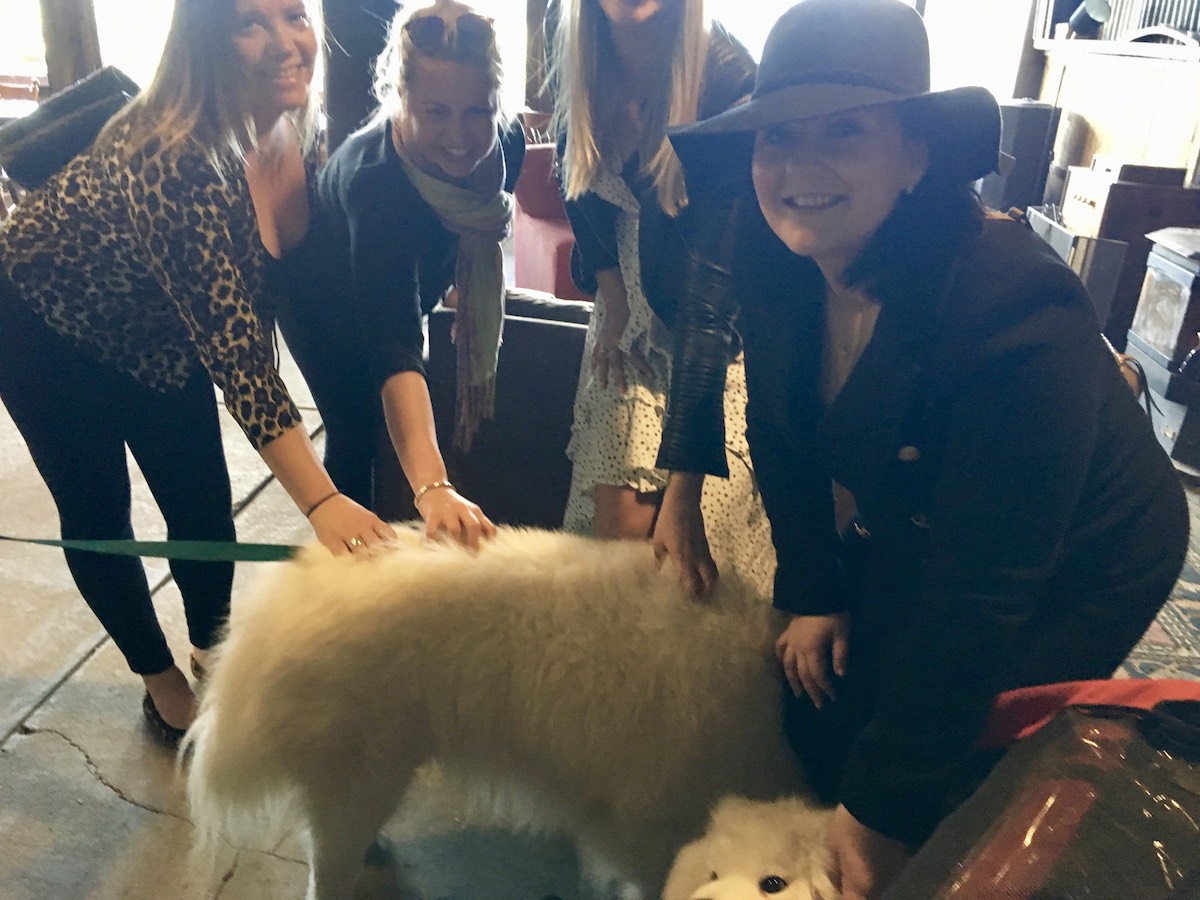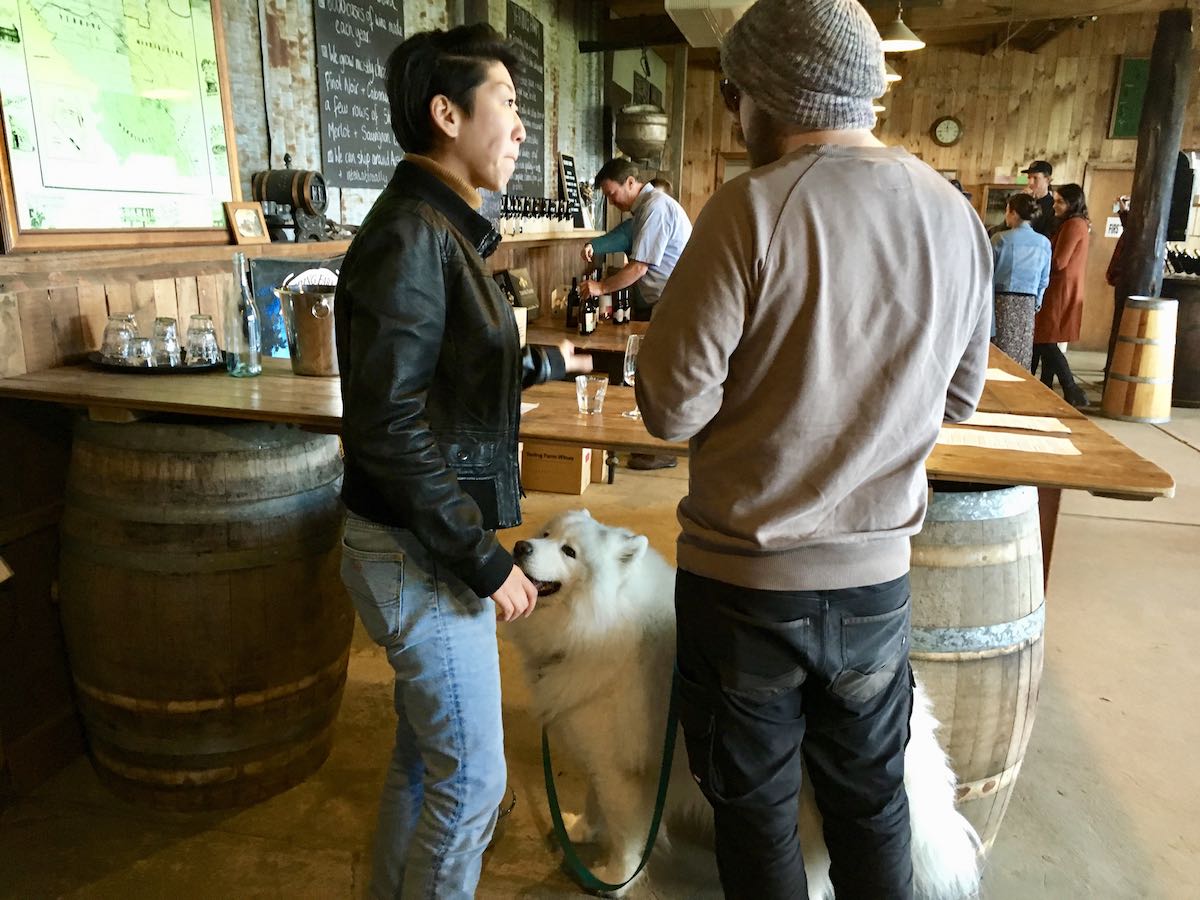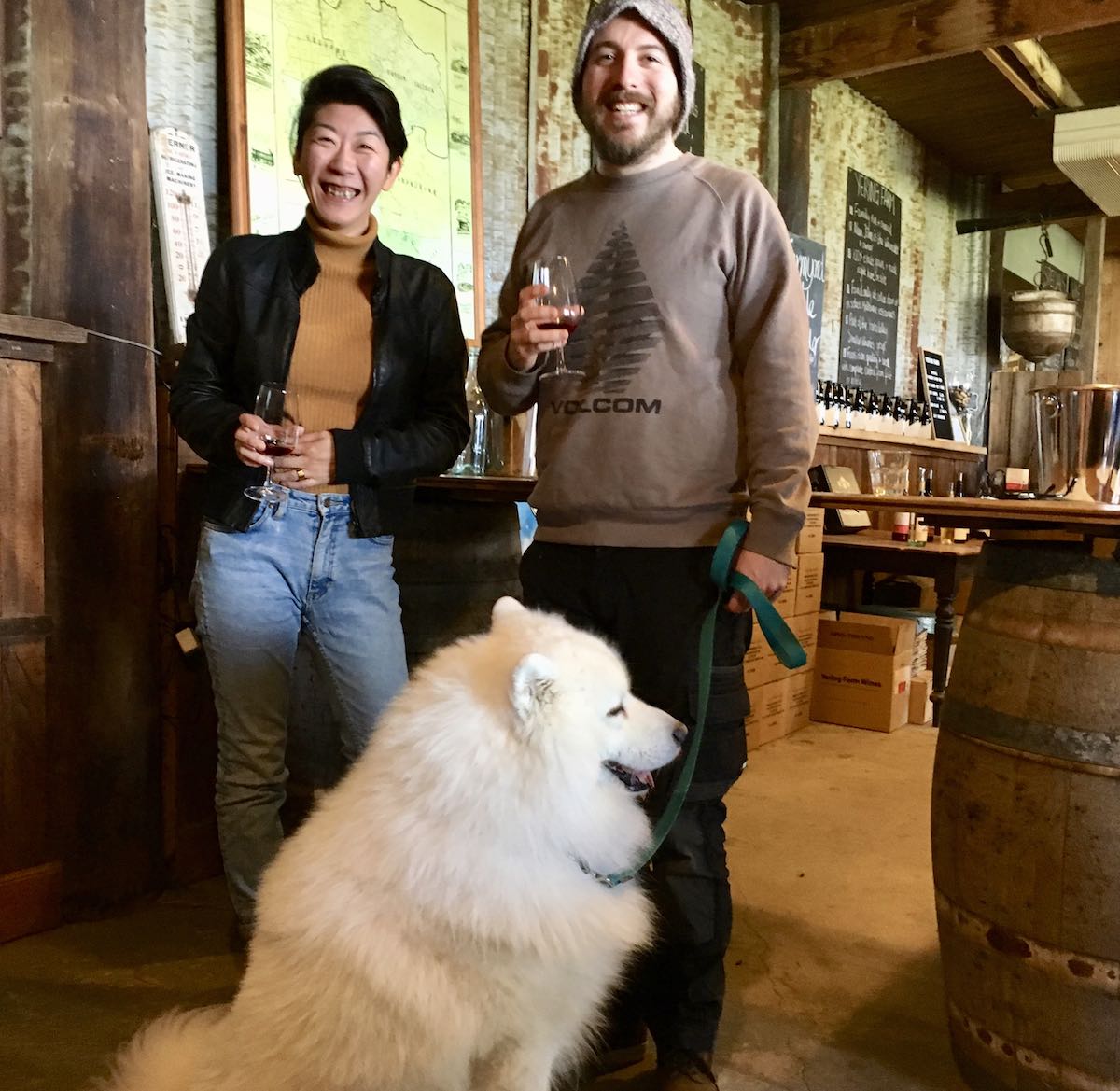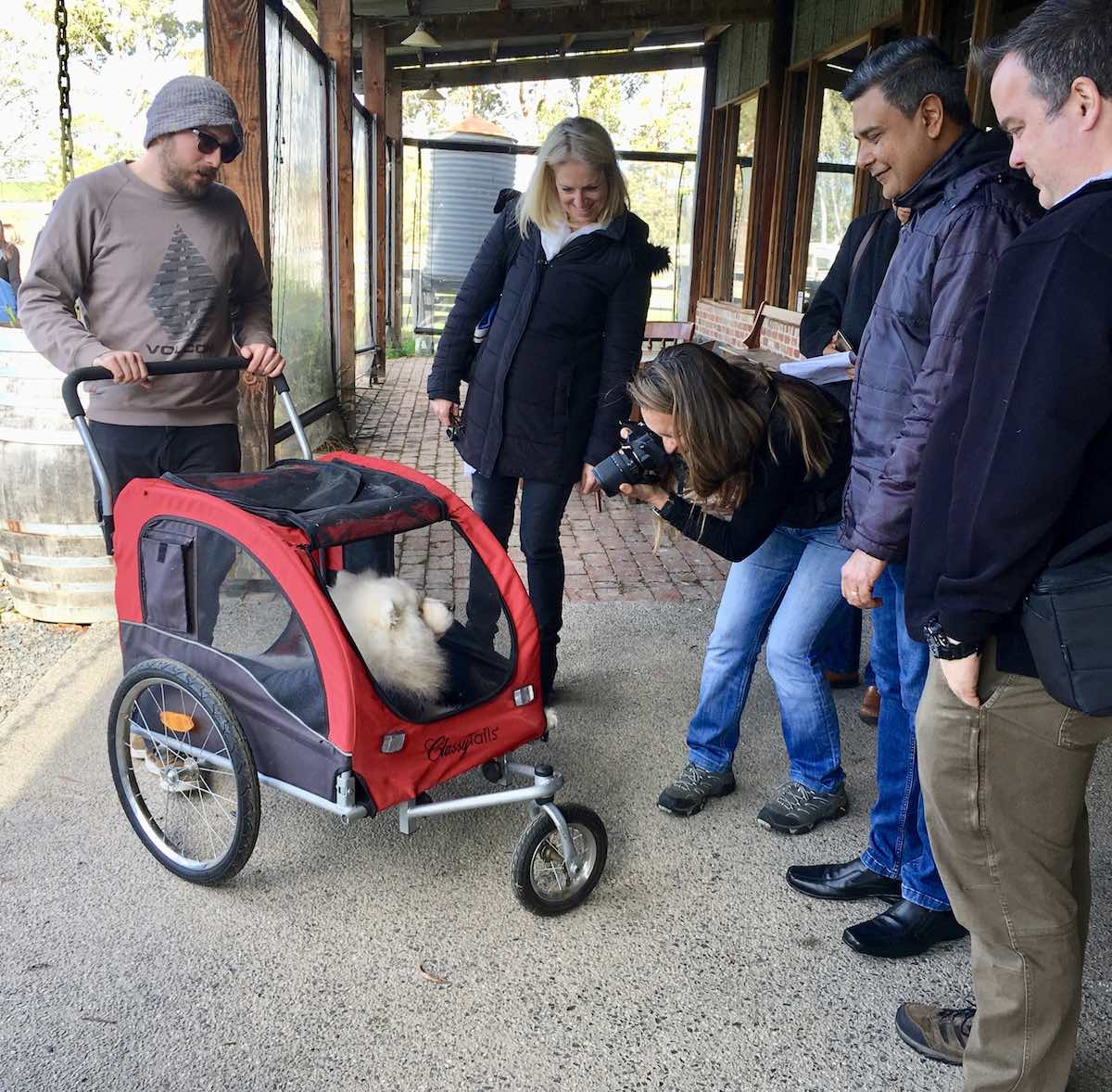 All that paparrazi mobbing at Yering gave me quite an appetite, and fortunately it was now time for lunch, and Jeff had booked us into My Little Kitchen, a brilliant pupster-friendly cafe in Healesville, which caters to humans with special dietary needs (mine happen to be coeliac, pescatarian, vegetarian, dairy-avoiding etc) and they LOVED having such a great selection to choose from.  We again were treated like kings and it was the pit stop we needed to refuel ready to take on the afternoon of more adulation and tastings.
Jeff knew exactly where to park to get us closest to all the venues which were super busy because the sun was out and it was the weekend, so we were soon back in our touring van and drove down the road to Four Pillars Gin distillery and guess what happened.  Yeah.  More squealing women.  All the staff came to coo at us and rub my fur and tell me I was beautiful, which I coped with admirably, and Lizzie was my favourite – she works at Four Pillars and has the best smile and she would have climbed into my chariot if she could to have a cuddle.  She showed me her tat of her doggo back at home, Barbara Ann, and I could tell I was good therapy for her as she clearly misses her when she's away from her.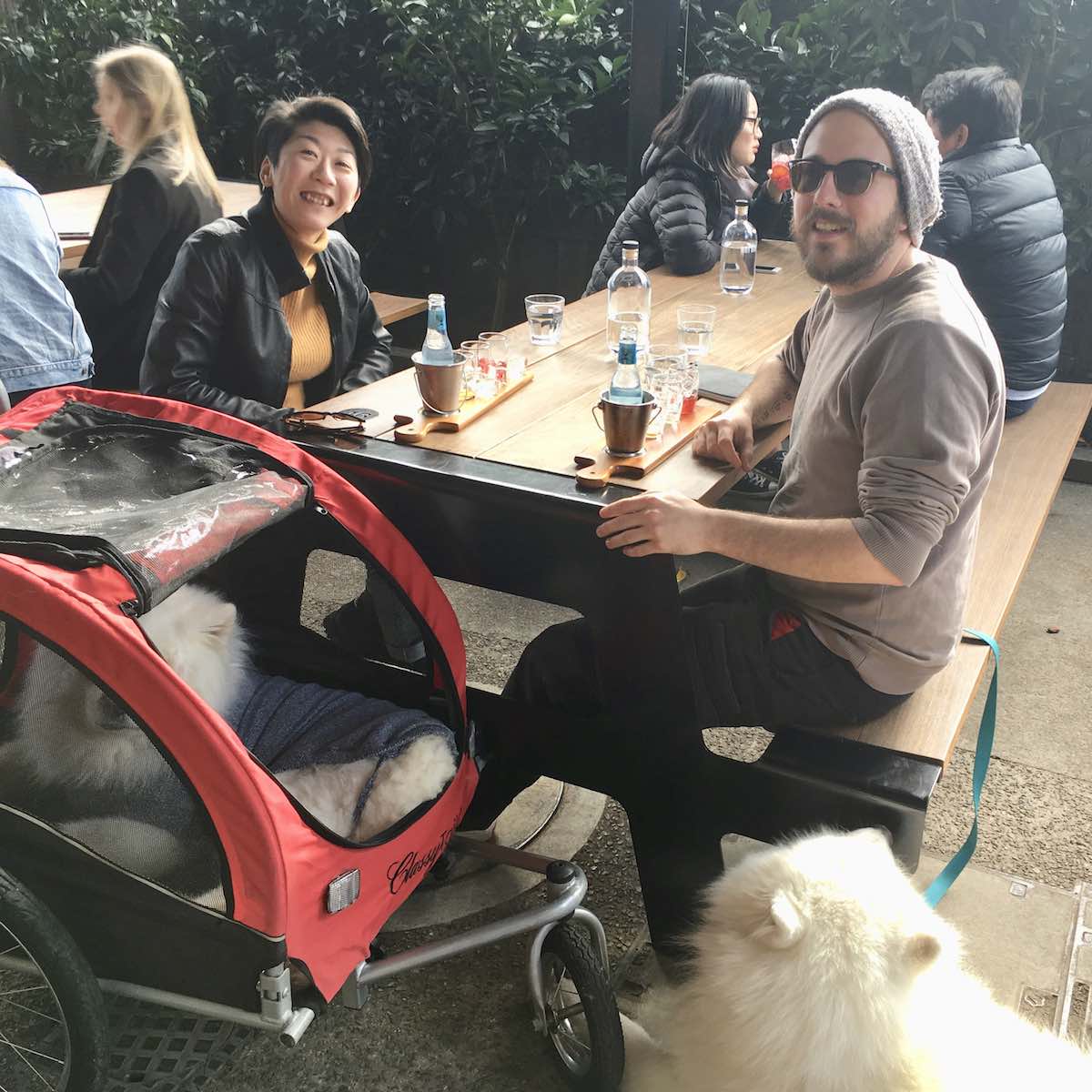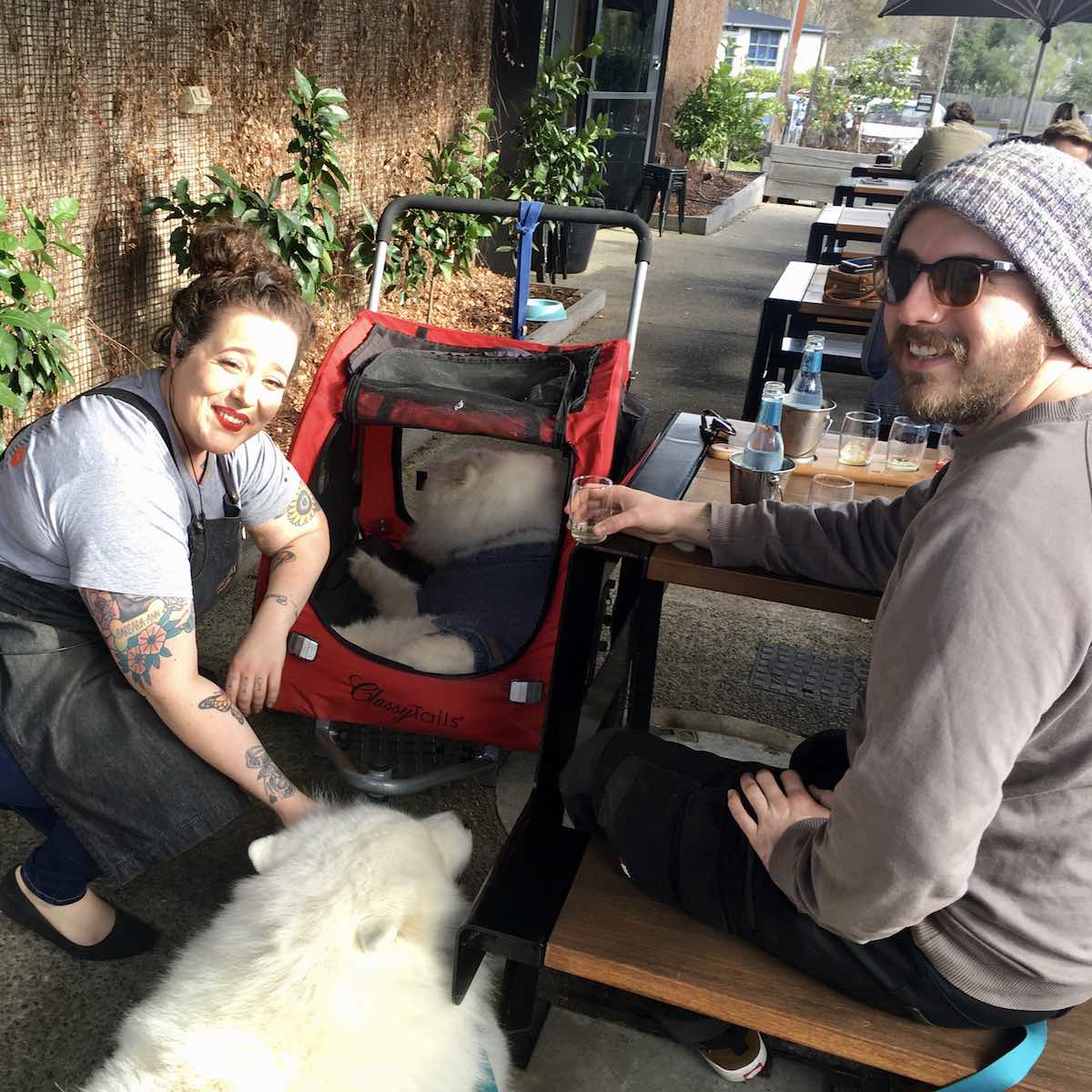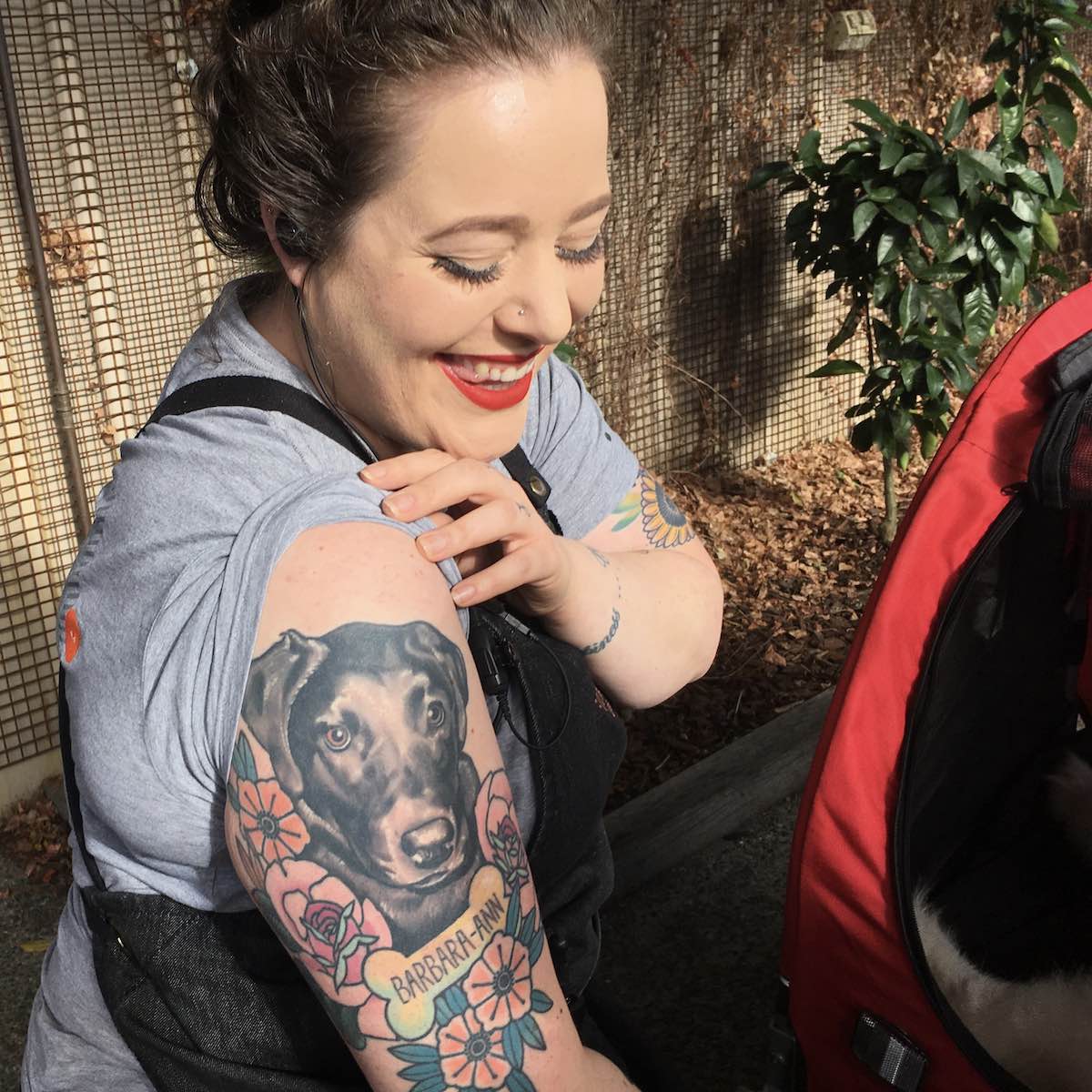 My folks enjoyed their gin tasting paddle and learnt all about gin making (note they didn't bother with the tonic, they are seasoned spirits drinkers) while I snoozed in my wagon and greeted people, like the Pope/Queen.  Honestly, if I'd had an opposable thumb, I'd have signed friggin autographs for these poor souls!
After gin purchases, we sauntered over the road to Payten & Jones and I'm not kidding, we couldn't even get in the door before the mobbing began.  My pawrents couldn't even get a look in, (look at poor Mingmei pushed out) they were shoved aside by adoring, smiling women who needed to get a fix of us and it was a good 5 minutes before we could get inside – I could see Jeff was about to call for back up because it was verging on 'a security breach'!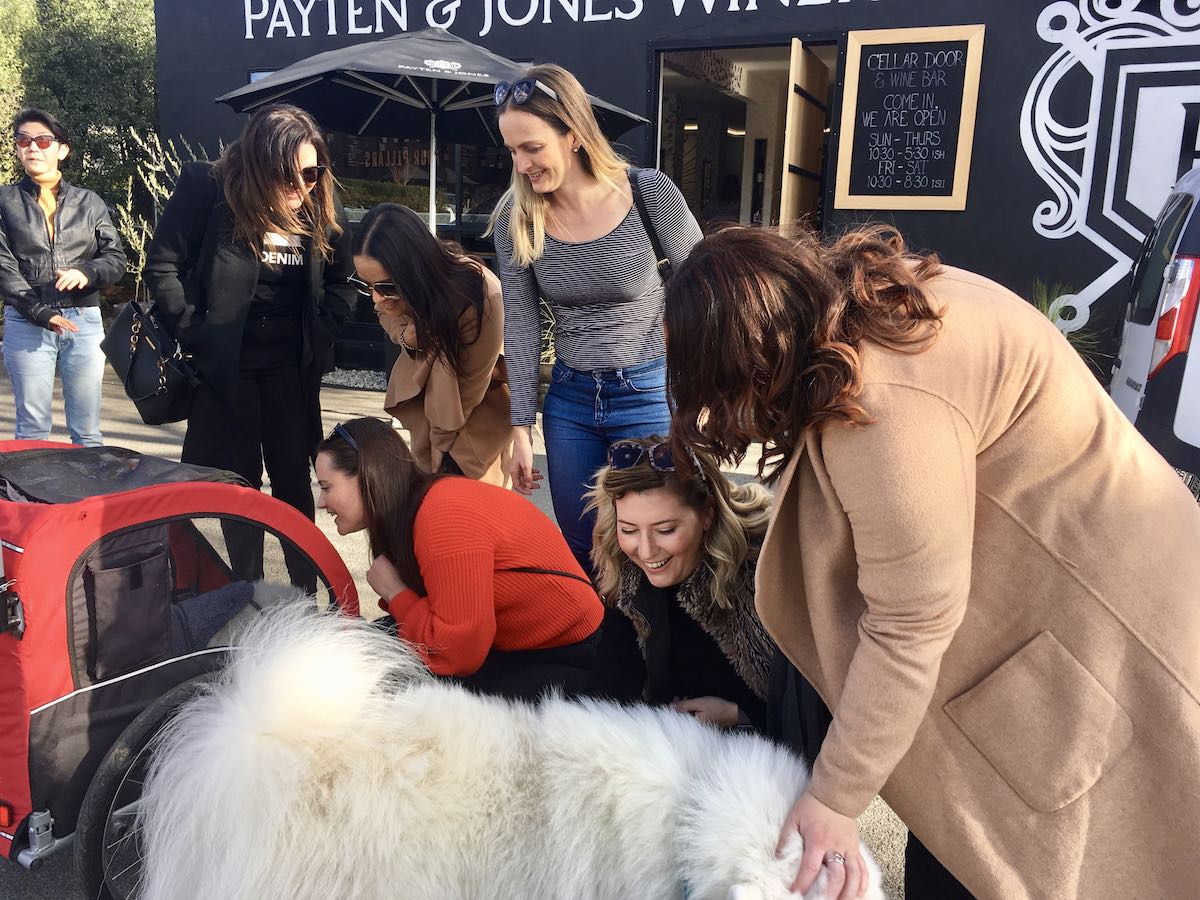 The women of course followed us inside so the worshipping continued til someone distracted them with the offer of wine!  Here's me taking one for the team (and gathering numbers).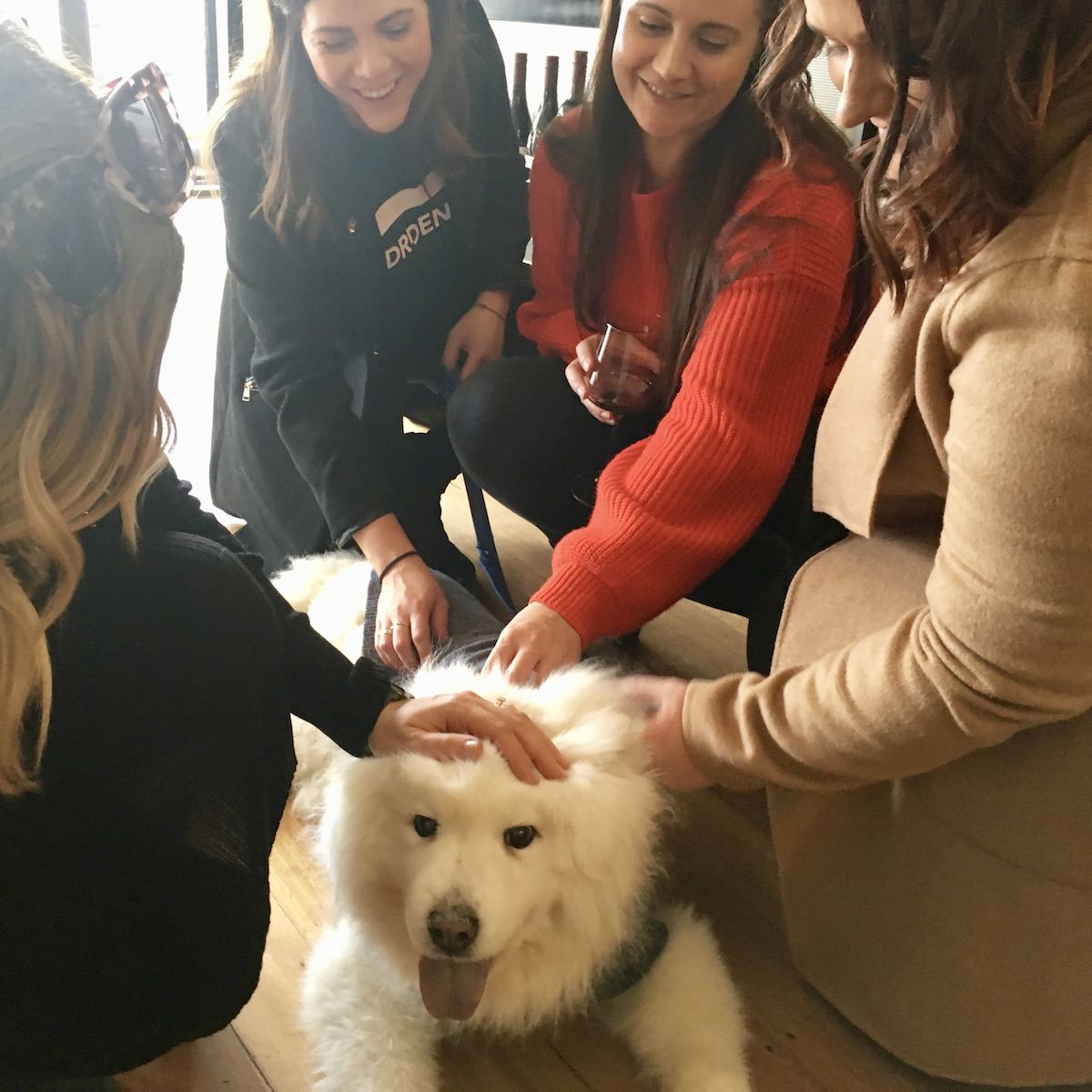 It was the coolest place yet – we loved it there and settled in immediately.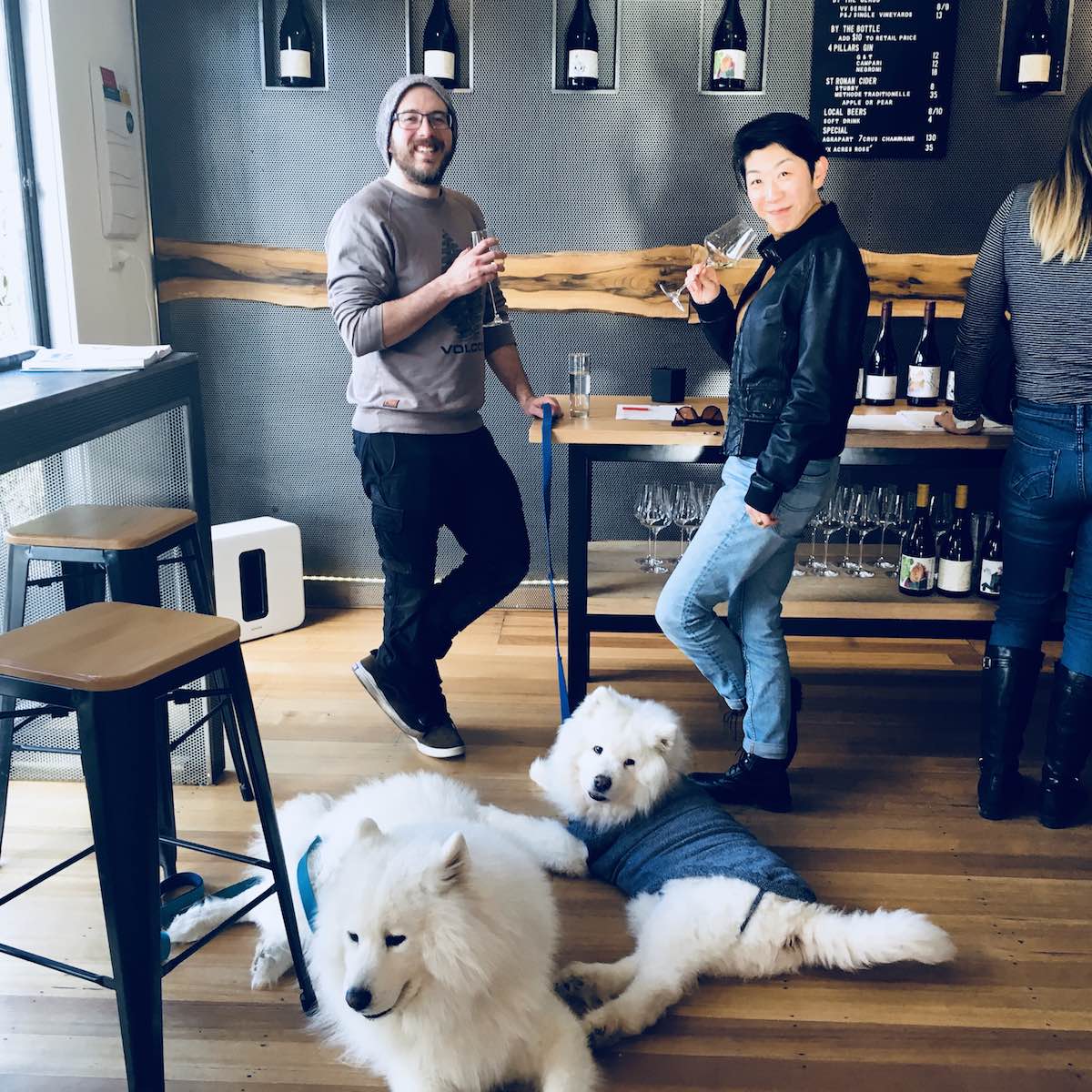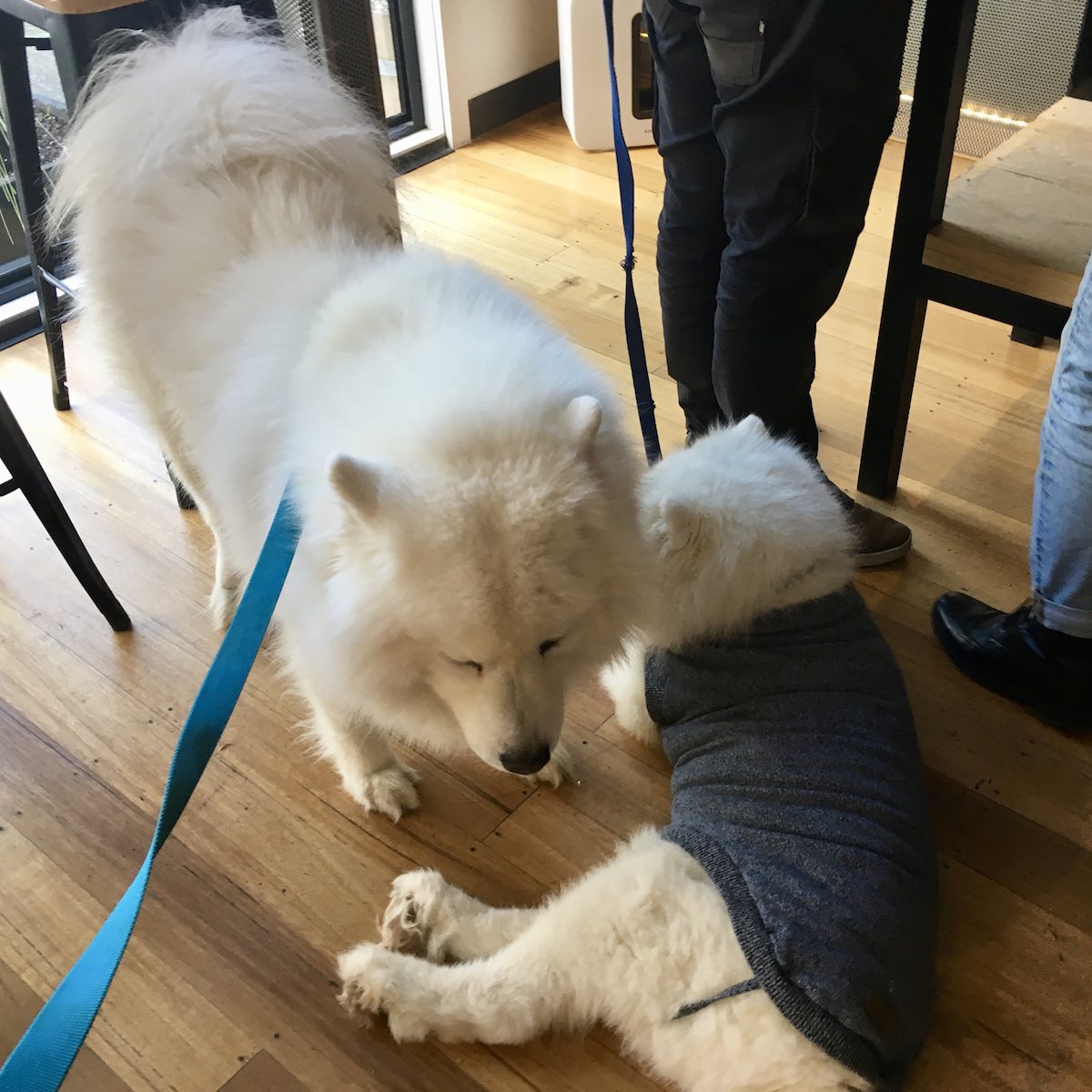 Our humans did another wine tasting (quite how I've no idea – tho having said that, I ate ALL the treats Jeff offered Casp and me during the day, in fact I happily had Casp's when he wasn't interested too – I'm amenable like that!) and Avan the Jamaican who conducted their tasting was grouse.  We loved him.  As did my folks. And they bought his wine (no surprise there!).
I was pretty beat by now due to all this attention, and Casper was flagging too but the pawrents were on a roll – Jeff suggested we pop back into Healesville to Kitchen & Butcher – a fancy pants shop where they could pick up some nice bits for their supper later, which they did very happily – given they clearly weren't going to be driving out to dinner!!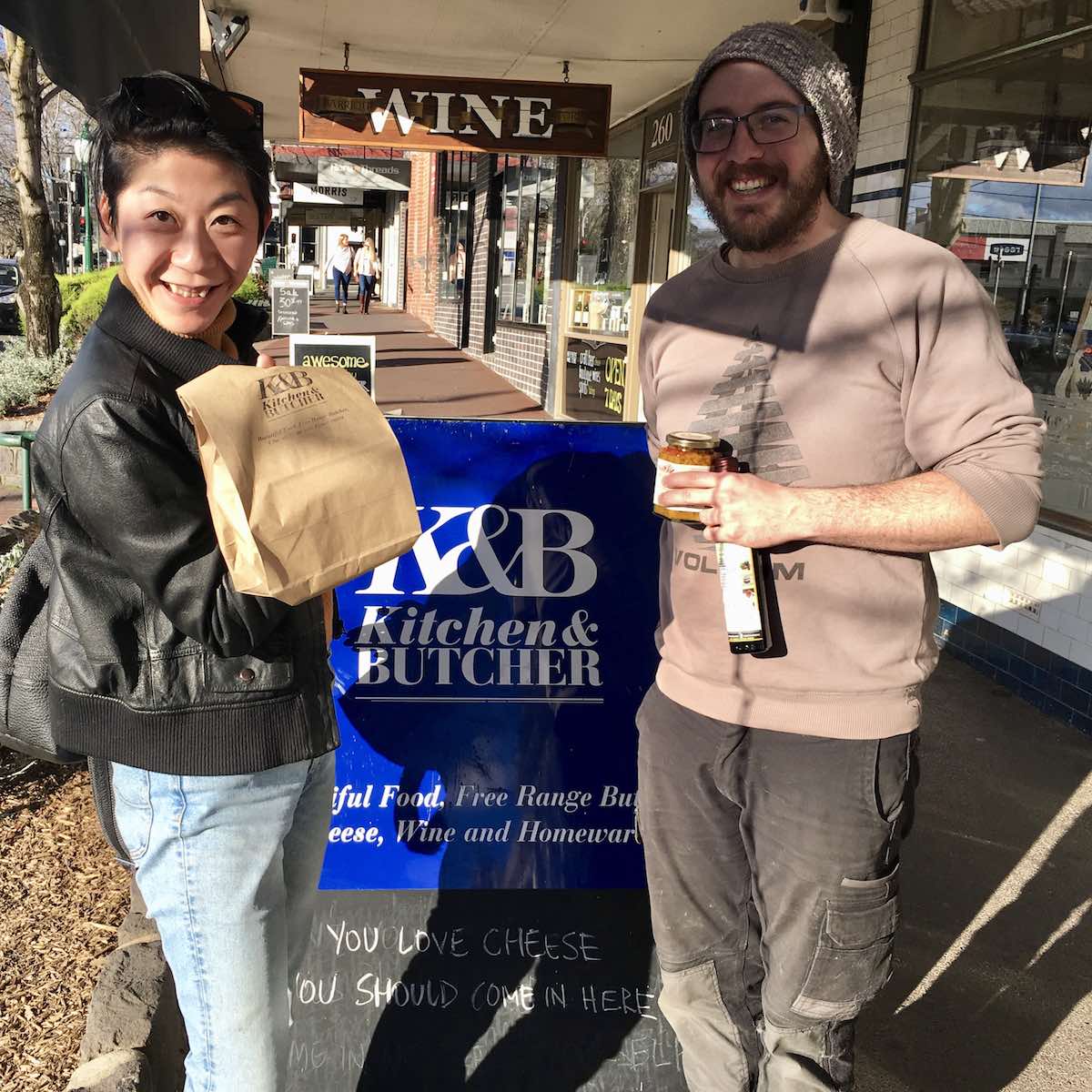 My Dad has specifically asked Jeff if they could do a tasting at Oakridge of their 864 range of wines and we all knew Oakridge weren't set up for having dogs in their cellar door, so Jeff cunningly left it til last, so that we pups could snooze in the back of the van and sleep off some of the day's excitement, while the 'rentals (what we cheekily call the parents, 'parentals, get it?) went inside for their final tasting of the day.  And what a tasting it was – apparently!  Look at them, happy as anything, and not a bad view either!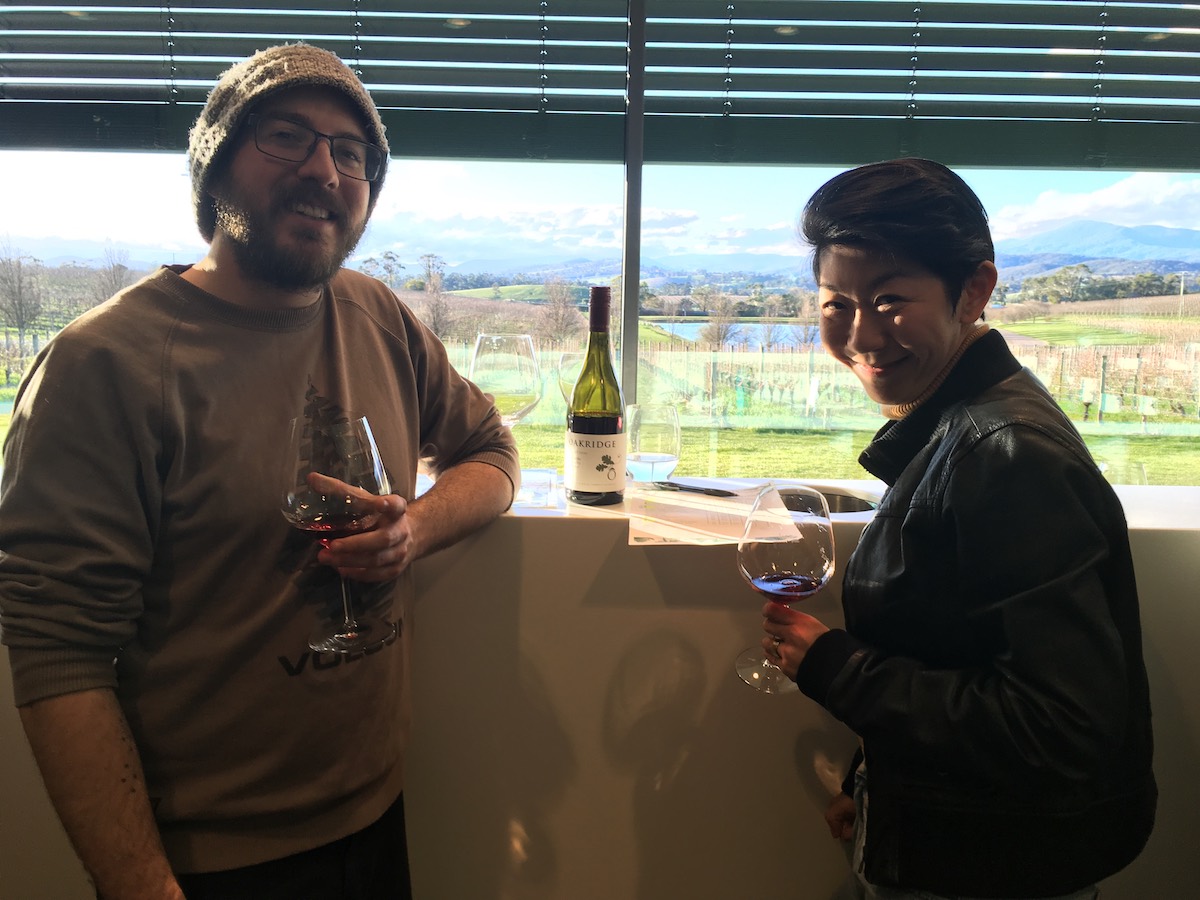 When they finally came out back to the van, they were so thrilled with everything, they jabbered like monkeys all the way back to our accomodation and Jeff helped us unload an obscene amount of bottles into the house – and LOOK at the table groaning under the weight – bottles from everywhere we went!!  But Dad was thrilled – there was no compunction to buy, they just bought what they wanted if they wanted and that's great, there was no incentive or pressure from Jeff – he was just there to see to it that we all had a great day.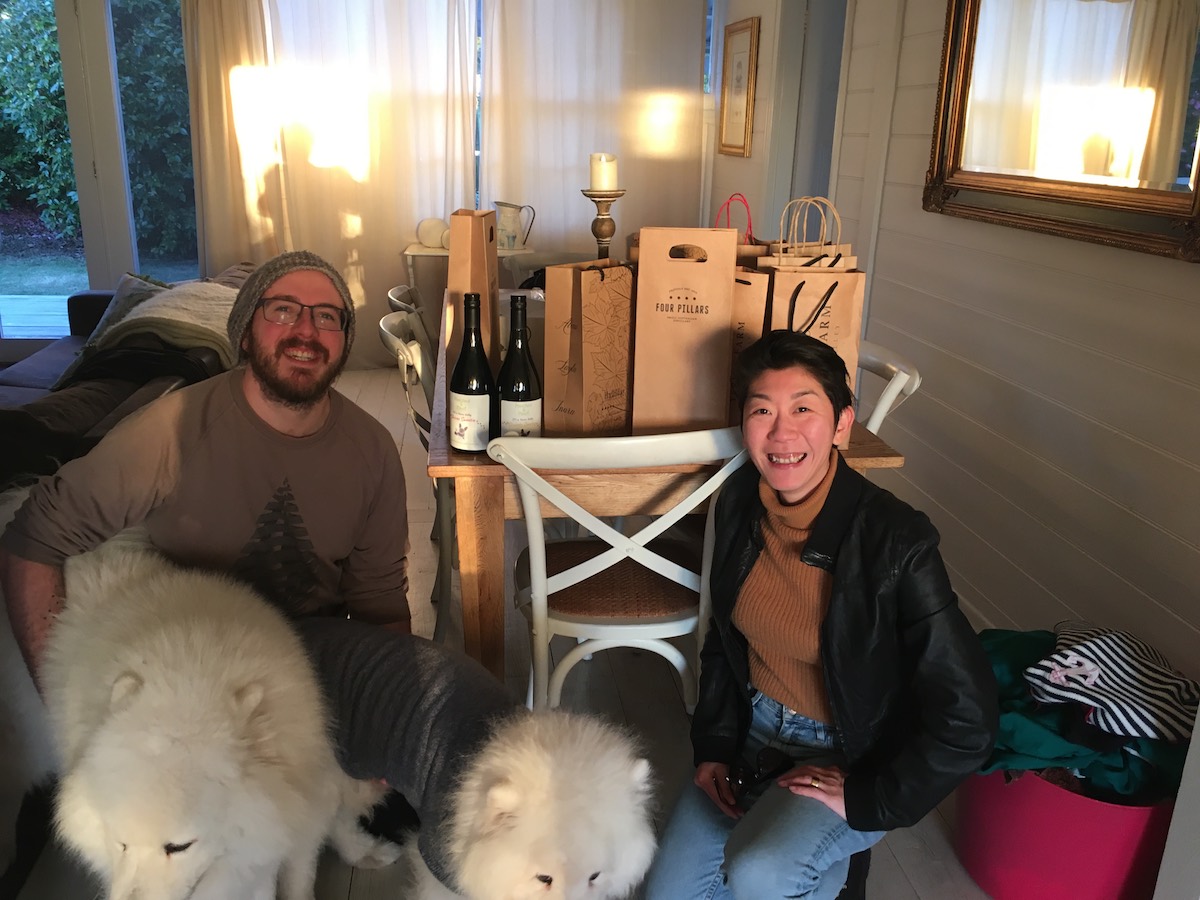 We all fell for Jeff a little bit during the day – Casp took a selfie with him – look at the pair of them!!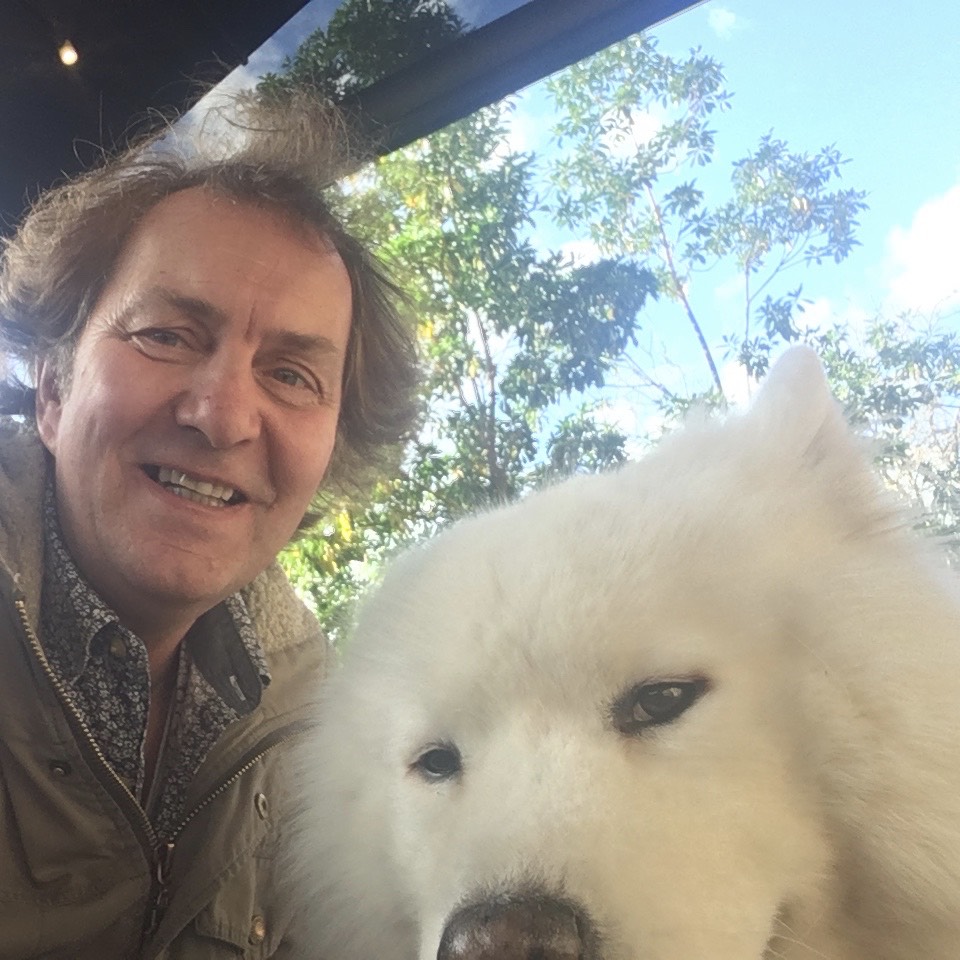 He was a great guy and there were big genuine heartfelt hugs all round when he left – he was like our newest BF for the day and it was sad to see him drive away, but we were all pretty spent from such a brilliant day.  Here we are, plum tuckered out back at base camp!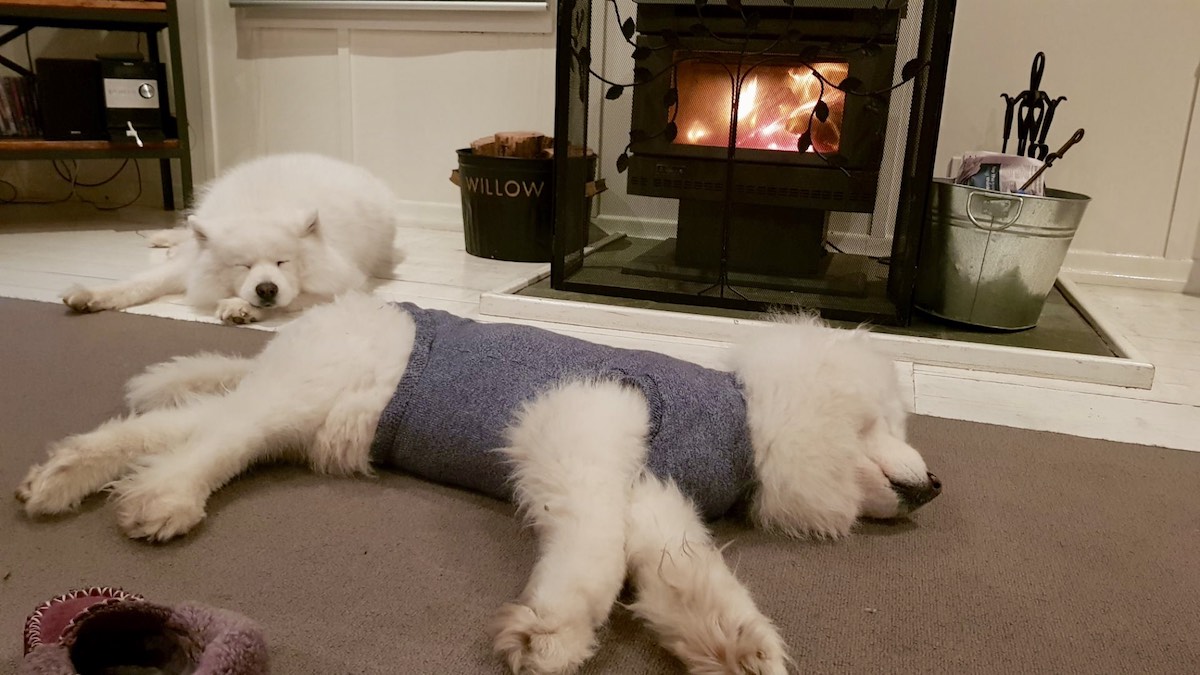 And, I have a sneaky feeling we'll be back to see him again when supplies run dry!