Oleg and Maria were on holiday in the Yarra Valley from Sandringham, visiting an area they'd never explored before. They needed a break from their full on lives as parents and busy healthcare professionals and a weekend at Wiggley Bottom Farm was just what they needed with their Labrador Roger. They chose a half day Dog's Bollocks all singing all dancing package and although the weather was shocking all morning (literally pouring with rain), by the time Jeff collected them at 1pm from The Cottage at Wiggley, there was hope it might clear at some point!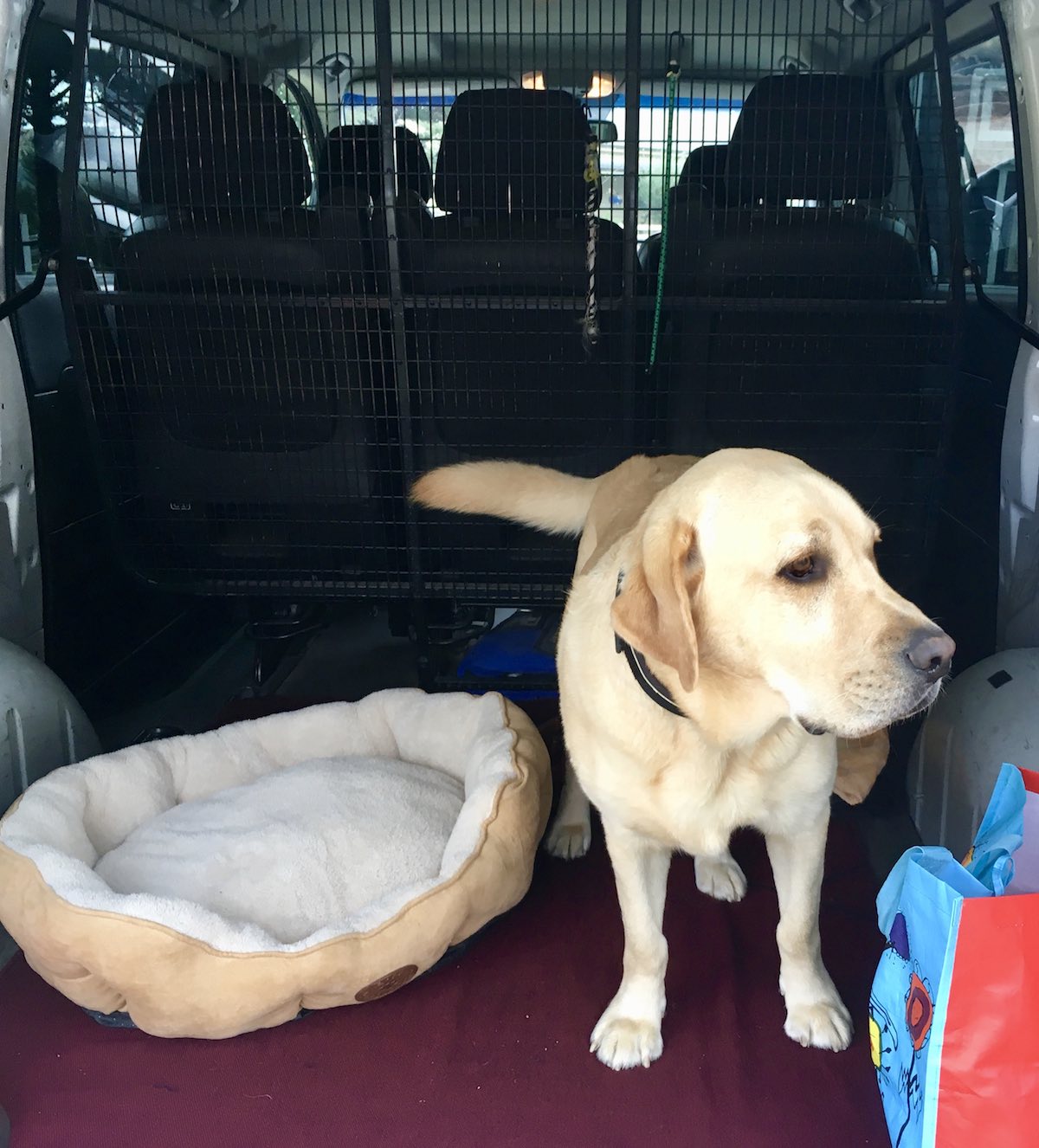 Jeff collected them and drove them straight to Maddens Rise, a very pet-friendly boutique cellar door run by Emma and Ben, who are a fabulous team, making everyone feel welcome and after a really informative wine tasting with Ben they bought some Blanc de Blanc and their lovely blend of five varietals – Cinq Amis.  Roger, who likes his pinot, was happy to just drink the water that was brought to him by the lovely Emma. He was so well behaved lying at their feet, but after half an hour he'd given up hope of them ever moving on and had settled down for a lovely sleep at everyone's feet.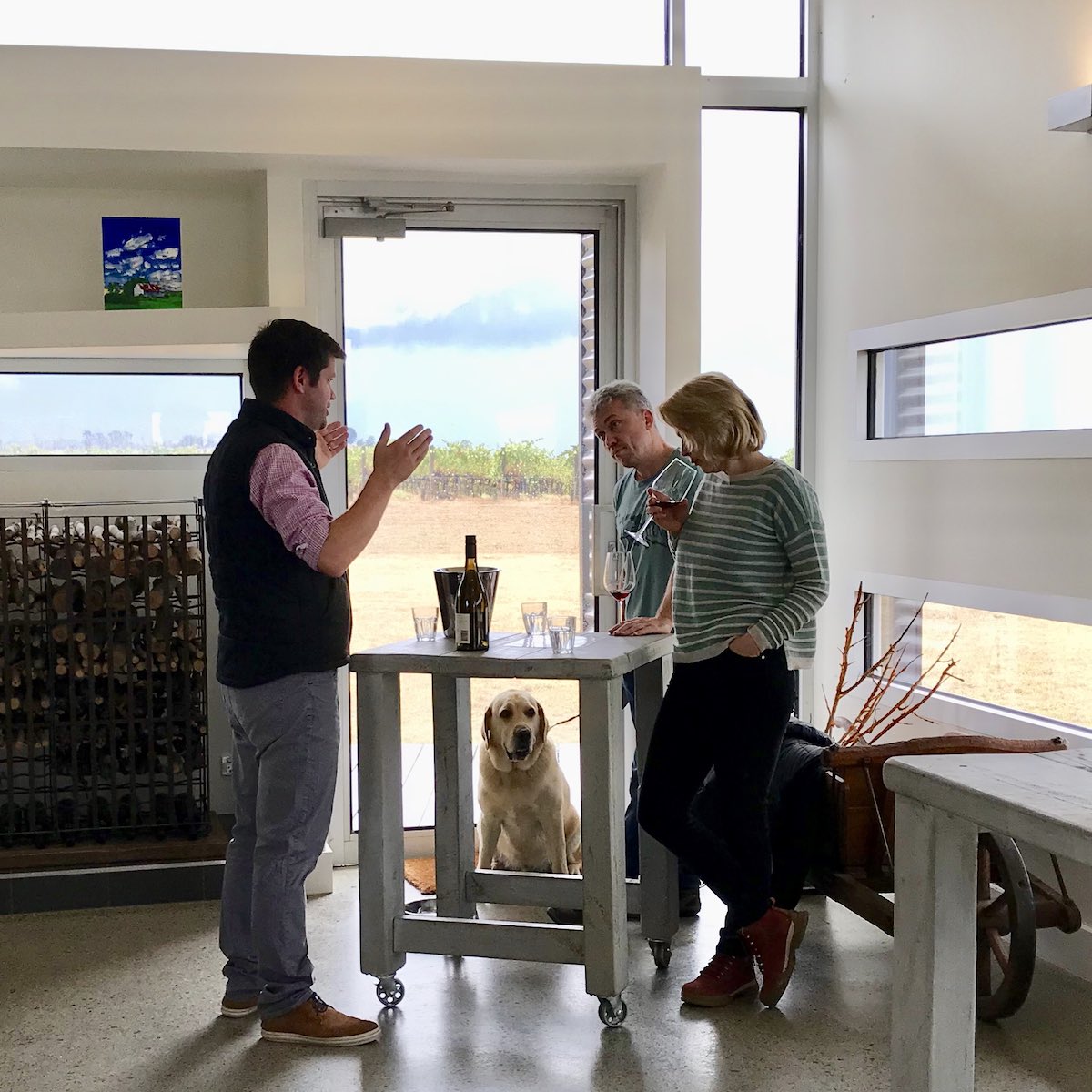 Roger – posing beautifully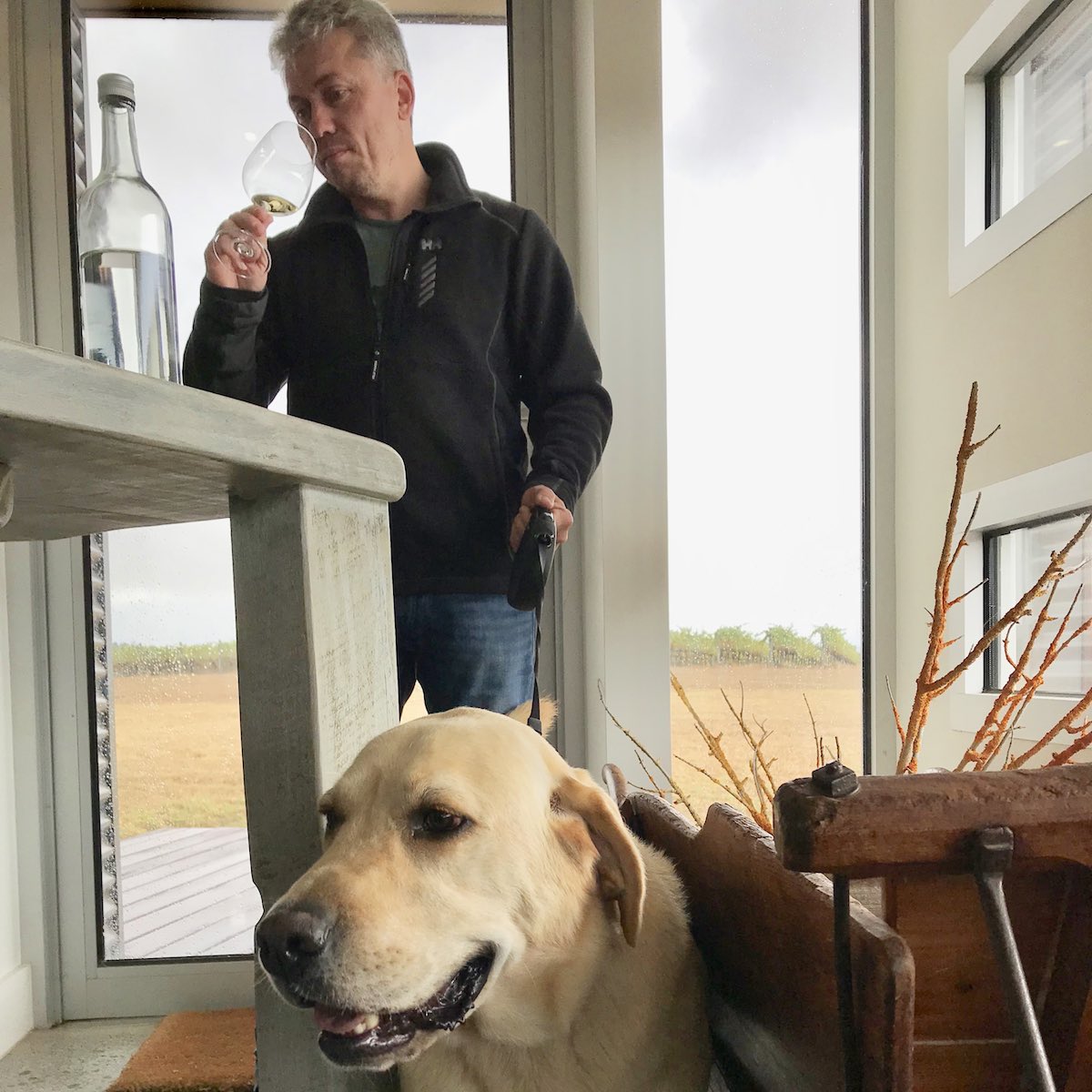 Roger with Oleg at Maddens Rise, wondering how much longer this will go for!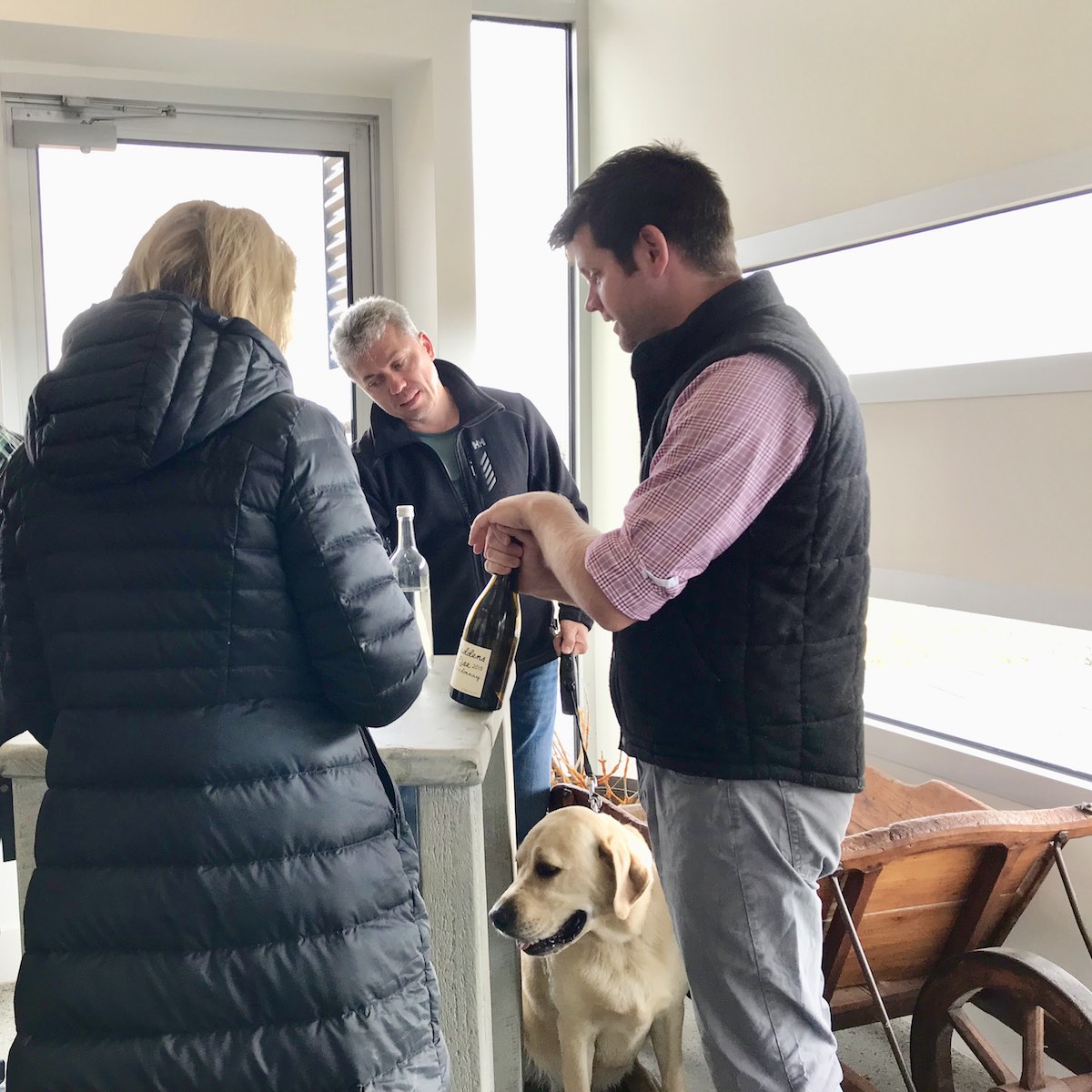 Roger sensibly settling down for a snooze as the humans crack on!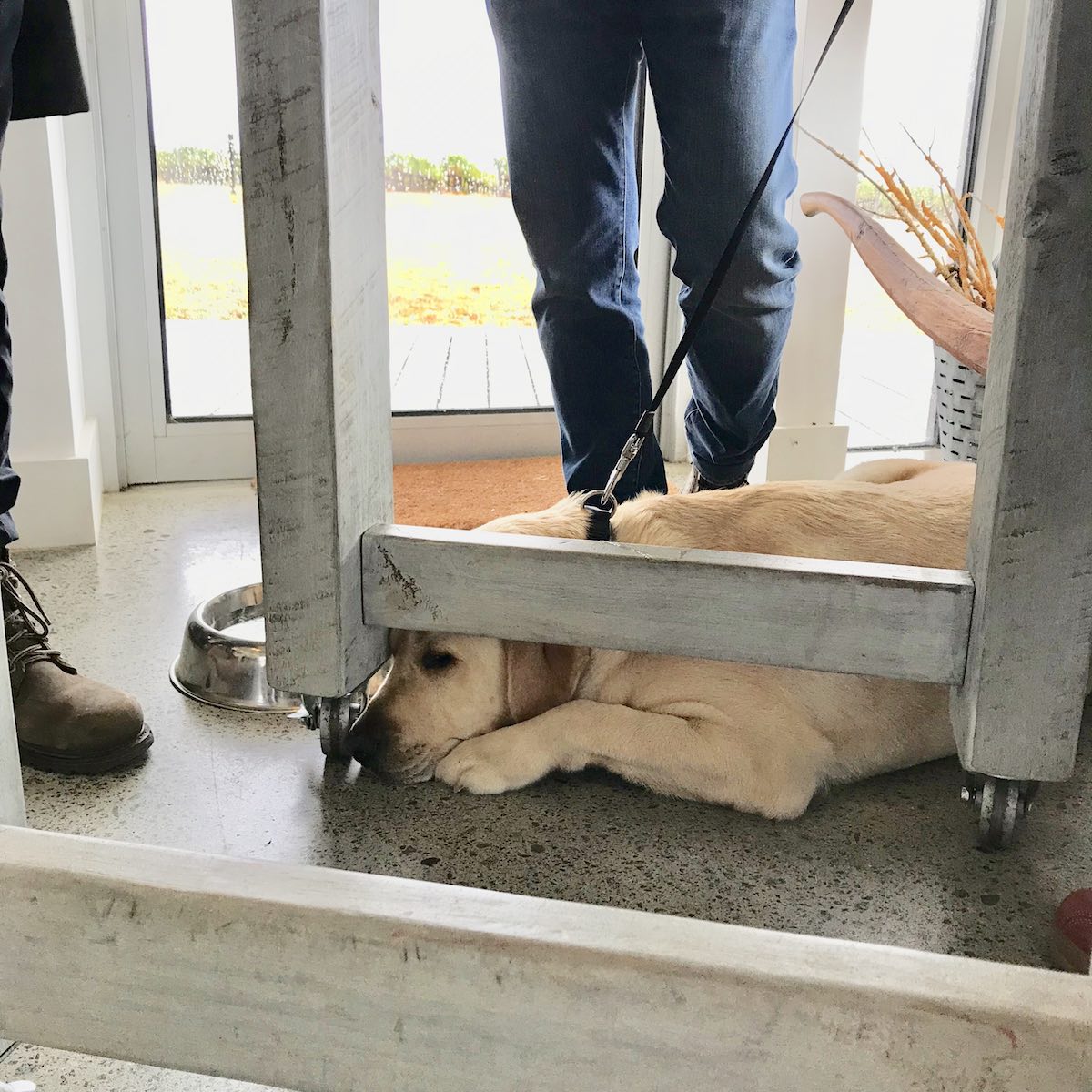 Roger made himself quite at home at Maddens Rise and took the opportunity for a little siesta.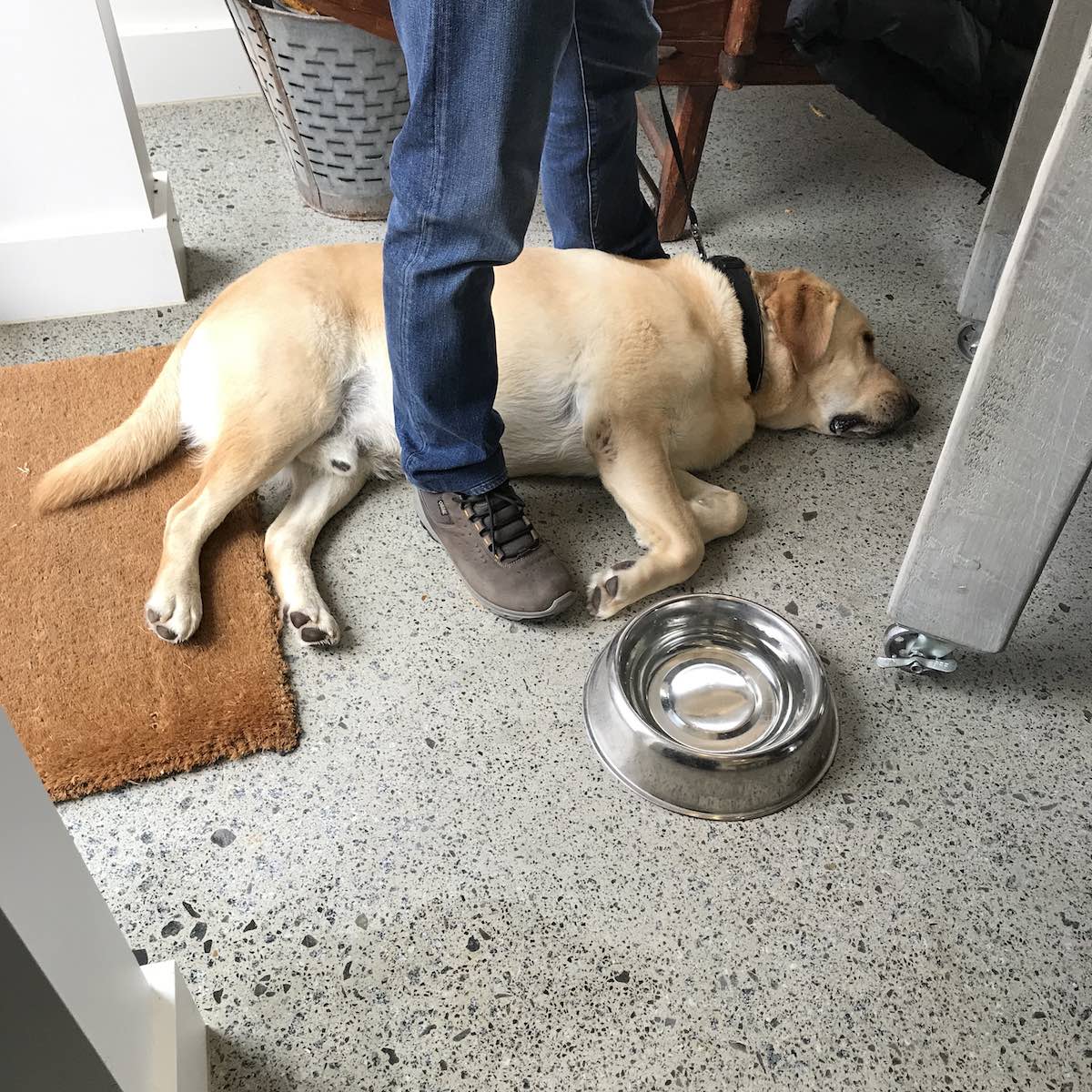 When we'd said our goodbyes and roused Roger from his slumber, we continued up Maddens Lane, through some of the Yarra Valley's finest terroir, past the likes of Yarra Yering and Coldstream Hills to Medhurst Wines which has recently undergone a great refurbishment. While our guests had their wine tasting with Cellar Door Manager Shane Trail, Jeff took Roger for a huge walk down through the grounds, (or was it the other way around) past all the modern art sculptures down to the dam where they posed for some shots on the jetty.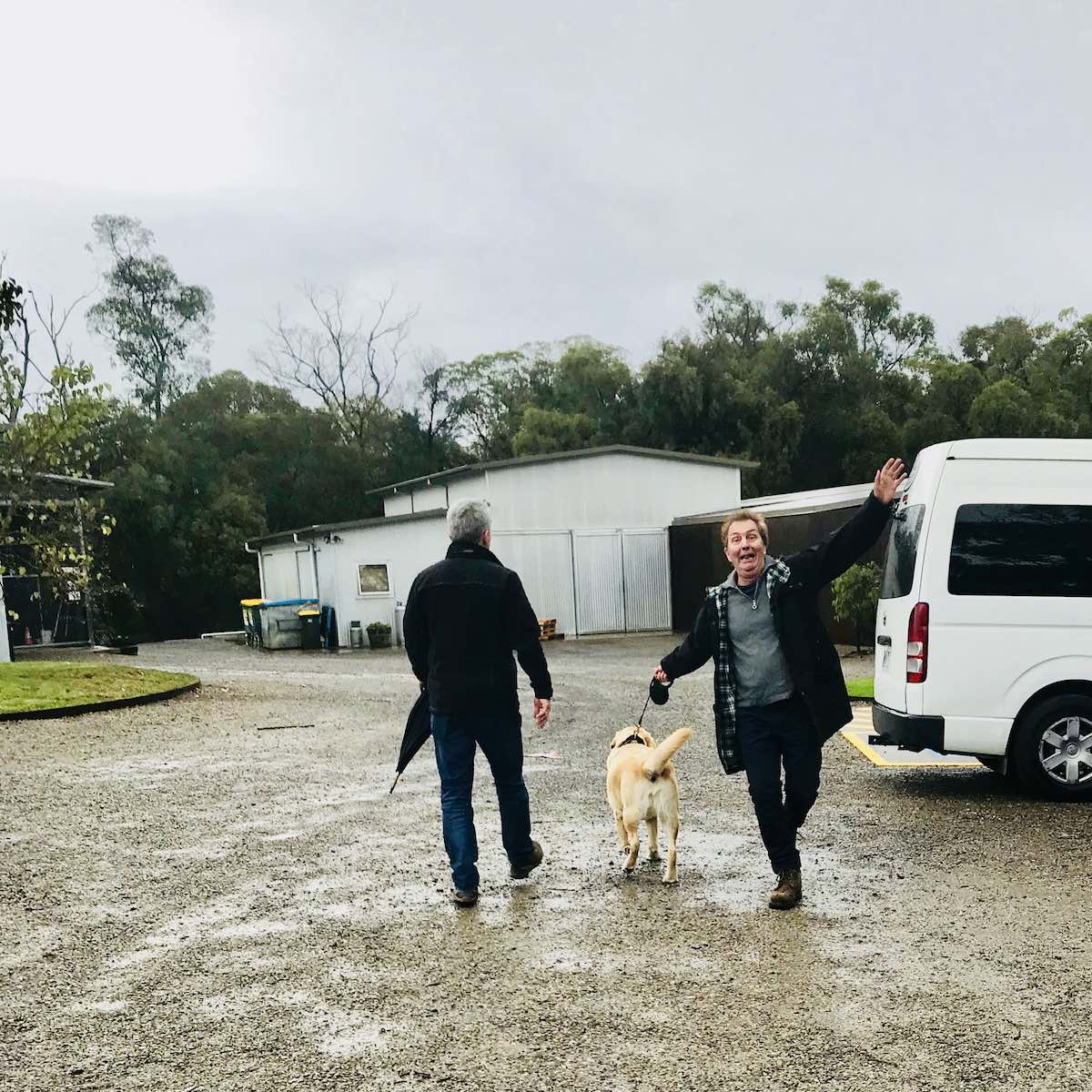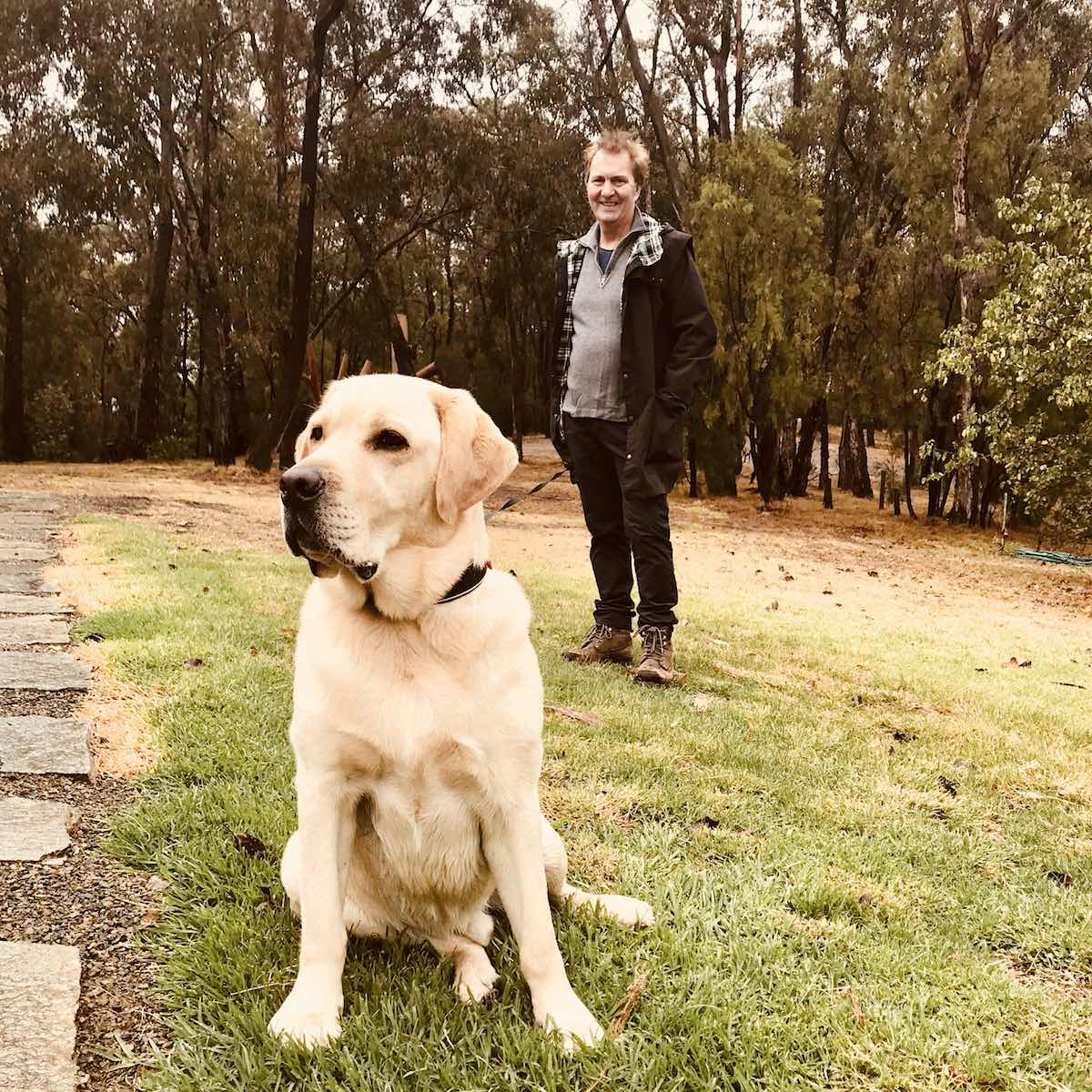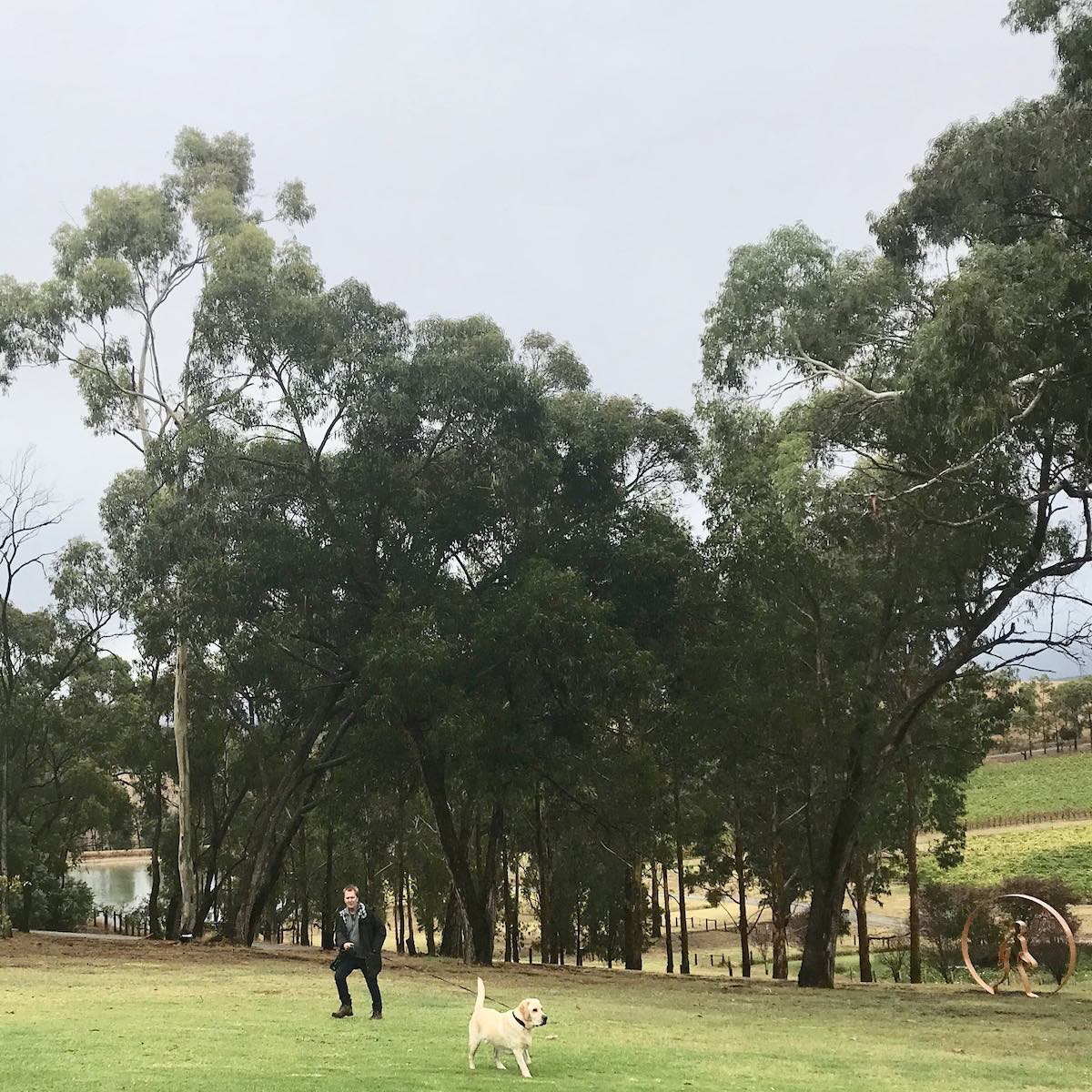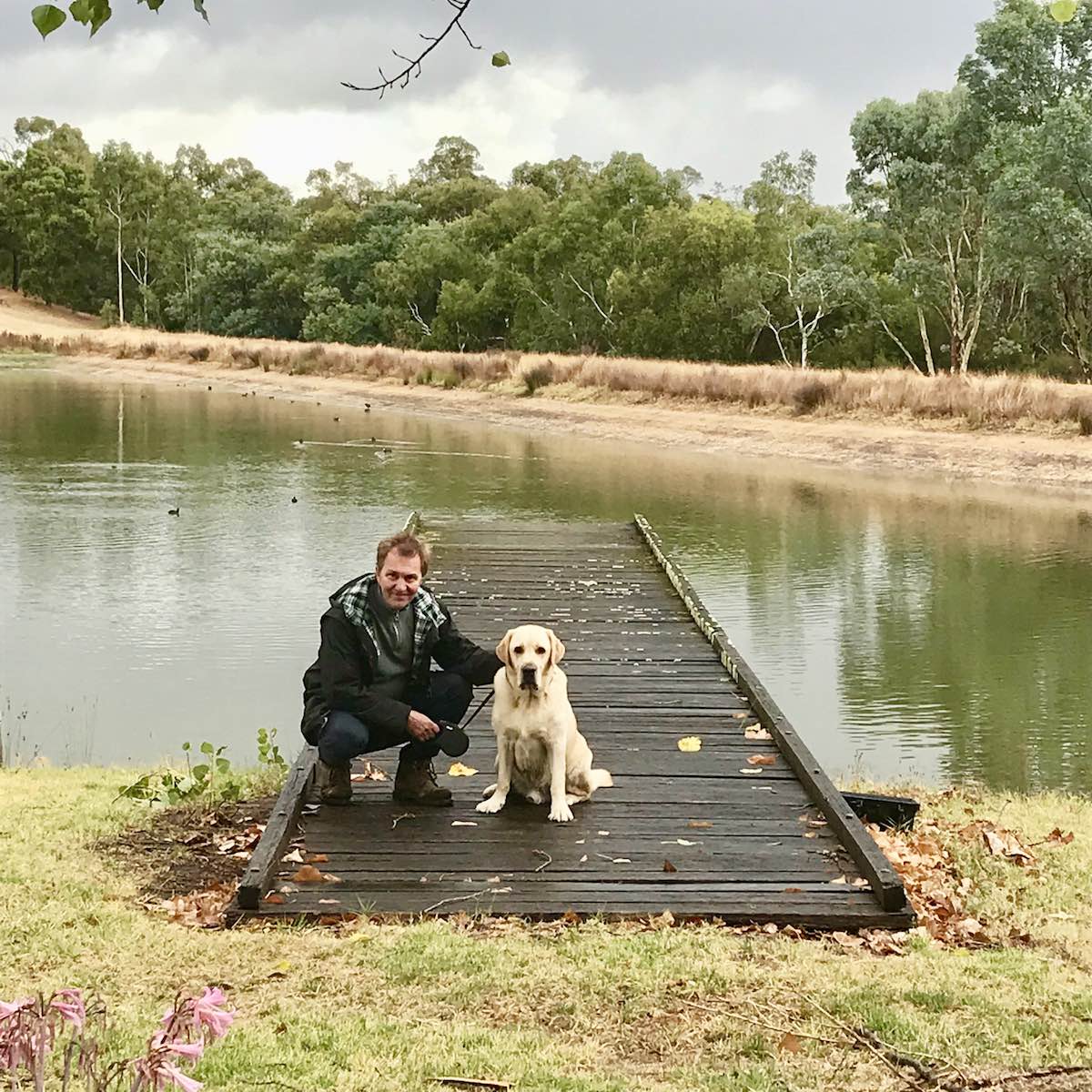 Roger, being the powerhouse Lab that he is, pulled Jeff effortlessly back up the hill to the cellar door where he was quite keen to know how his parents' were getting on at their wine tasting, and found them buying the stand out wine they'd tried, the rose which was 'silky smooth' according to Maria and beautifully pale.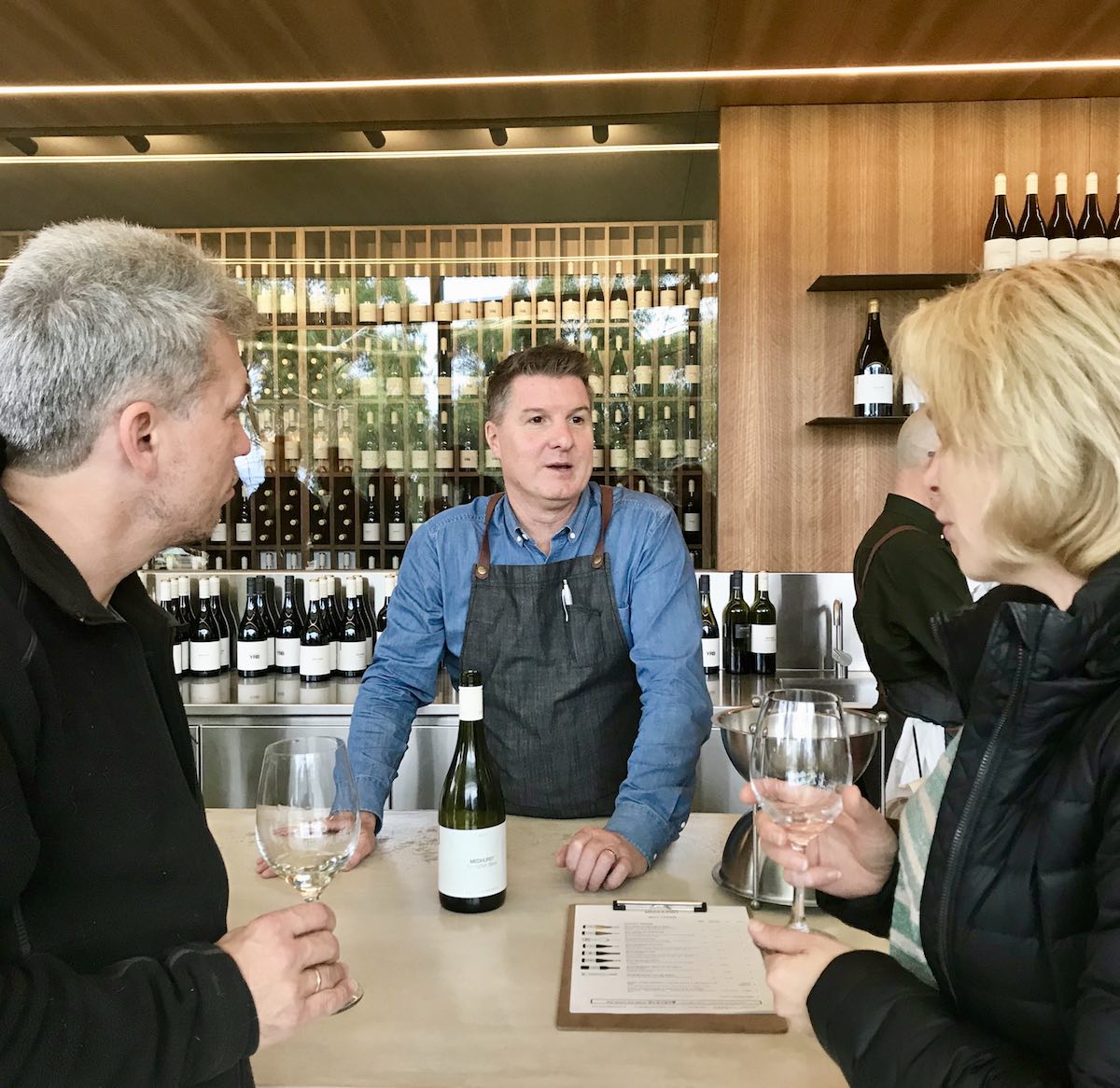 From Medhurst we then drove back to Healesville and swung past Four Pillars Gin to see if there was a queue to get in (there often is you know, this place 'goes off' especially at the weekend) and as there wasn't, we parked up and went in (leaving Roger to relax in the Mercedes as he'd had that big walk and asked for some 'quiet time alone') and as we sat down and ordered a couple of tasting paddles of gin for Oleg and Maria we noticed there was a queue again – timing is everything!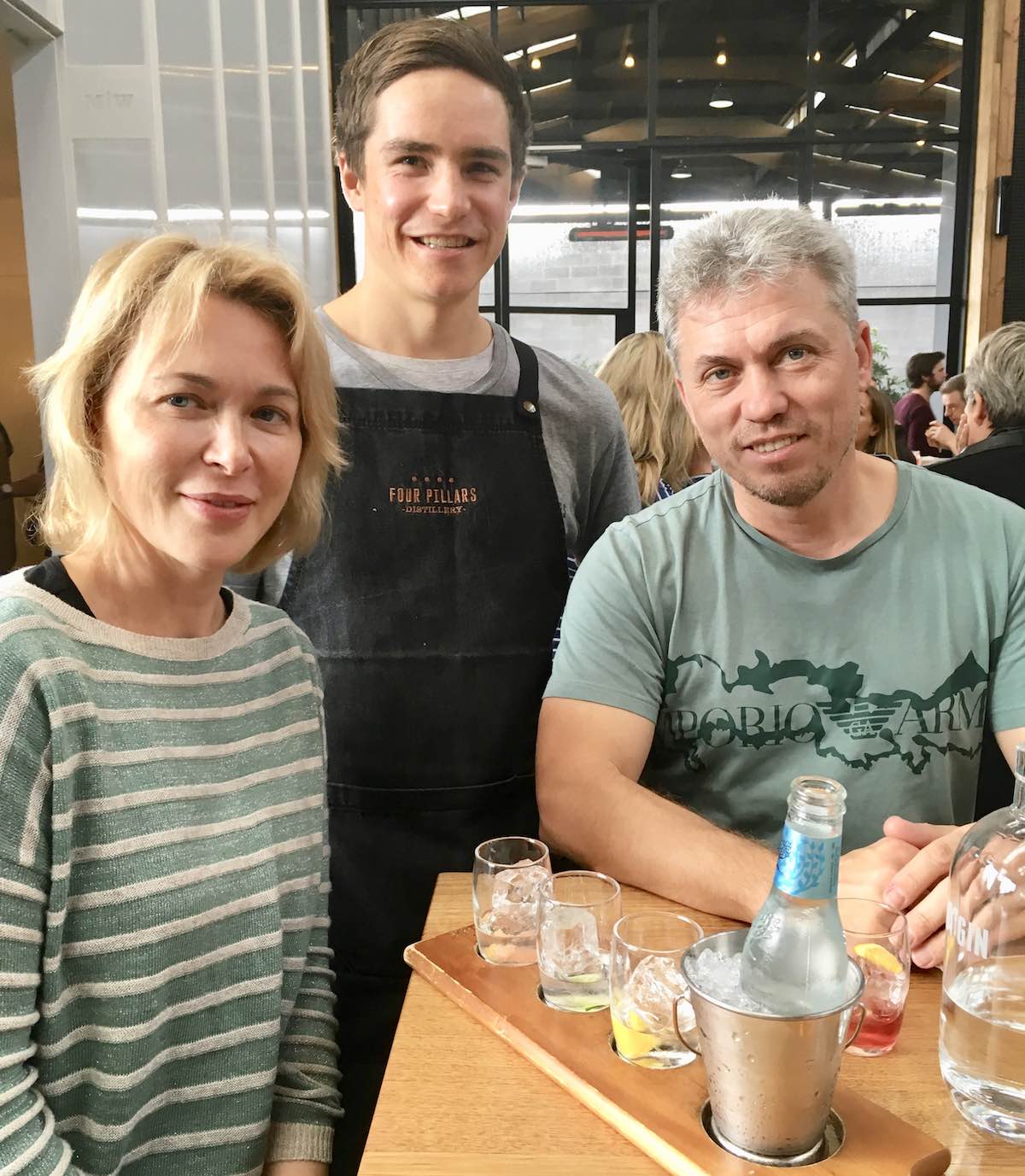 Calvin did a great tasting with them explaining the aromatics they use in the distillation of their gin.  Being more accustomed to vodka then gin, our friends particularly liked the Navy strength as it reminded them of the oomph vodka has.  During their tasting they had the very great pleasure of meeting Elton whose  heavy metal rock band does an Alice in Chains tribute and were performing later that night in Healesville (oddly and sadly though, Oleg & Maria said they wouldn't be able to make it!) and his delightful colleague Lizzie who has her dog Barbara Ann tattoed on her arm. :-)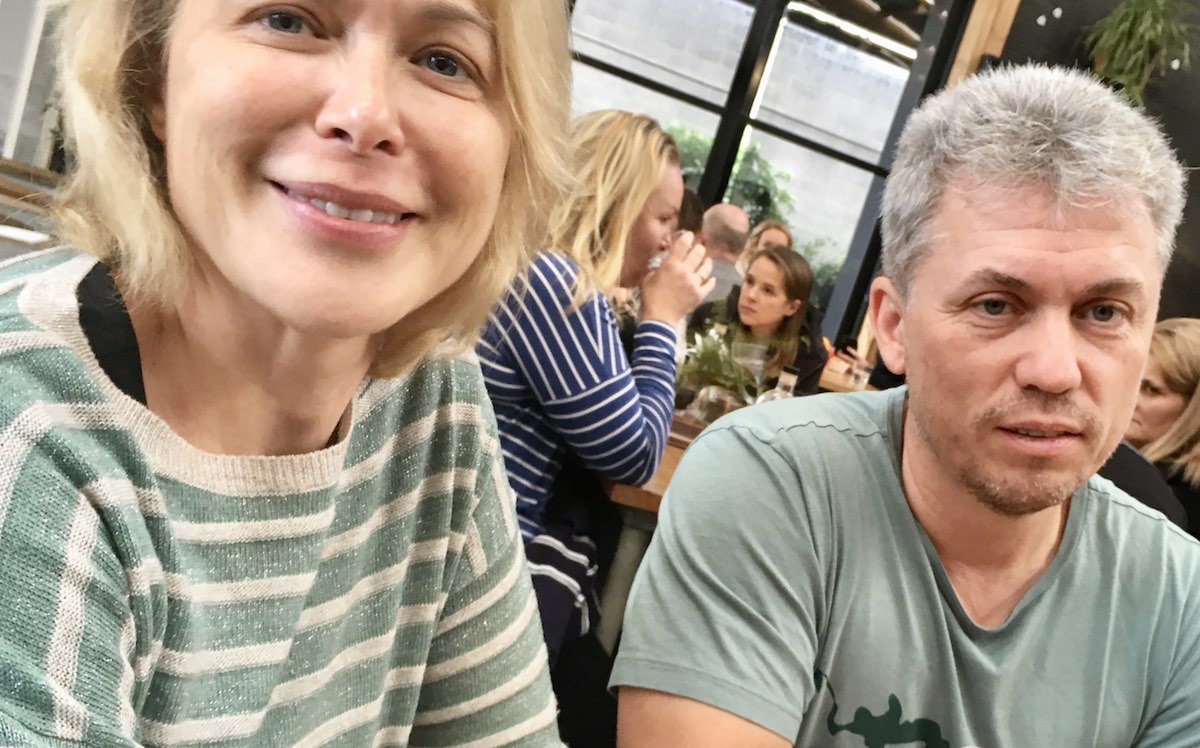 Maria and Oleg loved their gin experience and were really glad they had tried something new and unexpected.  Here's Oleg & Jeff diligently sniffing the aromatics that are displayed on the table – the ones that used in the Four Pillars Gin distilling process.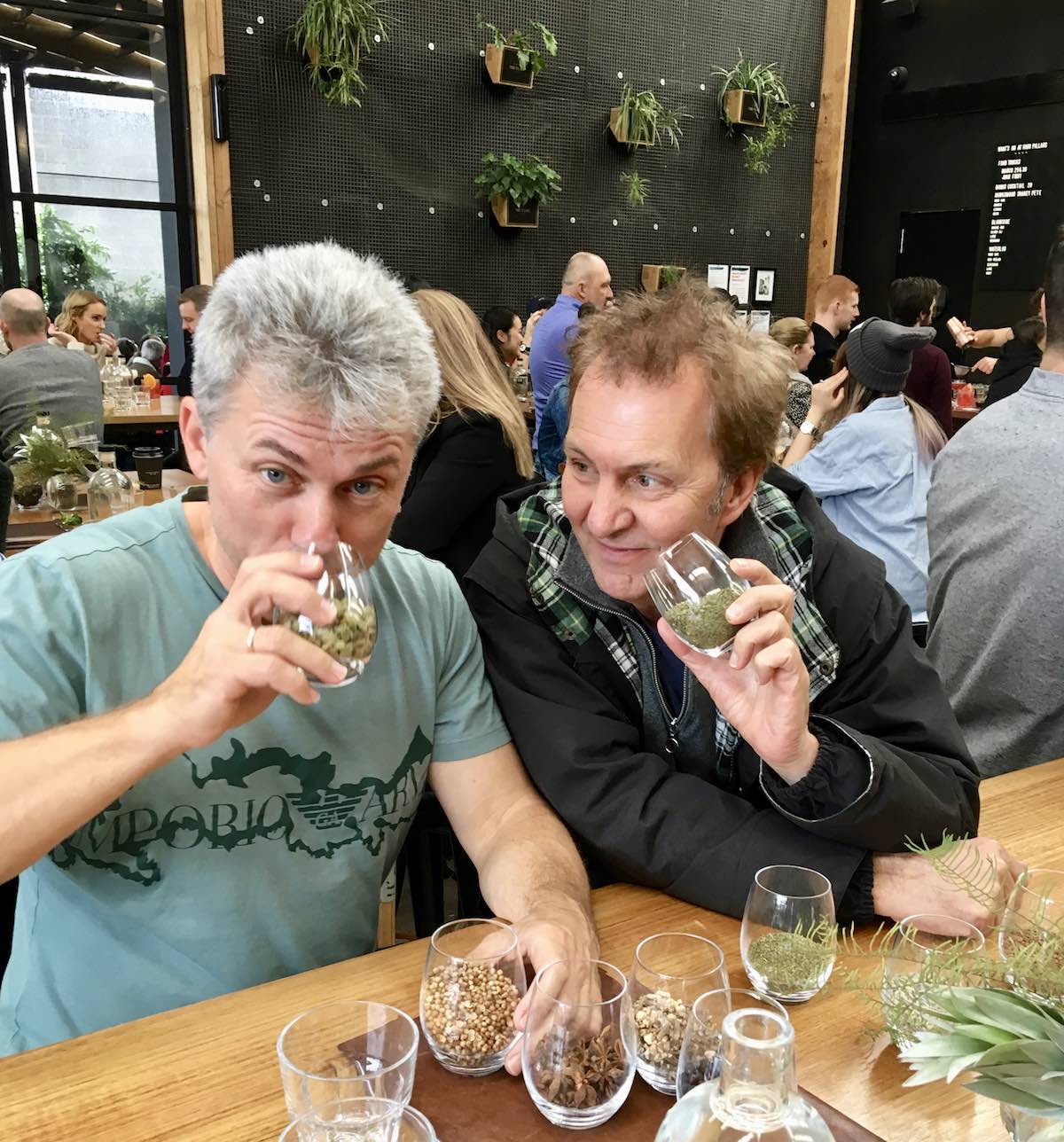 So, after Four Pillars, we decided to go for a walk because, would you believe, the weather was brightening up!  We were blessed that every time we needed the weather to clear, it did.  We have Oleg to thank for this apparently – Maria said he is her absolute talisman, even after more than 20 years of marriage his presence still makes every situation work out for the best.  Isn't that gorgeous?  I think we all need to get ourselves an Oleg.  :-)  And here they are having walked to Donnelly's Weir – a beautiful place to be, especially in sunshine just after rain, when everything is glistening!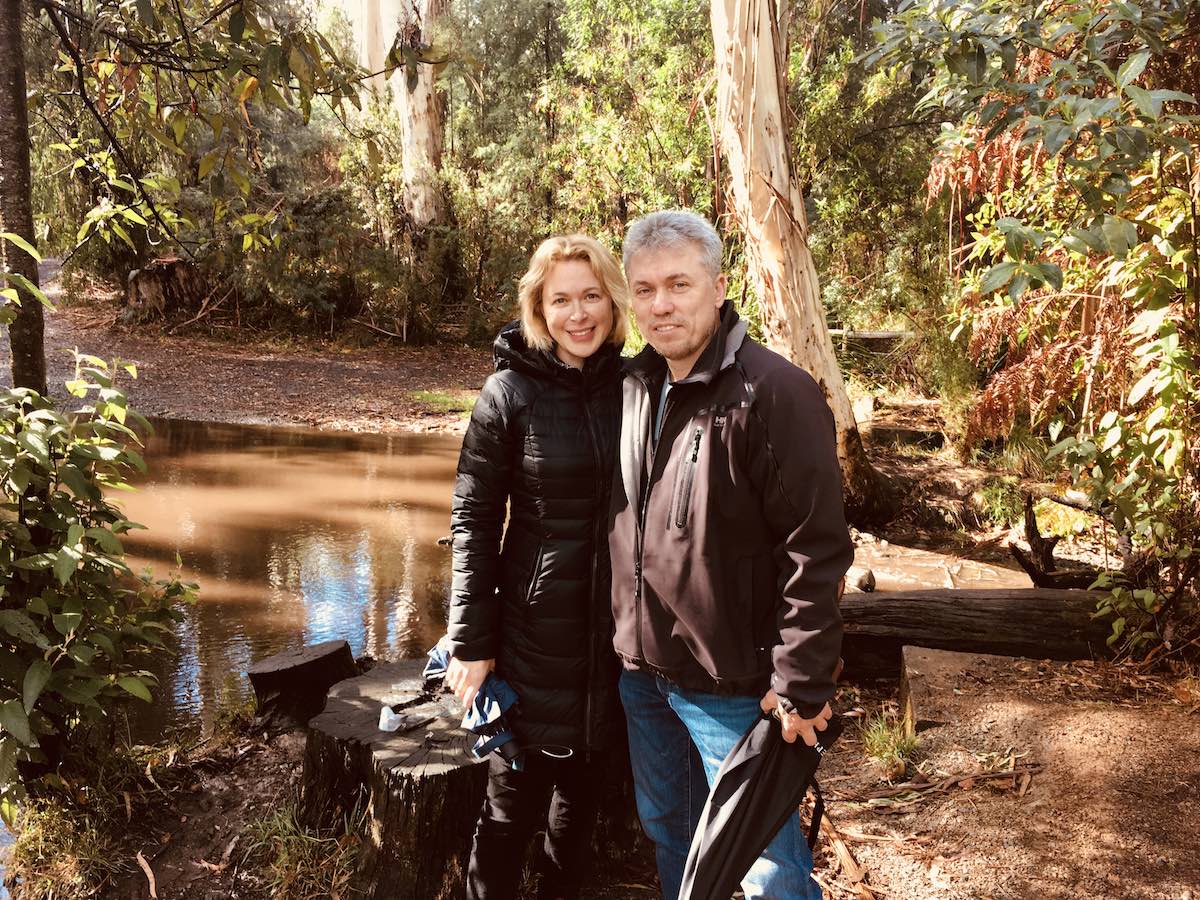 Roger had a ball, he was off lead and loving the freedom to enjoy each and every new smell. Maria and Oleg simply revelled in how tranquil it was, no-one was around, we got to the weir and just enjoyed being surrounded by greenery, ferns and giant Mountain Ash, and of course it smelt great too, as nature does, after rain.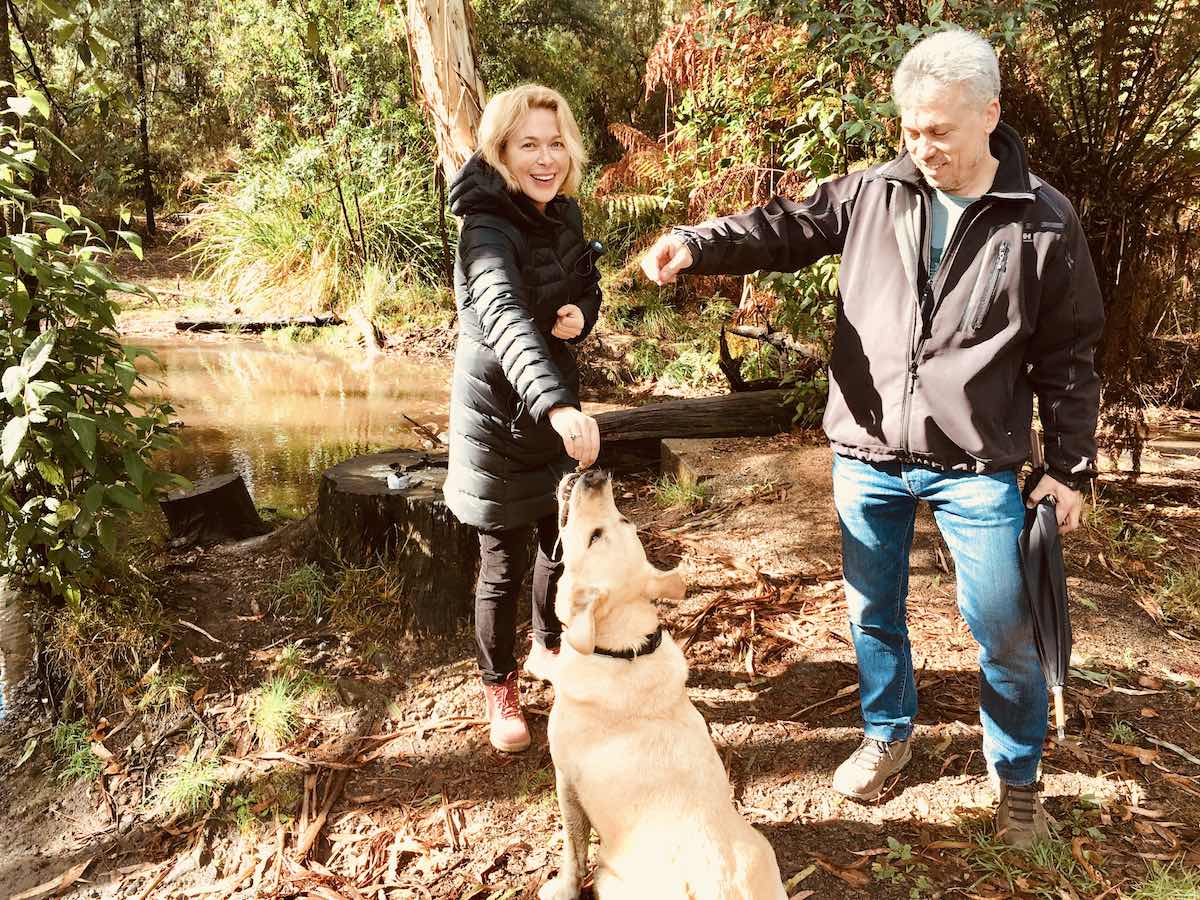 We had planned to go to Payten & Jones cellar door as our final wine tasting for the day, but when Jeff suggested it Oleg and Maria were happily sated with the wines and gins they'd already tried, so instead, jumped at Jeff's suggestion of stopping off at Kitchen & Butcher on the way back through Healesville, so they could pick up some delicious deli goods and supplies for supper that night back at Wiggley – they came out laden and threatened to go back tomorrow to get more cheese to take home!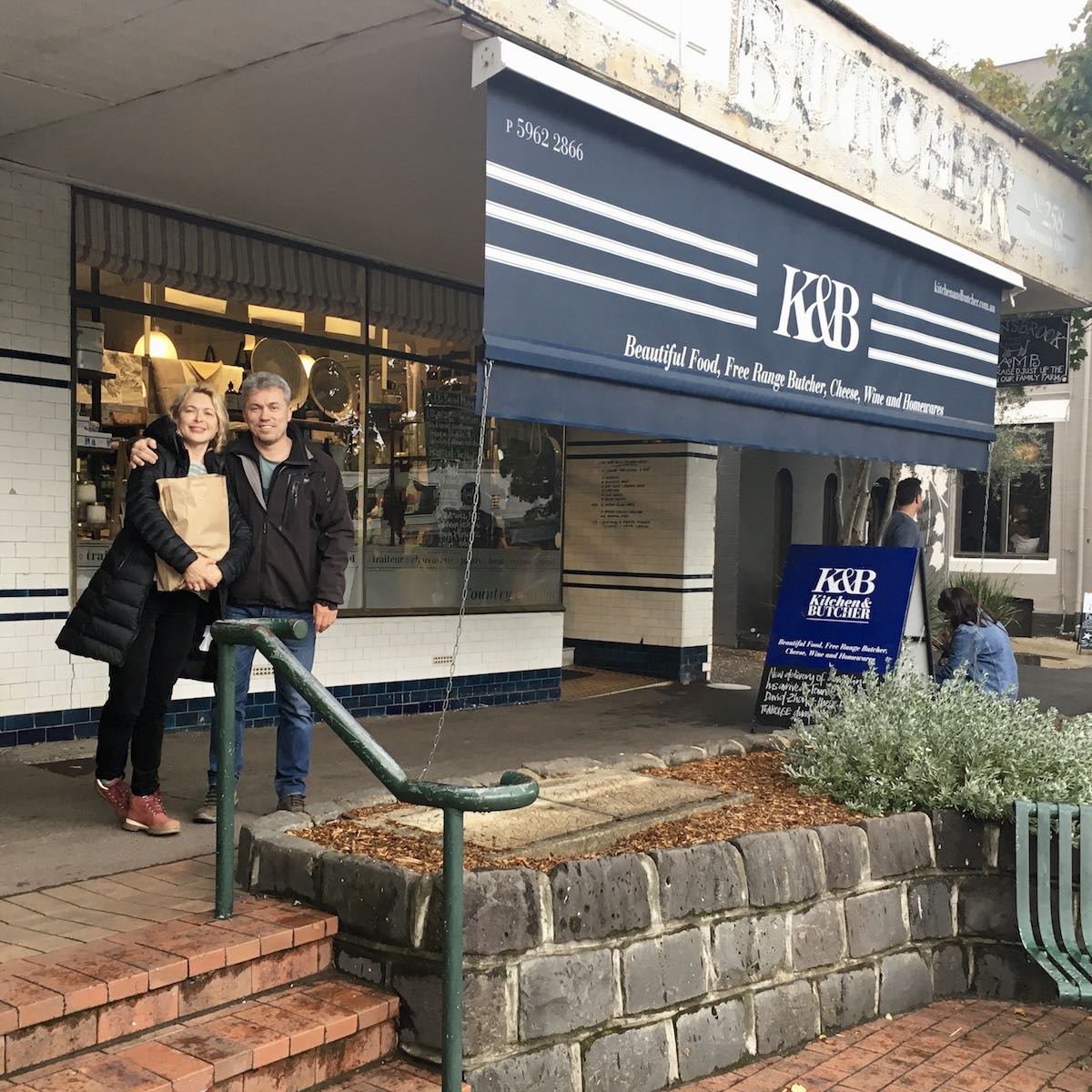 It was a really fun afternoon's tour – Oleg & Maria had the best attitude and were there to enjoy themselves (as was Roger, who was a lovely natured boy) and we were really fortunate that the rain stayed away for moments like our walk.
It was great dropping them back at Wiggley knowing they would light the wood burning stove and settle in for a cosy evening, with gourmet antipasti to enjoy with local wines while reminiscing about their day exploring new places, meeting new people and trying new things. :-)
If this sounds like the kind of tour YOU'D like to take with YOUR dog – get in touch today.