My name's Rocky, I'm 8 years old (we think, no-one really knows as I'm a rescue) and I now live with my forever parents Greg & Nola in my forever home in East Melbourne and I'm forever happy about it.  We decided that because we were in lockdown for what felt like forever, that we would do a trip away as soon as we could, and we went to a place called the Yarra Valley and stayed in a great cottage on a farm called Wiggley Bottom where there were goats, and geese and horses and paddocks and total freedom for 2 whole nights.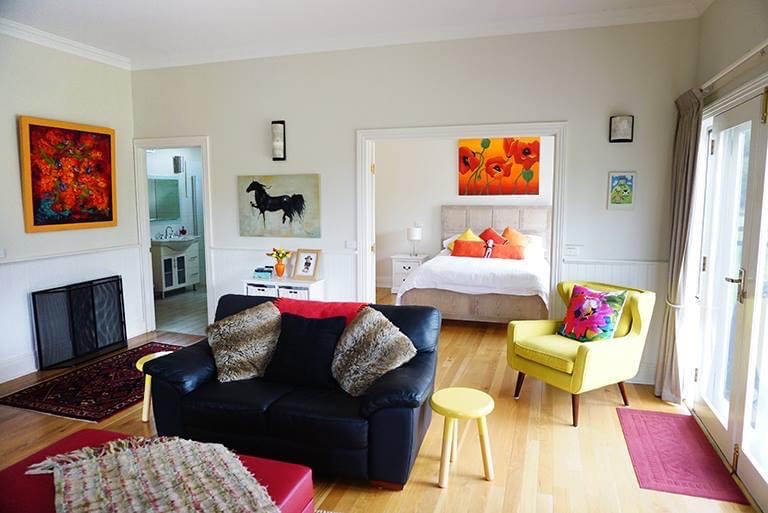 Now, I'm a Porsche man usually, and so when a man called Jeff arrived in a Mercedes and asked me to get in the back of it, where there was a fabulous bed, I didn't feel like it was too much of a comedown!  We were going on a wine tour for the day with Jeff as he knows all the places where I am welcome and he took us first to a cellar door called Punt Road where Dad drank all their wines and Mum ate all their olives.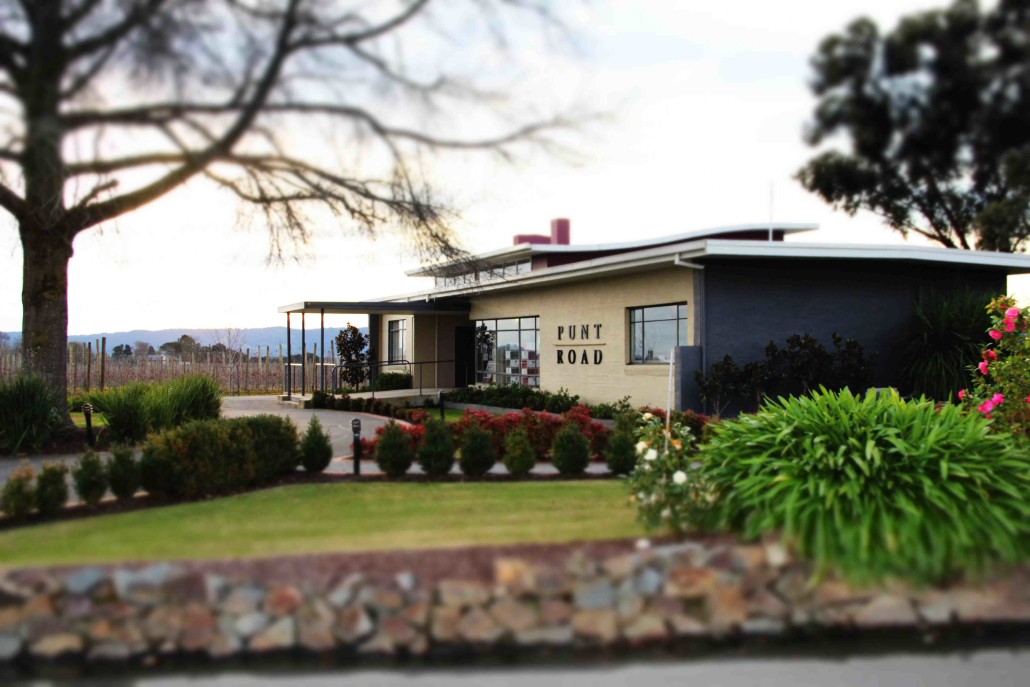 Dad was particularly fond of their Block 1 Pinot Noir and liked it so much he joined the wine club.  If there had been an olive club Mum could probably have joined that too!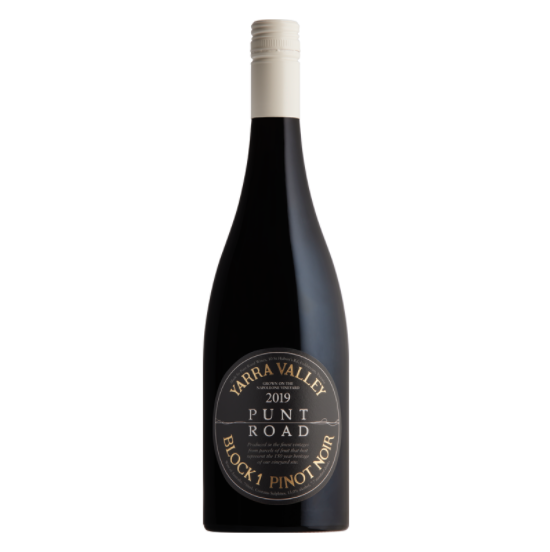 After wine purchases were made we jumped back into the Mercedes, which I was starting to rather like (I have this HUGE area all to myself, it's way bigger than the Porsche Dad, just saying).  We had this lovely drive through the countryside and went up a huge hill to a castle called Sutherland Estate.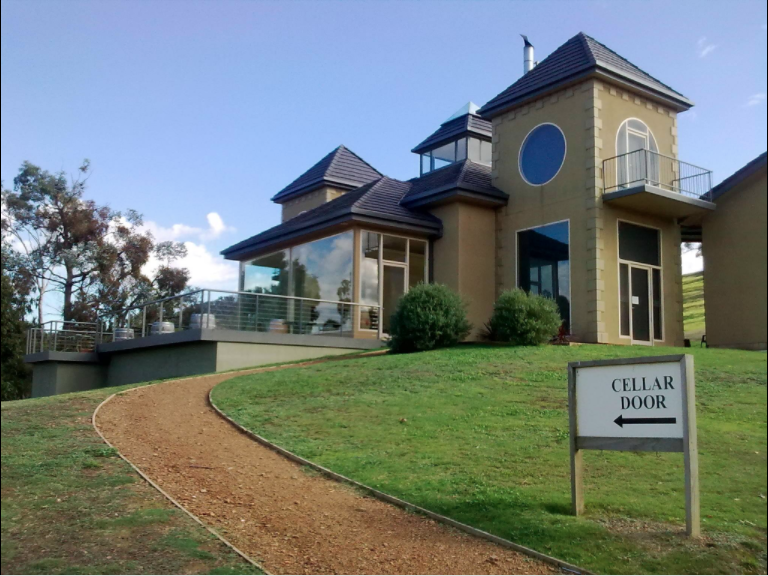 Apparently, it's not really a castle, but it had two turrets so that's good enough for me.  The sun was shining so we sat on the deck that overlooks the whole wide world while a lovely lady called Cathy who owns the castle, and makes their grapes into wine, poured her wines for my Dad to try.  He was very taken with a rose made from grapes called Tempranillo (they have different varieties you see, just like dogs).  So he bought a few bottles of the ones he liked and after some photos (just for you dear reader)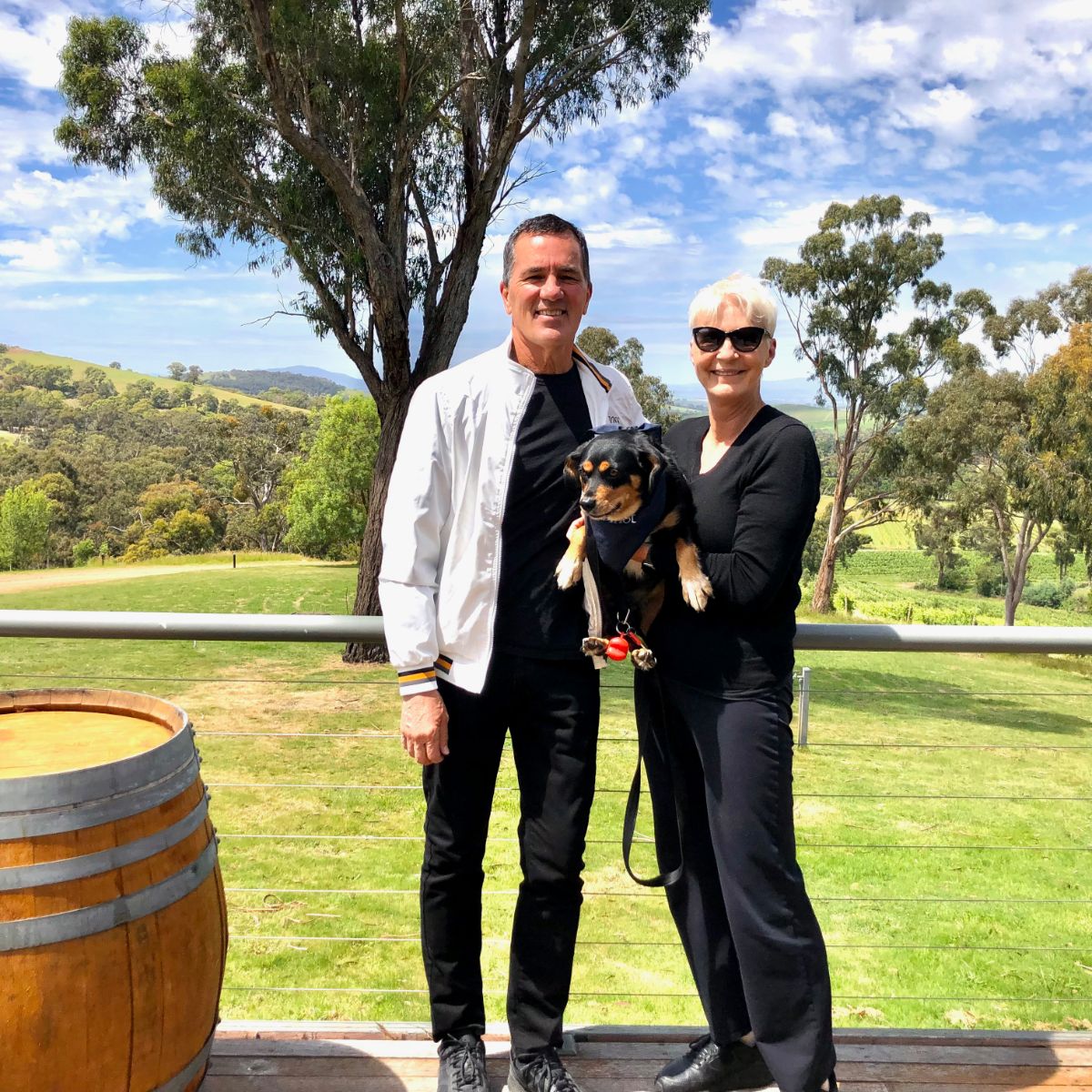 look at me looking all sweet and smoochy with Mum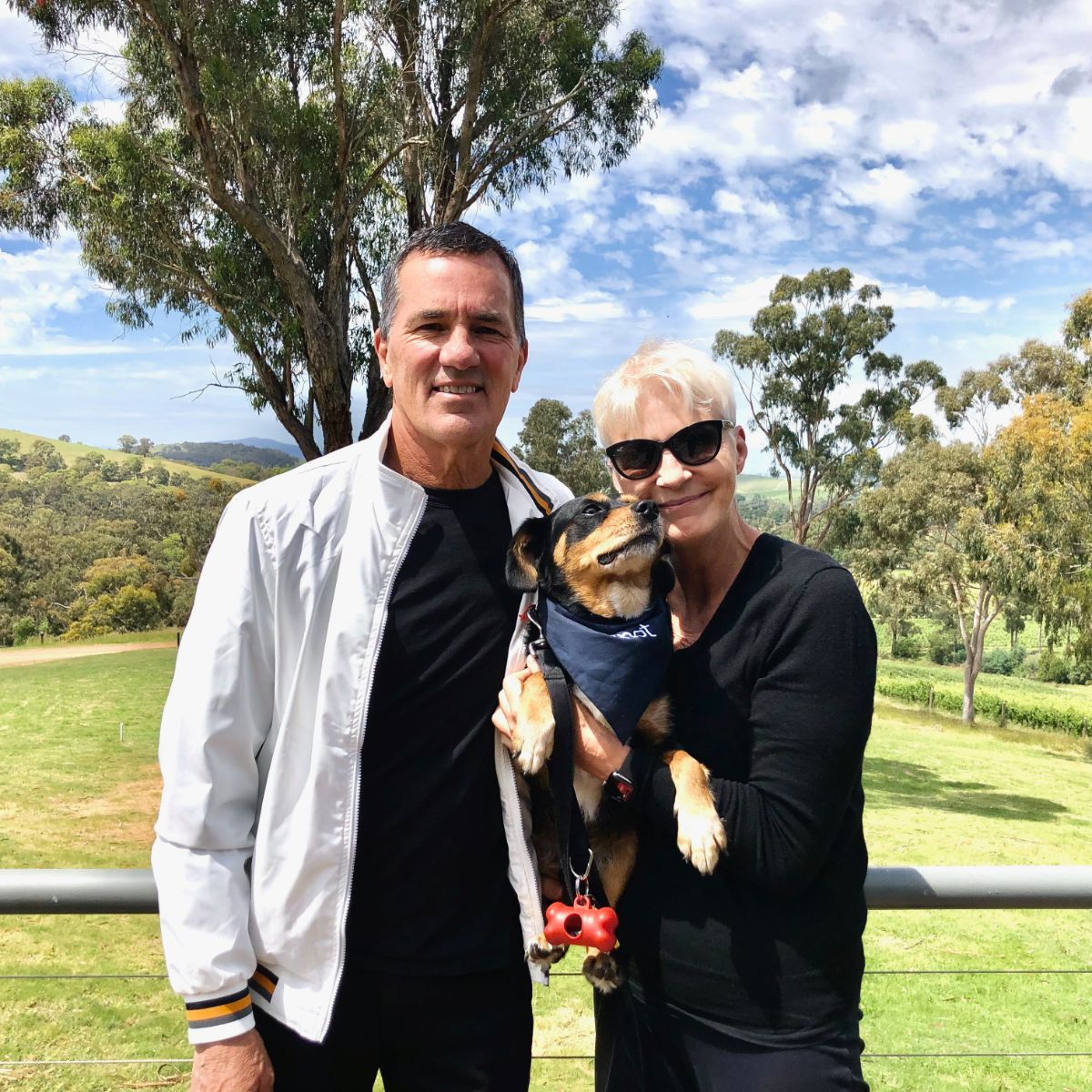 we jumped back in the van and whizzed off to another cellar door very close by, owned and run by Italians Vince & Lucy.
Vince has a great shed which is really cool inside which I loved sniffing around, while he showed my Dad all his wines, and he 'stole' some Barbera (wine) from a barrel to give my Dad a try.  I say stole because he used a gadget called a wine thief to get the wine out!!  It won't be ready for bottling til next year so Dad had a sneak peek.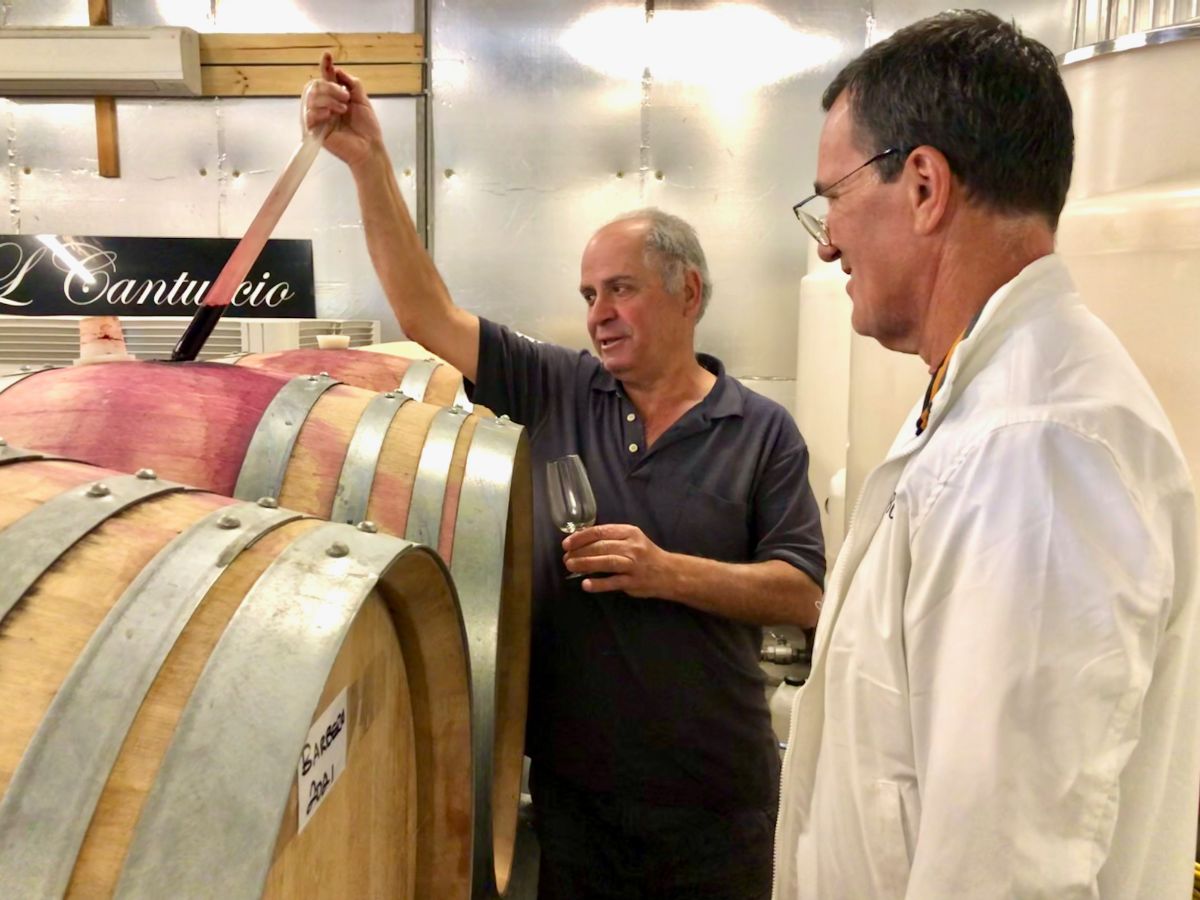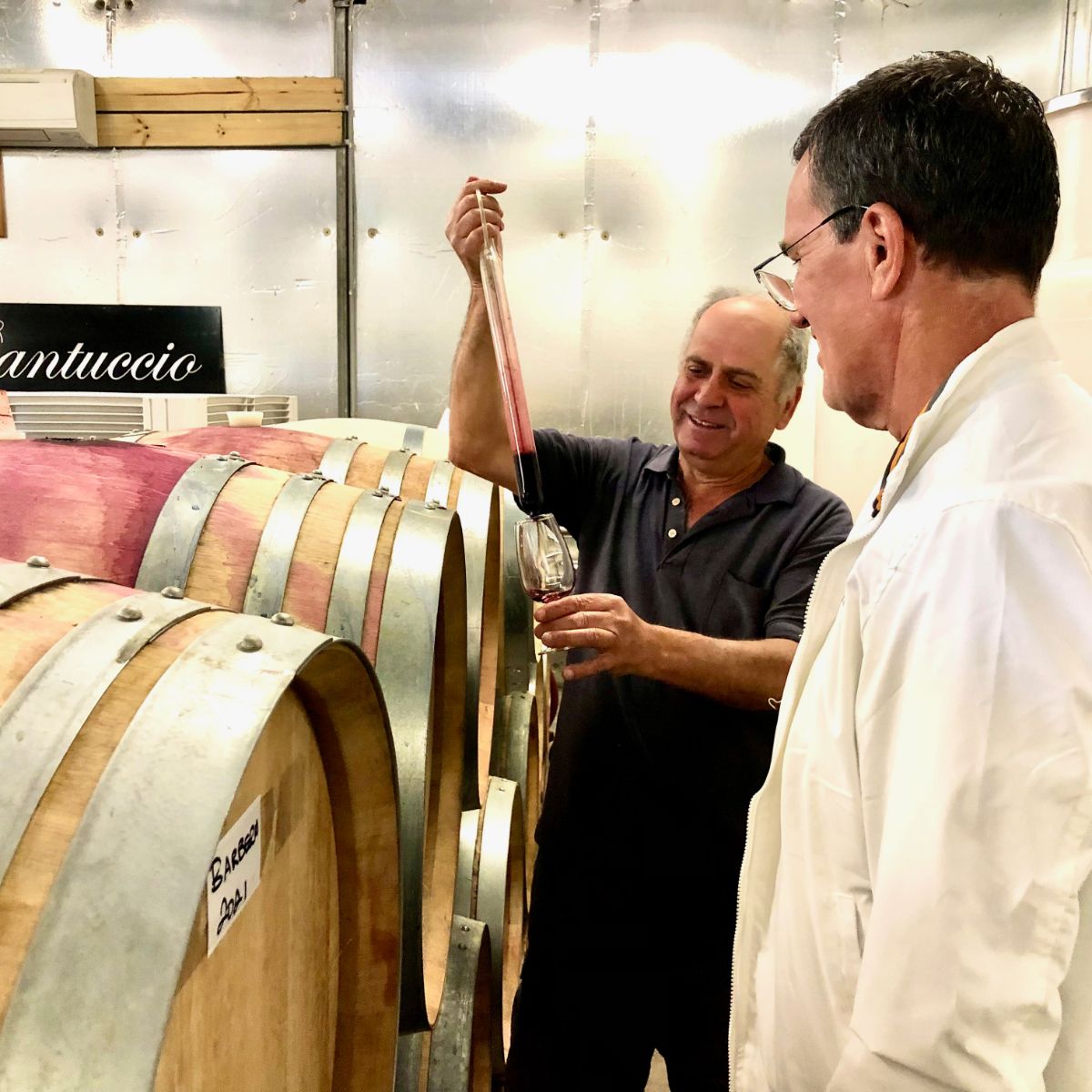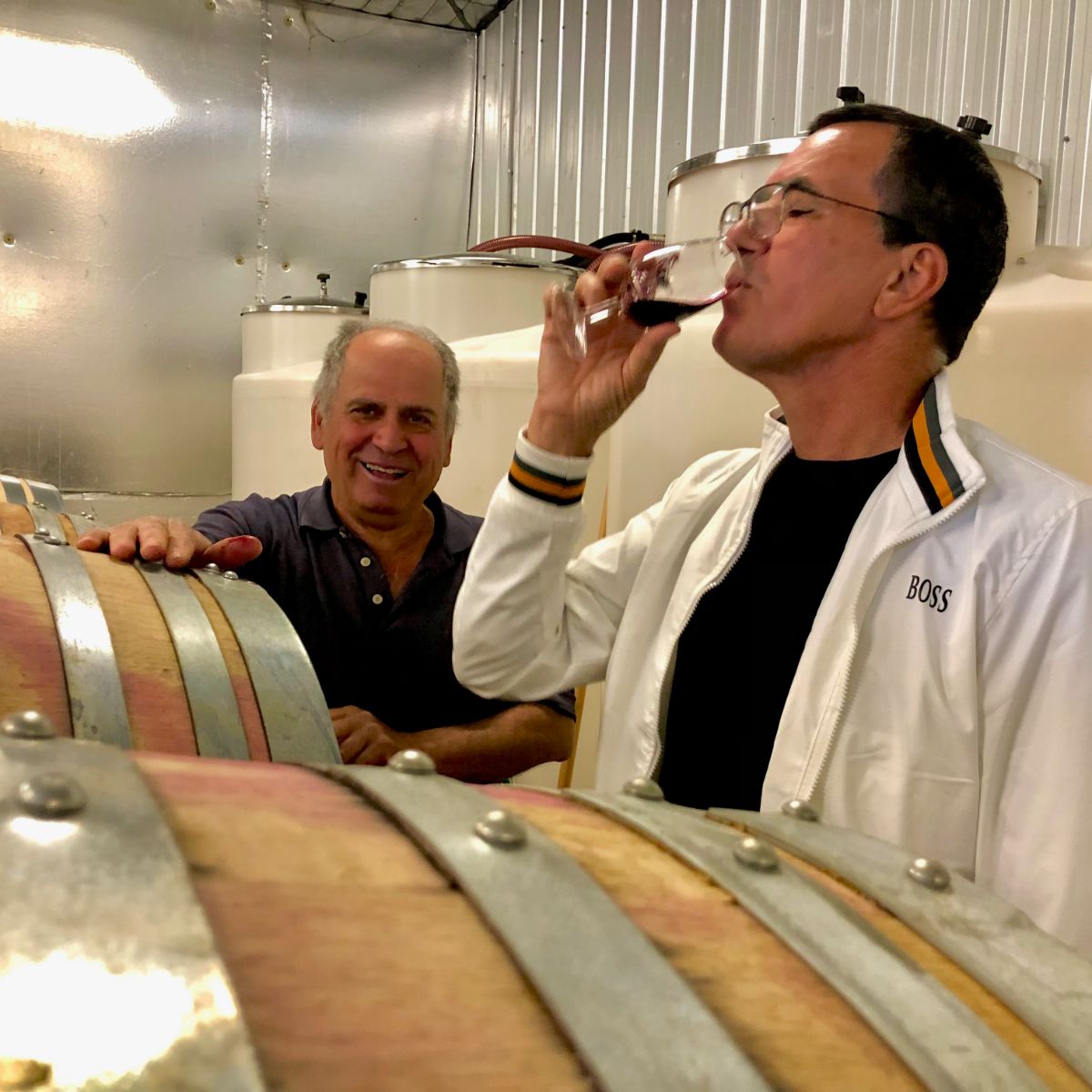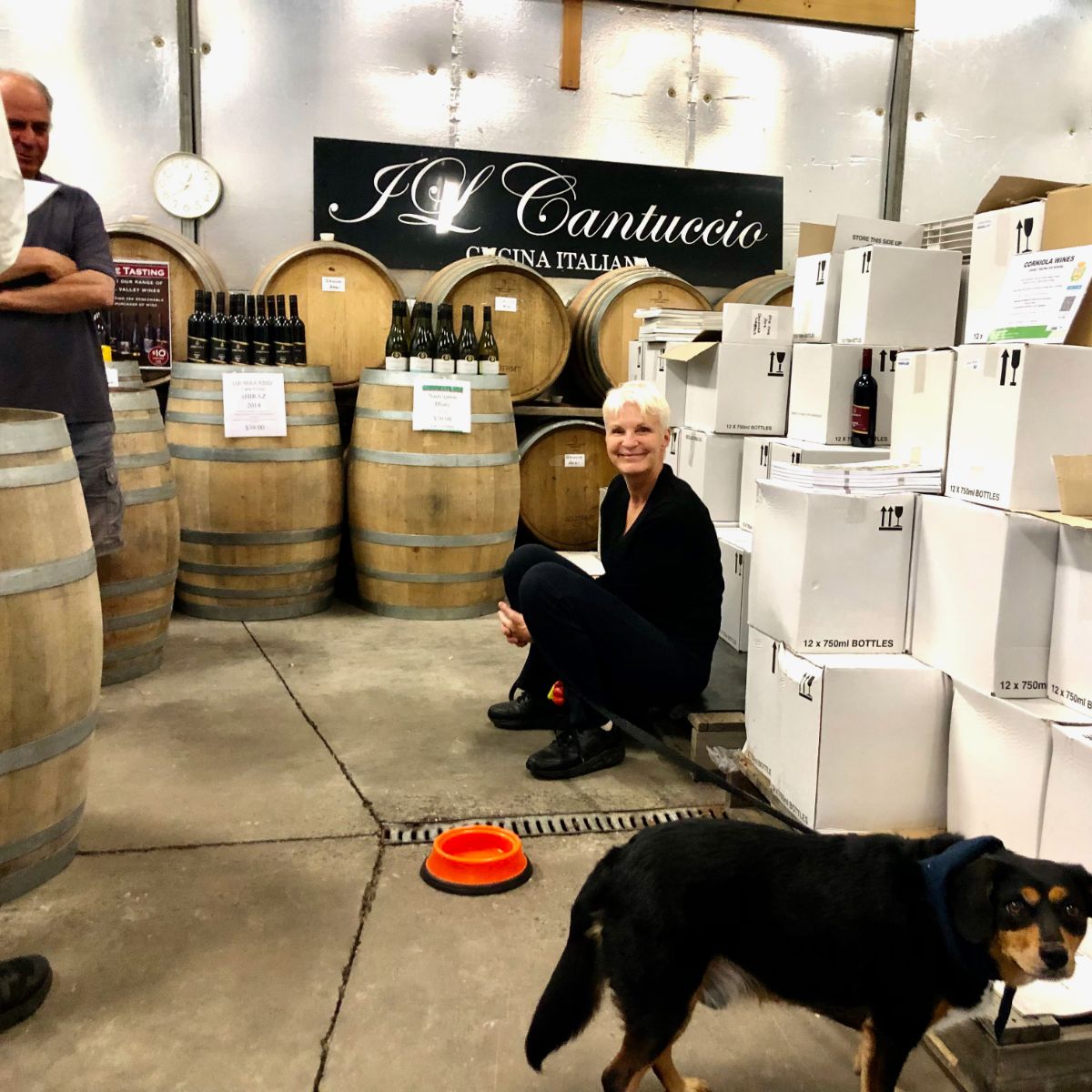 Many of his wine varietals are Italian and Dad thought they were bellissimo.  (See what I did there?!)  So guess what Dad did next – yup, you guessed it, he bought some more wine (I'm grateful my area of the van is so large given I'm now sharing it with all Dad's wine purchases!) and we headed 5 mins up the road to another winery (they are seriously all over the place here people, everywhere you look there's another one) for lunch.
We walked up the stairs to the deck and were shown to the best table in the joint and we heard another dog bark and its owner said 'Rocky, be quiet'!  What were the chances of two dogs both called Rocky both taking their pawrents out to lunch in the Yarra Valley at the exact same winery at the exact same time!  Spooky!  (he's just behind me in this photo so as you can see, he was hardly a threat!)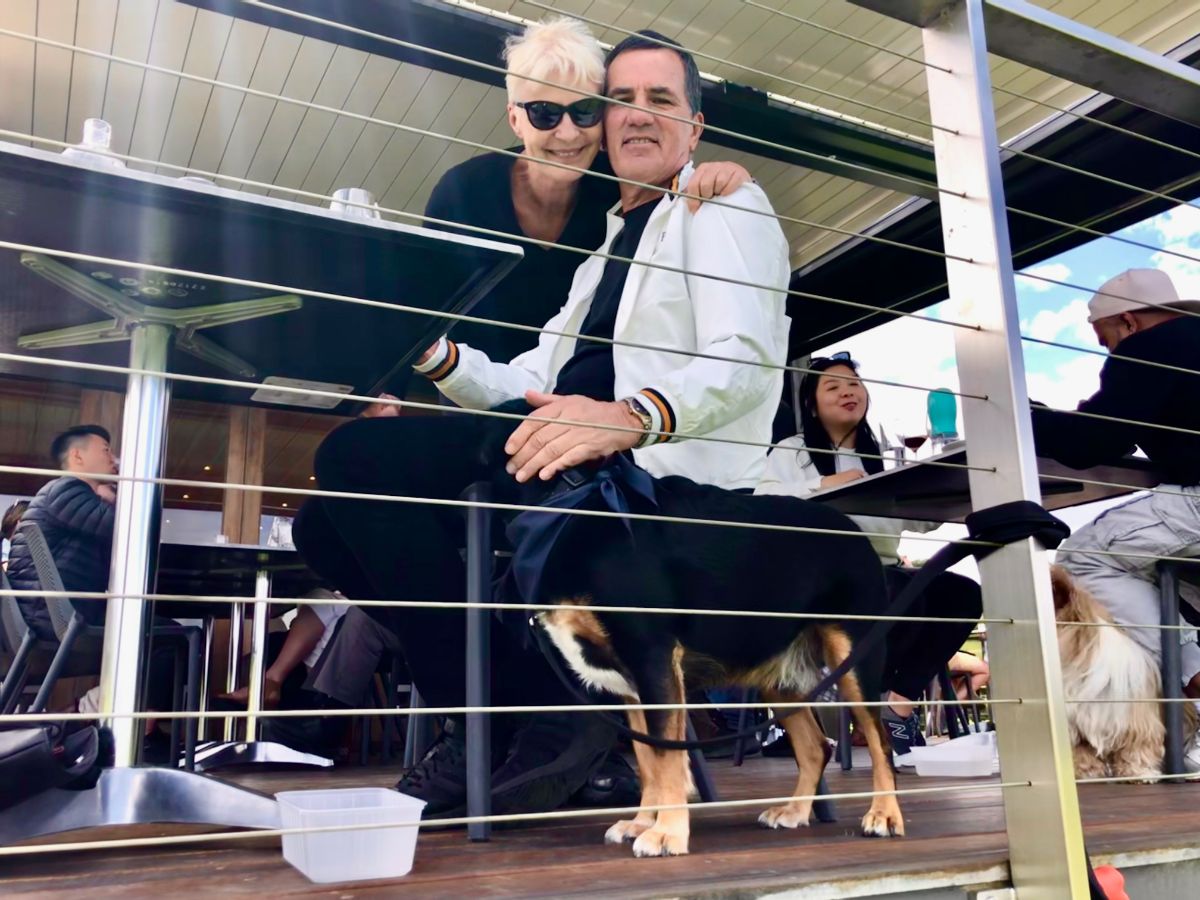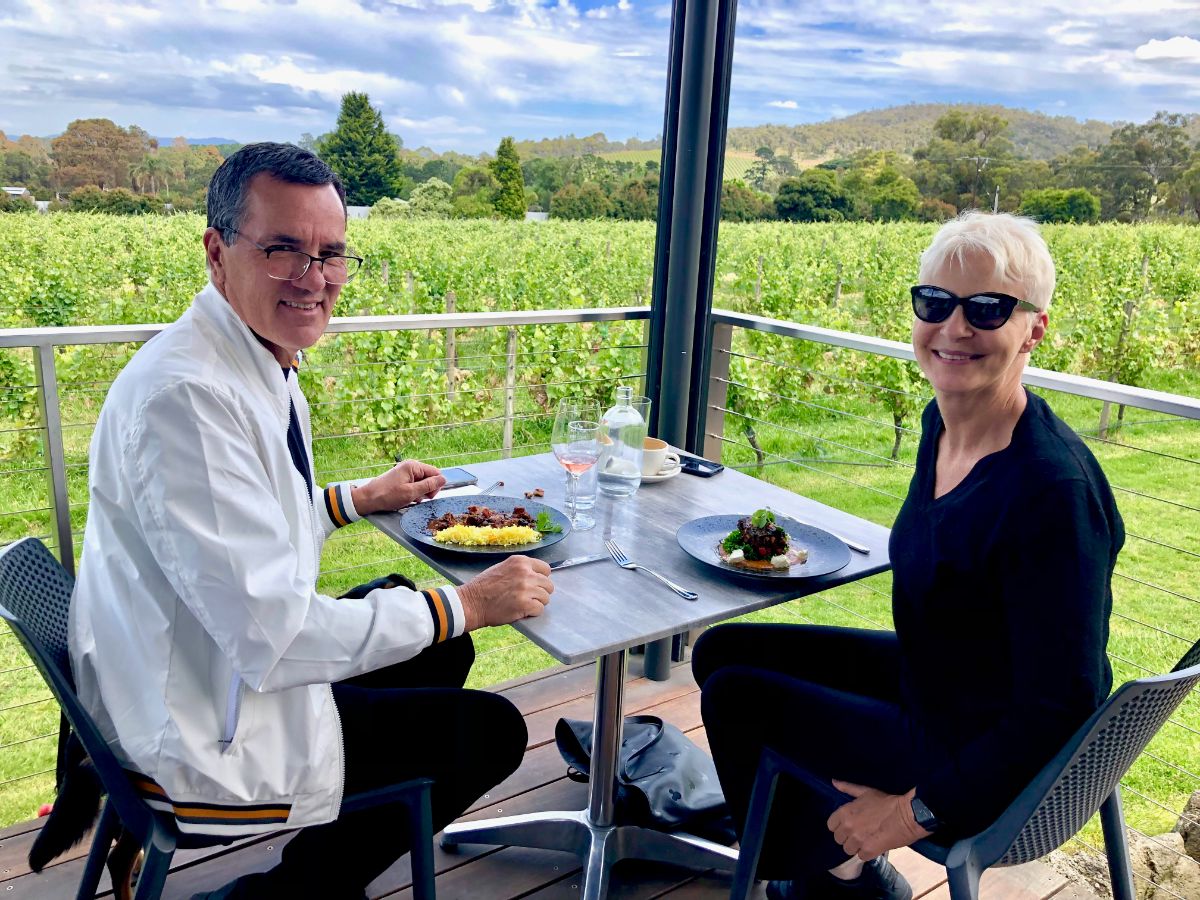 Dad made a big speech about he was all tasted out with wine so wouldn't do a wine tasting here and then the minute his meal arrived – ordered a glass of wine!  Pppff!  I shouldn't mock – I'm a bit like that with these incredible tasting liver treats Jeff's been feeding me all day – each time I have one, I think – 'OK Rocky, that's the last one'.  And then I find my mouth opening when he hands me with another!
Lunch was delicious apparently – so much so I didn't get offered any – and after lunch we all clambered back into the van.  By now Dad really meant it when he said he wasn't in need of any more wine, so Jeff, being a local suggested we head to the Yarra Valley Dairy for a cheese tasting and a mooch around.  We all liked the idea of a mooch, so Jeff took us there and Mum & Dad went inside while I stayed on guard at the van – you can't leave wine like this unattended you know.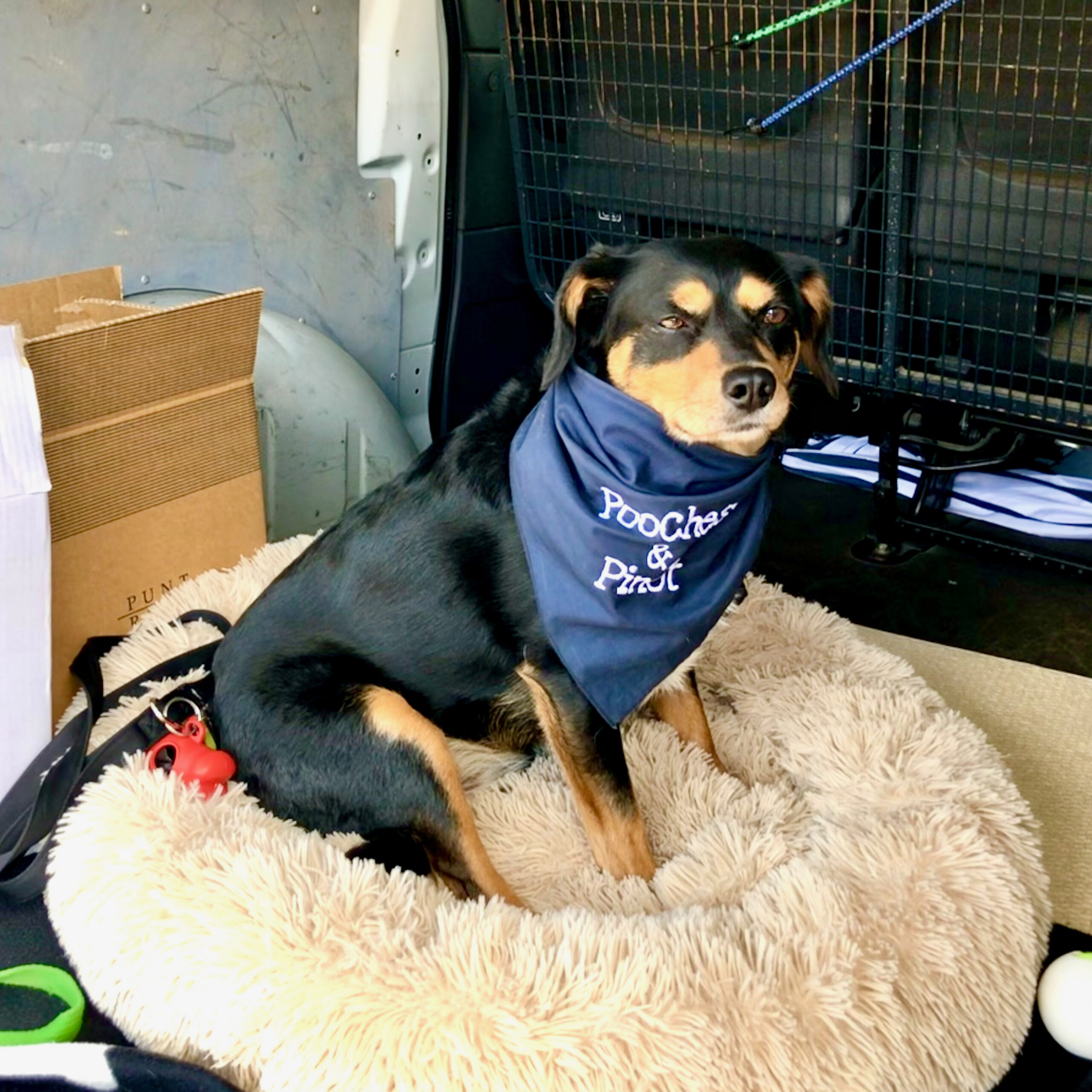 They came back out looking very pleased with themselves carrying a bag full of delicious-smelling cheeses and biccies and all sorts of lovely Yarra Valley produce.  We then drove off for a dog walk, which I was pretty happy about and drove through the bustling little town of Healesville to the Maroondah Dam reservoir.  This was the best part of my day – no more of this wine tasting malarky – there was grass to run on and sniff, birds singing, sun shining, wind in my hair and you want to know the best part?  We walked on the dam wall – just look at that view people!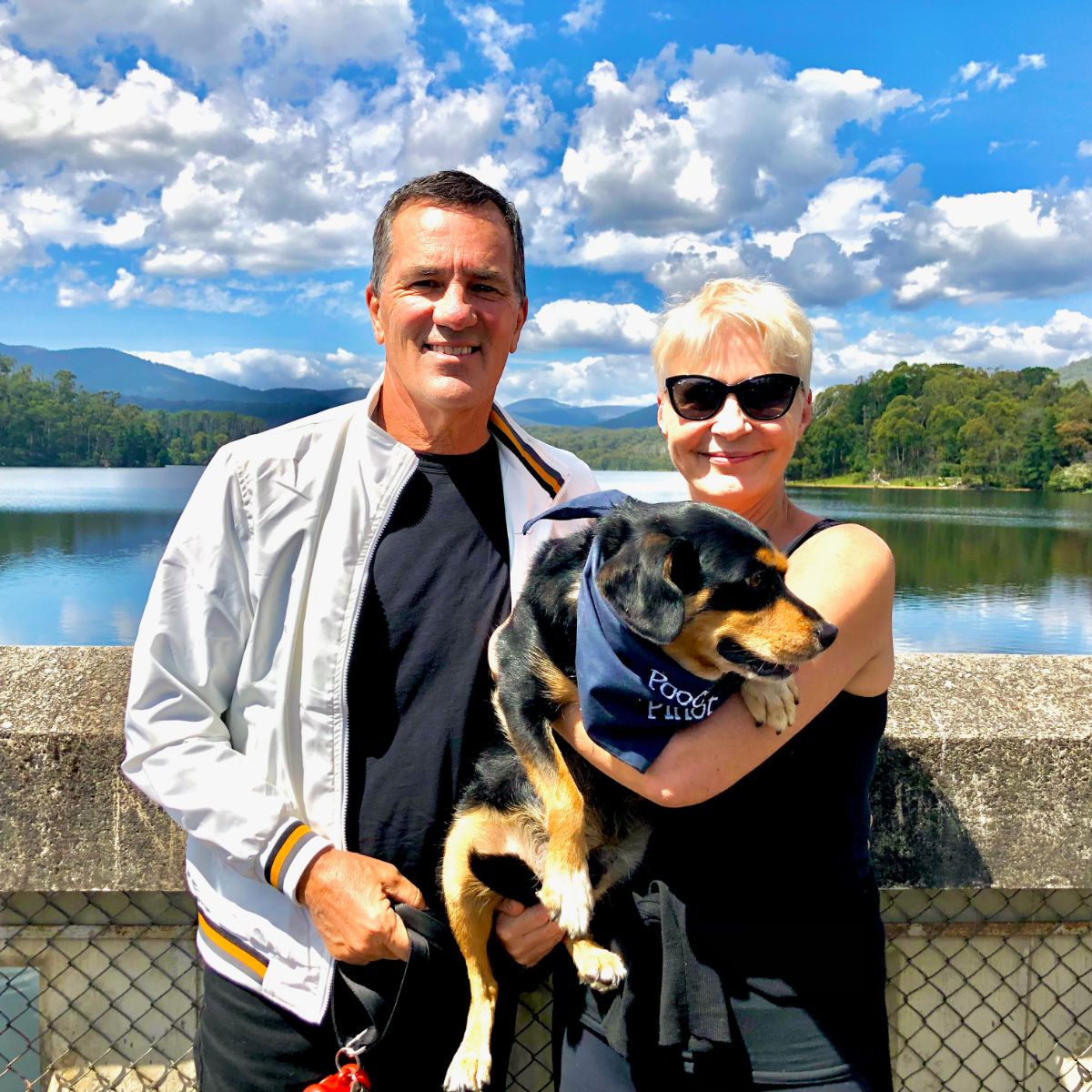 We were so high up and Mum lifted me up so I could see over the wall and it looked like the biggest swimming pool ever.  I hadn't brought my bathers so I didn't leap in.
By now we were pretty pooped and so Jeff then kindly drove us home to our holiday cottage and helped us unload all Dad's wine.  I was so embarrassed I couldn't even look at it – what is he like?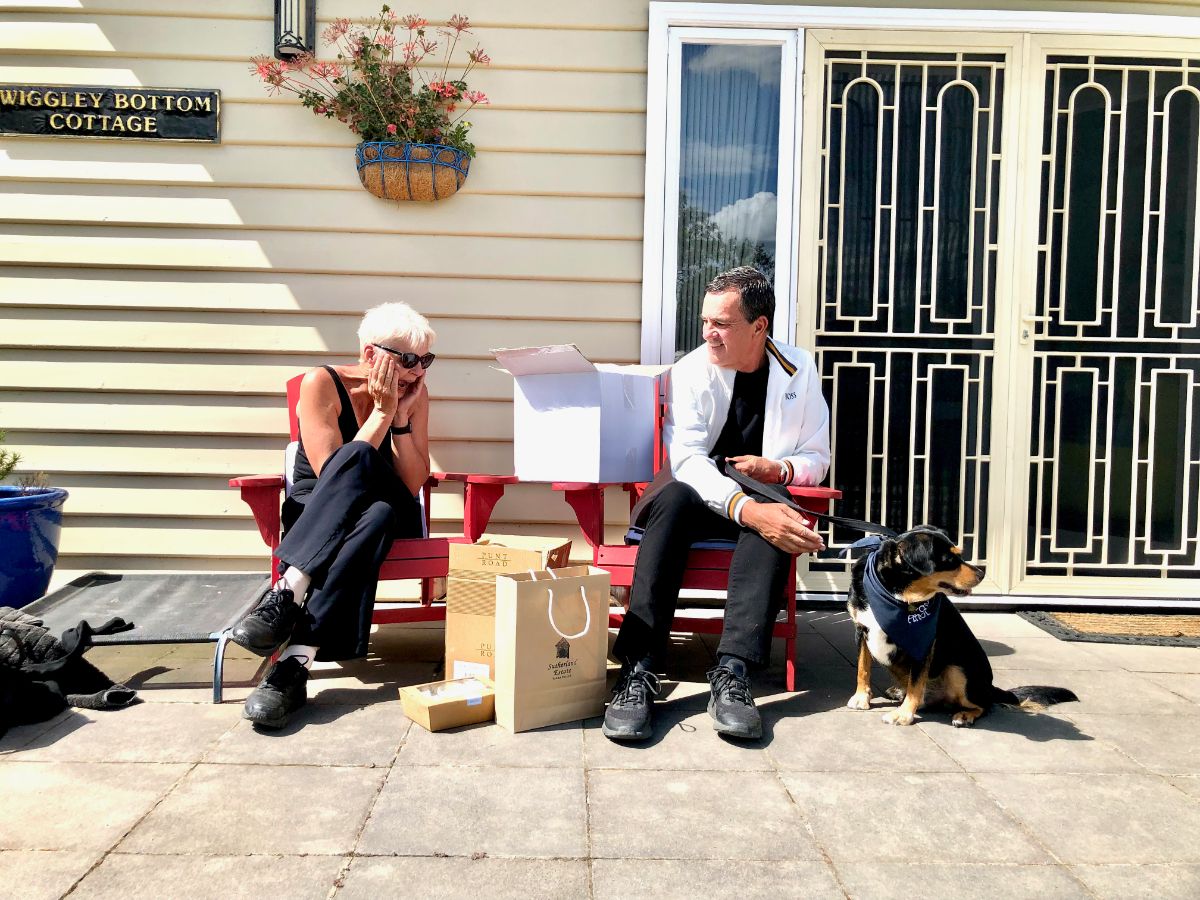 We seriously had the best day out folks, and holiday at Wiggley – so much so we are already plotting to come back with friends.   YAY!