Well hello readers – Private Watson here, reporting for duty, (I'm the devilishly handsome red heeler) and this is my squadie mate Toulouse, the biggest woos of a Rhodesian Ridgeback you could ever wish to meet.  A Ridgeback's duty is to protect his owners from lions – Toulouse is scared of cats!   Let's just leave it there shall we!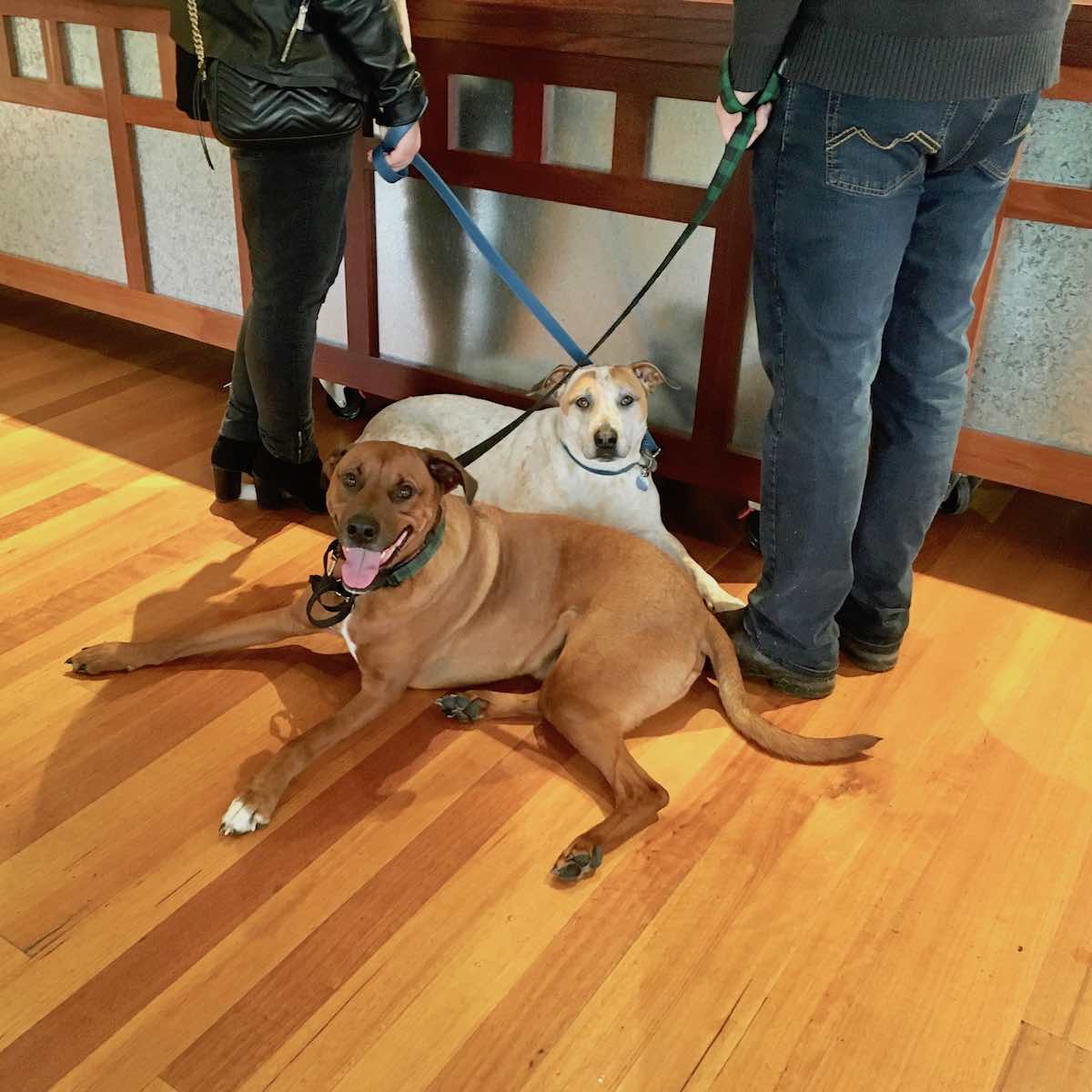 Our parents are Major Dave (yes he's in the Army) and the lovely Marie (not in the Army) and they are Canadian but currently we all reside in Wagga.  I too am in the Army, unbeknown to anyone (top secret you see) and we took a little family road trip (reconnaissance) to Canberra (I'd love to tell you more about it, but then I'd have to kill you) and then on to Melbourne, for Operation code name 'Yarra Valley'.  We were billeted at Wiggley Bottom Farm, an acreage property which we marched every inch of, at 07:00 this morning, checking on suspicious goat activity (all clear) and sightings of extra large dogs (which we later were informed are called 'horses').  All present and correct.  It's called a petfriendly luxury farmstay if that helps!
Jeff, our 'fixer' from Pooches and Pinot (MI5) arrived promptly to collect us at 10:00 for our 'wine tasting day' and our transport was a Mercedes (not bomb proof, but sufficient for our Obs).  Toulouse growled at Jeff, his way of saying 'Pleased to meet you' and is such an actor he then put on this big act (this is why he's not Army material) that he couldn't get into the van, but he could, his legs are twice the length of mine after all!
Our first Sortie was at Helen's Hill Winery, where we were served by Alex, also the owner of a Ridgeback and he supplied my parents with wine while Toulouse (let's call him Grunt) and I surveyed the scene with caution.  Construction was underway on a new deck and workers arrived in the cellar door and were barked and growled at – again, all present and correct.  A case of wine made its way to the van. All to further our under cover status.  Next!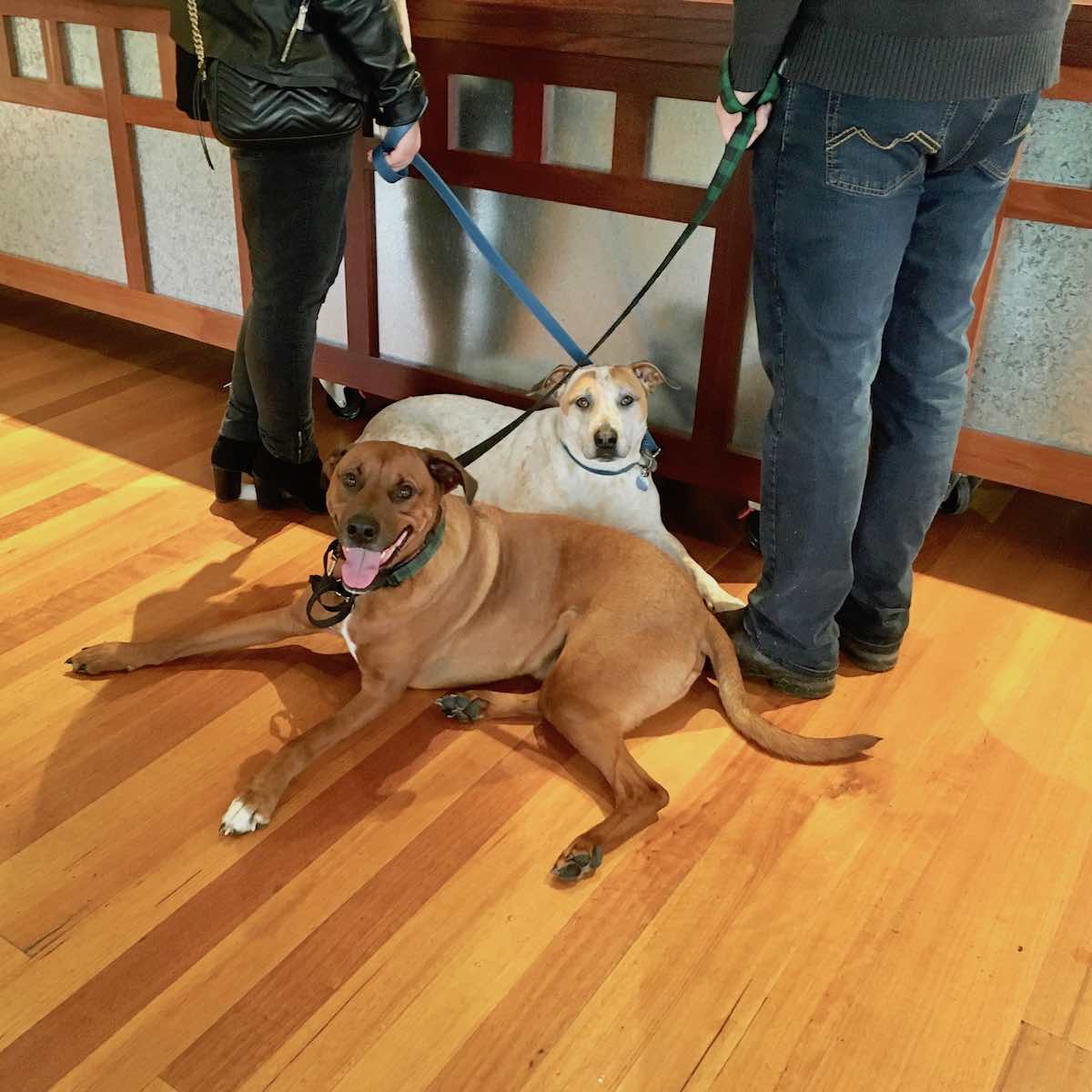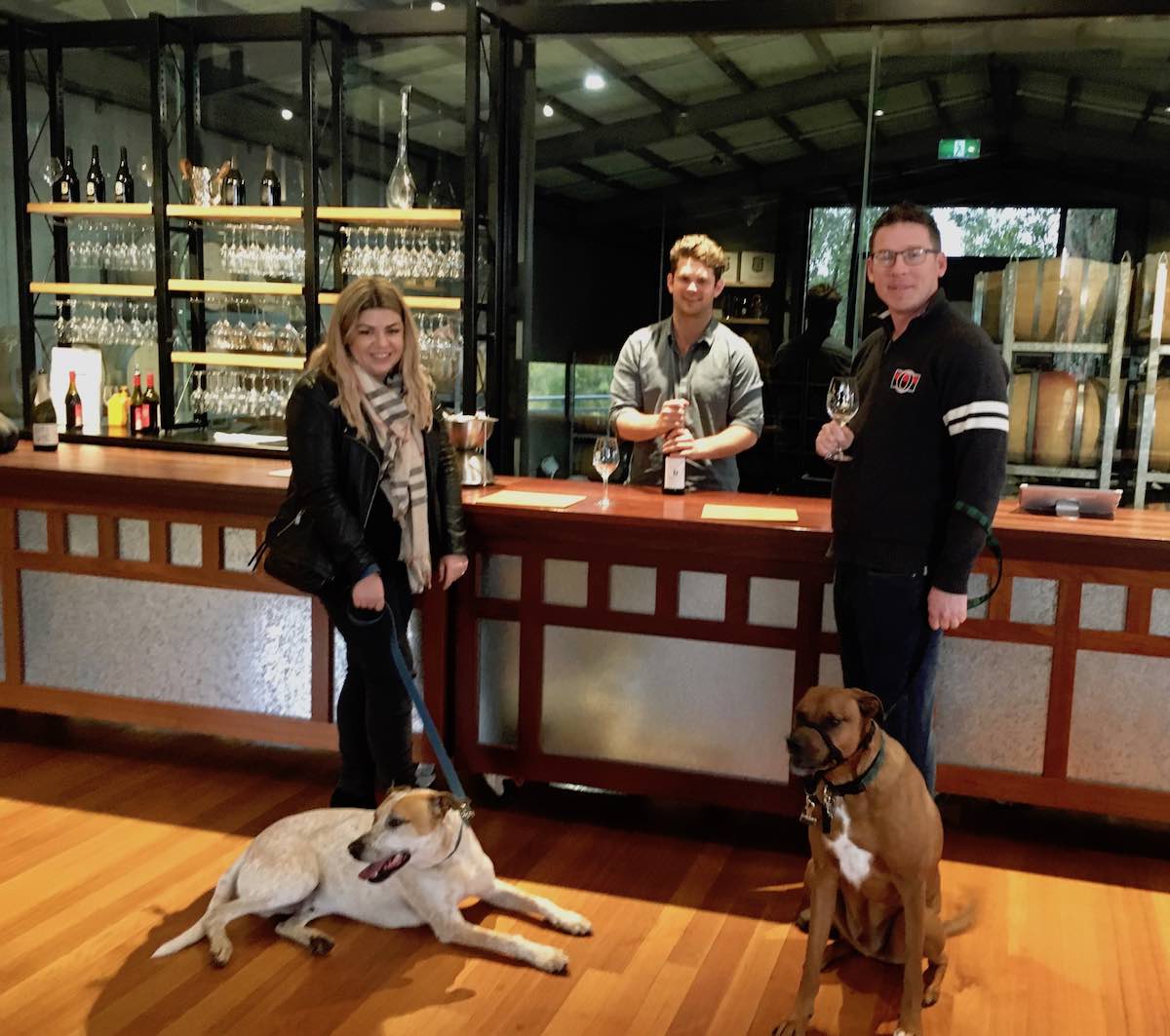 Next on our assignment was Helen & Joeys Estate – where there have been repeated sightings of unicorns which I need to assess.  I can report there were at least 5 'unicorns' but harmless, downgraded to a level 3, won't need bomb squad or terrorist surveillance.  We positioned ourselves (sat leisurely) outside on the deck, to prevent Grunt eating the children I observed who were inside the cellar door.  He's never eaten a whole one, but I didn't want today to be his first!  Parents enjoyed a sensational wine tasting while I kept a close watch.  Jason, from cellar door, was exemplary, and I graded him a 5.  Chardonnay was purchased, all for research purposes you understand.  (picture: me in surveillance mode – ever watchful)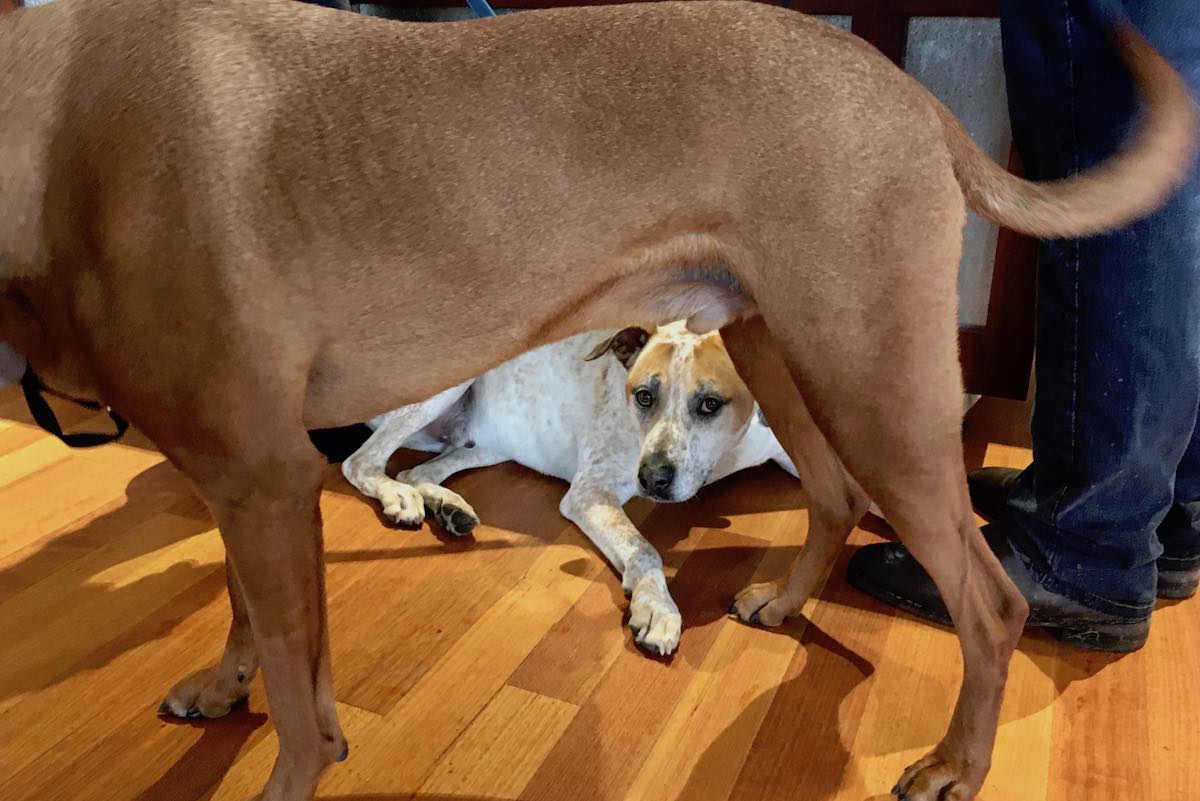 Our next port of call (excuse the naval reference) was Yering Farm, and I detected excellent gate fixture (see pic below), and a fine posi for warding off any potential invasions, good flat ground with excellent visibility and distance views – I gave it a rating 8.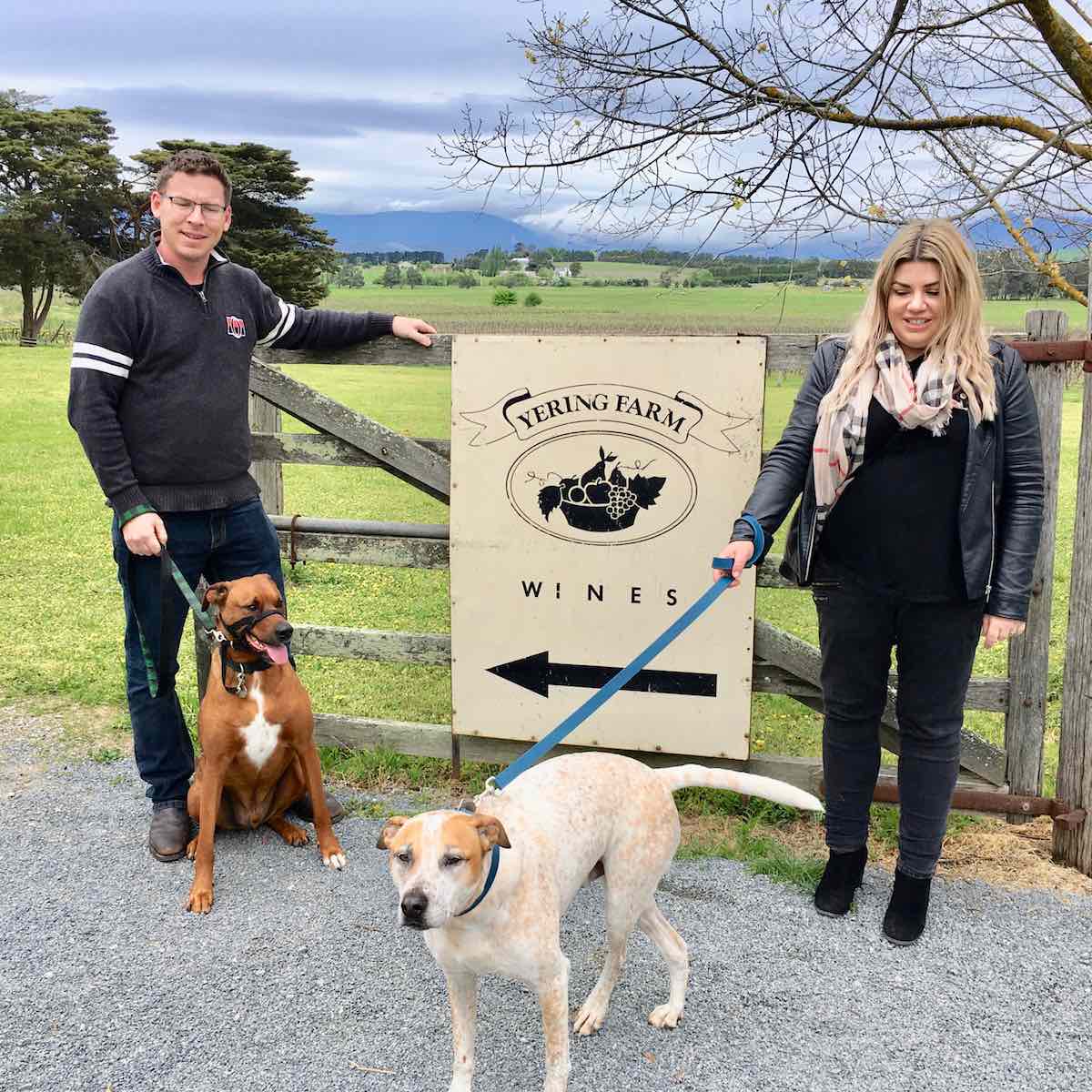 Inside the cellar door, Megan served my parents well, she's been deep under cover for years and knows the drill.  We gave one another a knowing look, while Grunt took Jeff out for a perimeter fence check.  Jeff had no idea, thought they were having a pleasant walk, Grunt reported back all was in order.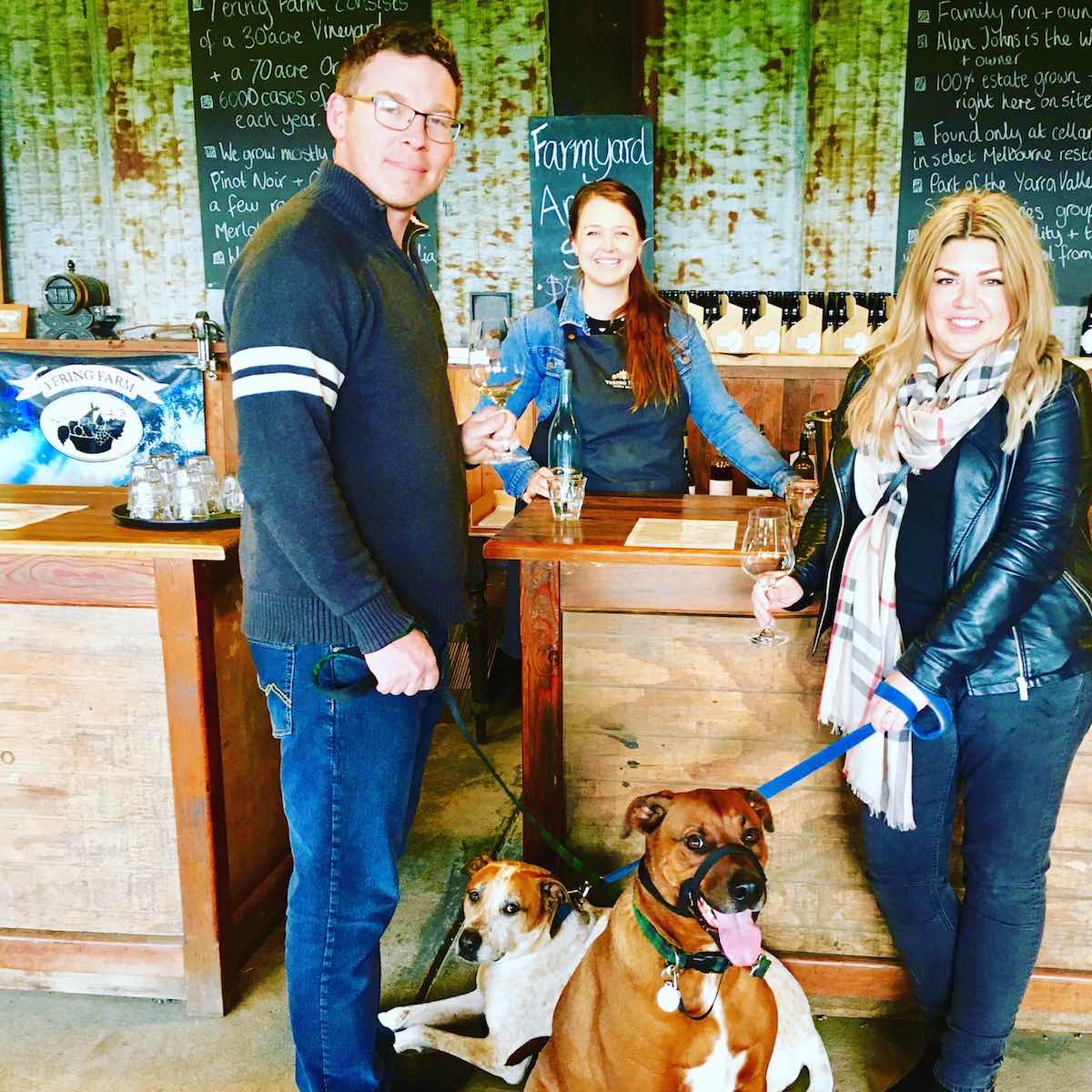 Treats were routinely administered by Jeff, evidence of excellent planning, each time we got in or out of a vehicle – I made sure my parents saw this activity, as it is to be commended and should be followed whenever pawsible.
Wine and cider was chosen to be served with lunch, and Grunt and I kept guard as our pawrents ate.  I received intel that a large group of 'unknowns' were arriving for a wine tasting, and I suspiciously eyeballed a few, no known suspects detected among them, however I was clearly discussed in dispatches especially by females and there was pointing and cooing.  People wanted to stroke us.  No travel advice was issued and we resumed normal activity – my pawrents played it cool and ate and drank throughout as though without a care in the world.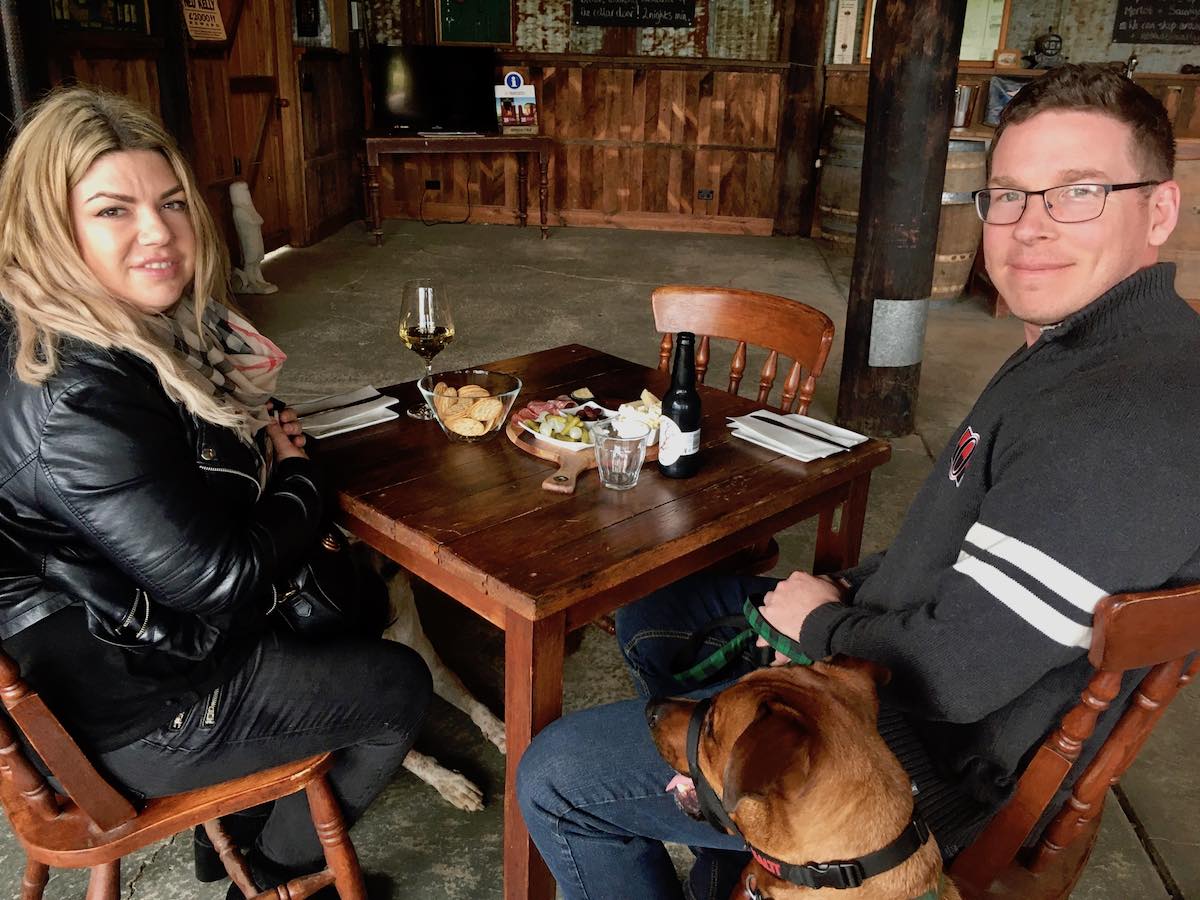 At the next observation post, Punt Road winery, expensive cabernet sauvignon was admired and purchased my for Father-in-Law (Marie's Pa) back in Canada, also a winemaker.  This was a great rouse, a cunning strategic manoeuvre and one that will serve Major Dave well in the interest of international diplomatic relations.  Des, an unlikely character, clearly under cover, served us at the cellar door – superb disguise, nearly had me fooled and I'm a veteran at this.  See what I mean?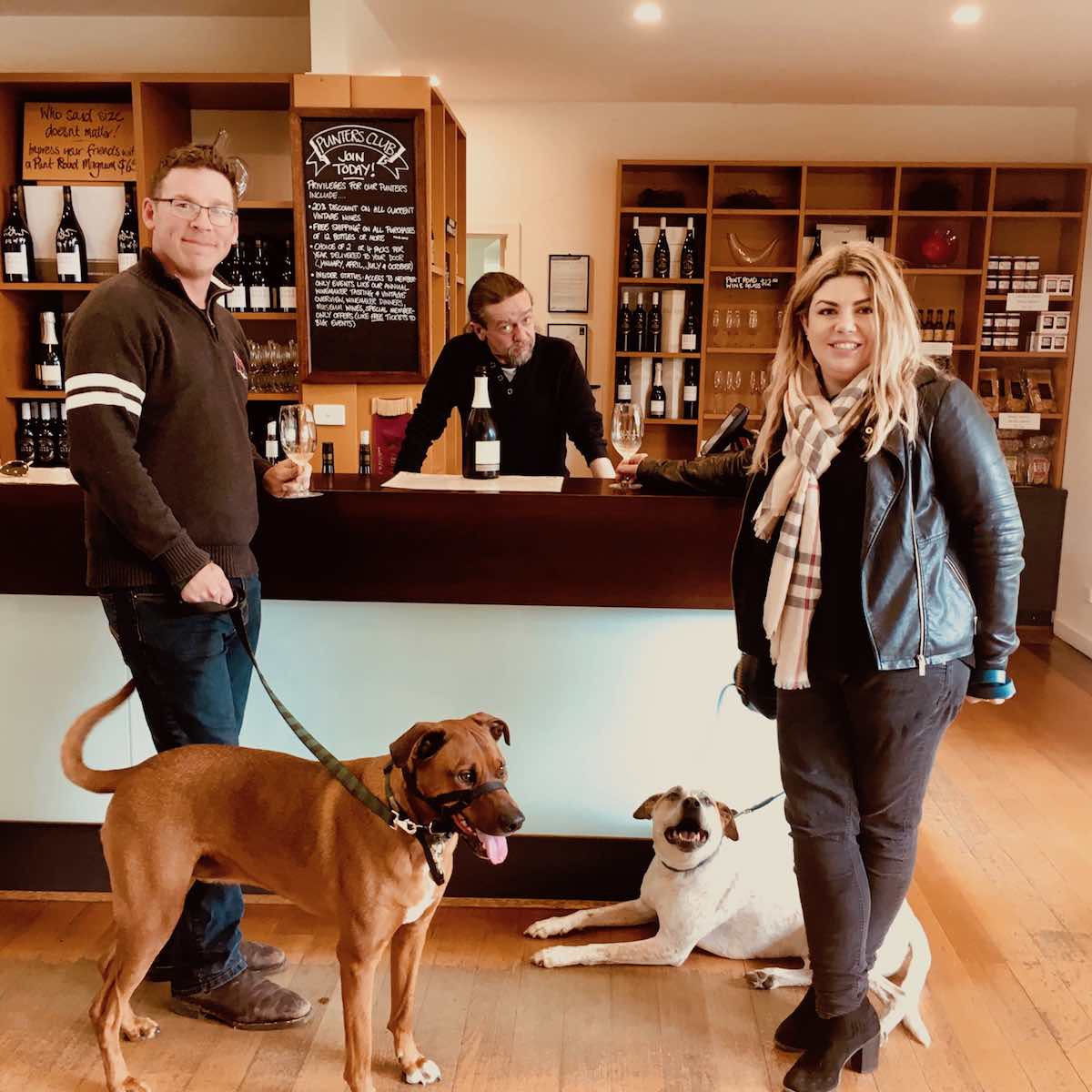 A walk was required by this point, Grunt has a limited attention span for wine, so Jeff, our fixer, took us to a remote and beautiful location where we could be free to relax, wee, sniff and rest from our stakeout which can exhaust even an experienced old dog like me.  We casually walked over a 100 yr old dam wall all the while observing and assessing water levels, wind speed and foliage deterioration which will all make it into my report.  Meanwhile Major Dave and the lovely Marie enjoyed what they thought was a simple innocent country walk.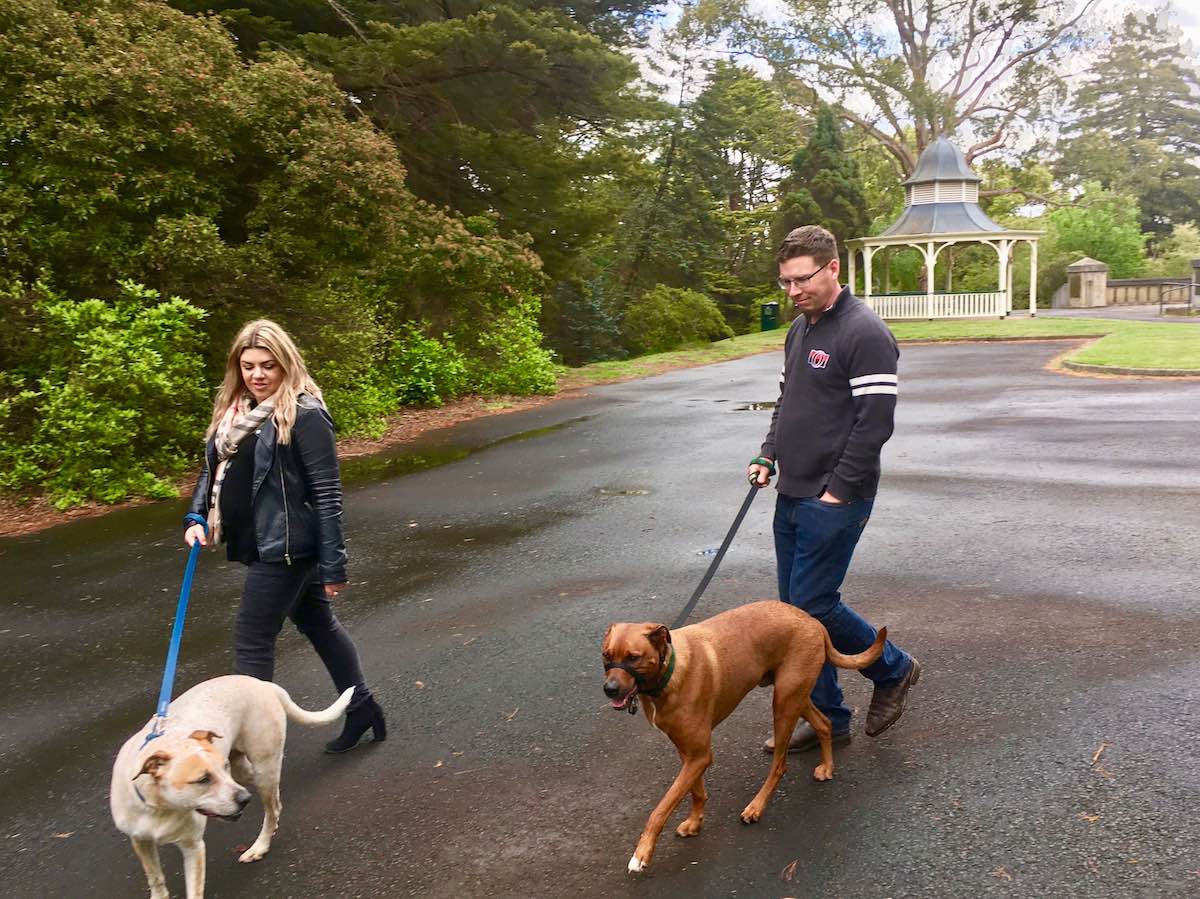 As the sun came out we visited the notorious Four Pillars Gin, often reputed to be a den of counter espionage, foreign interference, sabotage and malicious insiders due to their unprecedented overnight success within the gin world.  Suspicions always arise when someone is an overnight success but I'm happy to report that their success is hard won and well earnt and the only suspicious activity detected was that Major Dave didn't fall for my heavy coercion techniques which I laid on pretty thick to try to get him to part with his gin!  All I pleaded for was a taste.  Using the well worn technique Puppy Dog Eyes – could you honestly say you could have resisted?!  He did well.  He was not for turning.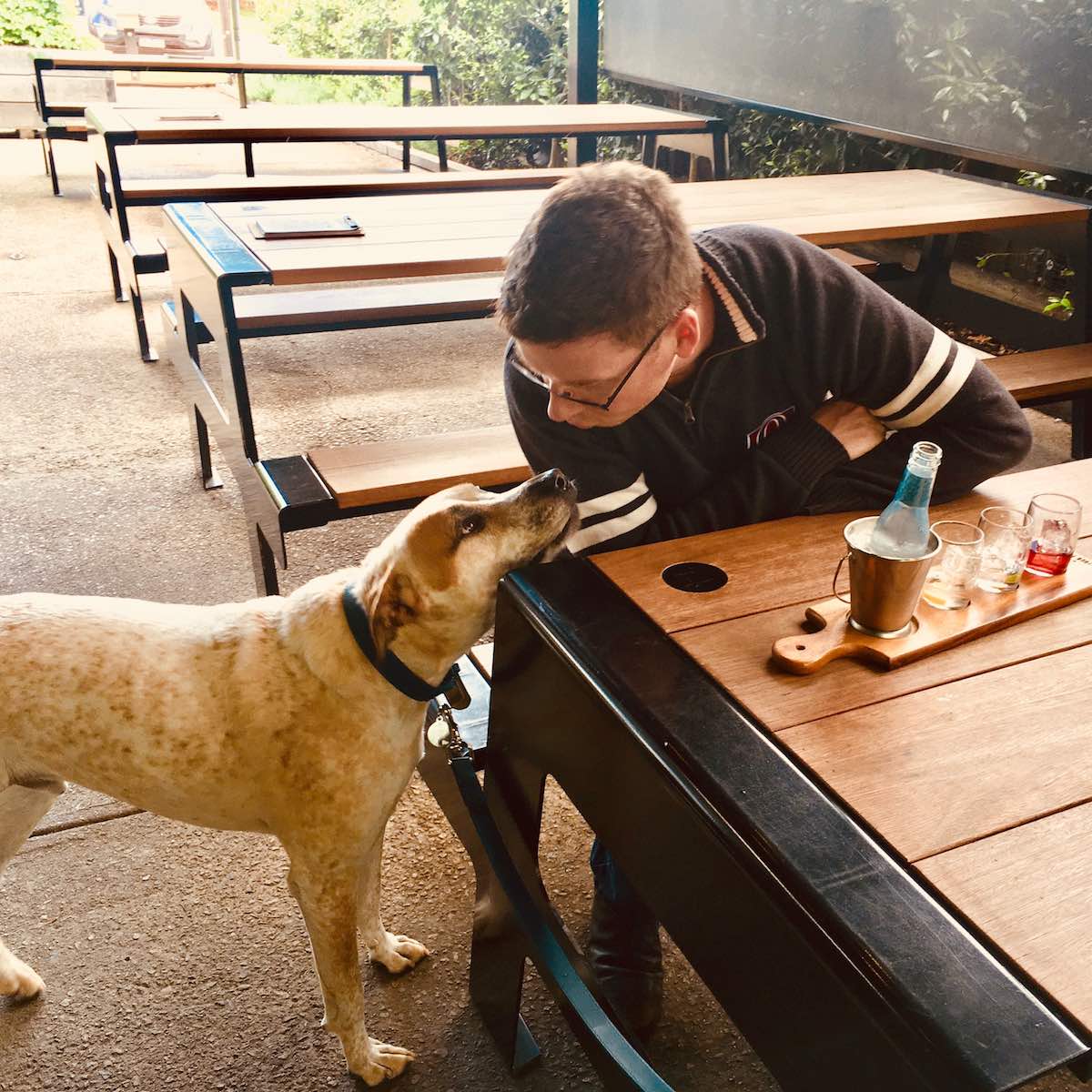 The Bloody Shiraz was his downfall however, and he succumbed.  I feel it was a double bluff, and he was just maintaining his 'I'm a tourist on holiday' guise.  It worked, although Grunt nearly blew his cover with his over enthusiastic congratulatory hug he gave him at seeing he'd purchased a bottle!   Clearly Four Pillars Gin is Grunt's weak point.  I duly noted this in my report.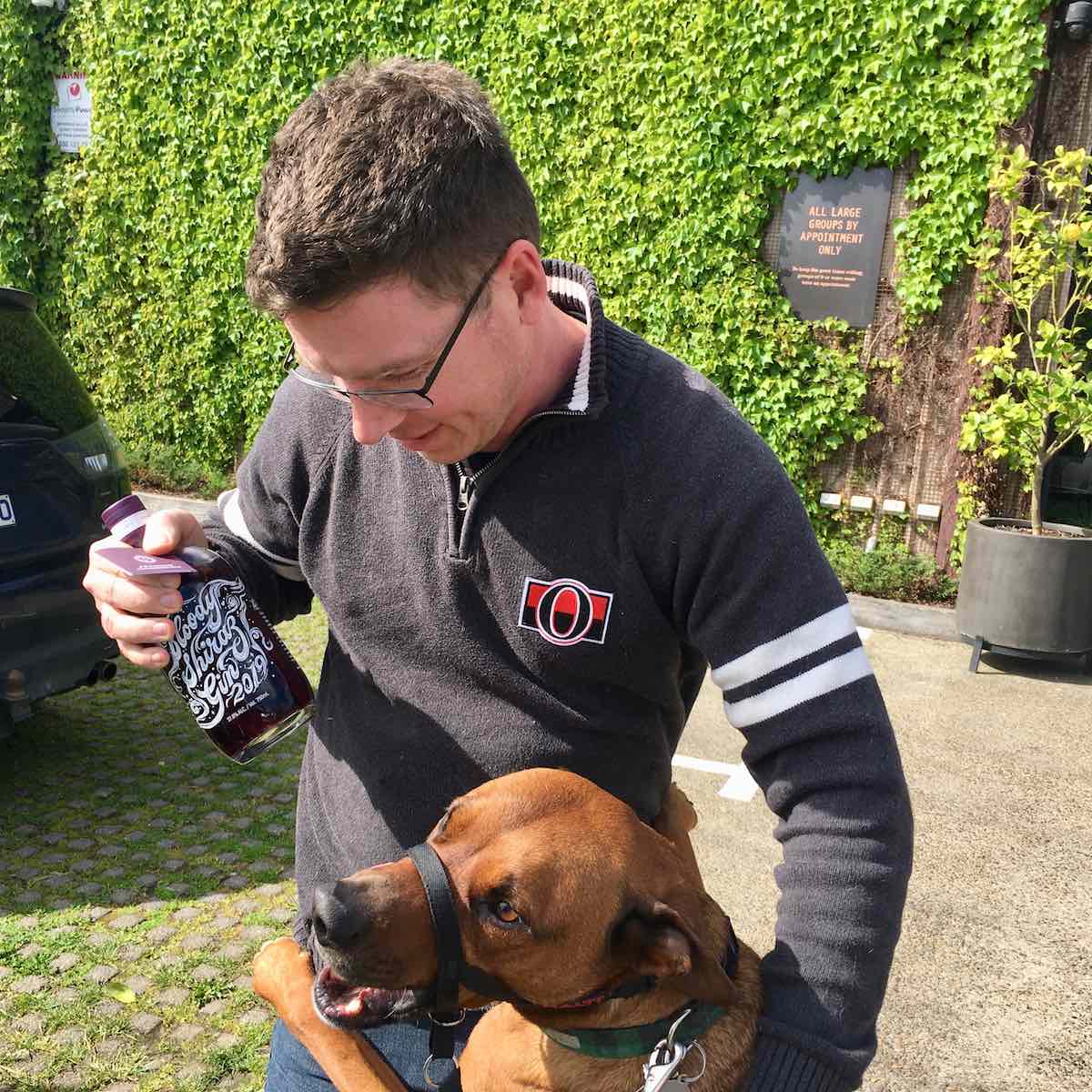 We then only had to traverse over the road to Payten & Jones, a new and therefore un-prepossessing, unpreviously documented cellar door that needed our assessment.  I'm glad to report no subversive goings on, altho much merriment was evident from all who resided there.  Avaarn, (spelling as yet unverified) an enthusiastic foreign national from Jamaica greeted my elders with enthusiasm and within minutes, connections were made about Kingston (where Marie's parents had taught) and favourite local Caribbean rums were spied, so I was able to switch off for the first time on this tour of duty, as I knew my parents, who were no longer both able to keep their eyes open in photographs, were in safe hands.   Sangiovese and Chardonnay were purchased to keep 'civilians' off the scent and Grunt and I were able to curl up together in a spooning situation that showed that both of us had finally been designated 'off duty' for the remainder of our tour.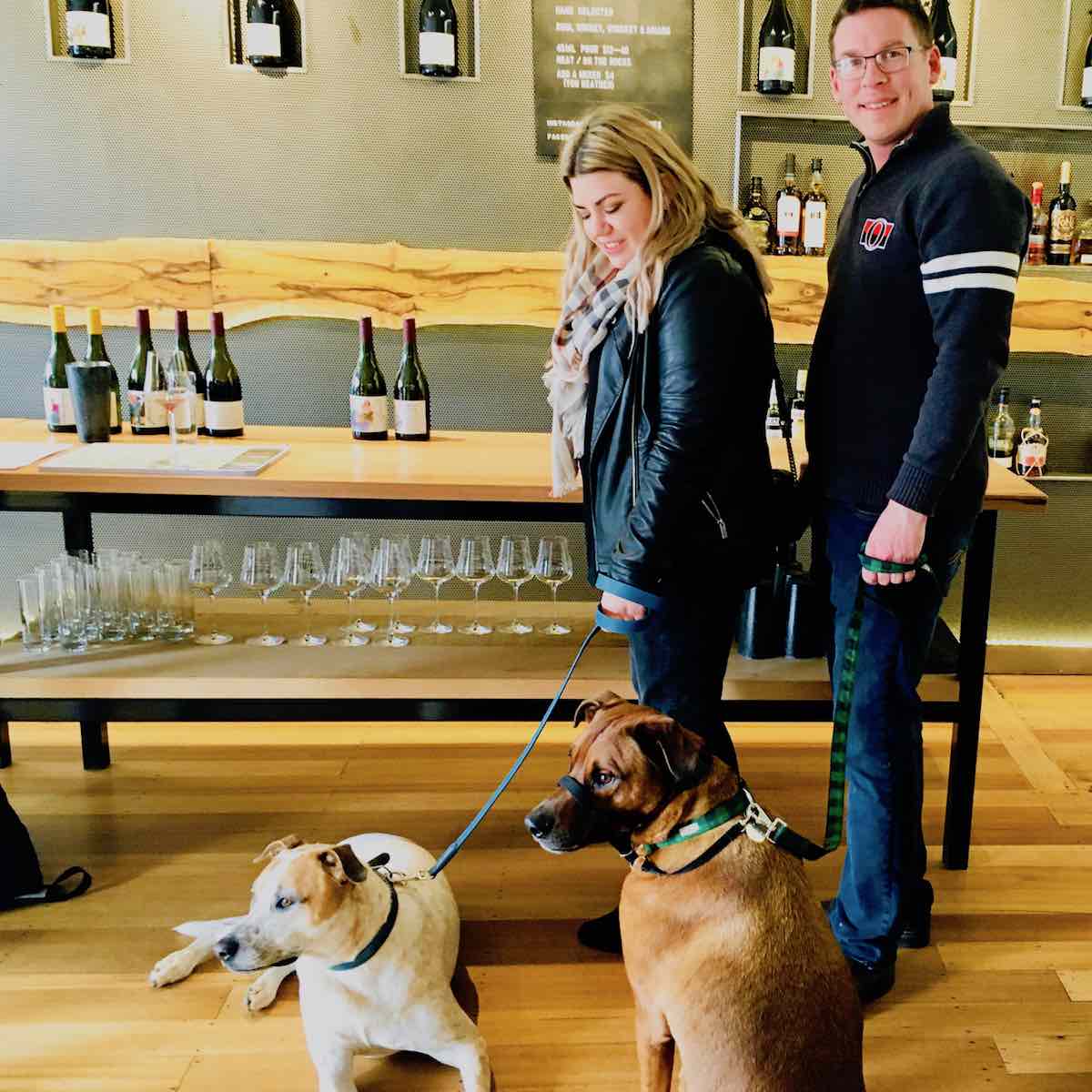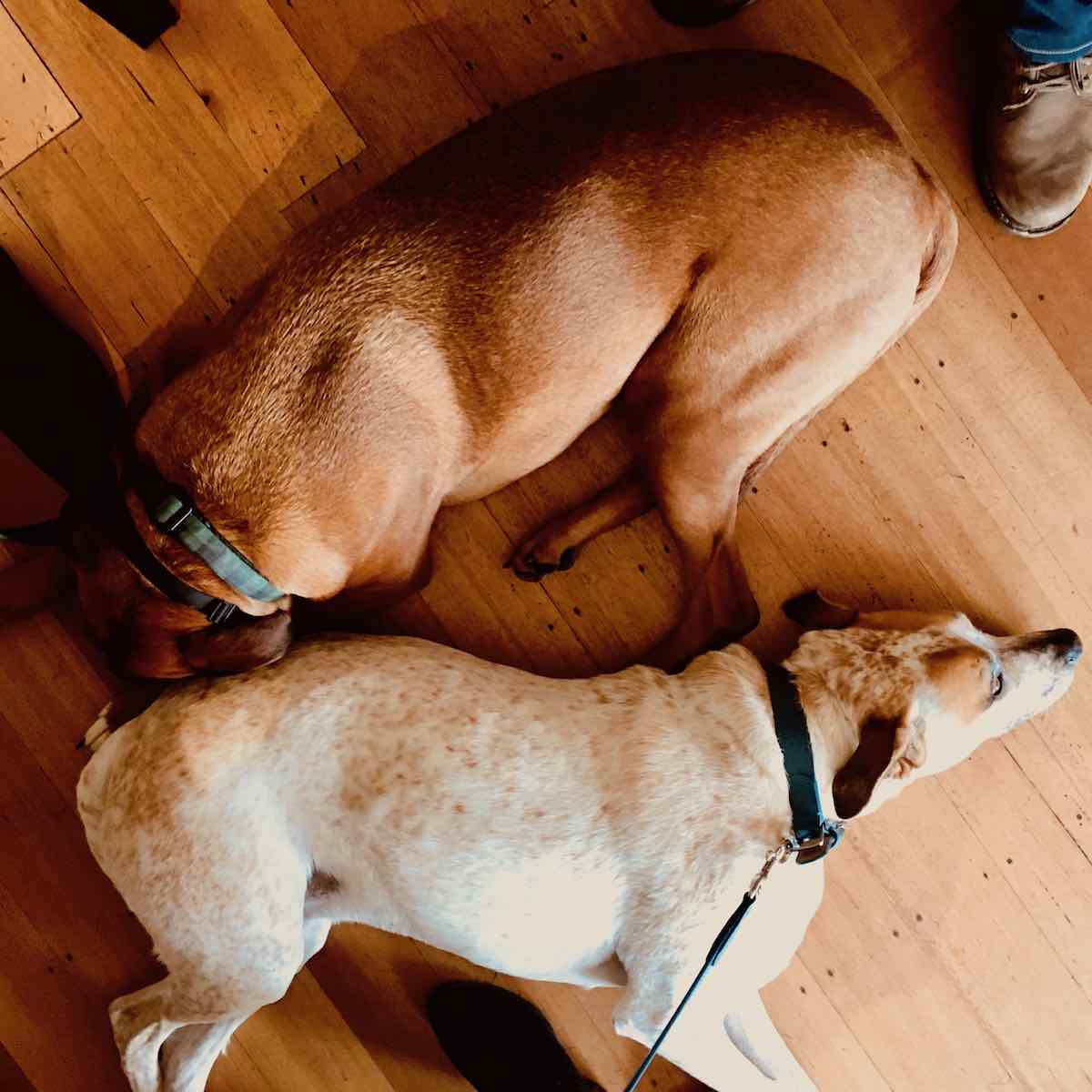 When you hold a senior position of responsibility such as mine, there is no greater feeling than that of knowing that all is well in your world and that is how I felt at the end of my Pooches Tour of Duty – the day had been executed well and wisely, all were well fed and watered, wine relations had been secured and the happiness level was at an all time high.  A storm was now rolling in, so Jeff, our loyal fixer, hightailed it back to our accommodation where we decamped to debrief about our successful operation – safe to say – mission accomplished.
The photo below of the day's wine purchases suggests a very successful covert operation.  One I recommend to all.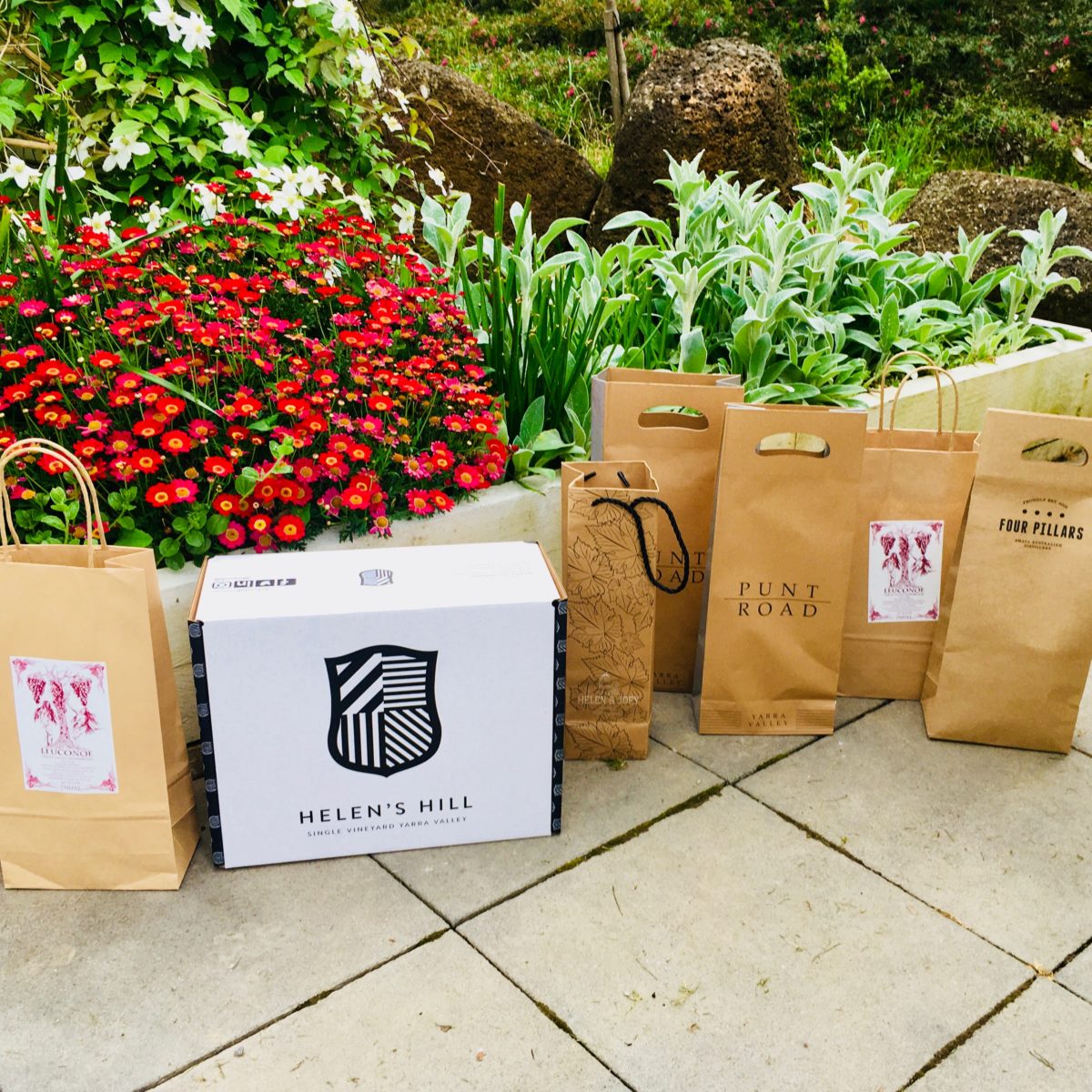 Give Jeff a call and say I sent you – he'll look after you – under cover of course!