Hi I'm Poppy, and I'm a 1-year old Cavoodle and this was my first visit to the Yarra Valley.  I live in the city with my Mum & Dad (Daniel and Annabel) and it was my Mum's birthday so Dad and I brought her away for the weekend to spoil her.  I wore a pink bow (one has to dress for an occasion) and we stayed in a really nice house called Harvest Farm which had a fireplace AND a spa bath for me to enjoy.
Dad had arranged with a nice man called Jeff for him to bring his shiny white van for us to go around in all day.  He's ace and thought I was really soft and fluffy – which I am – we got on immediately.  He'd even brought a rug for me to sit on on the back seat, so I sat between my pawrents and had a great view of the countryside as we wizzed along.
Jeff warned my folks that being as sweet as I am, I'd probably get a lot of attention, and boy was he right!  We arrived at Yering Farm which has a cool cellar door in a really old hay shed and I couldn't wait to get in and sniff around and as I got out of the shiny white van and was walking towards the gate, I was mobbed by my first set of fans who all wanted a stroke.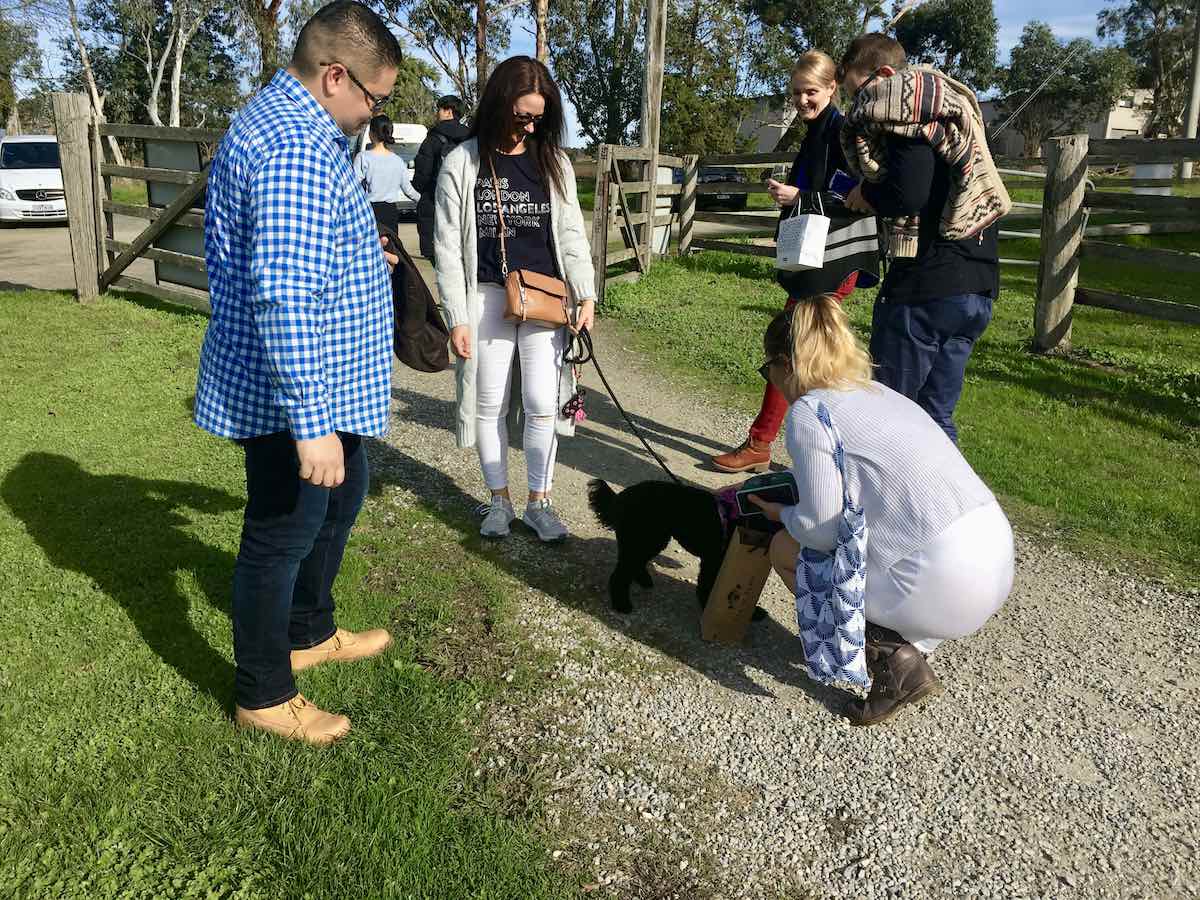 Even when I got inside, the cellar door lady climbed under the bar to chat to me!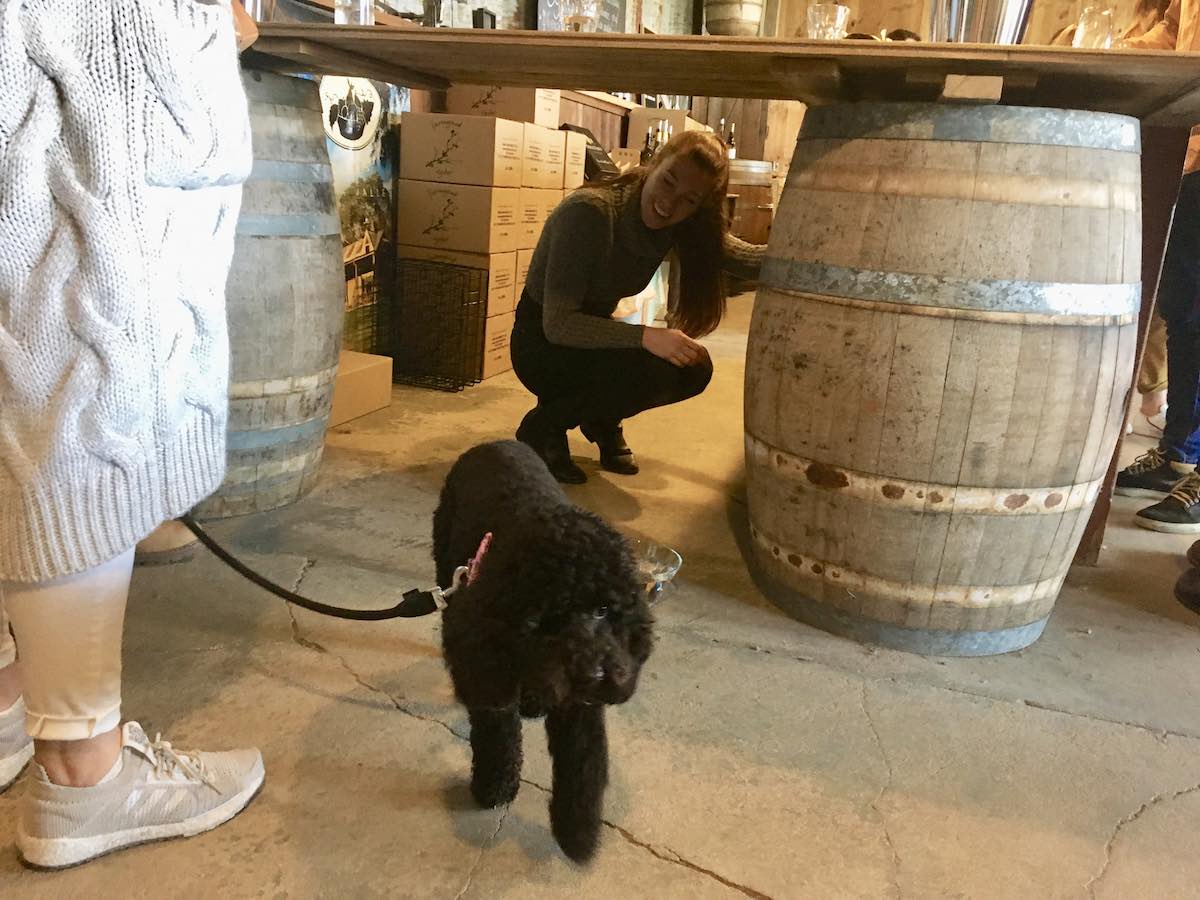 She then poured my folks all these different coloured wines and they drank them down like I do when I'm thirsty – I had a little drink too from a lovely water bowl they'd thoughtfully put out for me.  My rentals as I like to call them bought some wines and syder (I know, poor people at Yering Farm they can't spell cider!)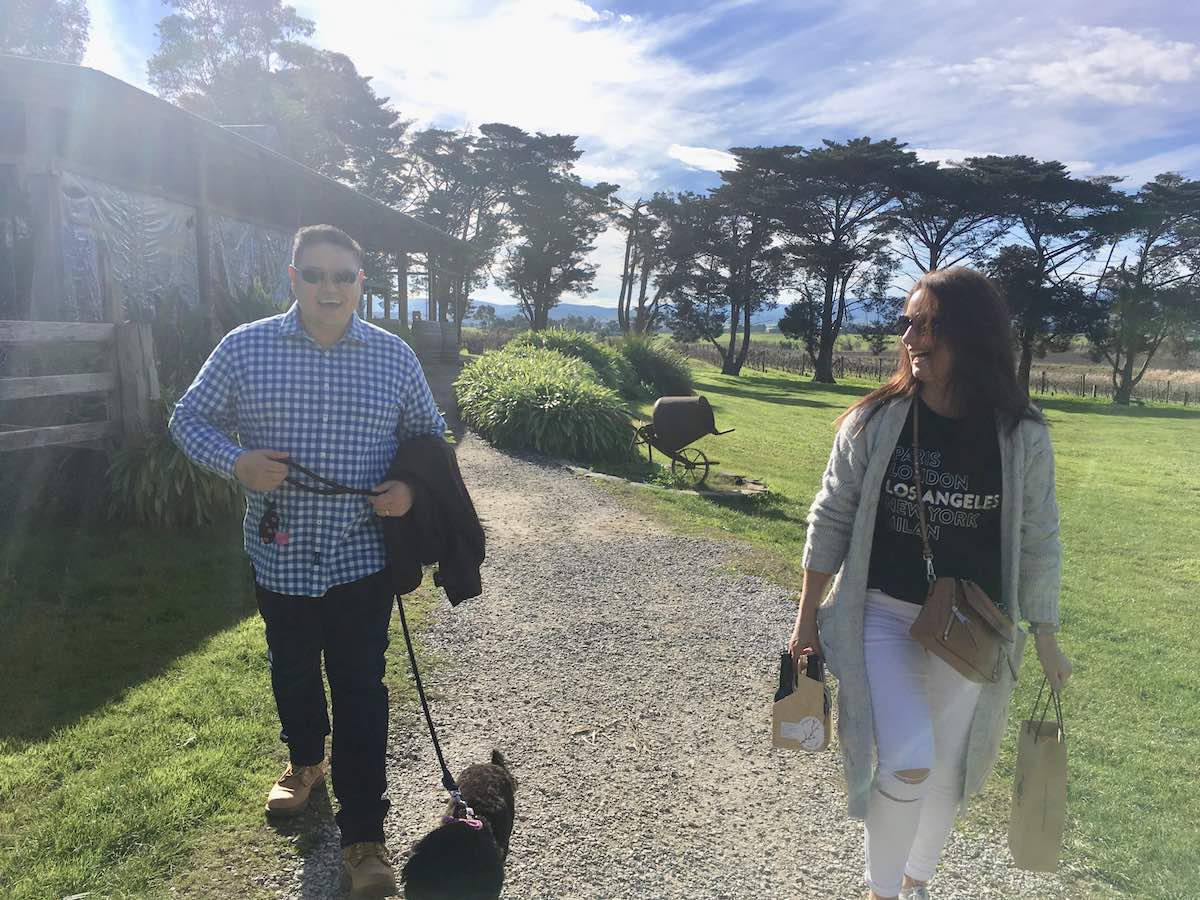 just as a large group were arriving and we piled back in the van before they could mob me.  Jeff's clearly looked after VIP pooches like me before – he knows all the tricks – the van even has tinted windows in the back so no-one can see that it's me – it's such a relief to travel incognito!
We went next to a tiny cellar door in a massive paddock called Maddens Rise where a gorgeous lady called Emma and a handsome man called Ben work – they made an instant fuss of me, it was like being greeted like a long lost friend.  We were settling in and I was sniffing around at all the lovely smells and Jeff gave me a treat when suddenly all the people in the cellar door started singing a song they all seemed to know, and were staring at my poor Mum who put her head in her hands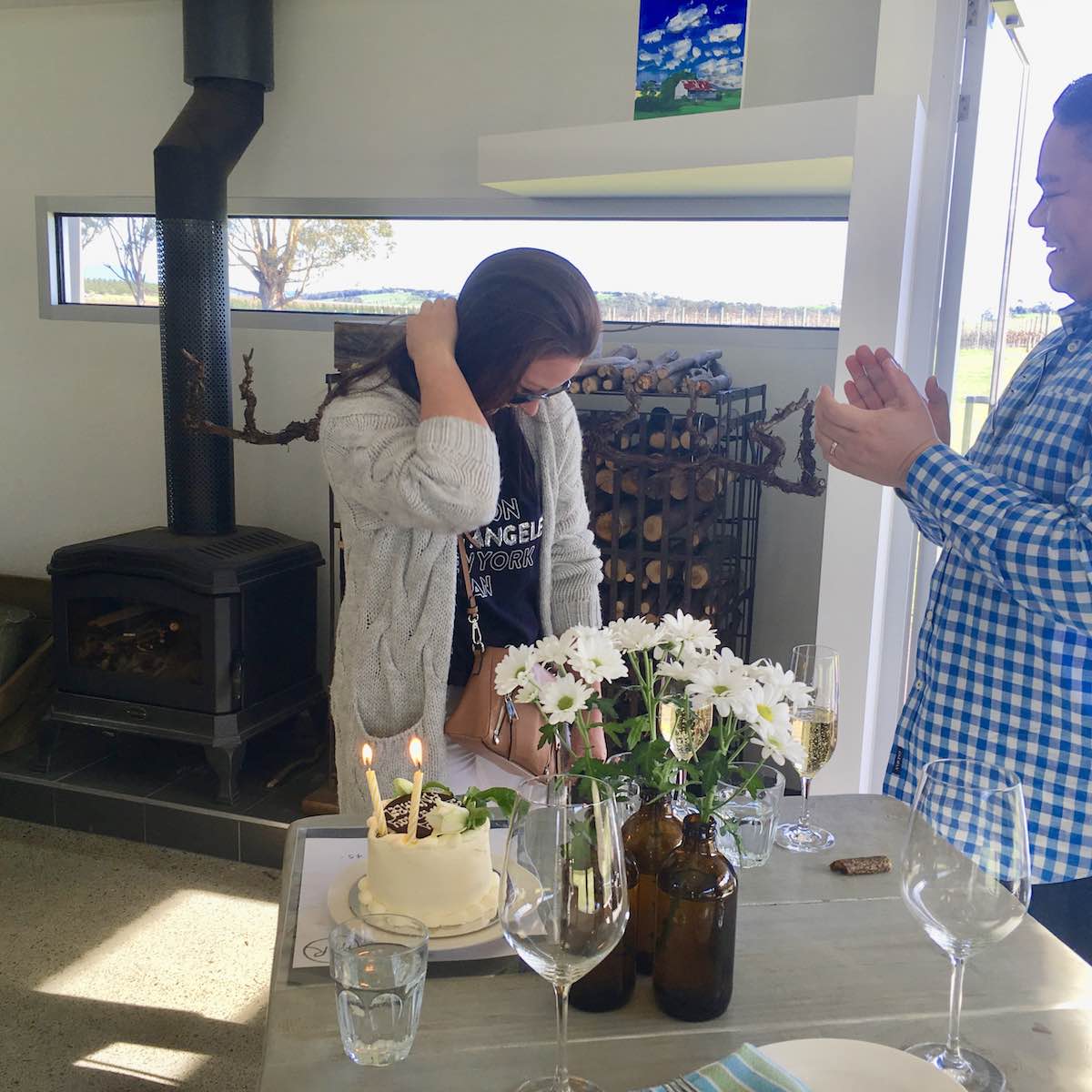 and I worried that she was crying and Dad was no help, he was clapping at her.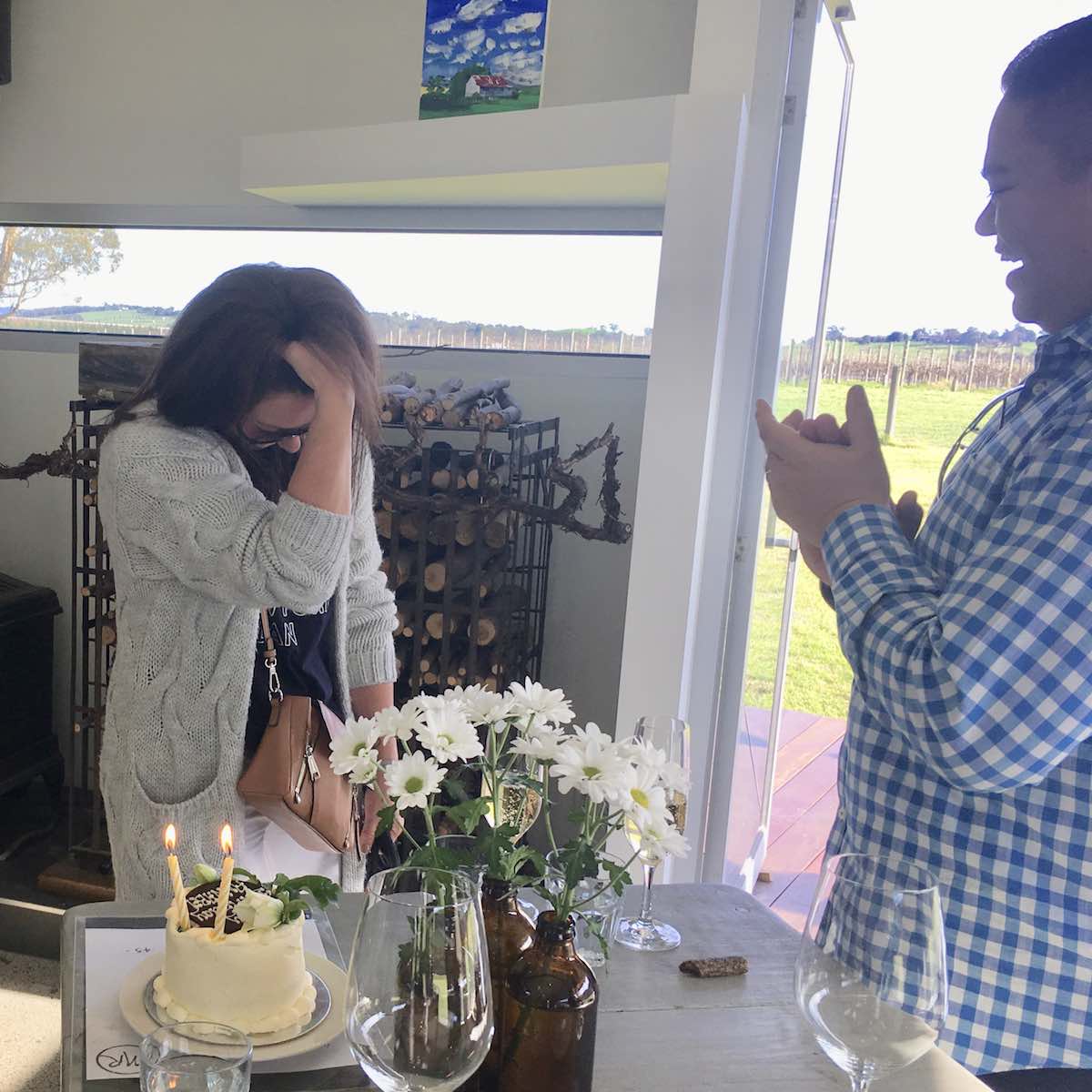 It was all quite peculiar, but she stopped crying when she saw that Jeff had brought her a cake with two candles on it (so she's not that much older than me) and they had glasses of wine with bubbles in it and Mum looked really happy again.  The cake was made by a clever lady in Wesburn called Jodie who runs The Flying Apron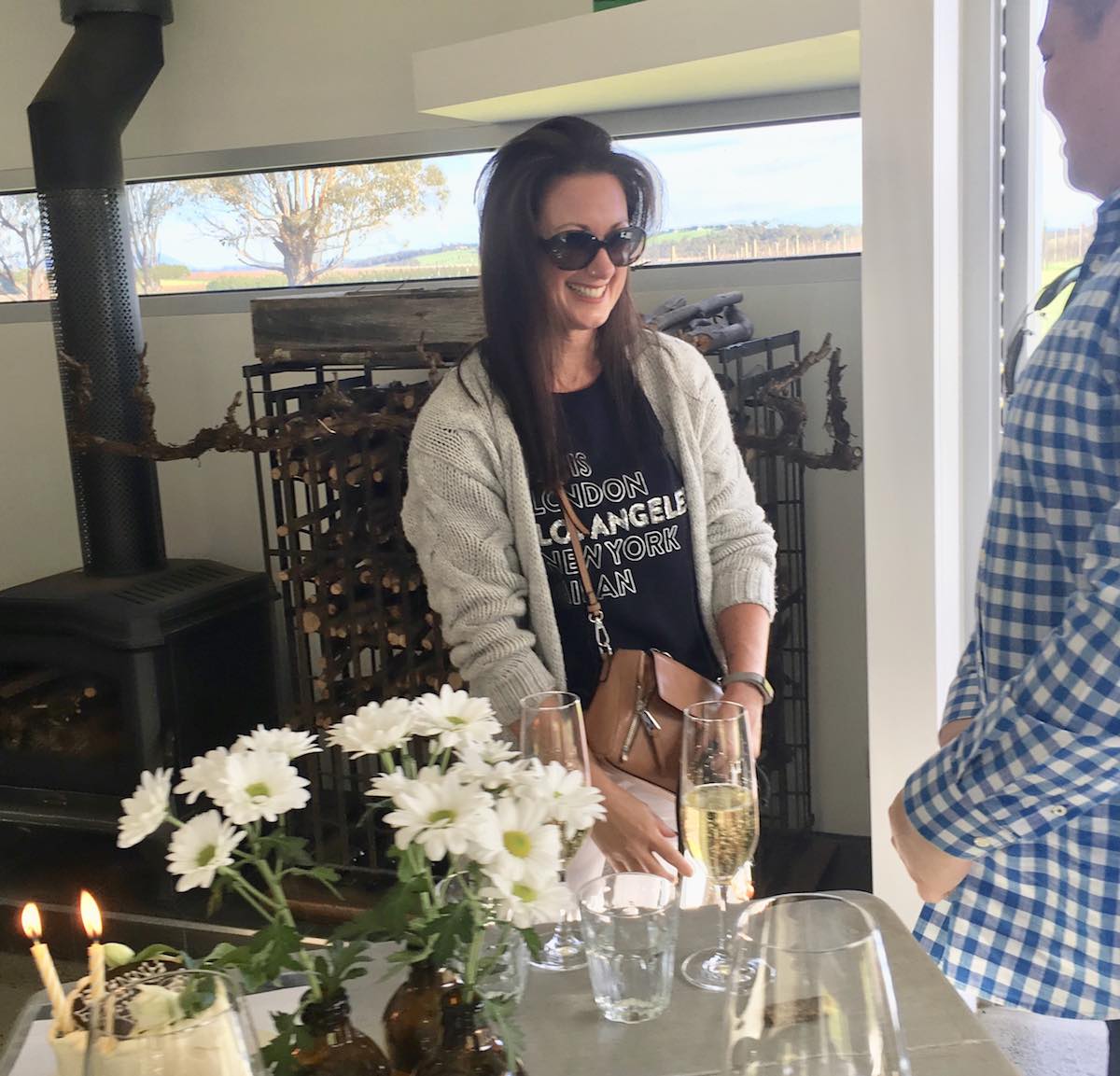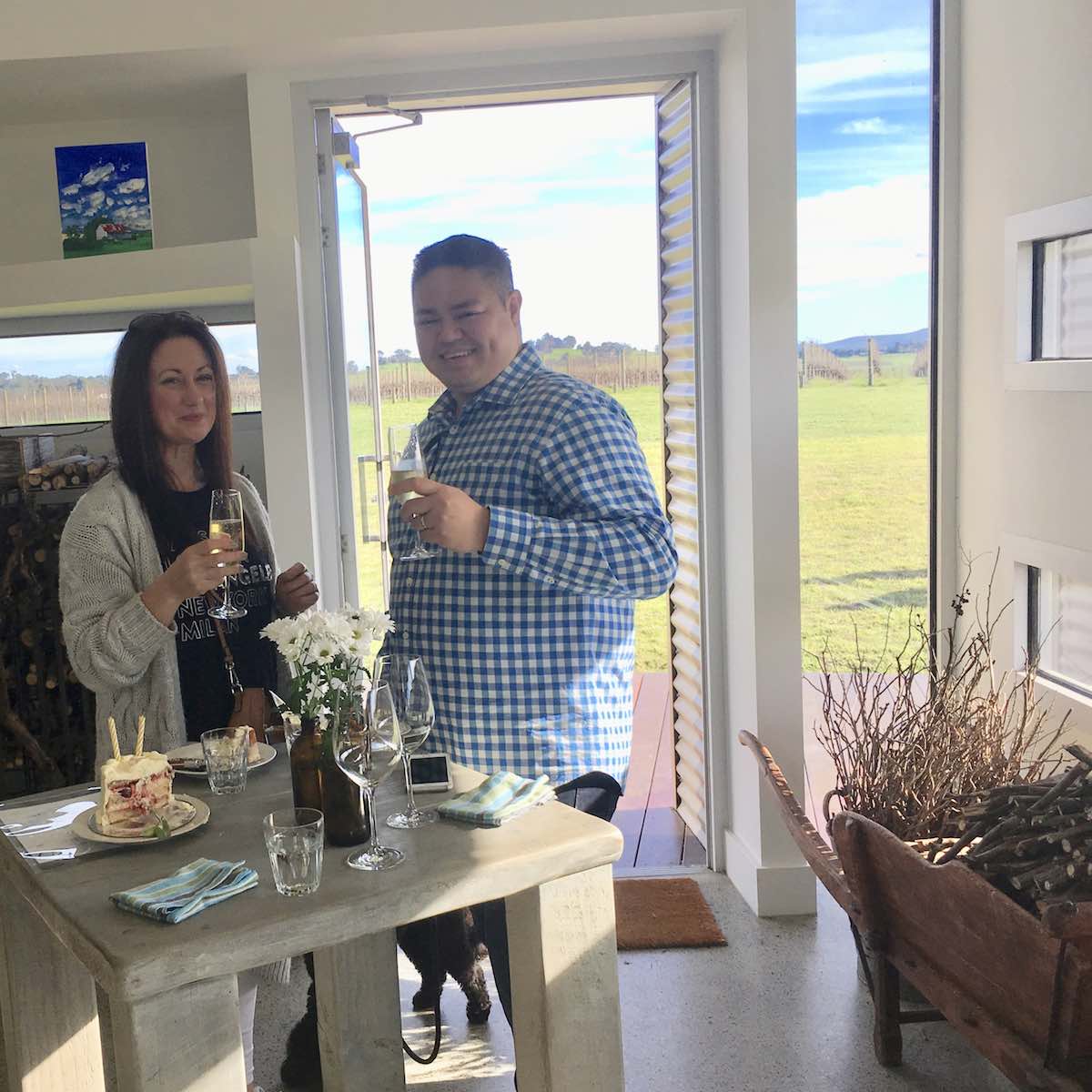 And I (yes, back to me) was such a good well behaved girl at Maddens that Jeff produced a ball for me to play with and I showed off my chasing / retrieving skills while my helpers tasted more wine.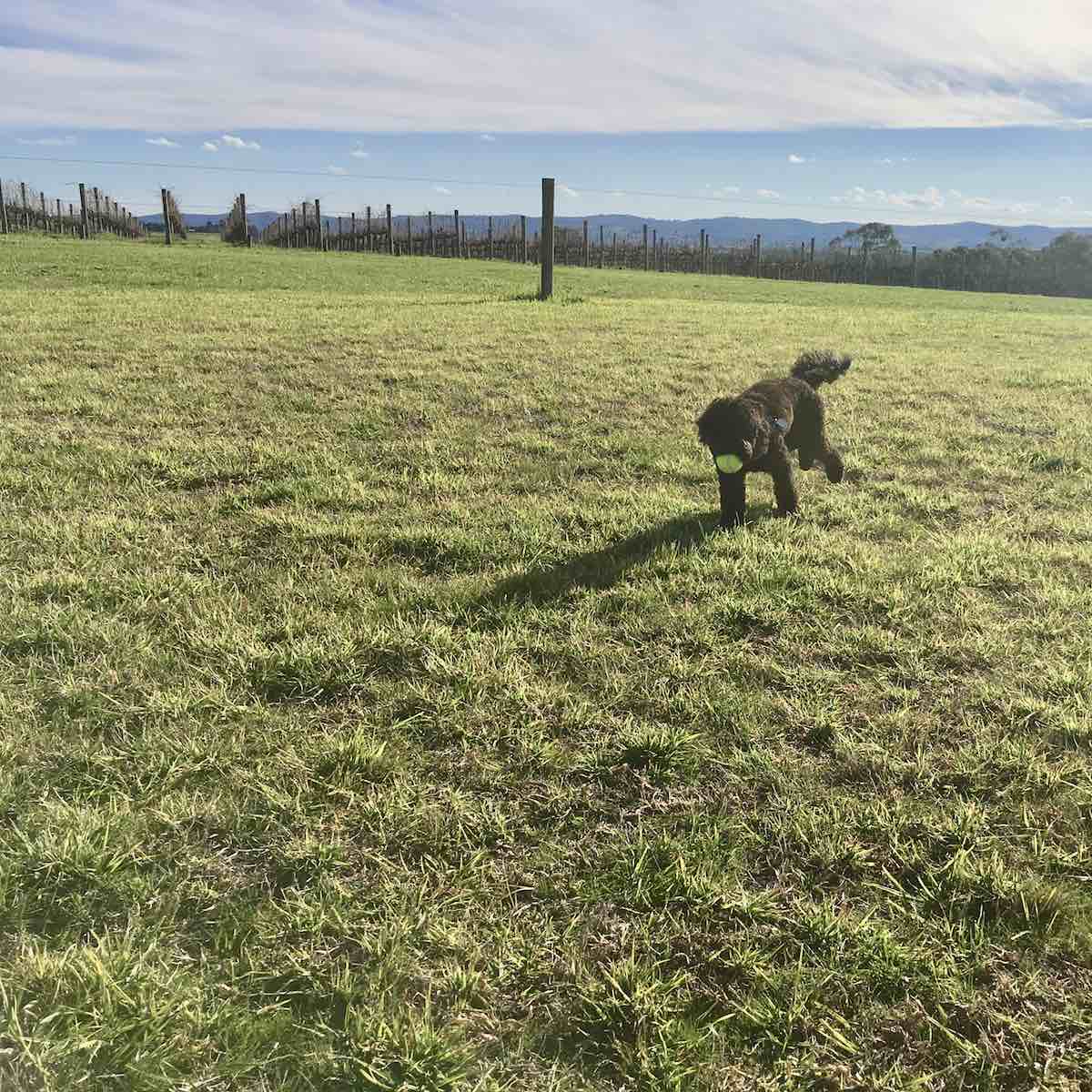 Other revellers at the cellar door wanted to know all about me so while my parents were sipping all these different wines they were chatting to my fans too.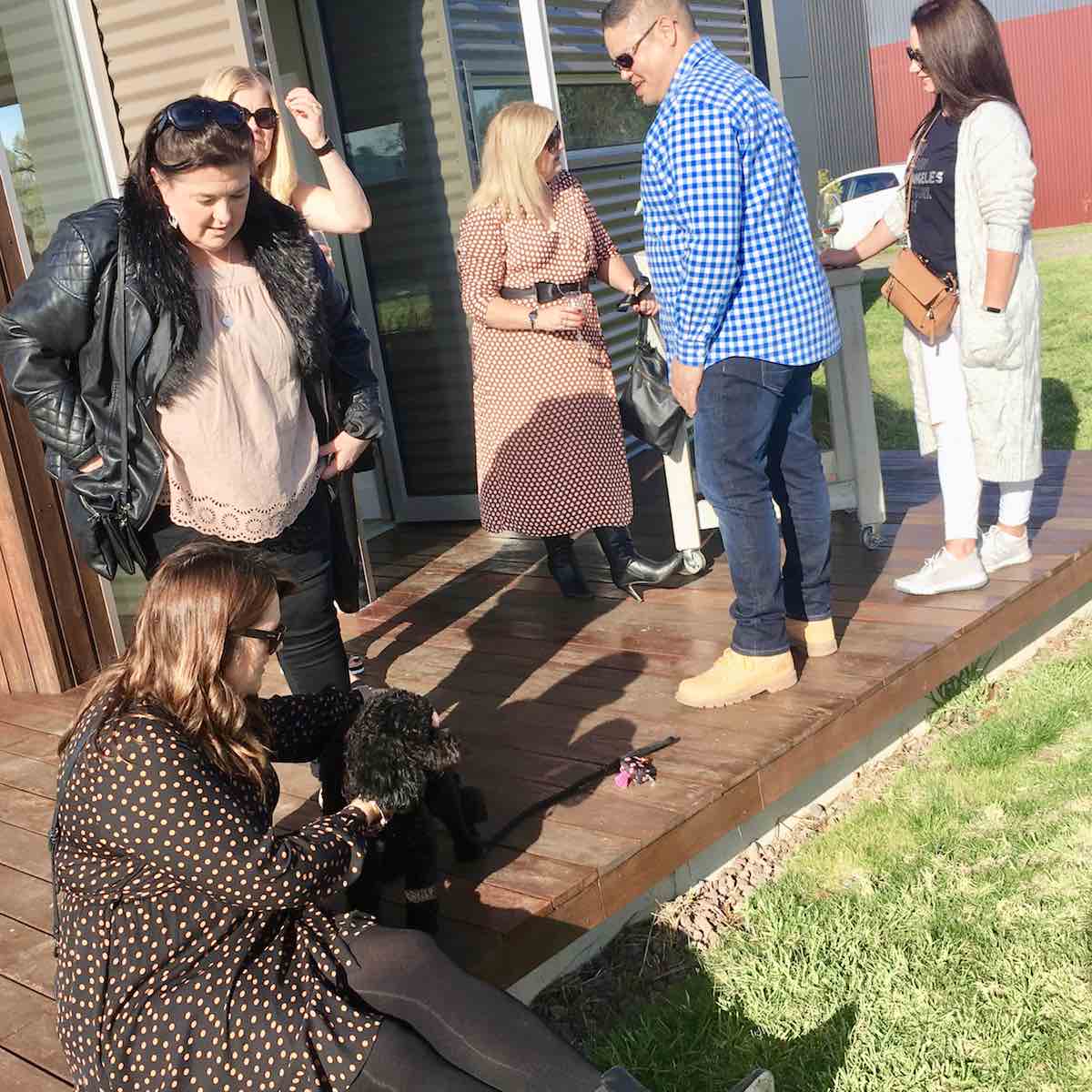 My Ma and Pa liked the bubbly wine SO MUCH they bought a bottle of it, as well as other bottles, the names of which I can't even begin to pronounce.  Here's my new friend Emm, she's the business.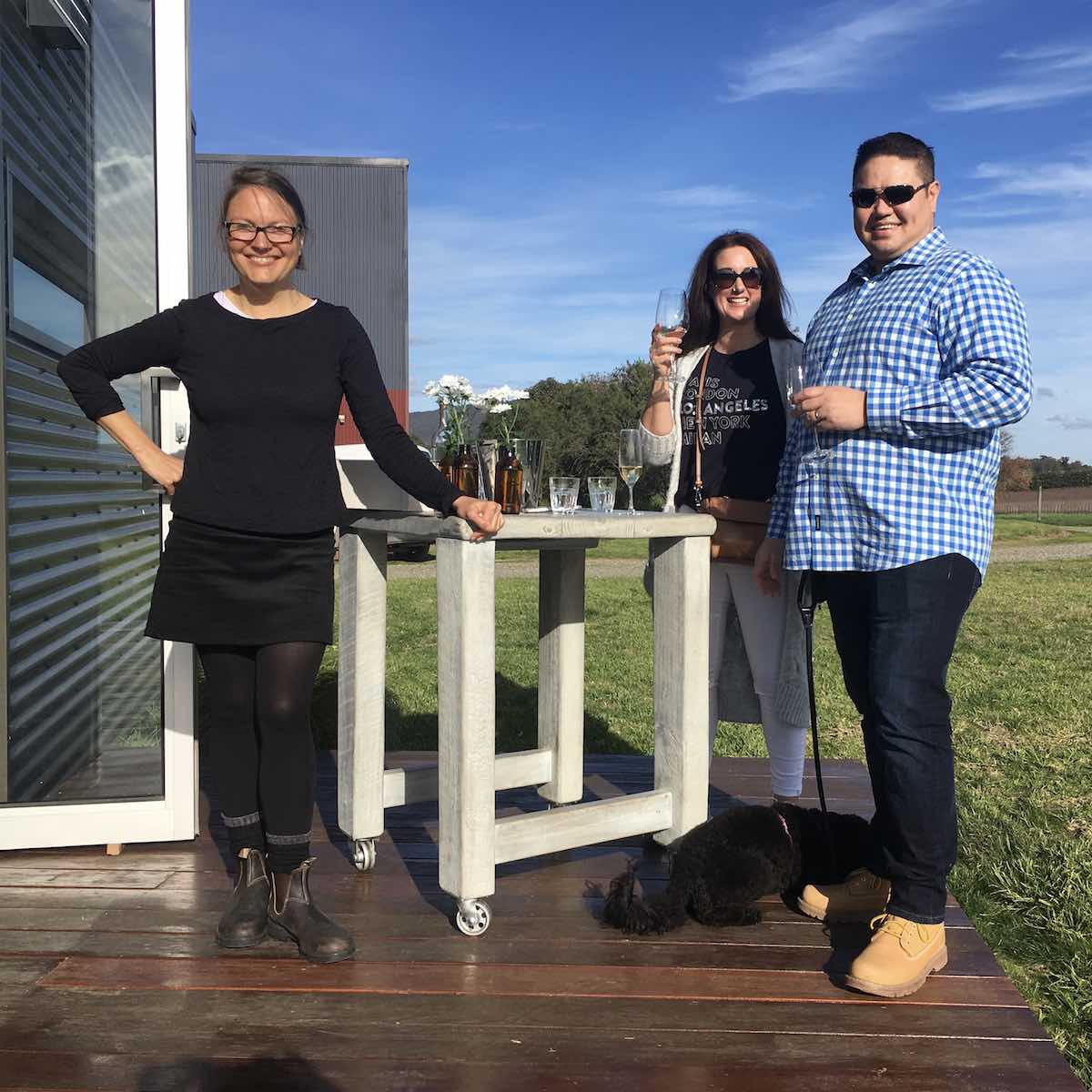 After we'd said our goodbyes, my pawrents kept on saying how much they like Emma, my new friend.  I agree.  Altho, to be honest, because I'm so sweet, I'm kind a used to making instant new friends wherever I go (sigh).
After Maddens we drove in the van again (which I LOVED) into Healesville to a big copper coloured building full of this see-through wine stuff, which they call gin.  I was led through to special table and I was the ONLY dog there, so you can imagine how everyone flocked to me.  All the staff, wow, they made such a fuss of me – I'll be coming here again.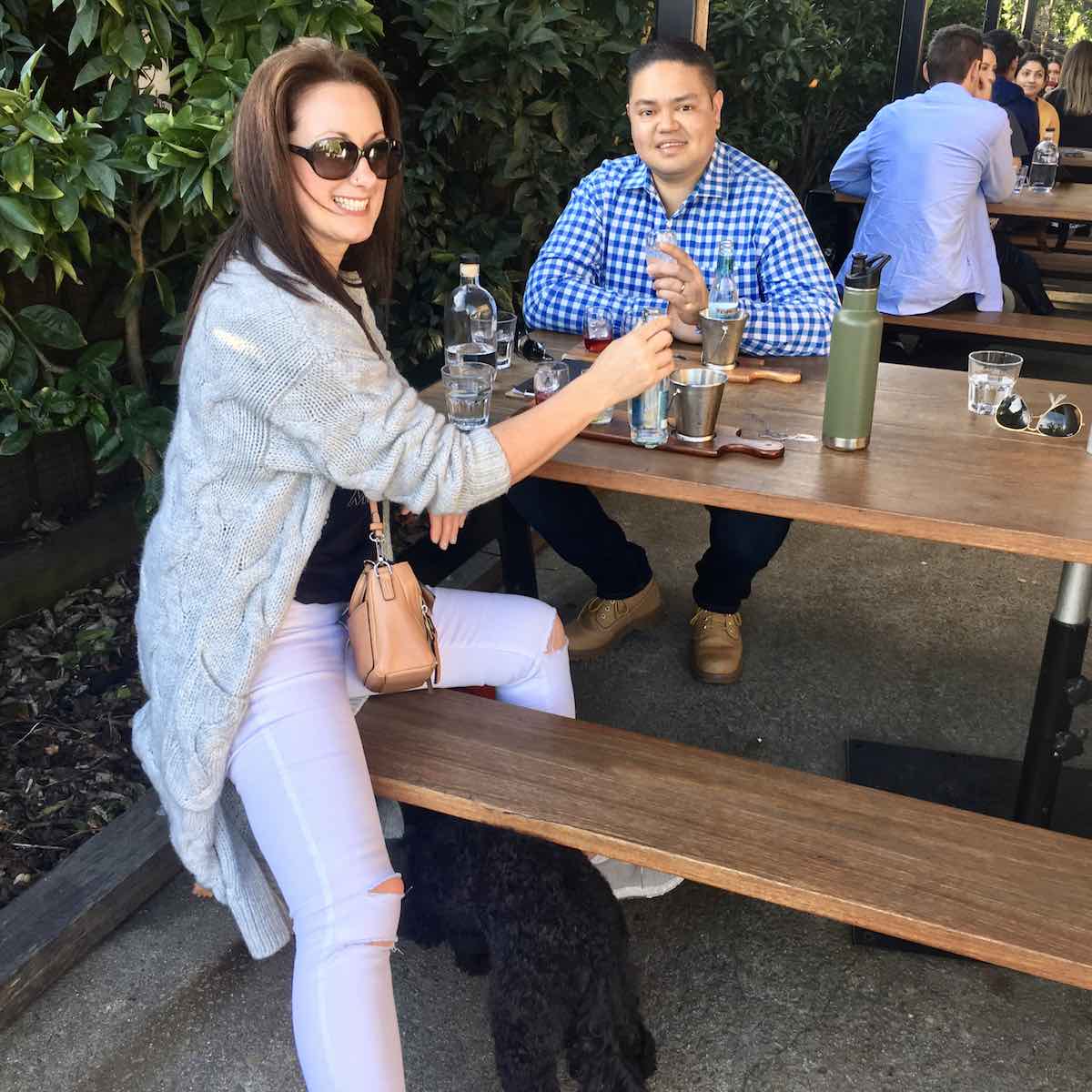 Here's my folks learning about gin, thinking 'Come on, we're thirsty'!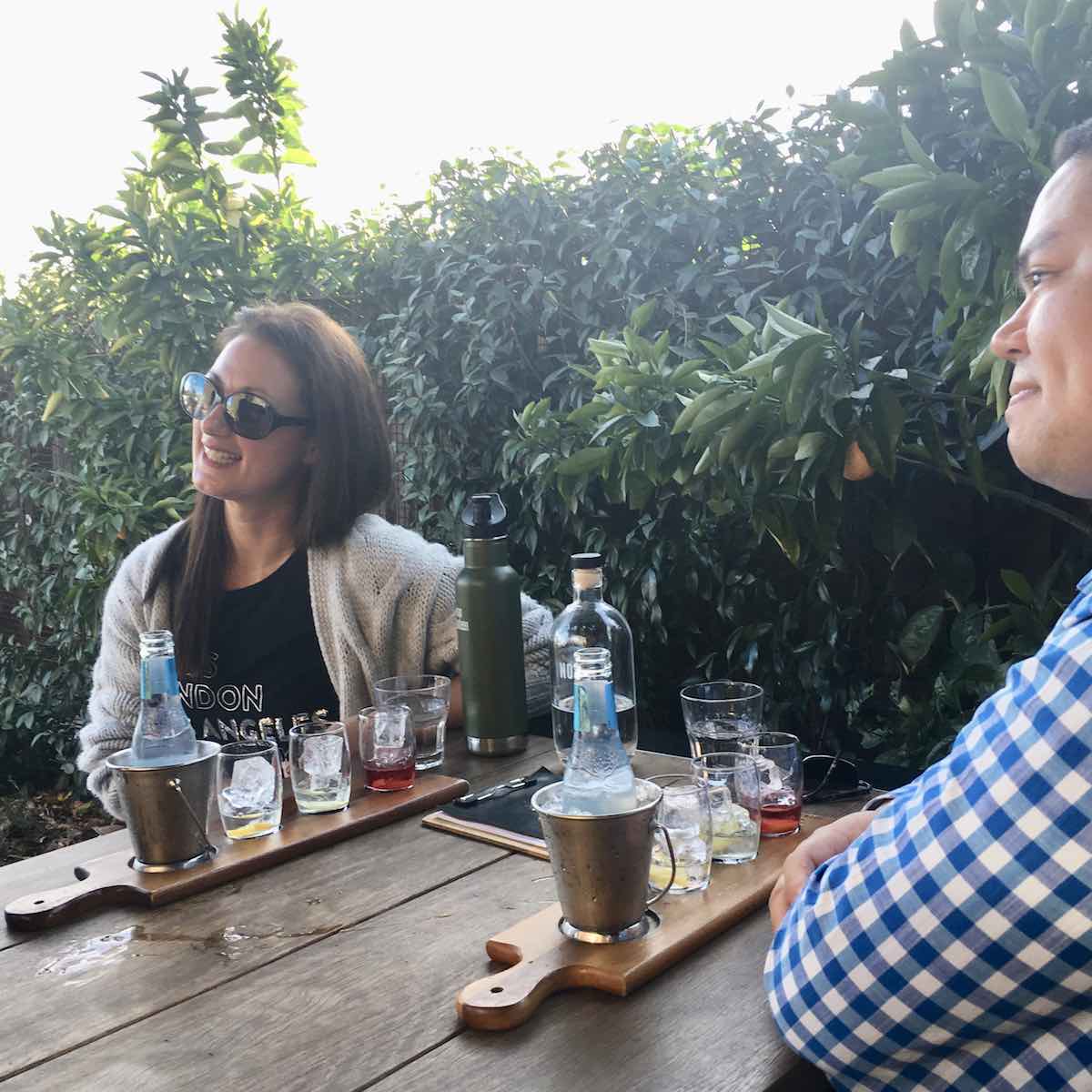 My mob already love Four Pillars Gin – I know this as we have their marmalade at home, I eye it eagerly most mornings hoping some will fall on my breakfast kibble!  I saw them buy some more marmalade, there's hope for my kibble.  I watched them knock back their three gins while I carried on being made a fuss of, and the more they drank, the more smiling and laughing they became; it was great.
Then, after they'd drank all their gin, we sauntered over the road to where a man they called a street artist, was spraying a wall with paint.  It looked like SUCH fun, and I was all ready to have a turn, but it turns out we weren't here to paint, we were going inside instead.  We got inside and it was more wine tasting – this place is called P&J and they're happening dudes (I overheard Jeff say this so it must be true).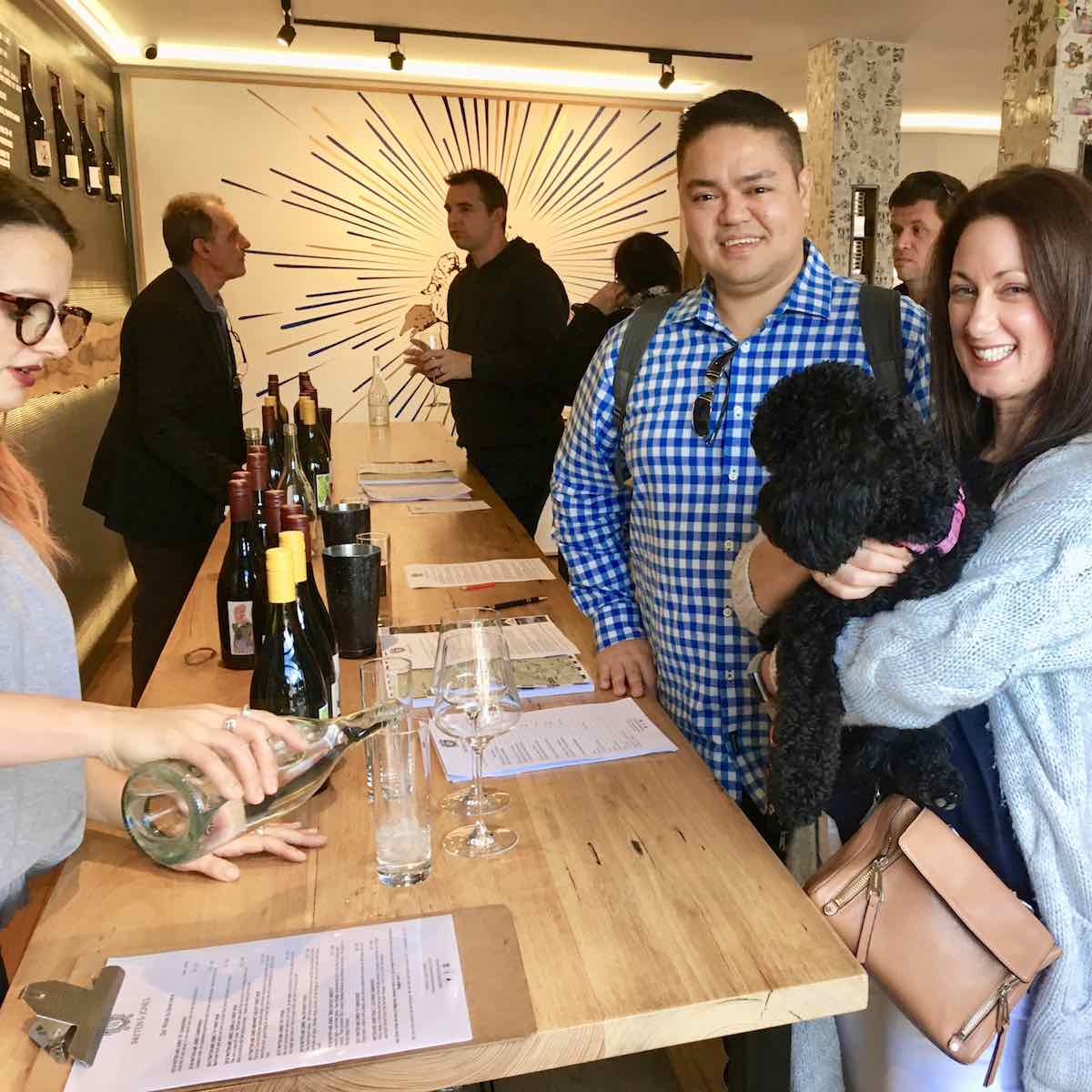 Mum was really excited to try their Leuconoe Sangiovese as Jeff had been bigging it up and they loved it – in fact she seemed to love all of them, she bought the VV Pinot as well!  Poor thing must have suddenly felt tired, probably from all the birthday excitement, and she came and joined me on the floor and we had such a nice sit down together.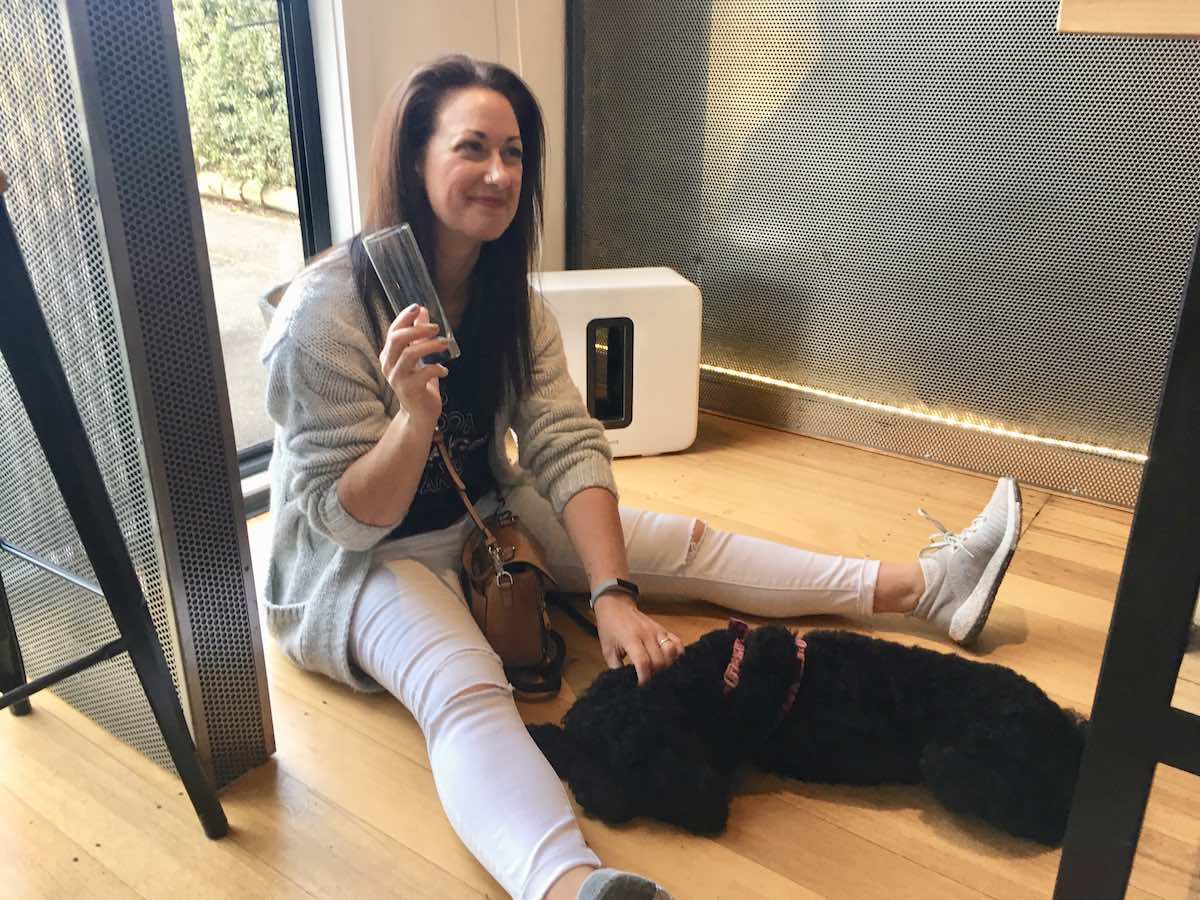 After many an in depth conversation about small batch vineyards and just how many bottles you can get out of a barrel (or something) we said our fond farewells and with bags of bottles clinking away together in the van, Jeff drove us to a nice shop called Kitchen & Butcher so Mum & Dad could buy yummy things for our supper.  I stayed in the van with my Mum, as Dad knows what we both like.
And so Jeff then drove us to our Yarra Valley home, he's really nice like that, and I raced in with barely a backward glance to secure my place by the fire – you have to be quick to make sure you're closest!  I REALLY like being in the country, must be the serenity and the great smells everywhere and Jeff made our day so special.  He gave Mum a bottle of Shiraz when he said good bye and she said it had been the best birthday ever.  Dad and I high fived one another – we'd done well.