So Polly & Caroline are dog mad.  Seriously dog mad.  So much so, they chose to stay at Wiggley Bottom Farm because they read on the website that Wiggley have 3 resident dogs.  One of whom is a Dalmation.  Called Polly.  Caroline emails us saying they are visiting from Singapore, leaving their puppies at home, and can they bring Polly (dog not girl) from Wiggley on tour with us, to help Polly (girl not dog) celebrate her birthday.  When we have finished clutching our sides laughing, we call Gille at Wiggley and see if Polly (dog) is up for a loan!?
Monday comes around and Jeff arrives to collect them from Wiggley for their tour, it's a dreary wet day and autumn has set in, it's chilly and Polly (dog) has her tartan coat on, all ready for her outing.  Polly (birthday girl) sits in the back of the van stroking Polly (dog) and Jeff has to explain that due to OH&S she won't really be able to travel in the back of the van with Polly (dog).  It's clear the two Polly's are great mates already.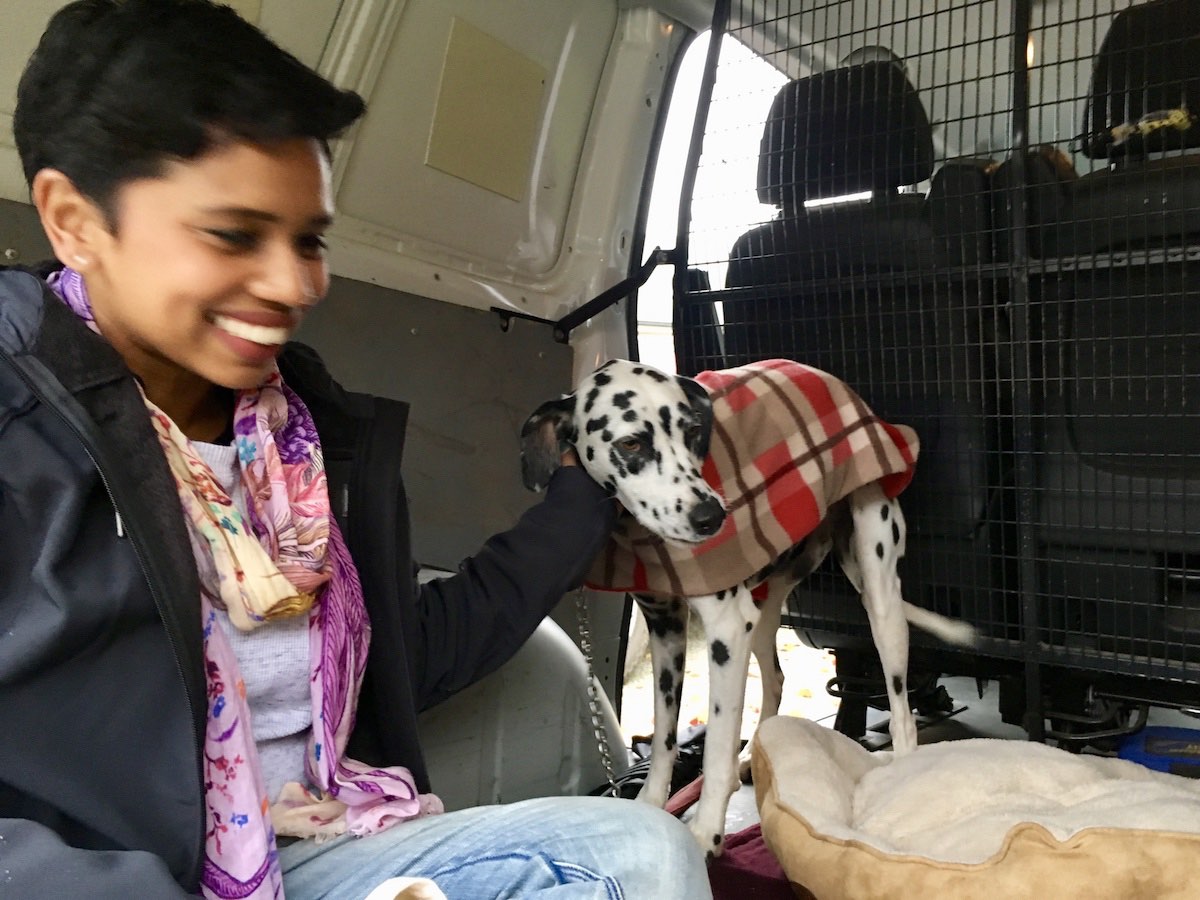 First stop on the tour is Soumah Wines, situated high on the crest of a hill with staggering views – even on a bleak weather day like today.  The vines' leaves are turning, all at a different rate (depending on how early the block was picked – we learn from the cellar door staff) and the colours are ridiculous – there's no filter on this picture.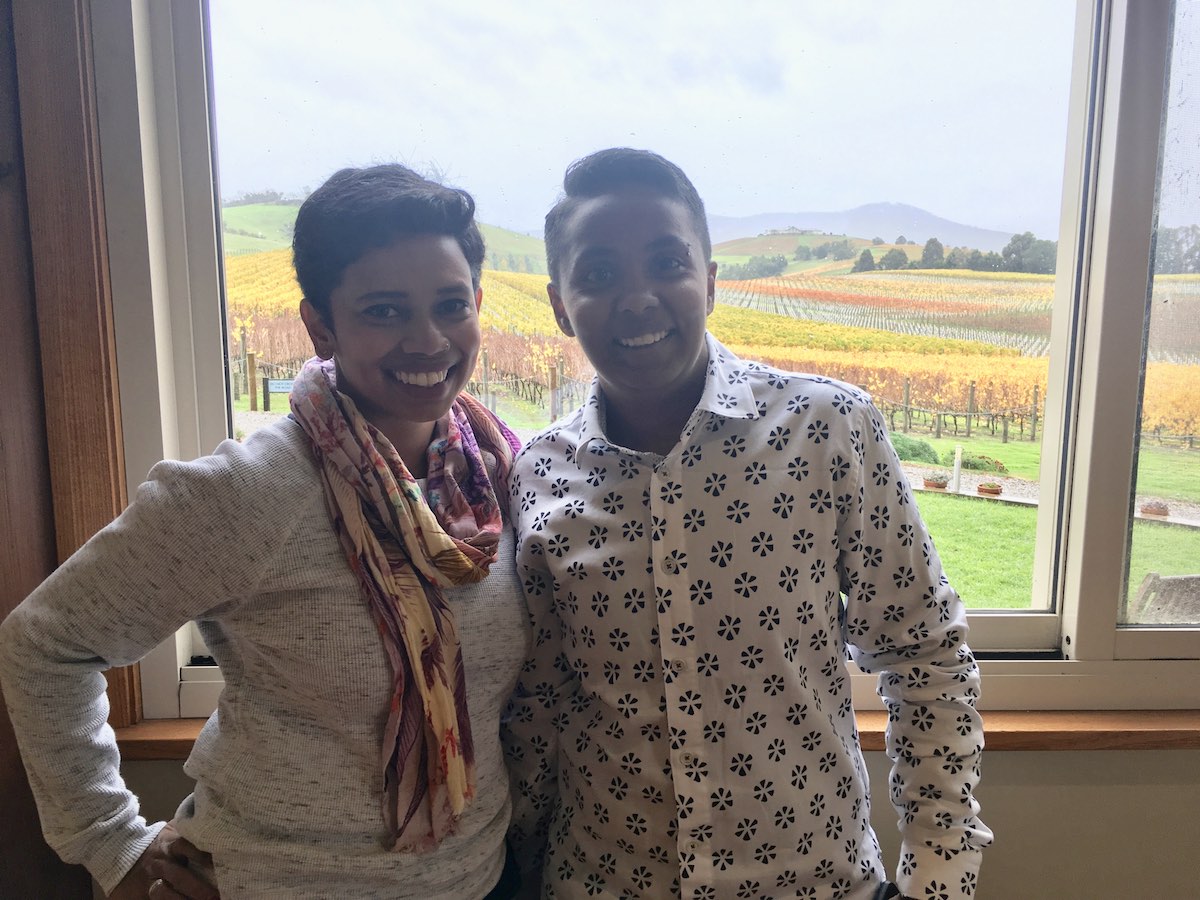 The girls had a superb wine tasting while Polly (dog) took Jeff off for a walk at break neck speed.  She's a massively strong wilful dog, delighted to have someone new to drag around a vineyard!
When Jeff arrived back at the cellar door, looking a little windswept from his adventure with Polly (dog), they set off to visit Maddens Rise, a gorgeous boutique pet friendly cellar door where owner Emma knows Polly (dog not girl) well.  Polly charged around in the cellar door having a ball (dog not birthday girl) and when she was put back on the lead, quite happily led Polly (birthday girl) astray at considerable speed.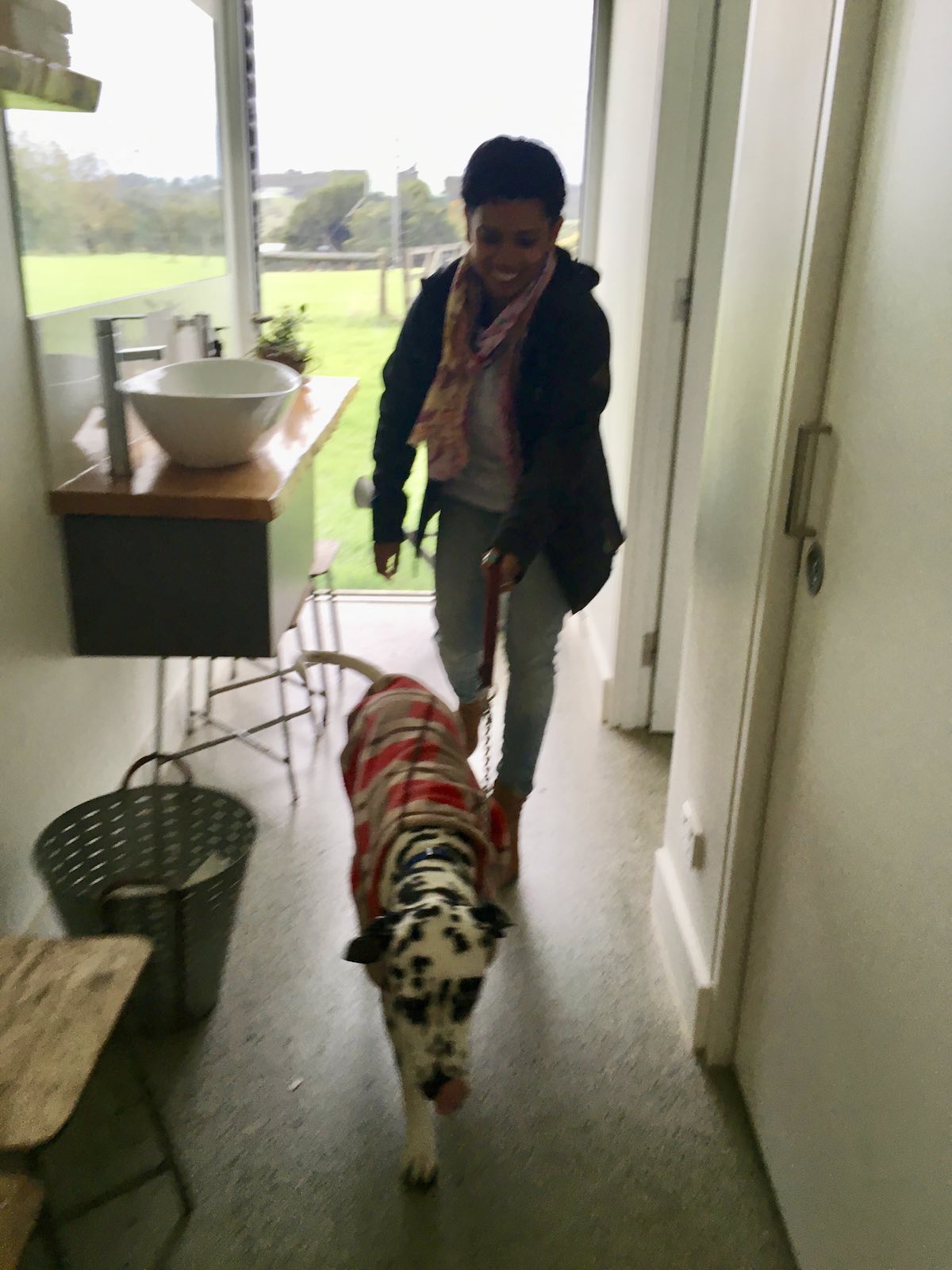 The only time she was still was when everyone was patting her (fair enough too).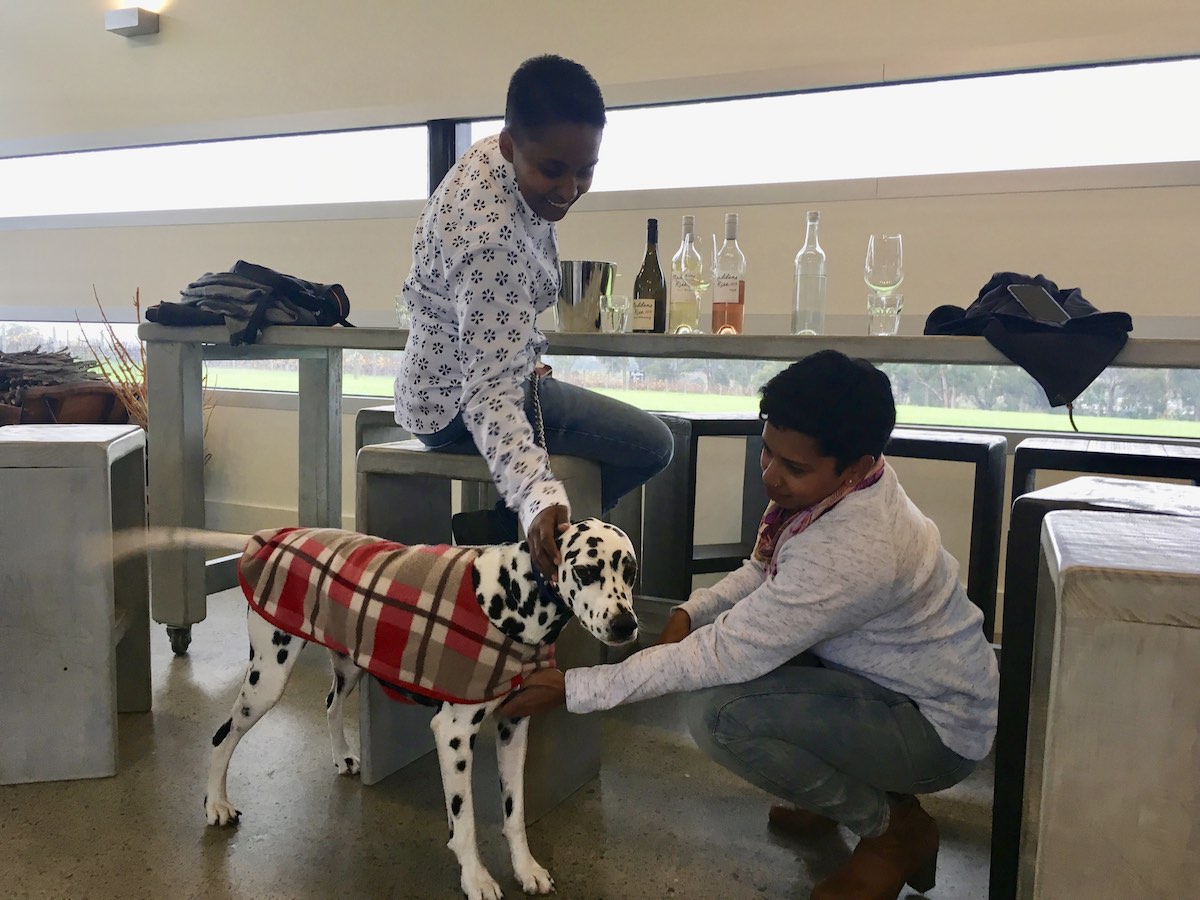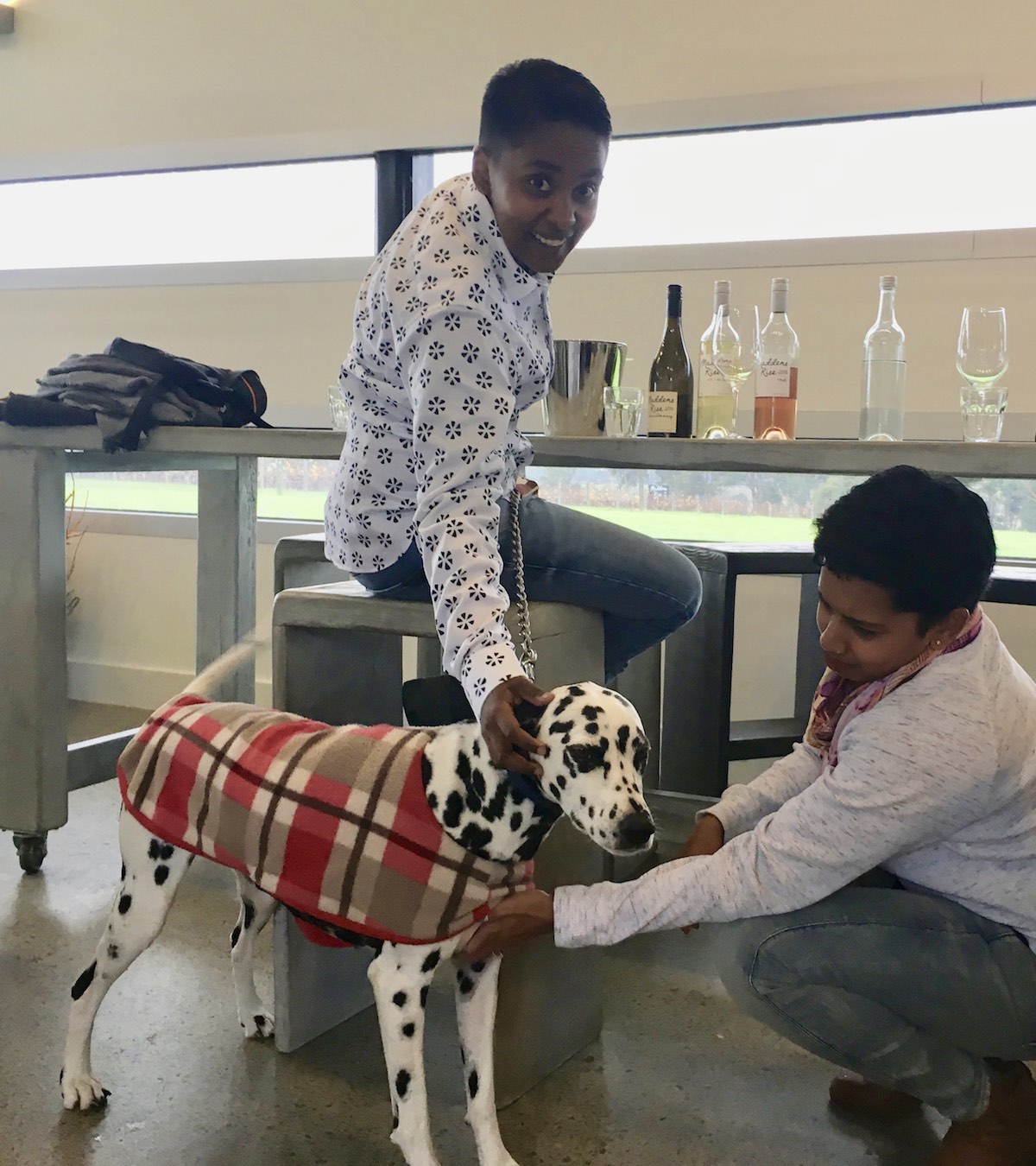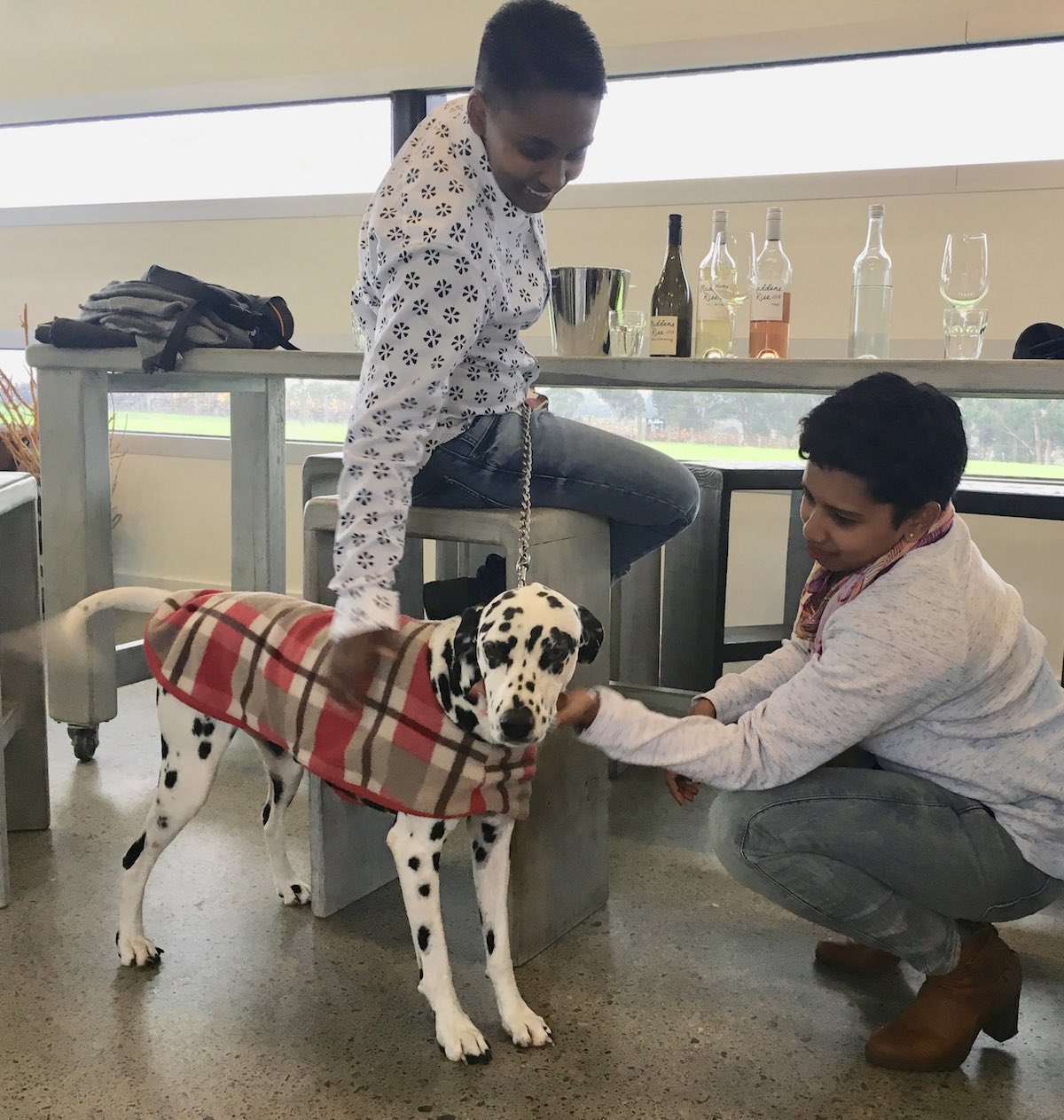 The couple bought the Arcobaleno and Nebbiolo which is high praise as they're not big red wine drinkers.
Polly was ready go home by this point (dog not birthday girl – birthday girl was having heaps of fun!) as she's not used to being separated from her pals Ziggy and Teddy so Jeff swung past Wiggley and dropped Polly off (dog not birthday girl) and offered to collect George, his 17 year old Schnoodle (Schnauzer/Poodle).  Polly (girl not dog) loved this idea so they went and collected George who was fast asleep in his bed and took him out for lunch.
Only, George took them out for lunch – look at him leading the way!!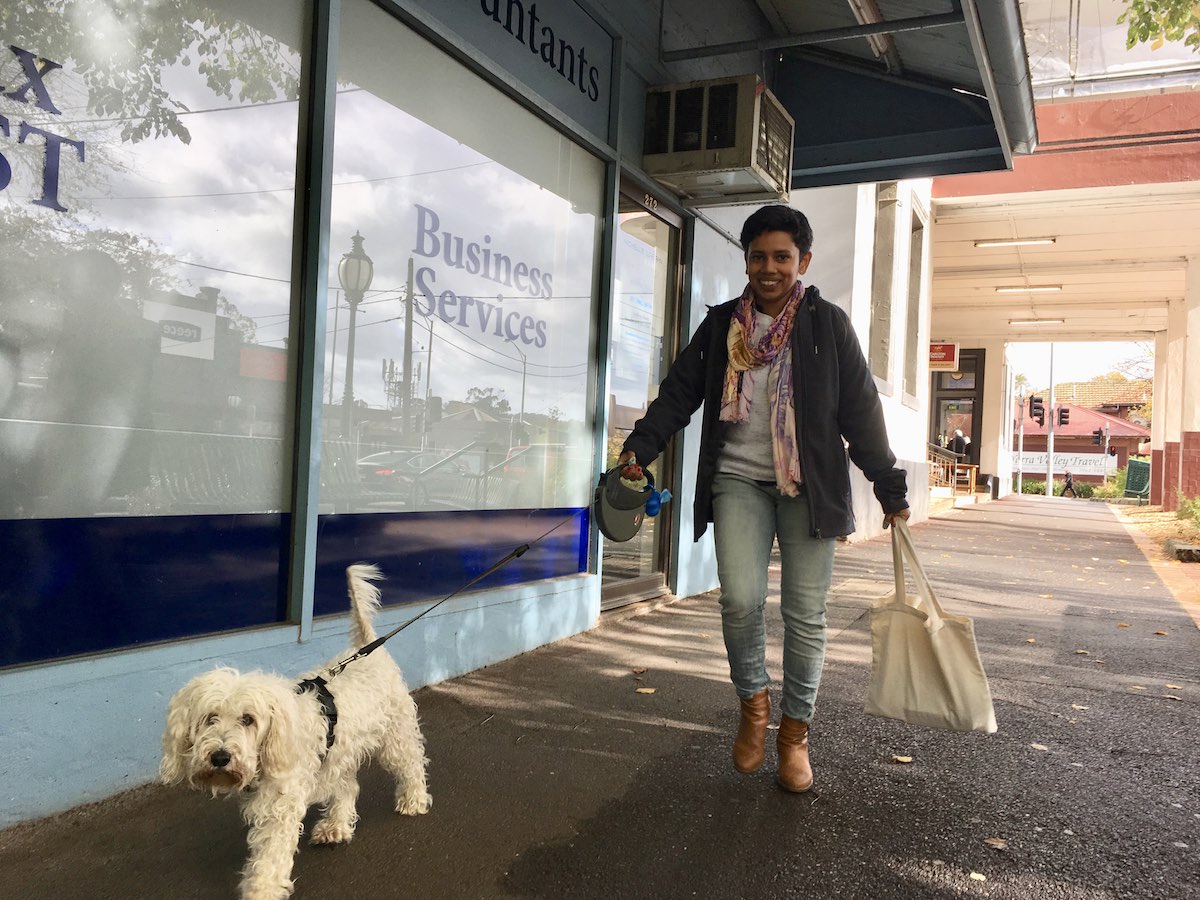 Jeff had made a reservation for the birthday girl at My Little Kitchen as it is super dog friendly and they took their seat in the covered courtyard where George went off exploring (or was he trying to escape?)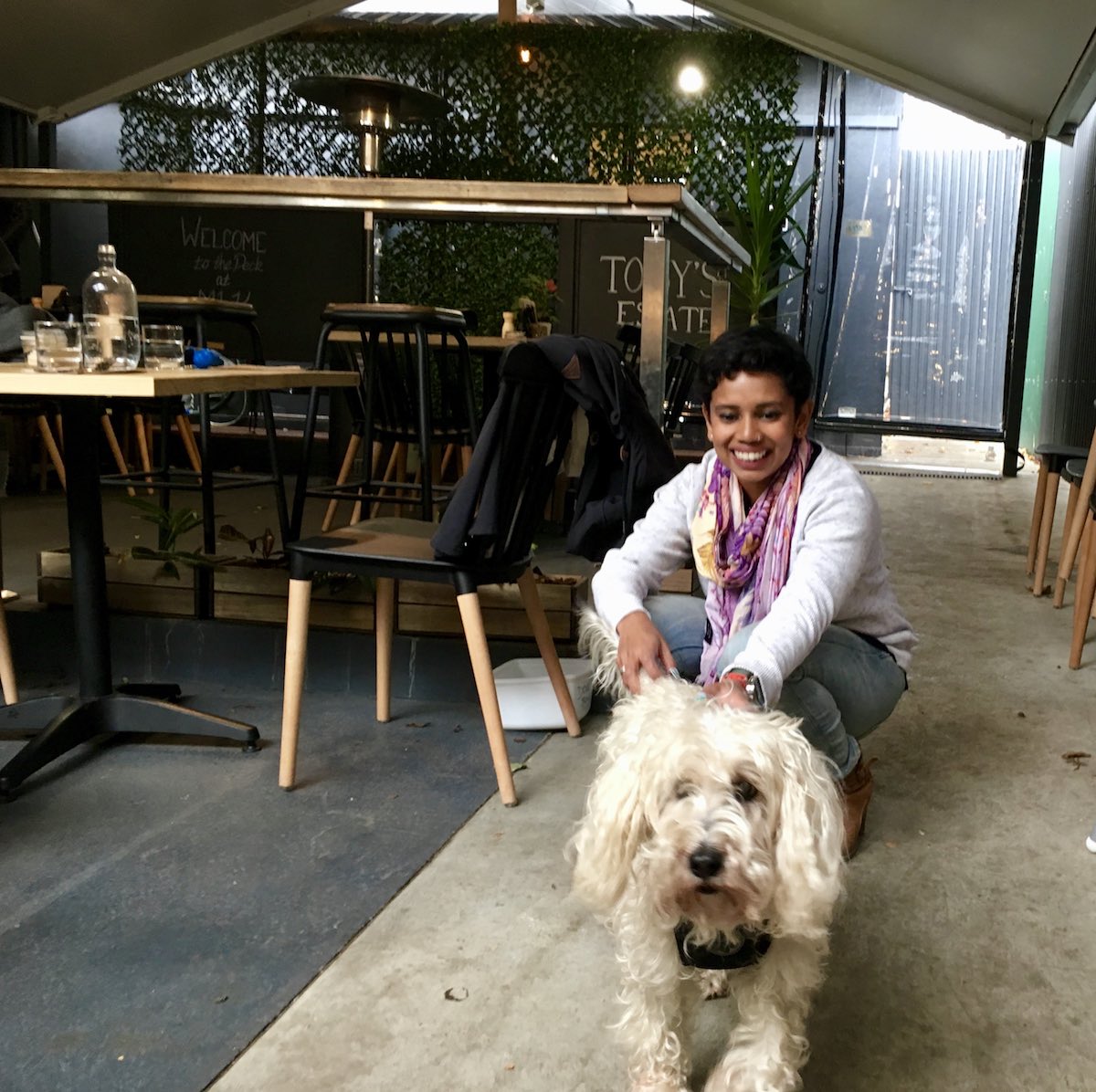 Caroline had said in her correspondence emails 'We're rather small Asian people and we don't eat very much.'  I fear we must have collected the wrong couple for our tour as these two hoovered down their lunch like there was no tomorrow.  Caroline chose the Osso Buco, and Polly (girl not dog) had the chilli crab linguine.  Jeff ordered the buttermilk chicken in a croissant and nearly cried it was so good!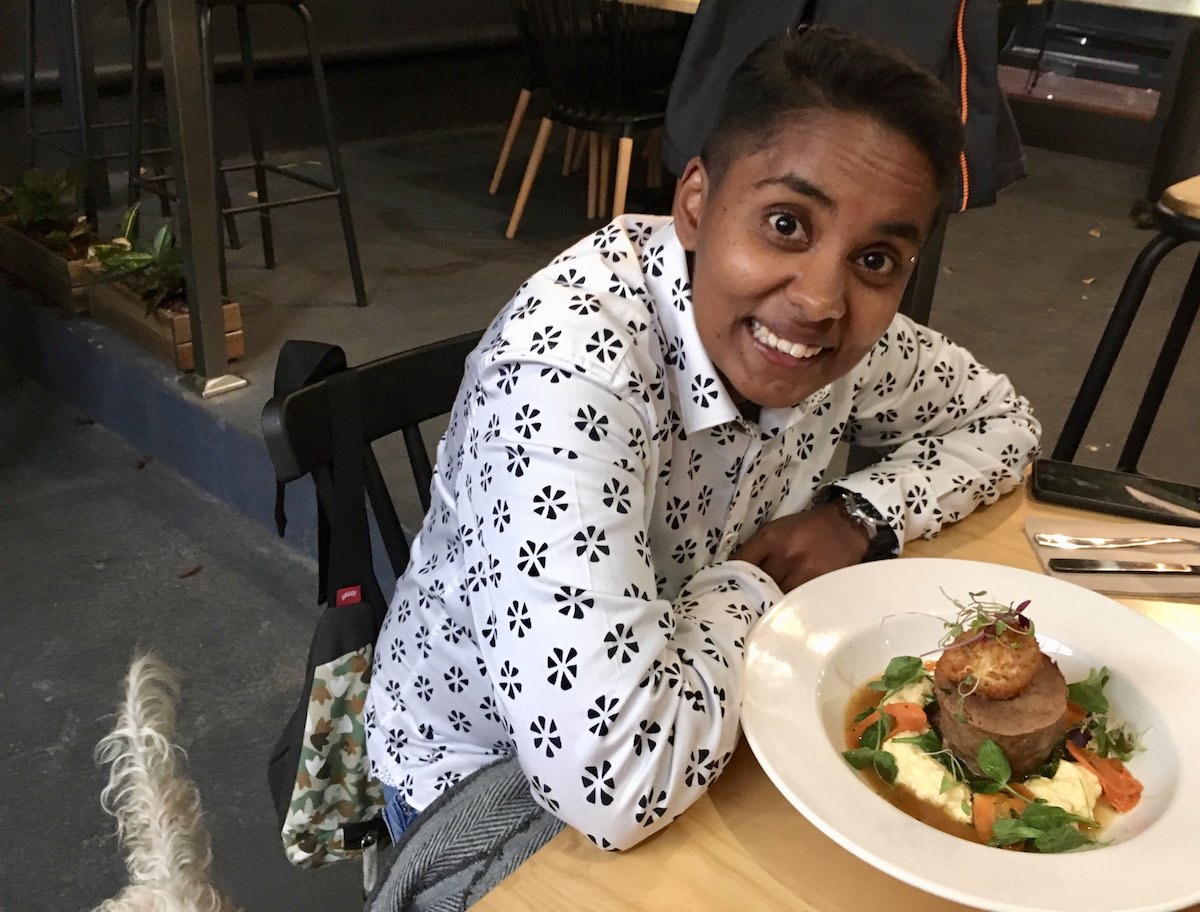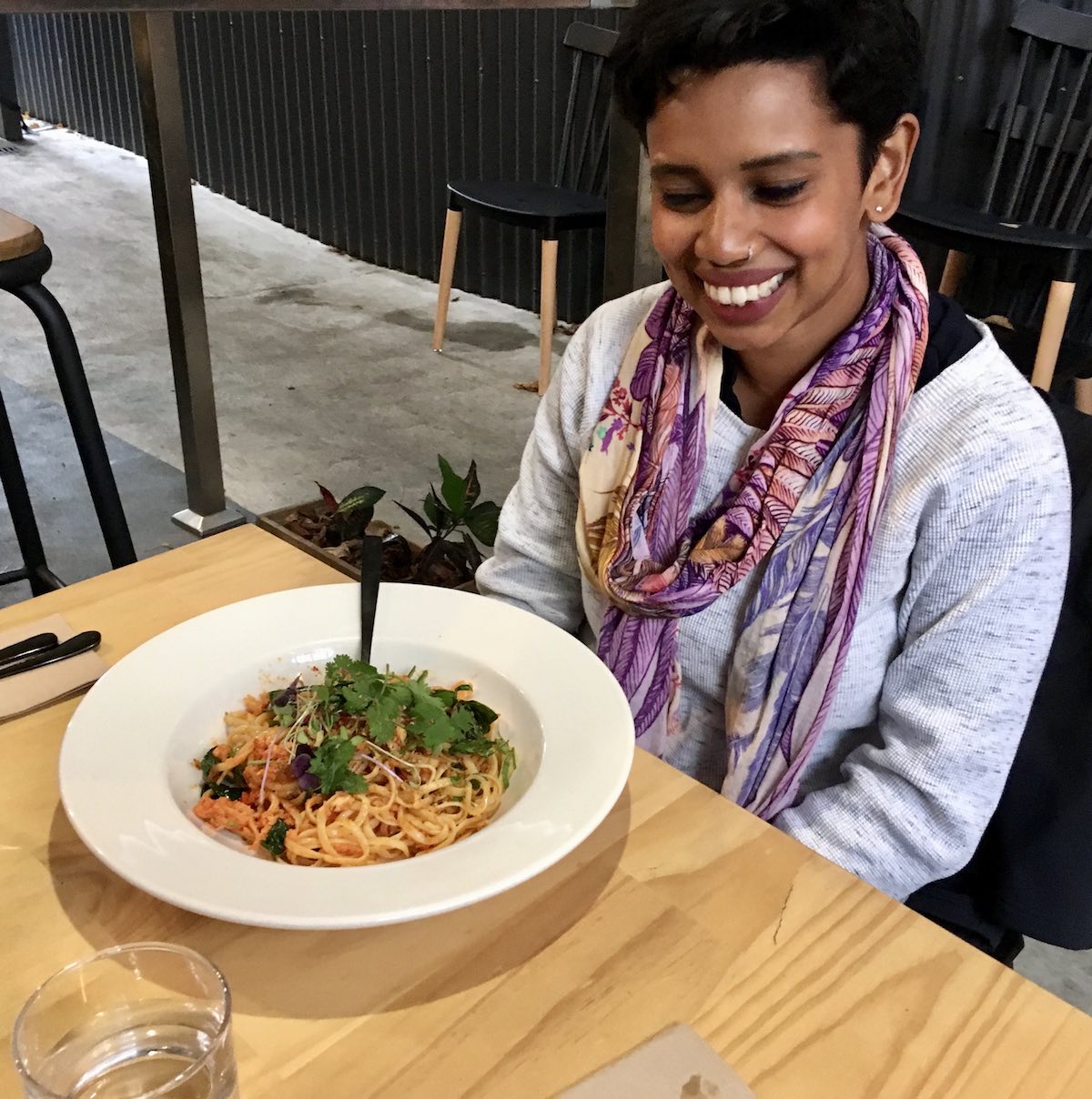 After lunch George bade them farewell as it was a little too cold for him to want to sit outside at Four Pillars Gin (esp given no-one offered him even the tiniest snifter of gin which might have made ALL the difference).   The girls loved their tasting paddles – as you can see –  gin does something quite peculiar to Polly!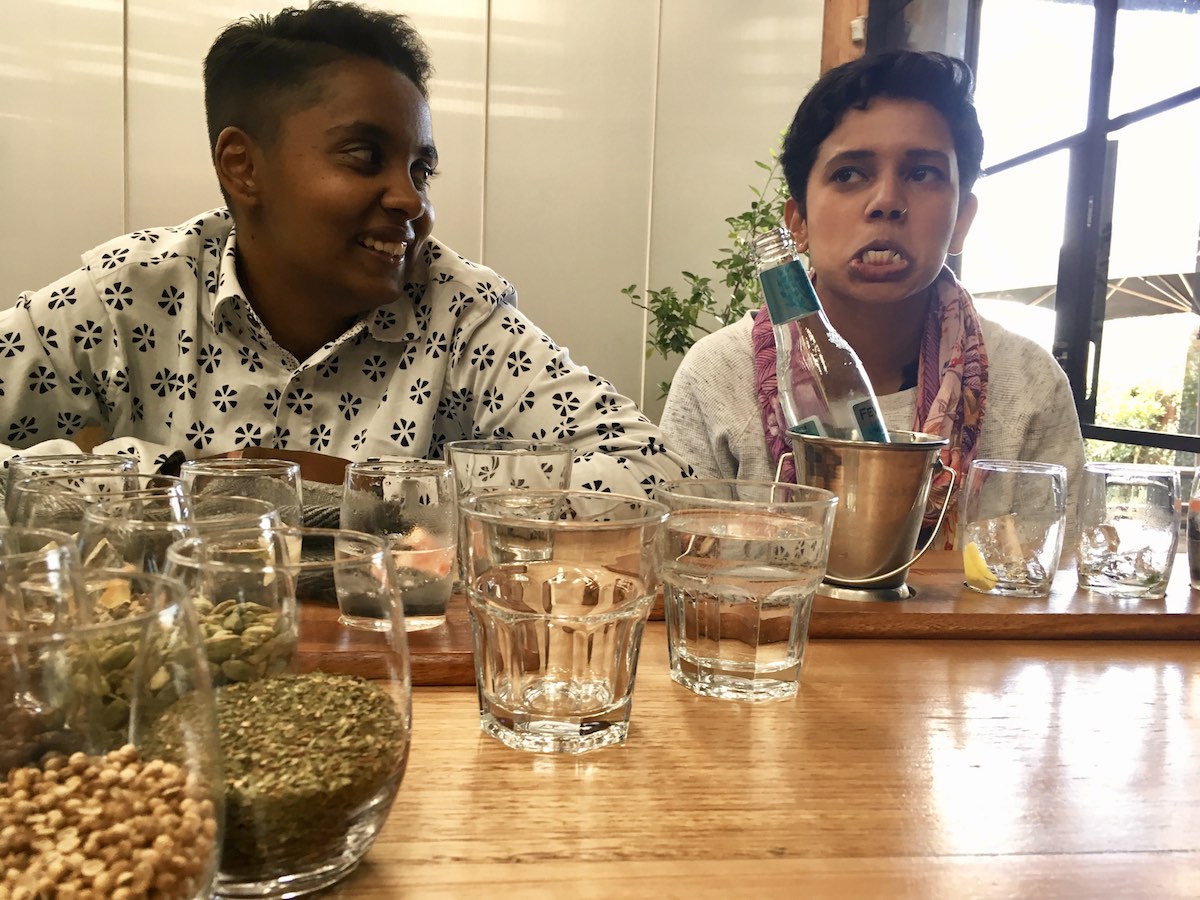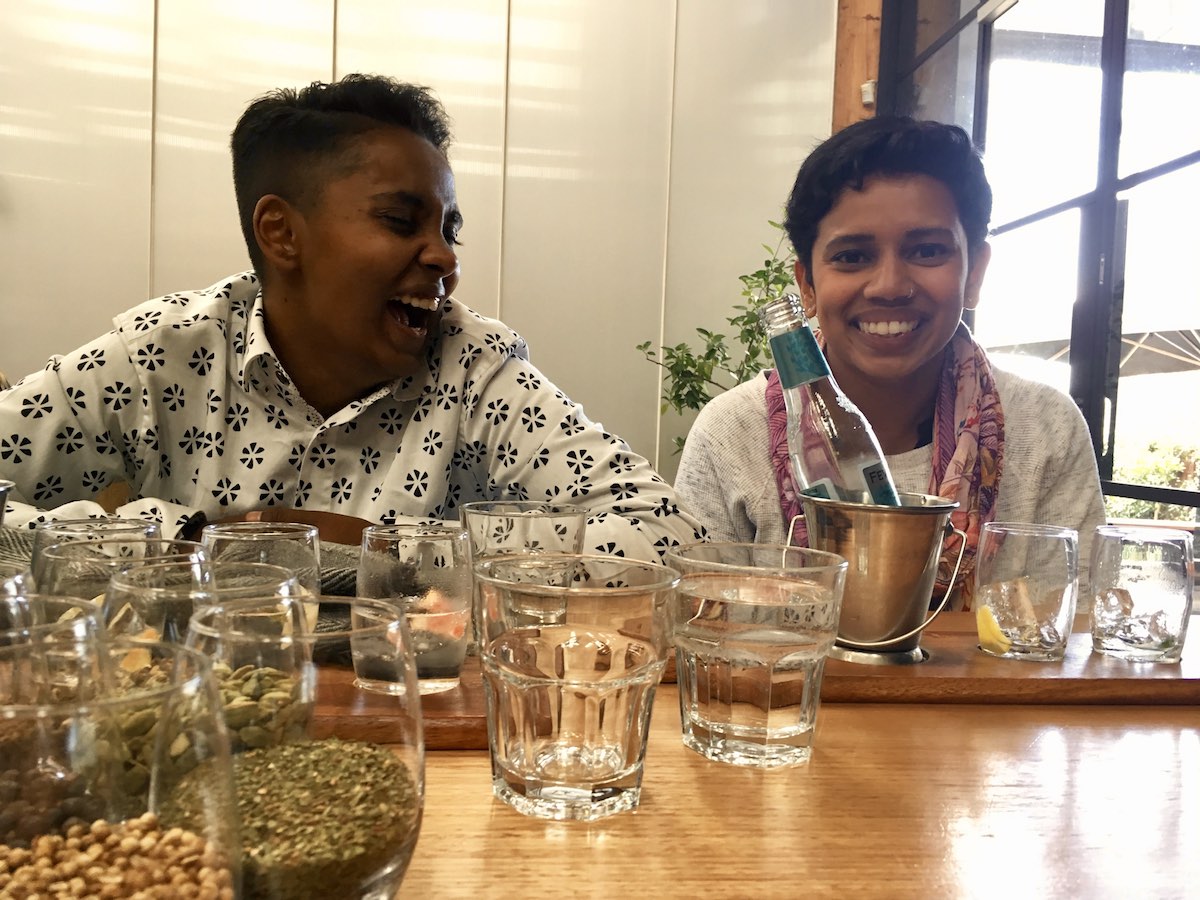 They bought a sample pack of gins to take home with them and will think back fondly to this birthday every time they drink it.
Over the road from Four Pillars Gin happens to be one of Jeff's favourite cellar doors – Payten & Jones.  Favourite because they are genuinely dog friendly, genuinely people friendly and make one of the best Pinots in the whole region.  Their labels and artwork set them apart from other bland wineries too and Caroline, even though she's been in advertising for years, still falls for a pretty label!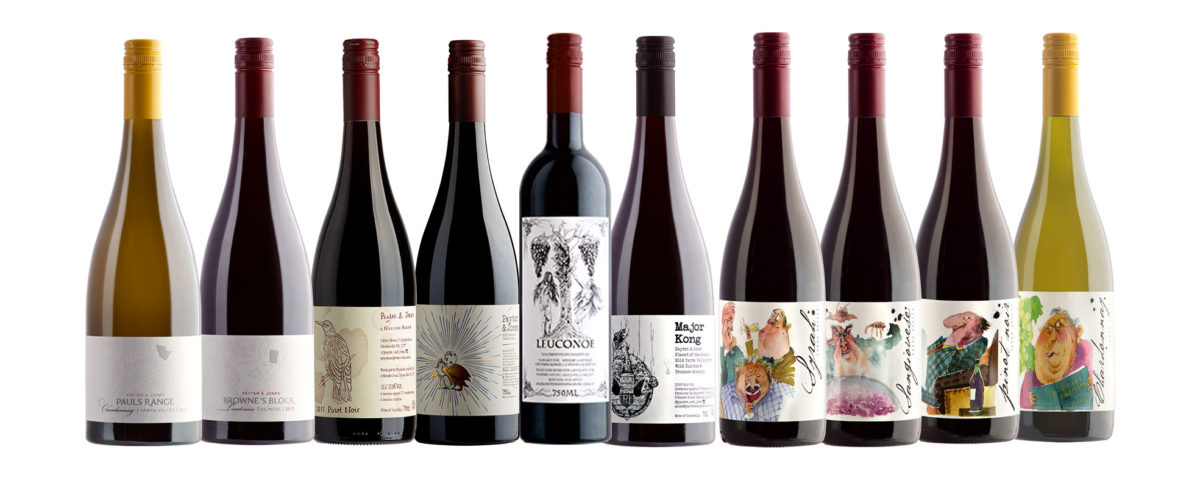 Jeff wanted to shout the girls a glass of celebratory bubbles for Polly's birthday and decided to take them to French owned cellar door Dominique Portet (7th generation French winemakers) which was the perfect choice given that 'le champagne est français'!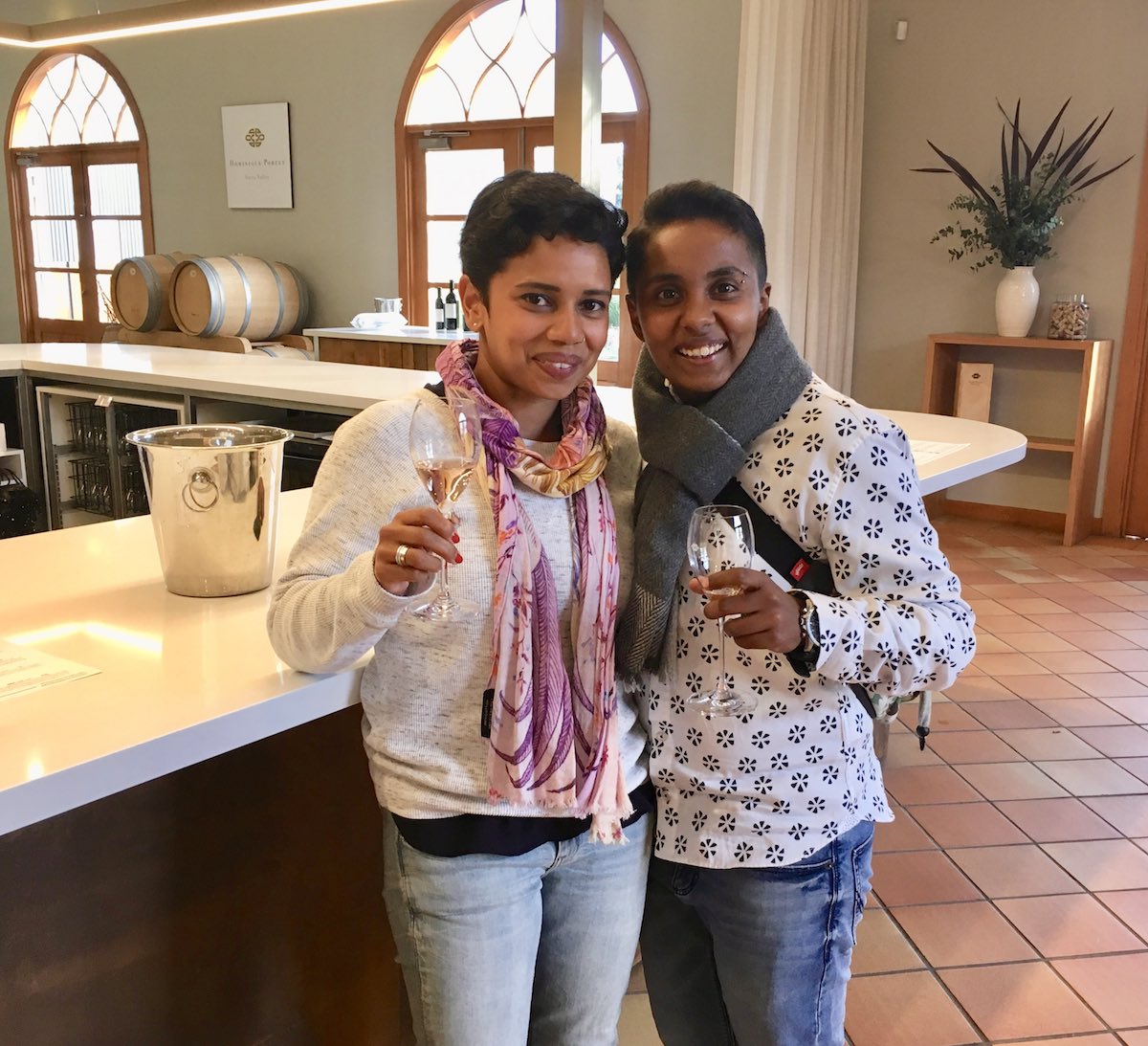 The Yarra Valley Dairy sells delicious cheese made on the premises so Jeff drove the pair up to the dairy for a cheese tasting and to browse the shop which resulted in a fair amount of gift purchases for friends back home.  Polly was in need of a little piccolo pick me up coffee by then, so they sat and revived themselves looking out across the paddocks.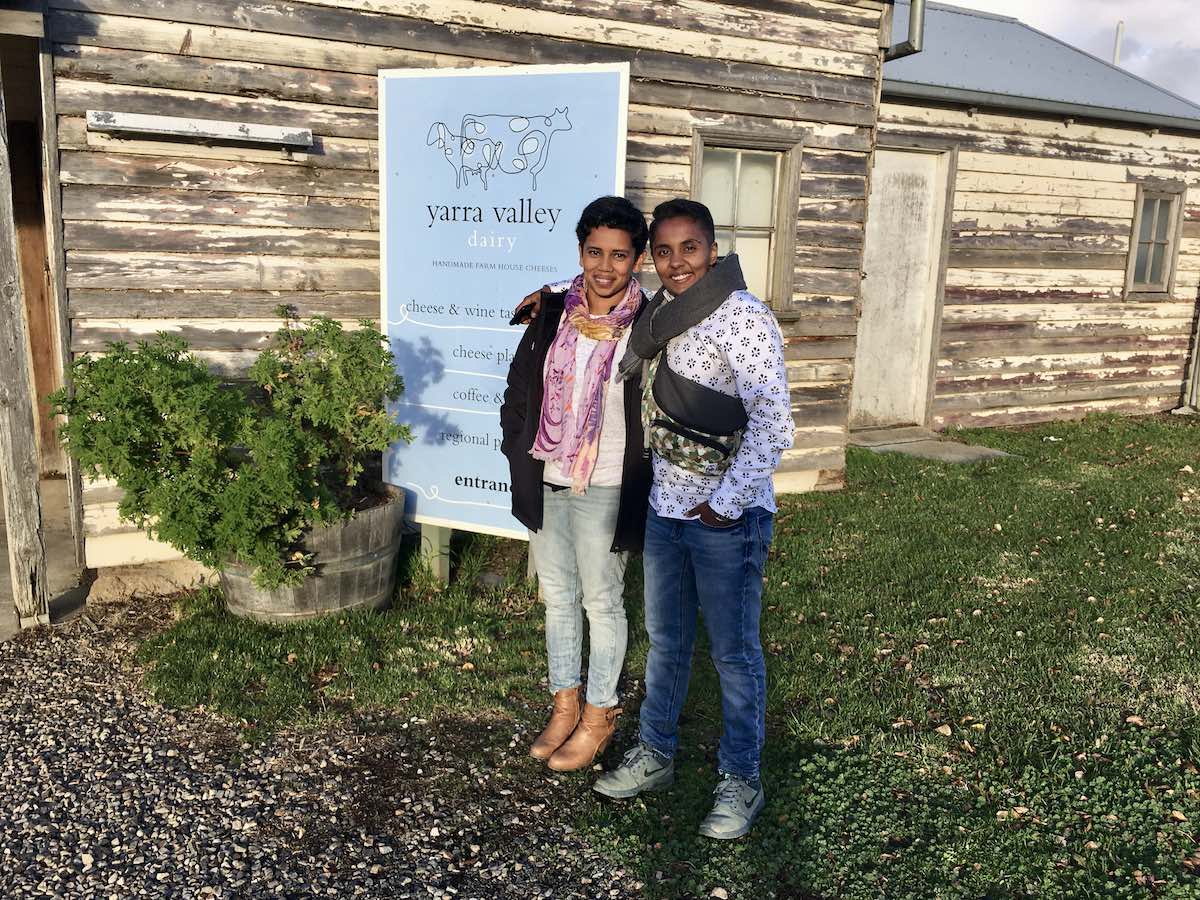 Being early eaters, the girls had made a reservation for an early dinner at Meletos so Jeff drove them to the fabulous complex of old restored brick buildings which now make up the Providore, Stones, the Farmhouse and Meletos.  They had a look round the Providore before heading in to dinner – for yet more food (that's right, not bad going for 'small Asian people who don't eat very much'!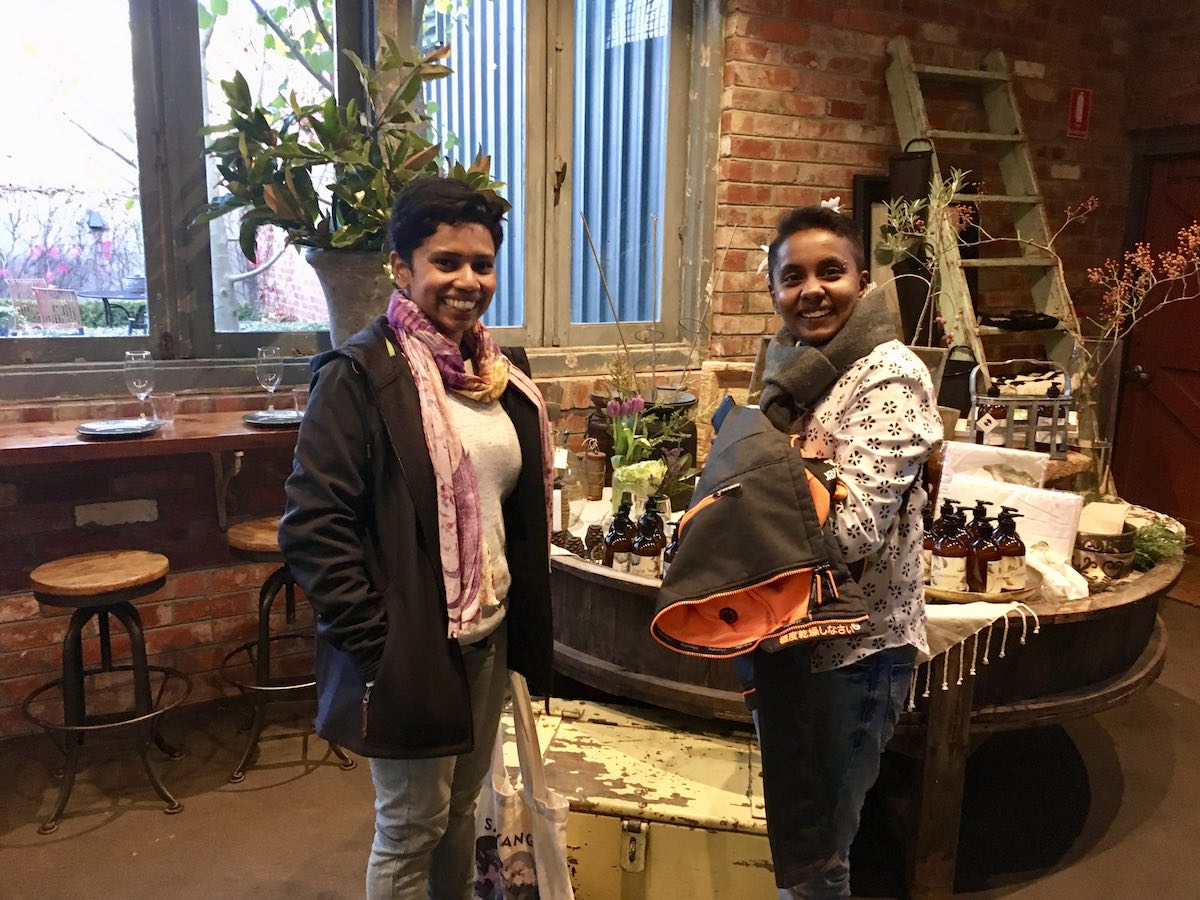 Helen collected them after their dinner and drove them back to Wiggley – we can't have guests stranded out in the middle of nowhere – and we said our good byes to a very happy pair, they'd had a great fix of dogs, had tasted and bought great Yarra Valley wines/gin/cheese/pressies, had eaten extremely well and were looking forward to a lie down after their huge birthday day.  One to remember, for all the right reasons.
Click here if you'd like to find out more about our Pooches & Pinot tours.