When Helen & Ryan looked up dog friendly places to stay in the Yarra Valley they were bowled over when they saw on Wiggley Bottom Farm's website that they could book a pet-friendly wine tour too!  And so a couple of emails and a phone call later, they were booked in, to do a half day Lean As a Whippet tour with Jeff.
Jeff always calls people to chat through itineraries to make sure he is creating the best tour possible for our guests.  So with Helen & Ryan both on speaker phone, they came up with a great sounding afternoon's tour and the deal was done.  Yesterday, at 1pm, he collected them all from Wiggley and off they set to Soumah Wines, their first cellar door, where he and their two pooches Pixel, the long haired Dashchund and Archie the Cavoodle enthusiastically took Jeff for a very fast paced walk while Helen & Ryan did a tasting at the cellar door.  Everyone had a ball, Jeff saw parts of the Yarra Valley he'd never see before and Helen & Ryan bought two bottles of wine 'for later'.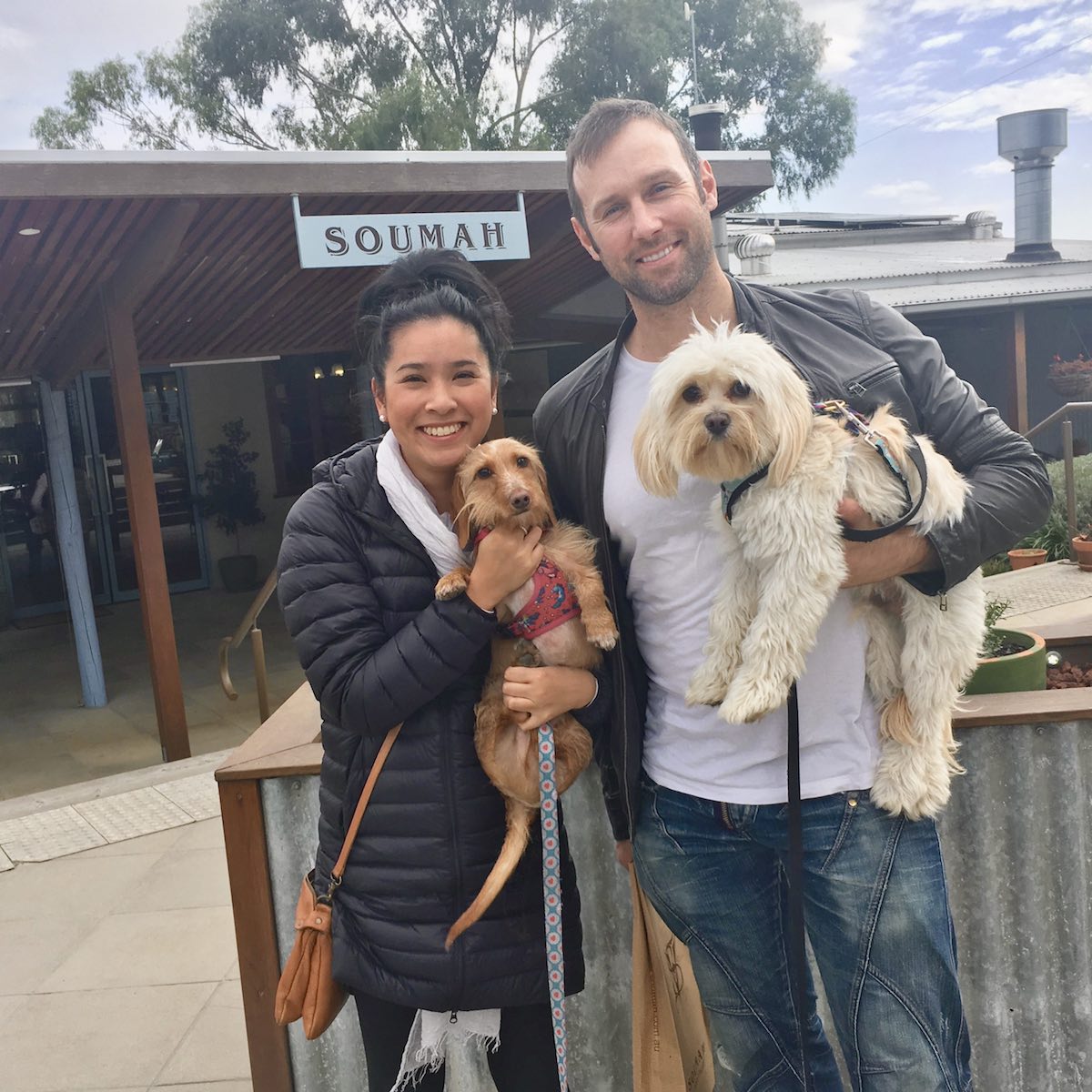 Come on Jeff, keep up!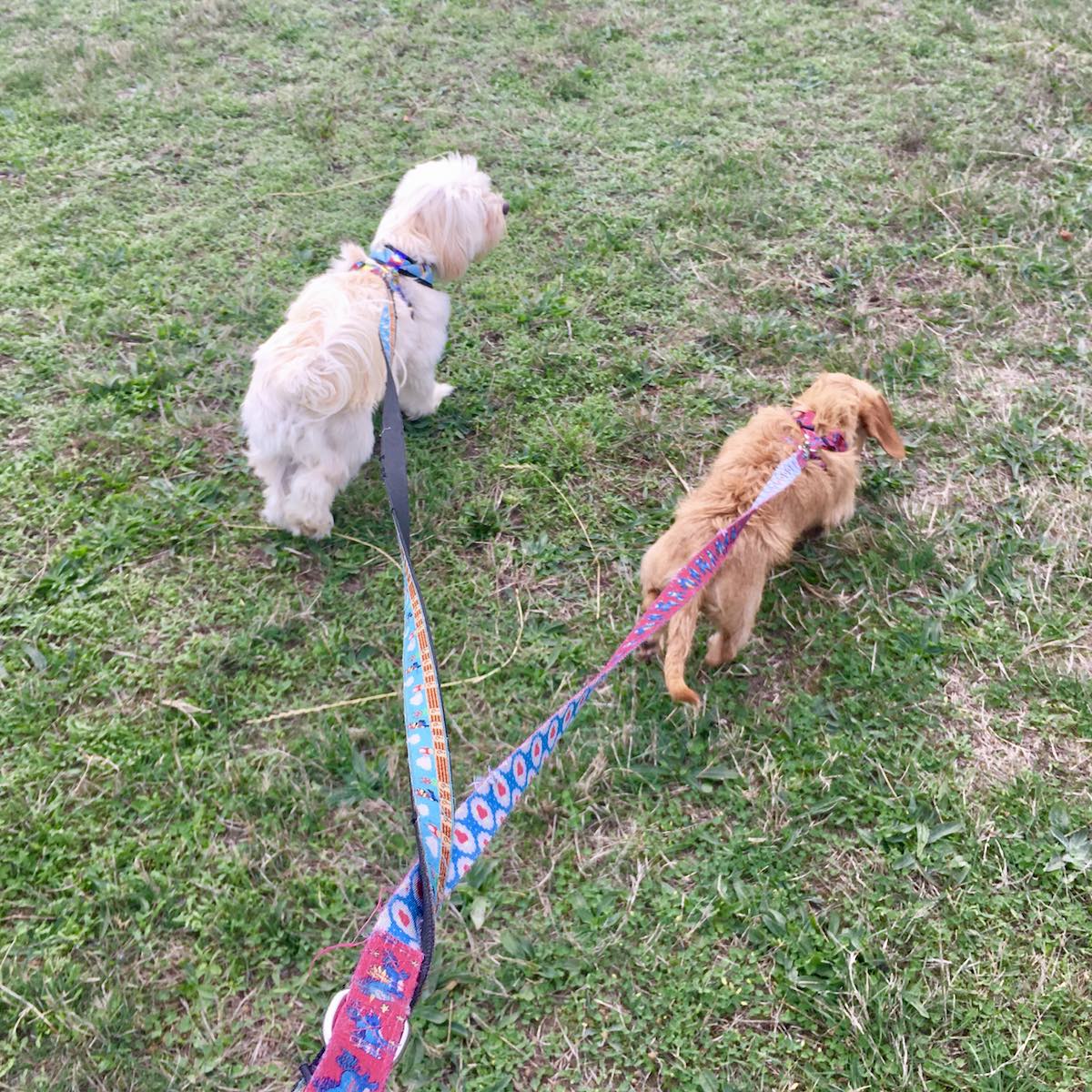 Our next stop was Meletos where Ryan was keen to try a tasting paddle of Napoleone's various brews.  The weather was playing nice so we sat out in the garden and Helen had a glass of their cider while Ryan had his beers.  Poor Pixel thought he was getting one and looked quite excited at the prospect.  I mean, why else would Ryan have so many glasses in front of him?!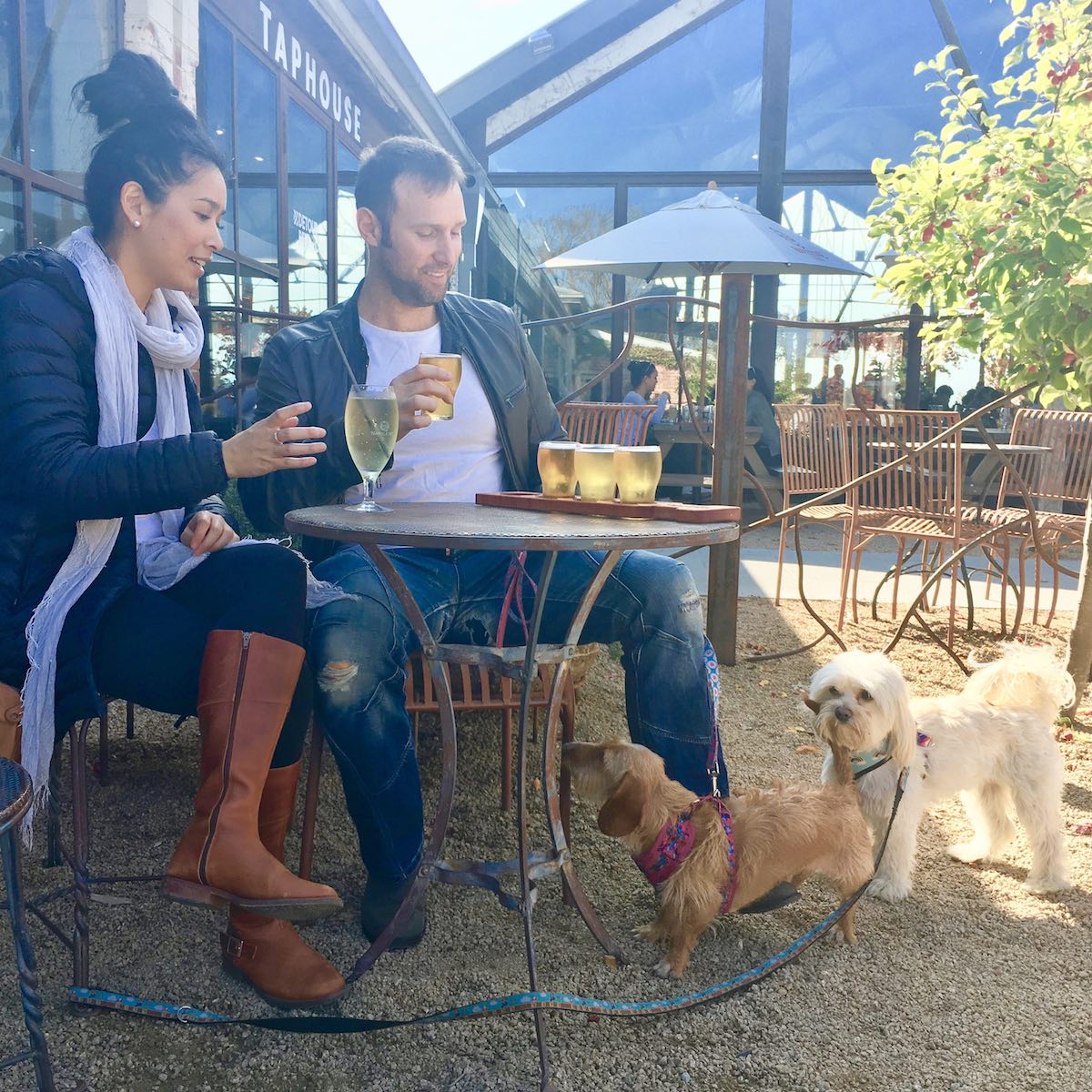 Normally on our half day tours, our guests have had lunch before we set off, but these guys had been out wine tasting already that morning at Innocent Bystander so were now in need of some sustenance – not a problem, Jeff knew just where to take them.  At pet-friendly My Little Kitchen cafe in Healesville, Ryan had the chilli crab linguine and Helen had the zucchini fritters, both great choices – and Jeff should know, he chefs there twice a week!  The dogs had the run of the covered back section so they were happy while their helpers had a good feed!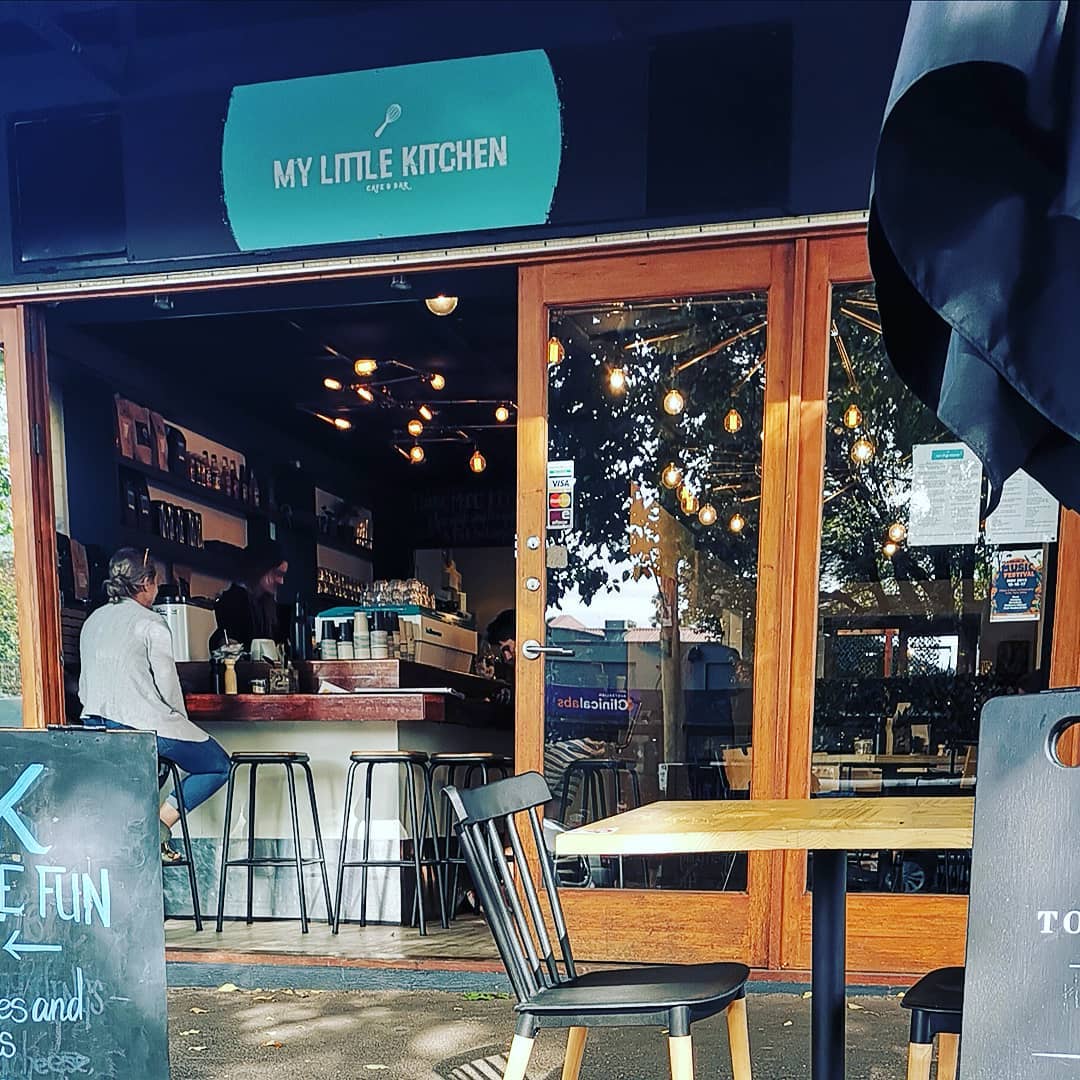 So with tummies full, Jeff took them next to Payten & Jones, a boutique cellar door owned by young gun winemakers Behn (Payten) and Troy (Jones).  They make one of the valley's finest pinot's and Helen & Ryan were tickled pink to be introduced to both Behn and Troy in the cellar door.  Pixel and Archie were happy that they were so warmly welcomed into the cellar door, but weren't that impressed when eyeing off the pinot still didn't help them get served!  No-one offered them a drop!  Except a bowl of water!  'Call yourselves Pooches & Pinot – where's the doggy wine!!!?'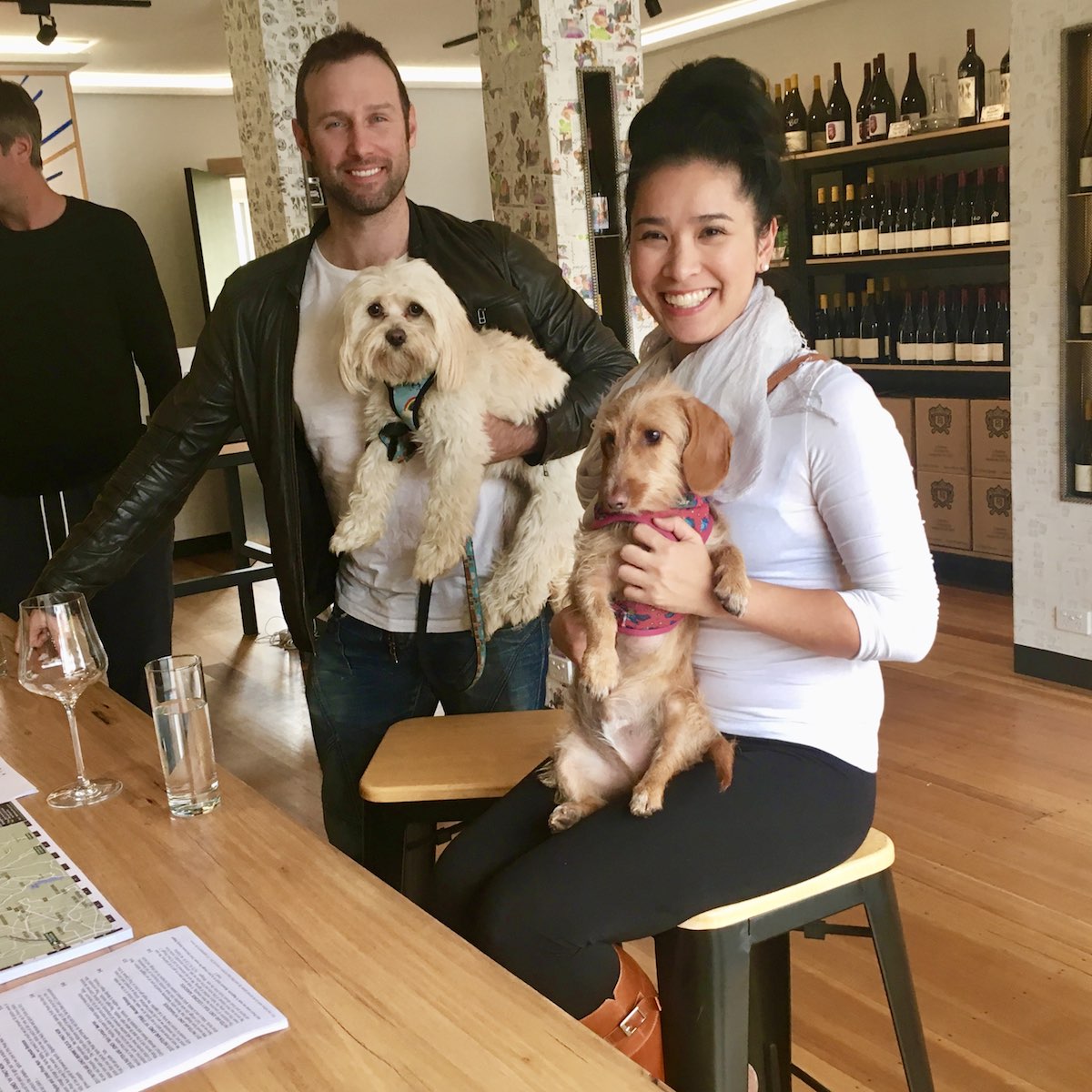 Realising we wouldn't have time to take them for a walk at one of our secret locations, we decided to head up to TarraWarra Estate for our last tasting of the day.  The walk is always a favourite part of our tours with our guests as they get to experience a 'local' walk that not even the poor locals know about!  So Jeff swore the dogs to secrecy and then showed them where the walk was on google maps, so they can go there tomorrow.
At TarraWarra Estate Pixel and Archie were in doggy heaven – as their helpers sat on the peppertree deck enjoying wine and cider (a St Ronan's cider no less, made by none other than the two winemakers Troy & Behn they'd just met!!) the dogs ran riot on the lawn having the best time EVER.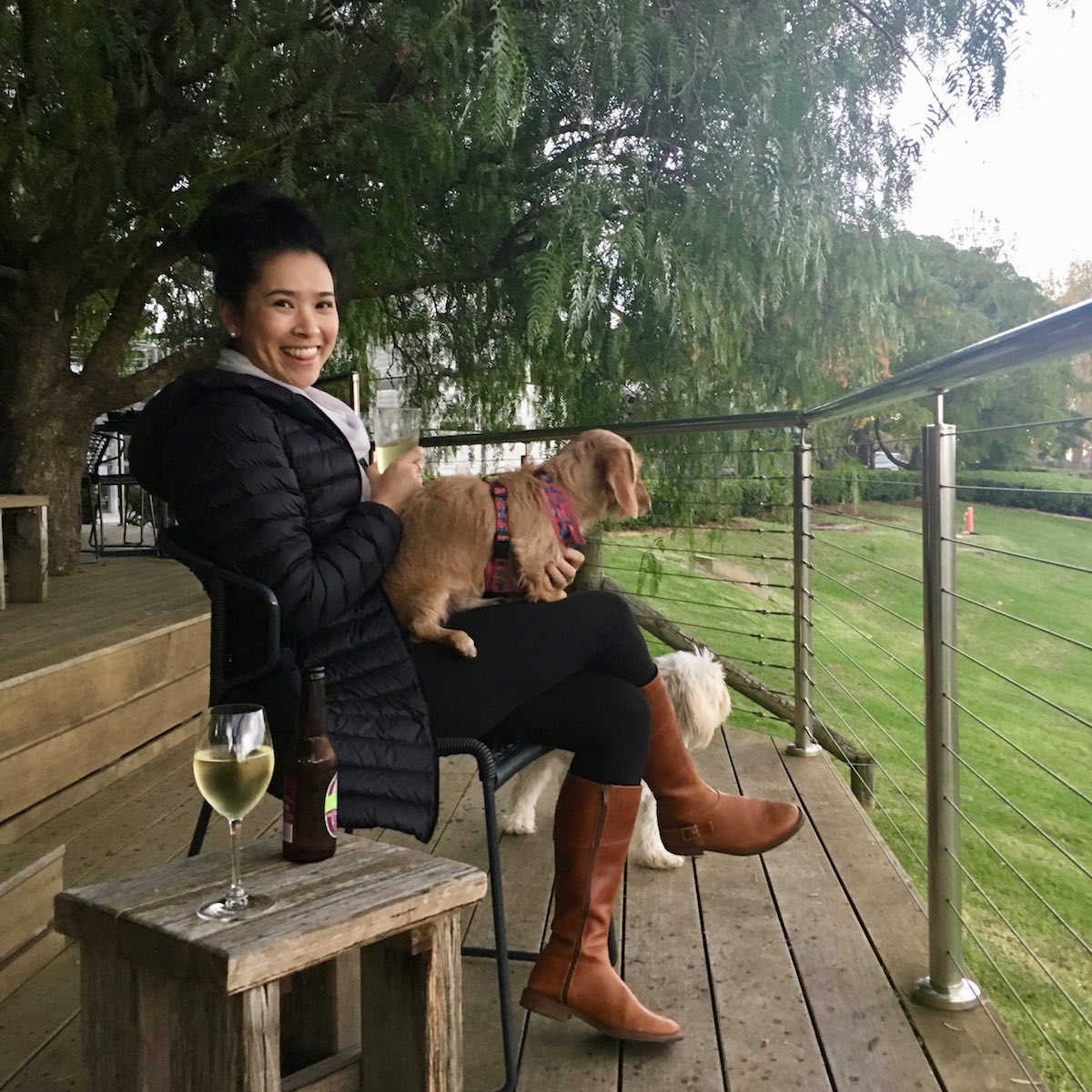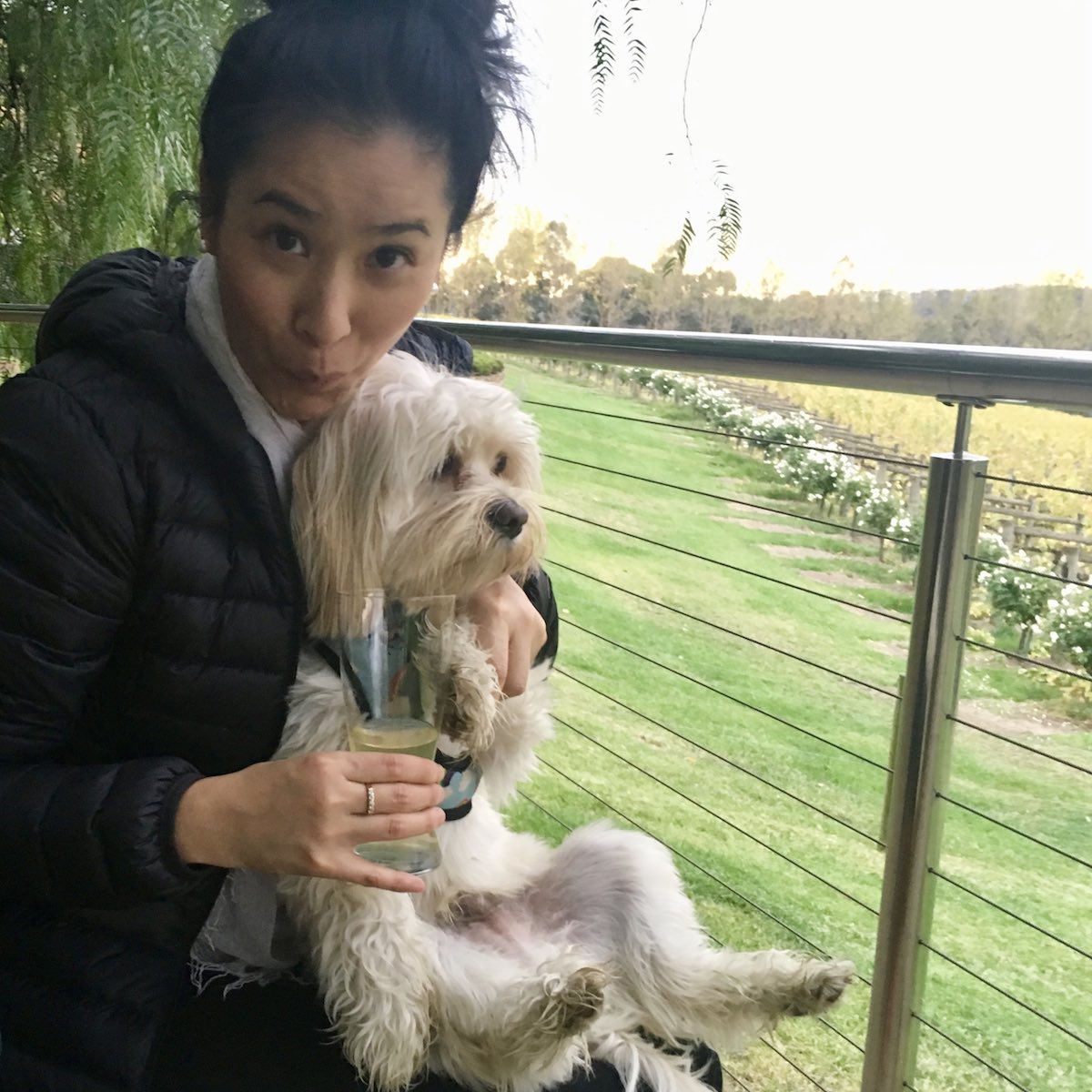 Chatting in the van on the way back to  Healesville about their dinner plans Jeff asked if they'd like to swing past a great delicatessen and pick up some supplies for dinner – so after a pit stop at Kitchen & Butcher, they headed for Wiggley.  Oh, with a quick impromptu stop at one of our favourite (top secret) farm gates to buy some more wine at locals rates.  We'd love to tell you more, but you have to come on the tour!
It had been a great day and Helen & Ryan were chuffed to bits that their dogs were being looked after while they enjoyed sipping and sampling their way around the Yarra Valley.
If this sounds appealing – get in touch and let's check availability and get you booked in.  :-) 🐾