Konichiwa everyone, I'm Ozzy, I'm a Shiba Inu (Japanese for small and dog – so no points for guessing what I am).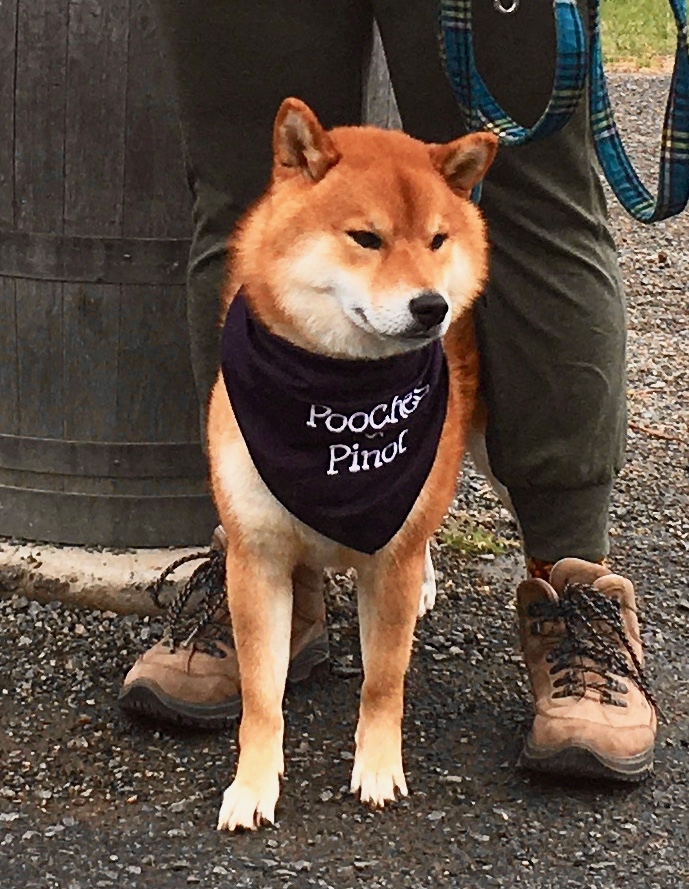 Originally I was bred to hunt small game and then to protect my family when the Samurai went off to hunt, but these days, with my mistress Dr Dee, I'm a companion dog and spend my days on the kids' psychiatric wards as Dr Dee goes about her duties.  I bring comfort and joy to those who need it – it's a good job and I love it and nowadays I just hunt small game in my mind.
I'm a dog of few words and this week Mum and I are on a road-trip around Australia.  Mum's newish to this great brown land and my job is to show her the country so we set off in our convertible Mini Cooper from Newcastle to Daylesford and then on to the green and lush Yarra Valley.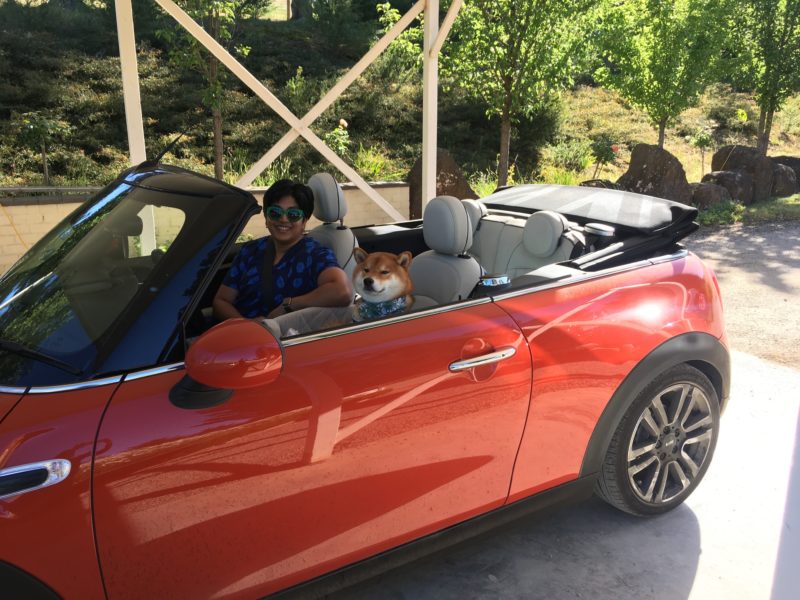 It was overcast and rain threatened but being from the UK we were both really quite at home with that!
We booked a tour that promised wine and loving pats and our first stop on our magical mystery Pooches & Pinot tour was Helen's Hill winery where both promises were fulfilled.  By Ross.  I was overwhelmed with delight but my face gave nothing away.  I'm Japanese – I'm inscrutable.  Unlike my Mum who's from Sheffield and wears her pleasure like a badge.  She's more extrovert expressive (ENFP), I'm the analytical introvert (ISTJ).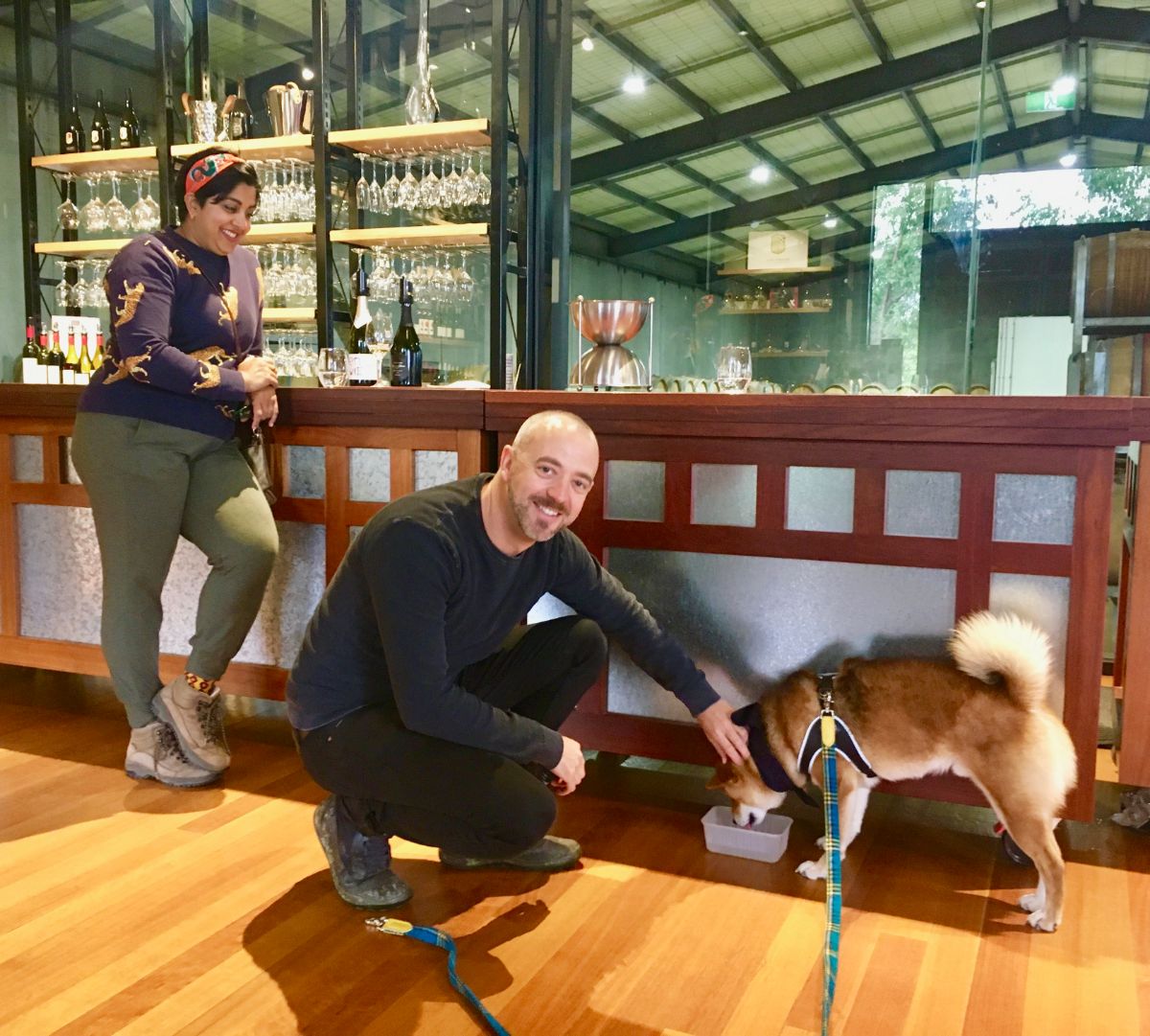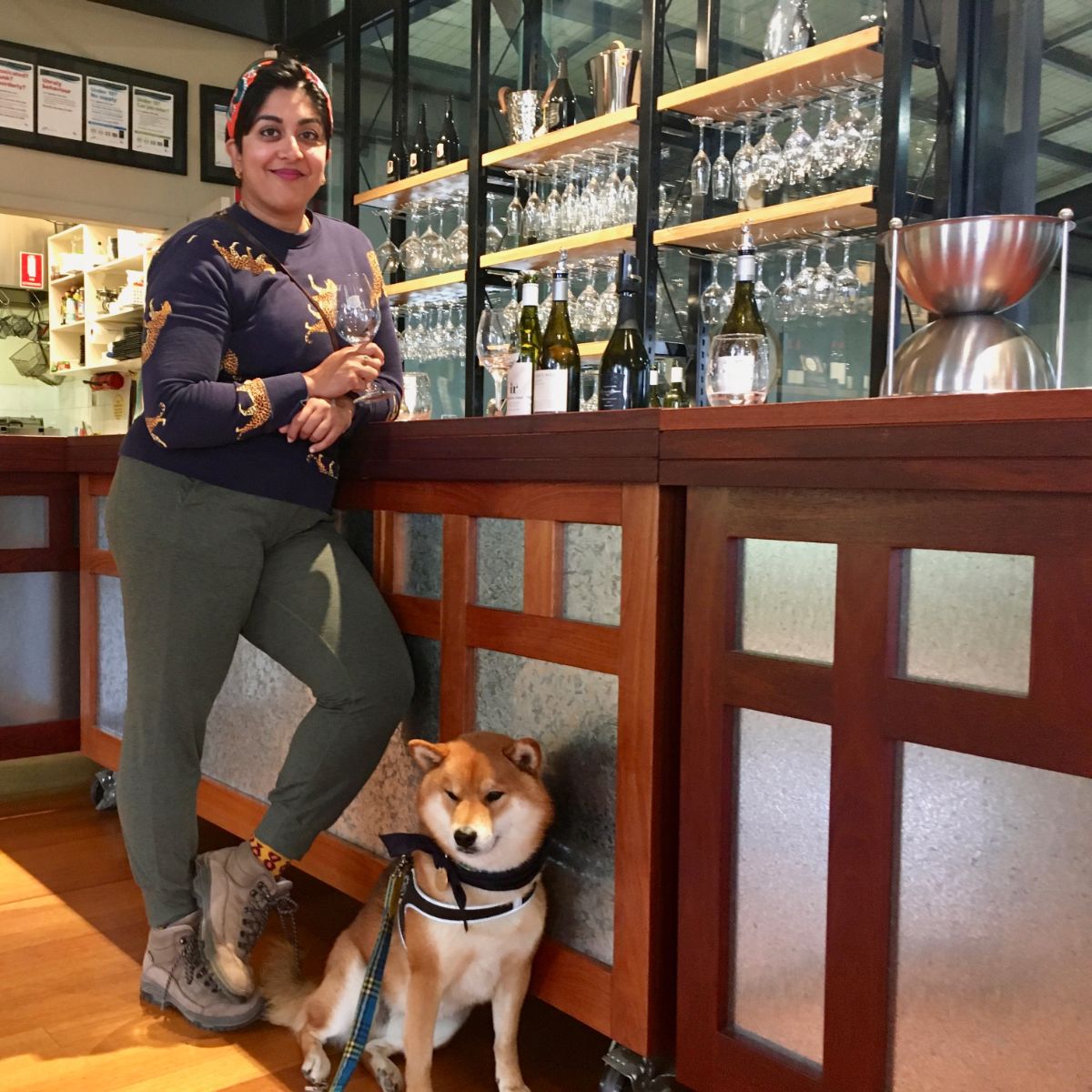 Next we visited Helen & Joeys and met Antarus.  What a guy.  Entertaining, knowledgeable and passionate – a lot like me.  As Antarus fed my Mum wine, Jeff in turn offered me Laila and Me treats which I sat beautifully for – then inhaled the liver treats like they were going out of fashion.  It was like A-grade sushi for dogs.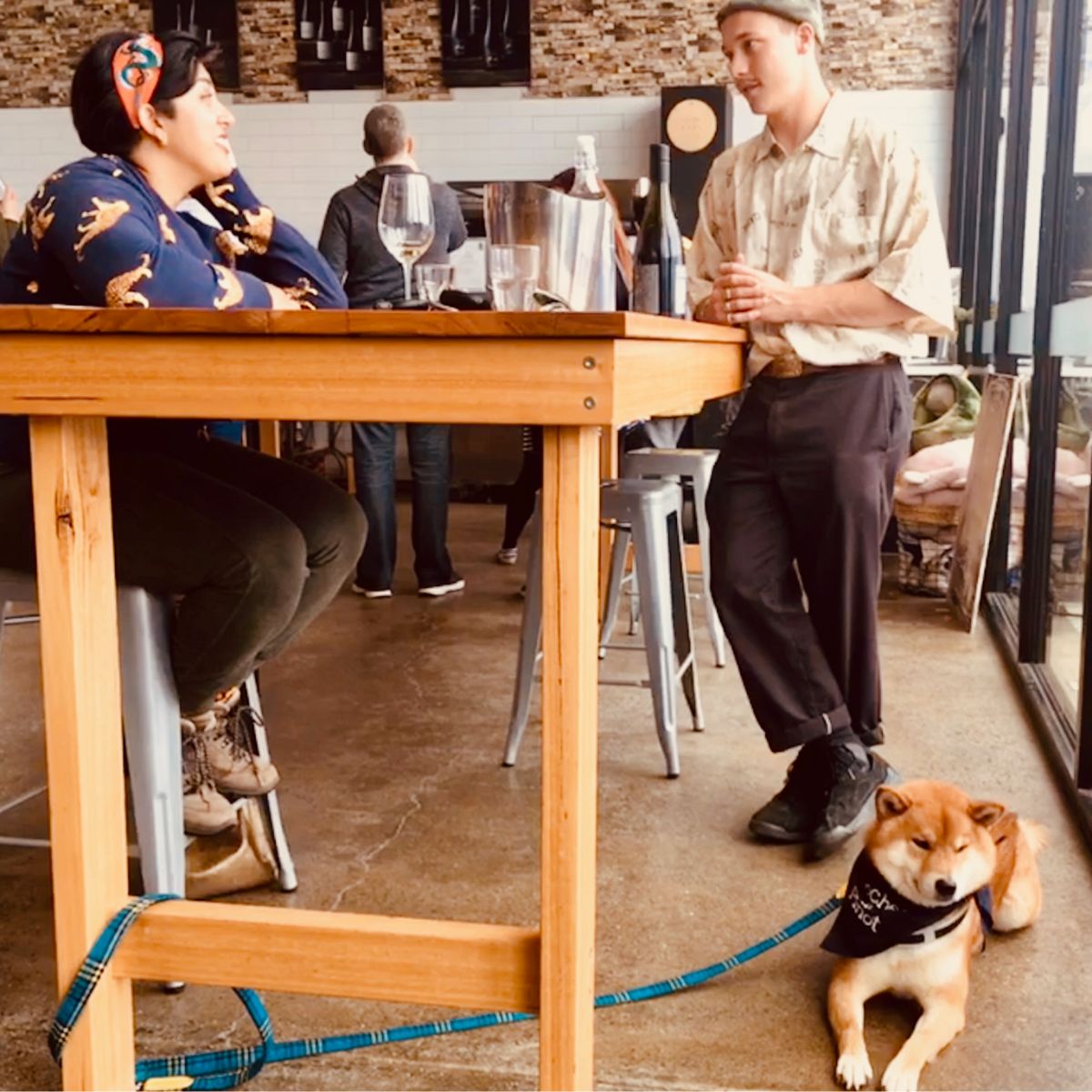 The views were enormous despite the rain.  Like Mt Fuji but without the snow.  Or the bullet train.  And with vineyards.  Not rice paddies.  So pretty much identical really.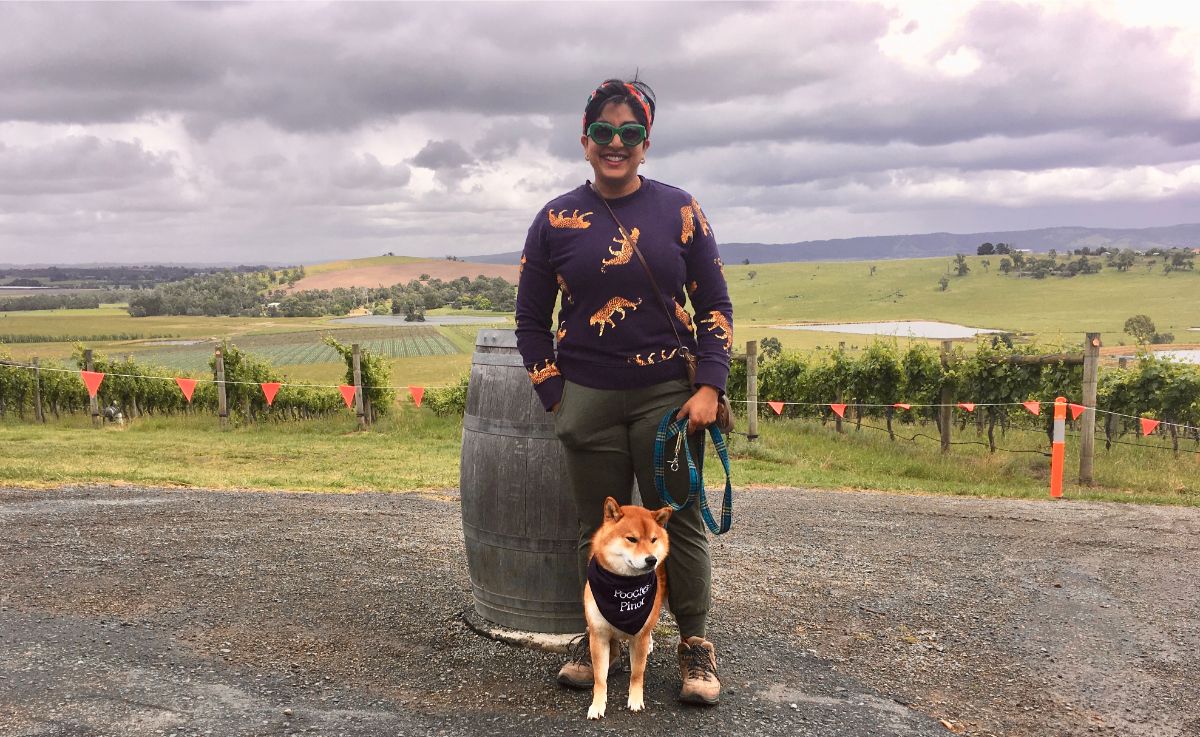 Yering Farm was next.  It was a hay barn.  But with wine in it.  Dr Dee LOVED that.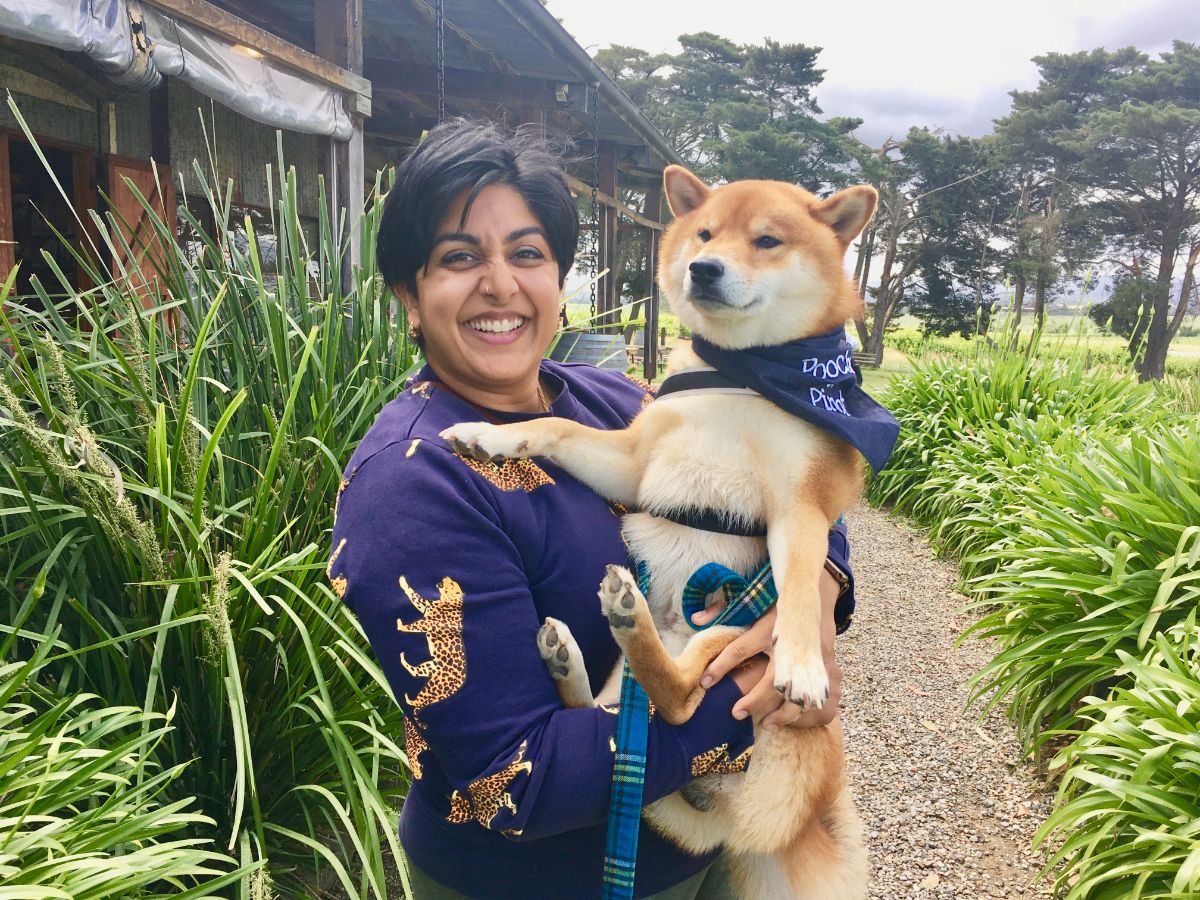 She picked the wines she wanted to try and went wild for the cider.  Made from Pink Ladies, not Fuji apples, which I'd have heard of!  She had cider with her lunch – a pruner's platter, which she and Jeff scarfed down barely drawing breath, they didn't stop talking – I was fine with that as I don't talk much.
They had big views too.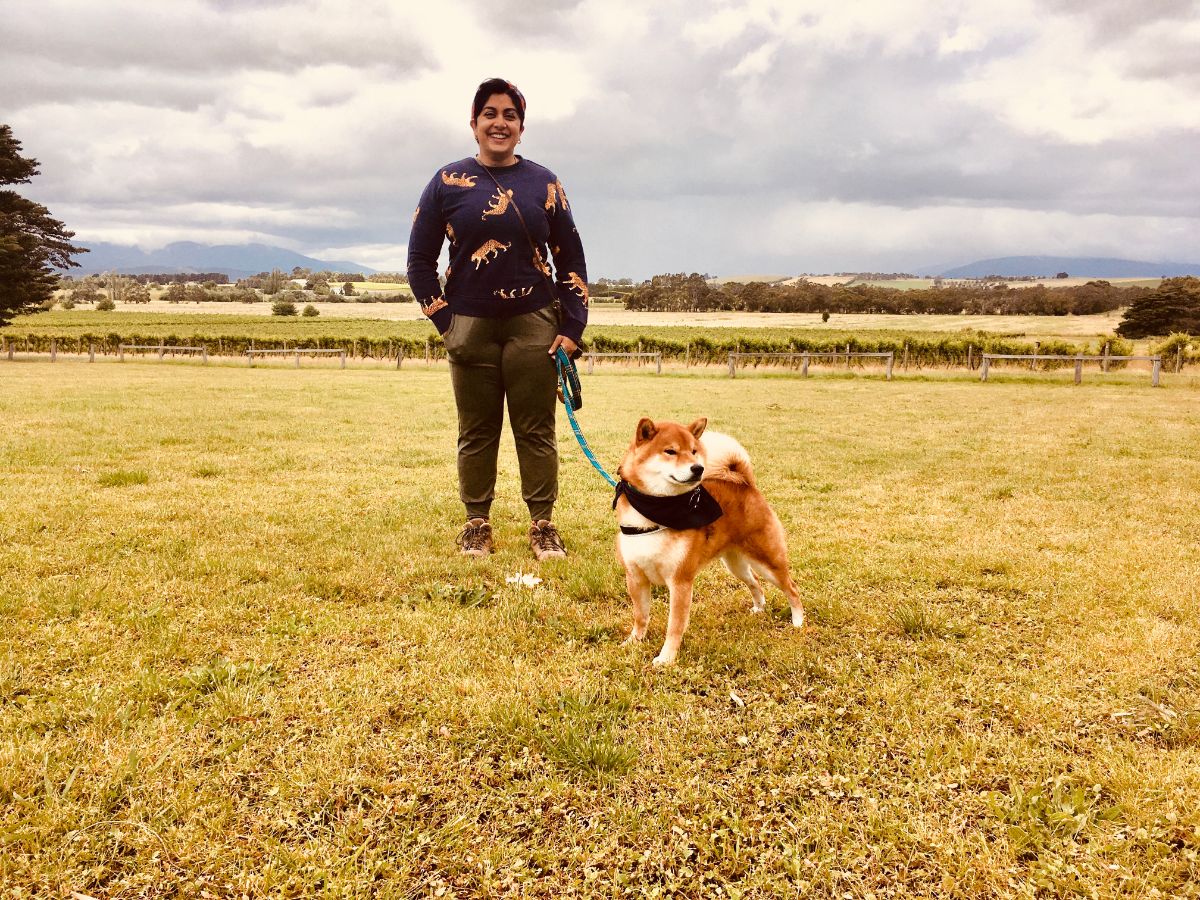 After lunch, to change things up, Jeff spontaneously took us to a dairy because Dr Dee mentioned how much she loves cheese.  She lived in York for 3 years and they have one of the best cheese shops Jeff's ever been to – so he knew she'd love the Yarra Valley Dairy.  While she went inside for a cheese tasting (off limits to hounds) I took Jeff for a stroll around the carpark.  Here, the absolute highlight of my day occurred.  Jeff had arranged for small game (a rabbit) to bolt out in front of me.  I came into my own and sprang into action, nearly taking Jeff's arm off as he was nowhere near as finely tuned as me.  I chased the rabbit down but let it get away (I'm a companion dog remember not a hunter, or lover not a fighter which is I think your expression).  After I'd let it live to see another day, I sniffed one blade of grass for a full 5 minutes, enjoying the sensory overload.  I was blissed out.  Dr Dee came out carrying bags of cheese and it was only in that moment that I snapped back into the present, when I got a whiff of the deliciousness she was carrying in the bag.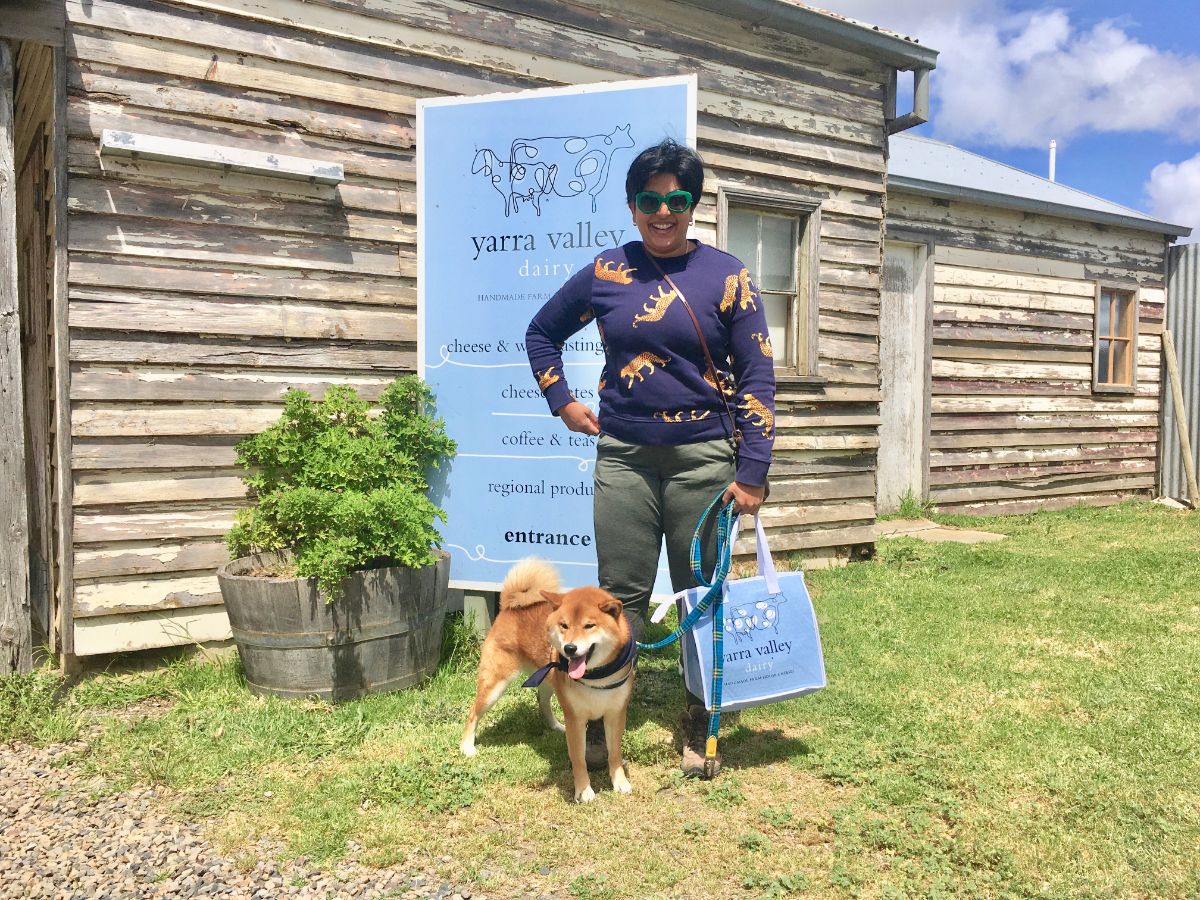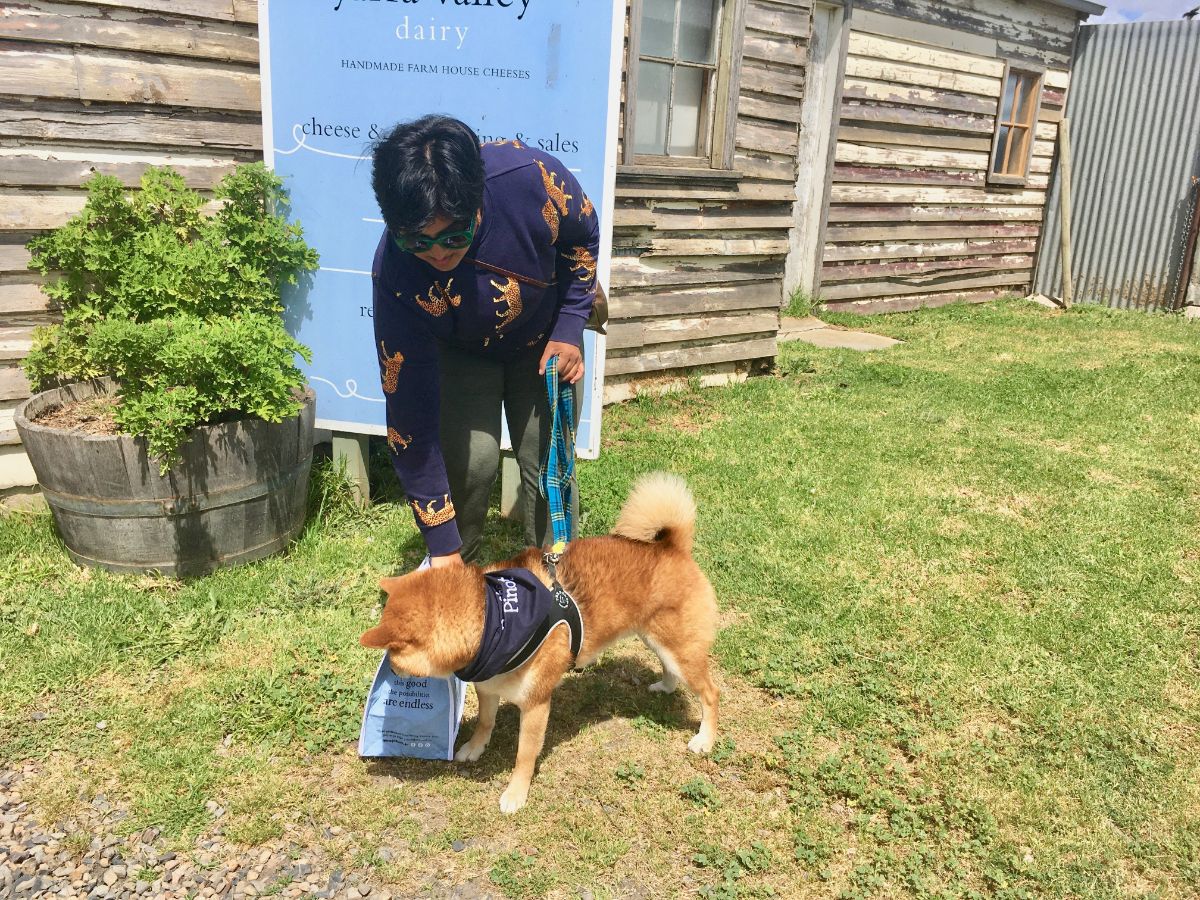 To cleanse the Dr's palate, Jeff had organised a gin tasting for us at Four Pillars Gin (bcs apparently they don't have saki to taste in this region – poor things).  A stunning tattoed geisha called Lizzie, an employee of the Gin Palace, gushed all over me which was awkward as we're not known for public displays of affection.  Dr Mum was oblivious to my plight – far too busy drinking gin and posing for photographs.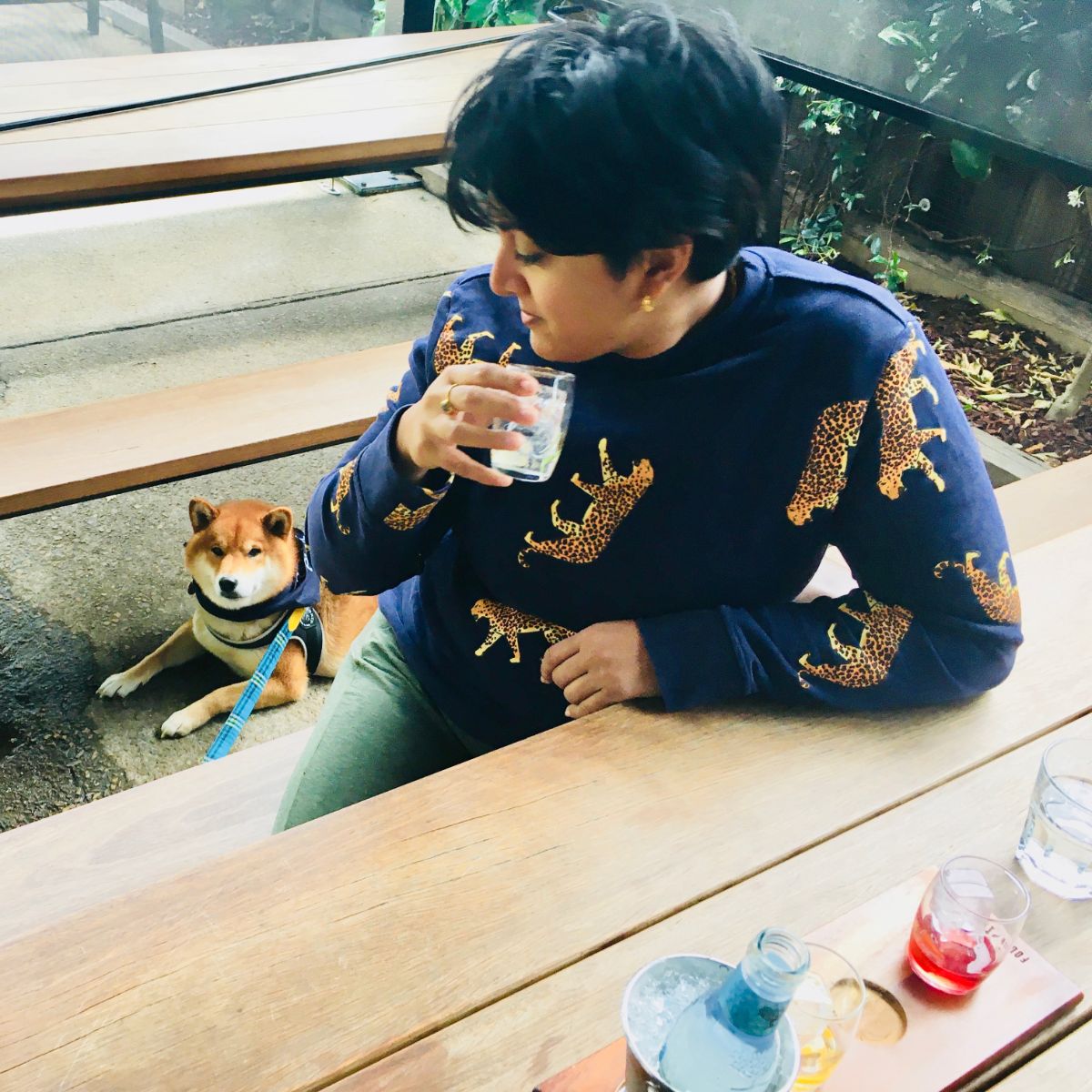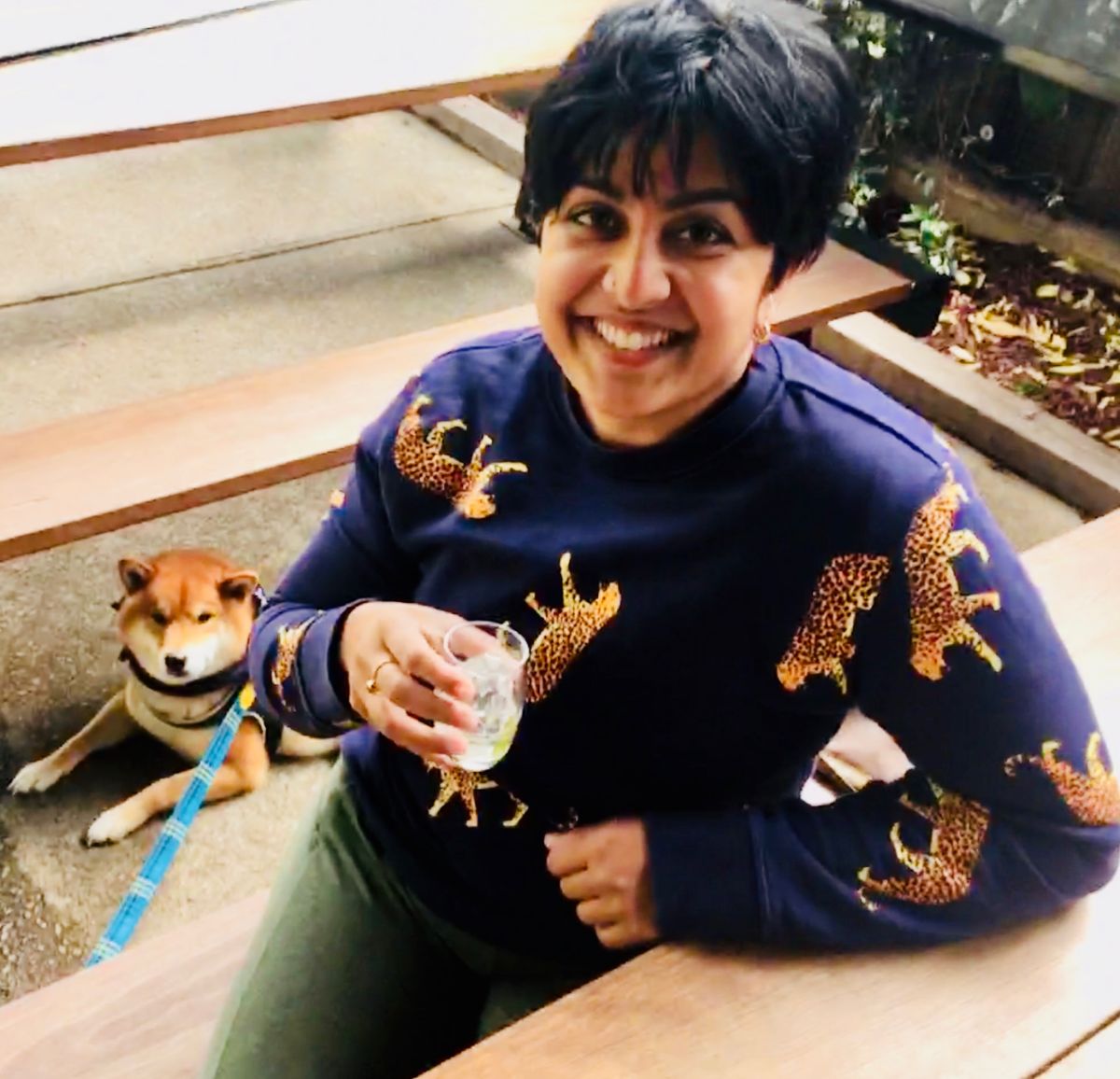 A short stroll later and we were over the road at Payten & Jones cellar door – a wild, uncensored establishment which Dr Dee immediately warmed to, especially once she got talking with Avarn, from Jamaica, who poured her all manner of alcoholic concoctions, including new vermouths they're going to start importing.  From observing her body language and conversation – I'd deduce the vermouths were mind blowingly good.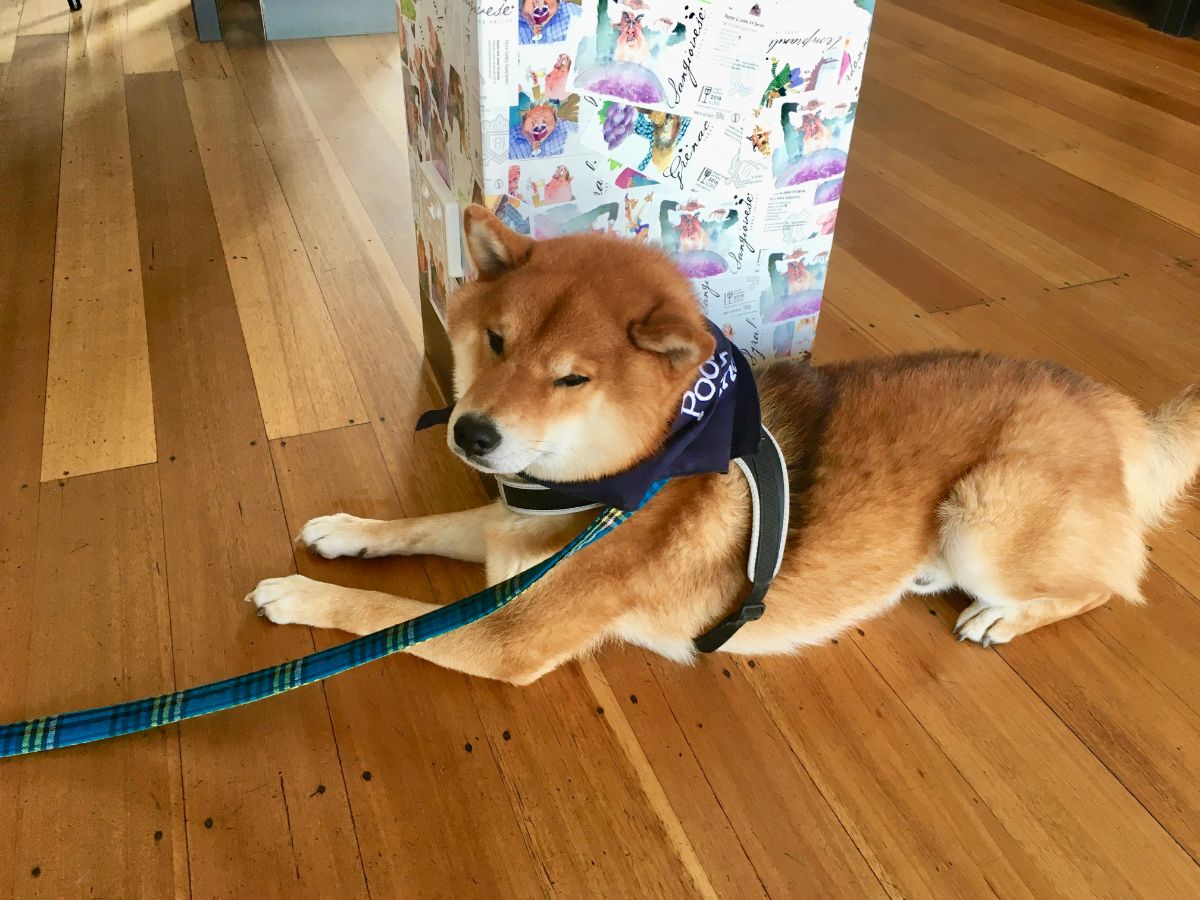 Suddenly and without warning I was swept up in the arms of this Jamaican and found myself on the wrong side of the counter being asked to smile at the camera.  I was way outside my comfort zone and Dr Dee should have known better.  I remained fast and resolutely stared away from the camera.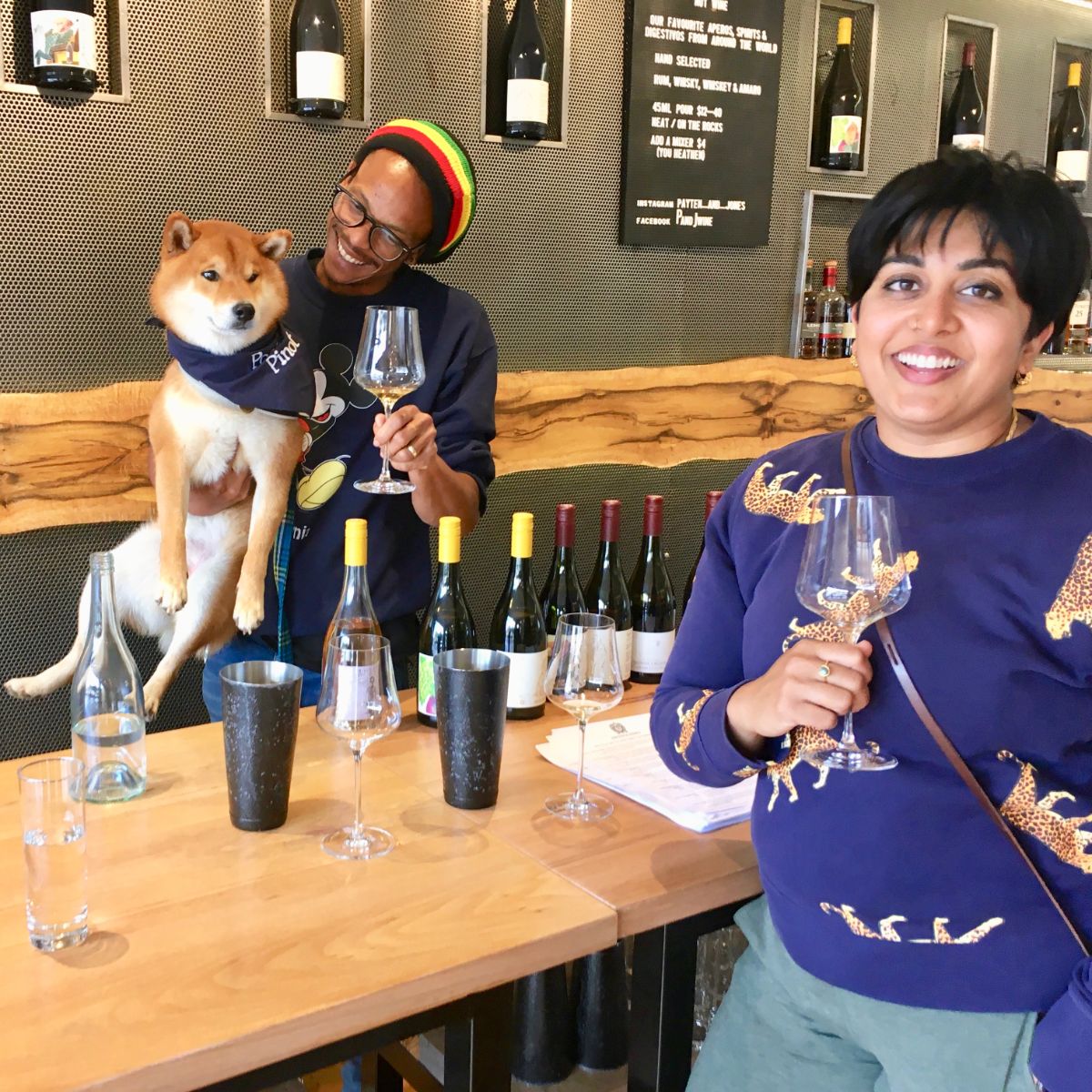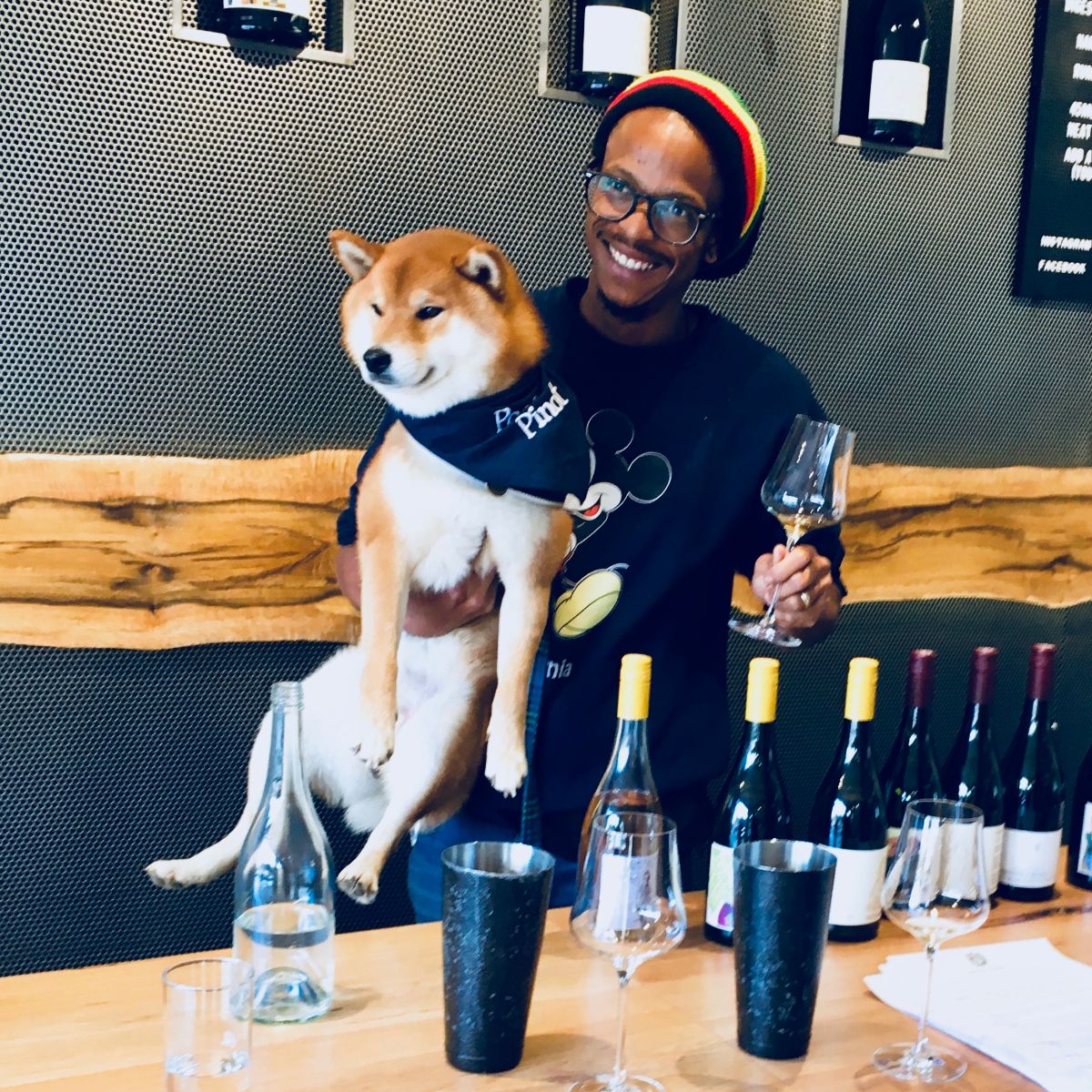 After my incident with the rabbit I was pretty exhausted by now but Jeff kindly drove us to a stunning location where Dr Dee promised to walk me the following morning, even showing us where to fill up with petrol and the best Ozzy-friendly cafe for a coffee before we started the next part of our roadtrip up to Eden.  Above and beyond that man.
He then drove us back to our luxury farmstay at Wiggley Bottom Farm where I kept half an eye out for rabbits as we drove up the driveway – but only half heartedly as I was way too zonked to really want to chase another one.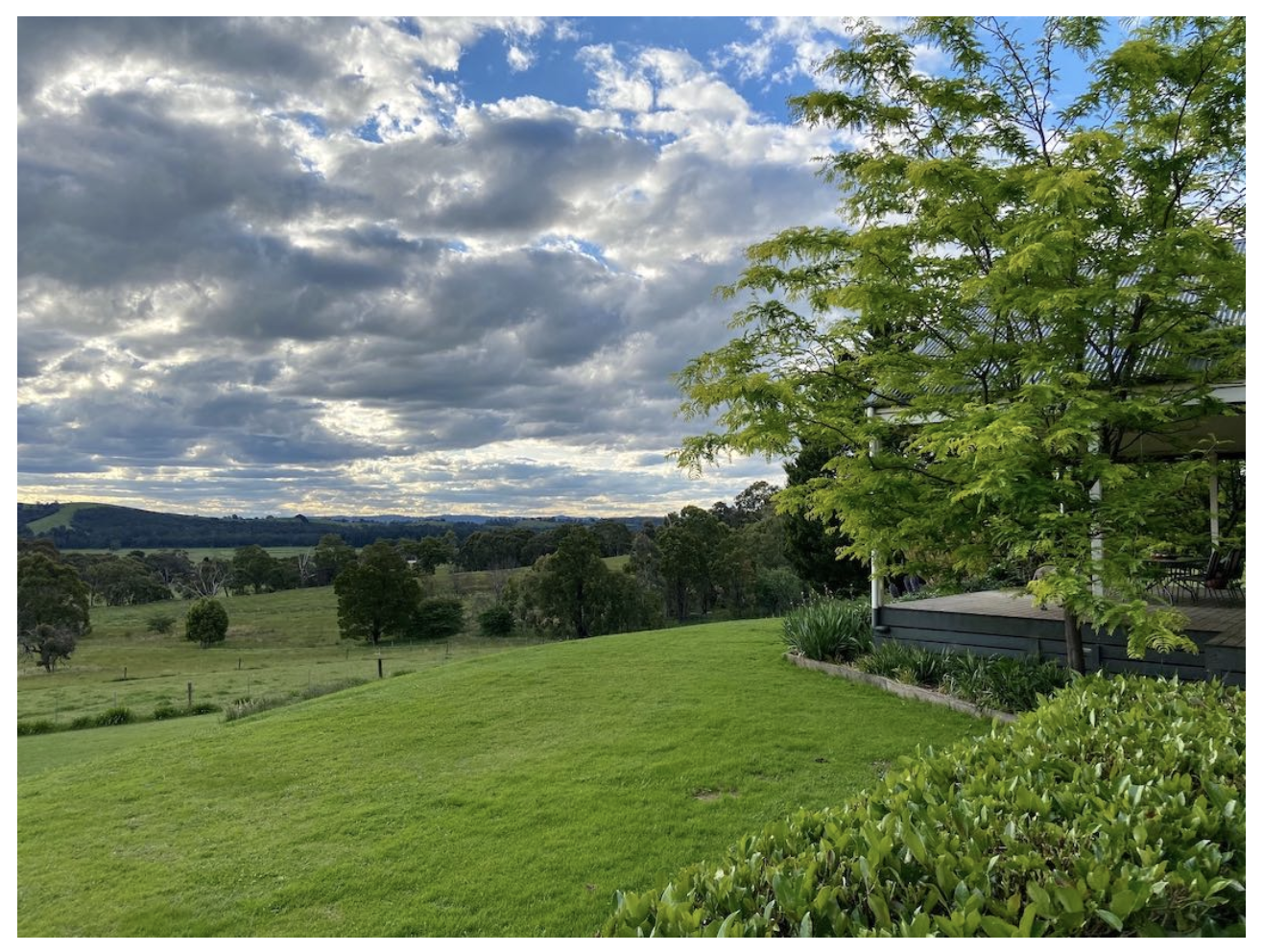 If you like rabbits, wine and great conversation – book yourselves on this tour – trust me, it will tick all your boxes.