Ciao amici, Ollie here – I've picked up a bit of the old Italian lingo, hanging out with my Dad Max, so forgive me if I slip into it every now and then!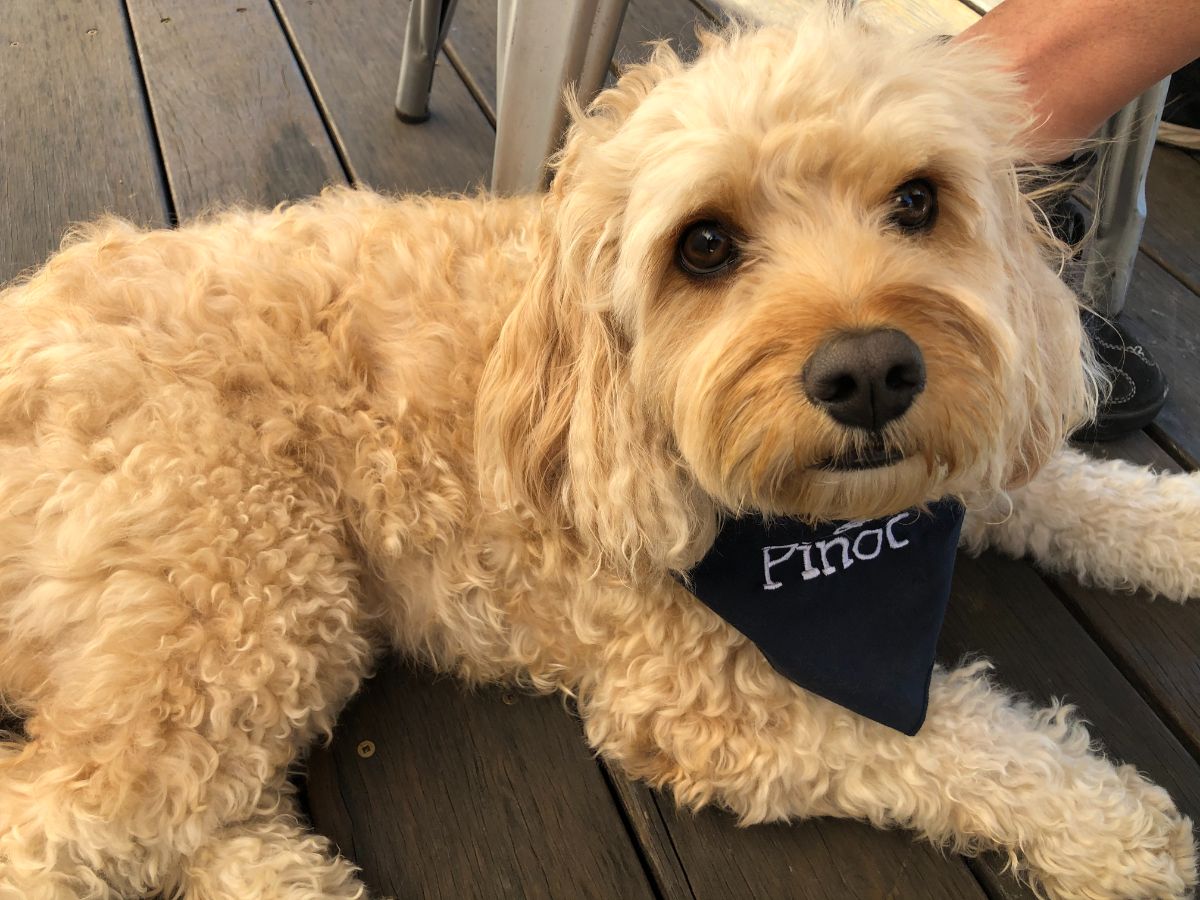 I consider myself a very fortunate and lucky dog as my parents and I love to travel together – we have been out on many a 4-wheel drive track, and up to Mt Beauty a few times, but this was our first proper trip together to explore the Yarra Valley – we live in Vermont South and normally just drive through it on the main highway.  So for my 3rd birthday and for my parents' 20th wedding anniversary, we decided to do a Pooches wine tour so we could all be together, travelling once again.
Jeff, the lovely man who runs Pooches & Pinot, arrived at our front door with a cake he'd made for us all to celebrate our special anniversaries and we put it in the fridge to enjoy later, with a bottle of fizz he gave us too – what a cracking start to our day!!  Having a torta di anniversario to come home to!  Fantastico!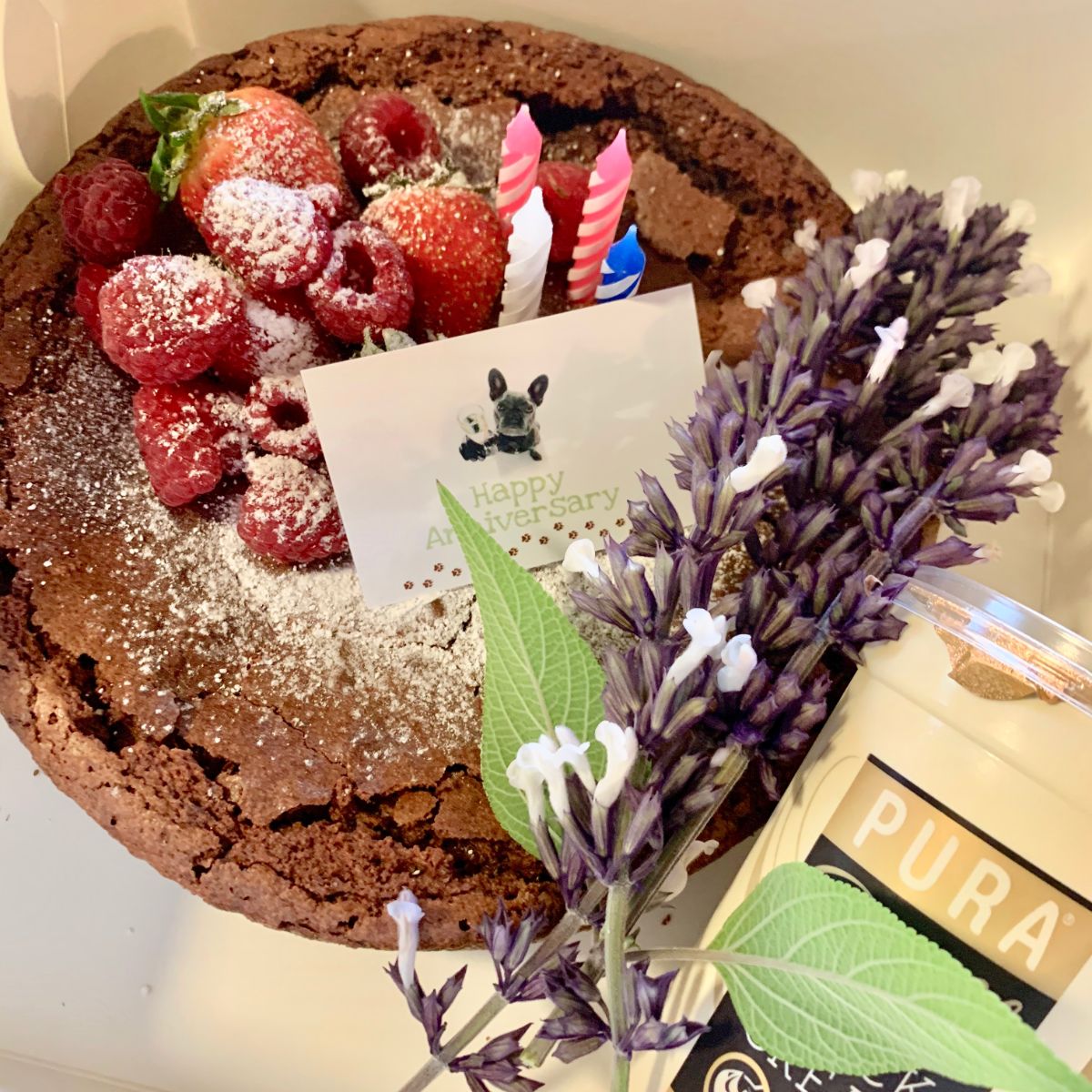 My mamma e papà aren't normally Chardonnay fans, but they seemed to love them on their tour in the Yarra Valley!  We went to Seville Estate winery for our first tastings of the day and man, it's bellissimo – the gardens, the views, the vines, the rolling hills (we could have been in Italy)!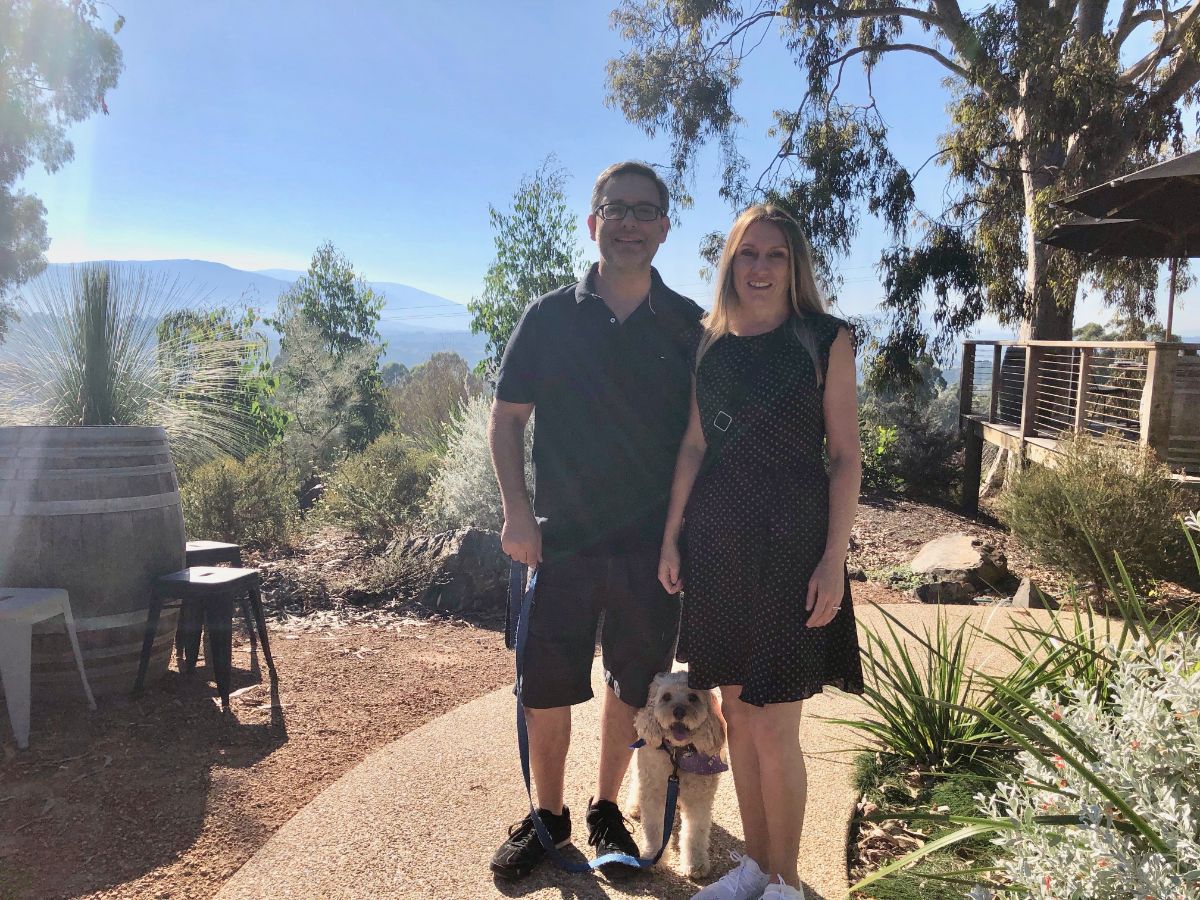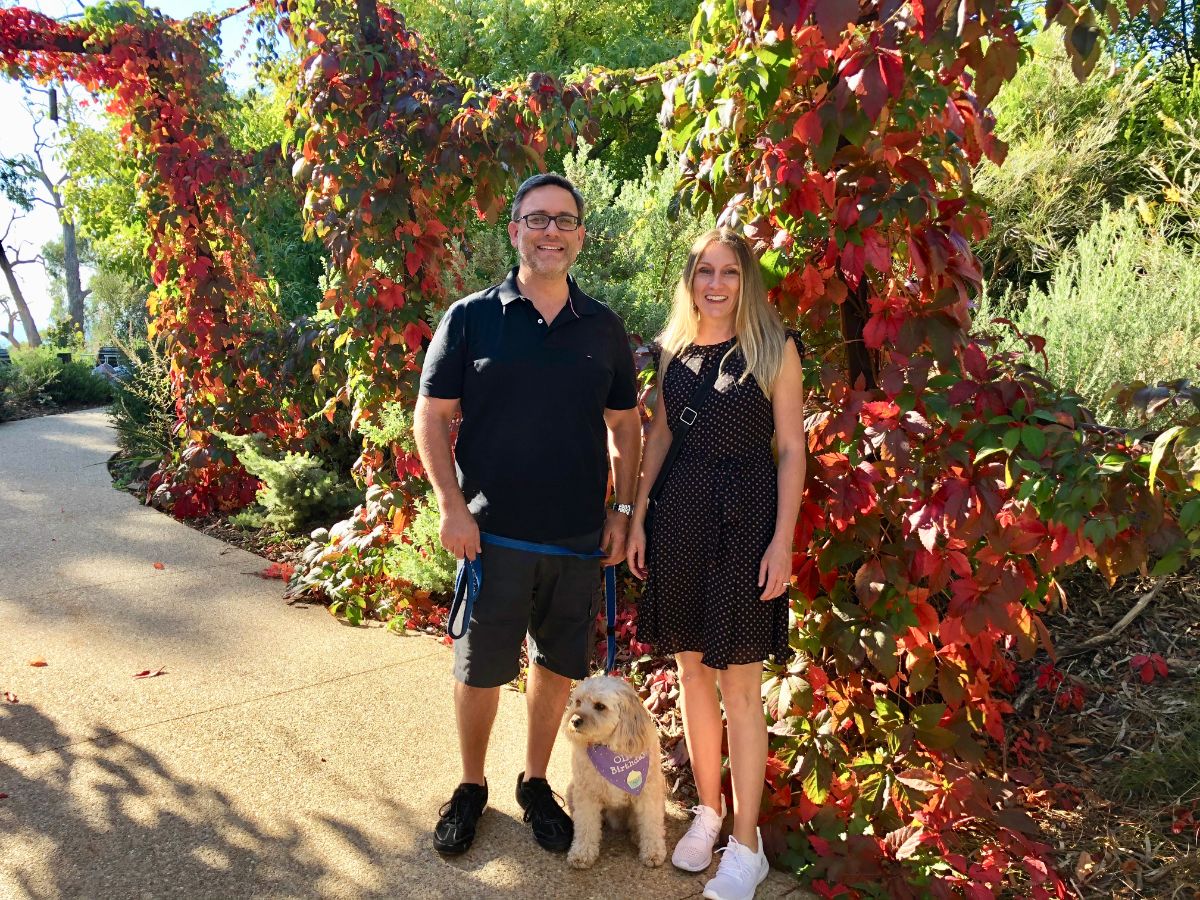 A lovely man called Ewan talked my genitori (that's 'pawrents', for those of you who aren't bilingual like me) through the wines they were trying and gave us a colourful map to explain where the different grapes grow on their property.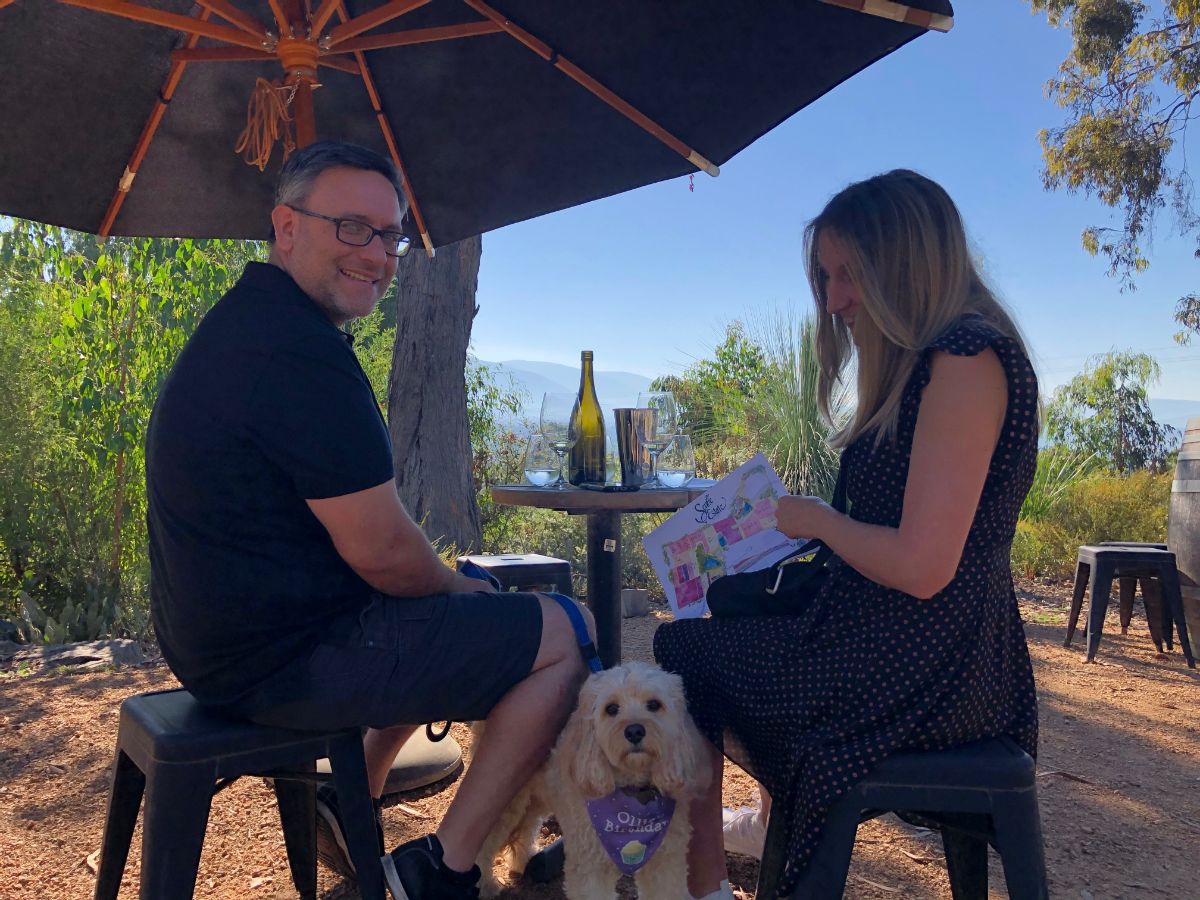 It was the perfect morning, the place was quiet there was just birdsong and bees and I could happily have snuggled down and laid here for the day in the sun, but I knew Jeff had grand plans for us!  My Mum and I both have a very keen sense of smell; mine is useful for detecting if other dogs have been here and who they are and what they're about, Mum's is useful for detecting gun smoke from the barrel in wines she tries.  We'd make great sniffer dogs, me and her!
As we were leaving I heard them saying they would love to come back here now that they know where it is and that it's Ollie-friendly, so I'm excited at the thought of lunch back here one day soon on the deck with that view!  Ottima idea people!
This tour is so cool because we basically discover what happens when you turn off the highway – and the tiny country roads are picture perfect and we drove through bellissima campagna on our way to Gruyere, to Squitchy Lane's cellar door.  I was on the back seat of the Mercedes between my pawrents so I had a great view.  And the view when we went out onto their deck was a vista superbe!  Look!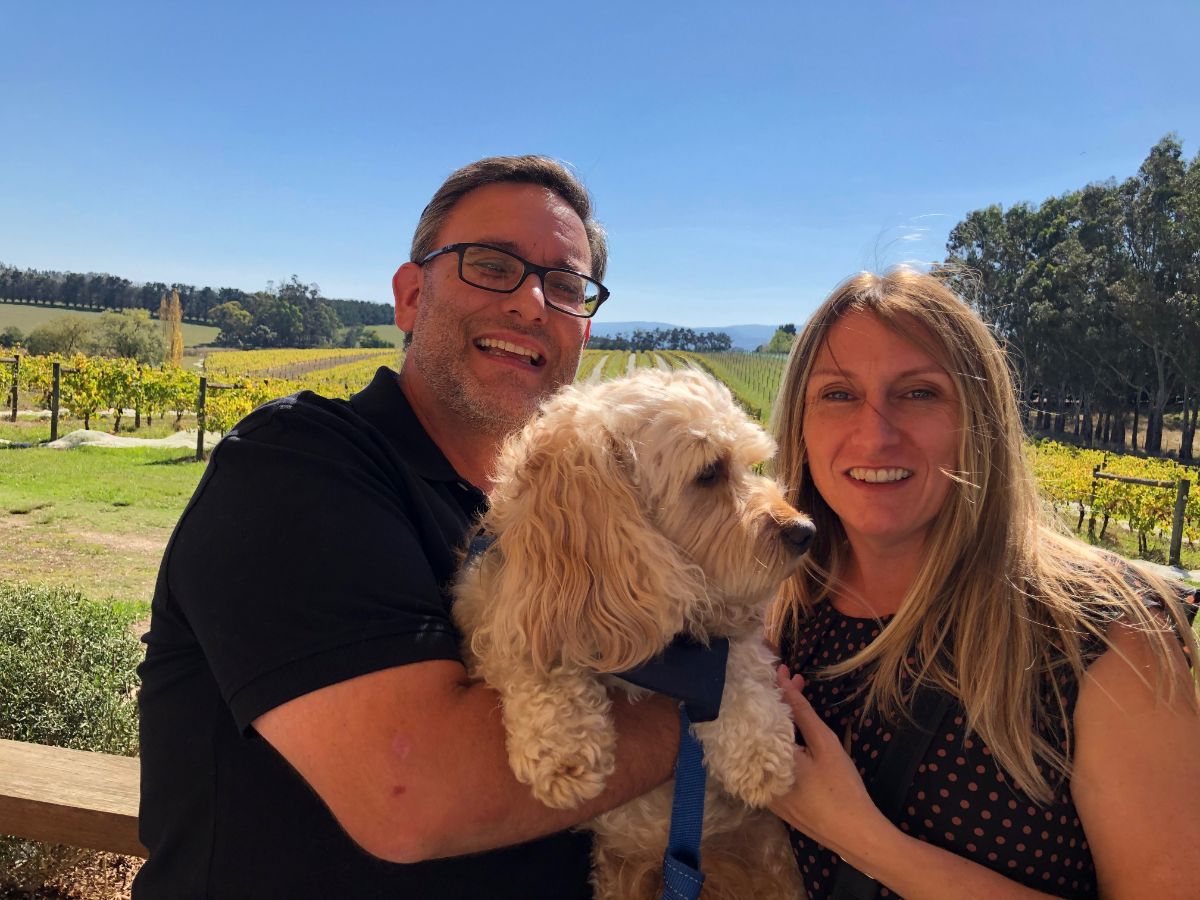 A lovely man who normally grows the grapes, poured different wines for my mamma e papà to try and told us all sorts of things a normal salesperson wouldn't tell you about – it was ace.  I learnt about all sorts of diseases and pests, like phylloxerra, and wasps at their block in Yea and a pest that eats away at the roots of the vine – fascinating.  He called a spade a spade and we like straight talkers!
He made it sound so tempting, I too wanted to try some wines – and now that I'm 3 years old (21 in human years) I'm legally of age!  Don't we all look happy – look at me, beaming at my mum!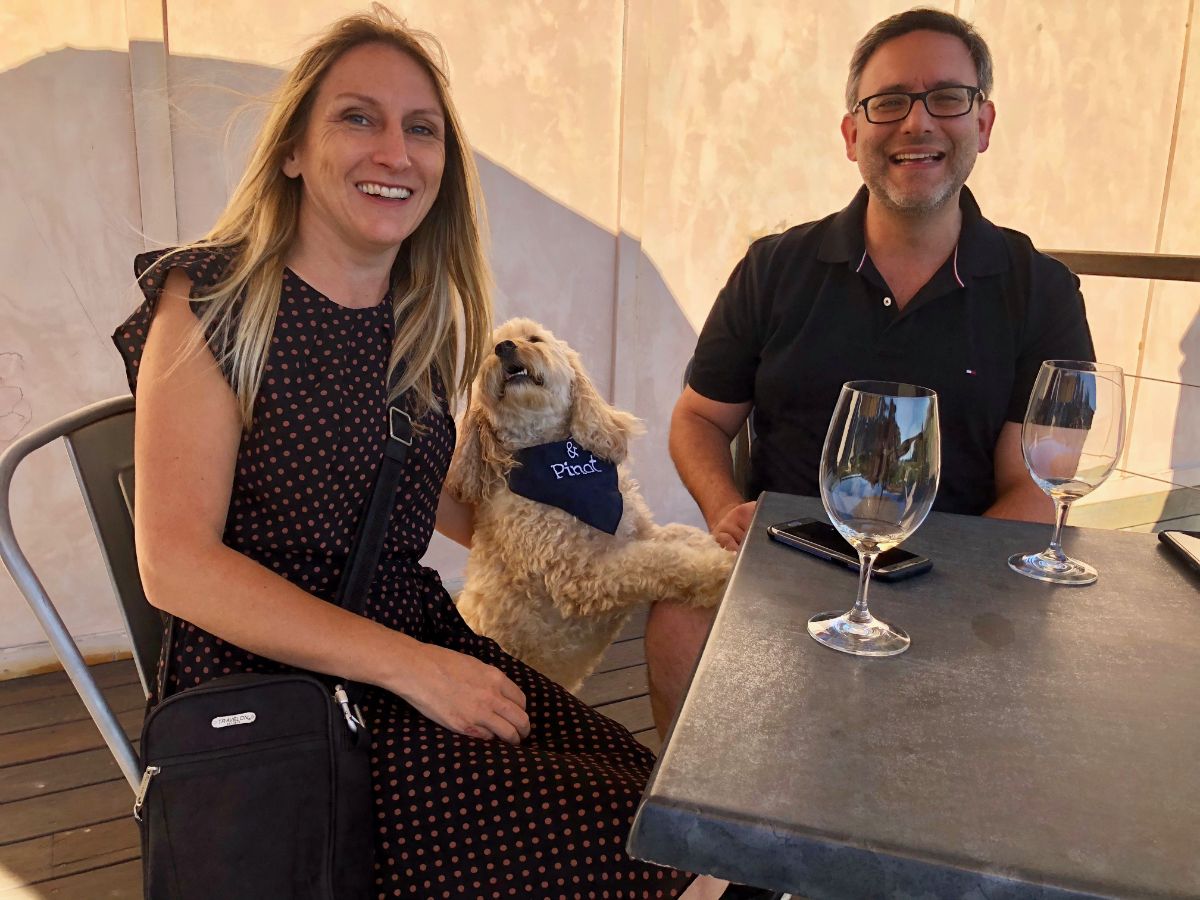 We learnt a cool thing that I thought I'd share with you – so one day Cabernet Franc and Sauvignon Blanc got together and had a baby and they called it – Cab Sav!  There you go – did you know that?  No me neither!  Tho secretly, I thought it would have been better to call it Franc de Blanc, but what do I know I'm just a puppy dog!!
I thought if I stuck my paw out for some wine they might get the message.  But they just all laughed and said how cute I was ('Eh, carino, carino') and took photos of me – humans can be quite thick sometimes!!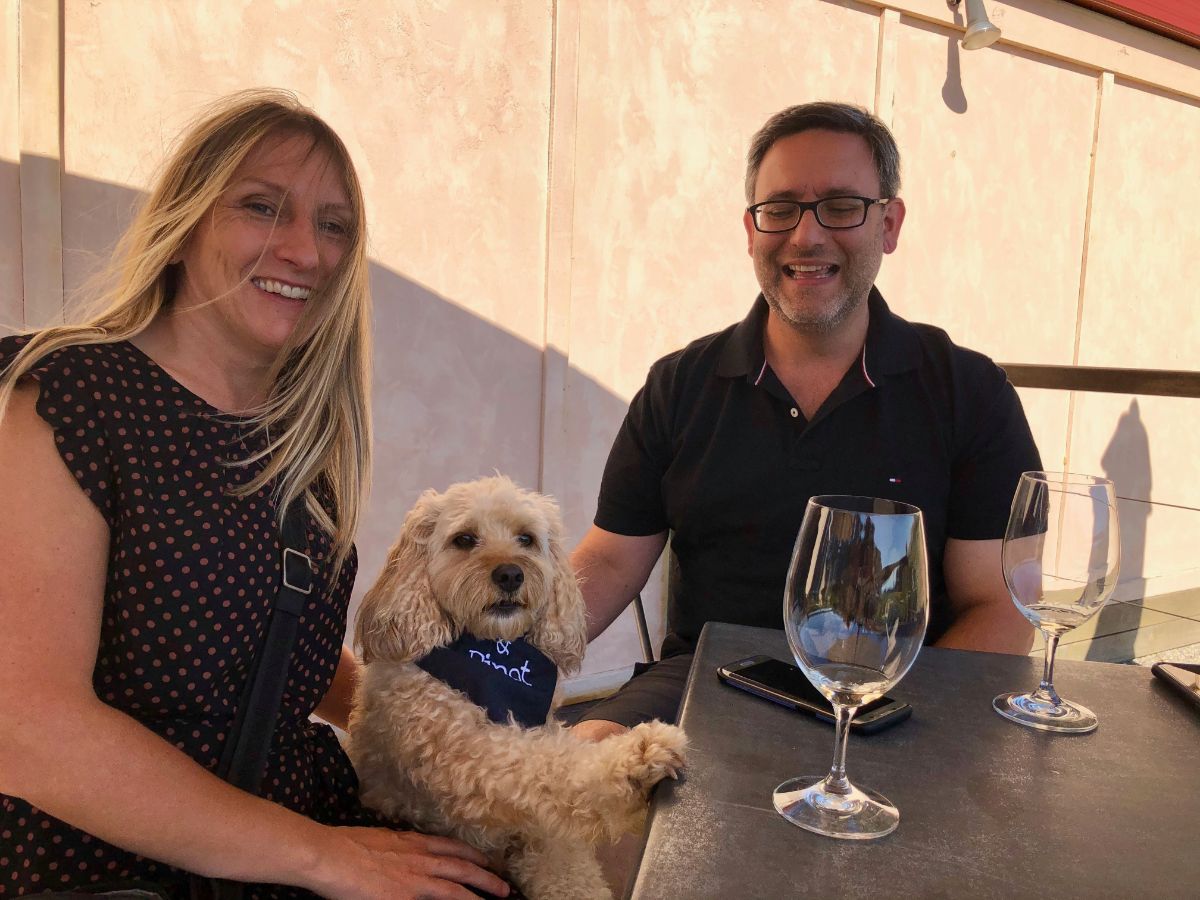 Having said that my Dad Max can be funny sometimes too – like when we got to Helen's Hill winery and a lovely lady asked them if they would like to sit opposite one another for their tasting and lunch or facing the view and Dad said 'We've been looking at one another for 20 years, I think we'll take the view'!  Lui è divertente (he's a funny bugger).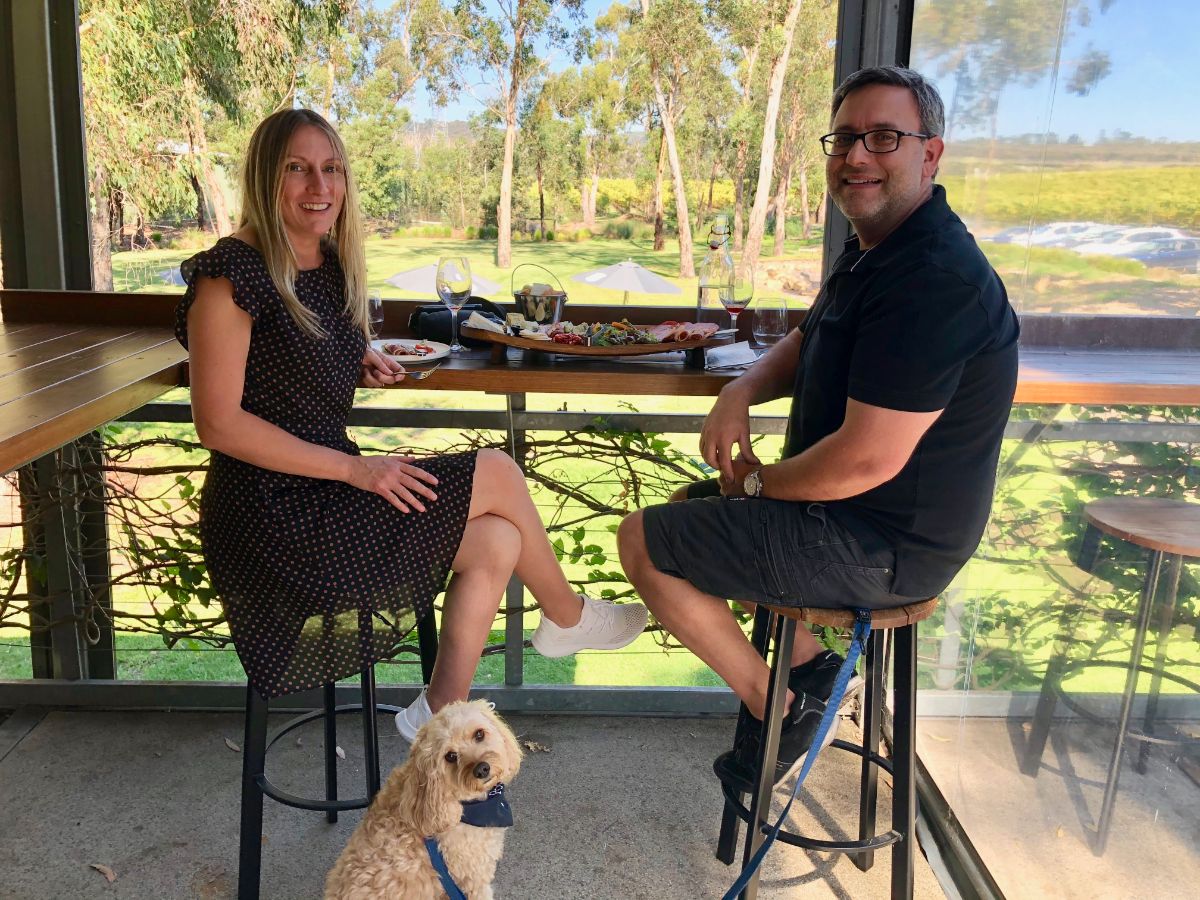 We did another wine tasting so we could choose our favourite wine to enjoy a glass of with lunch and I nearly barked for joy when it came out as it was an antipasto platter with all sorts of their favourite Italian things, specially Dad being from Abruzzo.  We seriously needed a sleep after all that food, just like they do in Italy, but there was no siesta for us, not with Jeff's itinerary – hell no, after a fabulous lunch, we were off to another tiny boutique cellar door called Maddens Rise!
We particularly loved it at Maddens because Emma the lovely lady who runs the cellar door comes from…. yup you guessed it – Italia!  So she and my Dad were gabbling away in Italian so fast I couldn't keep up.  Mum and I just grinned at one another!!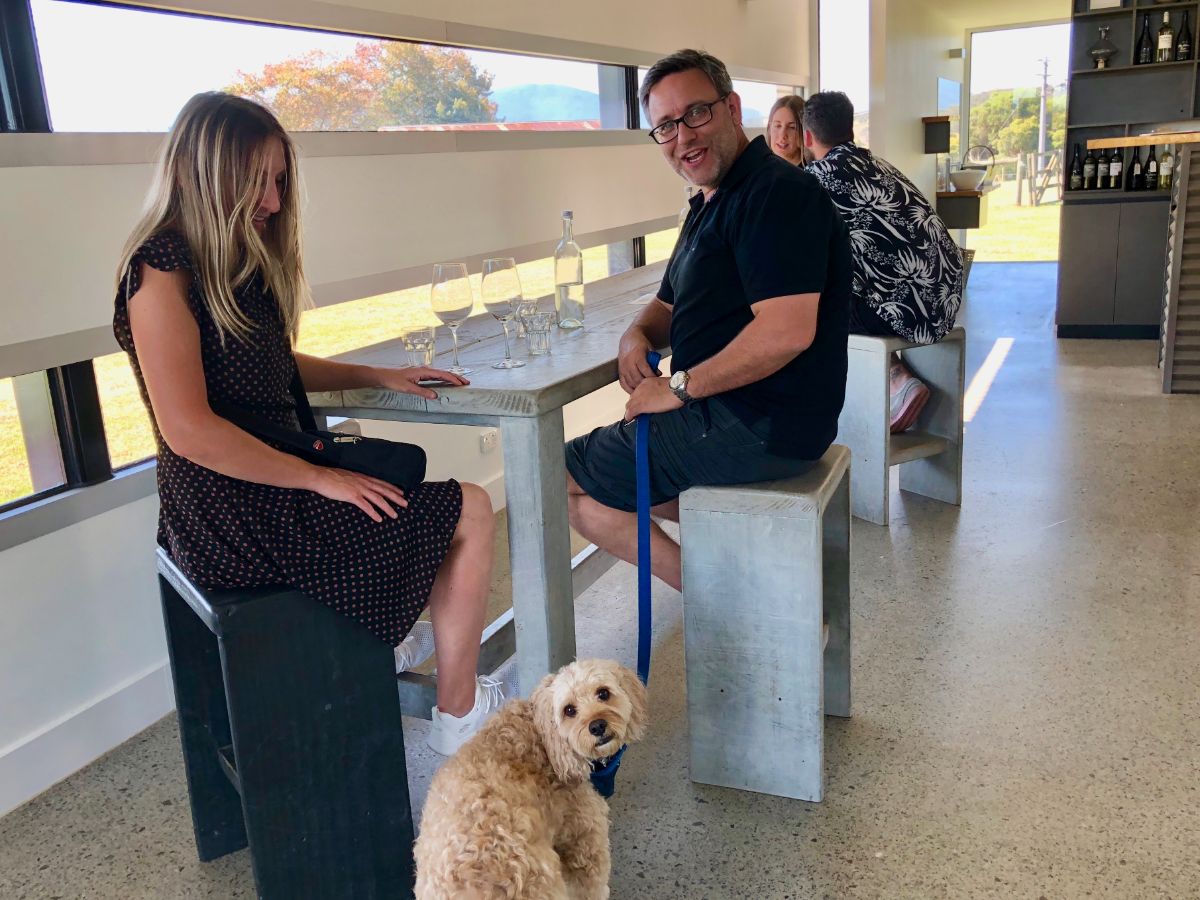 I was allowed to wander off round the cellar door which I loved and I found some rather fabulous sticks and helped myself to one.  I couldn't have been happier – give me a bastoncino any day and I'm a happy pupster!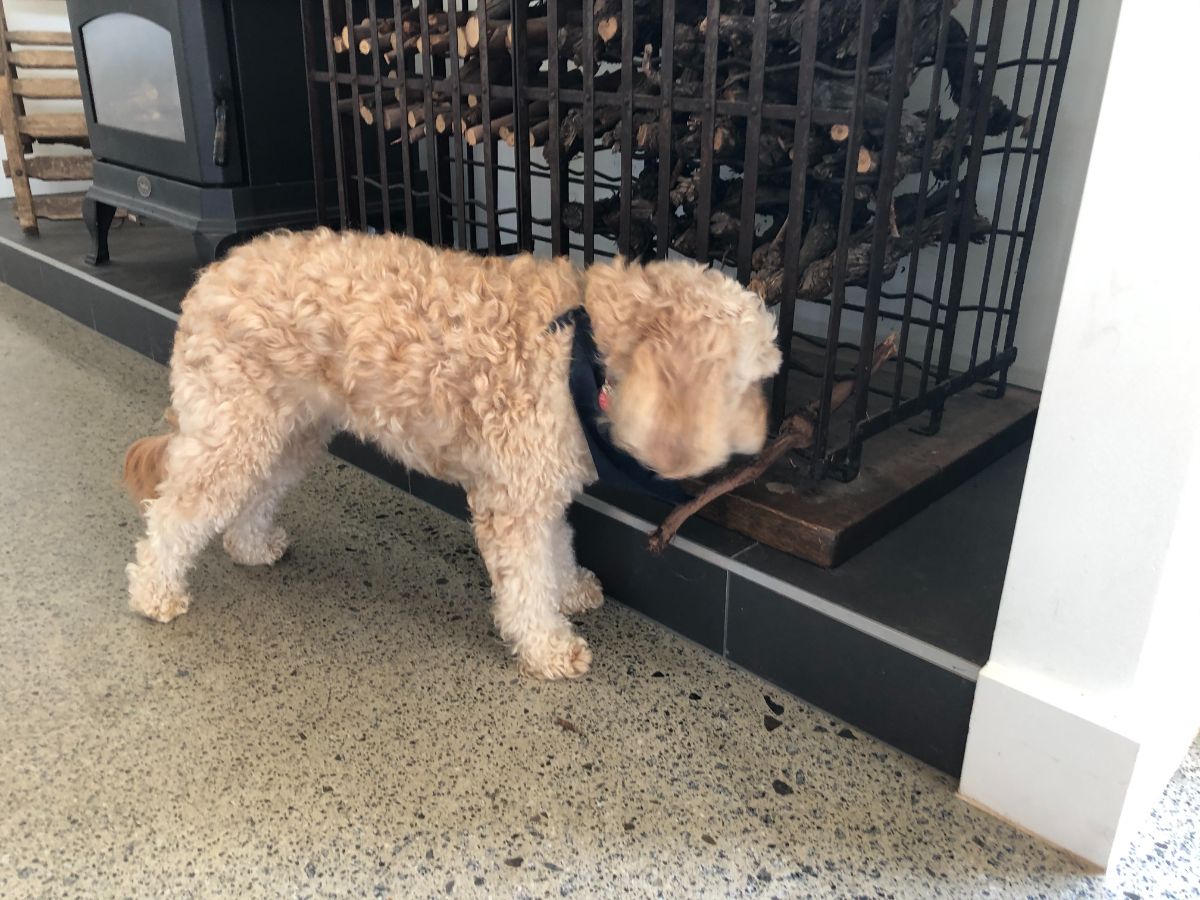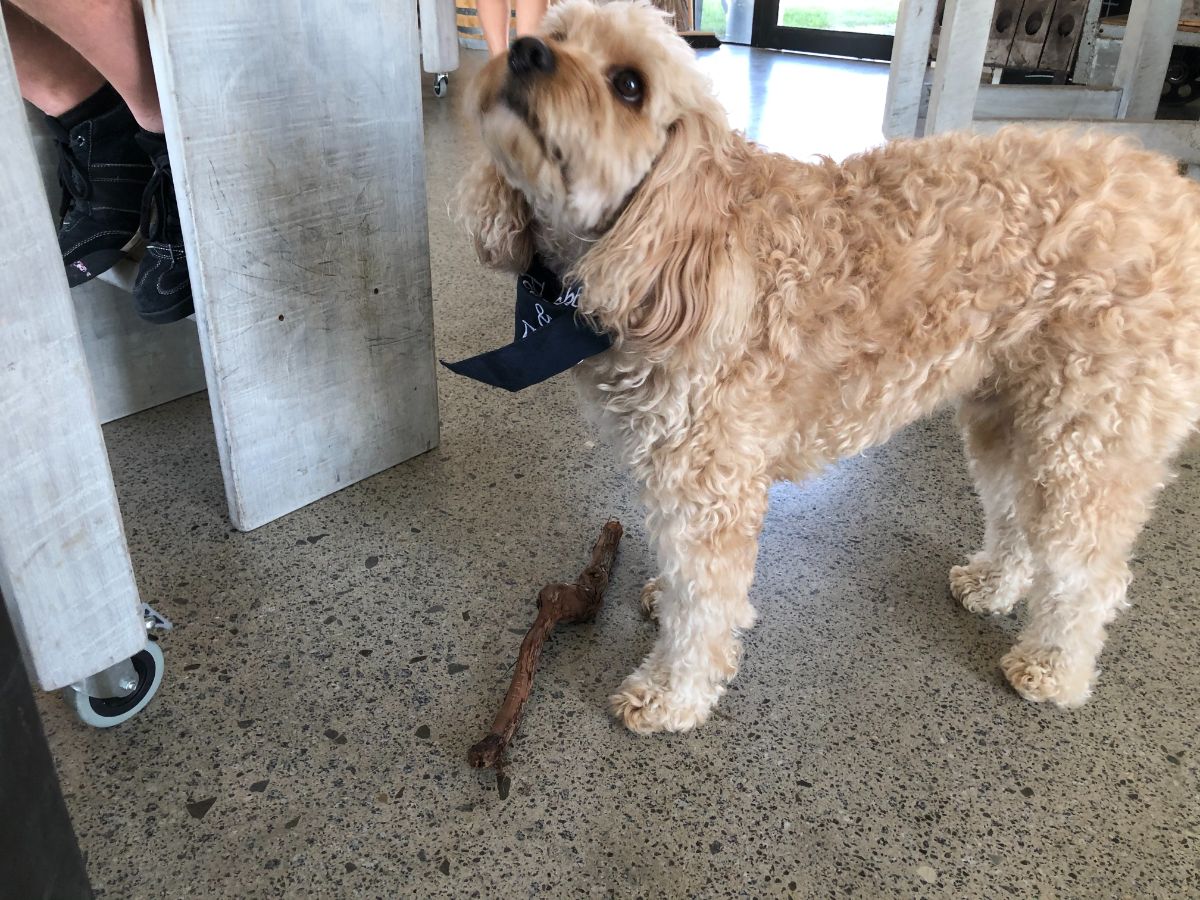 After a fabulous tasting of all their Italian style wines like Nebbiolo, Vermentino, Fiano, and other weird and wonderful names I hadn't heard of, we bought some, to remember Maddens Rise by, and said fond arrivedercis and drove into Healesville to try some gin!
Wow – it was going off in here, Four Pillars Distillery was so popular EVERYONE was queueing to come and try their gin.  Dad typically said he doesn't really like gin all that much and then half an hour later, after the tasting, I spotted him buying two bottles!  Mio padre è pazzo, what can I say!
Speaking of crazy we then walked over the road to a little cellar door called Payten & Jones where a fabulous Jamaican called Ovarn played with me and a man called Steven did a cool tasting with my folks. They have crazy graffiti all over the walls and we sat out in a courtyard with music playing and it was great – great crazy!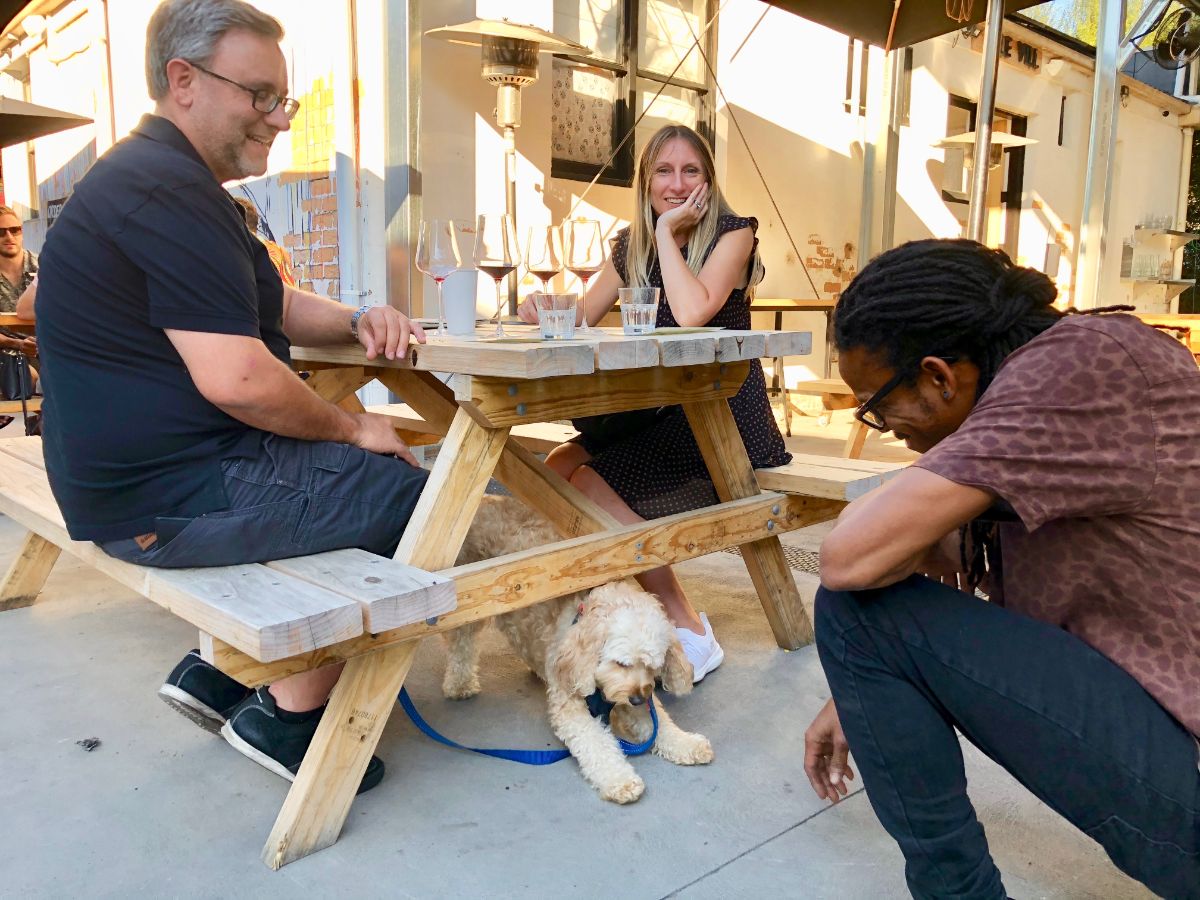 My pawrents loved the wines they tried here and again my Mum detected gun smoke (what is it with her and gun smoke, do you think she was a cowboy in a former life?!?) and they particularly loved one that reminded them of Chinotto, called Fot Li – a Vermut would you believe! So another purchase was made!
A slightly disturbing thing happened at Payten & Jones which bothered me all the way home in the van – Jeff was making my pawrents laugh with stories of when he was younger and said he used to be in CATS.  Gatti?  Really?!!  I stared long and hard at him, and I just can't see it – there's no evidence of a tail, no long whiskers, he doesn't purr or scratch – maybe I misheard, but I looked at him quite differently from that point on.
Despite that – it's pretty exciting that we now know where all these wineries are and I kept hearing my folks say 'We'll be back for the Pinot Noir' so I'll hold them to that – I think the Yarra Valley is my new favourite place and Jeff without doubt my new (and only) favourite cat!