Hi everyone, I'm Oggi – I'm 3 months old and I'm a Jack Russell and tho it doesn't need saying I'm pretty super cute.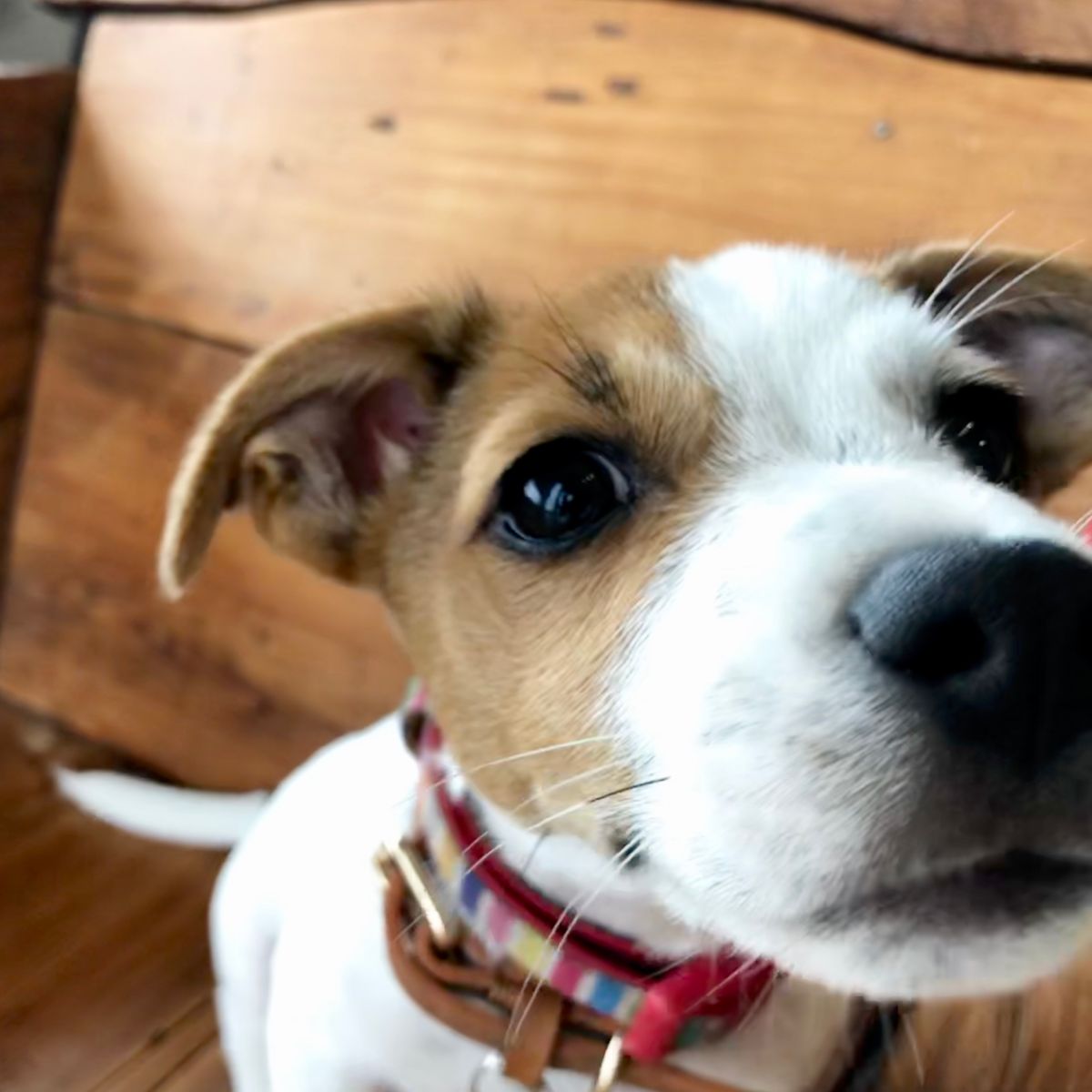 I'm the newest member of the family, I was a 40th birthday pressie for Sap – she's my Mum.  For Sap from Sap – she bought me as a treat to herself, she's always wanted a dog and now she has the cutest dog in the world EVER.  She's also always wanted to go on a wine tour, so my new Dad (her husband Subi) booked one for her with these dudes called Pooches & Pinot.  I overheard him saying he's never really been a dog person (I know, wierdo right?) but I seem to have turned that around and he's already pretty besotted with me.  As are my brothers-in-crime (BIC) – Daksh and Dhruv, we're always getting into mischief, so imagine our delight when we ALL went on our very own private wine tour together.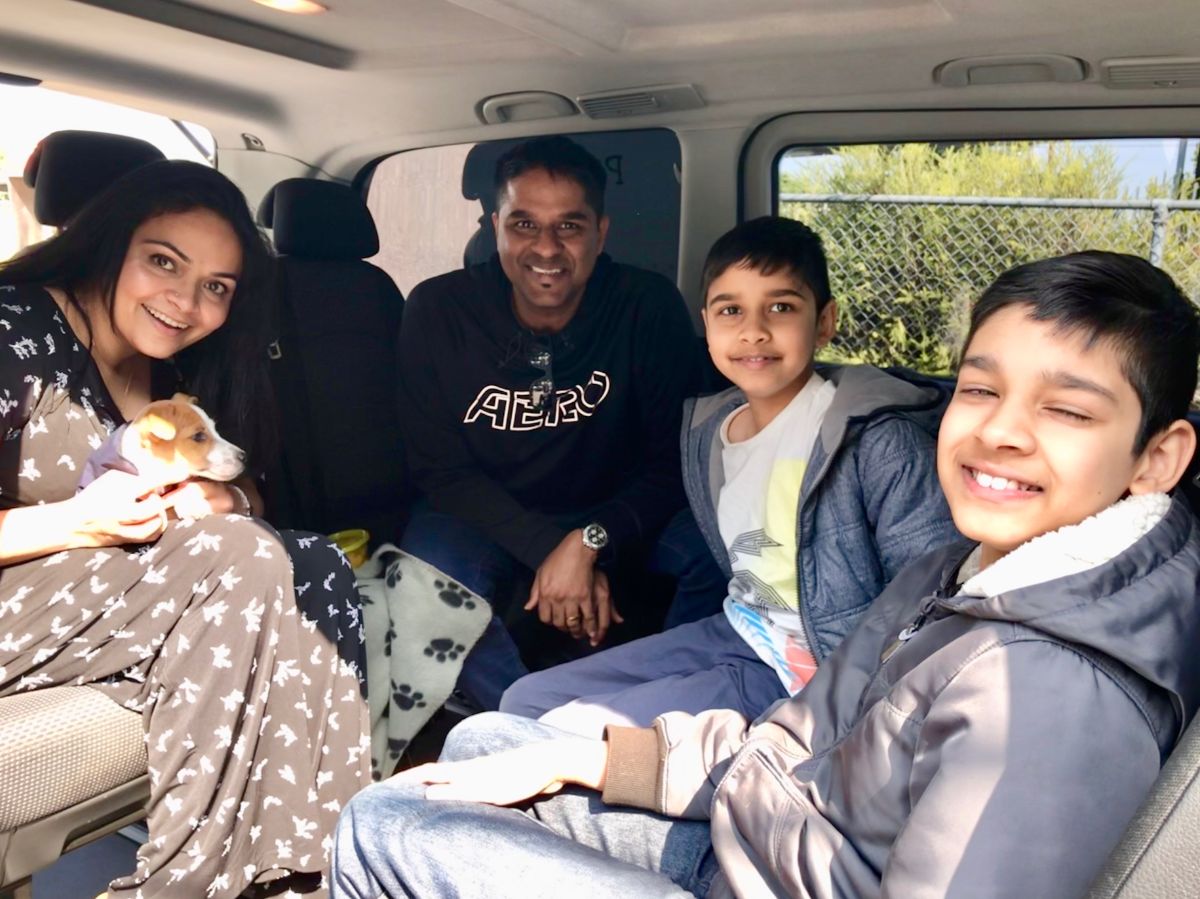 We set off for our day's touring with a great guy called Jeff in his shiny black Mercedes van and I'm so small I got to sit on my Mum's knee and watch the world flash by out of the window which was SUPER EXCITING.  Jeff gave my Mum a bandana to put on me which turned into a great new game – she put it on me, I took it off, she put it back on, so I took it straight back off – game over really.  I win!  I'd never been in a Mercedes before, to be honest I haven't been in that may cars yet in my short life, and Daksh and I were pretty chuffed to be in a Merc where the seats face one another – we're film stars for a day.

The first place we arrived at was this great farm where I got to sniff around on the grass with my BICs (Brothers in Crime, please try and keep up) and we loved it, there was SO MUCH GRASS to run around on and Jeff took Mum & Dad into a hay barn where Jeff introduced them to a great guy called Brian, who gave them nice wine to drink.  This Brian chap is a real talker and was telling them about the different jobs he's done, including, get this, transporting elephants from Kochi in India to London Zoo!!  I know right, my eyes went wide too!!  And guess where my Mum's from, in India?  Only Kochi!  What were the chances of THAT happening – small world (said me the small dog).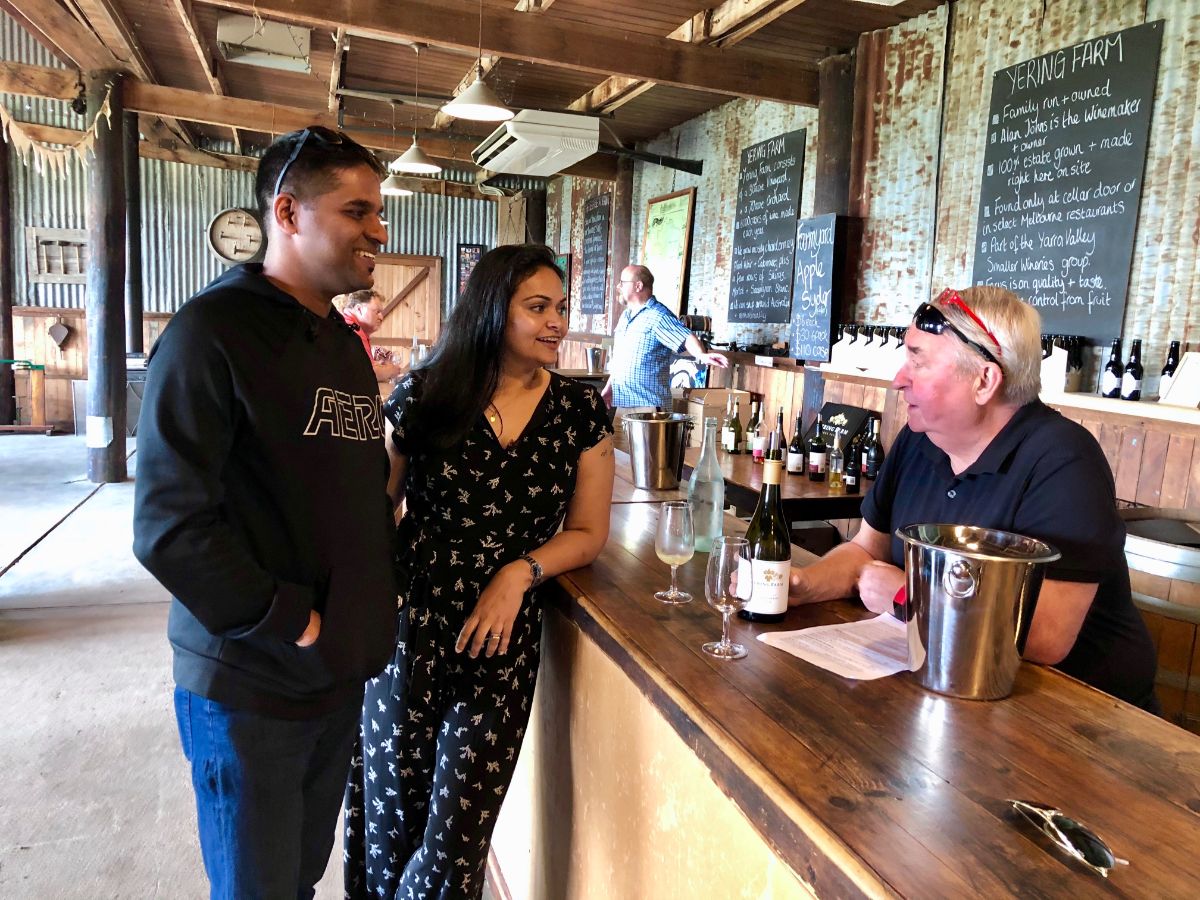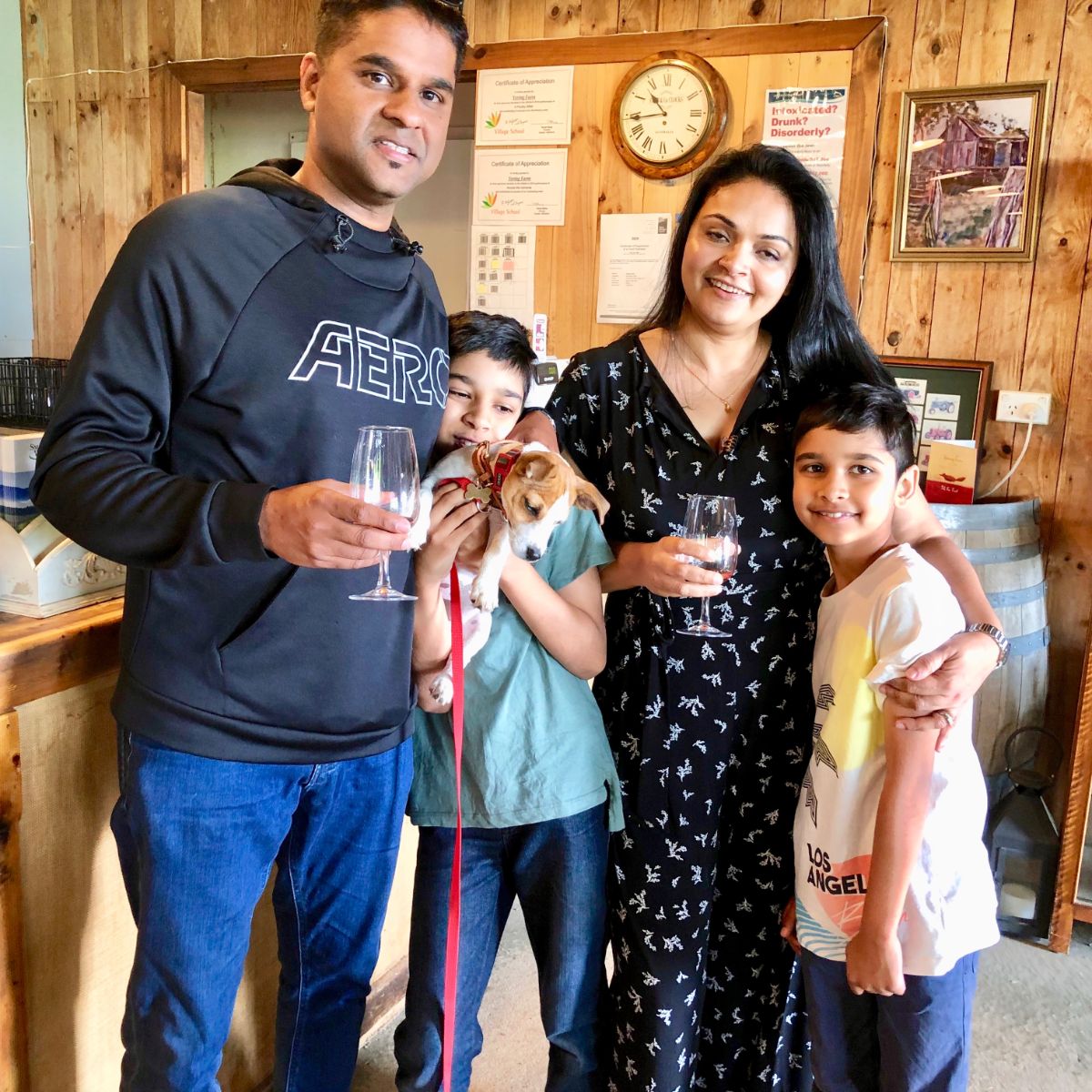 Sometimes I think my name is 'Small Dog' as that's what everyone says when they see me – 'Wow, such a small dog' and I feel like yelling back (and look sometimes I do) 'The name's Oggi, thank you good people.'  My folks bought some yummy cider and we jumped back in the car for more adventures.
And it was like another game – no sooner had we got back in the car, than we got back out again – this time at a place called Punt Road Wines – where I did some wooing.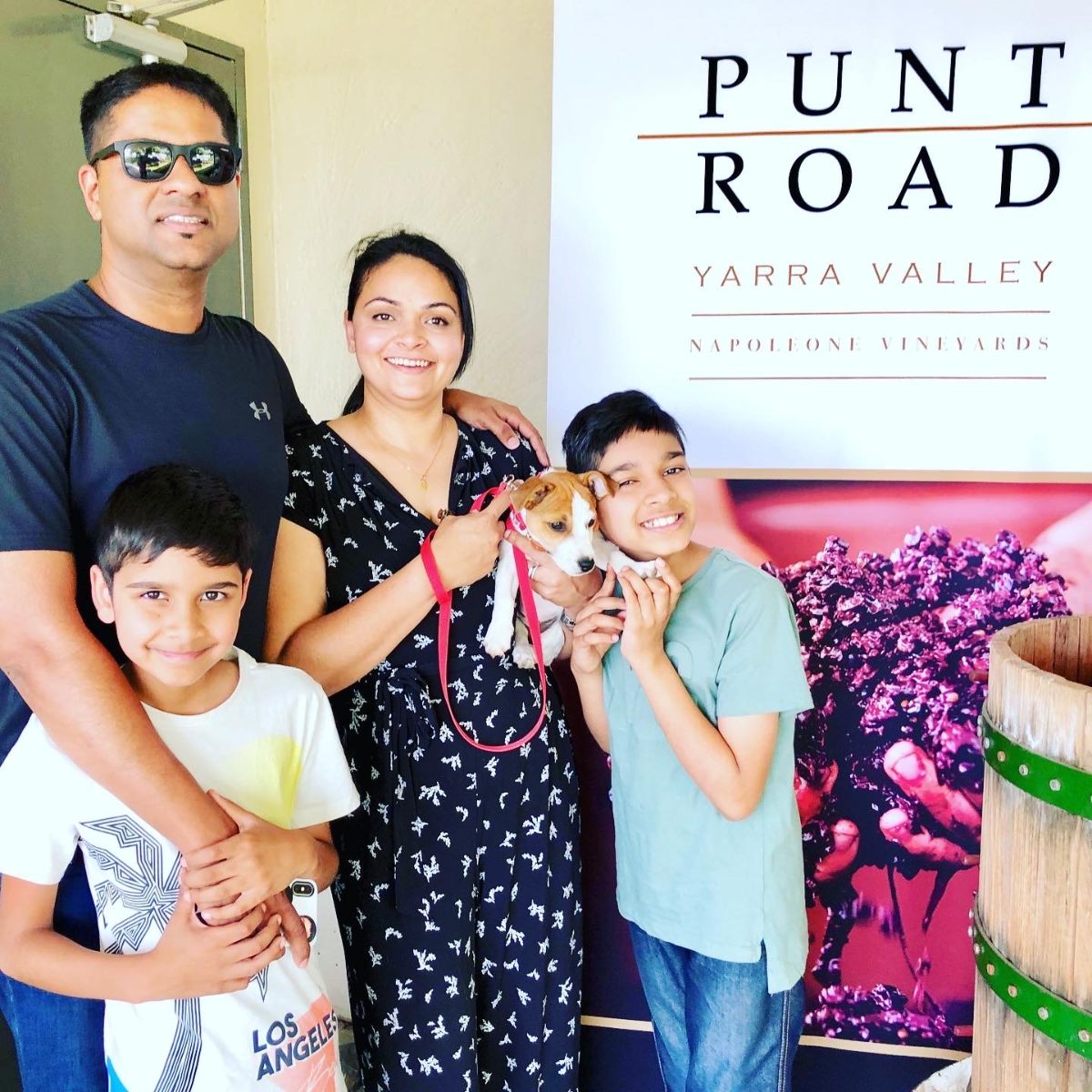 Look at poor Katie the cellar door lady, she's instantly smitten with me.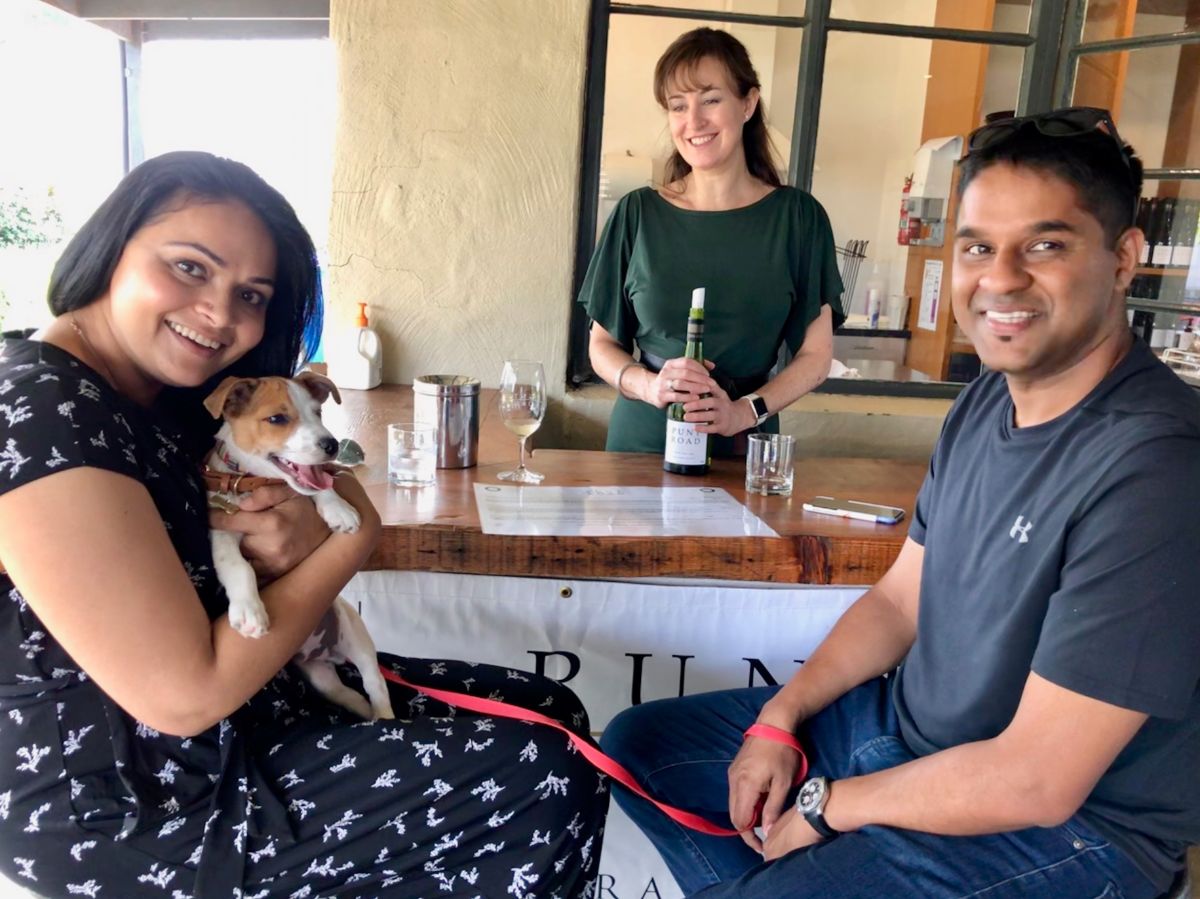 She said it's because she has Jack Russells at home, but in reality it's just me and my ridiculous boyish good looks that she couldn't resist.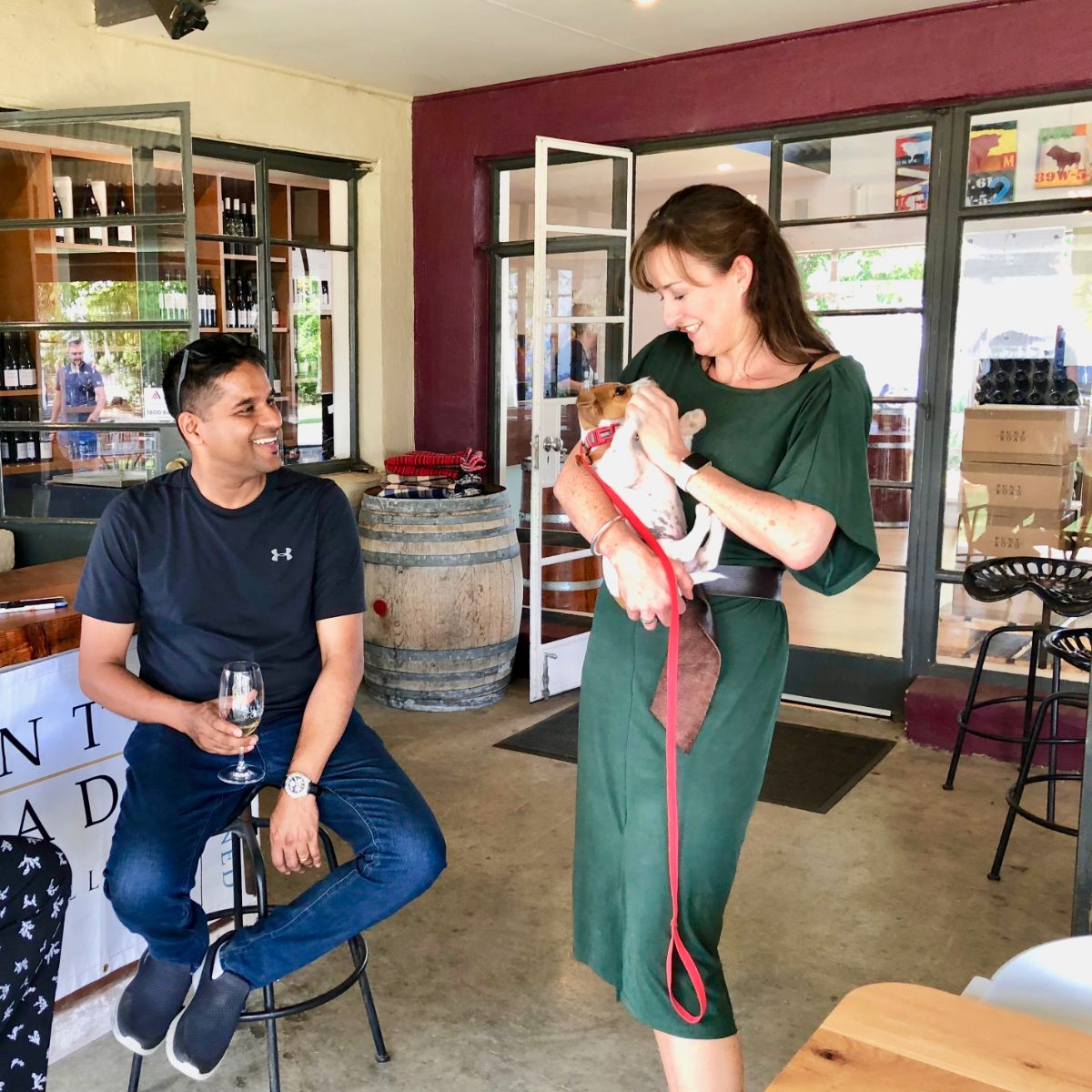 Mum & Dad sat and tasted wines with her while I spied a bocce court outside so went off with my BICs to teach them how to play bocce.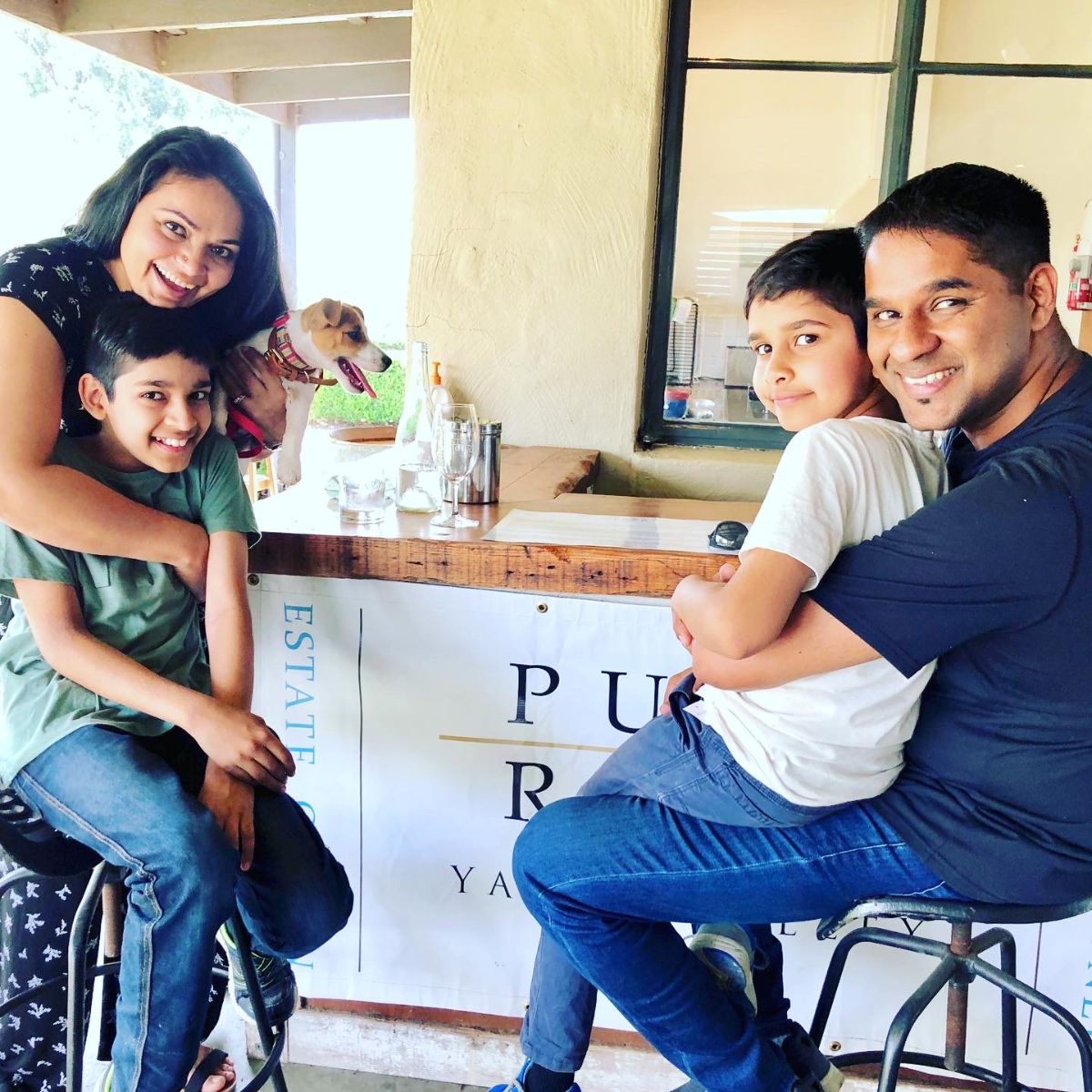 I misunderstood the rules and apparently eating the ball isn't the aim of the game, but if it had been, I would have been a standout champion (I didn't see the boys chew the ball once!).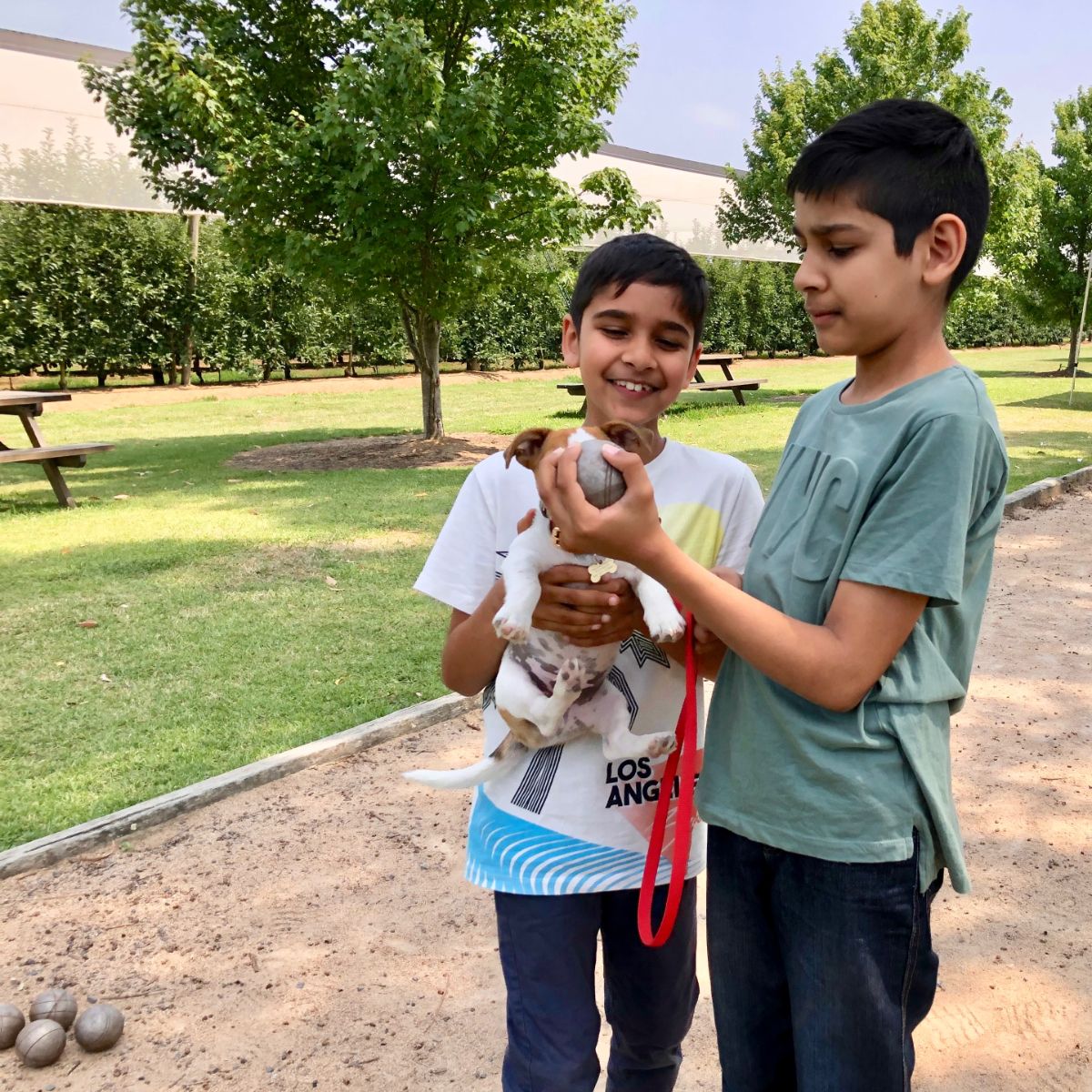 Instead, Jeff and the boys played and I ran around helpfully and eventually, because Jeff kept losing, Dhruv was pronounced the winner and performed his victory dance for us.

Time to jump back in the van as by now it was lunchtime and everyone was pretty hungry.  I was fine as Jeff had been keeping me well fed on Laila & Me treats because he could see I'm a growing boy and bocce makes one hungry that's for sure.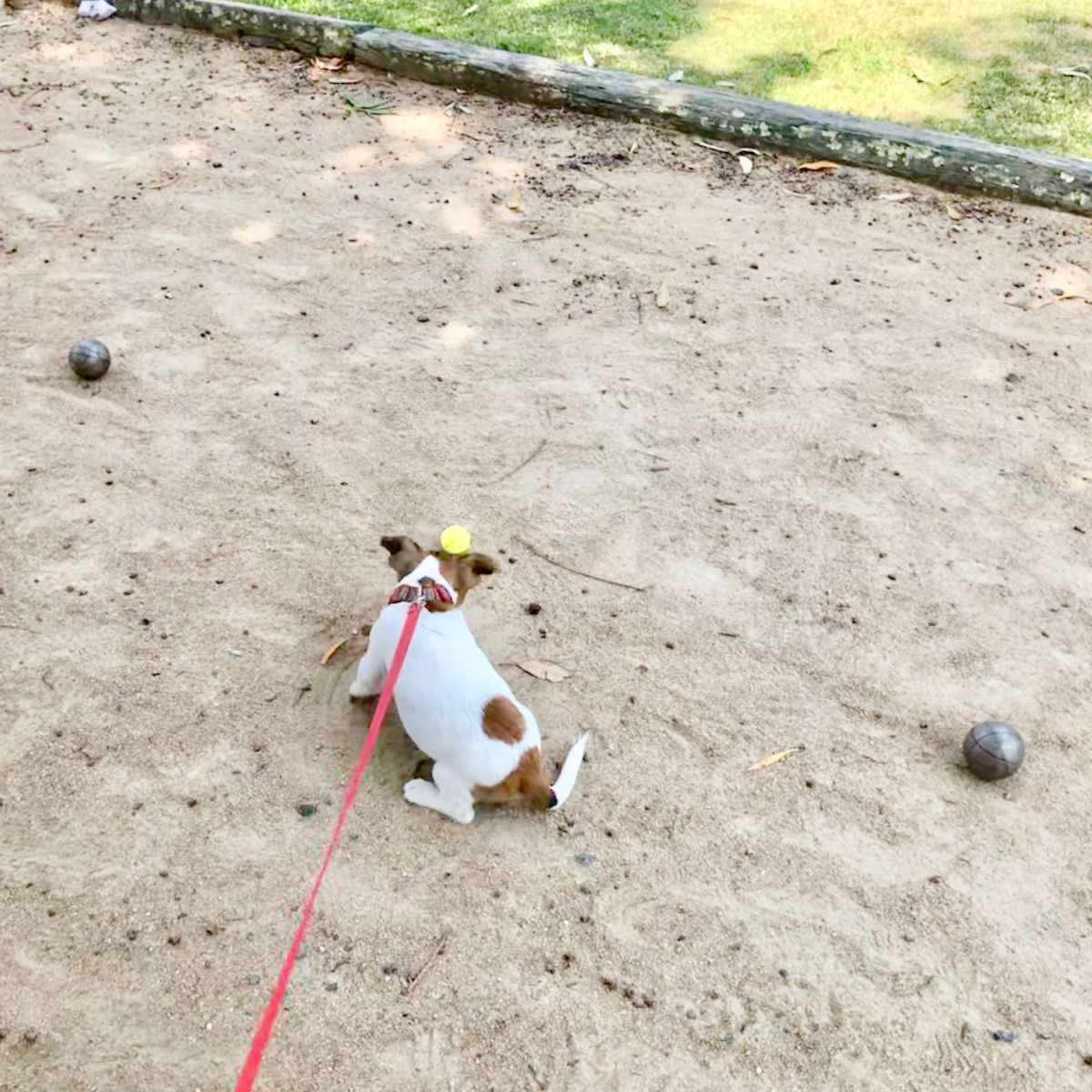 So we rock up at Helen's Hill Winery and go to our reserved table out on the deck (like rock stars) and I sat and watched while my family devoured a platter the way I would – more of an inhalation really, I didn't see too much chewing going on!!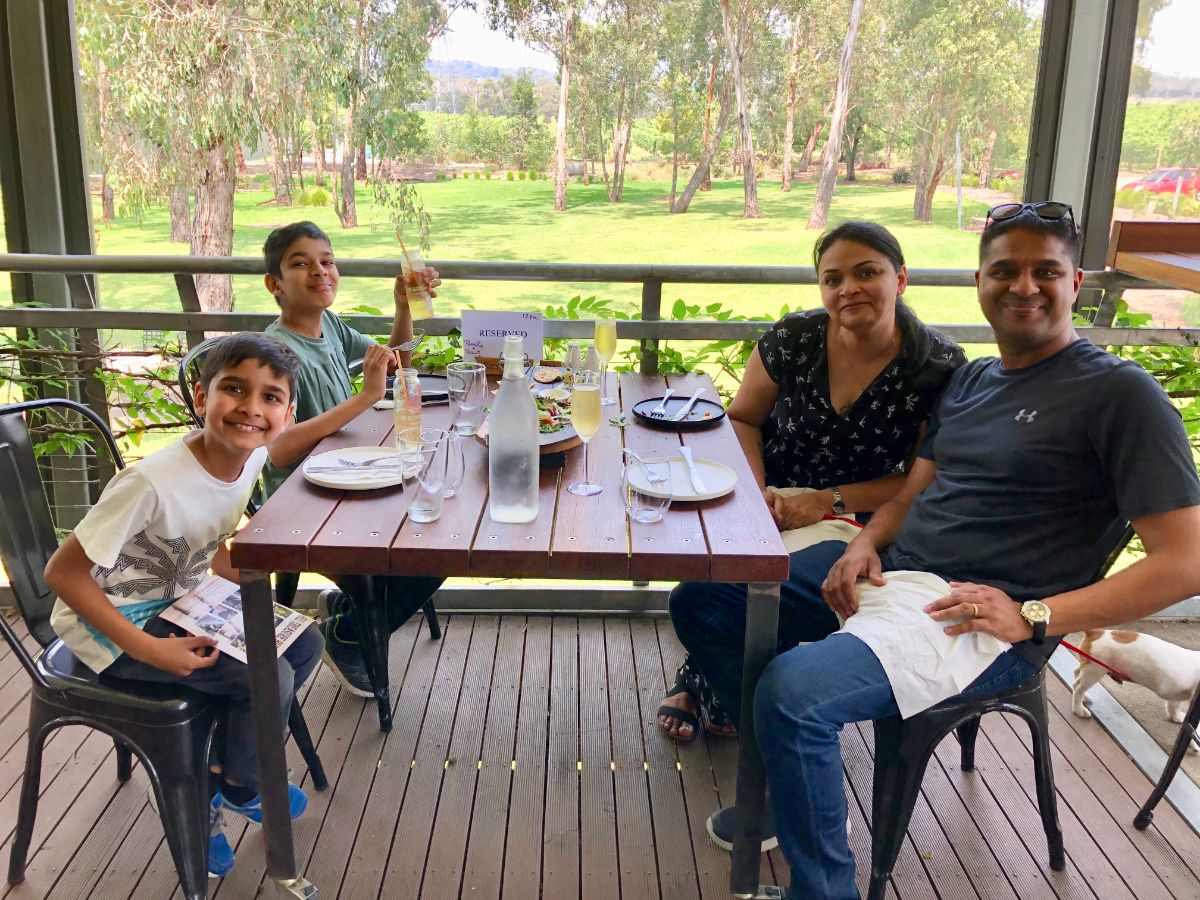 While they were waiting for their pizzas to be cooked, I took the boys off into the grounds of the winery armed with some Treasure Hunt maps and we hunted for sculptures of Australian bush animals.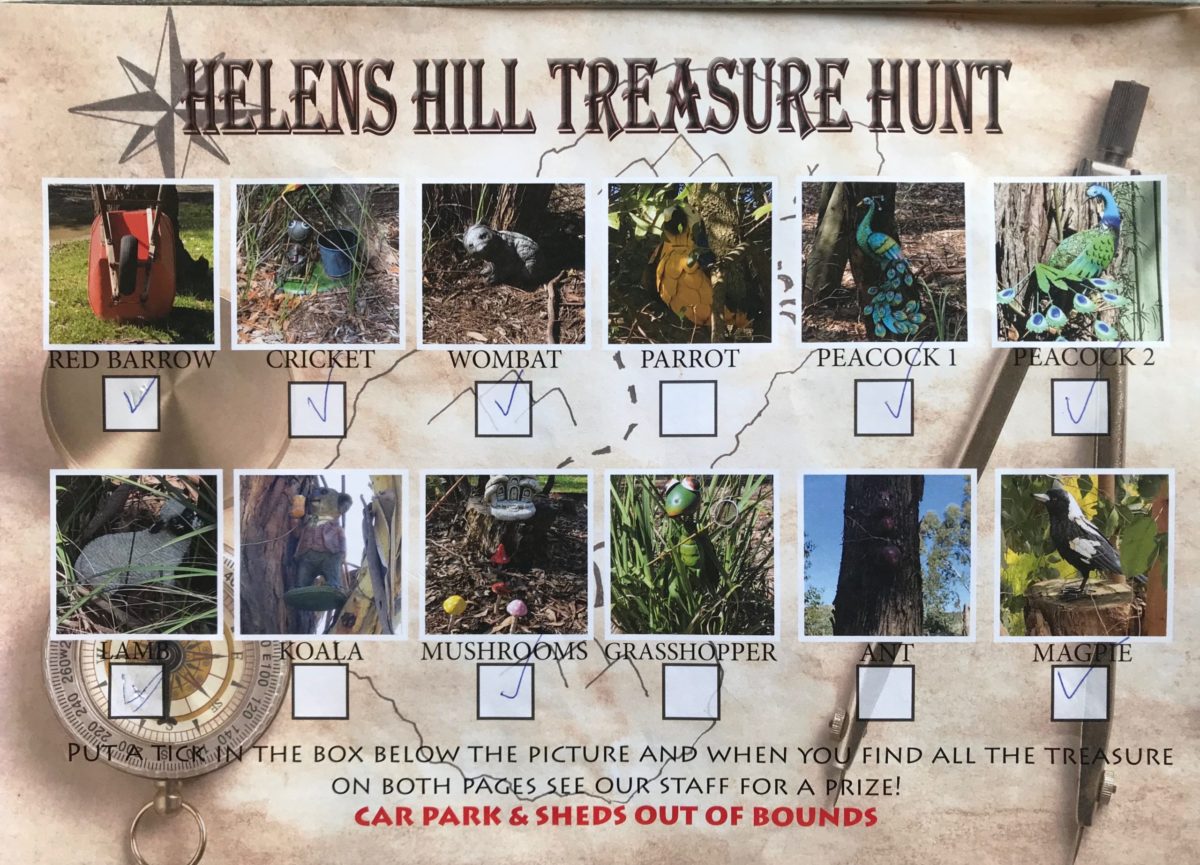 I was ace at the hunt, the boys not so much, but that's probs because they only have substandard human noses, poor things.  Then we totally lost interest in our Treasure Hunt when we heard Dad call out that our pizzas are ready, so we raced one another back to the deck to eat (well, I just sat there and politely watched).  You should have seen Daksh eat his stringy cheese on his pizza, man it looked DELICIOUS!!  I was all ready to go back out on the Treasure Hunt, and claim a prize, but Jeff mentioned something about going to a Chocolaterie and before you knew it I was being bundled back into the van at high speed!
When we got to the Chocolaterie Jeff gave my BIC some Pooches money and told them to go and treat themselves to something fabulous from inside.  I know right, how cool is that.  So I waited for MY Pooches money, but none came my way, so he must have forgotten, and then I realised I'd been left with Jeff as the whole fam went off to sample chocolate without me.  Someone said something about chocolate not being good for dogs – but I think as 'the dog in question', I should probs be the judge of that!
As we clambered back into the van, with everyone smelling of delicious hot chocolates and coffees, the sky started raining on us so we timed it well and were very happy to be in the van as we drove off to Healesville in the big rain.  Jeff took us to a cool little joint called Payten & Jones where I made friends with another little dog and we all played together while Mum & Dad drank more wines with a cool guy from Jamaica, called Avarn.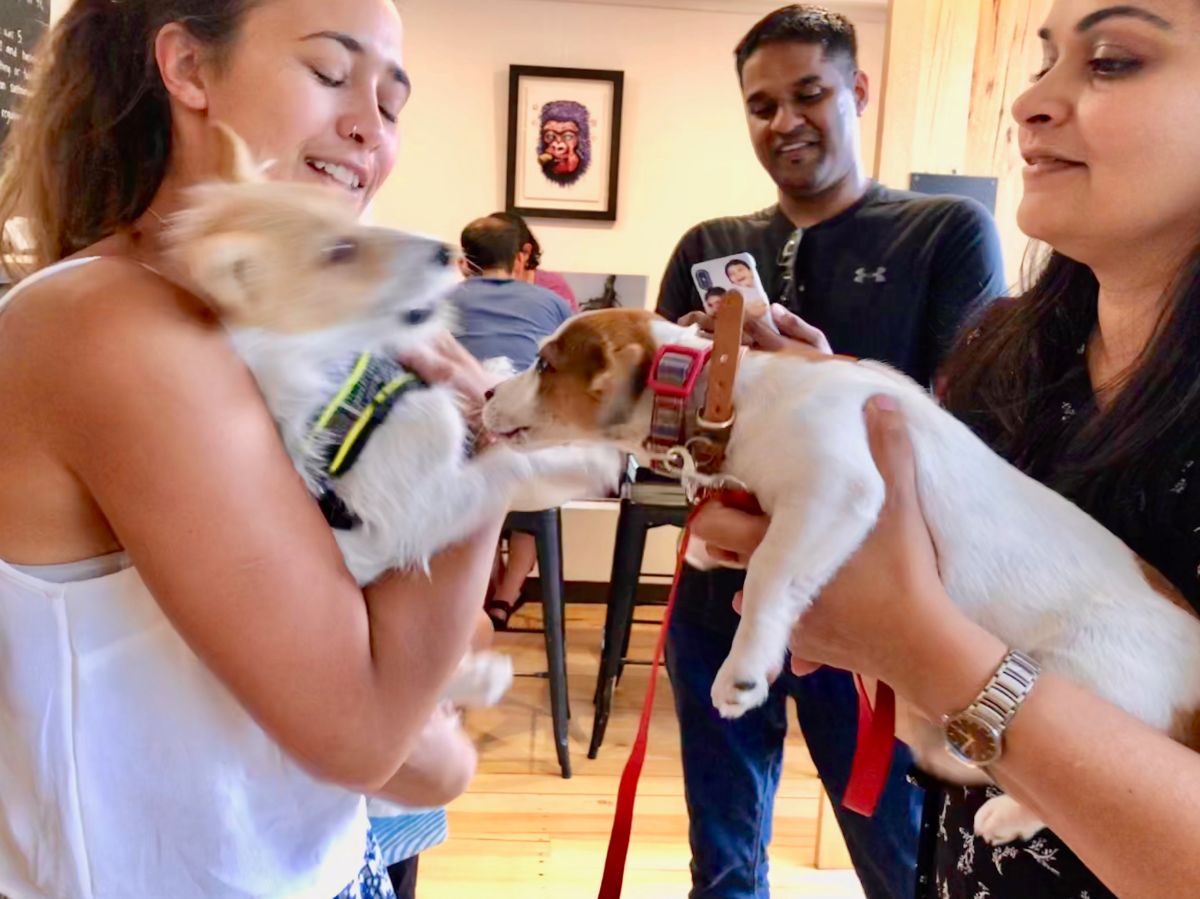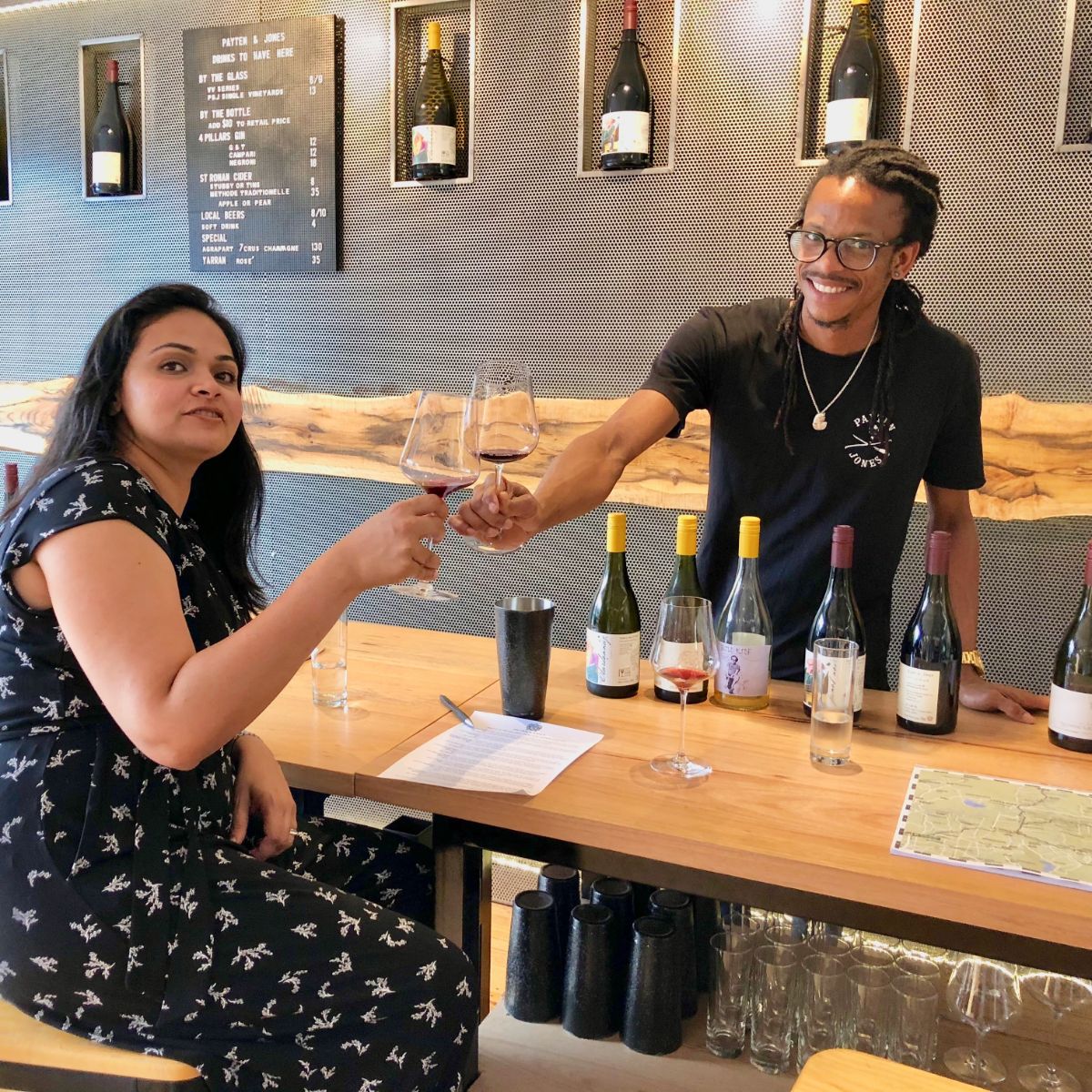 I loved it there, it was super relaxed and there was a courtyard I'll have to check out next time, when it's not raining.  Oggie-the-doggie-don't-like-getting-soggy!  Didn't know a 3-month old pupster could rap, huh?!  Well you do now!
We clambered aboard the van and went off to Maddens Rise which is a cellar door that's as cute as me and about as small too!!  I fitted in a treat – small dog, small cellar door, both with heaps of personality.   We walked in and had the place to ourselves like the VIPs that we are and I spied a paddock that needed to be explored immediately by us BICs so off we went, sniffing and running about.  Mum & Dad were presented with two glasses of fizz by a gorgeous lady called Emma to celebrate Mum's birthday and Jeff called us back in as it was 'time for a surprise'.  CAKE!  Made by Jeff.  For my Mum.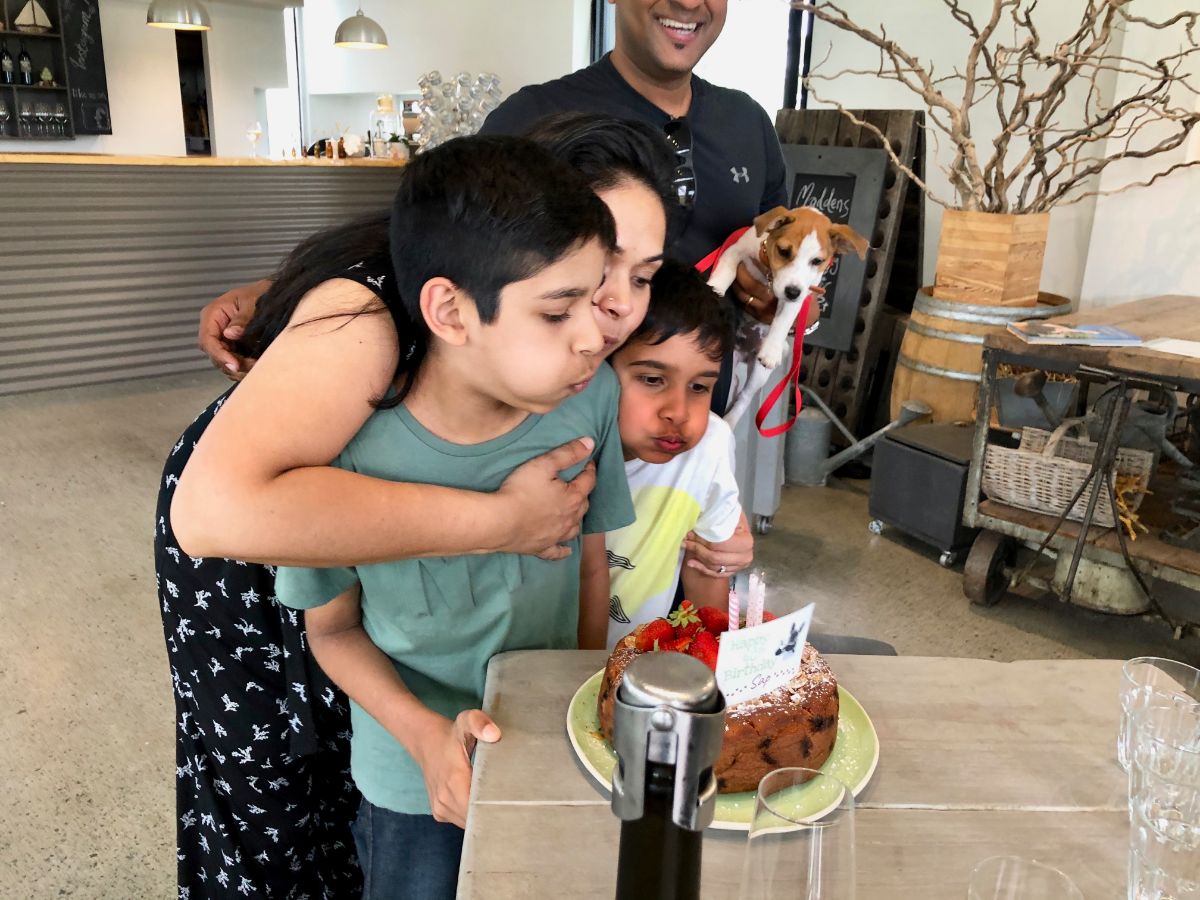 I love cake, so I'm thrilled at this pioint.  We all sang and candles had to be blown out and you can imagine how useful I was at both those bits!  They blew so hard the card flew off across the room!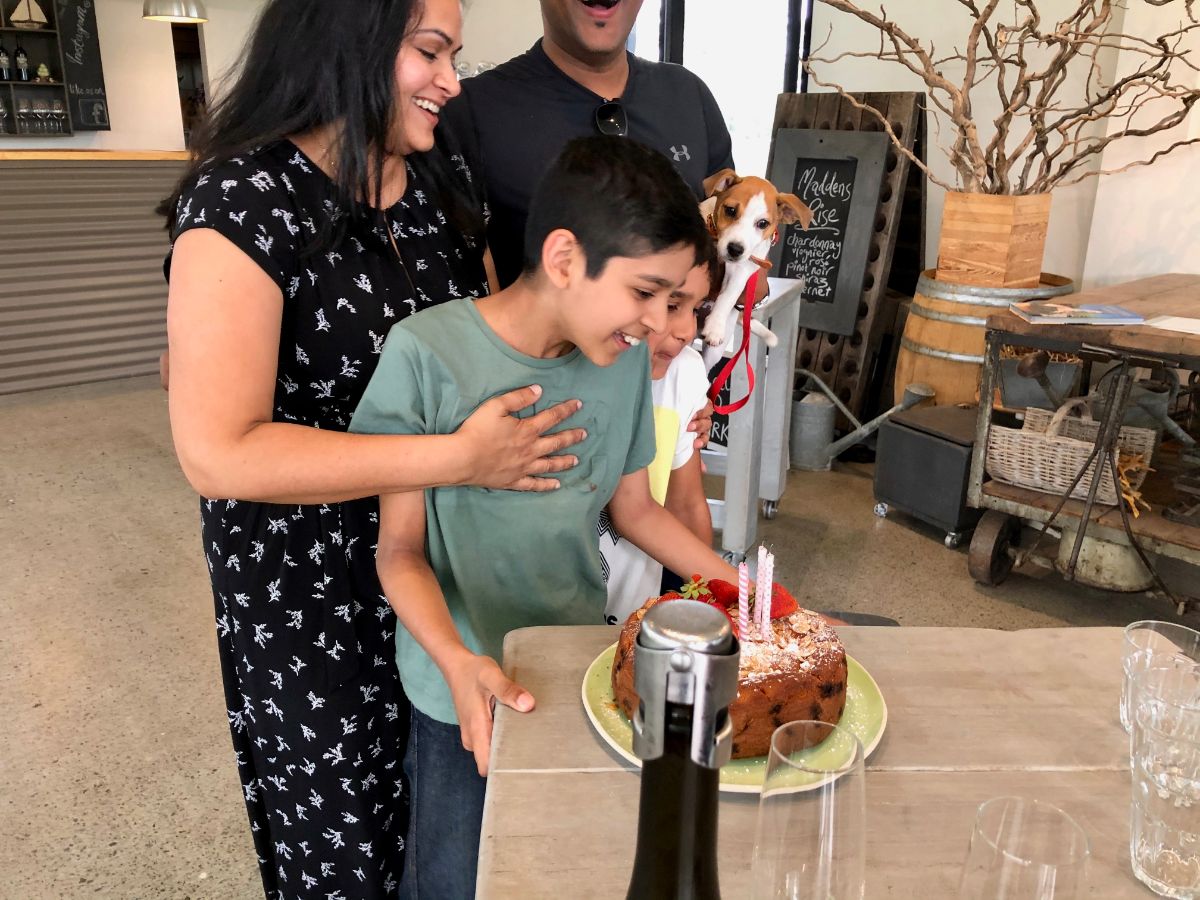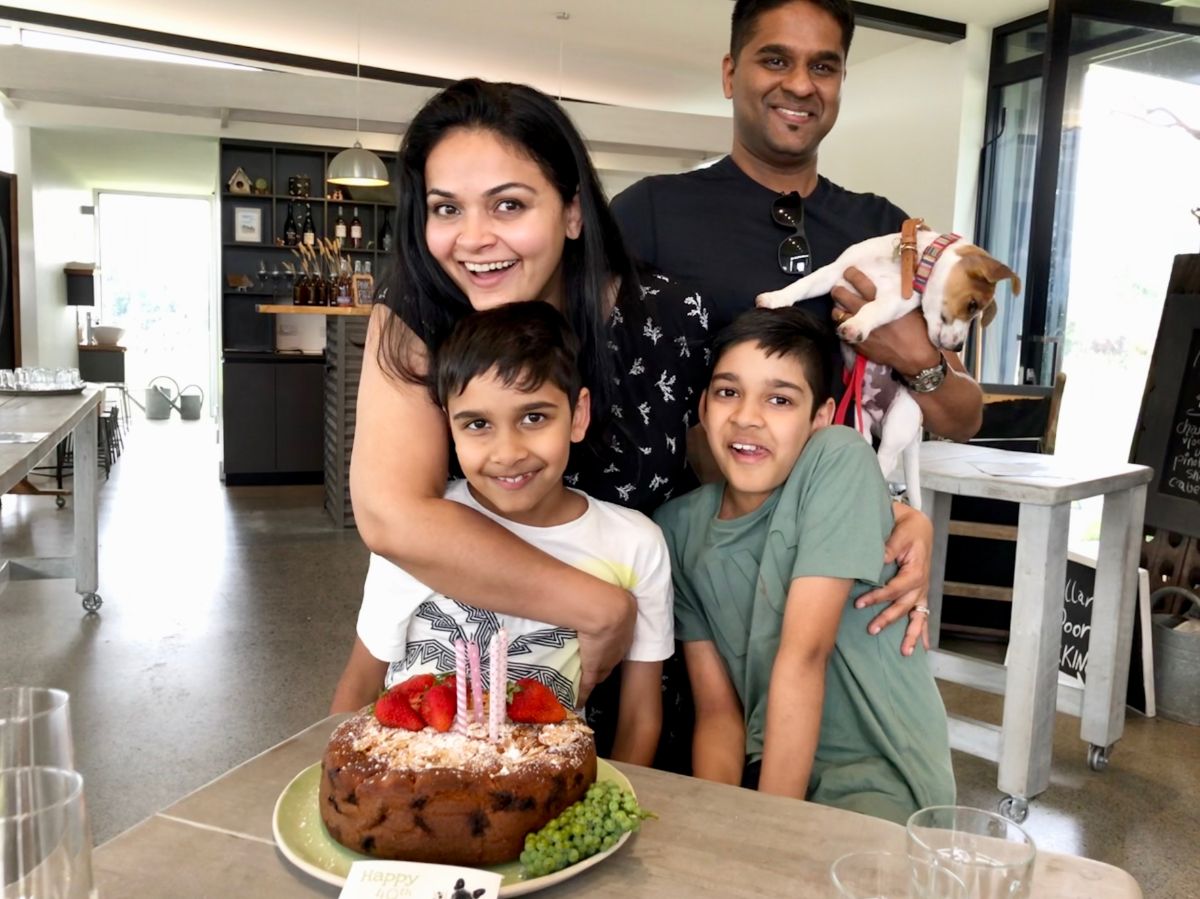 Then the cake was cut and a piece was handed out to everyone.  But not to small dogs.  Mmmmmm, I was sad too.
While Mum & Dad tasted all the wines, I sat with my BICs and drooled over the wine-dog book – dreaming of one day starring in it myself.  I'm a dead ringer for Archie the wine dog don't you agree?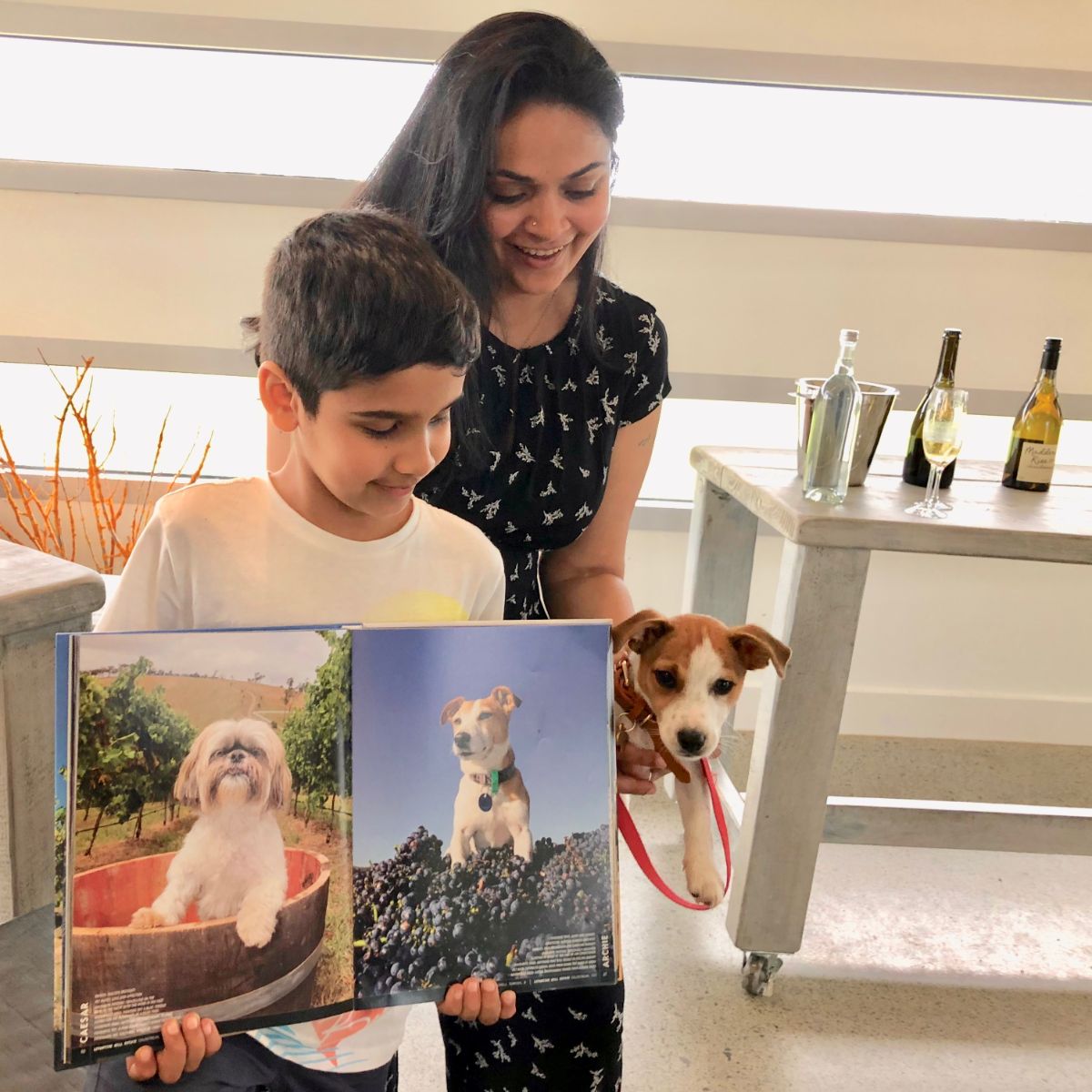 Some locals arrived just in time to meet me and make a fuss of me which was great as I knew it was home time after this cellar door.  And get this, Daksh suddenly proved to be a wine connoisseur – detecting strawberry notes in the pinot noir and cherry notes in their wine called Cinq Amis – my Dad and I, we don't know if we should be proud or worried!!  I found a wheelbarrow and sat in it and looked cute, that's more my forte!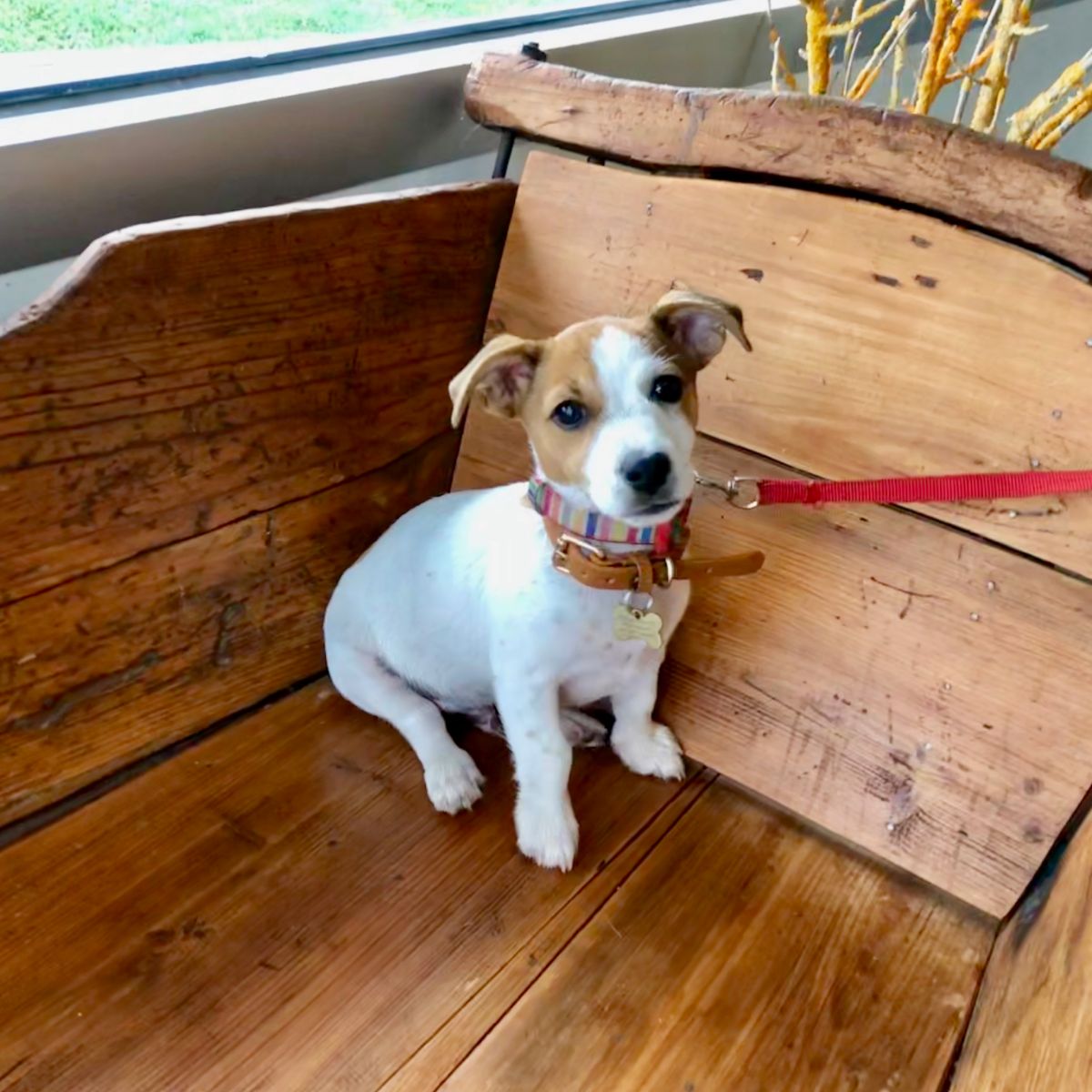 And that's it folks, the end of my enormous day – it had gone by in a blur and I was still charging around, even though I was exhausted.  I fear there may be photographic evidence that I ran out of steam at one point and had a small snooze/power nap at the table.  But c'mon people, give me a break, I'm only little, so I've covered miles today on very small legs which is all quite exhausting for such a young pup.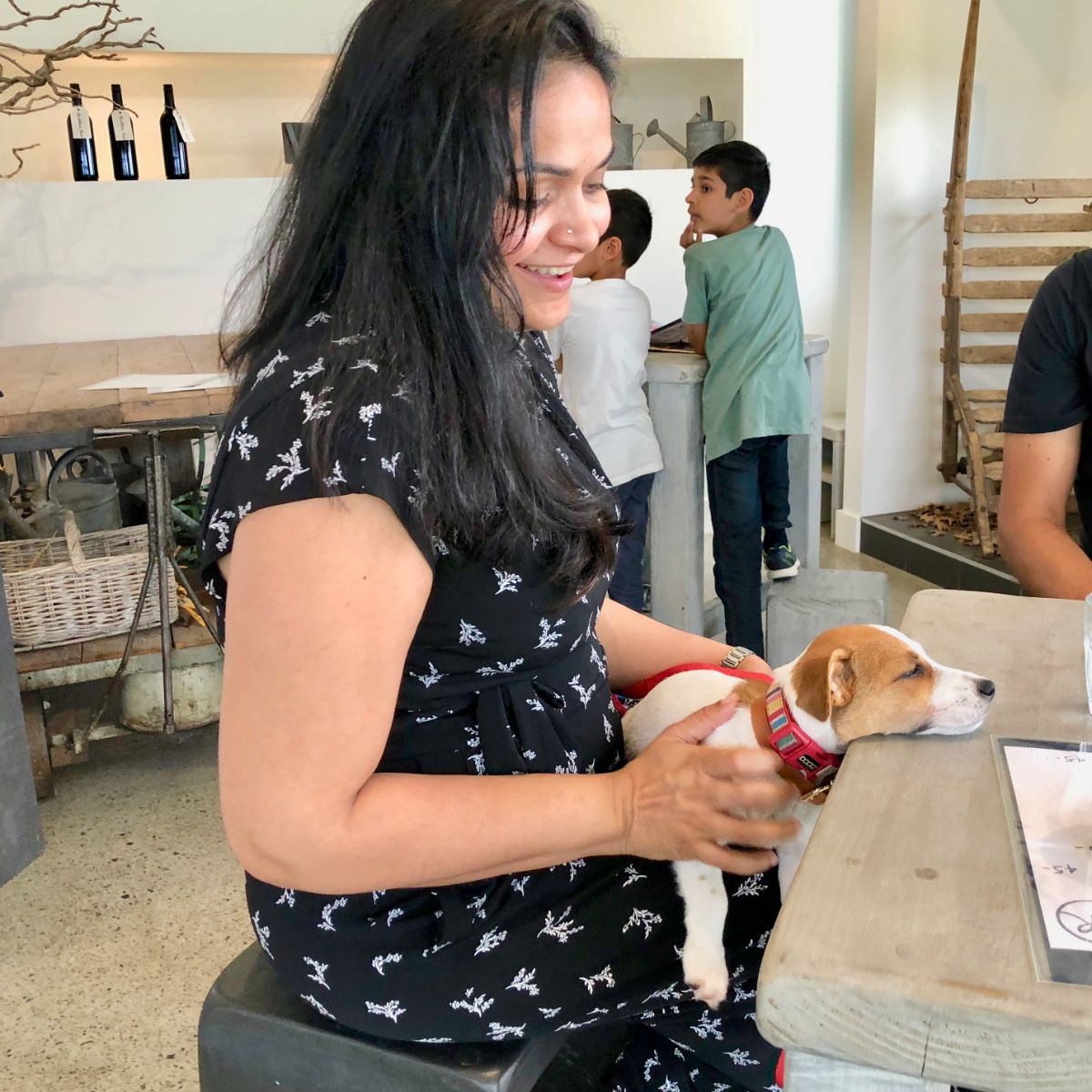 After my Nana nap, Jeff wrapped up the rest of the cake which APPARENTLY was delicious (I'll have to take their word for it, not having been given any) and gave it to my family to enjoy back at home and then it was hometime, so we said our fond goodbyes, and I reckon I probably slept rather well ALL the way home after my awfully big adventure for an awfully small dog.  Zzzzzzzzzzzzzzzz.