I'm Nina a 7-month-old cocker spaniel and I'm adorable.  I'm named after Nina Simone – could it be bcs I'm black and sing like an angel?  My pawrents clearly think so.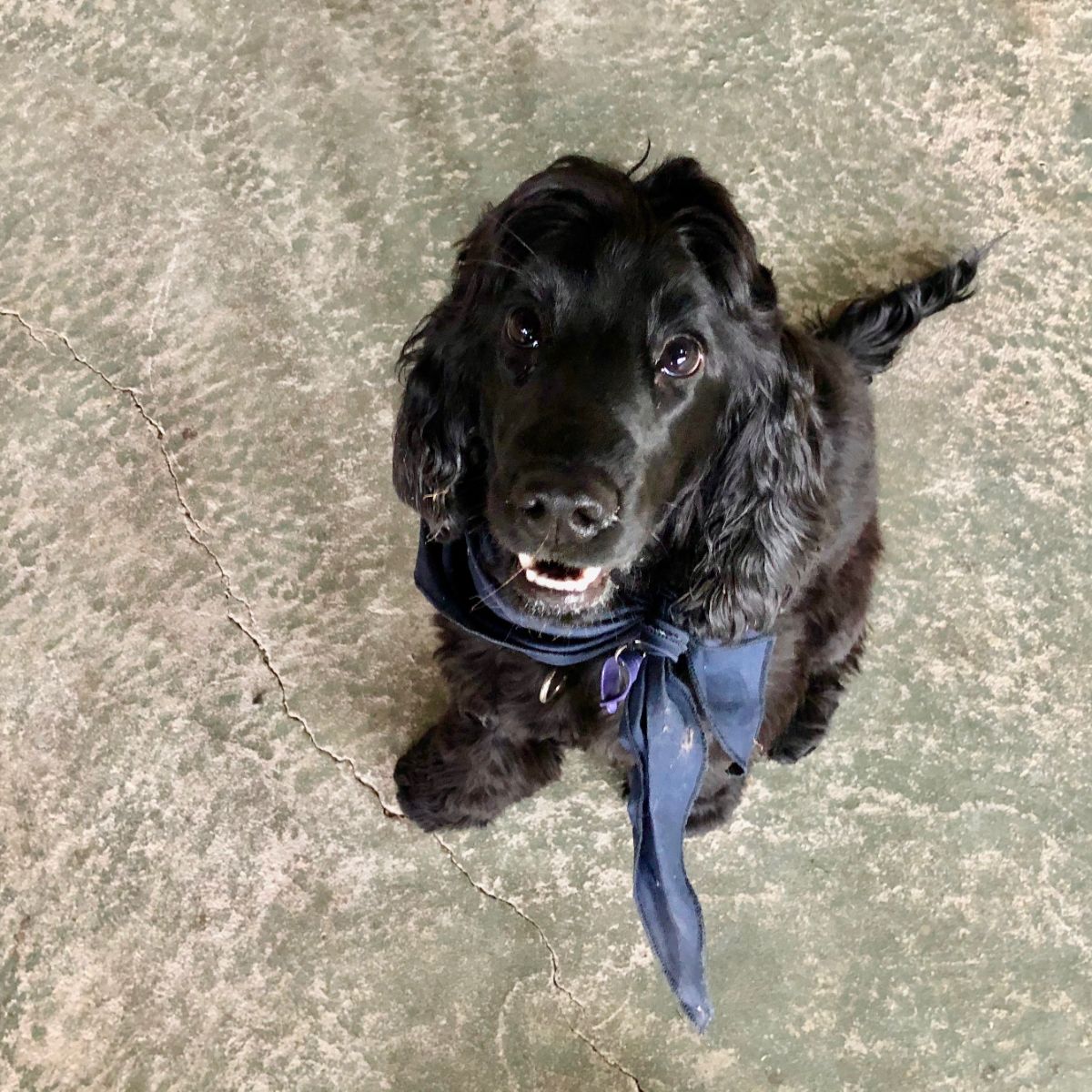 They have no faith in me tho, I heard them telling Jeff, our tour guide when he first collected us, that they think I'm a loose cannon whatever that is, so weren't sure how I'd go on my wine tour today. But guess what, I was insanely well behaved and sweet and everyone adored me.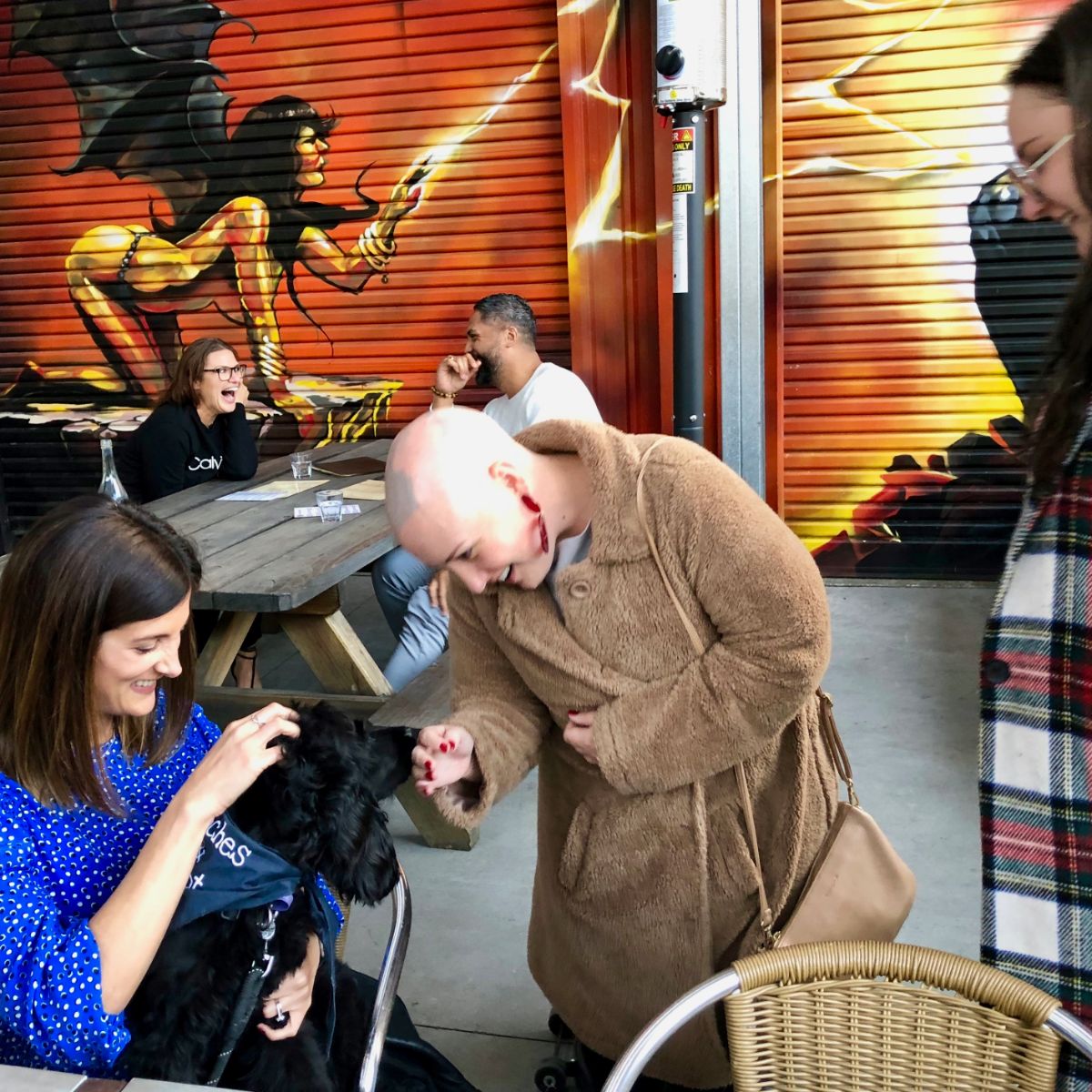 I live with my pawrents in Williamstown, and they are both muskateers, no hang on, wait, sorry – they're marketeers, that's right.  They met in a Uni bar in England, again, no idea what that looks like, and have been together ever since.  And now they have me, so their life is complete and they love wine as much as they love me so we decided to go on holiday as a family and we came to stay near Healesville at Wiggley Bottom Farm on their Rock n Roll weekend package, which included this blog that I'm now having to write!!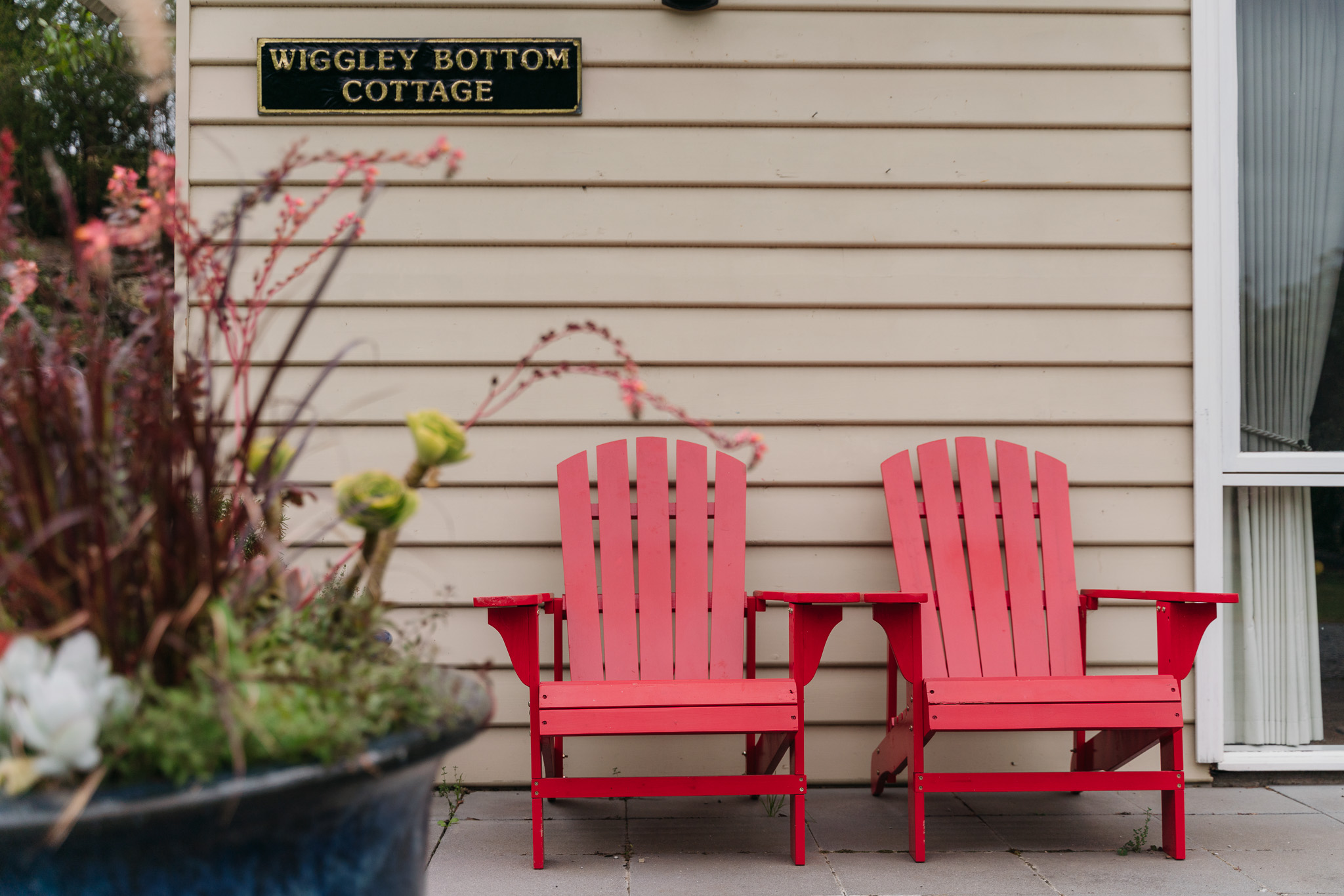 We arrived at this cute cottage in the dark and the fire was lit and it was toasty warm and there was a fridge full of bottles of sparkling wine and crazy amounts of food for my pawrents and I even have a tin of doggy treats too I spotted!  According to Mum (so it may not be true) Dad found a delicious chocolate cake in the fridge and ate the whole thing himself!!  Daaaaaaaaaaaad (eye roll)!!
We had a fab night's sleep and after breakfast we went for walk on the property and I met things called miniature groats, at least I think that's what they called them.  Kind of like sheep but smarter.  And then I saw two vans coming up the driveway and the black van came to our cottage (is it because I'm black?!) and the white van went to the apartment, and it turns out both me and the other dog staying for the weekend had booked a wine tour, in fact we'd all booked the Rock n Roll weekend package at Wiggley – how cool is that.  Fellow rock n roller dudes.
So, I'm given a very cool bandana to wear for the day (and keep, I've still got it here with me now at home – sweet) and we set off in this rock star van and went to more wineries and cellar doors than I have paws so I couldn't keep count (I'm only a few months old!!).  Each one was great for me because every new place SMELT so amazing.  I may not drink wine (bleurgh, I prefer water) but I do sniff absolutely EVERYTGHING and I think my favourite pick of the day was Seville Estate who had a garden that I roamed around in filling my nostrils with divine aromas.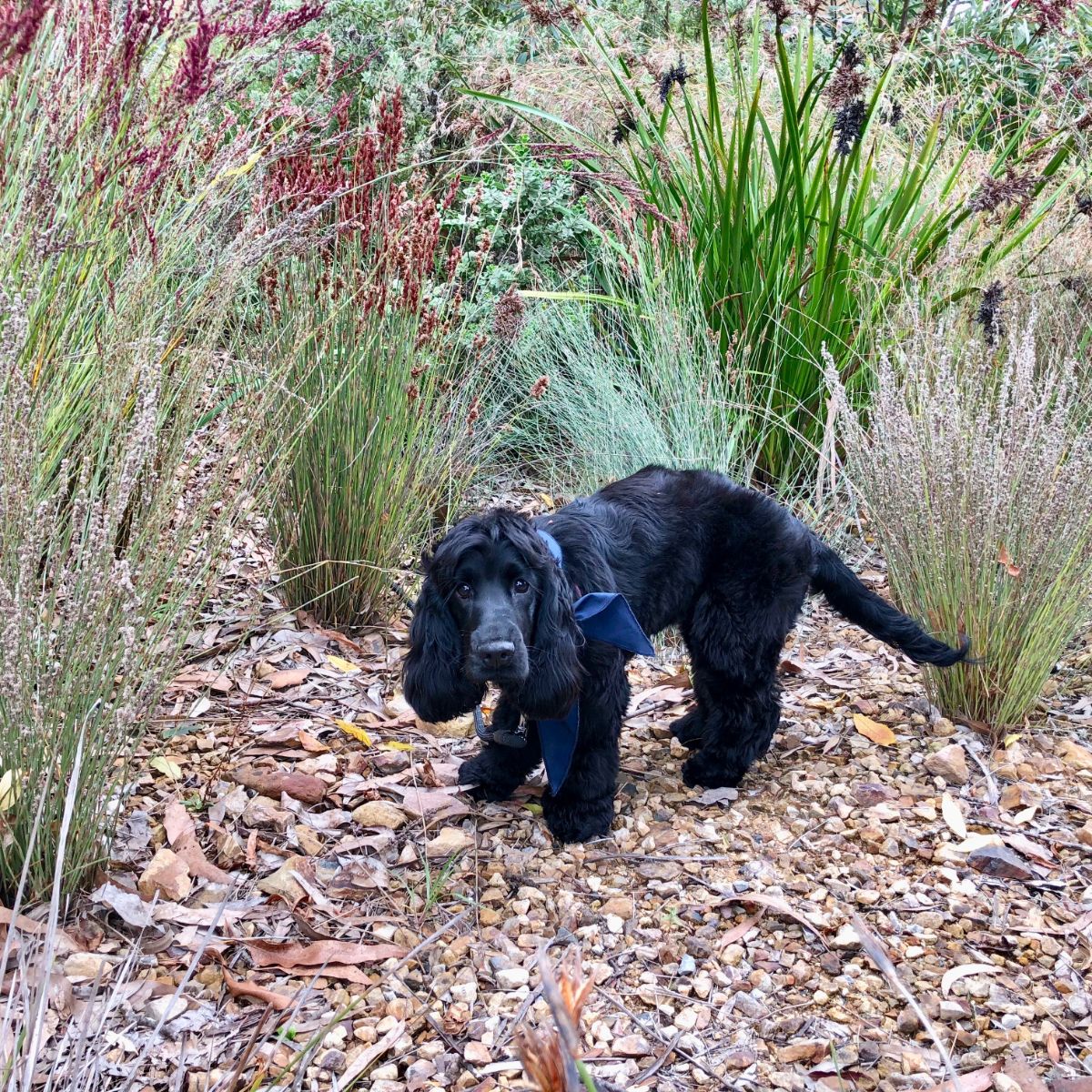 When I wasn't exploring, I hung out with Jeff, our pawesome tour guide, or my pawrents, but they were pretty busy listening and learning about the wines they were trying.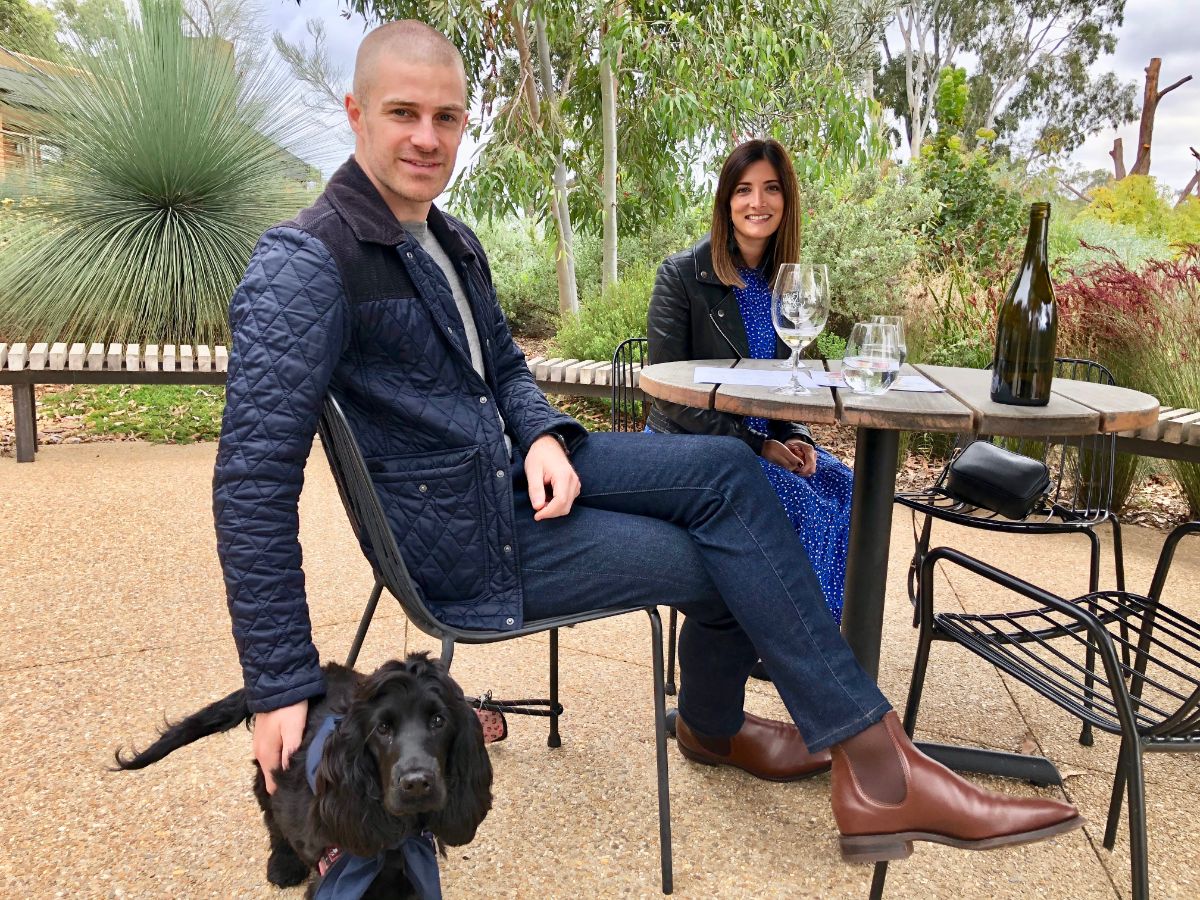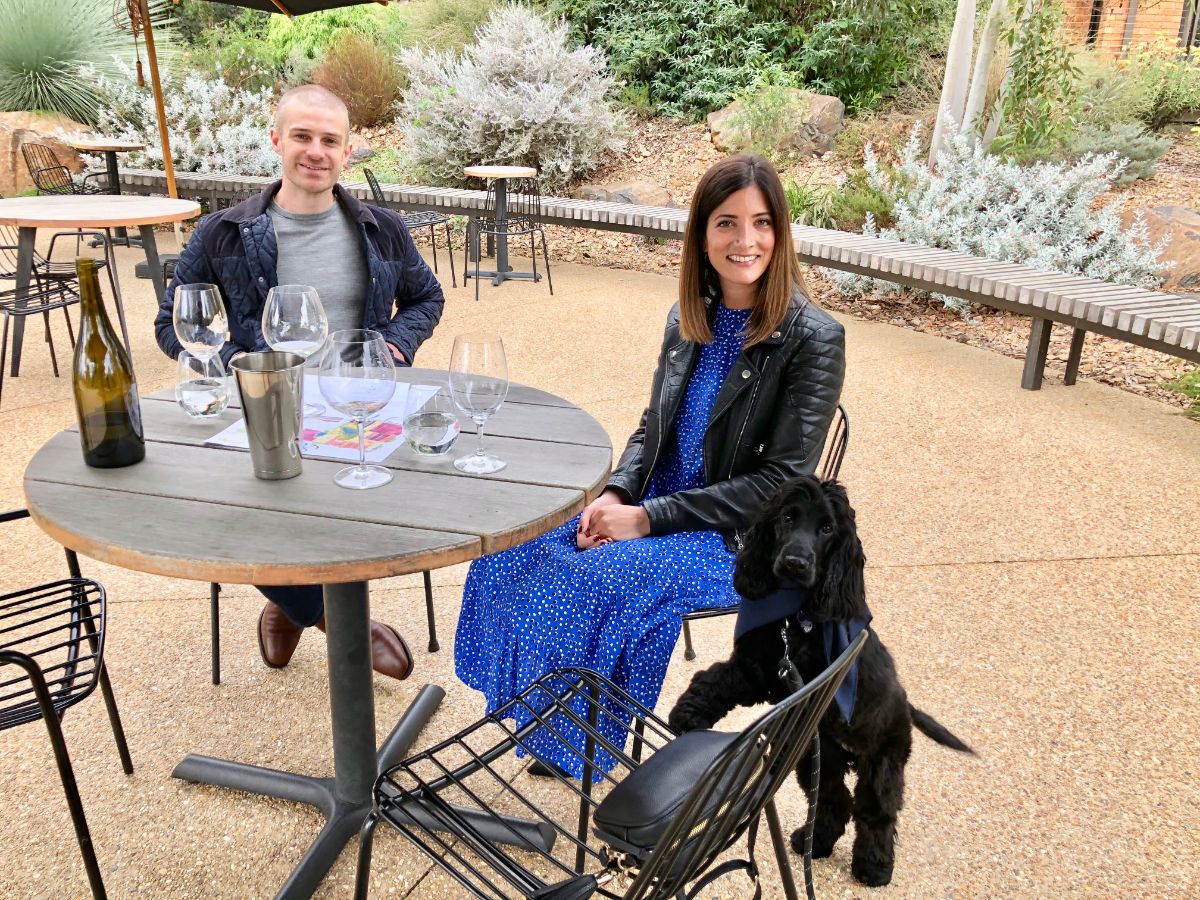 Every place we went to I got to experience new things – there was a fire at two of the wineries – on purpose, to keep people warm as it was chilly.  And I was allowed inside to be by the fire at both places, we had lunch by the one at Helen's Hill (I'm hiding under the table, as it's where things go when they get dropped)
and at Yering Farm, a nice man called Andrew talked to my pawrents as he poured them more wine.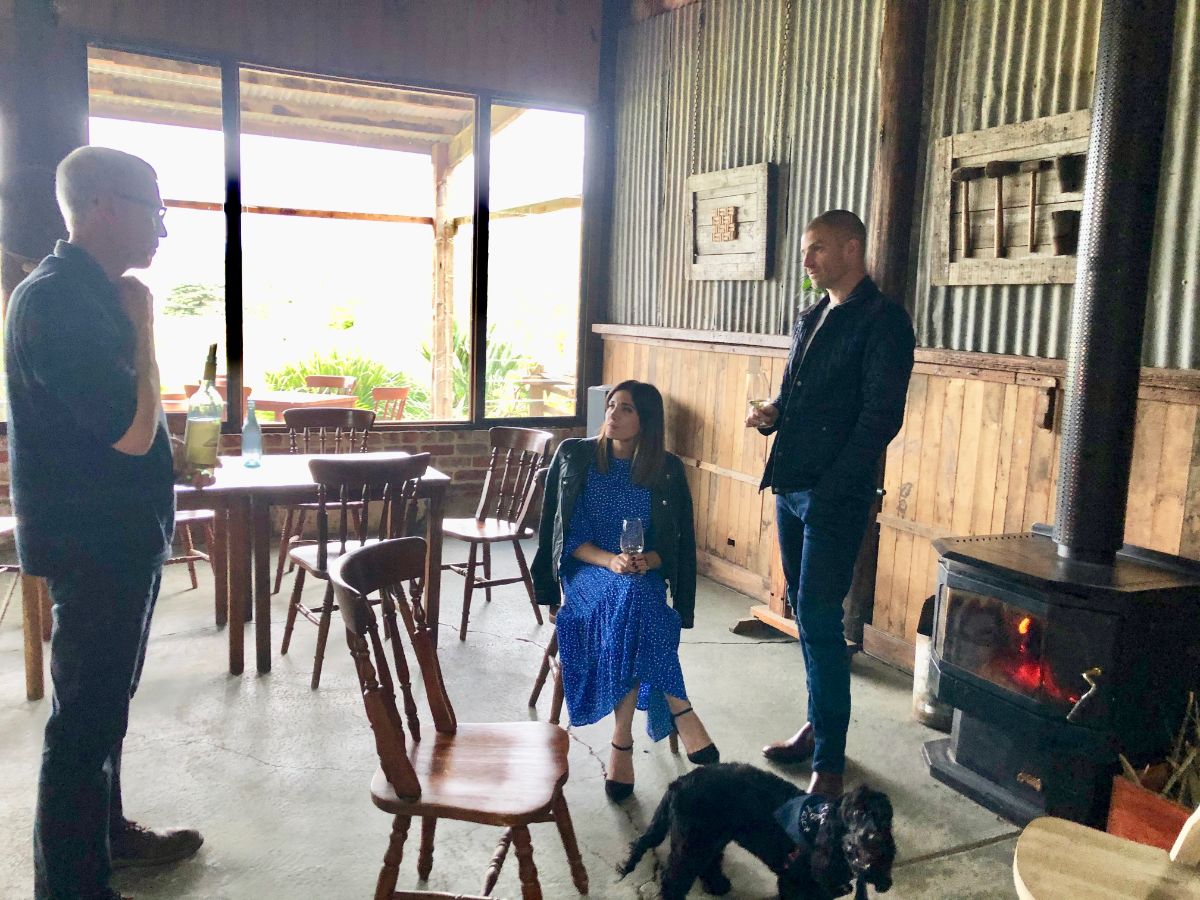 Oh and we went to a place called Pop Up Bar where there were amazing red tennis balls growing on trees called Pink Ladies and they make a drink called cider out of them and my pawrents had three to try!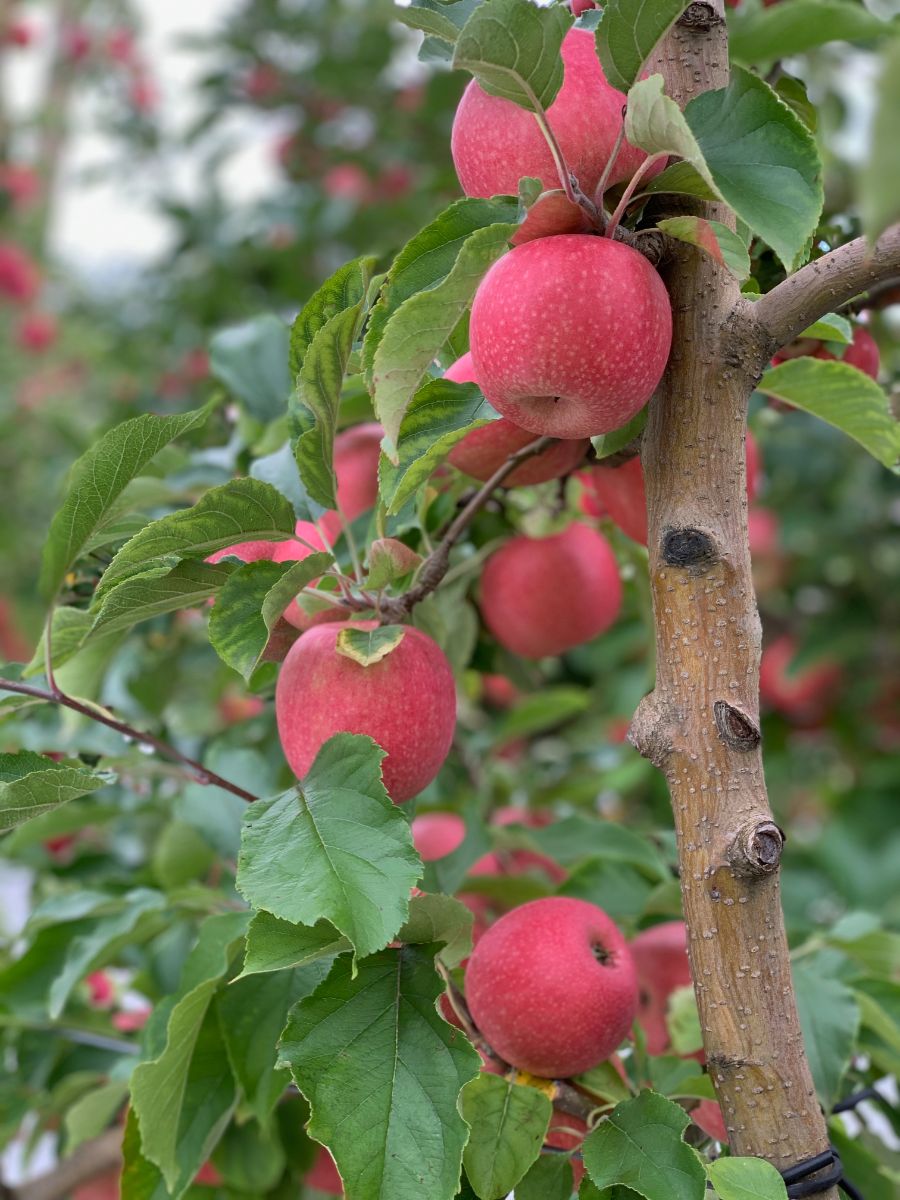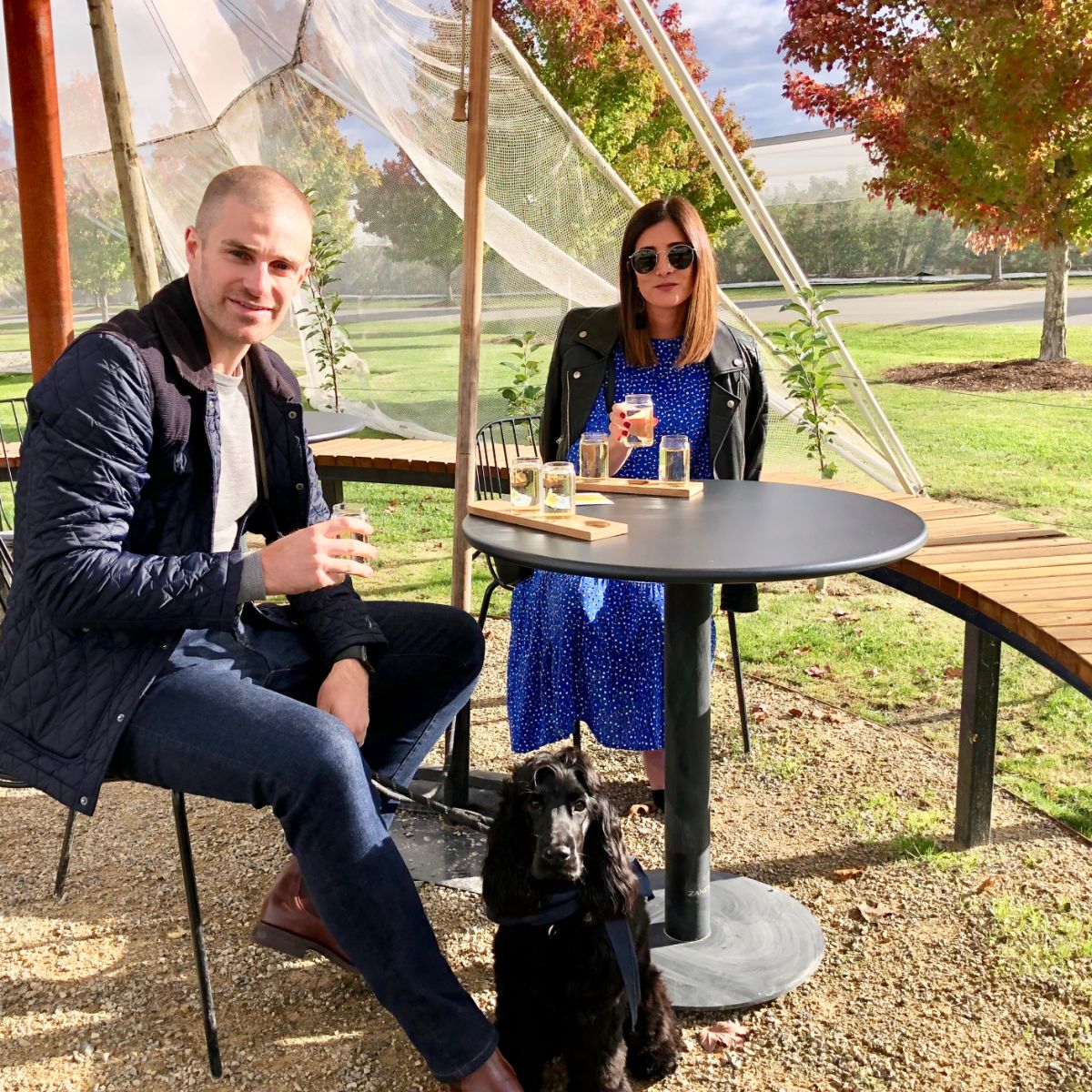 I did a lot of posing on my wine tour.  Jeff was forever calling me and then holding up his phone and then giving me a treat, I've no idea what he was up to, but we all stood still every time he did it and he didn't give my pawrents a treat ever, but I got one every time!  Perhaps they weren't as good as me at keeping still I don't know!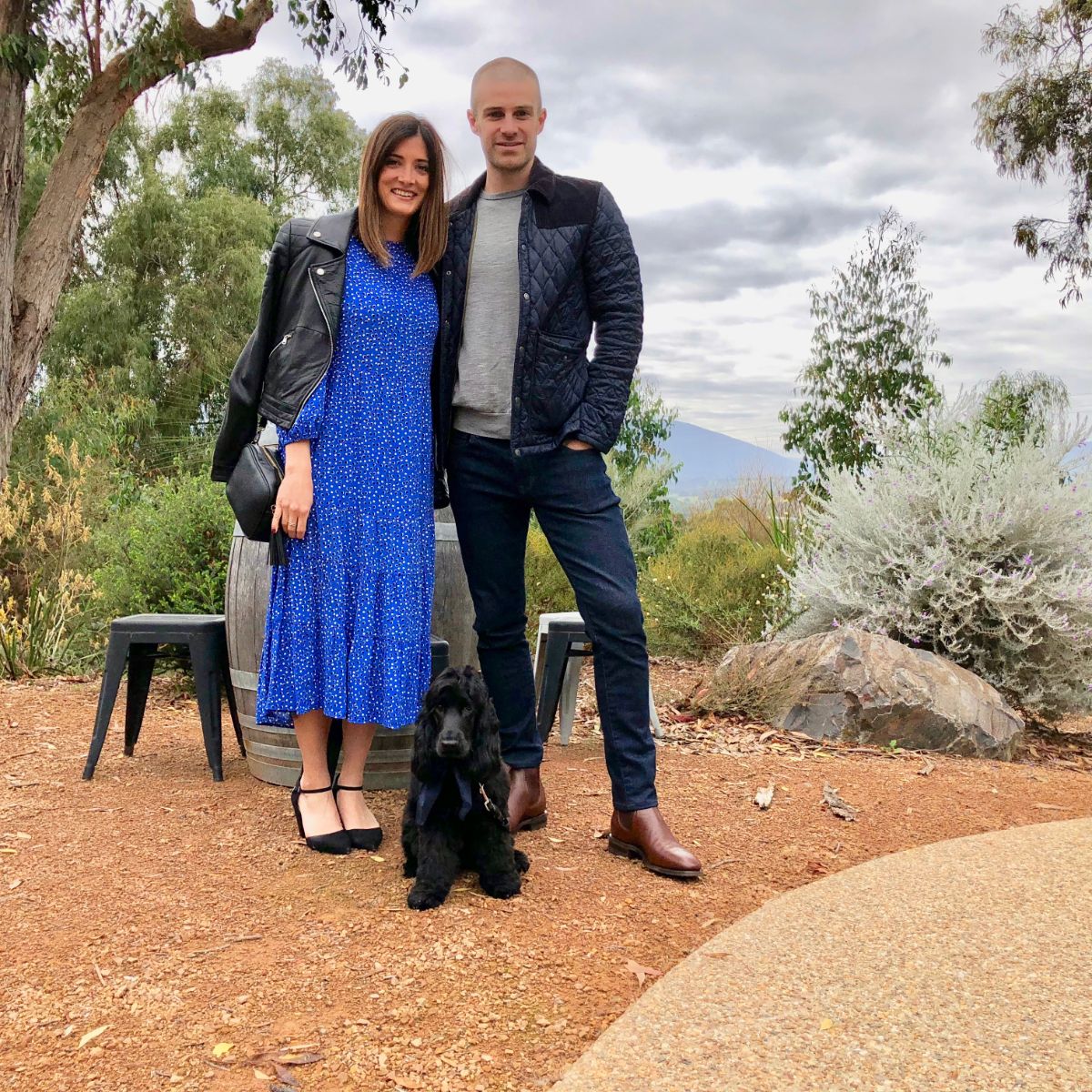 This is my favourite one of me.  Well…of all three of us. Although I do look like I might be nodding off, it was VERY tiring you know, I'm not used to so much excitement and so many people and new smells and getting in and out and in and out and in and out of the van!  At home, I sleep a lot you see – and I have a sneaking suspicion I'm going to do a lot of that tomorrow to make up for such a busy day!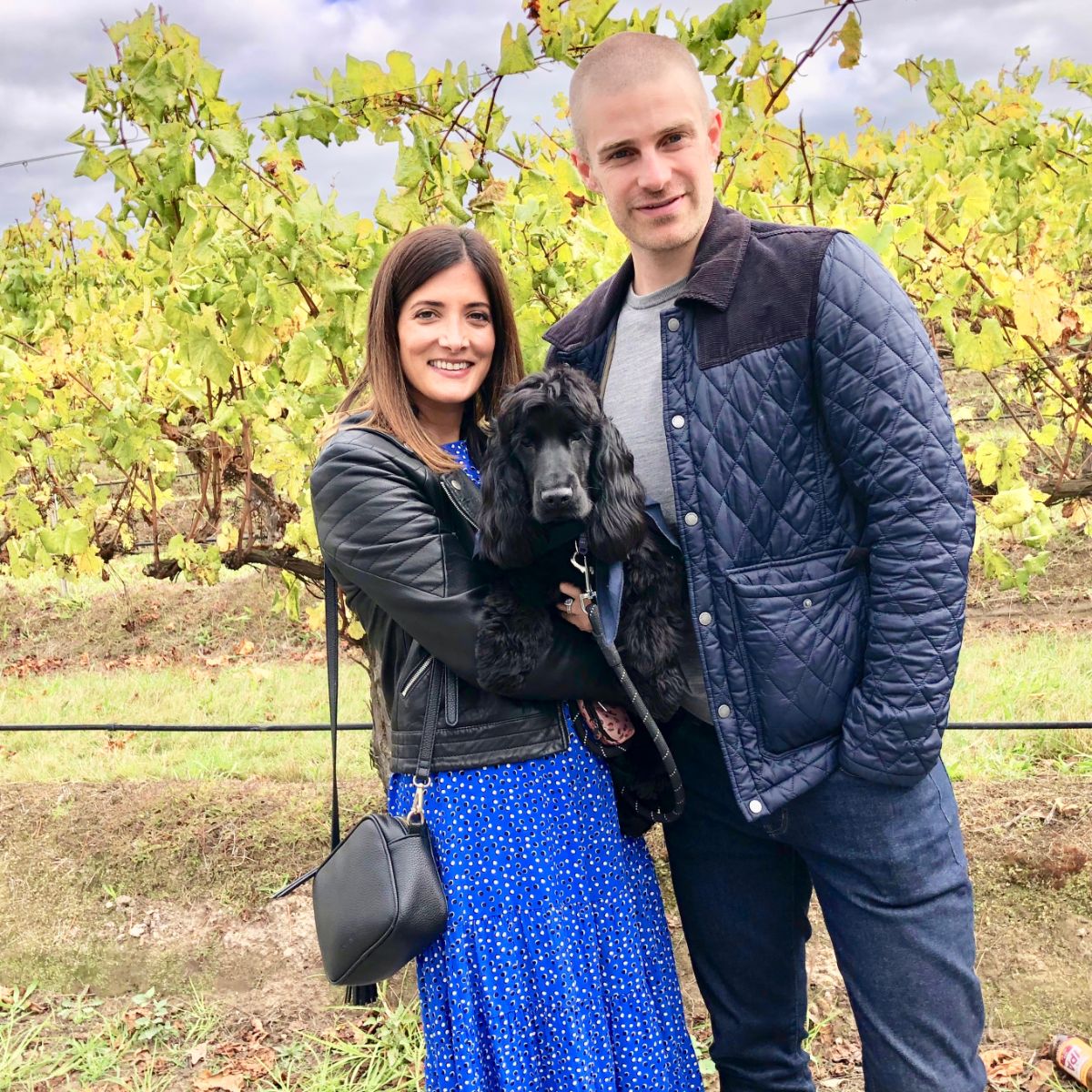 Sometimes I even posed for Jeff on my own because my pawrents were too busy drinking.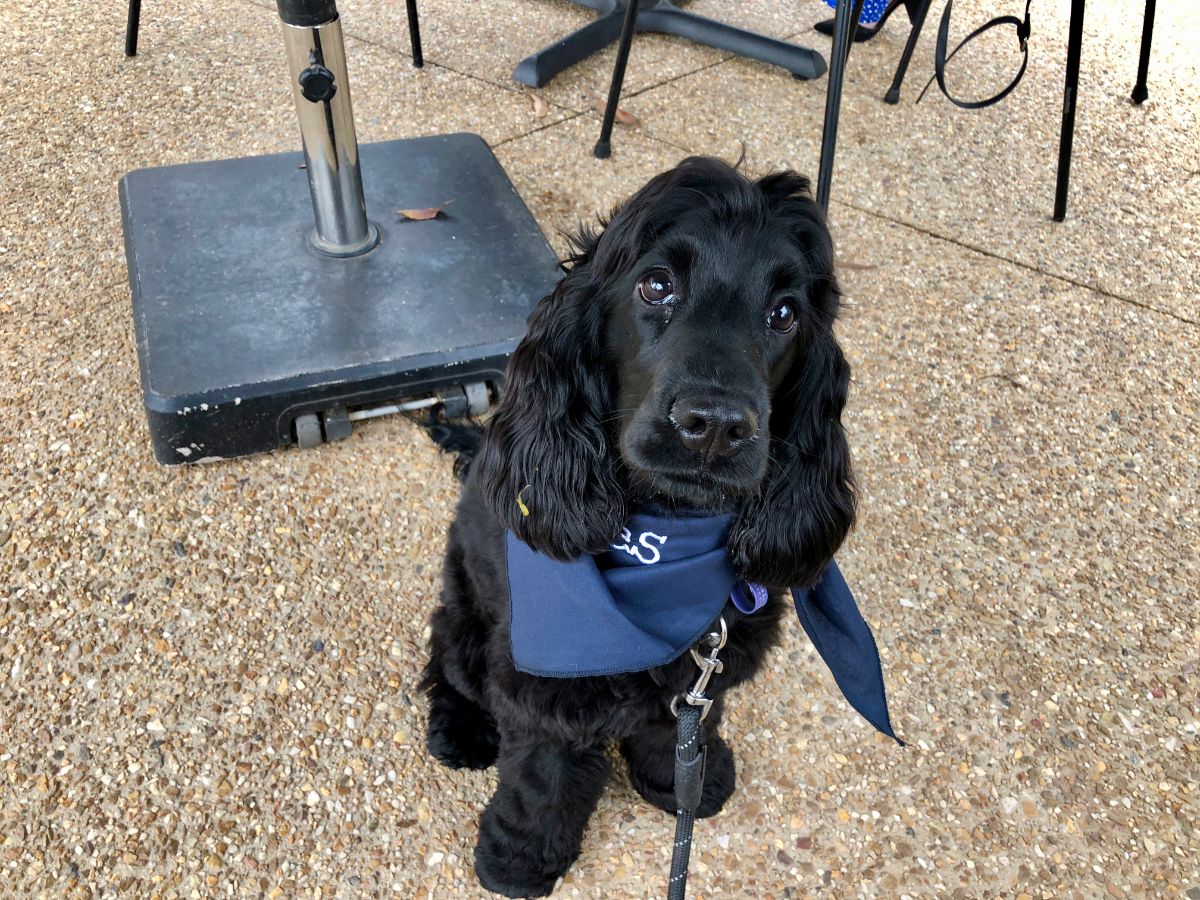 At the last winery we went to there was a man in a van selling oysters and lobster and my Mum had worked up quite an appetite with all the drinking she'd been doing and she made light work of half a lobster with a glass of shiraz!!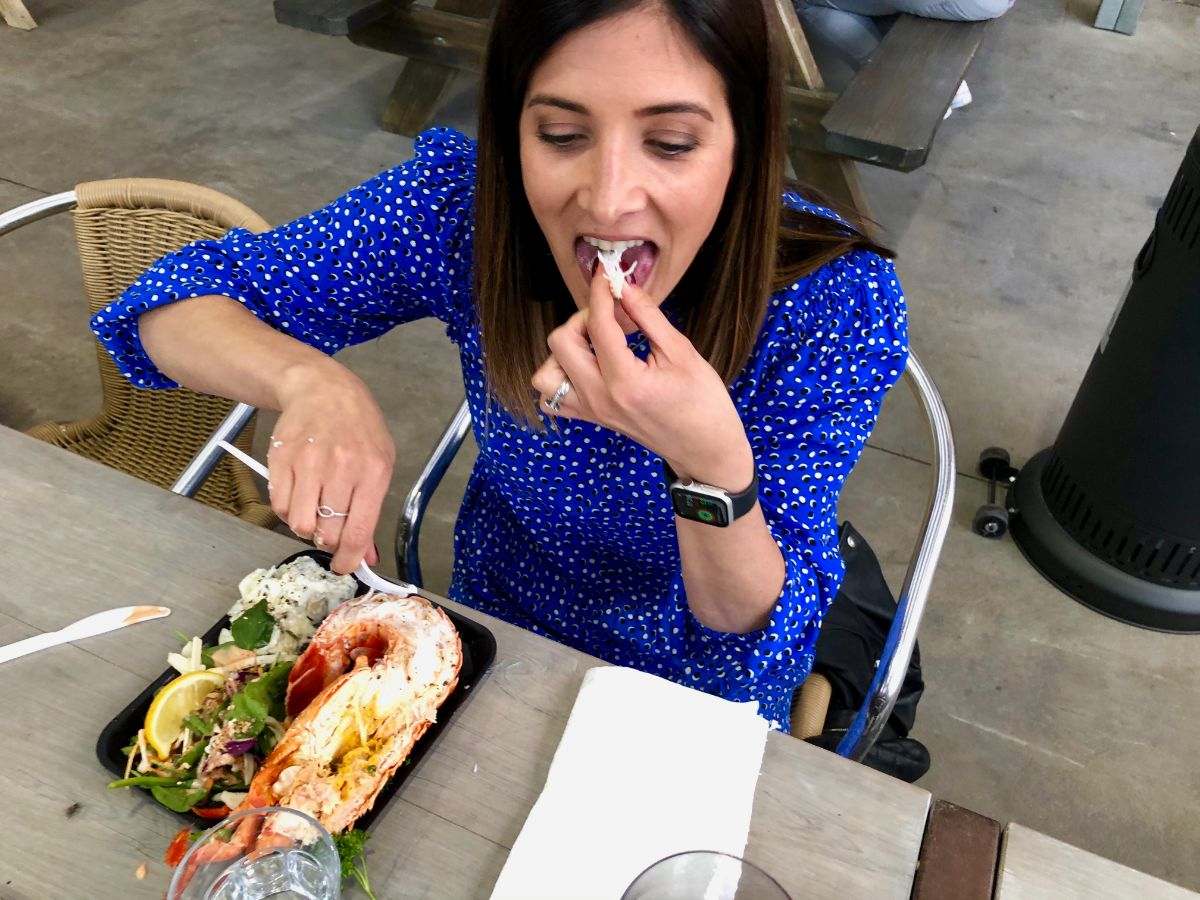 I gave her lots of cuddles in the hope I might get offered some but that was never going to happen!  It was gone in a flash.  I looked longingly at the shiraz but she didn't pick up on that either – so I did an entire Pooches & Pinot wine tour and didn't get offered a single drop of wine.  Fortunately, Jeff had endless supplies of gourmet liver treats for me so I didn't actually notice the lack of wine til I came to write this blog!  Maybe one day we'll do another Pooches tour and I'll be a bit older so maybe I'll get to try some then.  Or just eat more treats with Jeff.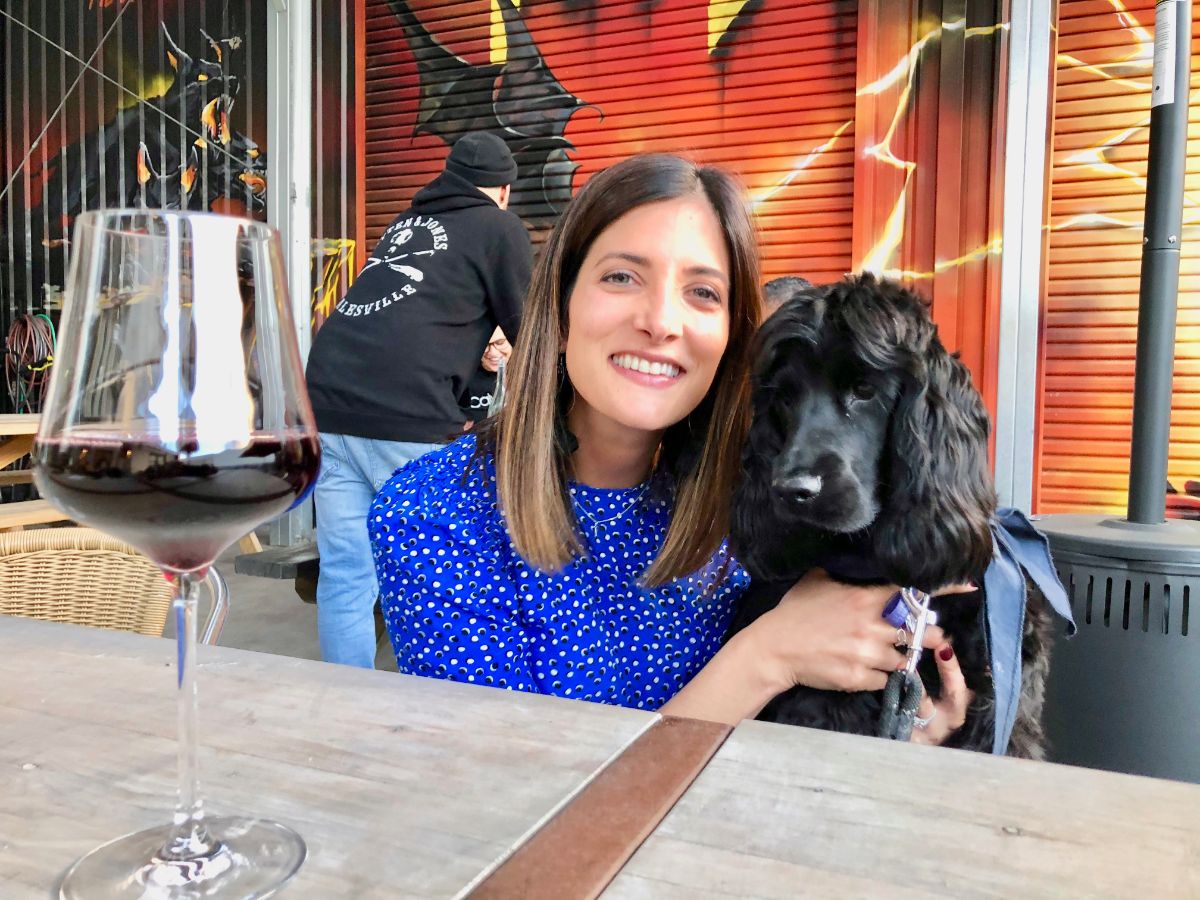 As we were about to set off back to Wiggley we bumped into the other Pooches & Pinot tour with the couple with the BIG dog who were also staying at Wiggley but not in the cottage with me (fortunately as I've no idea where I'd have put them) – they were in the apartment.  I gave the lady a kiss hello, her name was Caitlin, she thought I was great, and I rather liked her too, tho I was glad Mum was carrying me as Caitlin's dog was ENORMOUS and was called Mushu so was perhaps a dragon not even a dog!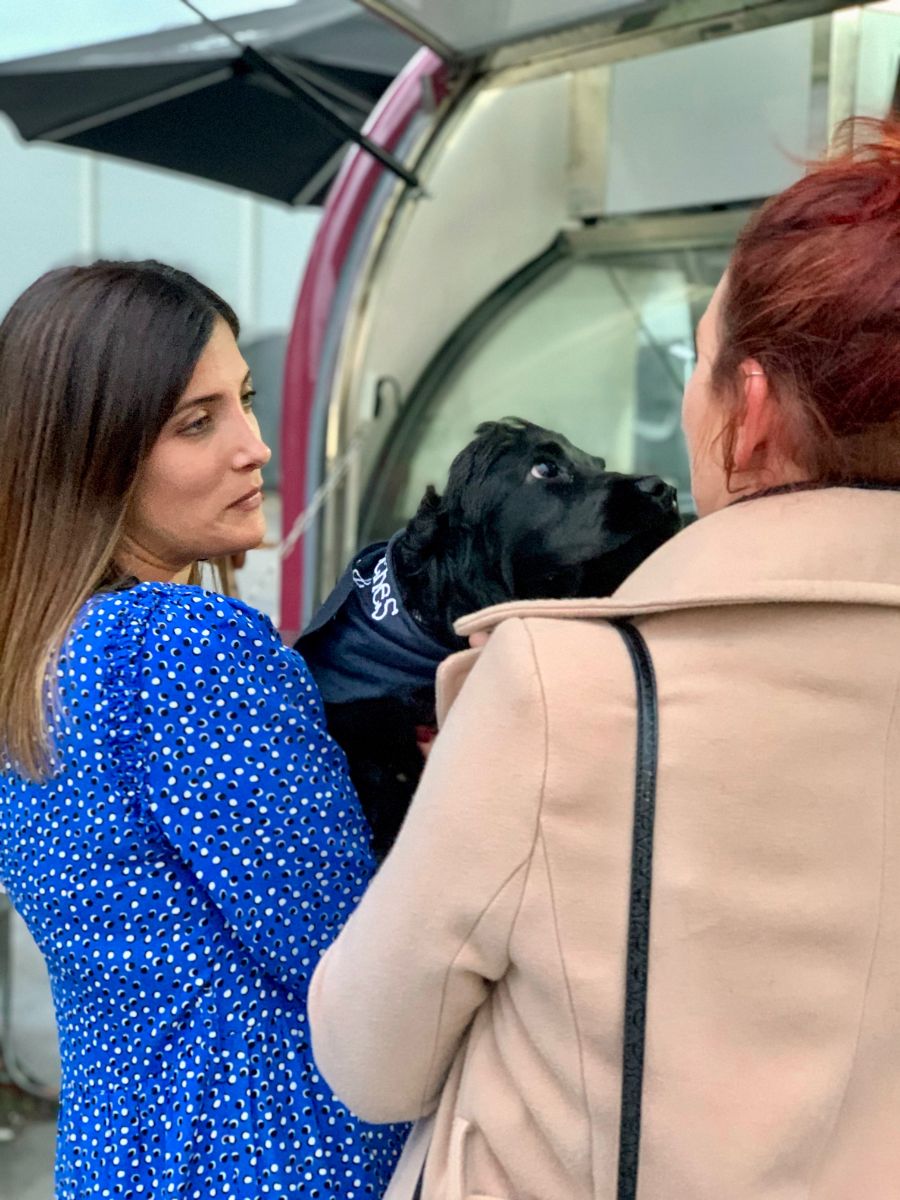 So, I'm home now and 'recovering' from my huge adventure in my bed and remembering all the lovely people I met on my tour, who came and introduced themselves to me and all the compliments I received and all the wine my Mum & Dad drank and bought and all the fun I had with Jeff.  He's a lovely chap – if you decide to do a tour with Pooches, tell Jeff a big hello from Nina won't you. He'll remember me, he was quite smitten I reckon!