Hullo every one, howzitgoin?  I'm Nessie, glad ta meet ye, I'm named after the Loch Ness Monster cause me Ma's a Scot and so are the rellies we'll be taking out on a wee wine tasting to the Yarra Valley.  Och aye, we're spoiling them a treat.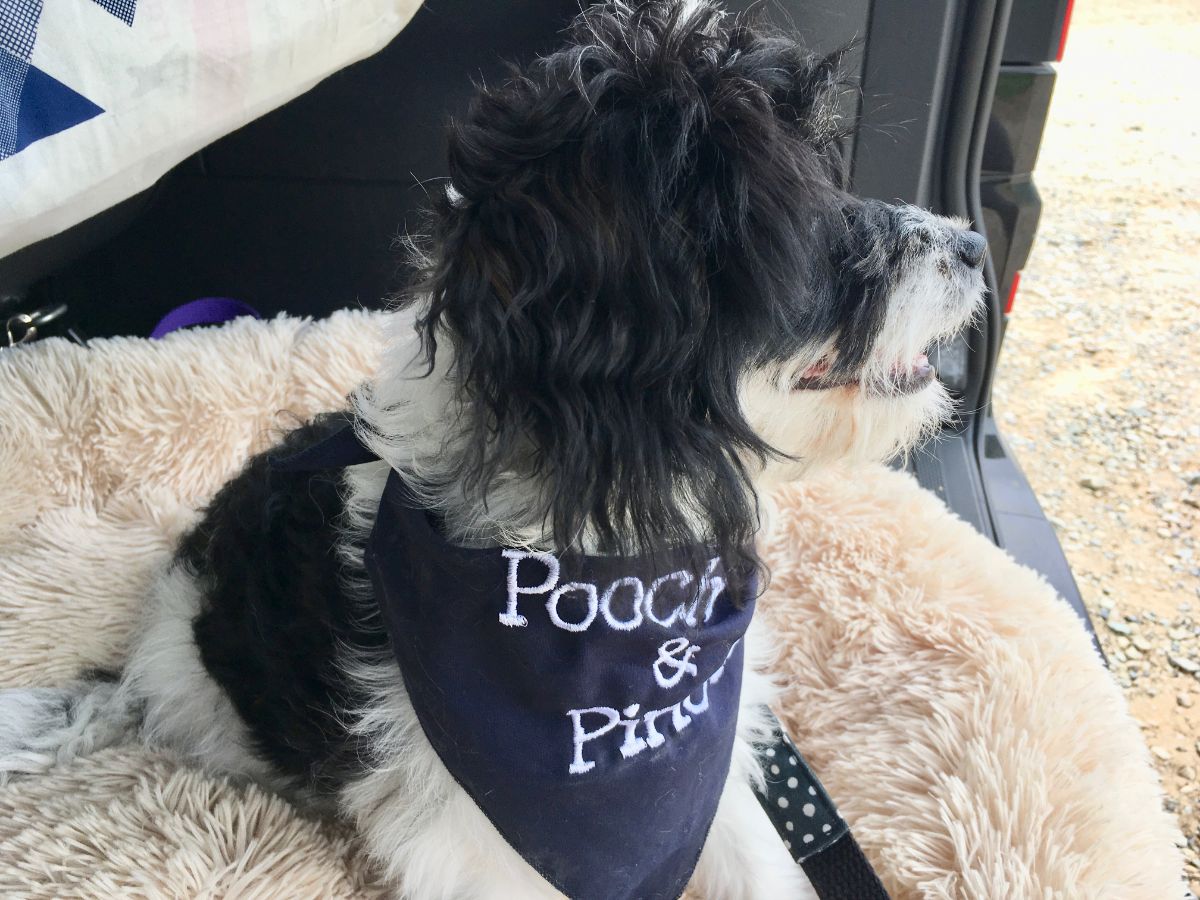 Uncle Neil and Aunty Anne have been cruising to Australia on a wee liner and they popped in to see me Ma, Nicola and me Da, Brett while they were in Melbourne. We thought, aye, we'll show them some bonnie places, and Melbourne typically did its weather thing, overcast and cold to start (totally dreich, making them feel reet at home) then overcast and hot to finish with, which was trying of it as the rellies really wanted some famous Aussie blue sky, alas not to be and they dinnae mind – see photo).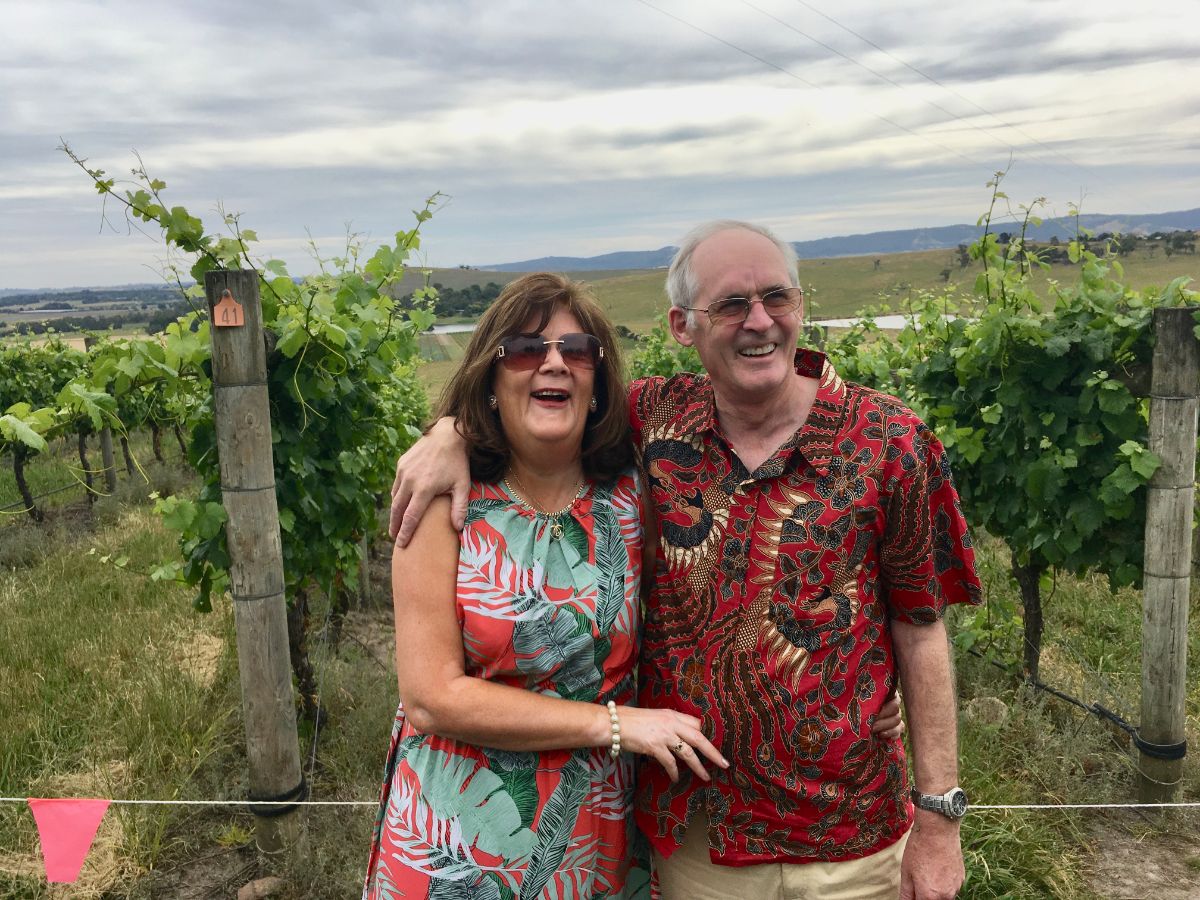 Me Ma had organised for Pooches and Pinot to take us on a wee wine tour (an excuse for being out on the skite?) which was great cause they dinnae like to leave me.  Jeff (Mr Pooches & Pinot) arrived at our house in Melbourne and we piled into his shiny black van and I sat next to me Ma and away we went.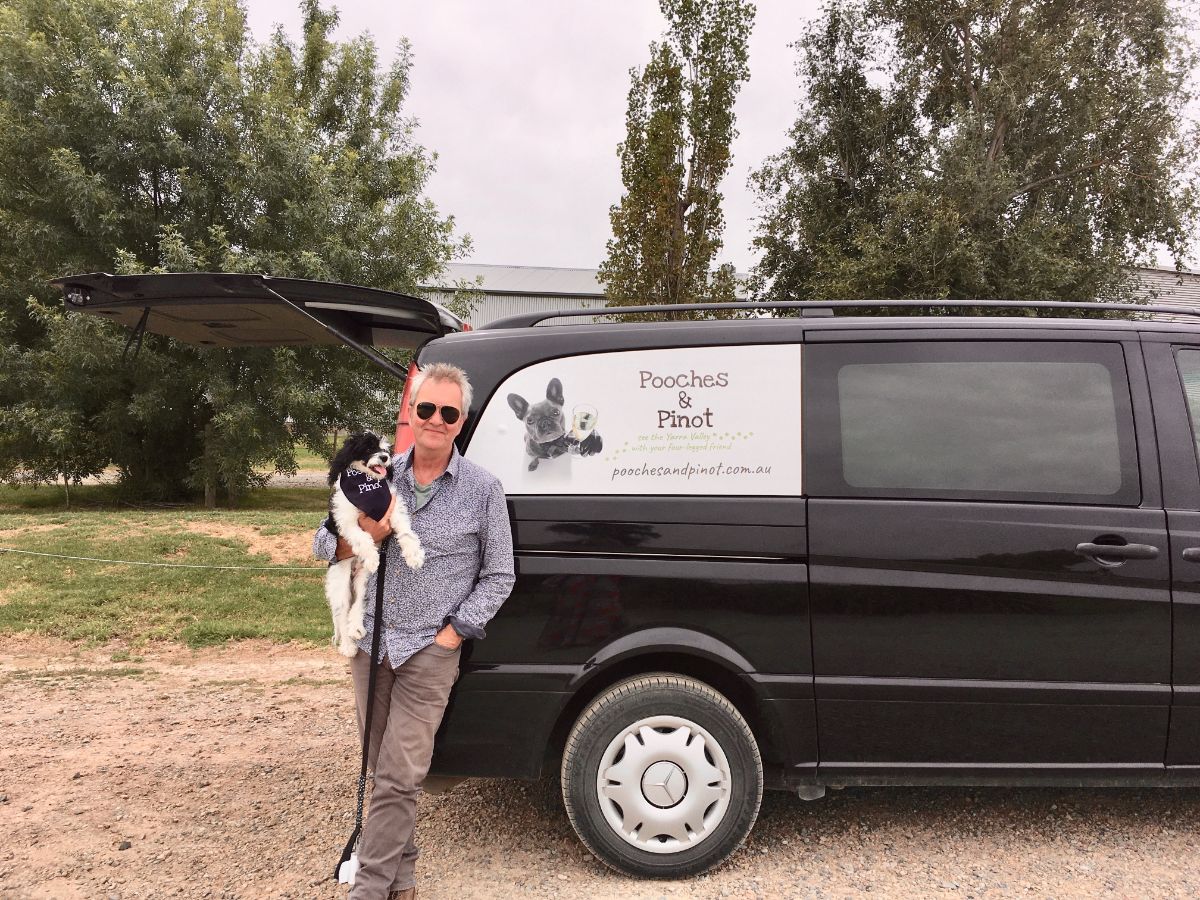 Before you could sing 'its a long way to Tipperary' we were at our first wee winery.  It was braw – it's called Rob Dolan Wines, its just on the outskirts of Melbourne, I dinnae ken the Yarra Valley was so close to home?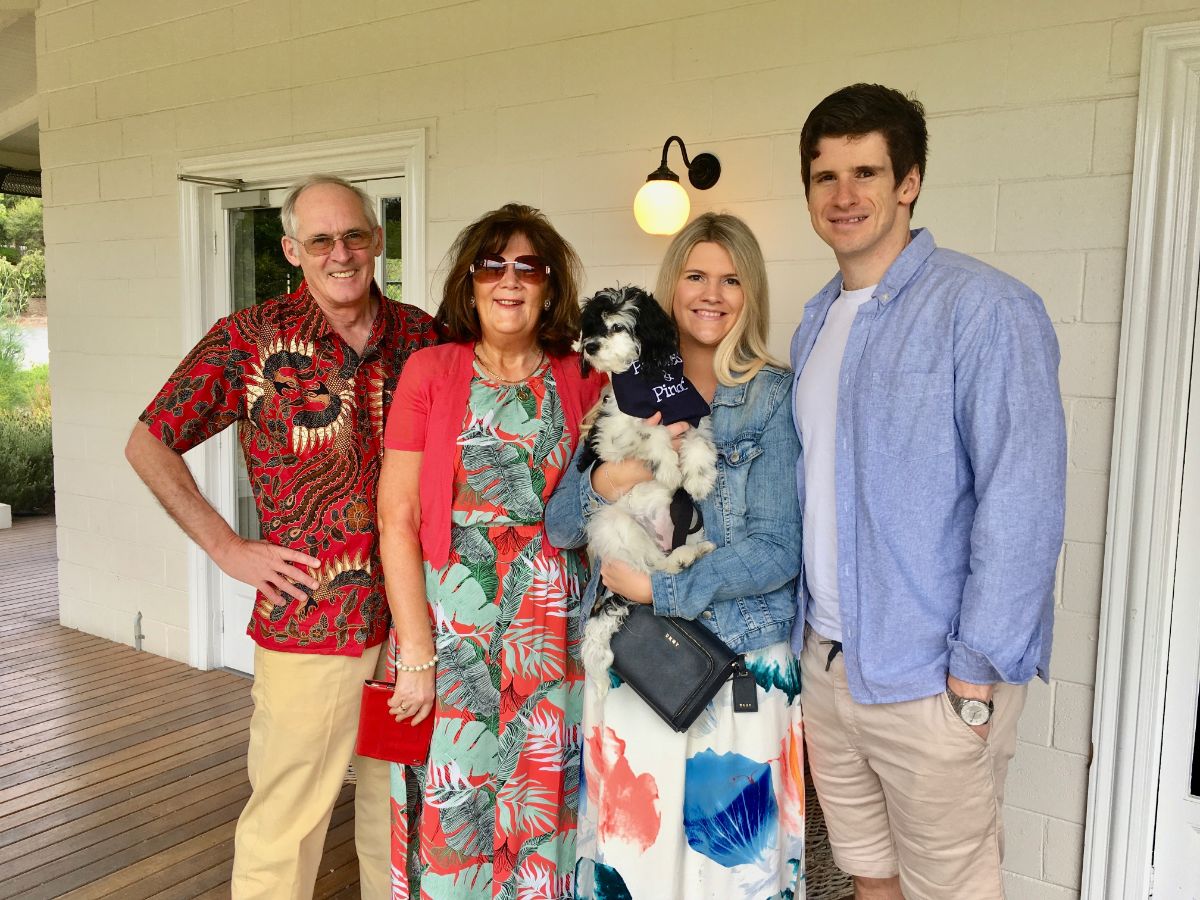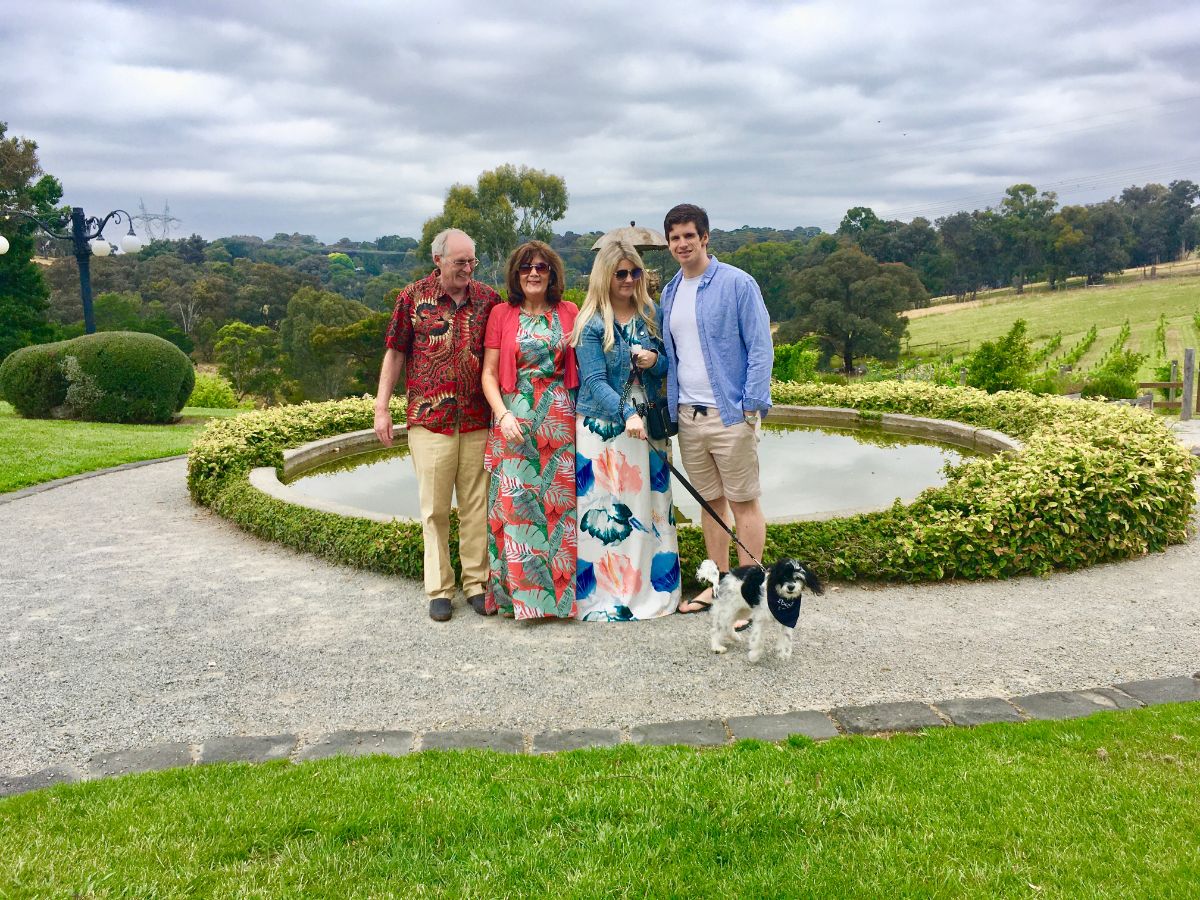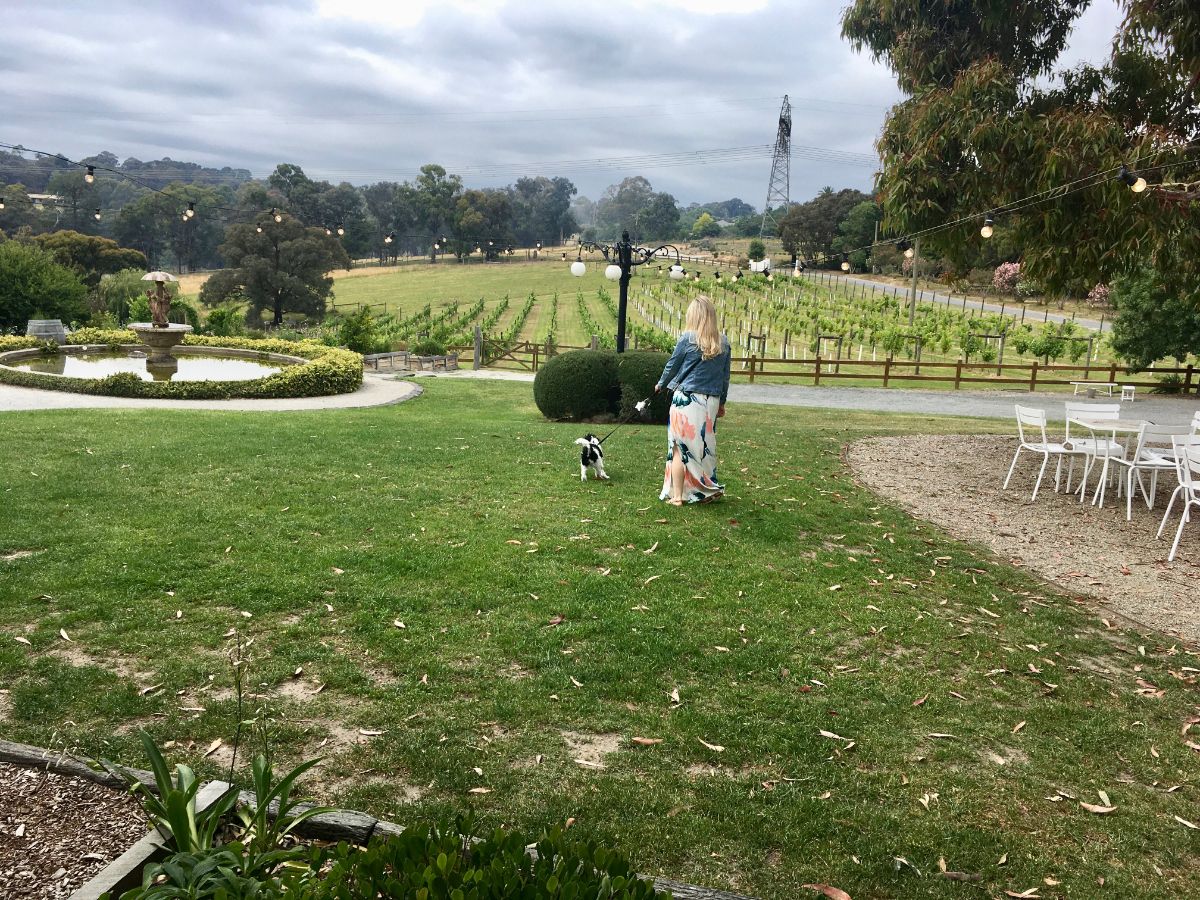 My fam all loved the wines except for Aunty Anne who doesn't imbibe alcohol, (note to self ,she'll be the only one making any sense at the end of the day – the others, well, ther heid's were full o' mince by home time!)  Me Da's the kinda fella who when he loves something, he REALLY loves something, and he declared the white label Chardonnay and Pinot Noir to be fantastic, gawd he went on!!!  Had I been his Ma, I'd ha said 'Haud yer wheesht laddie'!
The grounds and gardens at Rob Dolan are pure barry, Braw 2.0 and there was plenty to sniff and a huge water bowl just for me to drink.  Jeff our tour guide had some lovely LAILA AND ME treats, so I cannily decided to become his best friend for the day.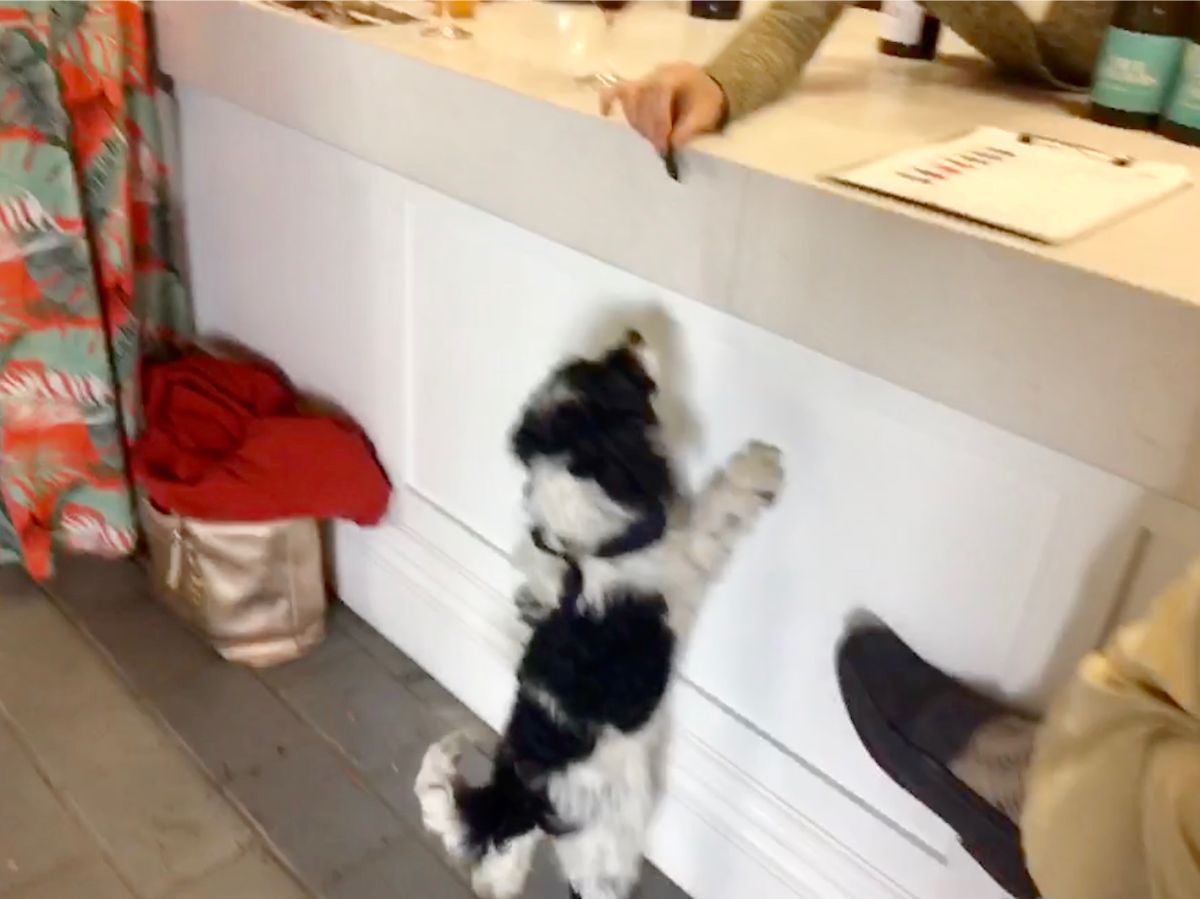 We bought a wee dram for later and leapt back into the van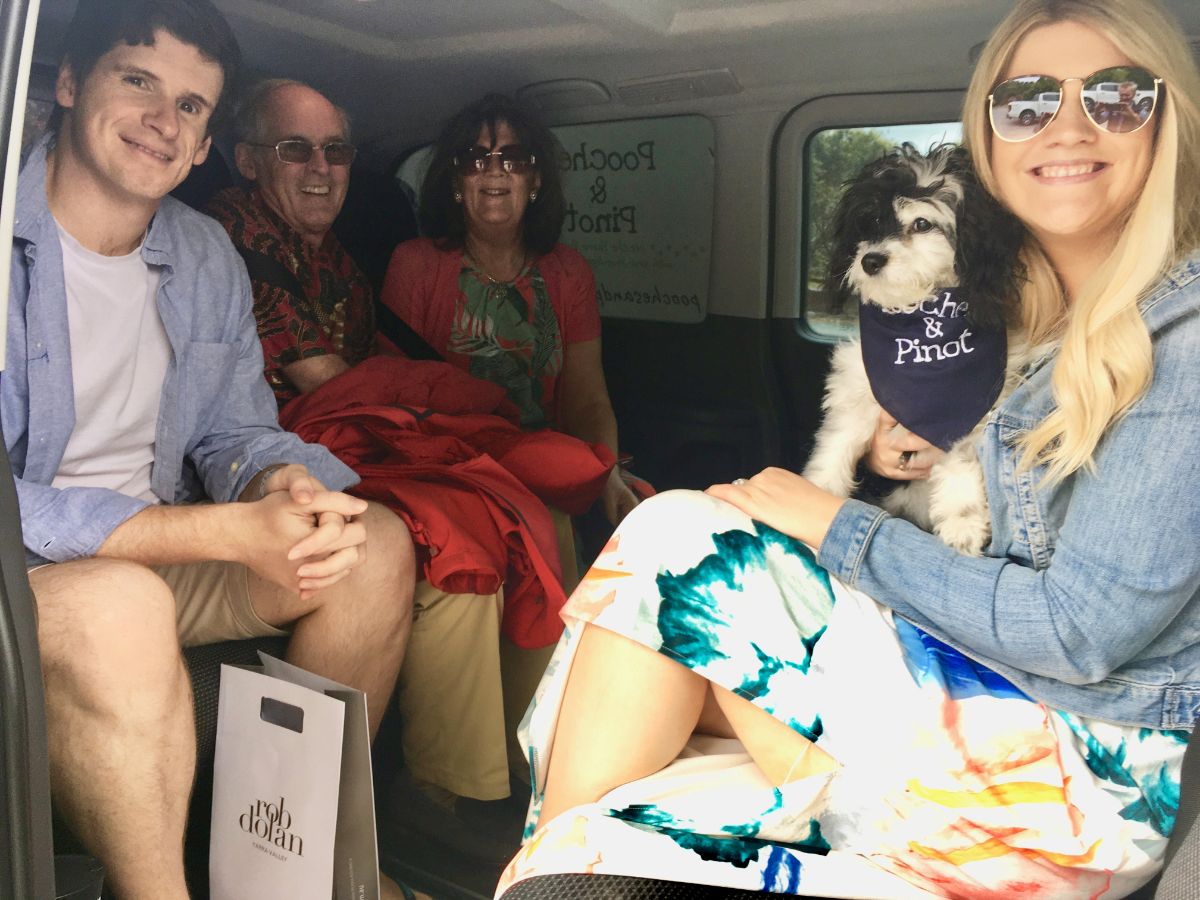 and we headed off to our next stop YERING FARM WINERY – what a bonnie wee place, me Ma let me off the lead and I went crazy doing some zoomies in the front paddock.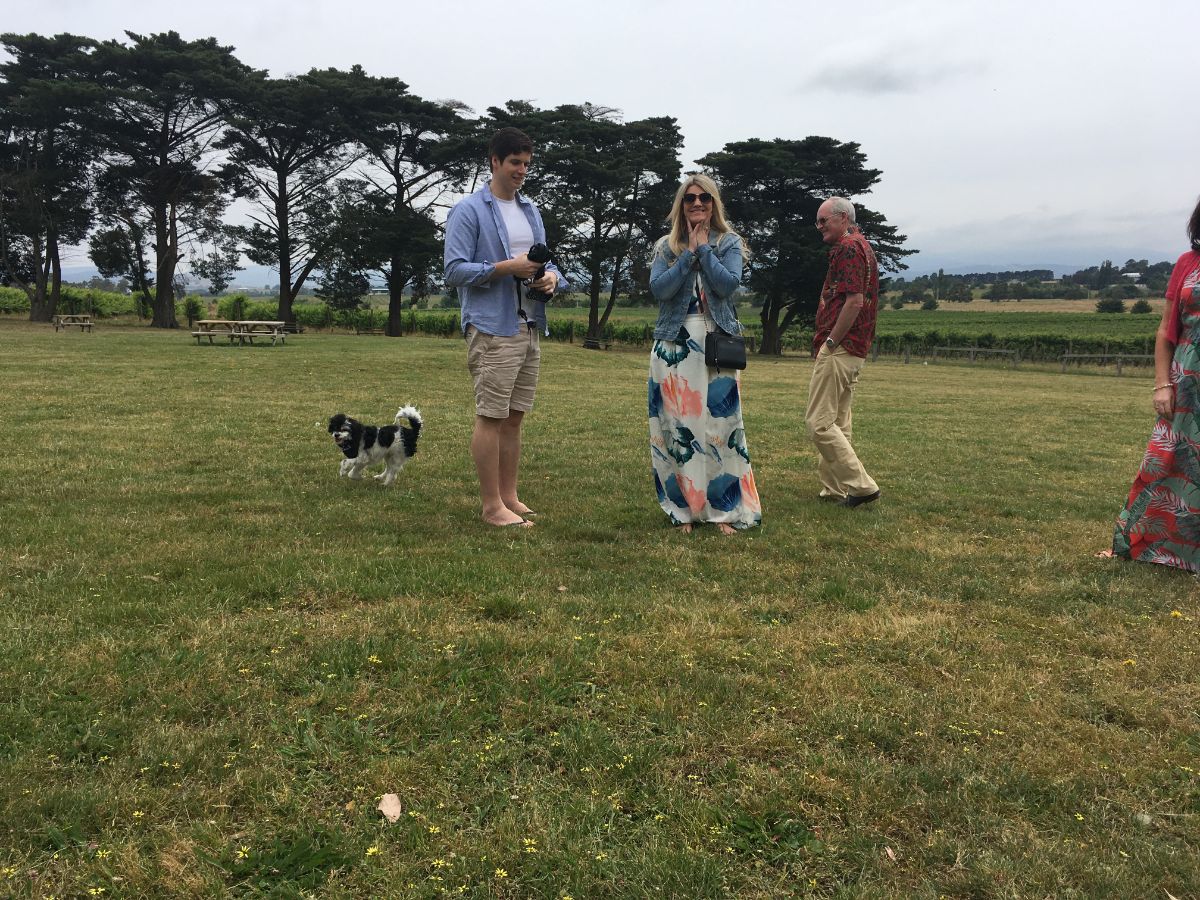 We had our wine tasting with a fella called Brian and even though he was from Blackpool we thought him a good bloke.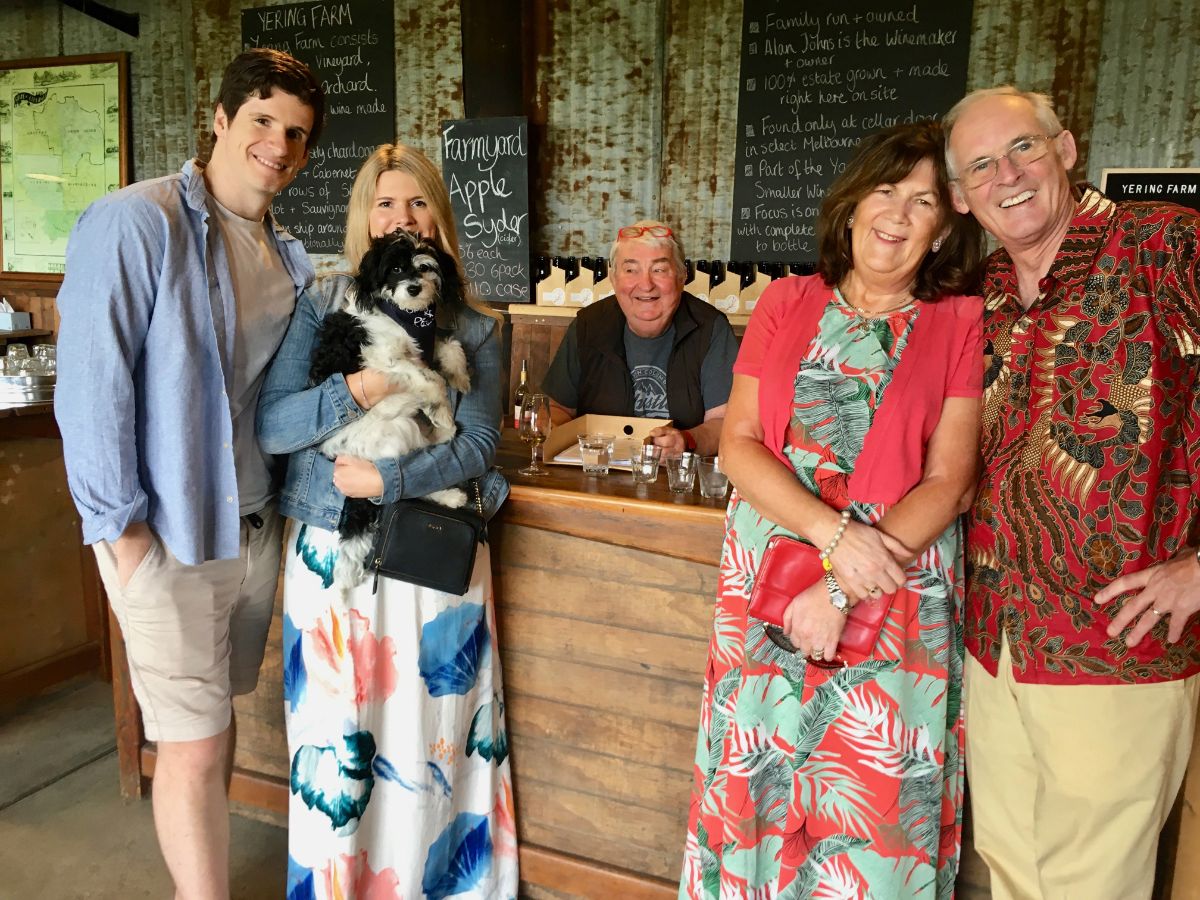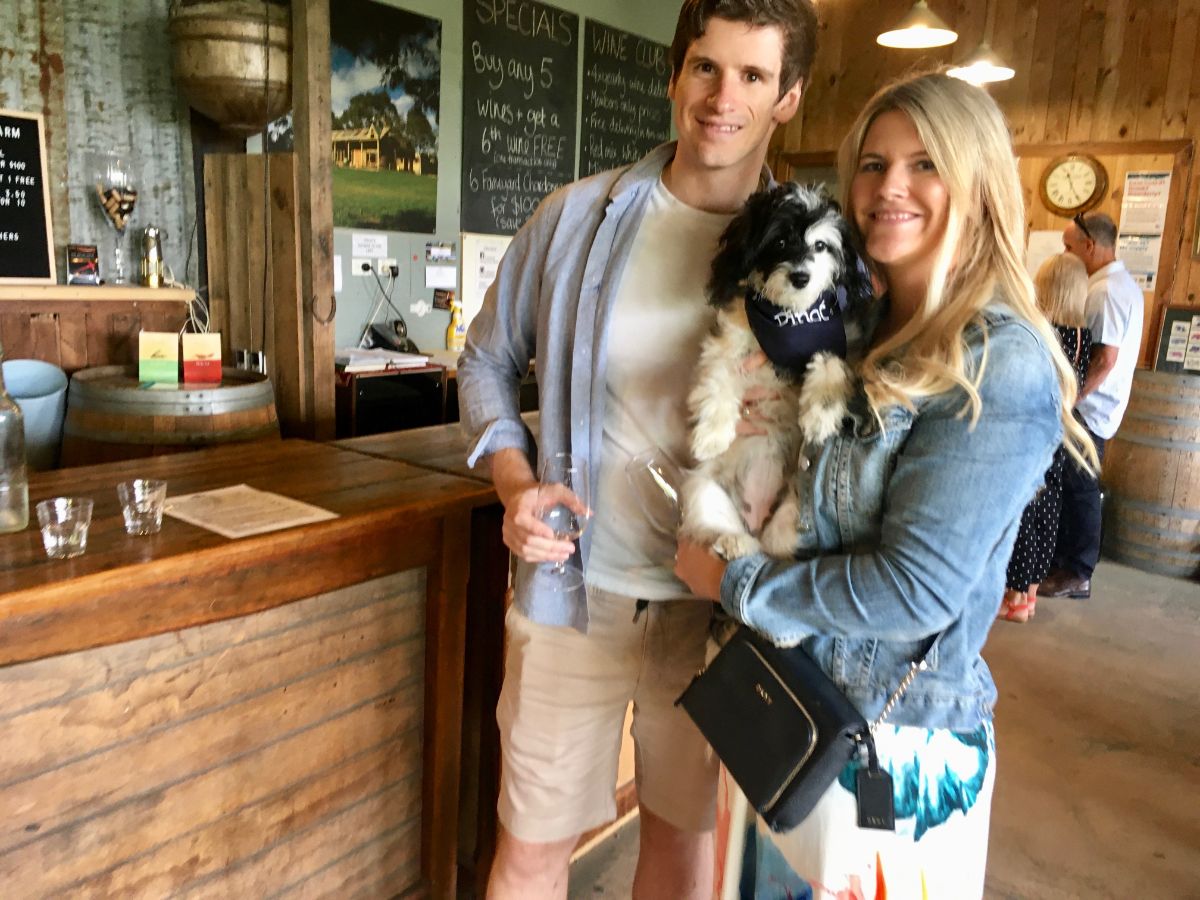 The cellar door used to be a hay shed so it smells SO exciting, I was beside myself.  Aunty Anne and Jeff had a game of giant Jenga and Jeff won, citing he'd forgotten the rules (ie that you have to put the discarded blocks back on top), and bless her Aunty Anne went along with it, thinking it was the Aussie way to play Jenga!  He's a scamp that Jeff. You'd have thought he was an Aussie Cricketer the cheating was so blatant.
Jeff and Neil are both ex chefs and they had a right old blether about the cooking industry, I mean how hard is it?  You put a couple of chicken necks in the bowl of kibble and e viola!  Chefs!  I dinnae ken why all the fuss – what are they like?
A few treats later and we were off to Helen's Hill winery, when we got there  Jeff showed us some little baby grape clusters growing on the vines, its fascinating this wine business. Its all about farming, terroir, science and the artistry of the winemaker.  I am learning a lot about something i will never try, poor wee lassie that I am!  Well shan and woe is me. Every one had a fun tasting with Greta and Ross gave me a wee cuddle so woe was not me.  I am loved wherever we go because lets face it, I'm a bonnie wee lassie!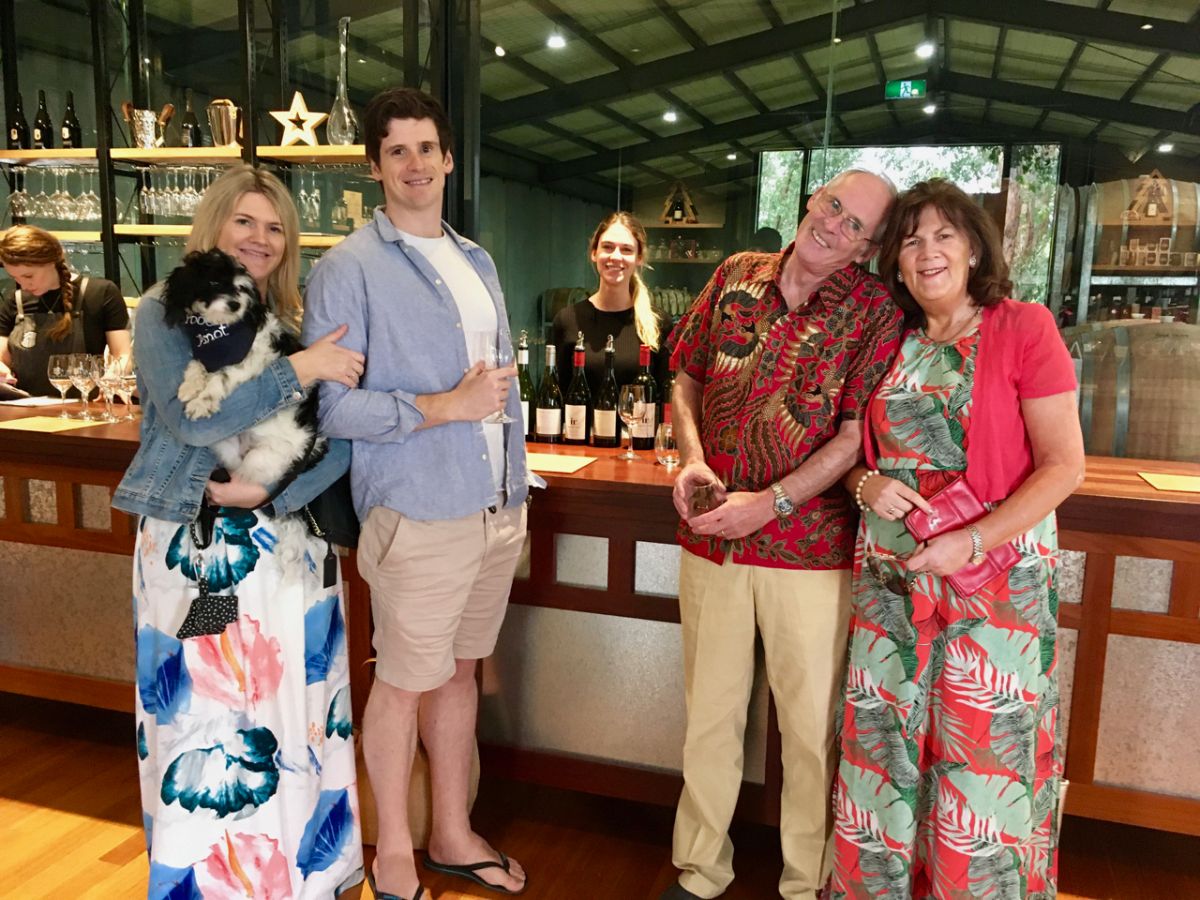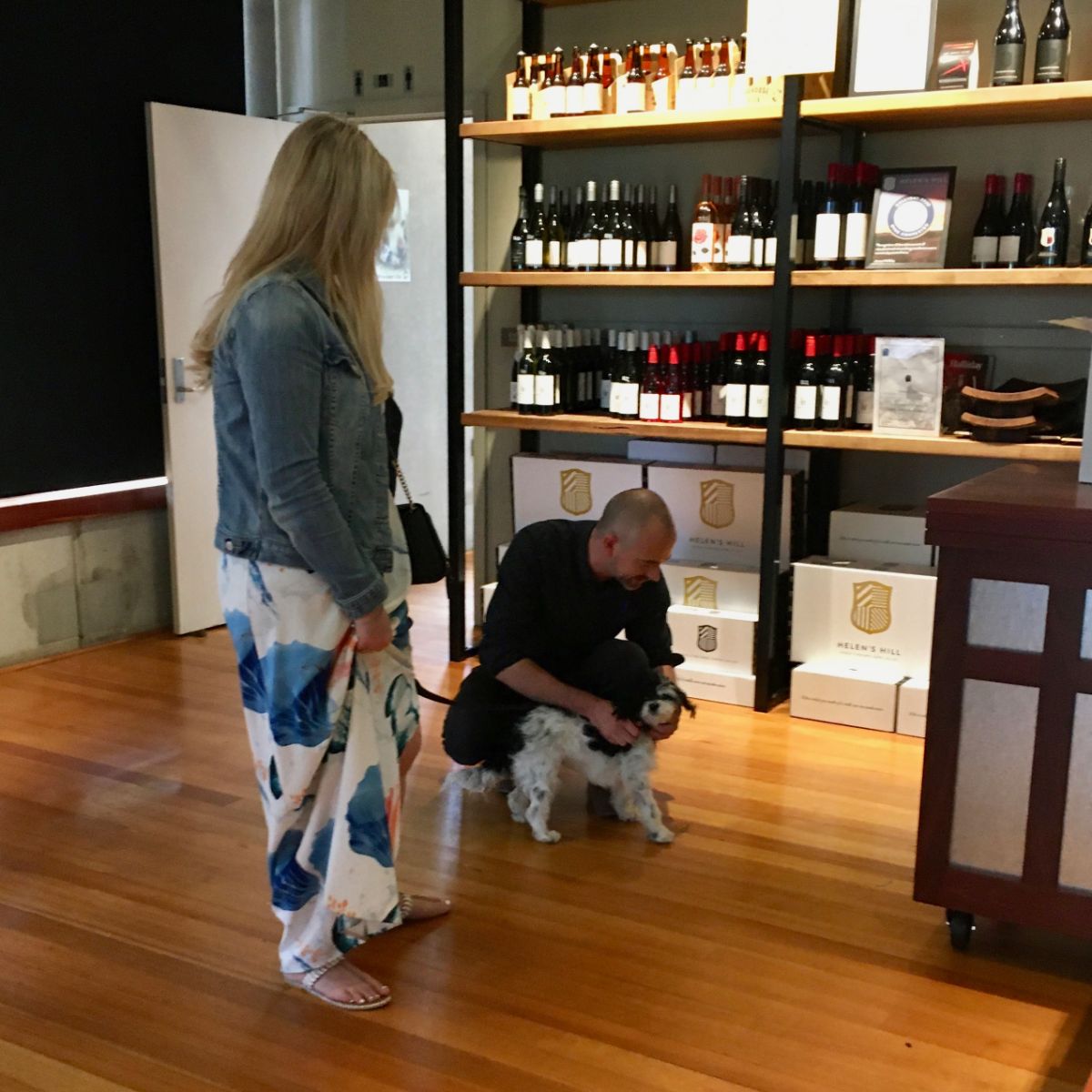 It was time for some scran by now, so during their wine tasting, they chose wine to go with their lunch and we went to our table out on the deck, where the antipasto platter arrived.  And wow, the platter itself is curved as it's made from wine barrels and the food on it beautiful, me Da did his usual thing and declared it the best antipasto platter in the history of the world… he's a passionate man is me Da.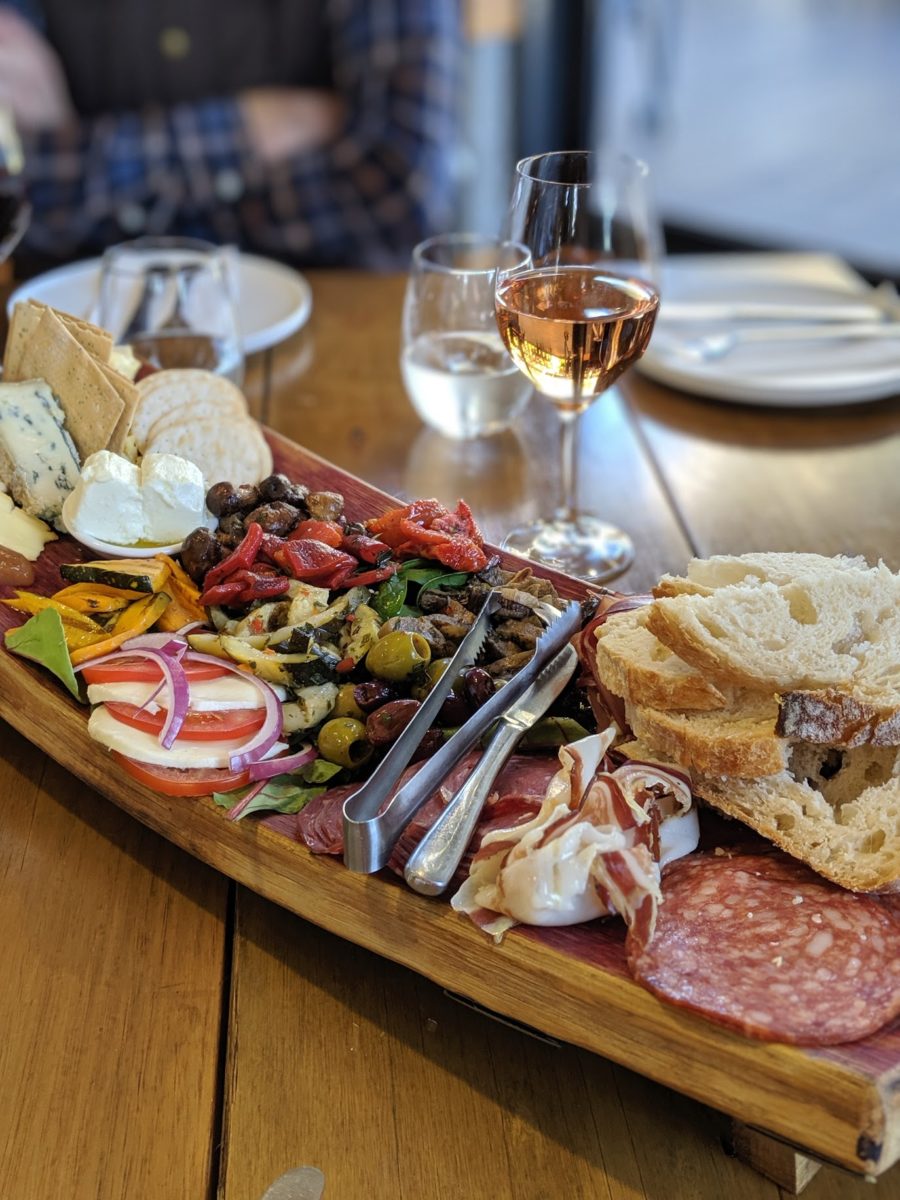 Jeff took me for a wee walkie around the grounds and I did some serious sniffing and I'm pleased to report some other wee dogs had been here before me, leaving me wee messages!
After lunch we were off to MADDENS RISE a cellar door that's almost as cute as me, run by Emma, who is as cute as me, and who did the tasing with us and it was cracking.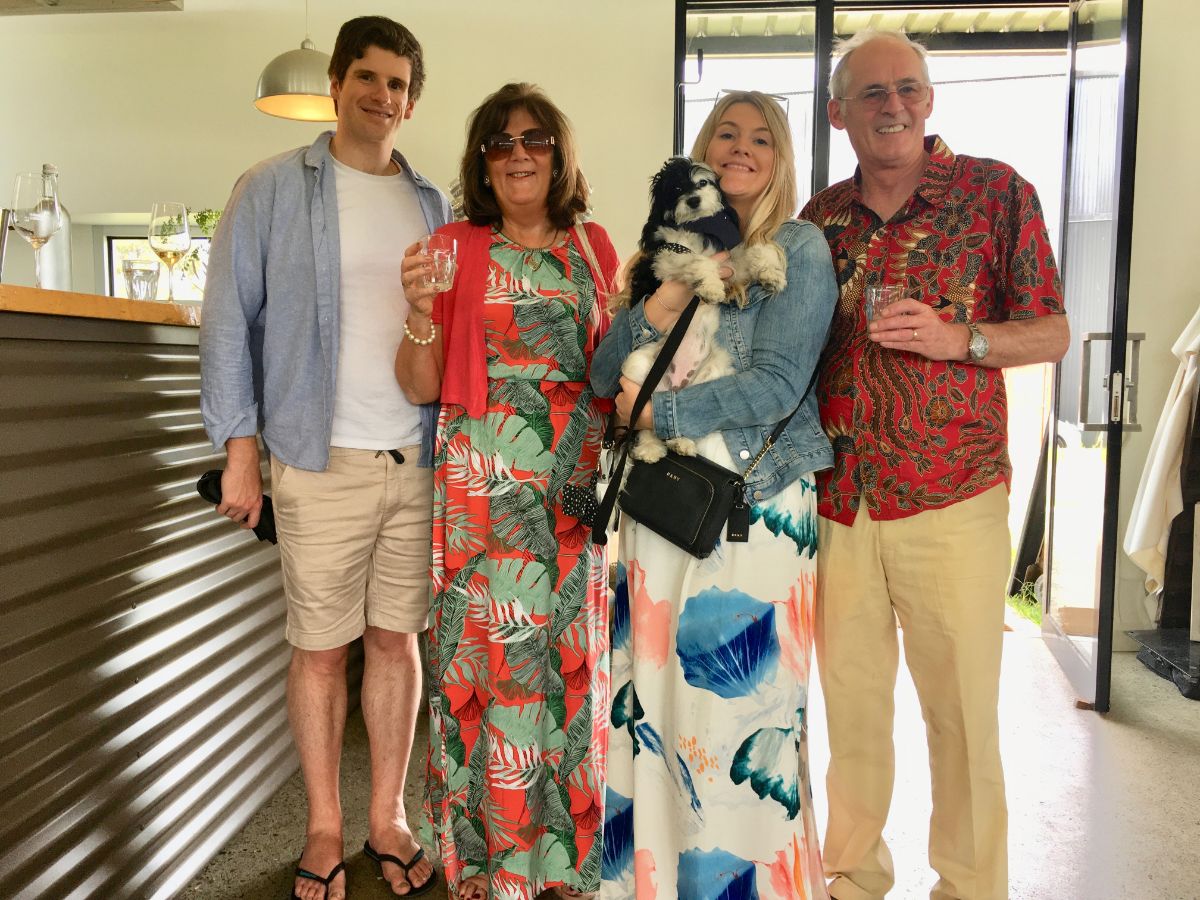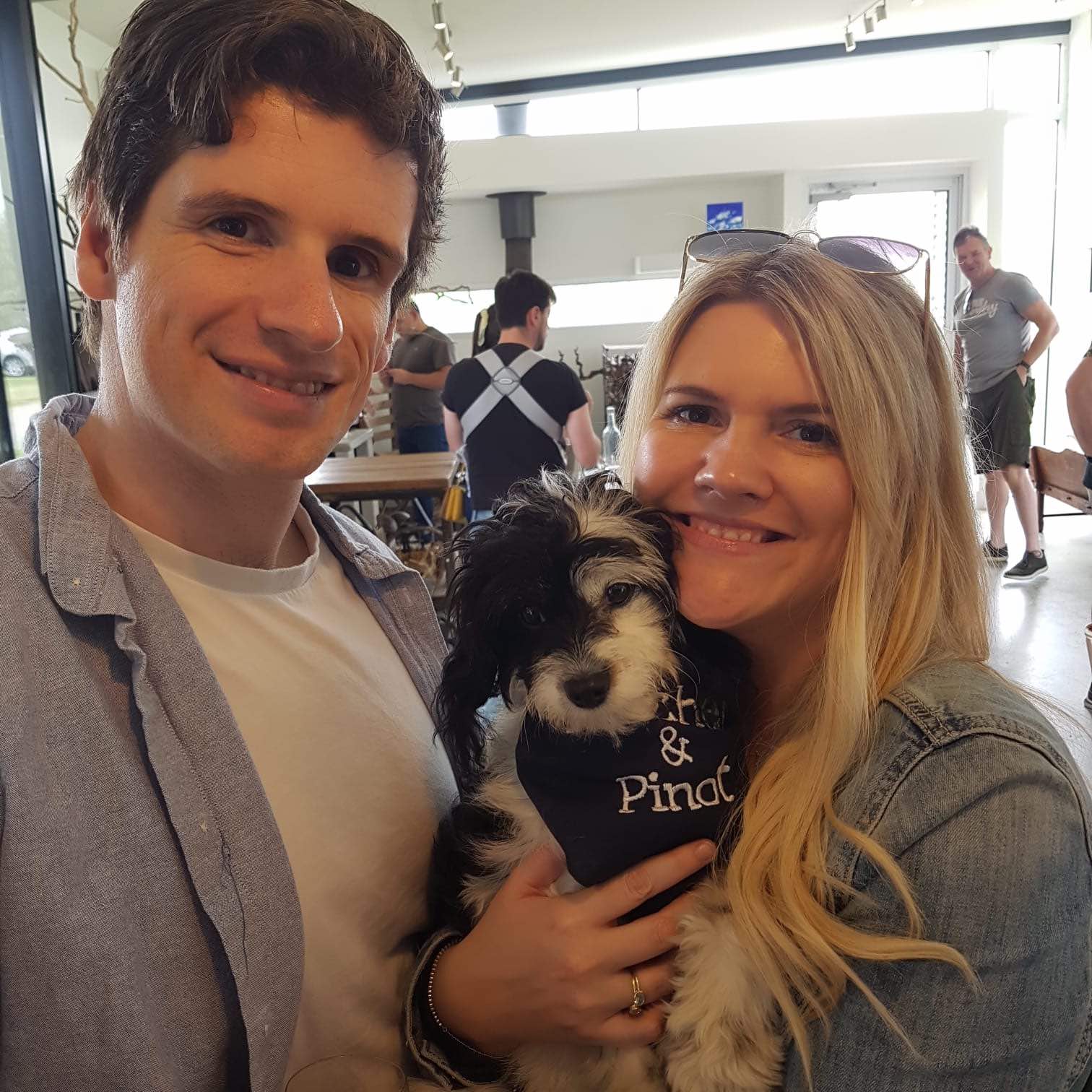 After a fab time at Maddens, Jeff said its was time to change gear (which is odd because I ken the Mercedes is an automatic) and he took us for a gin tasting (oh I get it now) at FOUR PILLARS GIN who had only last week won the the best gin the the history of the entire universe (I get it from me Da)!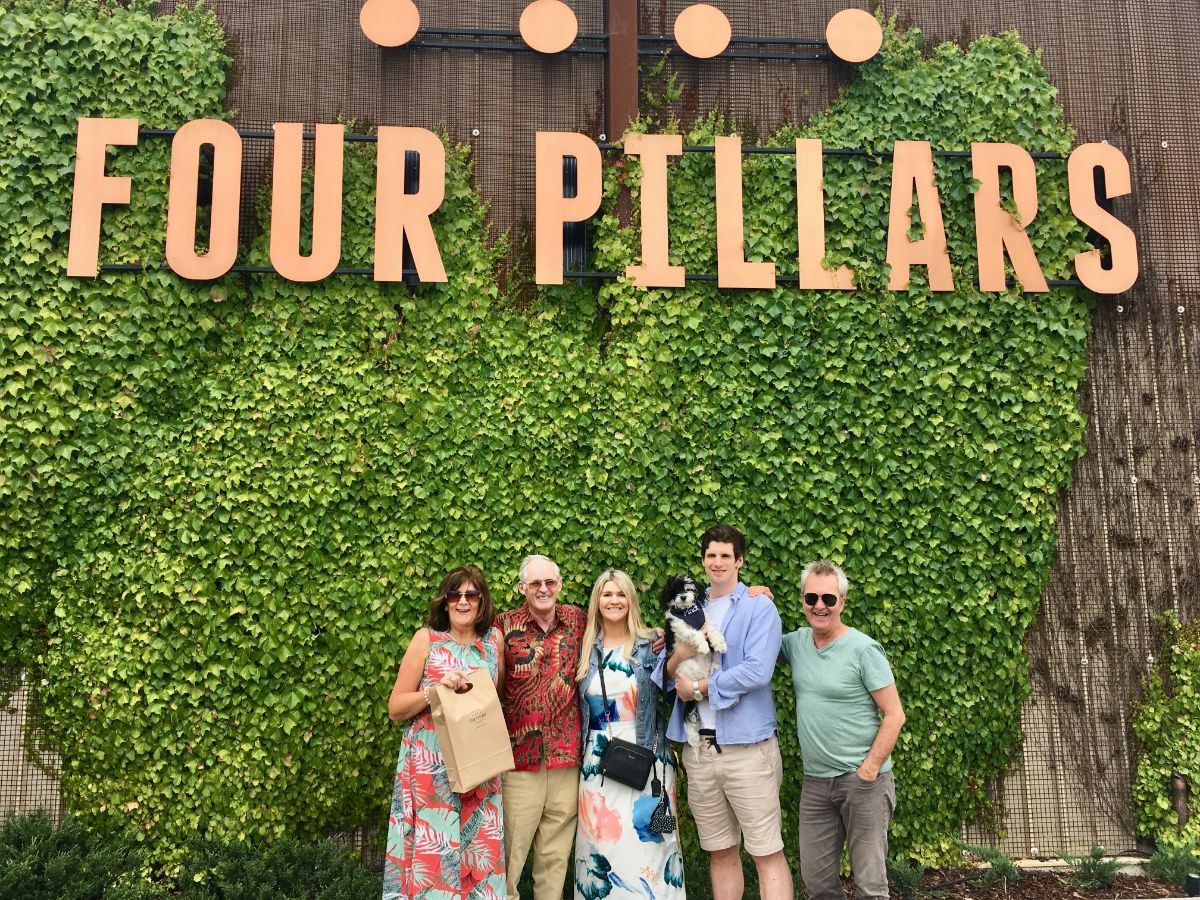 We were shown to a table outside and Jeff ordered us gin tasting paddles, this place is super cool, the staff are fun and apparently the gin lives up to its legendary status (Da again – you can hear him can't ye)?  Here's my Ma & Da discussing which gin I should try first (I wish – I was like – give me them ALL)!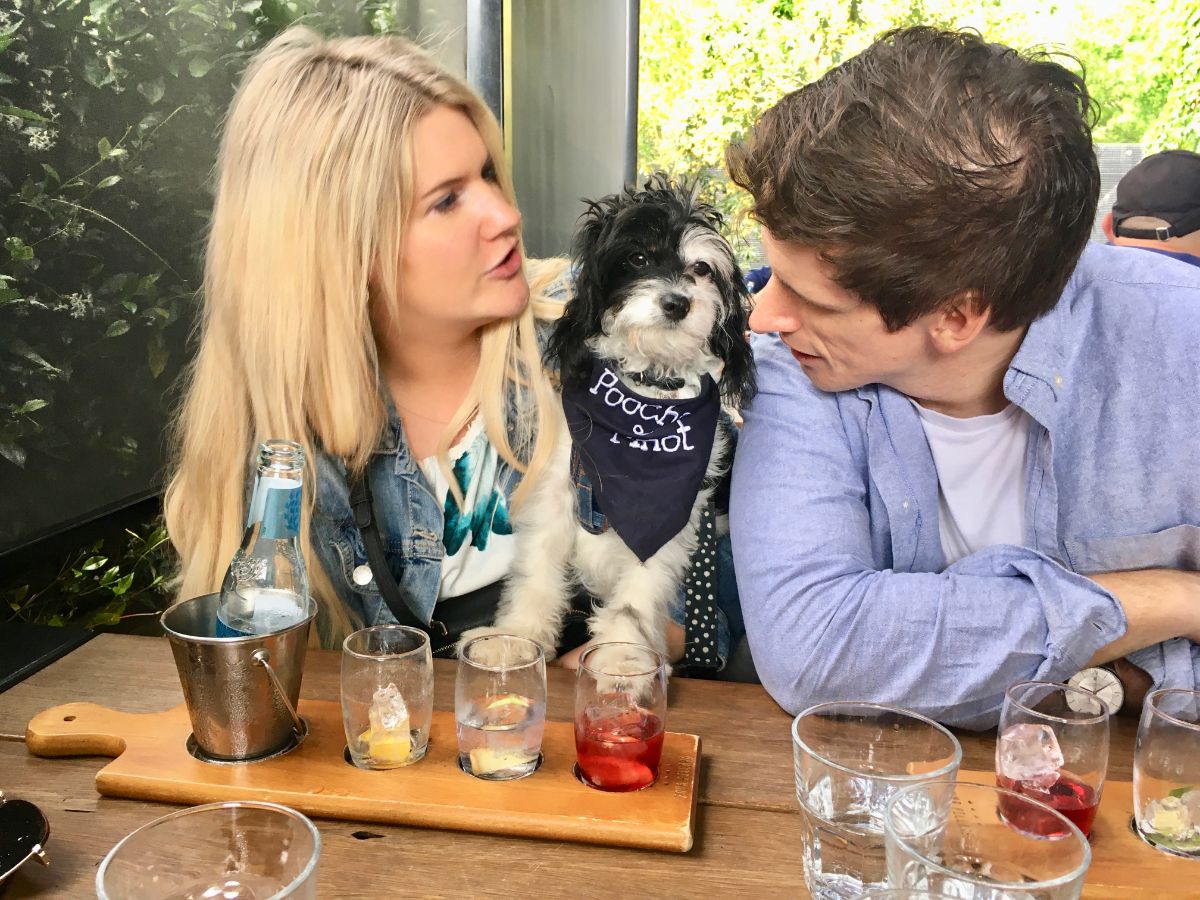 Looks like a 'No gin for Nessie decision' then doesn't it!?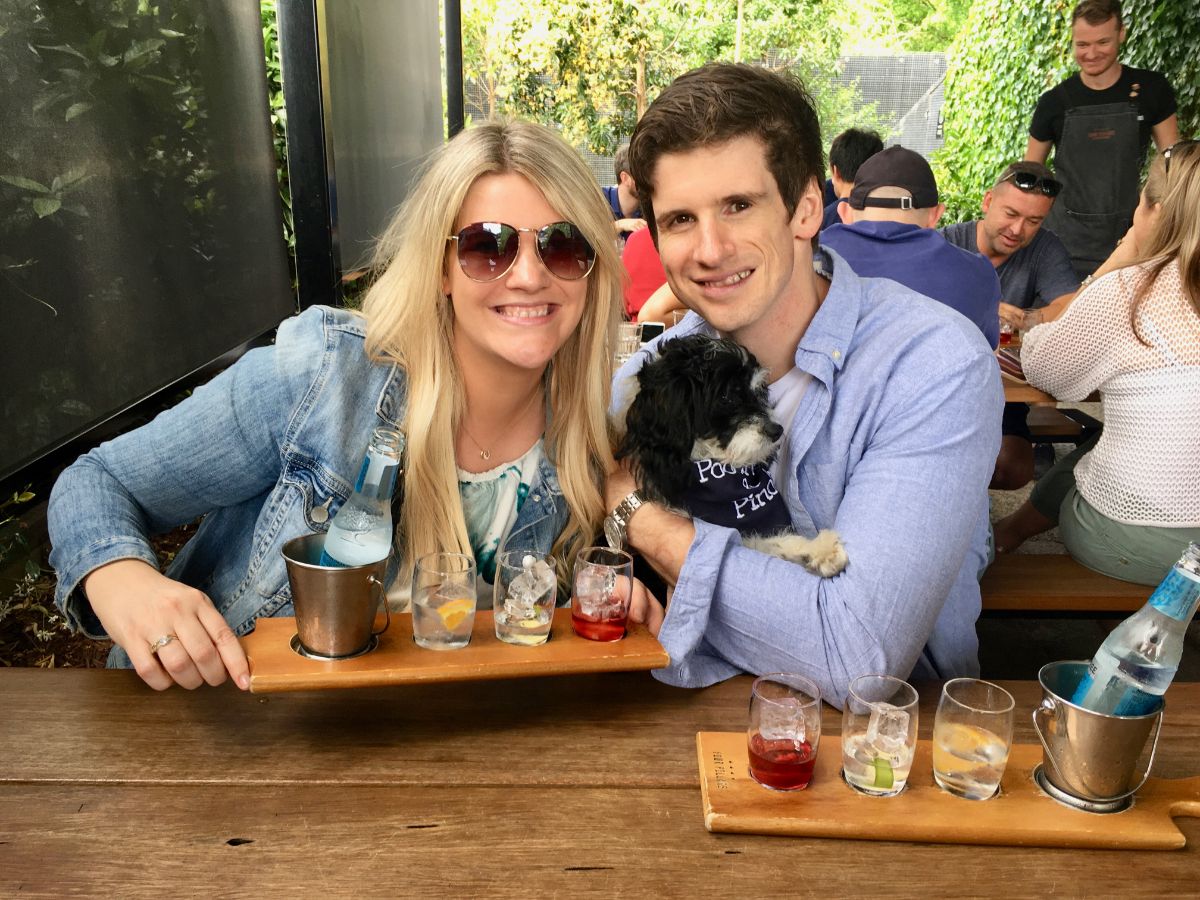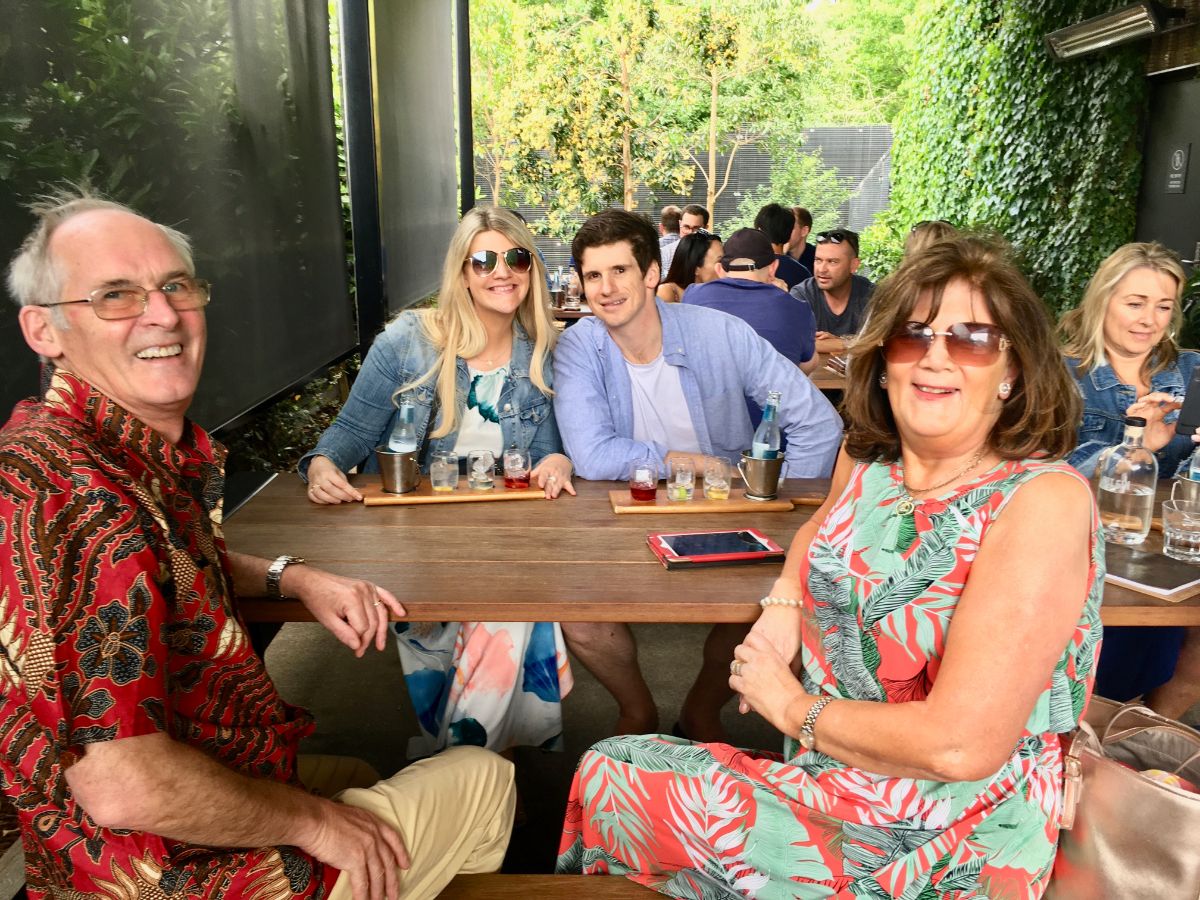 And then the best thing happened.  Neil, Anne and Jeff had coffee which is served with wee blocks of wrapped sugar on the side.  Neil thought it was kind of them to bring some mints with the coffee, so popped one in his mouth to suck.  Being a brave Scot he said naethin until he saw Anne was about to do the same thing!
How we laughed – he's a crack up, he should come and stay again.
We had one more stop before home time and it was a place called HELEN AND JOEYS winery.  As we drove up the drive we saw white horses standing very very still which made me very very suspicious, but its all aaricht, they are part of Helen's heritage as she was born in the year of the horse.  I was even brave enough to stand next to one for the paparazzi, (aka Jeff) Neil and Aunty Anne were less brave and stood near the vines and said that they were having a grand day.  We sat at a wee table out on the deck and the views were worthy of the highlands back home in Aunty's bonnie Scotland, Steven did the tasting with us and he was very very interesting ( ie I ken nay enderstand a word of it).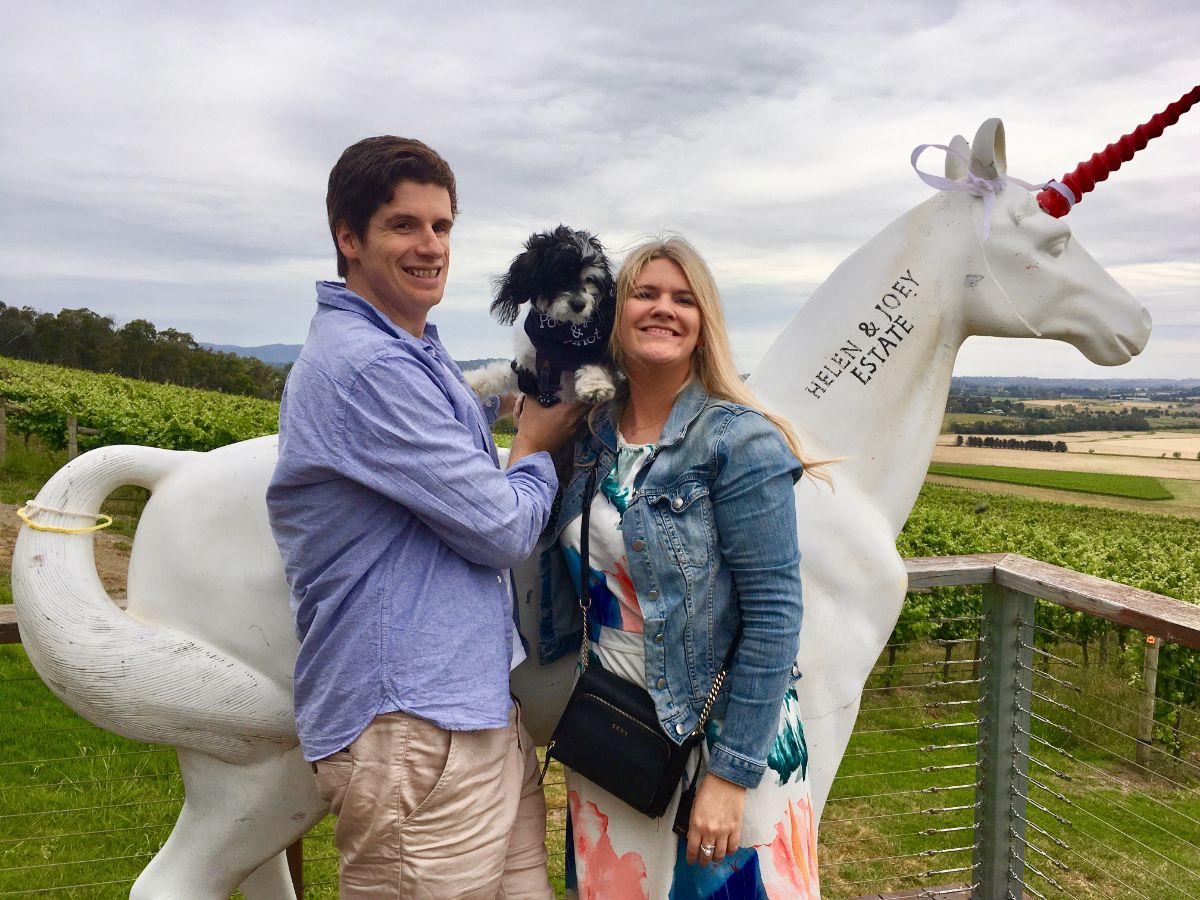 Everyone loved the wines and soon it was time to go, and I had a delicious wee kip after my mad day out, as everyone raved about the day.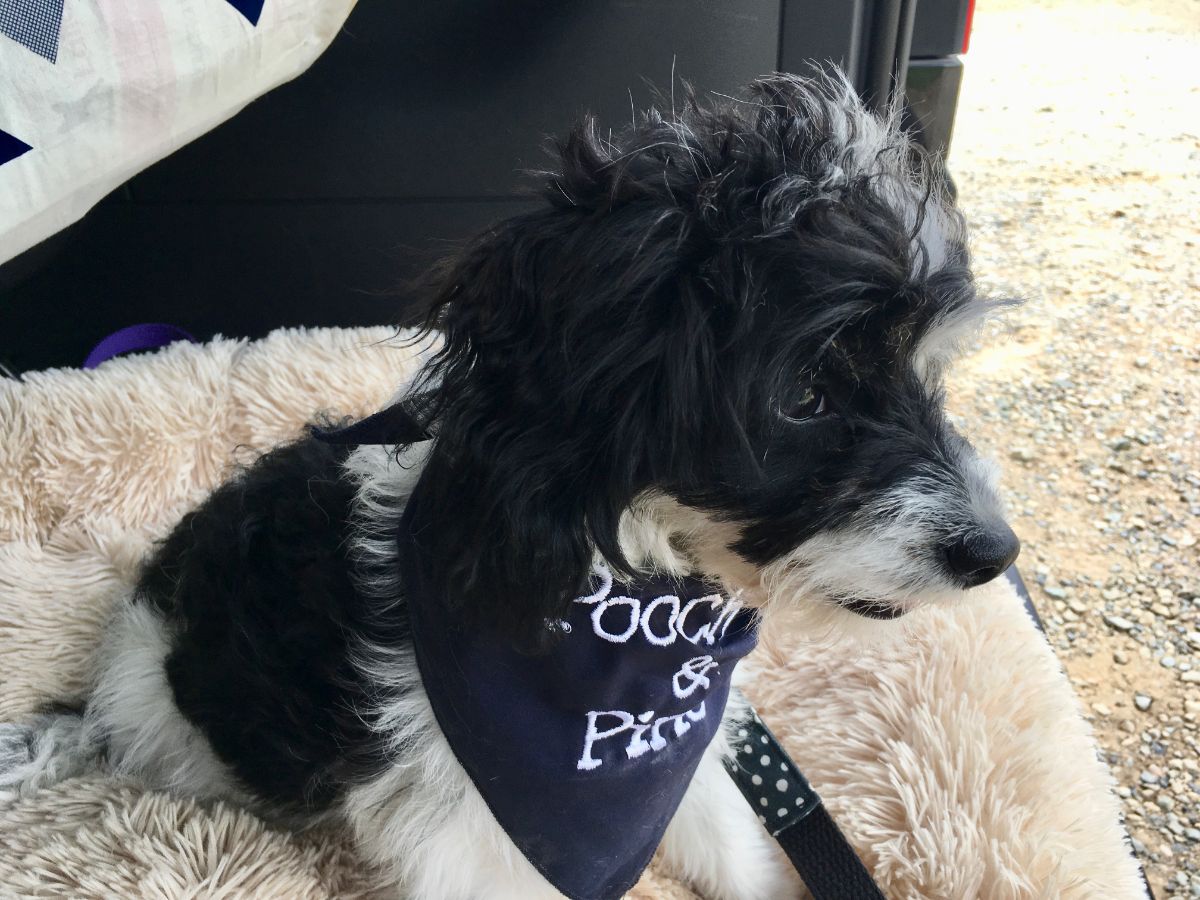 Here's tae ya Pooches and pinot, and Blythe Yuil.