Hi I'm Nelly, I'm a little Pugalier pup – that's right, part pug and the rest – a Cavalier King Charles Spaniel!  And check this out, this is how my Dad secures me so I can't escape!
Last week my Pa (Chris) had a birthday so Lizzie (my Ma) and I thought we'd treat him to a weekend away in the Yarra Valley.  We stayed at a GREAT place called Haig Avenue in Healesville and I had a little courtyard all to myself I could run around in.  Which I did, heaps.
And one day we went on a half day wine tour – with me!!  That's right, I got to go too – in a nice big touring van with a man called Jeff who was ace, he gave me the best spot on the back seat, and he'd got a towel for me to sit on (I don't know why either – maybe  incase his seat was dirty) anyway it had paw prints on it (so I knew it was for me) and here I am on the back seat between my Ma & Pa and I had THE BEST VIEW of the all the places we went to.  My view was totes better than Ma & Pa's view!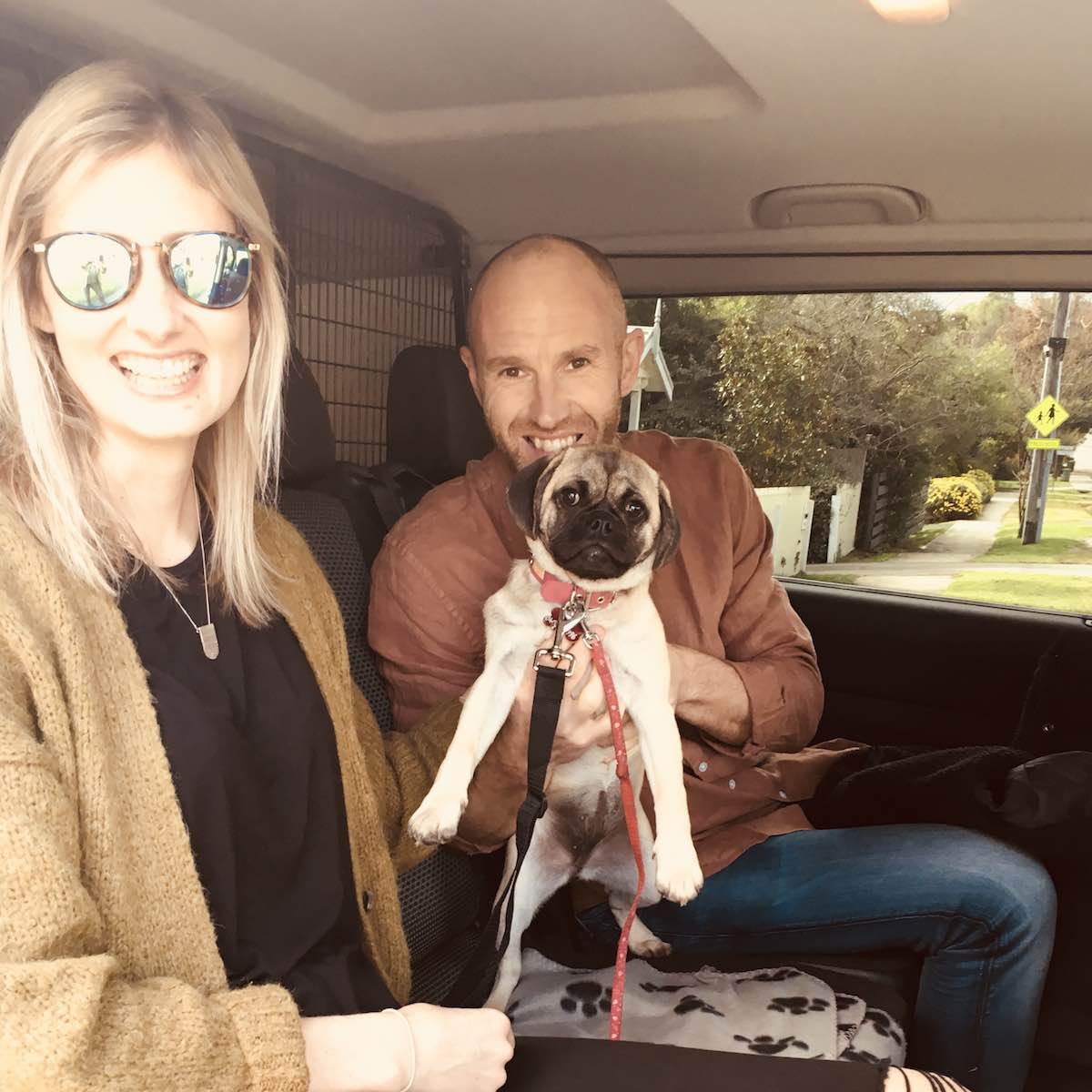 The first place we went to had opened just for me I reckon.  There was only us there and a really nice friendly man called Scott was really pleased to see us and he gave my pawrents heaps of wine to drink.  I took Jeff off round the cellar door at speed on my lead – he looked like he could do with some exercise.  There was so much to sniff and see and do and then I took him outside onto the deck as my pawrents were STILL drinking more wine with Scott.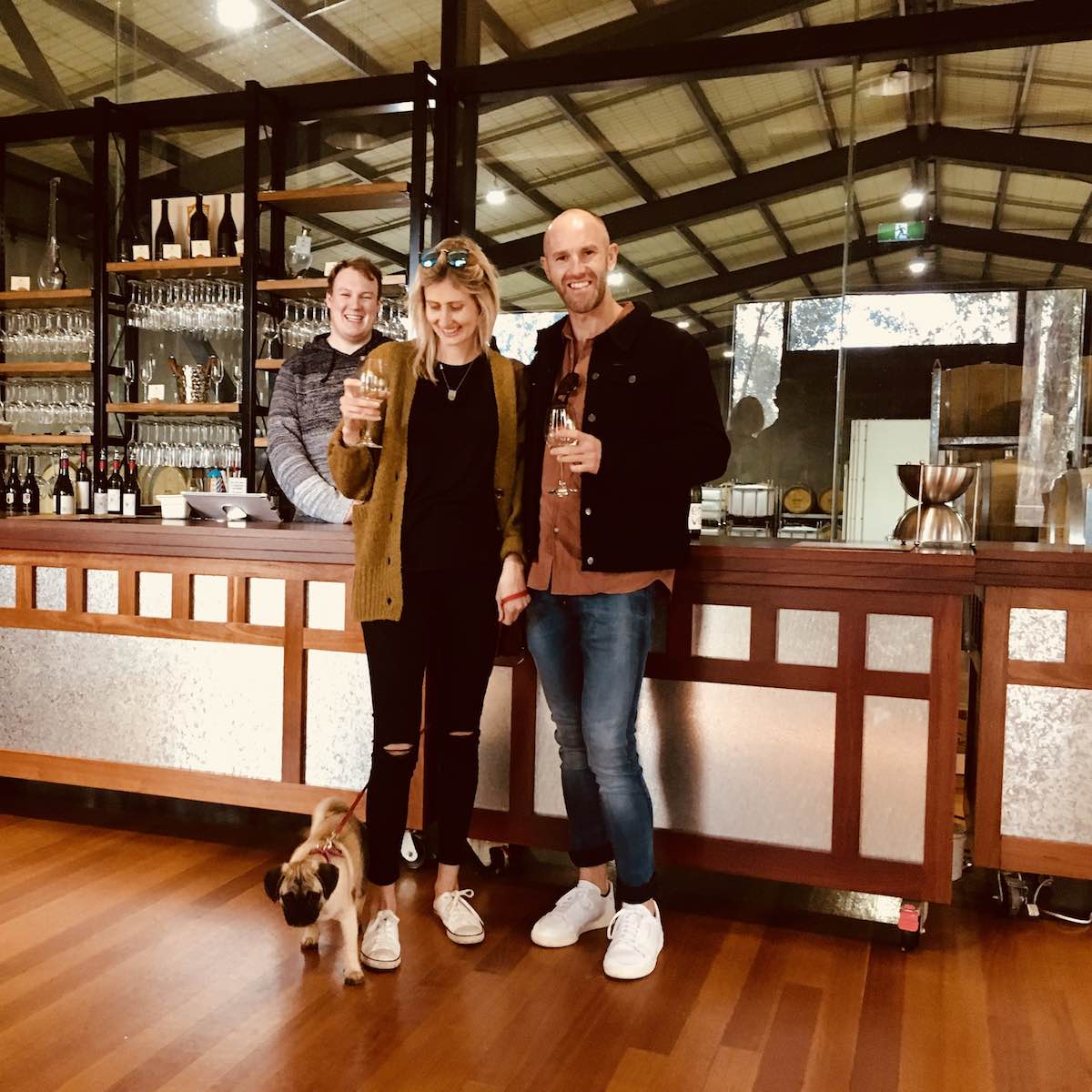 I could have stayed there all day as they had a huge lawn for me to enjoy but we had another appointment, this time at Yering Farm cellar door where they too specialise in large lawns for puppy dogs, and I had a lot of fun!  I was introduced to a lovely lady called Megan who was behind the bar and I thought she could do with some help, so I popped behind the bar to assist.  Turns out she only needed licks and cuddles!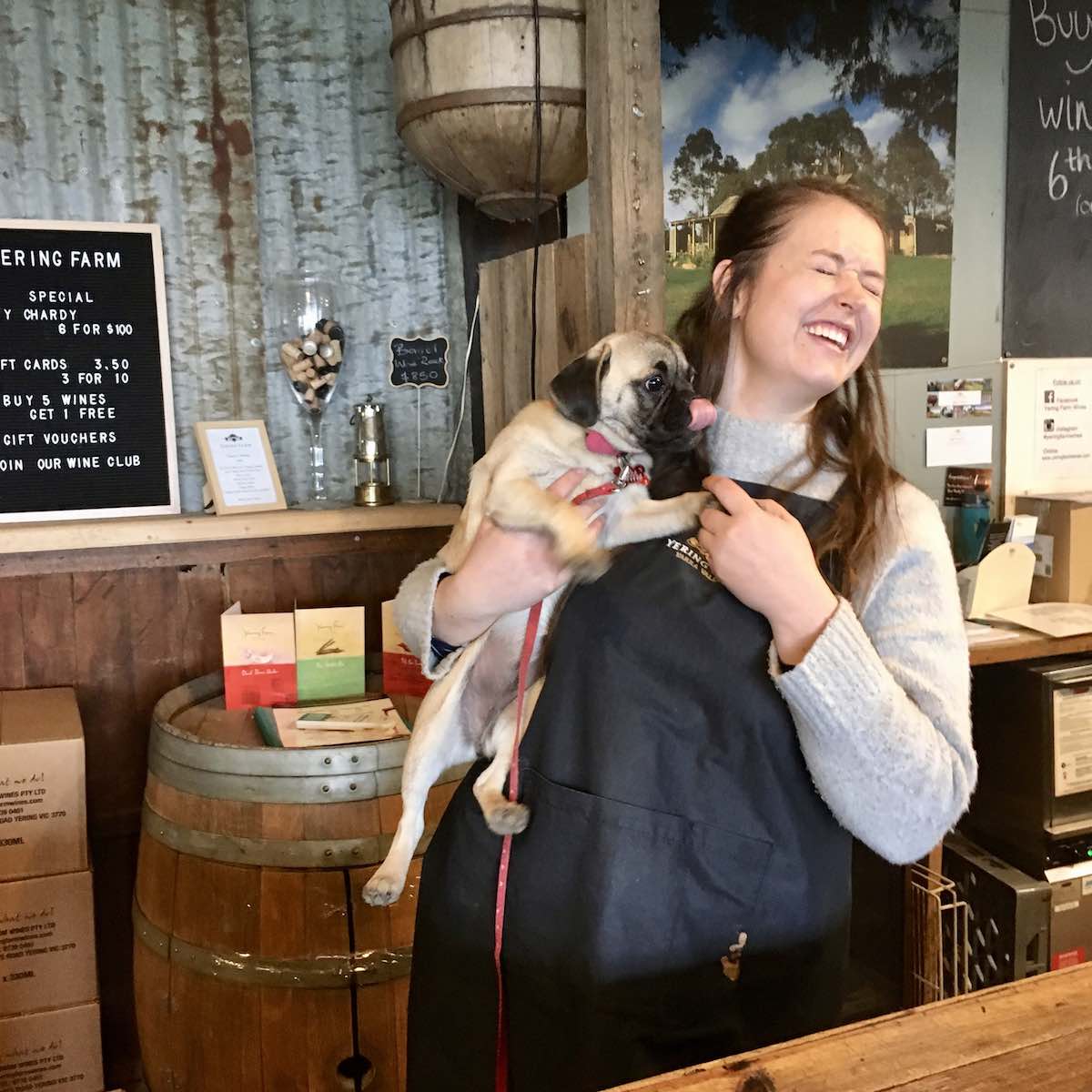 As my pawrents drank (more) wine that Megan kept pouring for them, I took Jeff off round a tour of this cellar door which was SOOOO BIG, I loved it, we sat by the fire for a bit, I met some other people and had some pats, and I checked out all the posts that could have needed weeing on, but none of them did, so that was good!
At one point Pa offered me wine – doesn't he realise I'm a pug!?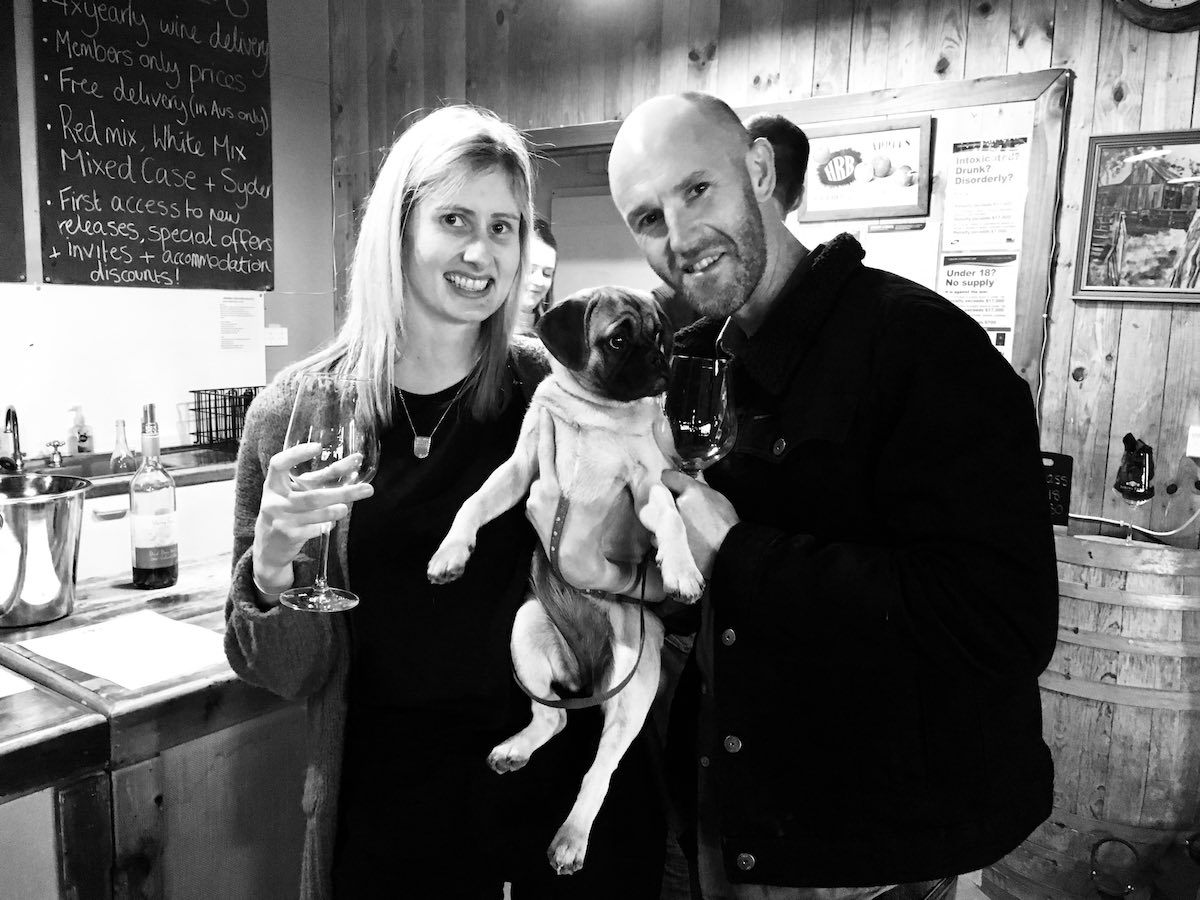 I loved it outside too and I'm sure I was carried so that I wasn't tempted to race Jeff across the grass.  I would have won too, I just know it.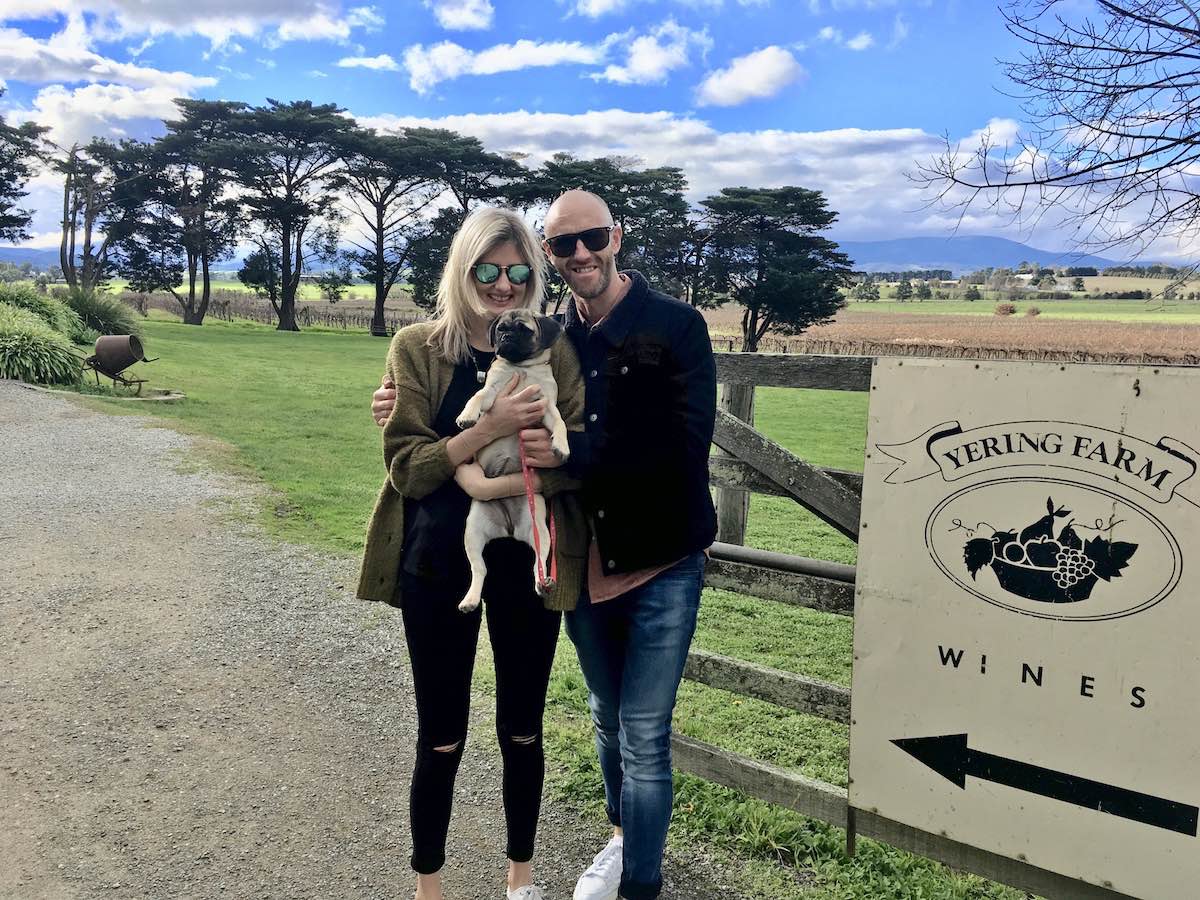 When we got to the next place, I saw another dog, and high five'd it – it was a ball of fluff and it was there with its pawrents too.  We then sat at a table and nice people brought my folks two planks of wood with glasses of see through wine (they called it gin) for them to drink.  I got a bowl of water which was my drink of choice and sat under a heater which was ace.  Look at me looking all happy.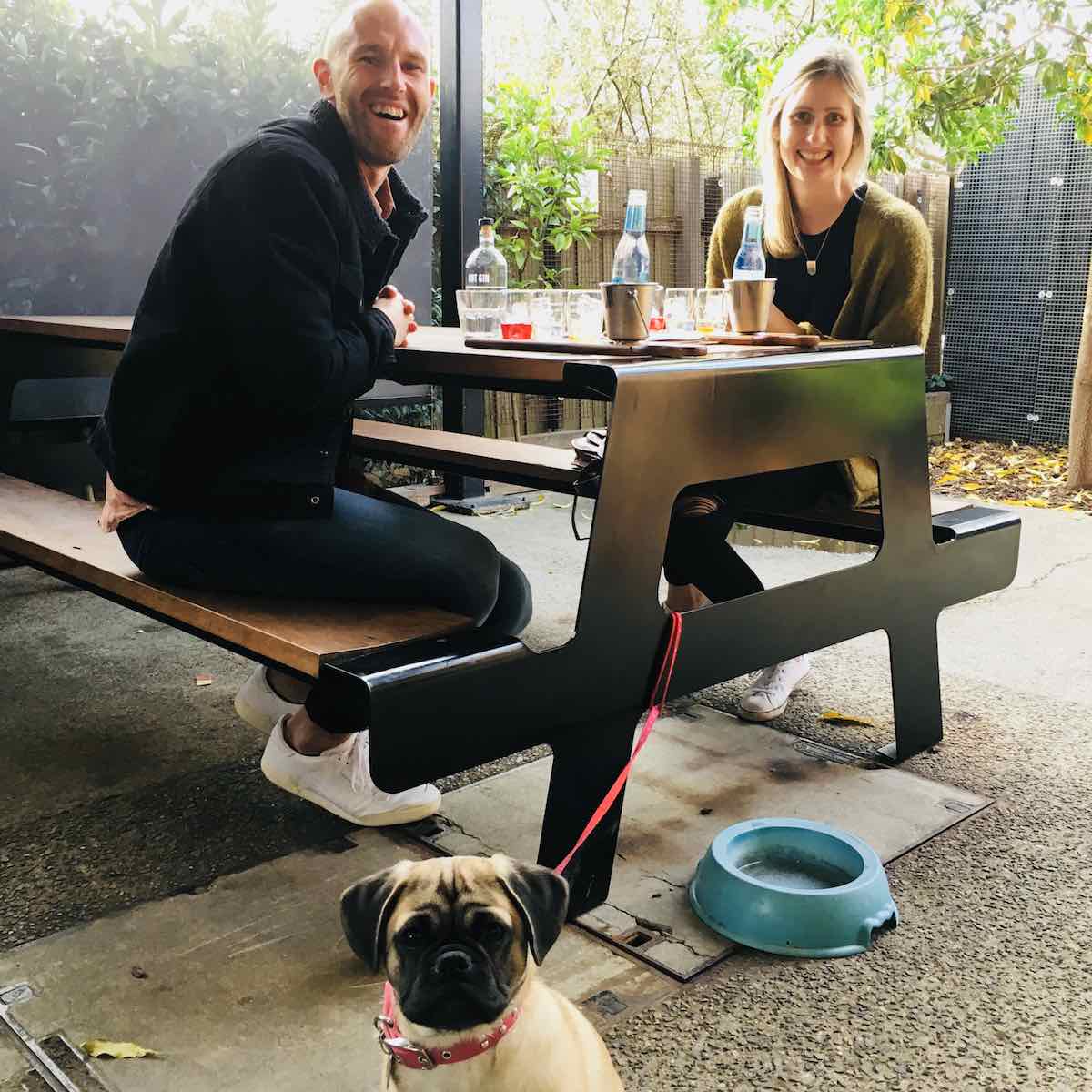 Here's the other fluff ball dog, at the other end of the courtyard – see what I mean – all fluff and not a whole lot else going on!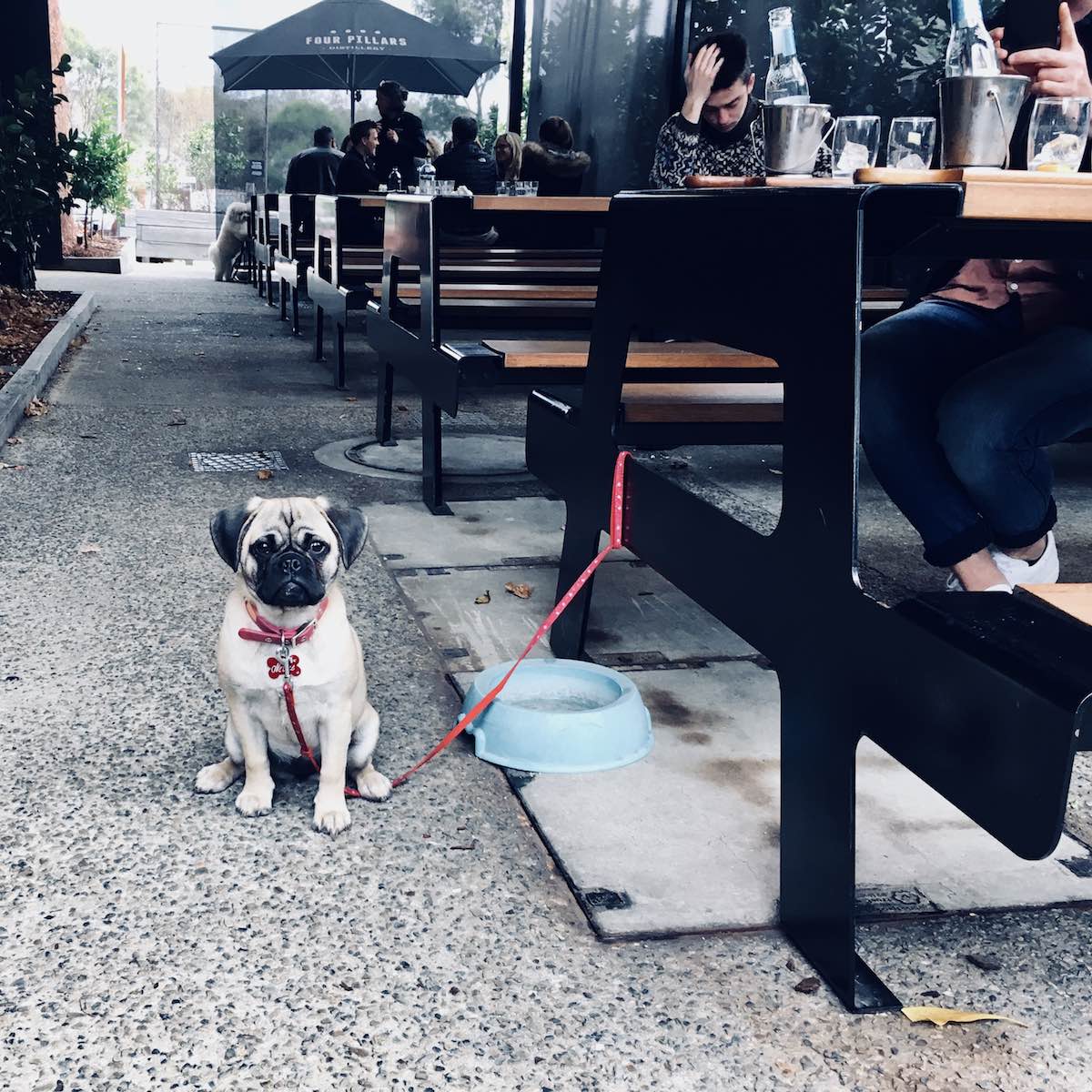 It got more exciting (dog wise) when we strolled over the road to Payten & Jones cellar door as I got to meet Troy the winemaker and his rescue dog.  He was a bit protective in a barky way, (the dog I mean, Troy didn't bark at all) but I understood, and once he'd barked at me and said his piece, he turned and went off into the office – probably had some paperwork he needed to finish.  Such a good vibe in this place, great music playing, fun staff and crazy stuff on the walls.  The only mural I recognised was of Troy the winemaker.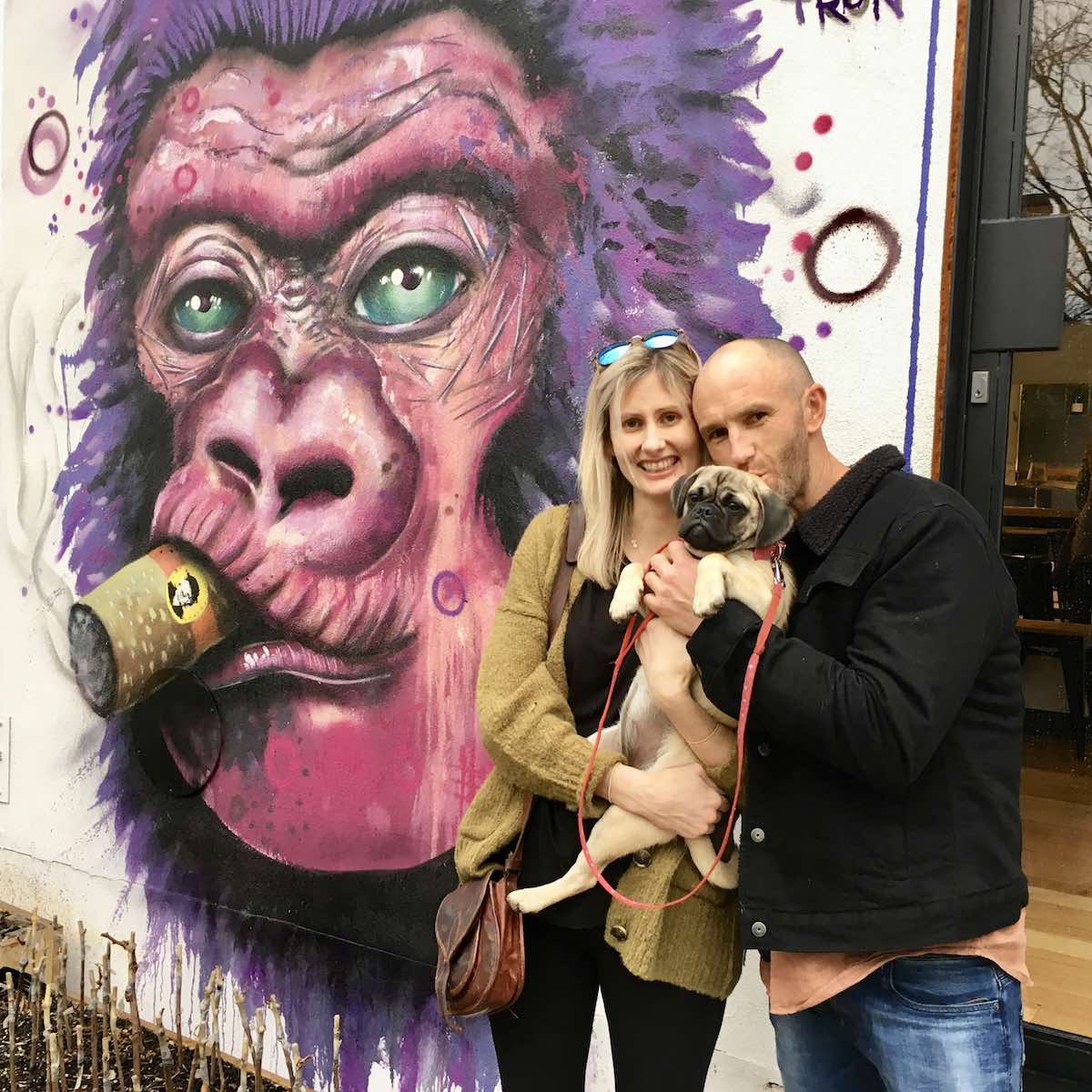 Everyone was really friendly – and all this to teach my Ma & Pa about wine!  I'm pretty sure they learned something, it seemed it was fun anyway!  And they really loved it, I could tell by the number of bottles they brought out to the van!
We then stopped in at a shop called K&B to get some yummy things for my supper (and some stuff for Ma & Pa possibly too, not sure)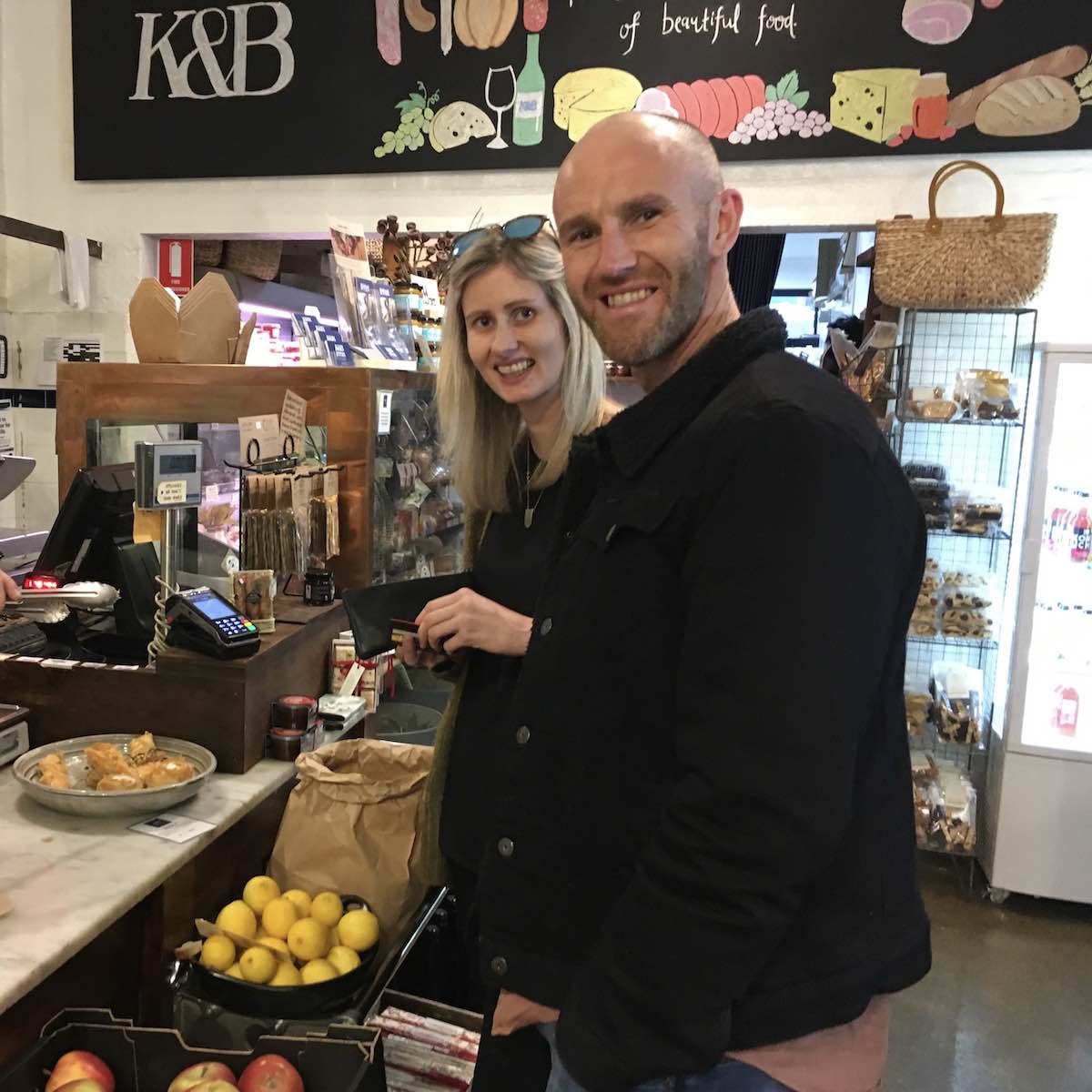 and then Jeff gave my Pa a bottle of Shiraz with a picture of me on it (well a dog that was trying to look like me) – must have been for his birthday.  It was the BEST BIRTHDAY EVER for my Dad – he and Mum had a ball and so did I, which I know you're relieved to hear, considering I'm their number one priority! :-)