OK, so hi – I'm Murphy and when I was very small, back in January, I came on a Pooches & Pinot wine tour with my Mum and her friend Shannon and boy did we have a riot – I got up to all manner of japes, and made friends with a tiny dog at Maddens Rise cellar door and dug all the water out of the water bowl and helped Mum and Shannon buy an obscene amount of wine/gin and beer!  How sweet was I – look!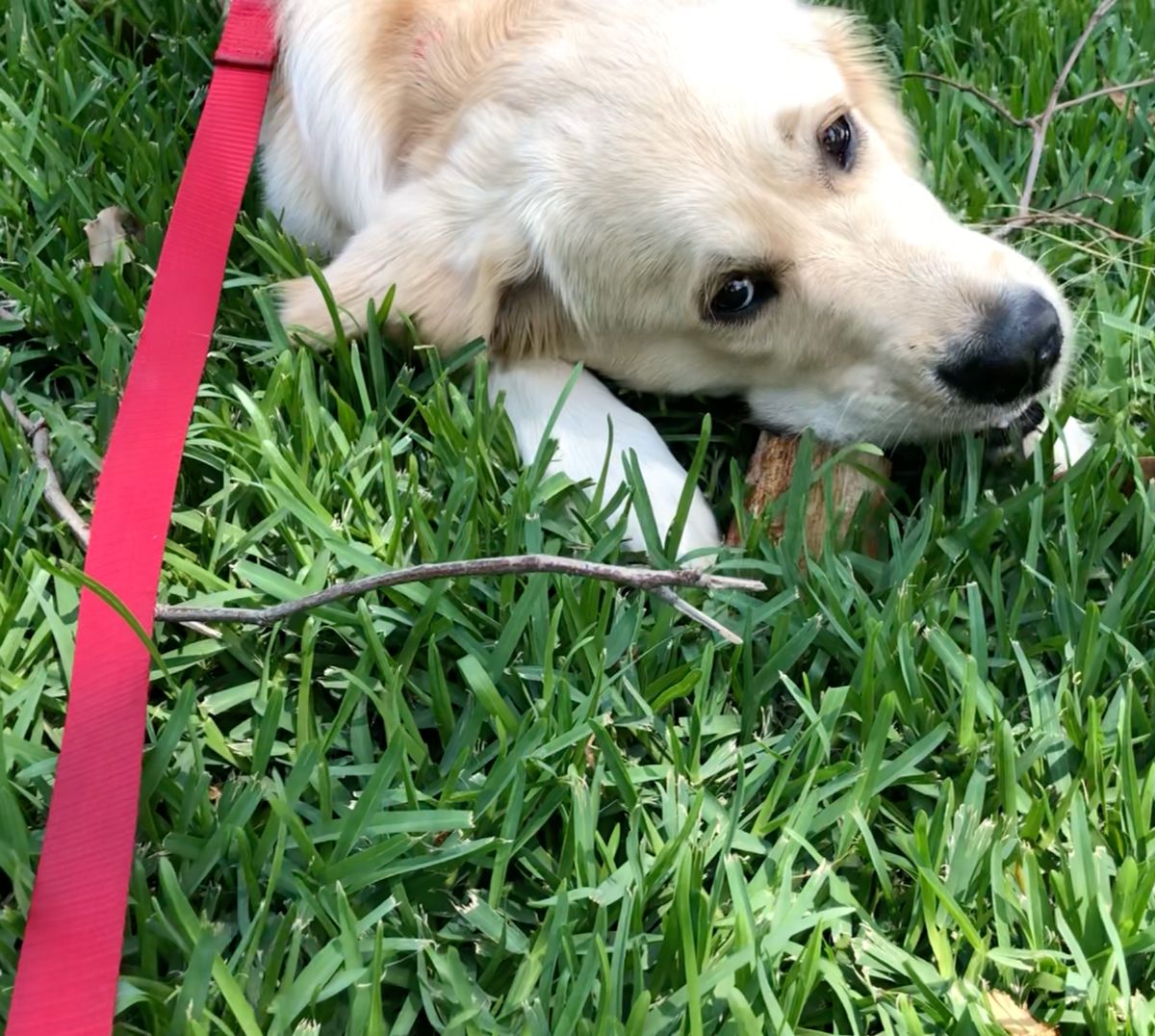 But really, we'd just been trying out the tour to see if Dad would like it – we were on a reccy!  (Sorry, that's 'reconnaissance' for those of you not up with the lingo).  Dad is a very cool guy and it was his birthday back in July so Mum and I planned it all out, we booked in accommodation back at Wiggley Bottom Farm in the cottage which now feels like a second home – I LOVE going back there.  And we booked in our wine tour with Pooches & Pinot and asked them to make a birthday cake for Dad and we were SUPER excited.  And then Mum said a virus had escaped into the world and we all had to stay at home.  We were very sad.
Anyway – once we were allowed to travel again, we re-booked our tour for Friday and Dad got to celebrate his birthday with me and Mum (his 2 fave people) up in the Yarra Valley on this cool wine tour, 4 months after his actual birthday!  You should have seen his face when Jeff (the dude from Pooches & Pinot, who also happens to be a chef) rocks up at our cottage door at Wiggley with a chocolate birthday cake (how did he know Dad loves chocolate cake?!) and a bottle of Yarra Valley sparkling for us to enjoy once we got back from our tour!  There were strawberries on it and cream and candles and everything – even a little card with his name on it!!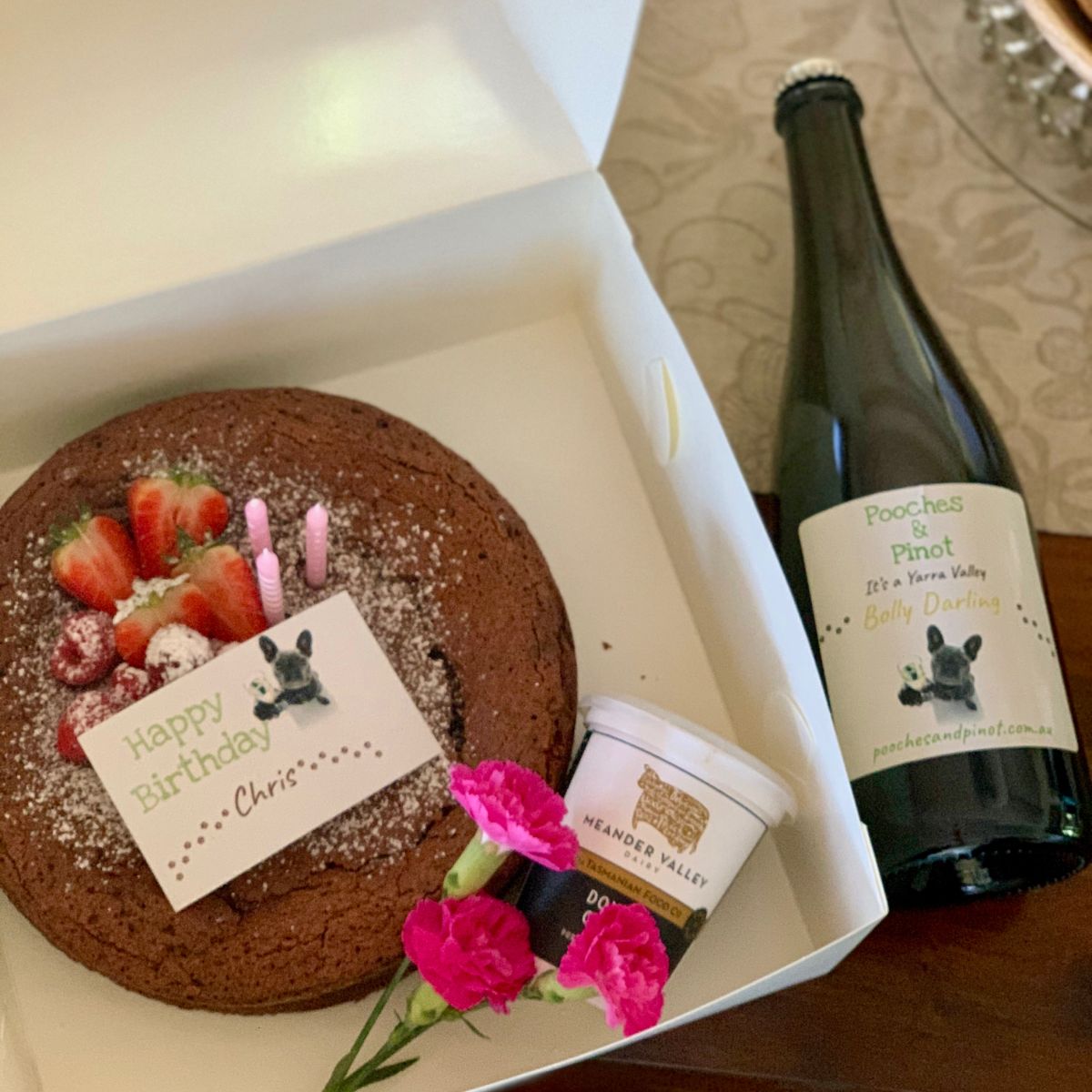 We had cunningly chosen the best day for our tour weather-wise – here's us at Yering Farm where I wooed Megan the cellar door lady – she fell for me big time.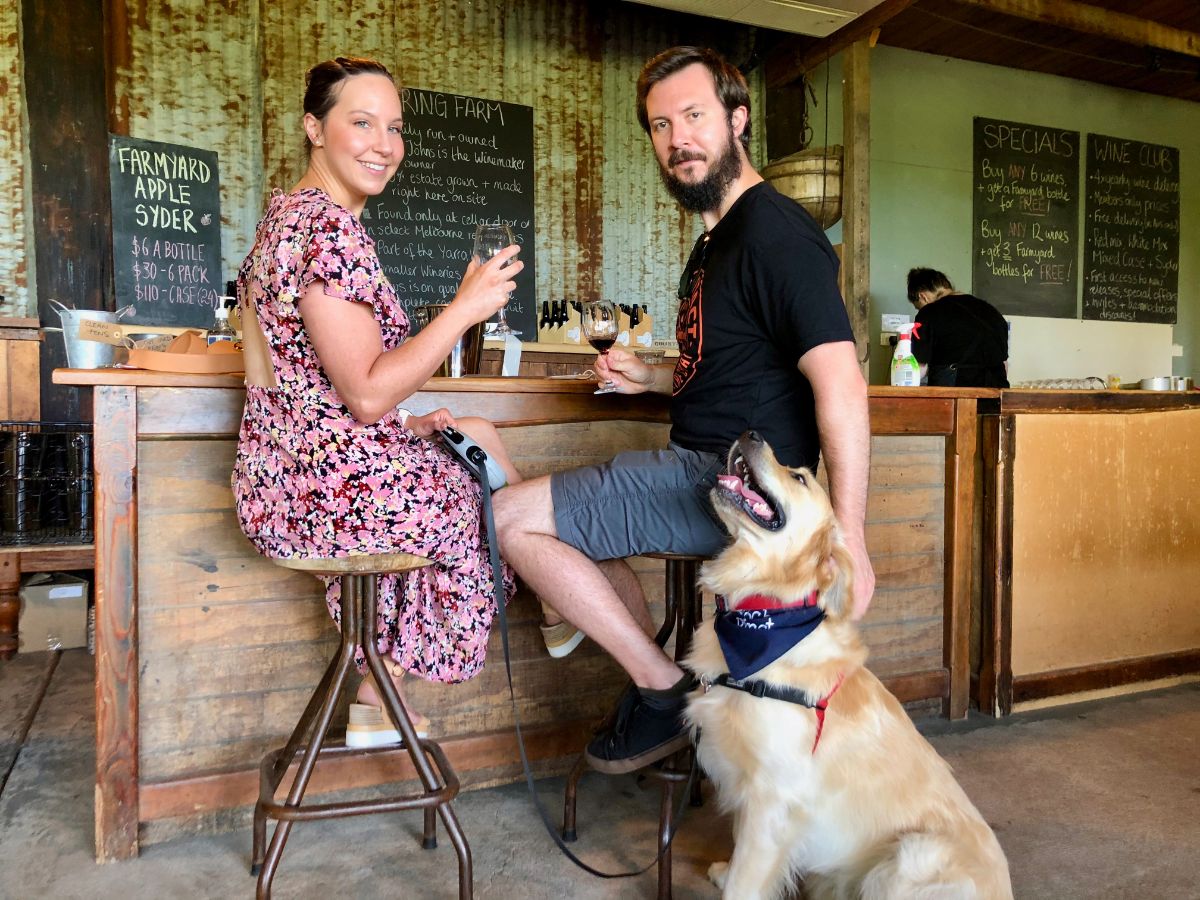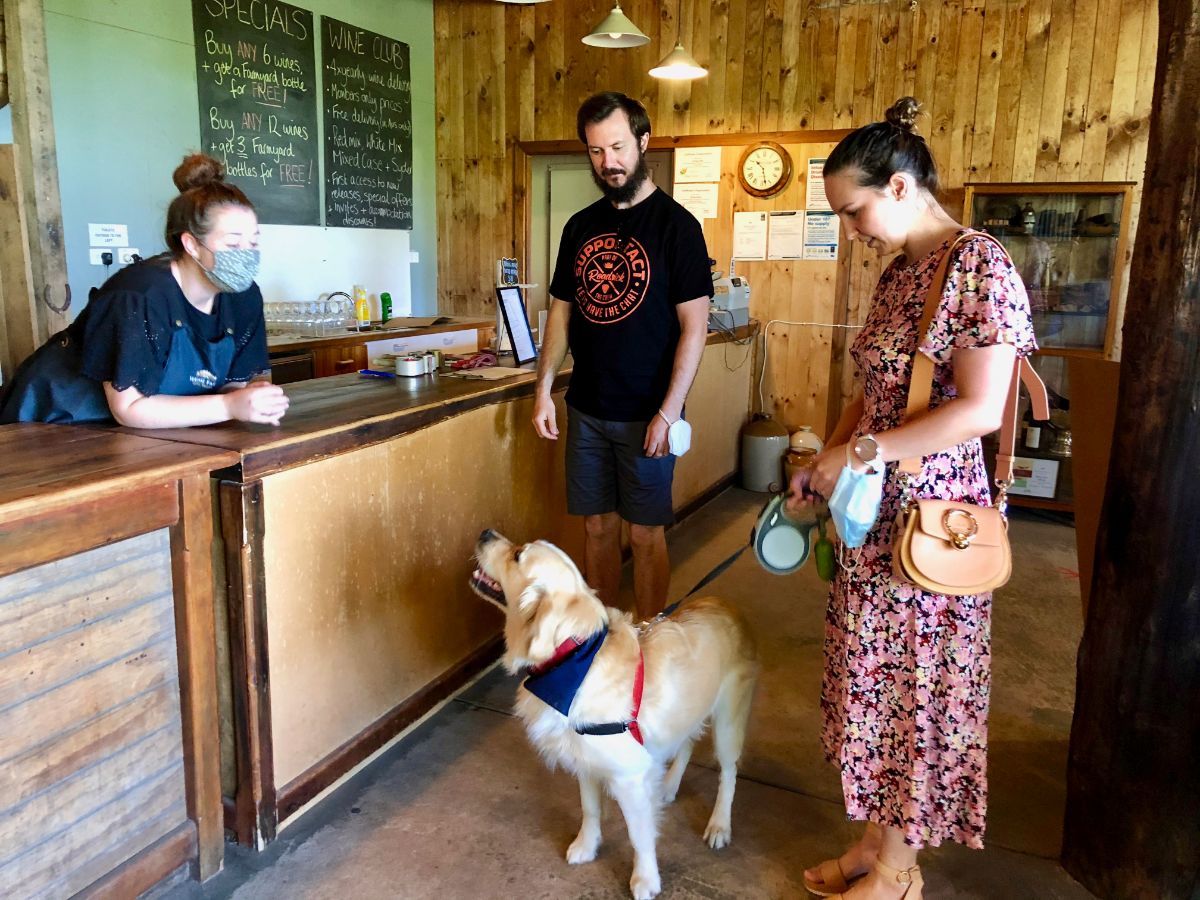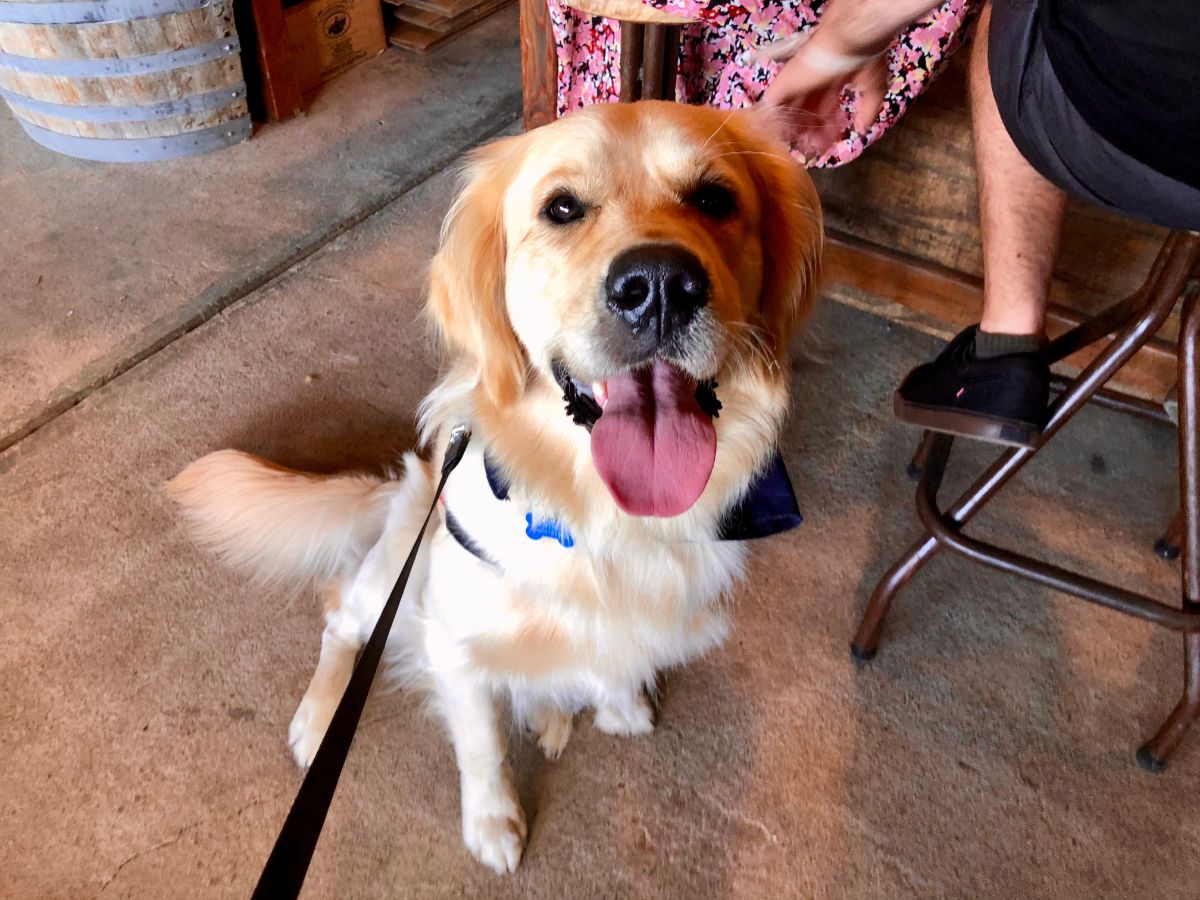 and look at their view – you know what, I could live here; I so wanted to run around on the grass and look for the sheep that apparently live here too, but we had another cellar door to visit, so I decided not to.  Boy, what a good looking family we make!!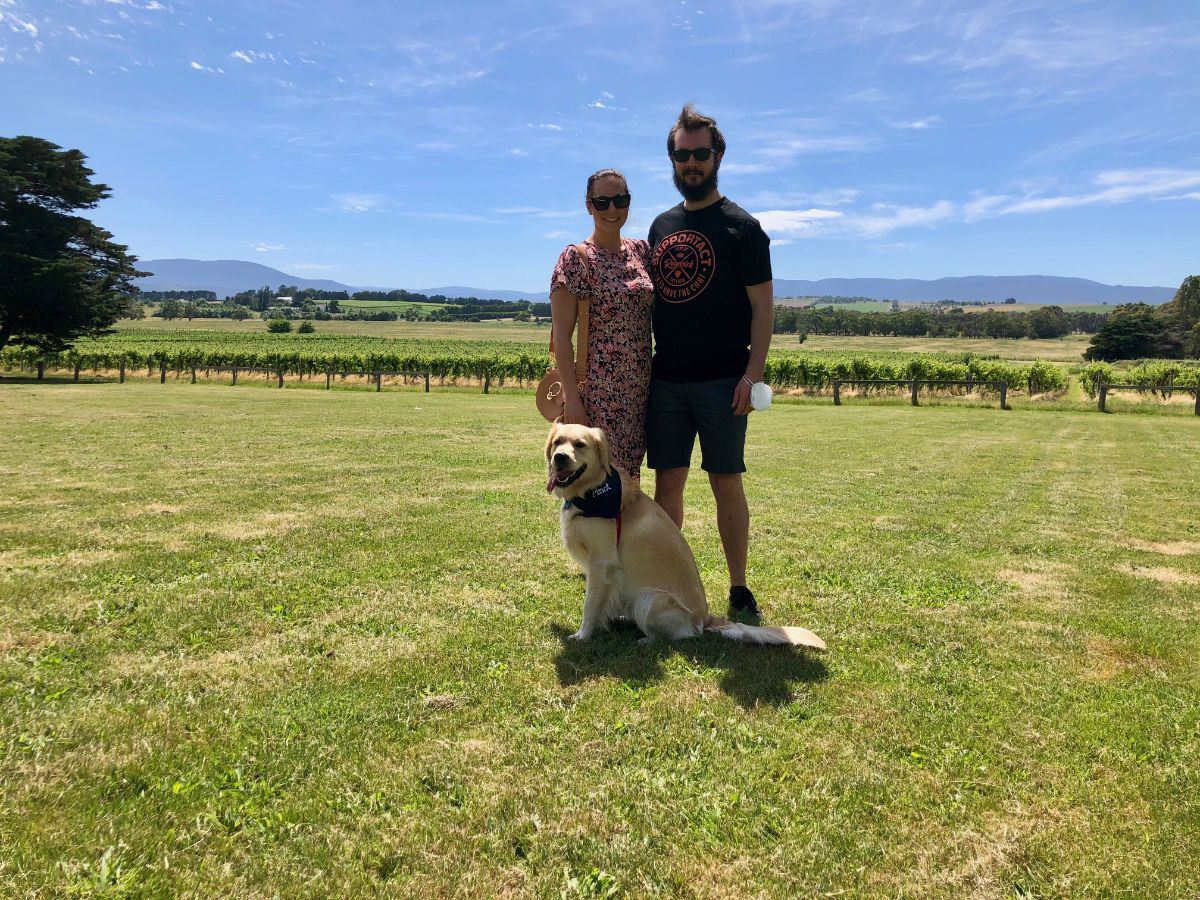 We then drove up to Helen & Joeys which is brilliant – high up on the hill.  We met Sarah who did our wine tastings and she was pretty excited to meet me (obvs) and we sat out on the deck and I admired the view while my pawrents drank copious amounts of wine!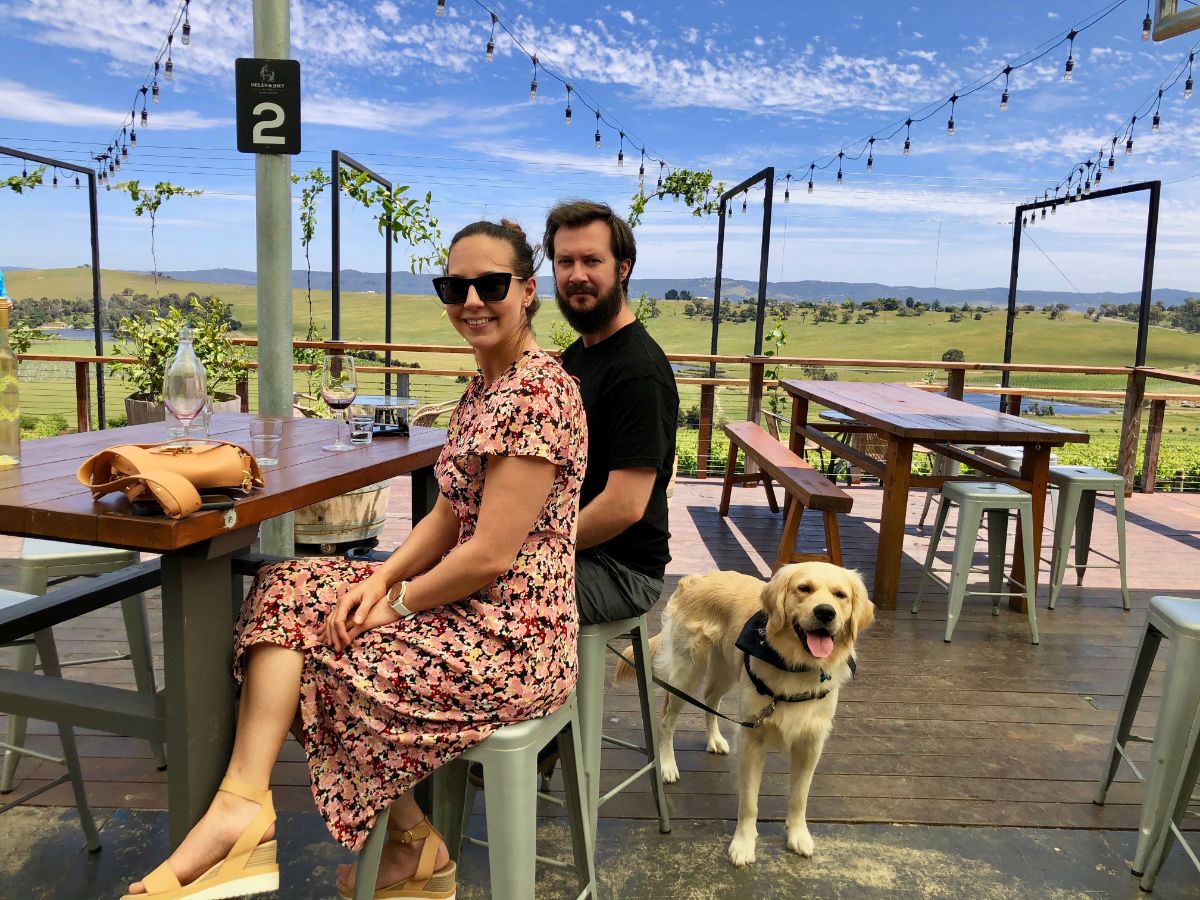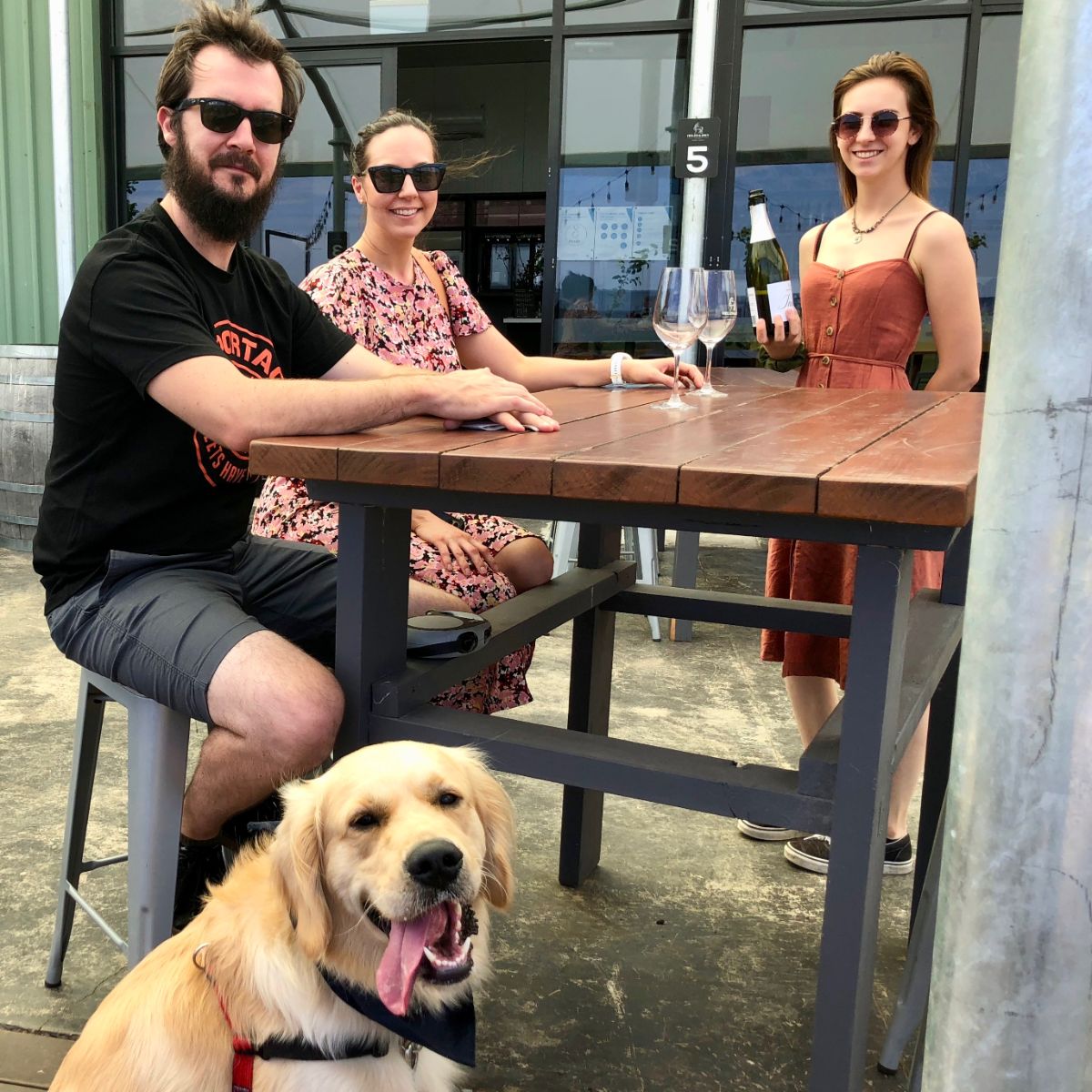 We lunched at My Little Kitchen and I could have easily eaten one of everything on the menu – or two for that matter – it smelt SO good.  I sat patiently and watched my pawrents as they tucked into sensational looking eggs benedict and brisket roll with fries washed down with a Bloody Mary and a Watts River ale.  I was fine with that as I knew that Jeff would give me more treats later on as I'm so terribly hard to resist and well behaved.  If you're in Healesville and your folks want to take you with them to a cafe – this is my recommendation…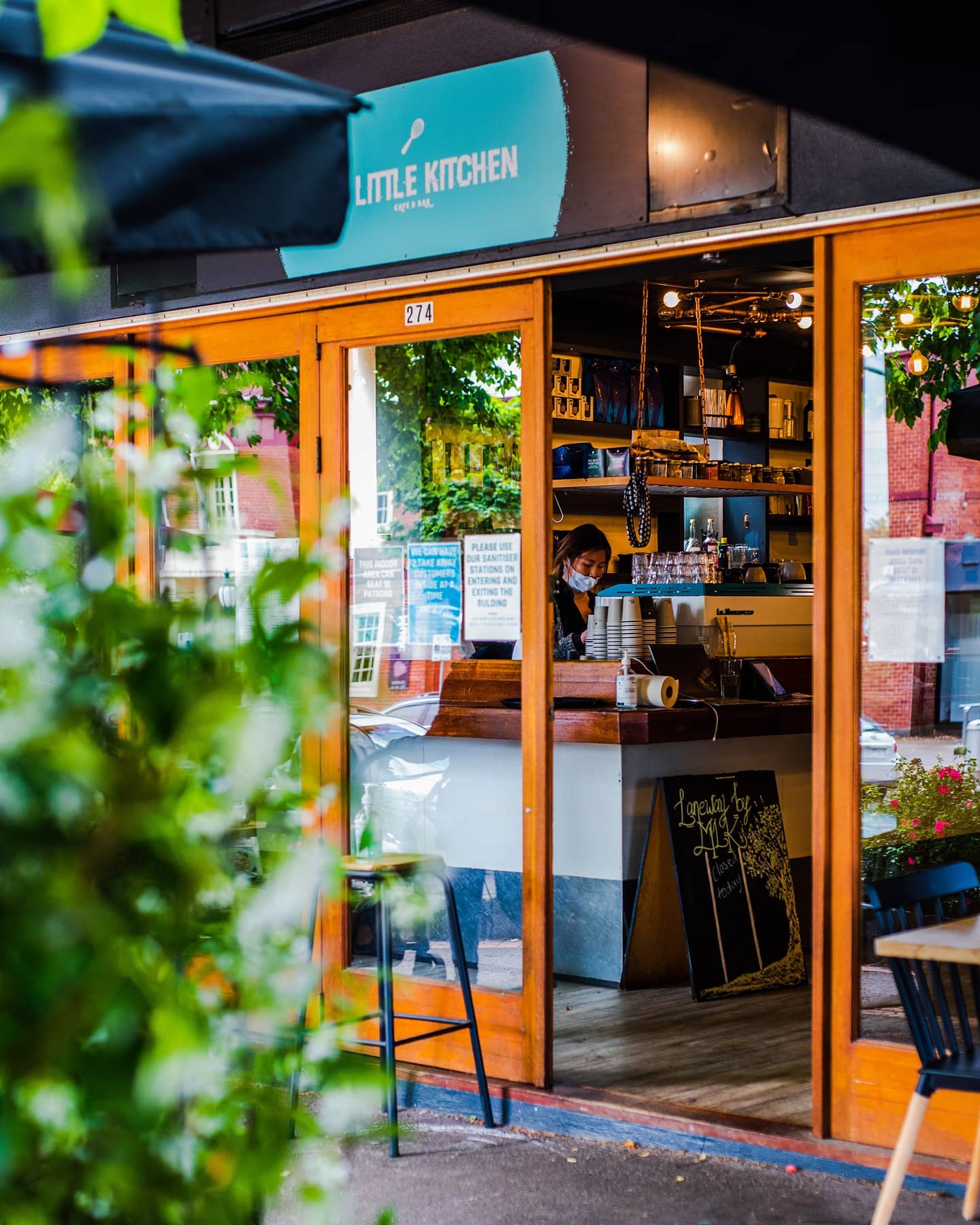 After lunch Jeff took us to his favourite place in the world for a walk and it was ACE.  It's called Maroondah Dam and there's a hell of a lot of grass and a heck of a lot of water and the smells are divine.  Dogs are not allowed on the dam wall (dam rude if you ask me) so we just had a quick photoshoot and I was allowed to peer over the edge to see all the water – gee it made me want a swim but I was good boy, I resisted and just imagined it!!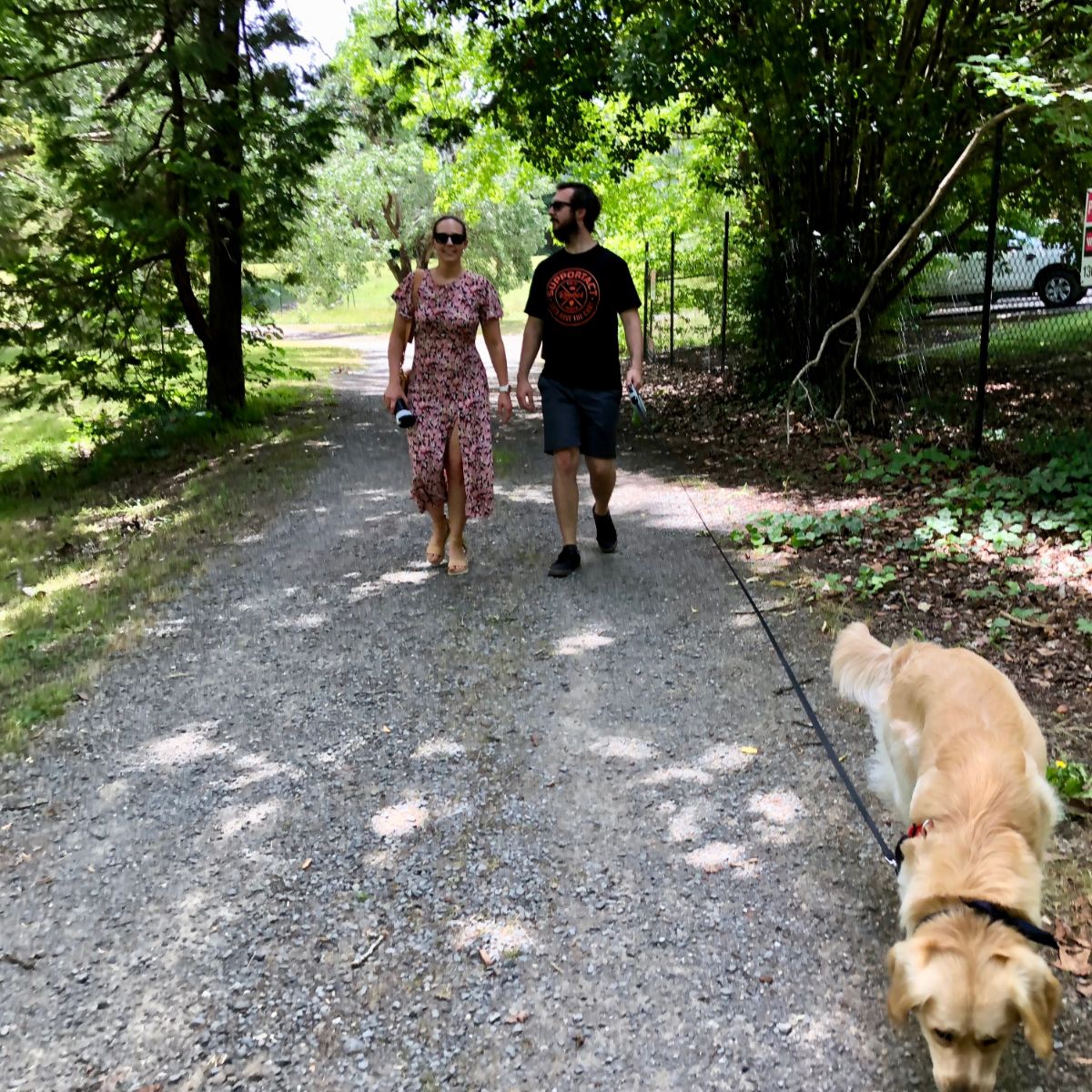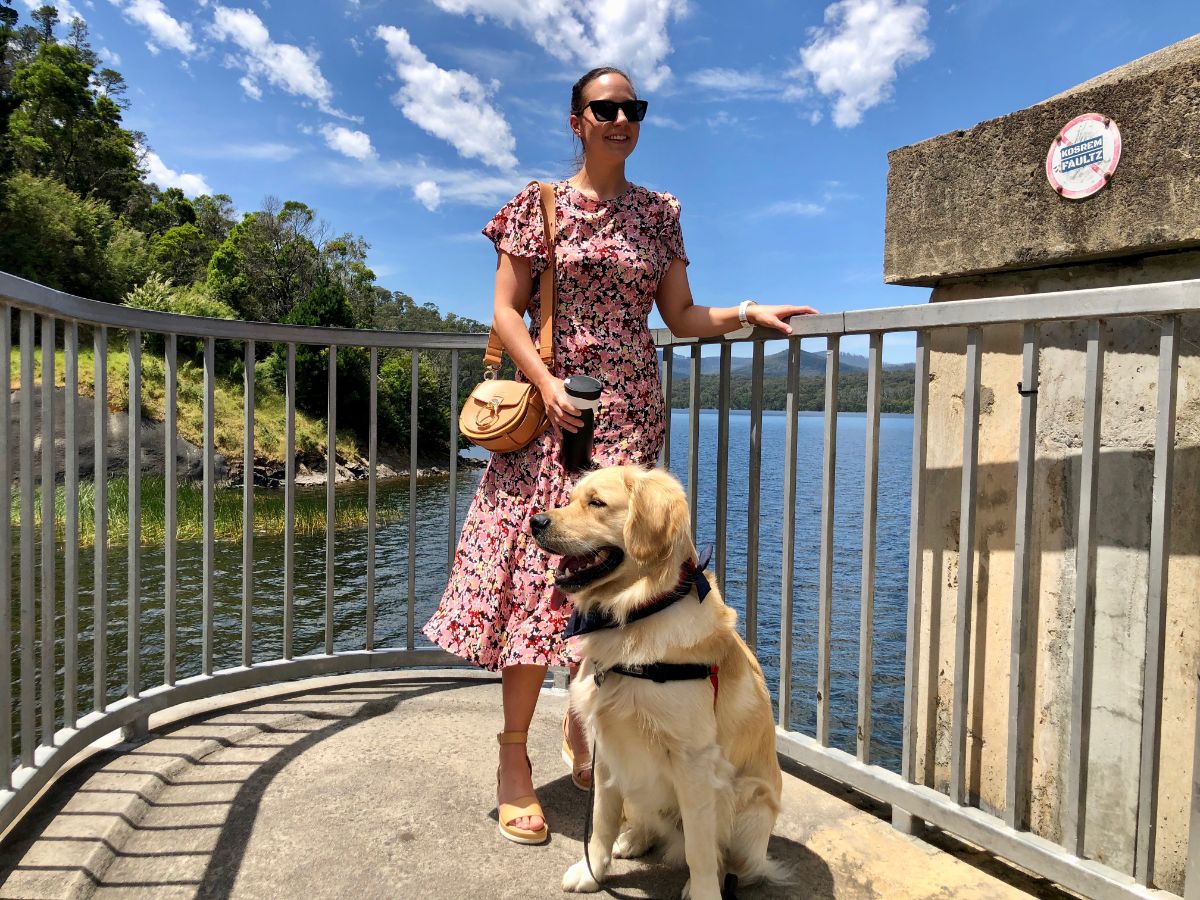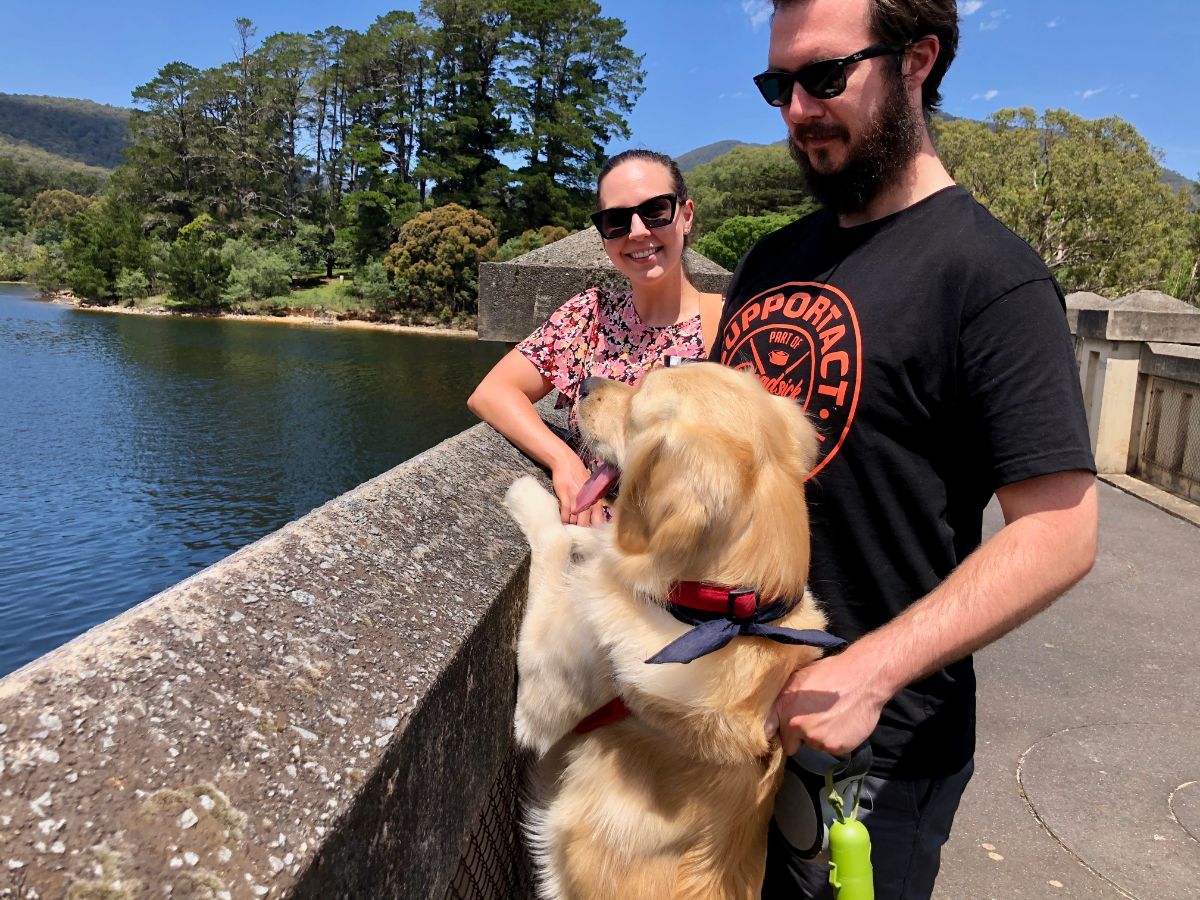 After all that walking and sniffing, we were a bit thirsty so Jeff took us off to Four Pillars Gin distillery which I'd visited last time and so I was excited as I knew I'd be greeted with hugs and kisses from all the staff who are dog mad and I knew my folks would love the gins they got to try because Four Pillars keeps winning every international award going – seriously, they're on fire!  I sat next to my Dad to show him the ropes, as I'm a dab hand at this now.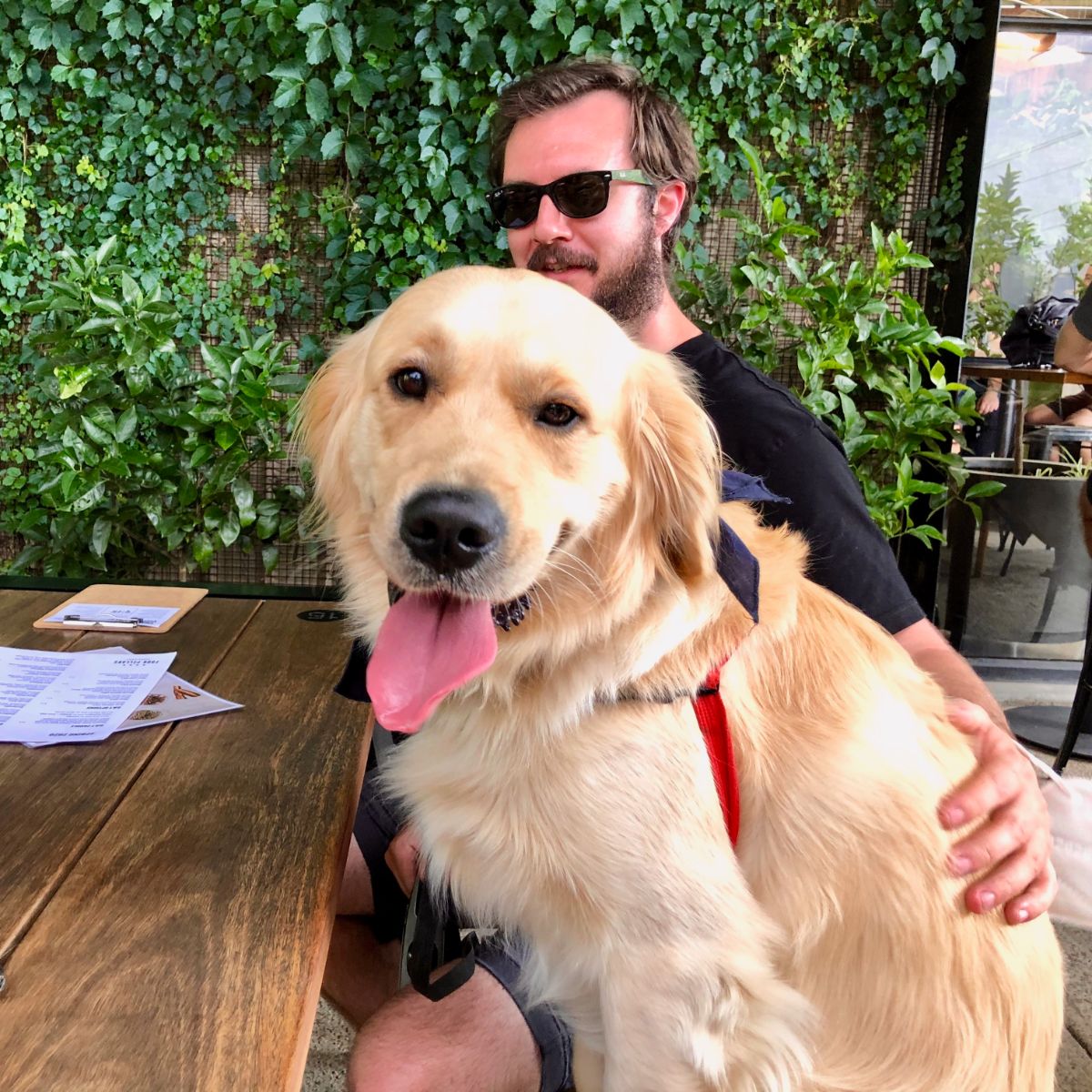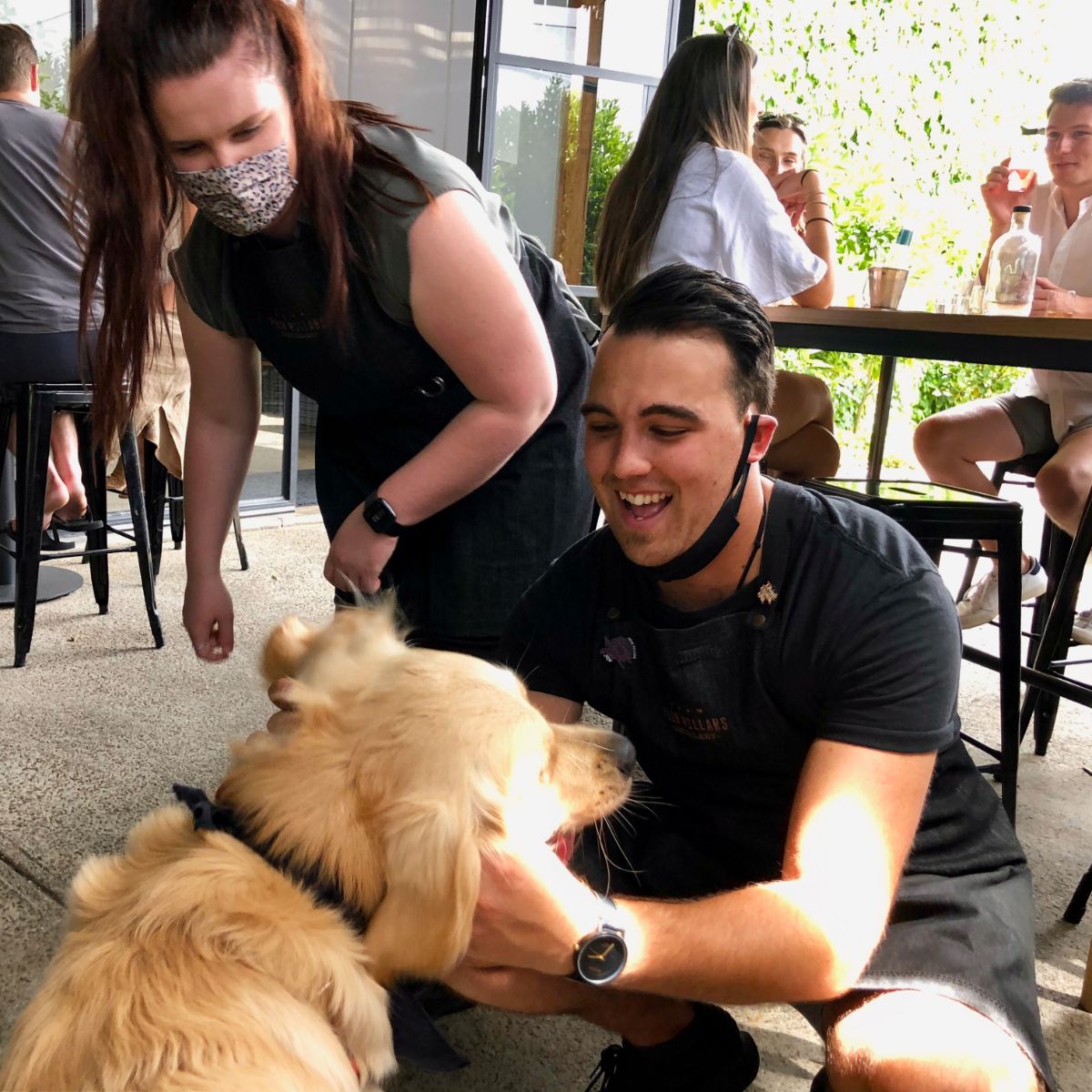 I remembered Lizzie from last visit and I'm pretty sure she remembered me too – look how delighted she is to be giving me a stroke, I clearly made her day, didn't I!?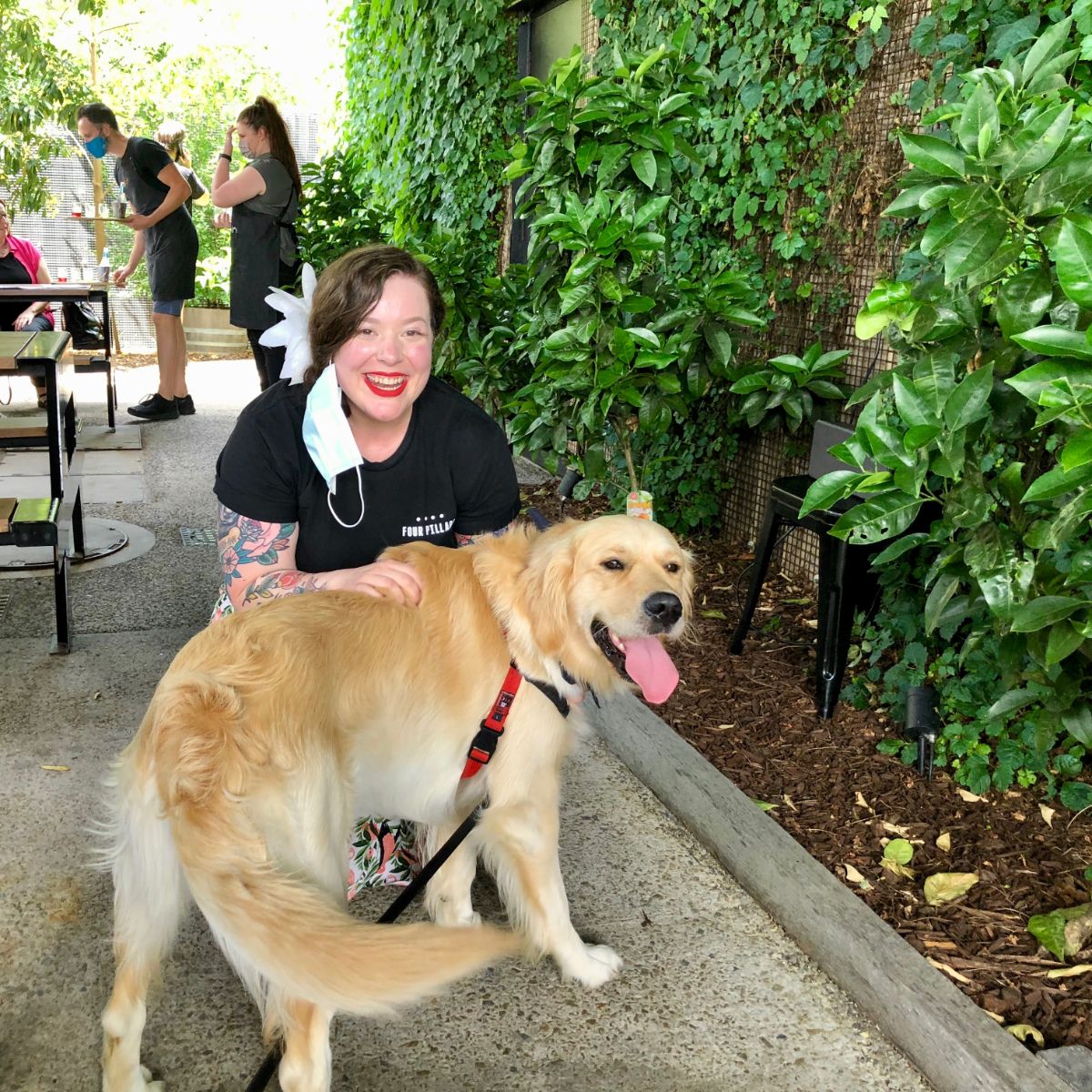 I made furends too with the dog at the neighbouring table – that's what I love about these wine tours, you meet humans and dogs everywhere and they all want to be your best friend.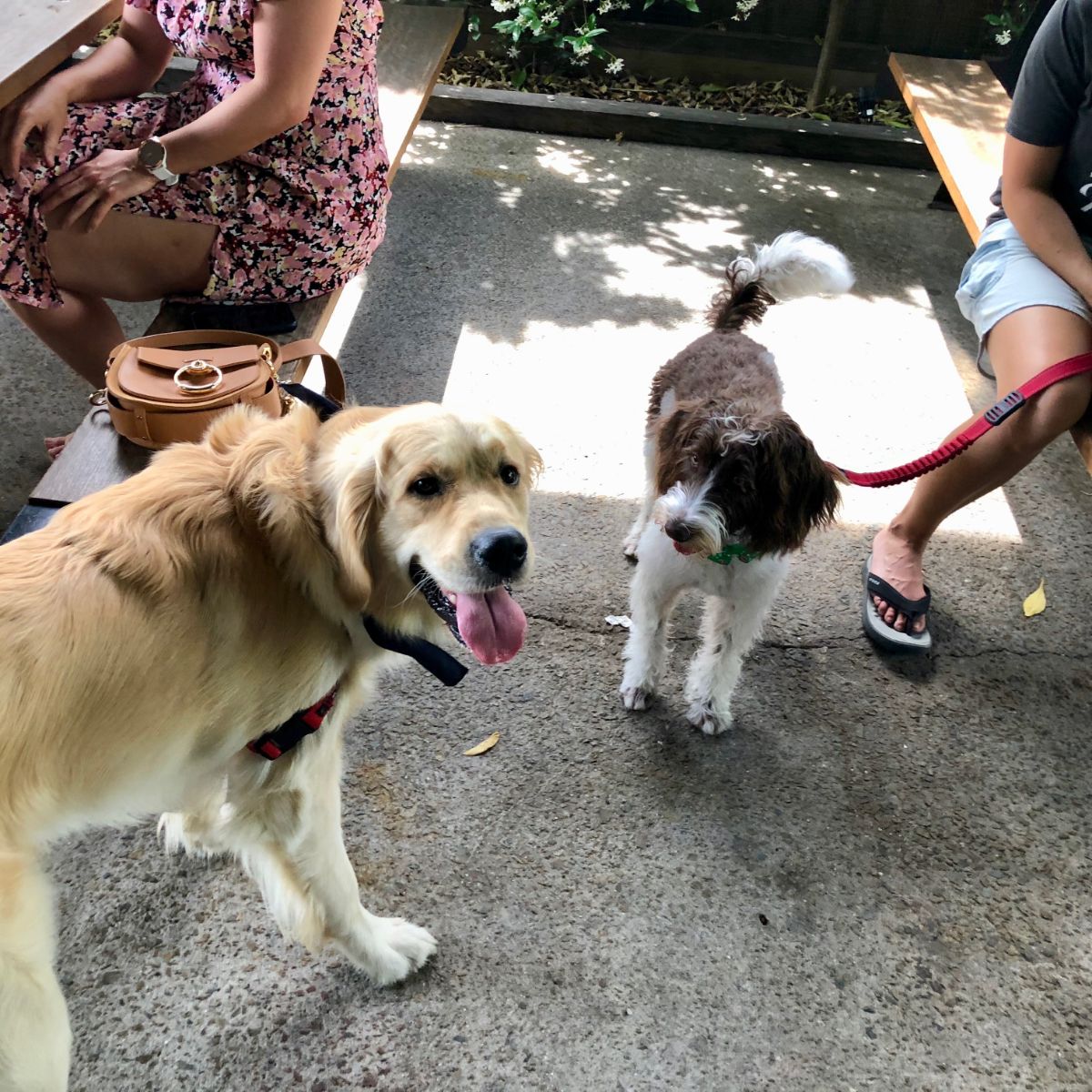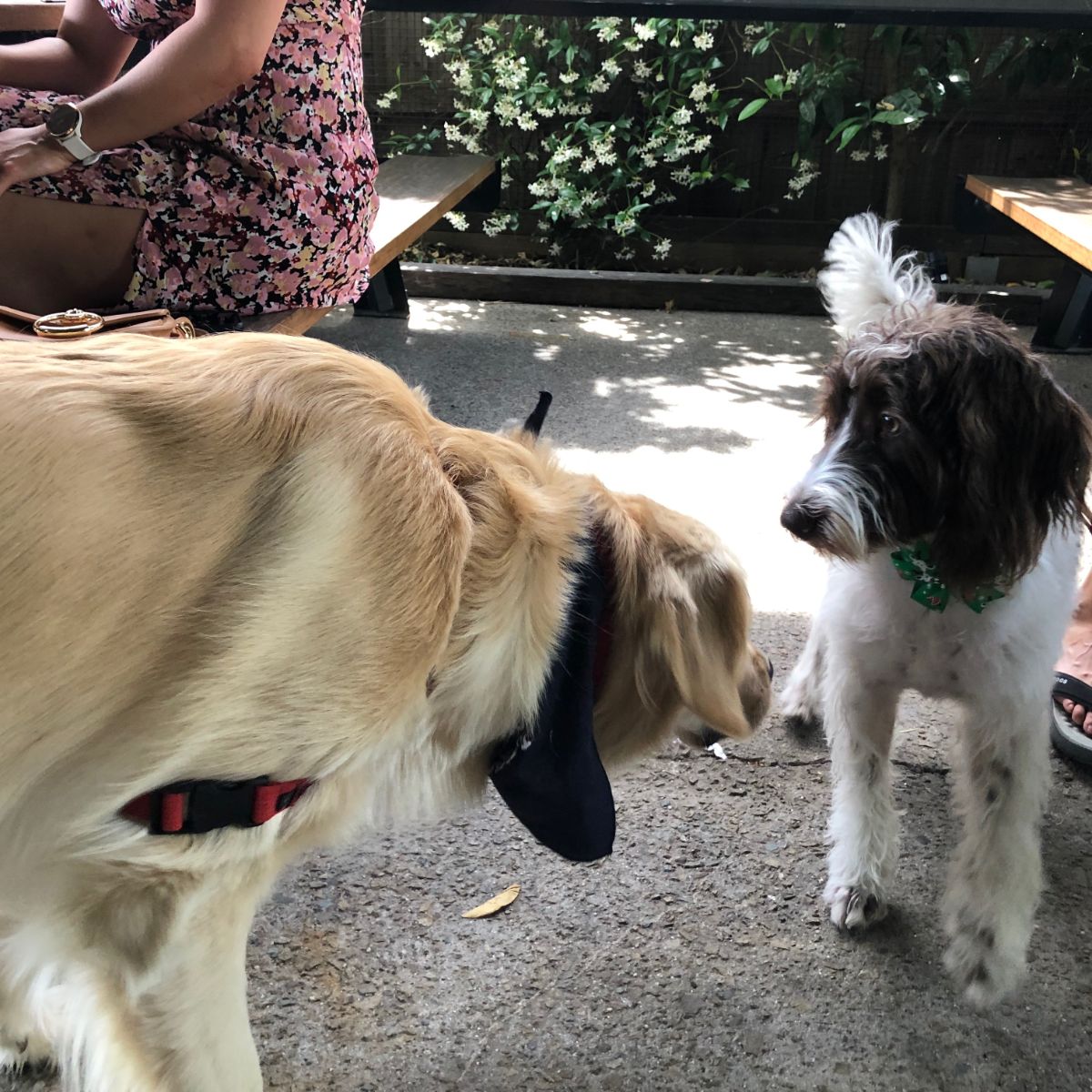 It's so handy that Payten & Jones cellar door is literally opposite Four Pillars, so we didn't have far to walk before we were being adored again and drinking (me water, getting it everywhere and my folks, wine, without spilling a drop)!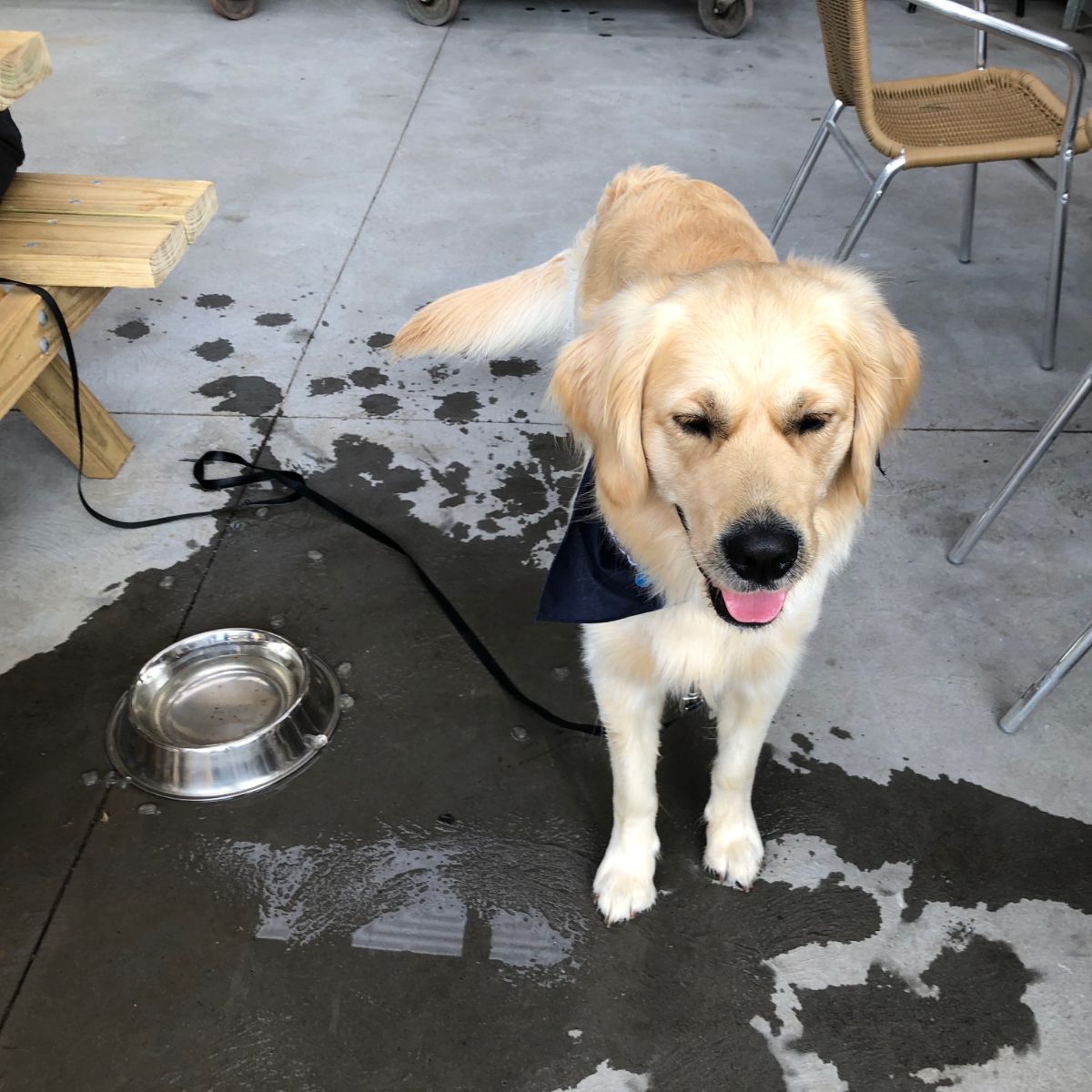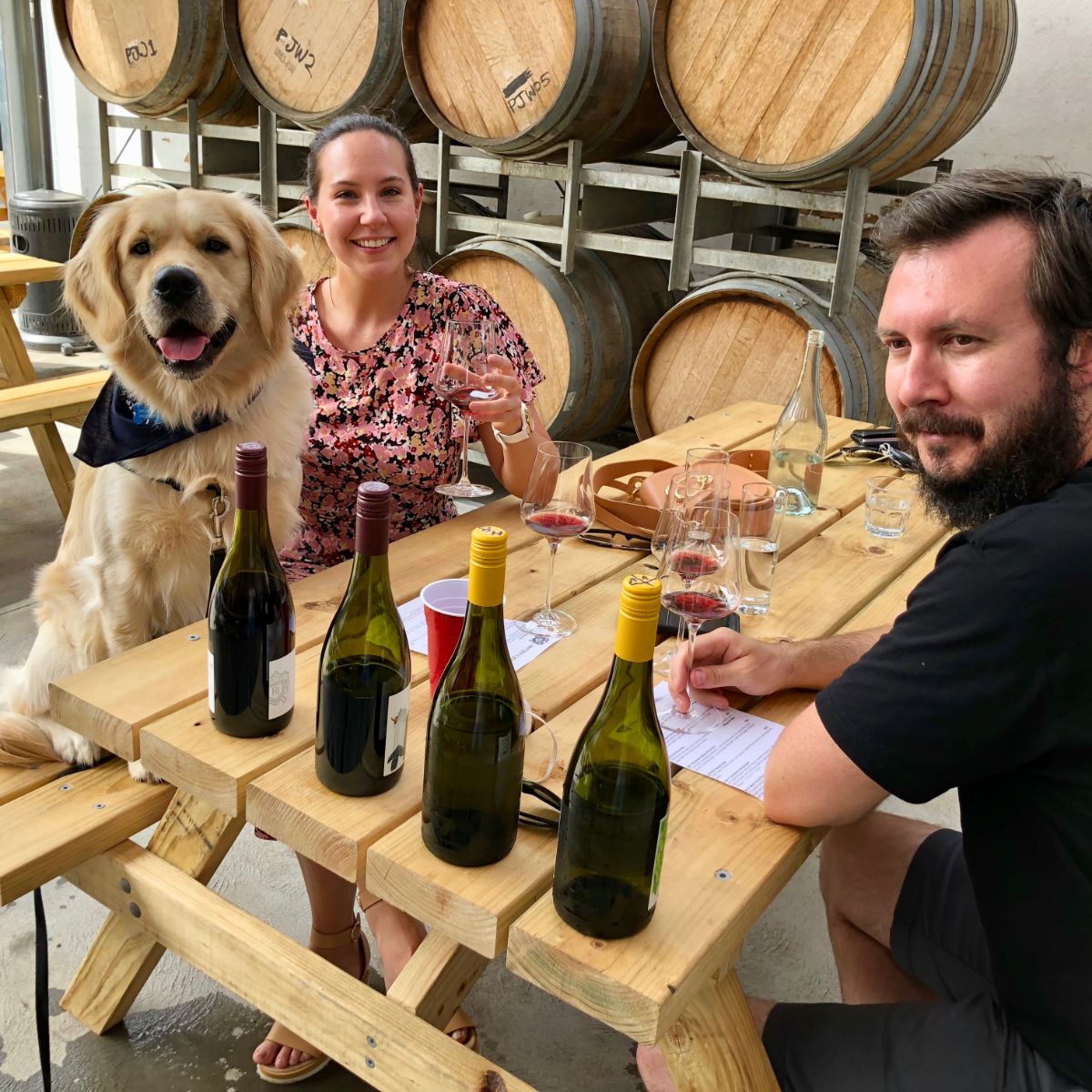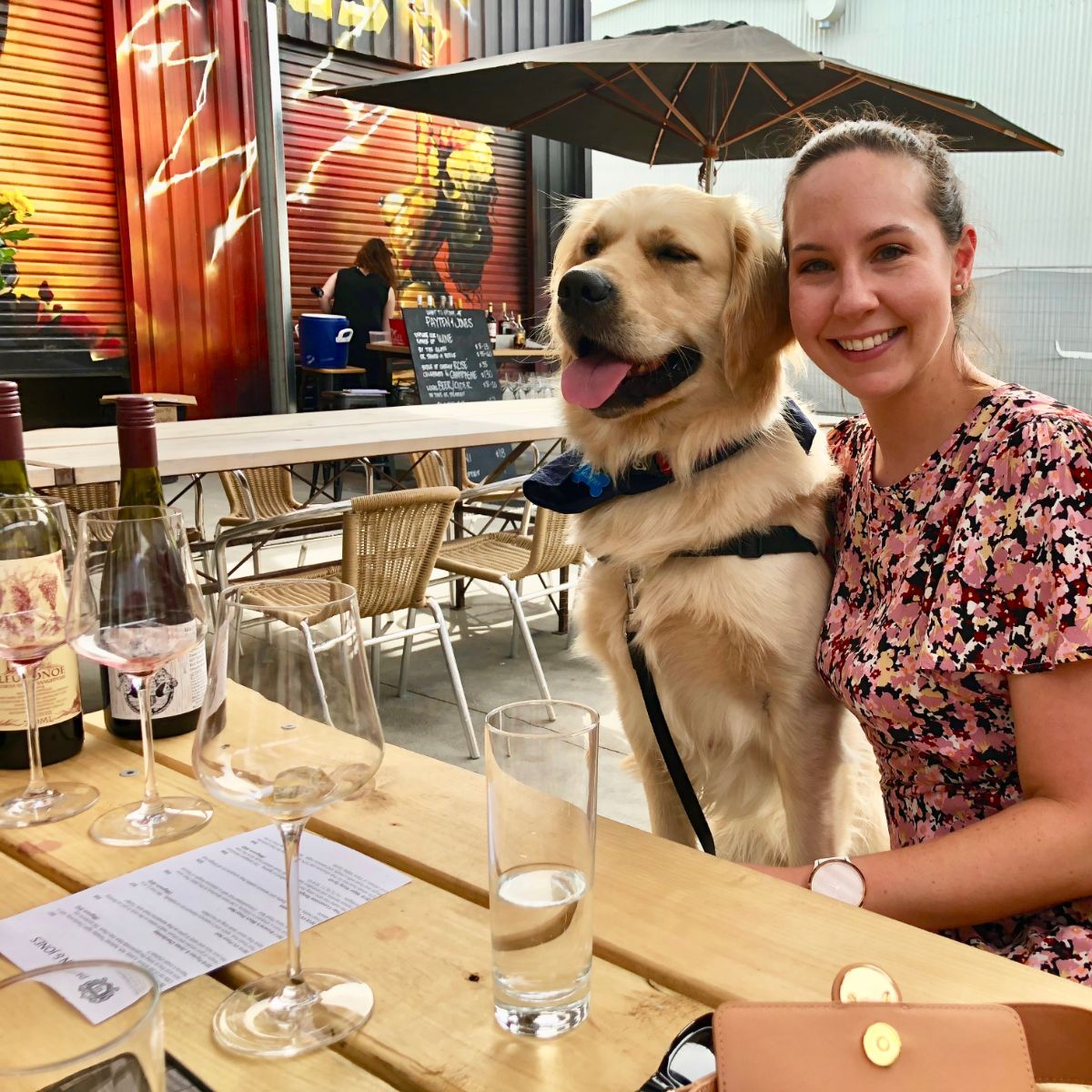 And then the best thing that could possibly ever happen to me – happened to me – some school kids arrived (not for a wine tasting you fools – their parents work here!!) and came straight over for some loving.  They look out for Jeff every day apparently, hoping he'll be here with a tour with dogs on it as they love us doggos so much.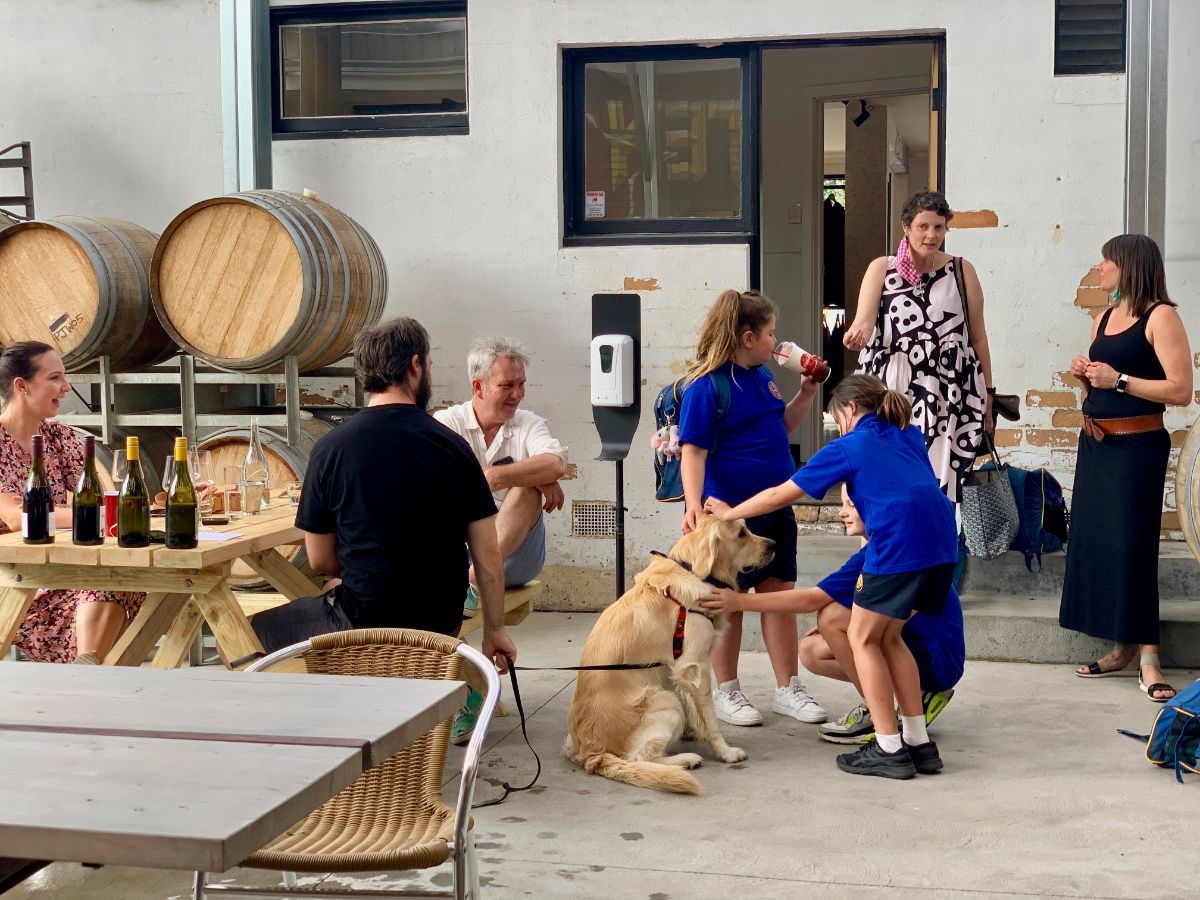 After all the loving I could handle (it's actually surprisingly exhausting being adored) we set off for our last cellar door visit (I know right, it's a lot of visits to cellar doors but my pawrents chose the Dog's Bollocks tour which means you get as many tastings as possible!) and we went to Squitchy Lane and had the place to ourselves which we loved and it was really chilled just gazing out at the view (I was secretly checking for rabbits the whole time) and relaxing and according to my folks, the wines were amazing.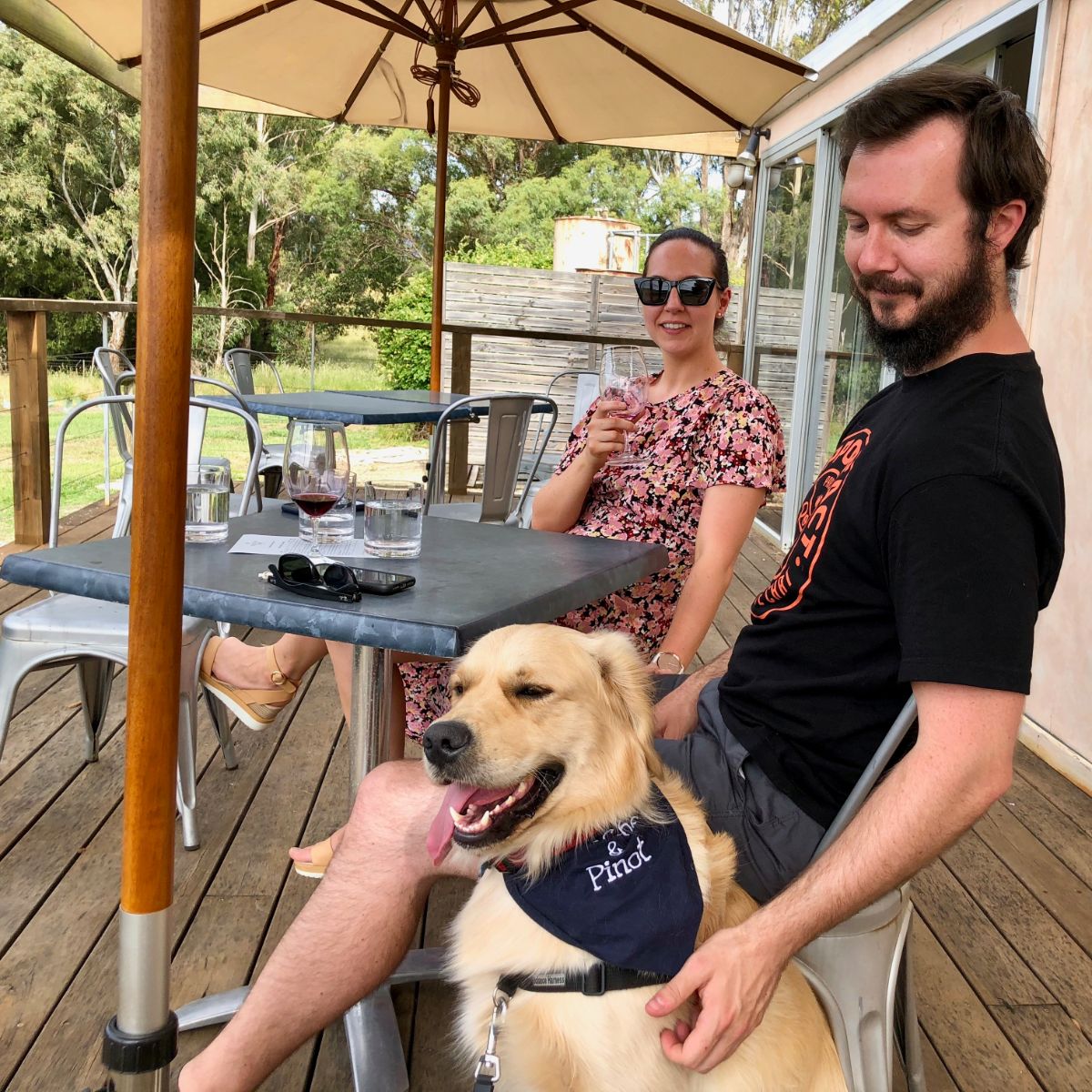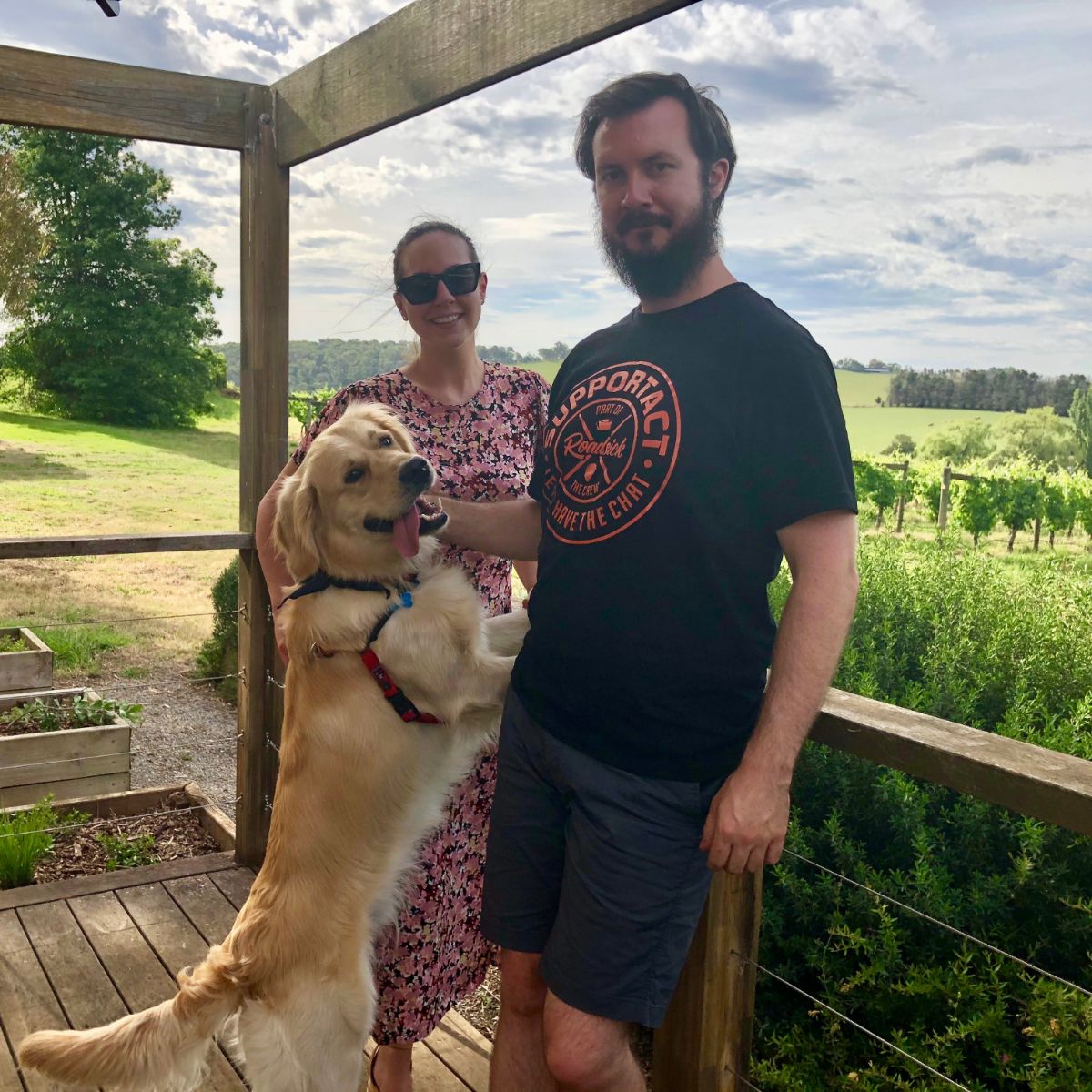 When we got back to Wiggley I hit the wall – I was on my knees – and couldn't even help my folks unload all their purchases – they didn't hold back did they – that should keep them going for at least a week!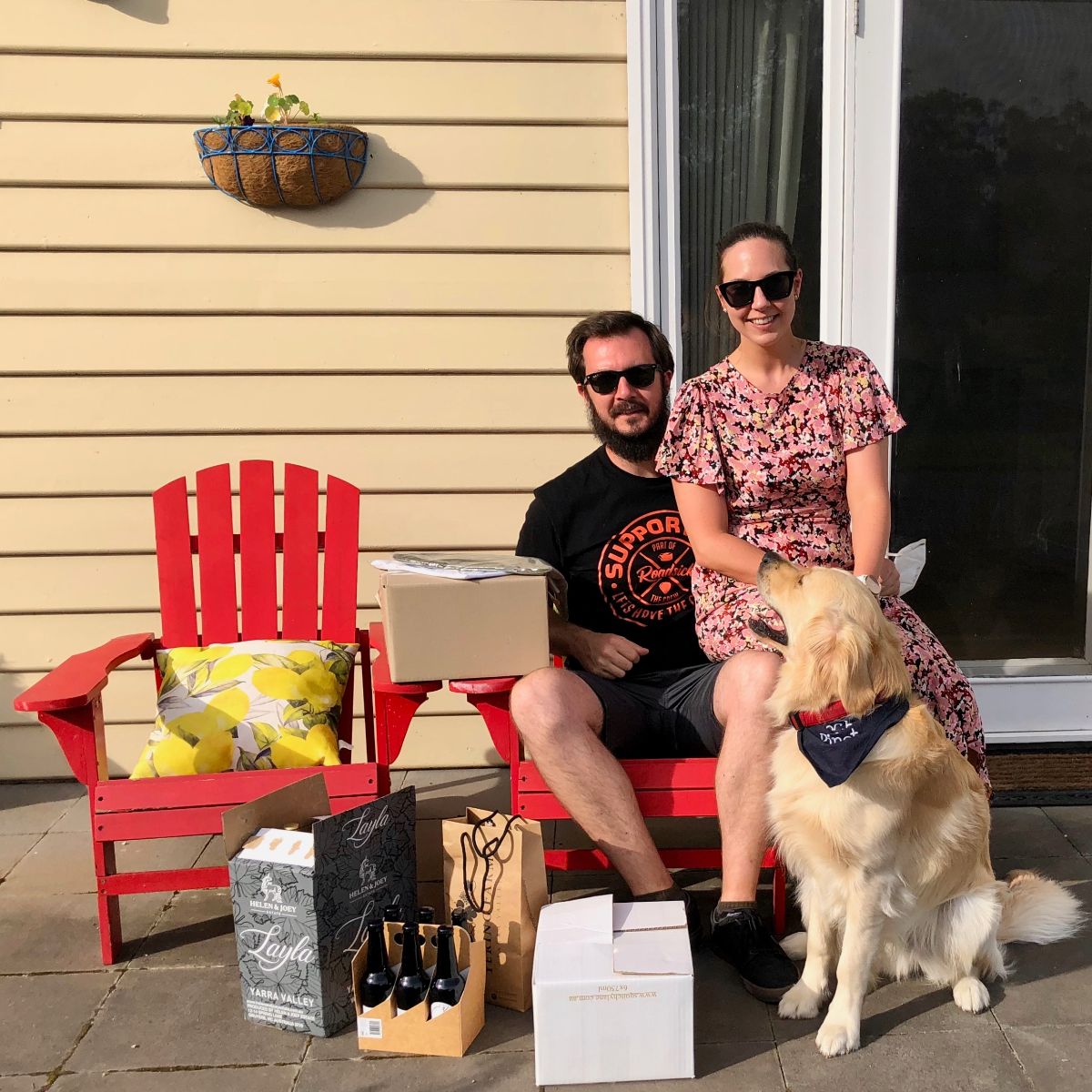 I sat in my super comfy bed in the back of the Mercedes while they unloaded – I'm born for this life I tell you!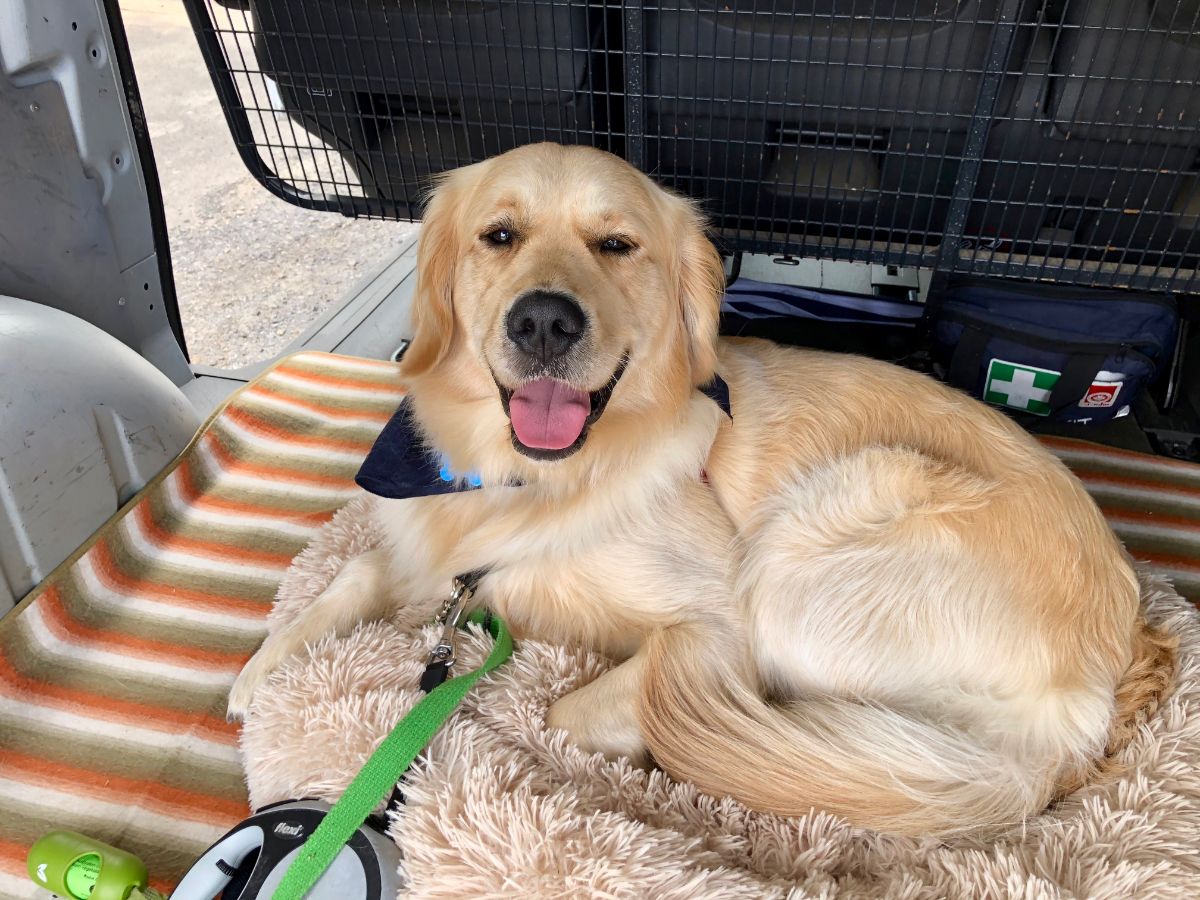 I slept very well and long and hard after our fabulous tour as you can well imagine and I have heard murmurings from my parents that we'll do another one soon – God I hope so, I've so many more friends to make!