I'm Thor, Hear me Roar – actually I'm kidding, I'm Thor God of Thunder but today folks, I'm God of Luuuuuurve.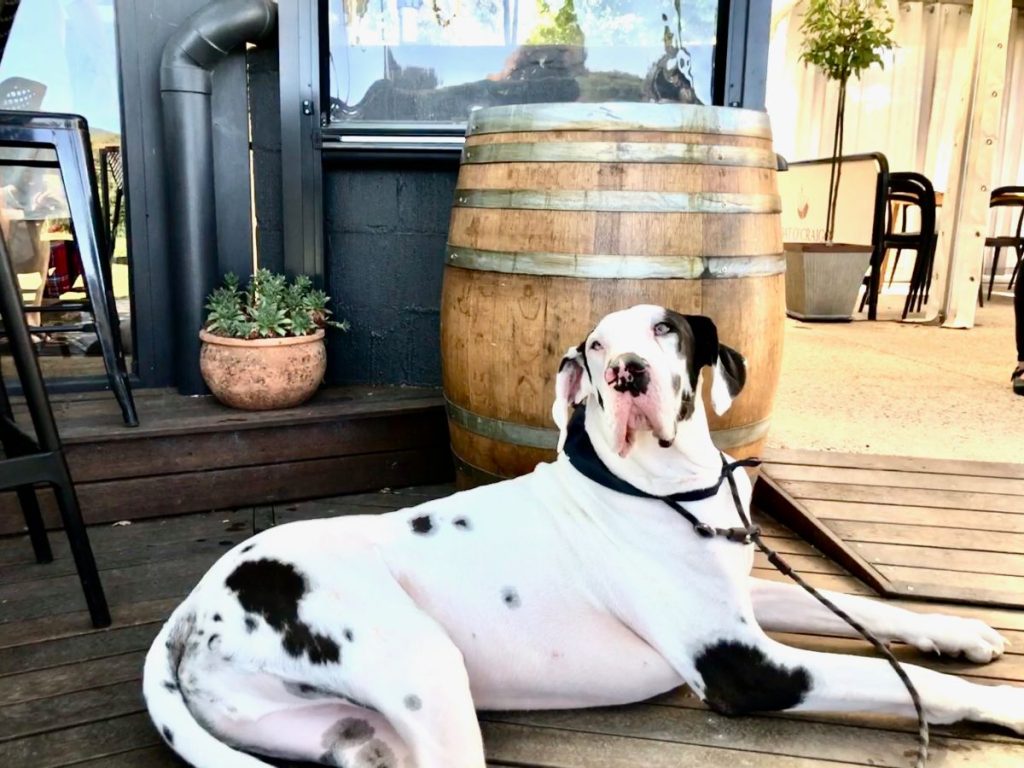 My pawrents Jake & Hayley have been together for over 5 years now, with me for 2 great years, and my baby brother Spooky for 6 months – he was only meant to be visiting us for a while, it was an experiment called 'fostering', but I liked him so much I suggested he stay and now he's a permanent fixture around here.  We make quite the team!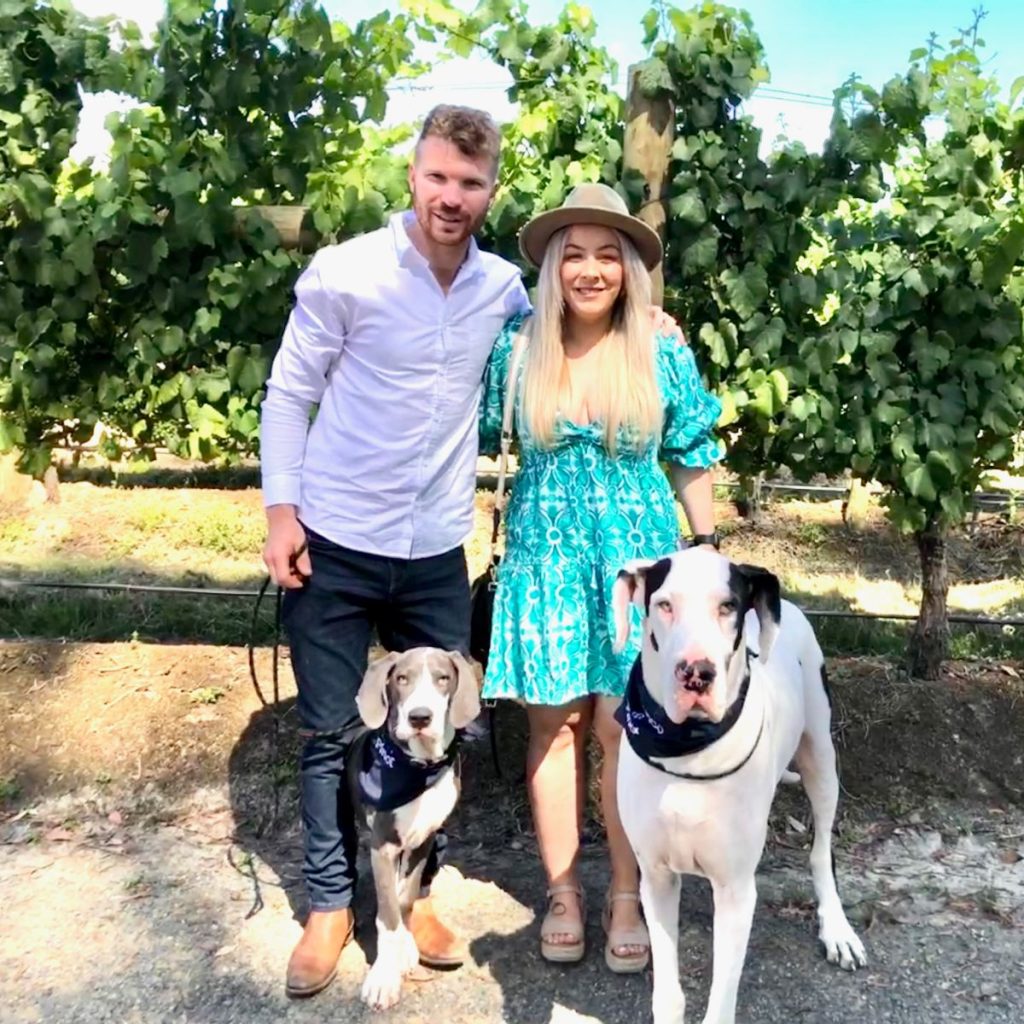 Now, if you ask any of our friends, they would all tell you that Mum & Dad should have got engaged yonks ago, but my dad's a patient man and he was waiting to find the perfect time, place, and occasion – so he and I hatched an elaborate plan.  We decided we'd go to stay as a family in the Yarra Valley and go on a wine tour (the fab kind where Spooks and I can come along too, and be part of the adventure and witness him popping the question).
So we found a brilliant package with a place called Wiggley Bottom Farm which included our wine tour with Pooches & Pinot.  We booked it all in and then got in touch, secretly of course, with Jeff & Helen, the owners at Pooches & Pinot, and plotted how, where, and when Dad could get down on bended knee during the tour and ask Mum if he could make an honest woman of her!
I was SO excited, it was SO hard not to let on that I knew and often I'd go to tell her something and I'd have to stop myself and not even open my mouth to speak, because I couldn't trust myself not to give the whole damn game away!!  Naturally, Dad and I didn't let Spooks in on the secret because he'd have accidentally definitely told Mum immediately by mistake for sure.  No, just Dad and I knew the plan, and we'd occasionally look at one another and grin knowingly!  We're tight, me and Dad.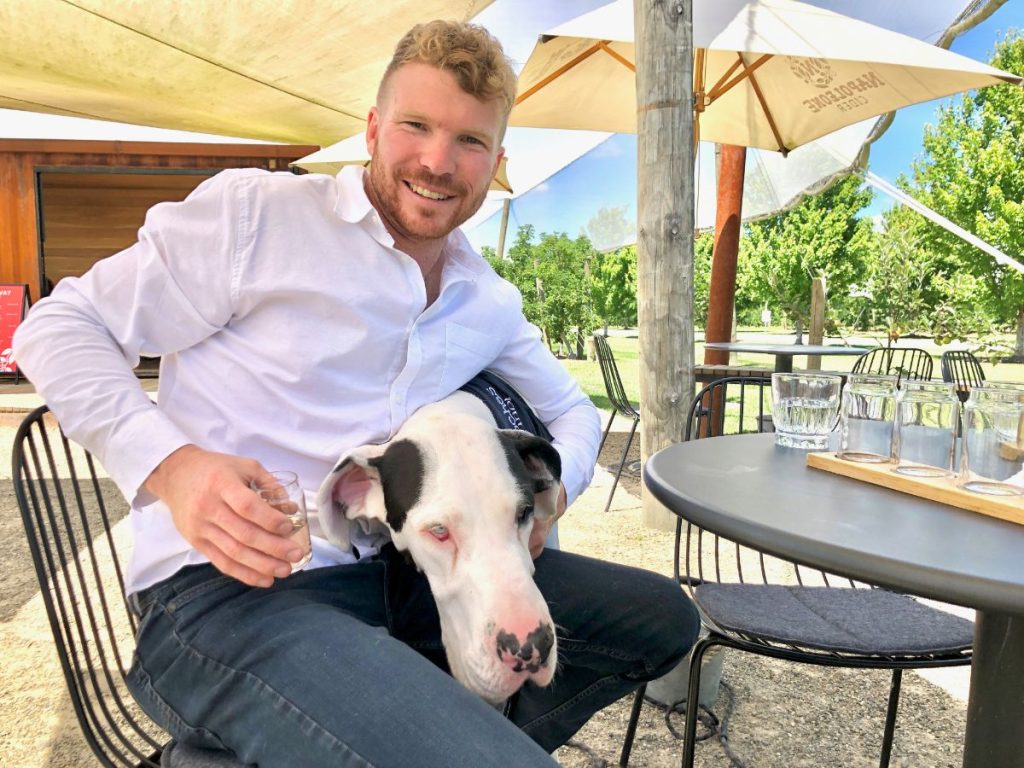 So…we arrive at this amazing place called Wiggley Bottom Farm near Healesville and everything about it is beautiful.  I barely slept that night though, knowing that when I woke in the morning it would be GAME ON.  Lordy, the pressure!!
An early morning communique comes in on Dad's mobile from Helen, Event Manager Extraordinaire, saying 'Have a good breakfast before we collect you, the sun's shining it's going to be a glorious day and Jeff'll collect you at 10am."  I could tell she was subtly fishing to see if Dad'd popped the question yet!
Jeff (the Ultimate Wing Man) rocks up at 10am and he and Dad instantly hit it off – I know that Dad knows he is in capable hands.  Spooky and I are given smart navy bandanas to dress up in, ready for official photos and comfy brand-new beds to lie on in the van (Mum, they are from PETstock, just saying).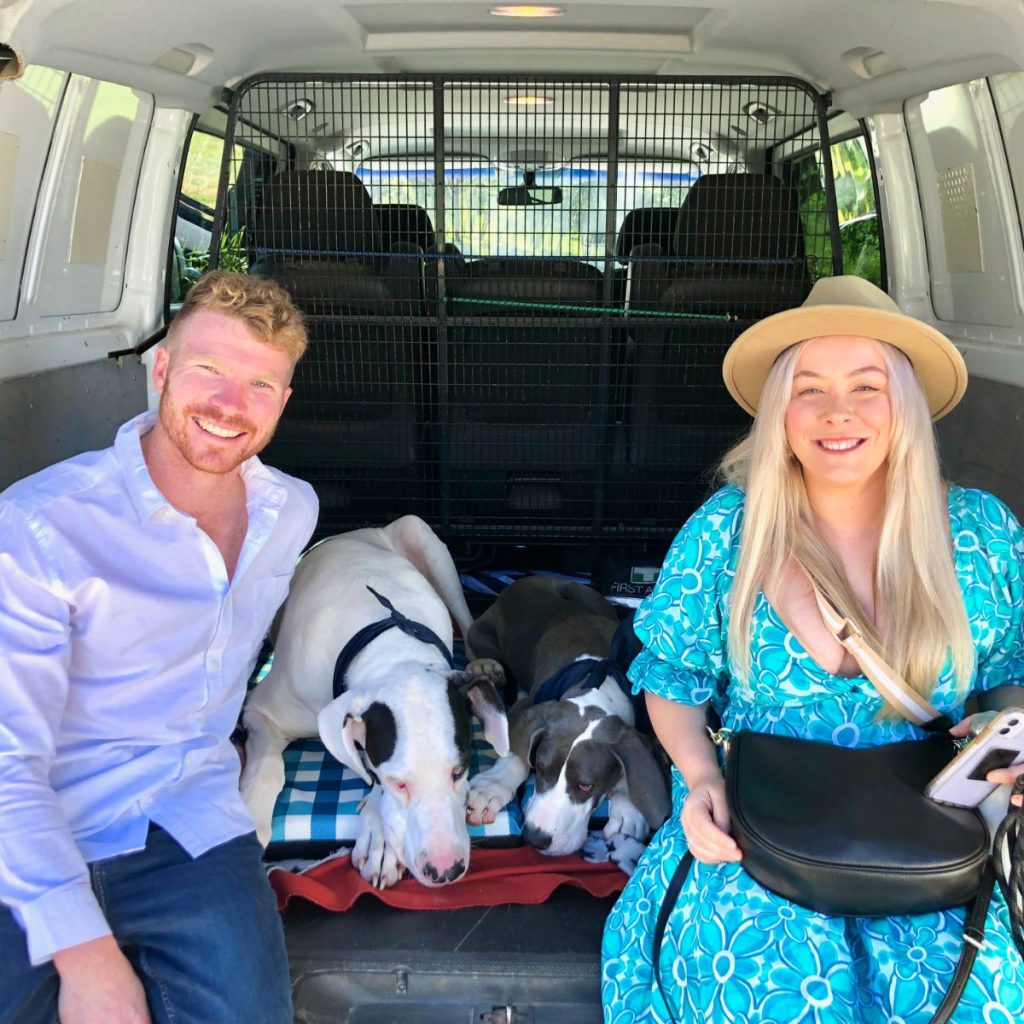 Unbelievably there's more than enough room for my brother and I in the Pooches Mercedes Vito, and I'll tell you something for nothing, it sure beats the heck out of being squeezed into Mum's minuscule Toyota Yaris – just imagine it!!
Mum & Dad get into the back seat and find treats and a fridge full of cold drinks waiting for them and we set off to our first winery, all of us wondering (except Mum and Spooky) will this be 'the place'?!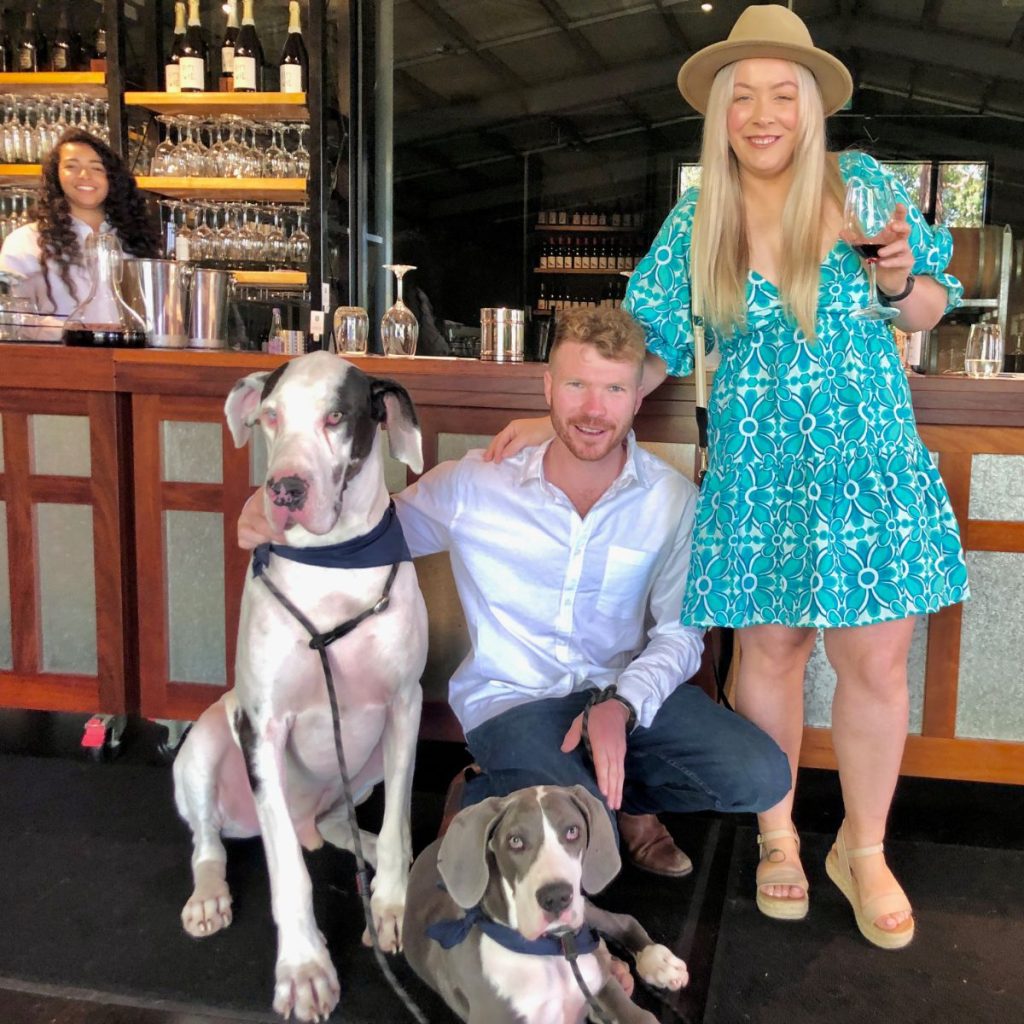 We are welcomed inside Helen's Hill cellar door and Mum & Dad have a sensational wine tasting and by the end of the tasting they are mixing cocktails blending a sparkling wine and the brachetto (!) which worked so well Dad bought a bottle of each, to try and recreate it back home!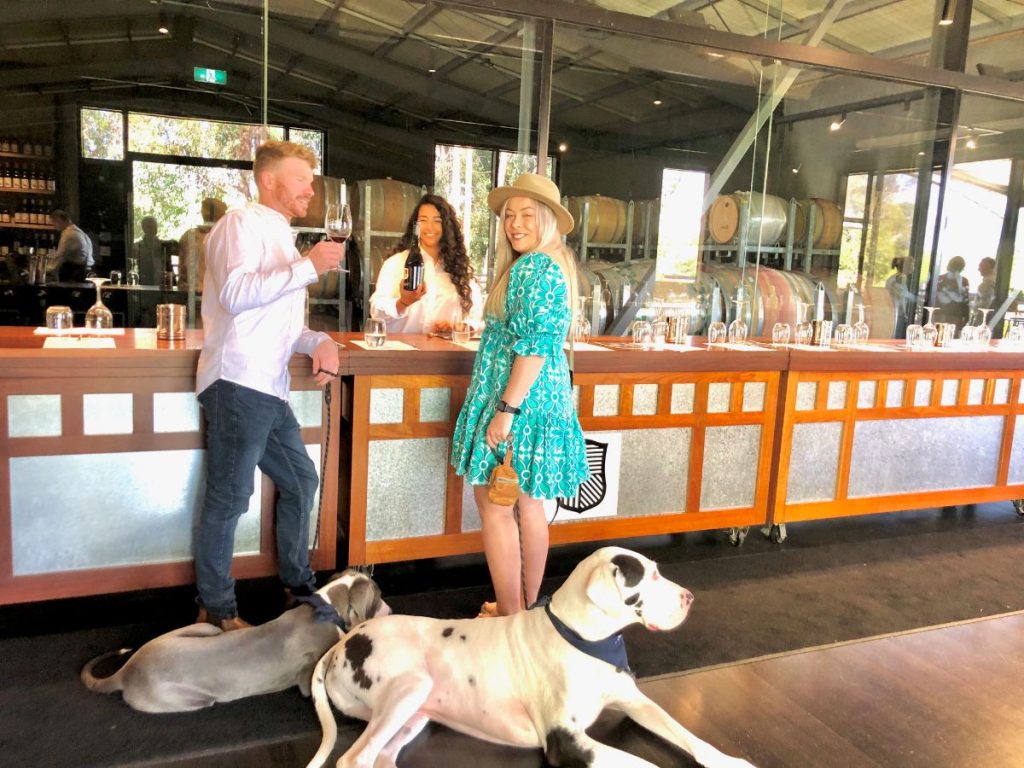 Spooky and I did a great job of being adorable to act as a decoy, so Mum would be waylaid talking to people who were fawning all over us – giving Dad and UWMJ (Ultimate Wing Man Jeff) the opportunity to have a quick tactics talk!  Finer details of the historic event are finessed and agreed and we all climb back into the van, to set off in search of a thirst-quenching cider on this hot summer's day.
Jeff took us to a pop-up cider bar set in the grounds of Punt Road winery surrounded by apple orchards, called Napoleone where a lovely man called Rob who runs the joint was very taken with us.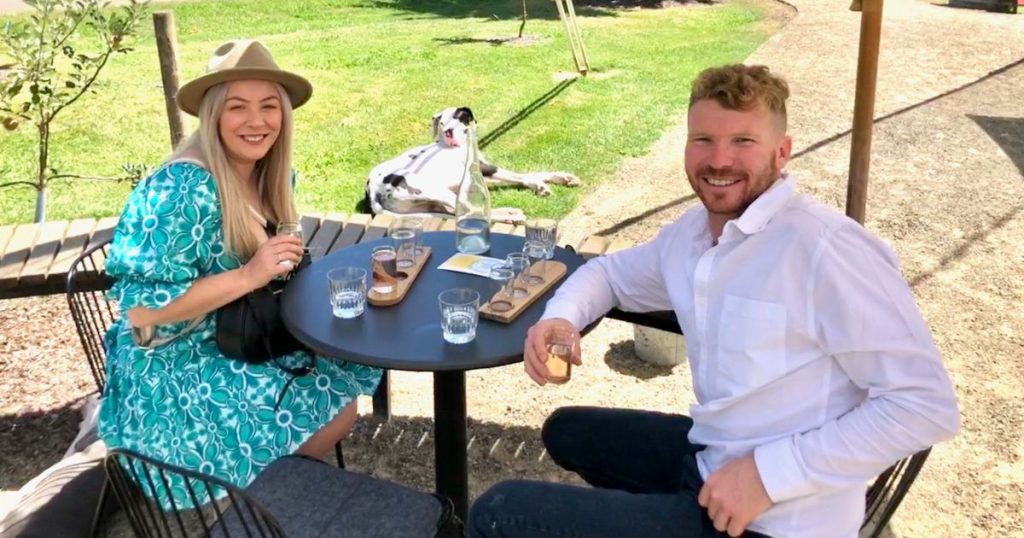 He told Mum & Dad all about how the different ciders they were about to try were made, which Dad lapped up (both the cider and the information) – god he just LOVES hearing about how things are made and could have happily stayed there all day asking questions, but after they'd finished their tasting paddle each and decided which ciders to buy, we set off once again in the van – I could sense it, 'the moment' was drawing ever closer.
We pull in at Greenstone Winery – a place now forevermore etched into our memories.  It's a stunning setting, with a large covered deck overlooking rows of vines for miles with mountains as the backdrop and Jeff shows us to our table.  And then suggests to Mum & Dad they take their chardy (which has just been poured for their tasting), and us pups, and go for a wander in the vines, while he prepares our grazing share platter.  And I distinctly notice him giving Dad a nod and a wink.
By now I'm so nervous I can barely breathe or get my legs to work, Spook on the other hand is happily oblivious and having a ball, loving every new smell – ah the innocence of youth!
Then – and you couldn't write this if you tried – a stroke of genius on Mum's part – she feeds Dad the most perfect line ever, as she looks out at the view saying 'You know this would make a great spot for a wedding.'  I nearly let out an involuntary squeaky bark it was SO perfect.  And Dad just smiled calmly, went down on one knee and said 'Funny you should say that…Hayley will you marry me?'  Mum guffawed and said 'Oh stop messing around' at which point Dad produced a sapphire ring out of nowhere and she cried.  As did I.  The relief was insane!!  And how clever is my Dad that it matched her dress!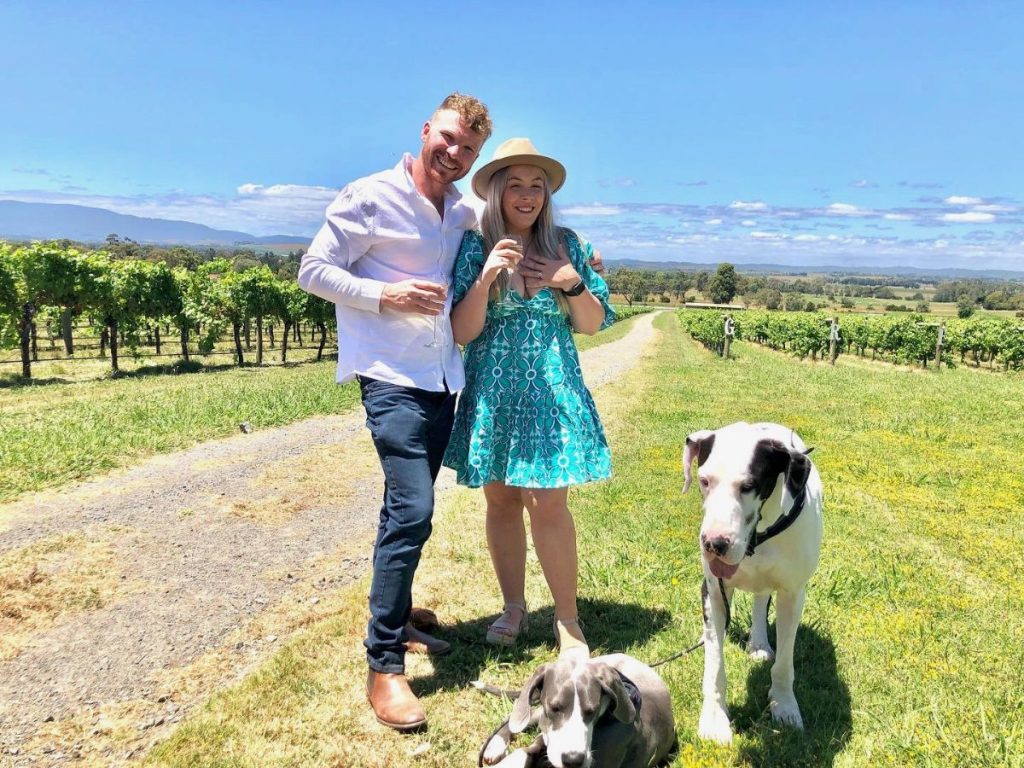 As we turned to walk back towards the cellar door, who is walking towards us but UWMJ carrying a tray with two flutes of champagne, at which point Mum realises that HE has also been in on it the whole time too and accuses him of being a man of rather dubious character with unmarried parents!  She says odd things like this sometimes when she gets excited.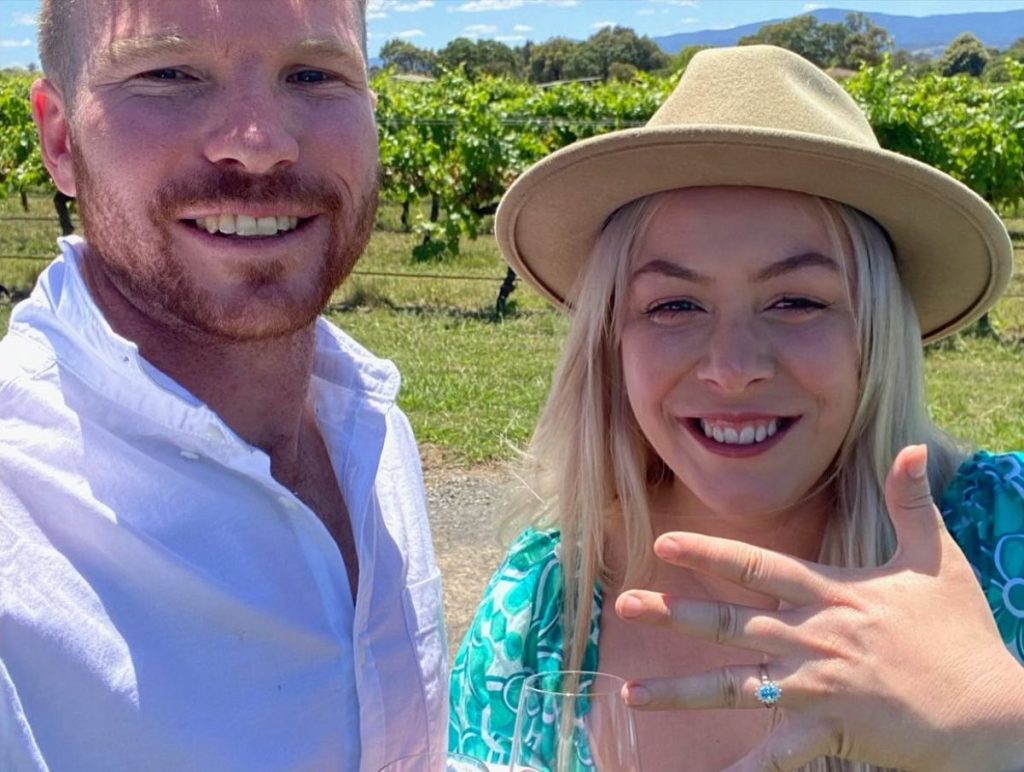 As we came back to our table on the deck everyone congratulated us, staff and other patrons alike – they had all been made aware and had been watching the proceedings with excitement too!  Naaaawwwww.  I couldn't stop grinning.
UWMJ had prepared a fabulous platter full of all Mum's favourite things to eat and we all tucked into lunch.  Well, I looked on at the platter longingly but even tho it's called a sharing platter, Mum & Dad weren't sharing!  So I quietly 'made do' with scrumptious Laila & Me treats, thanks to UWMJ!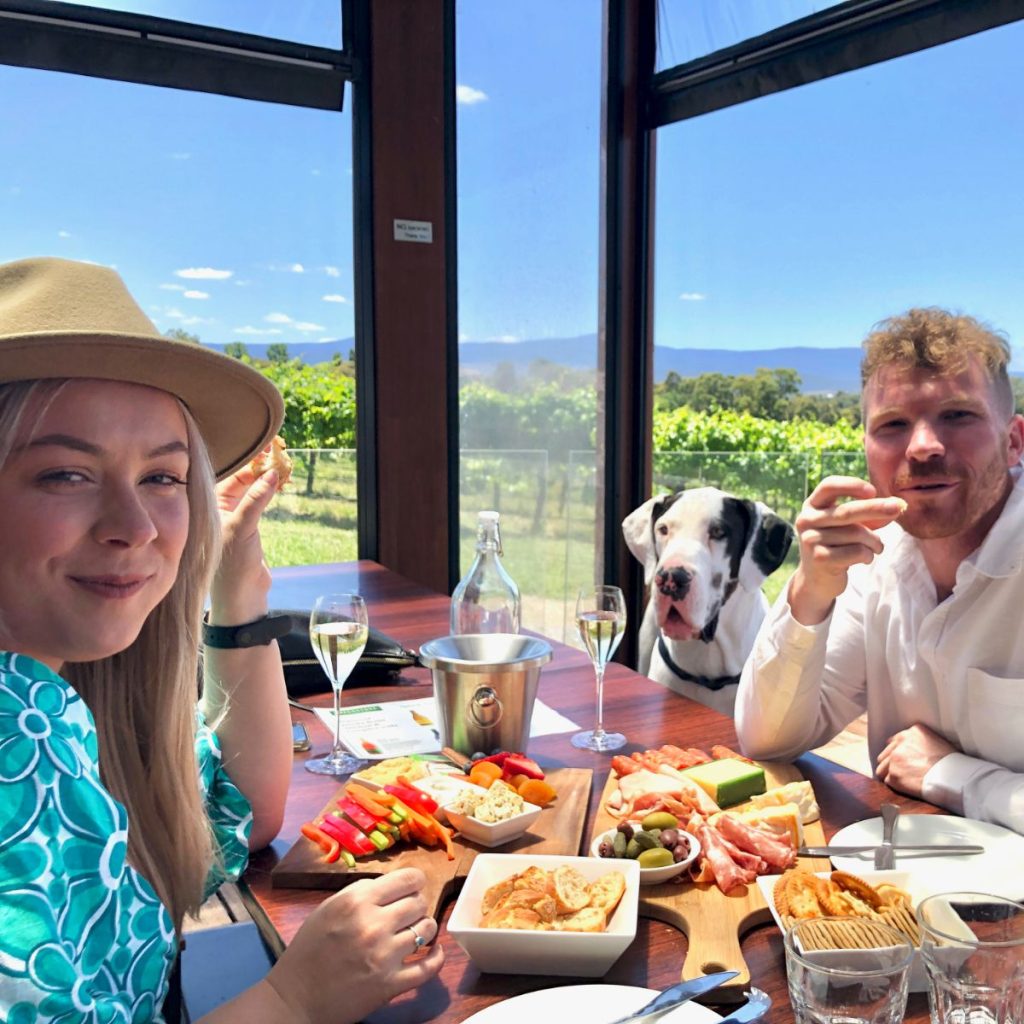 Speaking of sharing, Mum couldn't wait to share her exciting news with family and friends and the phone calls began.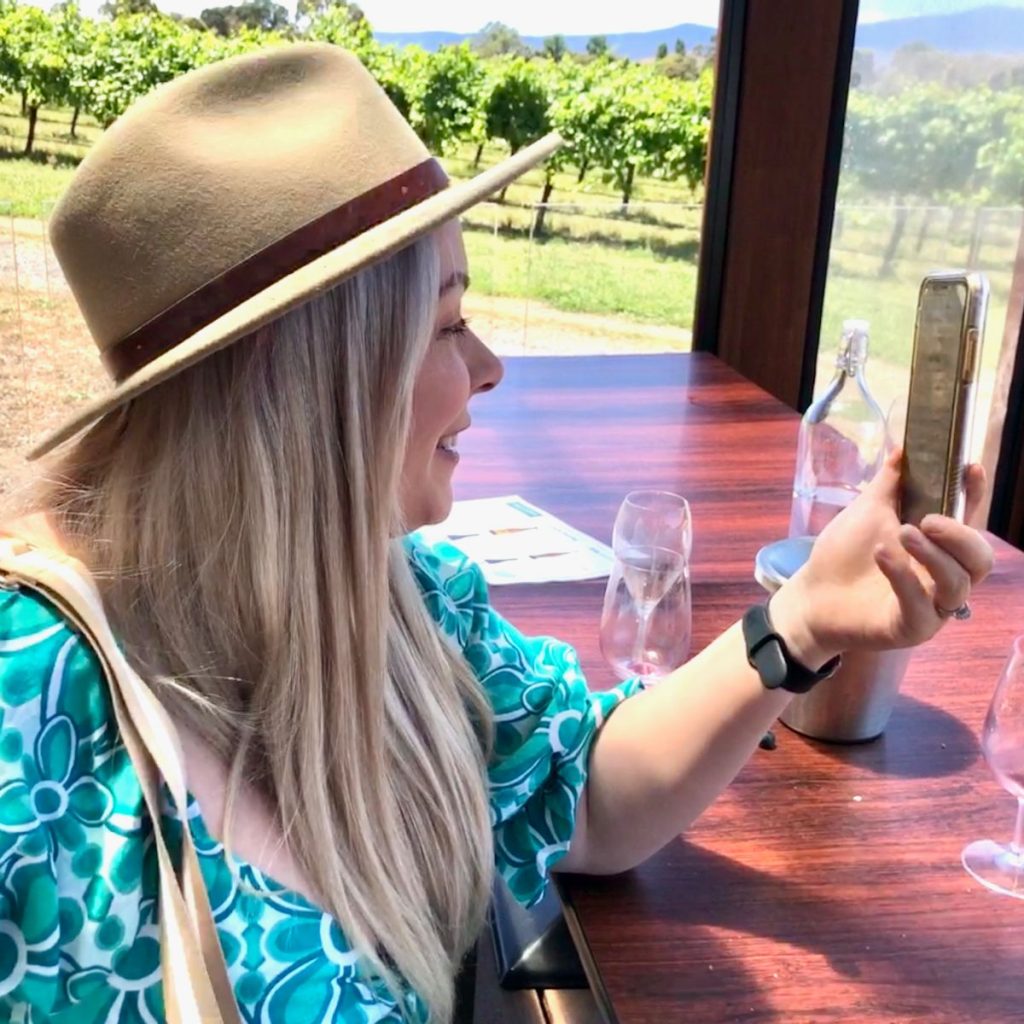 Not owning a mobile myself, I'll have to wait til I get to the park to let my mob know.  Dad, clever as ever, bought a bottle of Greenstone's Gusto Frizzante for them to enjoy on their first anniversary – a reminder of the fizz Jeff had brought them, moments after she'd said 'YES'!  People who say romance is dead haven't met my Dad!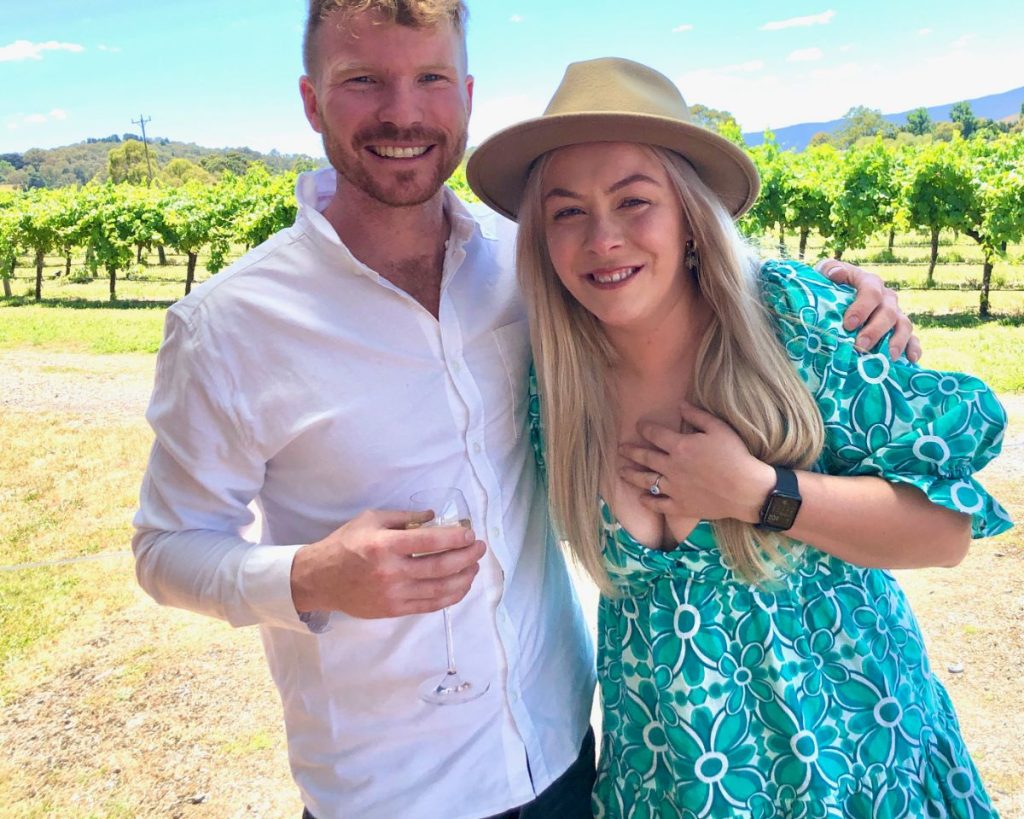 Time now to jump back in the van and enjoy the rolling hills and incredible countryside as we drove over to Healesville.  UWMJ really had arranged the best weather and scenic route and we all fell in love (it's a bit of a theme today) with the Yarra Valley.
So we rock up at Payten & Jones and we walk in and are greeted by a surprised-looking Jamaican dude called Ovarn and Jeff said 'I've brought you a couple of small puppies today!'  He loves dogs so we made his day!  All the staff and other guests drinking wine thought we were fabulous too and we received LOTS of pats.  Mum & Dad loved the wines while we loved having a rest and Spook lay under the table; he was beginning to tire a little in the heat and after all the excitement – it's a big day out for our young pup.  By the way – check out how tiny the Large size bandana is on my neck!!  Mum's finding it funny too!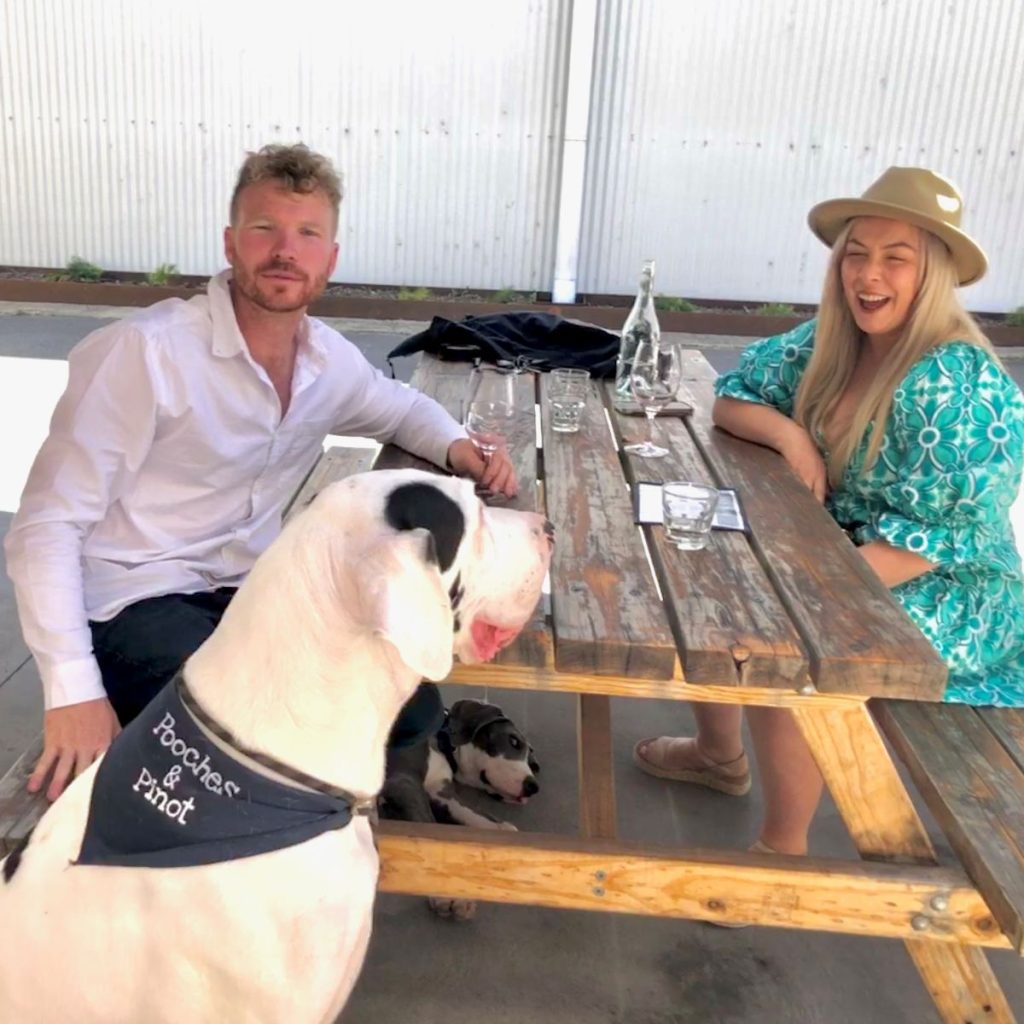 Our last winery to visit was Boat O Craigo – where I lay regally in the way by a wine barrel – it has stunning views out over their vines and Mount Riddel nearby.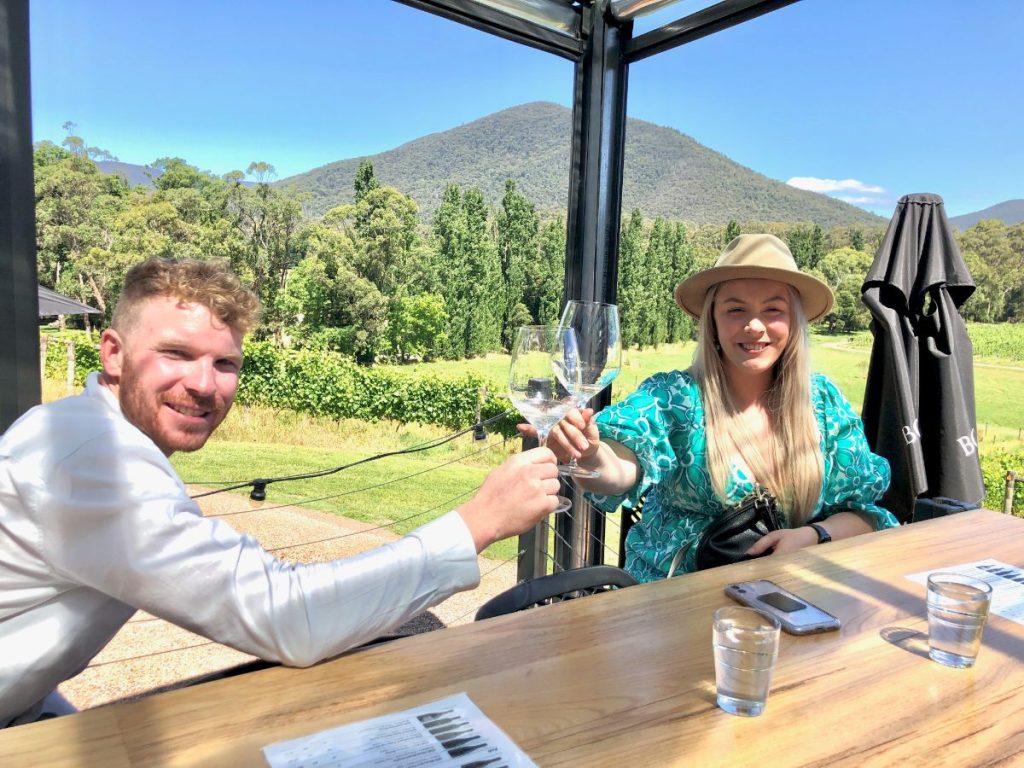 Heather looked after our tasting and gave my pawrents extra wines to try and they particularly loved the sparkling shiraz.  Look at them – aren't they just the BEST couple!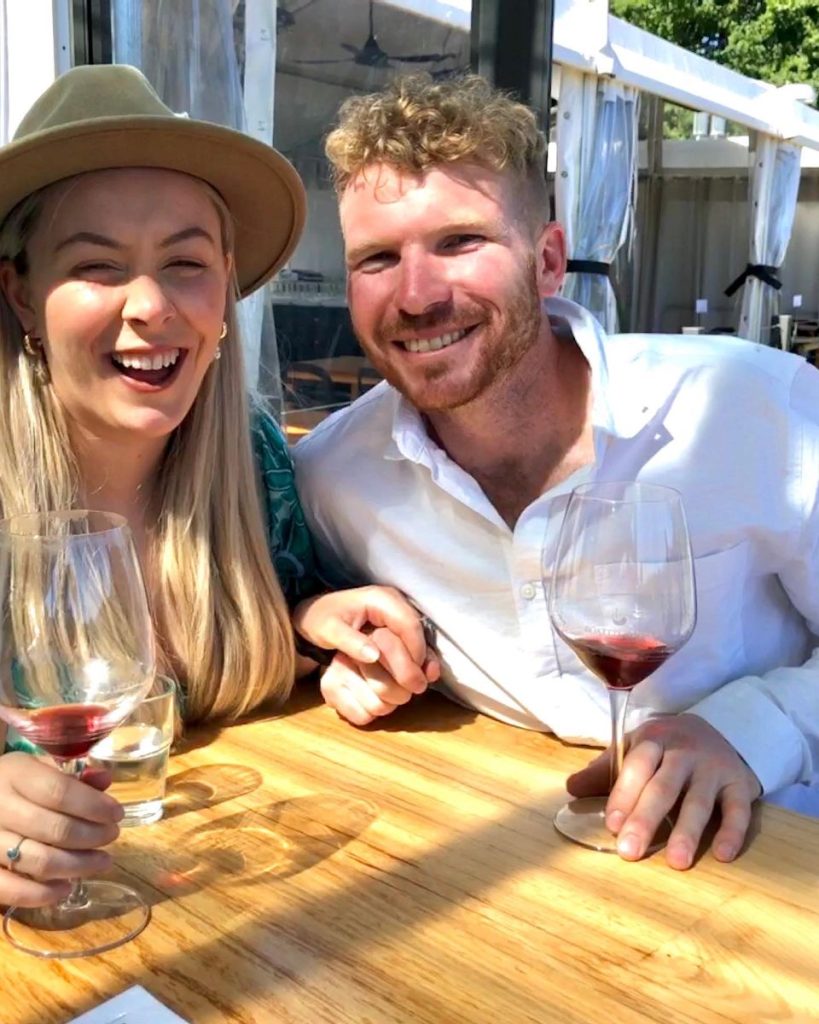 It was now time to start making our way back to our accommodation, and Mum & Dad did a spot of cheese shopping en route with UWMJ as their personal shopper at a lovely deli in Healesville's Main Street called Kitchen & Butcher while I offered to stay in the van and mind Spooks.  They thoughtfully left the engine running with the air con on for us.  And yes, I was tempted to take the Merc for a bit of a spin and Spooks was totally up for it, egging me on saying "How will they ever find out? C'mon bro, cut some laps around the town, they'll never know."   But, as the grown up, I decided to play it safe, after all I didn't want to upstage my pawrents on this their special day!
UWMJ drove us back to our amazing apartment at Wiggley Bottom Farm where we unpacked all the alcohol/purchases we'd made throughout the day.  We were all feeling a little tired, some of us even perhaps a little squiffy, and then UWMJ only goes and presents Mum & Dad with a bottle of fizz with a cute little congrats note hanging around its neck and a card he and Hels had written for them (so yup, she'd been in on it too!!).  Dad then bought a CD of Jeff's new album, as it turns out he's a muso like my Dad!!!
There were big hugs all round as we said our goodbyes and we're so glad we found this dude to help us plan and execute he pawfect tour and way for my pawrents to FINALLY get engaged!  Way to go Mum & Dad – way to go!