Well hello there viewers, Milo here, how are you all? Here's a picture of me (the handsome one on the left) and my very elderly brother (from another mother) Max. He's what we politely refer to as the 'senior' member of the family – he's nearly 11 which is EXTREMELY old and means he basically sleeps a lot.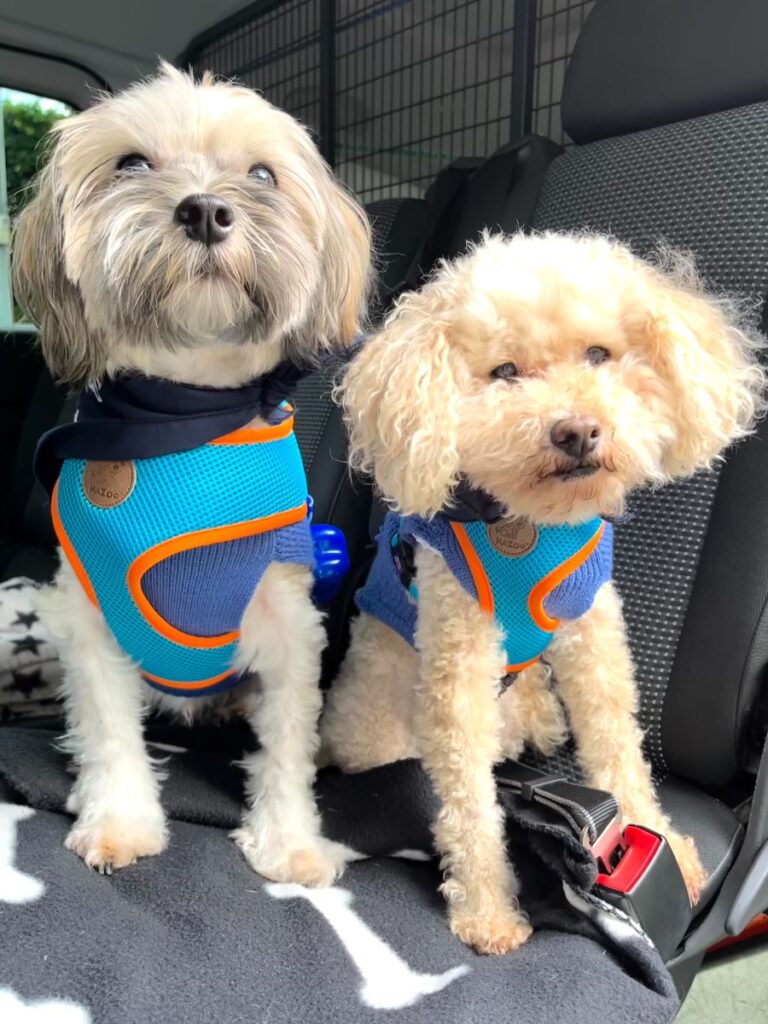 We're down visiting Melbourne – a big city we've never been to before. We're from near Sydney, so we came in the car on a HUMUNGOUS road trip, via another big city called Canberra. We brought our pawrents Mark and Natasha because they are better drivers (Max is way too old to take the wheel these days I'm afraid, and I frankly, I think 'Why have staff and then drive yourself!'
So on that very subject, when we got to Melbourne we hired a new staffer for the day, called Helen from Pooches & Pinot and she drove us around an area called the Yarra Valley and showed us a good time. She had a big van we all jumped into and we loved it, as we got to sit on Mum and Dad's knee!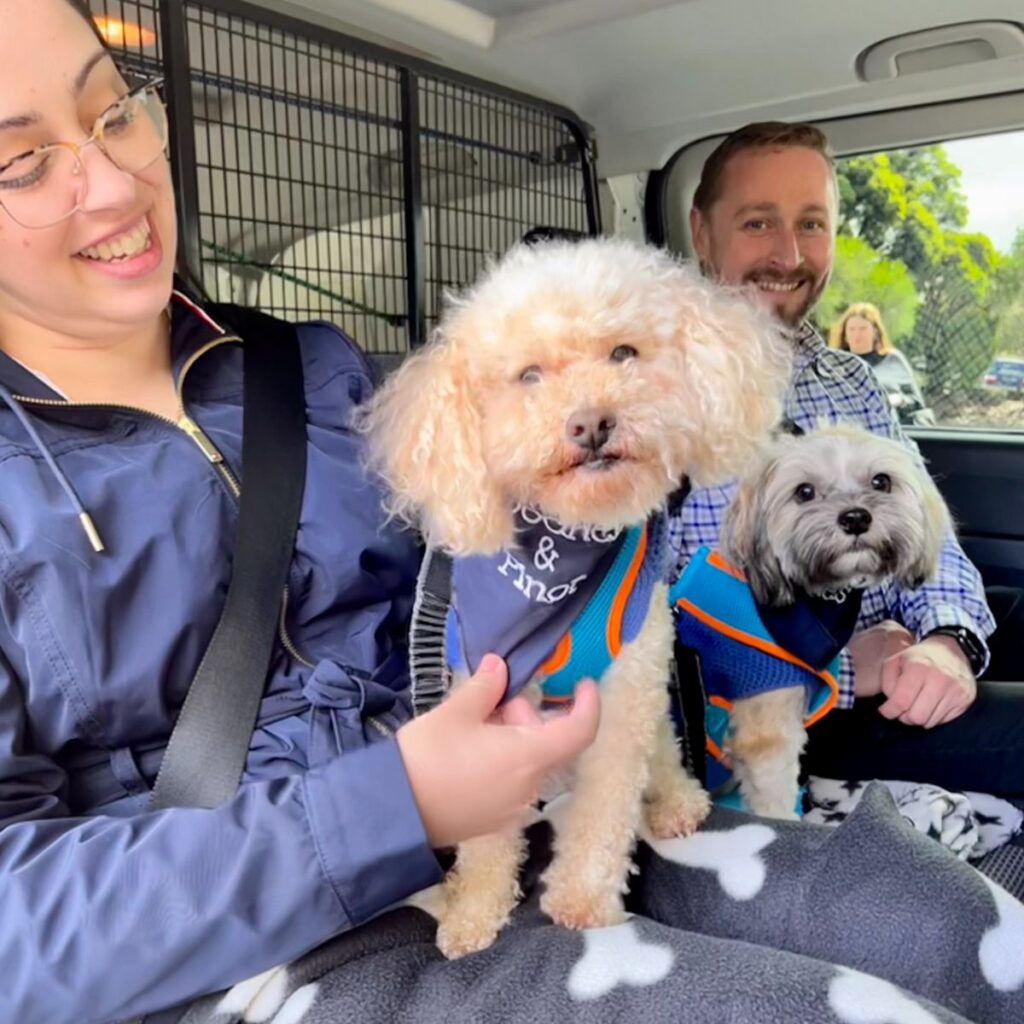 Our brief to this Helen chick was simple enough, we wanted: grass to wee on (and loads of it), gourmet treats to scoff down (and loads of them), new people to have pats from (at every place we visited) new outfits to wear (noting we look particularly good in navy), plus we wanted our pawrents to totally kick back and chill for the day (because they do this thing called 'work' nearly every day and boy does it make them tired) and we wanted them to drink this stuff they love called 'wine', which makes them go all smiley. They also seriously love food, especially together with the wine stuff, so Helen was the pawfect lady to help us, as she did a whole day-long tour where they got food and this wine drink at every place she took us to and we got the wees, treats, pats and cute navy bandanas. Win win all round. Really quite brilliant.
At the first place we went to, while Max and I scampered around weeing on the lawn and exploring all the smells, the pawrents were fed four different pastry things with four different wine things.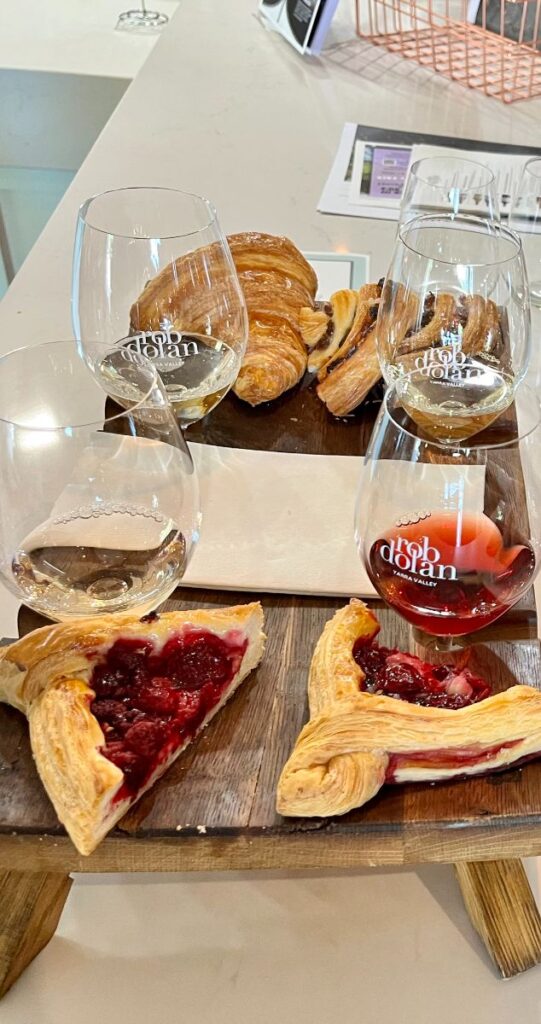 And when we'd finished exploring, (we took Helen with us on the end of a lead) we came and sat with them, hoping some pastry things would fall our way, which they didn't, but fortunately, Helen made up for it with some treats from her pocket. Look at my Mum & Dads' smiles – that's the wine stuff doing its thing already and it's only 10.30am!!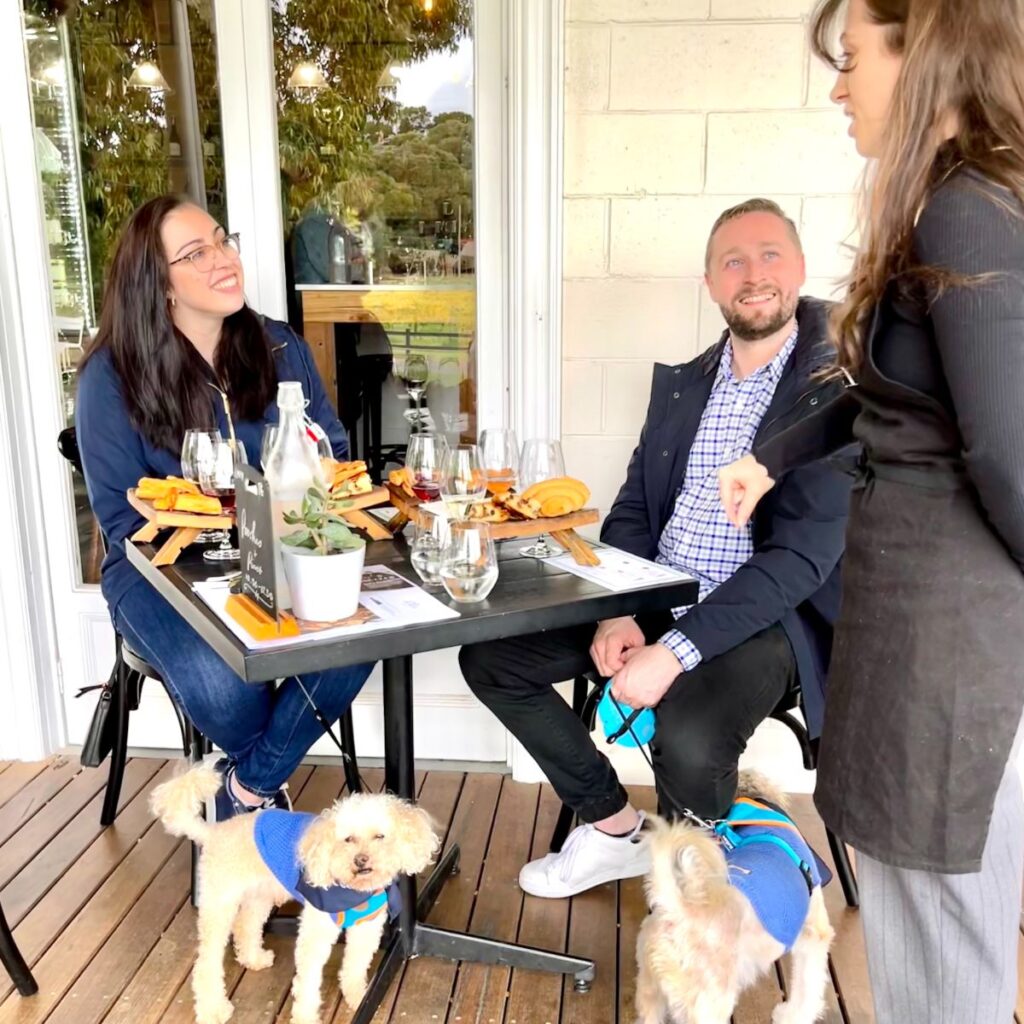 After the brekkie place we set off cross country to another wine place where we met some doggos who would you believe, were also paying a staffer to take them out for the day – they were schnauzers called Oli and Oskar. Their staffer was called Jeff and he just happens to live with Helen! I know, I was amazed at the coincidence too!
We sat near the schnauzers and stared at them for half an hour while their pawrents and our pawrents drank the wine stuff and ate something called home-made charcuterie. Clearly Dad liked it because he forgot to leave any for Mum, who had to make do with some cheese and the occasional olive! Here's me sticking my tongue out at Oli & Oskar. They thought I was terrific.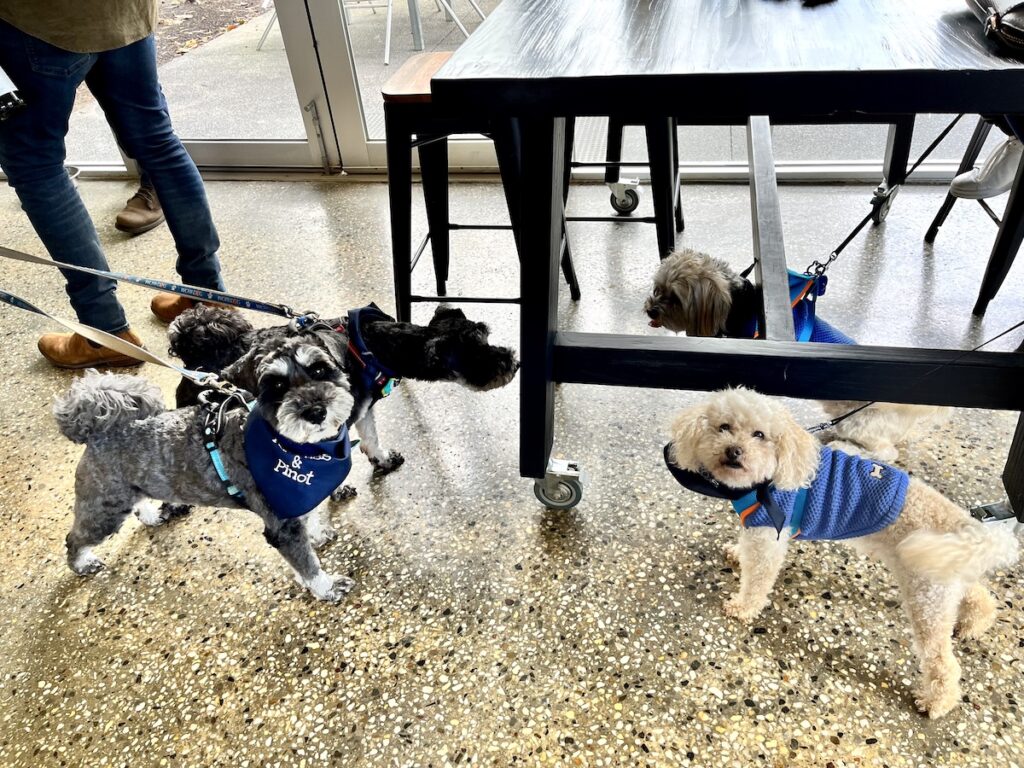 The chap who gave my pawrents all the different wines to drink was called Charles and turns out he owns the joint! He was a super nice cruisy chap and my pawrents liked talking to him about the wine stuff. I learnt heaps about grafting new stock onto old, ripping out vines due to phylloxera and all sorts of other technical stuff about clones. Turns out the bloke's also a magician; he takes a bunch of grapes and seconds later turns them into the wine stuff. Crazy shit!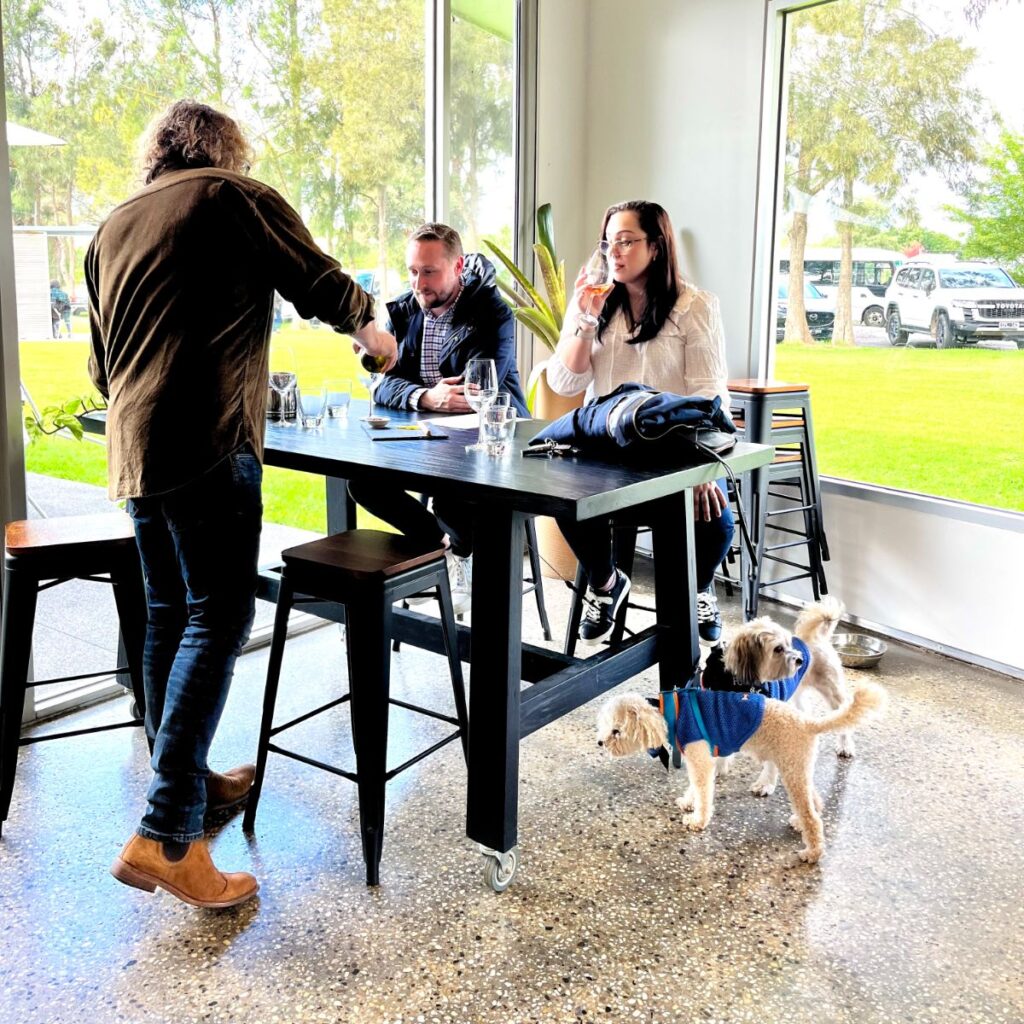 Next stop – lunch. Great news, as Max and I were in need of some more treats. We went to a cool place called Steels Gate and sat under a table on a deck with other dogs and their owners (one barked at me, but I ignored it and refused to stoop to that kind of behaviour) and Helen brought beds and blankies for us to snuggle into and a packet of gourmet liver treats. She's good!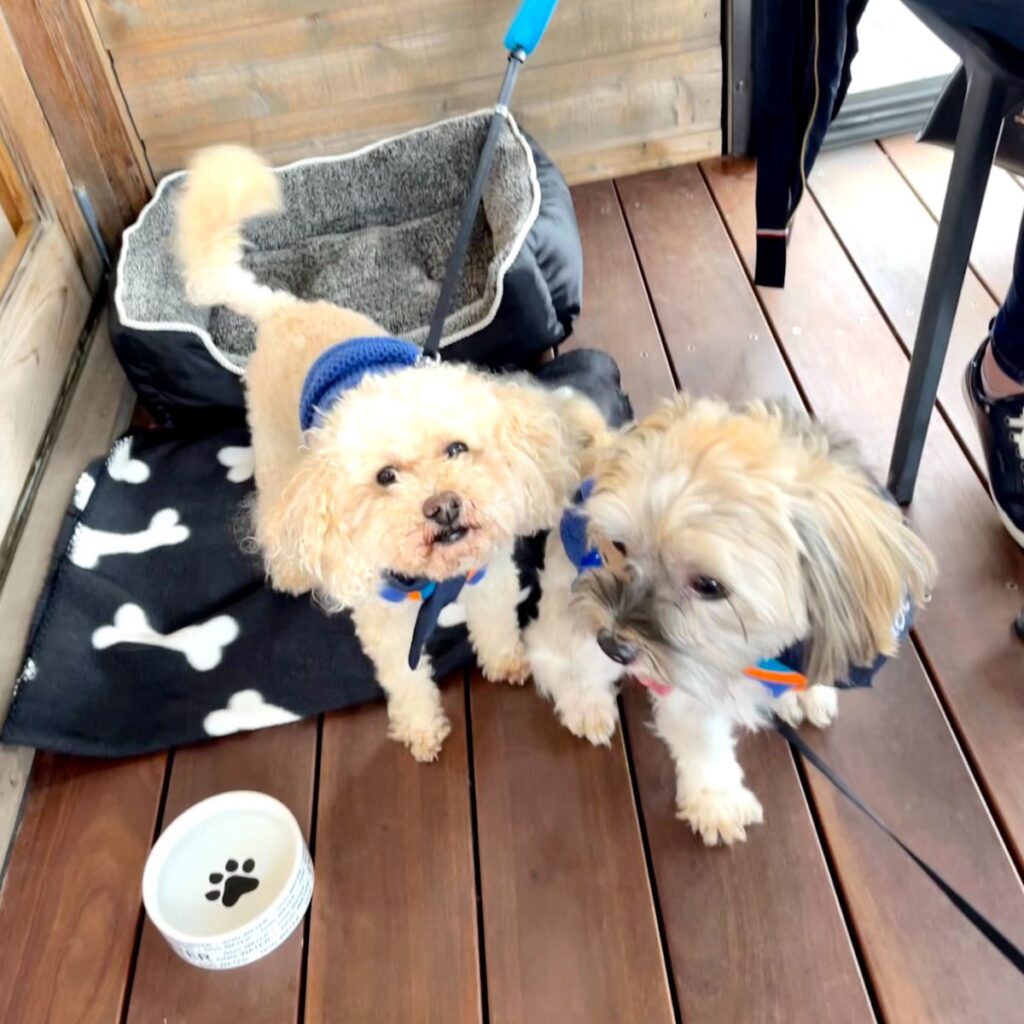 Mum & Dad ate all kinds of fab things (chicken terrine, barramundi, lamb shoulder, chocolate tartlet, plum semifreddo) and we ate liver treats and drank some seriously good Yarra Valley water (just like wine but called water).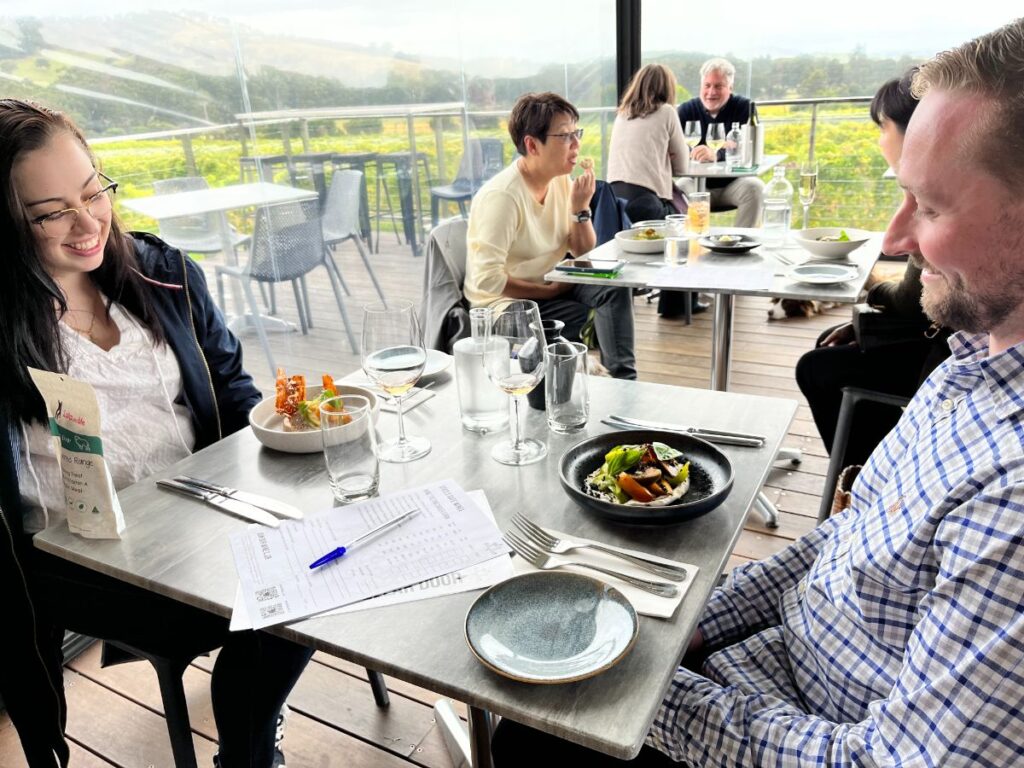 After lunch we (Max and I) took the humans for a walk around the vines – we're not allowed in amongst them, because of a monster called phylloxera who lives in there, but we were safe to walk around the edge. It was ace, the smells were out of this world, I've never seen Max so energized – we smelt wombat, deer, rabbits, other dogs, even the odd wiff of fox – the Yarra Valley is THE place to go if you're a dog and like country smells.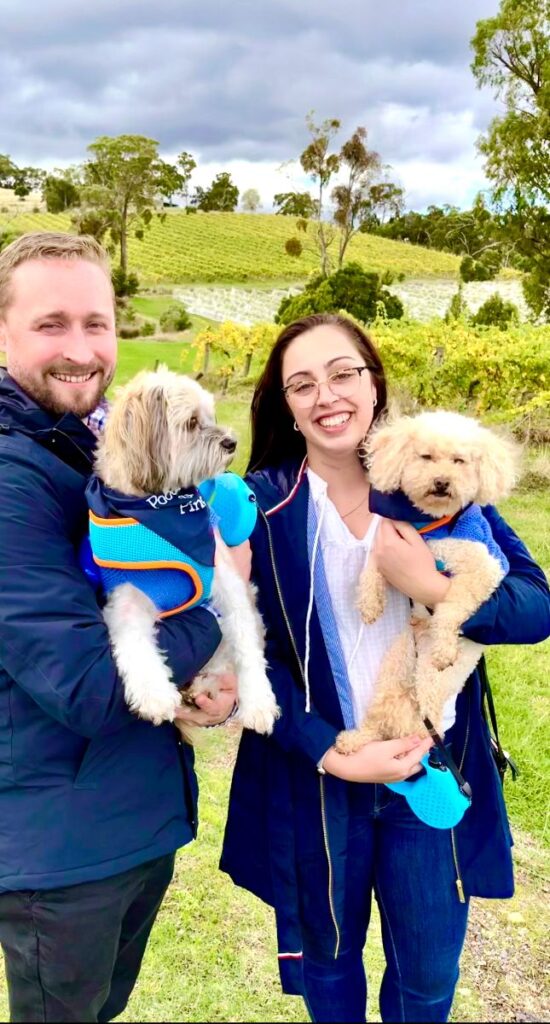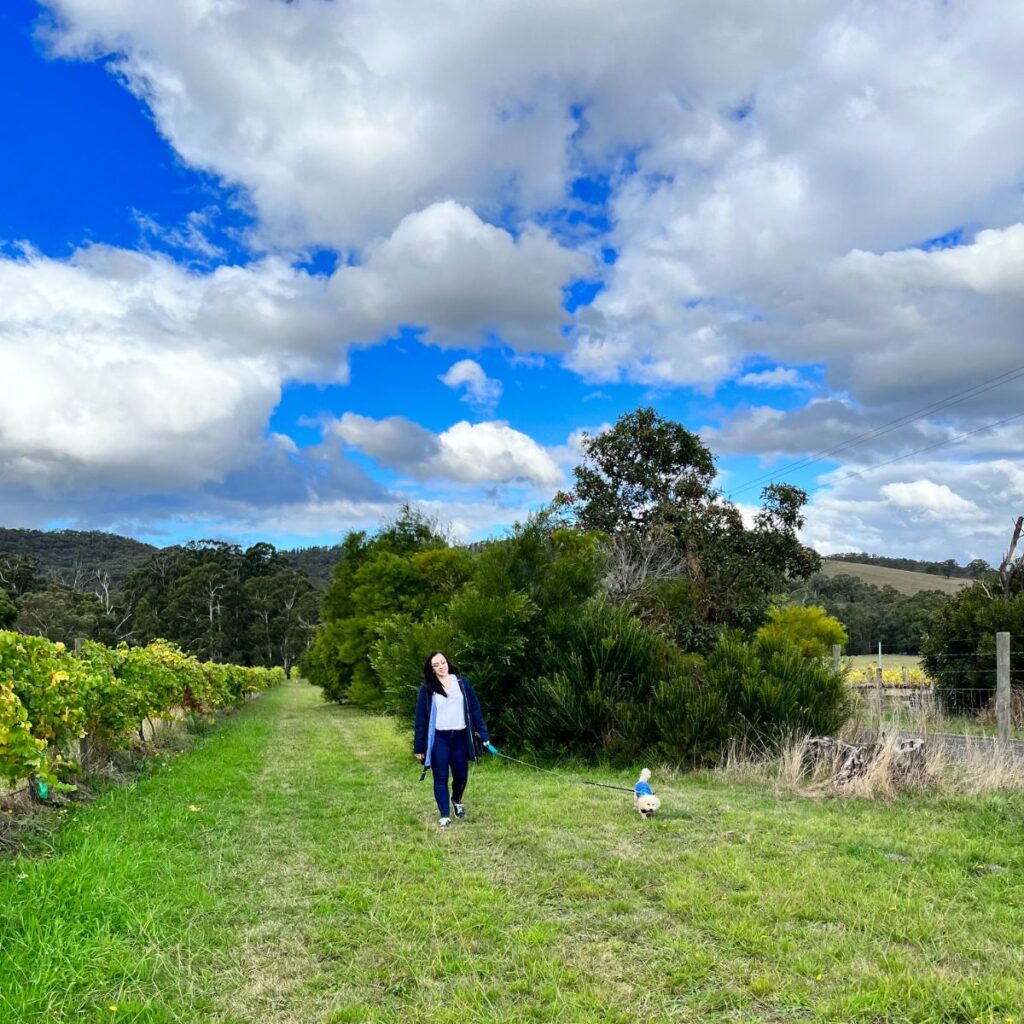 After our walk we drove (well, we let Helen) over to Healesville where there's a place that makes stuff like wine but called gin. My pawrents were really keen to try it but dogs don't drink gin so Max and I kept Helen company outside and rested up in the van where it was toasty warm and we had a ready supply of liver treats. Max could barely keep his eyes open bless him but I watched over him til my folks came back.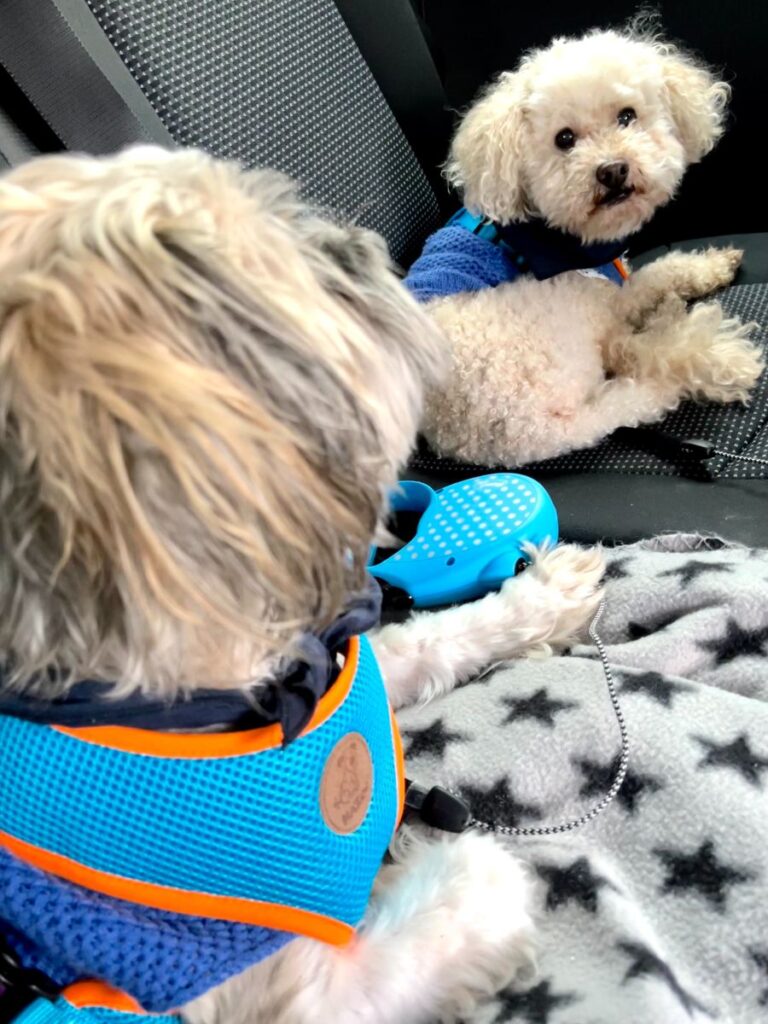 Good job we had this rest time because when Mum & Dad came back we headed into a cellar door called Payten & Jones where it was going off! There were people everywhere drinking the wine stuff, there was loud music playing, naked people painted on the walls, there were other dogs and people to stare at and be stroked by. It was THE place to be I'm telling you. A Jamaican called Ovarn came and gave Max a pat which I was pleased about because it gets embarrassing when I get all the attention – il old boy needs a bit of stranger love every now and then.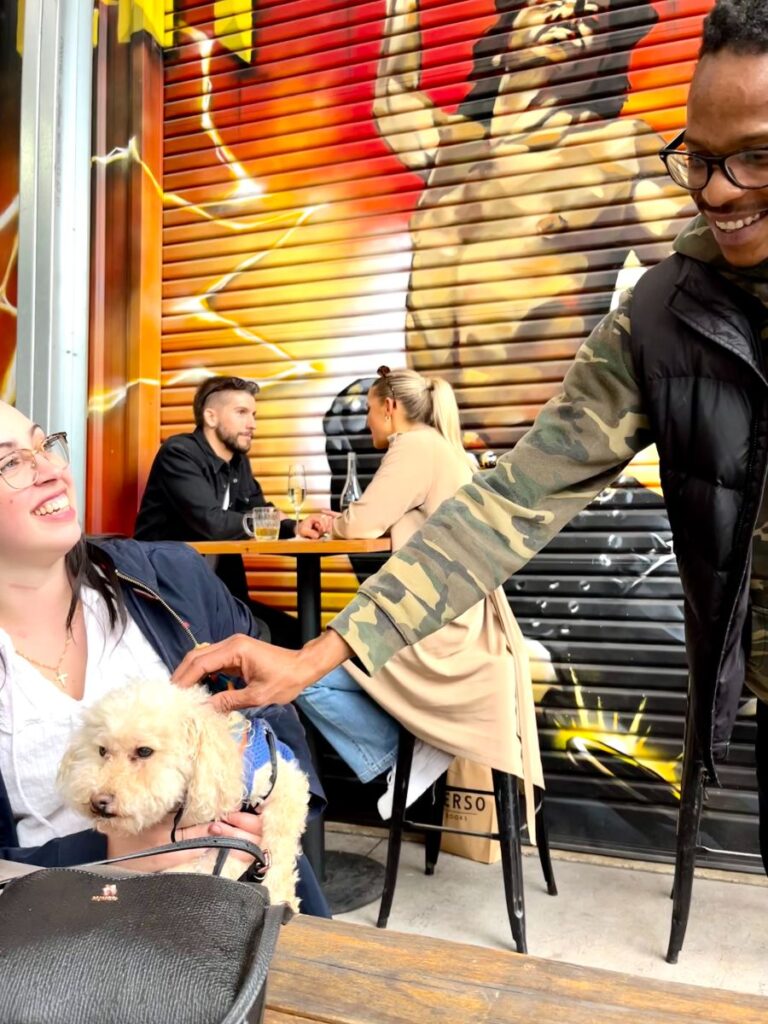 My pawrents ate cheese with their wine stuff and forgot to offer me any which, you're right, was a bit rude as a) they know how much I love it and b) they'd been eating solidly all day.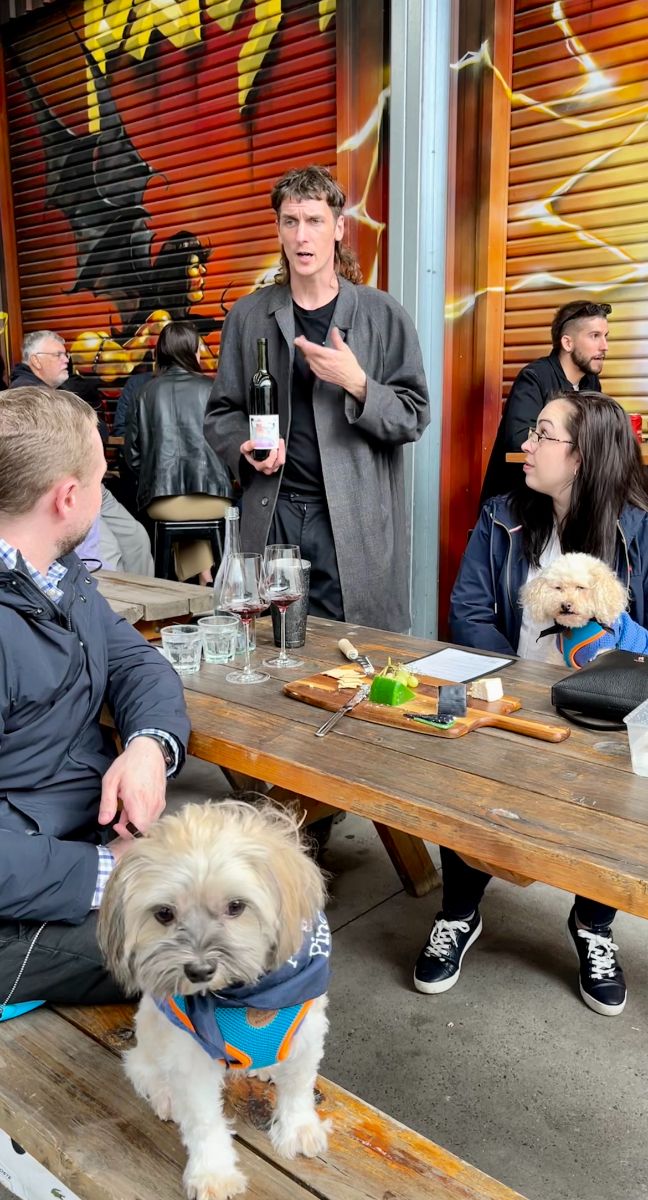 but the liver treats kept on coming so I wasn't exactly fading away. And honestly friends, I was too busy turning tricks, getting pats and adoration to really care. This lady had just had to put her cat to sleep so she REALLY needed to pat me a lot.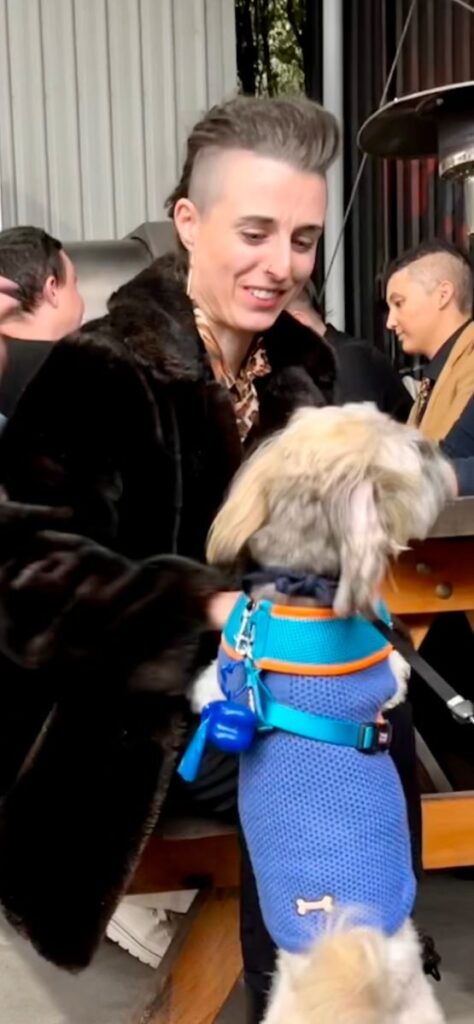 and this lady fell on me, telling me all her relationship woes. Look how happy I made her. You could call me a support dog really.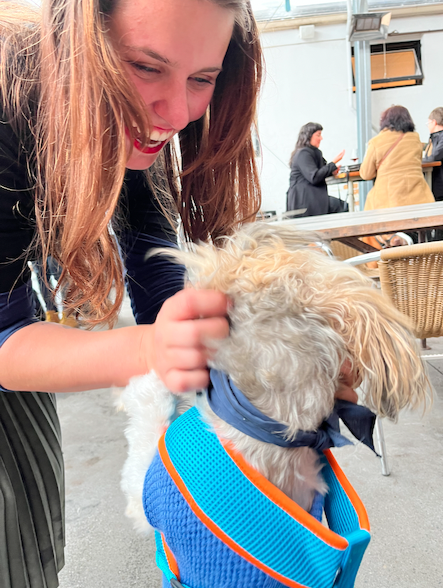 My folks liked all the wine stuff they tried so much they just bought all of it! And get this, knowing my Mum likes sweeter wines, Helen asked for an extra tasting of something called Oooh La La and predictably (yup, you guessed it) they bought that too!!
I wisely decided at this point it was time to go back to our apartment in St Kilda Road before they bought so much wine there'd be no room for Max on the drive back to NSW! Here are the dog beds, full of the wine stuff!!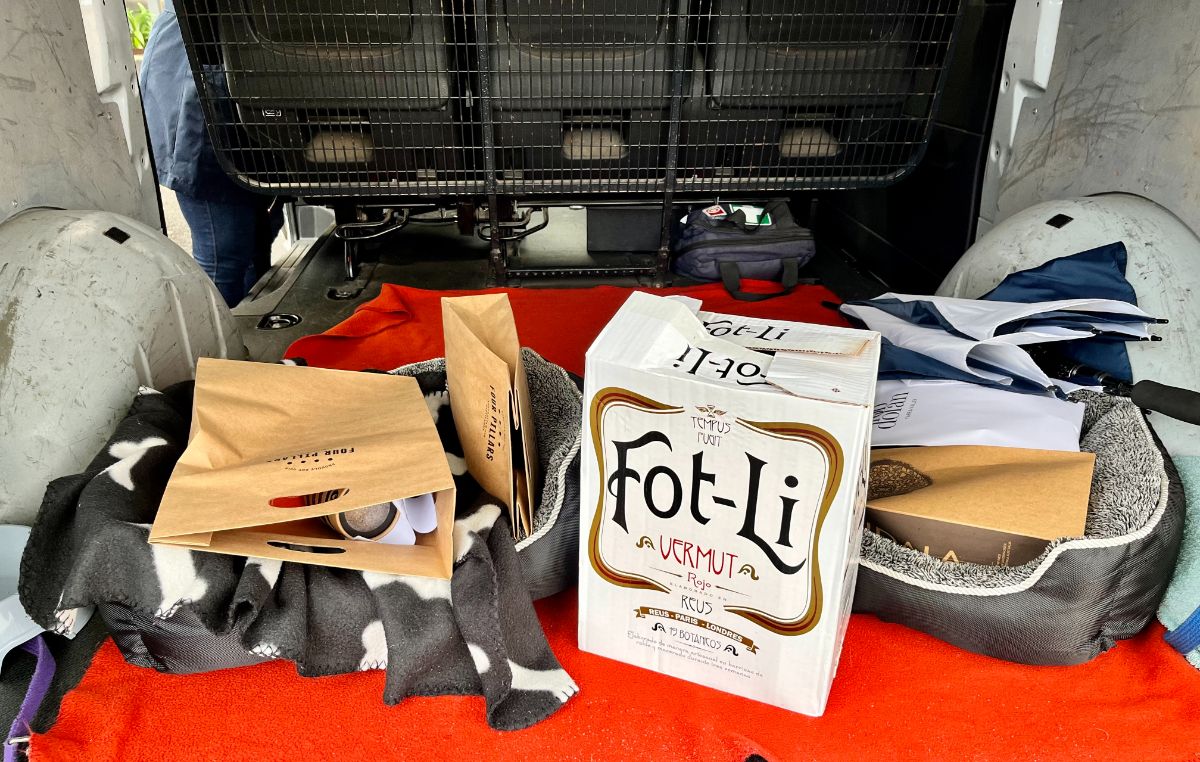 We drove (well, again, we let Helen) back to Melbourne and I drifted in and out of sleep as Max snored on Mum's knee. It was lovely (not the snoring part) – it was pouring with rain, it was dark, we were warm and dry in the van, my pawrents and Helen were chattering away and I knew that we'd all sleep well after our awfully big adventure in the Yarra Valley.
If you ever need to spoil your pawrents – my advice, do a tour with these guys, it's seriously the best.