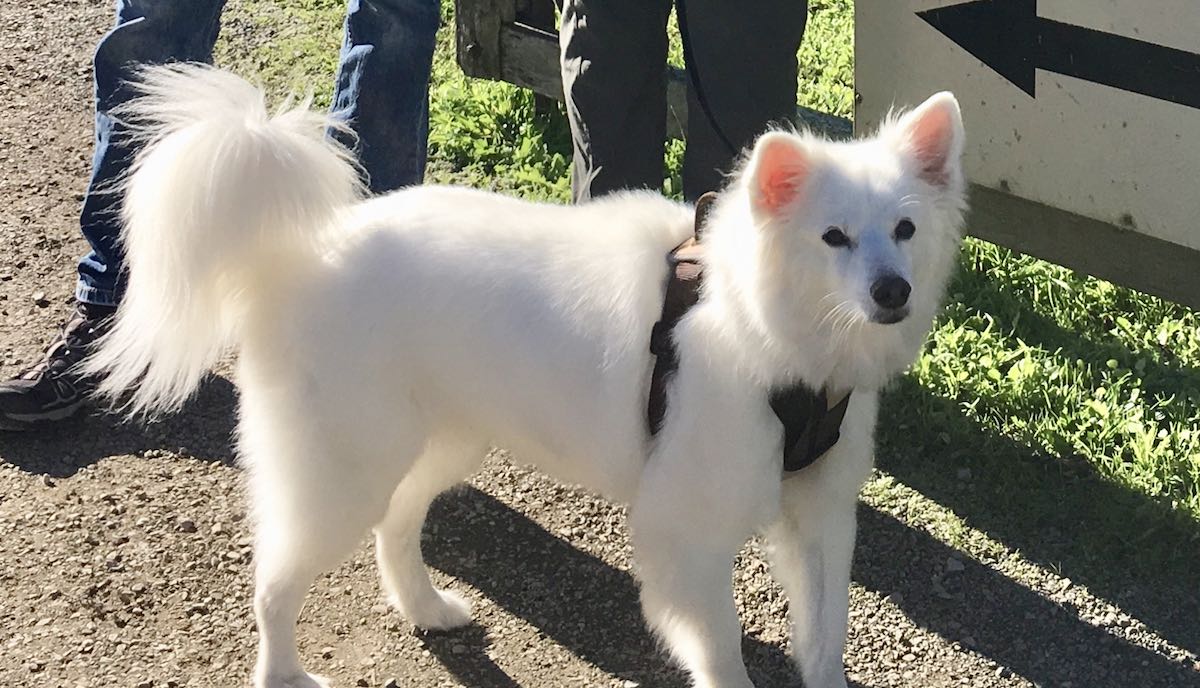 So there I was, enjoying a beautiful sunny day at Harvest House with my folks, the fire was lit and we were all totally relaxed and enjoying ourselves when a man appears at the door and wants to take us all away in his van.  I growled at him but my parents seemed to like him and want to go with him, so I figured I'd better go along too to protect them and when got into his van I saw a cosy dog bed and a bag of treats so I realised this man was going to be OK after all.
I was in the back of the van for about 15 minutes and Jeff and my folks chatted away happily and then we arrived at a farm where they make wine and cider but they spell it wrong (syder!).  After a quick photo outside…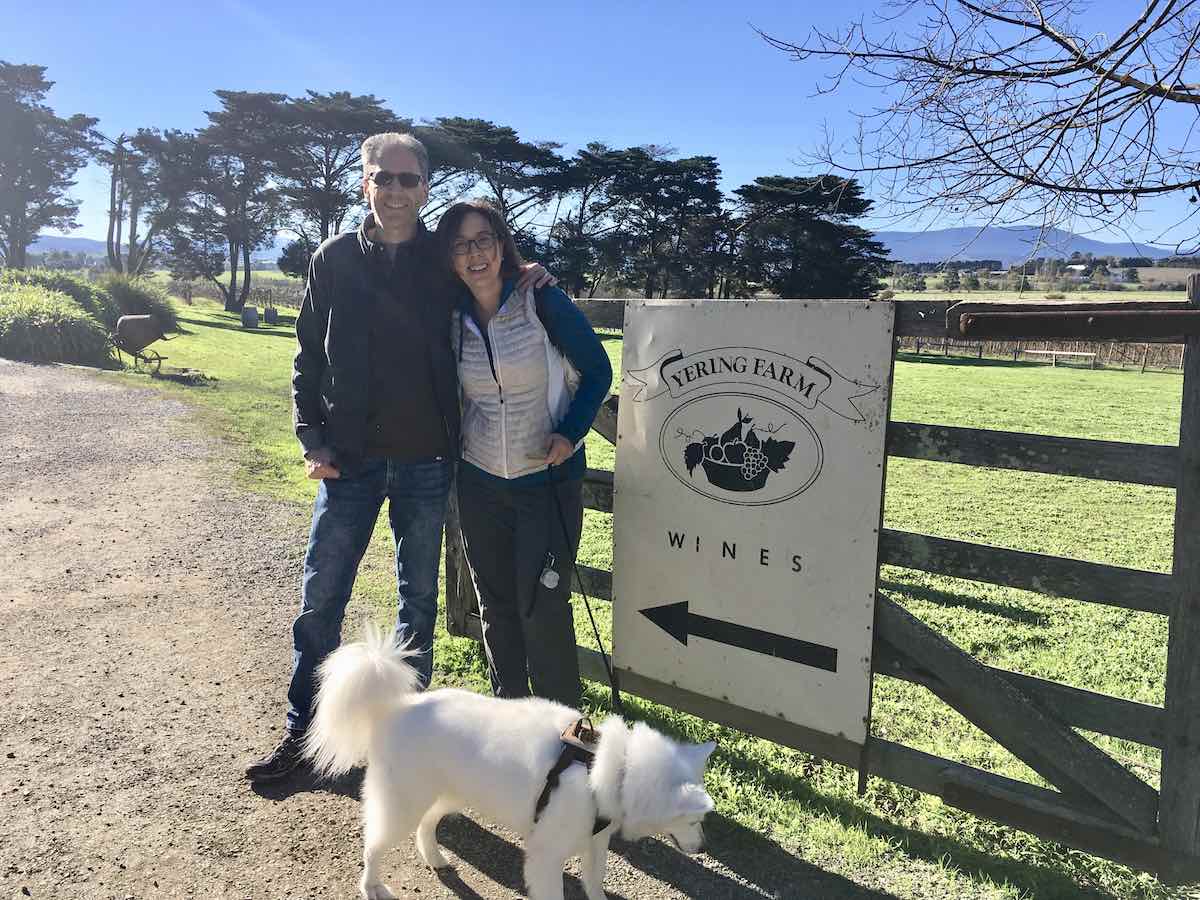 we wandered in to a rustic old barn which is now a room where people try wine, and my folks did just that.  This nice lady called Megan told them all about the wines they were trying and how they were made and what flavours to look out for – it was bizarre!  I meanwhile made a heap of new friends (including the winemaker's dog) and everyone wanted to know what sort of dog I am.  Clearly I'm an American Eskimo.  Anyone would think you Australians don't have Eskimos!  Come to think of it, I've been living over here since we left the US 5 years ago and I haven't seen one!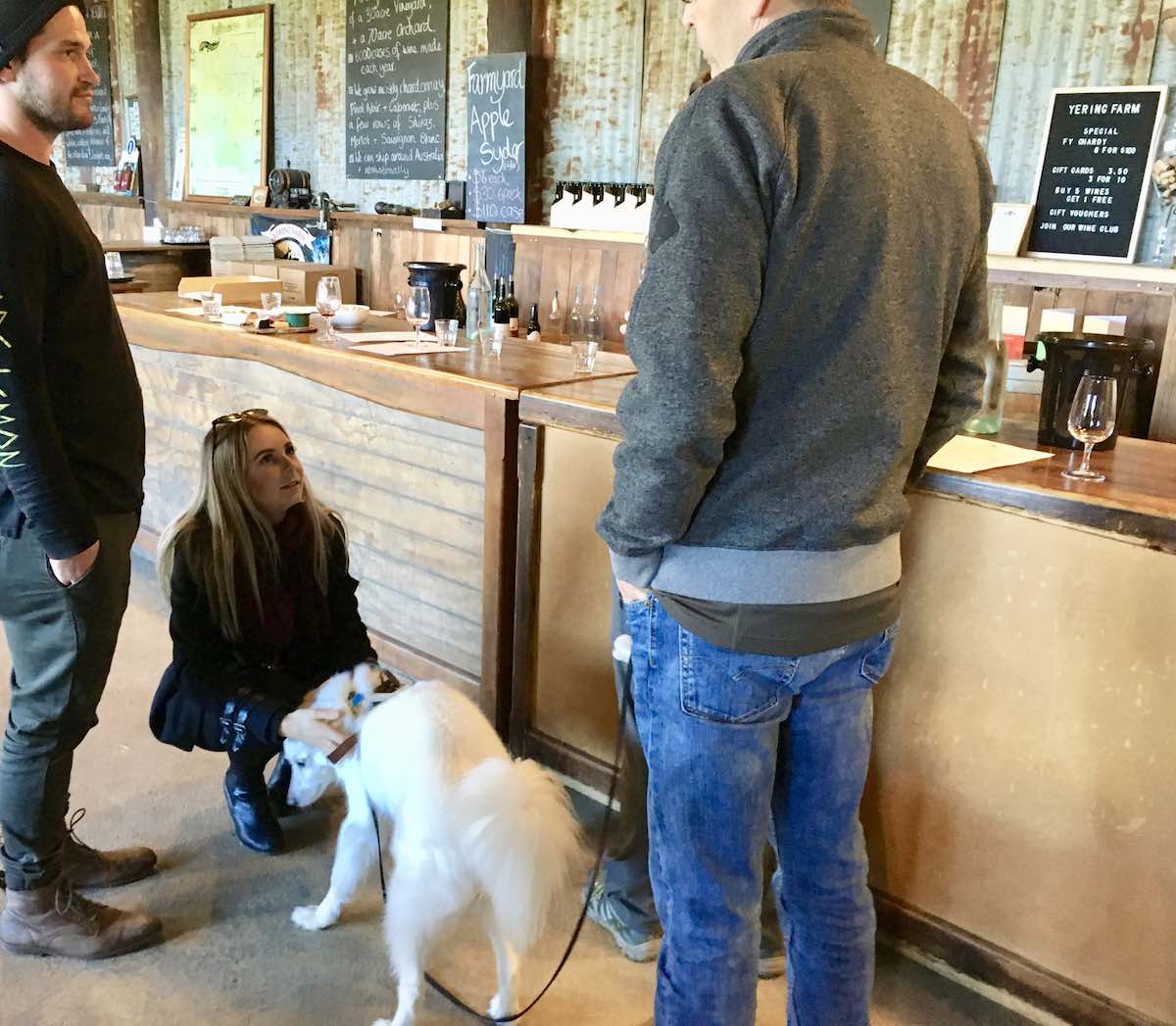 My folks bought some wine from the nice lady Megan and after we said our goodbyes, we all got back in the van, but not for long, for suddenly we're back out in the sunshine on a fabulous deck that had views for miles and we got to bask in the sun while a man called Luke brought wine over to my folks for them to try and chatted to them about it which I could see they found fascinating.  Meanwhile a dog called Nachos (yup, you heard right, yet more crazy owners naming their dogs after food!) comes over and says something unrepeatable to me so I growled back and told him my Dad used to be a lawyer and he should watch his mouth.  He wandered off quite quickly – I think he works at the winery.  I kept nodding off in the sun but my folks learnt a lot about wine from Luke and bought a couple of bottles 'for later'.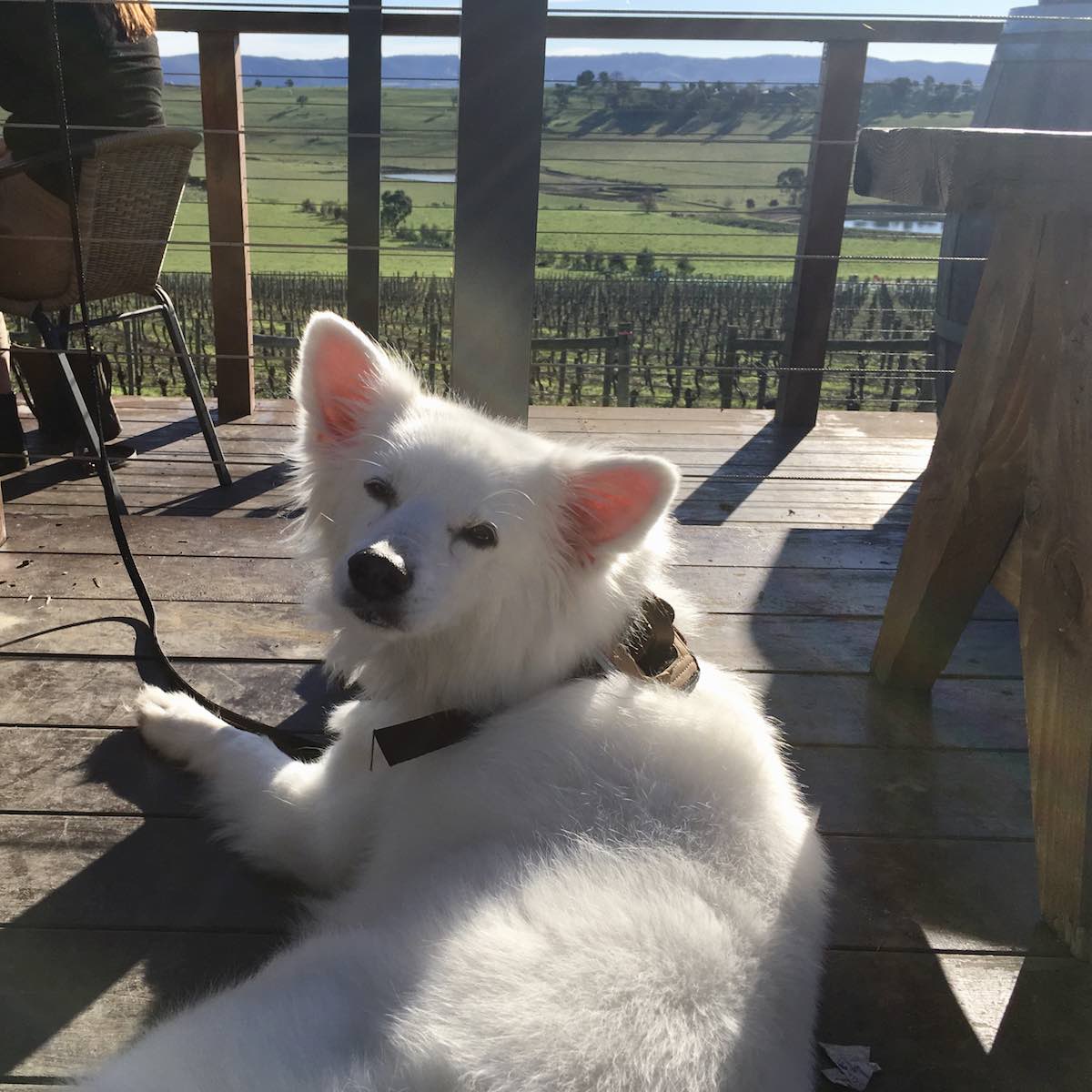 We seriously could have sat there for the rest of the day it was so beautiful at Helen & Joeys,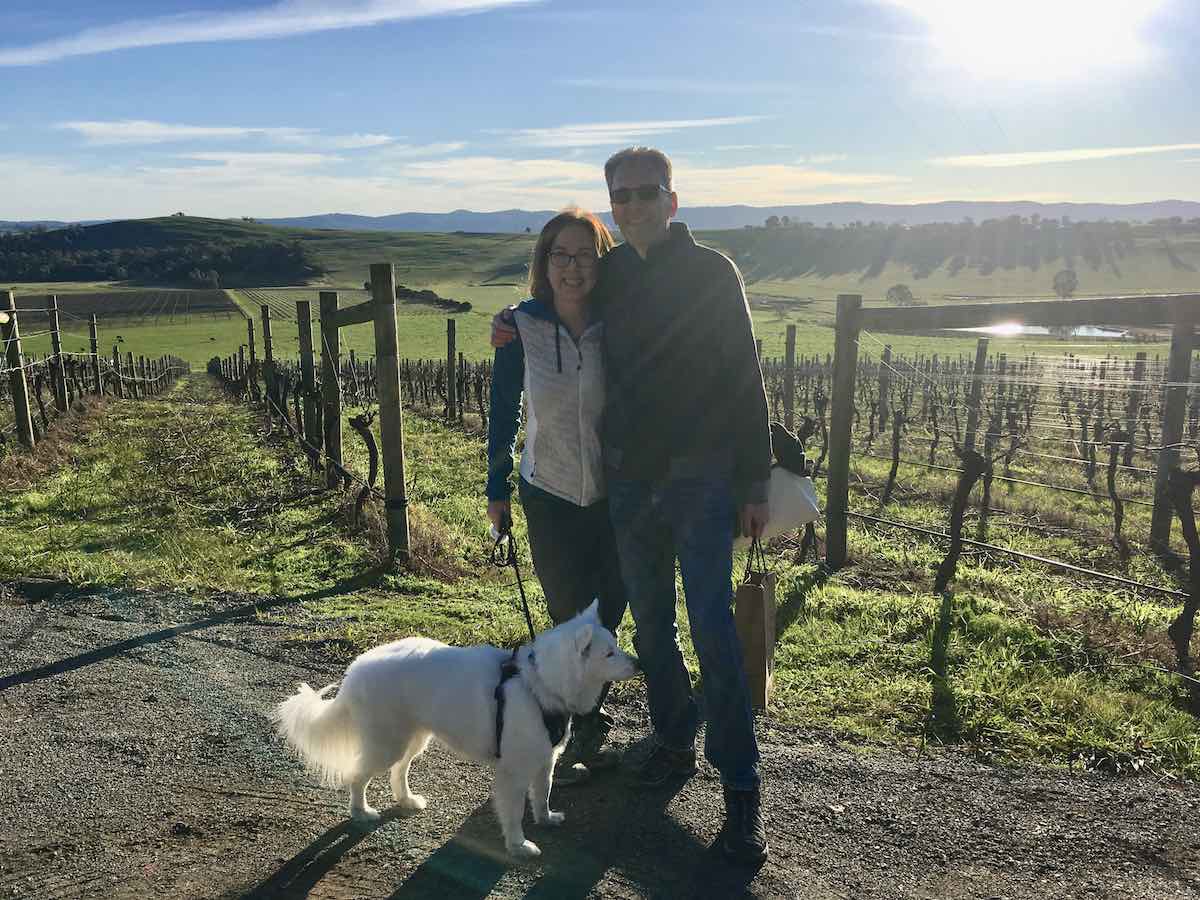 but Jeff wanted us to try some see-through wine they call Gin, so drove us into the little town of Healesville to Four Pillars Gin Distillery.  Here I met a fluffy brown dog called Cedric – his folks were also drinking this see-through wine called Gin.  A nice lady told my Ma & Pa all about how the gin is made and Jeff played a game with them called Guess that Smell and brought small glasses out containing the different botanicals used in the gin making process.  I got them all right, including the native pepper berry and the angelica, but just quietly, under my breath.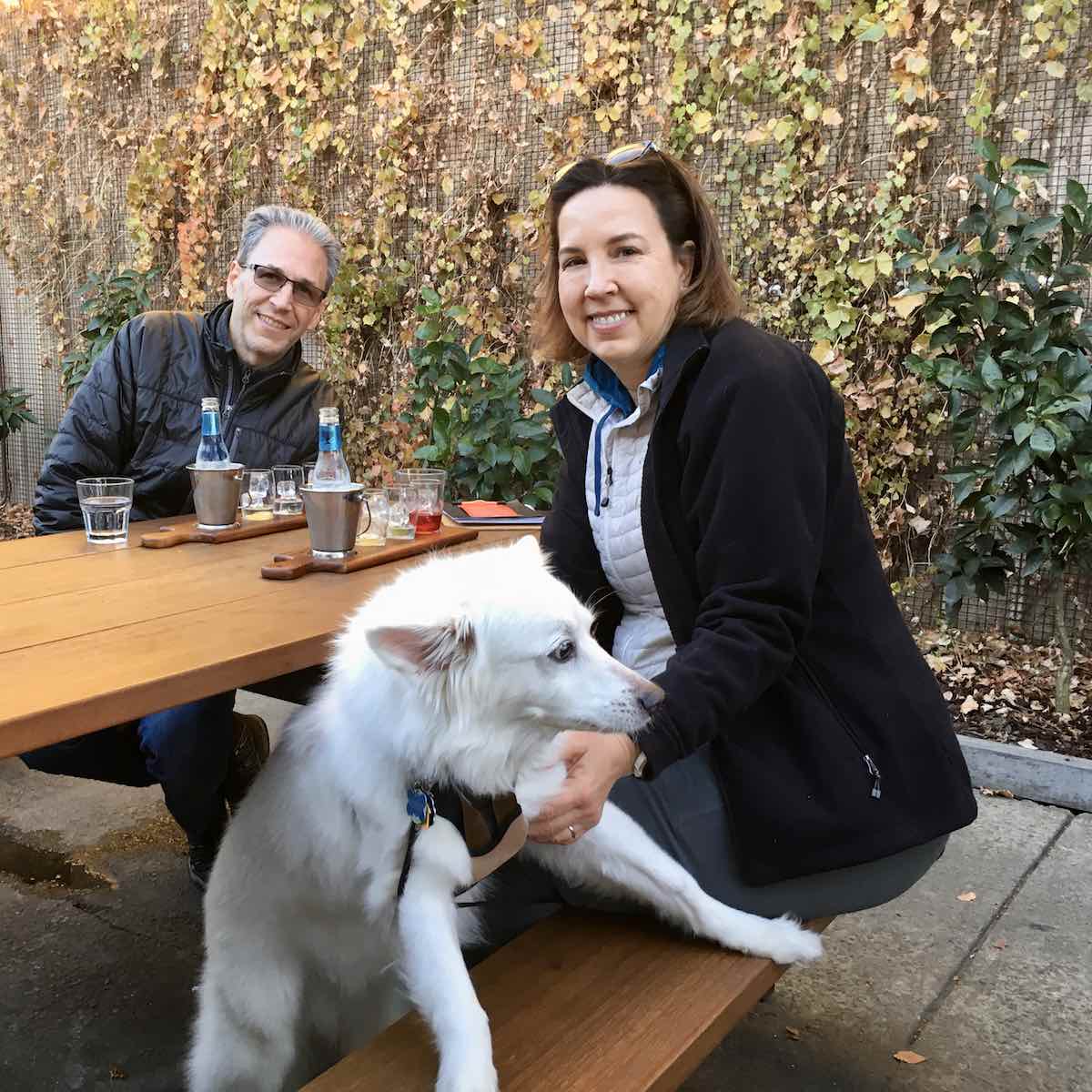 When we'd finished our gin paddles we wandered over the road to a hip little cellar door called Payten & Jones where I was sad to see no dog for me to meet or growl at.  My Pa had had enough of wine and was happy to spy a stubby of Watt's River Stout in the fridge so he tucked into one of those while my Ma tried the red wines and LOVED them, particularly the Sangiovese (which is from Cianti incase you didn't know – you see, I was listening and learnt heaps).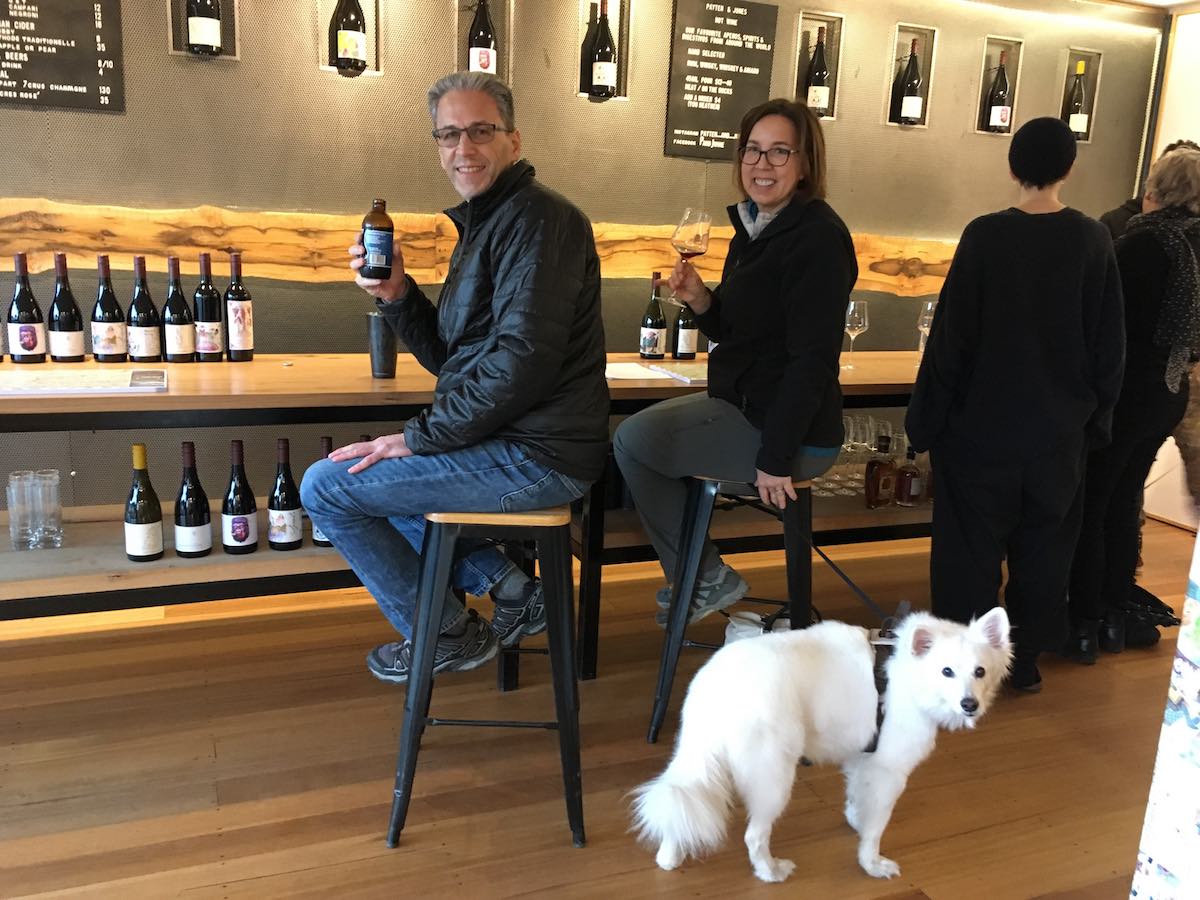 We couldn't believe it, but it was home time already so Jeff drove us back to our accommodation and gave my folks a bottle of wine with a puppy on it which made me laugh.  We said good bye and thanked Jeff for a great afternoon and I couldn't wait to get back inside and snooze in front of the fire, reliving all the fun I'd had today.