Bonjour everyone – I am Luna, le French Bulldog.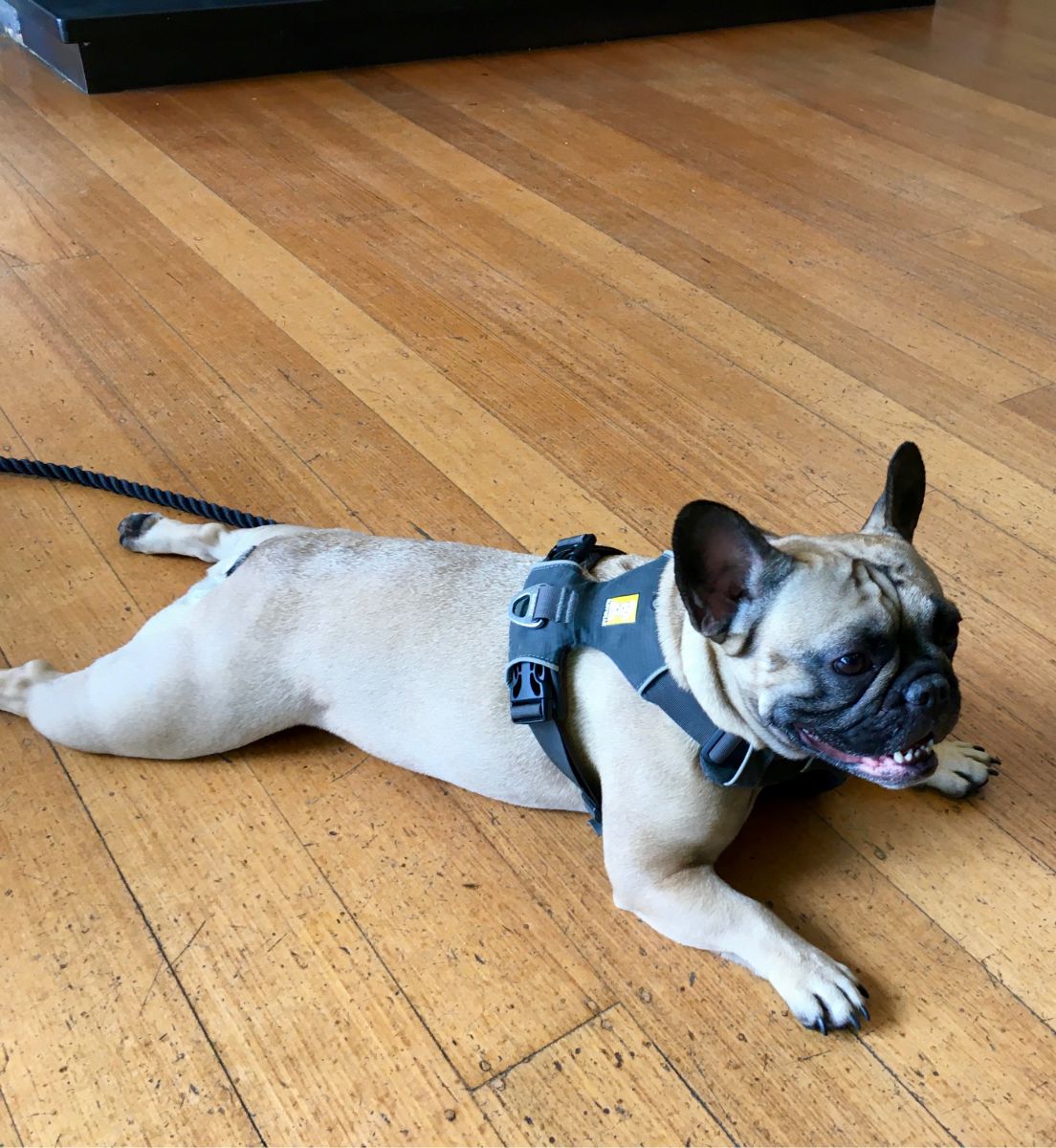 My pawrents, Bec at Andre, work very hard every day to keep Bonnie, an ancient Jack Russell et moi (and me), a beautiful young Frenchie, in the manner to which we have grown accustom, and de temps en temps (every now and then), they need a vacances (holiday) somewhere restful and magnifique (great), like the Yarra Valley to recharge their piles (batteries).
So we booked a day's tour with un homme (a bloke) called Jeff who is a tres bien ('very good' for all you non Franglais speaking peeps) guide who took us on a formidable (excellent) day's wine tasting.
Bonnie is so vieille (ancient) she stayed back at our belle (lovely) apartment on a farm called Wiggley Bottom while we went out exploring.
We were driven to Yering Farm établissement vinicole (winery) as our premier (first) port of call, where Charlie, a lovely Irishman gave my pawrents some vin (wine).  A grande (large) group of visiteuses (visitors) arrived and wanted to say Bonjour to me because my visage (face) is so unique (some say only a mother could love).  And yes the clock is correct – they were indeed drinking at 20 past 10!!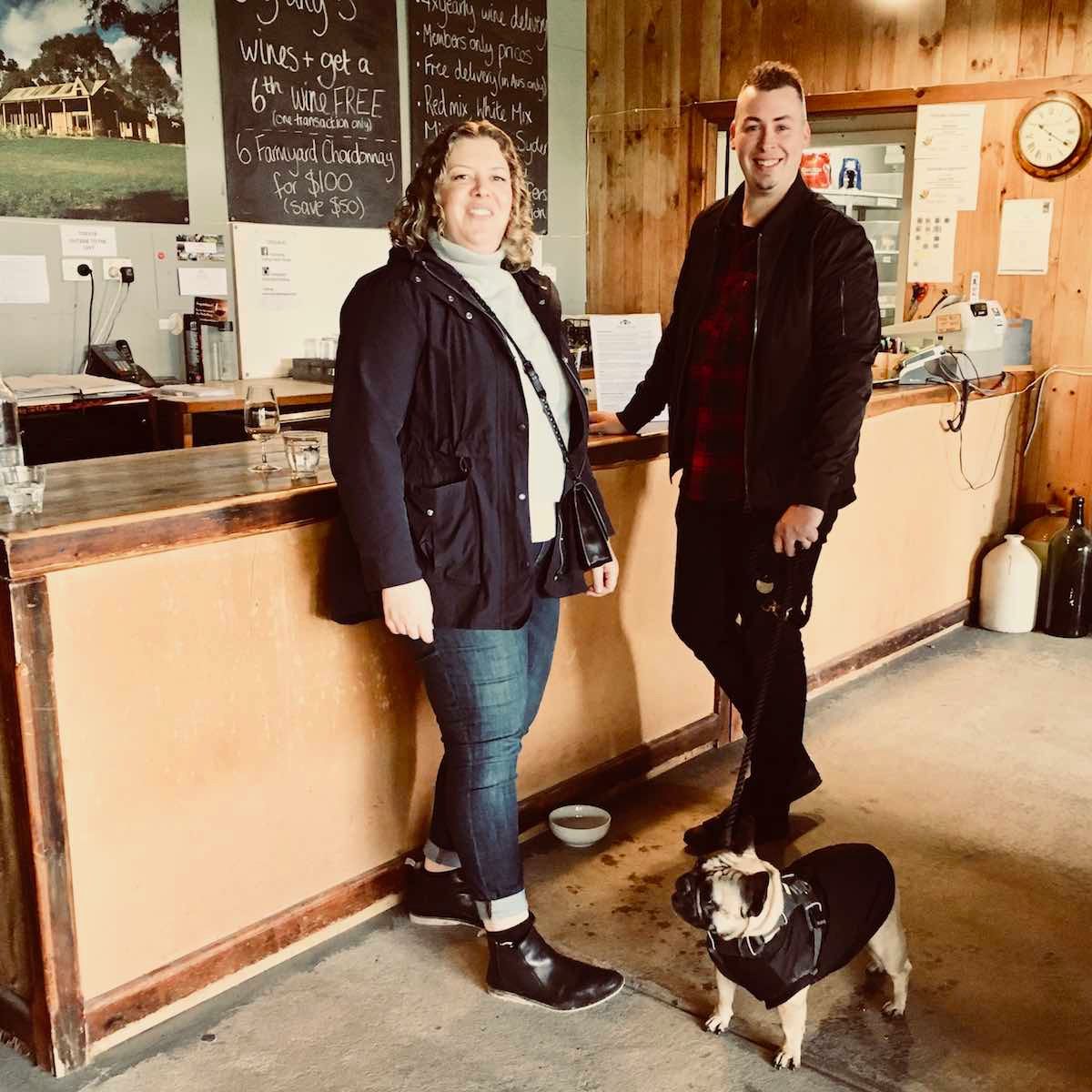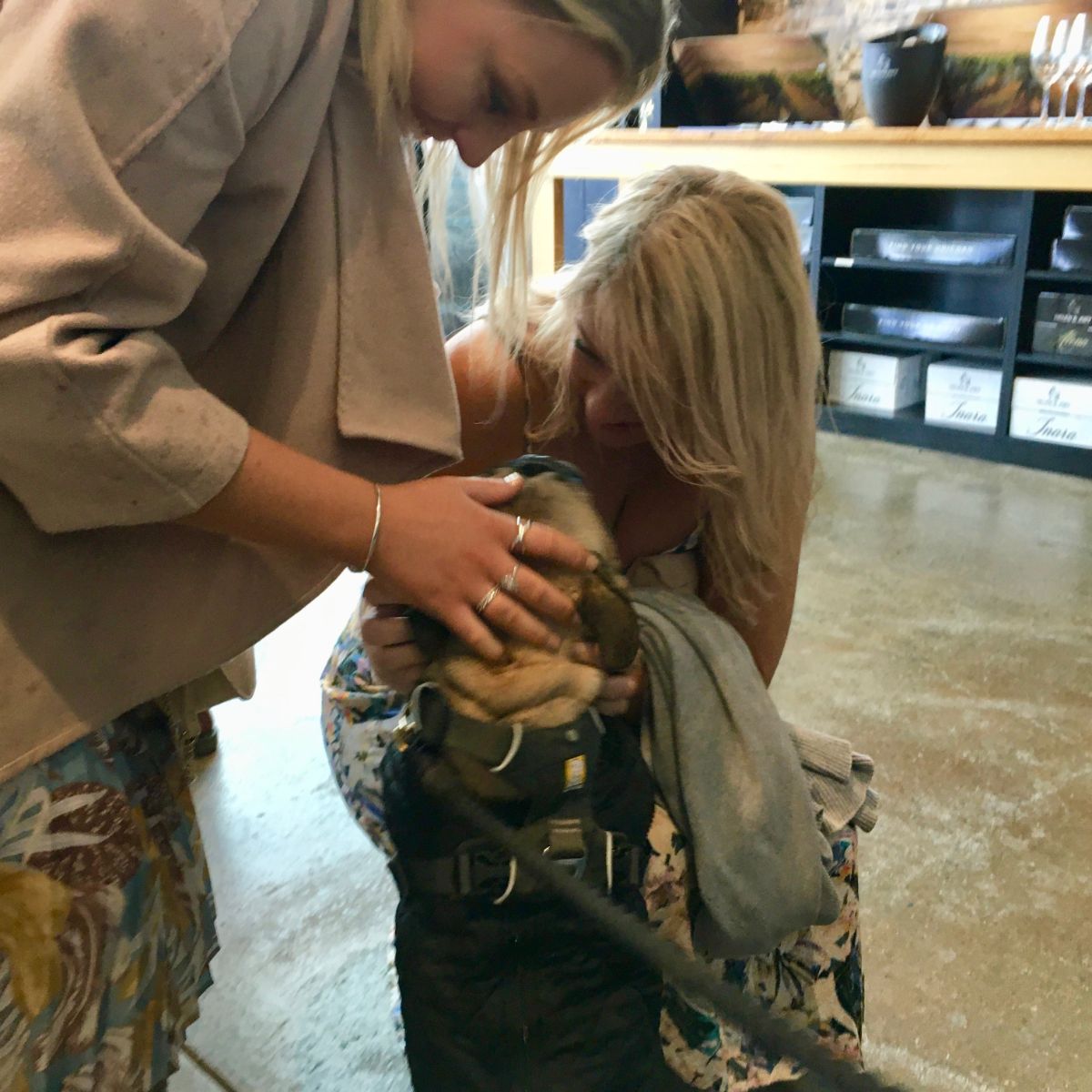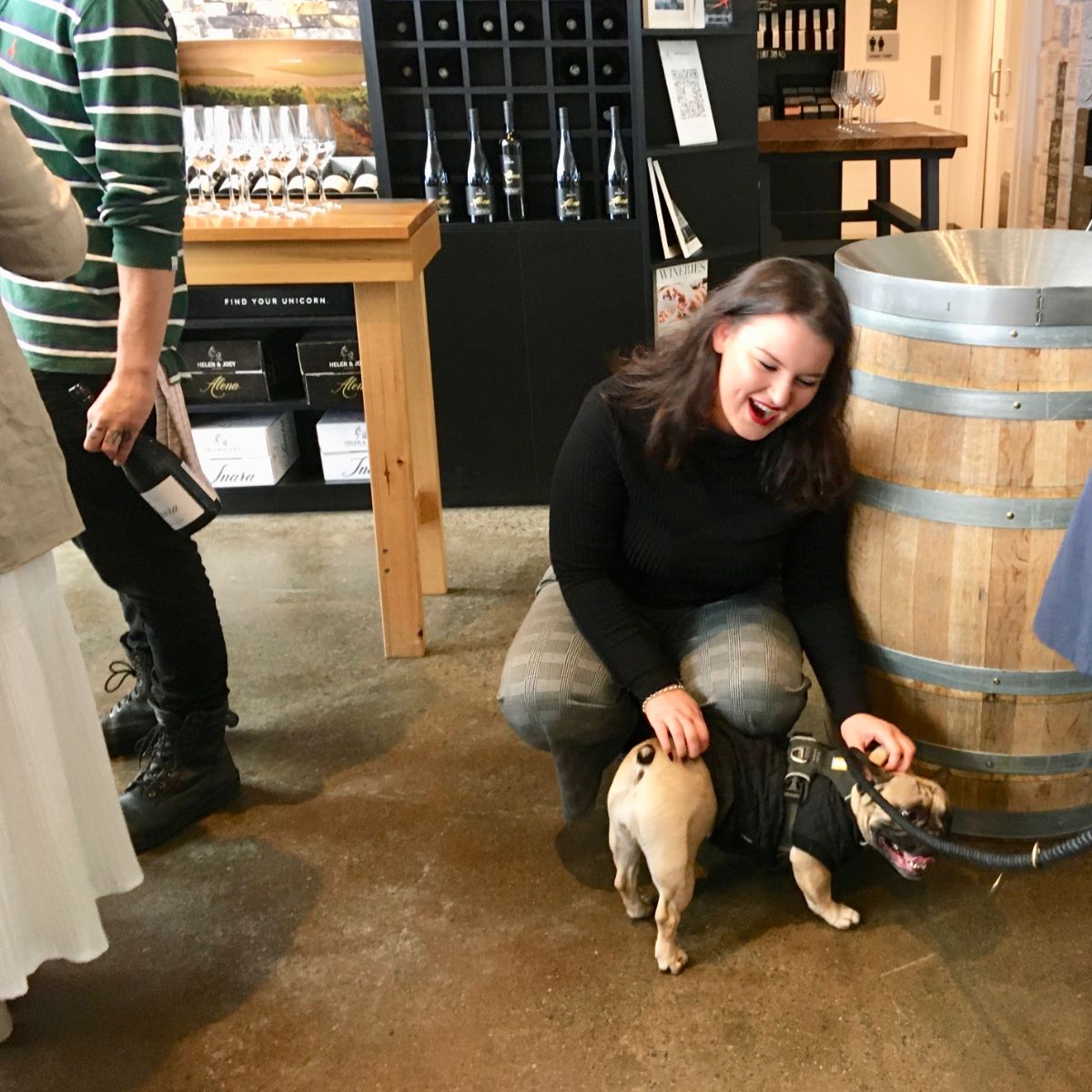 Mes parents (Bec et Andre) bought a whole box of something fantastique (great) called syder (which we at home call cidre).  It smelt of pommes (apples) and I'm sure us French chiens (dogs) would love it if only someone gave us a tipple to try!
We made it back into the Mercedes van just in time before il pleut (it rained) but that was OK, because we were safely on our way to the next winery called Helene et Joey (Helen & Joey to you Aussies).  We all piled inside the cellar door full of les belles femmes (cute chicks) who wanted to caresser un chien (stroke a dog).  I obliged because they were clearly in need, poor things, c'est triste (it's sad for them).  My pawrents fell in love with some French style wine (which we call Champagne but you peasants aren't allowed) and bought deux bouteilles (2 bottles) of it to enjoy plus tard (later).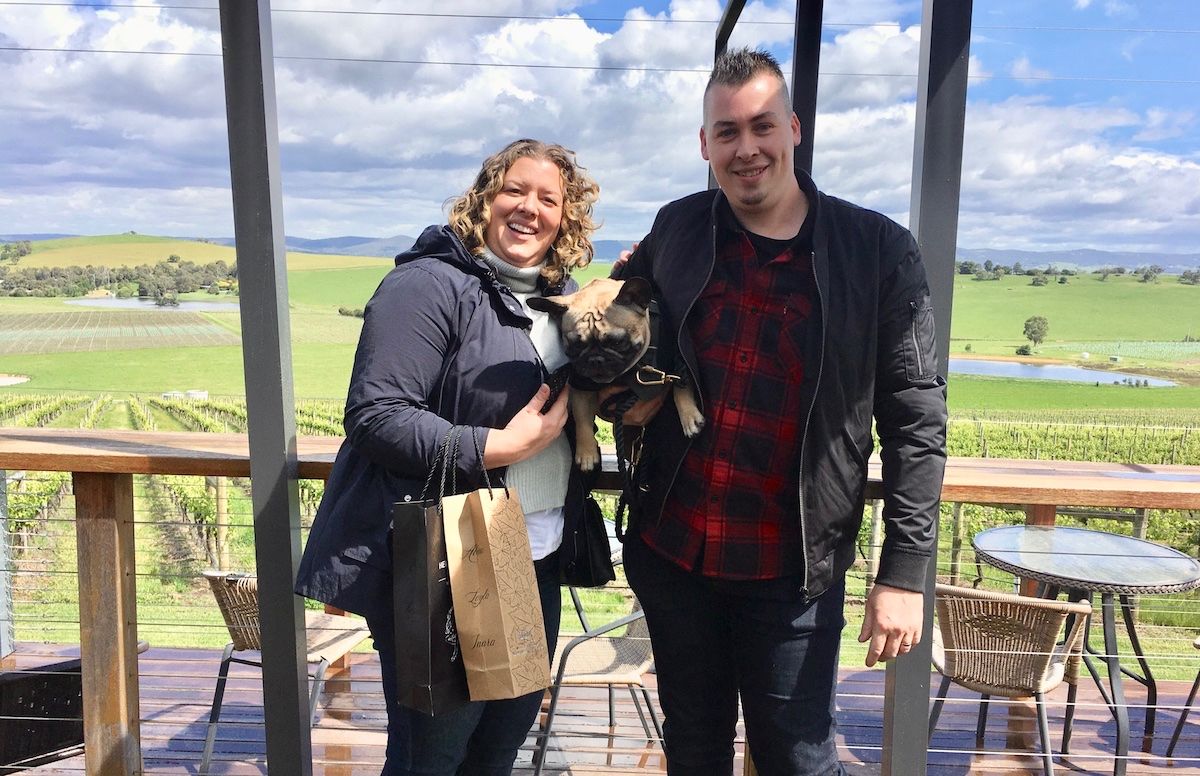 So we had the obligatory photos with the vignes (vines) in the background and I got écrasé (squished) by over exuberant pawrents who aren't used to drinking at 11am!  (Unlike the French).
It was now time for some déjeuner (lunch) and we had that at Helen's Hill winery after my pawrents had had a fantastique (fantastic) wine tasting avec (with) Marissa.  They both commented afterwards how nous sommes pleins (full) they were – so much so they couldn't finish their pizza – I could have!! 
We then popped into Punt Road because it would have seemed rude not, given that we were driving past!  And Jeff through they may have allume le feu (lit the fire) too as it was so cold!!  And they had, which was fab.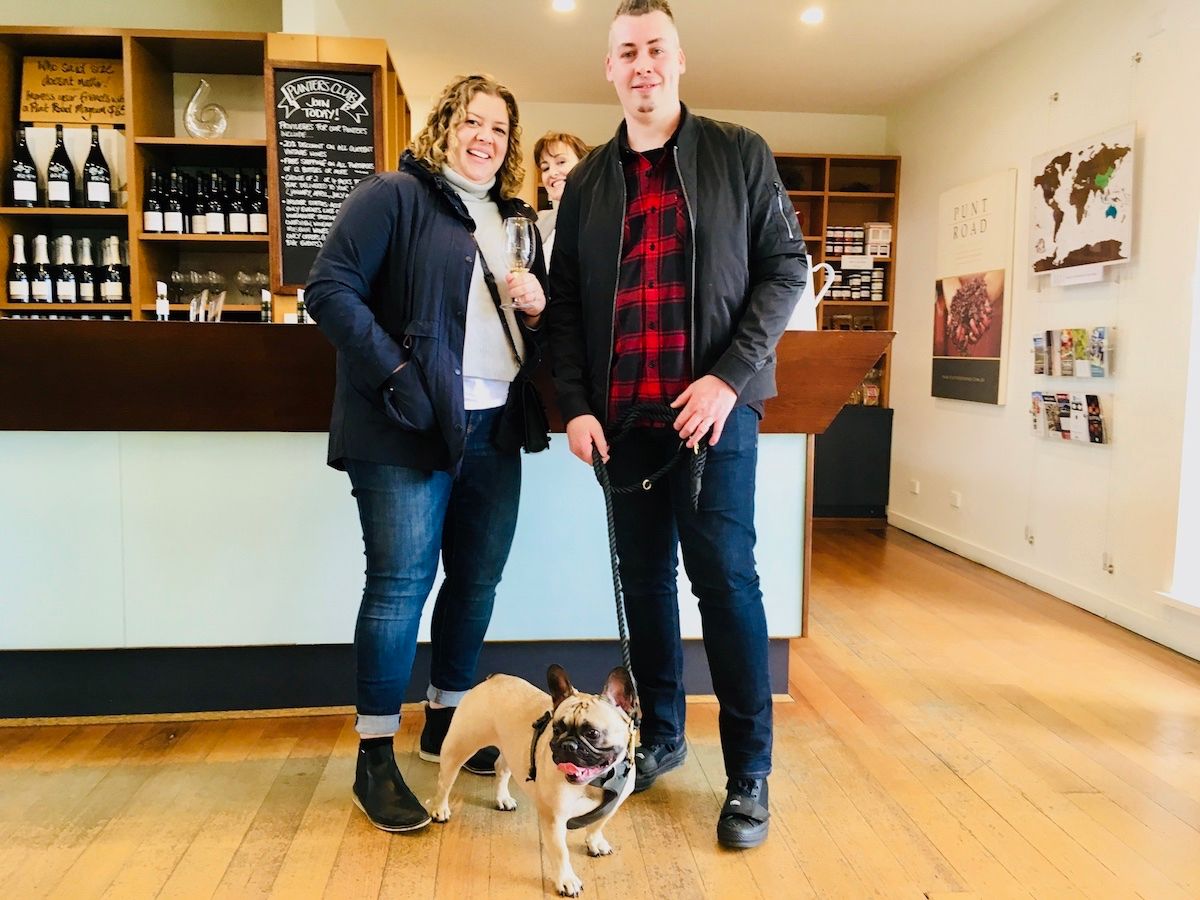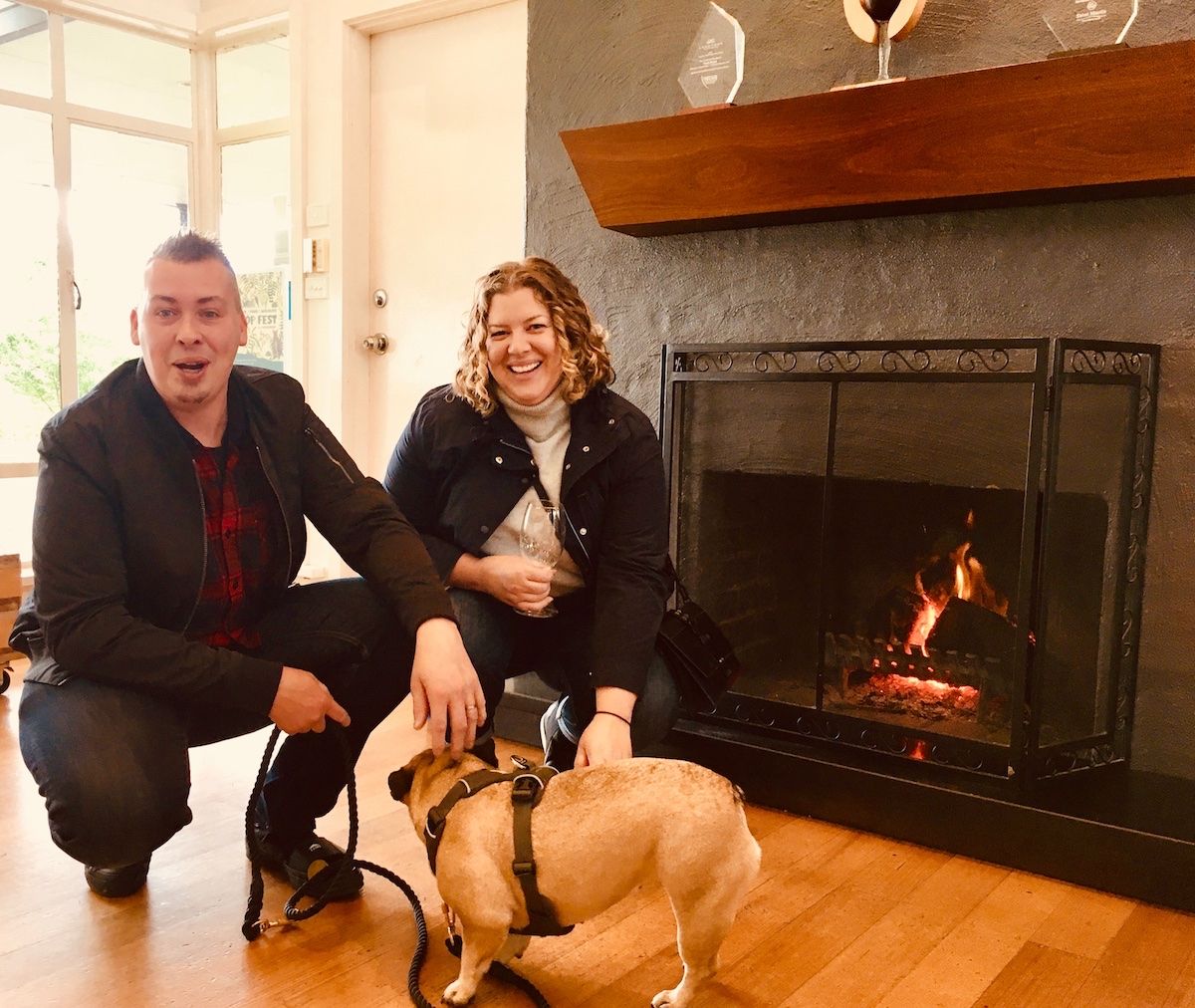 Il pleuvait (it was raining) so we decided not to have a little marche (walk) and instead went straight to une petite cave (a tiny cellar door) where the lovely Mademoiselle Emma gave my pawrents pink fizz to try (which needs no translation).  I met a lovely (petite fille) young child who was very taken with me, so I was adoré (loved) some more which was just fine by me.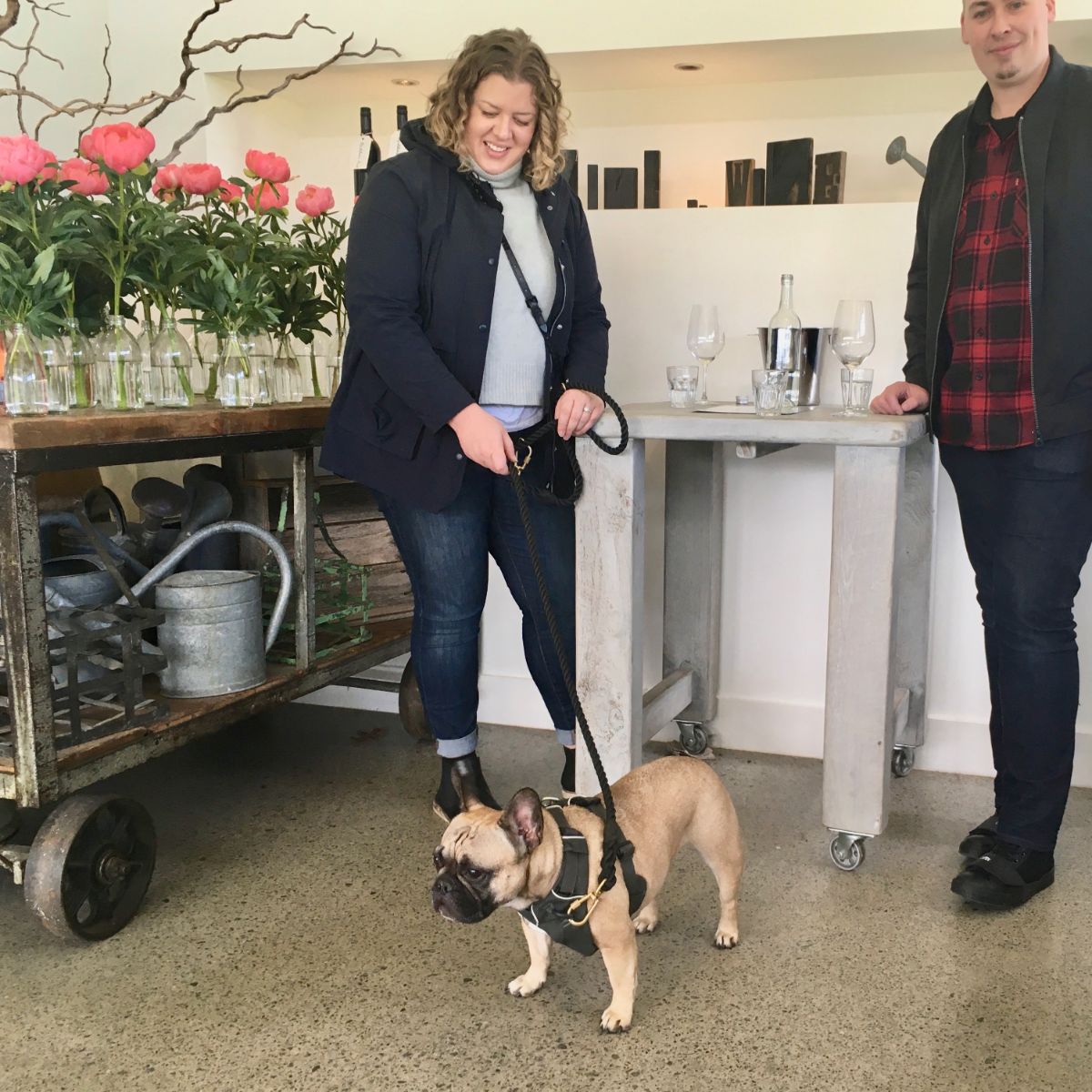 And then the sun came out so I got to explore and sniff the grass outside – et ça sentait sensationnel (it smelt great)!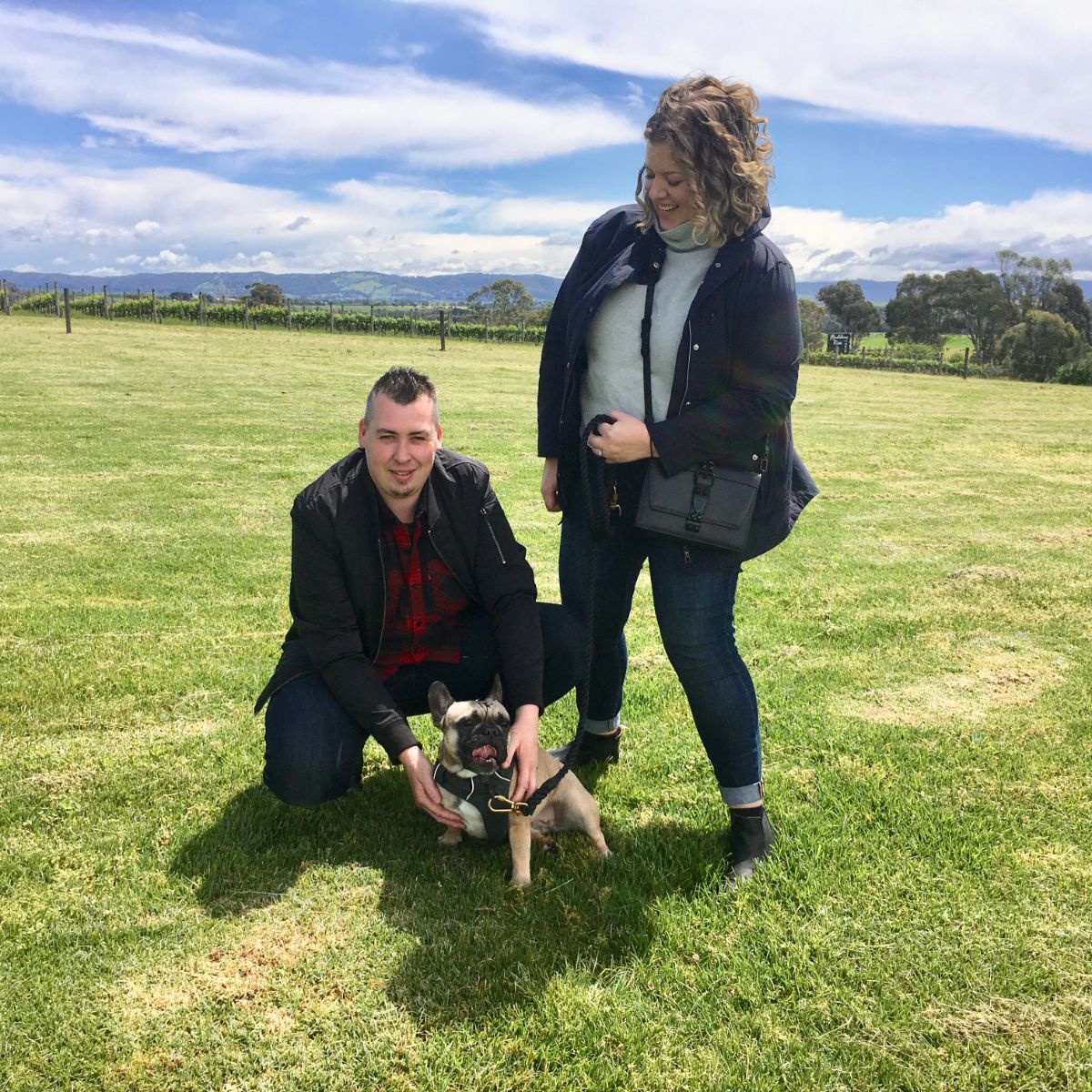 I could have resté toute la journée (stayed there all day long).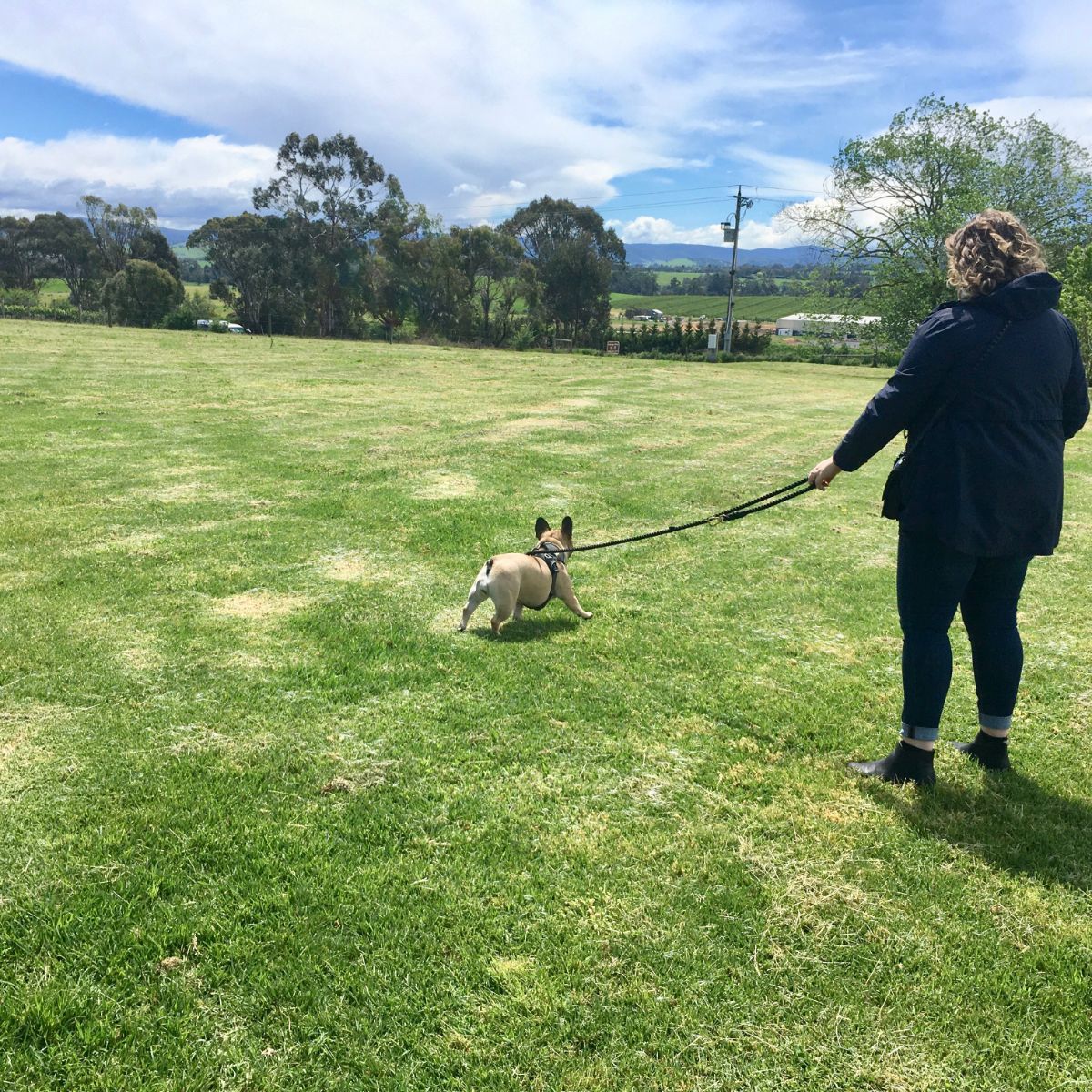 There was tellement de terrain à couvrir (so much ground to cover)!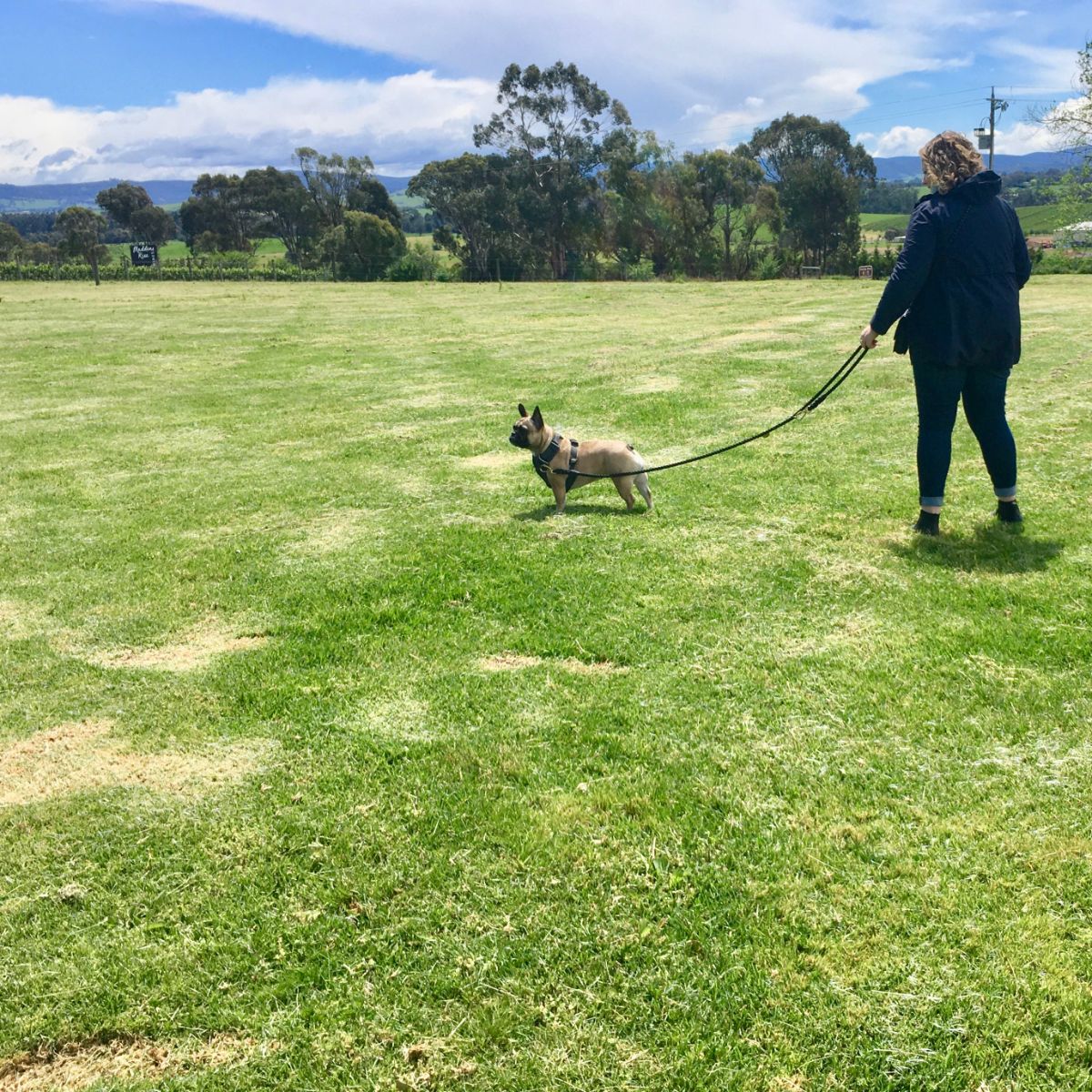 Notre prochaine place (our next place to visit) was a gin distillery called Quatre Piliers (Four Pillars, are you keeping up with my Franglais?) and it was le meilleur (the best).  People came out to say hello to moi (me), and Mademoiselle Lizzie took a particular shine to me and I her!  I love that she'd been drawing on her arms!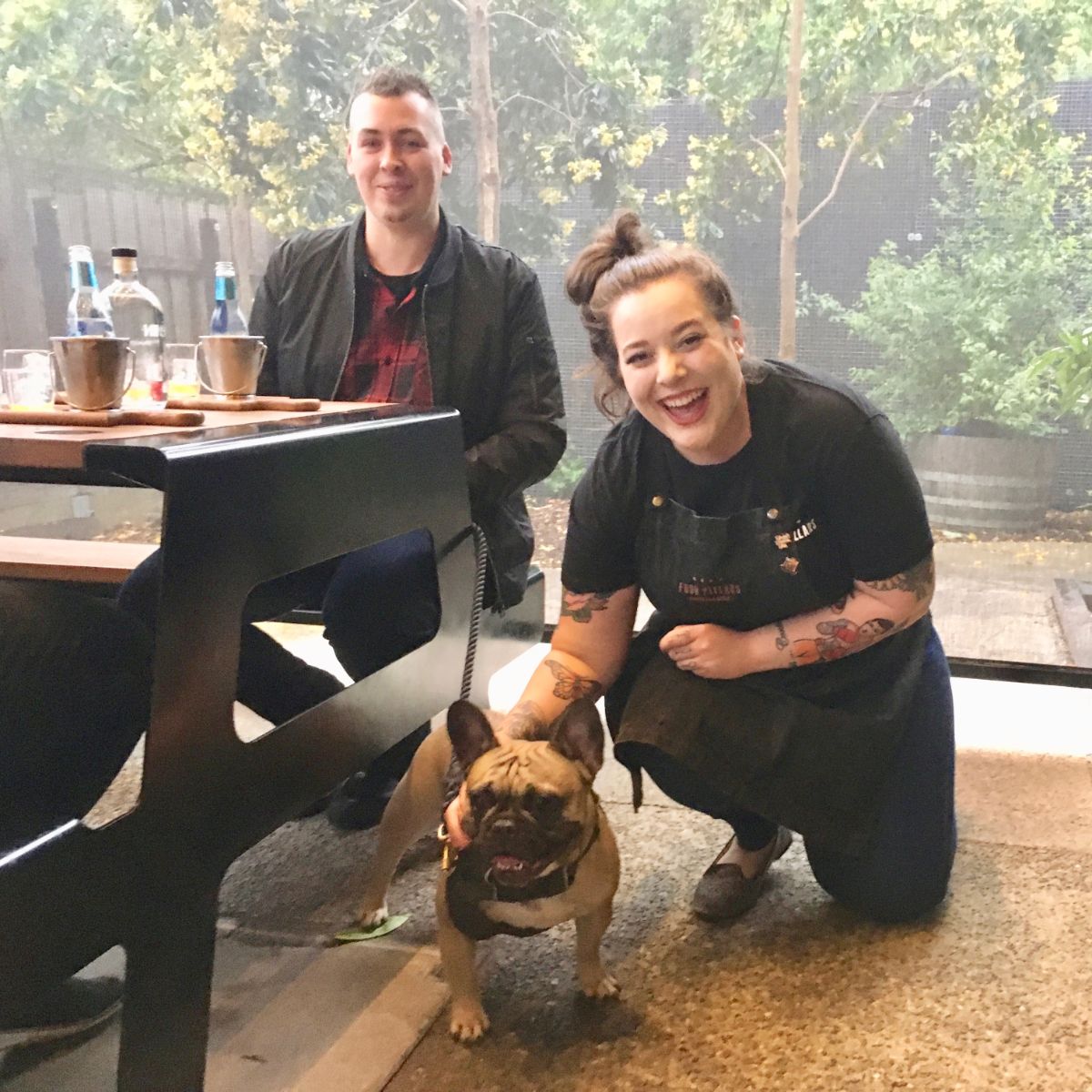 Mes parents were given trois (three) glasses of gin (gin) each and scoffed them all down (there is no direct translation for this) and liked them so much, they bought a bottle of something terrible sounding, called Sticky Carpet Gin which you can't buy online, you have to go to their cellar door to buy it!  Chanceuse (Lucky) pawrents.  Dieu merci (Thank God) we're on this tour!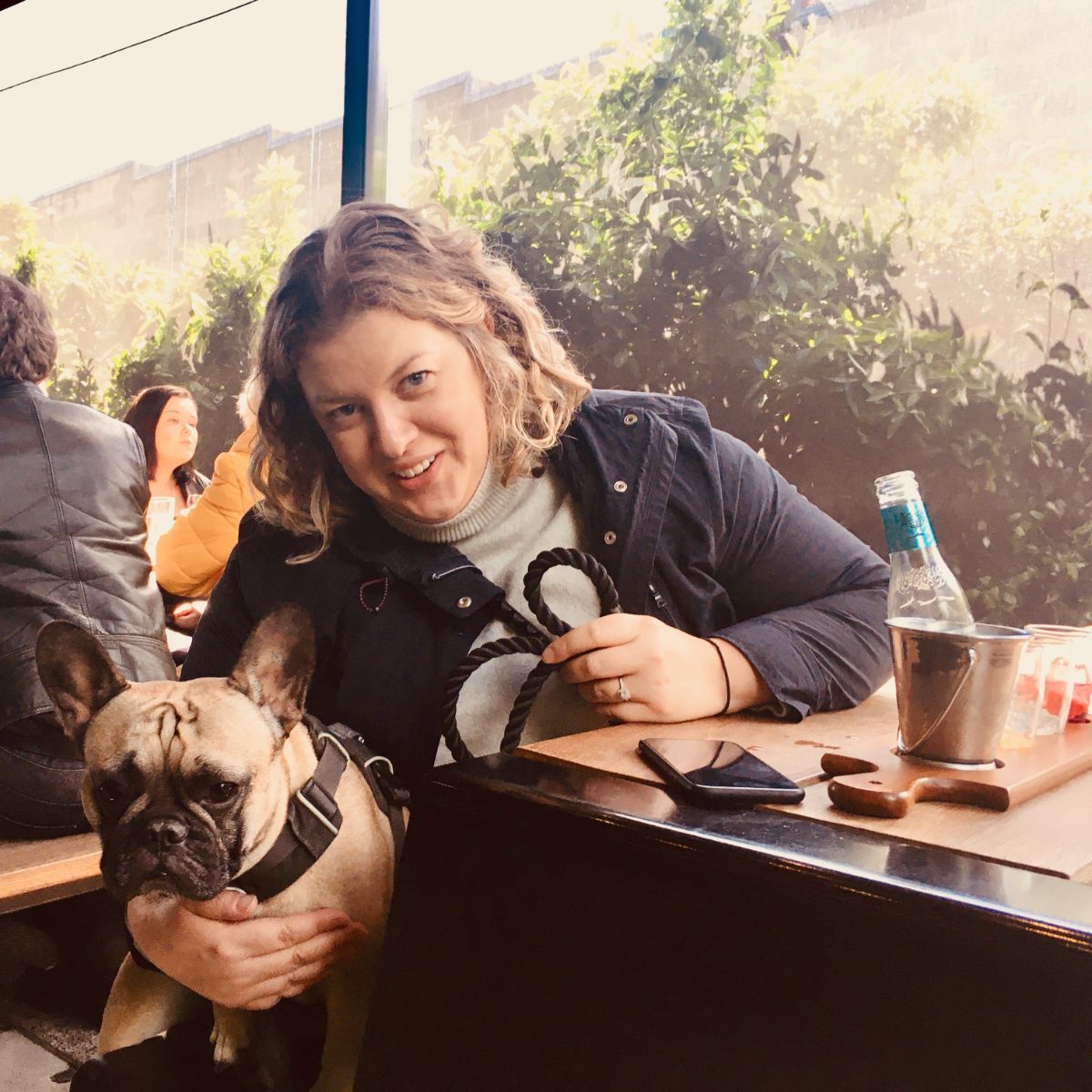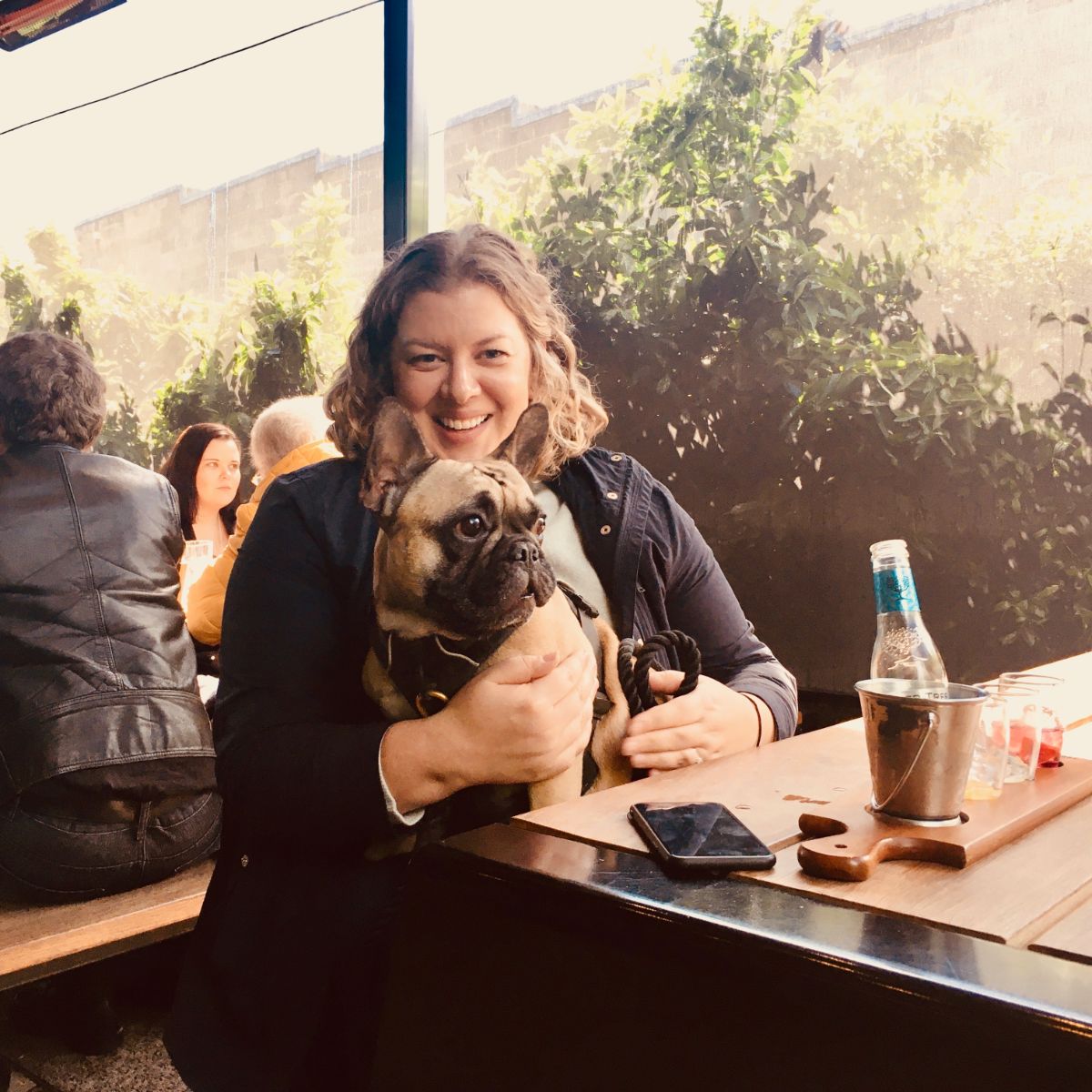 I then took everyone for a walk over the rue (road) to Payten & Jones, a cool, froussarde (funky) happening joint where the most gorgeous French maman met me with bras ouverts (open arms, you heathens).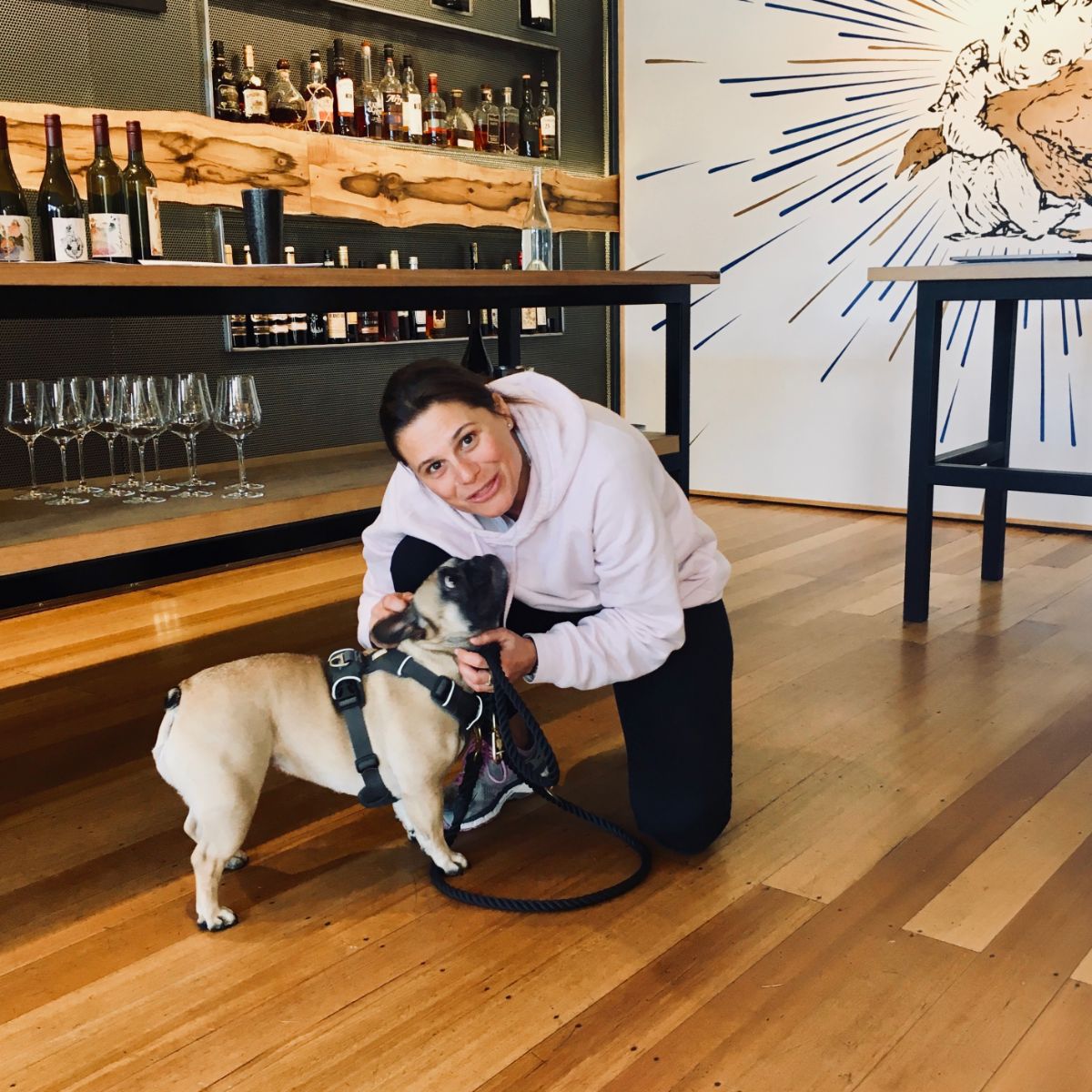 Manu, my lovely French Yummy Mummy (does not translate well) then disparu (disappeared) and a beau (gorgeous) Jamaican chap did our tasting.  My folks seriously loved their wines and Sangiovese was the favourite (having not tried any throughout the day).  We were privilégiée (lucky enough) thanks to Jeff suggesting it, to visit their winery out the back where mon Papa (my Dad) cheekily pretended to neck a bottle – tellement embarrassant (so embarassing) you can't take him anywhere!!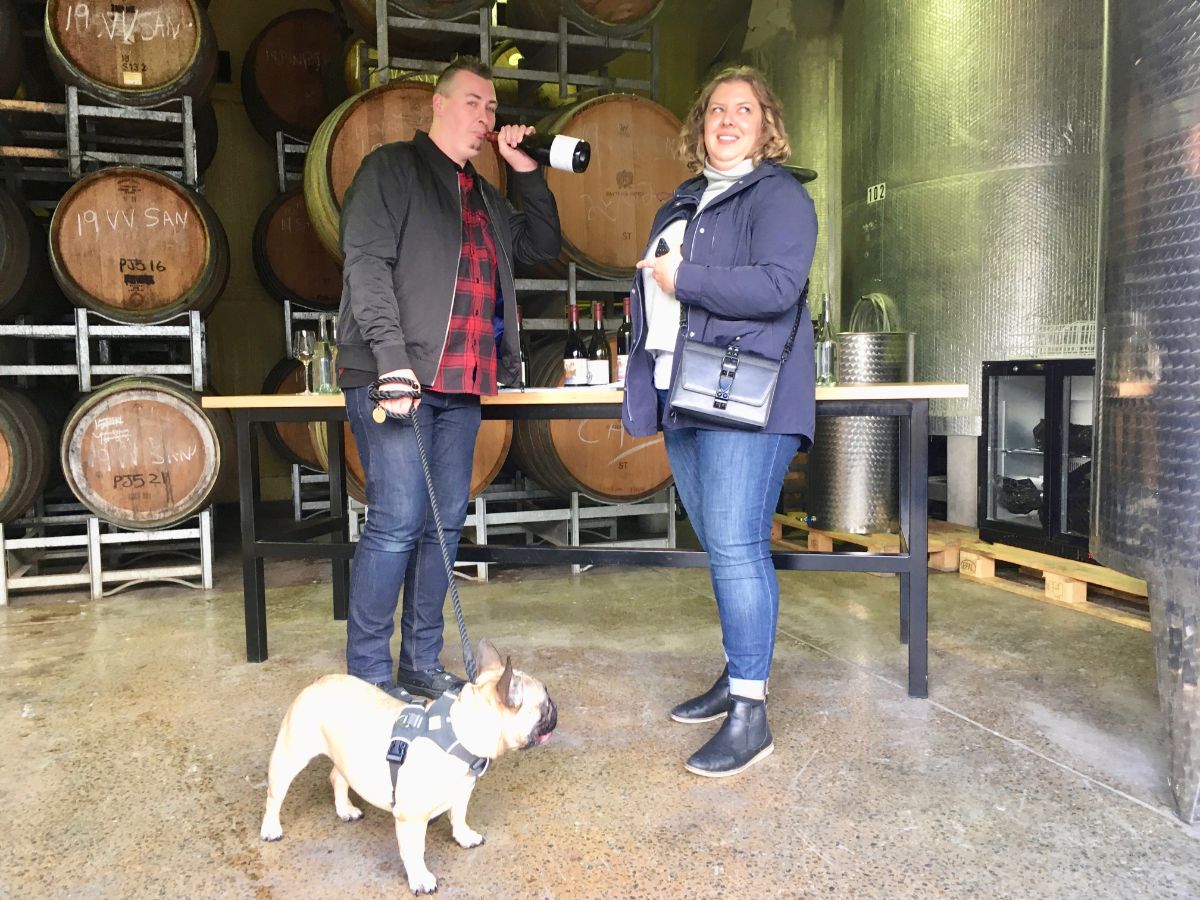 After a quick pit stop to gather charcuterie et fromage (you can surely work that out people?!) provisions for later that night from Cuisine et Boucher (Kitchen & Butcher) dli,  Jeff took me on a small promenade (walk) and then we all piled back in the van and conduit à la maison (drove home) to our luxurious farmstay (Wiggley Bottom Farm) and Jeff humiliated us all by putting our wine purchases on the back of my Papa's véhicule de travail (ute) and we were étonné (seriously amazed) at how much vin (wine) had been purchased throughout the day!!  Sacre Bleu et Oh mon Dieu!!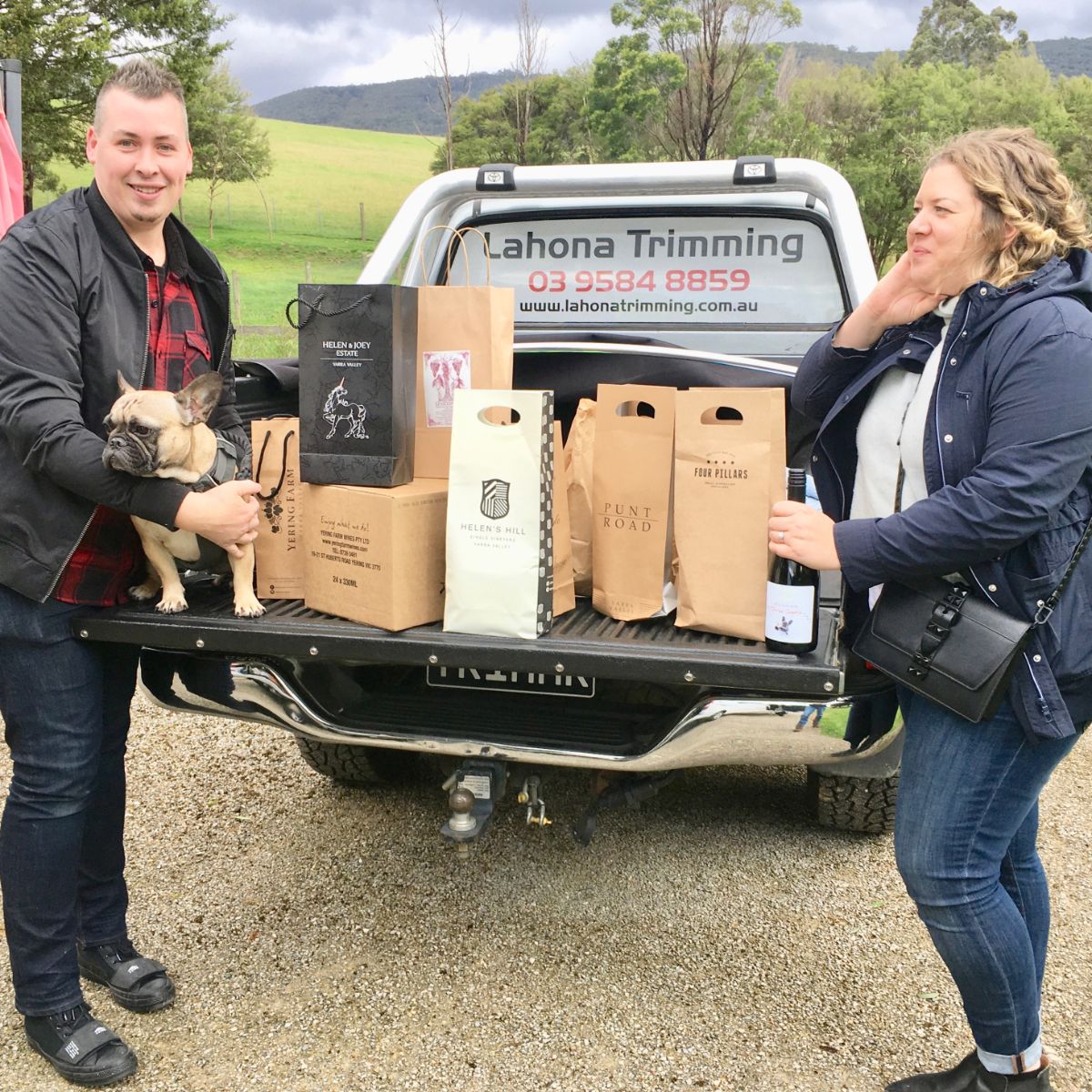 We were all suitably fatiguée (knackered) after our terrifiante (terrific) day out with Pooches & Pinot.  Il est fortement recommandé (it's great – book it!).