Gidday cobbers, the name's Ludo and I'm an Australian Shepherd.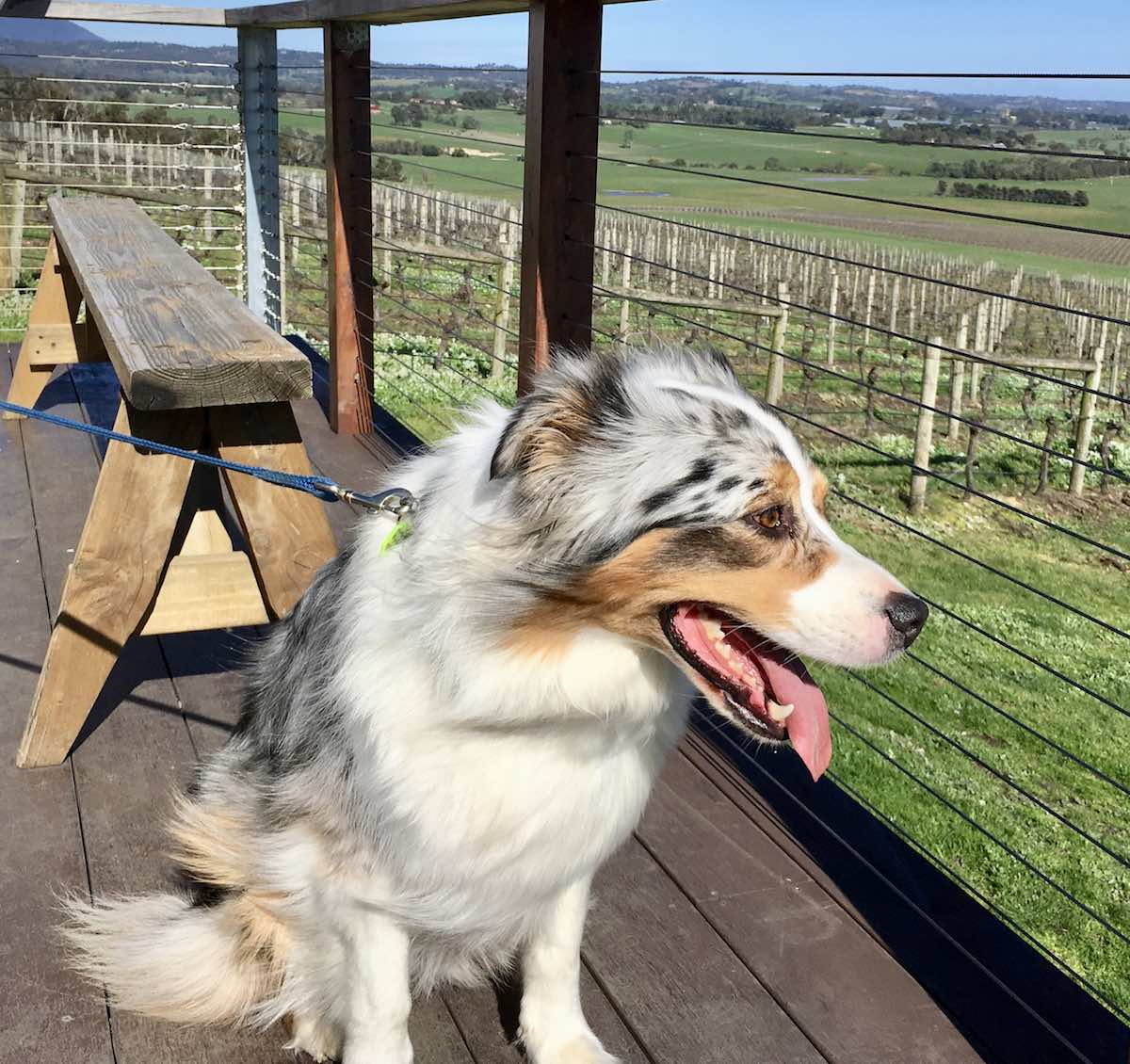 Jeff, the nice man who came to take us on a wine tour, reckons I'm 
the best looking dog he's ever seen.  Geez, make a fella's head swell, that kind of stuff, still, I guess I am pretty easy on the eye.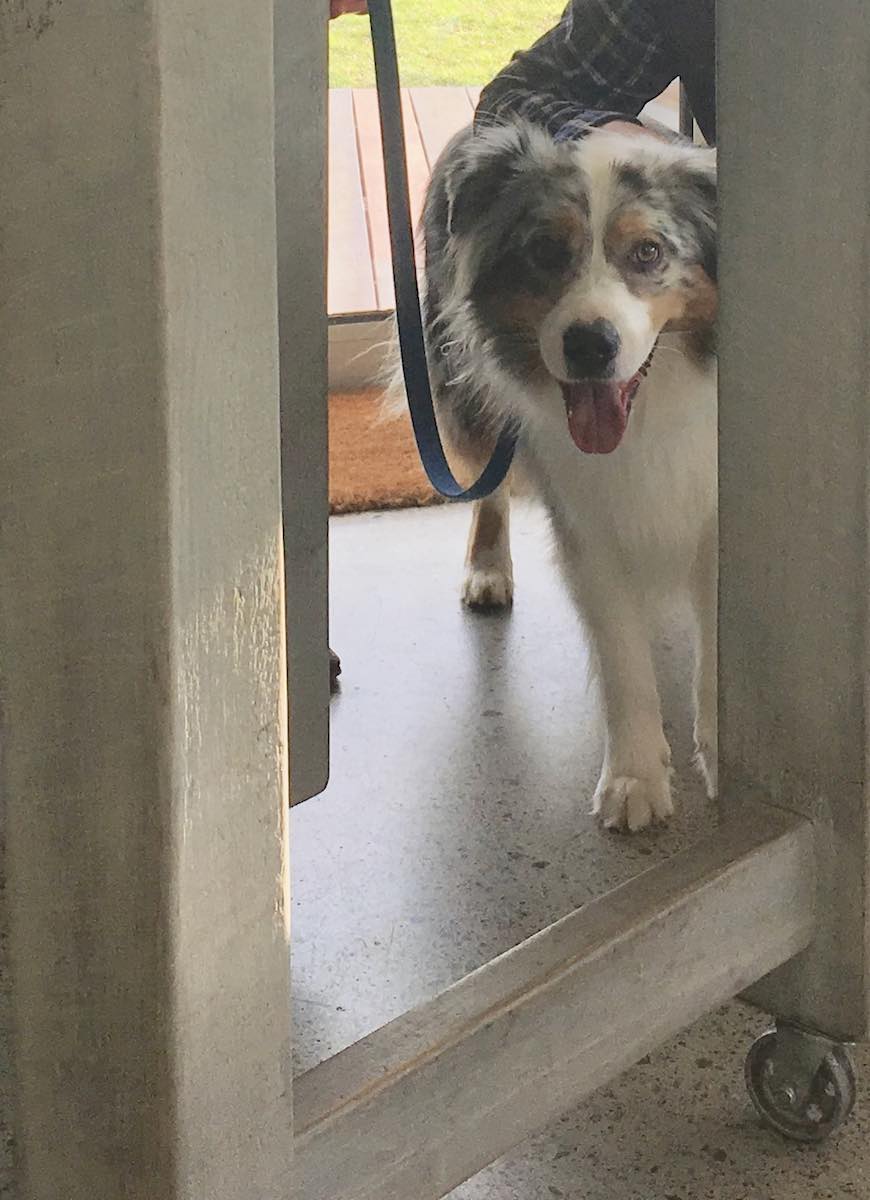 Any way Danny (that's my Dad, on the left) had organised a special wine tour for us all because it was Mum's
(next to him, Gigi's) birthday, and the best part was that she didn't know her brother Matt and his girl Alexandra were also coming, ha ha gotcha.  What a laugh – nicely played Dad!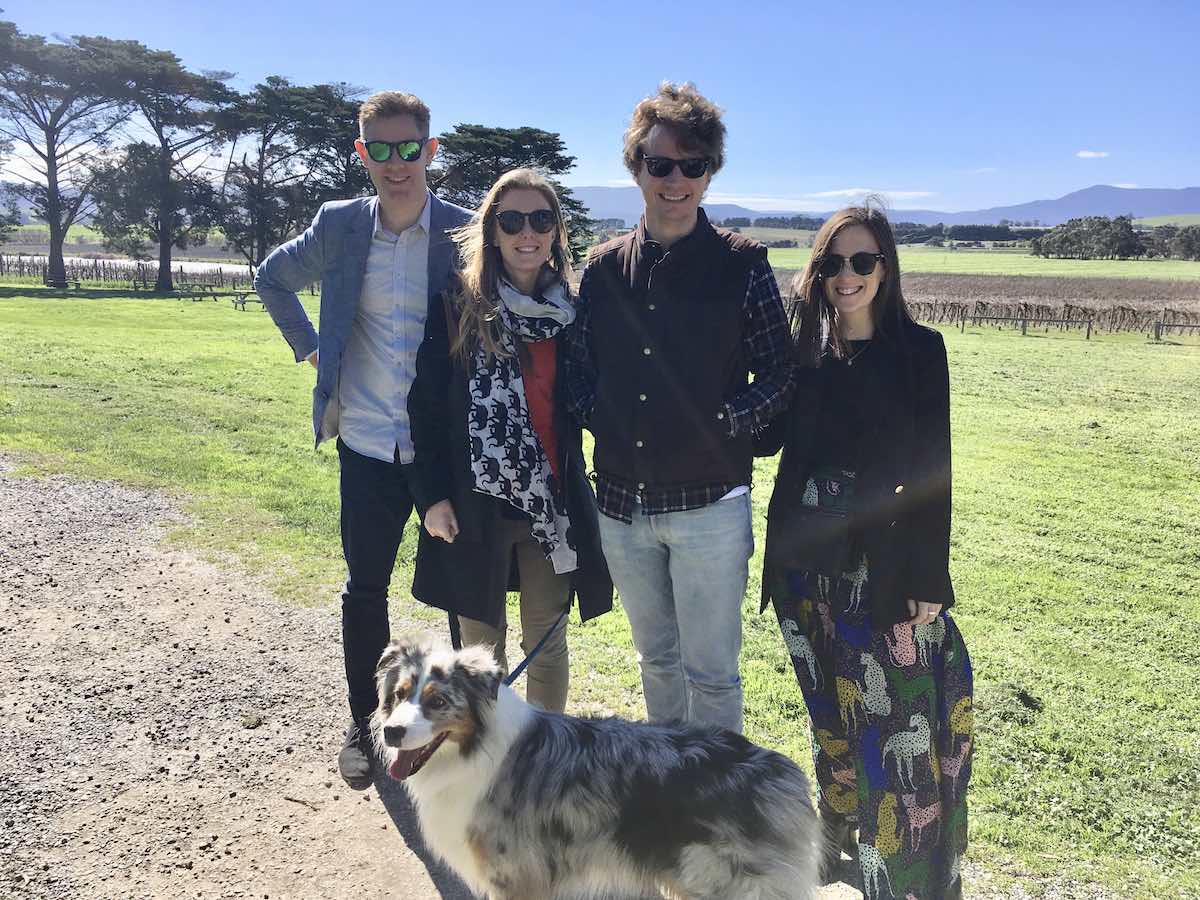 Jeff picked us up at our house and then we headed out to the Yarra Valley to taste wine.  After about an hour in the van we arrive at a place called Helen and Joey's, which has great views, and its a bit bigger than our back yard I can tell you.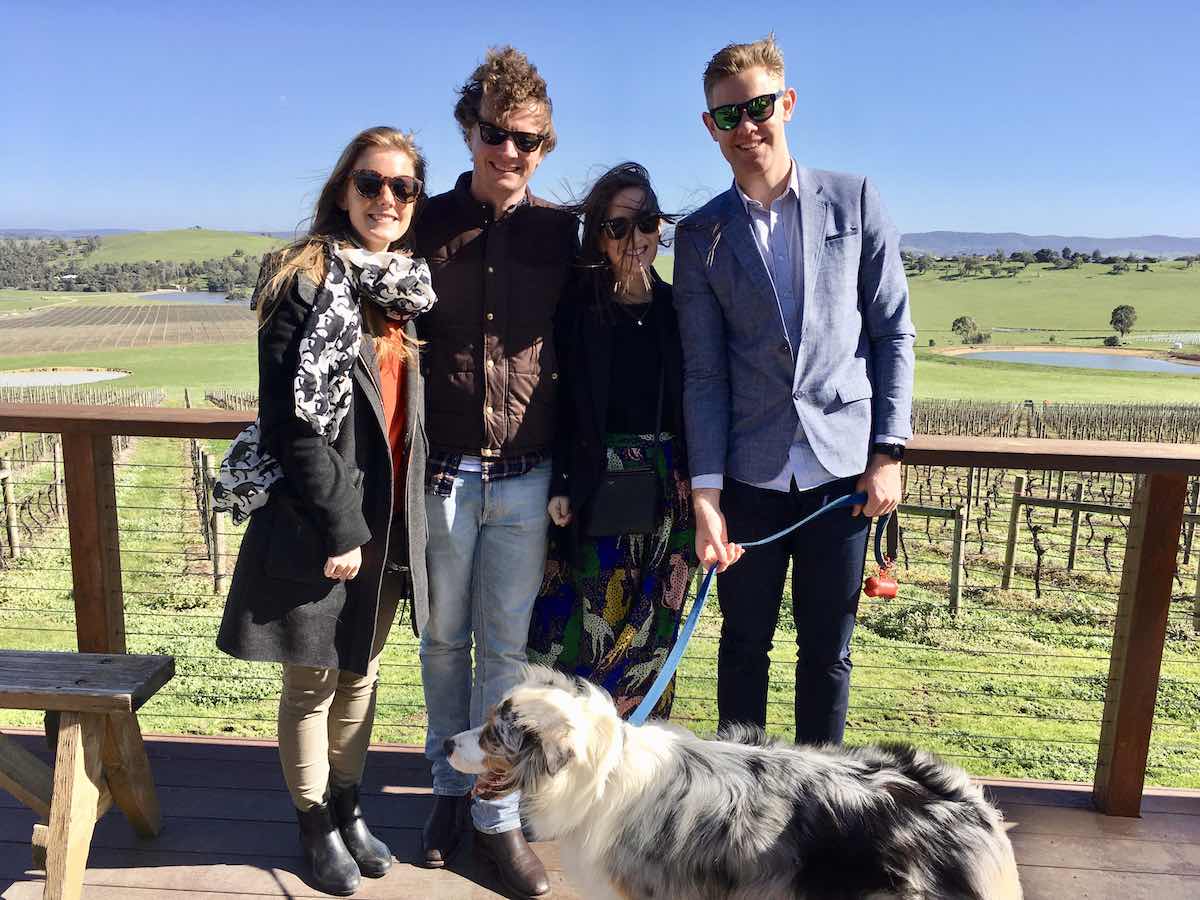 Every one tasted the wines, (and blow me down if they don't come in different colours!) and said they were real nice, I dragged this Jeff bloke around the deck a few times and then we took some pictures of us in front of a huge white dog with a red ice cream cone stuck on its face, what a goose.  Here I am trying to say hello to him.  He didn't say much, even when my Mum sat on him – quite aloof as dog's go!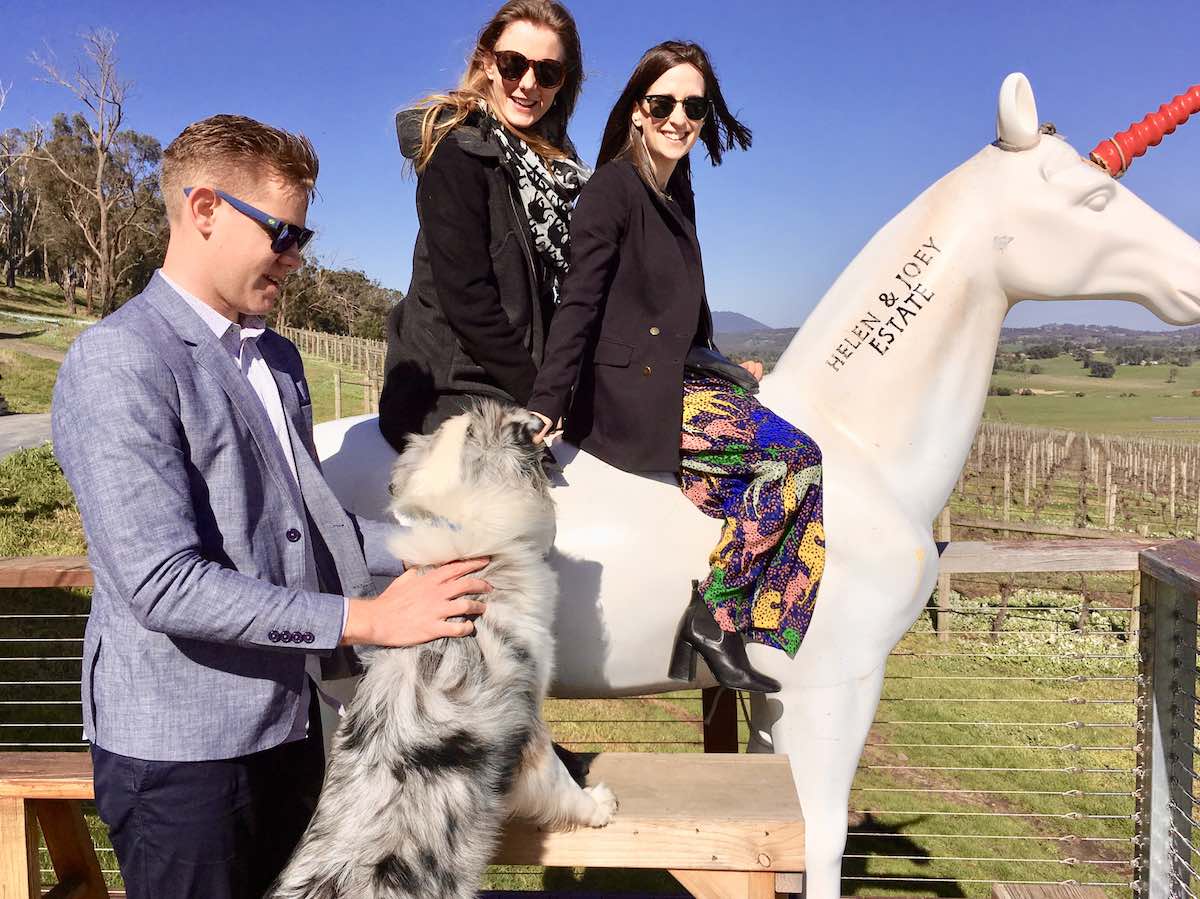 We then set off to Yering Farm winery, where they have sheepies and some other strange things with long necks (weirdos) and a big field to sniff and explore, oh and they have wine too, so we went into the old hay barn to try it. I couldn't decide what to try first – here I am at the counter, sussing it all out.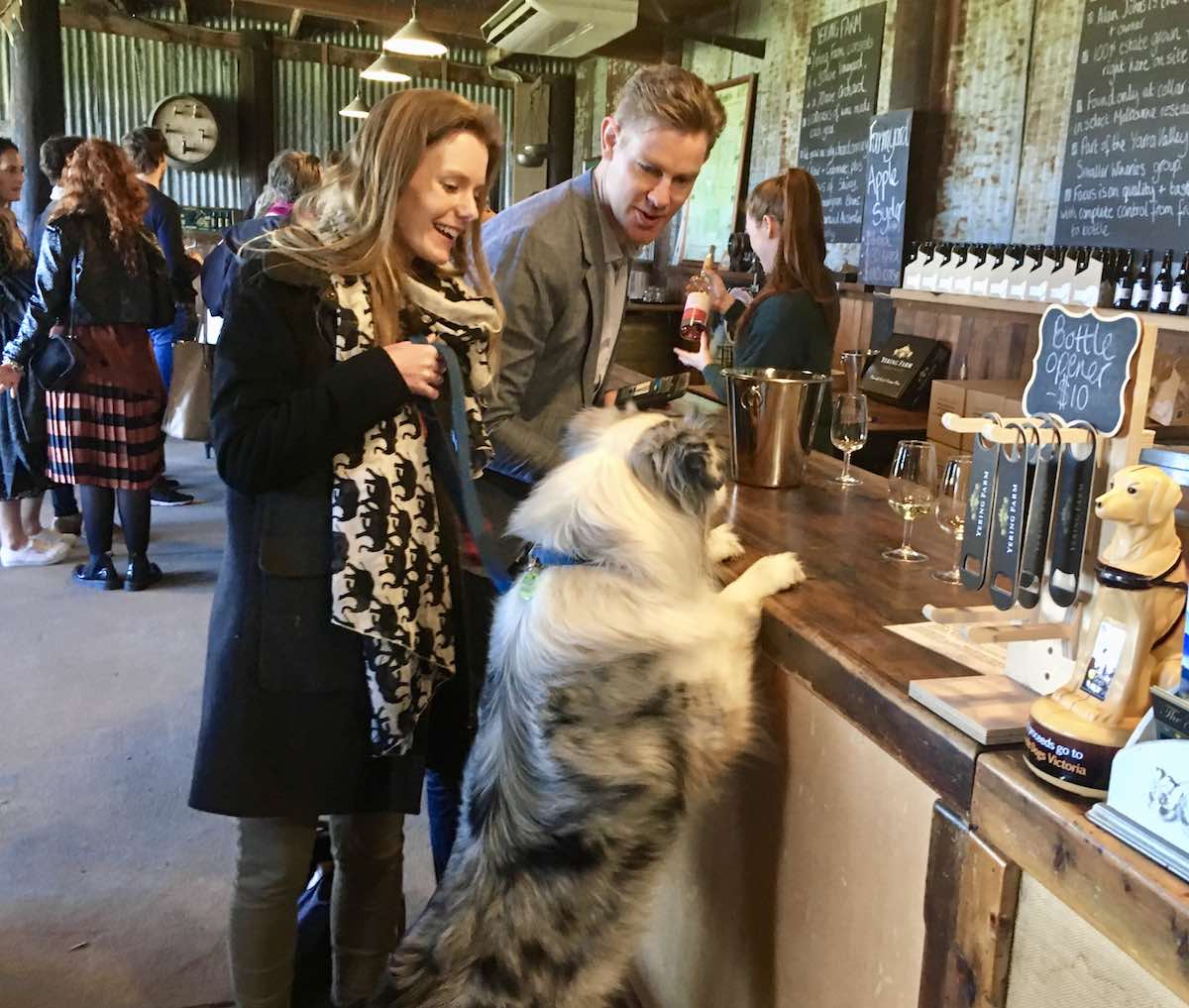 Everybody bought wine they liked it so much AND also some apple cider and said it was bonza!
Next stop Helen's Hill (crikey there's a lot of Helens in the valley) where Scott looked after us and gave my humans more wine (really?) and then fed them a huge lunch by the fire – look at them grinning, they love being fed.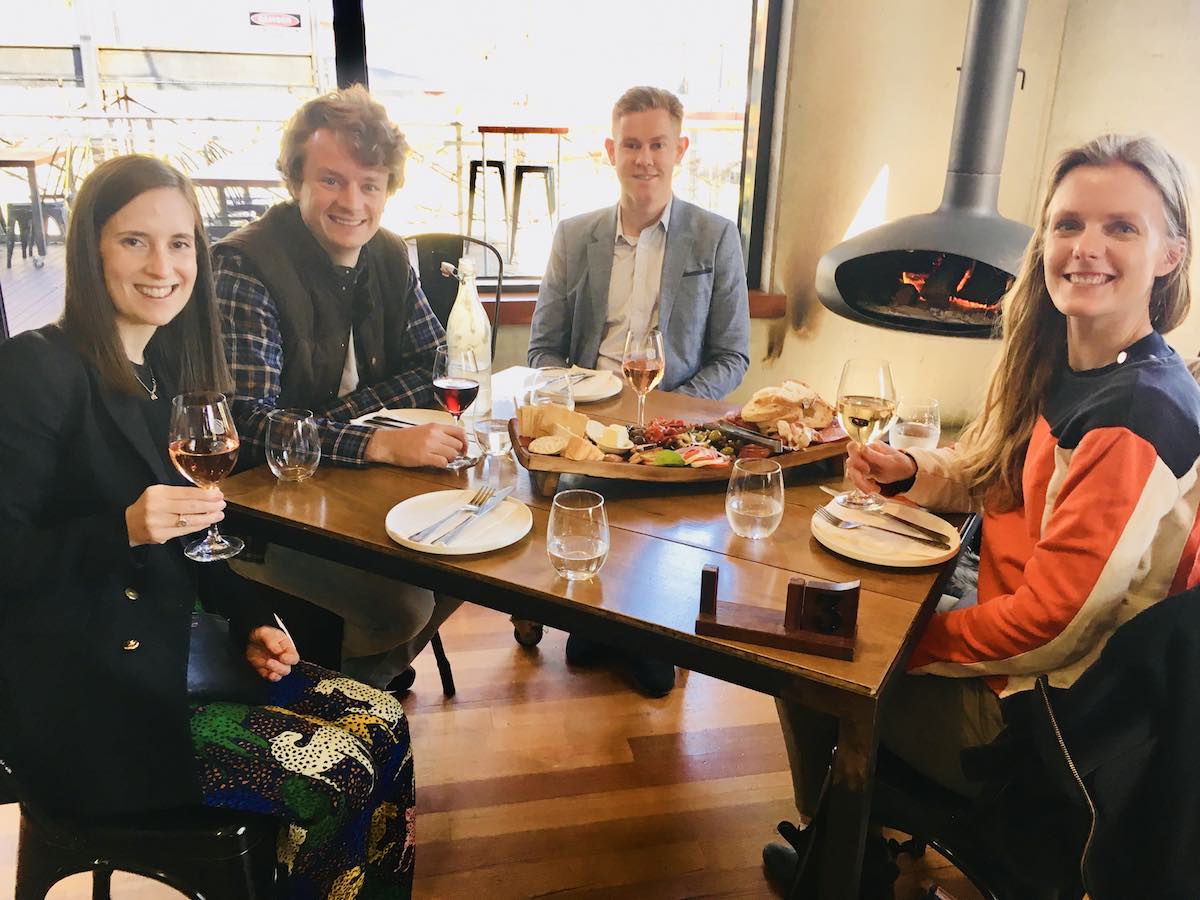 By this time I had decided I quite liked this Jeff fella, he got me some clear wine they call water and had a pocket full of treats just for me, what a good bloke.  Every one was full as a goog after lunch but good bloke Jeff had more in store (didya see the clever rhyme back there?) and took us to a little cellar door called Maddens Rise and stone the bloody crows there was another field for me to run around in, this Yarra Valley business is alright mate!  I could have done zoomies there all day.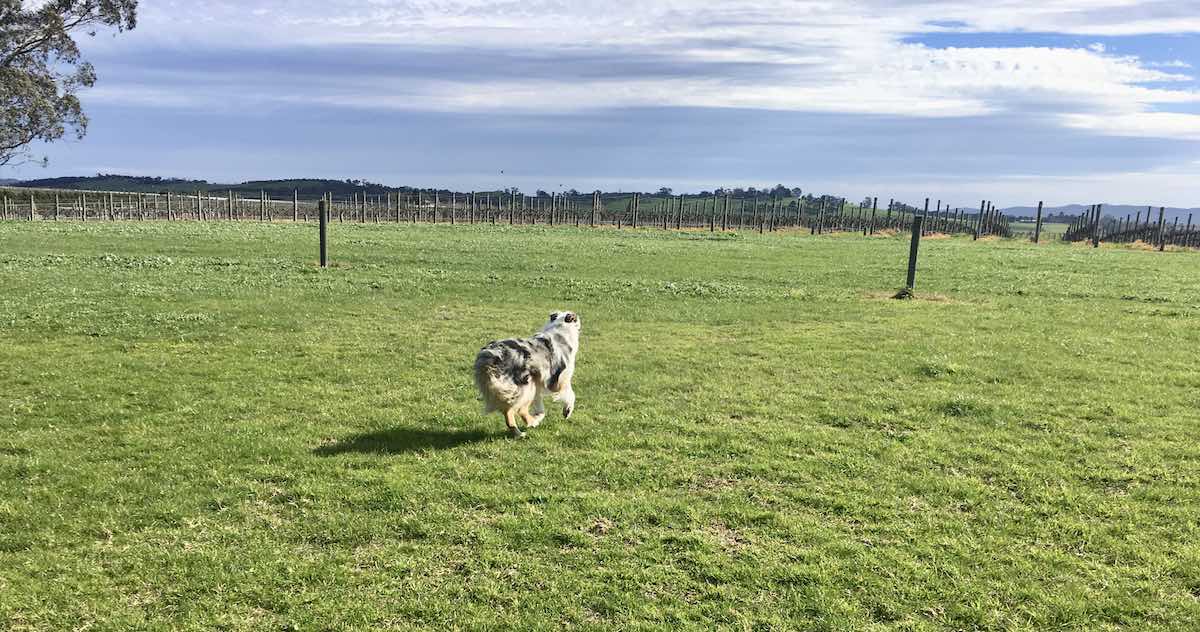 Inside it was as cosy as grandma's bosom. Jeff disappeared for a mo while I sat and waited patiently for him by a bucket of leaves.  I could sense he was up to something…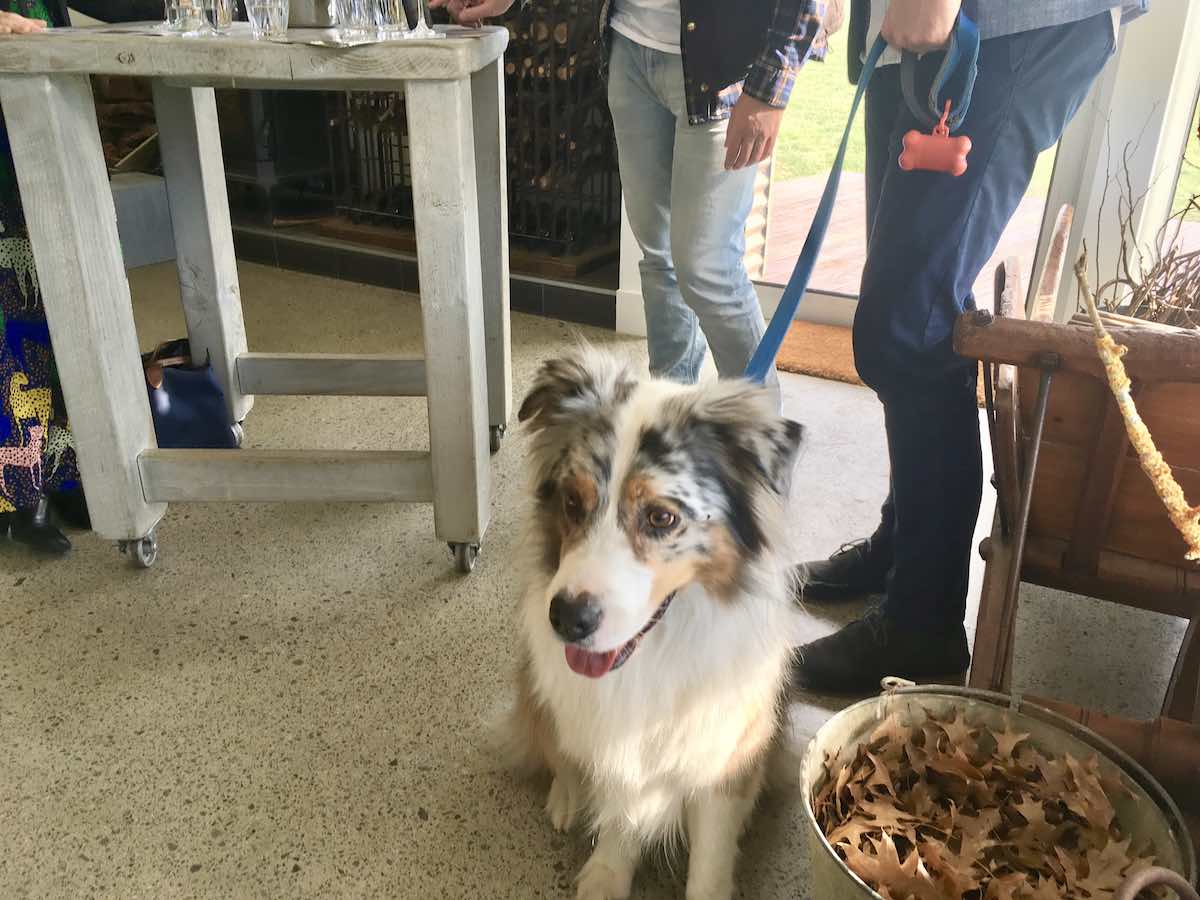 but Mum was totally unaware..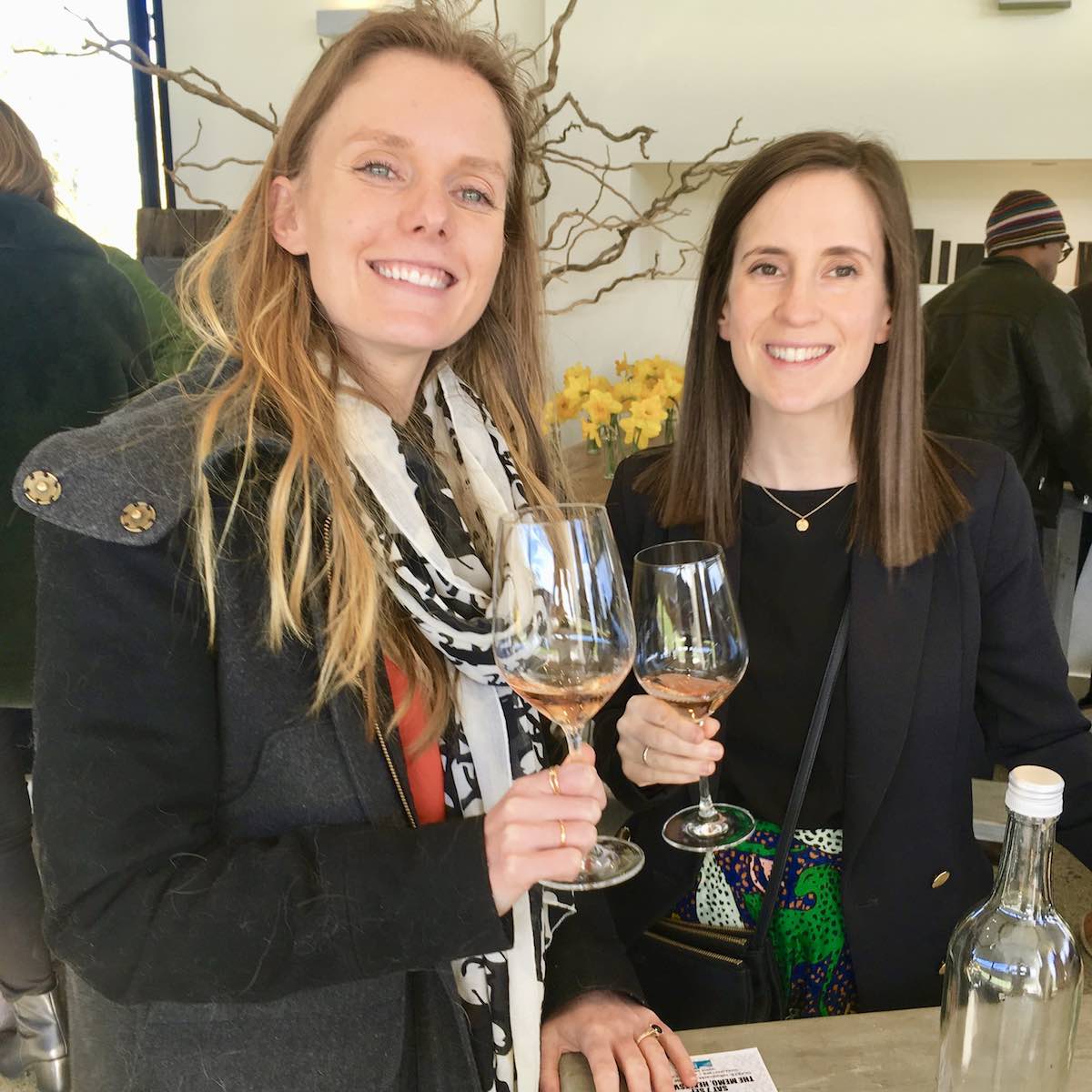 and Jeff arrived back carrying a birthday cake and sparkly wine for everyone and the whole place starting singing a song about Happiness and birthdays, it was great.  The best part was how embarrassed Mum looked.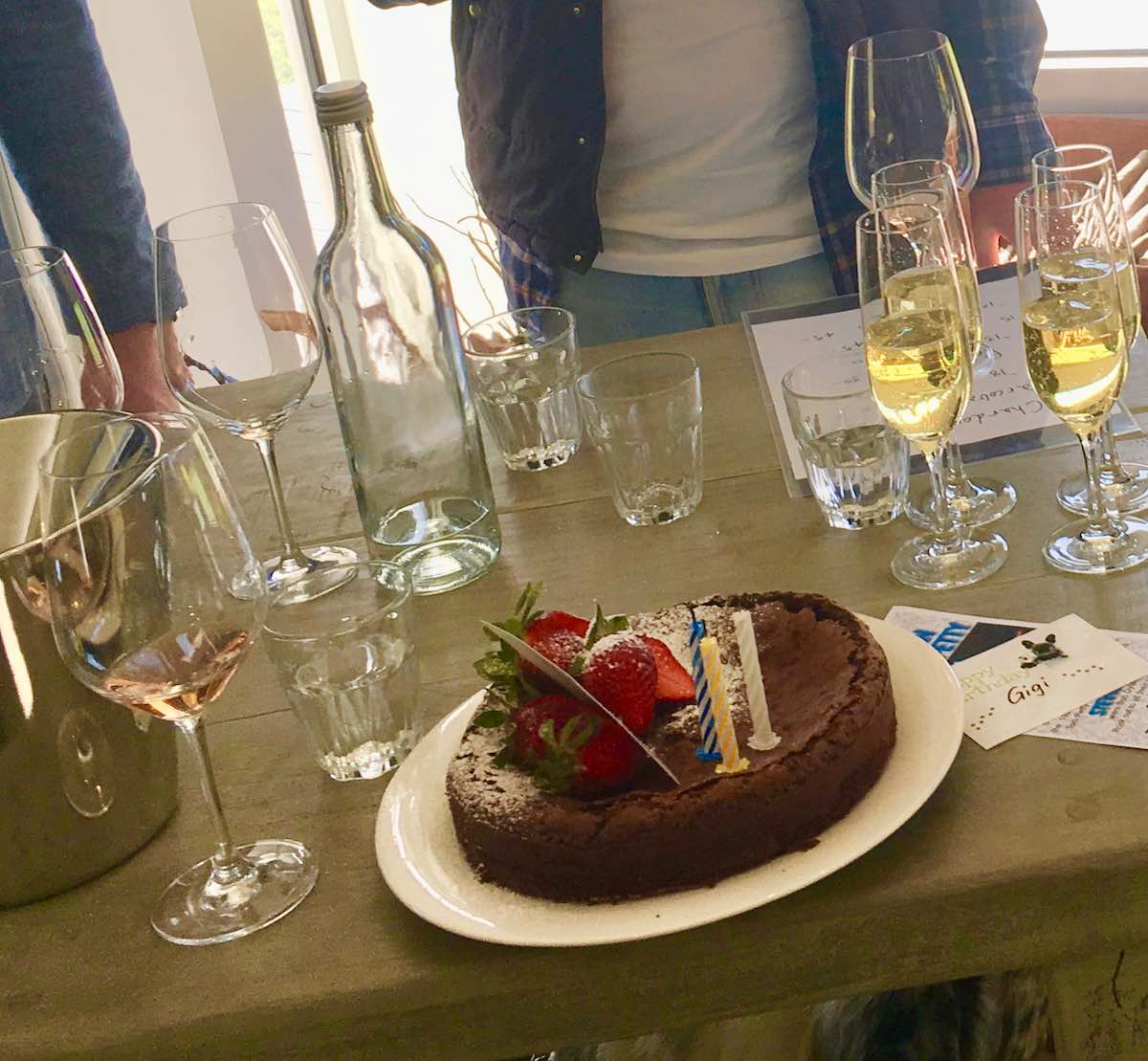 I positioned myself in the best spot for 'falling cake' but none fell.  Some days I'm just all outta luck.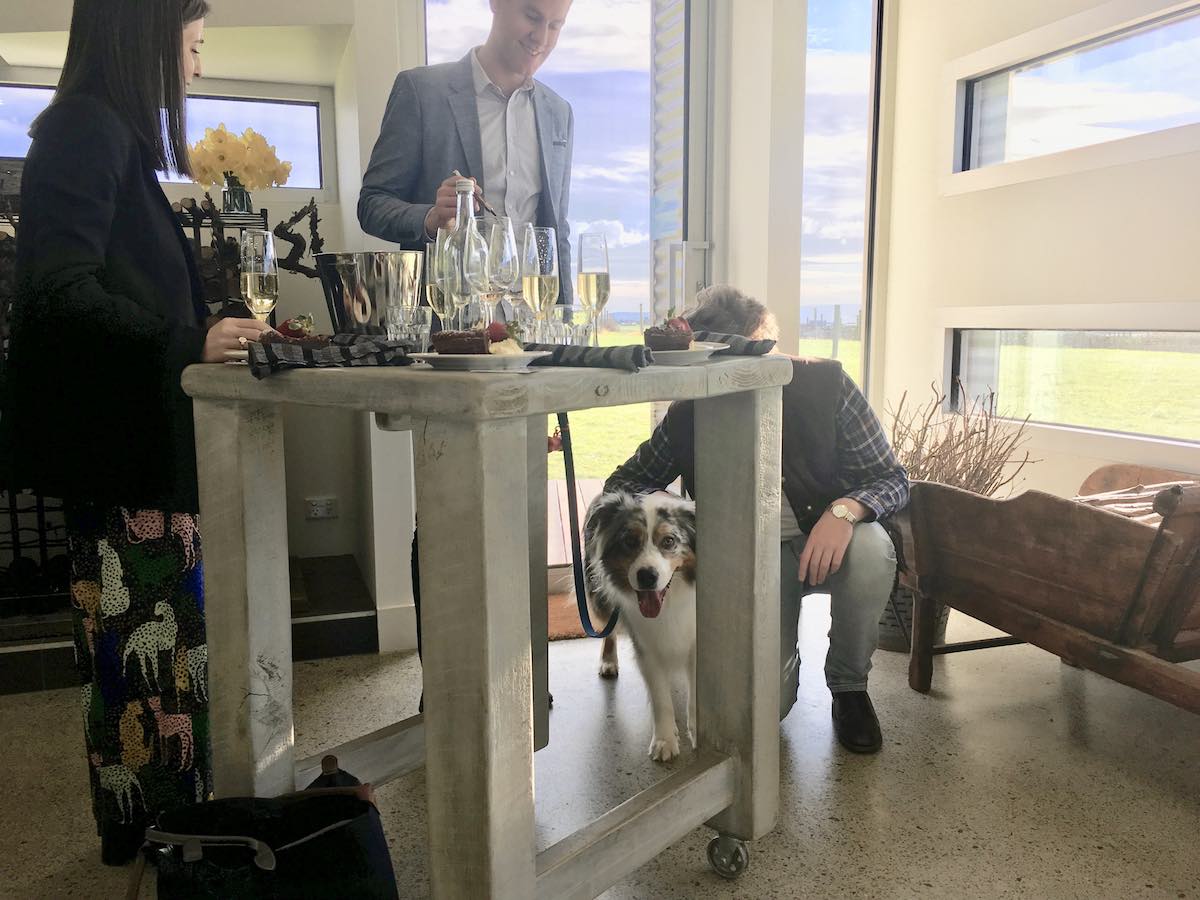 At one point Dad leant down to give me what I thought was my piece of cake, but turns out he just wanted to stroke me!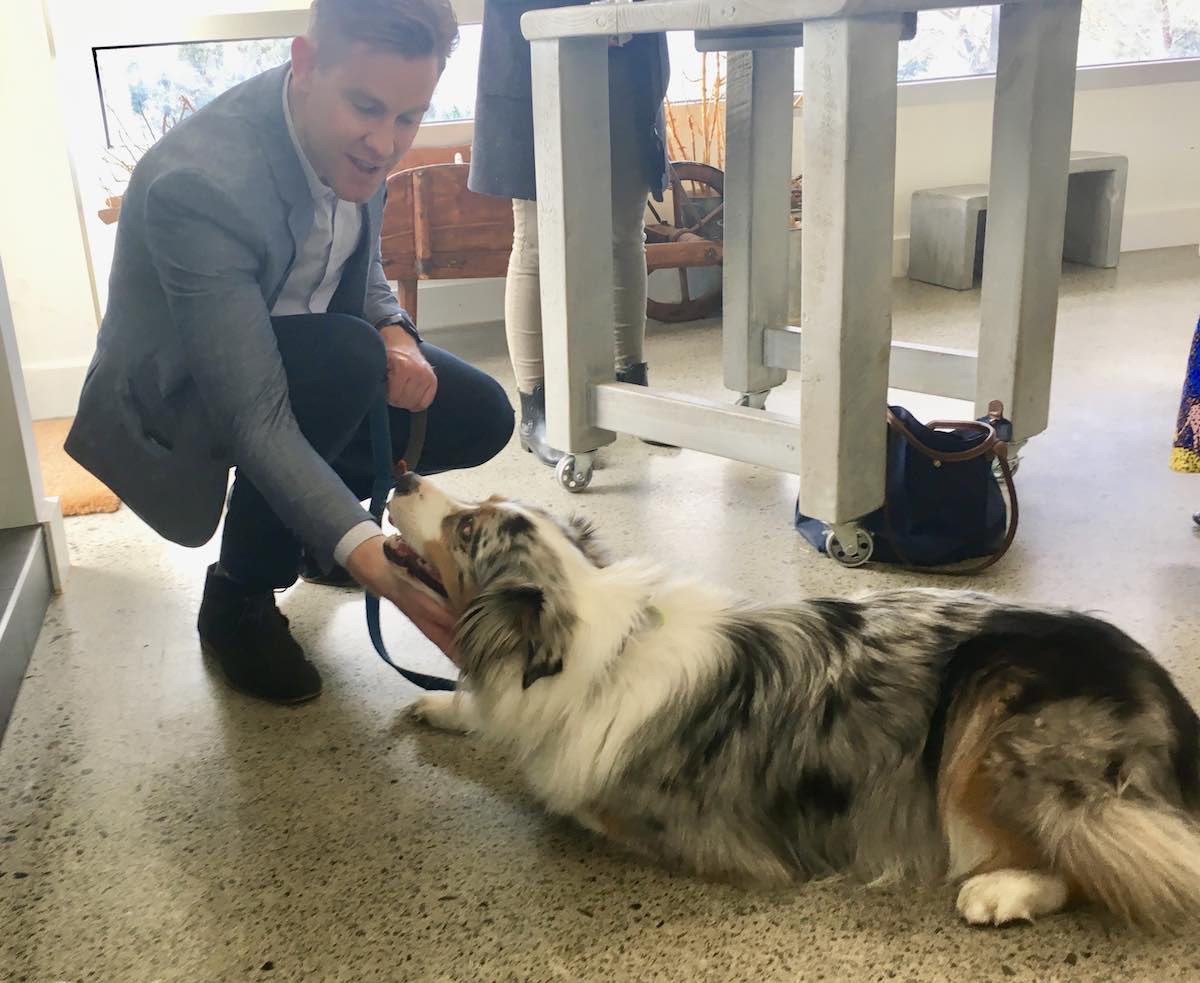 They then tasted the whole range of Maddens' wines, grown and made on the property, this is the ants pants apparently. 
From here we went into the town of Healesville to a cool funky joint called Payton and Jones, there was a courtyard for me to cruise around in while Mum, Dad, Uncle Matt and Auntie Alex tasted more wine, I'd have thought they'd be over it by now but they're champions at this wine tasting business, I'm so proud of them.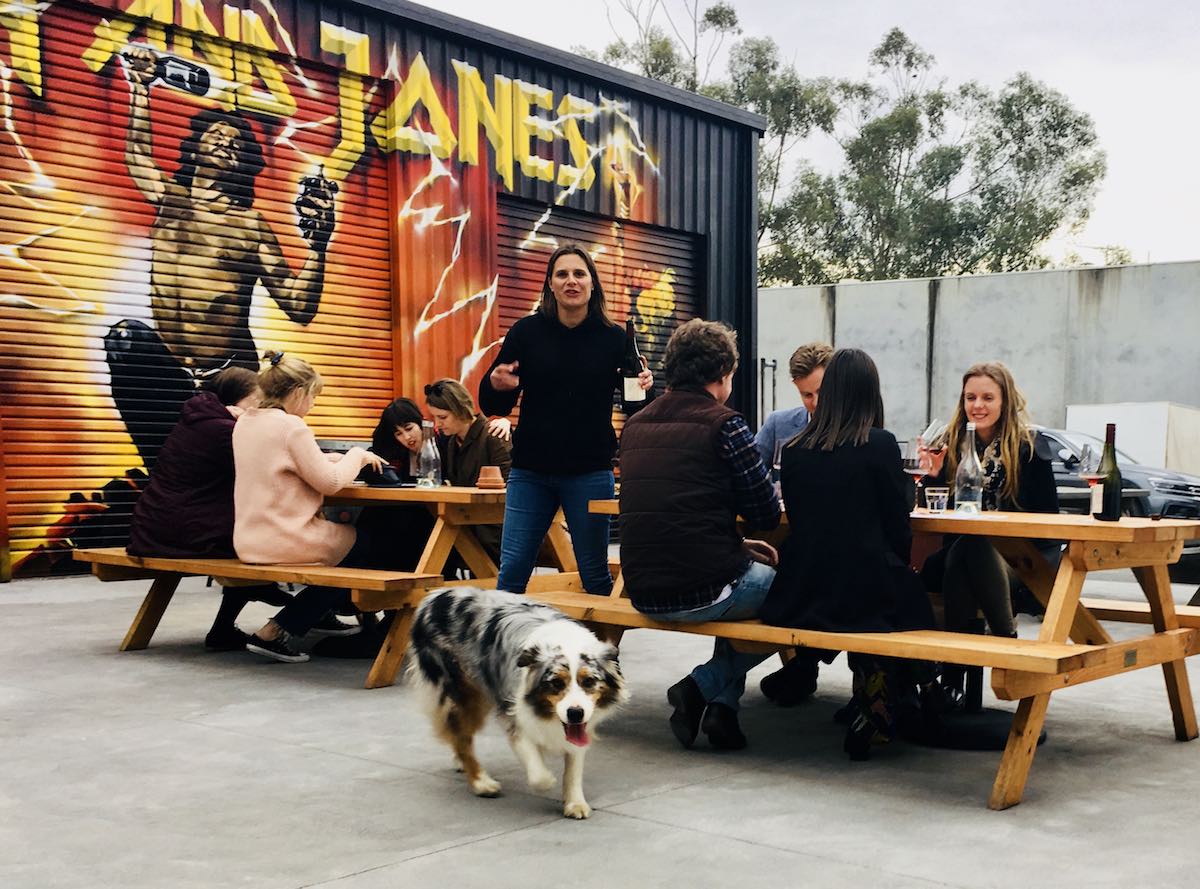 Emmanuel sat with them and showed them the range and everyone made oohs and aahs and strange noises of appreciation. I just hung out with good bloke Jeff, but soon it was time to head for home.
I was a bit sneaky and found my way into the front of the van, which was good cause they were all talking about climate change and recycling and stuff and they are important issues for all of us and I wanted to make a contribution.  But then, quick as a wink (that's for Dad cause he loves the gee gees, get it, wink/Winks, ha ha the cleverness of me!) we were home and saying goodbye to good bloke Jeff, and every one was shaking hands and stuff.  But I just turned and headed up the driveway, a fella doesn't want to get emotional, top day out but.