Hi there, I'm Lucy, I'm a 4 yr old Beagle, I live in St Kilda, I'm single, I work out, I LOVE the outdoors, have my own backyard, love sniffing and meeting new people and have a great sense of humour.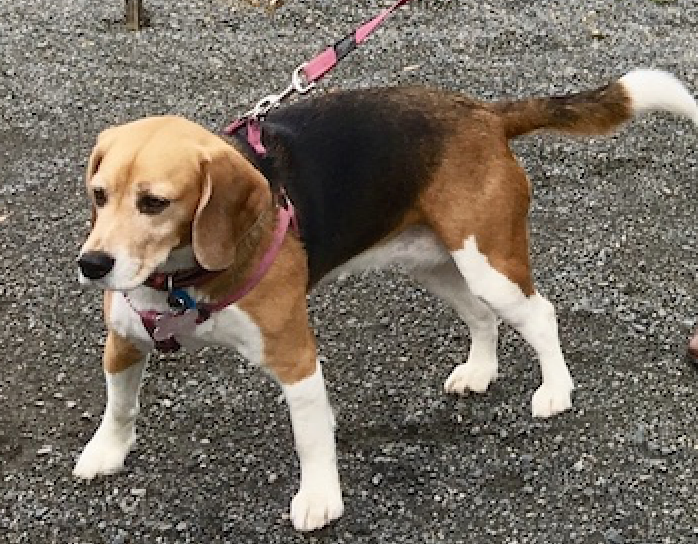 That was a joke people! :-)  I'm not here to find a mate, I'm here to tell you about this brilliant tour I took my pawrents on to celebrate their wedding anniversary!
So, I've been the light of their life for 4 years, but apparently, before I came along, they had been married 5 years already!   I know right, Life before Lucy?  Seriously bizarre!!  So anyway, we all decided to come away together to celebrate this achievement and we decided to stay in a gorgeous cottage called Harvest Farm where I can stay too (priorities people!) and Dad organised for us all to go on our very own wine tour with a nice man called Jeff who had organised a whole day for us, showing us all the best places to sniff, and we got to meet all these new people – and my pawrents drank wine at all these new and different places which they love doing (they've even been on a course to learn how to love wine even more) it was the best day!
Now, there are two things you should know about me – I'm charming and I'm an absolute sniffer.  I was put on this earth to sniff and I do it really well.  And the charming thing, well it just happens, all the flippin time.  I just walk into a room and everyone comes over and wants to touch me. I am ridiculously soft it's fair to say but even so, it's quite a skill and I was just born this way!
So, as soon as we got to the first place on our tour, I got out of the van and within seconds, the sniffing began.  Actually back track, the sniffing began in the van, because I could sniff that there had been a cavoodle in the van the day before – THAT'S how keen my nose is.  A cavoodle called Loui – nothing gets past my nose!!
Here I am fresh out of the van, eager to get sniffing, at Helen & Joey's Estate.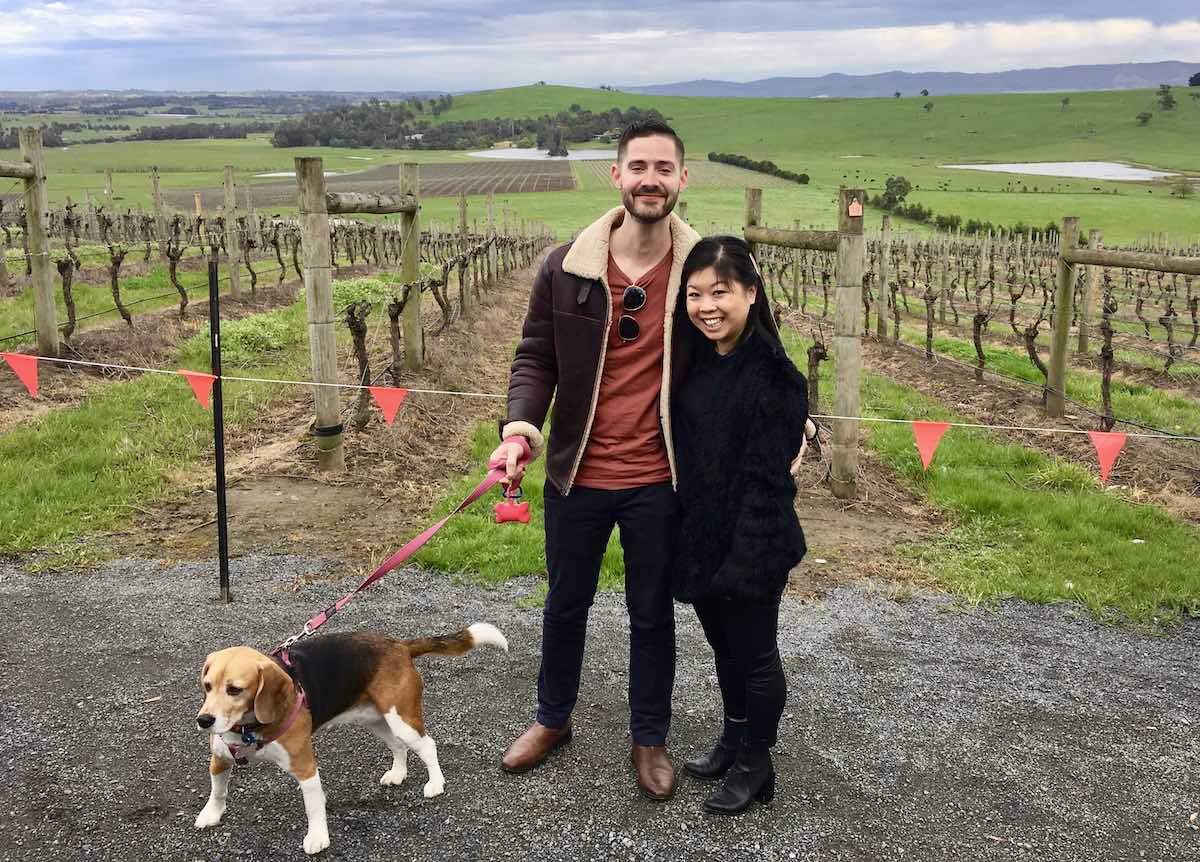 It was a bit blustery so we went inside their lovely cellar door and a nice man called Jason (who loved me) looked after my parents and gave them all sorts of lovely wines to try, while I was busy under the tasting bench, sniffing to my heart's content.  I came out for the occasional photo but boy it smelt good under there.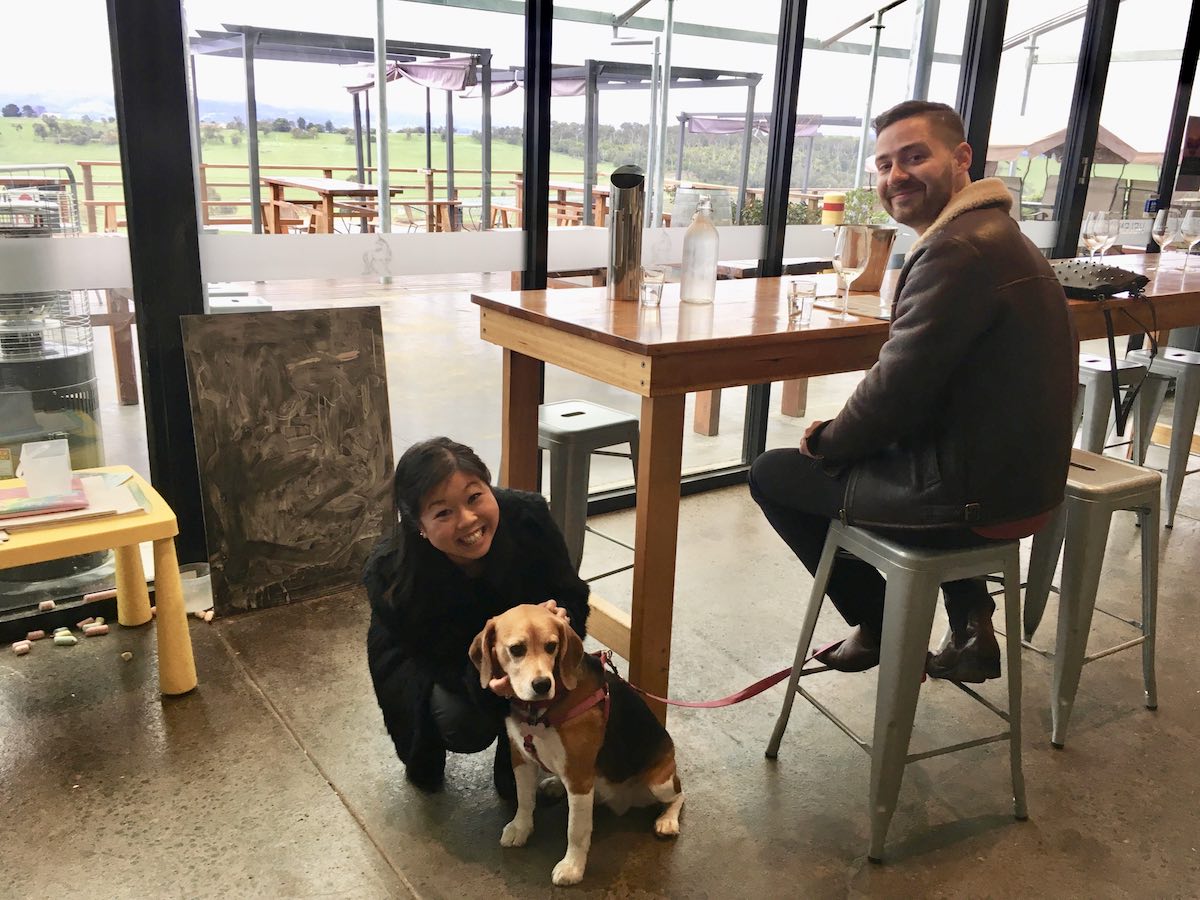 What's funny is that while I'm happy sniffing the floor, my pawrents are busy sniffing their glasses.  It's so sweet, they are trying to be like me.  They call me a detective because of the things I can tell from sniffing and there they were trying to sniff out information about the wines they were trying – not once did they think to pop the glass under MY nose!  I could have told them all the needed to know!!  Much as I love them, my humans can be a bit slow sometimes.
And then my Dad went and embarrassed us all.  This happens sometimes.  Mum and I just give one another a knowing look!  There's this unicorn on the deck overlooking the amazing view and he only went and got on it!  He sat on it – like a tourist!  It was SO excruciating.  I went back inside and just looked charming until someone came over to adore me.  I mean, look!  And to make matters worse, its red horn is dangling off – probably from too many stupid Dads and hen's parties climbing on the poor thing!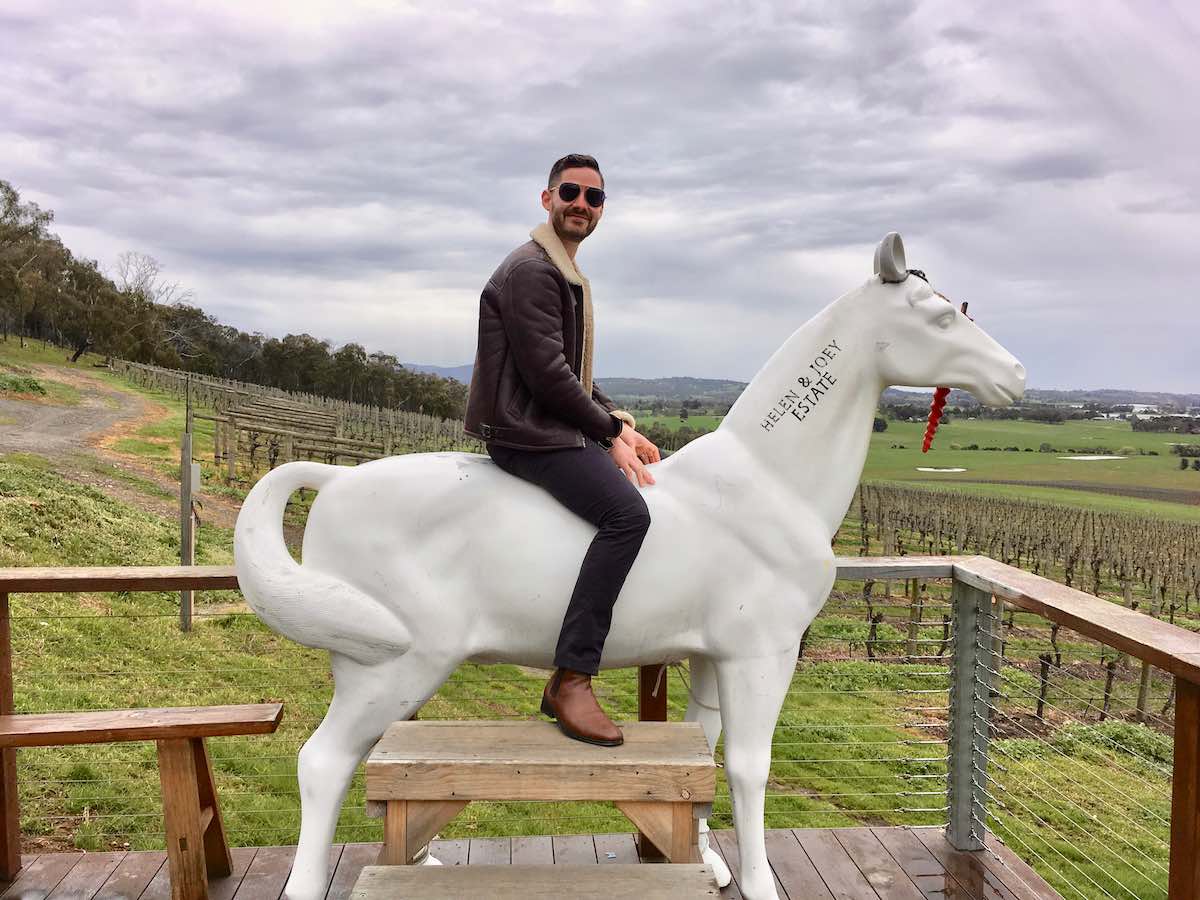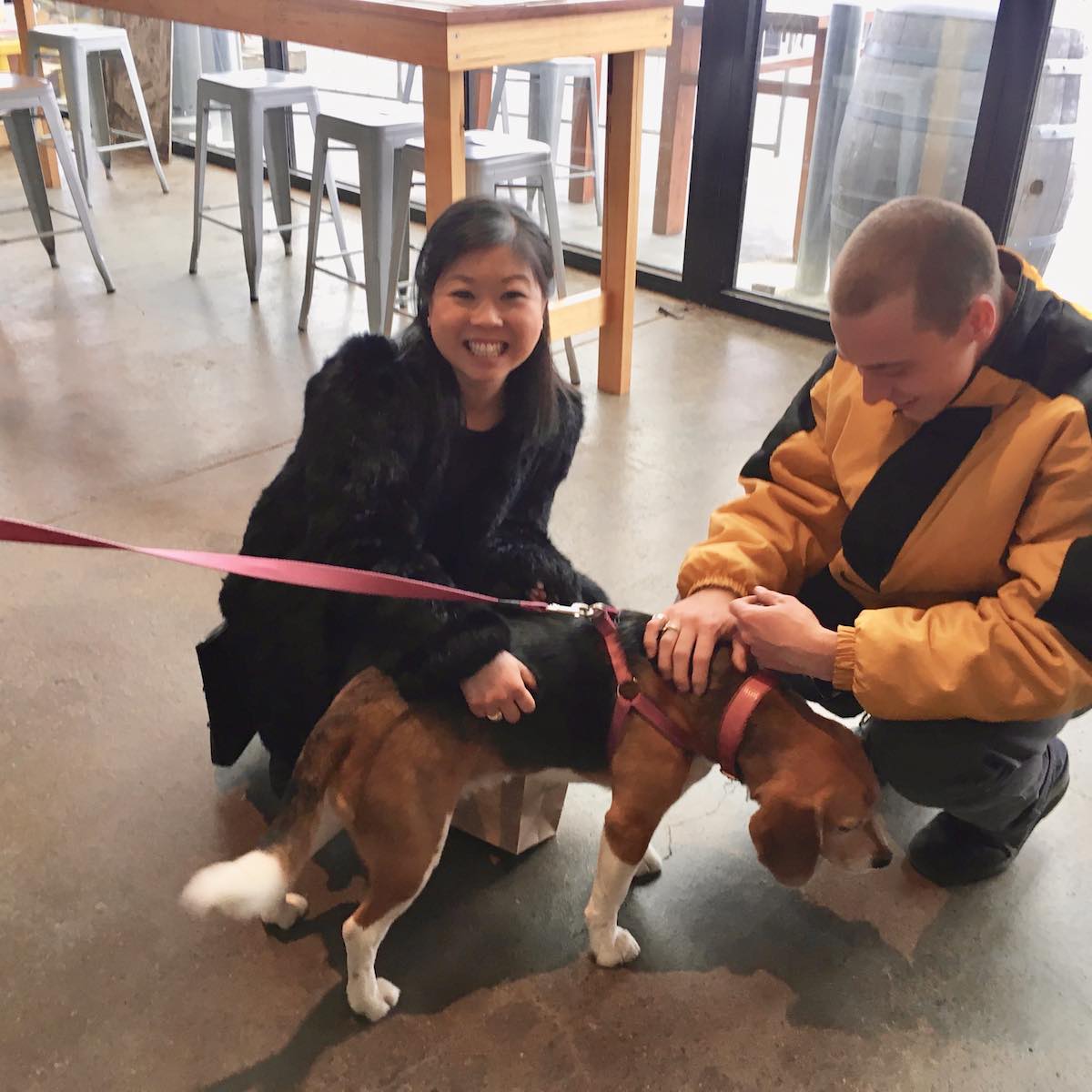 After my Mum & Dad had signed up to the H&J newsletter (so we can hear about Summer Sessions and come back out here again in summer and listen to music together) we leapt back into the van (well I did at any rate, the others kind of clambered in) and set off for Yering Farm which is this brilliant hay shed which they've made into their cellar door, on a working farm, so imagine the smells for me there!!  I could barely contain myself and yet we had to pose for photos on arrival!!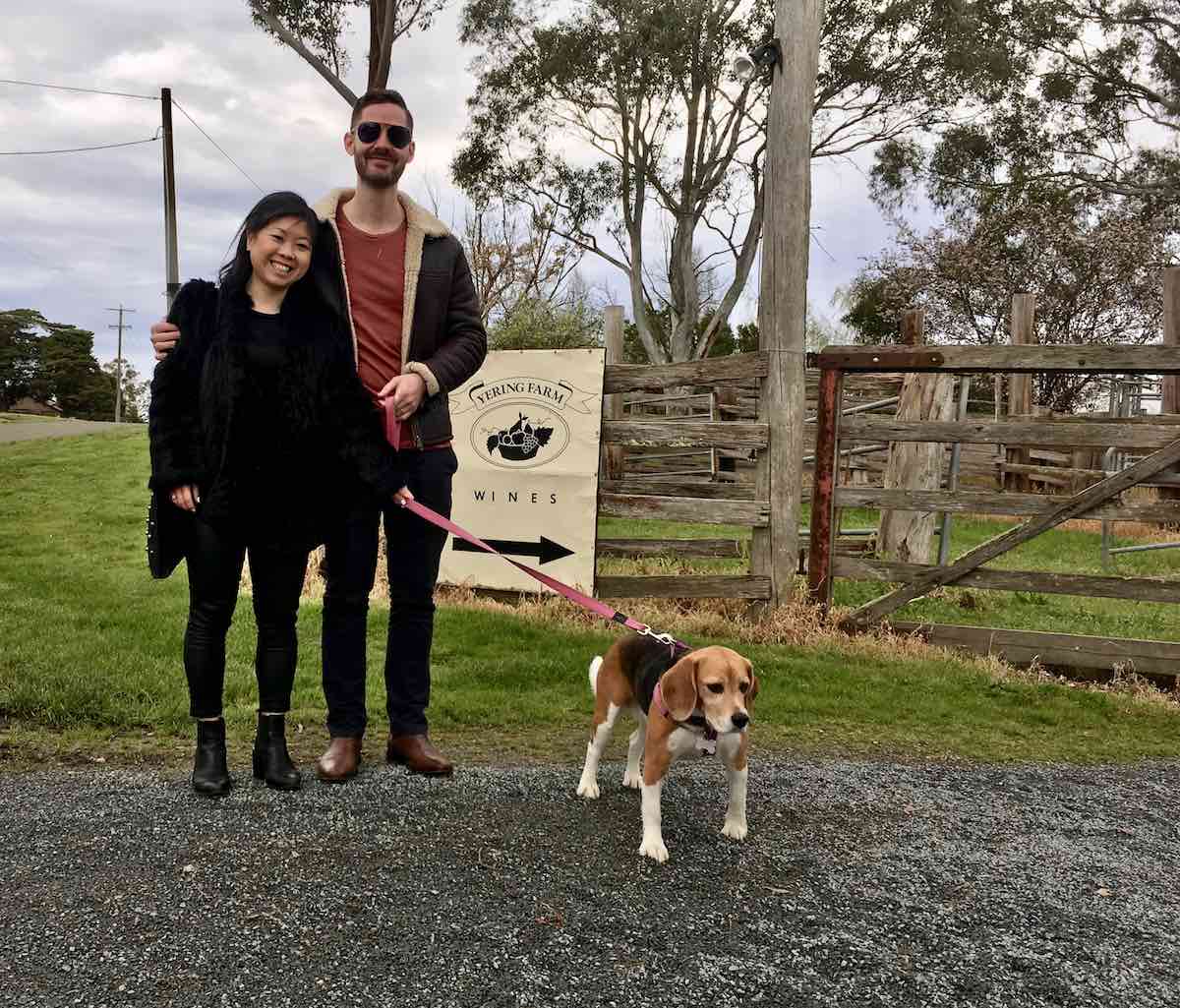 Once inside, I sat for as long as I could watching my folks sniffing away happily, but you can tell by the second photo I'm hell bent on exploring outside!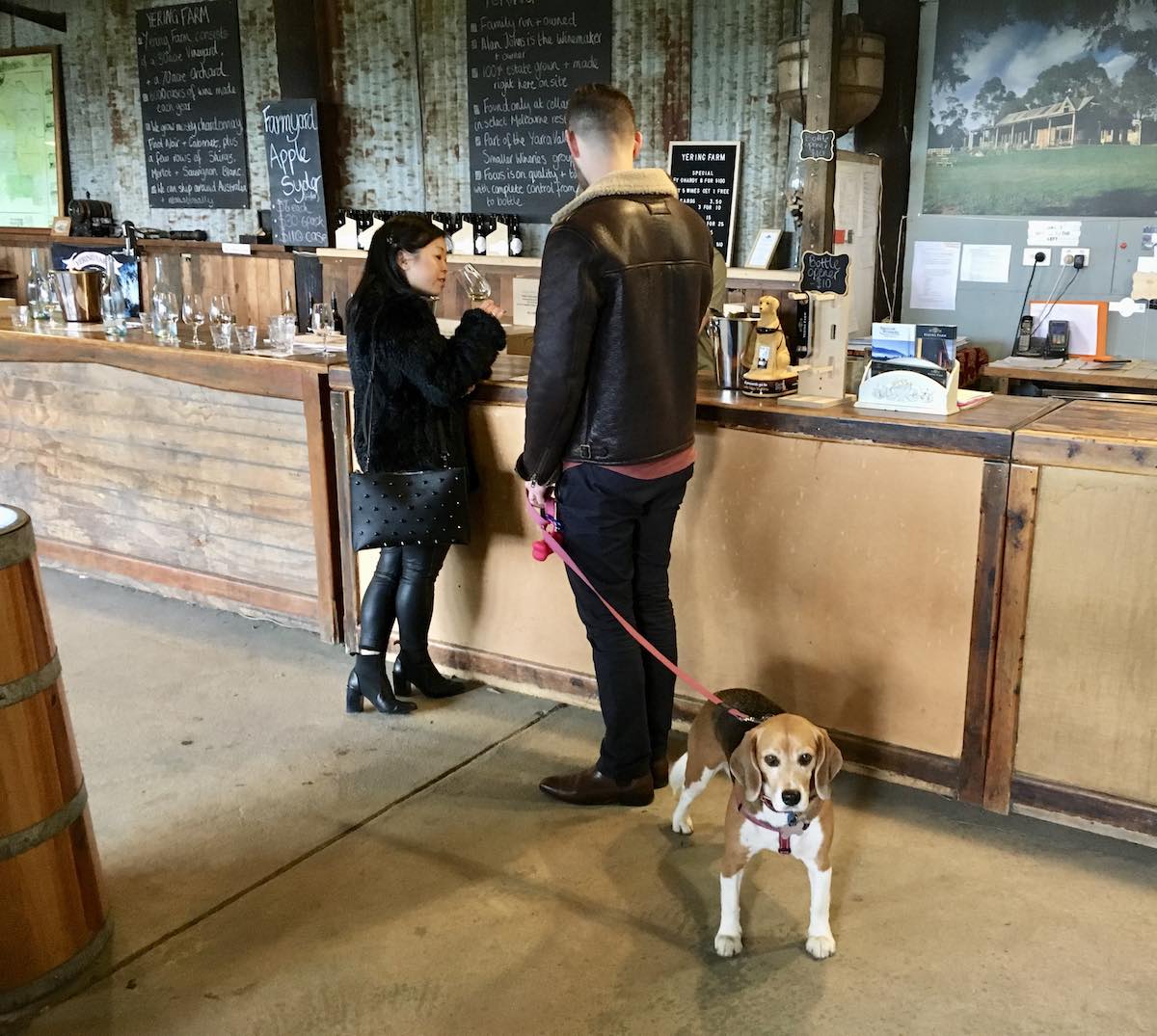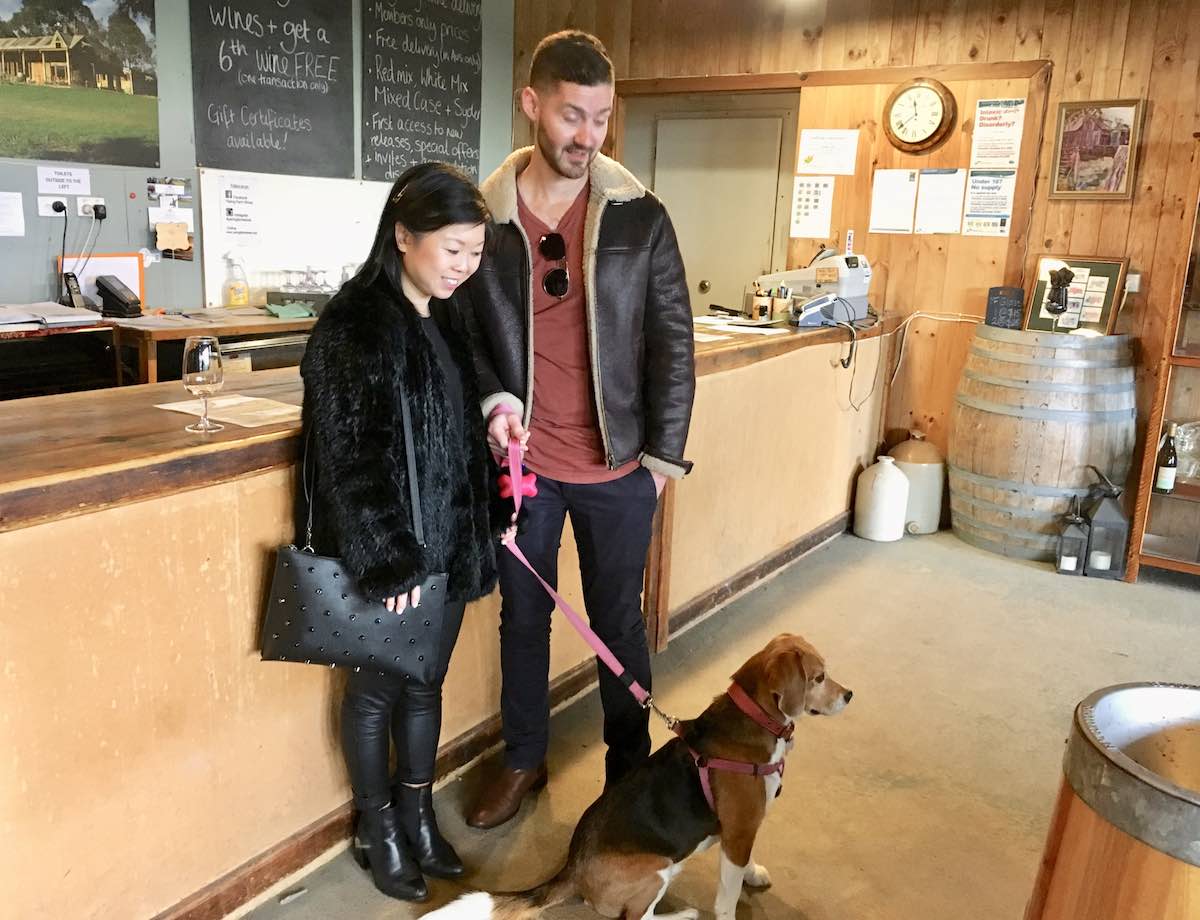 My stance is all 'Let's go sniffing' and I convinced Jeff, just by being utterly charming, that he and I should go for a sniff around the cellar door and then I subtly conned him into taking me outside – he didn't mind, he's a very affable sort of chap.  When we'd sniffed a whole heap of great farm type smells out there we came back in and my pawrents were waxing lyrical about the syder (yes, I know, you and I know it's not meant to be spelt like that, but who's going to take any notice of me, a Beagle, telling them they've spelt cider wrong, it's on all the labels and everything – it's too late!!).
By now it was heading towards lunchtime so we set off to our next place full of smells called Helen's Hill where I had a ball, meeting Ross who was doing their wine tasting with them – look at me being all charming and him falling for me.  Happens every time.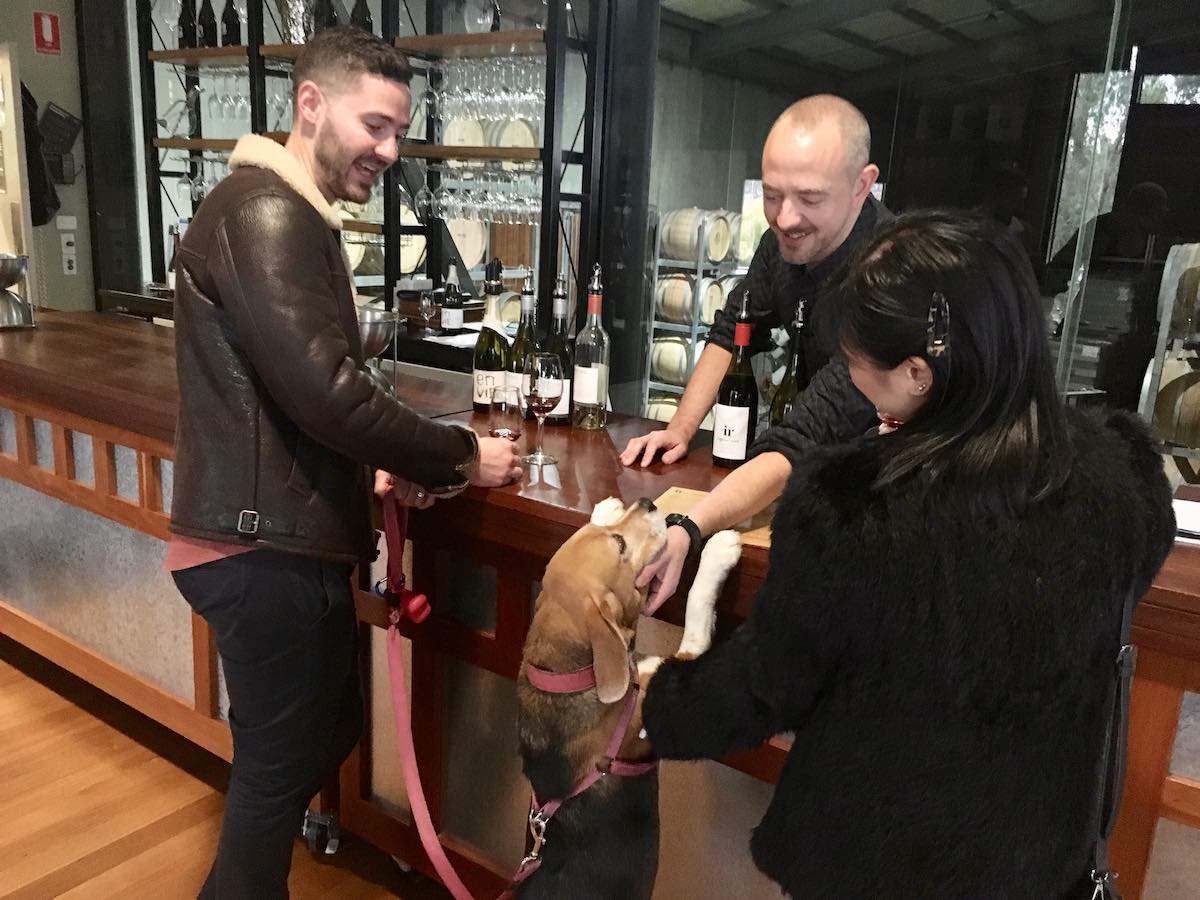 Then some small people arrived, so I charmed them and their Mum too – all Mums love me because I'm very gentle with their offspring.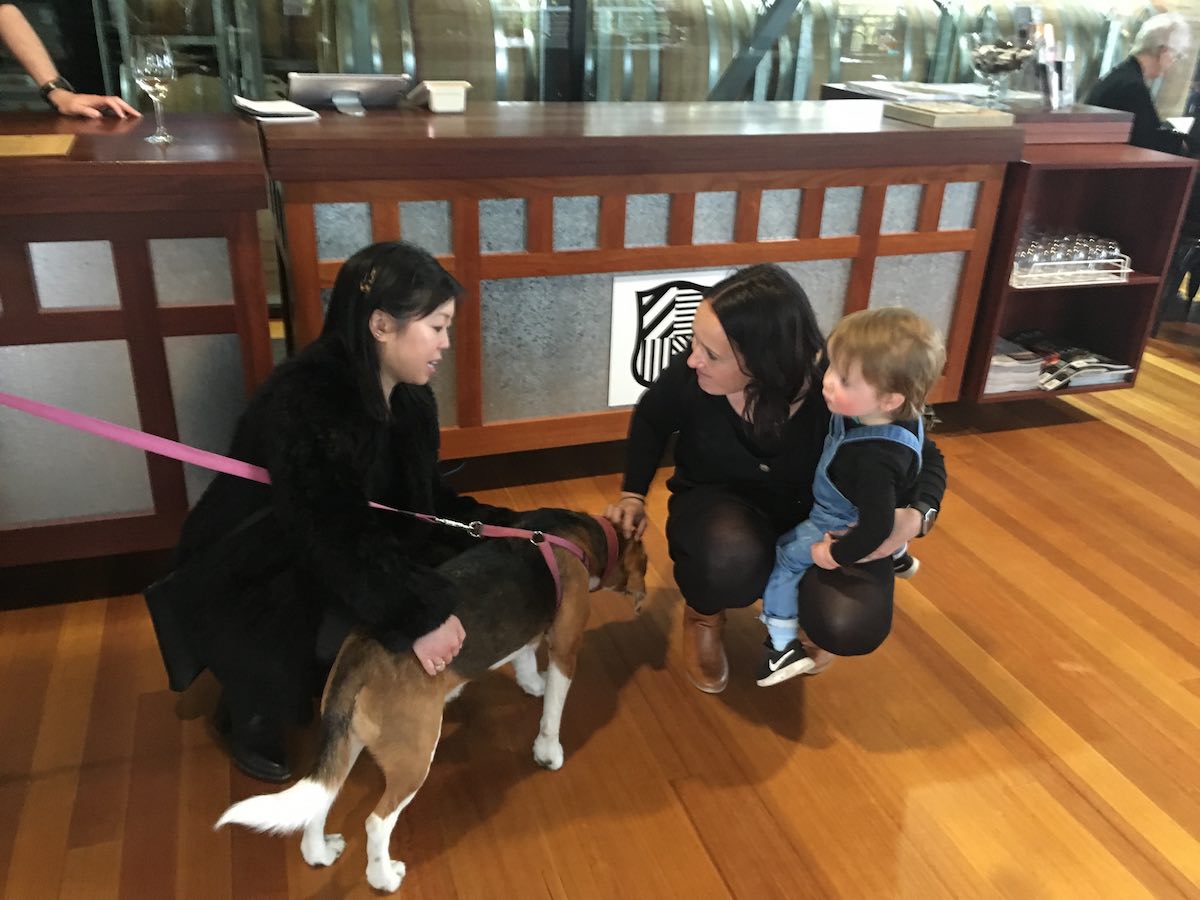 And meanwhile Mum's trying to enjoy her wine tasting, while I keep pulling focus – I don't do it on purpose, it's one of the pitfalls of being utterly charming, I'm helpless in the face of it!  Jeff took me off for a sniff outside (praise be) and we loved being out there together.  And after I'd had a wee, and they'd finished their fabulous wine tasting and chosen which wines they wanted with their lunch, we were shown over to our table right next to the fabulous fire and I charmed my way next to it – best seat in the house folks!  And the smells – ahhh the smells – food, sticks, logs, other people passing by, I was one happy Lucy I can tell you!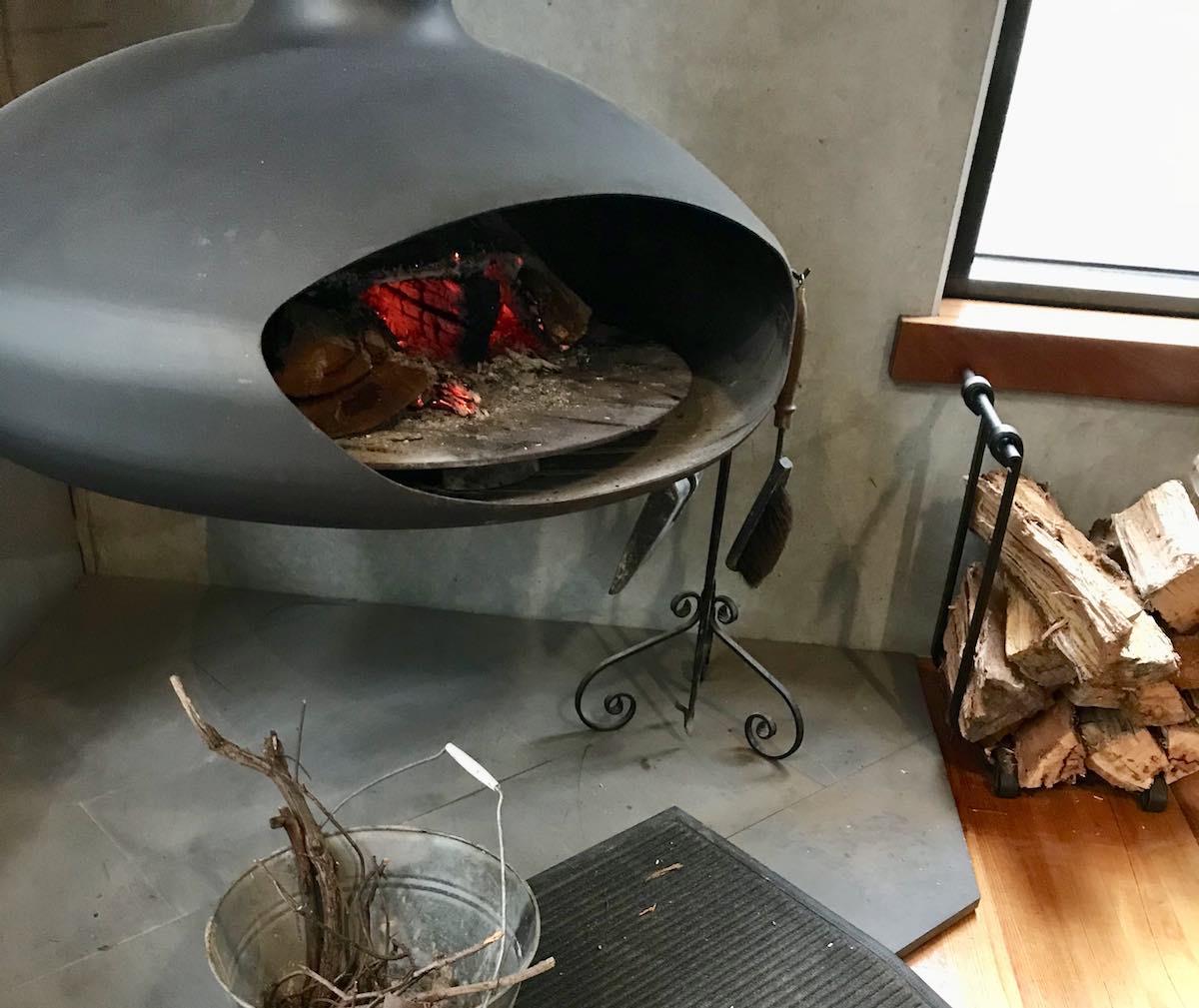 My folks loved their lunch, they had this enormous sharing platter and THEN pizzas came out afterwards too!  I thought we would never leave!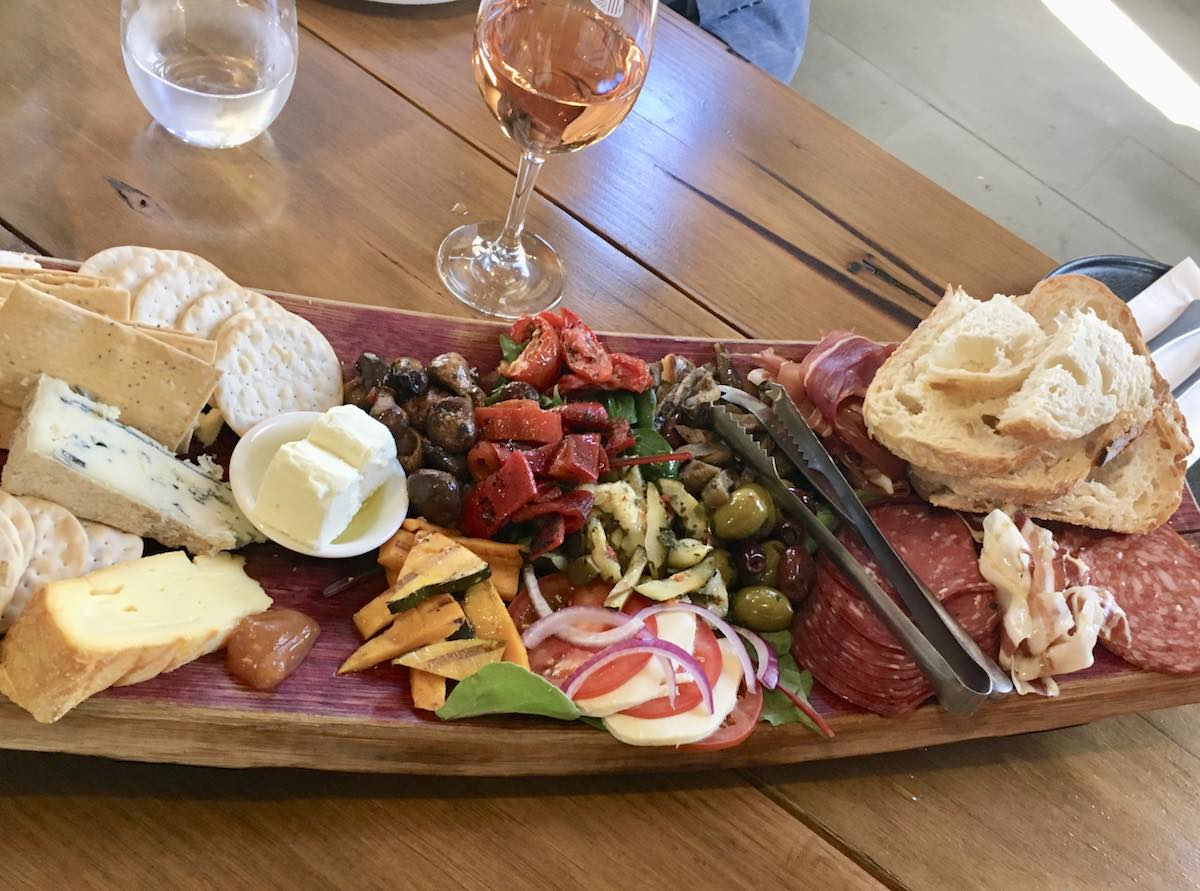 But with full tummies we did leave – eventually – and set off for Maddens Rise, which Jeff described as the tiniest boutique cellar door in the valley and it was – it was teeny tiny but I suited it beautifully and everyone found me …yup, correct…charming!
And the best thing happened – Jeff came out with a cake for my pawrents with a candle lit and the lovely lady who owns the cellar door, Emma, was carrying glasses with fizz in them and Jeff sang my folks a song and made everyone join in (Dad's a musician so I feared he might produce an instrument from somewhere – come to think of it, Jeff's a musician too – it could have been truly dreadful, they could BOTH have started playing!!).  Anyway, Mum was so chuffed, as the cake was a surprise that only Dad and Jeff knew about.  I knew about it too of course because I saw an email come in about it, but I didn't let on, I looked all surprised too and no-one guessed a thing.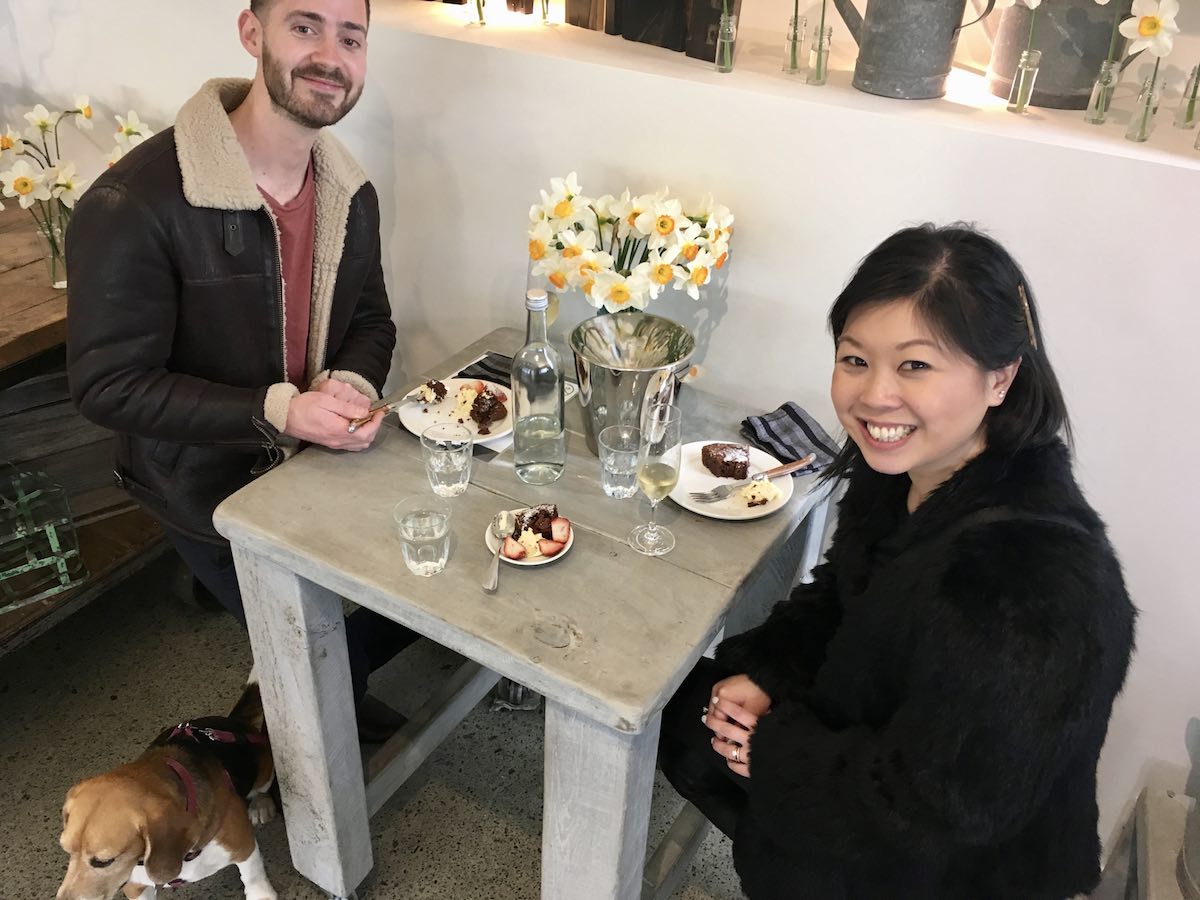 And then the funniest thing happened – one of the other visitors to the cellar door asked if she could get some pizzas.  Emma and Jeff tried to explain that that wouldn't be possible, as they don't do food, and suggested where she could get some pizzas from and the lady frowned, pointed at the cake and said 'Well they're having cake, so can you just do me some pizzas?' and poor Jeff tried to explain again that it wouldn't be possible and that no he didn't work there and no there was no kitchen in the cellar door so pizzas really weren't an option.  Seeing how disappointed the poor lady was, Jeff cut up the cake and handed round pieces to everyone in the cellar door. Everyone except me.  I know – gutted I was, but it's OK, I'm watching my weight – a rude vet told Mum I was 4kg too heavy, I know, so harsh, so no cake is probably a good thing.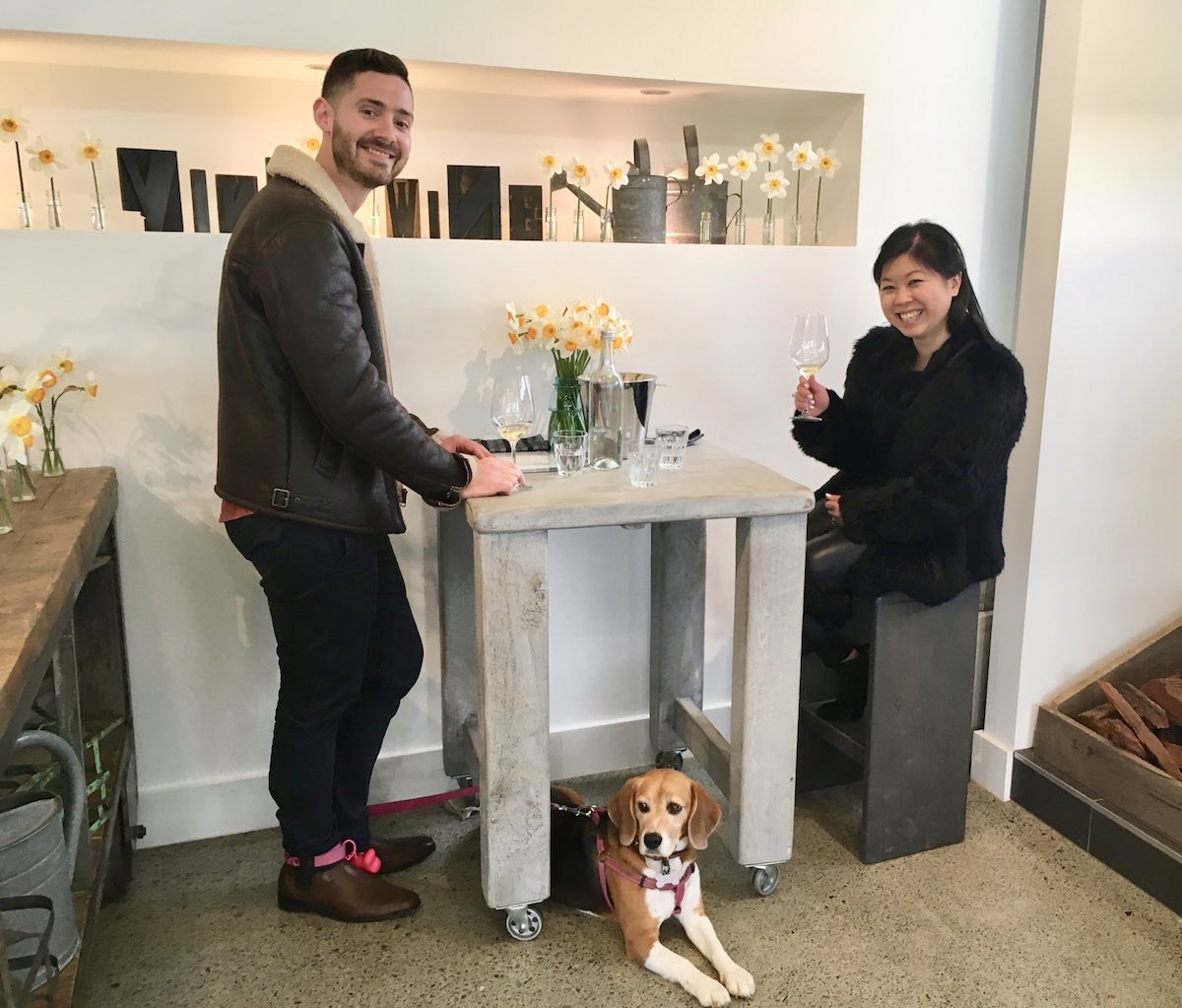 What I lacked in cake, I made up for with sniffing everywhere, being utterly charming and meeting yet more small people.  Look at me being all patient and charming.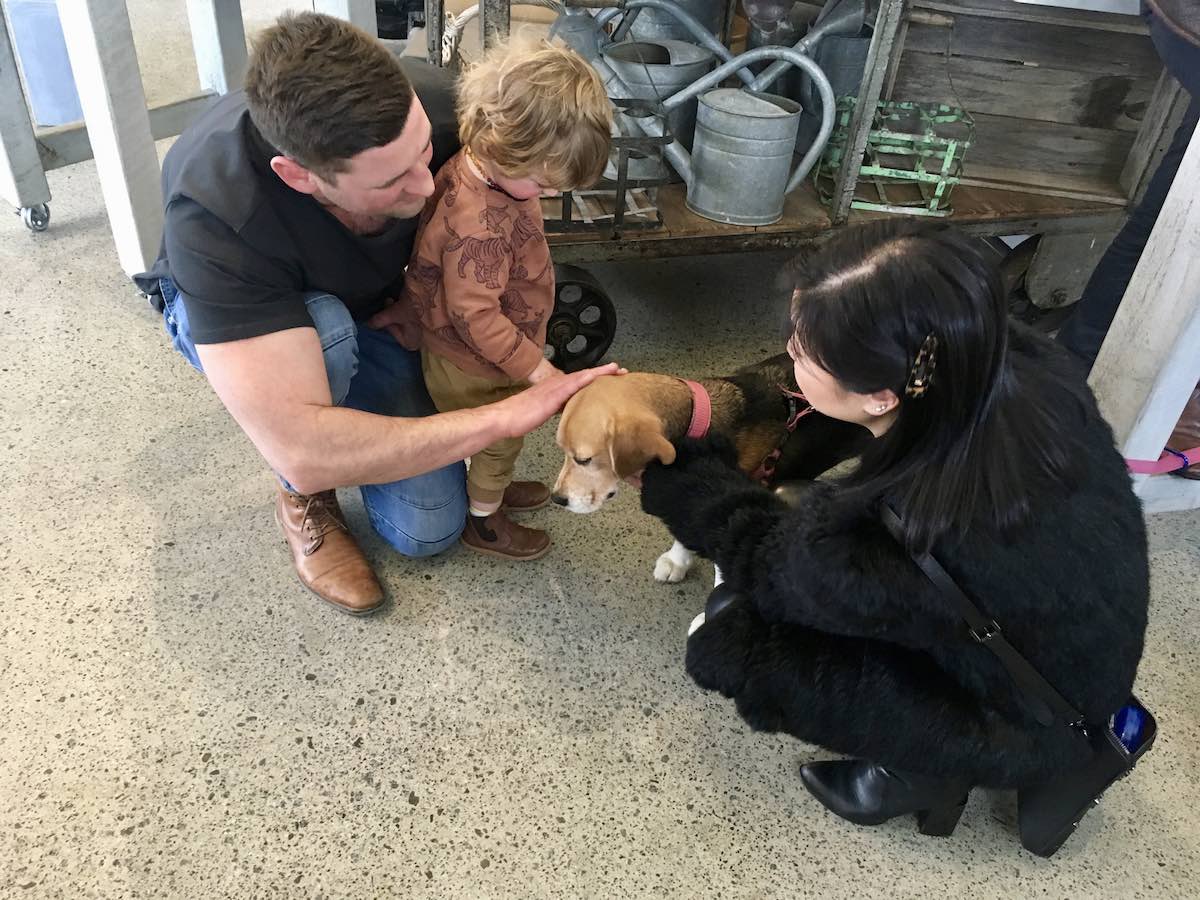 After saying our fond farewells to Emma and Maddens Rise we went off to get my folks some gin!  Four Pillars is the place, they make the gin there in big shiny pots, and all the staff love gin and dogs.  No sooner had we got to our table out in their fabulous courtyard than a lovely lady called Lizzie arrived, showing us her gorgeous tattoo of her dog Barbara-Ann on her arm.  She was charming – I instantly knew we'd be lifelong friends.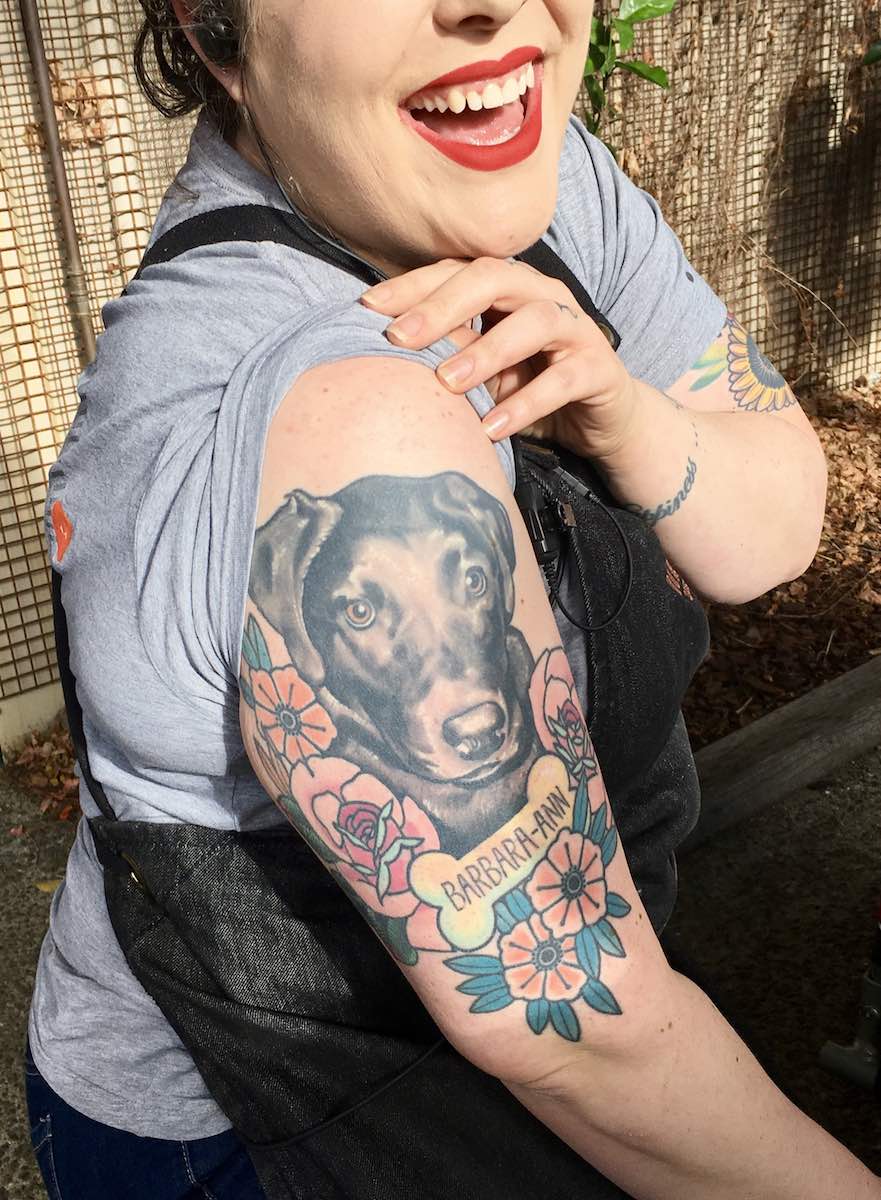 My folks loved their gin tasting paddles and we only just had time to enjoy a quick tasting with Ovarn over the road at Payton & Jones of their VV range, as we'd been having such a lovely day charming people wherever we went, that we were running a bit behind – clearly no-one had factored 'being charming' into the schedule!
What a day – we then scooted up the main street so Mum & Dad could get some food for supper and while they were shopping, Jeff and I mooched up and down the main road, charming people at every turn!  He's quite good at it too, so we made quite a team.
And then we drove back to Harvest Farm, happy, exhausted, full (well my humans were) and content after such a fun packed day out.  I'd sniffed more today than I have down in St Kilda for a week – the country smells are so different, and, well, charming really – rather a lot like me!