Loui Cavoodle's Adventures in the Yarra Valley
Hi folks, Loui here. I live with my Mum Holly down on the Mornington, but I was a 21st birthday gift to her from my Dad Niall.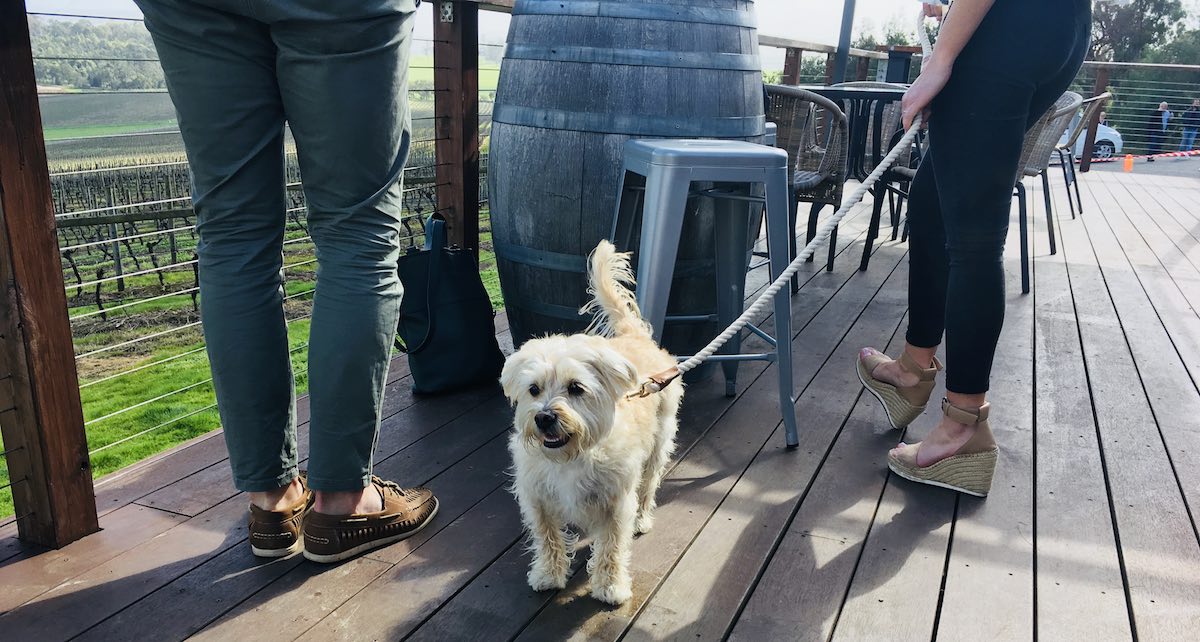 Niall's always surprising Mum with great gifts (like me) and this year for her b'day he organized a private wine tour for her and put a note around my collar that she read which said I would be coming too. Isn't he the coolest?  Here's me with him – we look good together don't we!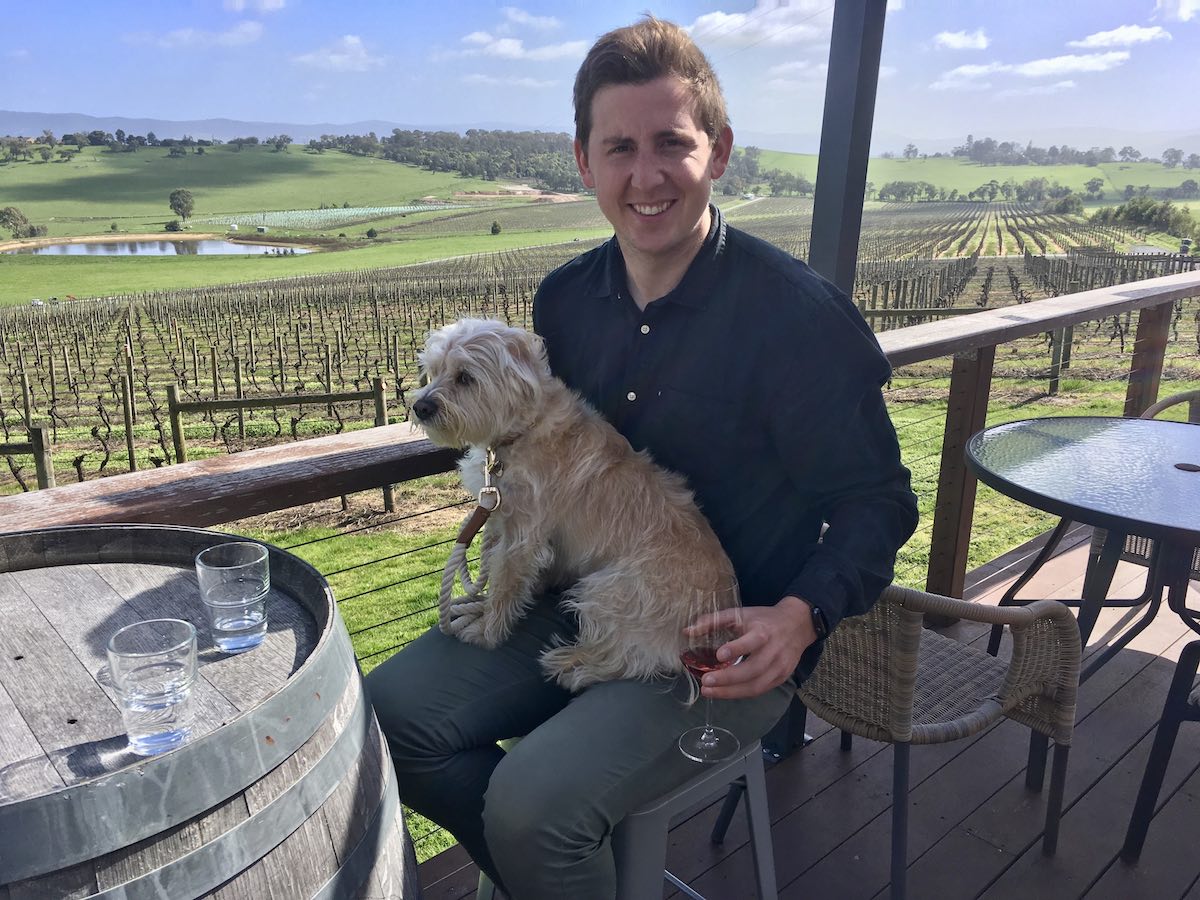 Mum was thrilled when she learnt it was a private tour just for the three of us as I can be a bit growly sometimes when I meet other dogs, so a tour 'just for us' was def the way to go. Interestingly, when I met Murph the border collie, who lives on the gorgeous property in the Yarra Valley we were staying at, I was all sweetness and light, positively well adjusted!   The place is aptly called The Little House on the Hill and we loved it.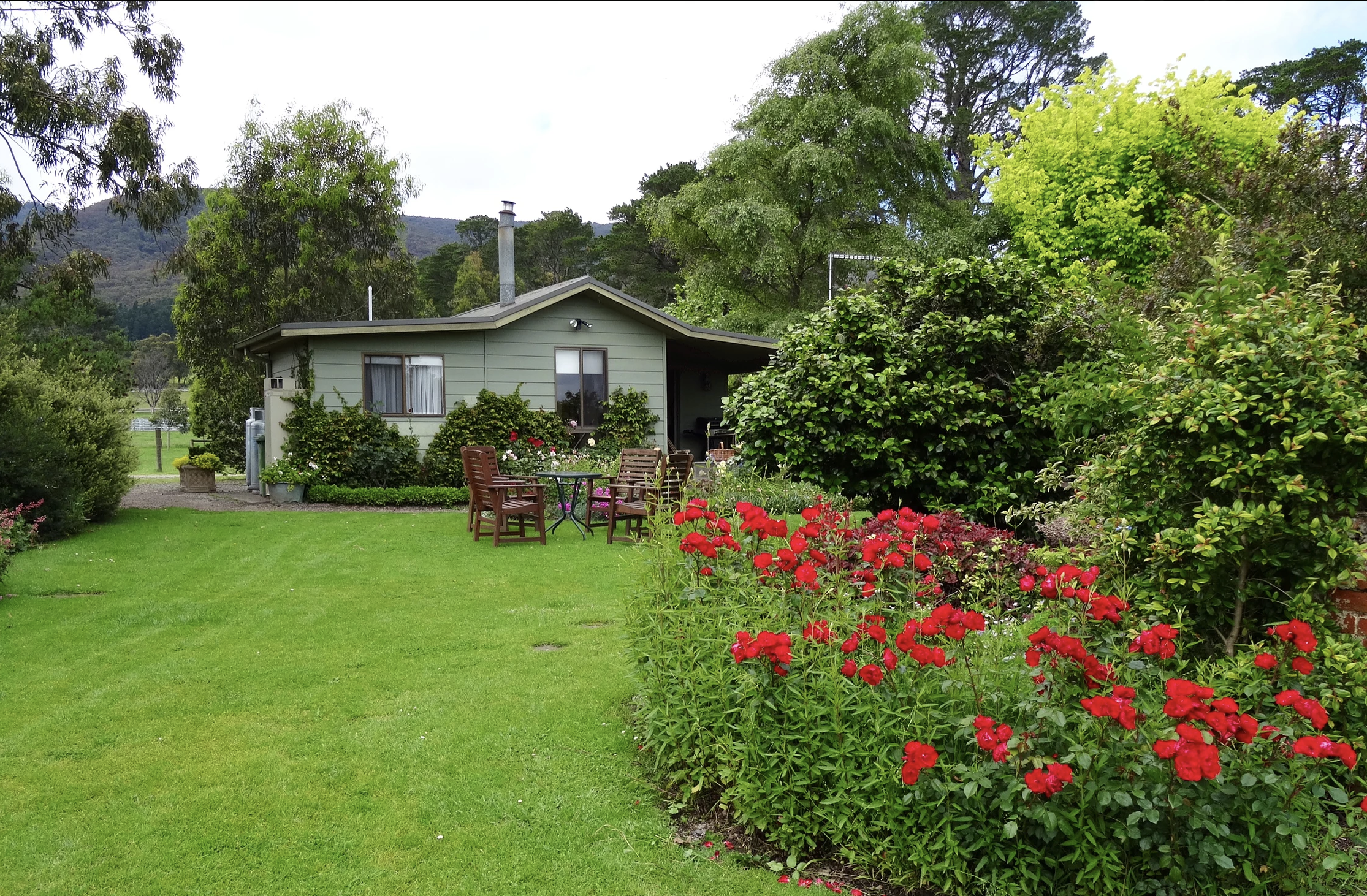 Speaking of growling, I can be a bit funny with humans too and I'd already had a big day before we even drove up to the Yarra Valley (Mum and I had done our run before we got in the car) so when Jeff, the nice man with the van, came and picked us up to take us out on our tour, I did some growling just to show him how fierce I can be and that I'm a no nonsense kind of dog. They don't call me Loui the Terrible for nothing you know!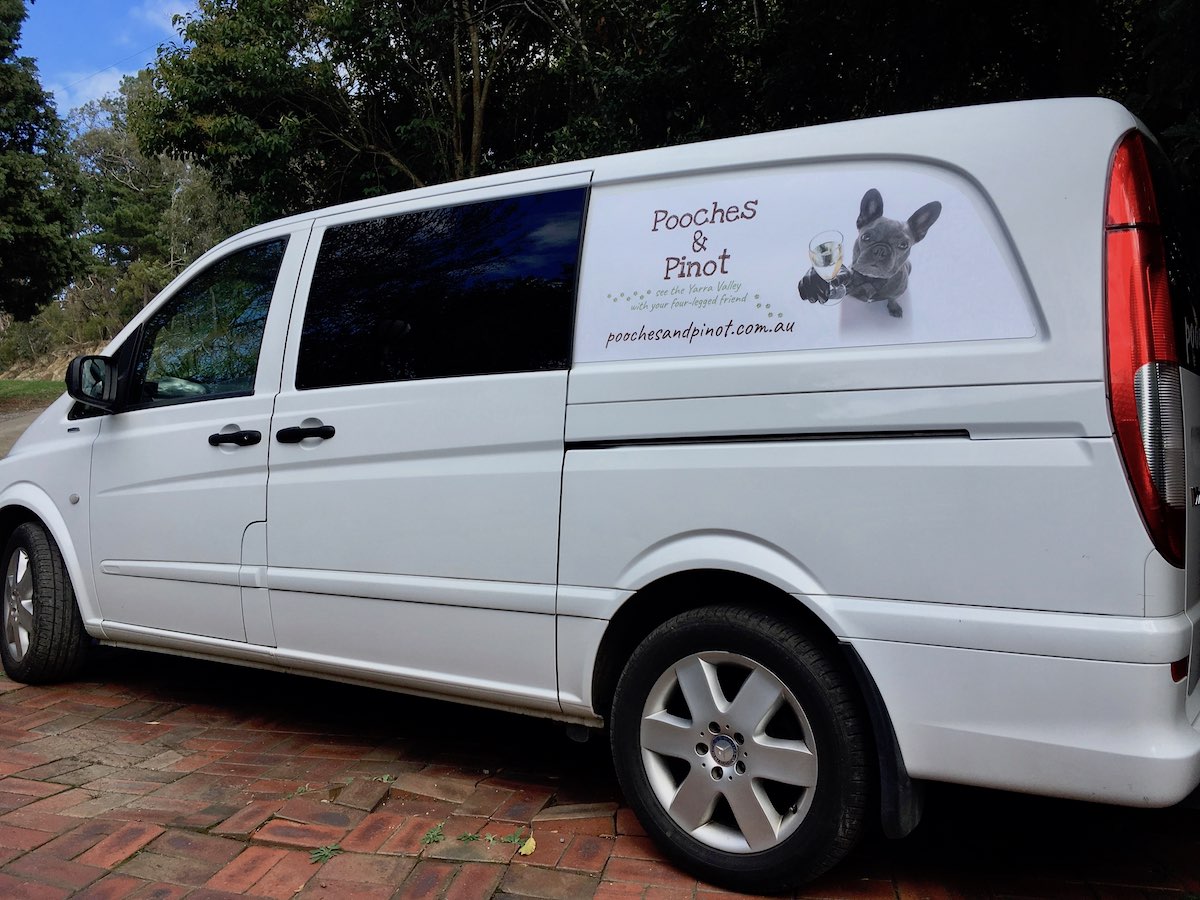 Jeff conned me into the back of the van with a treat and a lovely looking bed all for me, but once he'd closed the door and we started driving down the lane I upgraded myself through a small gap I found and reunited myself with my pawrents who were thrilled to see me. They don't call me Loui Houdini for nothing you know.
I was really enjoying the scenery flashing past the window when suddenly a white unicorn whizzed past and I thought 'Hang on a second – what kind of tour is this!?' We drove up a big hill and then got out at the top where there were all these happy people eager to meet me. I sat with my folks for a bit on the deck in the sun while they chatted to a man called Luke who kept giving them small drinks of wine and was really into telling them how it was made (which they found fascinating). Even though Dad's usually a beer man and Mum only ever drinks Pinot Gris, they really liked everything he gave them to drink. Perhaps they were just really thirsty?! I spotted that Jeff wasn't offered anything to drink, they don't call me Loui the Detective for nothing you know, so I thought I'd take him off for a walk around the deck to meet a few people, which he loved.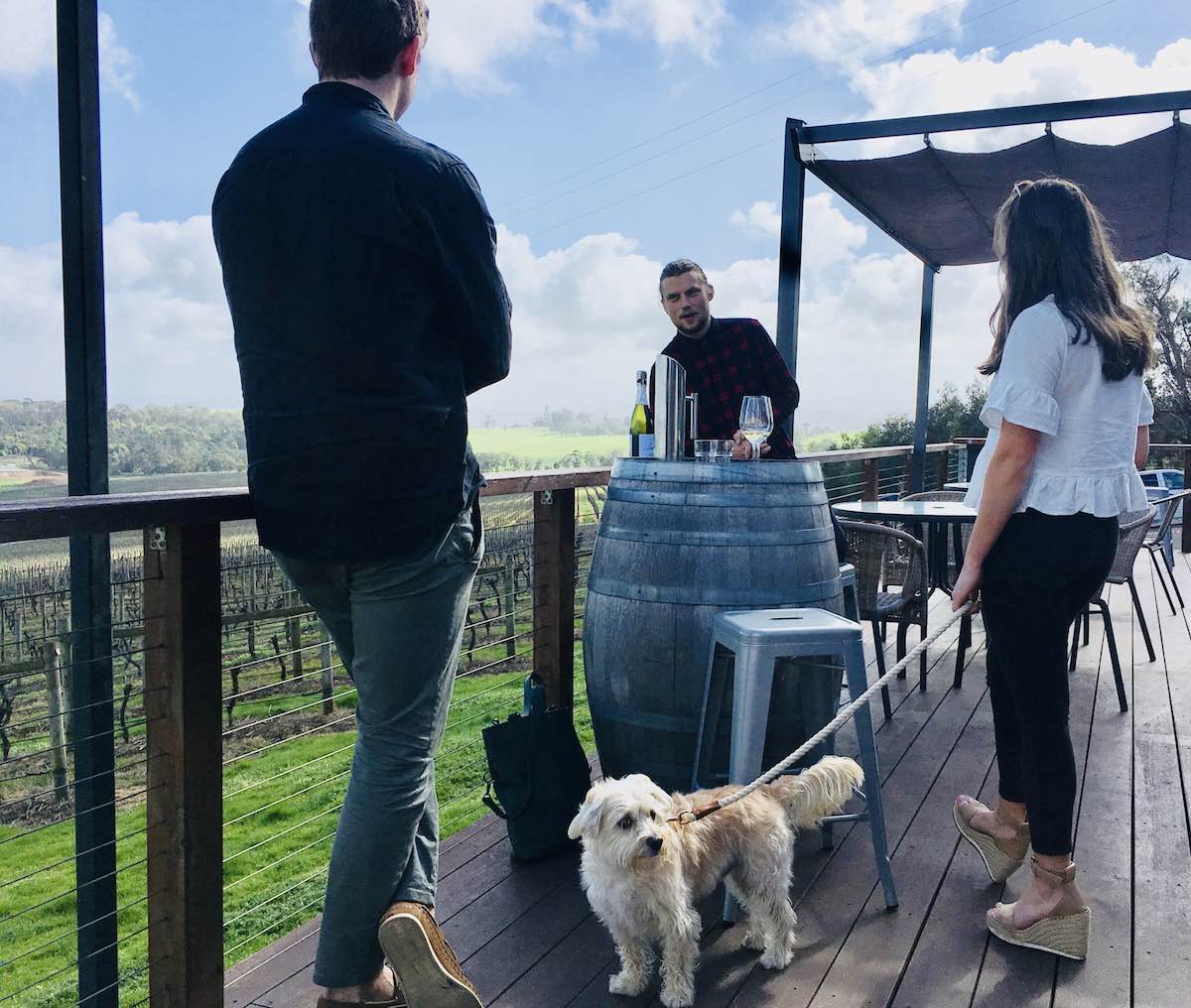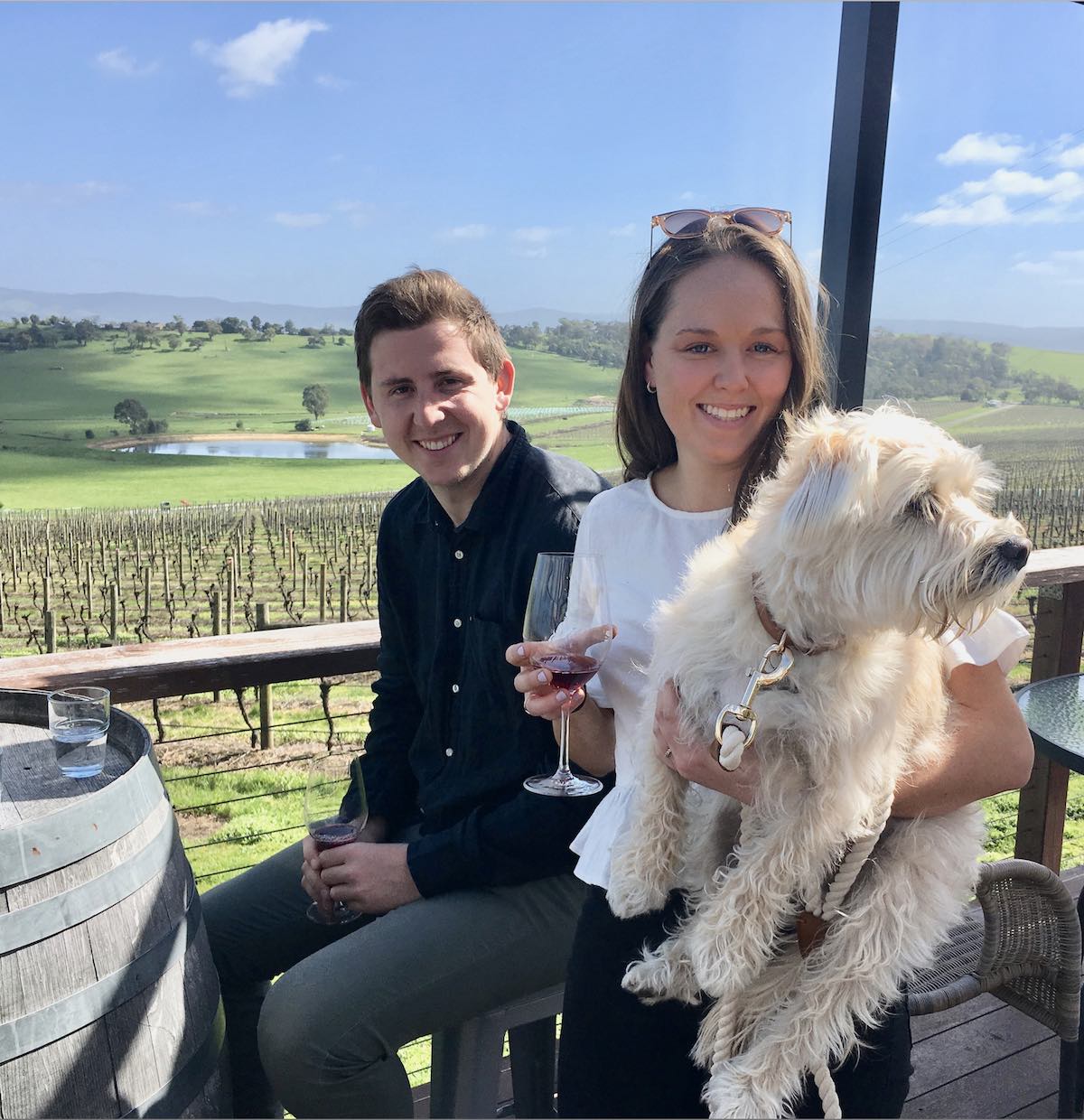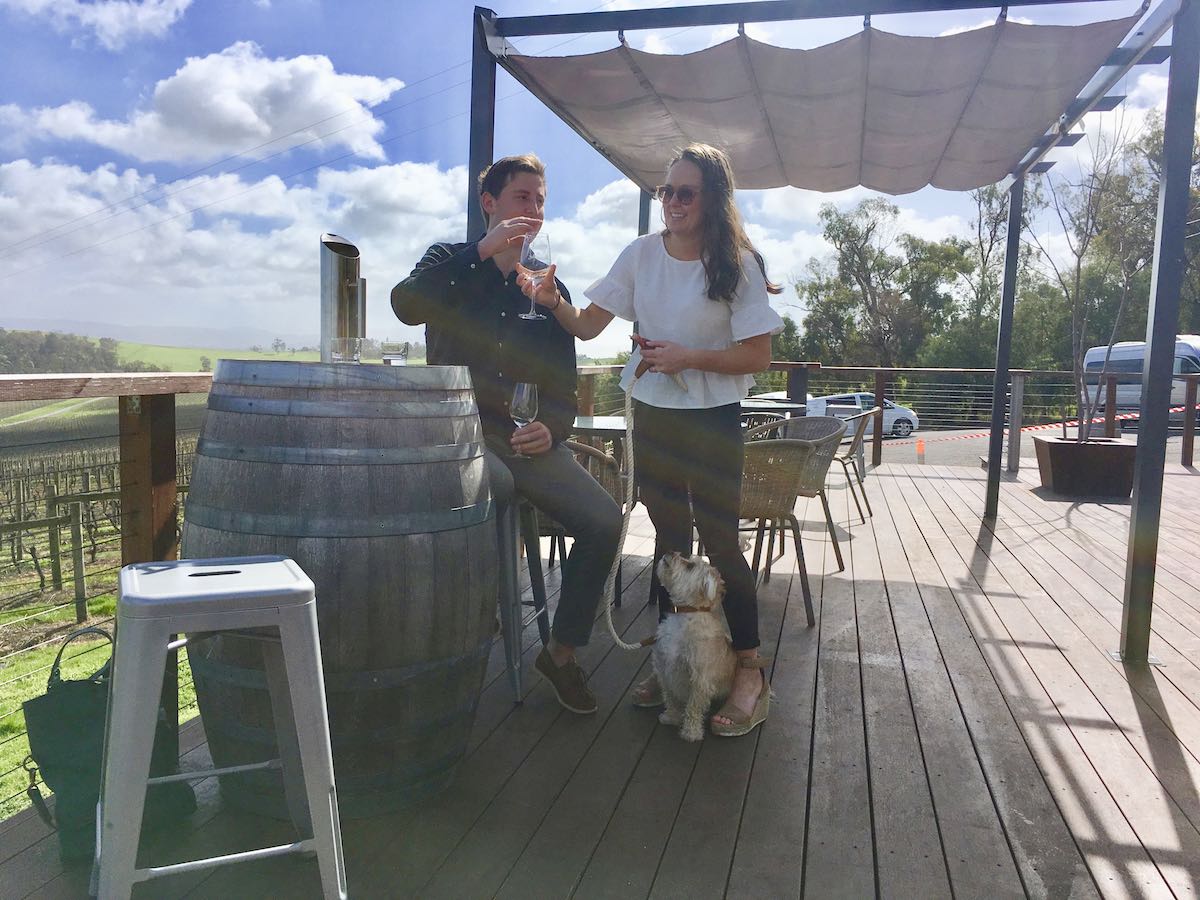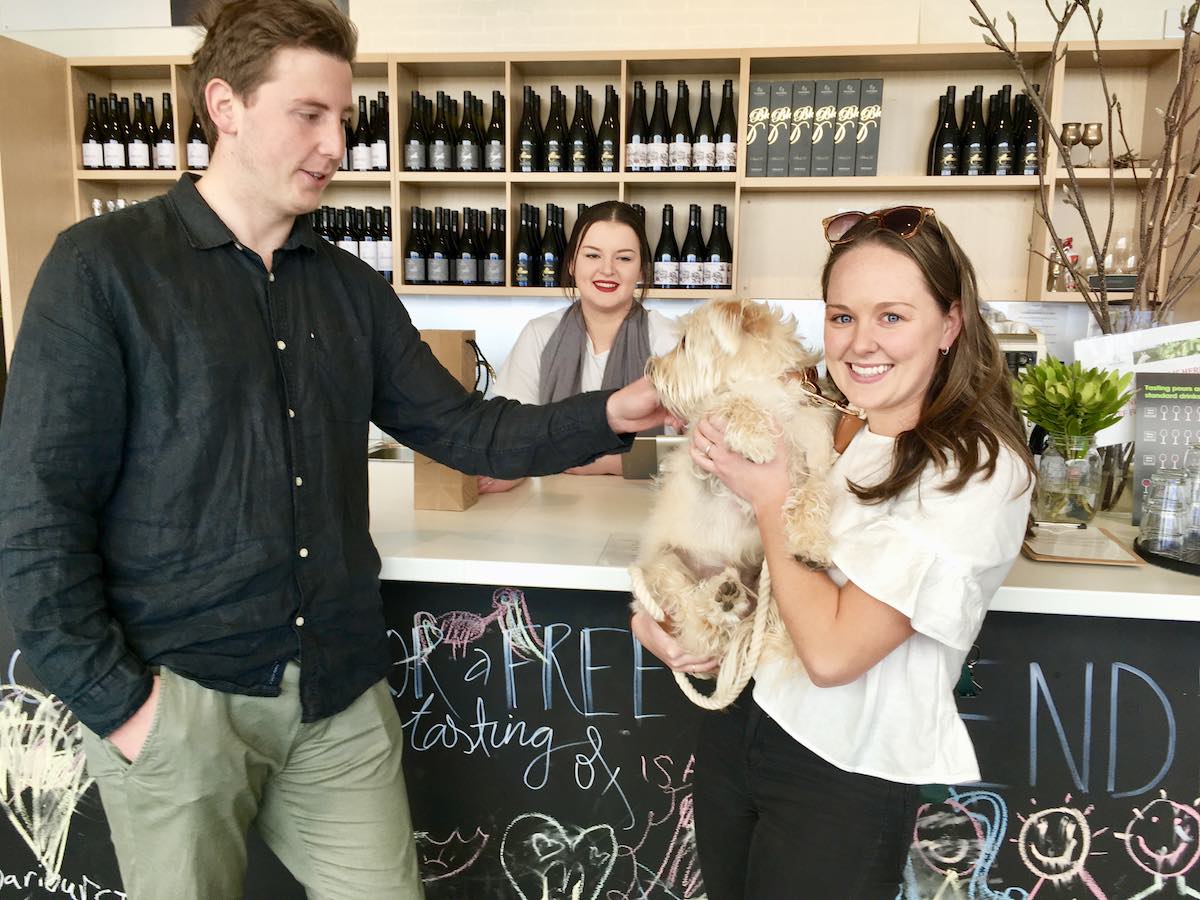 After Mum & Dad bought wine we all clambered back into the van (this time I got straight in the back with the humans thank you very much). And we tootled down St Huberts Road to find our next place to hang out, which was a cool farm – called Yering Farm. And boy it was a real proper farm, it smelt delicious as soon as I got out – I could have run and explored that place all day – they don't call me Sniffer Dog Loui for nothing. Instead I saw a large hay barn which needed investigating, so I dragged everyone inside for a better look and would you believe it, there were all these people inside who all turned as I came in and oohed and aaahed and wanted to meet me. They don't call me Chick Magnet Loui for nothing.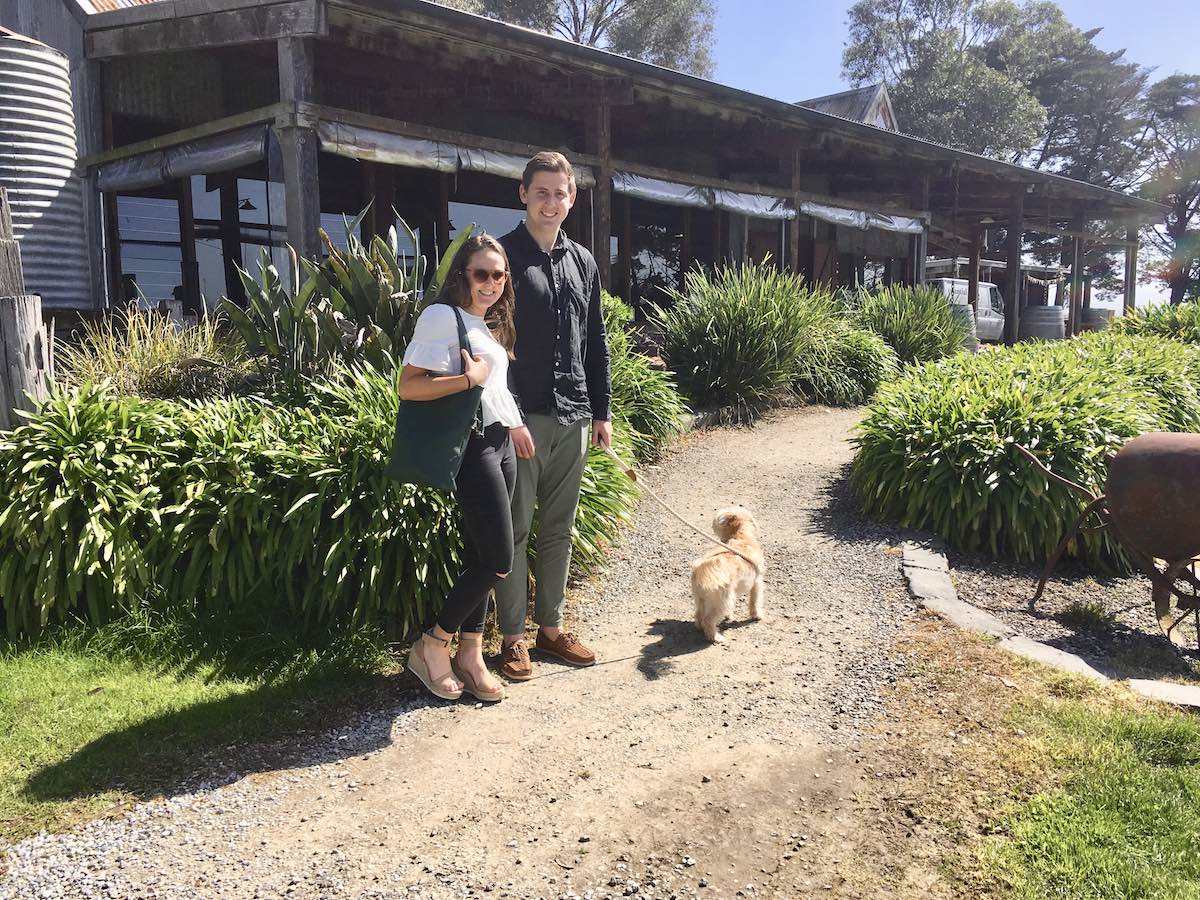 I could tell everyone was expecting me as there was water in a bowl for me and everyone introduced themselves. Emily was really lovely and chatted to my pawrents about all these different coloured wines she kept pouring for them. I hung with them for a bit and then the smells outside were calling me so I took Jeff with me and we went off for an explore on the lawns near the paddocks. I was really brave for a while and then I suddenly couldn't recall where I'd left Mum & Dad, so after a quick poo, which Jeff my man servant cleared up, they don't call me Pooey Loui for nothing – we high tailed it back to the barn and there they were, right where I'd left them, still drinking – phew. In fact, they were busy buying more wine – good job Jeff brought such a large van to put it all in!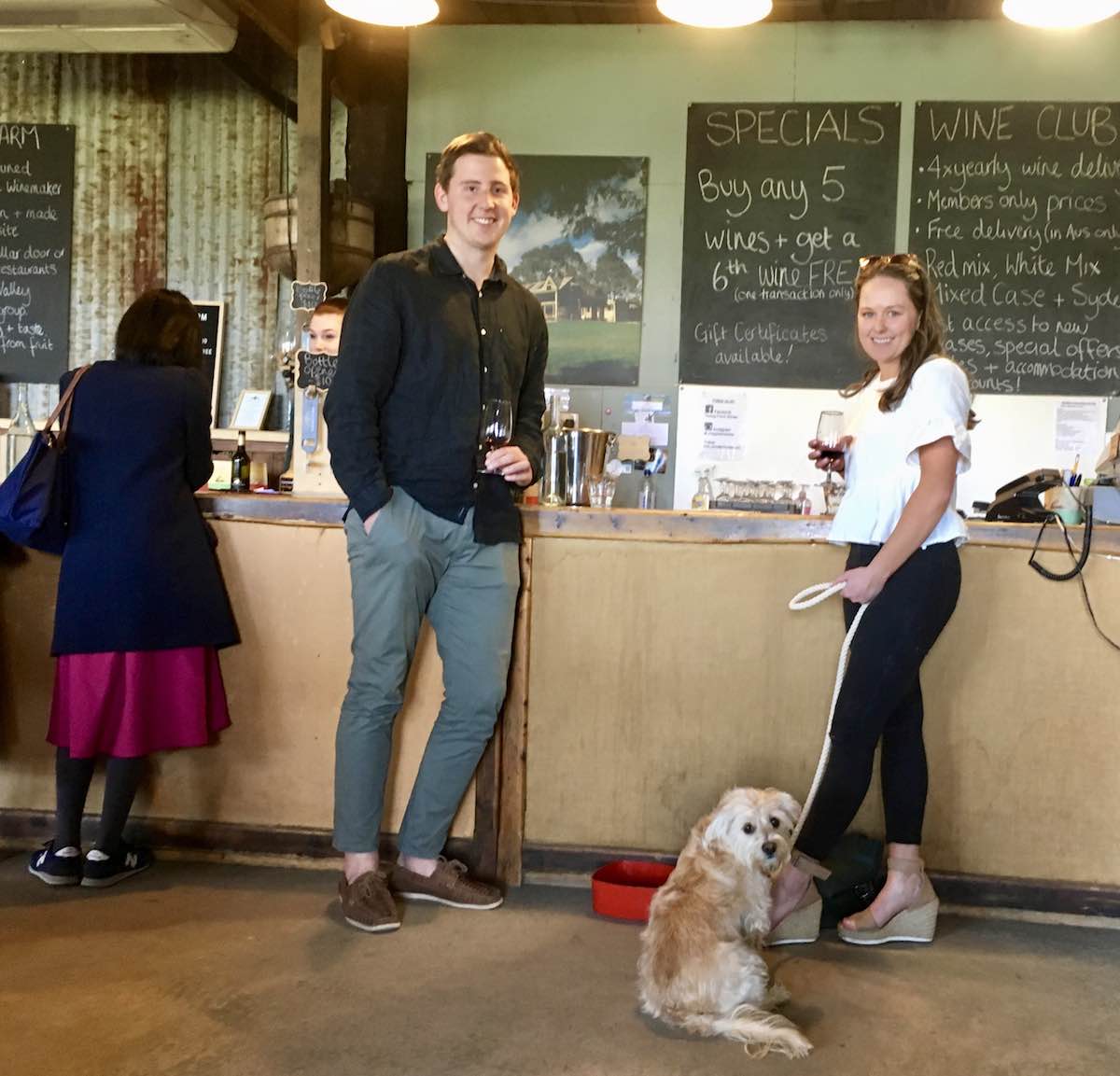 When we got back in the van I clocked that we were leaving by a different route – they don't call me Detective Loui for nothing – and I realised we were on the Melba Highway and I was just about to shout out to everyone that coming up on the left was Dame Nellie Melba's house (she was a famous opera singer 4 or 500 years ago you know) but Jeff beat me to it, so I let him tell the stories. I could be a tour guide I reckon, I'd be great at it. I'd need Jeff as a driver to reach the pedals but I've got the rest, no problem. They don't call me Loui the Tour Guide for nothing!
The next place we got to was called Helen's Hill and I dragged my Mum inside at quite a pace. It opened into a huge room and I looked around to check if there were any other dogs and there weren't (great, I get ALL the attention) but instead I could see barrels through these big windows which is where they keep all the wine apparently. So Mum felt she ought to help drink some of it and guess what, turns out she REALLY likes the red wines from this area that she keeps trying and she's really excited by this. A nice lady called Marissa told her this region is a cool climate wine region and apparently this is what makes the wine so yummy.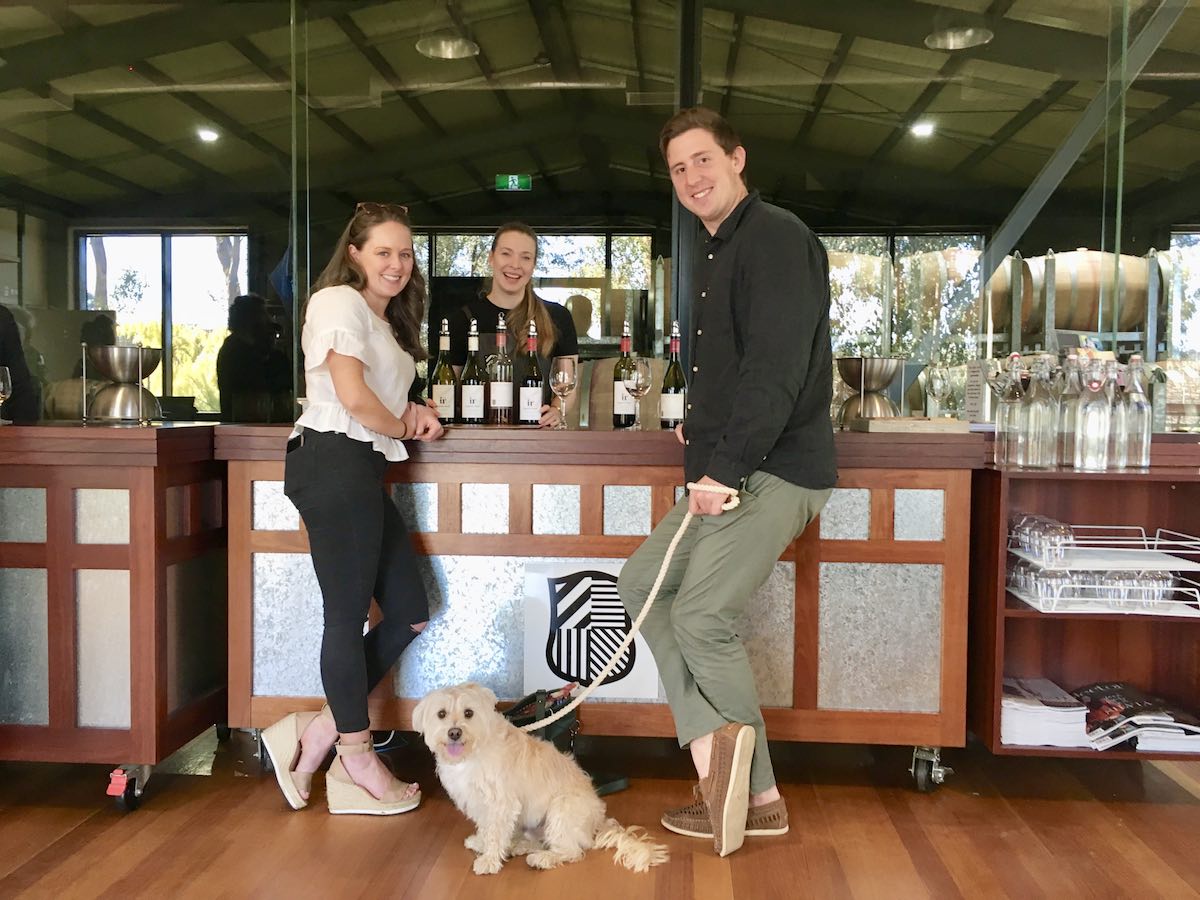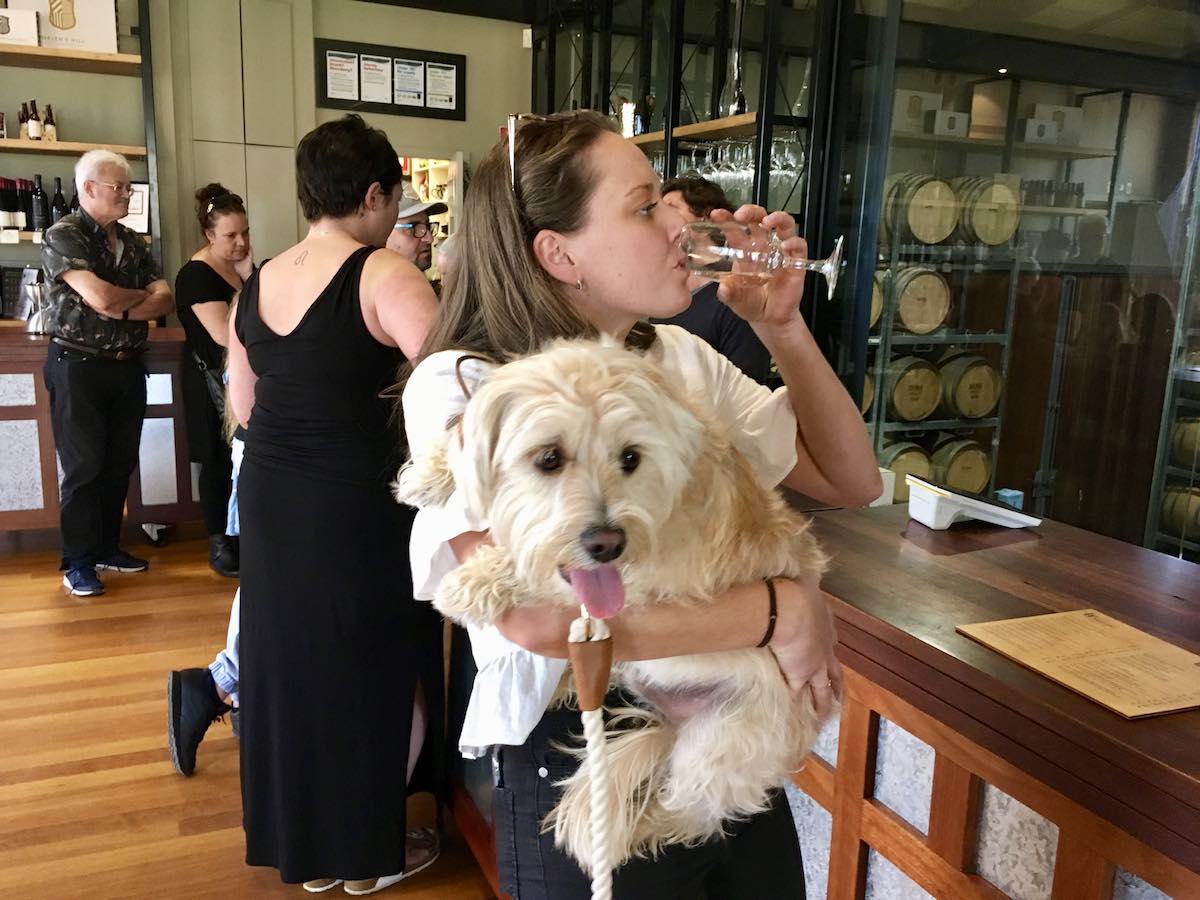 They have the best outside space here and I could tell Jeff wanted to explore it and it was super sunny so he and I left them at the tasting counter and went out for a bit. It was great, I sniffed so many smells it was heaven. When we came back in, they were choosing a glass of wine to have with their lunch which they decided to have outside as it was such a nice day. They had this huge platter which I eyed off enviously but luckily Mum had a massive bag of treats that I visited regularly, so we all had a good feed. Then pizzas arrived and I nearly cried – I LOVE pizza, I talk about it all the time – they don't call me Loui the Pizza King for nothing – but no-one thought to give me any, so I just had to make do with more treats.
At the next place, I got to careen around crazily outside on the grass. While Dad and Jeff were waxing on about guitars and bands they play in, I chased and didn't quite fetch a stick. I chase to Olympian standards, but fetching – that's what I have humans for!   Lovely Emma did some of their wine tasting outside on the lawn, so they could all admire my stick prowess. The applause was deafening (in my mind).   I said hello to the other guests out on the deck who were also enjoying the wine stuff. I decided not to growl as I was feeling quietly confident by now – they don't call me Well Adjusted Loui for nothing you know. While my folks drank more lovely wines that Emma kept giving them, I chased more sticks and ate more treats than I could count. This was really turning out to be a fabulous day to be a Loui.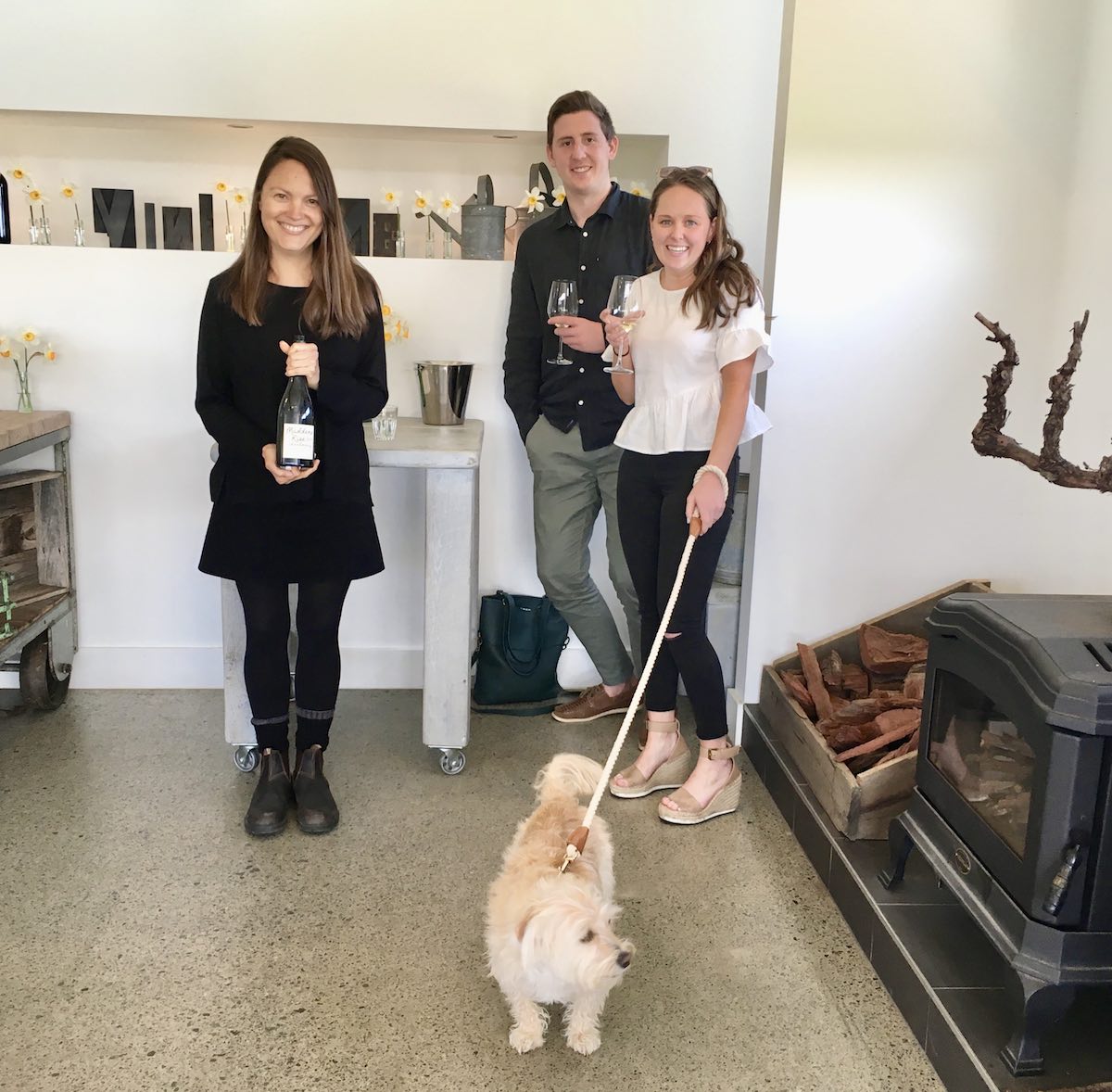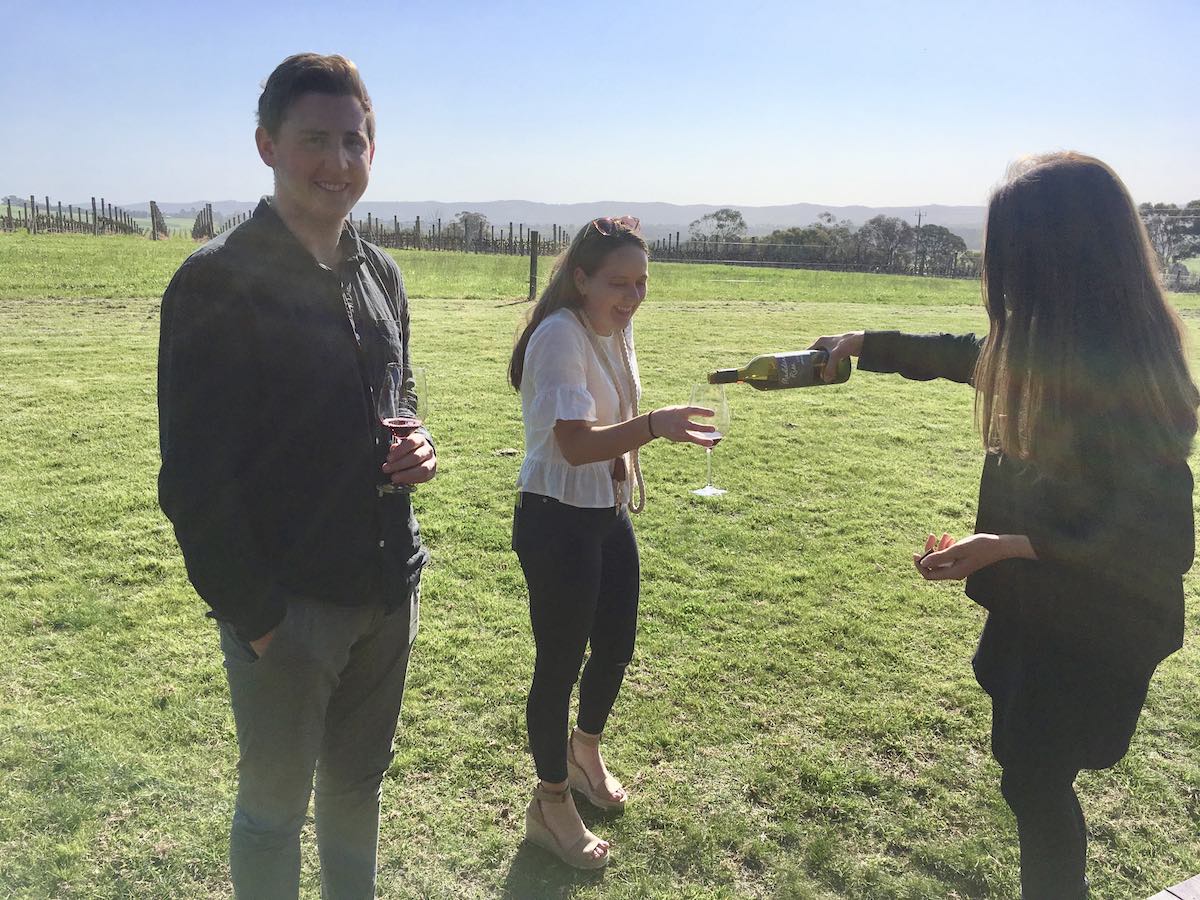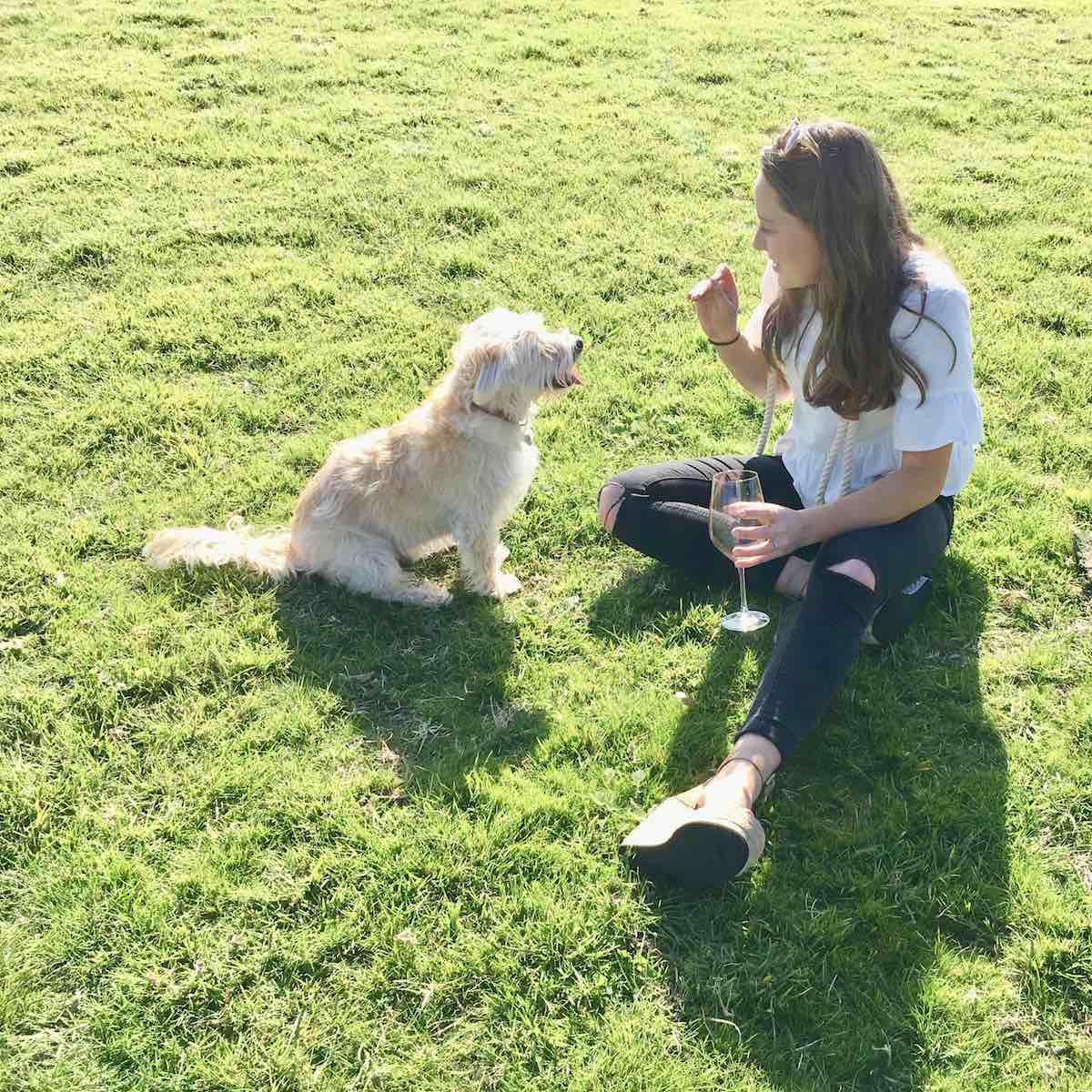 Jeffers (I'd given him a nickname by this point) then took us to a Gin Palace of all places where I bravely met 4 dogs. One was called Baxter and he was a serious unit – I held my own when he shouted at me and by return I called him all manner of things I can't possibly put into writing. He knew he'd met his match and with a whimper retreated to his corner (in my mind at any rate). Meanwhile my pawrents had sunk 3 gins without even coming up for air. I'm a Navy strength man myself but once again, no-one even offered me even a snifter. Didn't matter, bcs all the staff came out to meet me, someone had clearly radio'd ahead to say I was in the building. They don't call me Loui the Rockstar for nothing.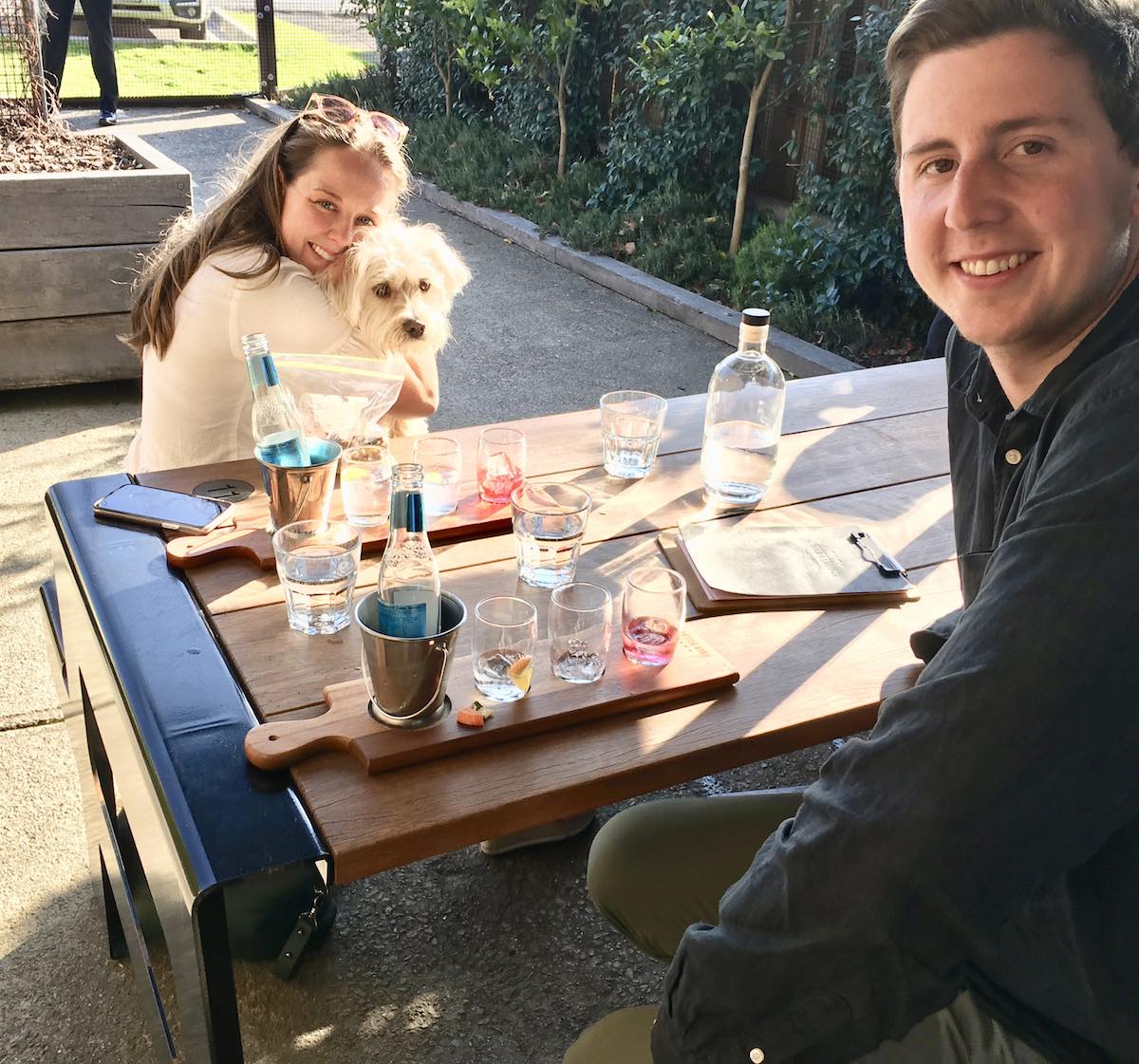 I was then made to walk (I know right, there was a perfectly good van I could have jumped back into) across the road to a place called Payten & Jones – what a happening joint it turned out to be, the place was jumping. A French chick called Manu ushered me straight out to the VIP Lounge (courtyard) where the A-List were hanging. Totes where I needed to be. Within seconds a cute young thing was fawning over me asking for my pawtograph – I declined – it's a difficult call to make, but my PR have advised you sign one and it's all over, you're mobbed, so a polite refusal never offends. I've been taught to wave a paw to get a treat, but between you and me, I was waving a paw to fend off the screaming fans. Oblivious to my plight, my pawrents were guess what – yup, drinking yet more wine. Thankfully Jeff had my back – he made a pretty solid wingman.  As old boys go, he was grouse!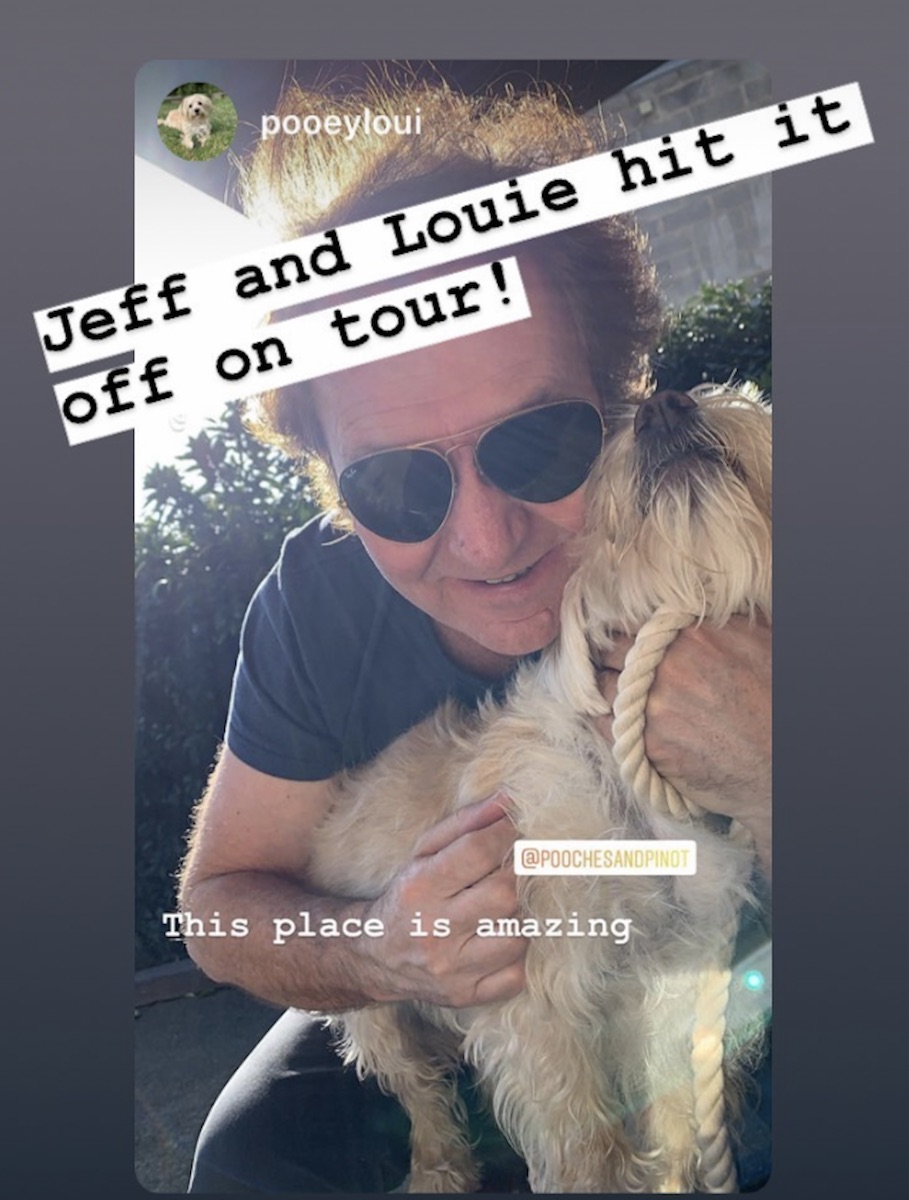 When I heard Mum describing P&J's wine as 'approachable' I knew it was home time – for a lass who loves her Pinot Gris she was channeling James Halliday by this point, so Jeff wisely suggested we head off to the local deli to get some supplies in for my dinner. I'm a huge fan of French cheese so I sat patiently in the van with my Mum and BFF Jeffers took Dad into K&B to point out all the best cheeses for me. They don't call me Loui the Bodyguard for nothing.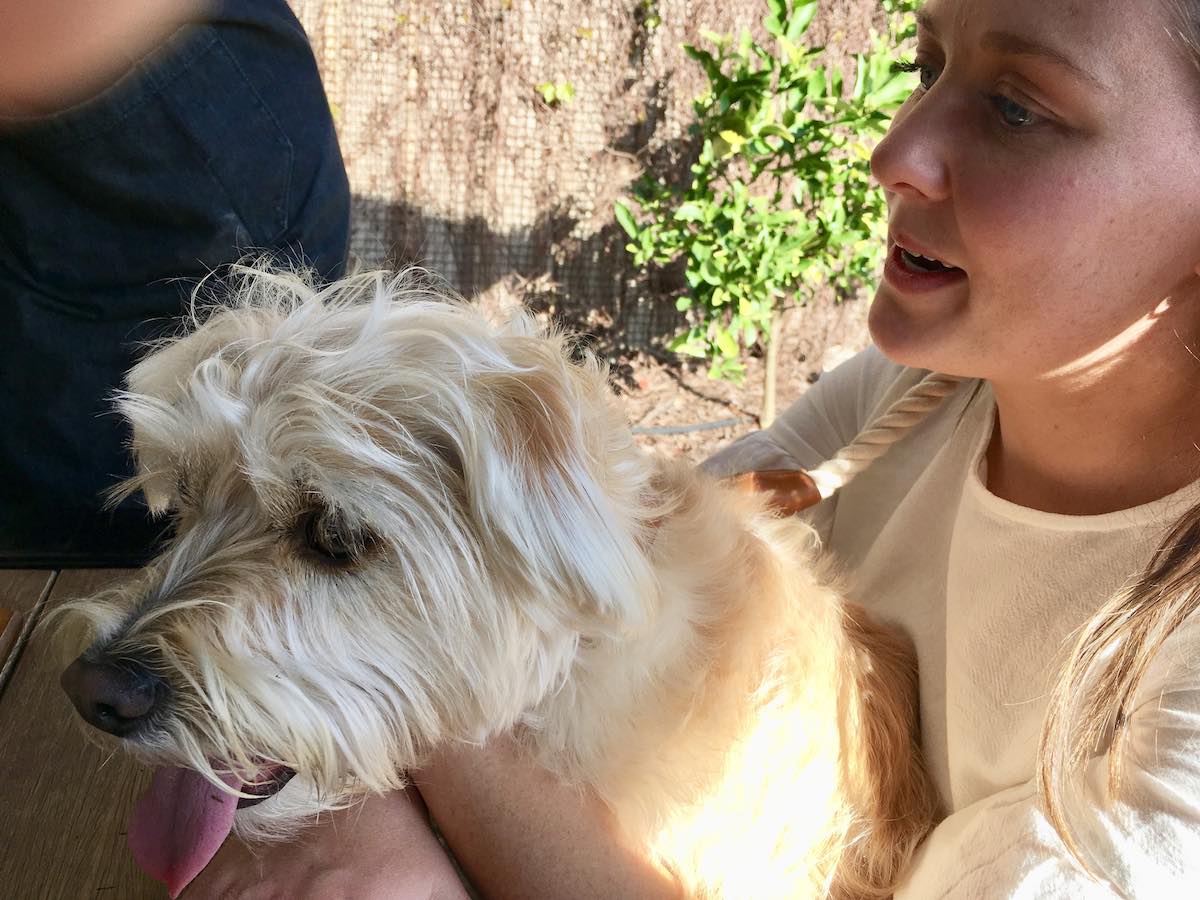 I was by now positively cactus and Jeff drove us all home to our Little House on the Hill so we could all rest up after our HUGE Day Out (Big Day Out move over, wimps) exploring the wineries of the Yarra Valley and meeting god knows how many people. Murph the house dog, greeted me as we arrived back and wanted to hear all about my fabulous day. I was like 'Man, sit and wait, how long have you got?!!!'