Yo dudes, I'm Leroy – (full name Leroy Jethro Latorre – yup, named after Gibbs in NCIS.  Due to the uncanny resemblance I assume)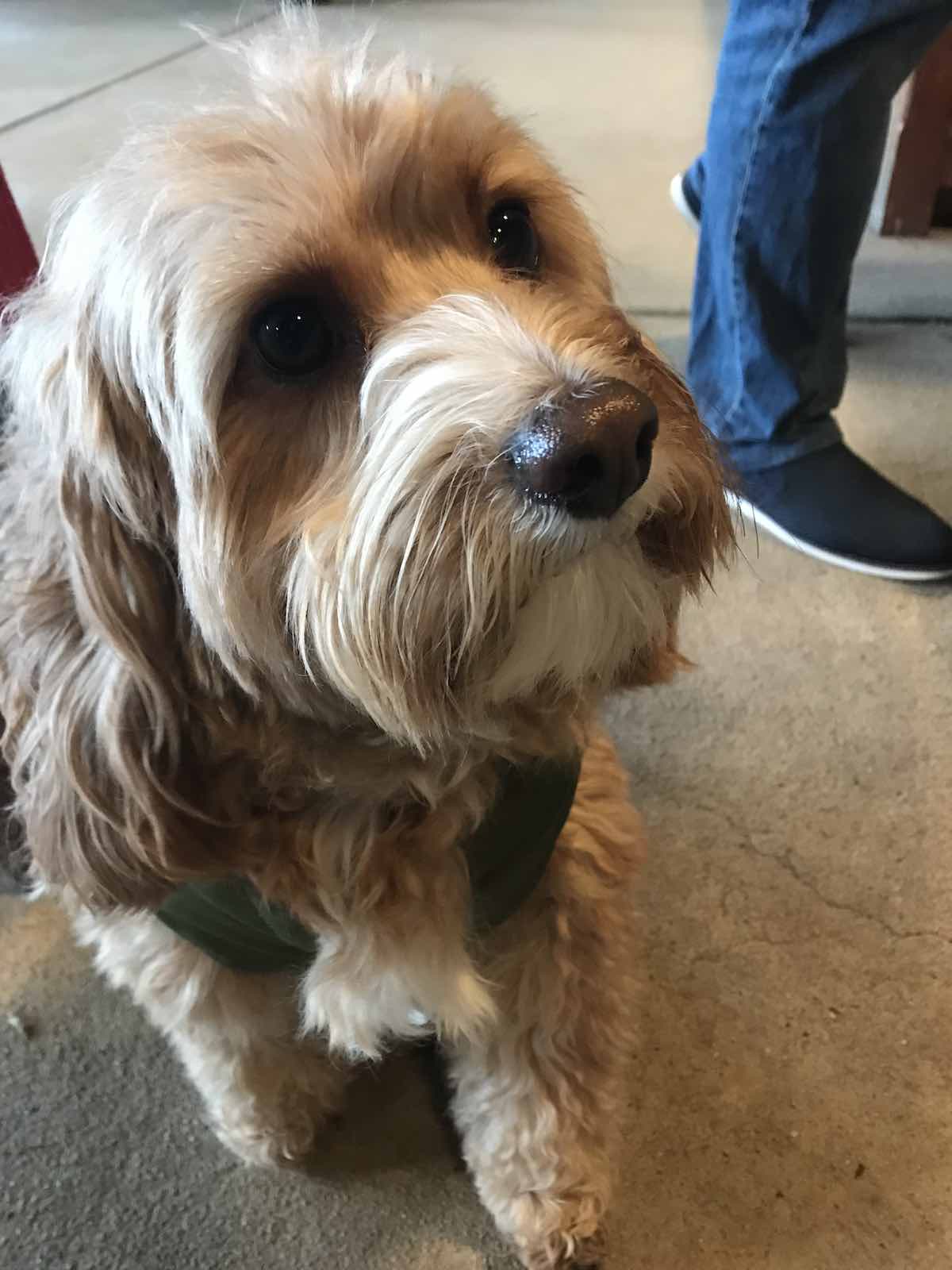 So my Mum and I decided to take Dad away for his birthday to combine all his favourite things – me, wine, me, Mum, me and a weekend in the Yarra Valley.  With me! We stayed at Wiggley Bottom Farm cottage which is ace – I get to sleep in front of a real wood burner and I can see small dogs in a paddock through the window which people here call 'goats' and they spring up and down.  Brilliant.
On Sunday we'd organised with a nice lady called Helen to do a wine tour with her in her Mercedes van.  I got to sit between Mum & Dad on the back seat which I loved, as I could snuggle up against both of them at the same time.  Double the love.
Here we are at the first cellar door Helen took us to – Yering Farm, all learning about wine – from a super man called Brian – he knows all about puncheons and barriques – here's me trying to remember which is which!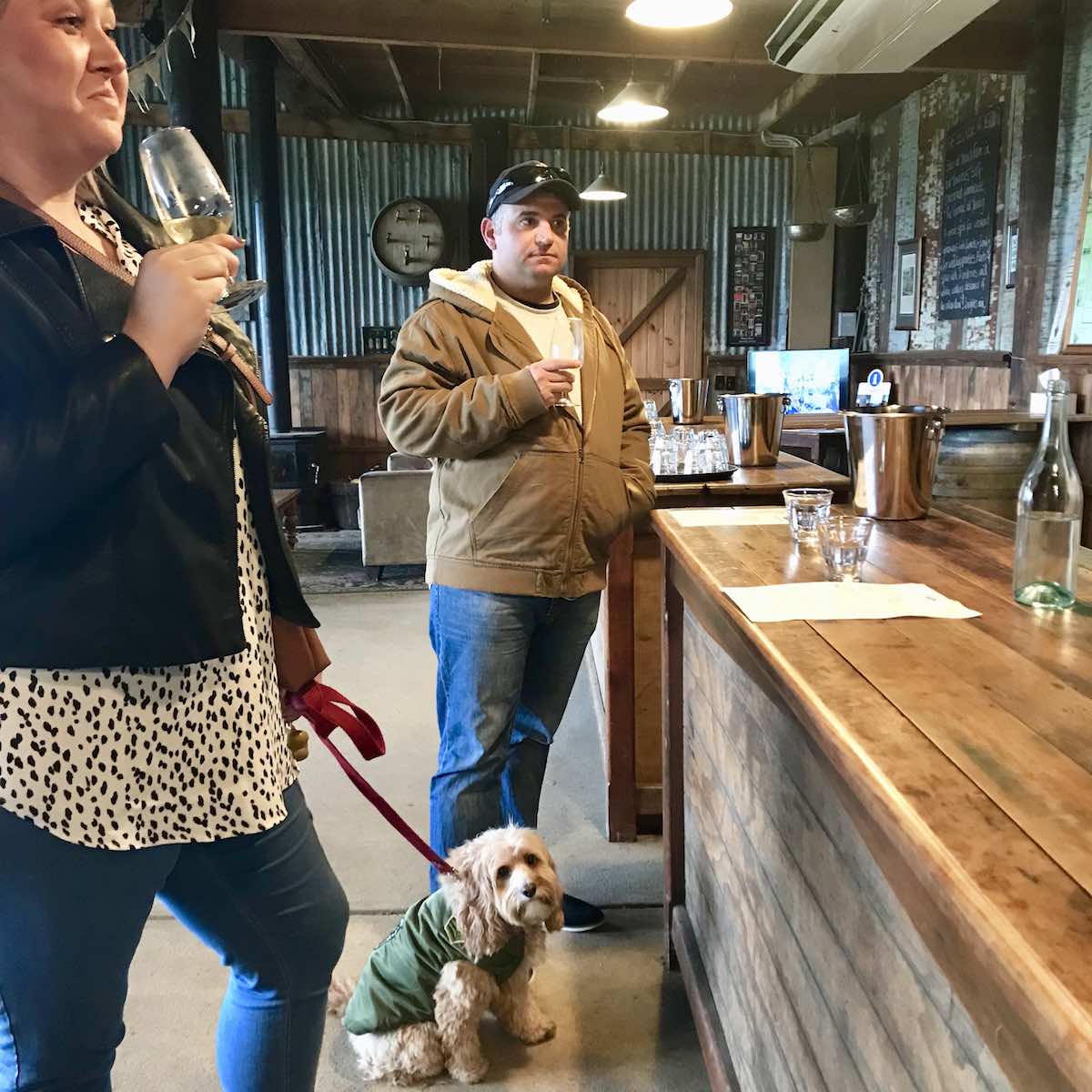 Brian gave my folks syder to try too (I know, they can't spell) which Mum loved and she's a cider snob, so that's REALLY saying something.  Brian told my pawrents all about what foods to enjoy with the different wines they were trying.  I can't remember now which ones go with what – because I didn't hear anything more after he described mixing Dolce Gorgonzola together with Mascarpone and stuffing it into dates.  WOW – forget the wine, yes please to that!!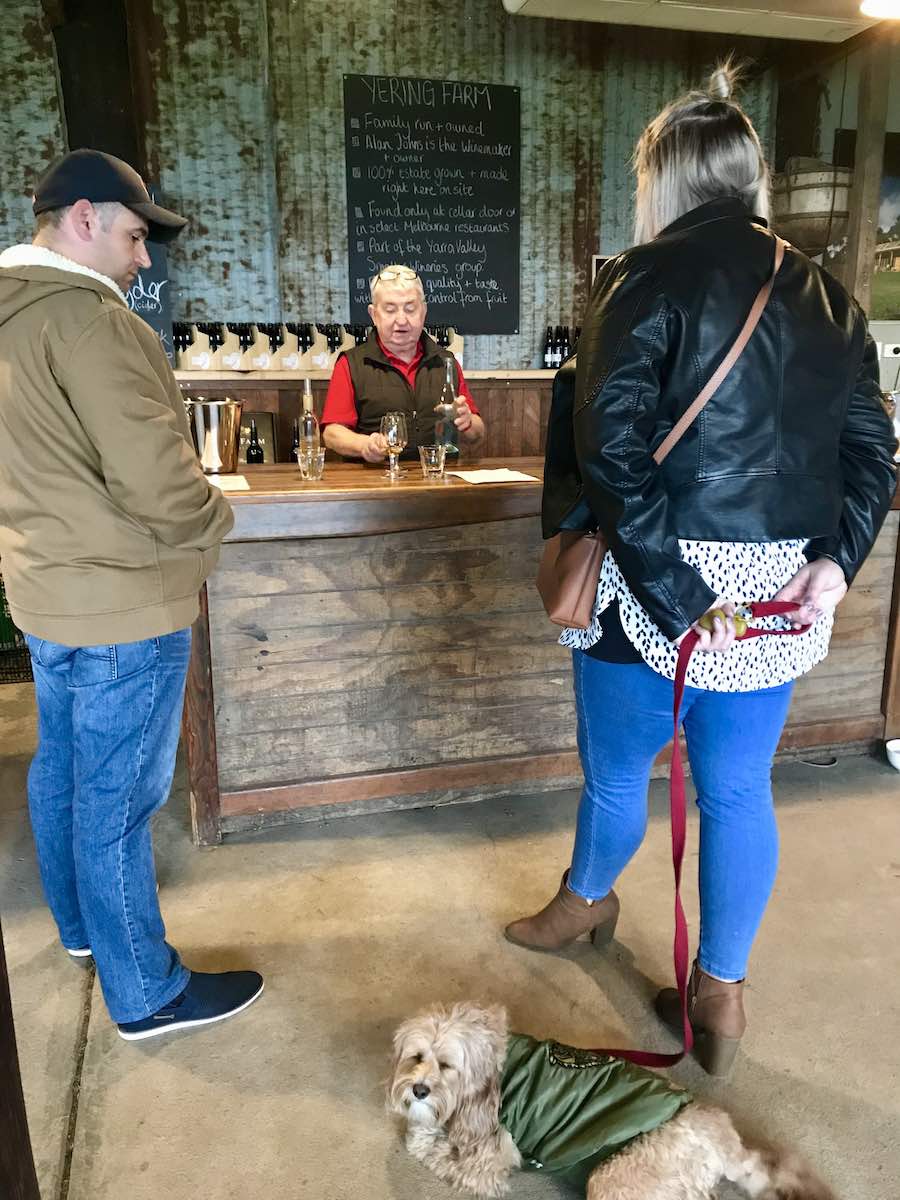 I love my Dad SO much it's silly really and every now and then I get overcome by how much I love him and have to tell him.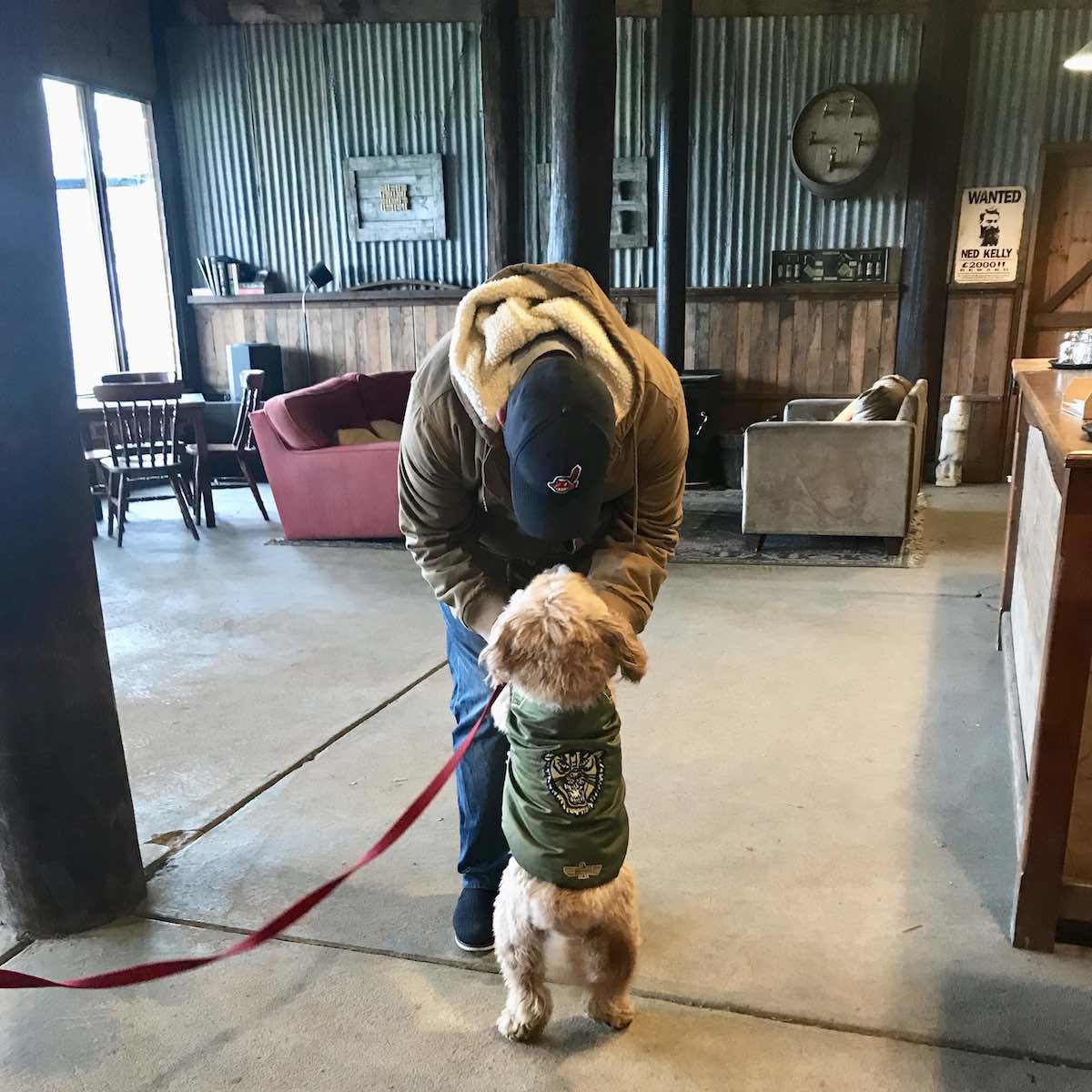 And then, just as I'm giving Dad some love, new people arrived and I had to rush off and tell them how much I love them too – so many people, so much love to give, so little time.  #adogspurpose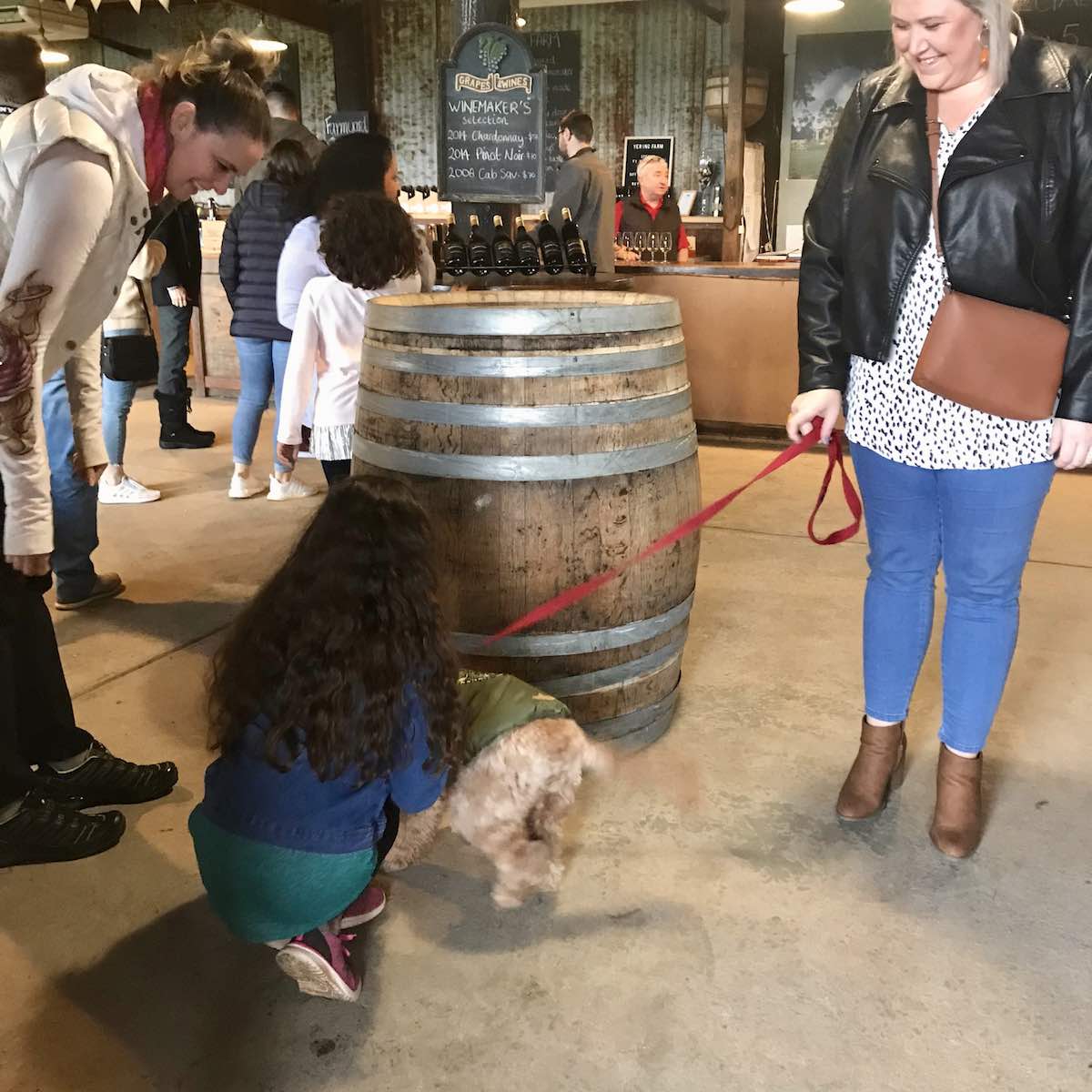 After Yering, we went to a winery called Helen & Joey's which made the hoomans laugh (because Helen's called Helen and my Dad's called Joey and this was somehow funny to them).  We drove for ages up a long driveway and kept passing unicorns (there are 5 on the property apparently) and I wasn't scared a bit, I stared straight back at em.
When we got to the cellar door we went inside and EVERYONE came to say hello to me – all the staff, even other visitors, it was brill.  This lady needed a really big hug.  Good job I was there just at the right time.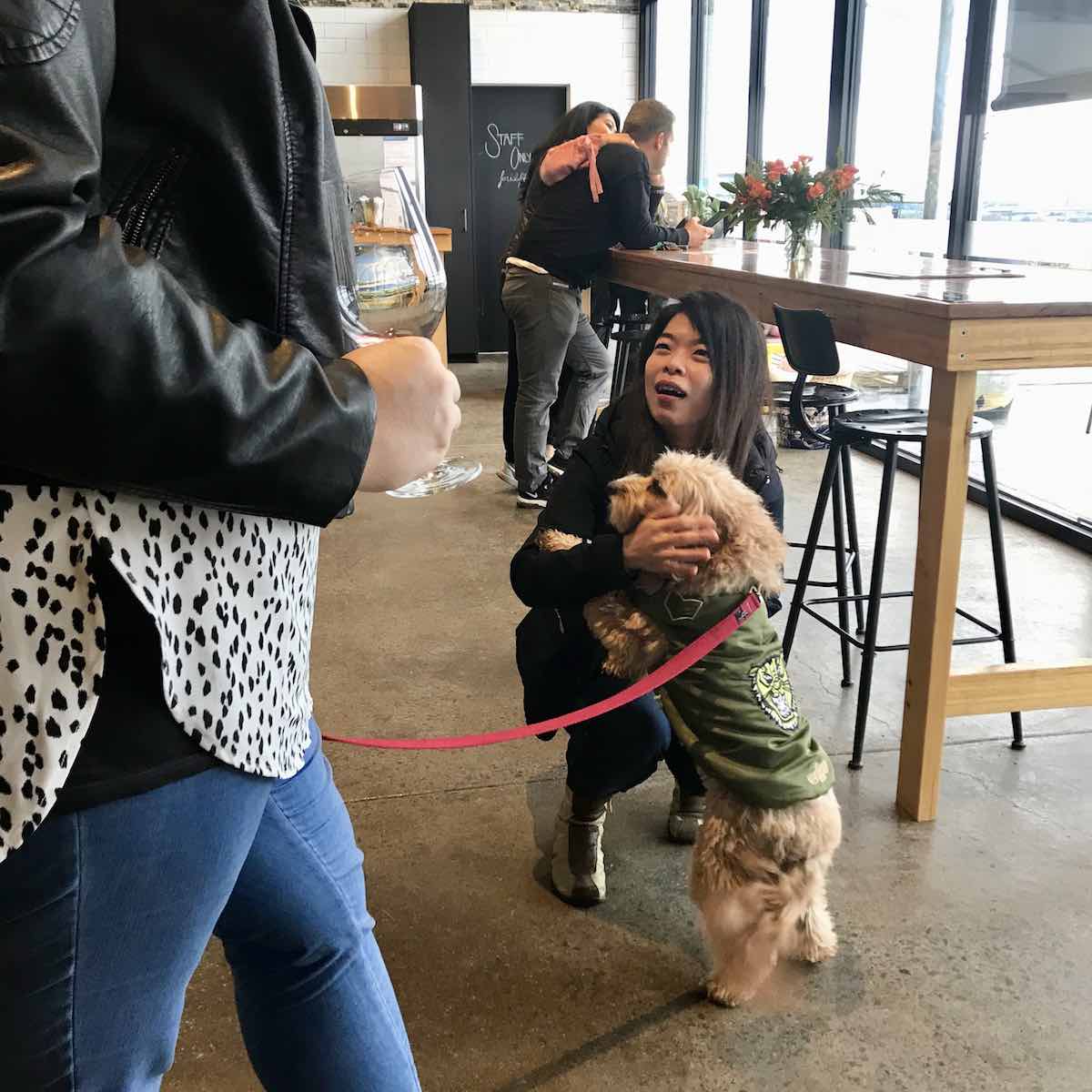 And then Ali introduced herself and said she would be doing our wine tasting.  And I fell in love.  As did she.  As you can see.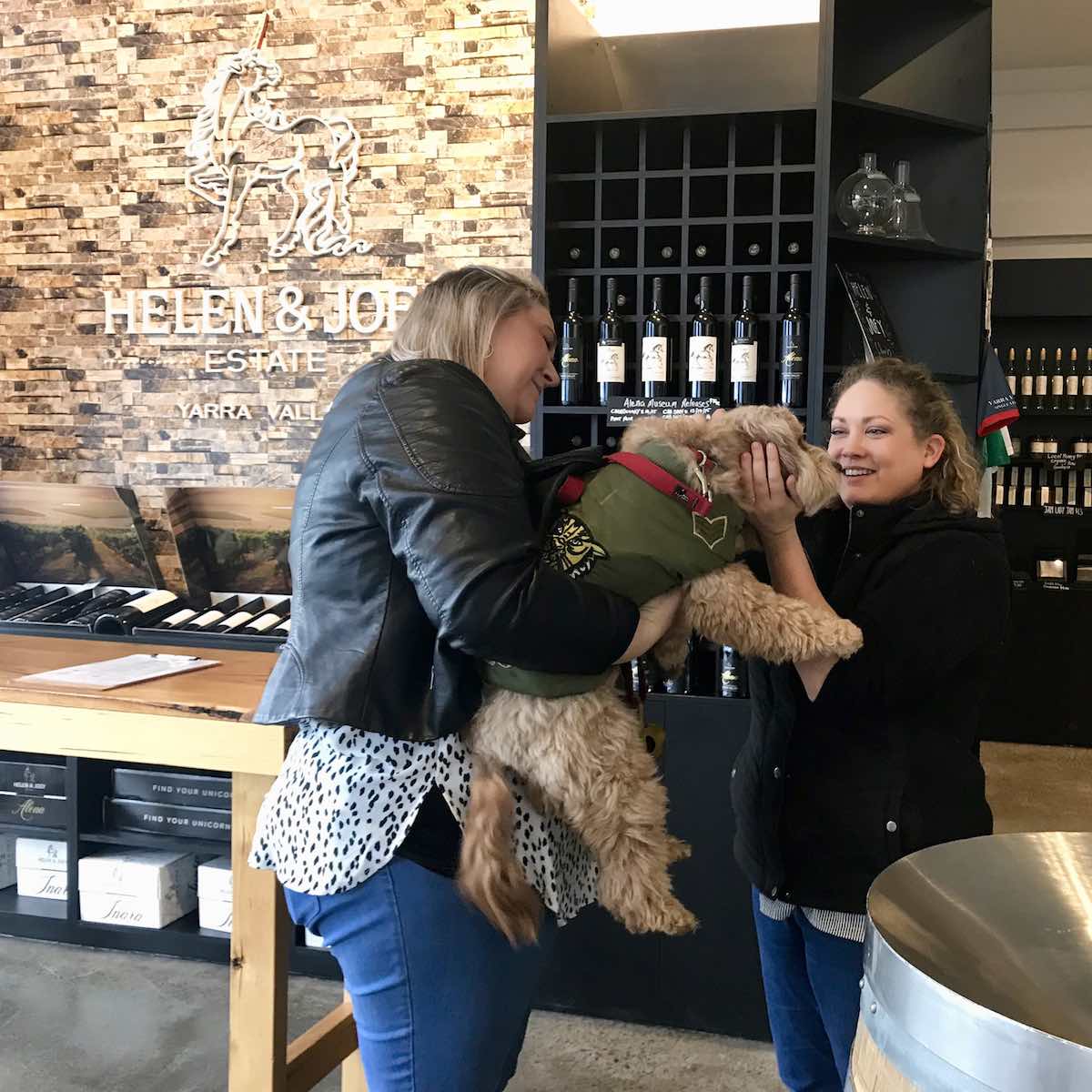 I was saddened to hear she has a 'german short haired' at home and she's so in love with it she showed me a photo of him wearing a jumper.  So…I'm in a bomber jacket, so frankly I think there's no contest really!  Anyway, I still love her and I listened patiently while she and my hoomans banged on about wine and dogs and where they're going on their holidays – seriously, they were comparing notes on Italy, a holiday I didn't even get to go on, it was quite insensitive of them!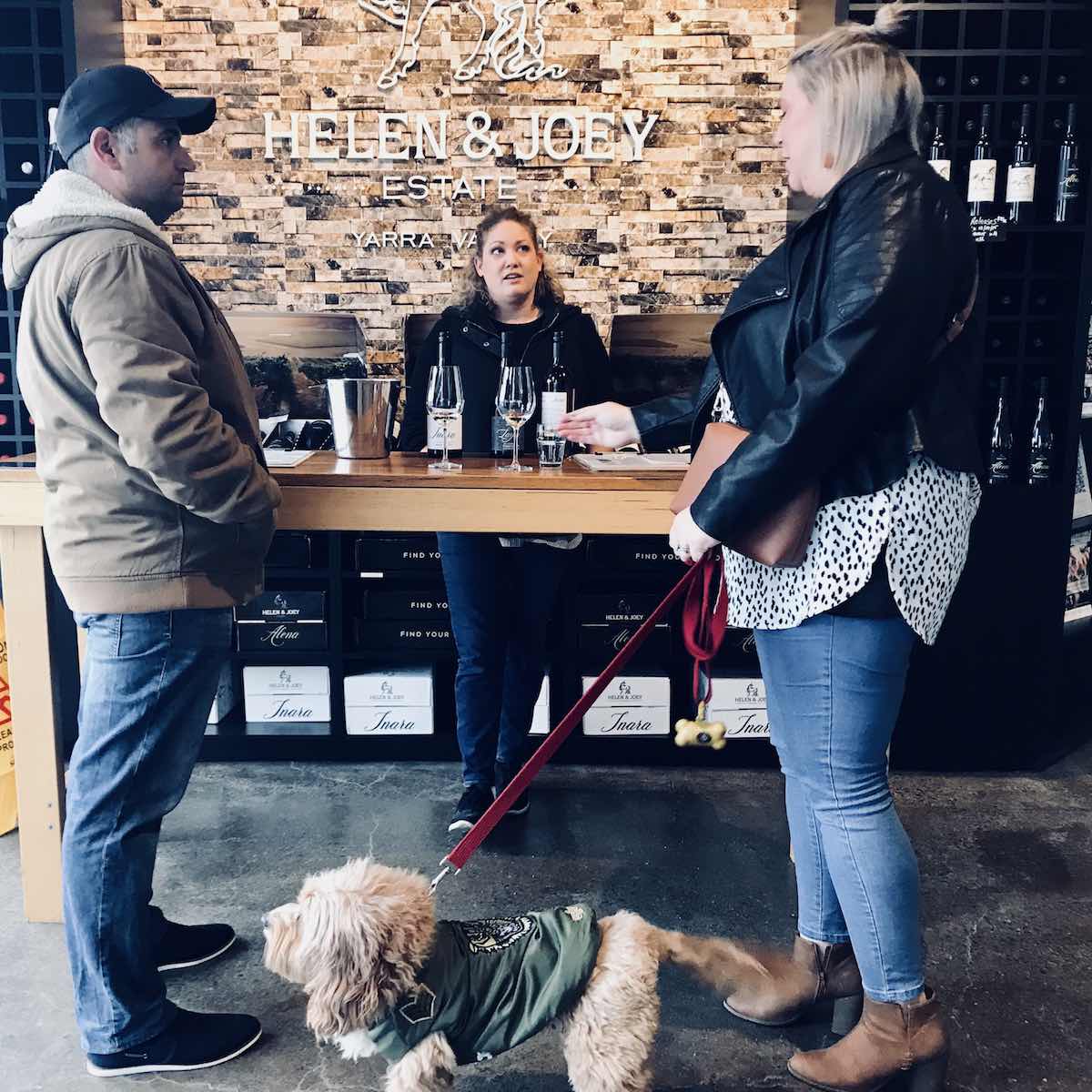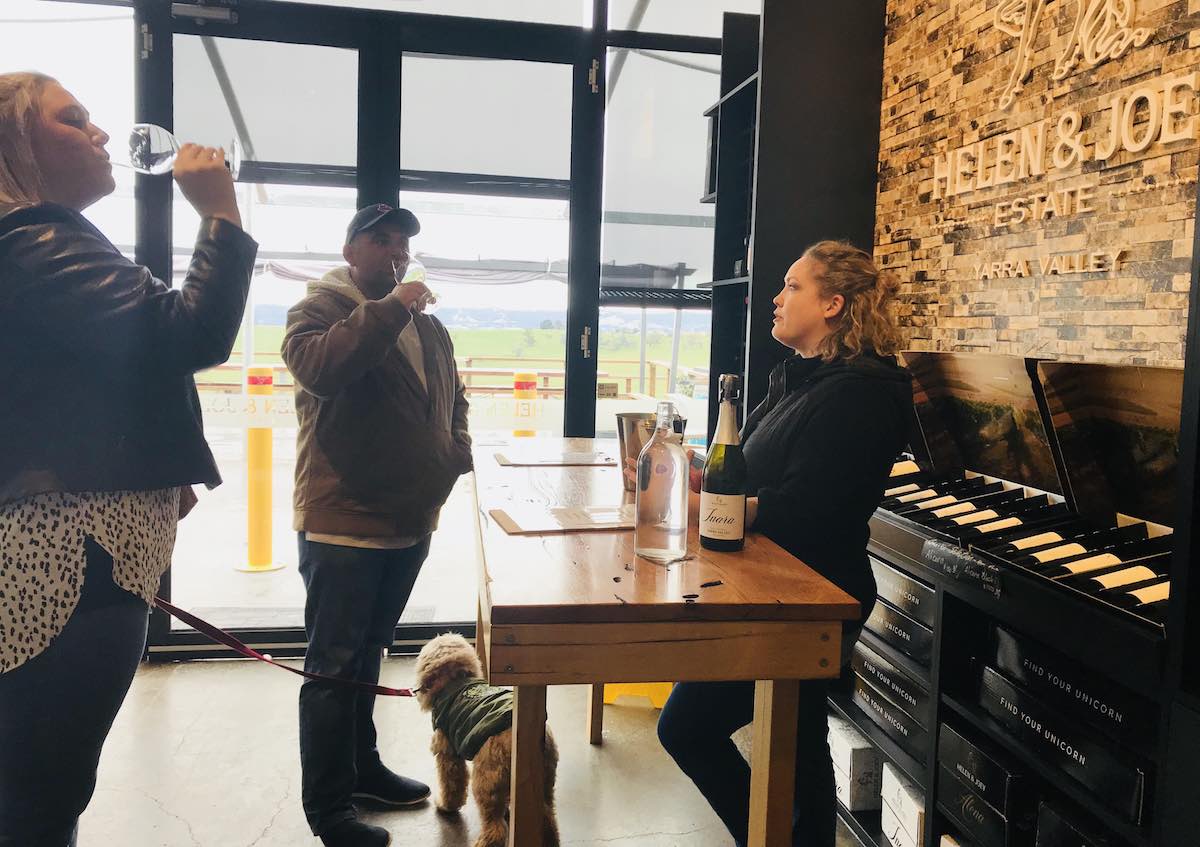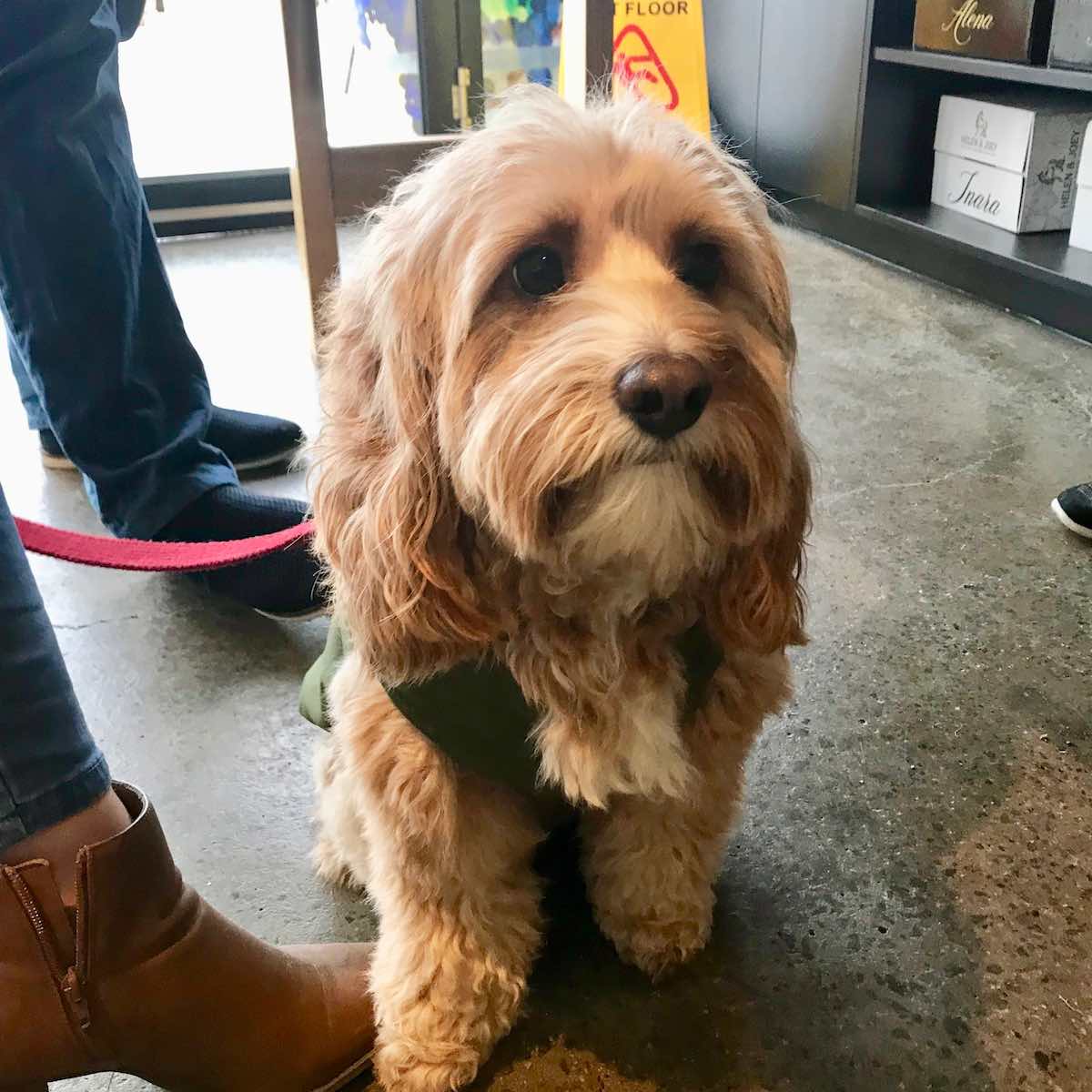 I got a bit bored of all their holiday talk so I took Helen outside to check out the unicorn on the deck.  Bruce the big unicorn has lost his horn (which makes him a white horse) and the other little one was cute – so I posed with him for some media shots.  Reckon I could be a unicorn – I've got the look down pat haven't I?  You can barely tell us apart.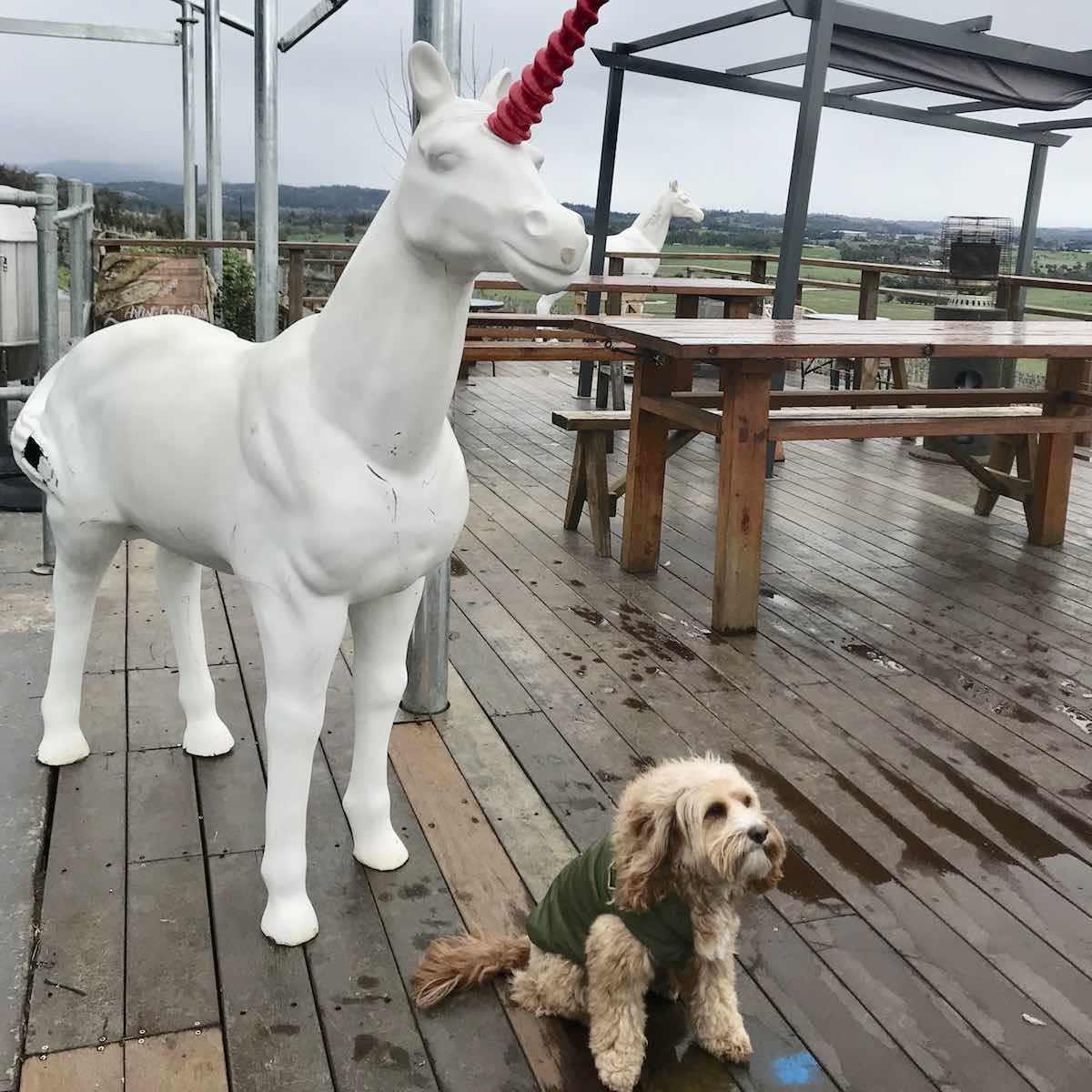 After hugs and kisses all round we left Helen & Joey's for Helen's Hill (for a driver, Helen sure owns a lot of real estate round these parts!) and guess what – that's right I made a tonne of new friends again.  Ross the lovely man doing the wine tastings with my folks nearly jumped over the counter to say hello to me.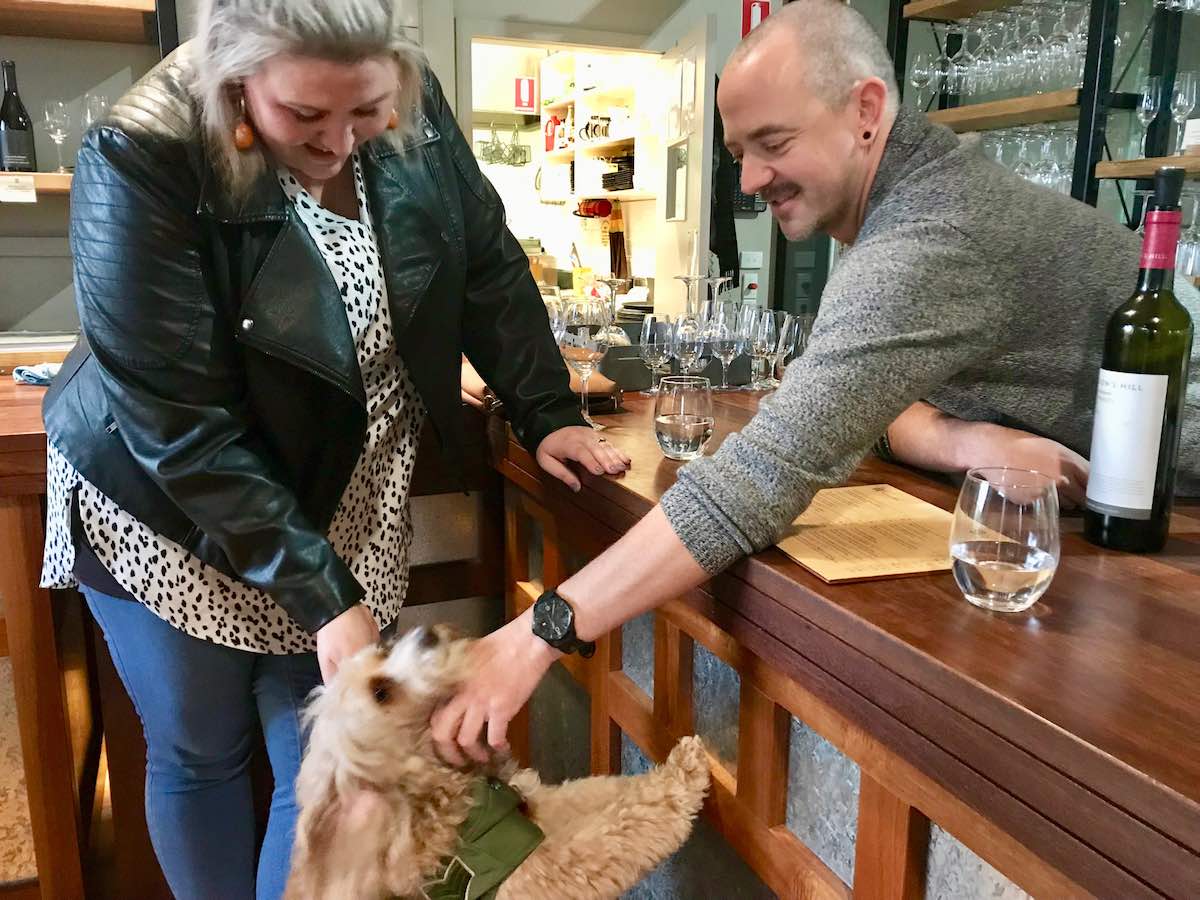 There was another dog in there called Henry, he was very soft and fluffy like me too and it was fun playing for a while but then I just had to turn away and ignore him – he was only a pup and gosh they get tiresome very quickly when you're as grown up and sensible as me.  Ma & Pa enjoyed all the wines they were given and then chose what to have with their lunch and at the mention of lunch, Helen got out a tub of treats and I chose this hand-made one, made by a nice lady in Warburton who bakes biscuits for dogs!  It was ace, I lay down in the middle of the cellar door and chomped my way through it, happy as Larry (or should that be Leroy?).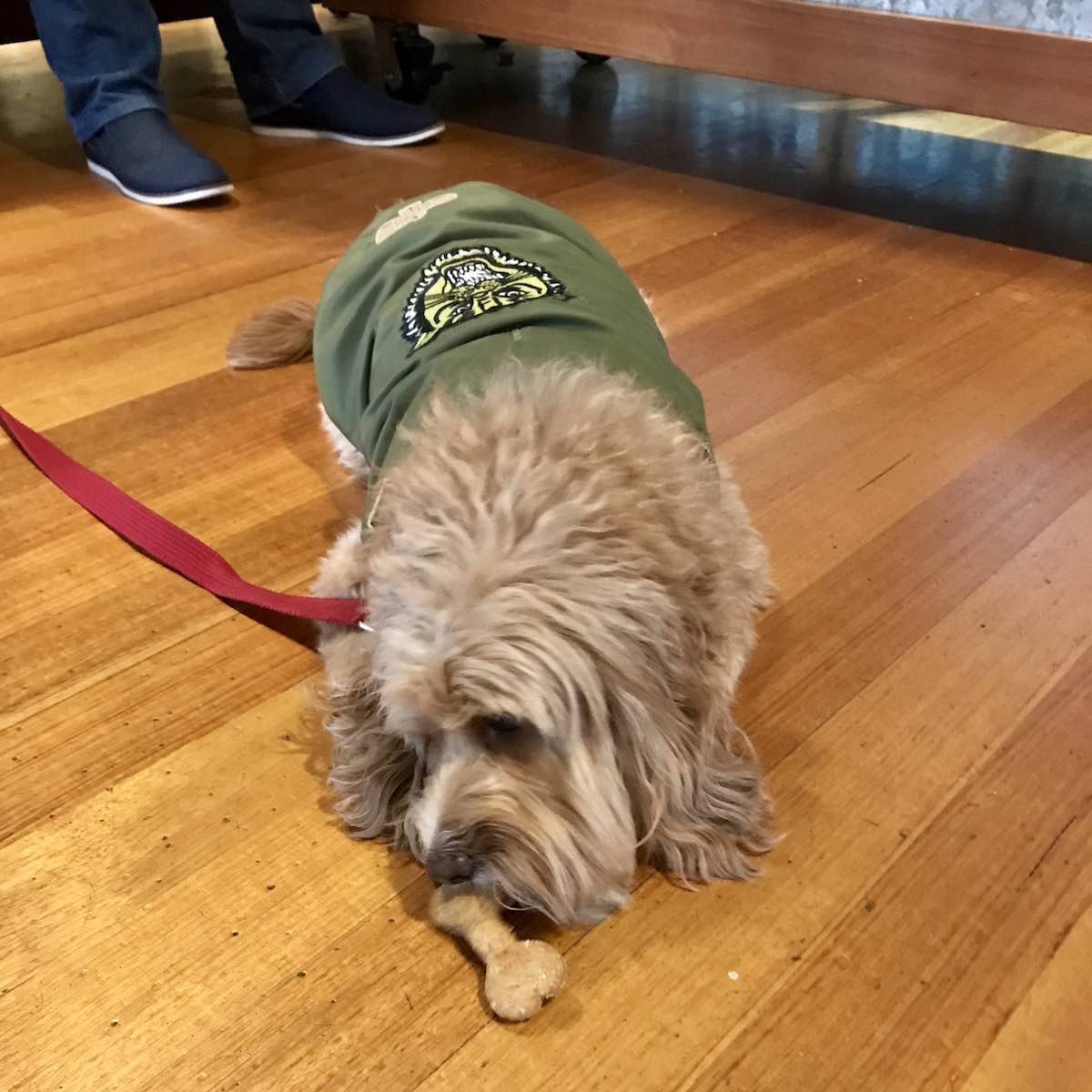 My pawrents had a lovely lunch at a table by the fire while I had a lie down and a much needed snooze – I was seriously tired after such a social morning – I'd met so many people and chatted and hugged and kissed and answered endless questions about my age, breed, where I lived, if I'd been here before – it was full on.  You can't see me in the picture, but I'm crashed out at Mum's feet – pole position, nearest the fire!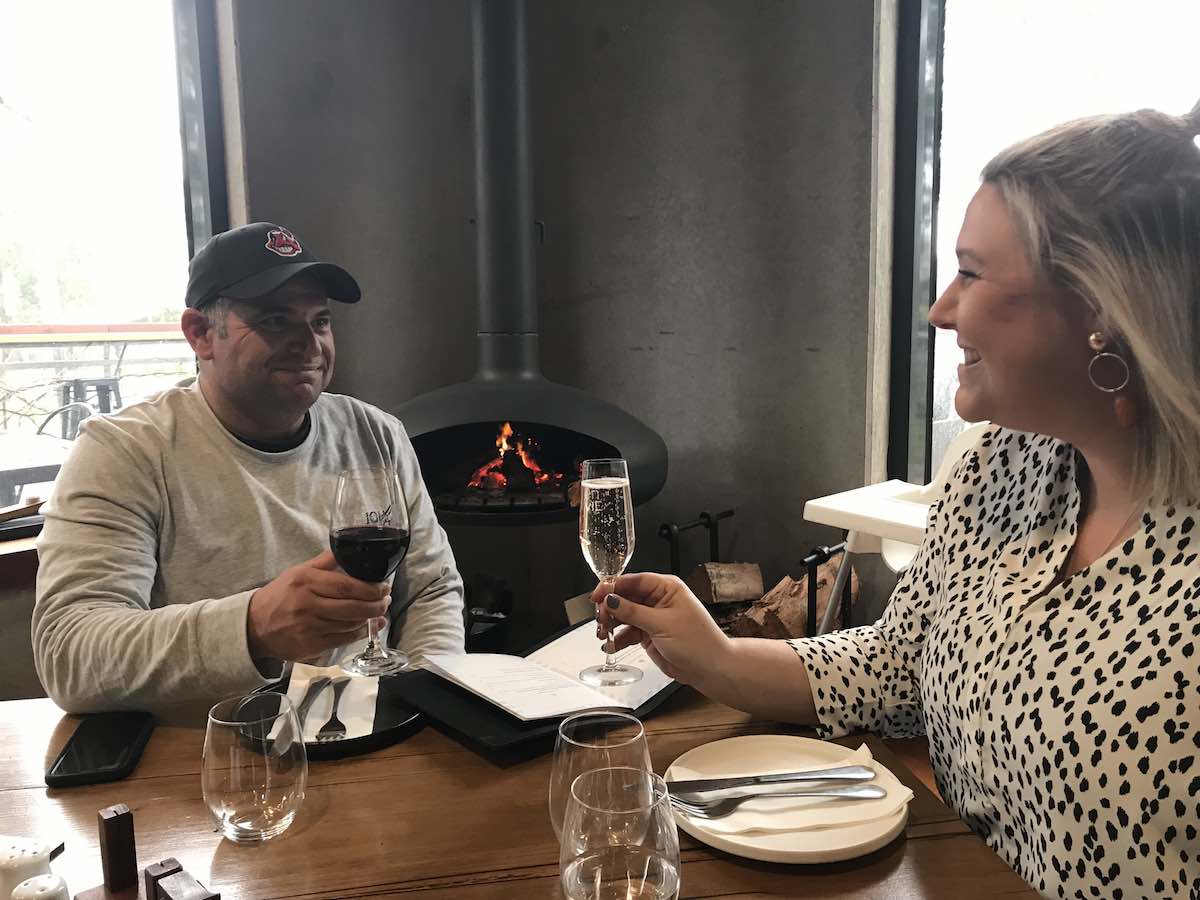 After a great lunch we set off for Maddens Rise, and Helen told us it was a tiny boutique cellar door run by a lovely lady who would fall in love with me – crikey I thought, another one!!   We told Dad he was a having a surprise at Maddens Rise too and he said 'As long as no-one sings Happy Birthday and embarrasses me I'm fine with any surprise.'  At which Helen and my Mum laughed a little too hard and loud and long, and I cringed and knew right away what was in store for my poor unsuspecting Dad!  Here we are arriving – I told you it was tiny!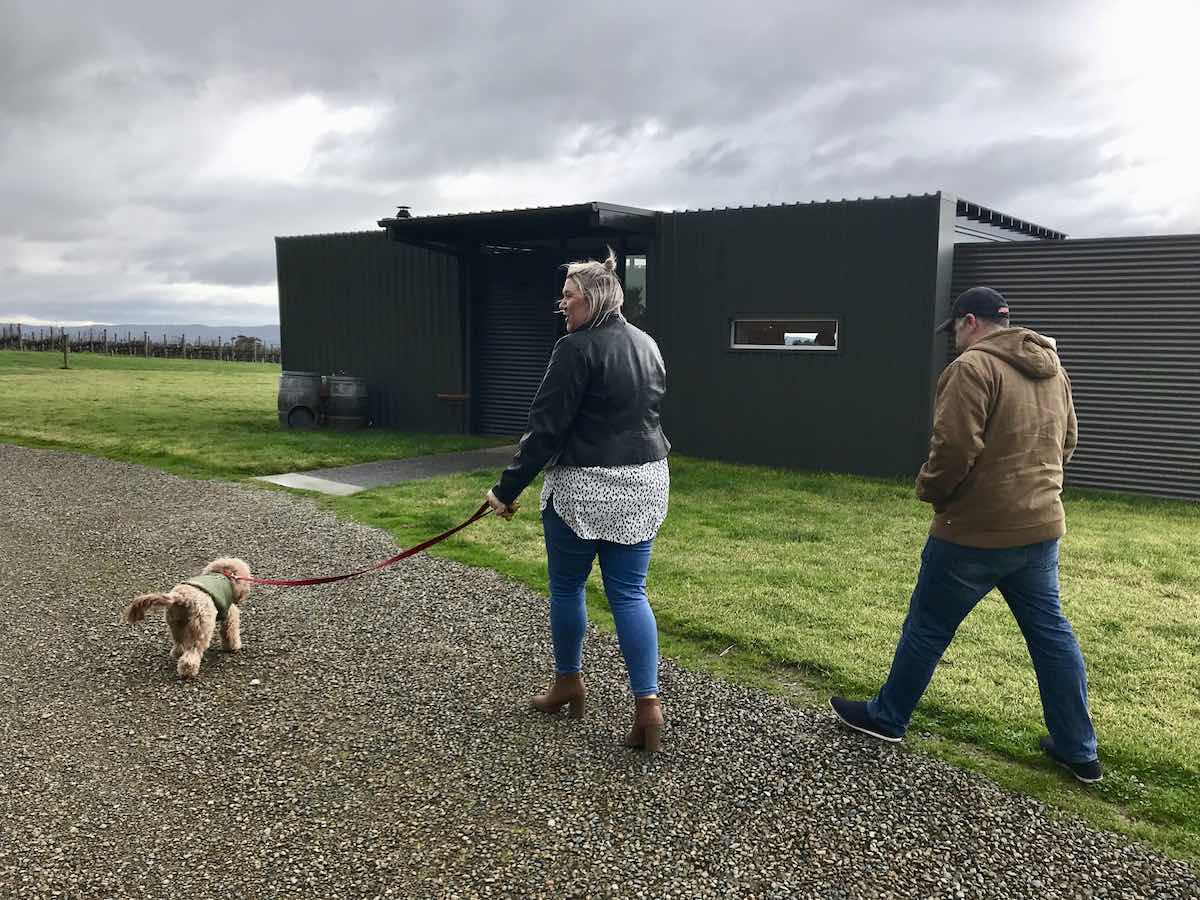 I was right of course – we'd not been in there 5 mins and suddenly everyone is singing and looking at my Dad and Helen is carrying a large brown thing towards him which was a bit on fire and Emma (the lovely lady who fell in love with me ) gave my folks a glass of sparkles each and my Dad said to Helen 'You're walking home' which she took very well give that it's her van and we're a long way from her house – luckily she didn't seem to mind!
Helen's boyfriend Jeff had made the brown thing – and everyone was really happy about it.  It had Dad's name on it too so everyone knew who it was for, it's like a cake only its not, it's more like fudge and Dad soon put the fire out and then killed it with a knife (phew) and Helen came and took it away and came back with much smaller pieces for them with cream!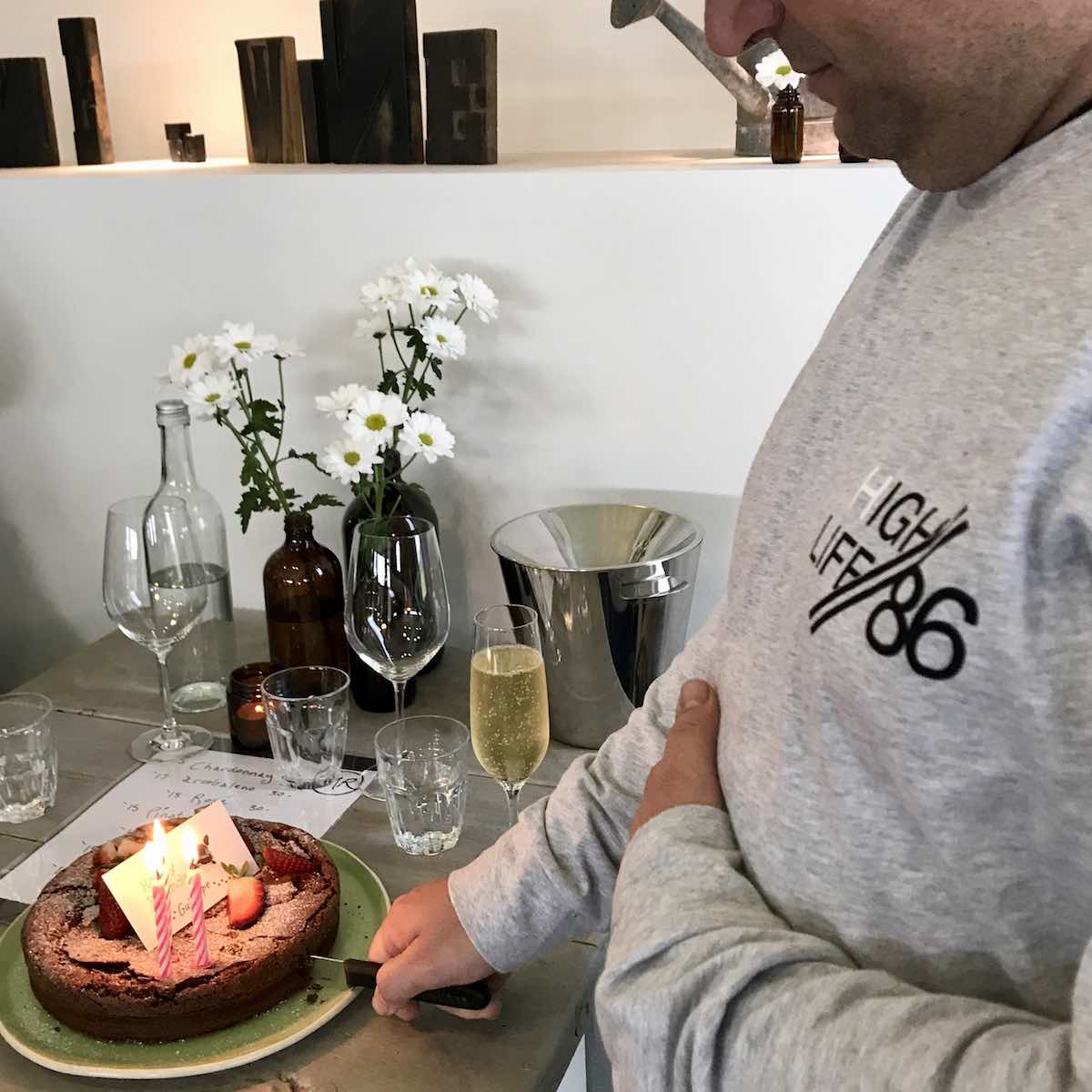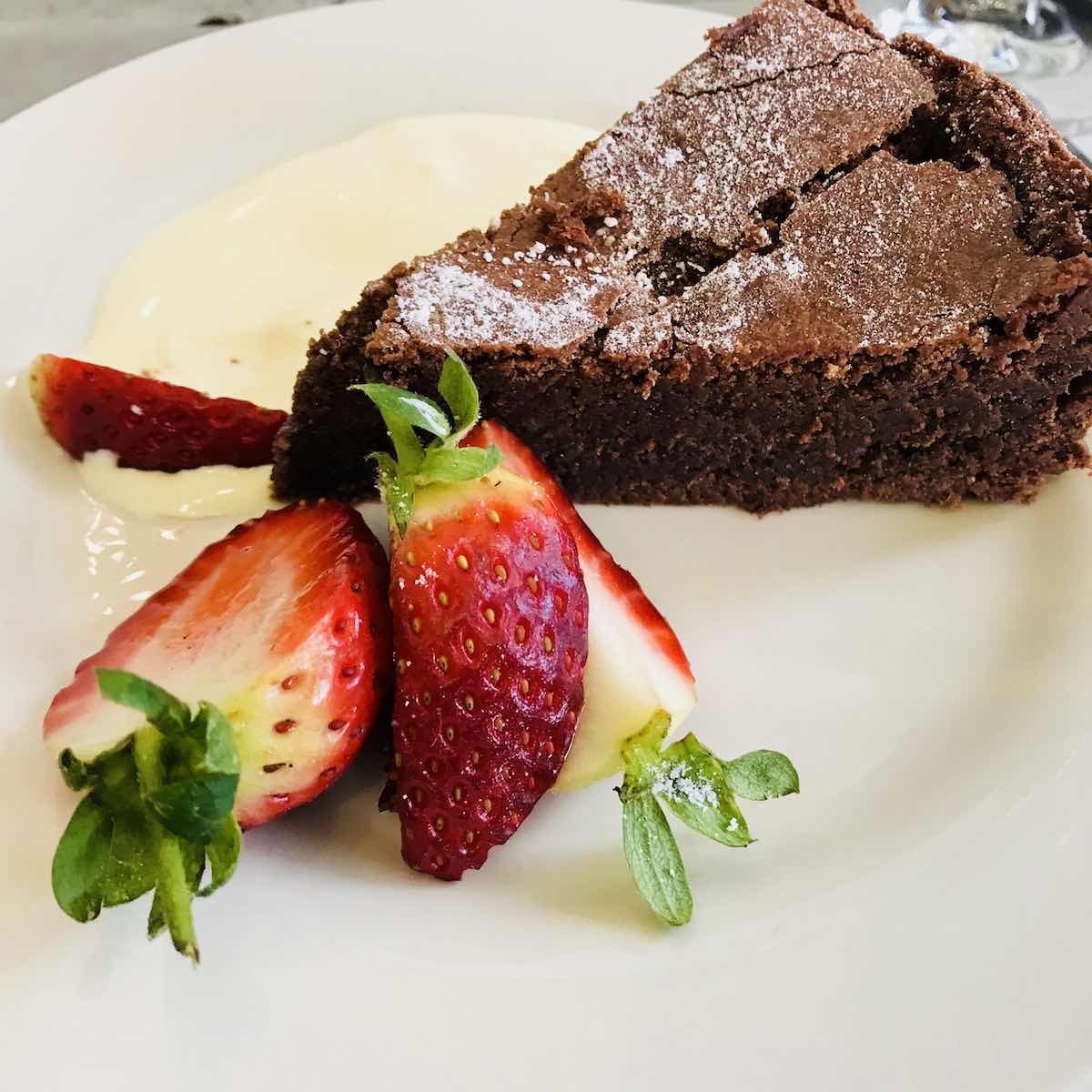 I sat there looking hopeful as I knew there was plenty enough fudge for me to have some and when Emma, the lovely lady who fell in love with me, saw how sad I looked at not having any fudge, she gave me a stick to chew – she's the one for me, she TOTALLY got me.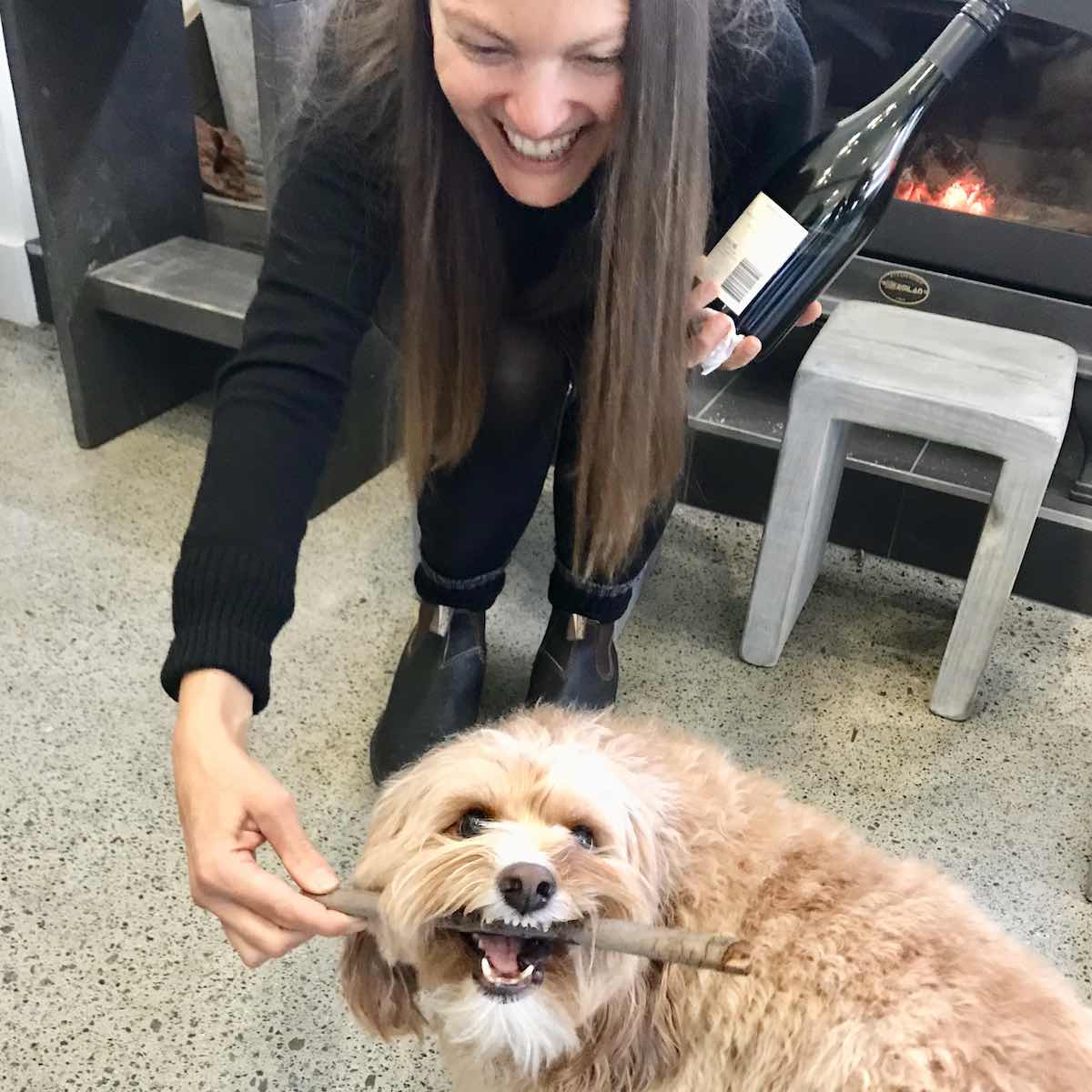 And then, more people arrived at the cellar door, so I had to selflessly put down my stick and go and meet and greet them.  They were grateful – I mean, what kind of dog would I be, if I just let them wander in with out a welcoming hello!!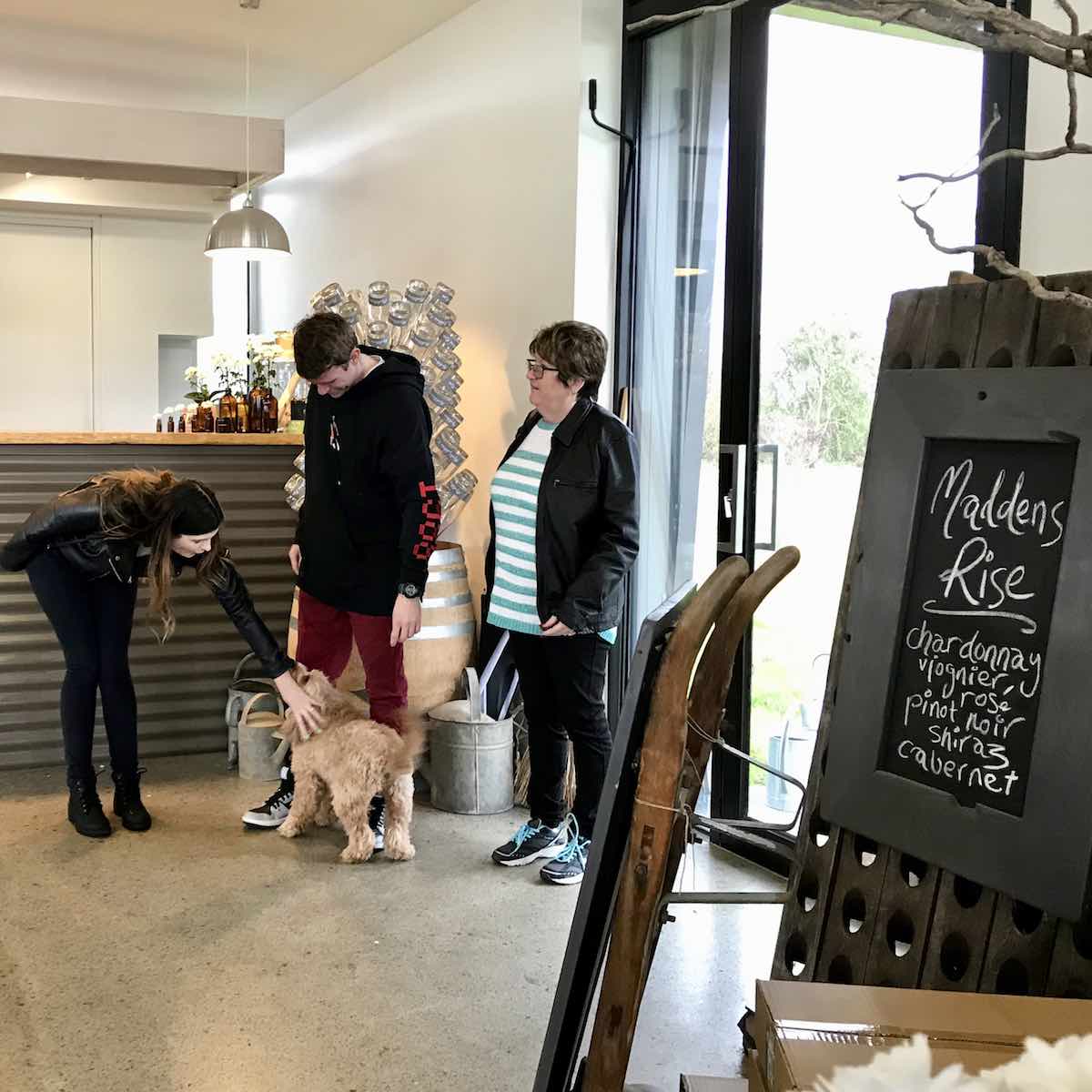 Emma needed help all of a sudden in a cupboard, so I rushed to help her too.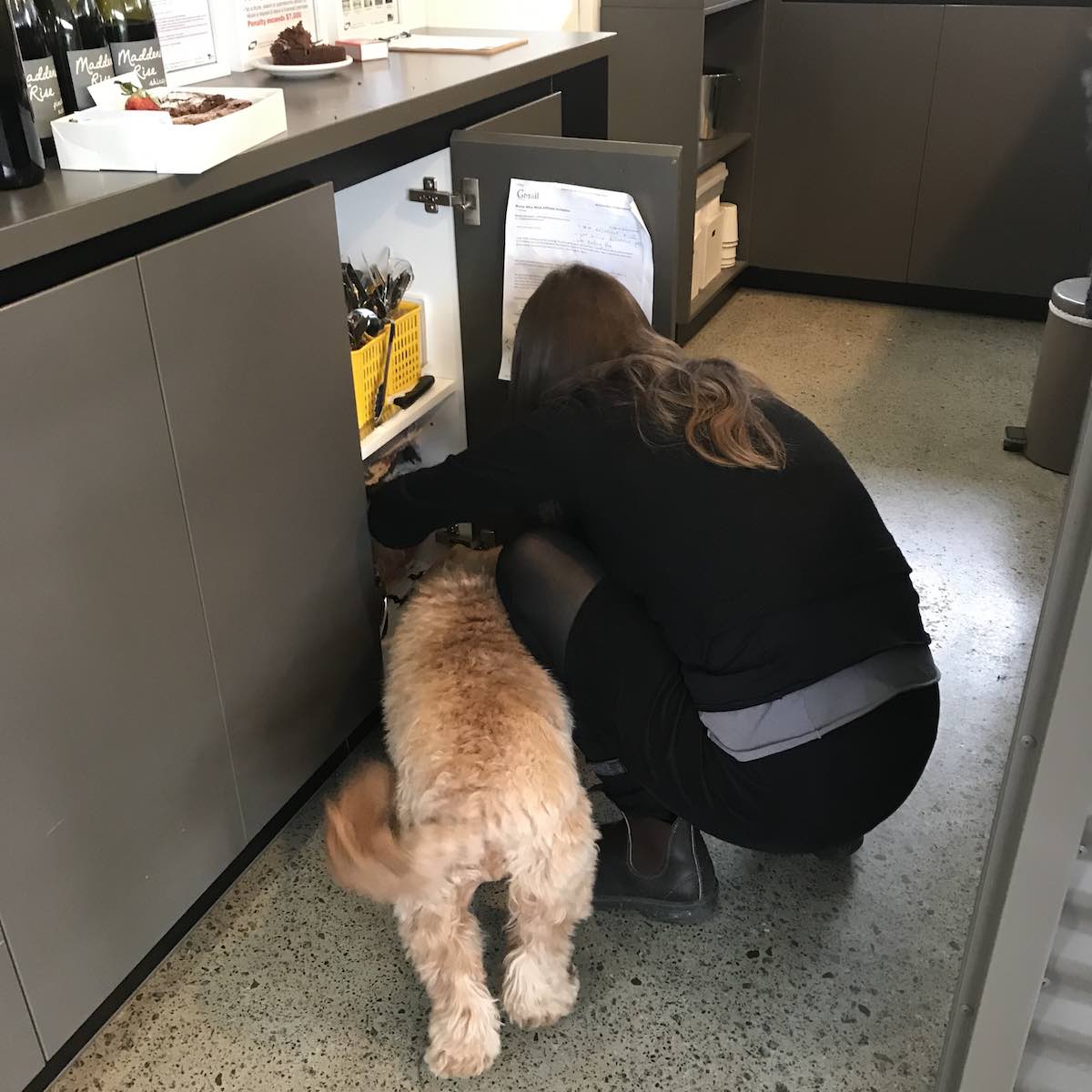 And then I wondered if Dad was OK, as it was his birthday, so I charged over and checked in with him to make sure he wasn't missing me.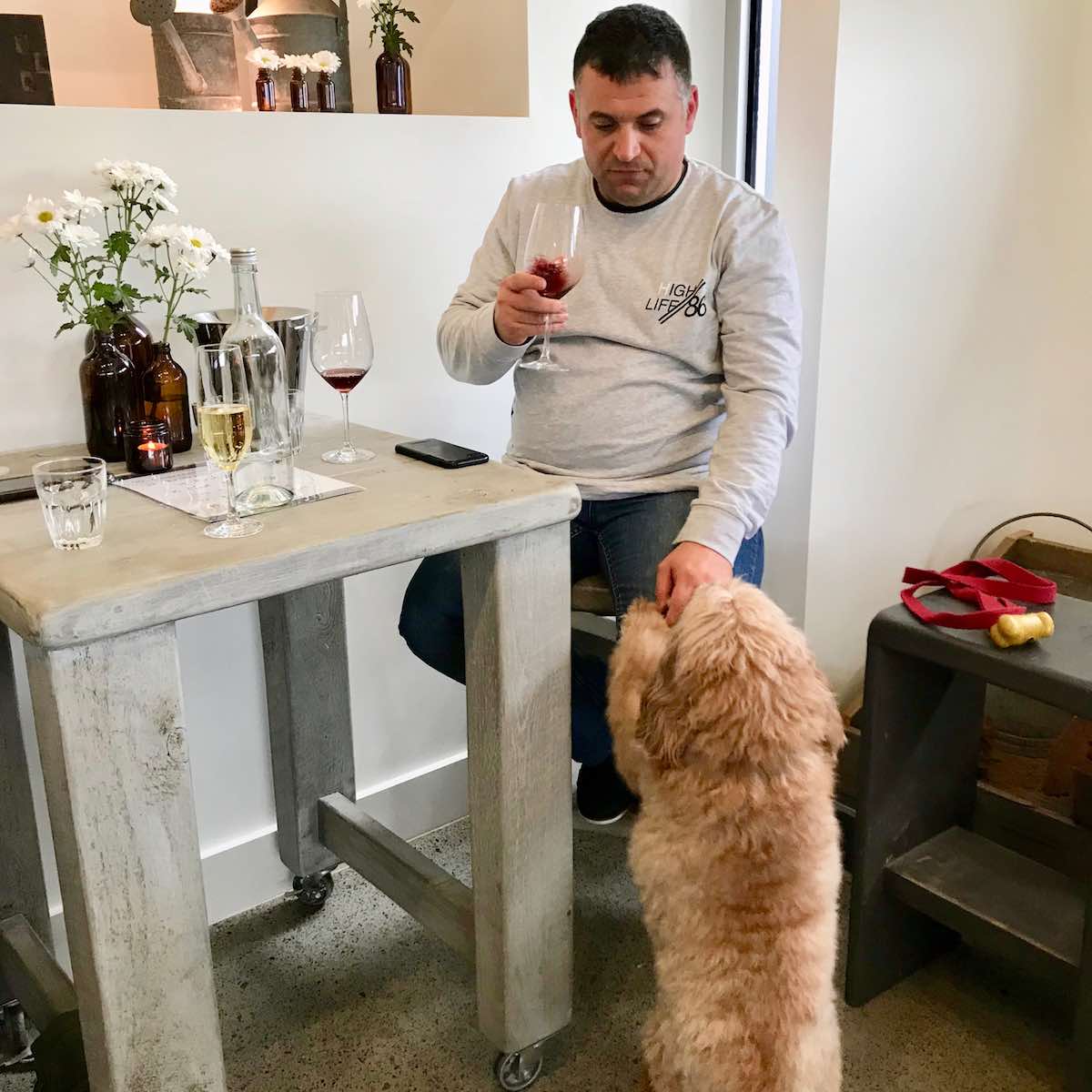 I forgot to mention I was nudie by this point – Emma, the lady who fell in love with me, asked if it was OK if I took all my clothes off so I could run around having some nudie time and my Mum took it really well because, well, it could be misconstrued by some as inappropriate, but Mum went with it (probably because she'd been drinking!).  I loved it – it did feel very free to be naked.
And then Henry arrived – remember, the adorable puppy who tried to upstage me earlier at Helen's Hill.  I put on a brave face but I felt a bit insecure because he kept wanting attention from my Dad, so I sat on my Dad just to be really clear – to get across to Henry that THIS IS MY DAD!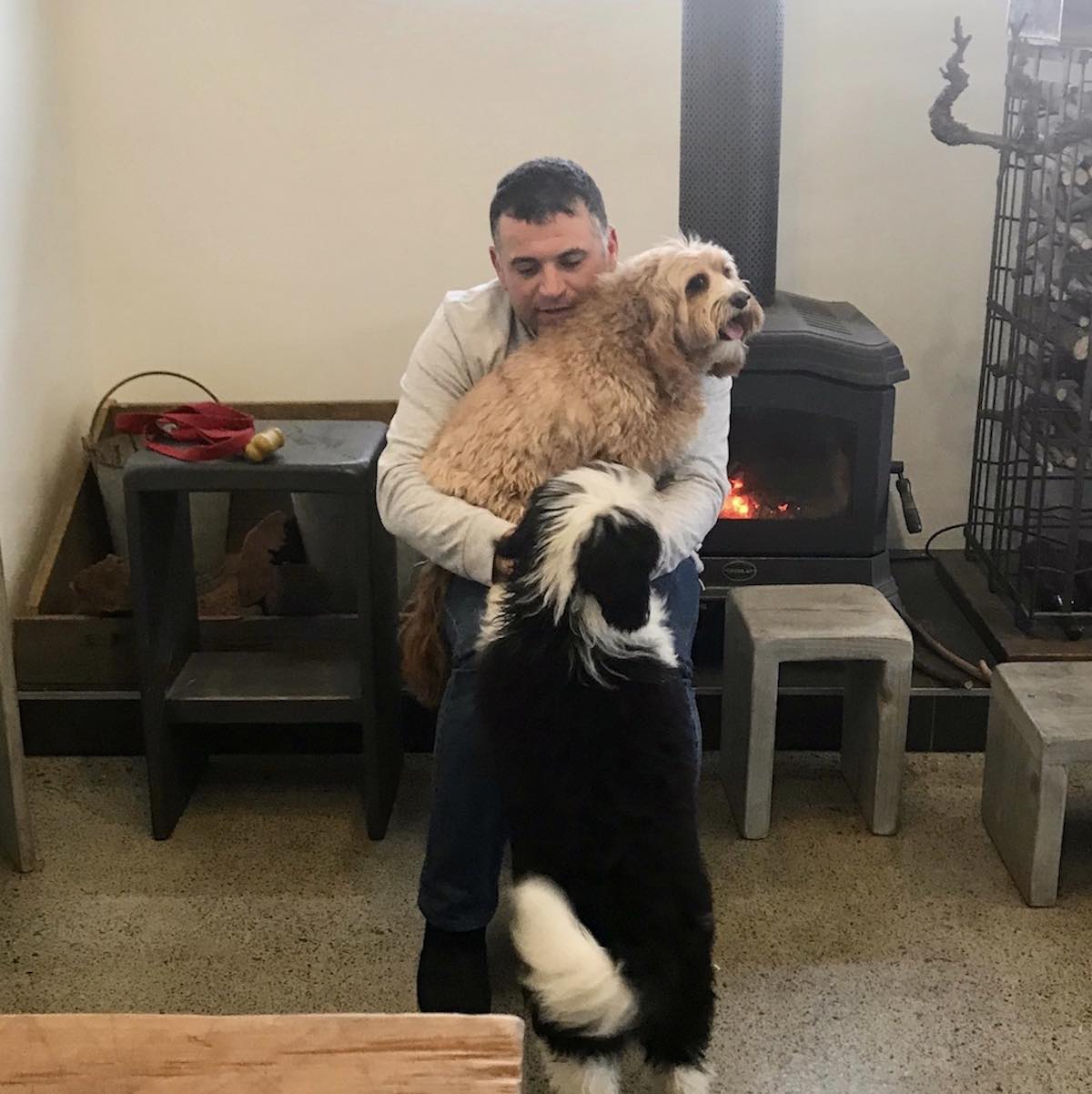 And then I had to quickly claim my Mum too incase adorable Henry was going to try and steal some of her affection.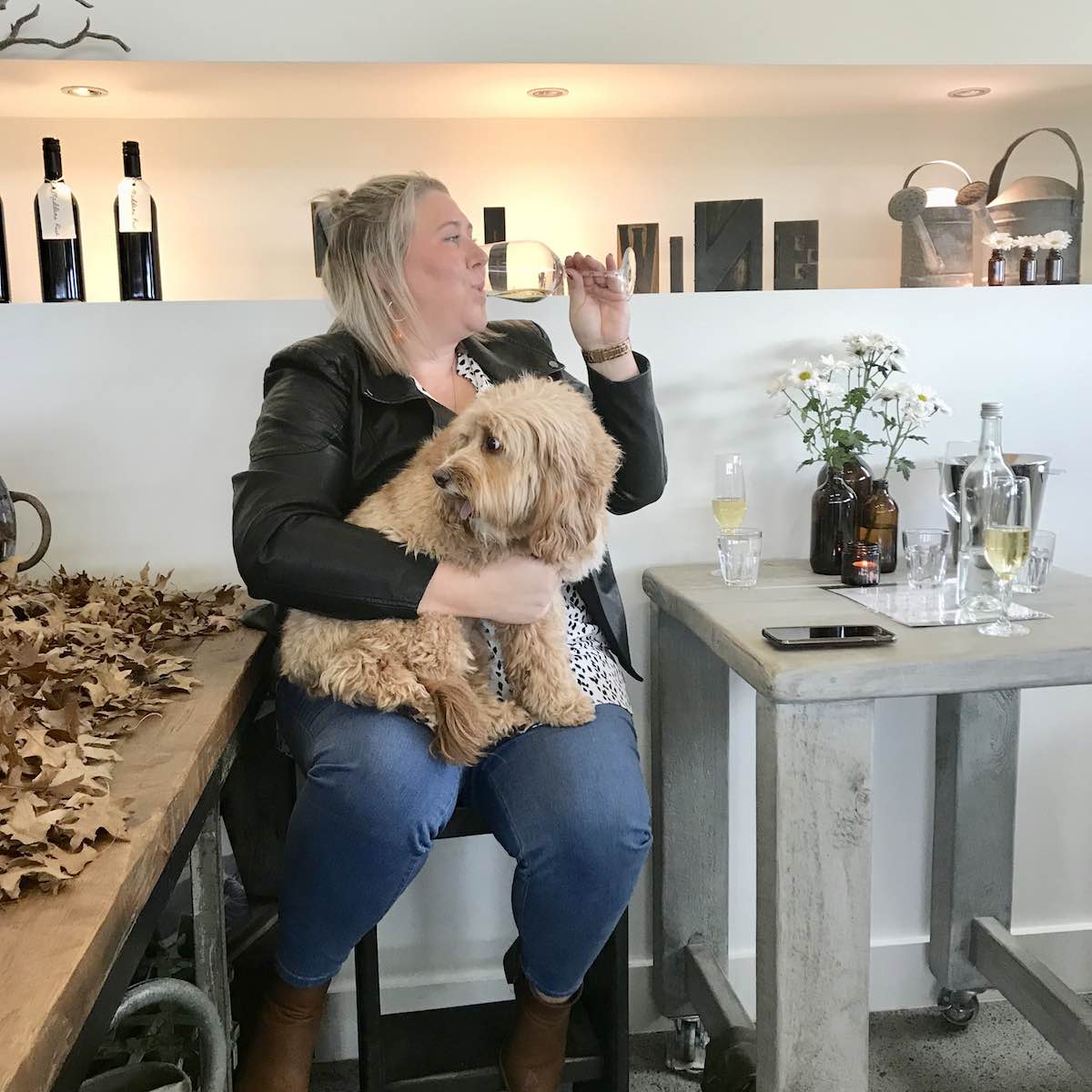 Henry didn't stay long and I tried not to grin too hard when he left.  I then had to help my Dad with a bit of Pinot Comparison –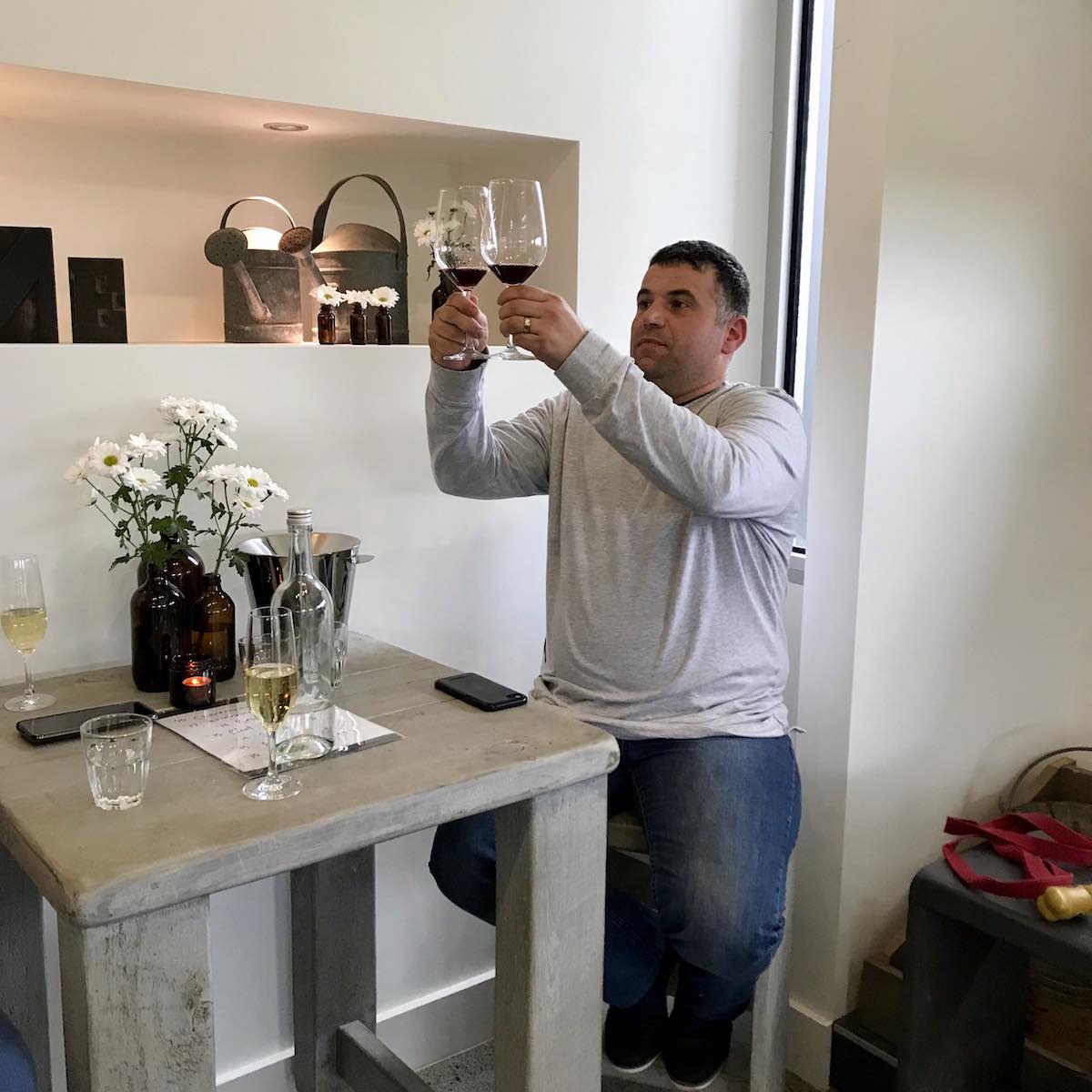 Em poured him the 2013 and the 2015 to compare and he enjoyed both and (conveniently) couldn't remember which was which, so she had to pour them again.  Am I the only one who saw through this ploy!!!?   Clever cheeky Dad!    After that we had to make a move too as we had an appointment at the Gin Palace called Four Pillars Gin in Healesville.   I said good bye to Emma and Ben and I know I will see them again because my Mum and Dad loved Maddens Rise and now know how easy it is to find it again!  Helen and Emma had packed up the fudgey cake for us (not just for Mum and Dad) to enjoy later – yeah!
By now the van was positively clanking with wine bottles that my Dad had bought from all the places we'd been to and he keeps forgetting he's bought them and says it's all Mum's fault!  They are funny!  We get to Four Pillars and they are expecting us and we are shown to our table where I am literally mobbed by some Irish people on the table next door!  And then one by one, out come the staff, they've heard I've arrived.  I get pats, tickles, kisses, a bowl of water and an olive pip I found on the floor too!  Then Lizzie arrives and I fall in love AGAIN!  I asked if I could have my photo taken with her – she's one special lady – she already has a favourite dog in her life and I met her, sort of, she's on her arm, a tattoo of her puppy of Barbara Ann.   Don't we look great together?  Lizzie + Leroy?  It has a certain ring to it.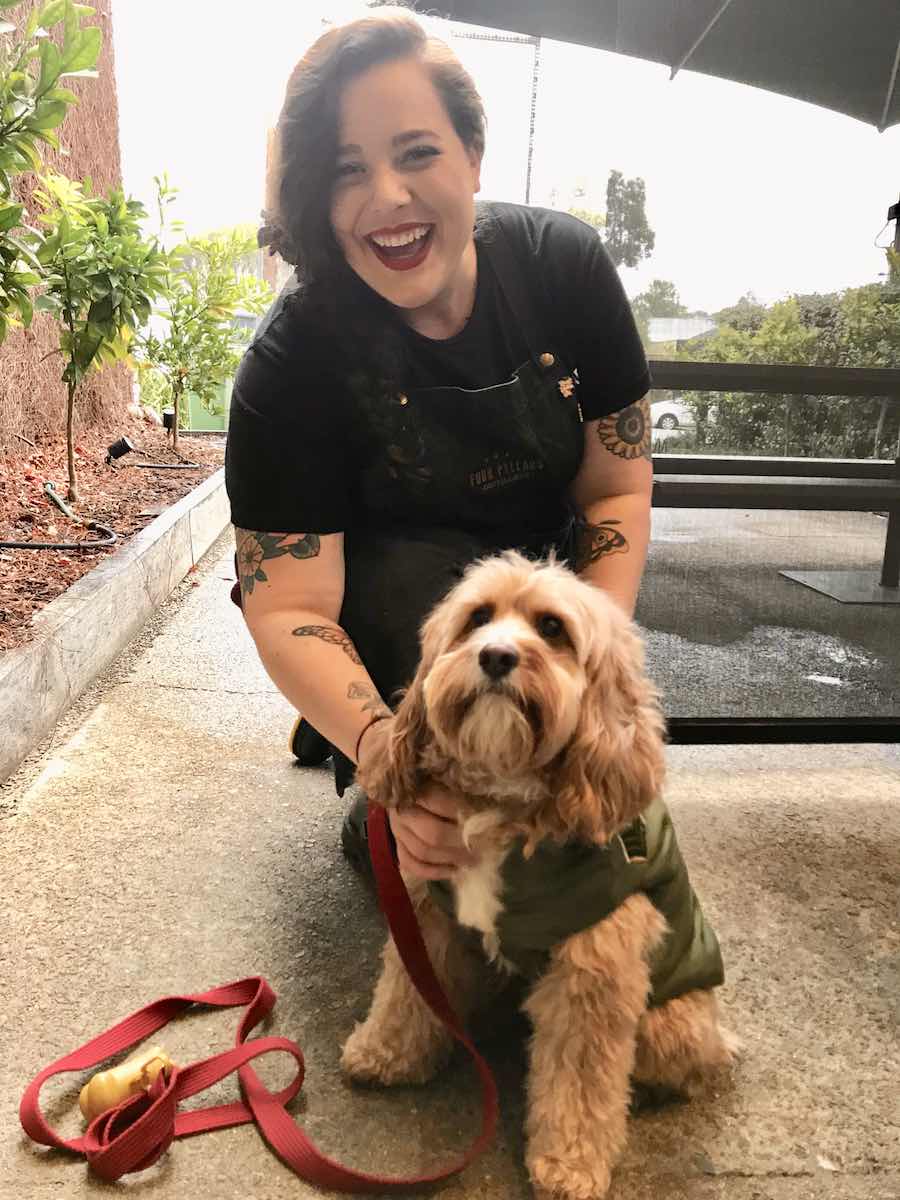 I loved it here immediately as everyone wass so welcoming and happy in their jobs and a lovely lady came and told my pawrents all about the gins they were about to try and how they're made.  Helen's coffee arrived and Dad looked longingly at it so we get one for him too.  Gin and coffee – at the same time?!  Will it catch on?  Not this millenia – Dad, honestly!!!  It did the trick tho and certainly woke him up.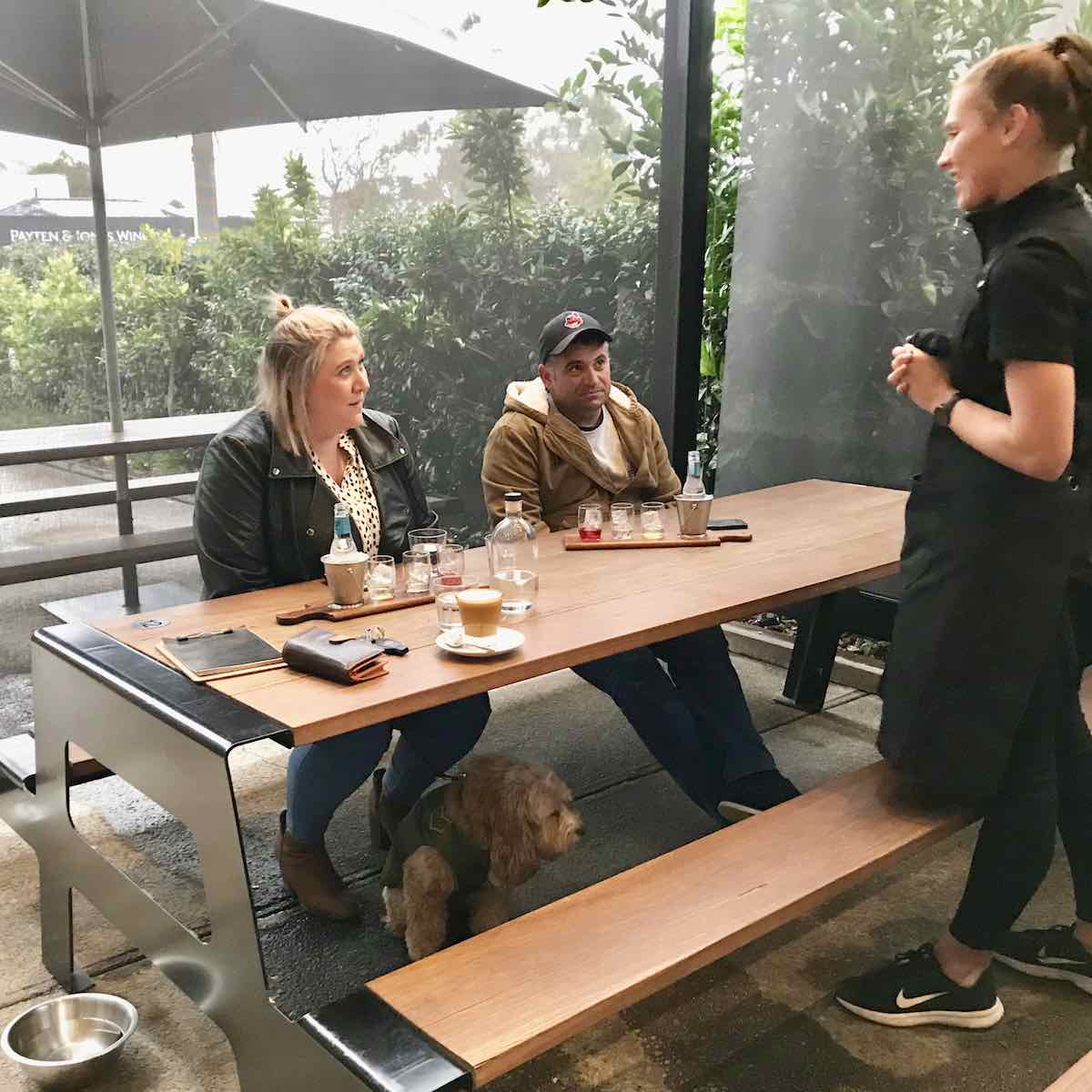 This is his cheeky look – isn't he the best!?  I love my Dad.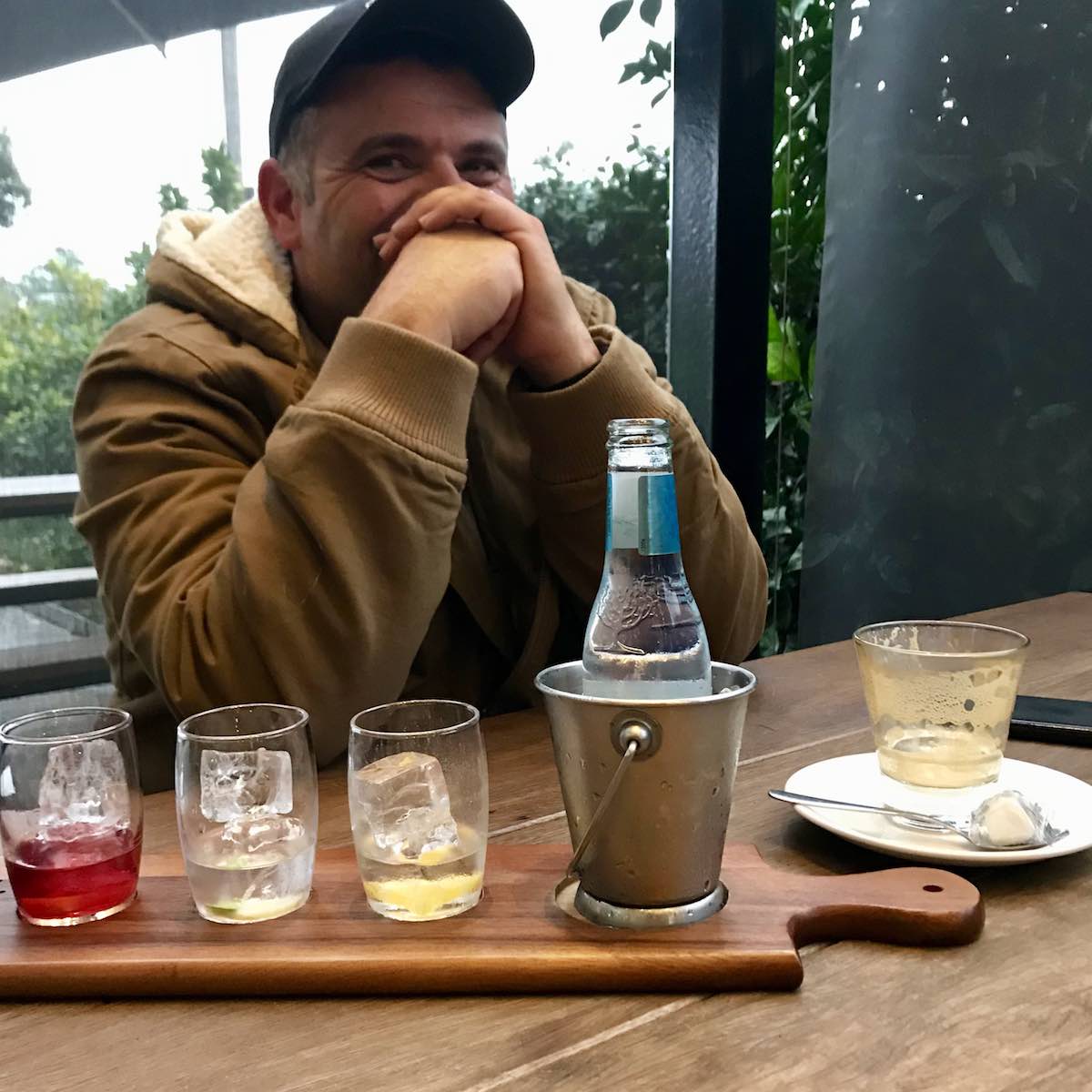 After our cocktail of coffees and gins we drove into Healesville quickly to Kitchen & Butcher, a lovely deli Helen had suggested to us, to get some nice bits and bobs for our supper and I bravely waited in the van while my folks popped into the shop.  I say 'bravely' but I'll admit I was a little tense.  Helen's very nice and everything but part of my brain kept saying 'What if the van door never slides open and they never get back in the van.  What would I do?'  Here's me putting my bravest face on.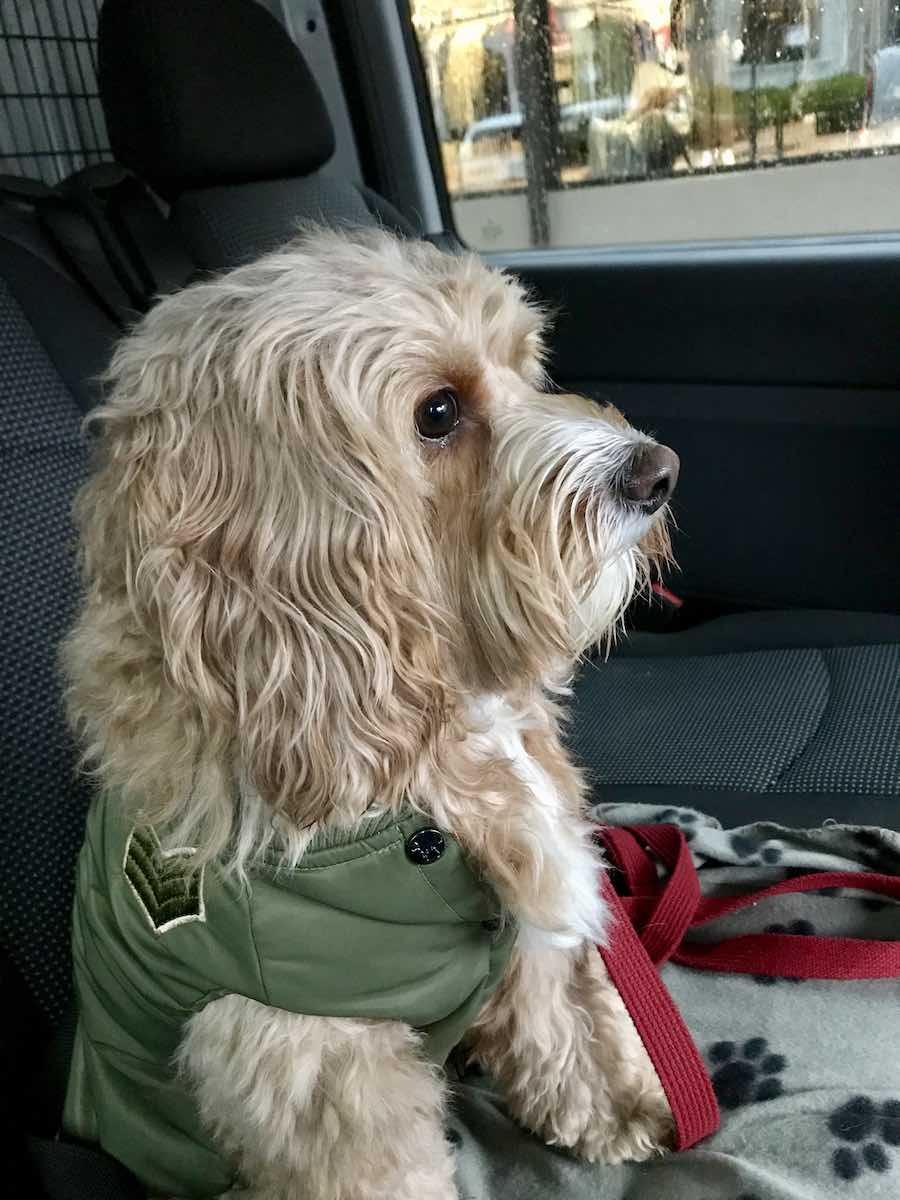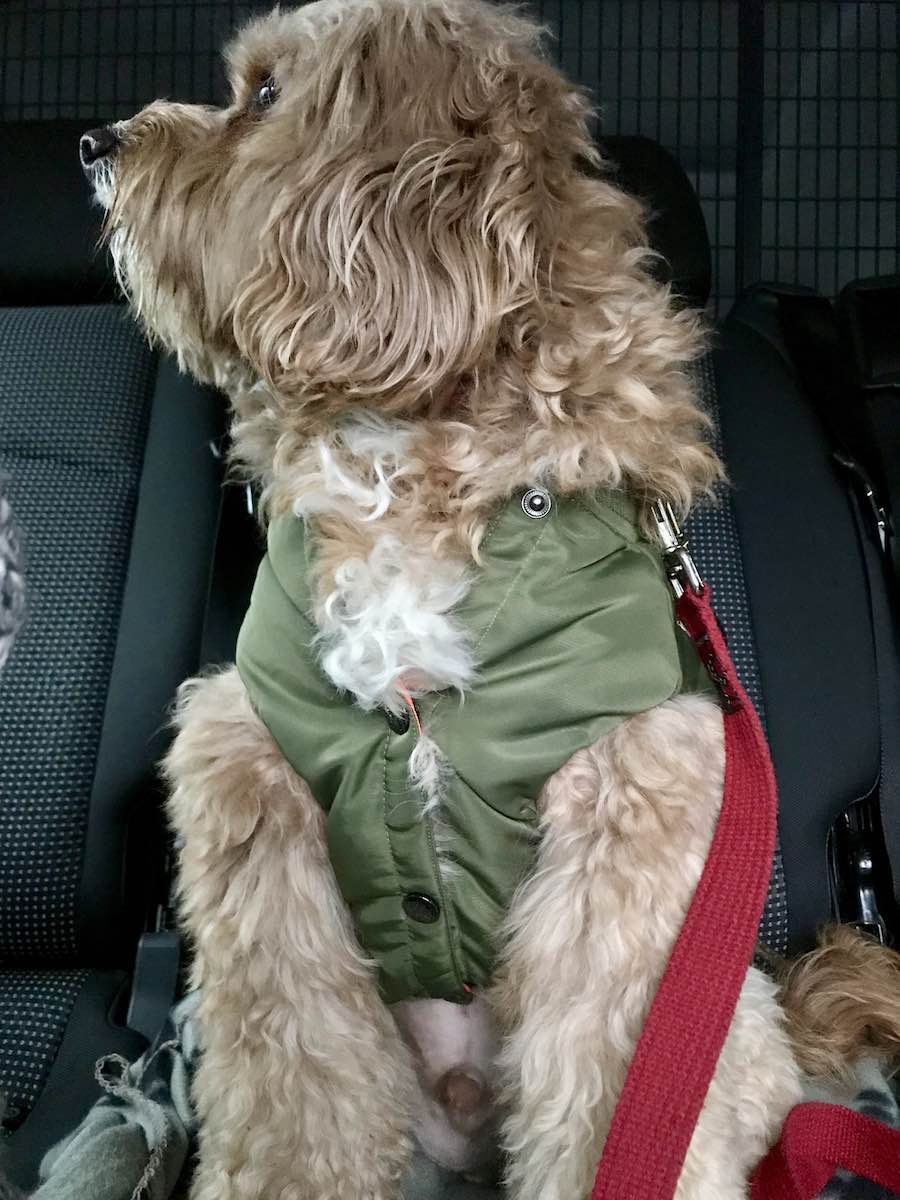 And then, a miracle happened, and we were reunited.  And my tail was thumping like it's never thumped before and I gave everyone great big kisses.  What a day!
But it wasn't over yet.  We went to Payten & Jones for our final tasting for the day and I took over the tastings behind the bar.  I kid you not.  I went in and everyone was friendly and I was introduced to Avan who is a cool dude with his hair in a hat and we hit it off immediately and he called me poppy because he can't pronounce puppy and I didn't mind a bit.  He was REALLY nice and my pawrents really liked him too especially because he asked them lots of questions about what wines they liked and that helped him work out which wines to give them to try.  My Dad was ready for bed, and said to Avan 'I just want to try three', and with this clever line of probing questioning, Avan narrowed it down for Dad to try three wines which he really liked and we thought that was very clever.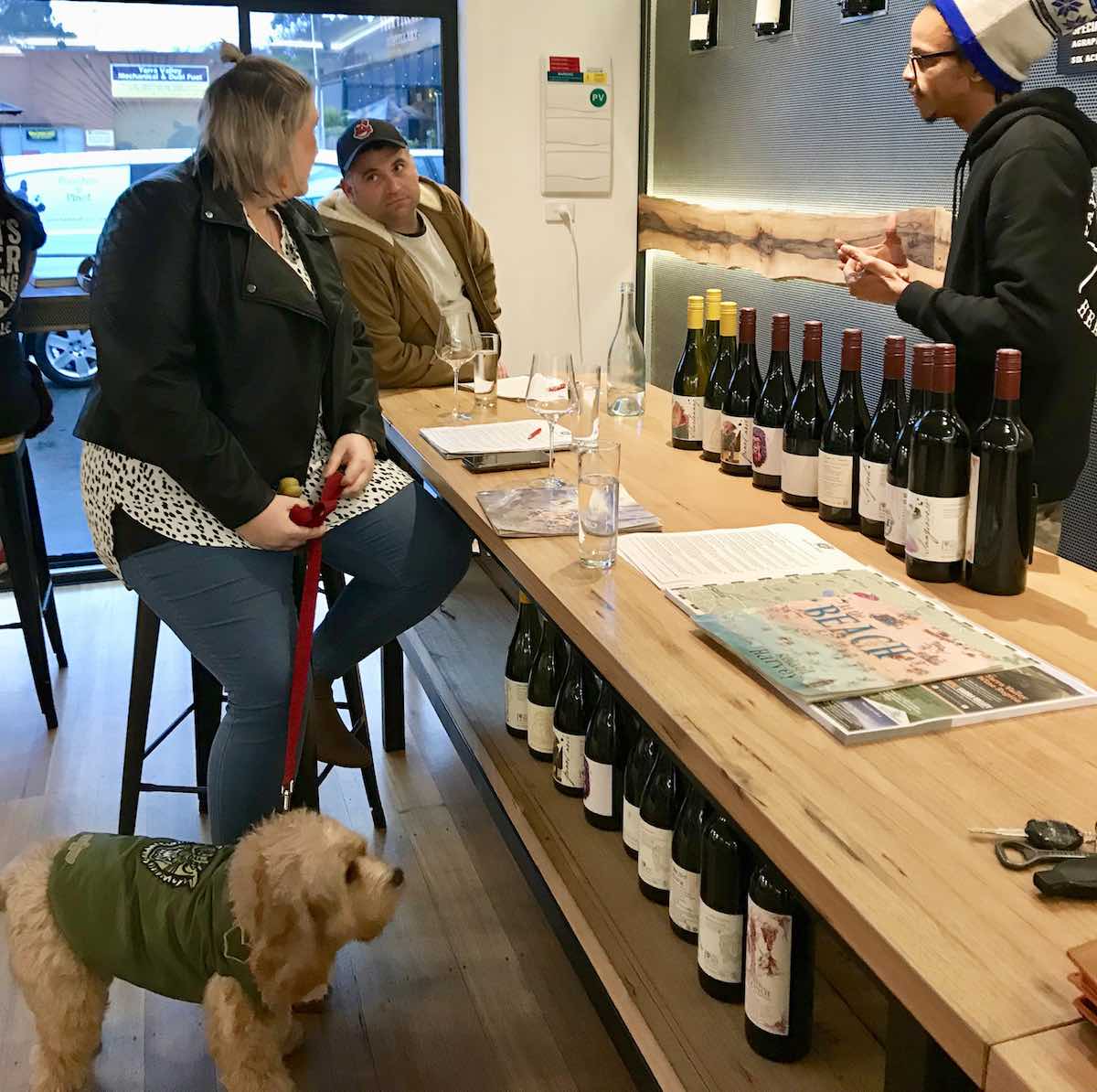 Look at Dad trying to hold it together and not slide off his stool!  I'm there ready to catch him.  So much responsibility.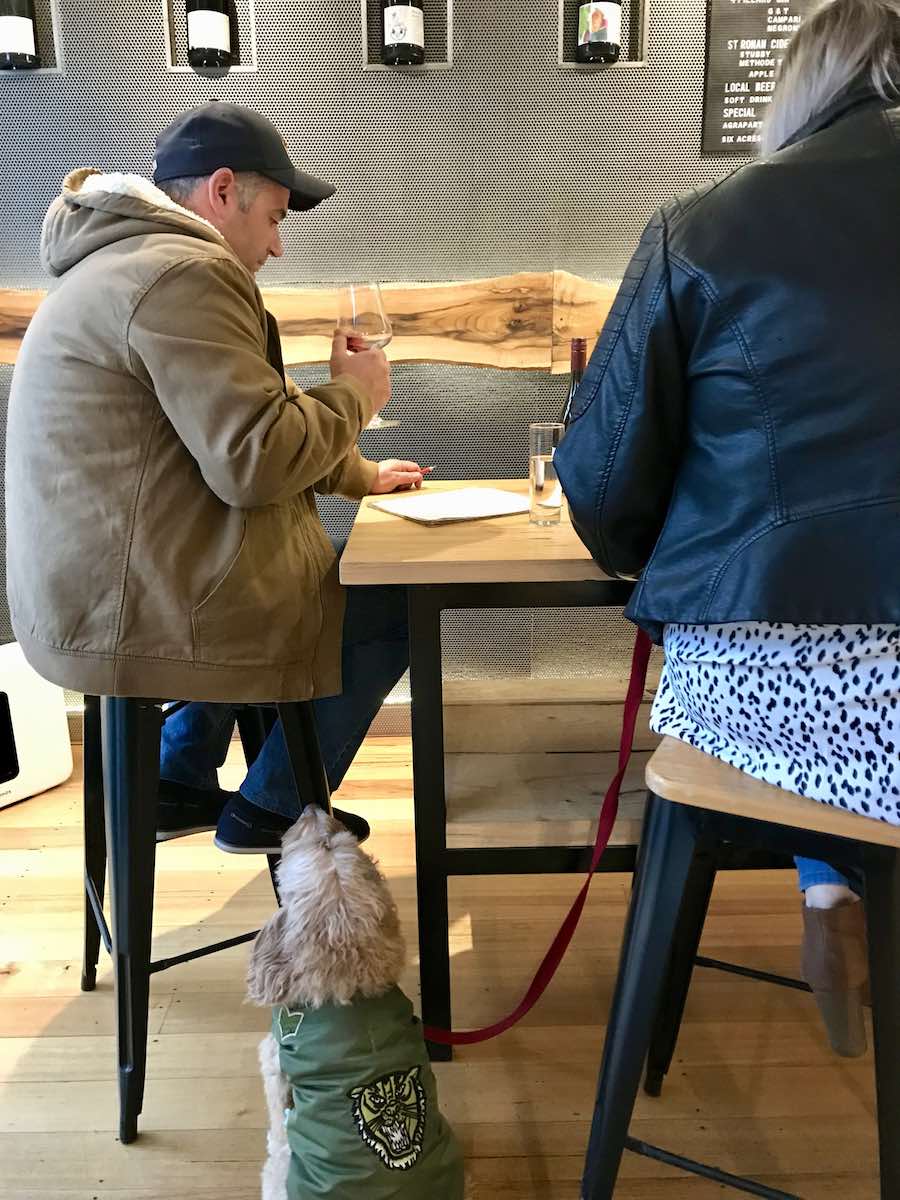 And one minute I'm looking up at Dad adoringly and before I knew what was happening, I was suddenly in Avan's arms and I was behind the bar with him, carrying out the wine tasting for everyone.  At first I was shocked, but as soon as I realised I could totally see my Ma & Pa and they were laughing with everyone and making wild suggestions like 'He can come in every weekend if you like?' I realised it was the booze talking and it would all be fine tomorrow when they'd forgotten about it!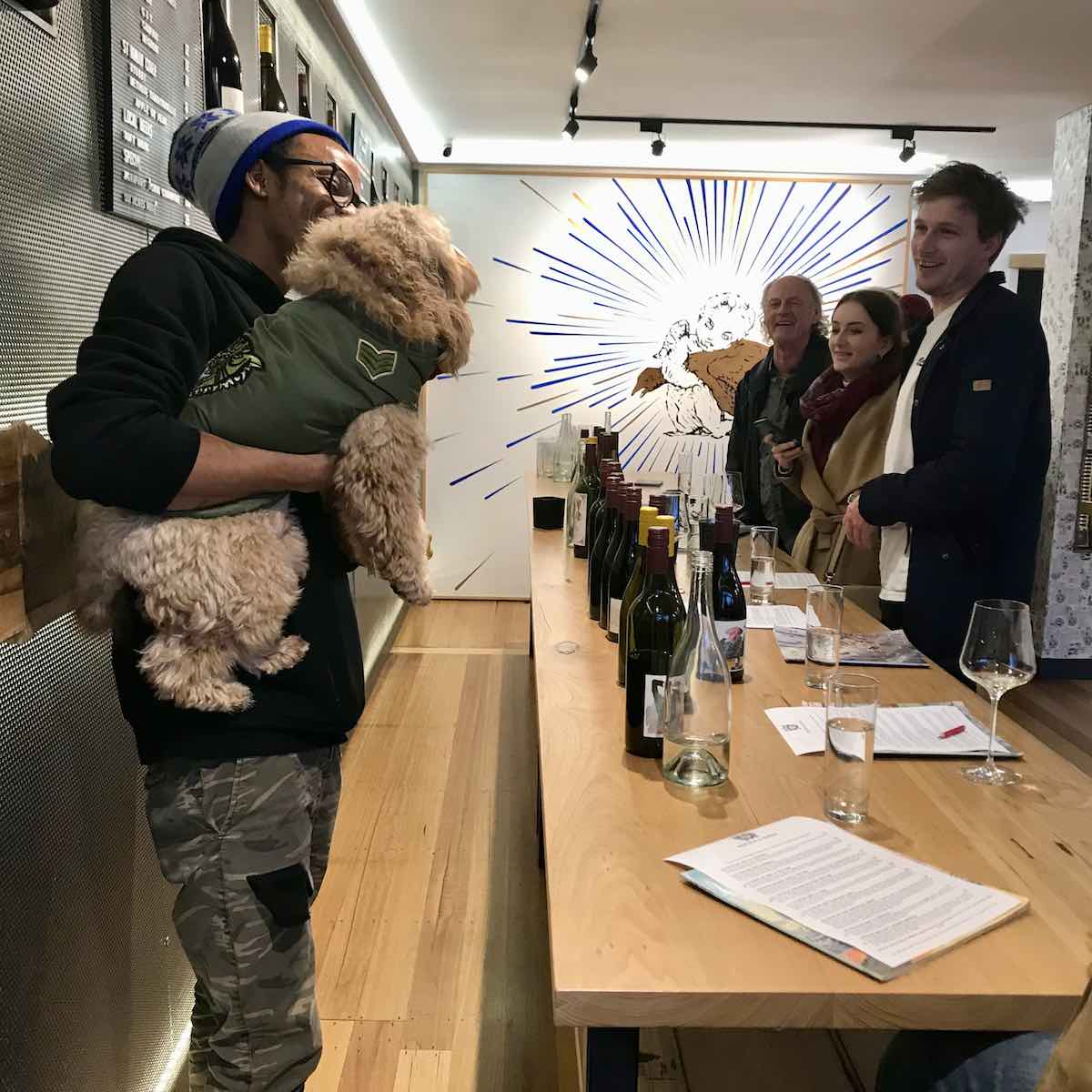 Avan eventually came to his senses and returned me to the customer side of the bar and I decided not to ask for wages for today – it was my gift to them.  I was so tired by this point that I just had time to quickly look at the new murals they've had painted on the outside of their walls (which are quite something) while Dad bought more wine (I know, I know) and then we all piled back in the van for the last time and Helen drove us home to Wiggley, where the owner had kindly stoked up the fire for us while we were out.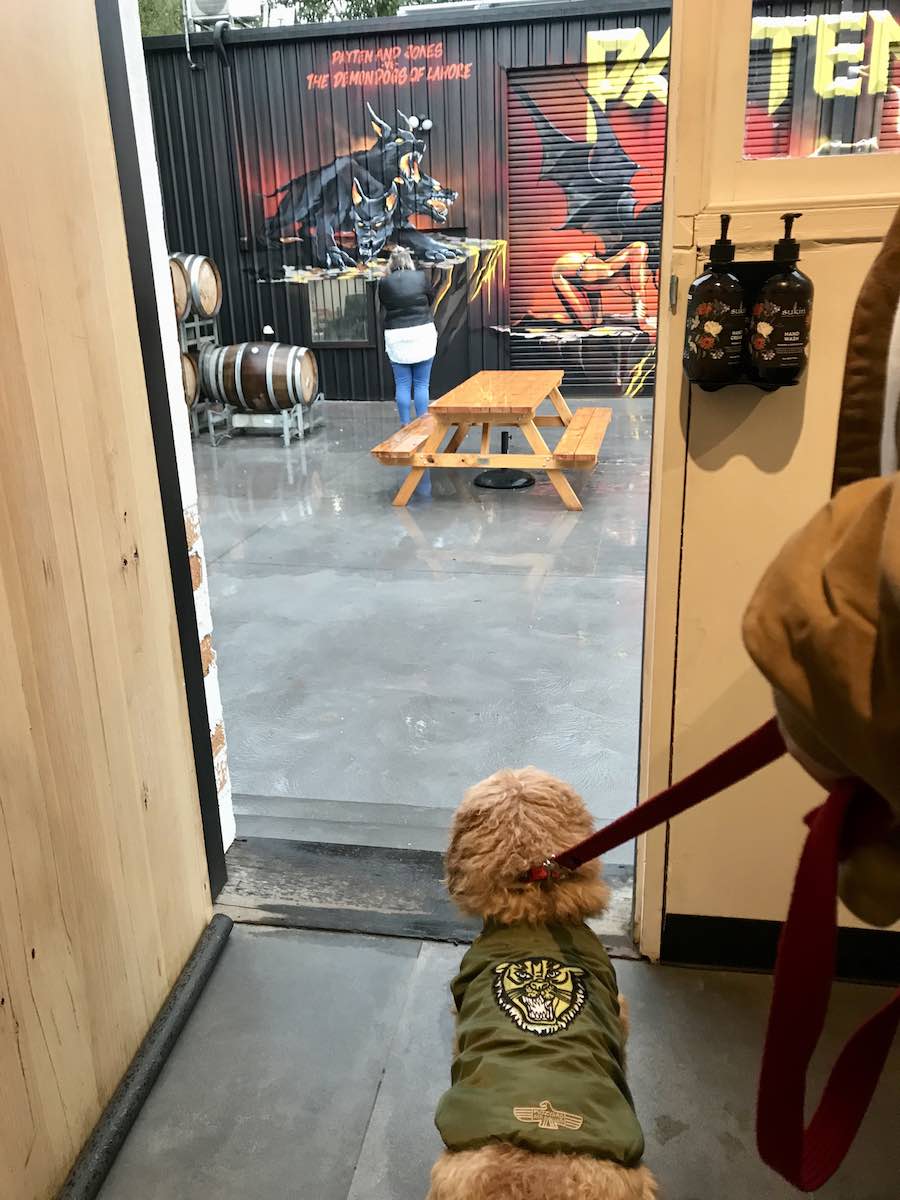 And I couldn't believe as we were hauling the stash of wine out of her van into my pawrents car, Helen then produced a bottle of Pooches & Pinot wine for Dad to wish him a Happy Birthday – hadn't the crazy woman SEEN how much wine he'd bought today!  Honestly these hoomans are quite daft at times.  I'm a cavoodle for heaven's sake and I could plainly see he'd bought plenty and didn't need any more bottles!!  Anyway, he seemed pleased and she insisted, so I gave her a smooch good bye because I had loved my day out with her, meeting all these fab new friends and then I scooted inside to bagsy my spot closest to the wood burner as it was starting to get dark and it was all wet and drizzly – pawfect weather for kennelling up with my two favourite people in our cosy cottage.  I hope Dad will have anther birthday again next week, so we can come and do it all again.