I'm Laila (the beautiful Cavoodle) and I brought my Mum (Jo) and Dad (Kunal) to the Yarra Valley to celebrate his birthday and we stayed at a great dog-friendly cottage at Wiggley Bottom Farm near Healesville where there are goats in a paddock next to my cottage, for me to stare at, and geese all over the driveway who I'd have LOVED to have said hello to.
One morning, during our stay, a nice man called Jeff arrived in a shiny van and took us all out for the day and I had the best time.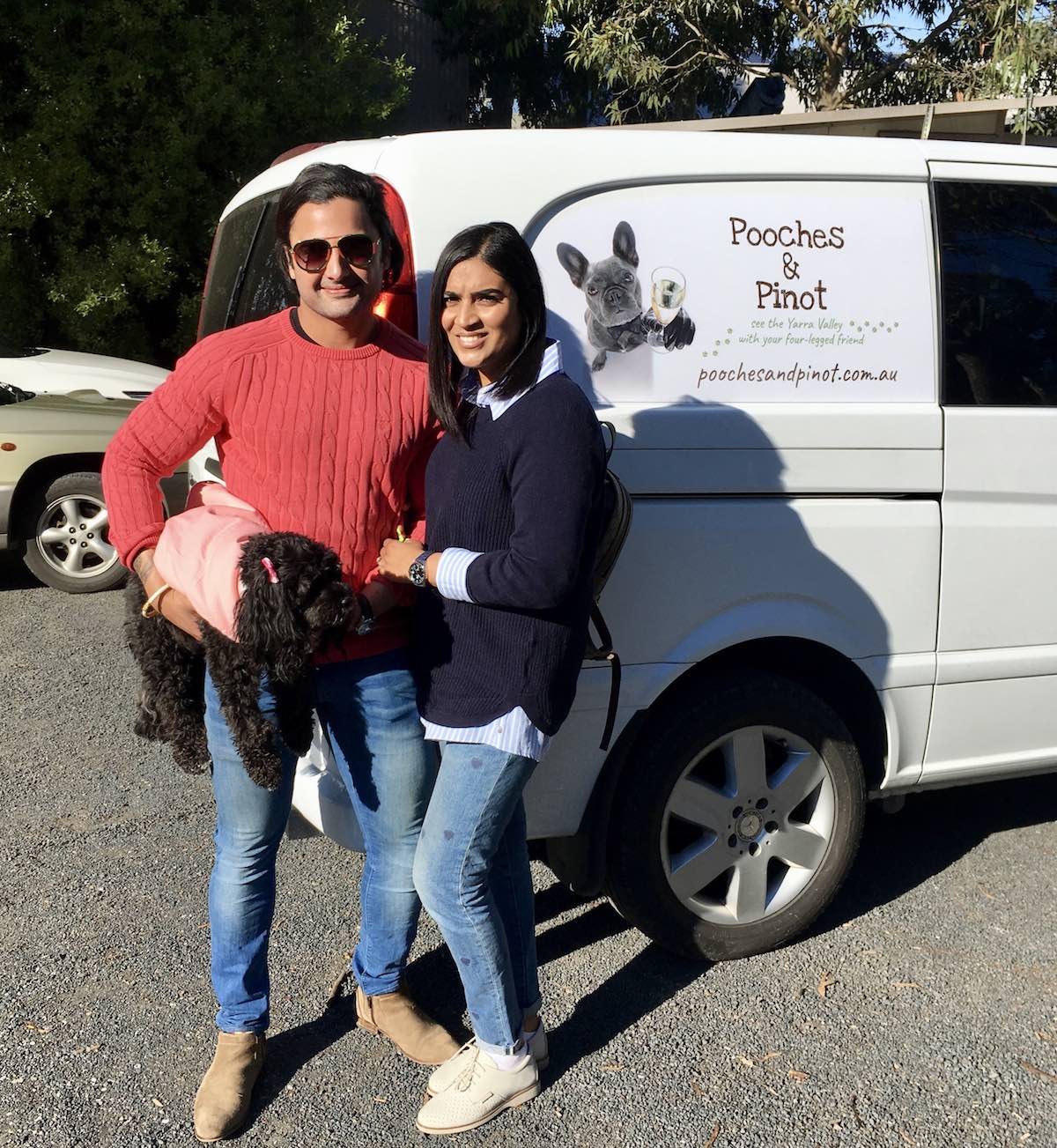 I sat on my Mum's knee and watched it all wizz by through the window.  The first place we got to, was called Greenstone Winery over in Steels Creek and it had a lovely deck that needed some serious sniffing.  My Mum & Dad were given some wine by a nice man who forgot to give me any.  It didn't matter, I was busy, and to be honest 10.30am is a bit early for me, but still, he should try to remember next time.  I took the nice man Jeff for a stroll near the vines when it became clear no-one was offering me (or him for that matter) any wine.  I've decided I could be a wine dog you know, I think it suits me, what do you think?  I had my bow in my hair too – looking the part.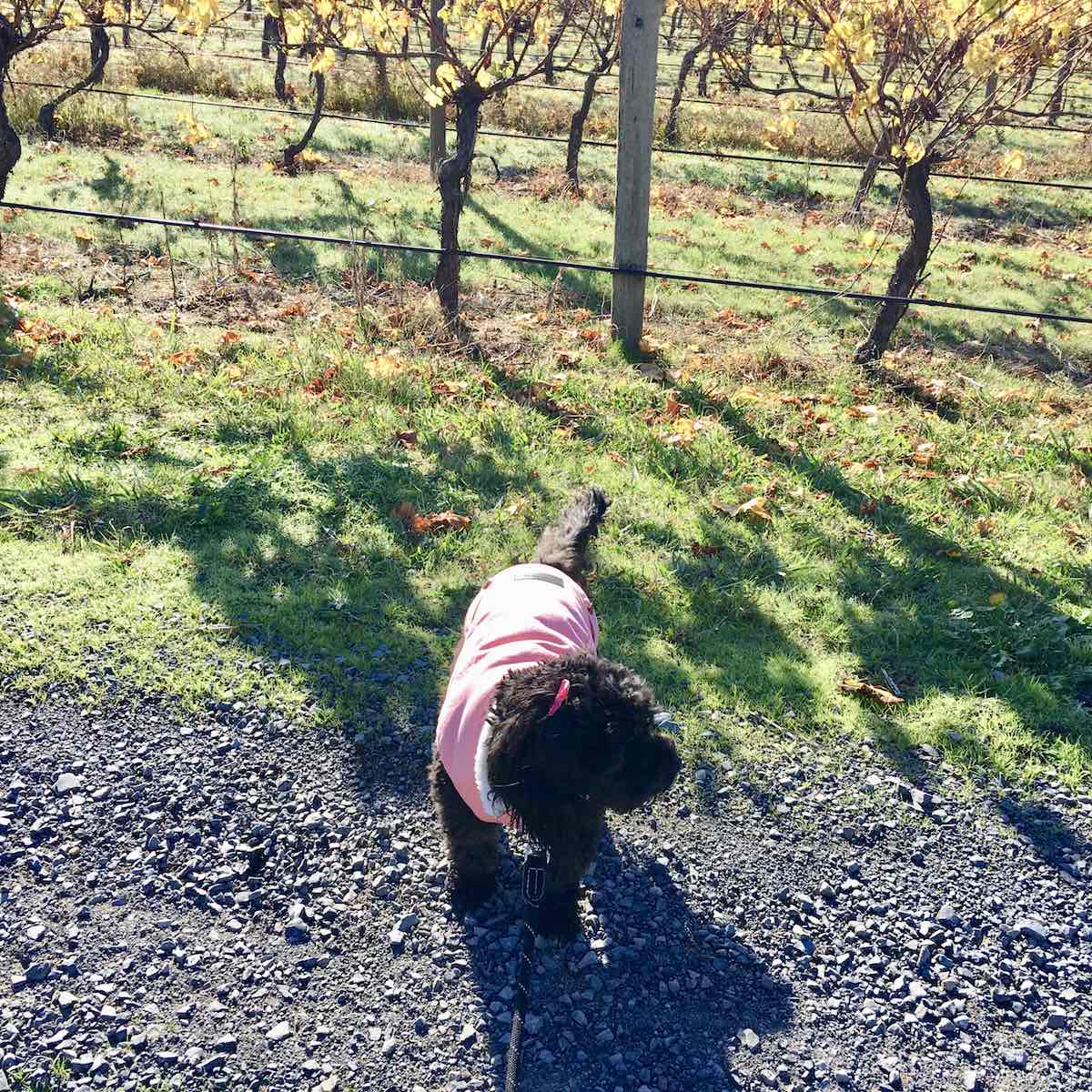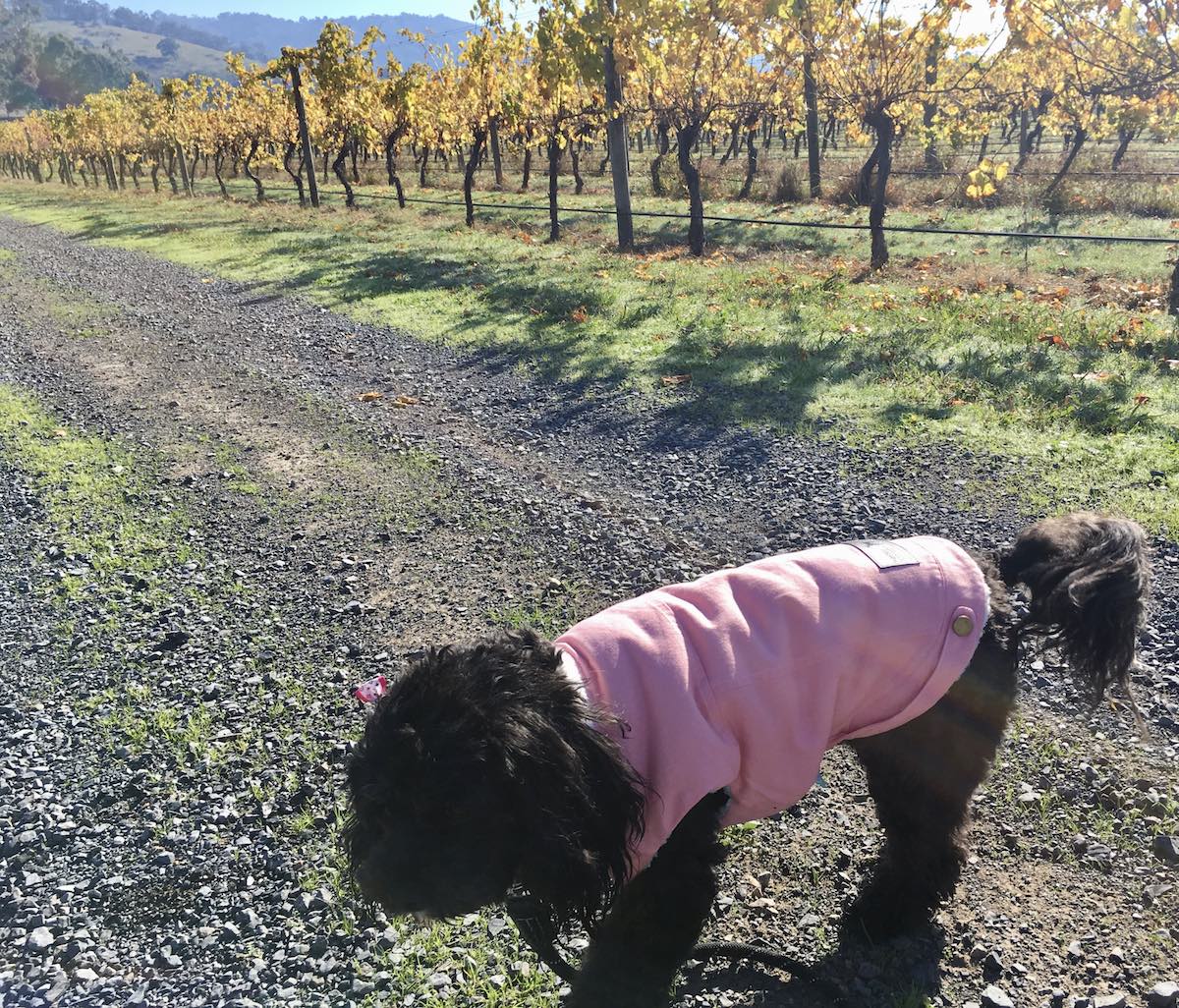 When I got back on the deck…I find my parents STILL drinking wine with the nice man!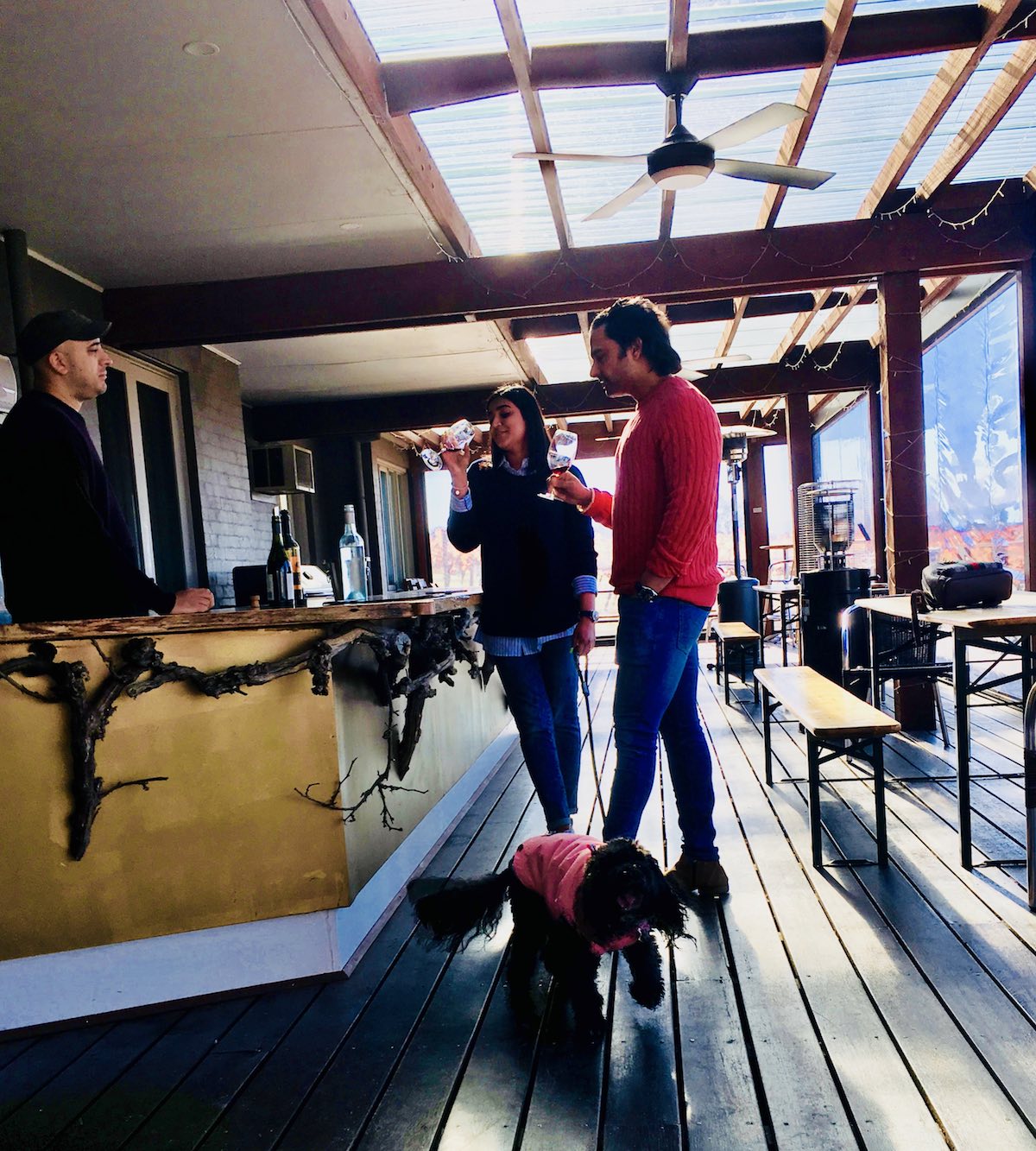 We got back in the van and drove over to a tiny winery called Maddens Rise where I was adored by a lady called Emma who thought I was fabulous.  Her friend Ben gave my Mum & Dad wine to drink and again, no-one asked me if I preferred red or white or a full bodied wine – maybe it's because I'm so small, they forgot me, I don't know!  I noticed they didn't give Jeff the nice man who drives the van any wine either – all quite peculiar.  He didn't seem to mind tho, he liked hanging out with me, so we were cool with it all.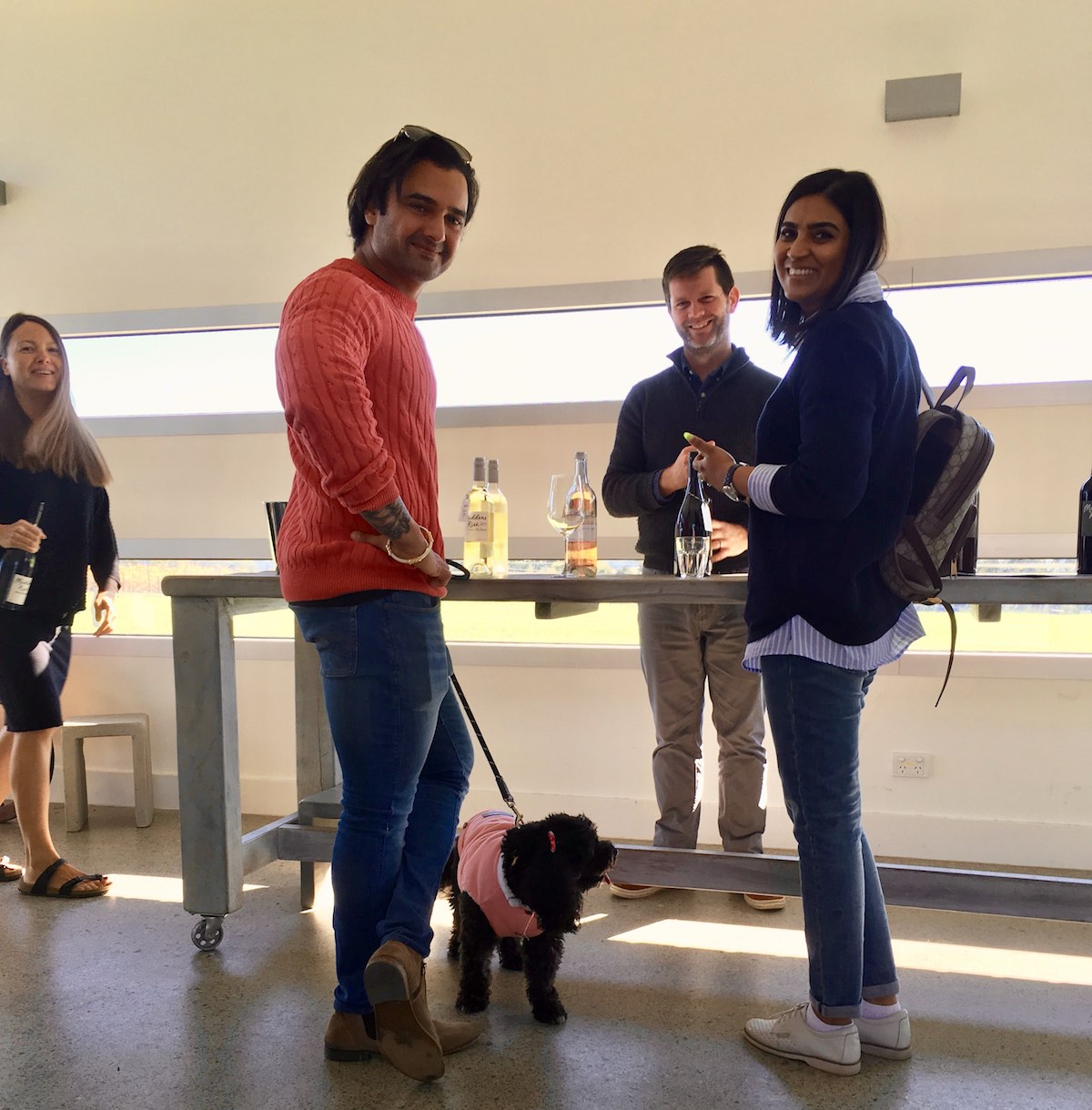 Then we drove up a really big hill right to the top and arrived at a place called Soumah and we all sat together in this great spot where a giant of a man called Scott came and talked to us about wine – I found it fascinating and learnt a lot.  I was quite keen to try their Savarro after his great description of it but yet again, a third tasting glass did not materialise.  What's with these people – I thought the sign on the van said Pooches & Pinot?!?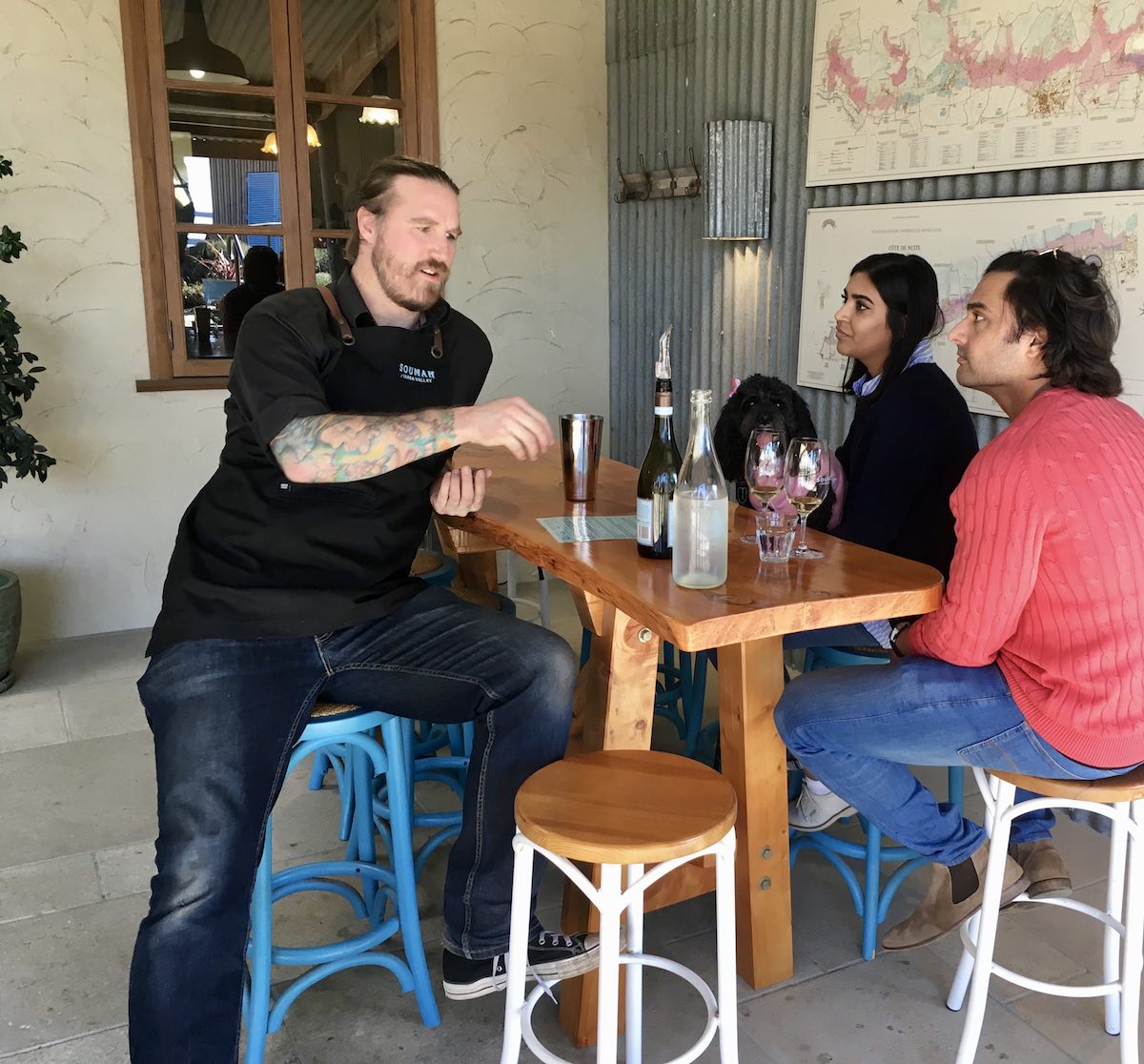 Here's me subtly asking my Dad which wine he was keen to try first.  Didn't help get the message across.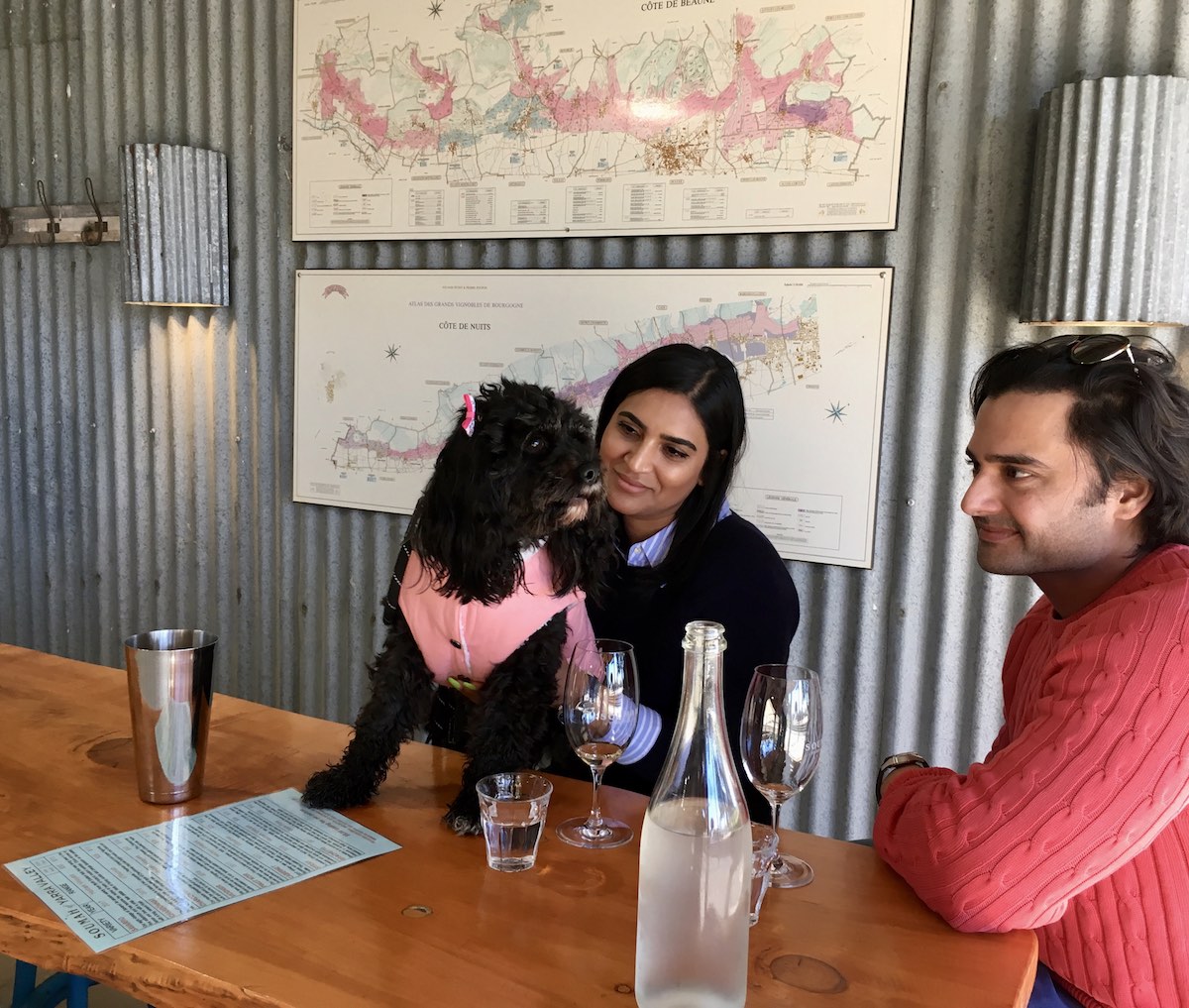 After their tasting, a nice lady brought my folks some pizza which is my Dad's favourite meal and mine as it happens!  So I was very happy to assist when they didn't eat all their crusts.  I can now highly recommend the pizza crusts at Soumah and shall tell all my friends when I get home.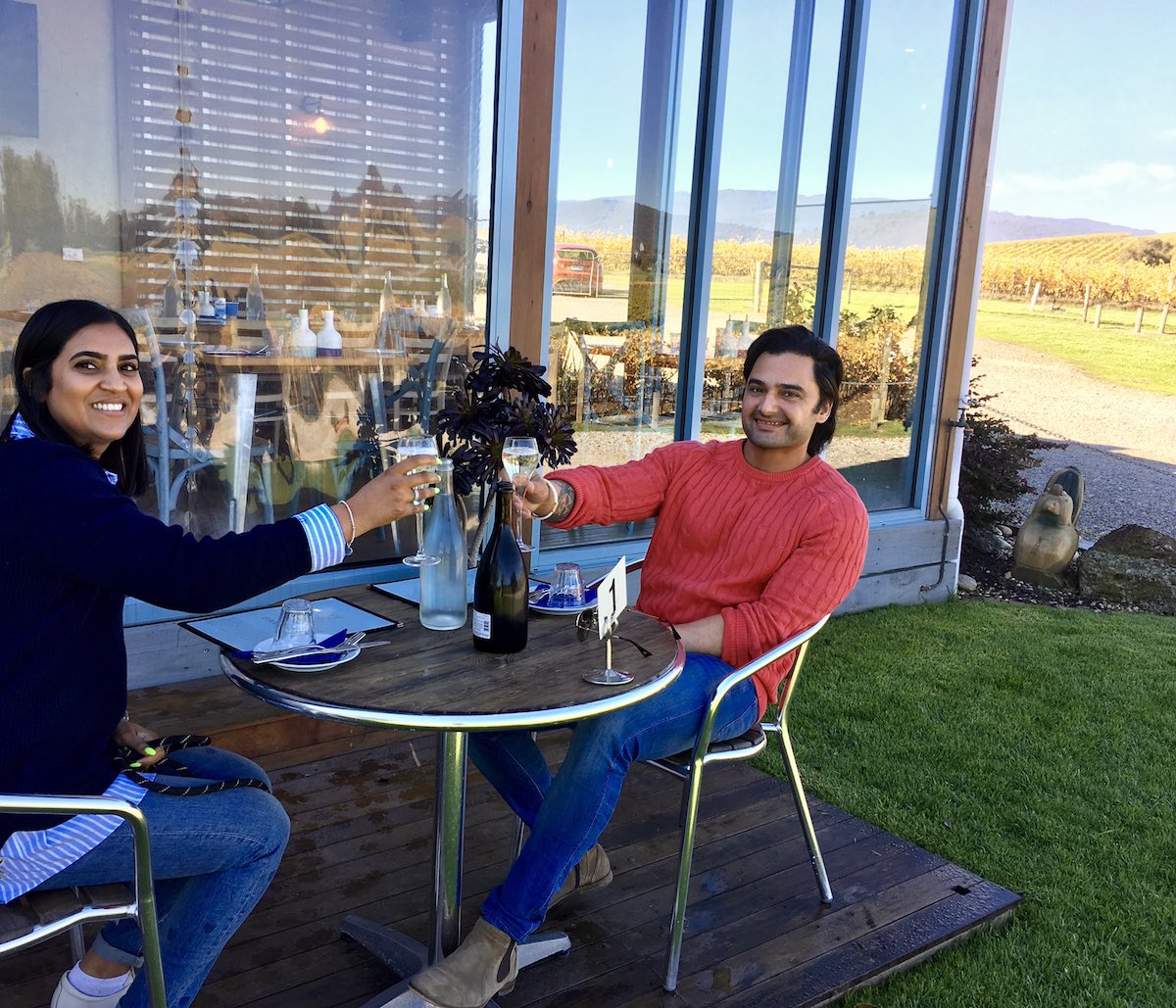 A great looking chocolate and wine cake came out with a candle in it and two glasses of Sparkling wine – yup, you guessed it, no third glass for me or even a small slice of cake.  Good job I'd had the pizza crusts really!  The nice man called Jeff did try to give me some dog treats, but after my pizza crusts – why would I eat dog food?!
I was really ready for a walk by this point and I'd been very patient, so Jeff the nice man drove us all to a lovely country lane where I charged around sniffing all these great unfamiliar smells and I spotted some REALLY big dogs in the paddocks nearby which Jeff called horses.  I was allowed off the lead as a big treat and I made the most of it, racing towards the river crossing but Mum & Dad charged after me and put me back on the lead.  On the way back, I found a delicious smell I'd noticed on the way there and I rolled around in it, it was absolute heaven and I thanked Jeff for arranging such a great walk for me, as I sat on the back seat of his shiny clean van, very pleased with myself.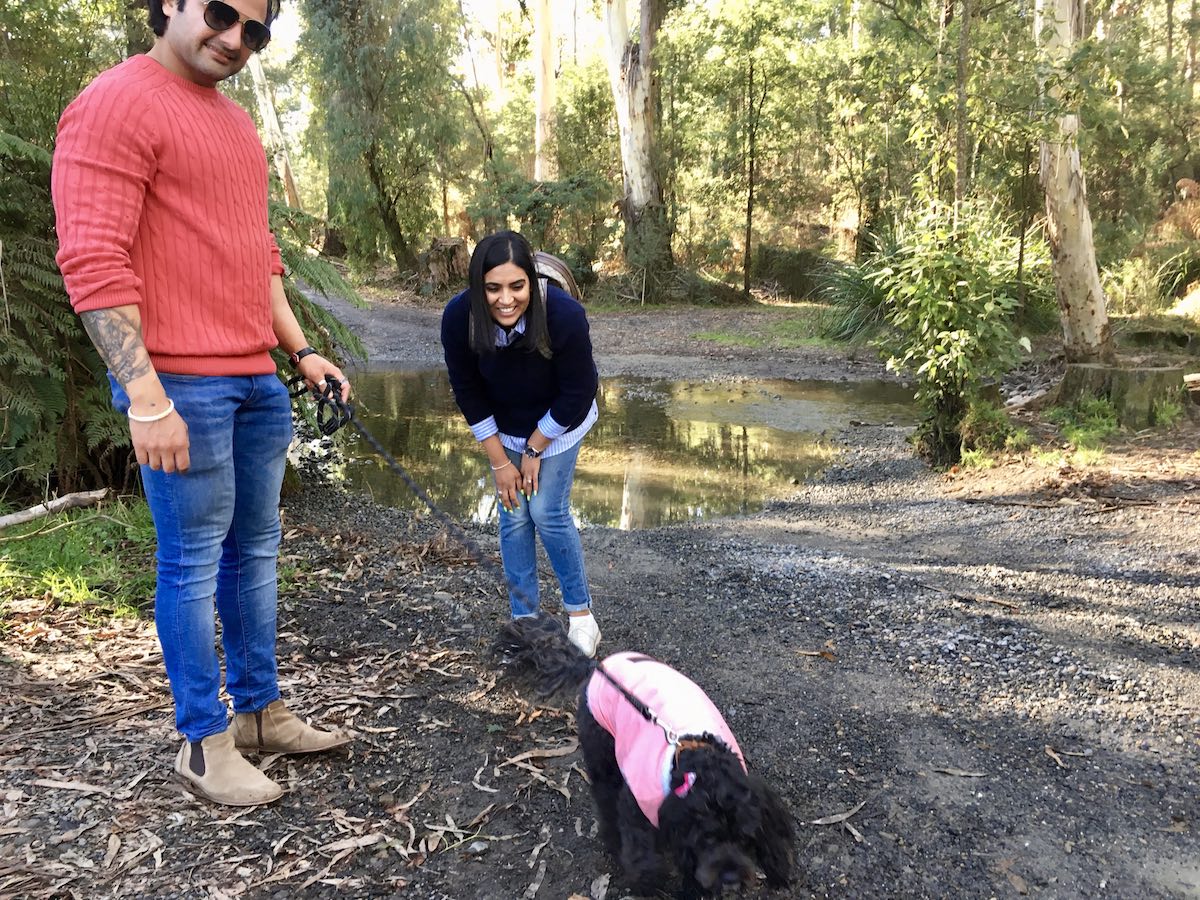 As if by magic, Jeff knew that I would like gin and had arranged to take us all to Four Pillars Gin Distillery where dogs are welcome to sit with their owners and enjoy a tasting paddle.  'Great', I thought to myself, as three small glasses of gin arrived on each tasting paddle, 'one for me – I may not have tasted any wine yet today, but let's have a crack at this gin I've heard such great things about.'  I was about to take my first sip when this gorgeous lady called Lizzie came over to make a fuss of me and within seconds I was surrounded by people who wanted to know my name, scratch my tummy and tell me how sweet I am.  I turn back to the table to reach for my gin and found to my horror that Mum and Dad were just finishing them all off.  Lizzie works at Four Pillars and has a tattoo on her arm of her dog Barbara Ann – I like Lizzie.  I seem to have disappeared out of shot in this next photo, but I can assure I was there, on the seat next to my Mum.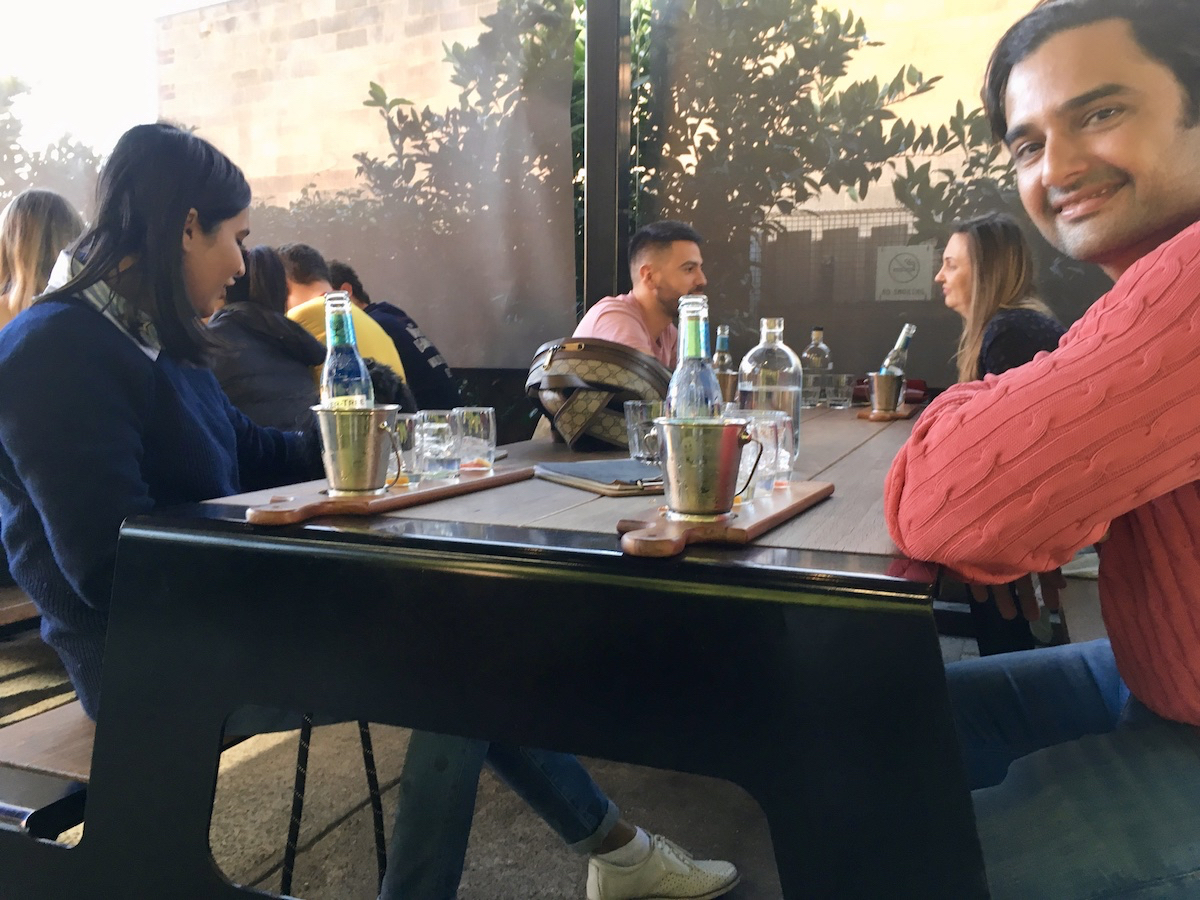 Our next cellar door to visit was so close we didn't even get into the shiny van, it was literally across the road so I led everyone over there and wandered into the cellar door.  We were all introduced to a lovely lady called CeeCee who poured wine for my Mum & Dad and I saw that Jeff looked a bit bored, so I suggested he and I go out for a bit of a walk.  I had a wee, which was nice, but Jeff didn't.  I liked wandering around the block, checking it all out, it's quite a little hub this area of Healesville with No.7 virtually next door too – none of it was here last time I came so I liked seeing what's changed.
I was pretty tired by now having had such a big adventure so Jeff kindly drove us into Healesville to a deli he knows of where my folks could buy nice food for us to enjoy later on that evening back at our cottage.   I waited on the pavement with Jeff and chatted to the good folk of Healesville as they walked by – Jeff seems to know everyone, perhaps he's the Mayor!?  I met some other lovely dogs who were walking their owners past the shop and then the door opened and out came my parents holding a whole box of goodies – gosh I hope there's some more pizza crusts in there for me.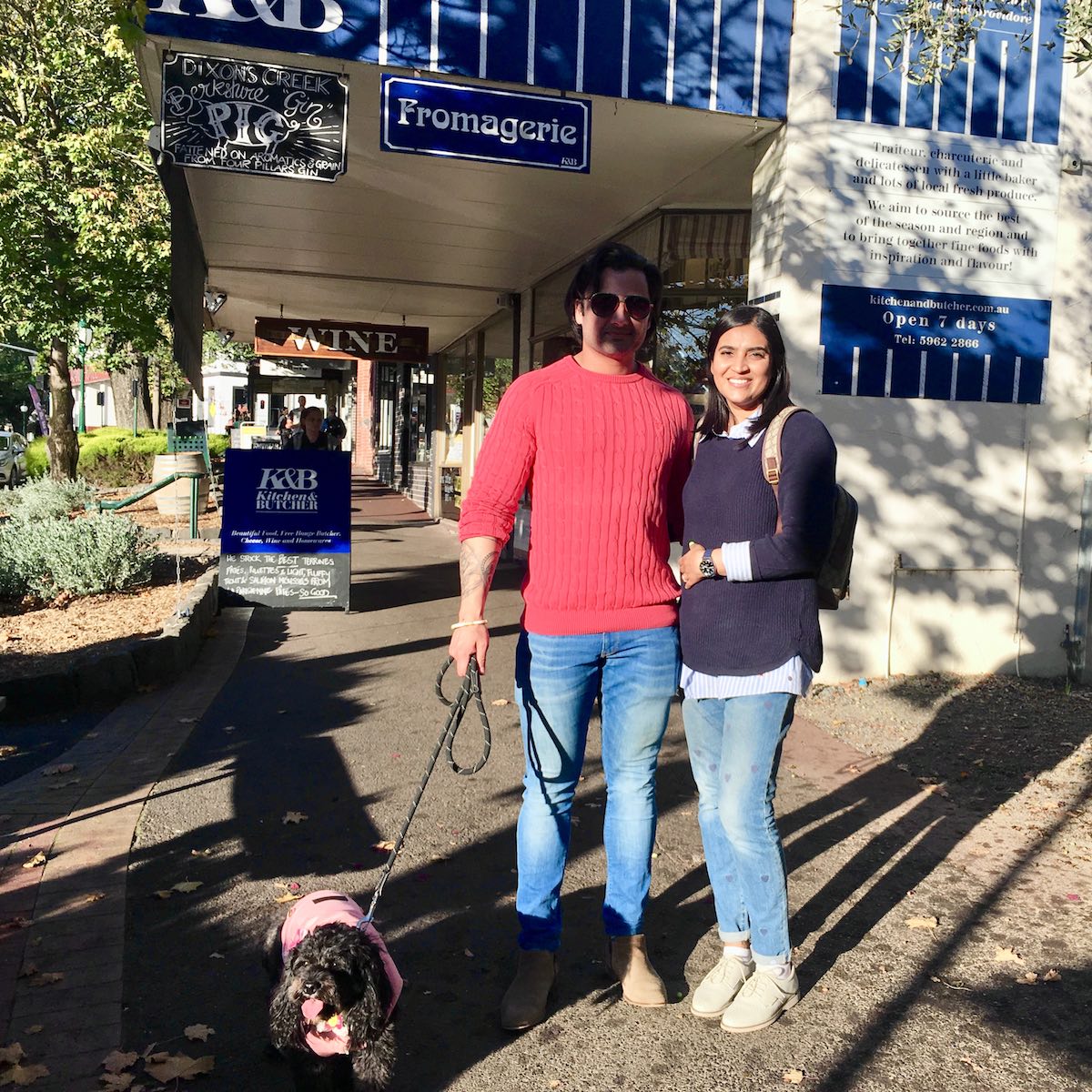 We all clambered back into Jeff's shiny van and he drove us back to our accommodation which was really rather nice of him.  I knew I would sleep well after all that excitement and there is a lovely dog bed for me and a wood burning stove so if it gets chilly, Mum will light that for me.
I liked my day out in Healesville and the Yarra Valley and seriously think Dad should have a few more birthdays each year rather than just the one!  It was the Dog's Bollocks and Jeff's Top Dog – if your humans need a great day out together with you, their pooch, let Jeff know, he'll look after you.  He even dropped a bottle of Payten & Jones Pinot off for me this morning which he'd forgotten to give us yesterday – what a nice man, I shall enjoy that later when no-one's looking!