Yo dudes – Kevin here – I'm a beach loving pup from Port Melbourne and Dad and I organised a birthday surprise for Sophie, my Mum.  We're totally rad at keeping secrets so Mum had no idea where we were going til we climbed into this great big black shiny van with a man called Jeff.  Look – she even brought her laptop – that's how little clue she had!!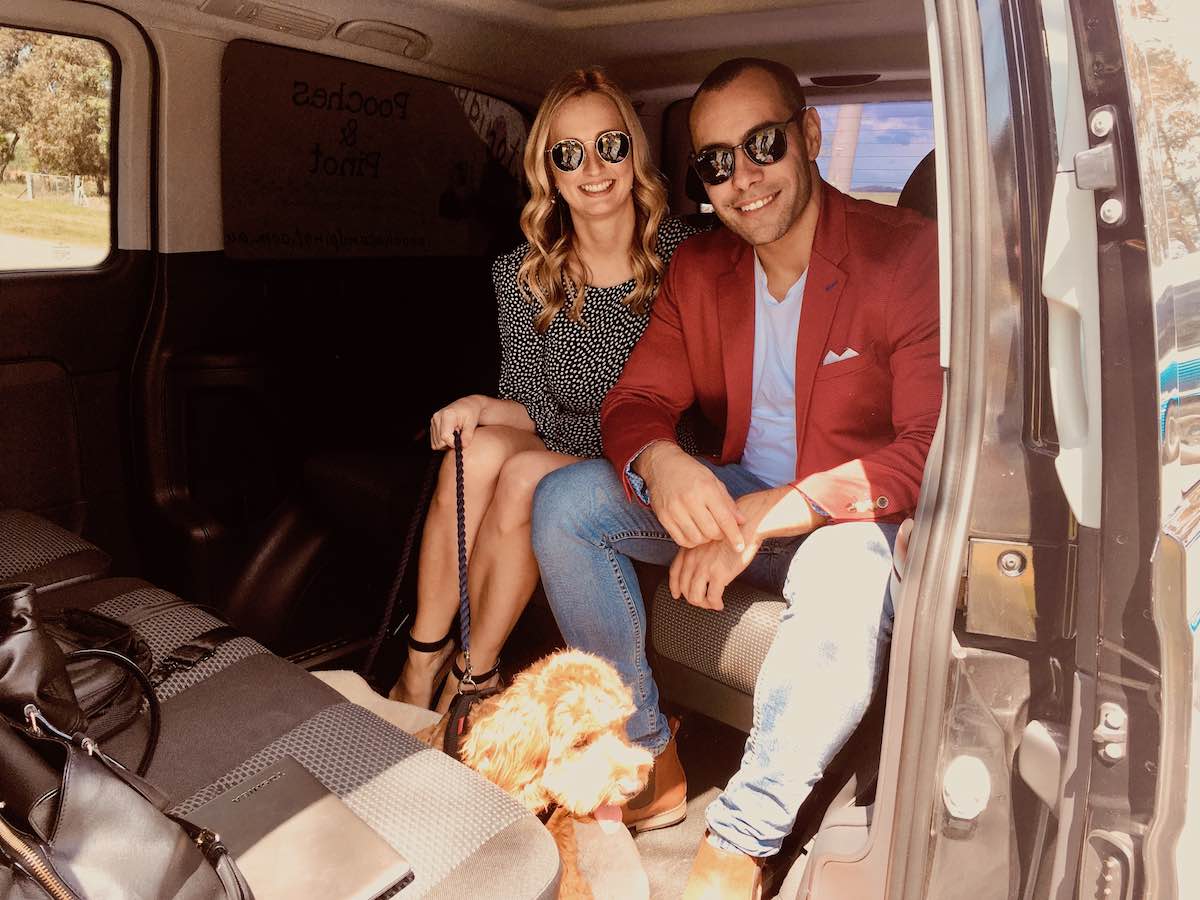 I might be only 9 months old but I can sit, stay, shake hands and do a gnarly high 5.  I rode in the car with them and entertained everybody all the way to Rob Dolan wines in Warrandyte.   And we all jumped out into blazing sunshine and I looked around at the pristine property and thought to myself 'Man, I could totes live here!'  I suit the place, right?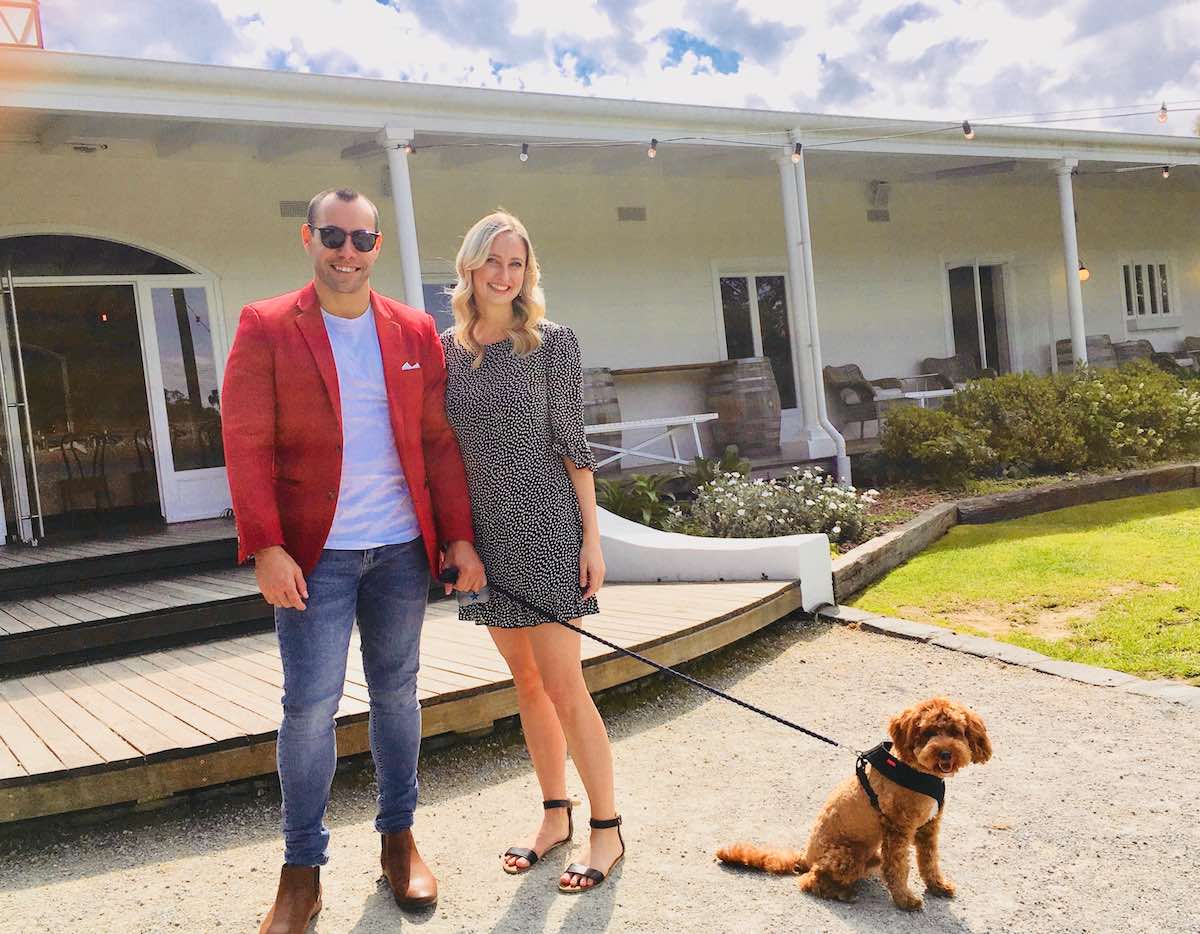 We went inside the cellar door and I had so much to sniff, and even chased a ball around which Jeff magicked up for me.  While I was sniffing and chasing, my pawrents were sniffing and tasting so I stood up at the counter to see what they were up to – they didn't have a ball to play with but they didn't seem to mind, Mum said she was enjoying her 3 fave things – drinking wine, hanging with me and spending time with Dad, tho I may have got that order wrong (me first obvs)!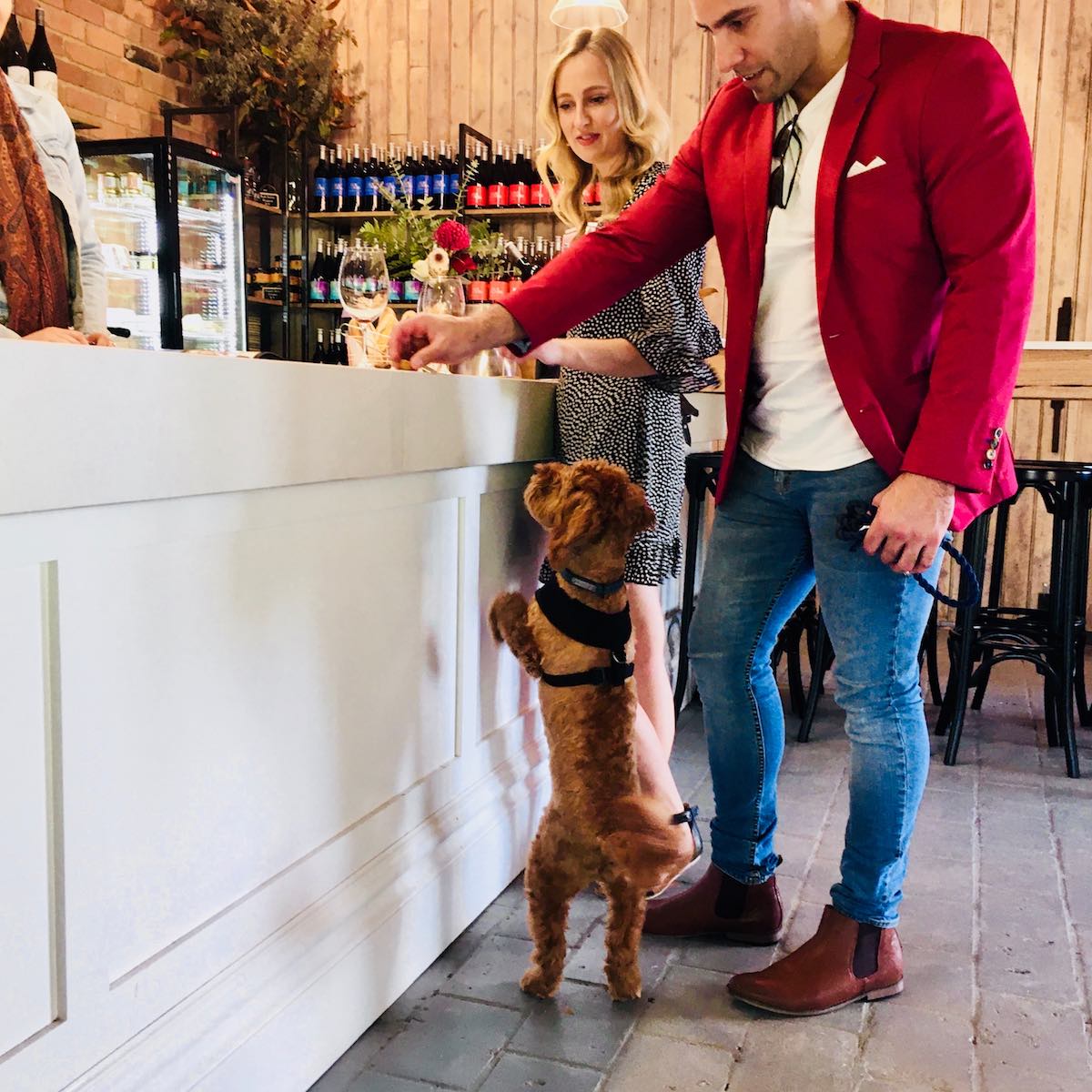 I thought after that fab time it must be home time when we got back into the van, but no, suddenly we were travelling through horse country and I had my eyes peeled – you don't see many of those horse dogs back at the beach so I was stoked.  Speaking of horses, we arrived at a place called Helen & Joeys where there were loads of the things all around the property, white ones in different sizes all with ice cream cones stuck on their heads poor things – looked like a bet gone wrong!  But me, I wasn't scared of them unicorns, in fact I wasn't even scared of Nachos the winery dog, a great big old blue heeler who was roaming around the deck sporting a chewed up tennis ball.  I was so brave I let him share his water bowl with me, and Jeff was so impressed he got a photo of it happening!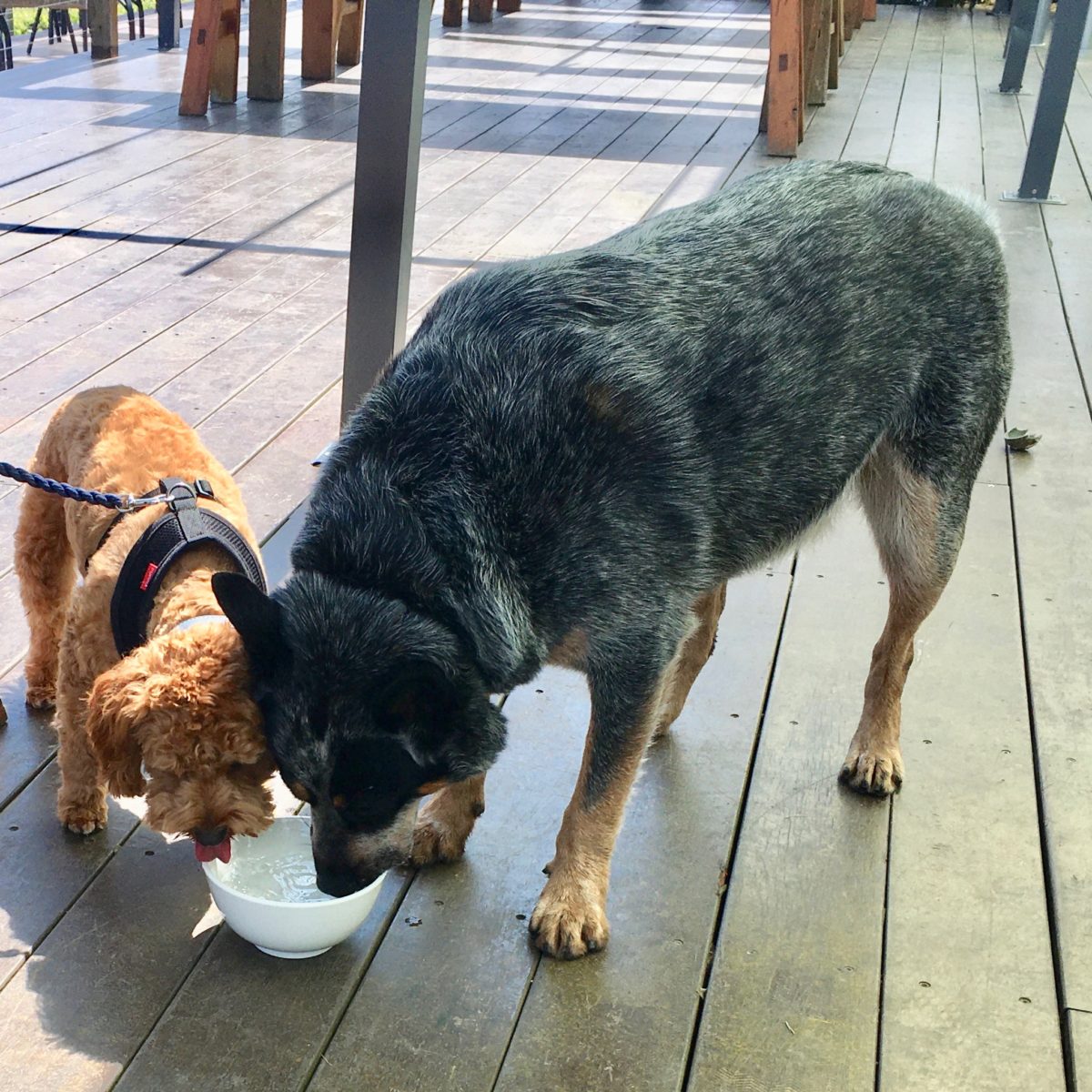 Mum and Dad chatted to a chap called Luke covered in tats and piercings who apparently rides a big Harley – they all got on famously, chatting about this stuff called wine which he kept pouring for them.  I hung with Jeff and we explored the deck together – I could see the biggest paddocks to run around in but when I suggested it to Jeff he thought maybe we should just race around on the deck, poor man, I don't think he was fit enough for the kind of run around I had in mind.  Here's me posing with my folks with a wine barrel.  Am I cute or what?!?  Dad works out but I'm the chick magnet!!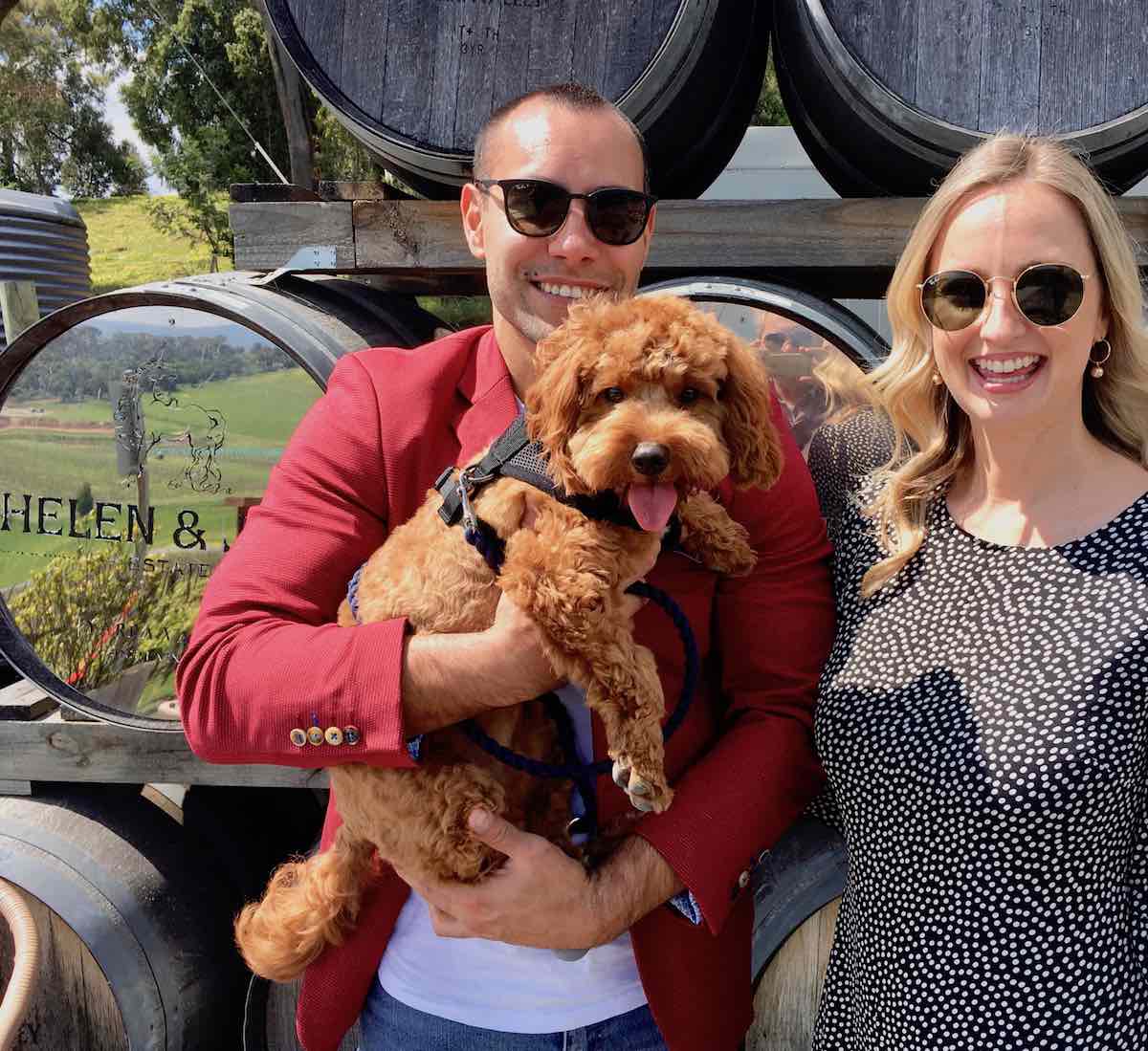 Once Mum and Dad had decided which wines they wanted to buy, we got back in the van and went to a farm and I was super excited.  I could smell sheep, I could see sheep and to be honest this was the highlight of my day – it was a real country experience, for a beach dog.  We went inside this old hay barn and while Mum and Dad were talking to a nice man who worked there called Charlie I could see he was struggling to serve everyone so Popped behind the cellar door counter to be helpful.  Apparently after everyone had laughed, it was agreed that it wasn't helpful so I came and stood with Jeff again while my pawrents drank more wines.
Mum & Dad were hungry so someone brought out a great platter of treats for them, I sat there at the table with them staring hopefully at the treat I wanted but no-one got the hint!  So I chased a ball instead which Dad and Jeff kept throwing and kicking for me – just like when we go to the beach, only this was on grass man, I know, right – tops!!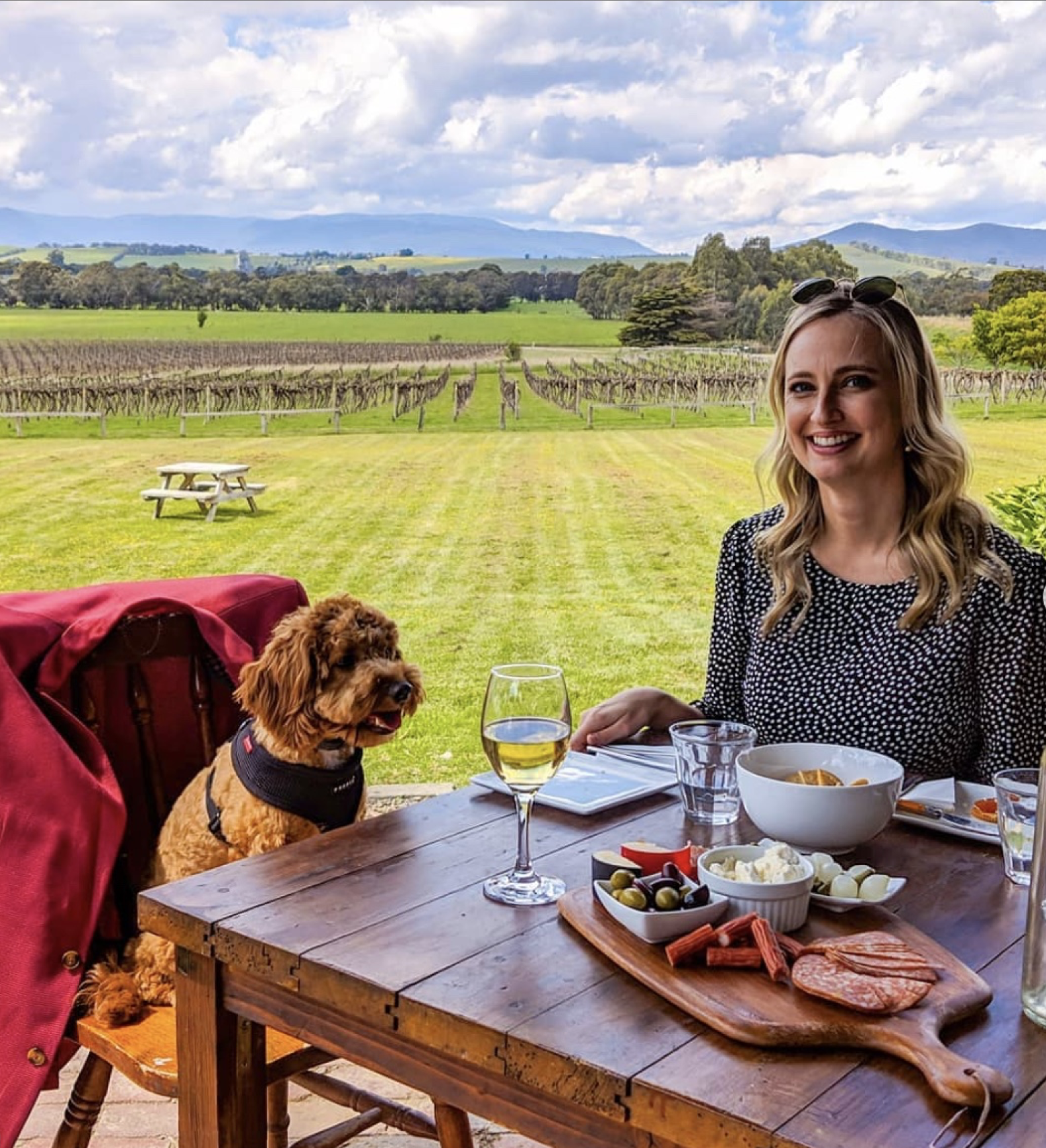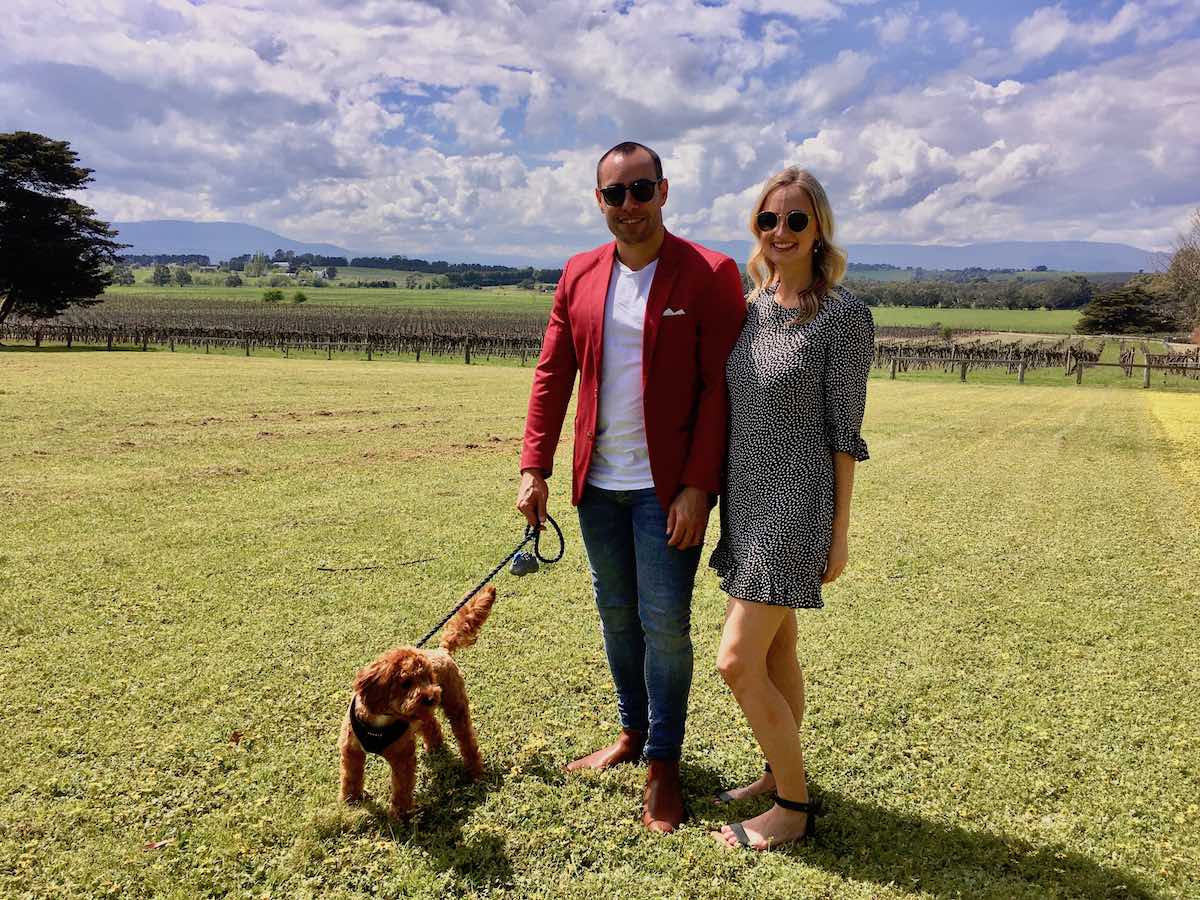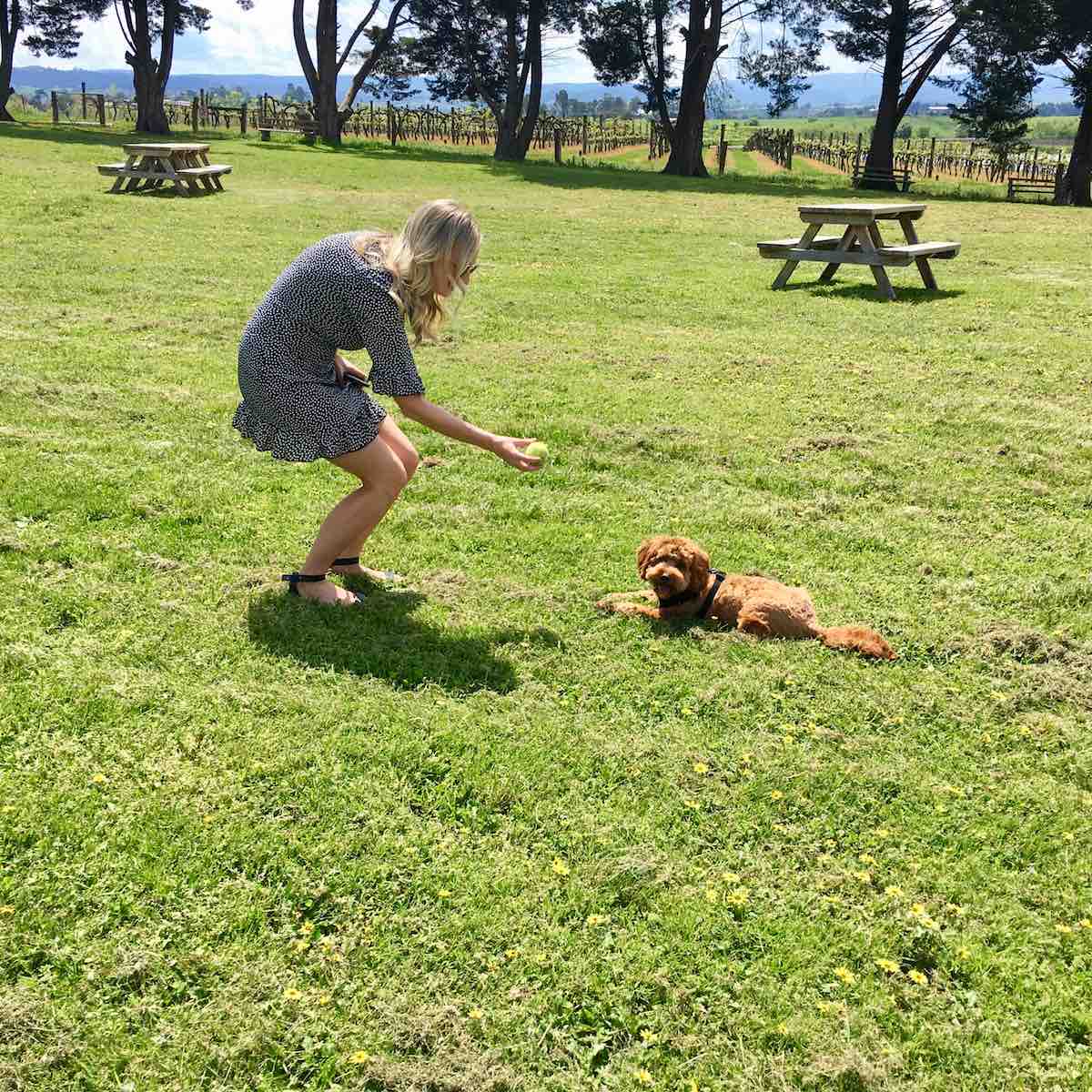 After lunch we went to the cutest little cellar door a puppy can imagine – called Maddens Rise – surrounded by grass and vineyards so I knew I'd get to play ball some more so I was blissed out to the max (that's for any of my surfing dude mates back at the beach who are reading this, they'll understand).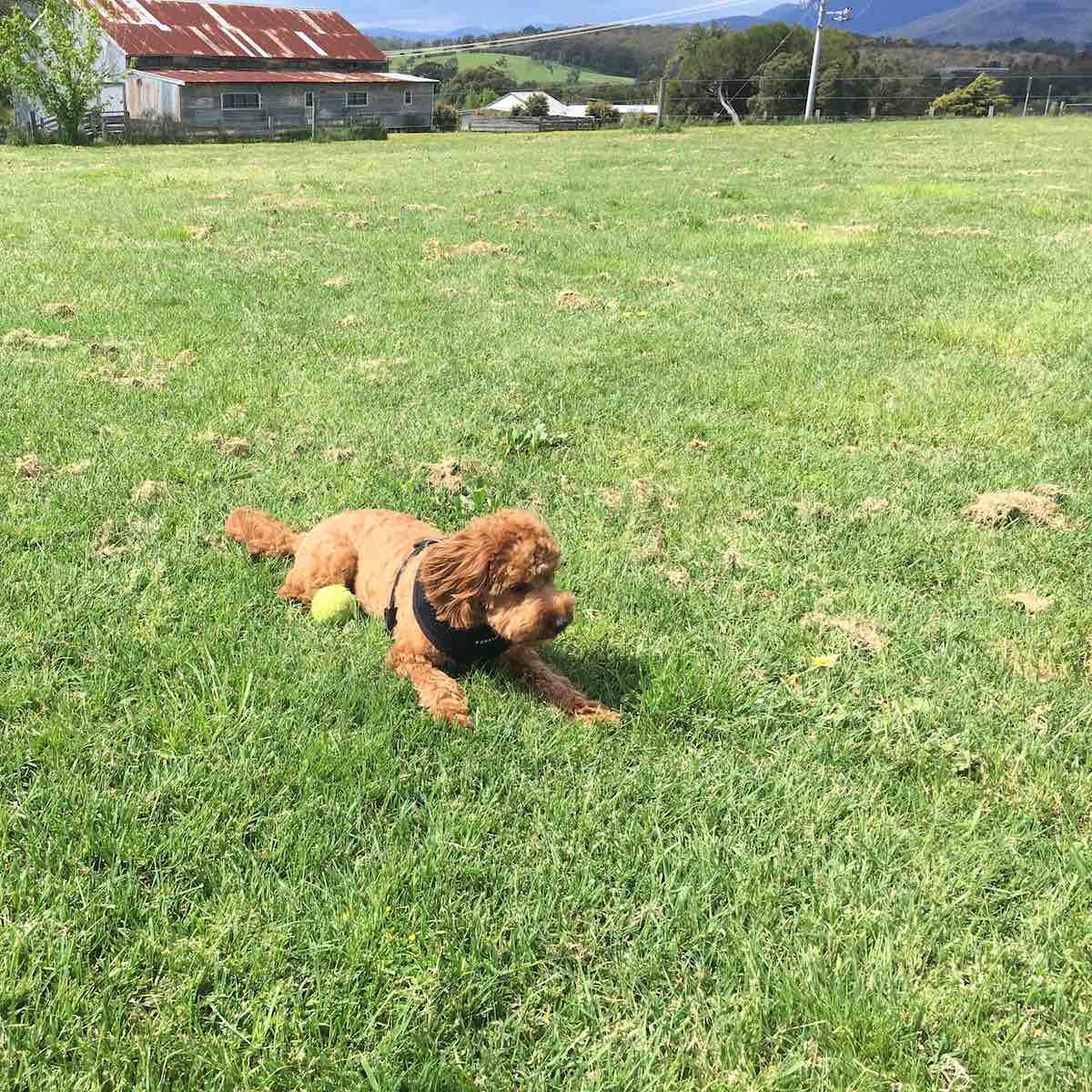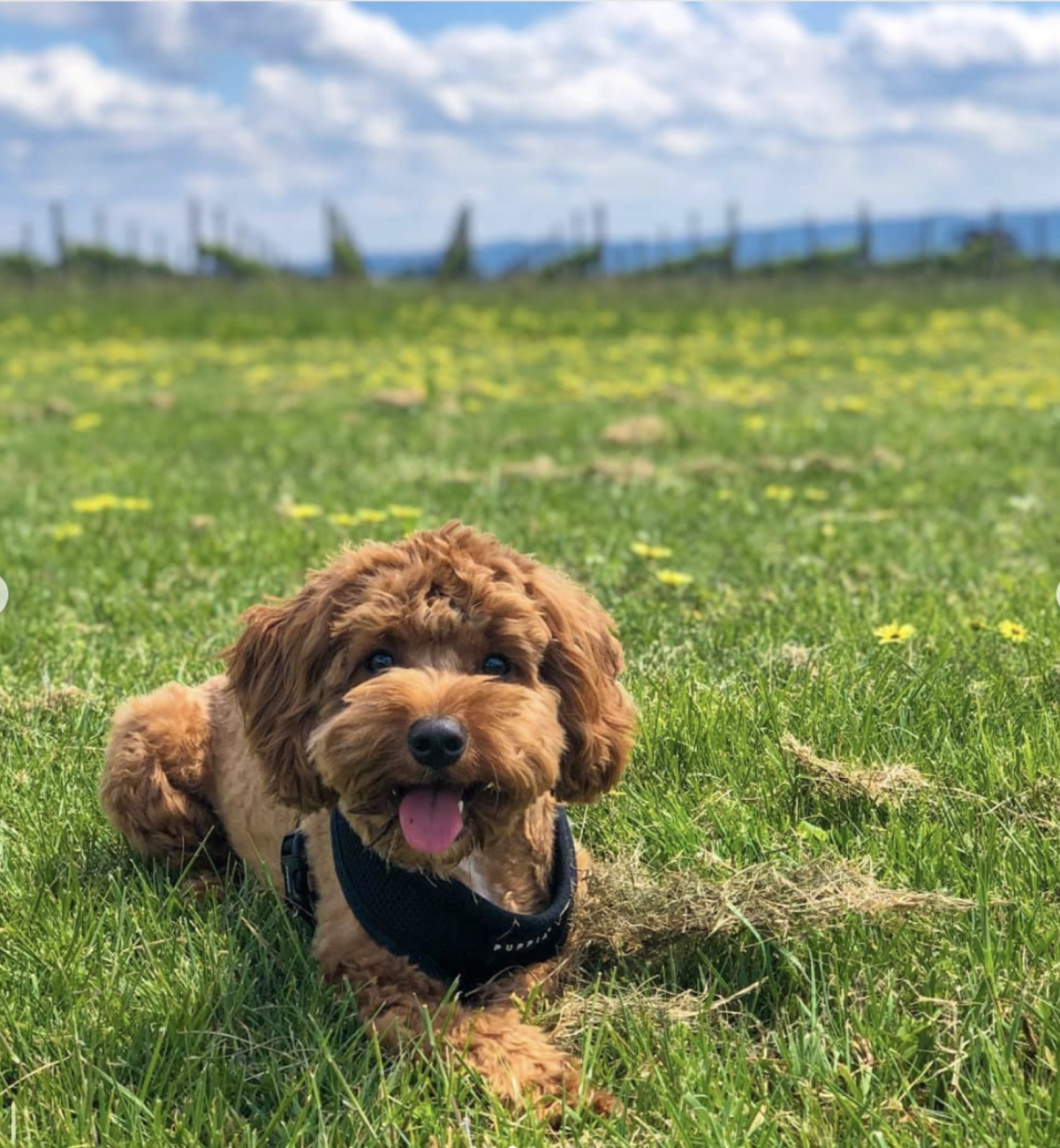 All of a sudden, Jeff wasn't around to play ball with me and I knew he was up to something, and then he came out carrying something and started singing which I found quite peculiar but Mum and Dad soon joined in – they seemed to know the song – it was about birthdays and being happy and sounded nothing like the cool songs Dad and I usually sing along to on the radio.  Cake – he was carrying cake – 'Fantastic,' I thought – 'how did he know I love cake?'  Then I remembered I don't know what a birthday is (given that I haven't had one yet) so I realised it must be for Mum who has has loads let me tell you!  More than 30, if that's even possible!!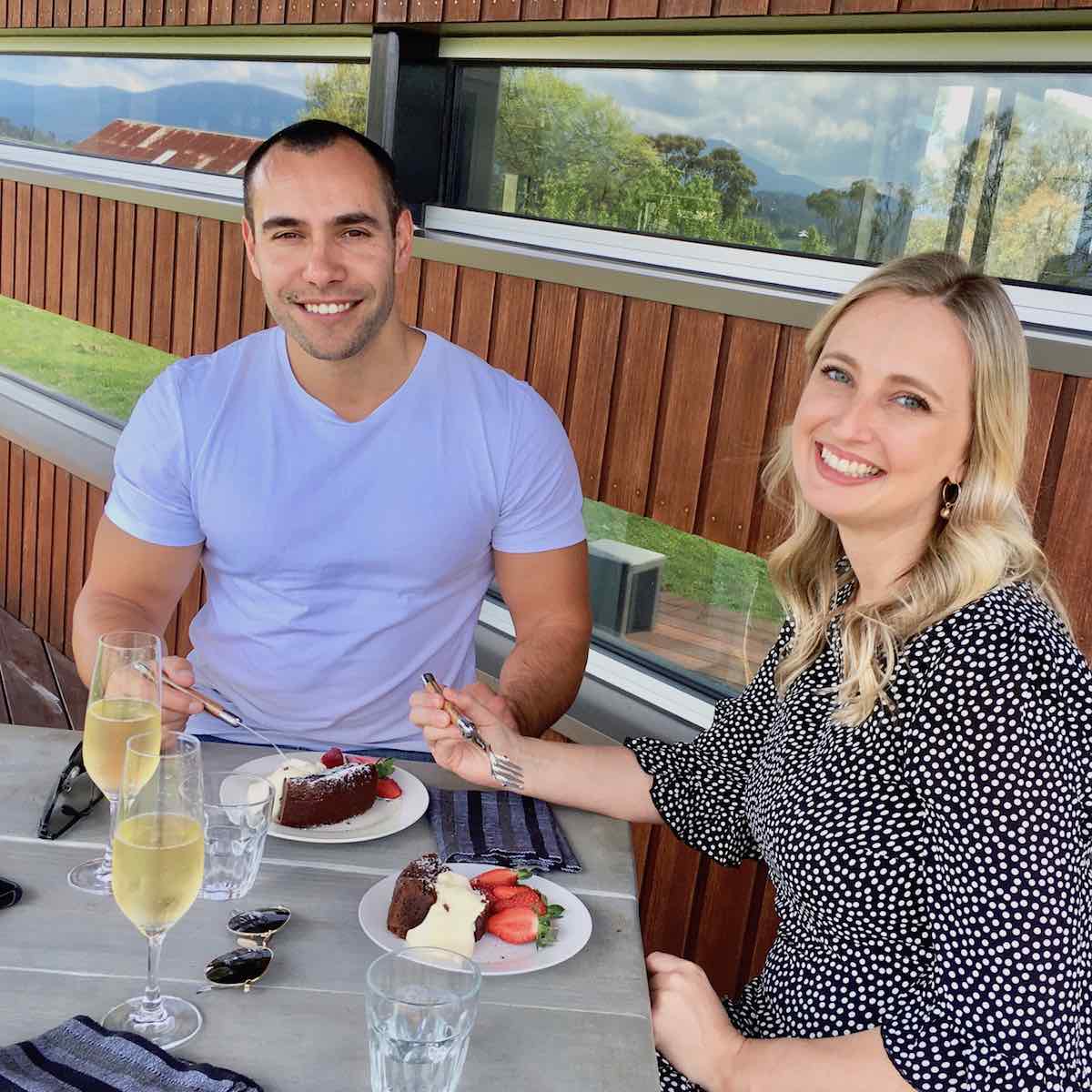 This is a thing right, if you're human, that on your birthday they give you wine that fizzes.  I wouldn't go near the stuff personally, but Mum seemed very happy with it and she and Dad both had a glass.
The day was still going strong, and after Maddens we were suddenly arriving at a place called Four Pillars where the wine they serve is called gin and we sat out in this cool courtyard and EVERYBODY and I mean EVERYBODY heard I had arrived and an entire posse came out to welcome me – here's me with my bros.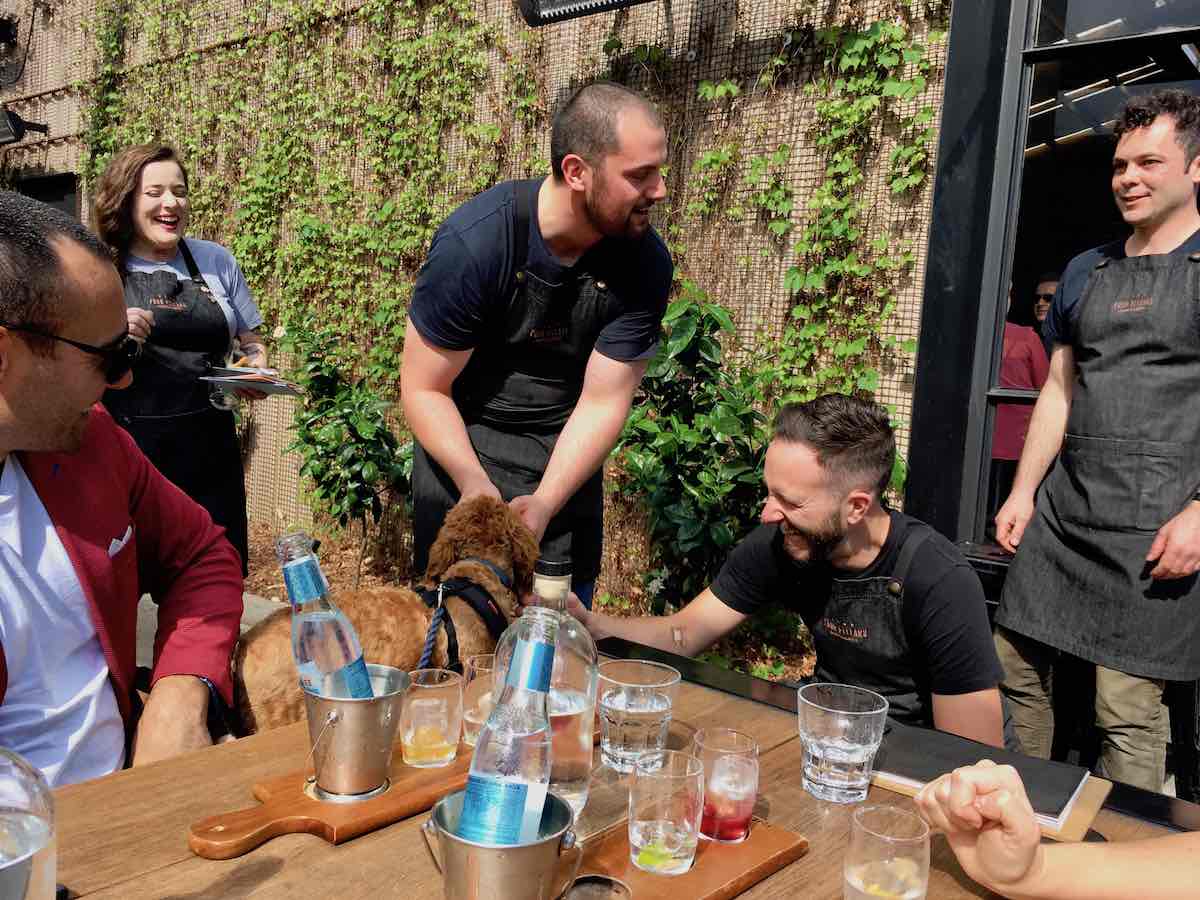 I was fascinated by all these tiny glasses full of different coloured drinks that my pawrents were tucking into, so I stood on the table for a closer look.  I know, me, on the table!  Too fun.  With my seaside connections I felt sure I would be a fan of the Navy strength gin – should anyone happen to let me try it – but no-one thought a little pup called Kevvy would be after a gin paddle, so I just watched as my humans lapped them all up – like a pair of thirsty pups.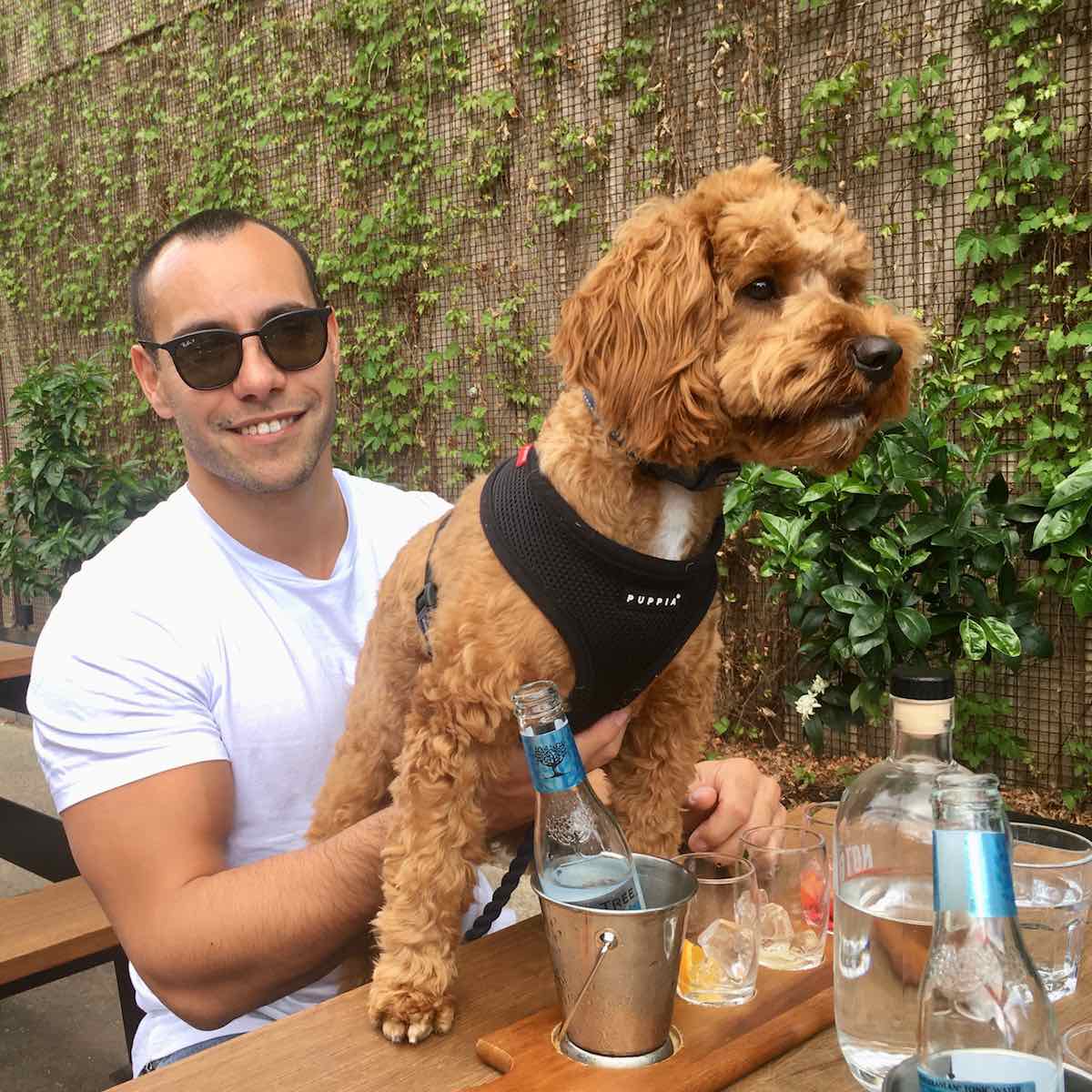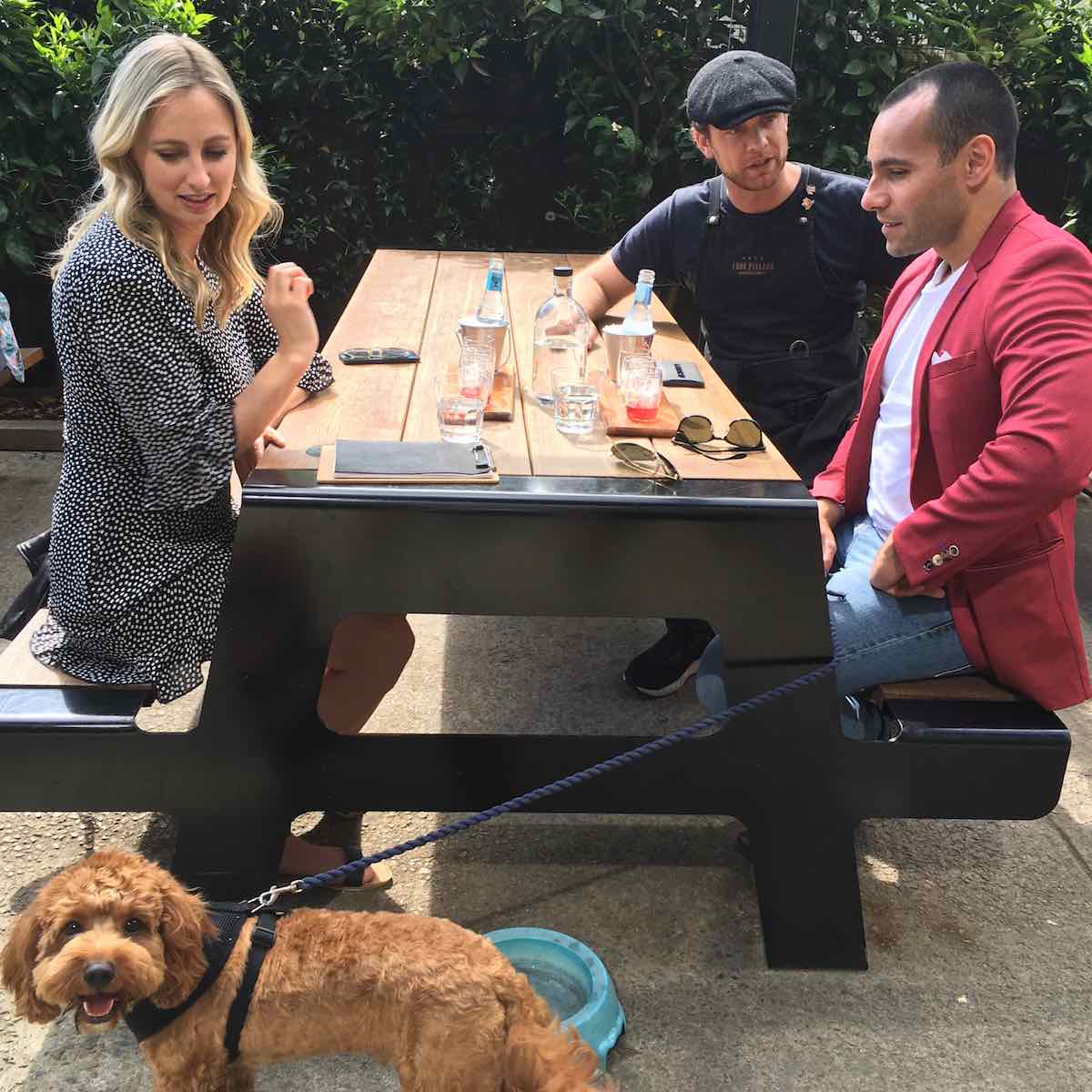 My day was not yet complete – after gin paddles we went over the road to Payten & Jones where I was about to meet and fall for a French girl (I realise I'm not the first to fall so quickly) called Emanuelle who I fondly call Manu.  She felt the same way, our connection was instant, it was love at first sight, she couldn't keep her paws off me.  Sadly, I was soon to learn she was already spoken for – turns out she's married to the winemaker!  Merde!  Mais, c'est la vie.  Here's me trying to pretend I don't care.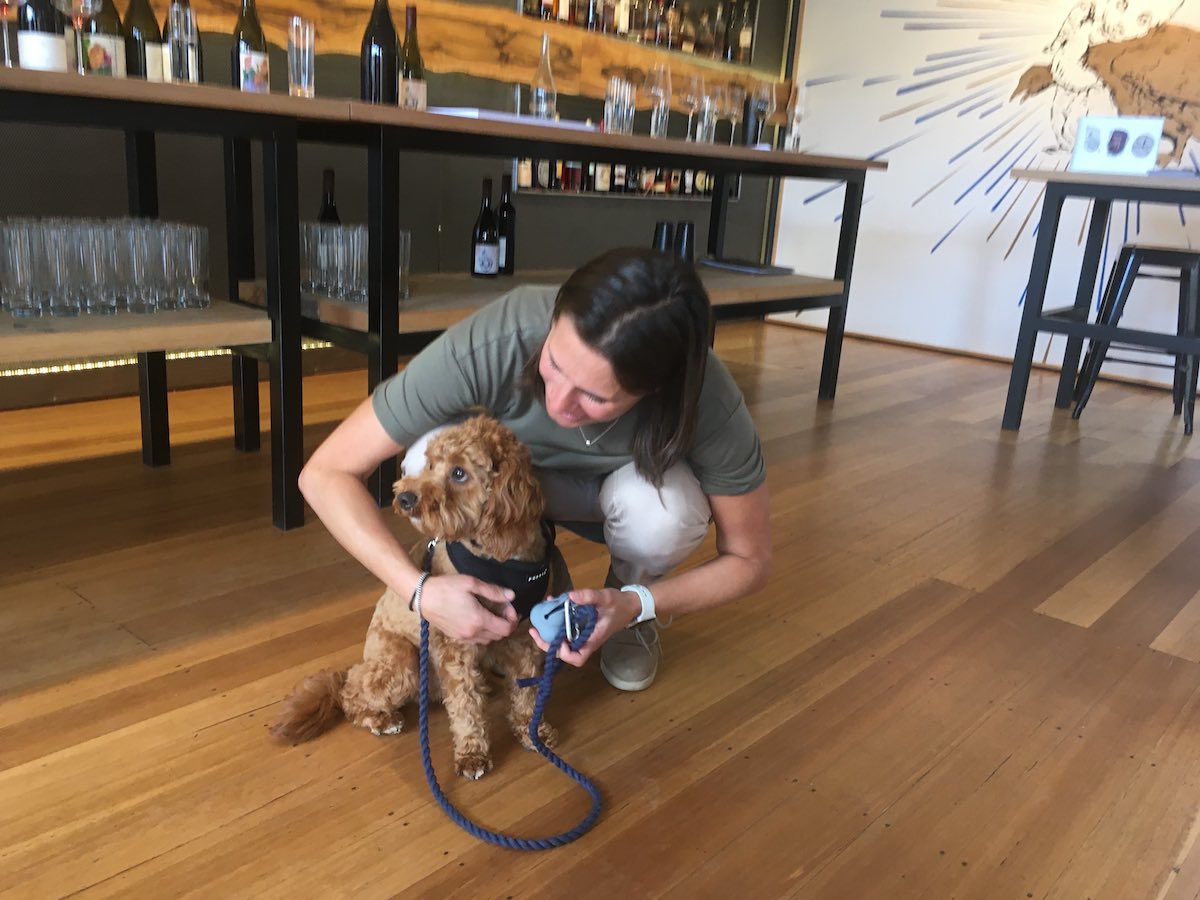 I finished the day with a high 5 in the cellar door to tell everyone what a doozy of a day I'd had.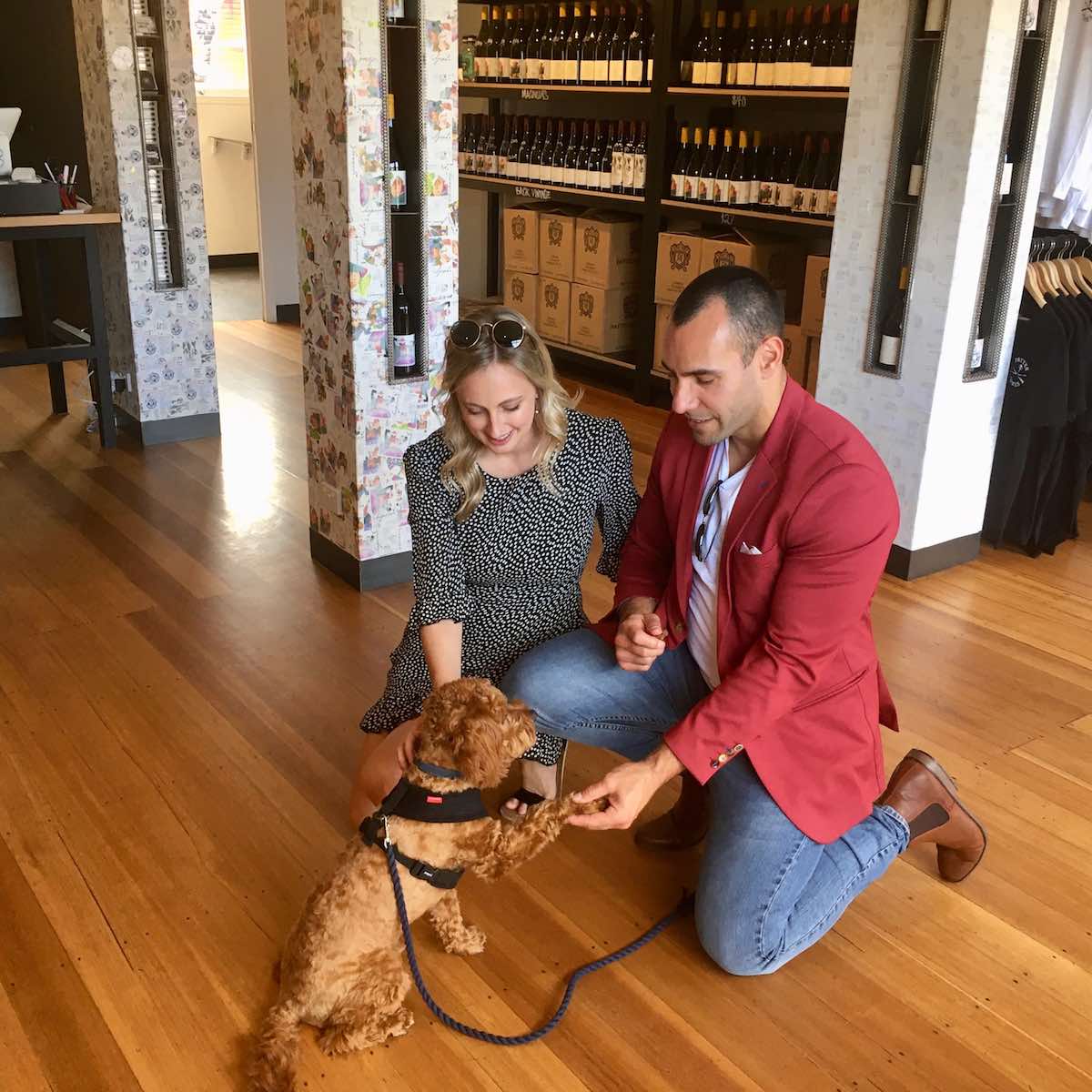 Jeff drove us home and I went straight to my cot – to dream puppy dreams of the valley and all my adventures.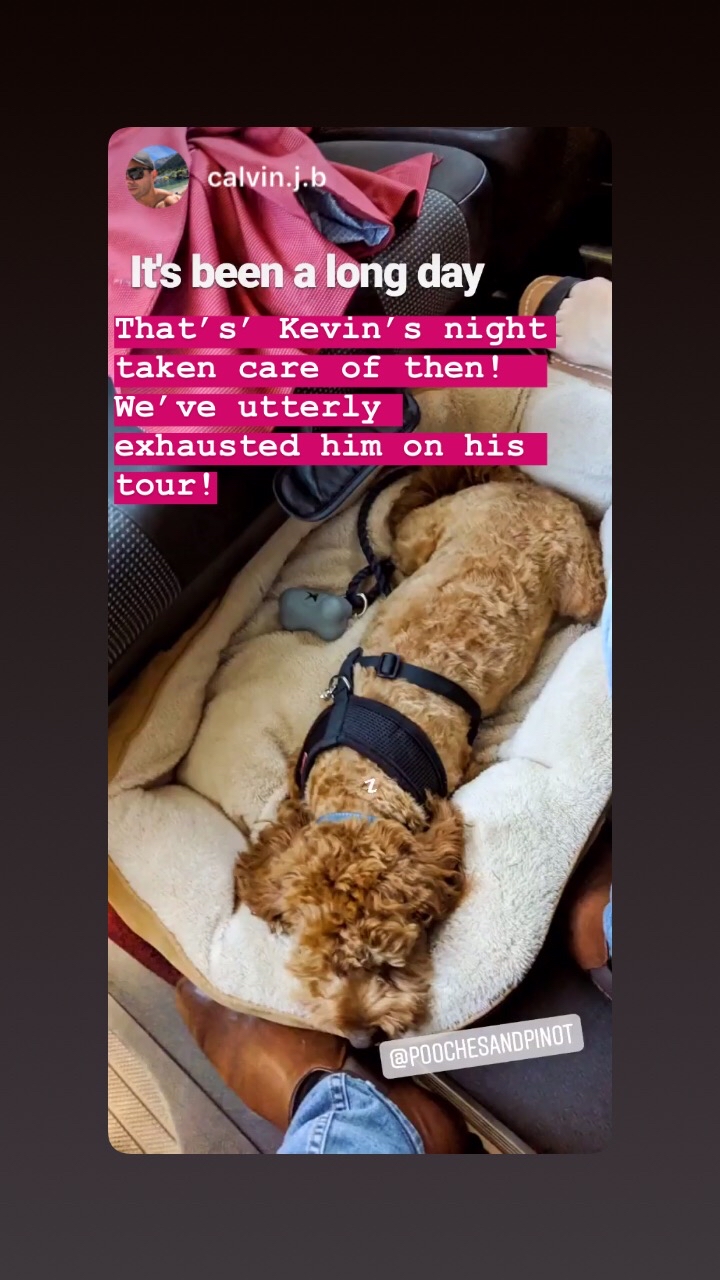 If you like the sound of my day, contact Jeff and see if he could plan a day like this for YOU!  info@poochesandpinot.com.au  You won't regret it.