I'm Justice (don't ask – both my pawrents work for corrections – see the problem?), I'm a German Sheperd crossed with a working dog which is the best possible mix out there, according to my Mum Mel and my Dad Andrew.  I have a big brother called Boots but I'm the looker in the family (far left).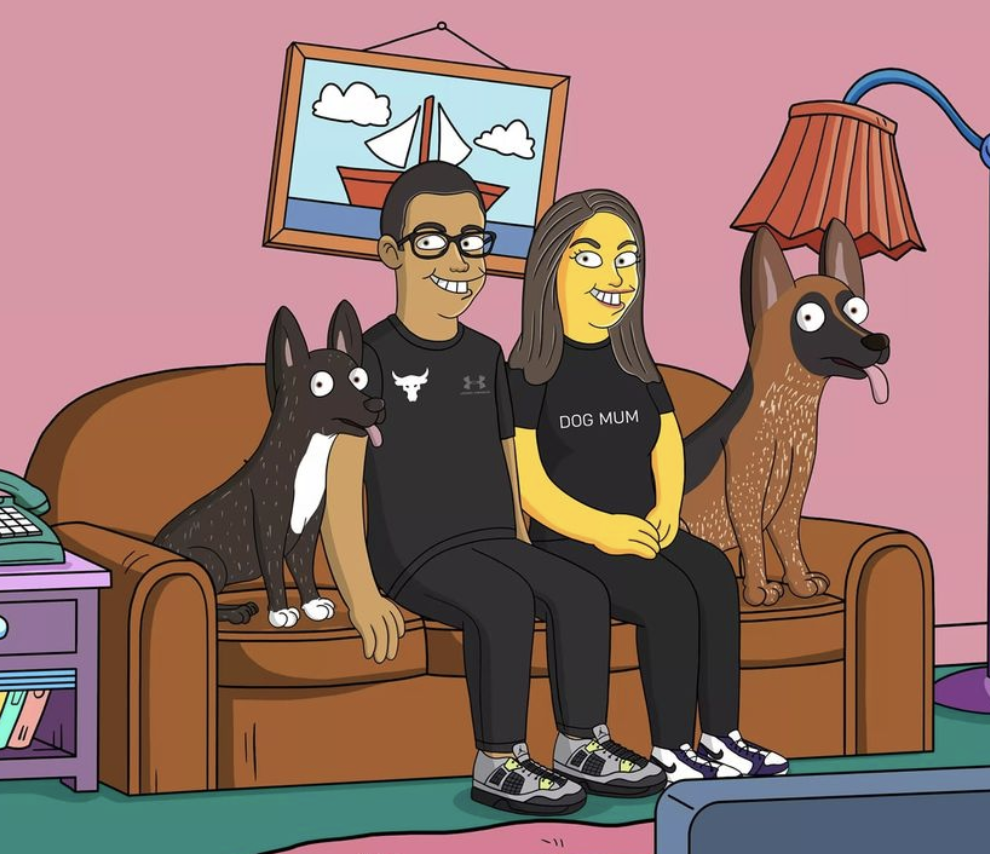 My Dad is the cleverest Dad out there according to me and my Mum, because he organised, in secret (well, I knew about it obvs) a whole 2-night holiday in a wine region miles and miles away from our house.  He even put together a powerpoint presentation all about the trip (hey you at the back, I can see you, stop sniggering) and Mum was so over-excited, it was the best.  We got to stay on a farm called Wiggley Bottom in our own cottage, where I got to do cool new stuff like – have a staring competition with some goats in a paddock.  There were geese and horses too, but they were pretty hopeless at the staring game if I'm honest.  And there was a tin of treats for me (and a fridge full of treats for Mum and Dad) and then one morning, we woke up and there's this great bloke Jeff there on the doorstep, taking us all on our own customised wine tour.
And d'you know the absolute best part?  Don't tell my pawrents but I was just so thrilled that we'd left my brother at home.  His name's Boots and look he's great and all that, but seriously, what three and a half year old wants to go on holiday and have their big brother there cramping their style and pulling focus!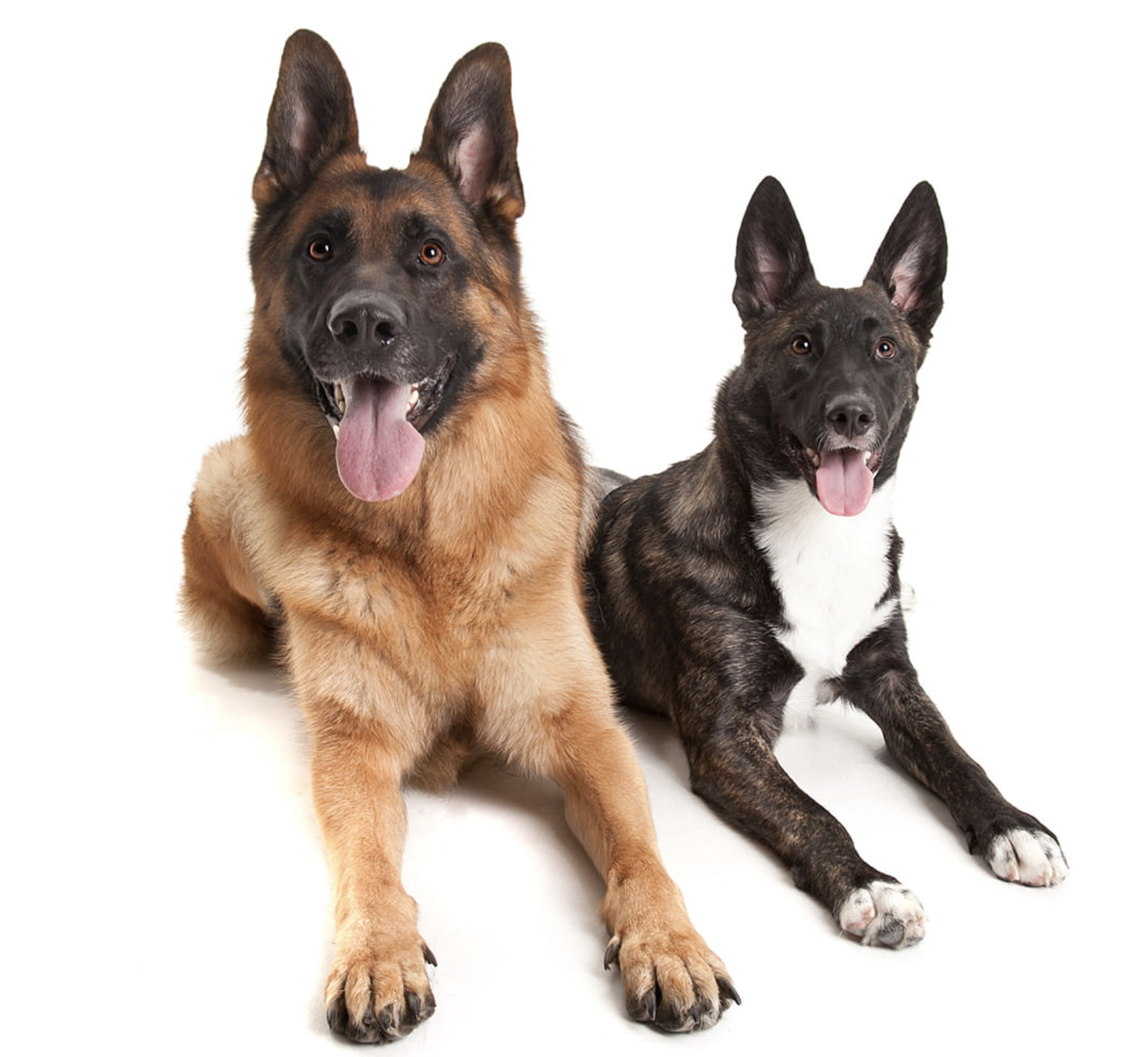 The first winery Jeff took us to was upon this great big hill and it had a huge deck for me to patrol and I could see dams I wanted to jump into, and boring rows of grape vines …
and then I spotted some white horses, and there was even one on the deck called Bruce which I was so pleased about as it meant I got to have another staring competition – and this one was REALLY good at it.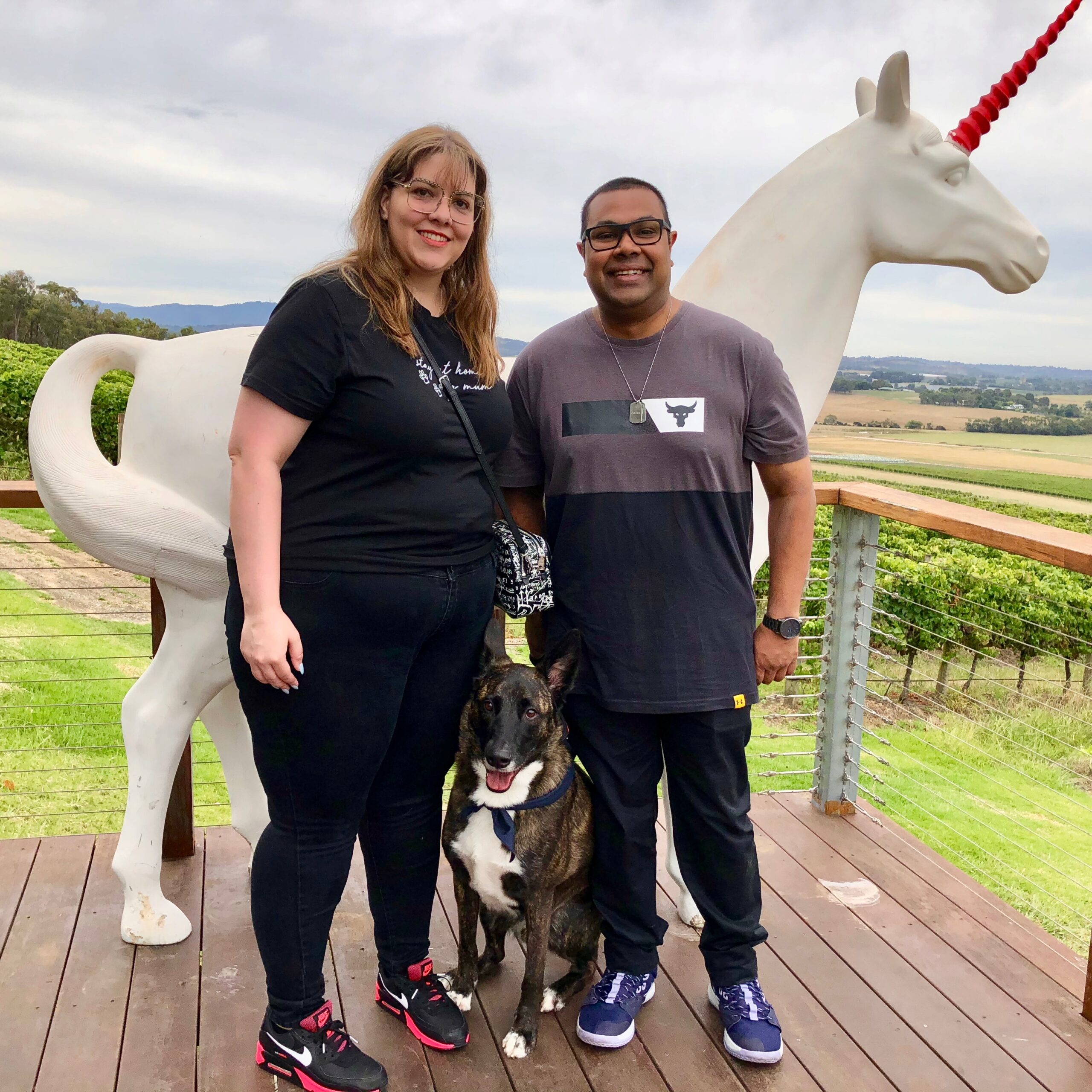 Jeff made us all pose for photos and so I had to explain to him that I'm not some instagrammable fluff ball of a pooch, I'm a working dog, so I'm trained to be on the lookout for animals that need rounding up, so I only occasionally had time to look at the camera.  He got it, he understood.  Didn't stop him asking me to look at the camera mind you!
My folks got to taste all kinds of wines; red ones, white ones – even an orange one – which they liked so much they bought some to drink later.  I thought it sounded rather nice too and licked my lips expectantly but no-one took the hint!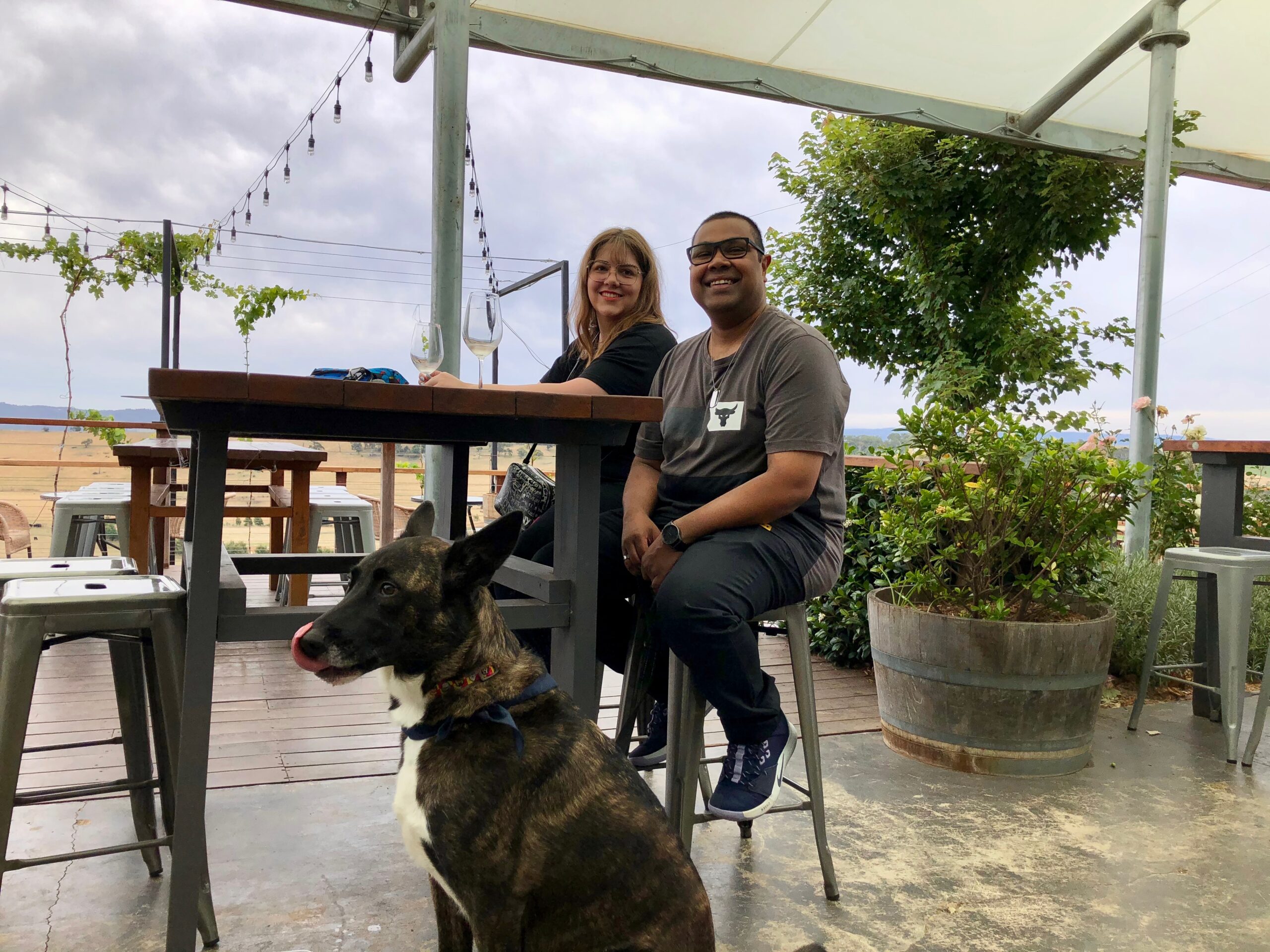 As we got back in the tour van (some plush Mercedes with a calming bed in the back for me!) Jeff said we would go to a farm next and I thought – yes, FINALLY, there'll be some work for me to do – but this was a weird kind of a farm, that only had tables, chairs, and wine and cider.  I took Jeff out to patrol the perimeter fences to check all was in order and there wasn't a single sheep for me to even have a word with.  Farm shmarm.  Jeff promised me he had seen sheeps here before, but they must be on holiday right now.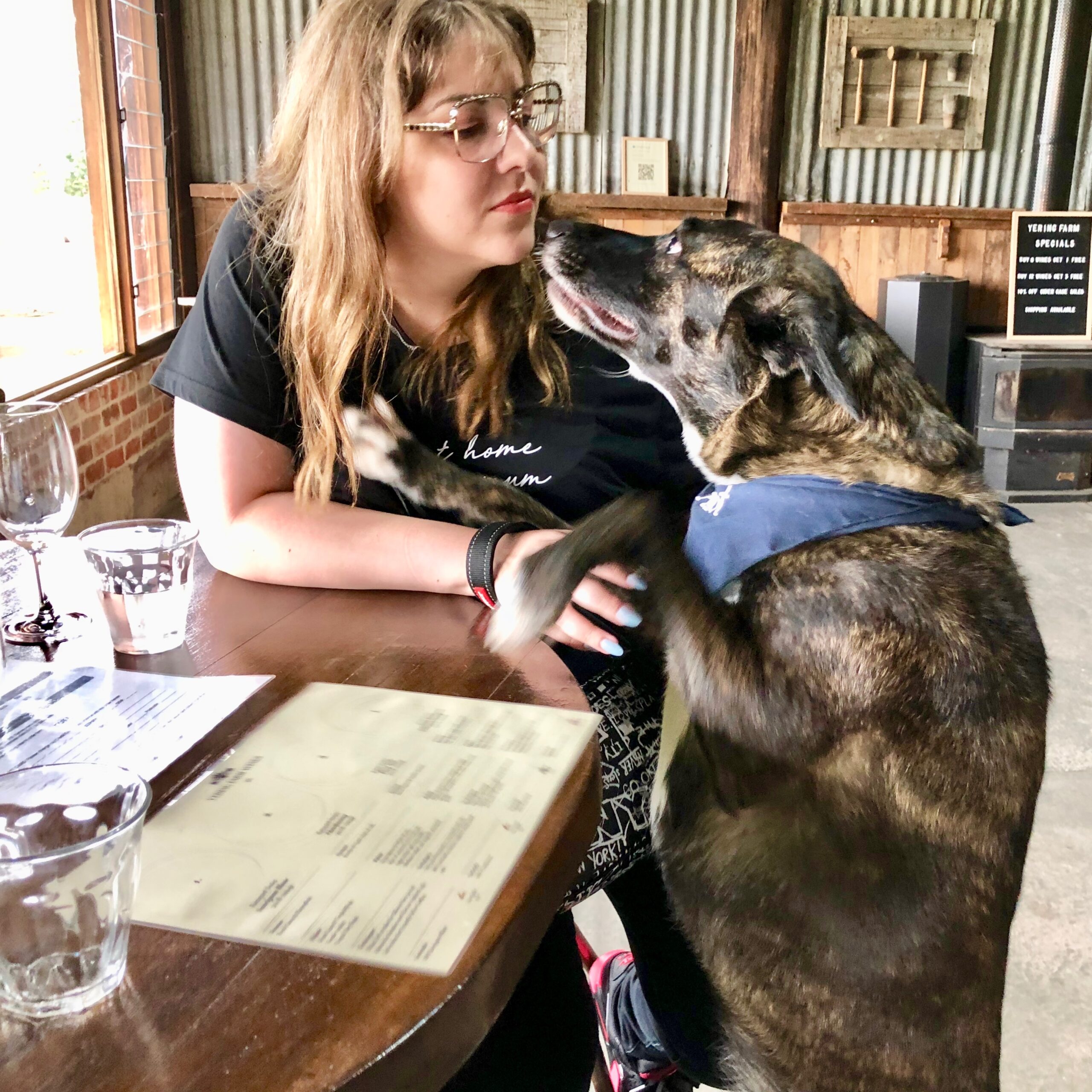 So eventually we set off back to the van with my pawrents clutching my lead as well as bottles of cider and wine, and I have to tell you these farm folks aren't all that smart – I saw that they spelt cider wrong, everybody knows it's ci not syder!!!  Dear oh dear!
Now, even tho Jeff had been plying me with delicious Laila & Me liver treats all morning, I could see my folks were ready for lunch, so Jeff drove us into Healesville to his favourite cafe called My Little Kitchen where we were taken through to a special dog-friendly section and treated like VIPs.  I got my own water bowl and my pawrents were told they could have anything they wanted on the menu.  Good job no-one told me that or we'd still be there!!  For security reasons, I insisted on sampling their bacon, sausage and french fries, and as Chief tasting officer, and I'm pleased to report that I gave it a Highly Commended Woof and 5 stars!
After lunch, when Jeff suggested that he would like to take us to Maroondah Dam for a dog walk, I fell in love with him utterly.  This tour is ACE.  We rock up at this enormous park place and we walk and sniff our way up a path to a massive wall which we stand on top of and man the view!  I was so impressed.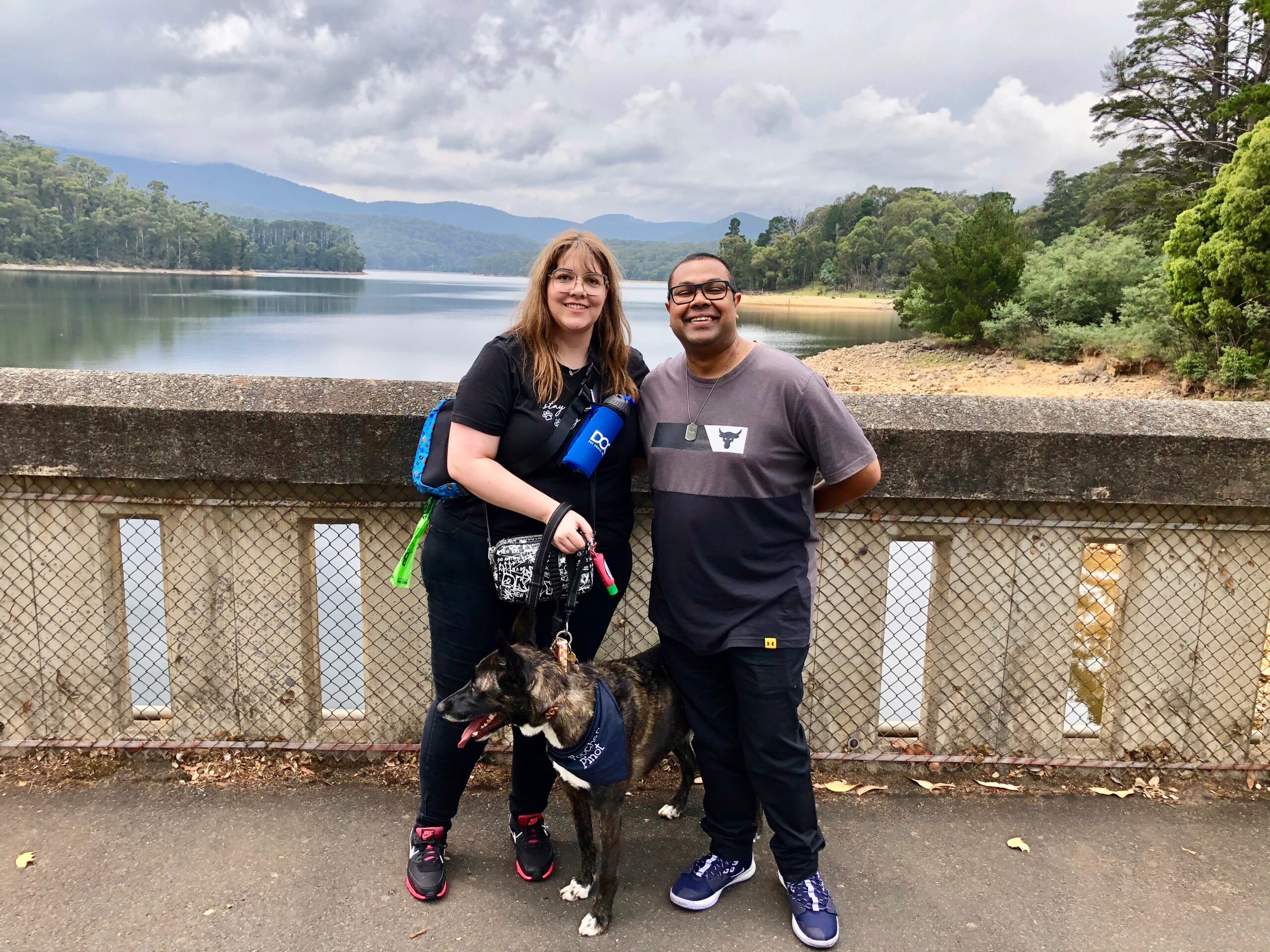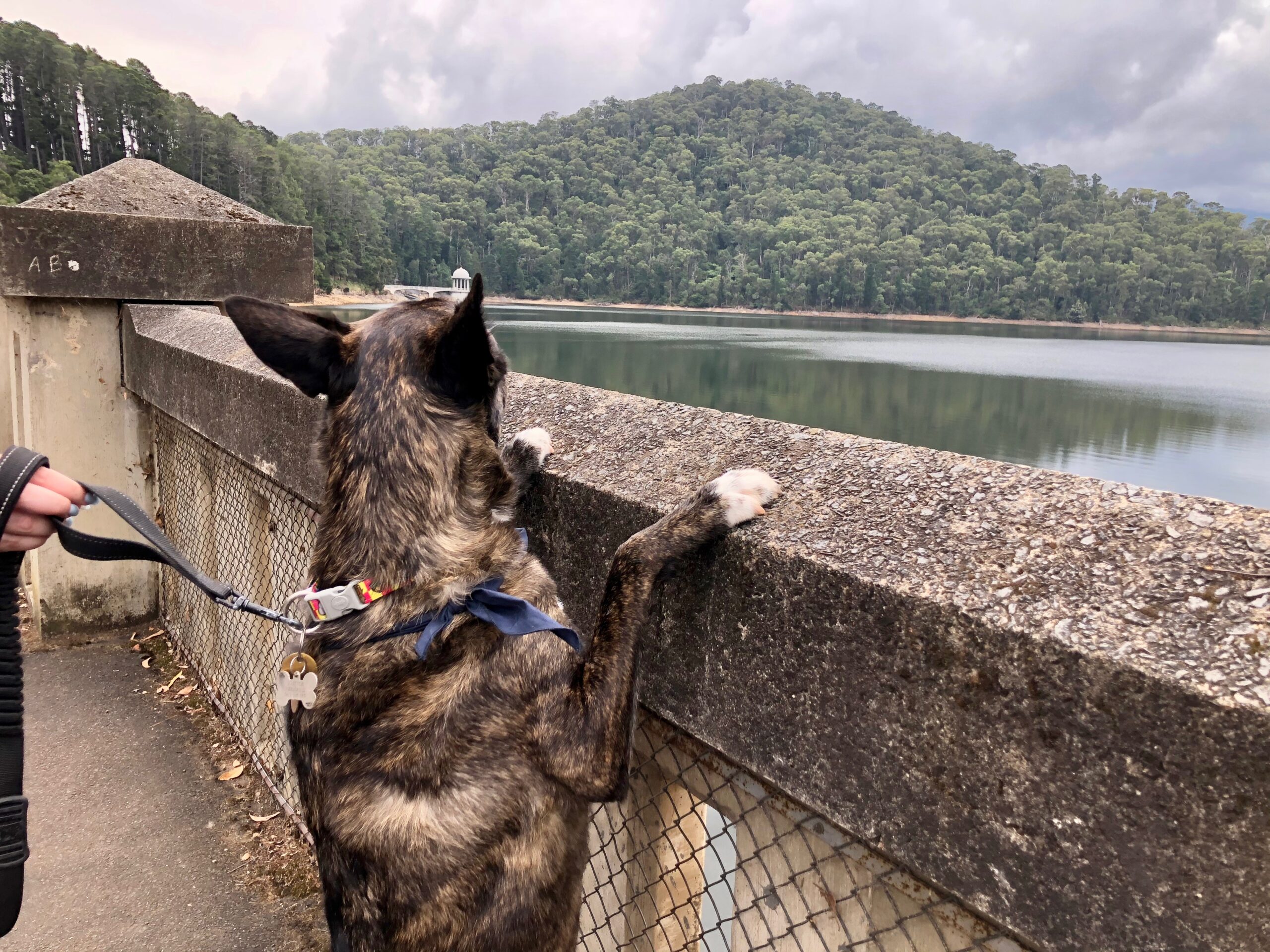 I was so well behaved and there was no-one around and had 3 adults supervising me, that I was let off lead for a quick run around and Jeff had even brought a ball thrower, so I chased after balls and was frankly in doggy heaven.  I could live there quite happily.
After I'd finished showing Jeff my catching skills, we set off for a cleansing thirst quencher – yup you've got it, we went to a brewery for some beers!  It's called Watt's River and they brew their beer there on site so I could see how it all worked.  A lady with the best name (Ziggy) brought all these different beers over for my folks to try and they loved them.  Particularly the IPA which I thought stood for Independent Pooch Ale so I assumed I'd be offered some but sadly I wasn't and it doesn't.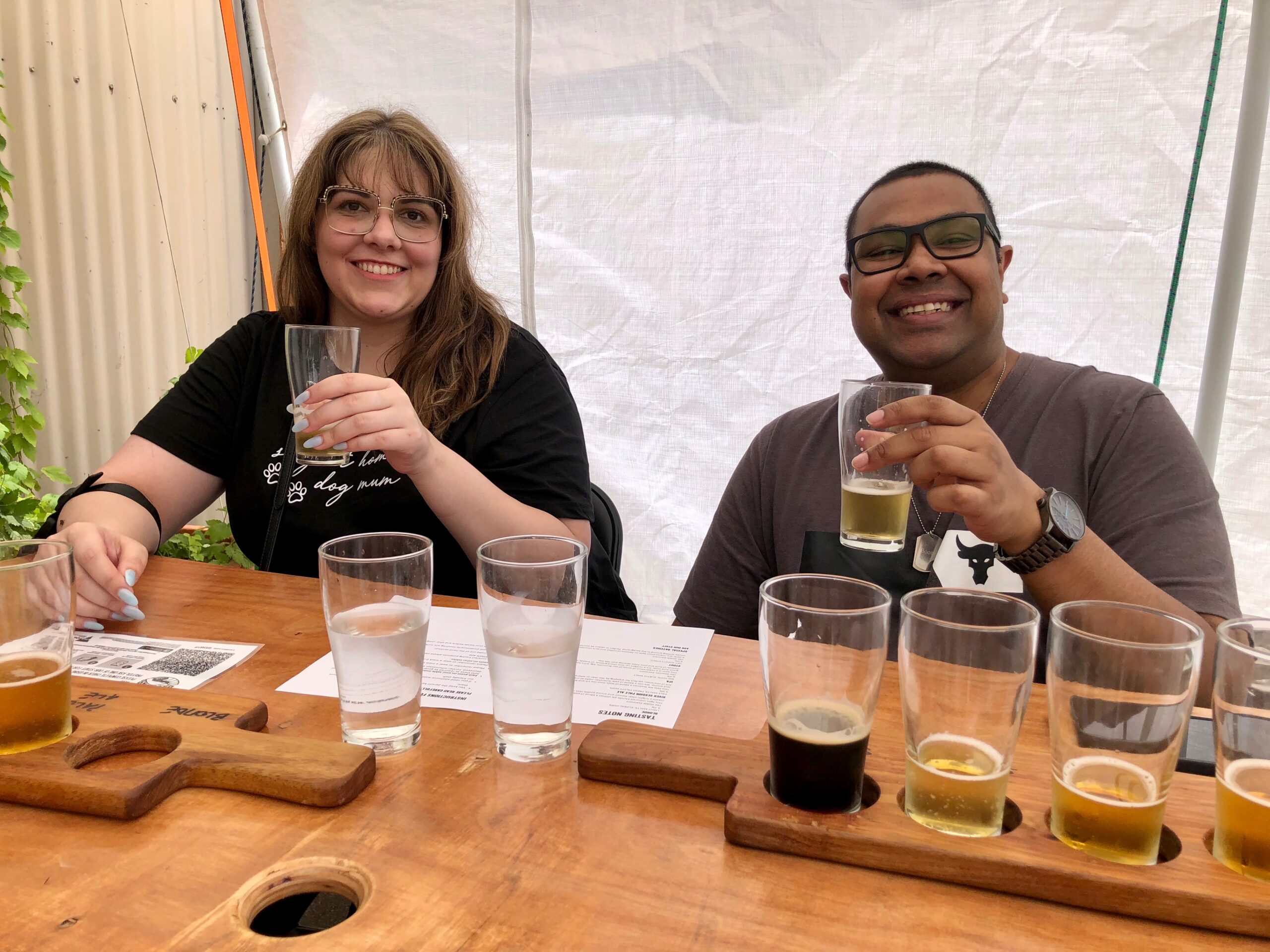 I tried to help myself but even that didn't work, I was too late, they'd inhaled the lot!!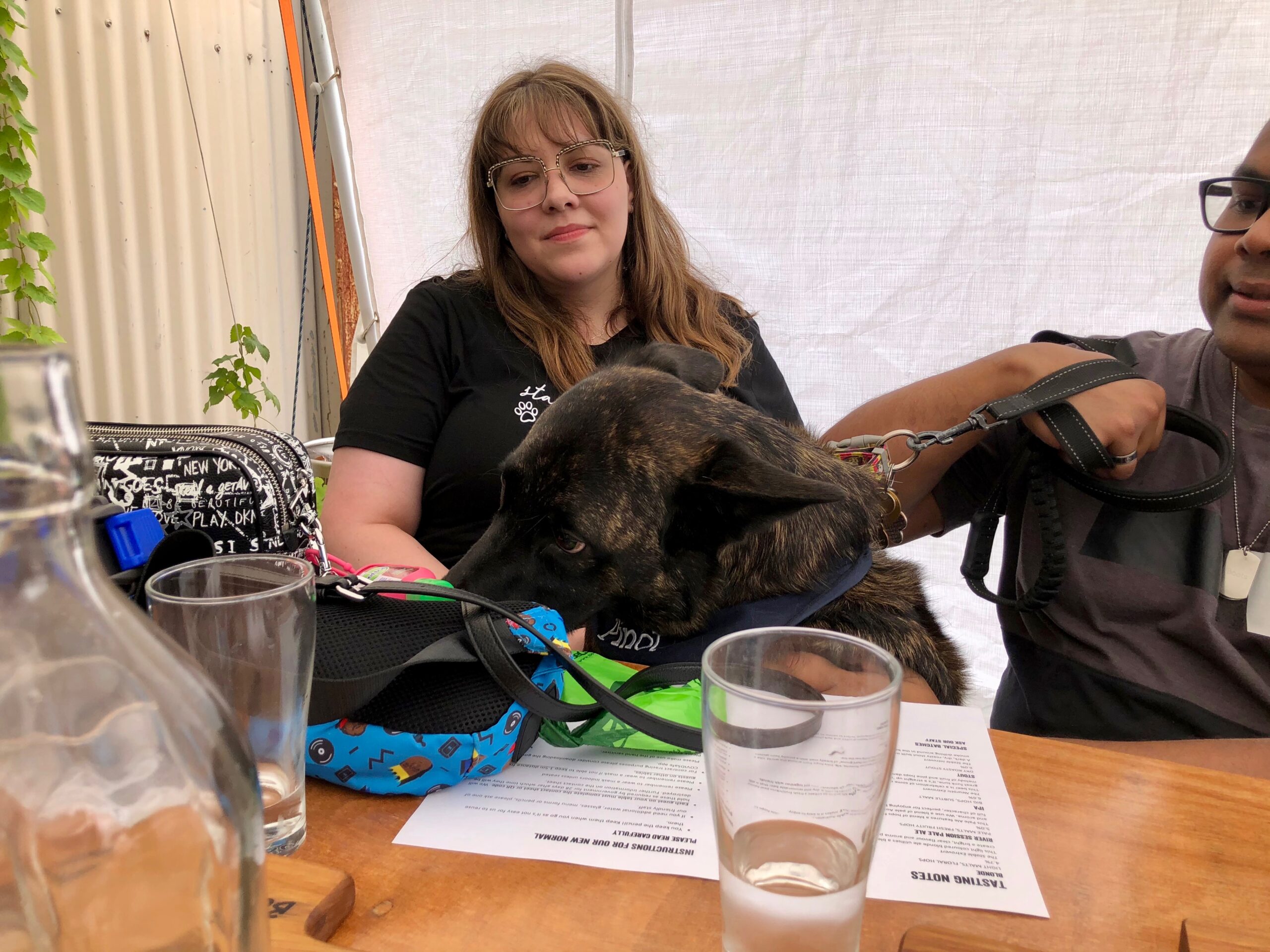 The town of Healesville is so cool and everything's so close together, that we meandered over to Payten & Jones the next cellar door we were visiting, while Jeff drove the van around, and we passed a greyhound on the way, that I got to say g'day to, which was nice.
When we arrived at Payten & Jones I was patted by at least 30 people who were just about to leave.  That was nice too – and I thanked Jeff for organising it. A great guy called Steve talked us through the wines my pawrents were tasting while I lay under the table, one of my favourite spots to be.  I'd just like to clarify, I was under the table by choice, not as a result of too much alcohol.  My Mum particularly liked the verdelho , another orange wine, so a bottle of that soon joined the others in the van!!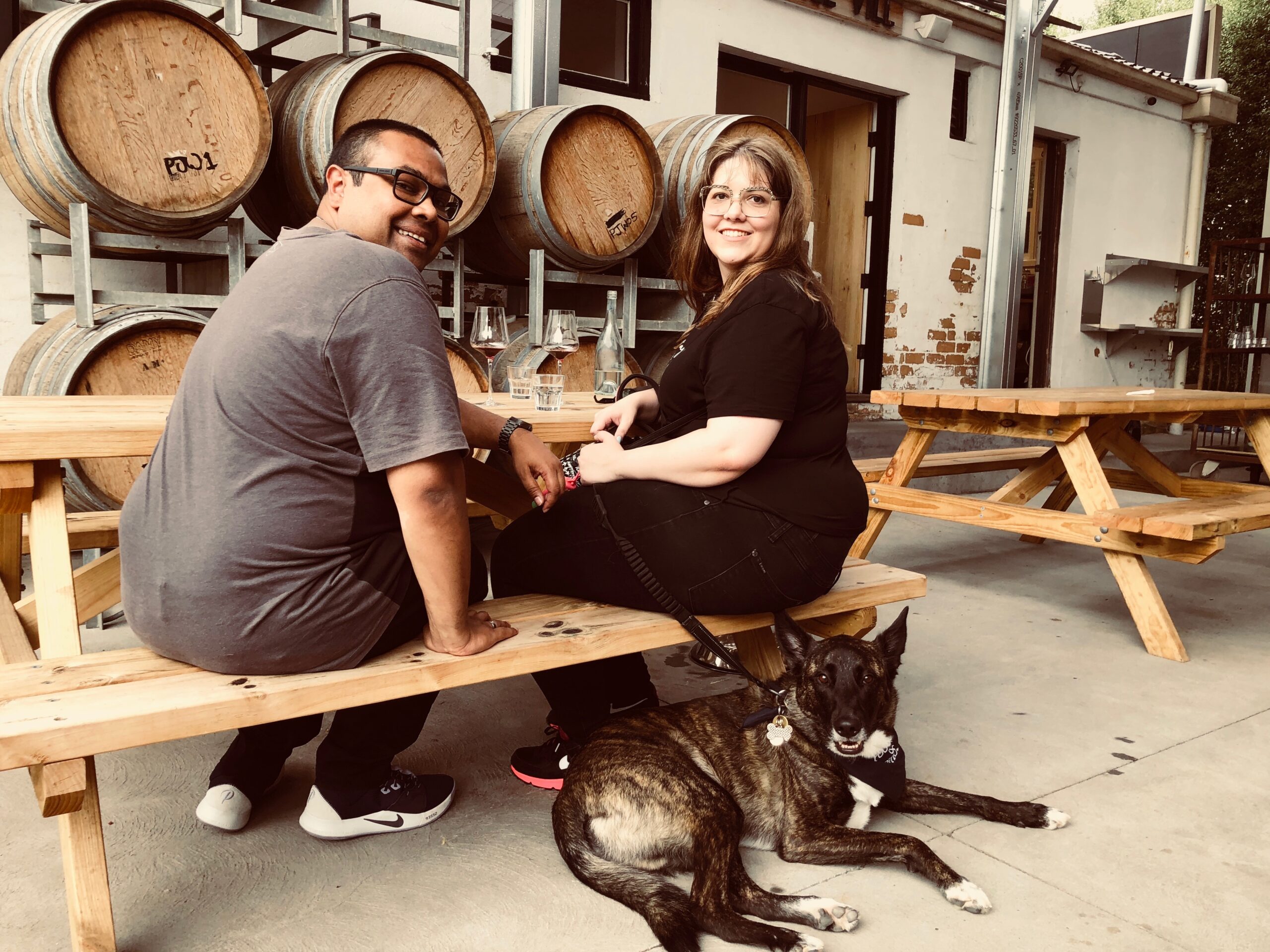 They have super cool grafitti at Payten & Jones and as my folks are Supernova comic-con nerds, they were particularly taken with it!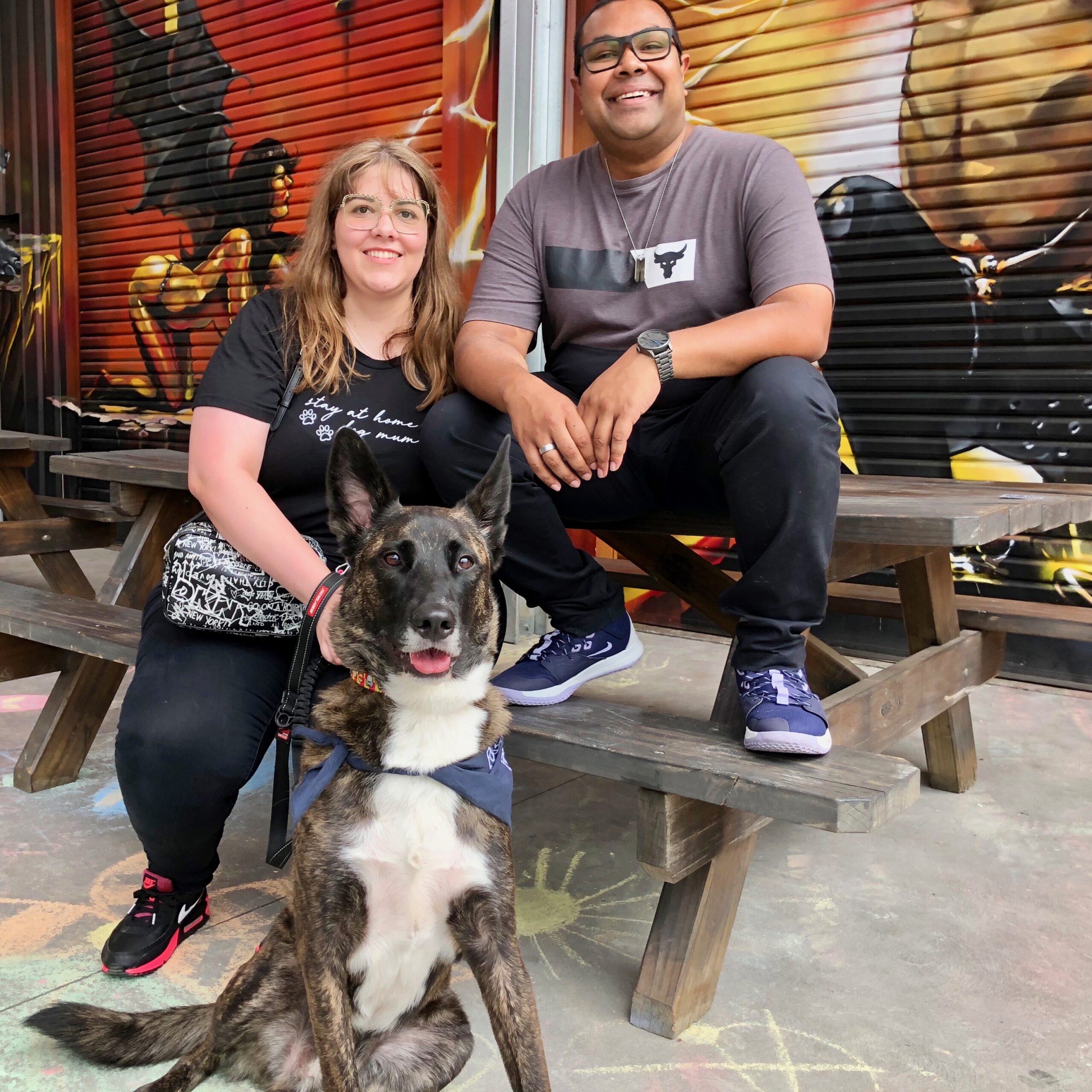 Jeff then took us on a drive up and down beautiful tiny winding country lanes to a place called Squitchy Lane which is really out of the way and beautiful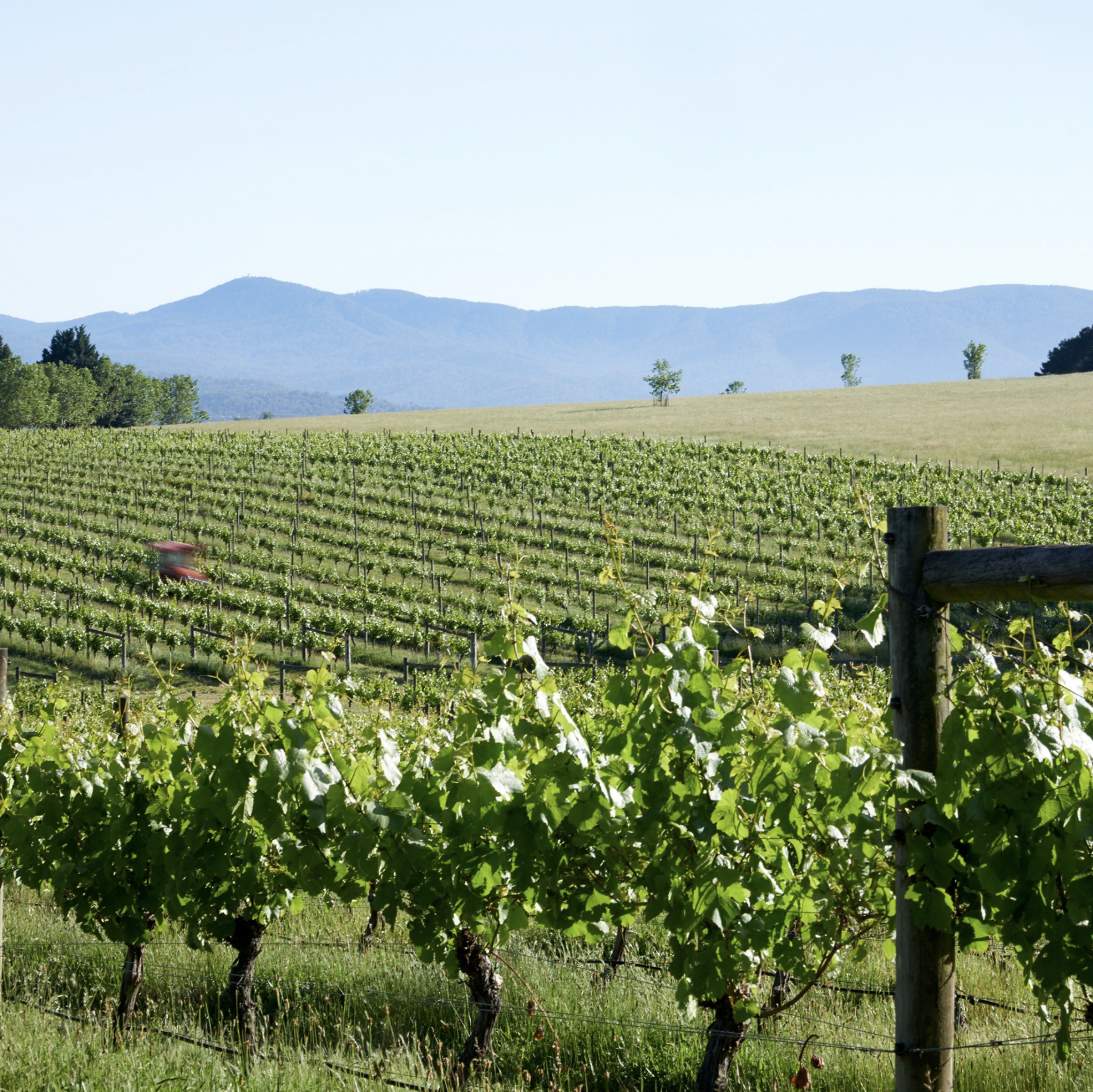 and it's a good job we got there when we did, because my services were needed.  A couple of flies had got into the cellar door and I was in my element.  It's the greatest challenge you can give a working dog – and I snapped at them, then I lulled them into a false sense of security as I lay in wait, and sprang at them when they were least expecting it – a couple of times I even head-butted the glass in my attempt to get them (it's an age-old manoeuvre that only a highly skilled german shepherd should ever try.  But still they eluded me!  While I was busy saving the planet, my folks relaxed and drank all the wines that Andrew put in front of them (they are very well trained like that) and then they got all showy offy and showed Jeff the video message that James Masters (who plays Spike) in Buffy the Vampire had sent Mum to wish her a happy birthday.  Yet another surprise Dad had arranged – is there nothing this man can't do?!
My pawrents were having the best day – and were super lucky as they got to try a pinot noir not normally on tasting at Squitchy called Peter's Block and they liked it so much they bought some – and get this – Andrew then gave them the rest of the tasting bottle to take home as a present – probably as a thank you for all the hard work I'd done relieving his cellar door of all those flies.
Wow, we were all pretty quiet on the drive back to Wiggley (except Dad who was regaling Jeff with hilarious inappropriate work stories) and I was happily snoozing in the bed in the back, reliving my huge day and excited about getting back to Wiggley to win some more goat-staring competitions.
If you too want your Dad to surprise your Mum with a holiday like this – check out the mid-week package on Wiggley Bottom Farm's website and book it and have the time of your little lives, like we did.