Hi guys, it's Holly here, I'm the pretty blonde, I'm two and a half,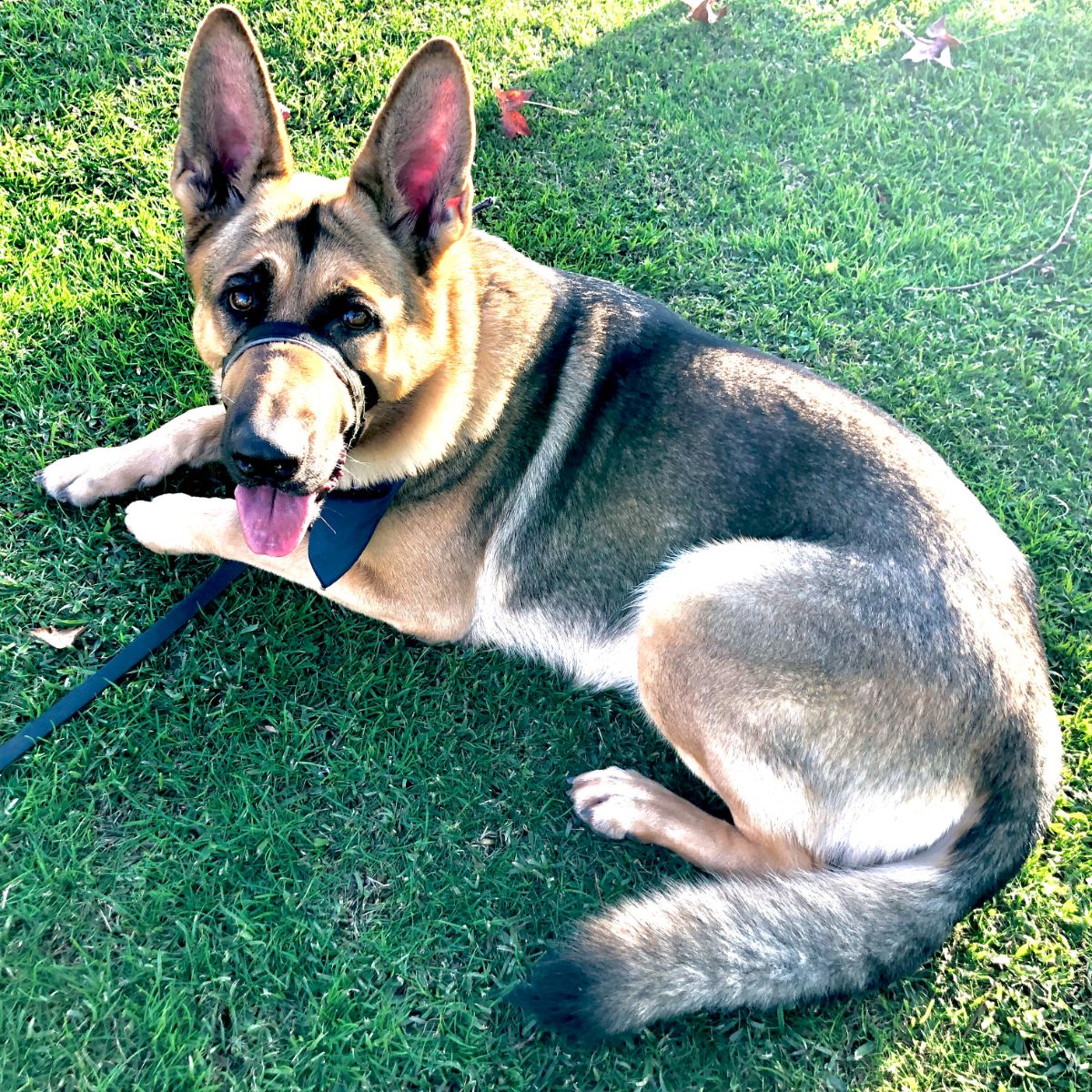 and here's my annoying big brother Hugo.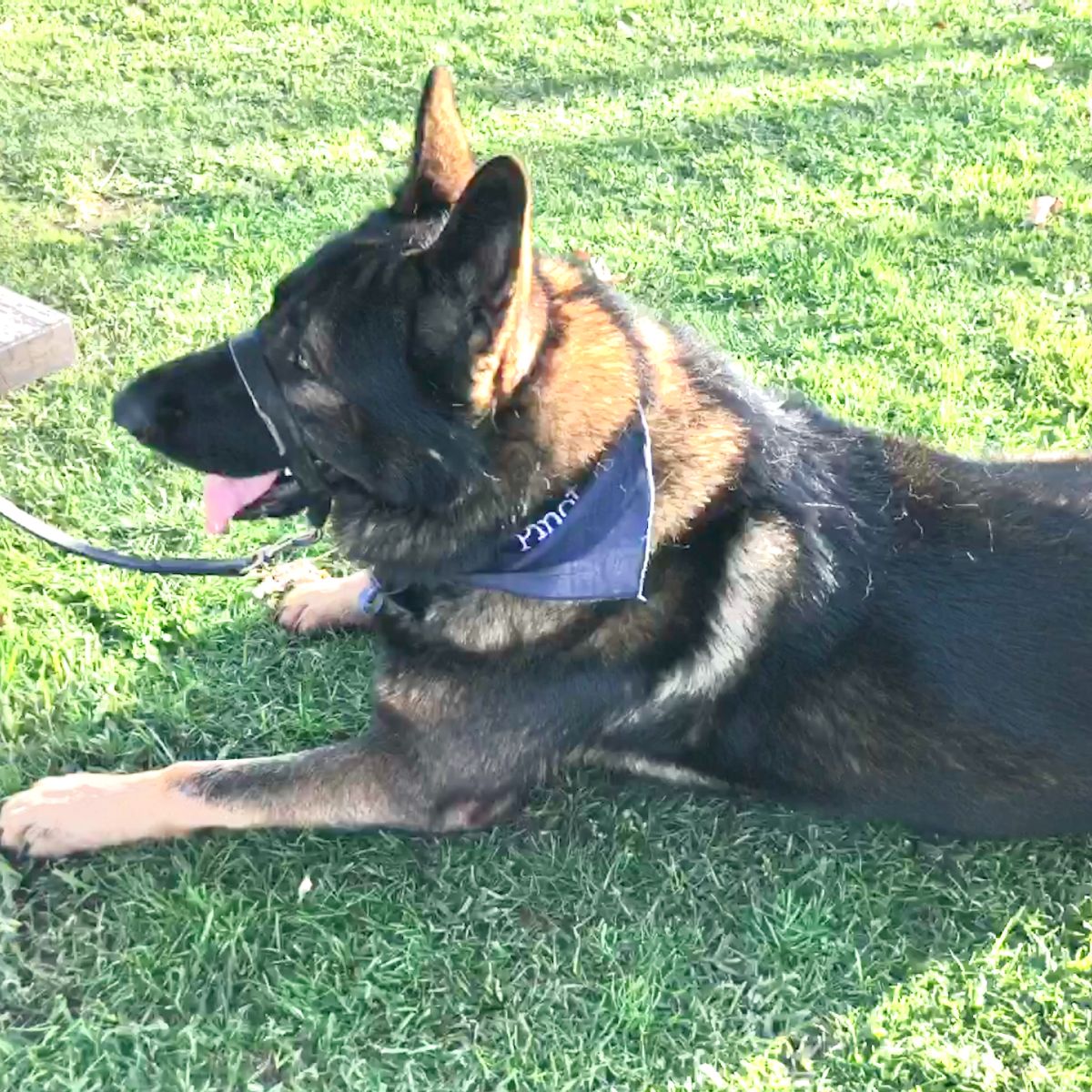 He's kind of my brother; same Mum, different litter, he's a year older than me, and boy he's annoying. Have you got an older brother? Then you'll feel my pain! He's the sort who thinks he knows EVERYTHING!
So anyway, we just did this crazy thing – we only went on a wine tour with our Mum & Dad (Frances & Adam), and Jeremy & Melia (son and girlfriend)! I know, right – pawesome!! It was a pressie for Mum & Dad from Jeremy and his sister Ashley. Are you keeping up – it's a lot of names, sorry. Anyway, it was the coolest thing because we got picked up from our house by a man called Jeff in his van which had beds in the back for us – and embroidered bandanas – how smart do I look!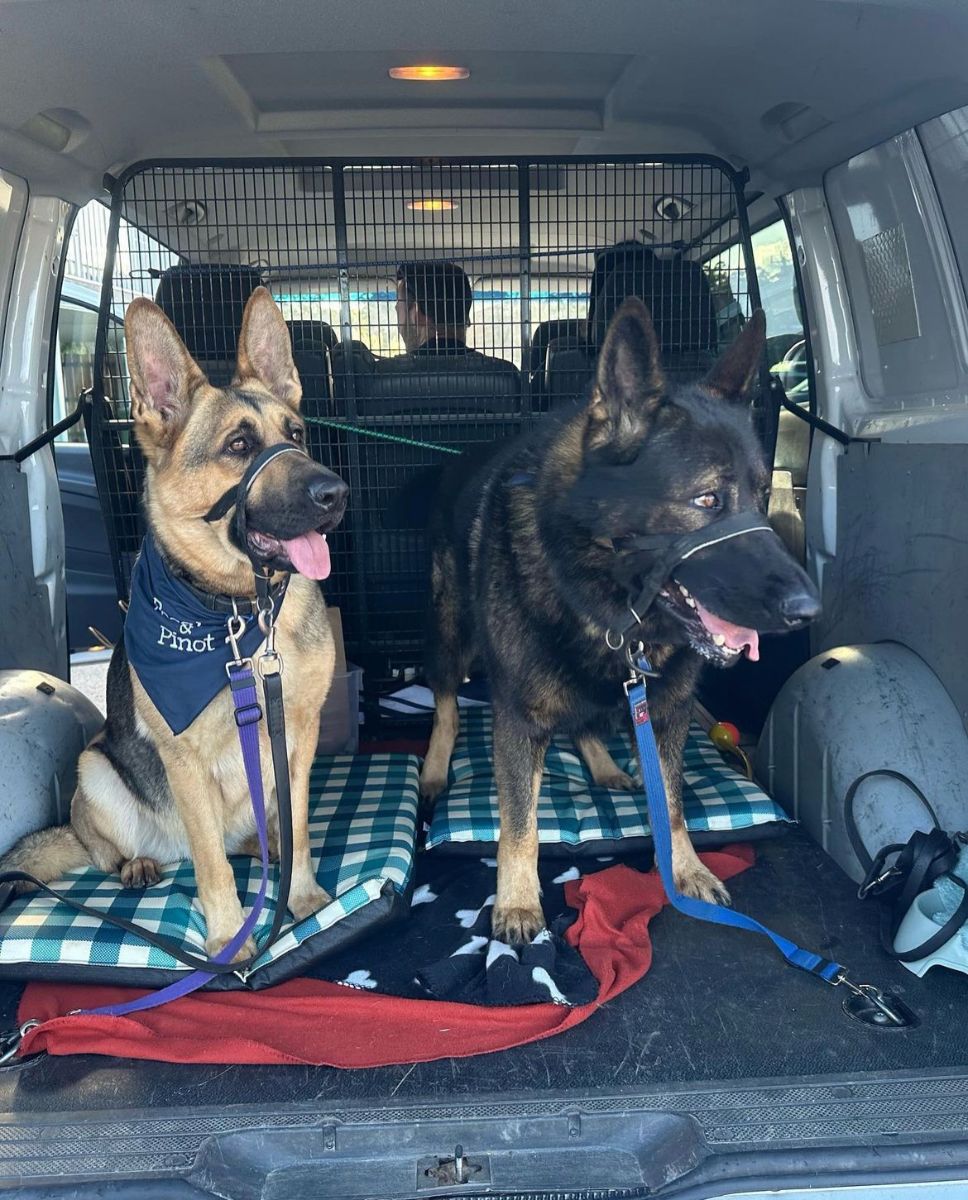 So, we get in the van and Hugo starts to sing. He's such a big sook, big enough to be a police dog, but not bright enough! Ha haaaa. All the braun without the brains, I say. I mean, what's with the singing?! Mum & Dad are right there in the van with us, we can see, smell and hear them, they are sitting just the other side of the partition, but no, he can't cope – so starts making this operatic noise! So of course I join in as well, to tell him to stop. Which makes him louder (I told you, he's not that bright!) I was all for sitting quietly on the journey but when he started yodeling I did harmonies which sounded terrific! We sang all the way from our home in Mooroolbark to Oakridge Winery!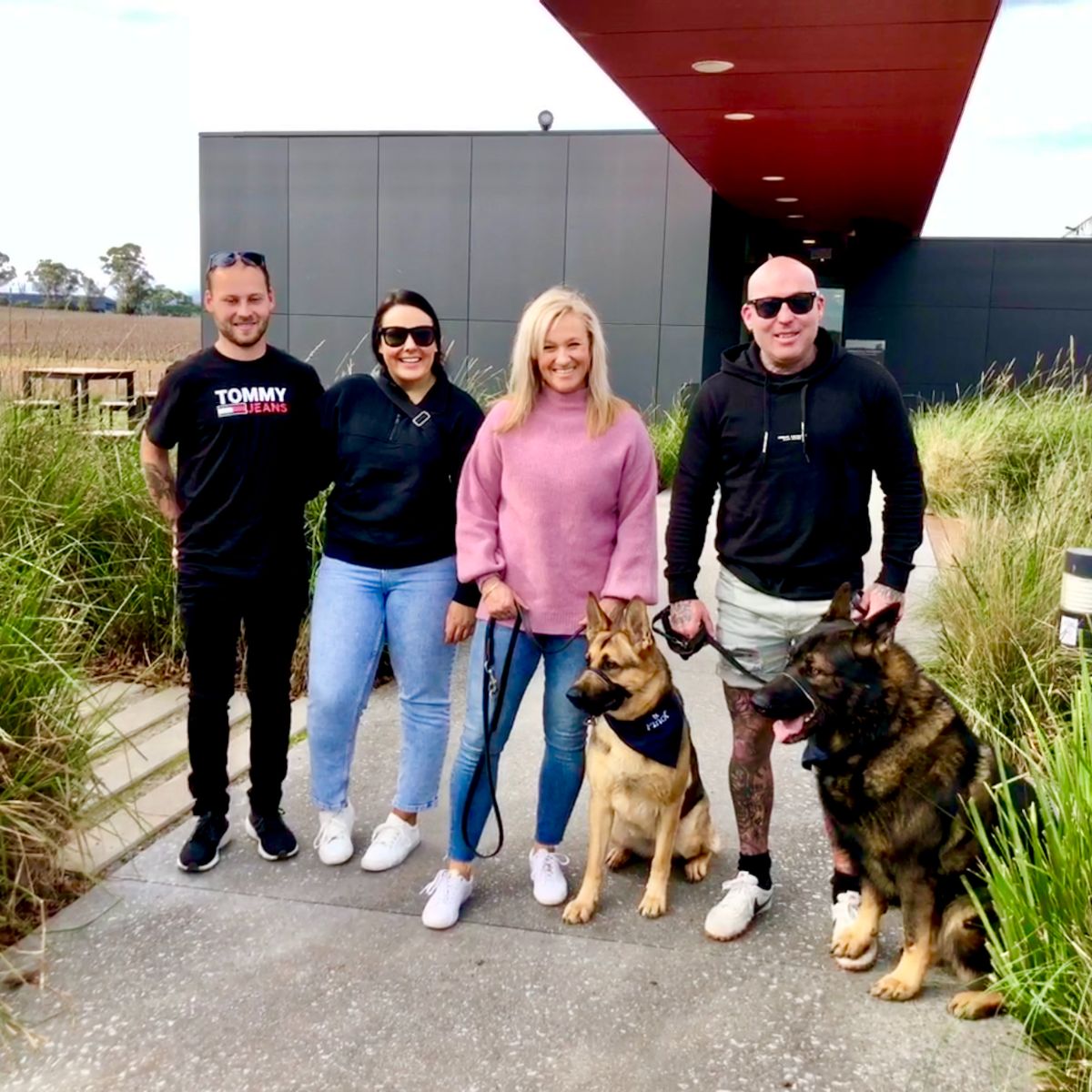 So, Hugo loves dogs but not people and gets upset when someone in the pack leaves. I on the other hand love people but not dogs so much. At Oakridge we went inside and we're all at the counter where our fam are being taken through a wine tasting and I was perfectly fine, happy sniffing and looking around and smiling at the other guests, but of course Hugo embarrassed me and did some more singing because there were other people there!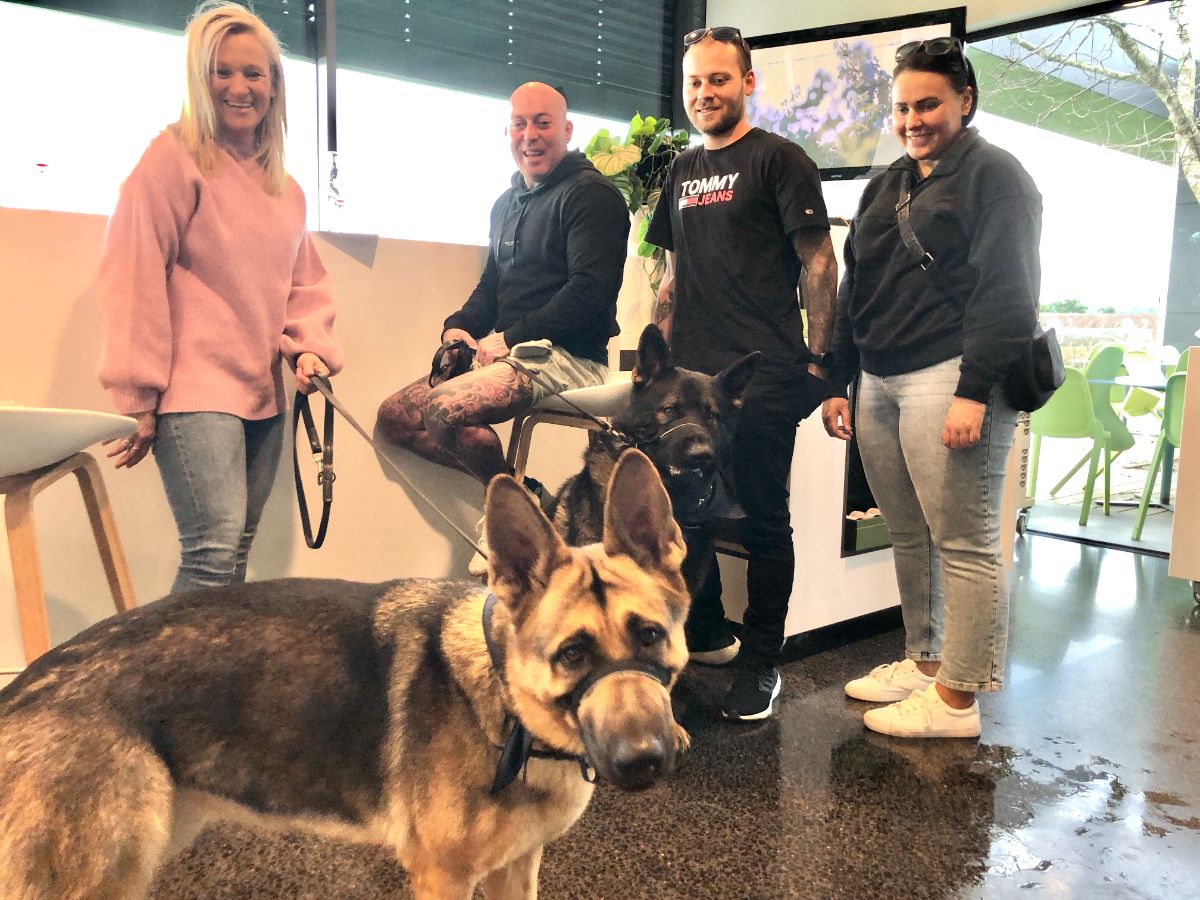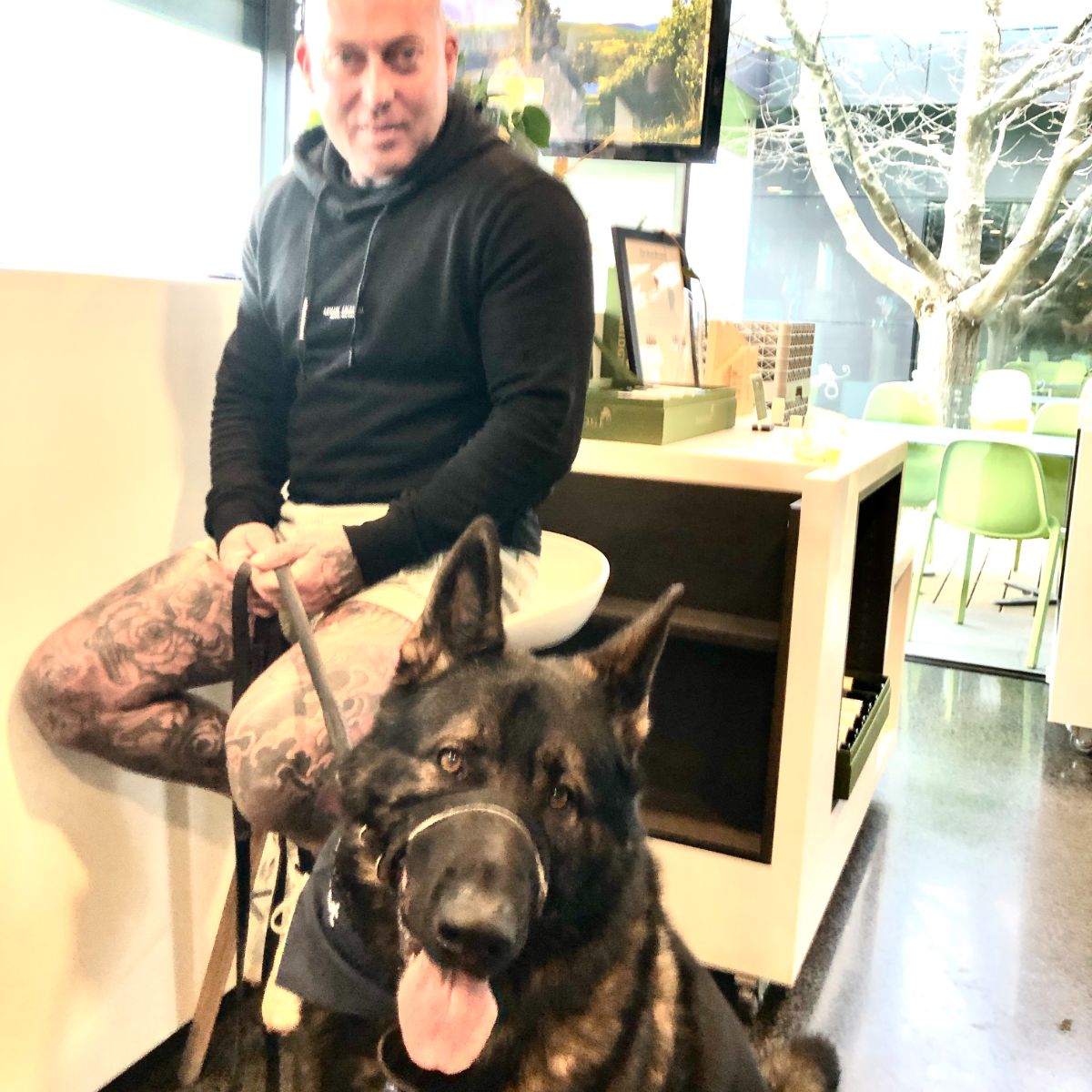 When they'd finished their tasting and bought bottles to take home, we posed for more photos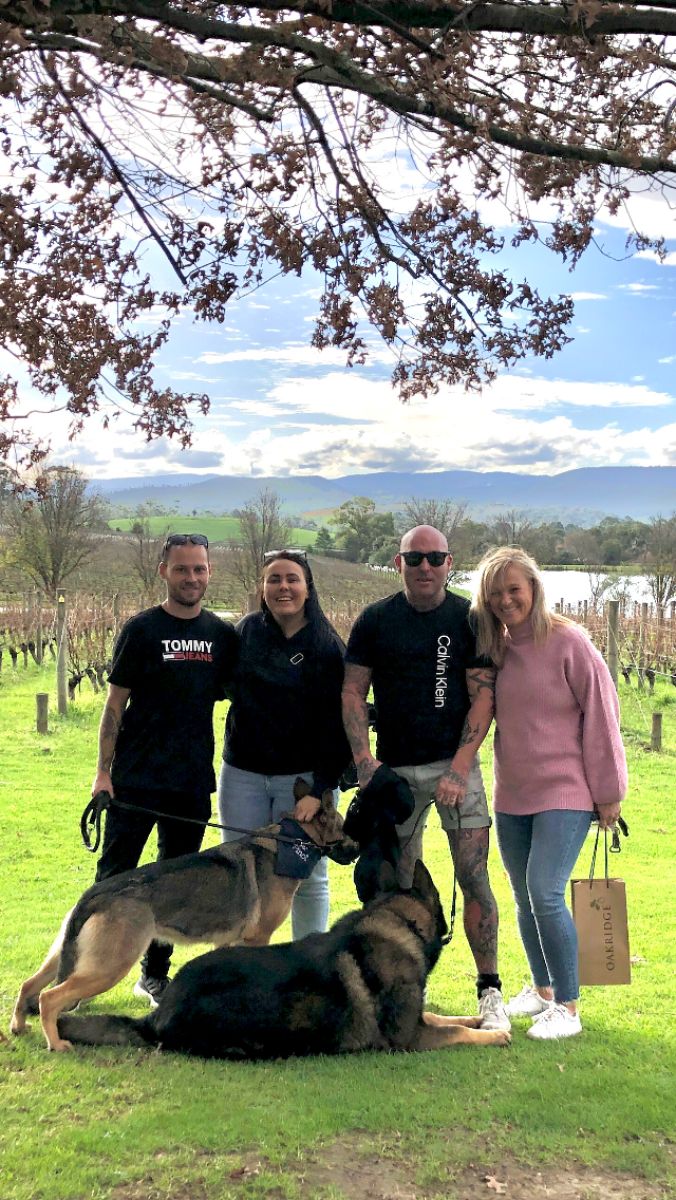 then jumped back in the van and saw that Mum & Dad had brought along a cooler bag of treats for us – including all my favourites; little bits of cheese, and ham and then – would you believe – Jeff our great driver ALSO had treats for us, he had a pocket full of Laila & Me gourmet dried liver – good man! And then get this – the humans were given their own box of treats which was cleverly hidden under their seat; which prompted some howling of their own when they saw all the chips and chocolates in THEIR treat box!
So we're all happily munching away, when we arrive at a very cool place in Healesville called Payten & Jones, named after the two owners, and got served by none other than the Jones half! Troy. That's him with the ponytail at the back, getting us more drinks!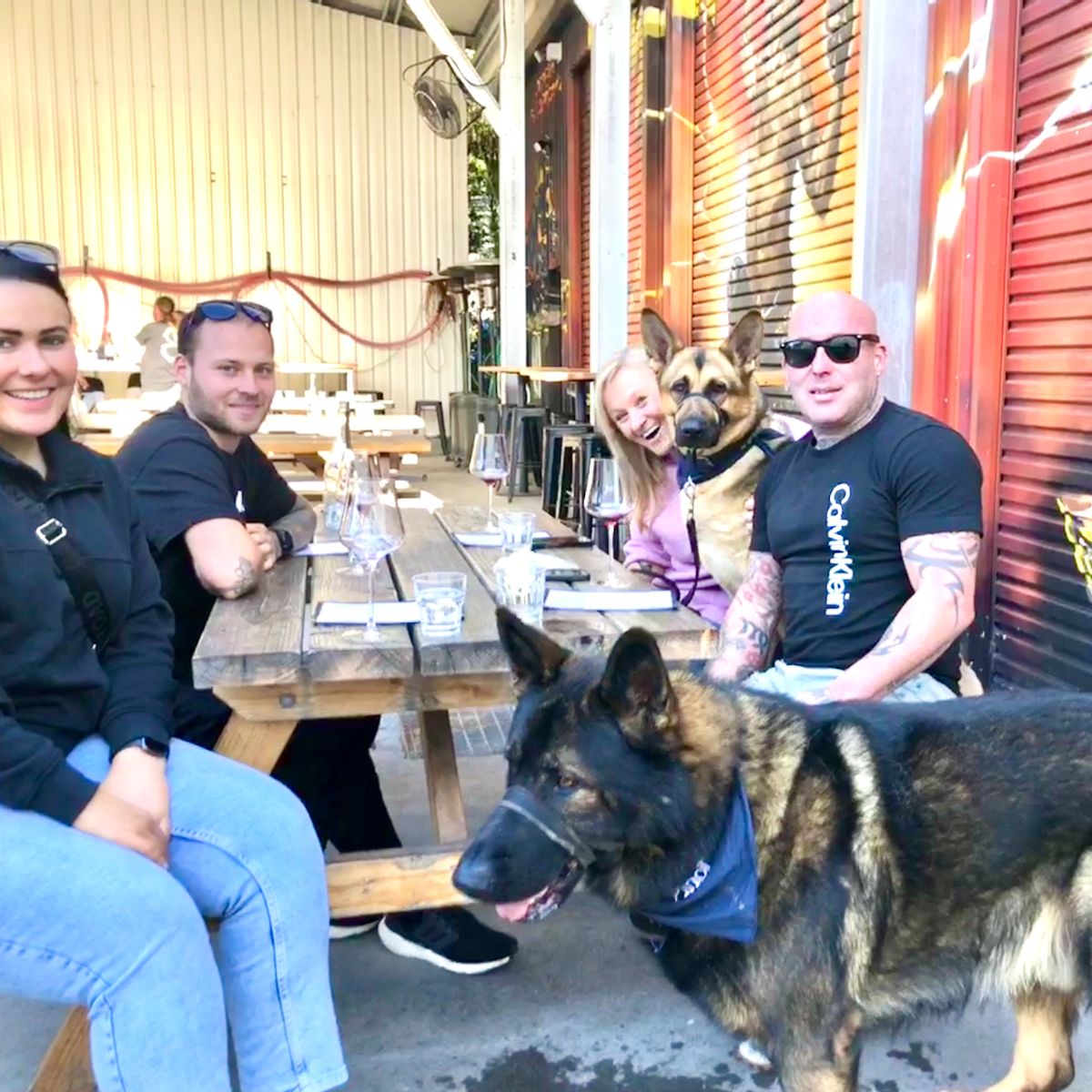 He was a right chatterbox and told my fam lots of funny stories while he plied them with wines including stuff not on the list while we did some barking and more singing. I laughed loudly at the police sniffer dog story – wish I could repeat it but can't really, not here, not in a blog!! I virtually sat on Mum's knee because I know she loves to be close to me. And because the treats were right there and needed guarding. Look at her, isn't she the best!?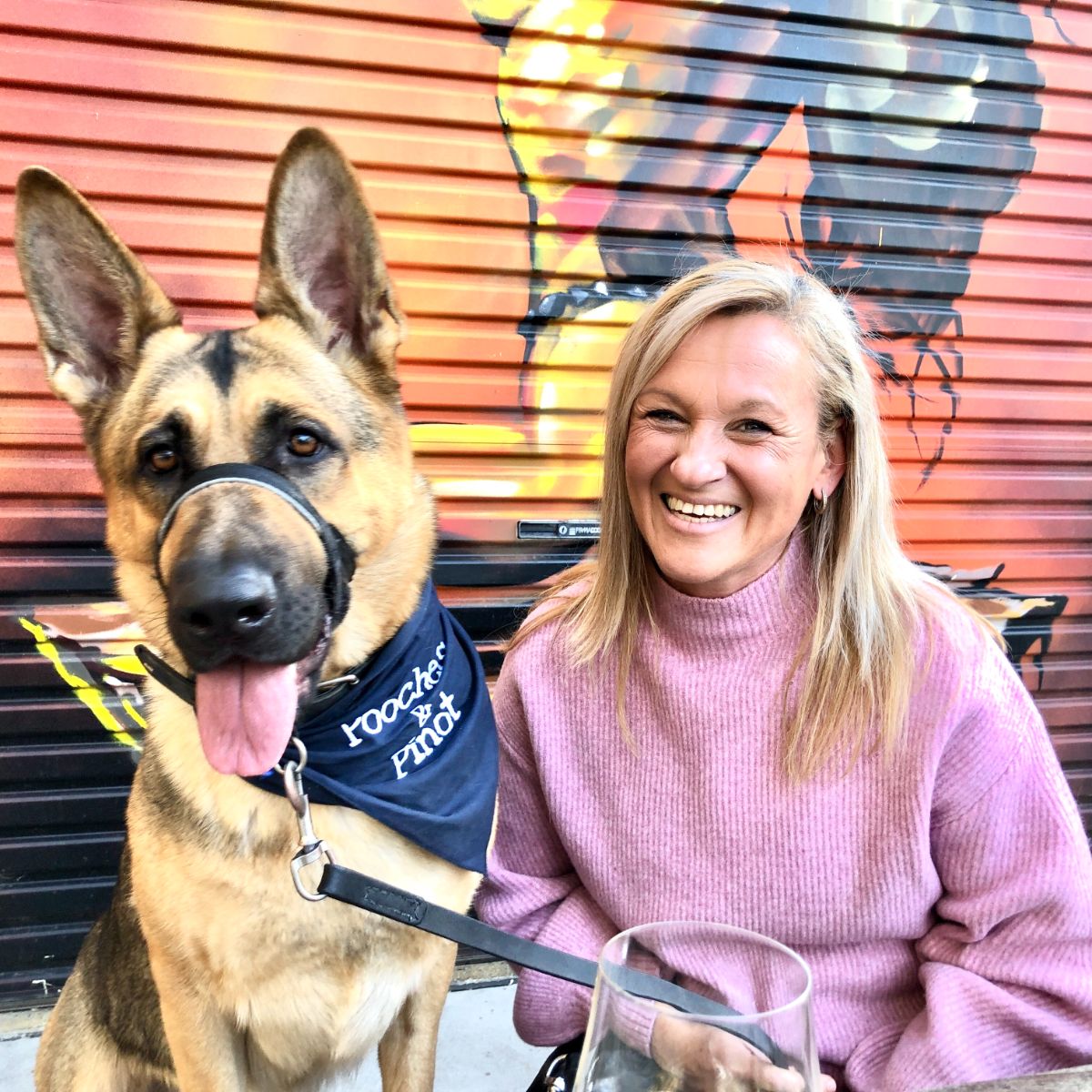 Dad's good value too. He's my wing man.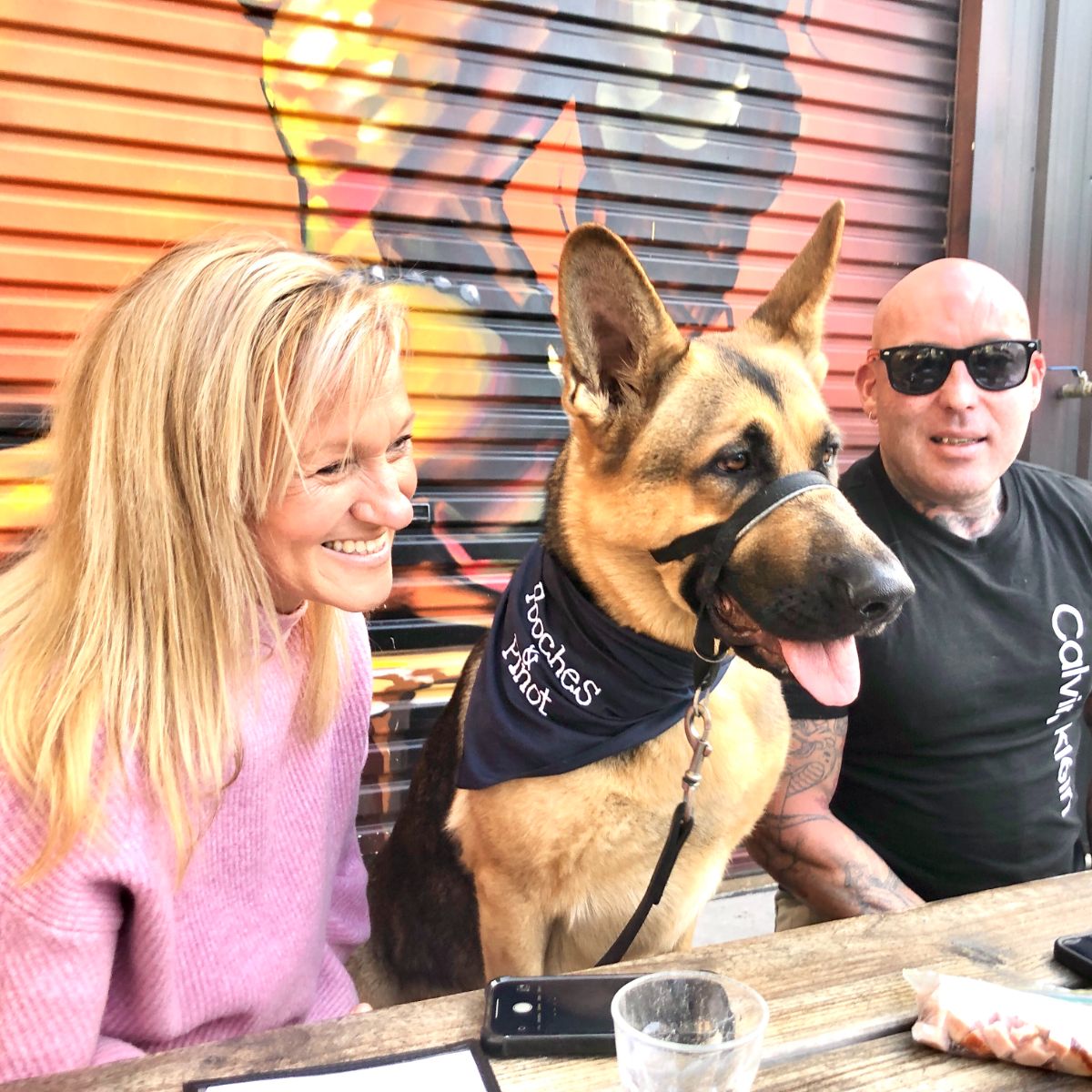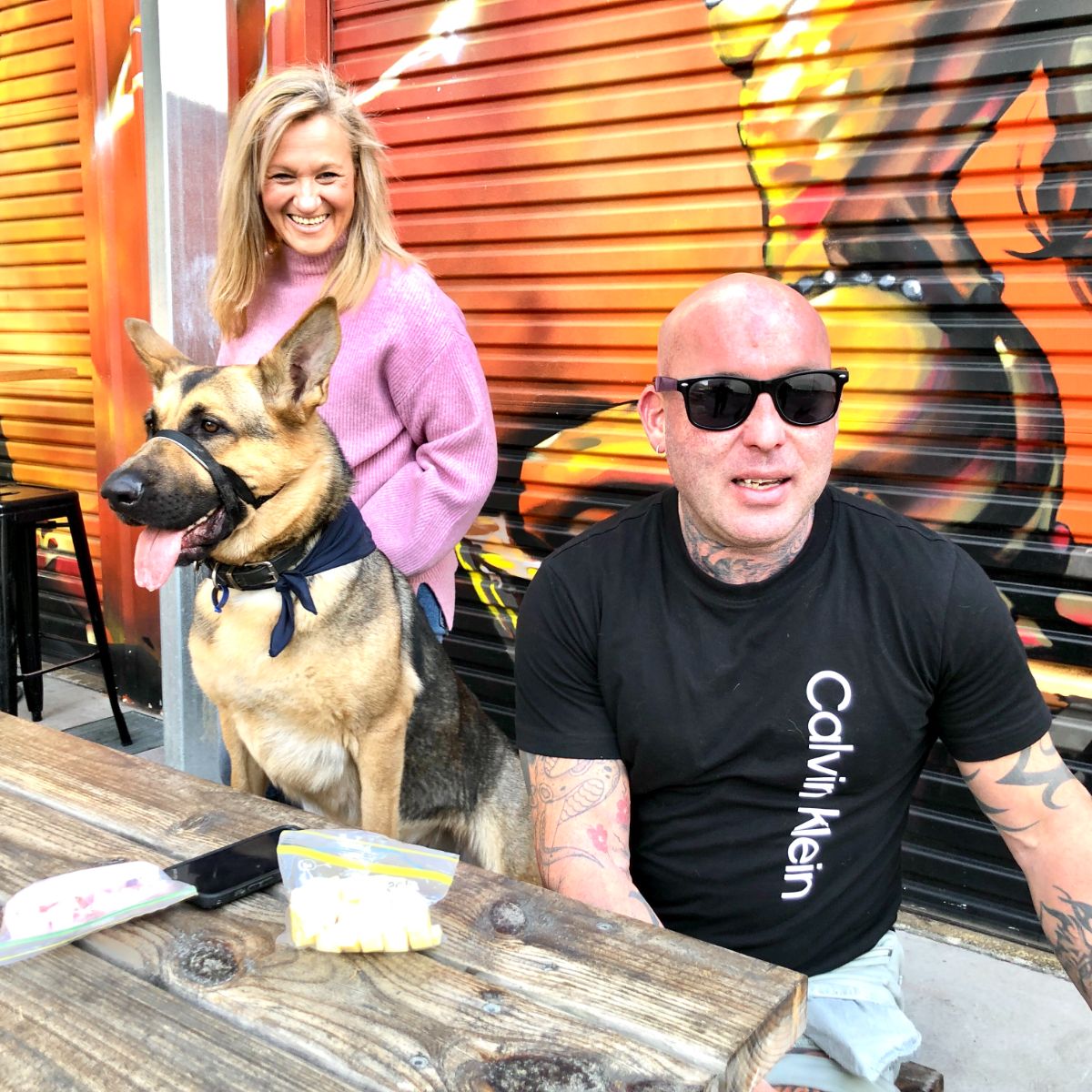 Hugo was being his usual sooky self – look at him with his paw on Dad's leg, like a security blanket!!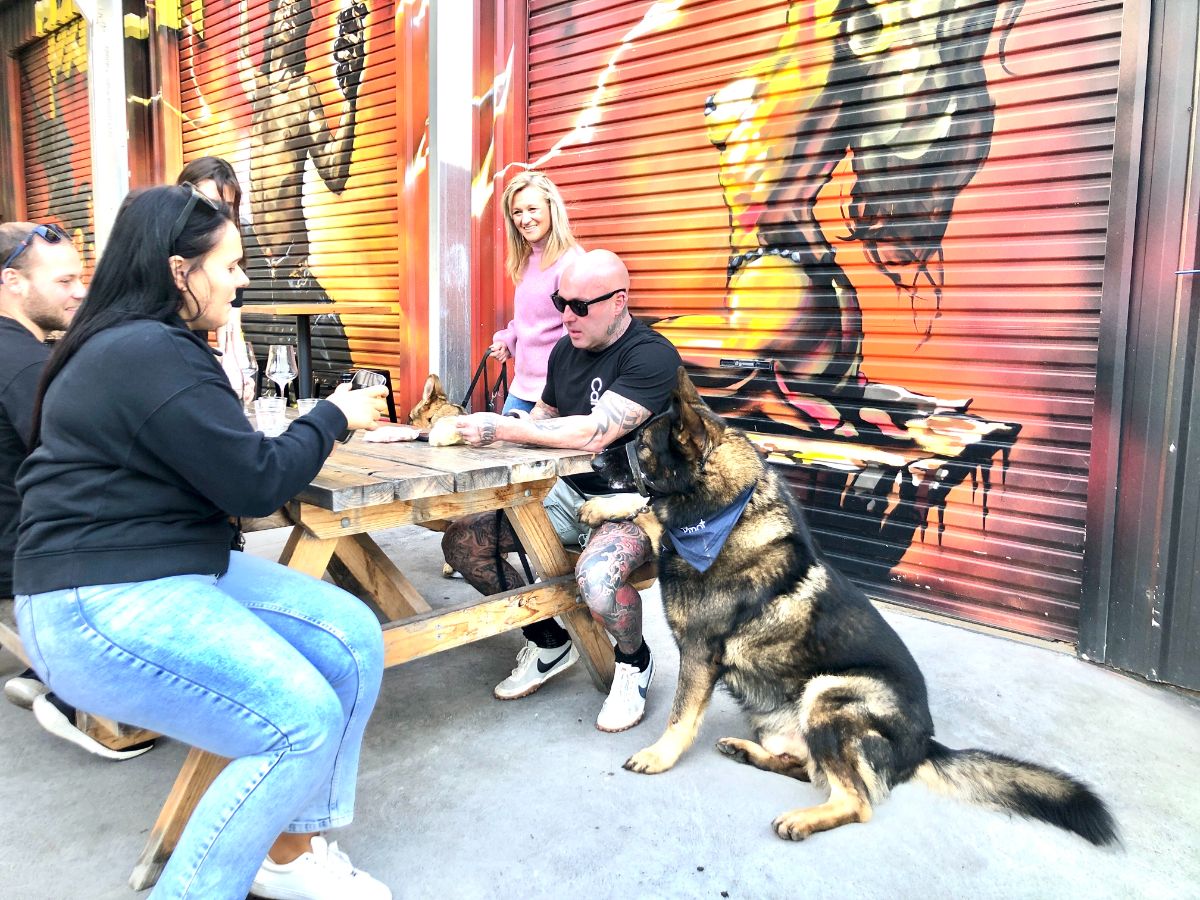 My fam loved it there and bought bottles of weird stuff called things like Fot Li, Orange Wine and Sangiovese!!
Then it was time to clamber back into the van and set off for Punt Road, a winery with a garden where we all sat out in the sun and had our ears rubbed by a lovely man called Rob, who poured lots of different ciders for my fam which they loved. Hugo guarded the water bucket like it was gold.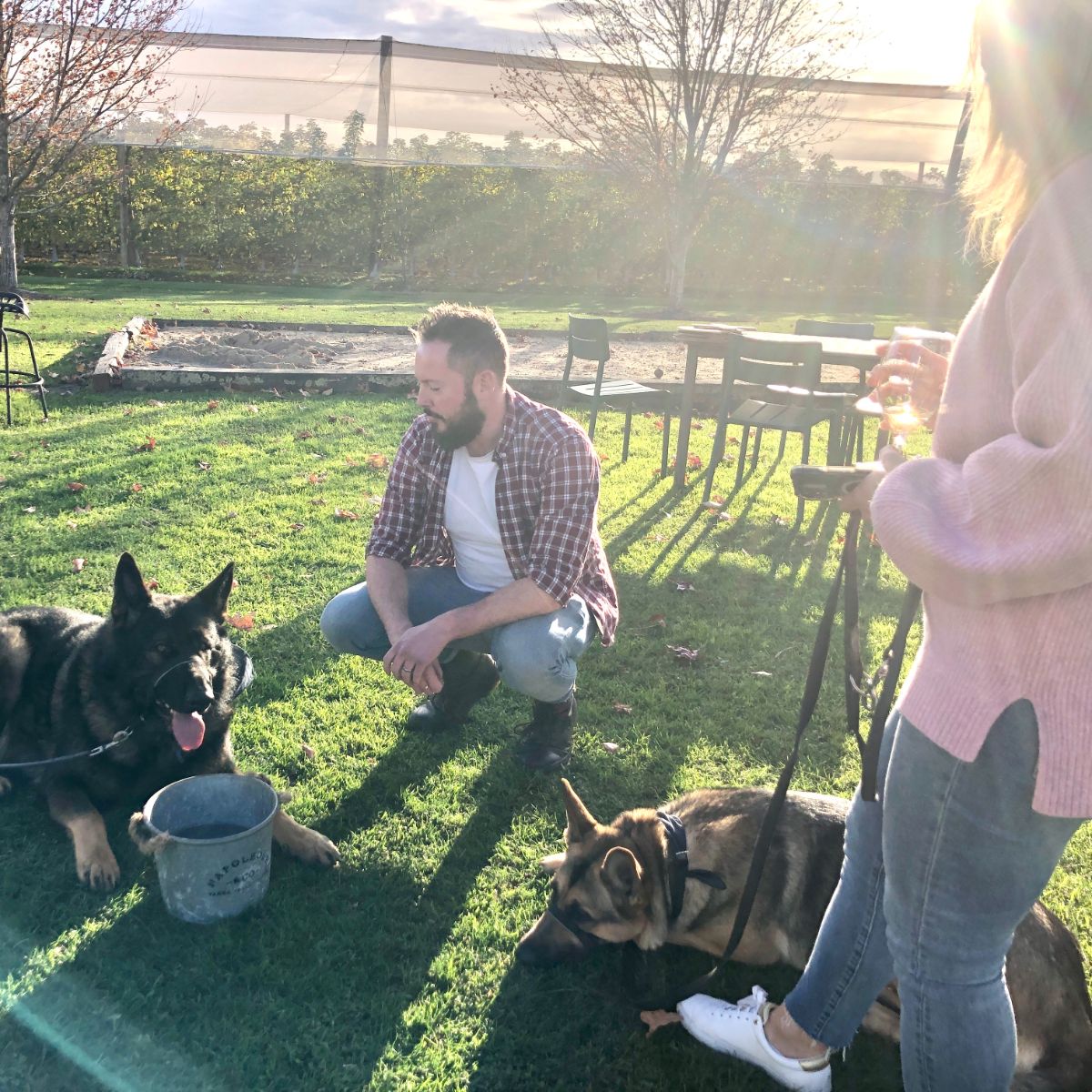 Apparently, the fam liked the change from wine to cider – I'm like that with my treats – I like to have ham, then trick it up with a bit of cheese, before having some more ham!
I noticed that Jeremy likes more than just his own treats – when Melia would have a sip of wine she'd then tip it (straight into his glass)! Wine can make humans go a bit funny; not Jeremy, he's made of strong stuff is Jeremy.
Jeff and my fam got on famously – they chatted away like old friends and he particularly loved talking rugby with them because his team always beats ours! I sensibly kept quiet on the subject.
We had some fun as we were driving to our next and final stop. We were coming through Lilydale and at the traffic lights there was a lady collecting for the CFA who shook her tin at us. The humans put some coins in the tin (because we're dogs, we don't carry cash) and then as she was walking away past our van Hugo and I we let rip and scared the bejezzus out of her! It was so funny! Tinted windows are great for the art of surprise!! I wish I'd had a phone and video'd her – it would've gone viral for sure!
We arrived at Helen's Hill, our final winery for the day and loved it – Andrew the cellar door manager came out and said hello to me. And gave me a treat. Which I refused, as all good dogs do. But after a while it smelt so fine I couldn't resist it and had to wolf it down in one go. After a while, Hugo took himself off to the fire and lay down to be fussed by other staff members, who also took him a treat. Jeff took this photo which is so fuzzy you'd think HE'D been drinking all day, but I watched him closely and he didn't touch a drop!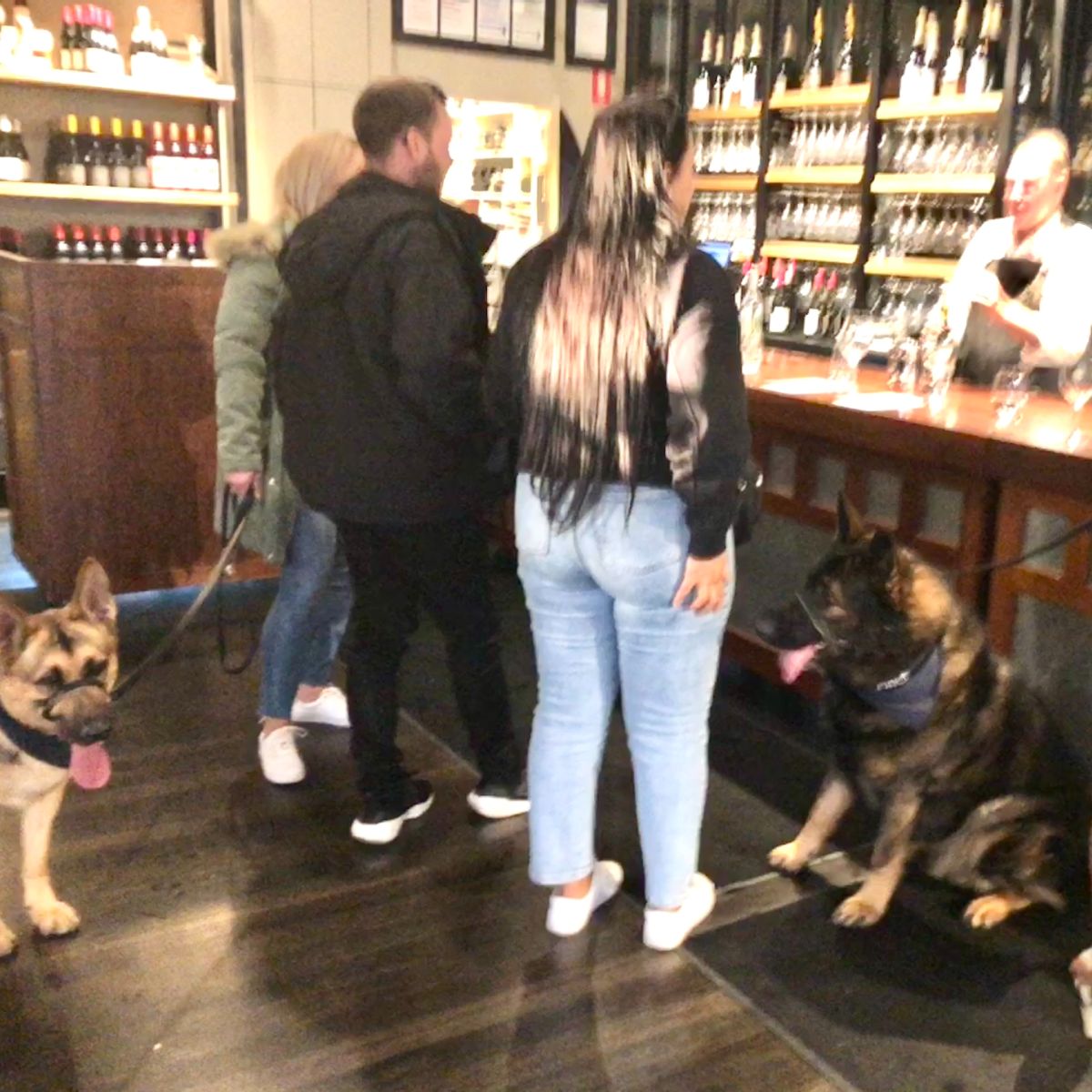 So Hugo and I rested and scoffed treats while the fam did some more tasting of wine and by now we're feeling pretty chilled about this whole wine tour concept – but when we looked out and saw the sun was starting to set and the winery was closing, we knew it was home time (well I did, Hugo not so much!!) so Jeff took a few more photos, then we all climbed back into our van for the journey home and Hugo and I lay quietly all the way back.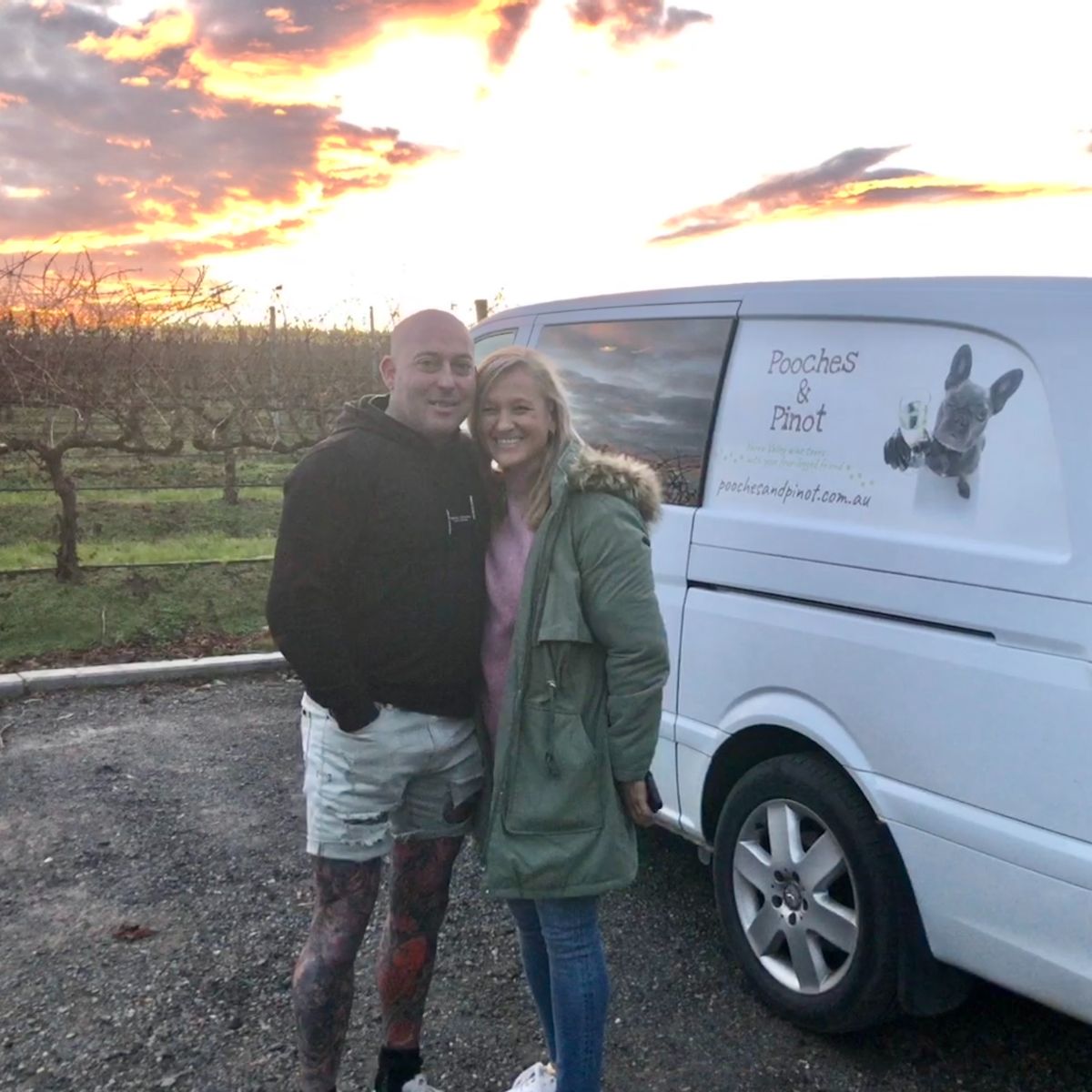 We'd had the best fun and by the time we got home we were totes EXHAUSTED. Mum took these photos of us to send to Jeff to show him he'd worn us out – we'd gone straight to bed without even taking our clothes off!  She called Jeff a clever man. I agree, Jeff's the bomb.