Today's news headlines read: BOM say Prepare for a Scorcher, so I did, I went on a Pooches & Pinot wine tour and boy was it hot, in every way!
I'm Murphy (tho you can call me Murph) and I'm a little lion (Lowchen).  Ggrrrrr.  I'd never been to the Yarra Valley before so I decided to bring my family, 9 yr old Cailann and my Ma and Pa and we stayed at a lovely pet friendly cottage at Wiggley Bottom Farm, just outside the town of Healesville.  Because we hadn't been to this area before, we thought we'd do a tour with some locals, Pooches & Pinot, as they do VIP private wine tours for dogs and their owners and know everyone and everywhere that's dog-friendly.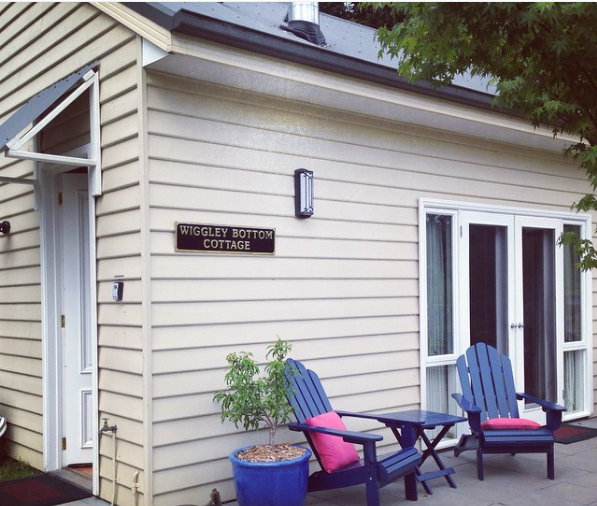 10.00am: 32.5 degrees
So it's a scorcher of a day already as this big shiny white Mercedes rolls up the drive to collect us all.  Out jumps a really nice guy called Jeff who opens the boot and shows me to my bed in the back of the van and tells me we have plenty of water and treats to enjoy throughout the day. And as the trees were melting outside, as we zoomed along the country lanes in the van, we were super cool and air conditioned inside the van.  So we rock up at our first cellar door (as we're on a wine tasting tour) and it's this cool farm with sheep, and apple orchards and grapes growing on the vines – it's all happening here.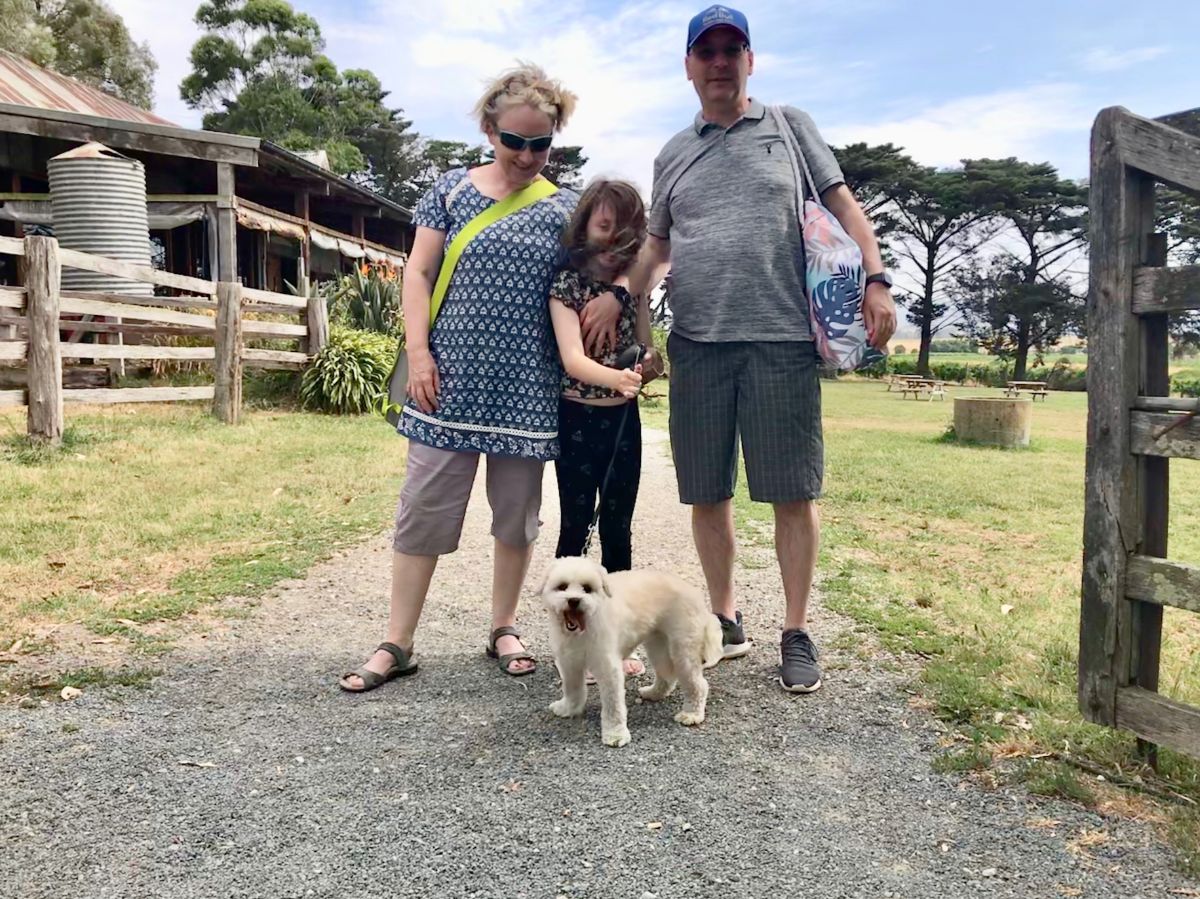 We went inside this totally retro converted hay barn and it was so nice and cool on my paws as the floor is an old concrete slab.  Cailann decided she would be helpful and popped behind the counter to be Megan's assistant, but turns out she was rubbish so we sacked her immediately.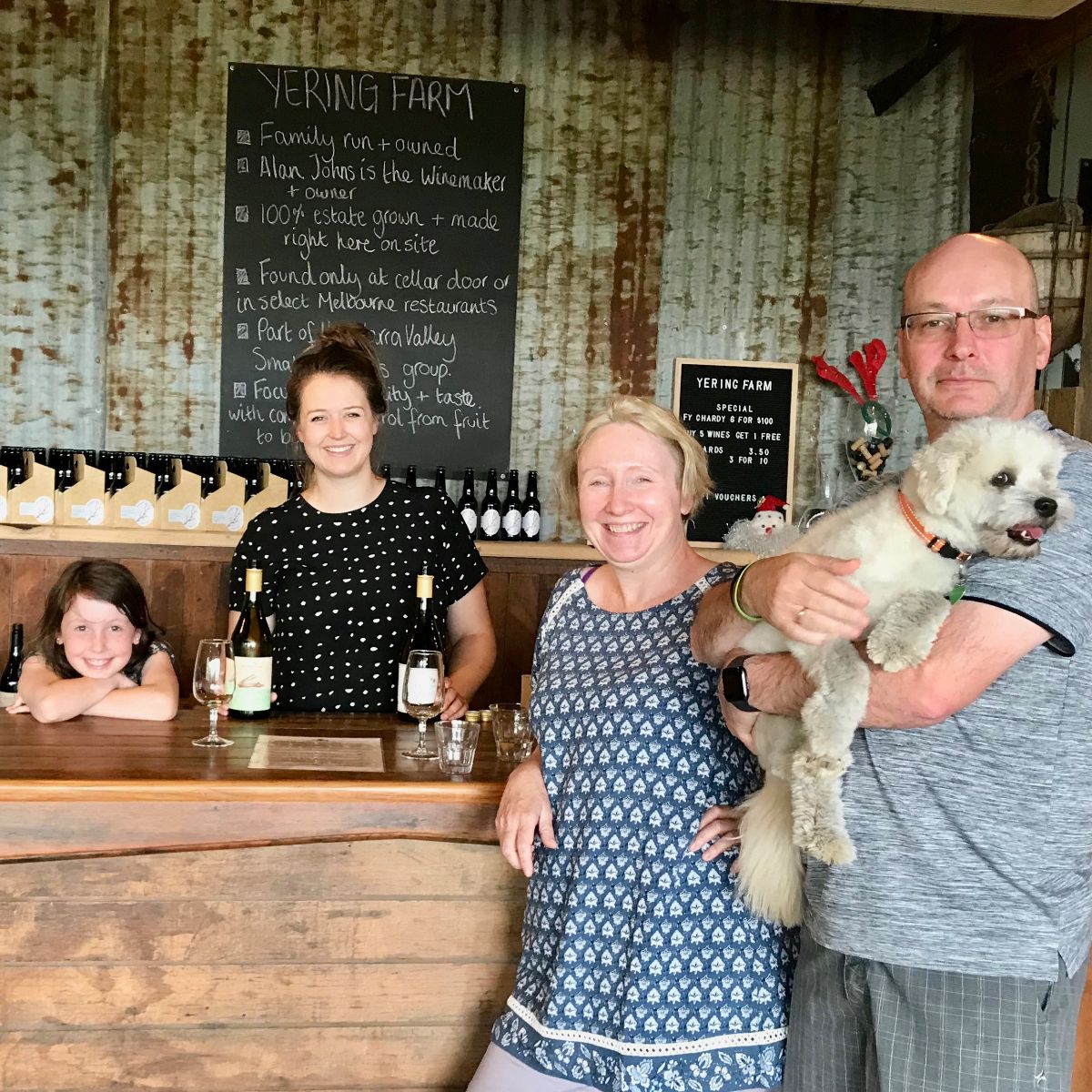 We had the place to ourselves so I was allowed off lead which was ace so I set about sniffing every nook and cranny of that cellar door, while my grown up pawrents did some sniffing of their own and tried loads of wines.  We were all very happy, it was a terrific start to our tour.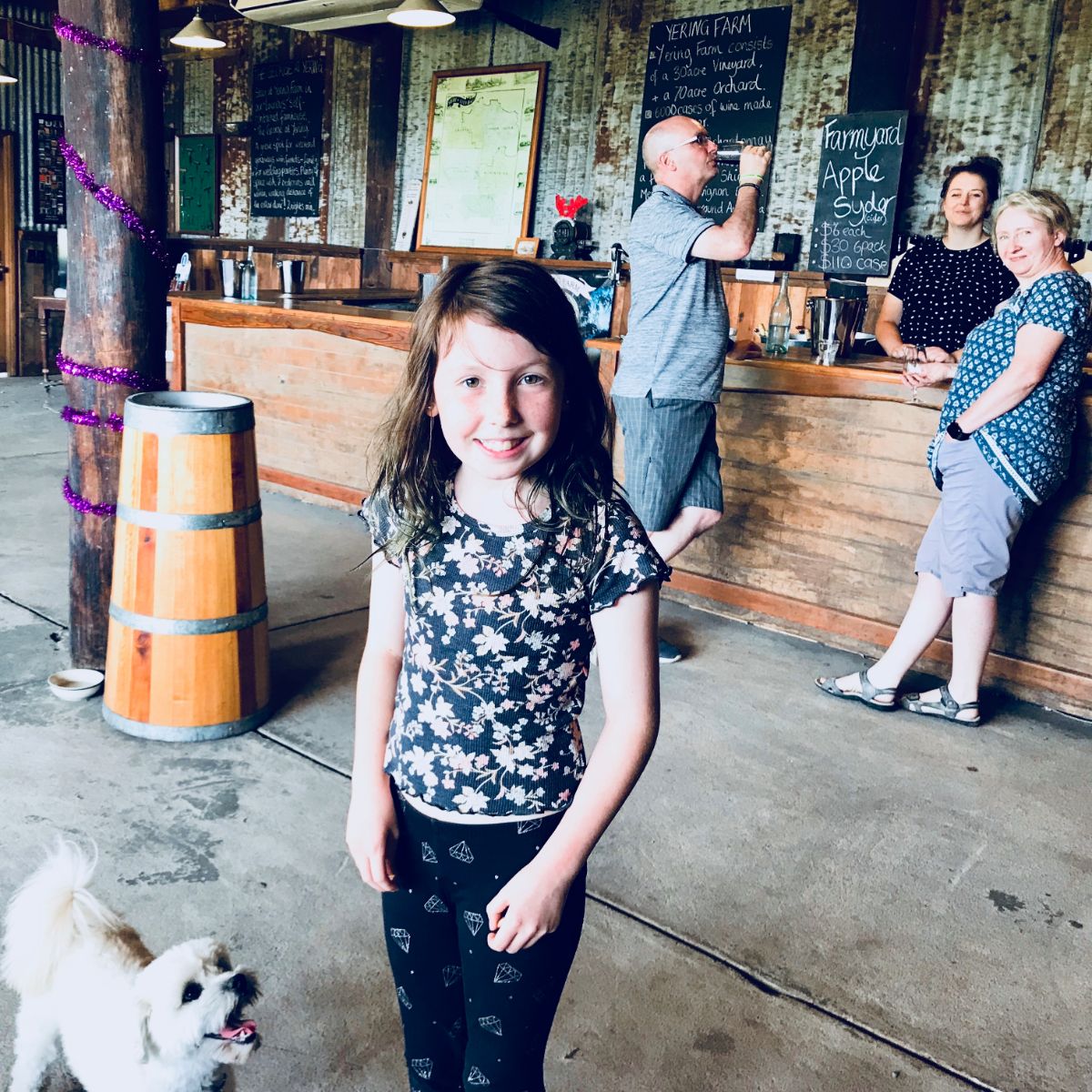 What would have improved it even more, would have been if I'd been allowed to go and help eat the sausages that some people were BBQing in the barn next door but no-one else thought that was a good idea, so instead we clambered back into the van and set off for Helen & Joeys, our next cellar door.
11.00am: wind picking up and its 36 degrees
We got out at this winery which is high up on a hill with a magic view but it was pretty hot by now and the wind had picked up, so rather than get blown off the deck, we went inside and I sat under the table with Cailann and played on her iPad while the olds did their wine tasting with the owner Helen (one half of Helen & Joey) and a fascinating man called Stephen.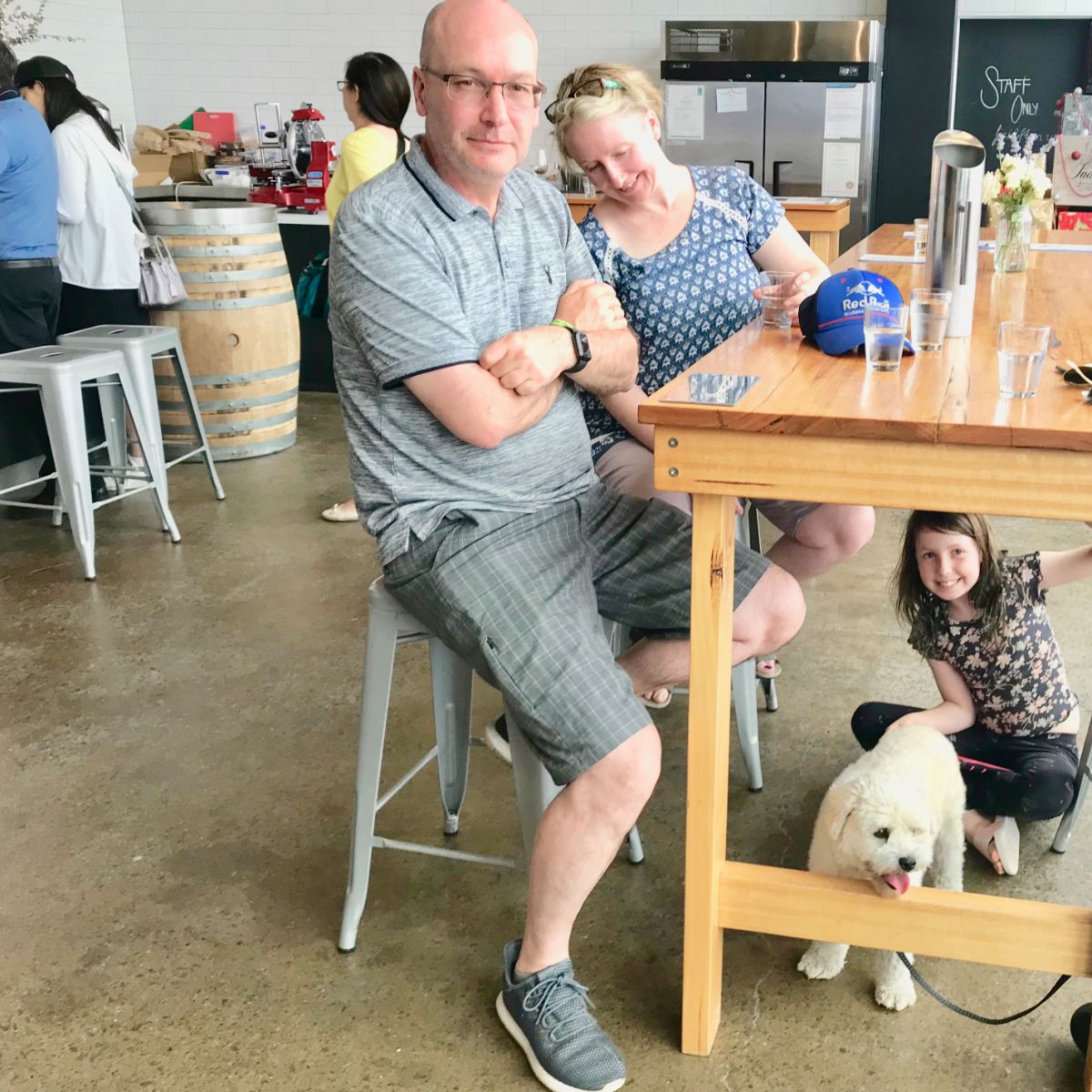 Jeff kept coming under the table too and photographing us, and other people came over to meet me which I loved and then I got silly and dared Cailann to wear Jeff's super cool sunglasses and she rocked them.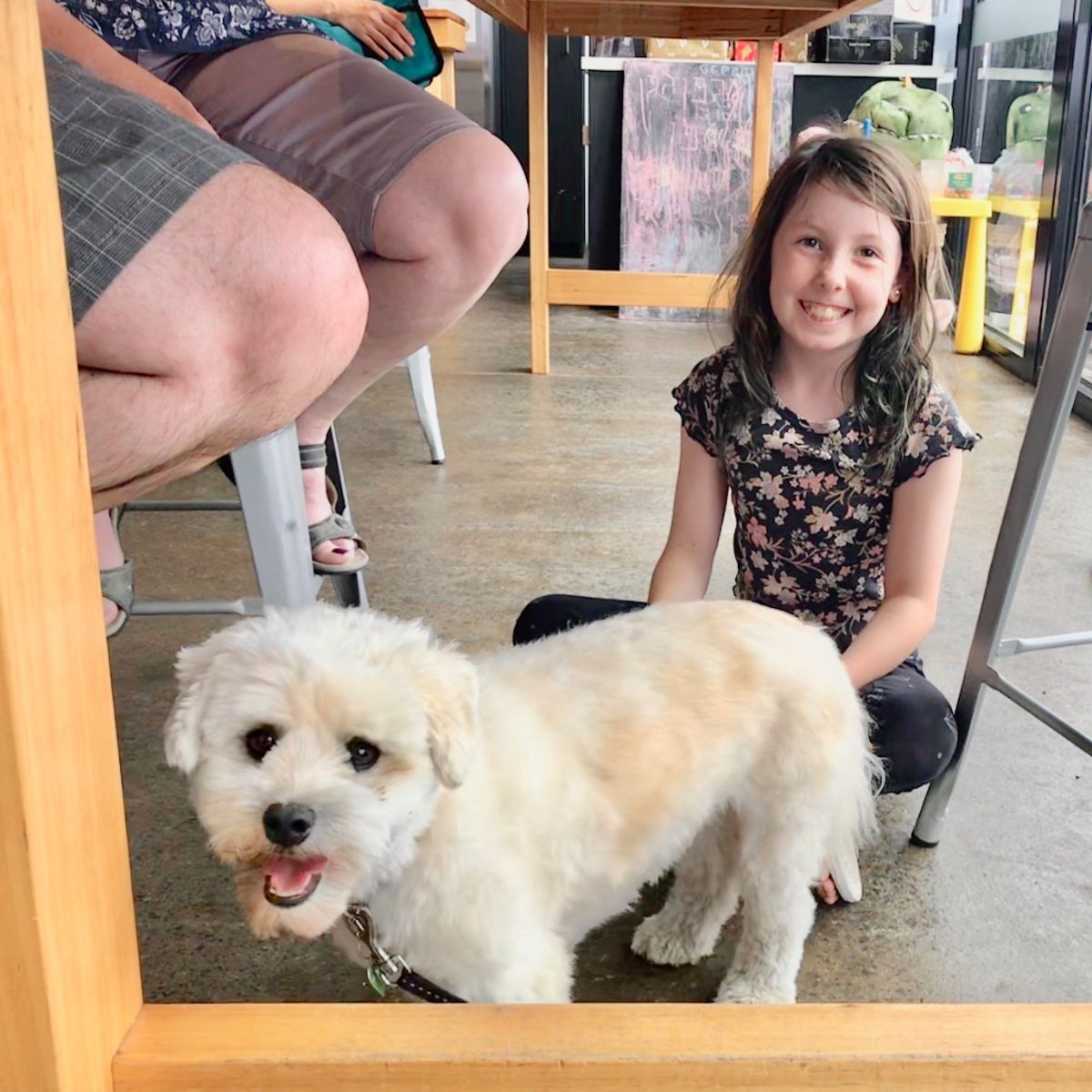 My Mum bought some of their wine she liked it so much and as were about to leave I put in a request to meet Bruce the unicorn who lives on the deck.  I've read so much about him in all my research, so we said a quick hello and held onto our hair/fur respectively as it was very windy by now.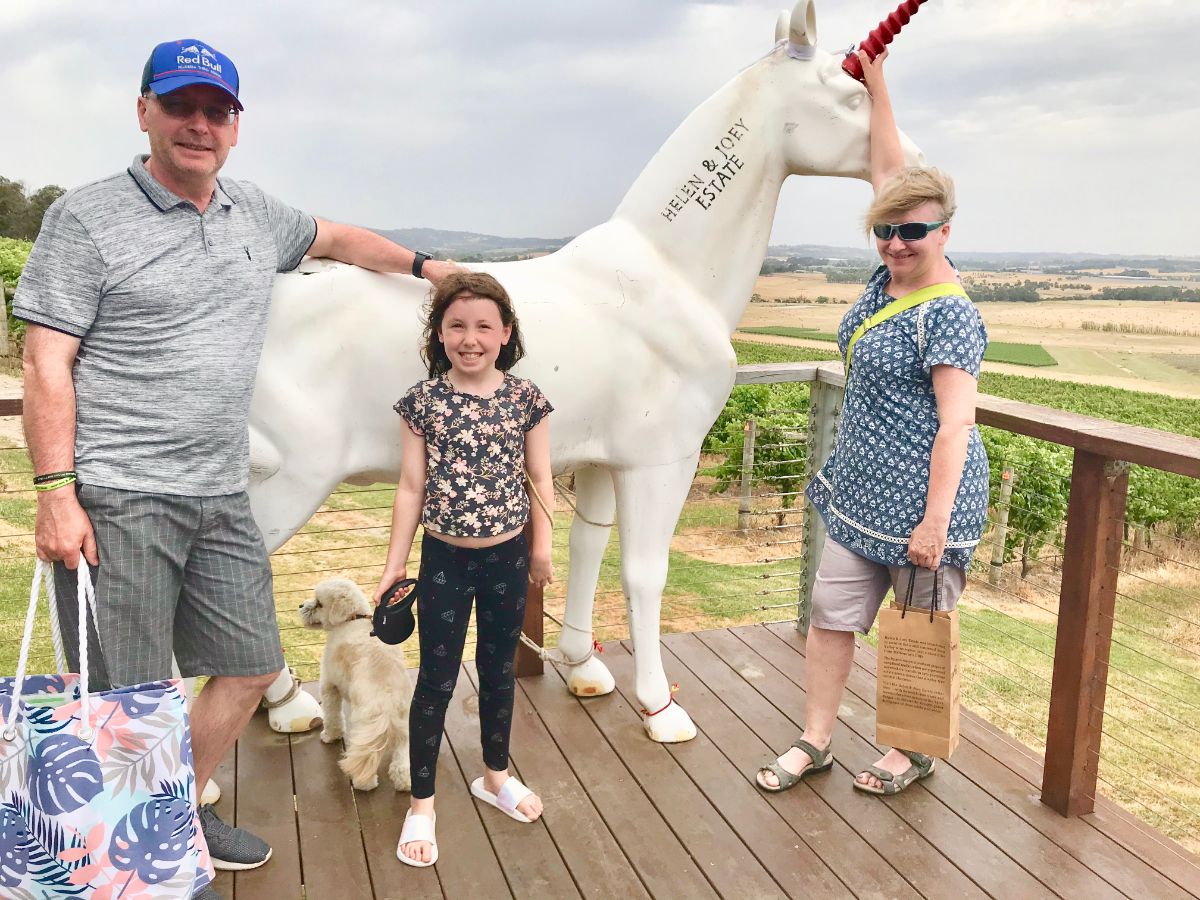 12.00pm: 40 degrees wind finally settling
By now we were all a bit peckish so Jeff had arranged for us to have lunch at Healesville's best dog-friendly cafe, My Little Kitchen.  We were told we could order anything we wanted from the menu which thrilled me, but I can't read and no-one read the options out to me, so I just politely had a lie down while the rest of my family tucked into amazing chicken and lamb burgers, (the aromas were sensational), washed down with plenty of thirst quenching juice.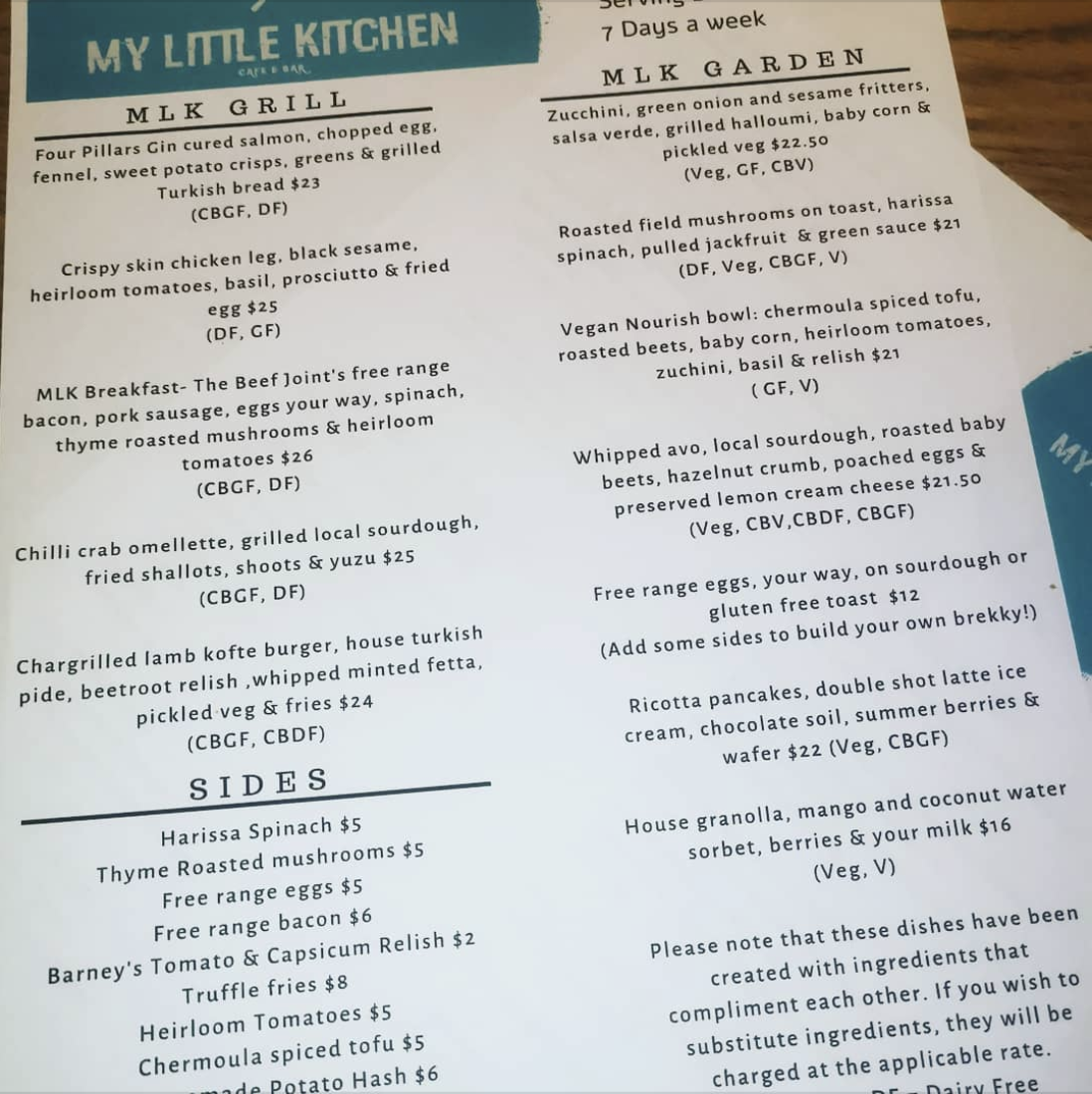 1.05pm: 40 degrees and mercifully overcast
Jeff came back to get us after lunch and we jumped back in the van which was nice and cool compared to outside – we had been going to have a walk but I cried off as I really couldn't face it in the heat (annoyingly my fur coat isn't removable) and everyone agreed it would be nicer to be inside somewhere so we made a bee line for Maddens Rise, definitely the coolest little boutique cellar door I'd ever encountered.  We met a lovely man called Ben who brought over lots of bottles of wine for my pawrents to try and they really liked the pink fizz and shiraz.  I played with Cailann and made friends with beautiful American ladies in pant suits – we all had a lovely time.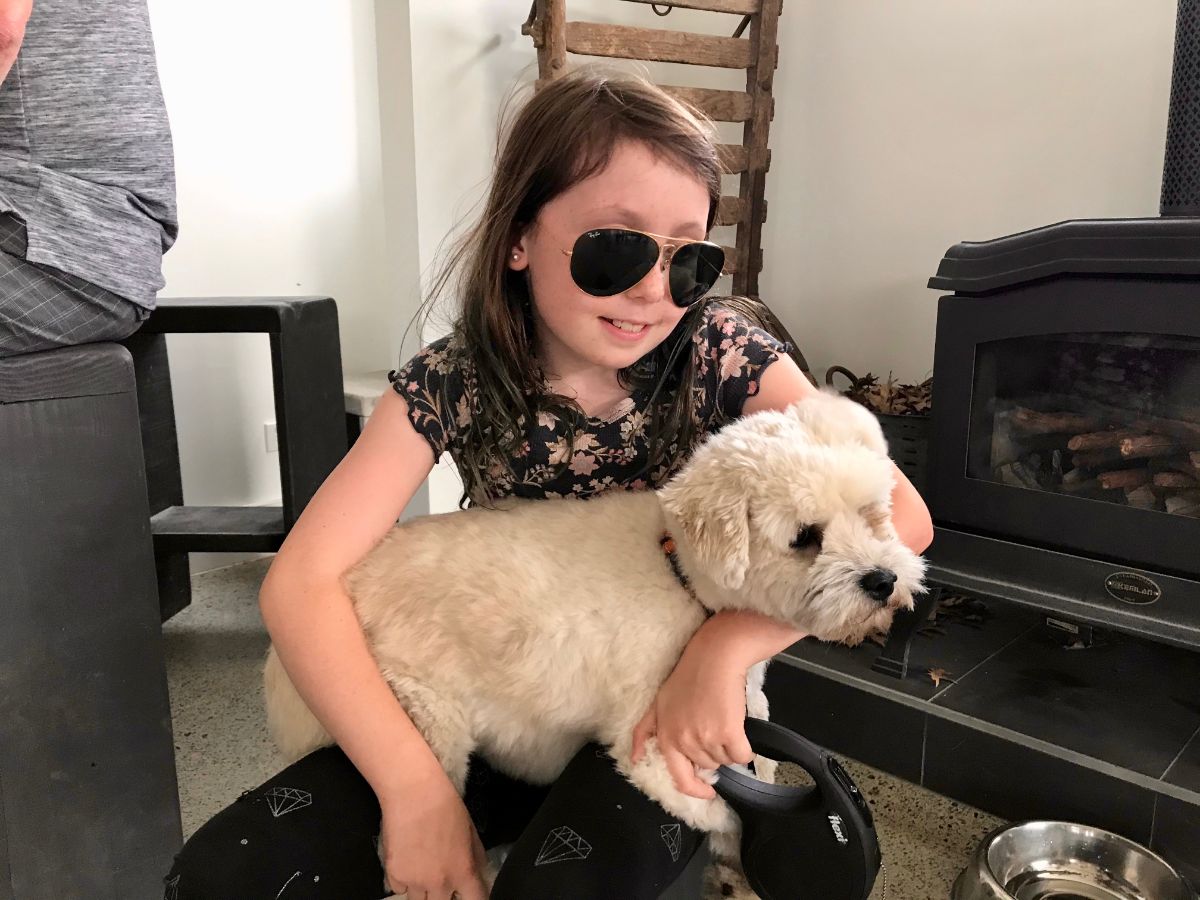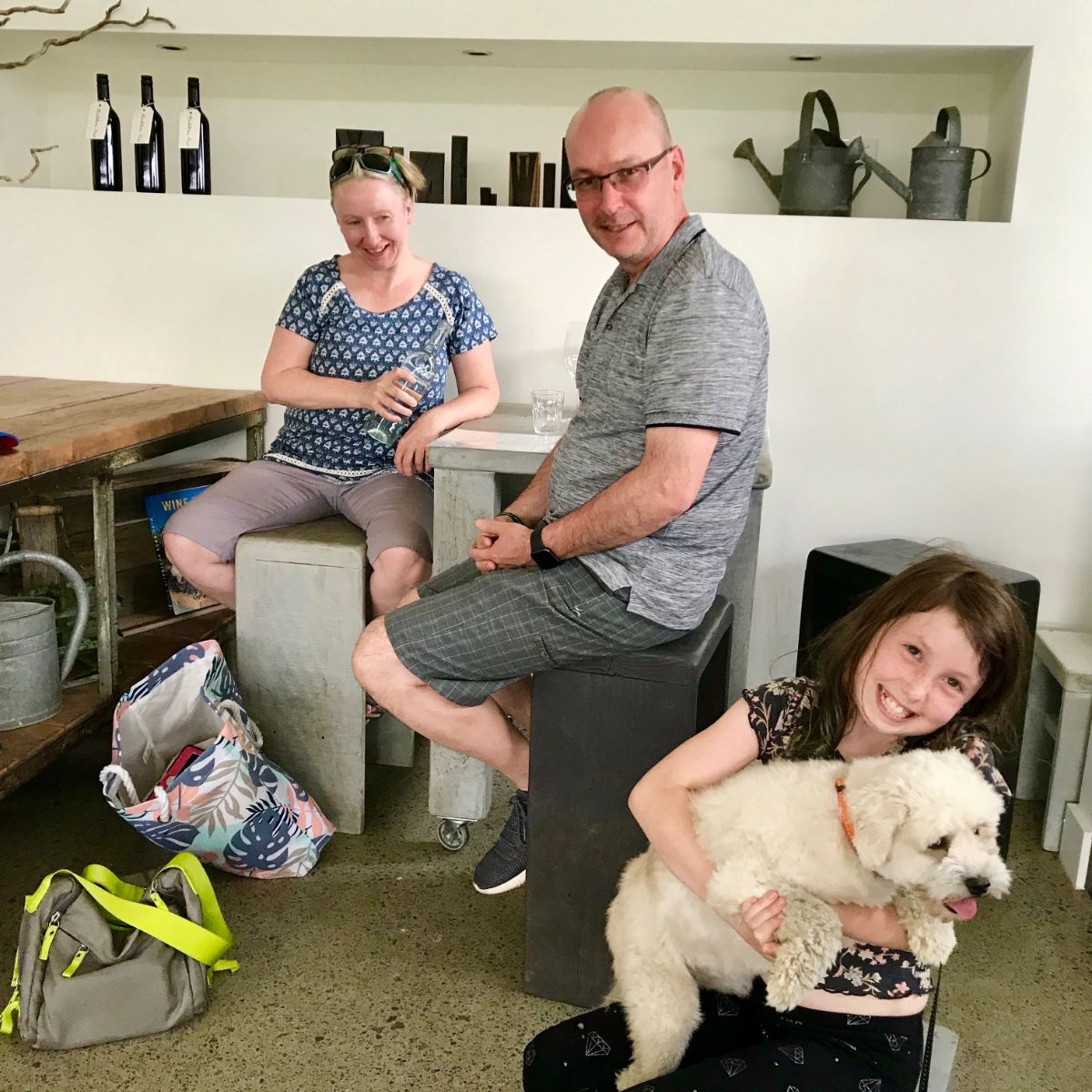 2.00pm: wind picking up again temperature 42 degrees
There was only one thing for it with the thermometer climbing high, we needed ice cream and we needed it now.  I shouted 'Driver, take us to the Chocolaterie and don't spare the horses' and he replied 'Giddy Up' and off we went.  On our arrival at the Chocolaterie (French for chocolate factory) Jeff broke the news to me that dogs are not allowed inside and you know what, I was fine with that, as the place was buzzing and I'd have had to have fought off a silly number of adoring fans, and it was frankly too hot for that, so I sat with Jeff on the tailgate with the door up enjoying the tiny bit of breeze while the fam went and got themselves refreshing chocolate sorbets and ice creams and chocolates too!  In the meantime, Jeff and I had concocted this plan – as soon as they went inside I got dressed up in my Pooches & Pinot bandana as a surprise and when the fam came back to the van there I was, all smart wearing my kerchief.  They loved me in it, understandably, I mean look!!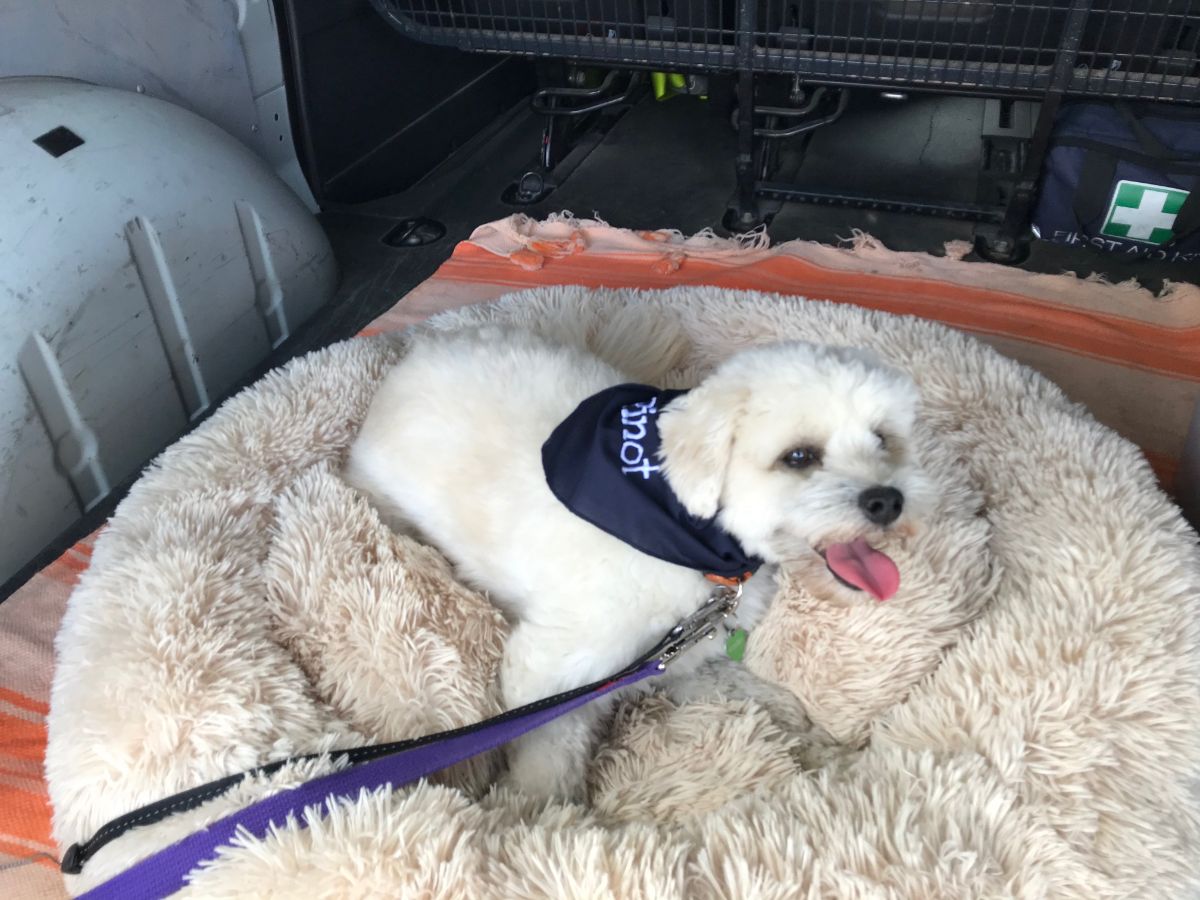 2.30pm: sun beating down, temperature still climbing – we're at 44 degrees and wilting everso slightly (thank God for A/C)
We drive back to Healesville on the Old Healesville Yarra Glen Road which runs along a ridgeline and the views from either side of the van were spectacular.  Jeff decided it was time for a cleansing ale for my Dad and a refreshing G&T for my Mum at Watts River Brewing which was ace and Cailann and I took our refreshment in the form of a misting machine – it was like magic, this fine gentle mist falling on us.  I love it there, I cuddled my mum for a bit and then had a lie down on their nice cool floor.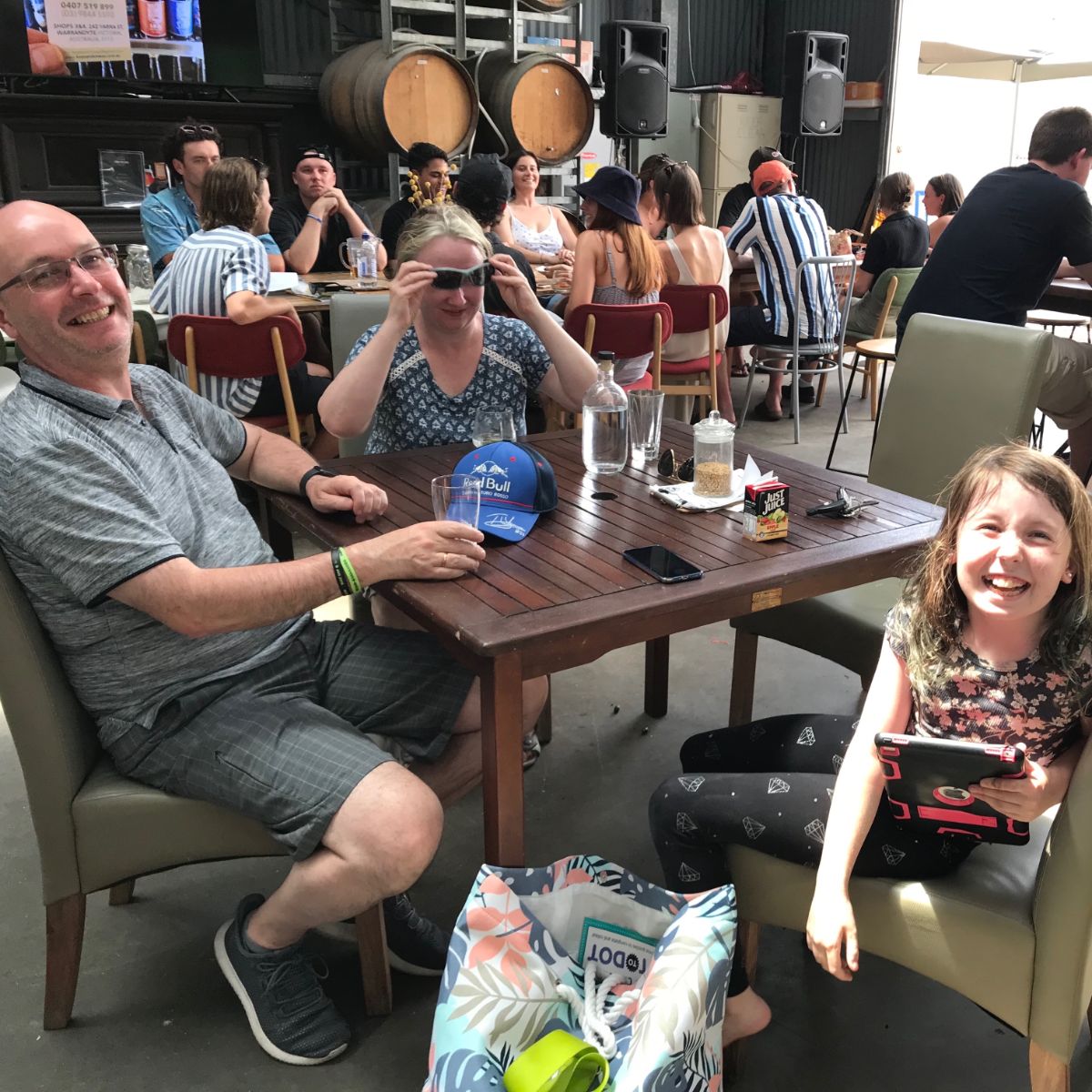 3.30pm: today's high, a sweltering 44.5 degrees
We clambered back into the van, turned left twice and 7 seconds later, we were disembarking at Payten & Jones cellar door.   What a funky place, with happening artwork on the walls inside and out, and a chic French lady called Manu looking after us.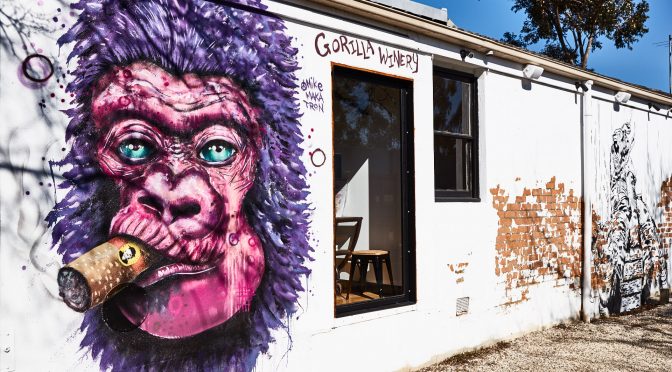 I had absolutely no idea what she was saying but I knew I could listen to that accent for the rest of my life.  Sadly I then gleaned she's married already – to one of the winemakers, Behn Payten and then moments later we met the other half, Troy Jones.  Once again I had absolutely no idea what he was saying tho his was an accent that (with no disrespect to Troy) I frankly wouldn't want to have to listen to for the rest of my life, I'll stick with Manu thanks.  The fam loved their tasting and the t-shirts and bought both.  I can't have either (I'm teetotal and they didn't have my t-shirt size) so I jumped back in the van for a quick trip to a lovely deli called Kitchen & Butcher and I thought to myself – this is surely it, this is the moment they'll buy ME something, a Toulouse sausage, a marinated lamb cutlet or some French cheese perhaps?  I signalled this to Jeff with my eyes as he and my Mum went in to the shop.  Half an hour later (or so it felt) I saw her come out carrying a hopeful looking large brown paper bag – yes I thought, he heard me.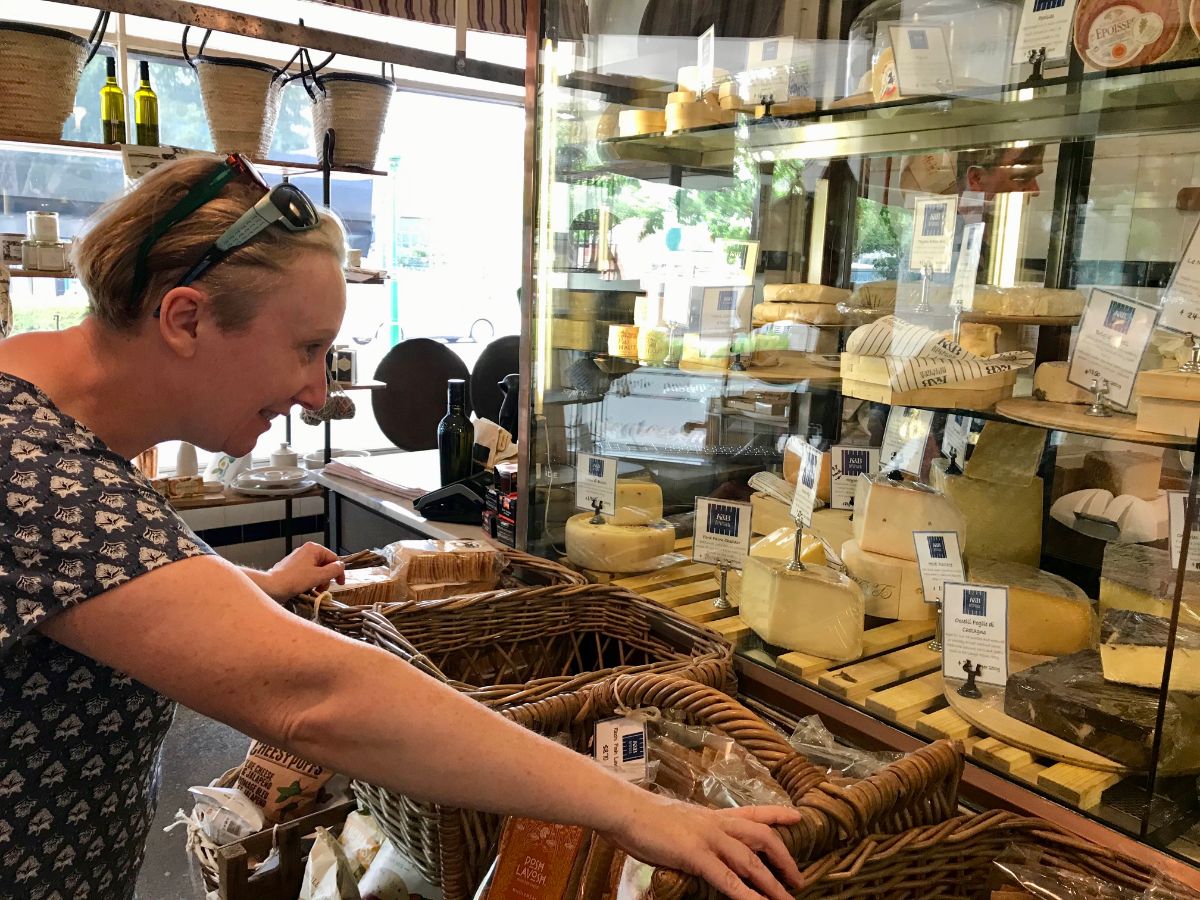 4.15pm: hovering around 44 degrees, hot and windy
For the final time I hopped back in to my bed and Jeff drove us all home to Wiggley where I was looking forward to sticking my nose into the brown paper bag.  It was very hot and the wind was menacing but we still had the best day as we were being shown this spectacular region by a local who made us laugh, looked after us and knew just where to take us – we'd never have found these places on our own, and I'm good at google!