Sisters Sarah & Penny run Holidaying with Dogs and were visiting the Yarra Valley recently with their pooches Buster and Hazel, to check out some new properties they had on their books.
We collected them from their gorgeous farmstay accommodation at Wiggley Bottom Farm and took them on a half day excursion around our beautiful region and explained how we work and they loved the concept.  Our first stop was Four Pillars Gin in Healesville, a phenomenally successful gin distillery that has gained a worldwide reputation in the last few years since gin has undergone its incredible revival.  At Four Pillars the staff dote on visitors who have their dogs with them, especially those staff members who have their own – within minutes of our arrival, Lizzie arrives with a dog bowl of water for our two and Hazel is receiving a lot of attention and we're all admiring a pair of dog tattoos she has of her own dogs on her arm!
As Penny's dog Hazel has gone blind, she has lost some of her confidence and Penny was particularly thrilled with our concept at Pooches, that we are always with your dog on the tour, because Hazel simply wouldn't be happy to be left alone in the van or tied up outside a building and left without someone with her.  We know many dogs like that, including Henry, our own rescue dog, he would lick every passer by and bark and make a thorough nuisance of himself if we tried to leave him back at our holiday accommodation or outside a cellar door while we went inside for a wine tasting!  So we have Henry to thank for how we came up with the idea of Pooches doggy wine tours!
Here's Hazel (left) and Buster in the Merc, about to set off on tour!  Looks like Hazel's getting the bed then Buster!  :-)  The maximum number of dogs we can take is two and they have to be dogs that live together or socialise together regularly – we wouldn't feel comfortable putting dogs together that don't know one another (or humans for that matter!!).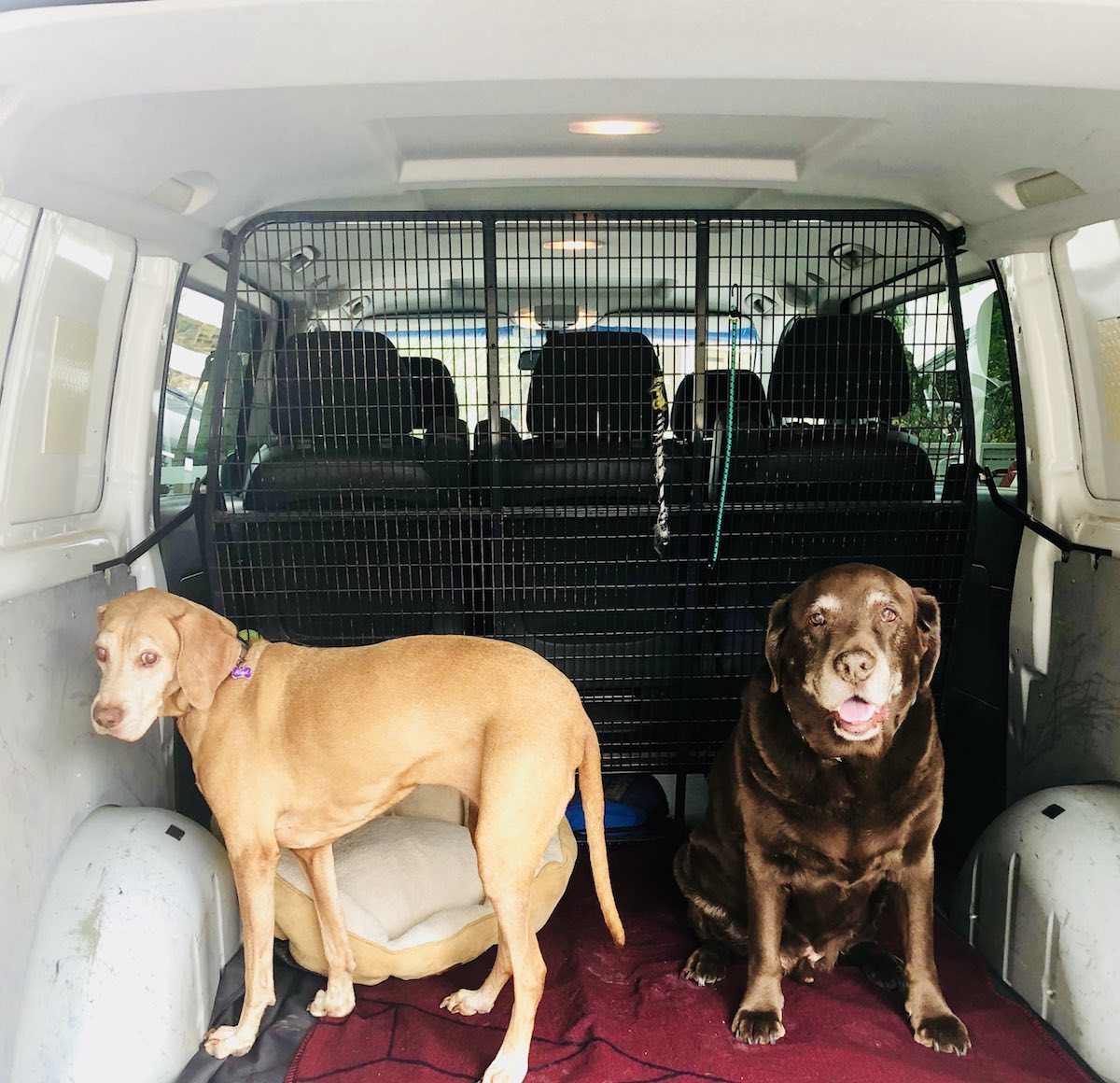 At Four Pillars, Pen ordered a gin tasting paddle, and sipped away merrily as Elton talked her through how the gin is made and which three varieties she was trying.  They are potent little drinks – if you have all three you're no longer legally safe to drive – hence taking a Pooches tour is a good idea as it'd be a shame to have to go home after half a gin tasting wouldn't it?!
Here's Sarah (Buster's Mum) with Buster & Hazel posing for us outside the entrance.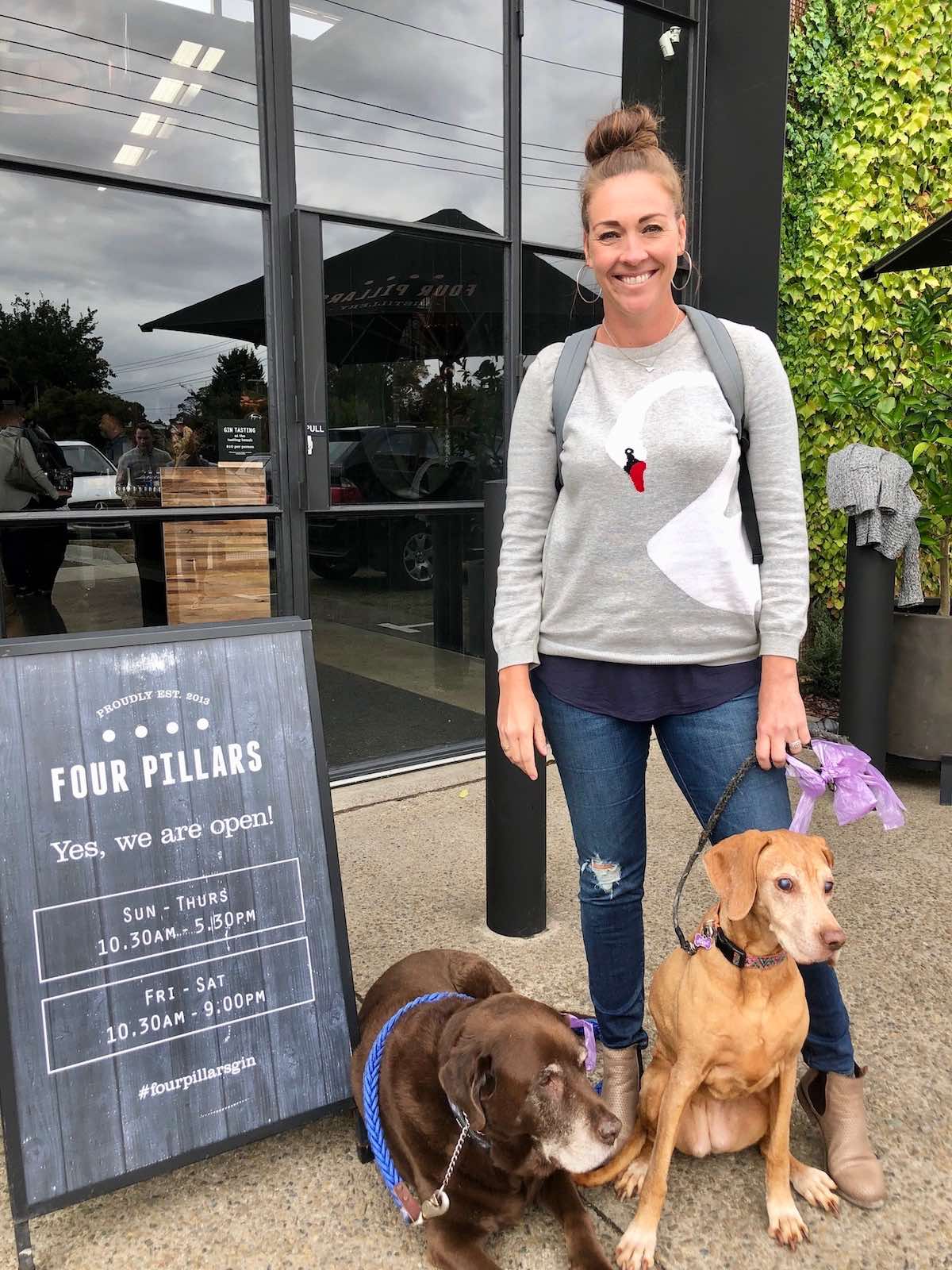 On a half day tour we allow time for a gin tasting OR a cider/beer tasting at Meletos, plus a wine tasting at a couple of wineries and a mystery location walk, though of course we're happy to change that up and replace a winery with a cheese tasting at a dairy, or swap out gin/beer for another wine tasting – we're flexible, it's all about what you want to experience and what time allows.
Next we drove up to TarraWarra Estate which is one of our favourite wineries to go to with dogs because in addition to their sensational wines, they have a beautiful deck built around a cluster of pepper trees which overlooks the property – down to the dam, up over the vines and out across Long Gully.  It's quite special and a lovely place to relax with your dog and a glass of wine, after a tasting at their fabulous 'hobbit-style' cellar door, built back into the hill.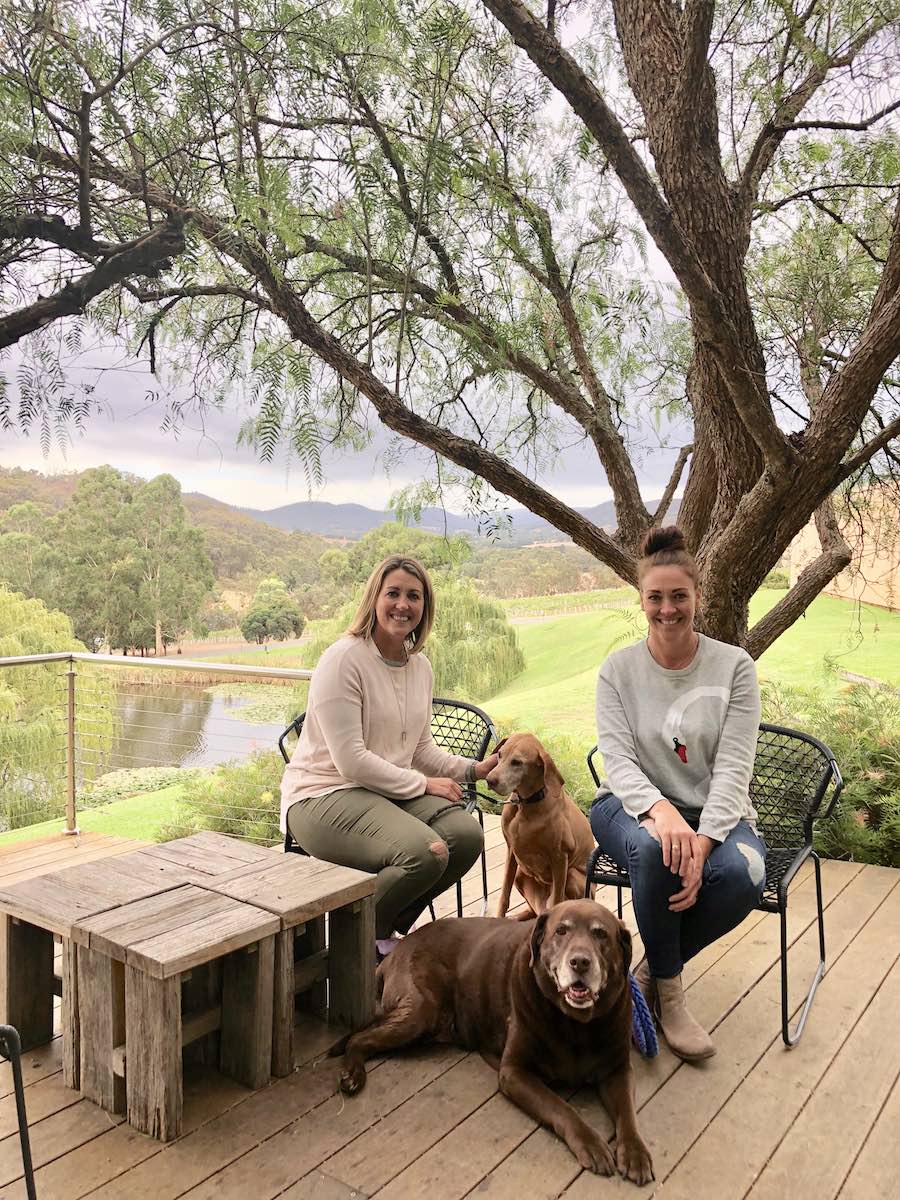 Here's me wrangling Buster who is a dog who knows EXACTLY where he wants to sniff next – he was a gentle giant and so patient with dear Hazel who kept careening into him and climbing onto him as she simply couldn't see, bless her.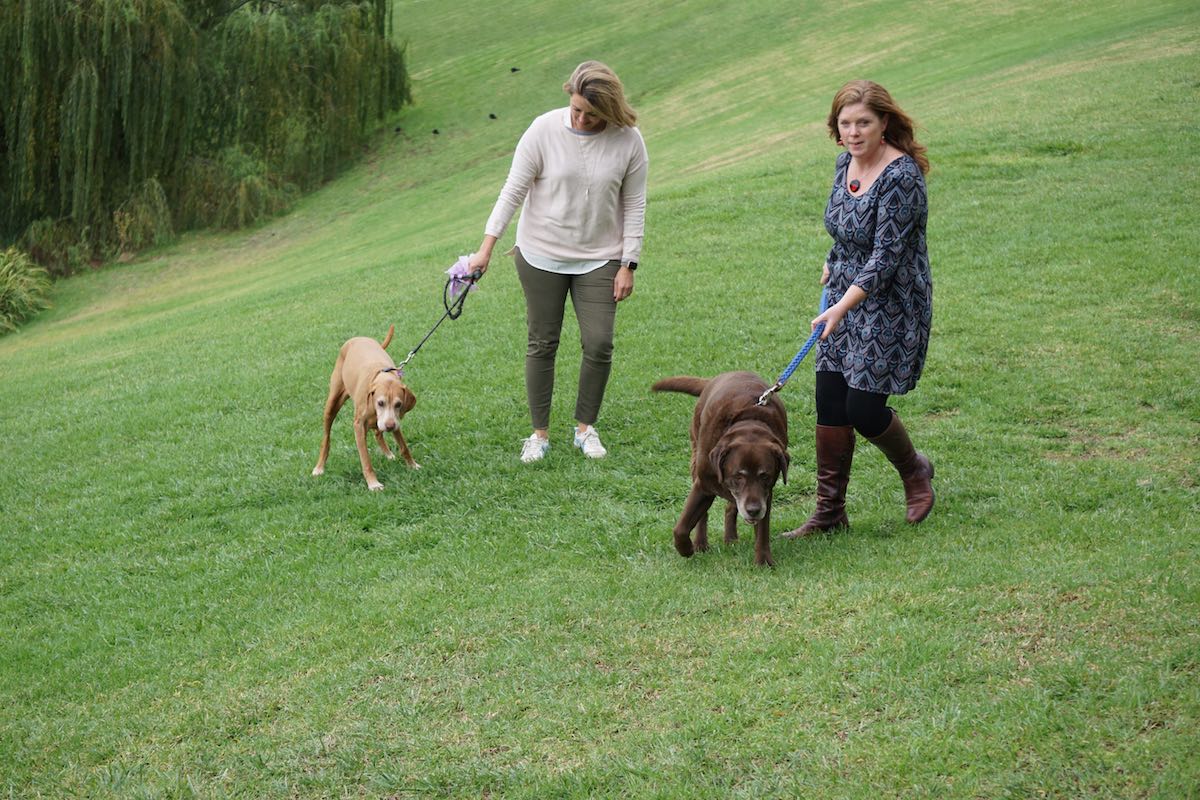 We then drove off to our secret location walk, the address of which I obviously can't divulge, but for any of you who've been to this location before you'll recognise it instantly!  We are lucky enough to live so close by we walk here with our two dogs most mornings and it really is a wonderful location, so depending on guests' fitness levels and how long they want to spend walking, we can tailor our 'walk' accordingly – there's a walk to suit everyone.  And of course if guests don't want to walk, well then we have time to go to a cellar door or, in the case of Penny and Sarah, to pick up some provisions for their meal that night!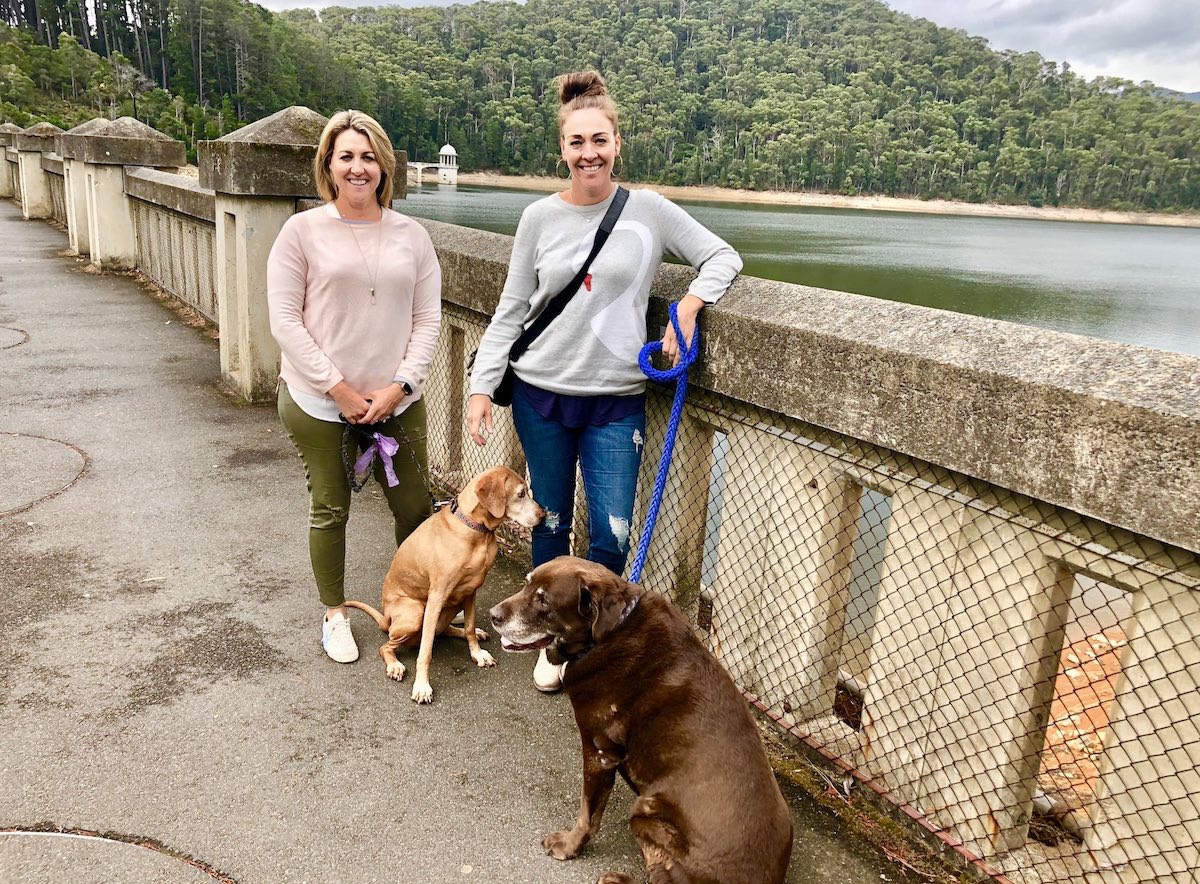 Being locals and food lovers (plus Jeff just happens to be a chef), we know all the best places to take you to when it comes to food.  On our full day tours we have a range of wineries/cafes/picnic spots we can arrange for your lunch and we often help our guests pick up delicious produce for their evening back at their accommodation if they're after a 'night in'.  I challenged Sarah and Penny not to spend more than $100 in Kitchen and Butcher, Healesville's fantastic deli, and 15 minutes later they came back out to the van, looking a bit sheepish and clutching rather a large amount of bags!  I had remained with the pooches in the van so it was all nice and easy.
They were a very happy band of holidaymakers when I dropped them back to the lovely pet-friendly apartment they were staying in at Wiggley Bottom Farm and there was talk of coming back to the valley at Easter and bringing the rest of the family and doing it all over again.  We'd love that – we genuinely enjoy showing our region to visitors with their puppy dogs, as the Yarra Valley is pretty pet-friendly – when you know where to go.  :-)
Here's a video they made about their time in the Yarra Valley at Wiggley and with us at Pooches & Pinot.  If you'd like a tour with Pooches, check out the different tour options over on the home page and get in touch.