Hi, my name's Ruby and I'm the beautiful Hungarian Vizsla puppy in this shot. Here I am with my pawrents John & Ali. And my housemate Archie is the grey one who puts up with me, he's a Weimaraner, but don't hold that against him, we can't all be Vizslas.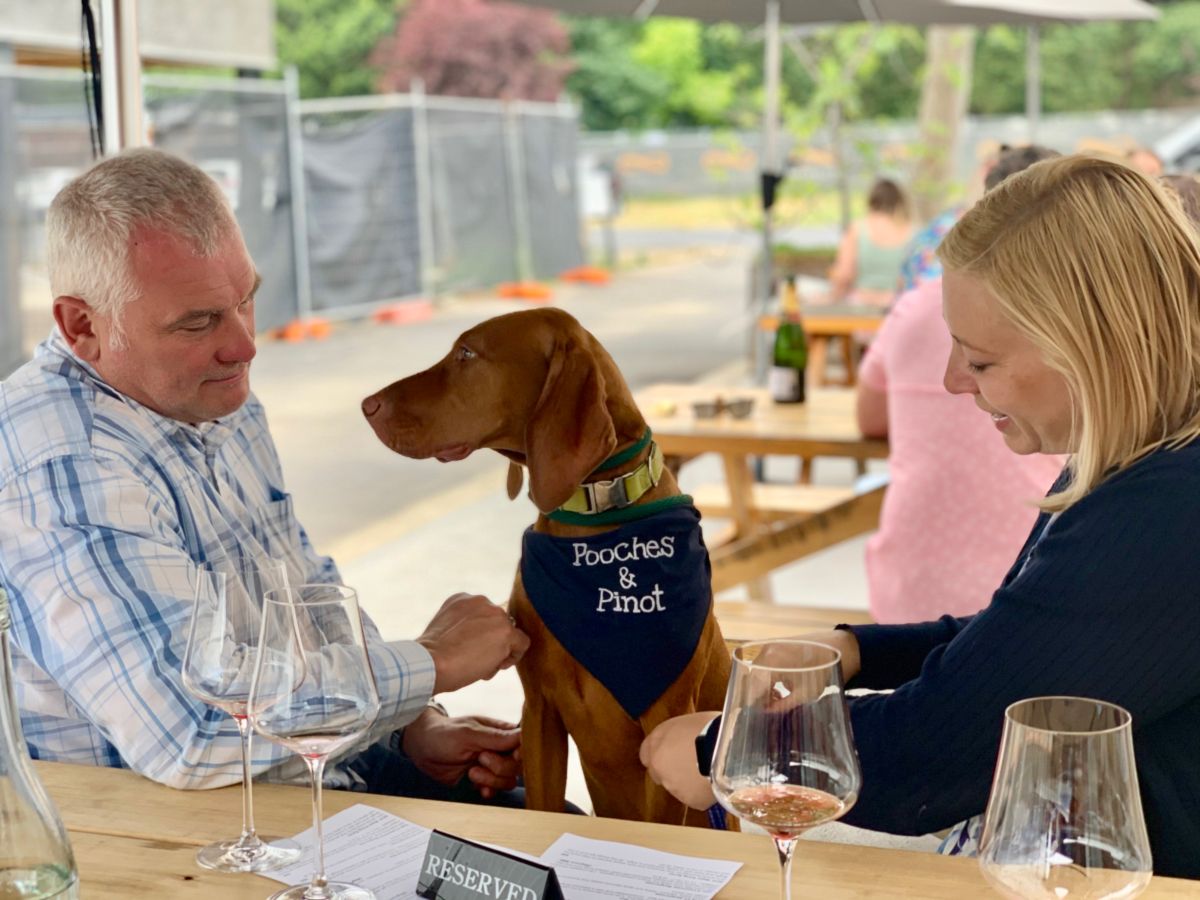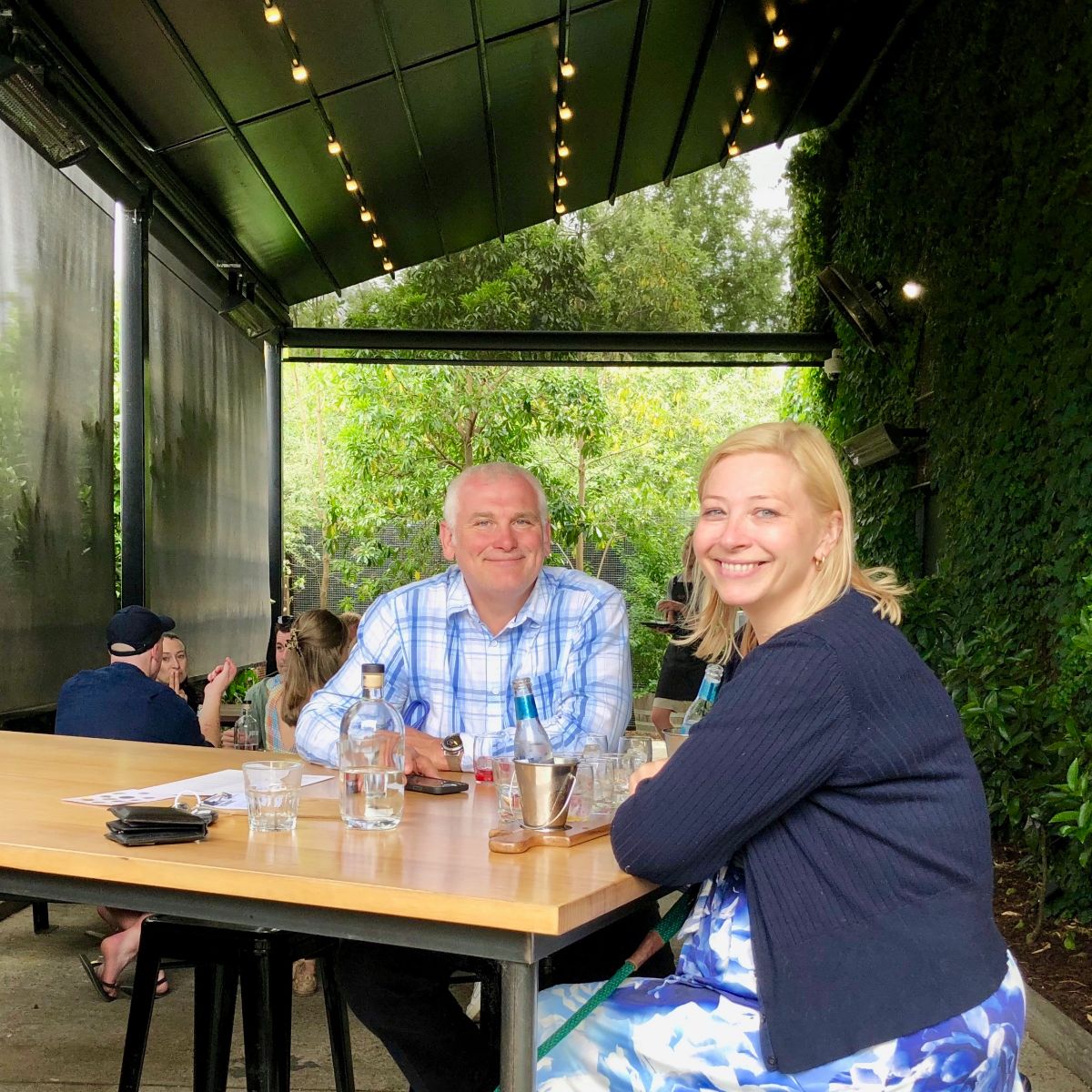 It's my pawrents 33rd wedding anniversary today, (which in dog years is 231 years – a terrifyingly long time to be married I think you'll agree) so we decided to go on a wine tour as a family. We are all a bit sad as my real Mum, Poppy, a 4-year-old Champion Vizsla, died from a snake bite a few weeks ago so this wine tour was EXACTLY what we all needed to cheer ourselves up on the last day of 2020: which, let's face it, has been a pretty rubbish year.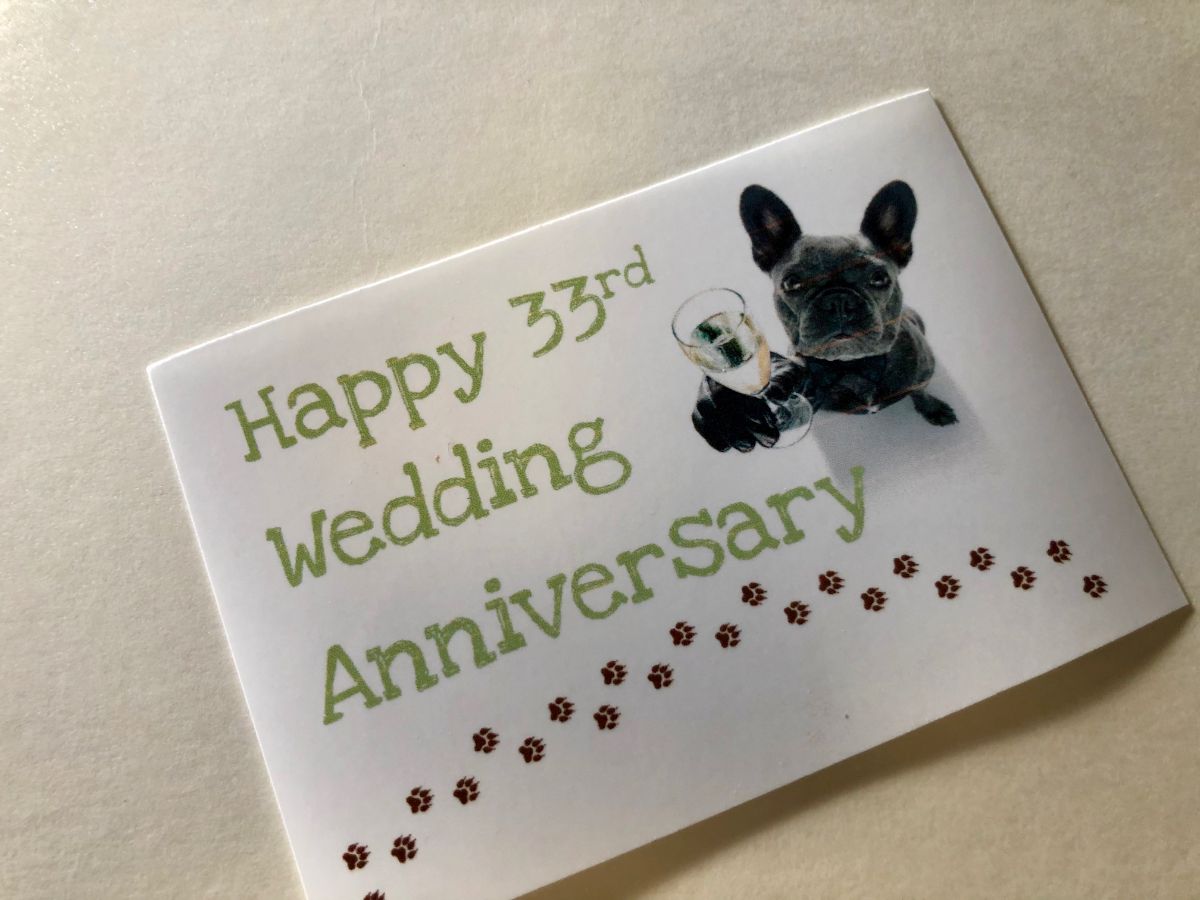 Jeff from Pooches & Pinot arrived at our house in his shiny white van to take us on tour and I wasn't at all sure at first so I gave him a little growl just to let him know who was boss. But when I saw him give my pawrents a cake with a bottle of Champagne to put in the fridge to celebrate with later, I decided he was clearly alright and one of the good ones.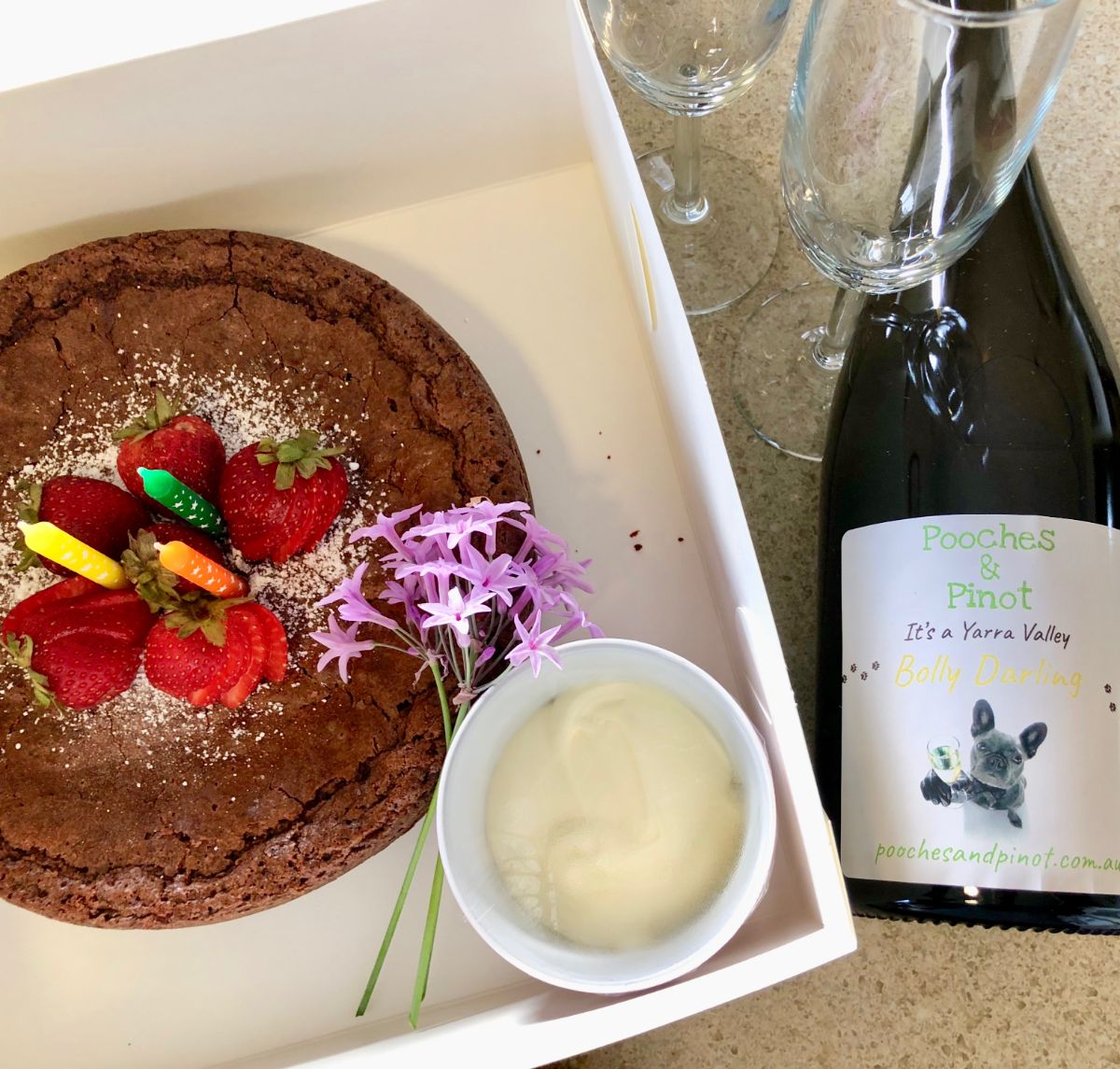 We left the suburbs of South Morang behind us and the next time I looked out of the window there were vineyards racing past and we were in proper wine country. We arrived at a place called Greenstone Winery, and I know as a dog I don't see colour very brightly, but I couldn't see any green stones anywhere for the life of me. And trust me I did some good looking. My pawrents were given wines to sample by a lovely lady called Lyn and I thought I'd like a taste too, but try as a I might, I couldn't get in on the action! But that's OK because Dad bought some of their pinot grigio so I'm sure I'll get to try it back at home.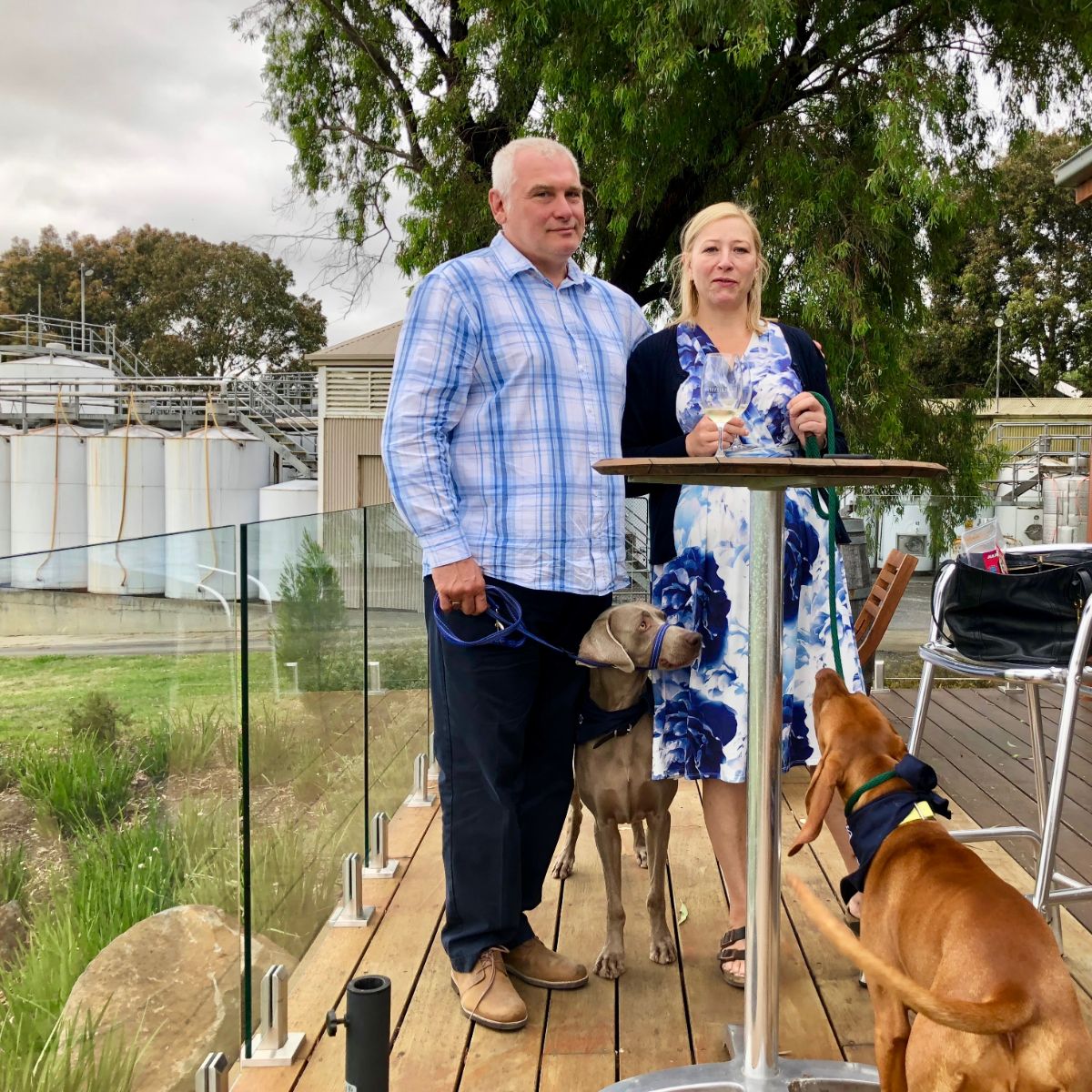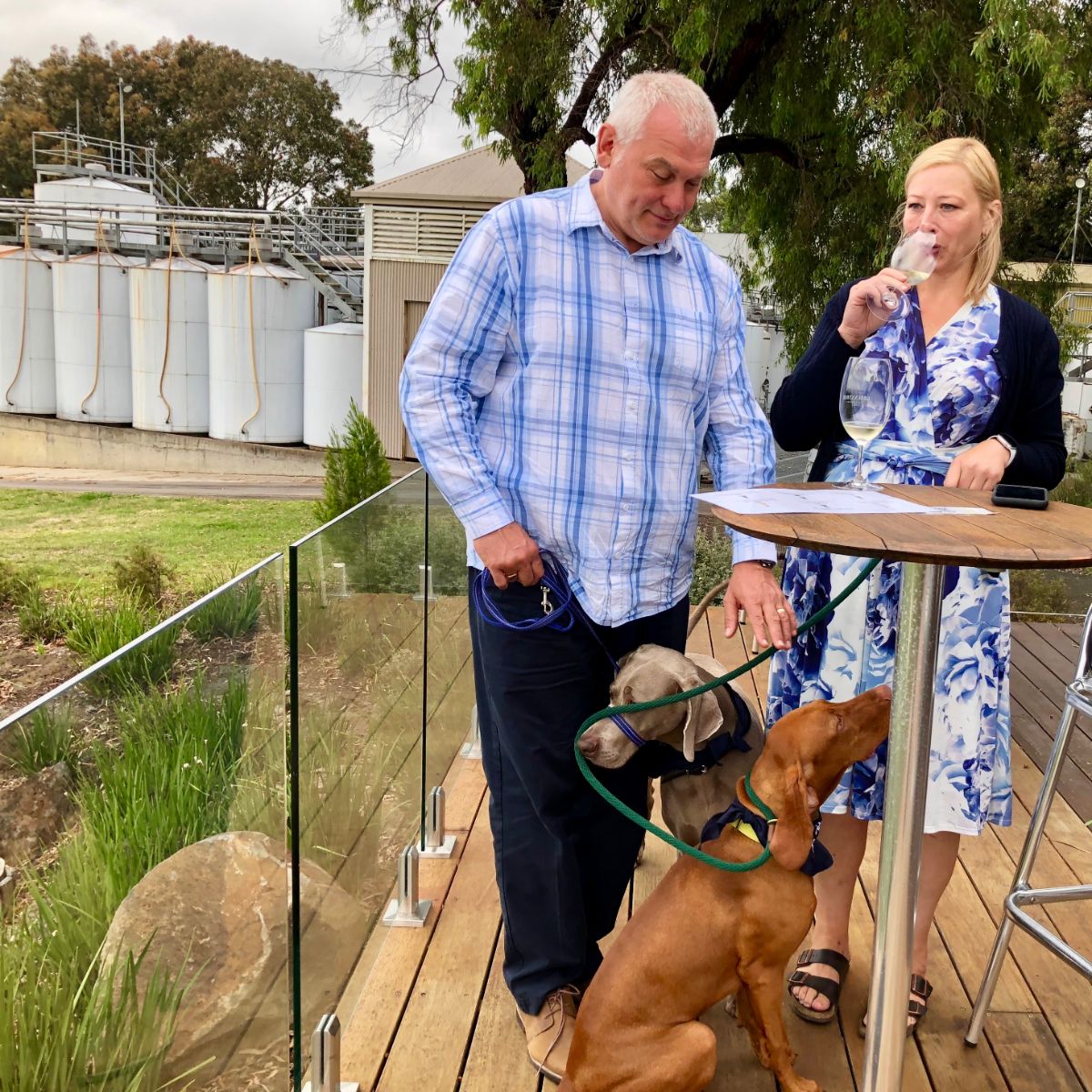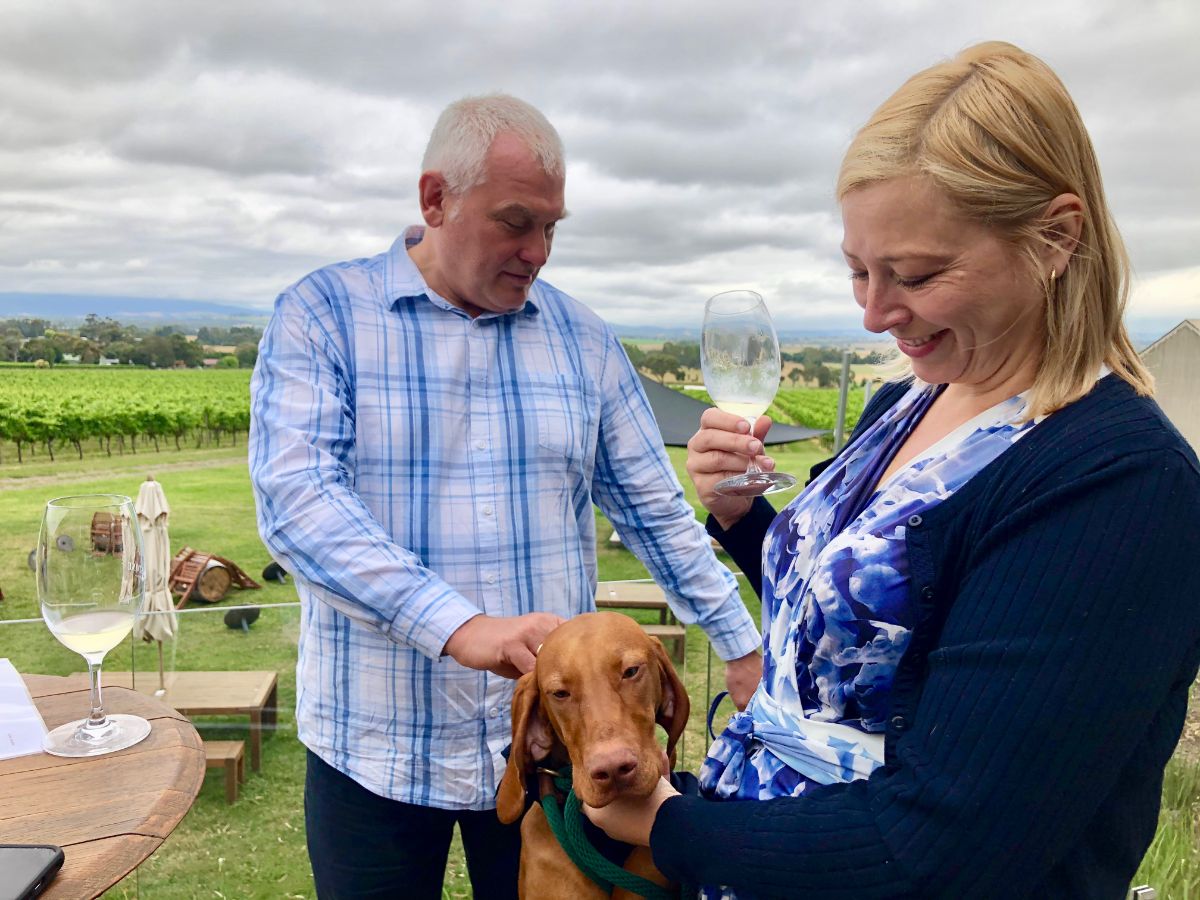 Then we drove through yet more beautiful countryside to Helen's Hill Winery where I met a dog called Ian (I know right, we thought it was funny too) who Archie wasn't too keen on, but someone let slip that he lives there so we decided not to pursue it! Look at Archie giving him the eye!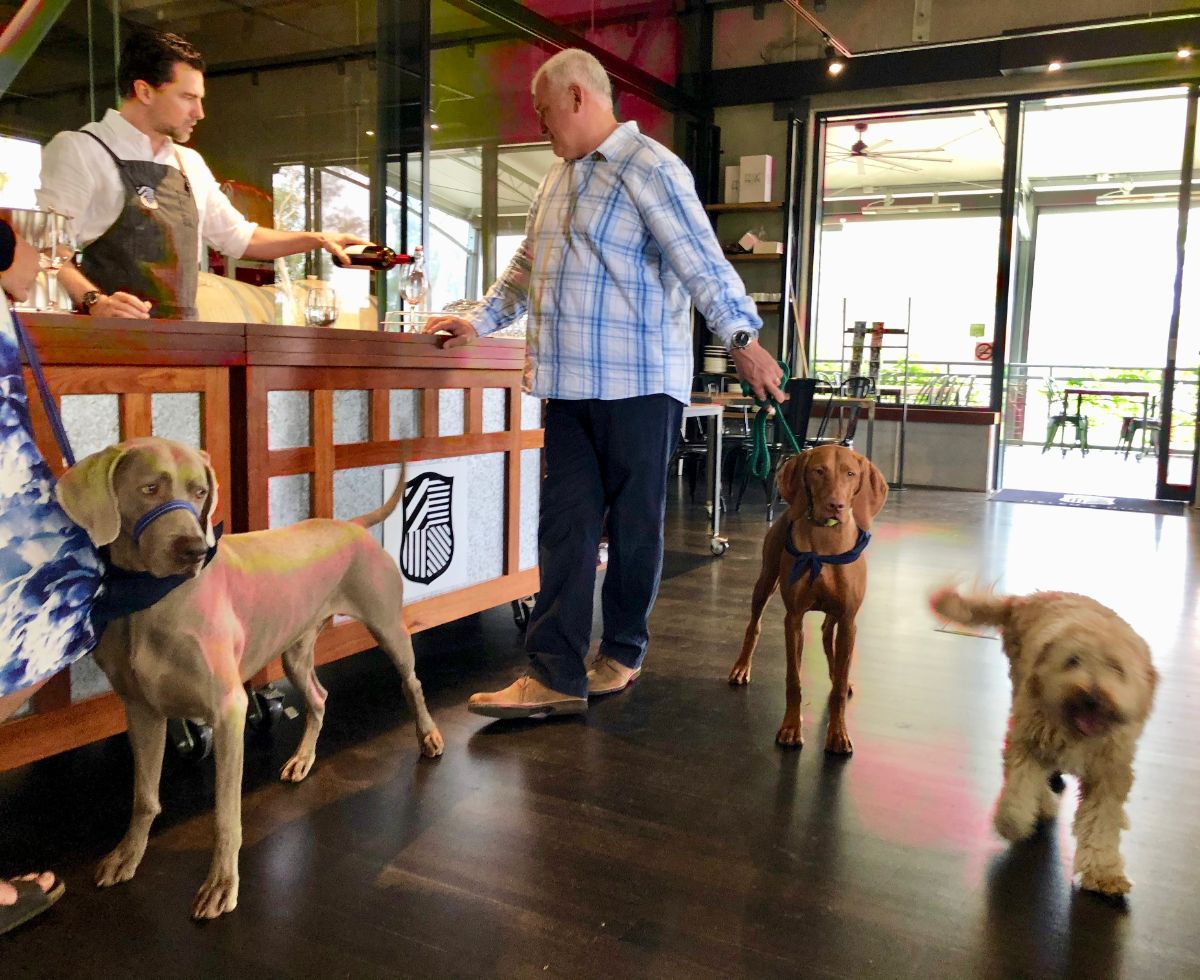 A lovely man called Cameron fed my pawrents yet more wine while we got tangled up in our leads and tried to make it as tricky for them as possible. I'm in training to be a show dog, it's true, but a girl's gotta have a day off from being pawfect every now and then.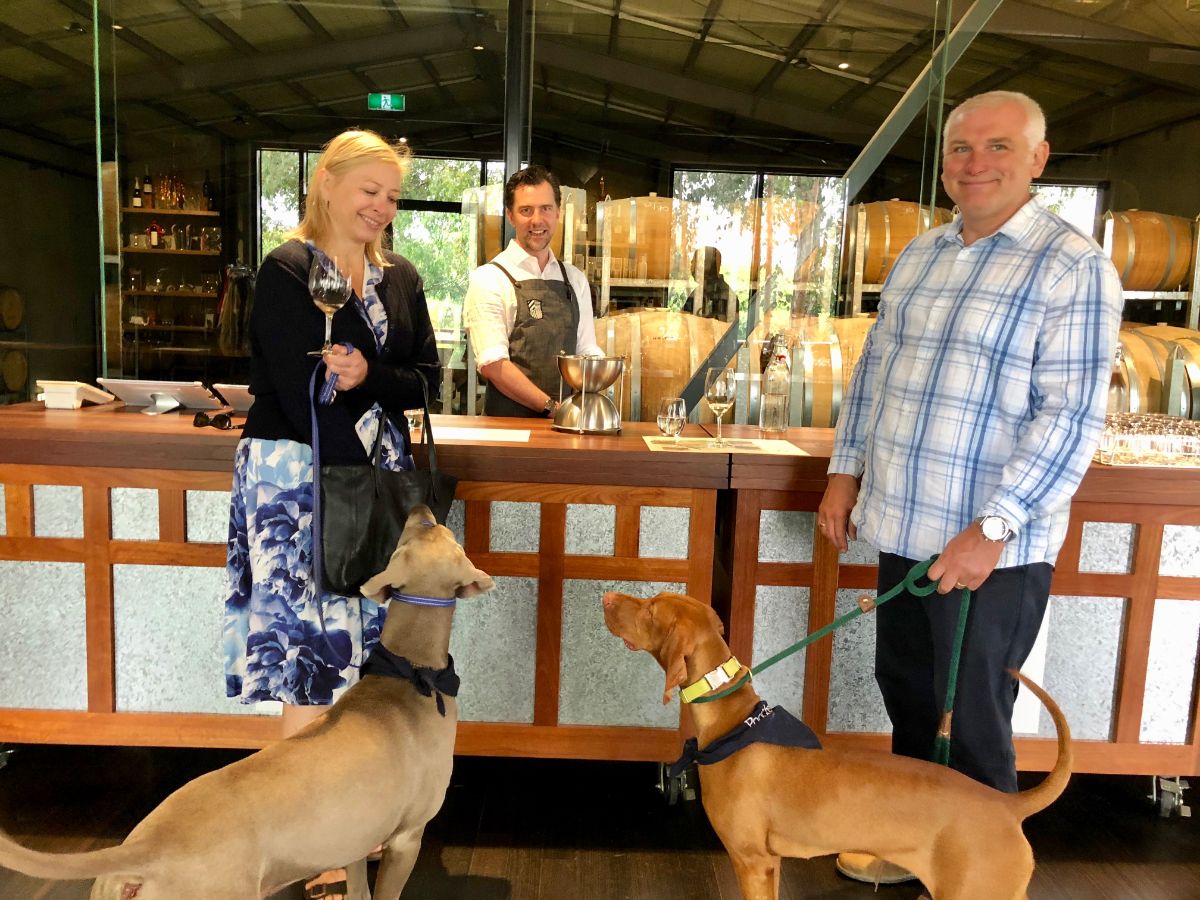 Jeff thought we might like a run around off lead (the man's a genius) so he drove us to this amazing place where we could run like the wind. I love running and Archie thinks he's faster because he's bigger and stronger and a famous stud show dog, but honey I've got youth on my side and I keep pace with him stride for stride.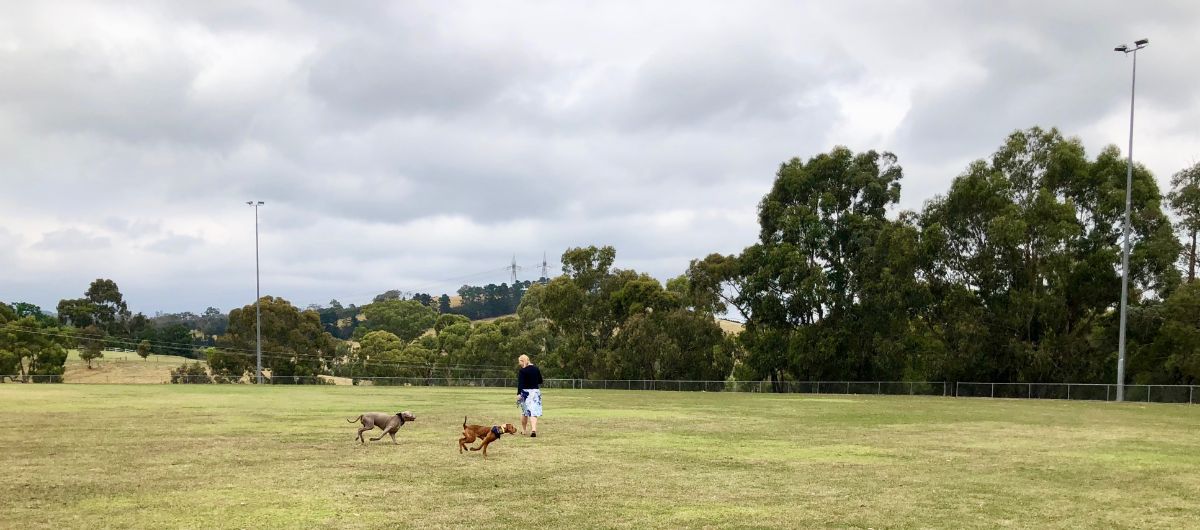 After all that running around it was time for lunch (for the humans, us doggos had been having treats all morning given we'd been on our best behaviour, well, kinda sort of!) so Jeff drove us up a very big hill to Helen & Joeys, another winery belonging to someone called Helen. We spotted large white horses through the window, called unicorns in these parts of the country. We met a lovely lady called Mel who guess what, yup, you got it, poured yet more wine for my pawrents to try. They liked one of them called Hannah Hannah so much that they had a whole glass each with their cheese and charcuterie at lunchtime. I am quite partial to charcuterie as my pawrents well know, so I was lucky enough to be given some of the prosciutto di Parma, which is older than me (18 months old) and they packed up the rest to take home to enjoy later.
I tried my darndest to get my tongue into a wine glass but Dad foiled my attempt every time!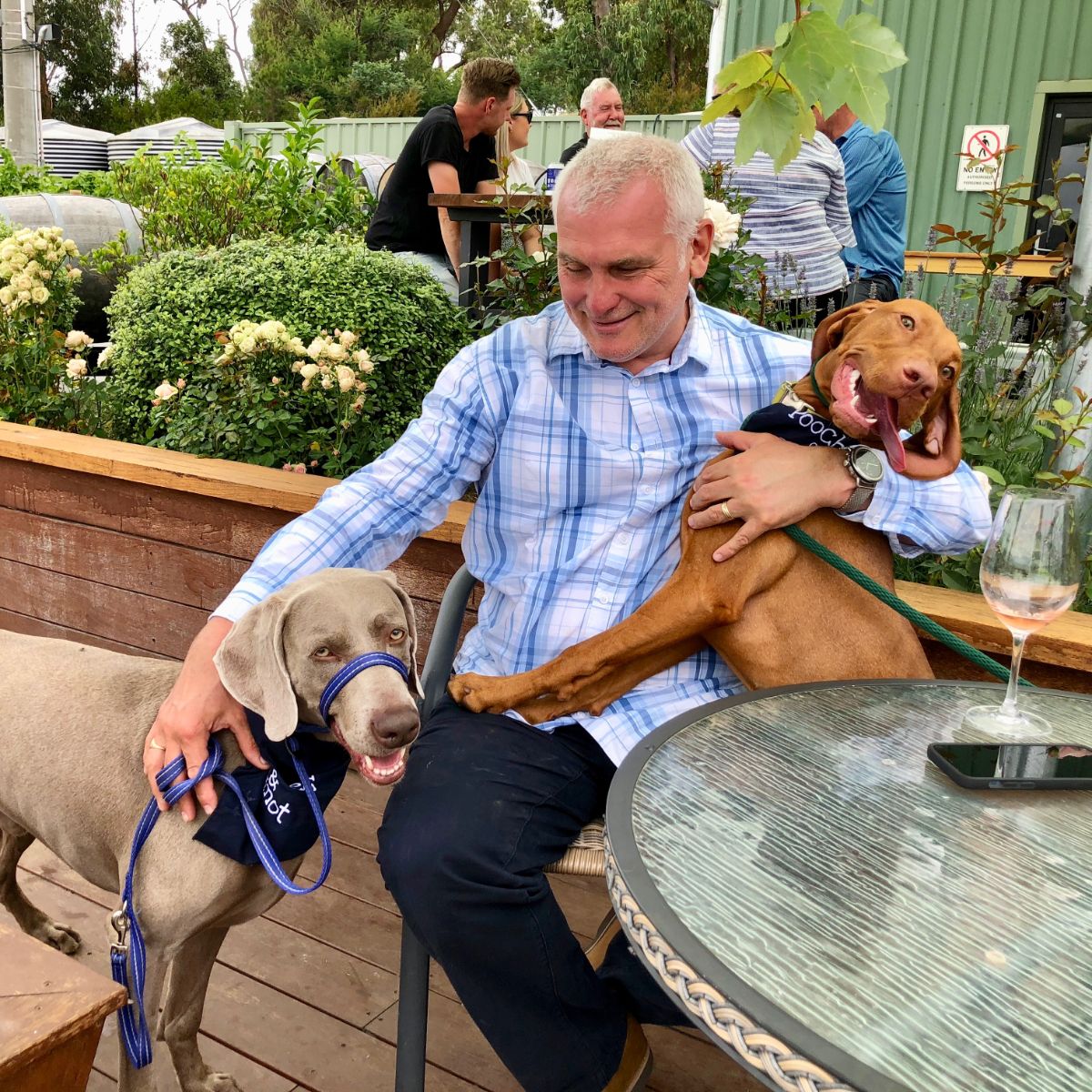 I was obviously being rather cute and gorgeous because this couple sitting near us started chatting to my folks about how to get a pup just like me – and fortunately, my dog Mum is a breeder so she was able to tell them how! But between you and me they'll be a bit disappointed, as there'll never be one as cute as me!
Here I am meeting Stephen who works at H&J and he could instantly tell how special I am.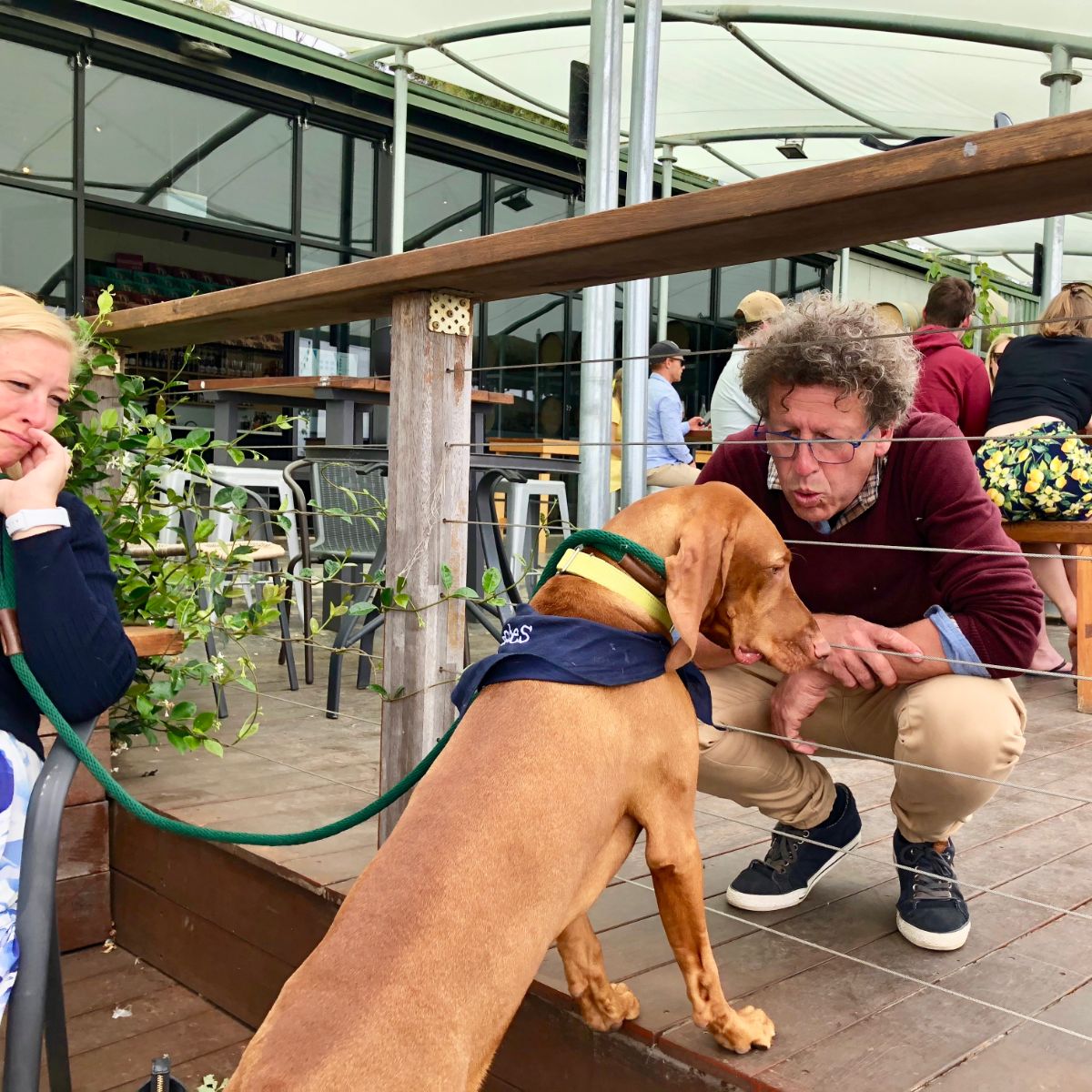 Jeff took us next to a teeny tiny cellar door called Squitchy Lane and we were pooped from all our running around so we doggos recharged our batteries a bit while our folks chatted about the good old days and the mother country with Andrew, a fellow Pomme, who was serving them yet more wine. They got to try the newly released Chardonnay and bought some for me to try later back home – yay!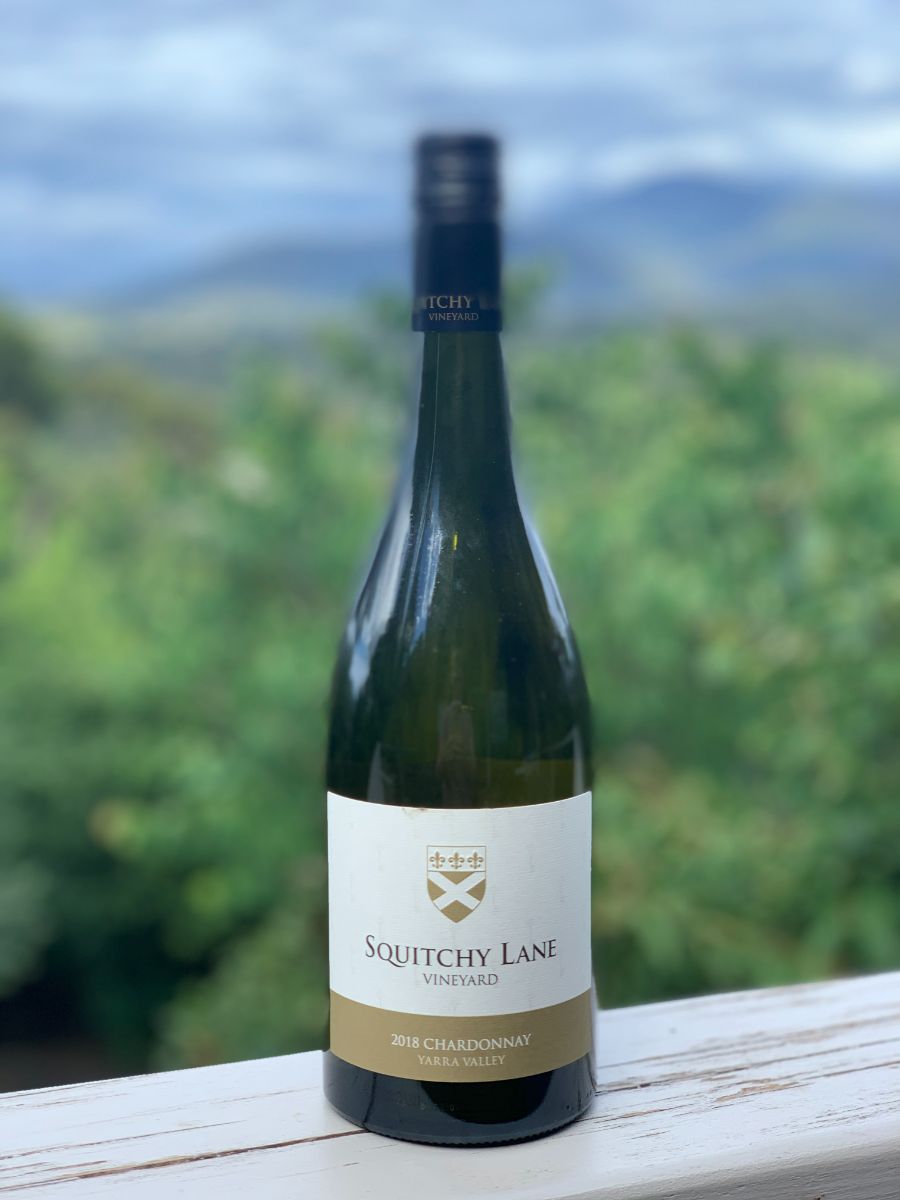 It was now time for a gin tasting and because Archie and I were snoring in our lovely dog beds in the back of the van, my pawrents thought they'd leave us to snooze and they set off into Four Pillars distillery without us. Rookie mistake, people, rookie mistake! The staff at Four Pillars kicked off with shouts of 'Where are the dogs, but where are the dogs?' and shamed my poor pawrents into coming back and fetching us. Which is good because being a puppy I suffer from an incurable condition called FOMO (fear of missing out) so it was best that I was in on all the action at Four Pillars.
And I met EVERYBODY. There were other dogs there with their dog-parents, there was another Pooches & Pinot tour there with a baby English setter age 17 weeks, and I met the infamous Lizzie who has just won Employee of the Year at Four Pillars (probs because she loves us doggos so very much and makes a point of coming over and saying hello and giving us some lovin').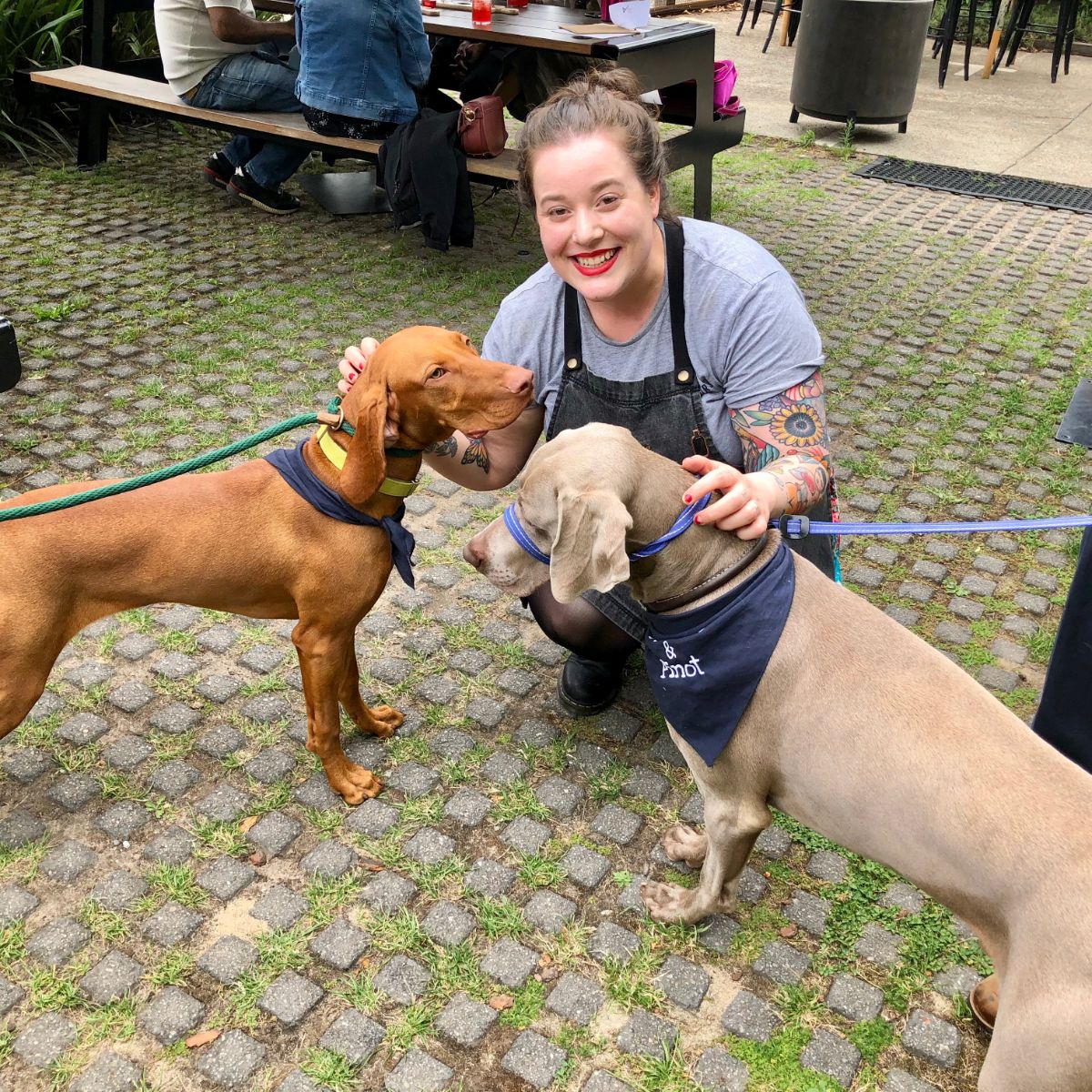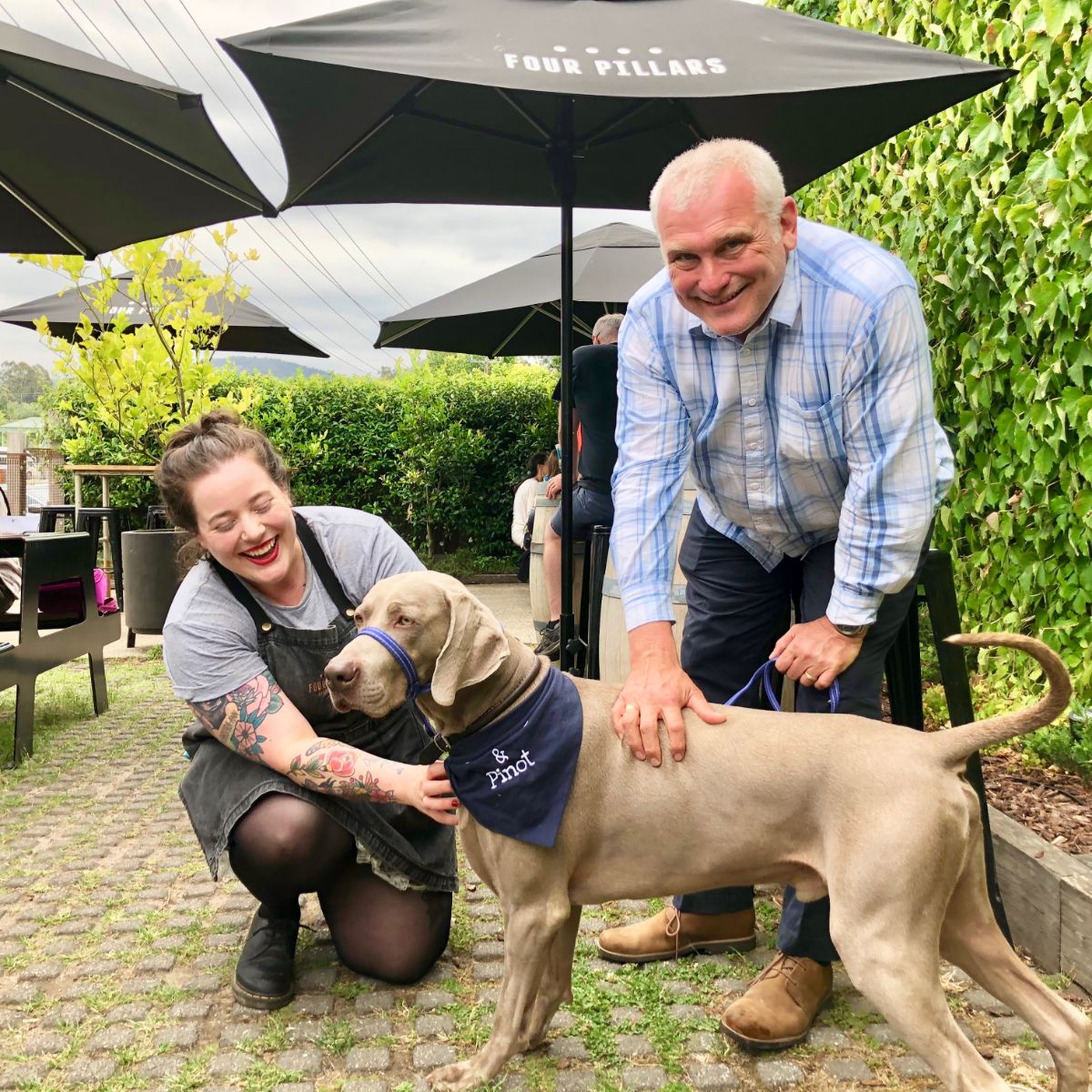 I was pretty sure I'd like this gin stuff they were all drinking as it smelt fantastic and so I tried to be really fast and snaffle some from one of the tasting paddles but it's (weirdly) apparently not for dogs, so I was told to stick to water.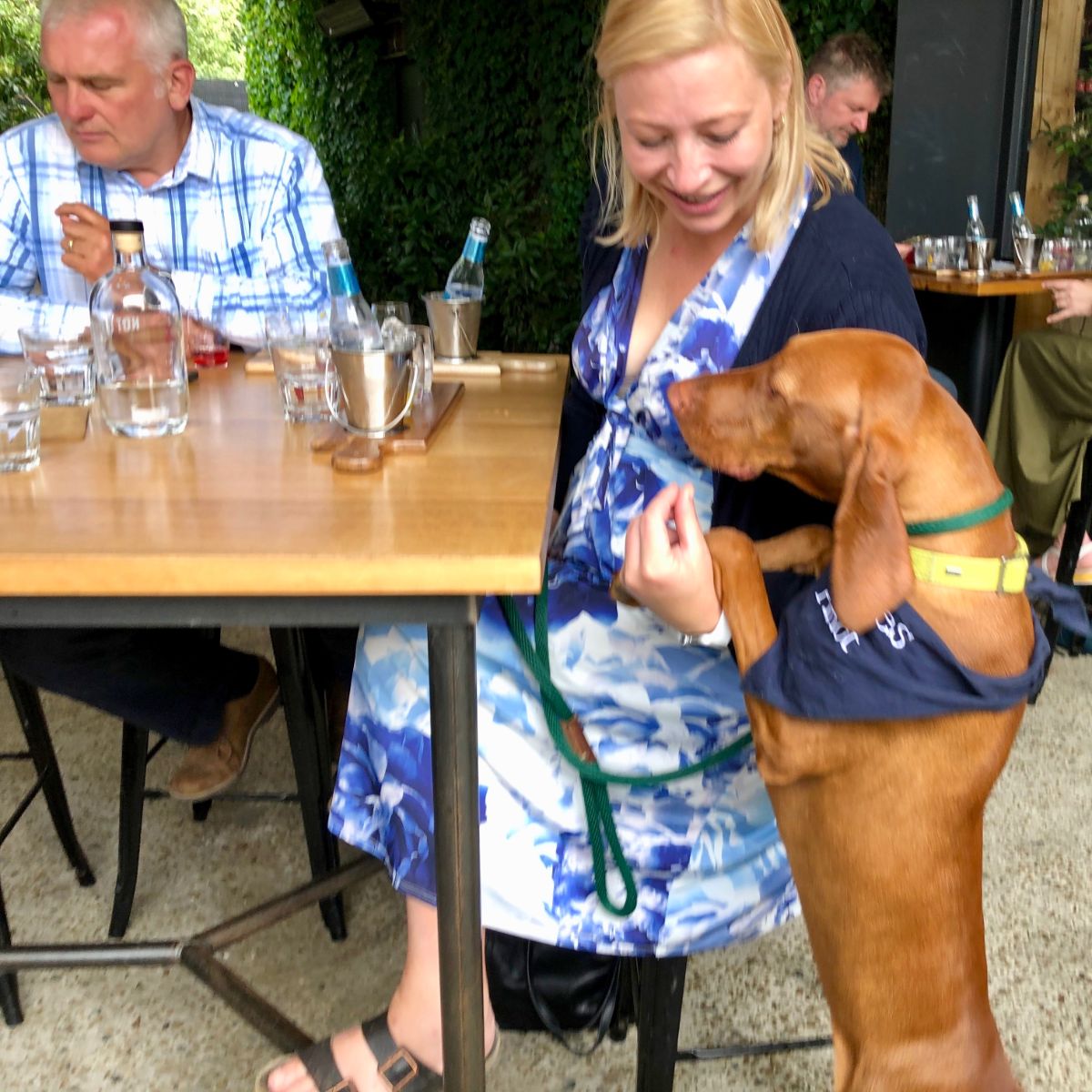 After a photoshoot and many good-byes at Four Pillars, we sauntered over the road to a cool, funky outdoor setting at Payten & Jones where we met a GSP called Hector and made eyes at Freddie, the English setter pup. We got our second wind – how could you not at P&J, it's such a groovy place with great music and the joint was jumping?! And so were we – (jumping that is) during yet another photoshoot – they say never work with animals and children for a reason people!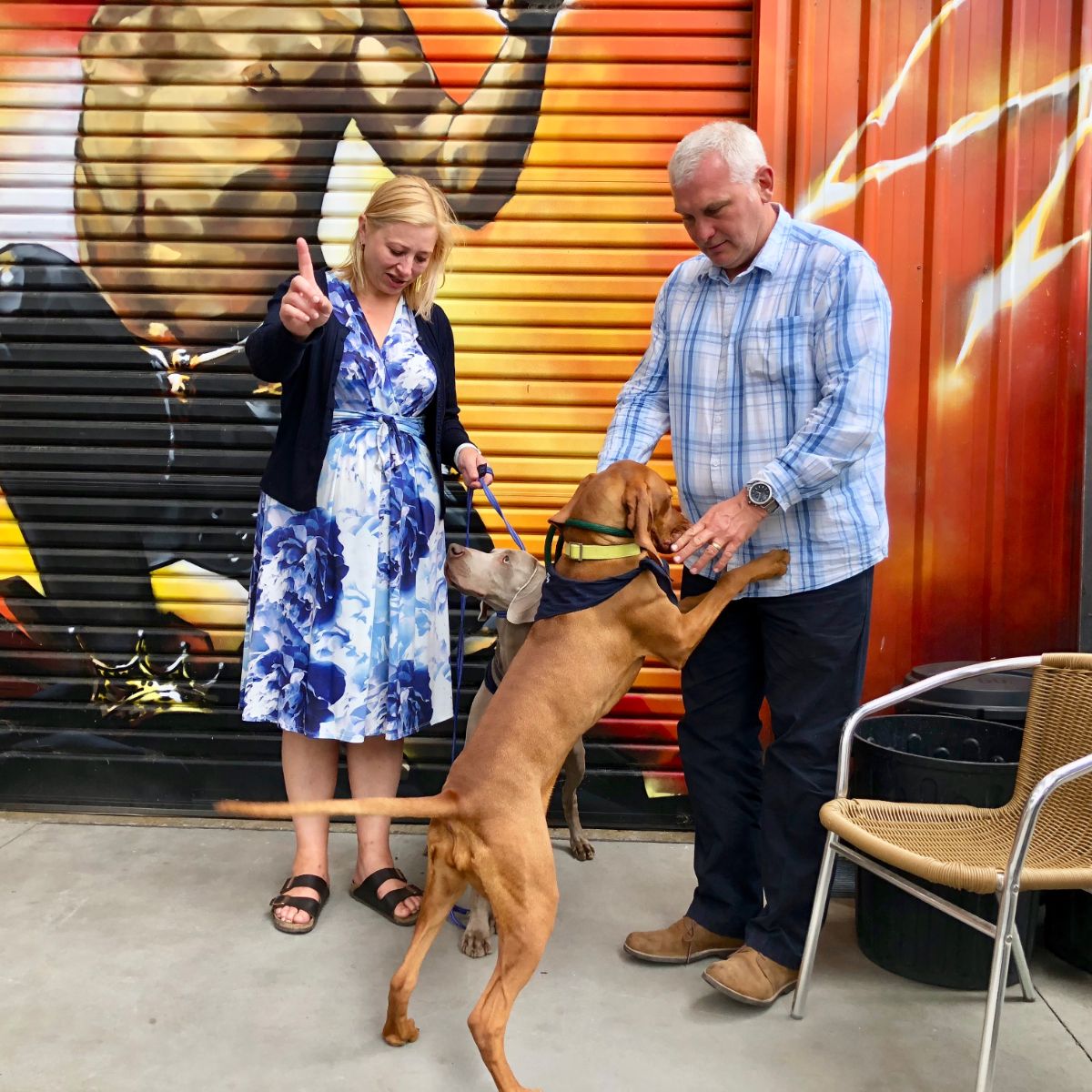 But we also enjoyed cuddles with our pawrents too as they enjoyed sipping their final wines for the day.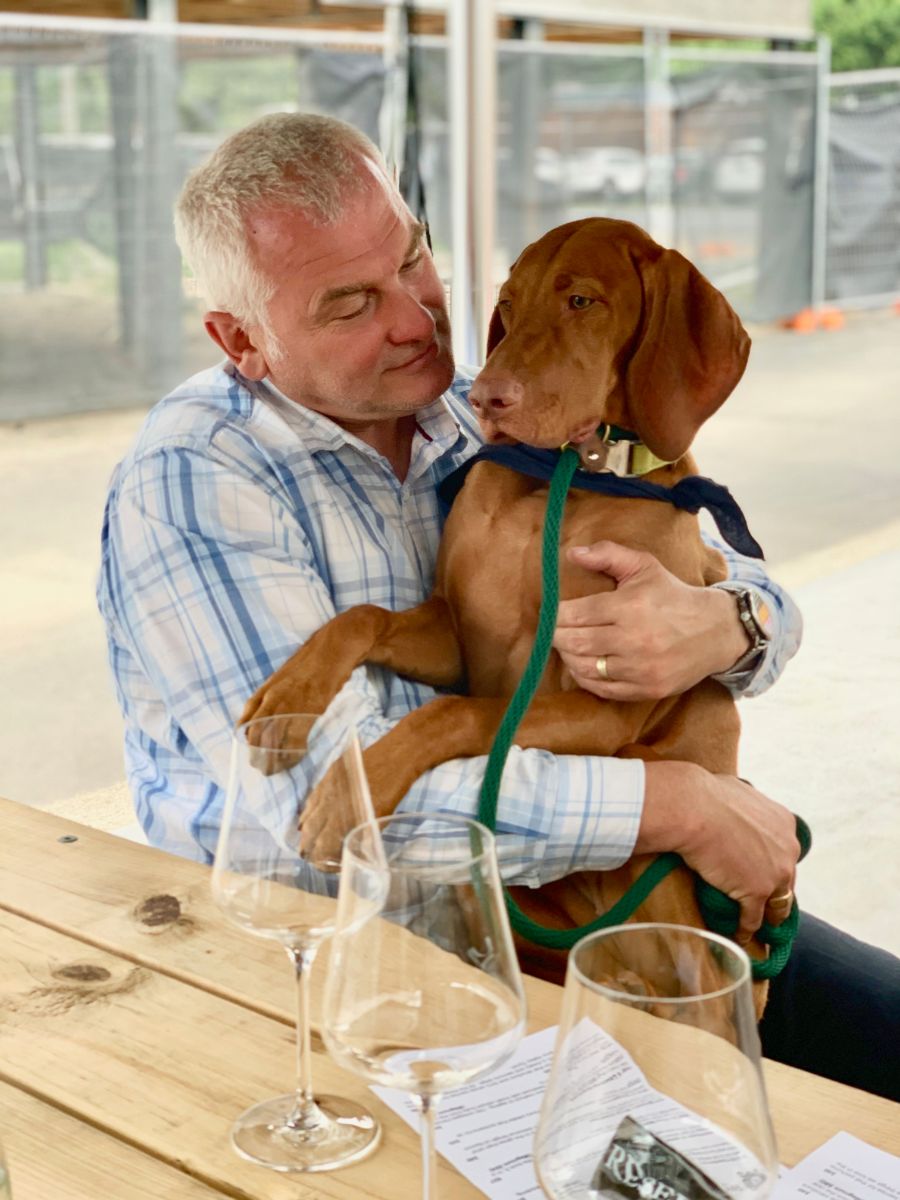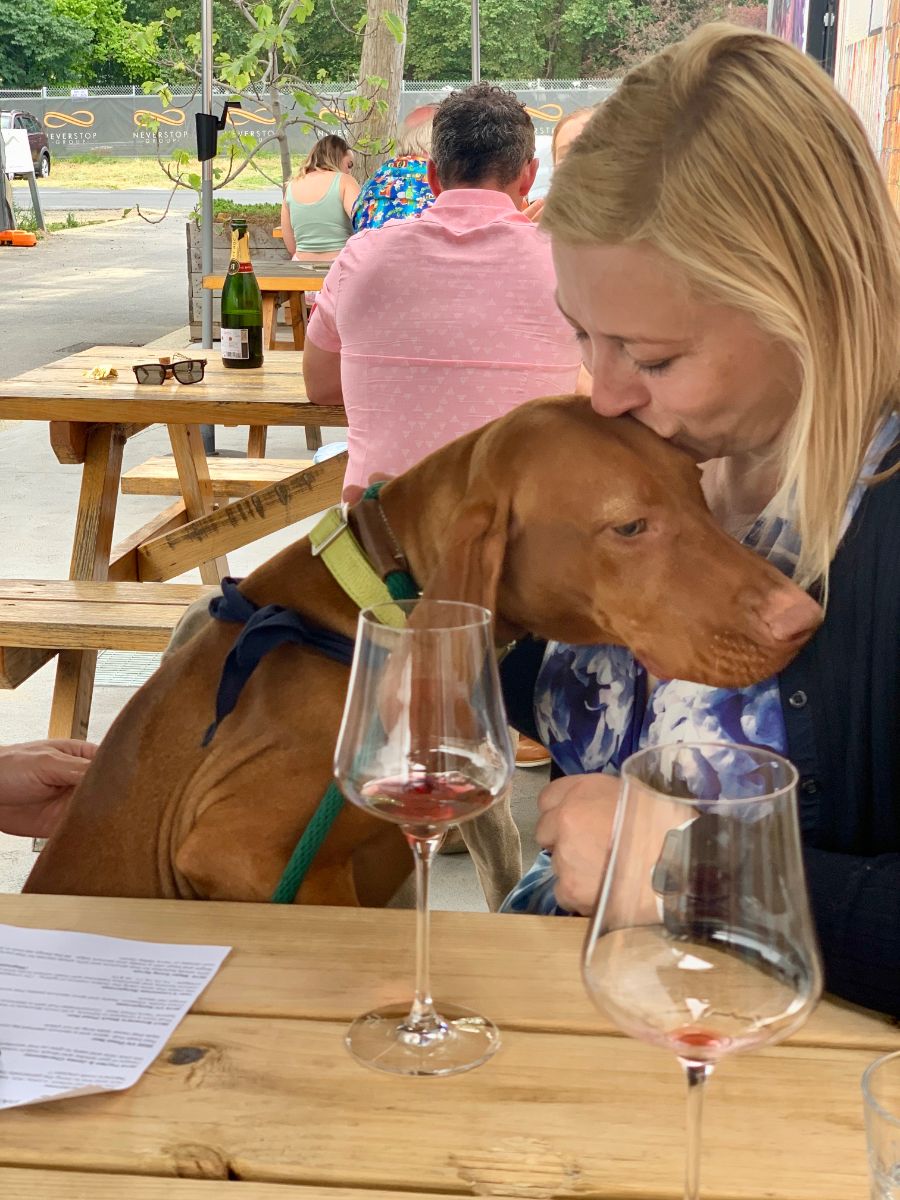 Now people, may I be so bold and suggest we talk openly about farting for a moment – because people don't and they should! I'd been really polite all day (normally at home I fart whenever I like, which annoys Archie who apparently never farts – liar!) but I thought I'd just let a sneaky little one go, as we were sitting at P&J, and I hoped I'd got away with it when suddenly this man at the table next to us pulled a hilarious face and moaned 'Oh my God, your dog's just let one rip) at which point I stared pointedly at Archie so he'd get the blame. The cleverness of me!!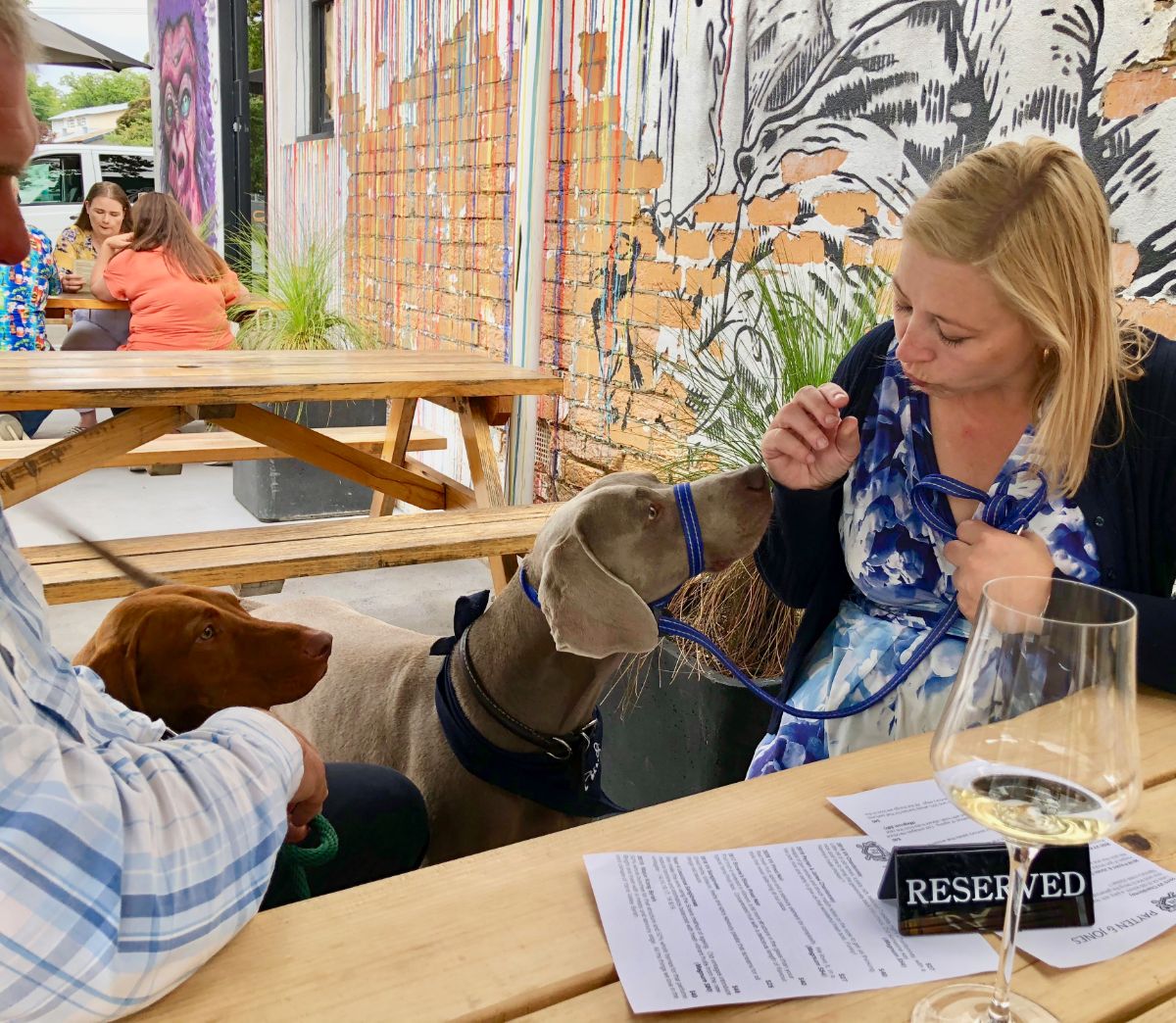 On the way home I was so relaxed I apparently caused all the windows to be lowered with yet another sneaky fart. It's just my way of showing appreciation and I truly had had the most wonderful day out with my family exploring the Yarra Valley. And what's a small fart between friends?! Jeff still thought I was great.
It was the day we all needed, and we thought of Poppy often and spoke about her and how much she would have enjoyed the day and it was a fantastic way to help my pawrents celebrate their milestone anniversary and put 2020 to bed. And then me to bed – as I'm utterly exhausted after my big adventure!