Bonjour mes amis, je m'appelle Hector et j'habite à Caulfield North avec mes parents Michael et Gemma.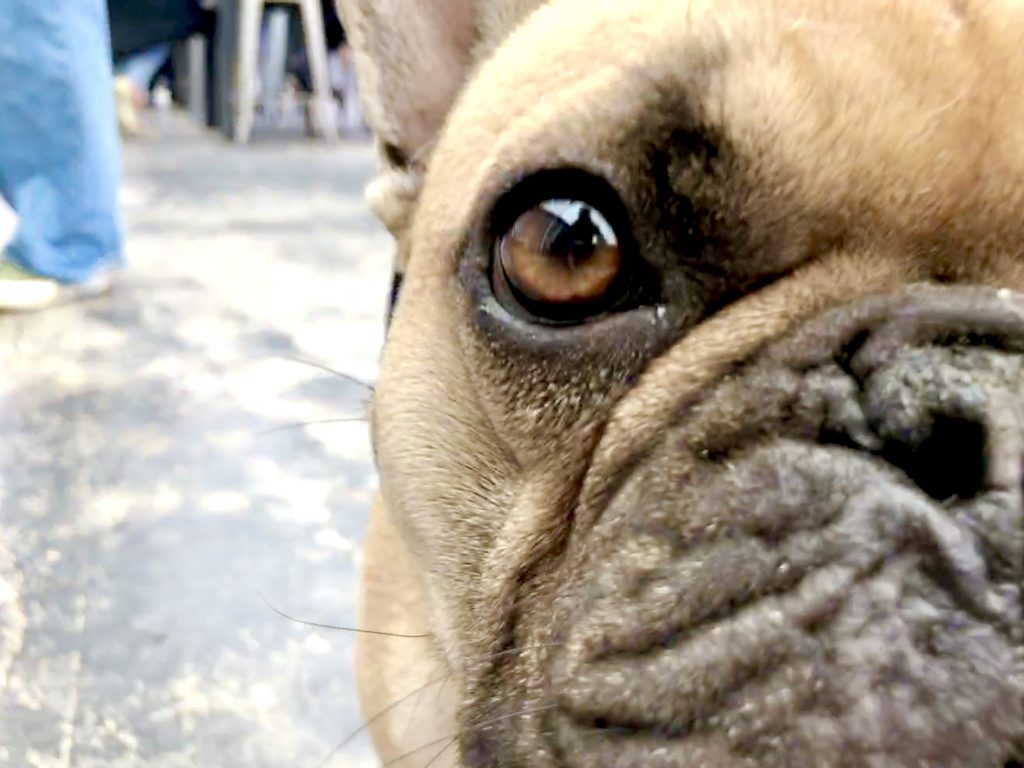 I became their fur-child during covid lockdown, so haven't done much traveling.  I haven't tried a plane yet, I'm certainly not good on trains, (just ask my poor Mum – how many stops did I manage?  Armidale to Toorak but it felt like forever!) but the car's OK and now I know I REALLY LIKE Mercedes vans.  And how do I know this?  Because I just spent the day in one, like a true rock god.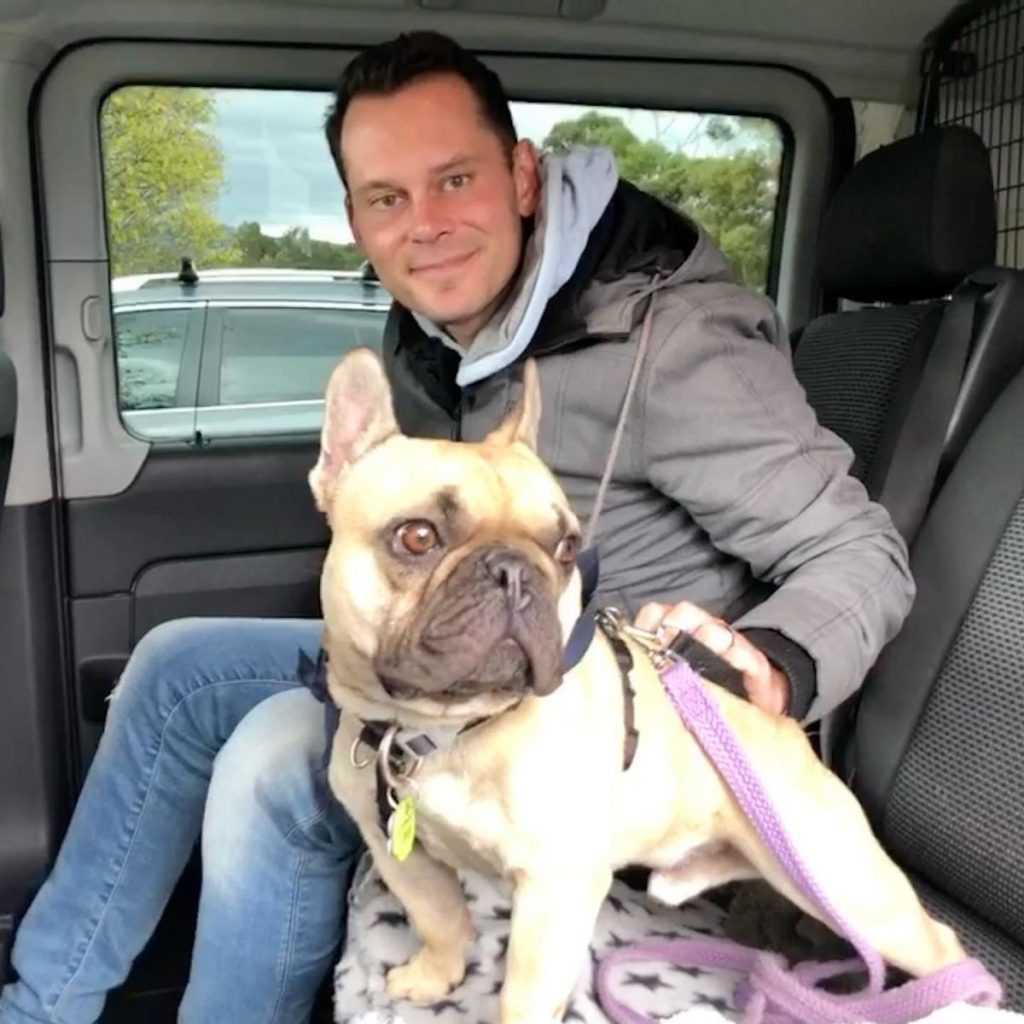 Why was I in this van you ask?  Well, I took my pawrents to the Yarra Valley for the weekend and a lovely man called Jeff picked us up from our accommodation in his Mercedes van and drove us to all his favourite places so we could drink wine, meet women, sniff new smells and dodge rain showers (it sure rains a lot in the Yarra Valley).
The first place Jeff took us to was called Helen & Joey and a lovely lady called Gina poured them lots of different wines to try.  I even saw her pour wine from a can – a complete travesty back in France but these Australians, they're a bunch of absolute rule breakers!!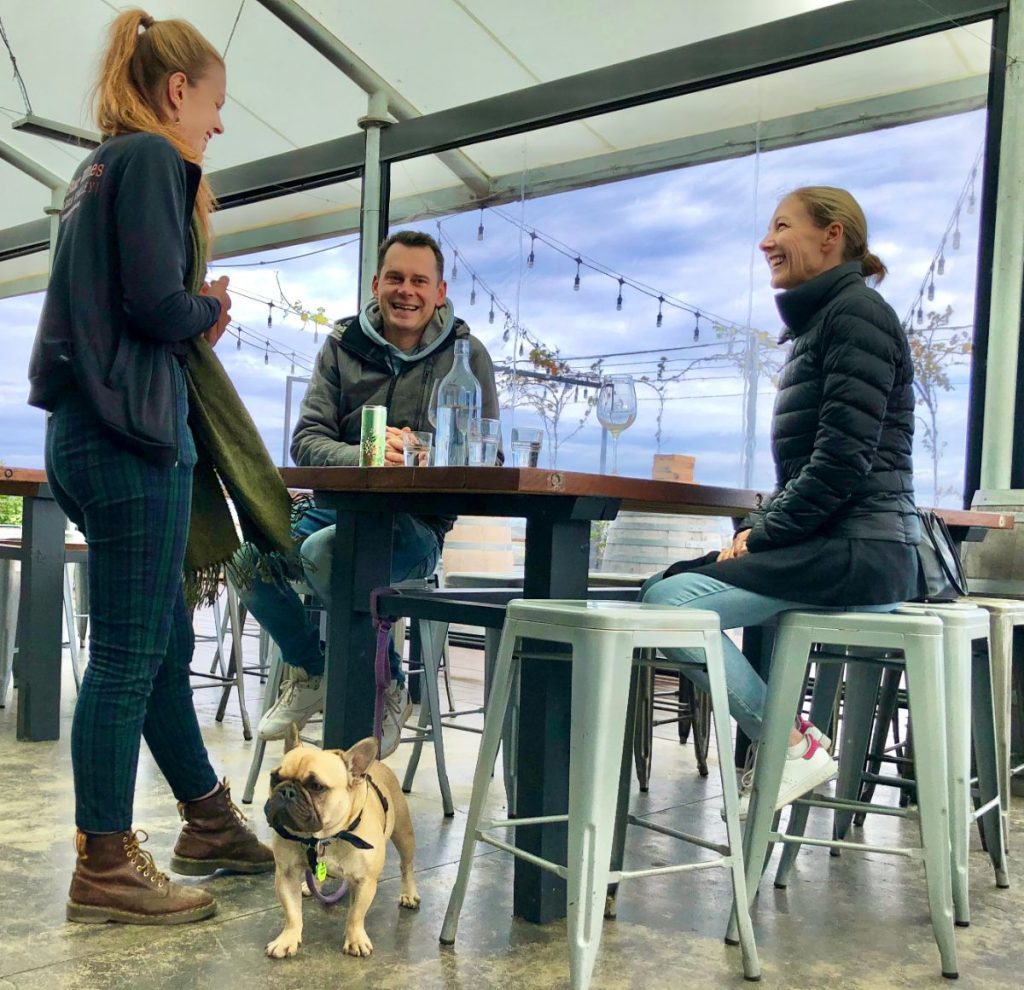 She thought I was very cute and she's right of course.  I hung on her every word and now know a lot about their minimal intervention philosophy when it comes to their Wayward Child range of wines.
I took a bit of a shine to a wine barrel and feel I look like a real wine dog sitting on it, what do you reckon?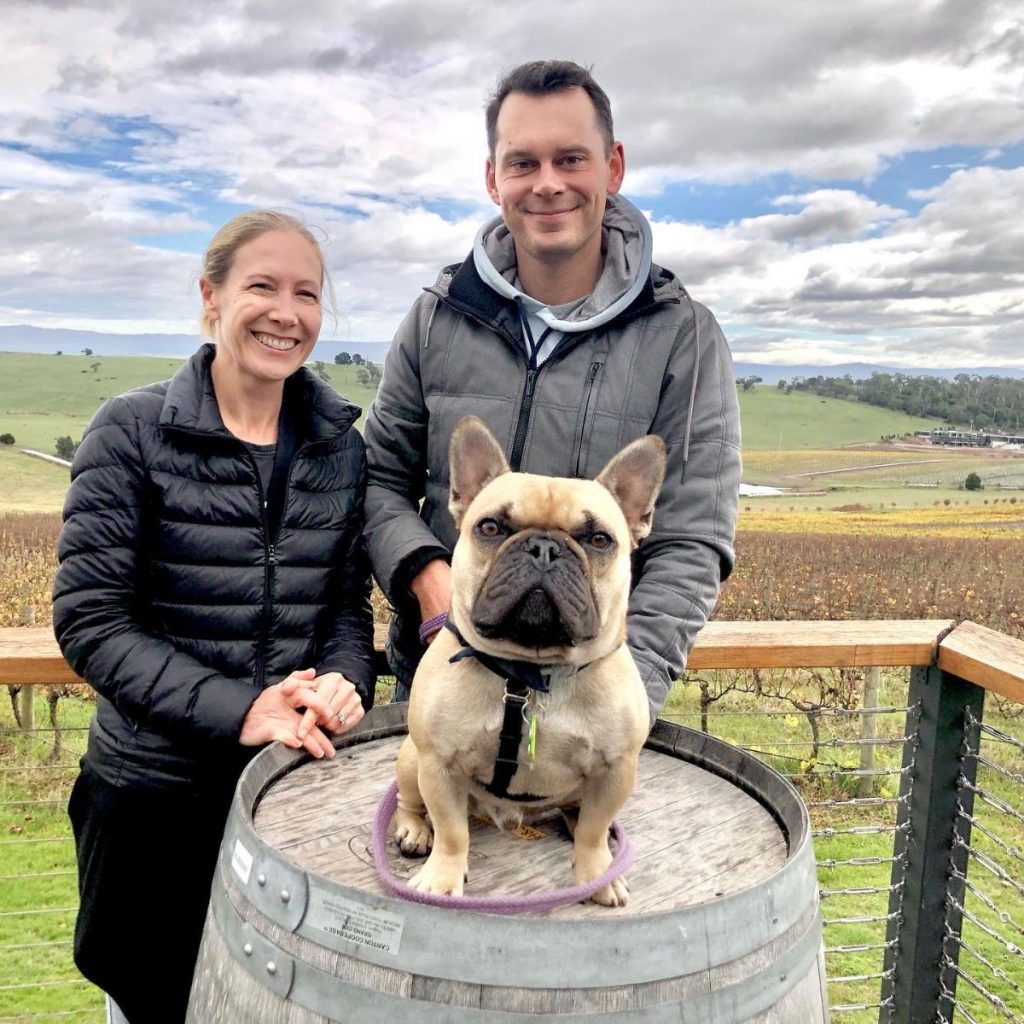 Once mes parents had bought wine, we piled back in the van which I was rather liking by this point (because I got to sit in-between Maman et Papa which I never get to do normally).  Then we got to Yering Farm Wines and when I got out of the van I gazed longingly at their huge expanse of green lawn and I thought to myself 'This would be perfect for me to chase a ball', but je suis triste à dire, no ball was forthcoming and I soon realised that Mum & Dad had tipped Jeff off that I can't be trusted with a ball. Merde.
So anyway, we went inside this cool old barn of a building where there were LOADS of people but a lovely lady called Megan had lit the fire specially for us and took us to a table right near it so we could be warm while trying her wines. Très gentil.  (Look at me peeping out from under the table all coquettish!)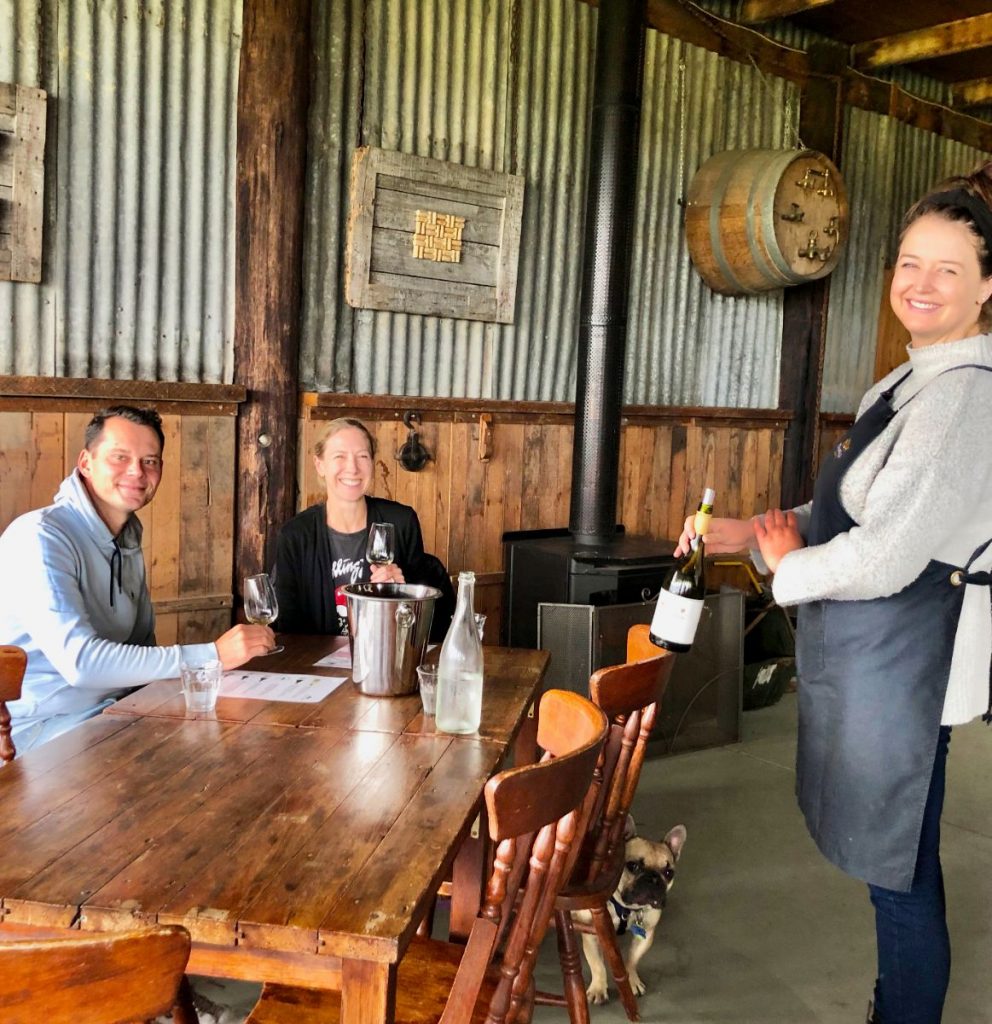 Maman et Papa are English and without meaning to stereotype, the Pommes do love their cider, and Yering Farm make a great cider from their pink lady apples and true to form, my folks bought a 6-pack of it!  Alongwith a bottle of their estate Chardonnay (paws crossed that's for me).
While they were drinking wine, I was scoffing down Laila & Me treats that Jeff kept plying me with.  He's a good man is that Jeff. C'est mon nouvel ami.
It was lunchtime by now and Jeff had it all under control. He had organised another wine tasting with a marvelous platter of fromage, du pain, charcuterie et crudites.  Mum had a glass of sparkling and Dad had a Syrah – while I just sat under a chair waiting for bits to fall my way!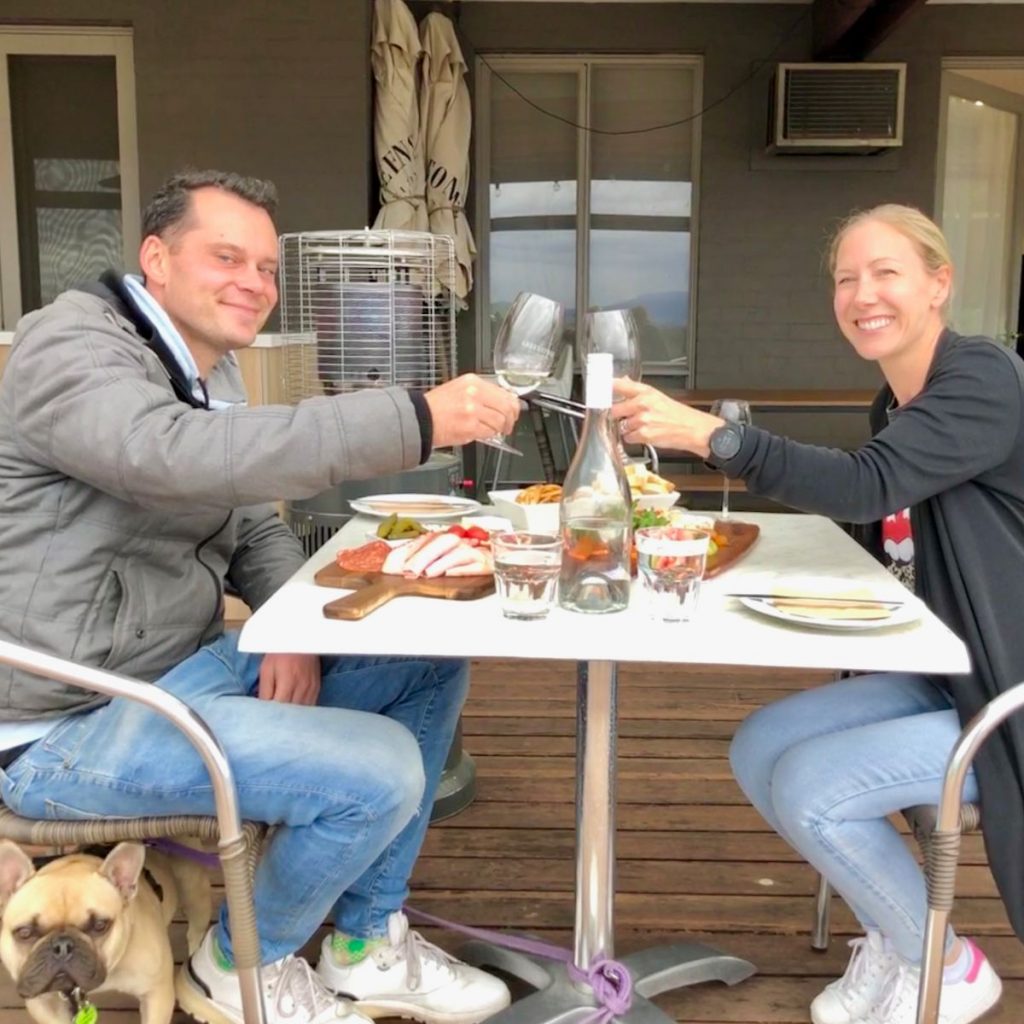 Knowing that both my folks love cheese, Jeff suggested that after lunch he take them to Sophie Cheesemonger, an incredible fromagerie in Healesville, so they could buy some cheese for later back at our accommodation.  They nodded eagerly and while we let them loose in the cheese shop I took Jeff for a walk up the main street of Healesville.  He looked like he could do with the exercise.  
No sooner had we got in the van and done our seat belts up, it was time to get out, at our next winery, because people, this winery's cellar door is in the very hipster heart of Healesville.  It's what I like to call an urban winery.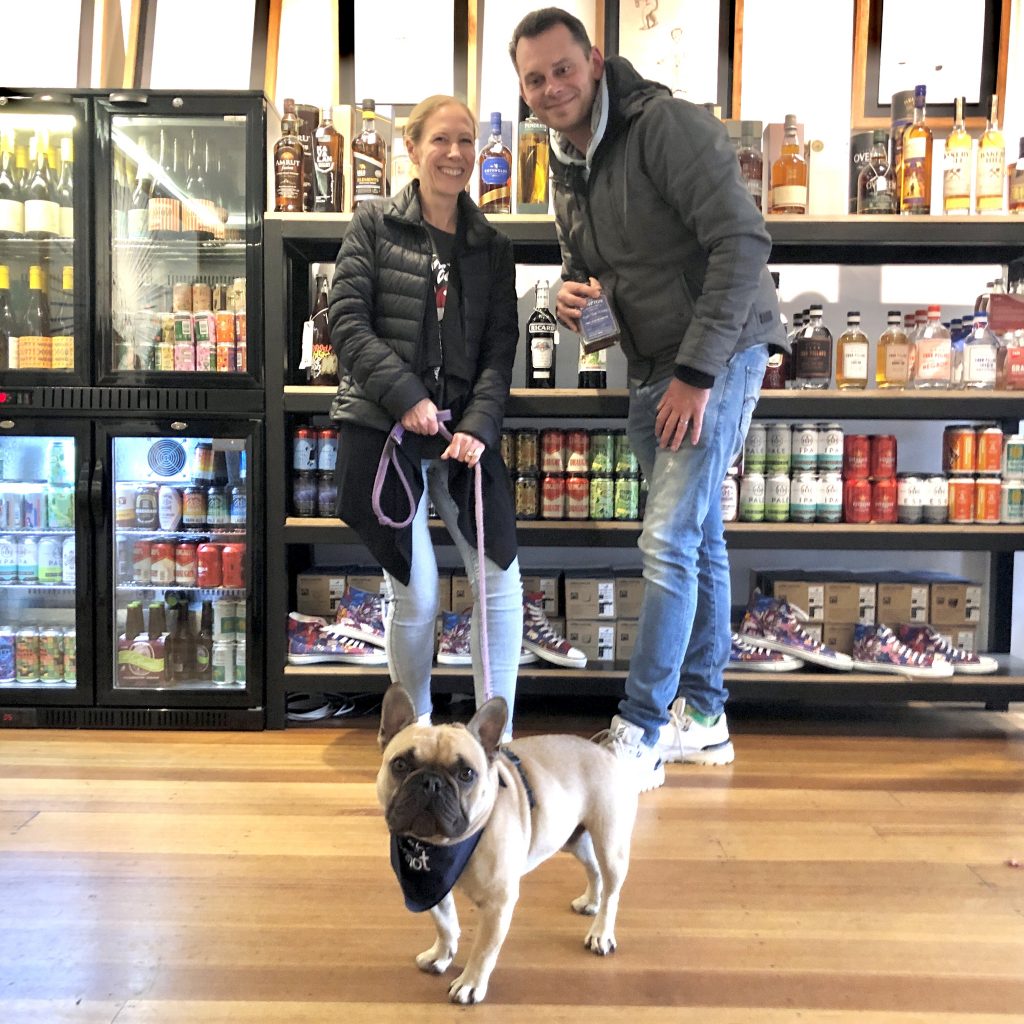 So we walk in and I'm met by Jenna who asked how I am with other dogs.  And when I replied 'I'm fine thanks with other dogs', she led me through to the al fresco area, where I met a very sexy cocker spaniel called Nina, who would you believe, told me all about the time SHE came on a wine tour with Jeff and how much she'd loved it!  Small world people. C'est un petit monde.
A dude from Jamaica did our tasting with us and he knows his stuff, he's even made his own wine, and he's a really cool guy, but to my untrained ear I had to really listen hard to understand what he was saying.  And he didn't mention the word 'treats' once.  Good job Jeff was there to keep me sated.
When we went back into the cellar door to buy some wine, I made friends with a rather fabulous French lady called Manu, who shook my hand and gave me a treat.  They're so sophisticated the French.  Tho I have a sneaking suspicion it came from Jeff's pocket.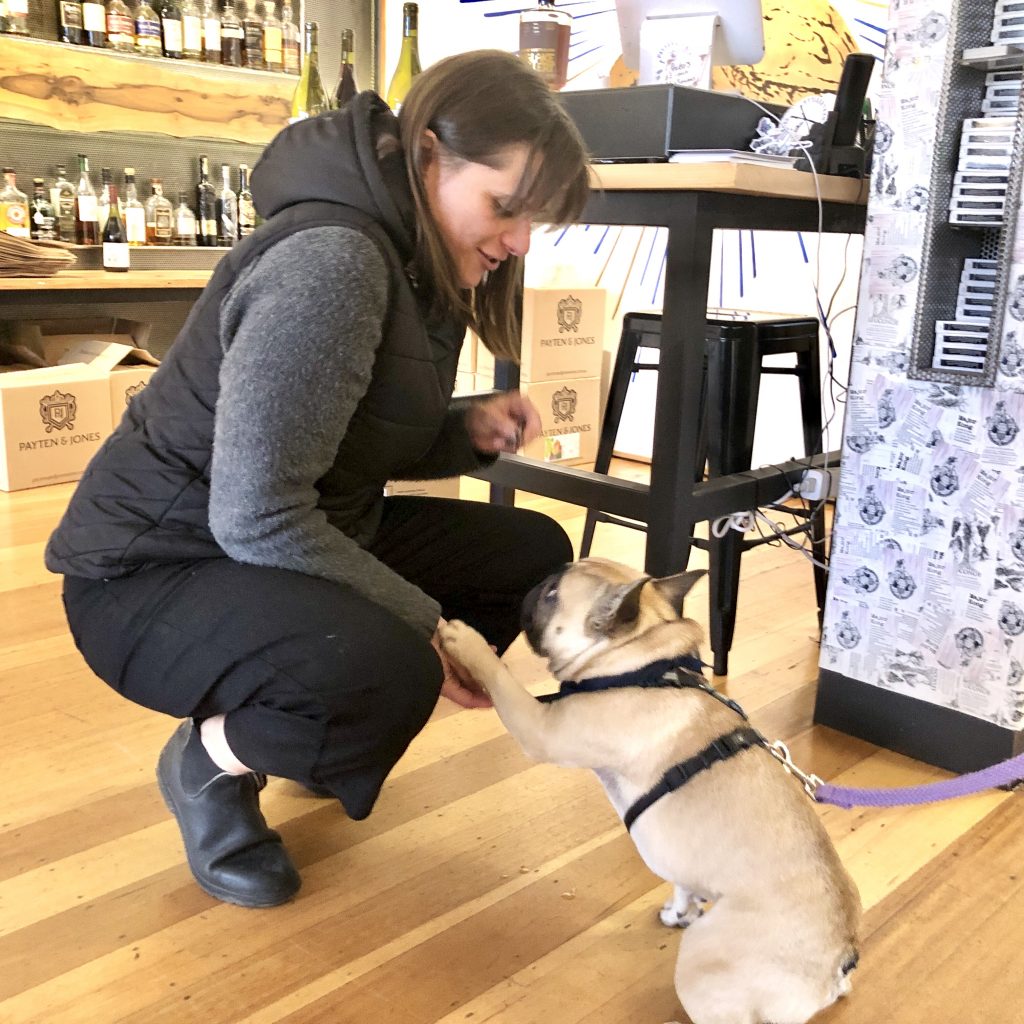 To trick things up a bit, Jeff had arranged for us to go to a brewery next, which as you can well imagine, suited my Anglo parents down to the ground.  
Watts River Brewery is a very laid-back affair and they brew onsite so we sat amongst the vats of ale, and sipped on a paddle of their finest.  Well – I didn't, I watched from a distance because I had been tied to a vat, (si ignominieux) so I didn't pull the table over (damn, they foiled my plan – had it tipped, I would have to got to try the ales too)!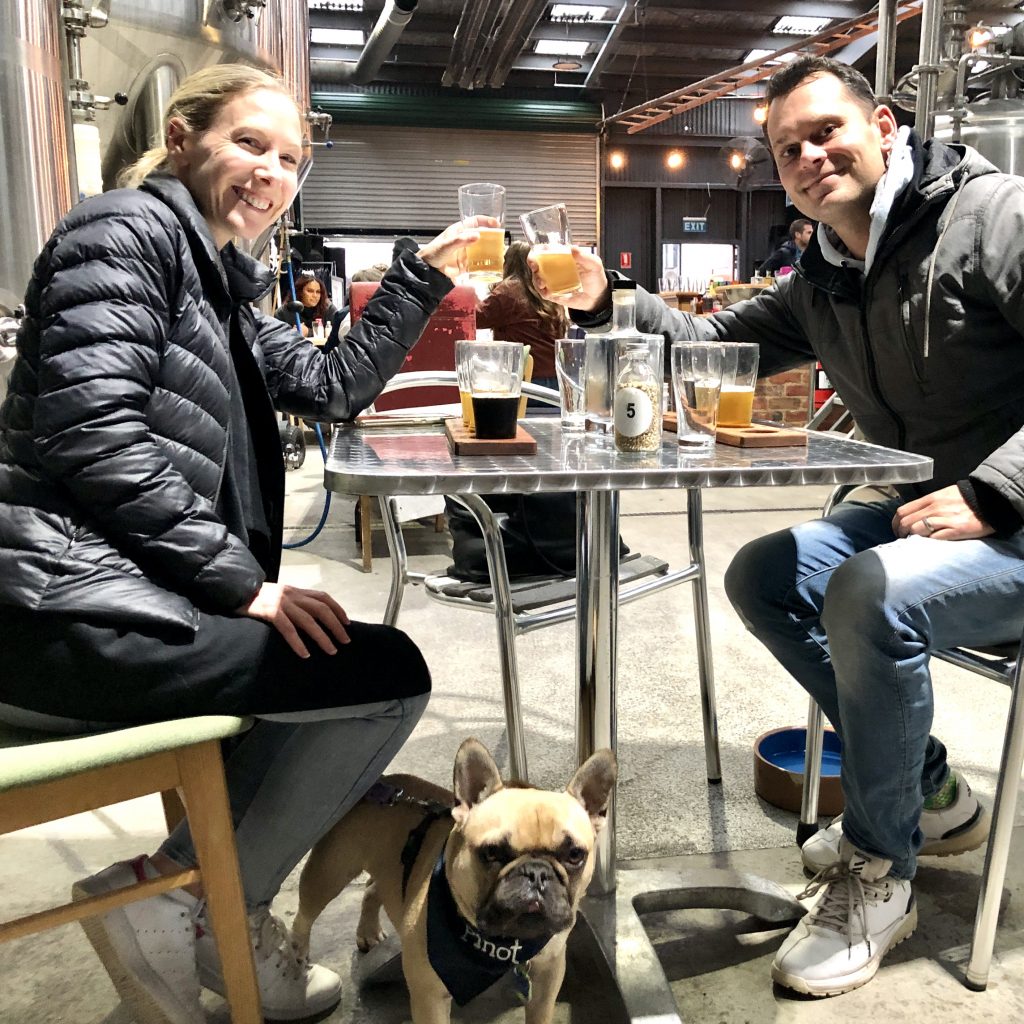 Papa really liked the River Sessions Pale Ale so bought a 6-pack we can share later tonight.  Paws crossed.
What a day – I was a bit exhausted as I'm not used to all this socialising and Mum and Dad aren't used to drinking all day so we were a weary but happy bunch as Jeff dropped us back to our studio for the night.
And – how embarrassing, we'd totally forgotten it was Mother's Day tomorrow and that everywhere will be busy for breakfast and lunch, but Jeff said 'Leave it to me' and before we knew it he'd got us a booking at a 'booked out' place for lunch tomorrow – Healesville's best dog-friendly café, My Little Kitchen.  He's in the know is Jeff.  Connected, I think that's what they call it.
And so all that remains for me to say is – au revoir et à bientôt, until next time…