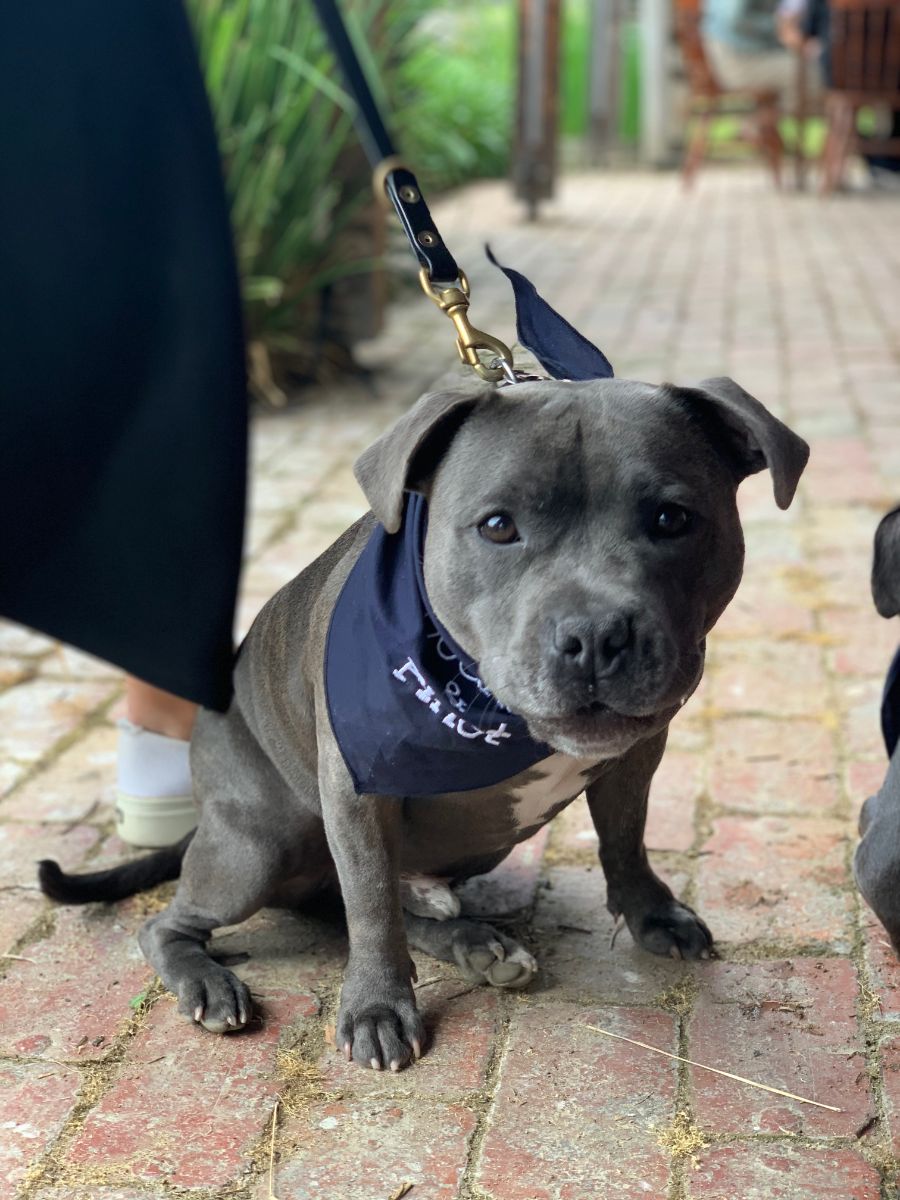 Dudes – Harvey here, I'm a 2 year old Staffie and I'm here to tell you about my gnarly trip to the Yarra Valley on Saturday.
You know how hard it is to find a present for your pawrents wedding anniversary?  Well on top of that mine have had a rough few months with this virus thing getting in the way of fun, so I messaged this rad outfit in the Yarra Valley called would you believe, Pooches & Pinot, and booked them to take us out for a wine tour for the day.
9.30am on the dot this luxury black shiny van pulls up at our pad in Highett and I know this is them and I introduce myself to Jeff who is possibly the coolest guy on the planet, second only to my Dad. We get in the van and I get a special rug to sit on and even a QR code so I can check us all in.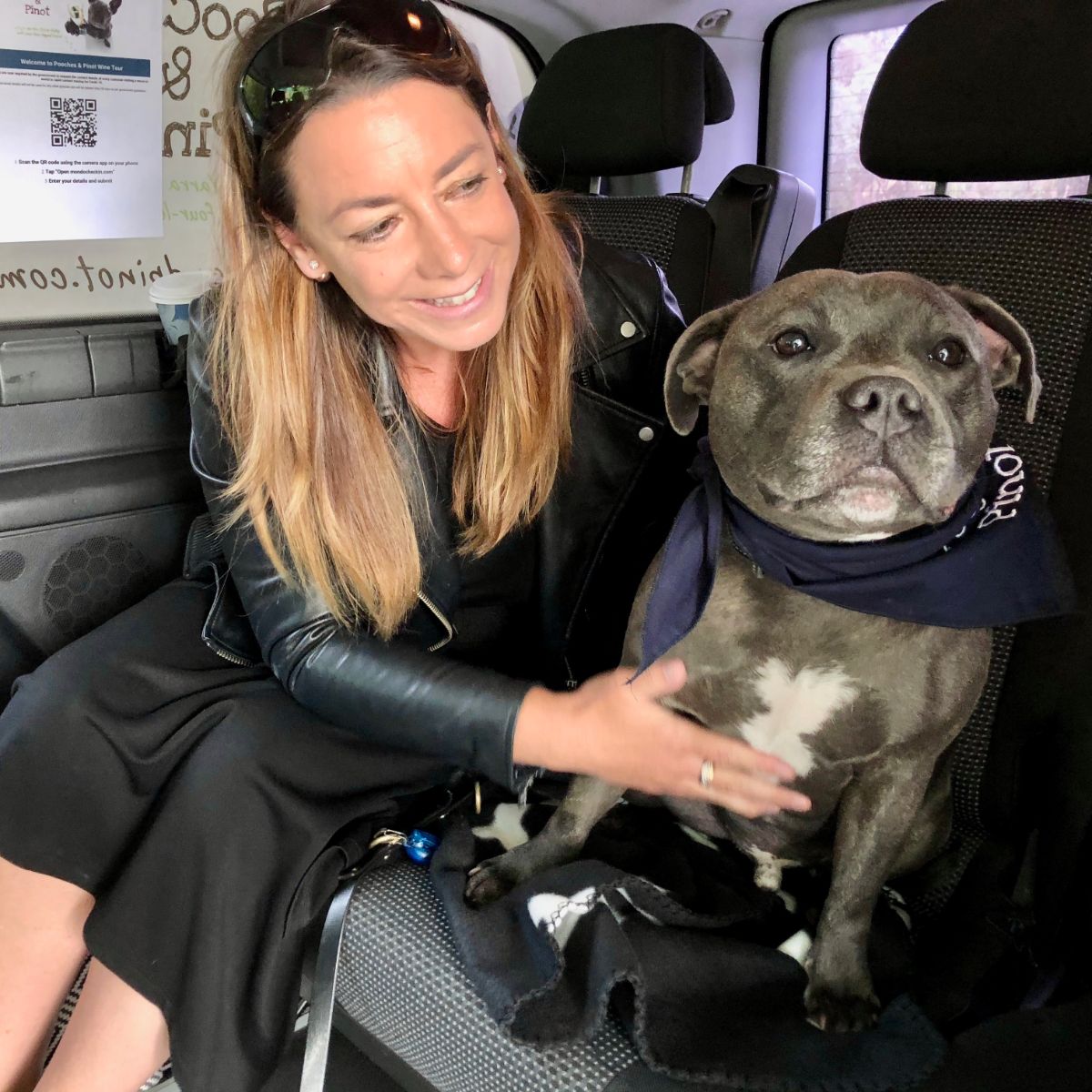 We're off and chatting and before you can say 'Cowabunga' we're arriving at Rob Dolan's cellar door and man it's fully sick.   As soon as I was shown my seat, a cute little ball of fluff throws herself at me barking that her name's Zoe, she's a wine dog and do I want to chase her. Do I ever!?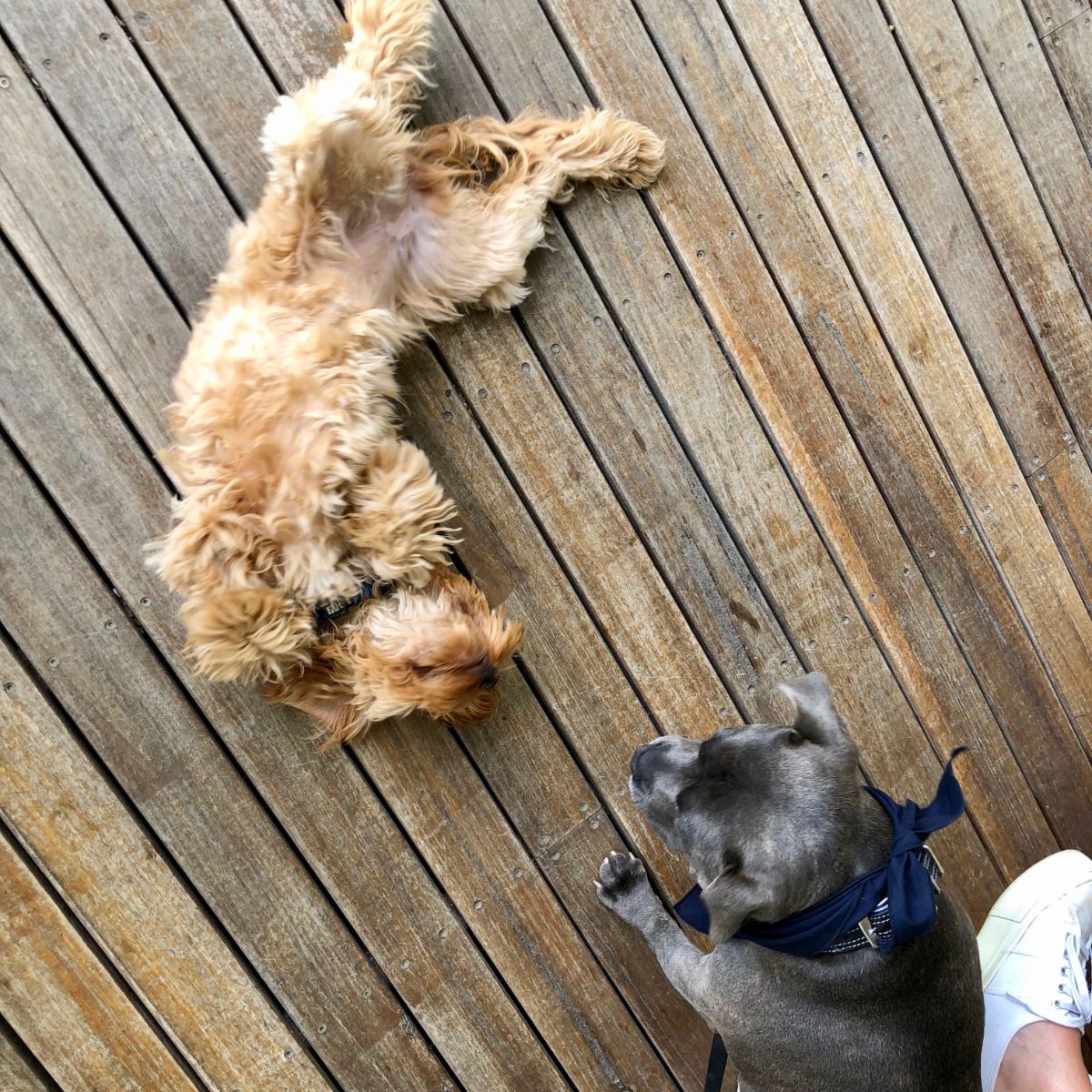 So, as we get to know one another better, my pawrents start drinking (I know right, 10.15am on a Saturday – no shame those two).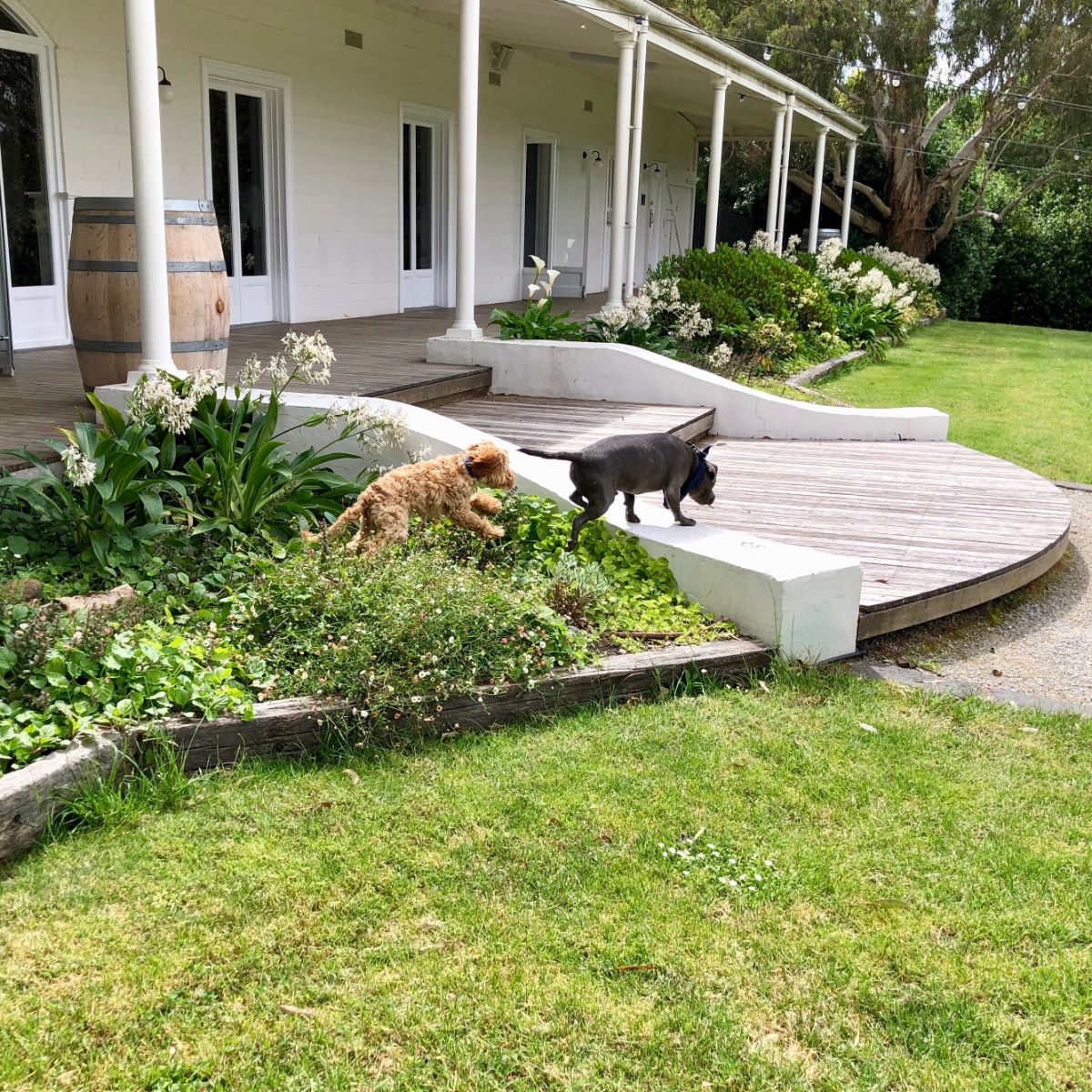 And look it's not just the wine dog that I charm – here I am with the gorgeous cellar door staff and they can't keep their hands off me.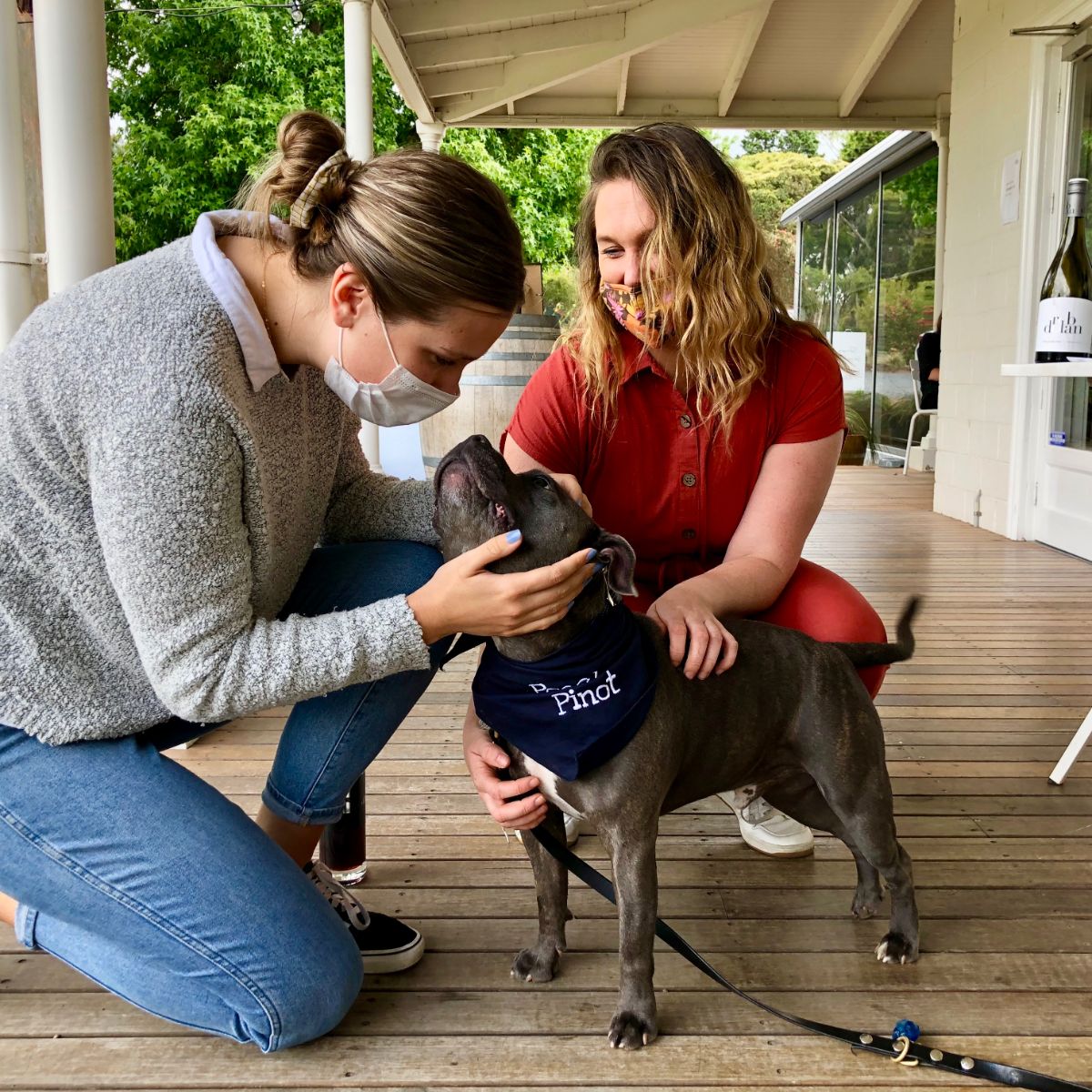 I'm a natural, what can I say. You don't earn the title Ultimate Wing Man (Dad's name for me) lightly!  I then set about charming Jeff and he was a pushover and adored me instantly. One winery in and we're already like bros. He seemed to have an endless pocket full of Laila & Me treats – my kind of guy!
Time to hit up the next cellar door, so Jeff took us to this pumping place called Yering Farm where there were dogs there taking their owners out for the day like me and get this – there was another Pooches & Pinot tour there and they had a Staffie like me, but older, on their tour so Snoop and I made friends immediately while our fur mums swapped stories and notes on us and raved about how much they loved us.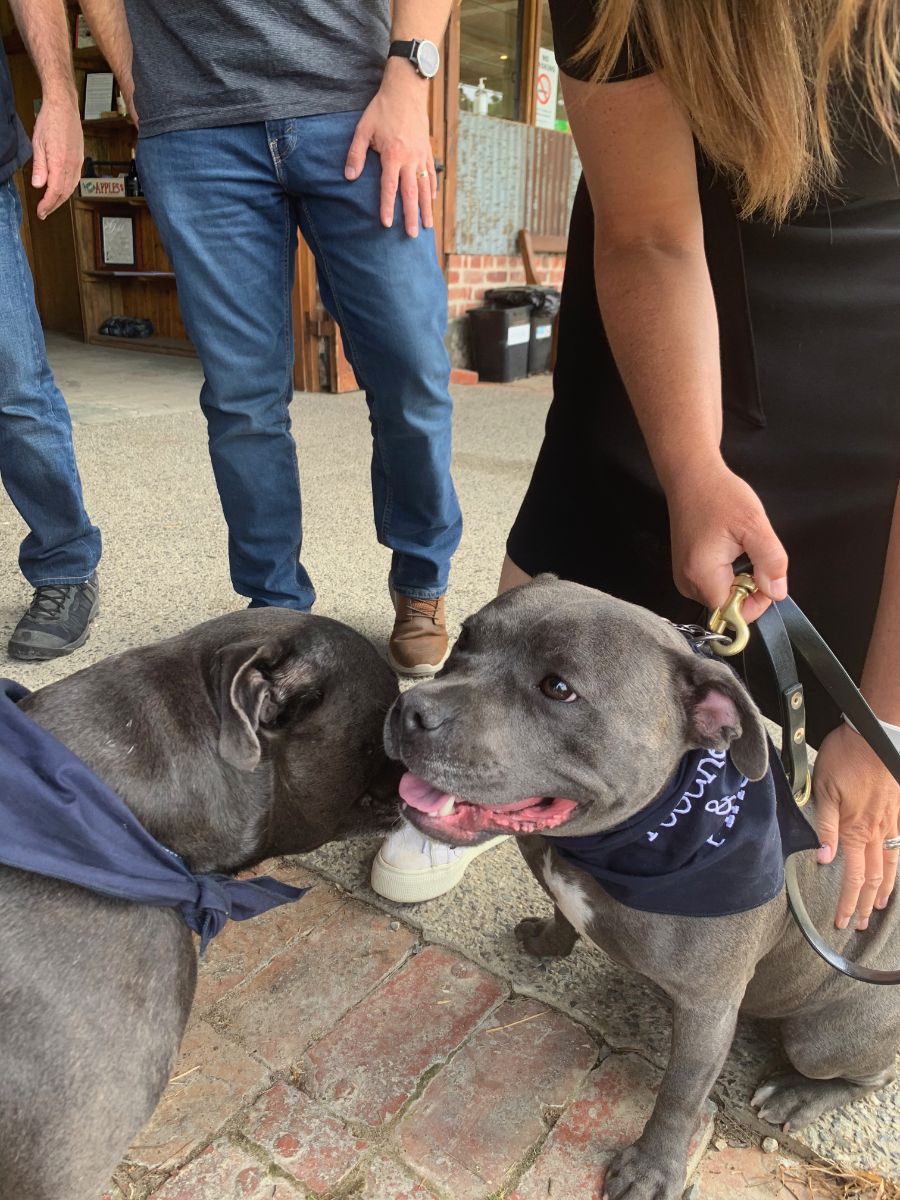 There was a lot of patting and fawning and posing for photos. You get used to it when you look like me, I'm OK with it now.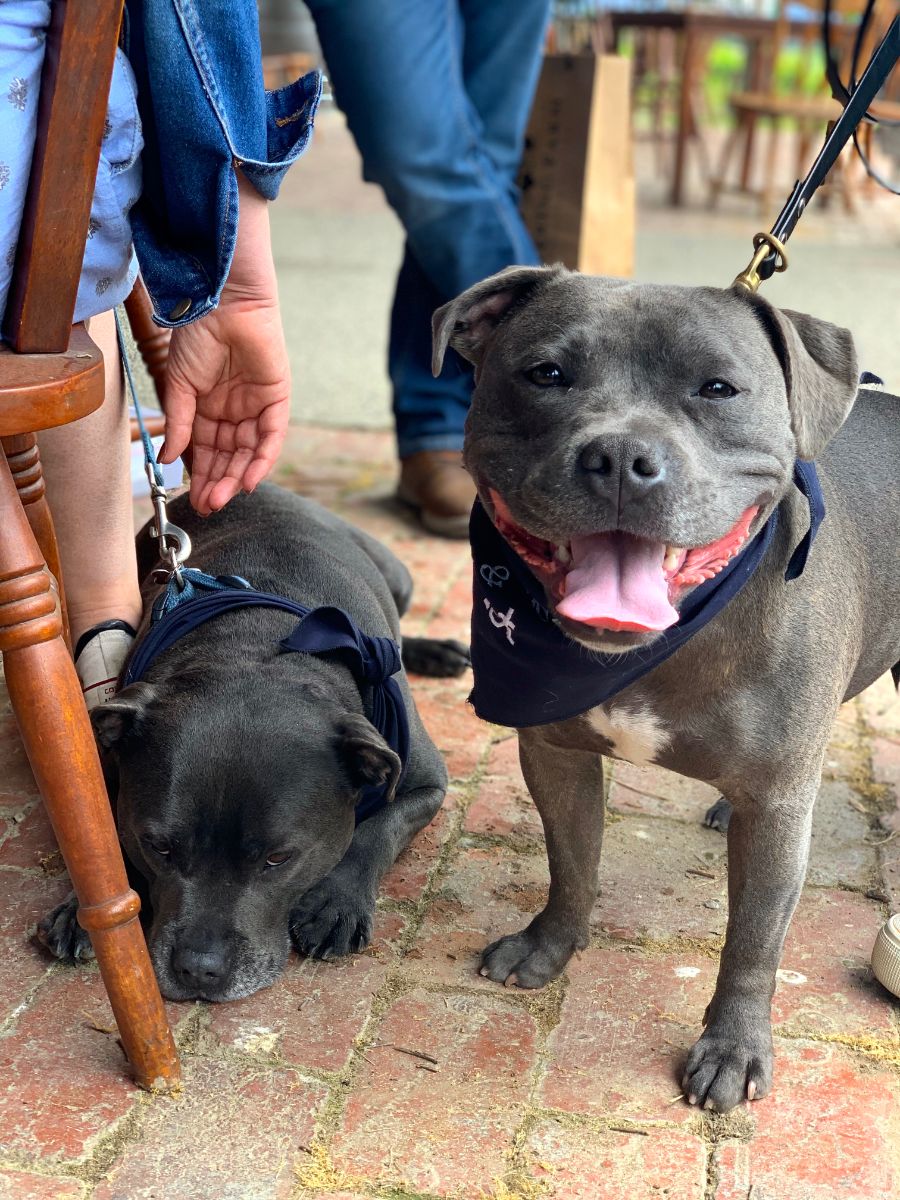 My pawrents literally had glasses of wine lined up on the table to try – I've never seen my Mum look so happy.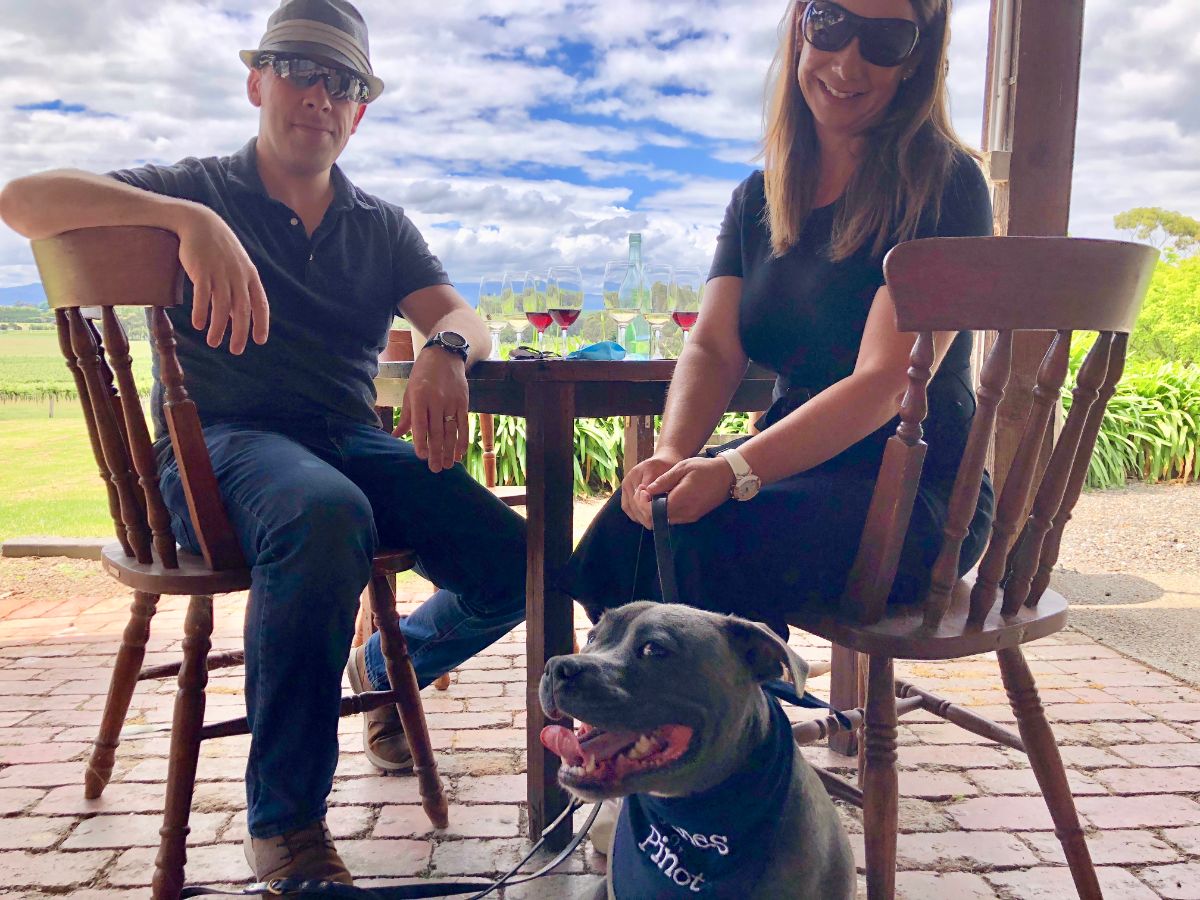 Jeff mentioned the word lunch so we all raced back to the van and drove up to Helen's Hill where someone had put together an incredible platter full of my folks favourite food and I sat patiently hoping some might fall in my general direction. Nice people kept pouring them wine while they had their lunch which was genius – I think my pawrents might like to have lunch like this every day!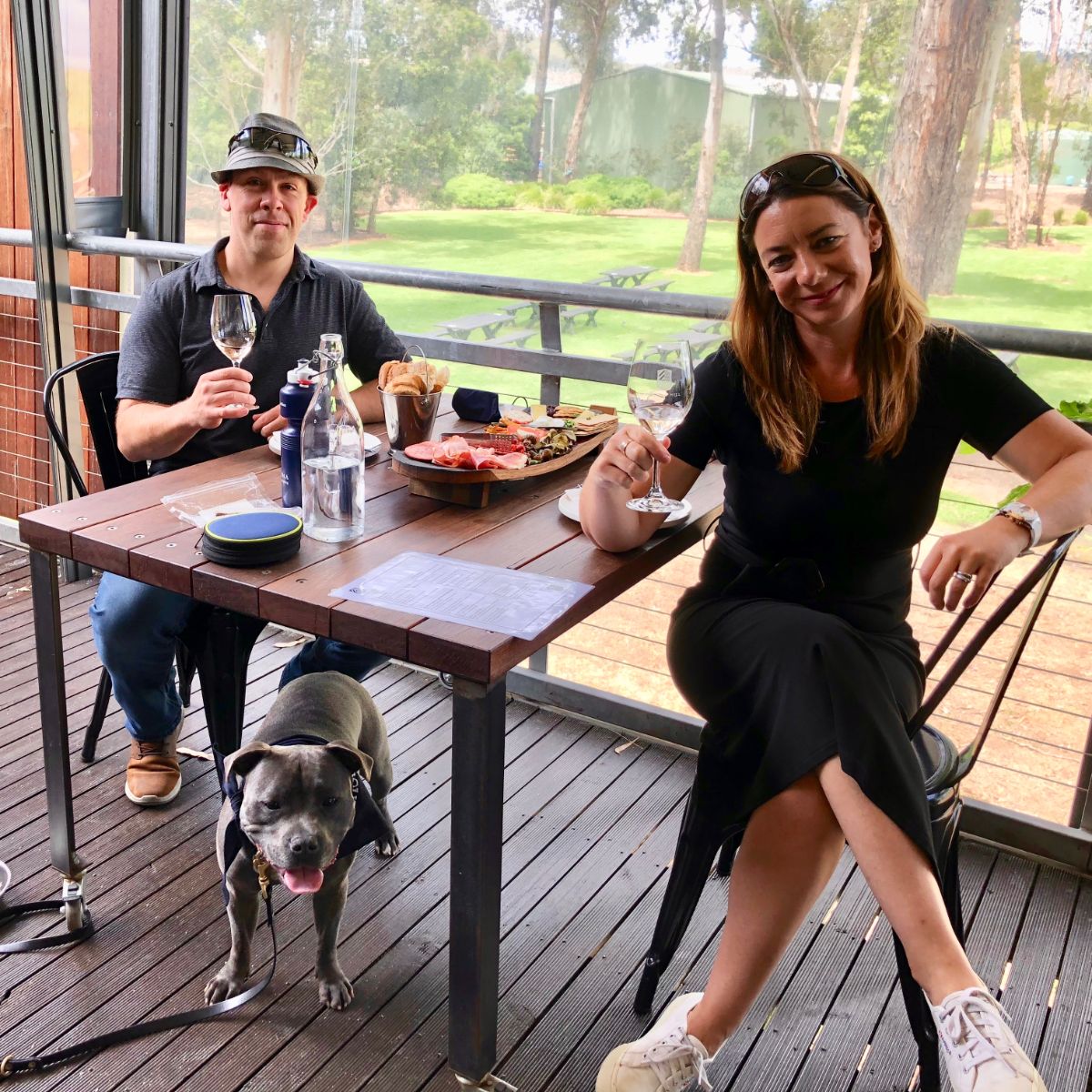 I'd arranged for Jeff to take us to one of his favourite parks so I could charge around like a lunatic, which I did to everyone's delight. He's so awesome he'd even brought a ball for me to play with and we did throw and catch for a while. It's the coolest park especially for us doggos, there are tennis rackets that live there for helpers to use to whack balls for their pups, there are water bowls everywhere and we're allowed off lead. LOVED IT.  Here's me catching my breath after all that running about!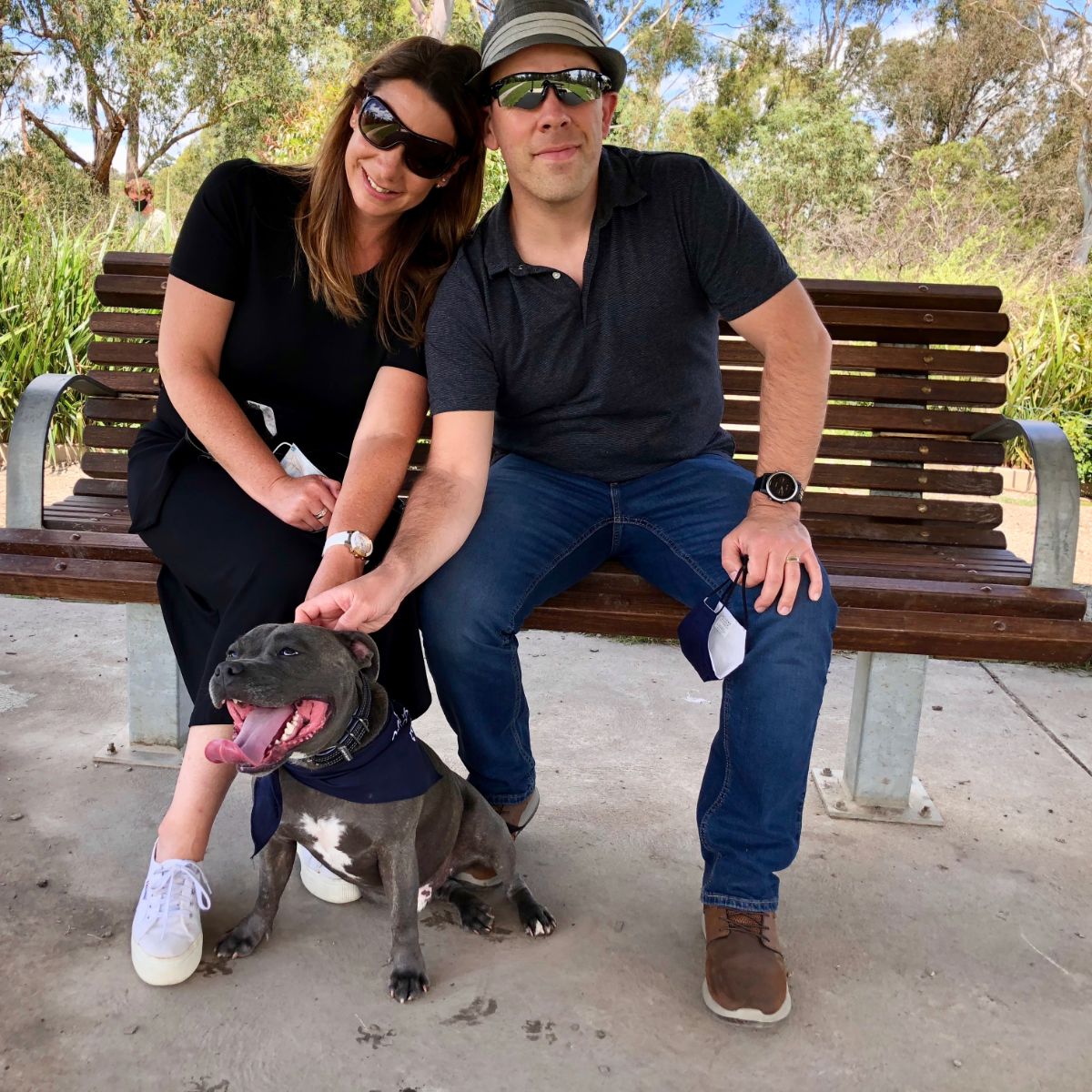 Jeff knew my pawrents would be thirsty again after all that fresh air, so drove us through beautiful country back roads to a tiny cellar door called Squitchy Lane. I met the manager called Michael who realized immediately he was in the presence of greatness and made a right old fuss of me and barely acknowledged being introduced to my folks – hilarious!
We sat out on the deck and guess what my pawrents did, go on, take a wild guess! Yup – they sat there and drank more wine.  It was beautiful and quiet as we overlooked the rolling hills and vineyards of Gruyere – it reminded me of my time in Tuscany. Not that I've been there, well spotted, but I must have seen it on the telly or read about it in a book!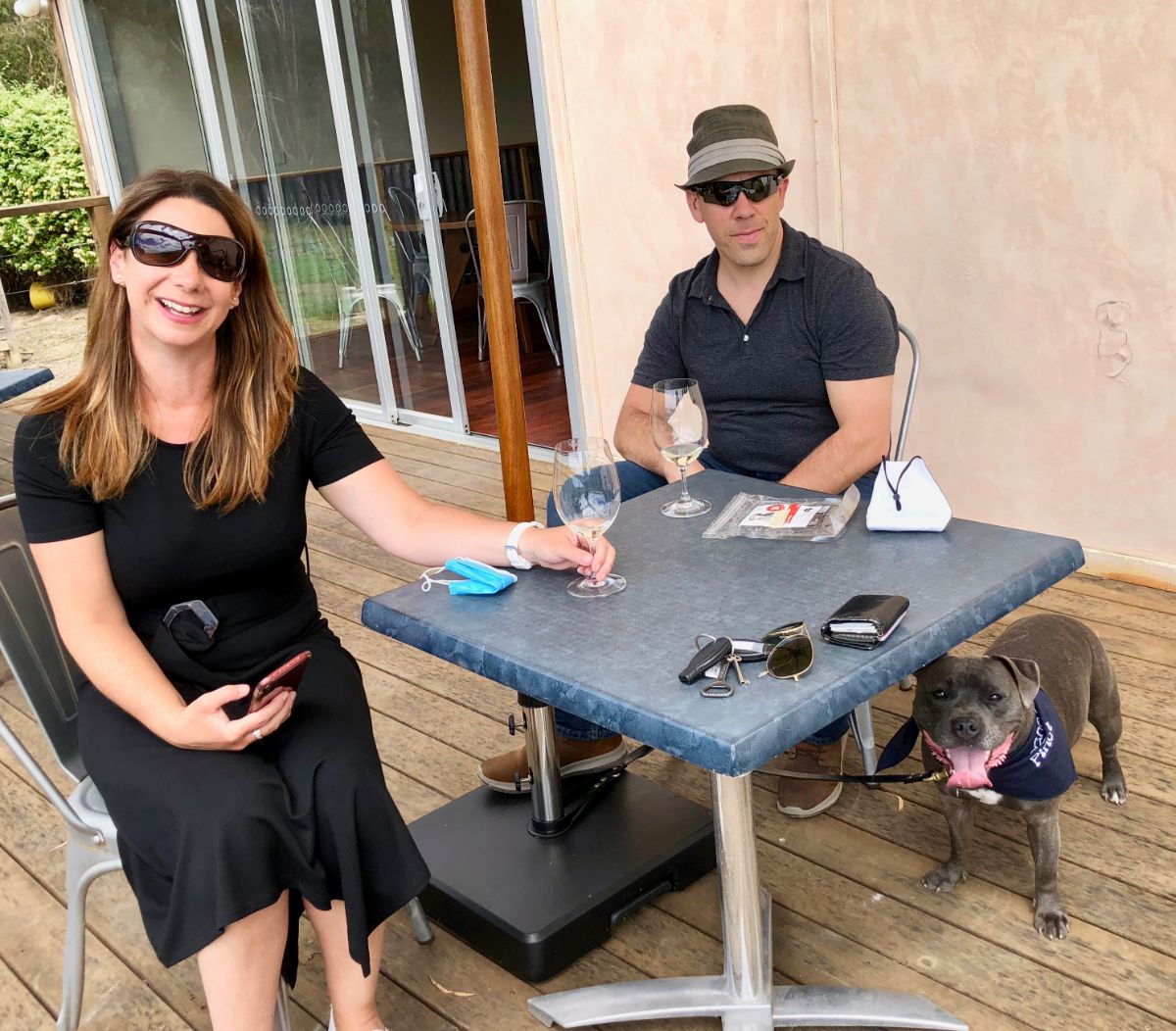 I helped my folks buy some of the red wine they'd liked so much and then we set off for a gin tasting at a very groovy place called Morgans where they make wine, gin, vodka and vermouth! I was greeted by their wine dog (who knew they came in XS??!!) and we settled ourselves down at a courtyard table where my folks were presented with a paddle of spirits to try. My mum liked the vermouth best of all (what a lush!).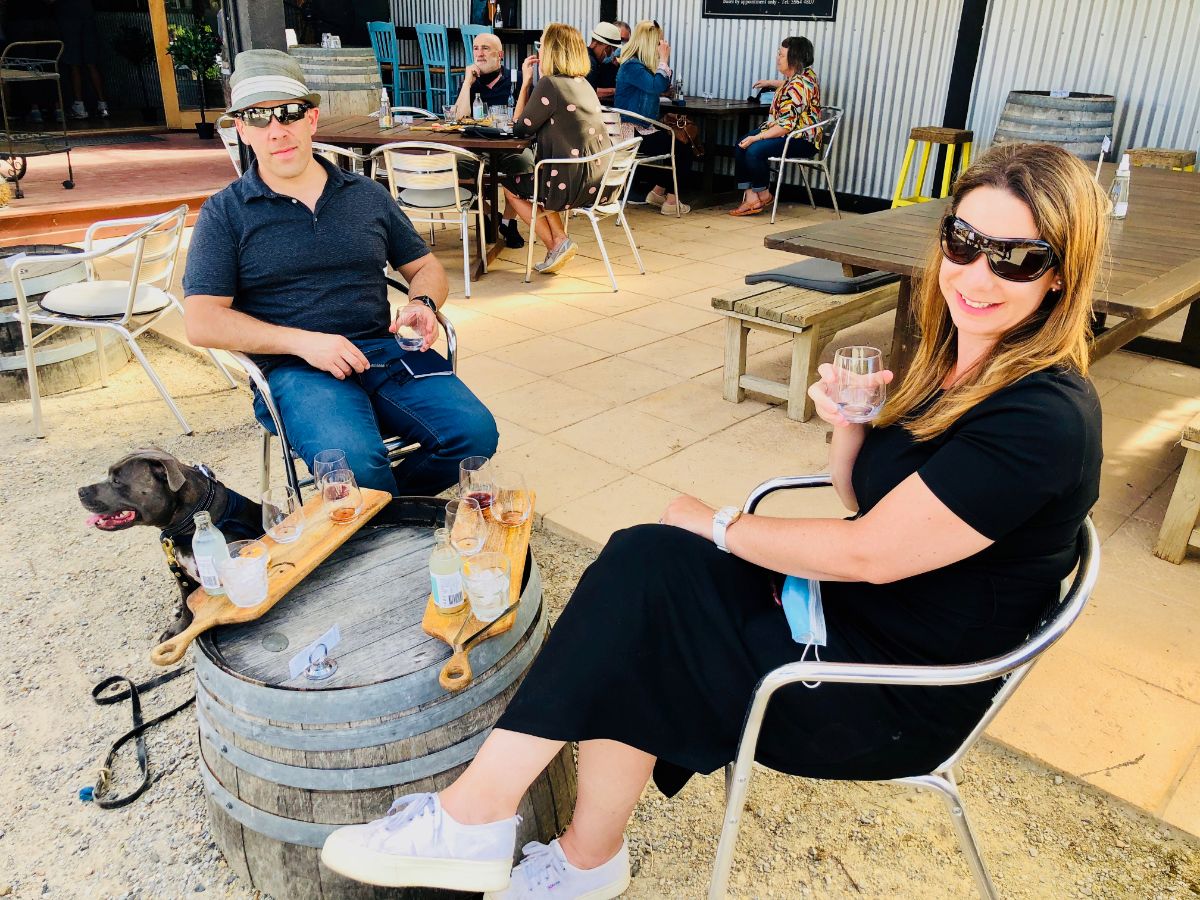 I spotted a coach load of ladies arriving and so sat looking very cute and within seconds they'd seen me and I nudged my dad as they made a beeline for us – the ultimate wingman strikes again.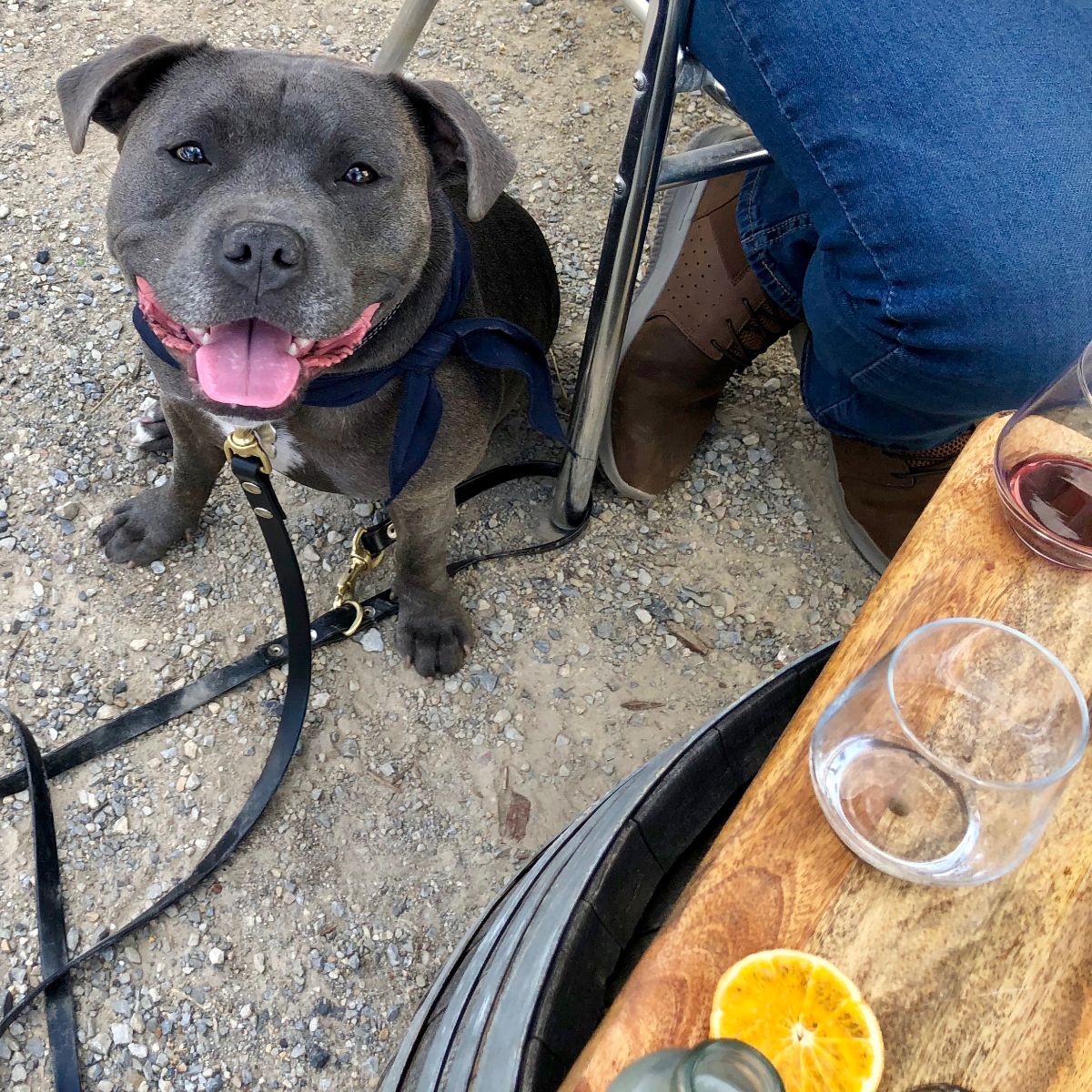 We could have stayed here all day but by now it was time to head for home and to be honest I was pretty wiped out from all the entertaining I'd been doing. We snuggled down in the back seat and Jeff put on some old crooner type tunes (some guy called Springsteen or something) and I happily slept most of the way home (as I think Dad might of too)!
When we got home, my pawrents carried all their wine purchases inside (verging on the embarrassing!!) and I was kind of sad to say goodbye to my new buddy Jeff, but I could see my couch down the hallway calling to me, so I shook a paw back at Jeff in thanks and headed for my sofa, looking forward to spending the rest of my evening reliving my adventures in the Yarra Valley.
If your helper has a special occasion coming up or you need ideas for Christmas pressies, check out their Gift Vouchers and tour options and give Jeff a call, as we had a ball (literally and figuratively) and it was the best combination of all my pawrents' favourite things – me and wine!