Hi everyone, I'd like to introduce you to my Dad Bruce whose birthday we're all celebrating.  Here's me giving him directions as we drove out to the Yarra Valley on Saturday morning for his birthday surprise – he still had no idea what we were up to as Mum and I had kept it a secret from him.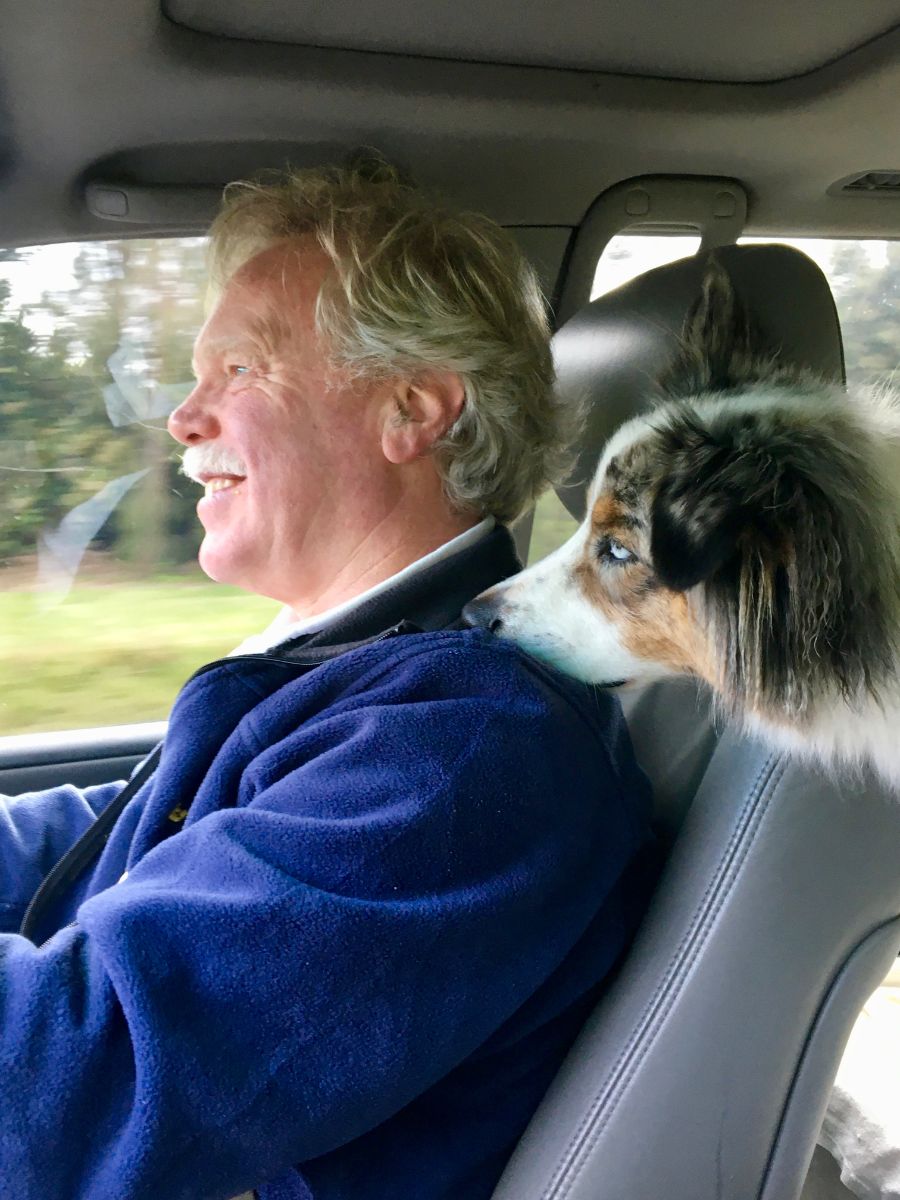 As we drove into the driveway of our accommodation, we saw Aunty Pam and Uncle Peter's car there and Dad was amazed – because that meant even more of us were in on the secret.  And a few minutes later, a big black shiny Merc pulls into the driveway and out gets Jeff, coolest guy on the planet, who says he's here to take us out wine tasting for the day.  All of Dad's favourite things – me, wine, family and the Yarra Valley.  He and Mum got married at de Bortoli winery and I was born down the road in Chum Creek so it's a special place for all of us.
We all piled into the van and I was asked to travel in Economy at the rear of the vehicle which I tried really hard to like, but there just wasn't the leg room I'm used to plus I could hear and see my Mum and Dad over the seat and I wanted to sit with them, so when we got to our first winery I asked Jeff if I could have an upgrade and travel with my family in Business Class and he was more than happy for that.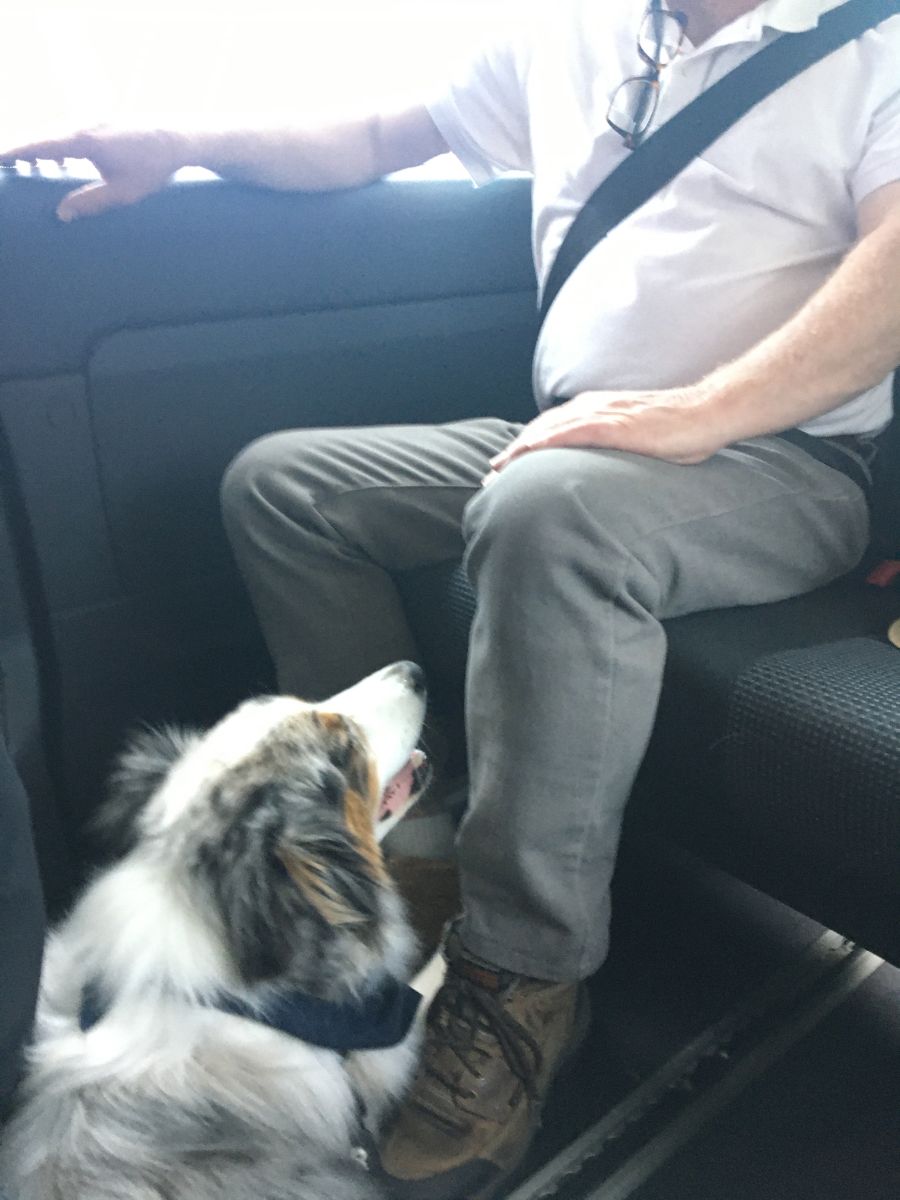 Yering Farm Wines was our first tasting for the day and it was great –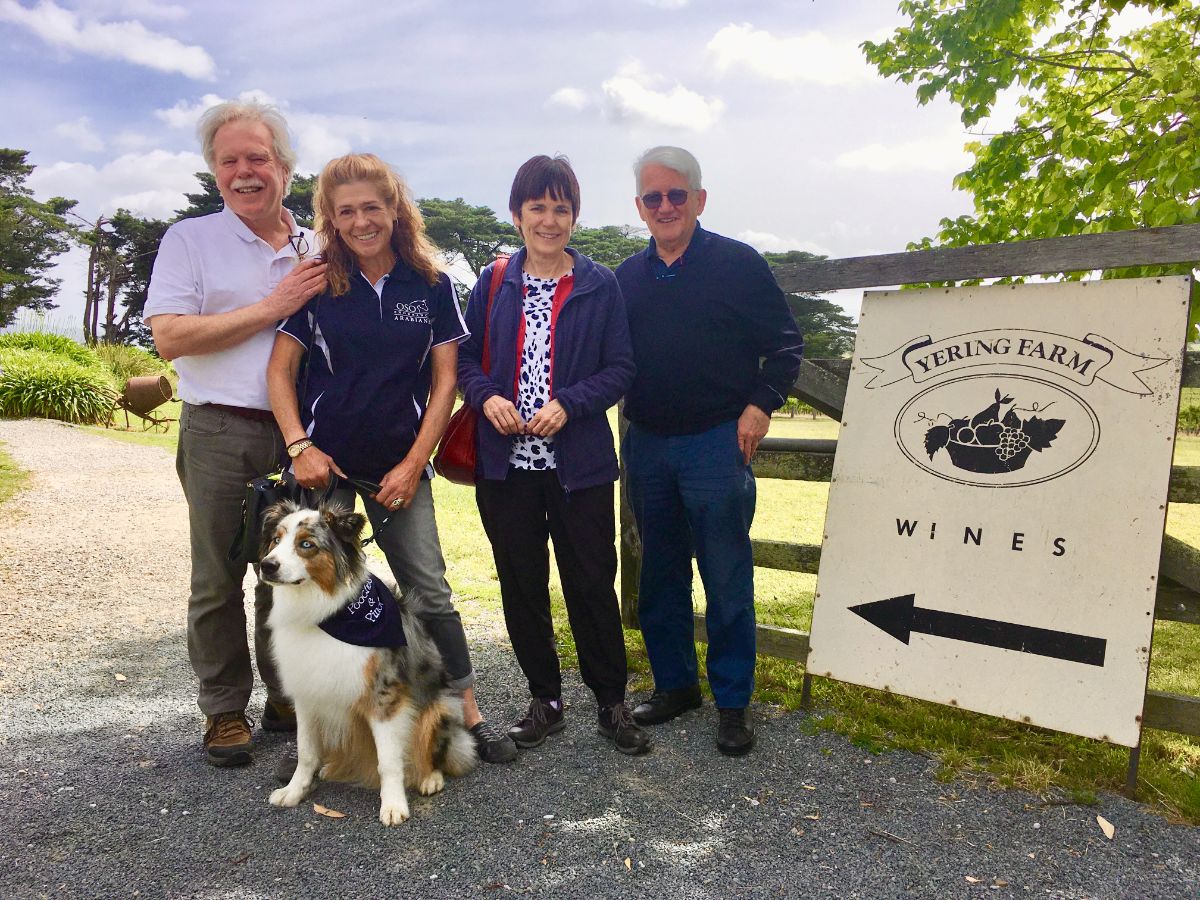 set on a working farm with this rustic hay barn which they use as a cellar door – I went off lead for a bit as there was no-one else there so I ran around the cellar door sniffing to my heart's content and then popped behind the counter to help a lovely lady called Megan who was pouring wine and cider for my family to try.  A huge group arrived as we were nearing the end of our tasting and I was the star of the show – EVERYONE wanted to stroke me and ooh and aaah and I was really brave because I was pretty much surrounded, but I kept my Mum close by, and Jeff directed the mob so I never got overwhelmed. I've done a course in security so I knew what to do!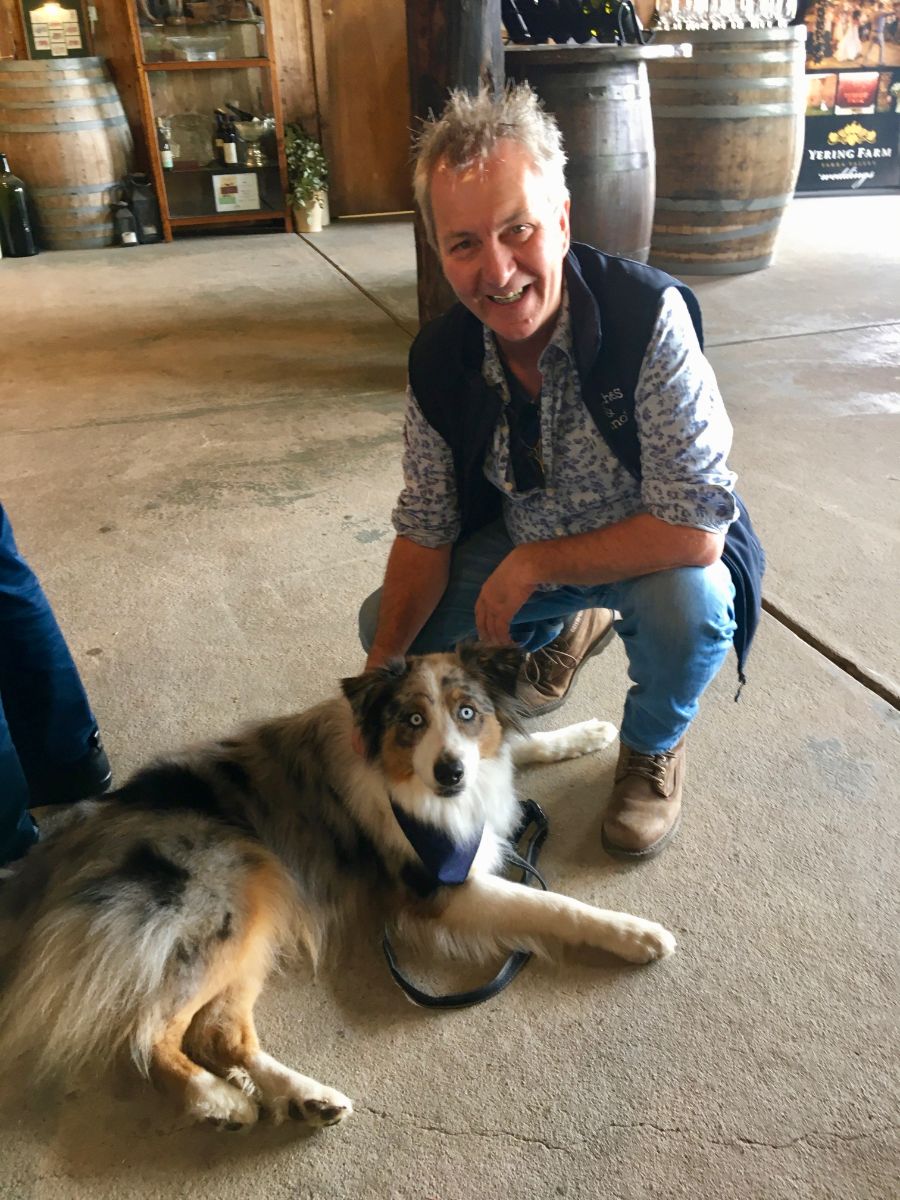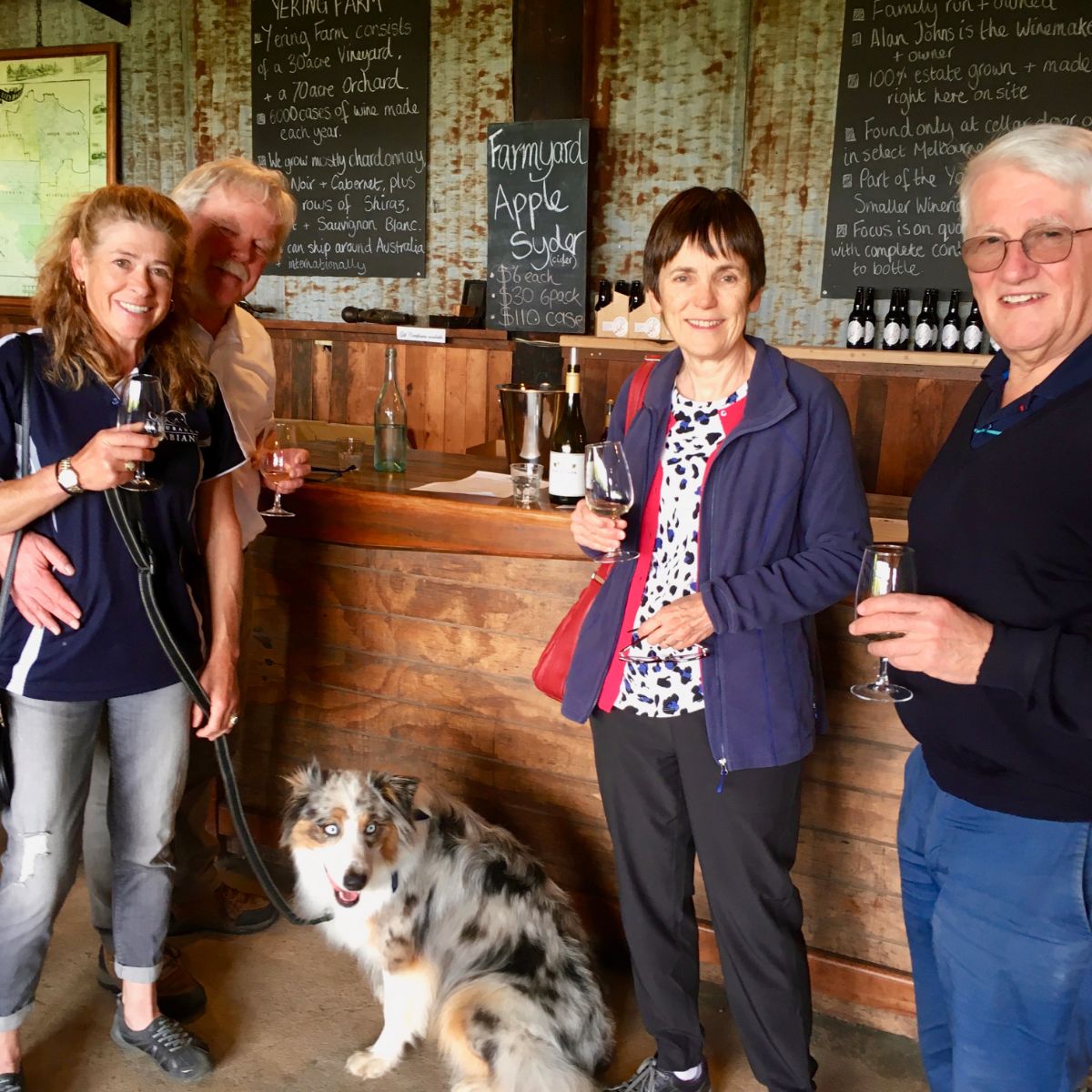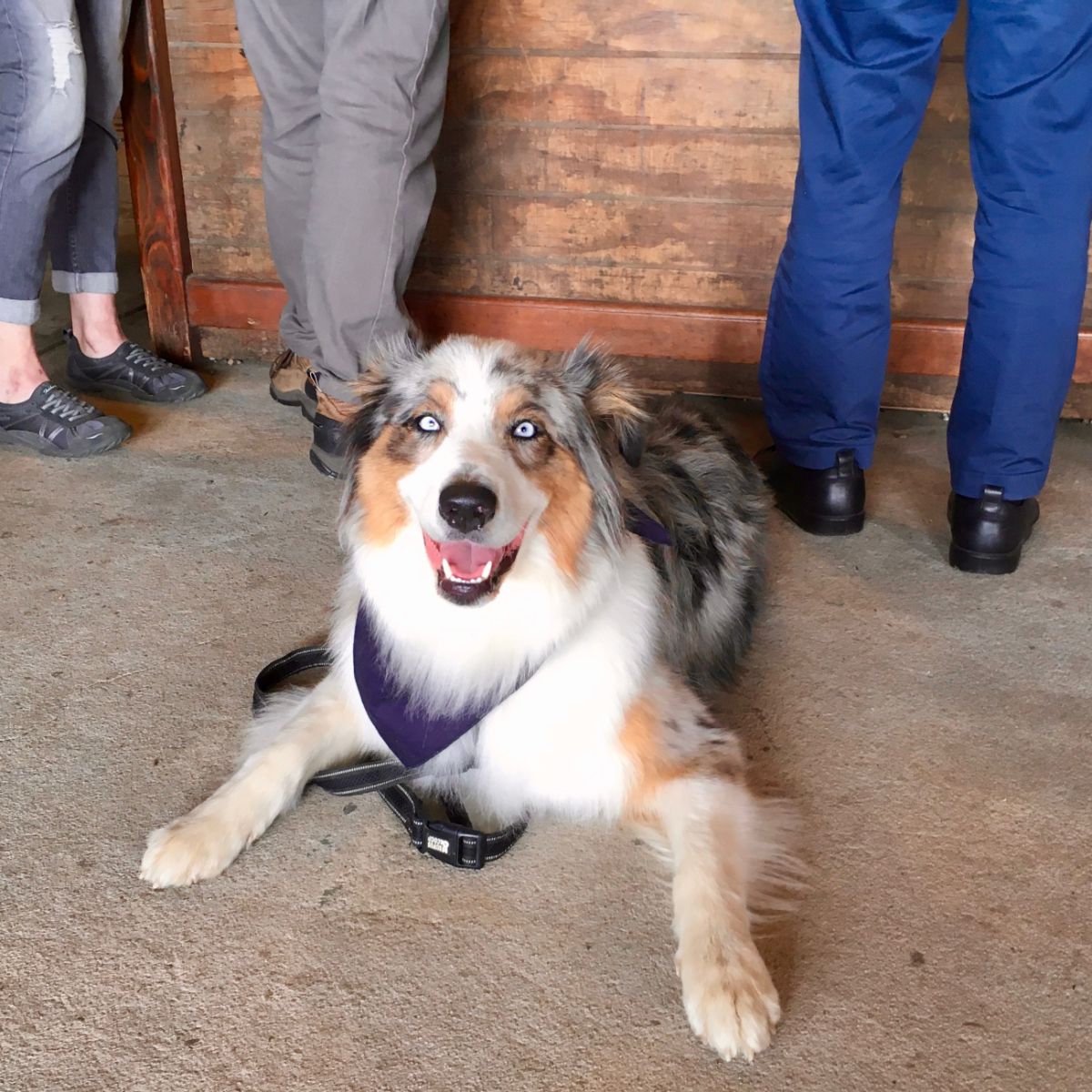 We then drove (with me in Business Class by now) up the road a short way to our next winery called Punt Road.  And as we turned into the tree-lined driveway there were artisan market stalls between the trees and the orchard and we parked up and while my family went into the cellar door for a tasting, Mum and I soon went for a bit of an explore.  It was ace, it's called a Maker's Market – and there were loads of people about to meet and plenty for me to sniff so I had a ball.  Here's Mum and me having a 'a moment' after our wander.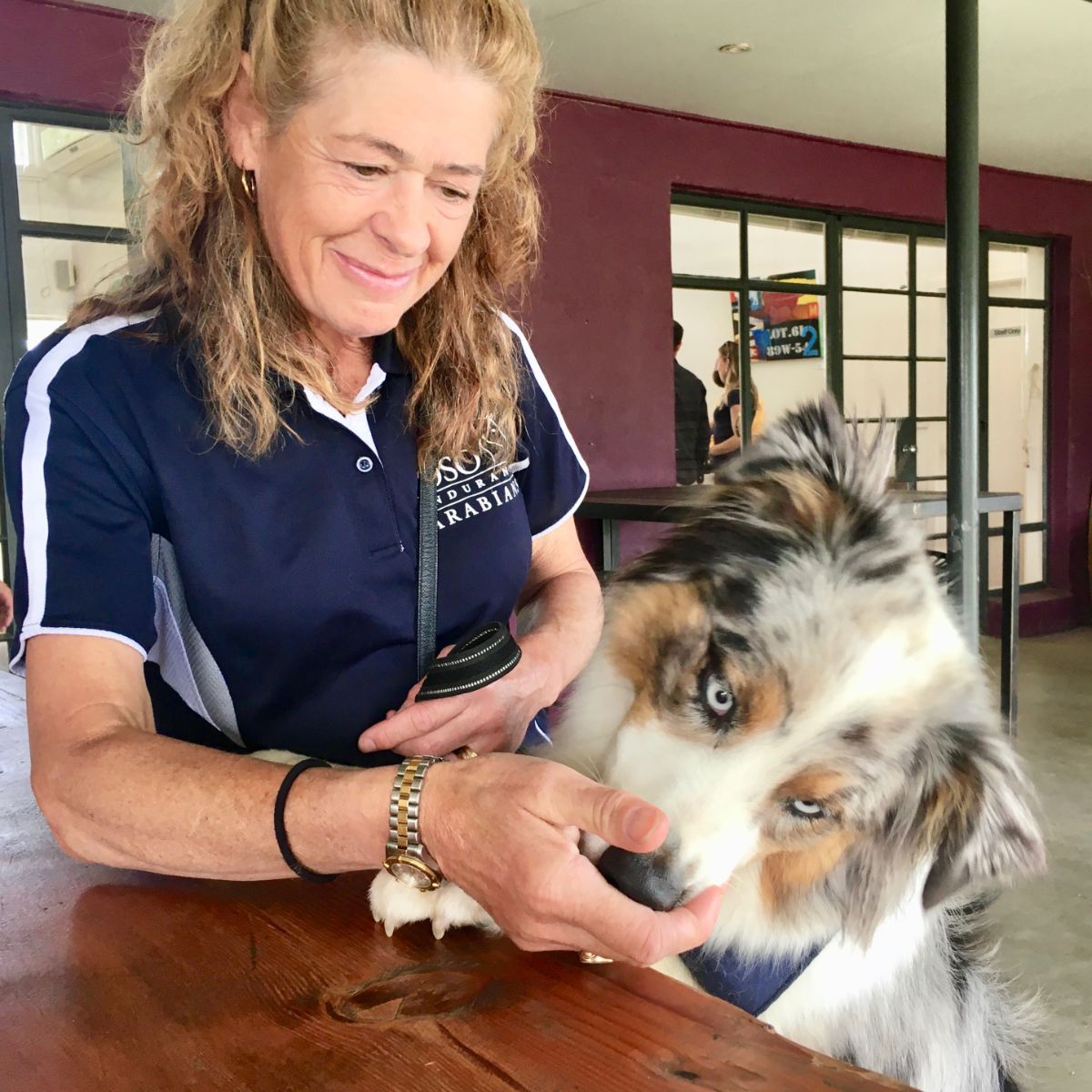 I helped everyone load their bottles of wine into the van that they'd bought – and noticed Pinot Gris was rather popular – which is not what this region is usually renowned for but is becoming increasingly popular.  Yeah, you see, not just a pretty face – I did wine appreciation course a while back.
Our next winery to visit was called Helen's Hill and when we got there it was SO busy, the place was buzzing with pretty young ladies and children everywhere and I was set upon the minute I walked through the door.  In a good way, but wow, you'd think they'd never seen a Ghost before!  Because we were lunching there, we were asked if we'd like to do our tasting at our table which suited us fine as it was outside on the deck in the beautiful weather and away from the screaming fans and while my fam tasted yet more lovely wines, I was fed gourmet Laila & Me dehydrated chicken necks by Jeff – like I mentioned earlier, he's the coolest.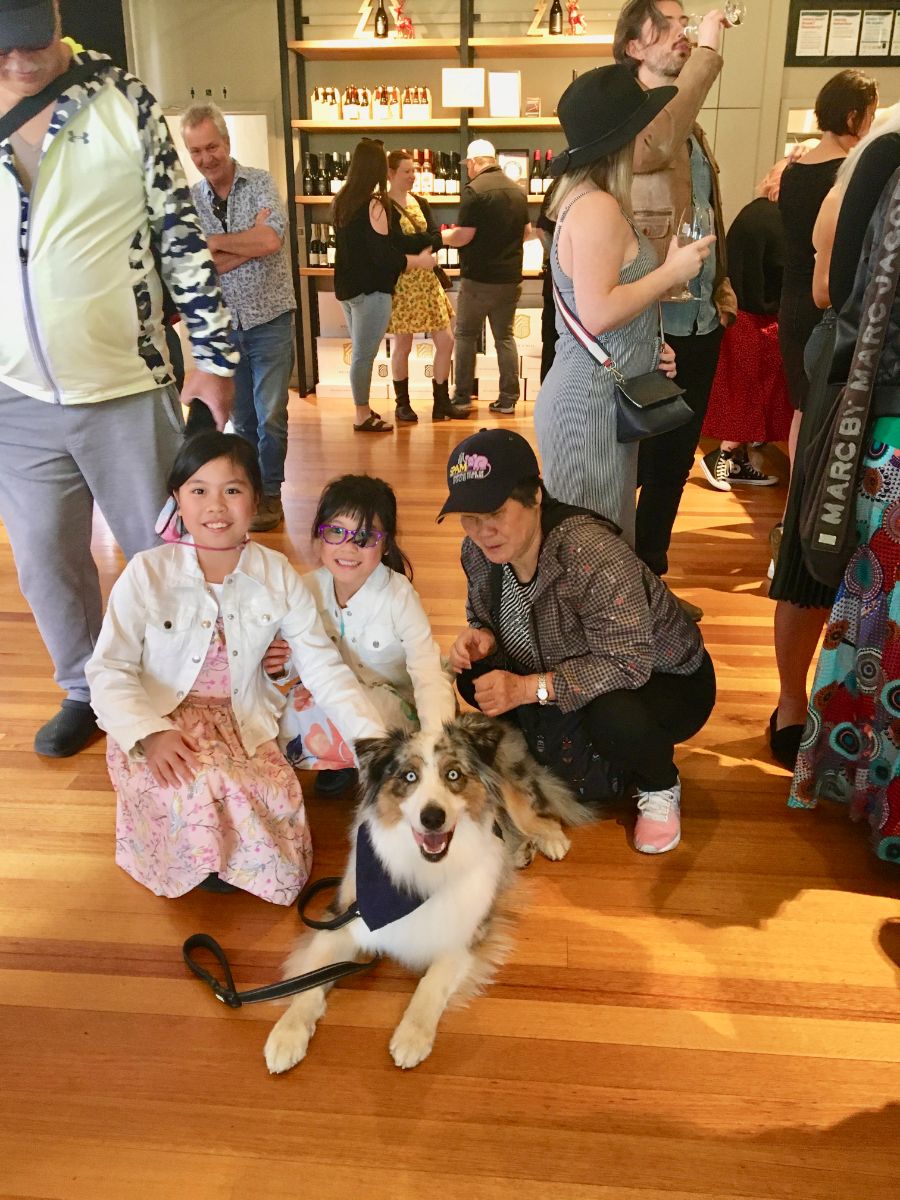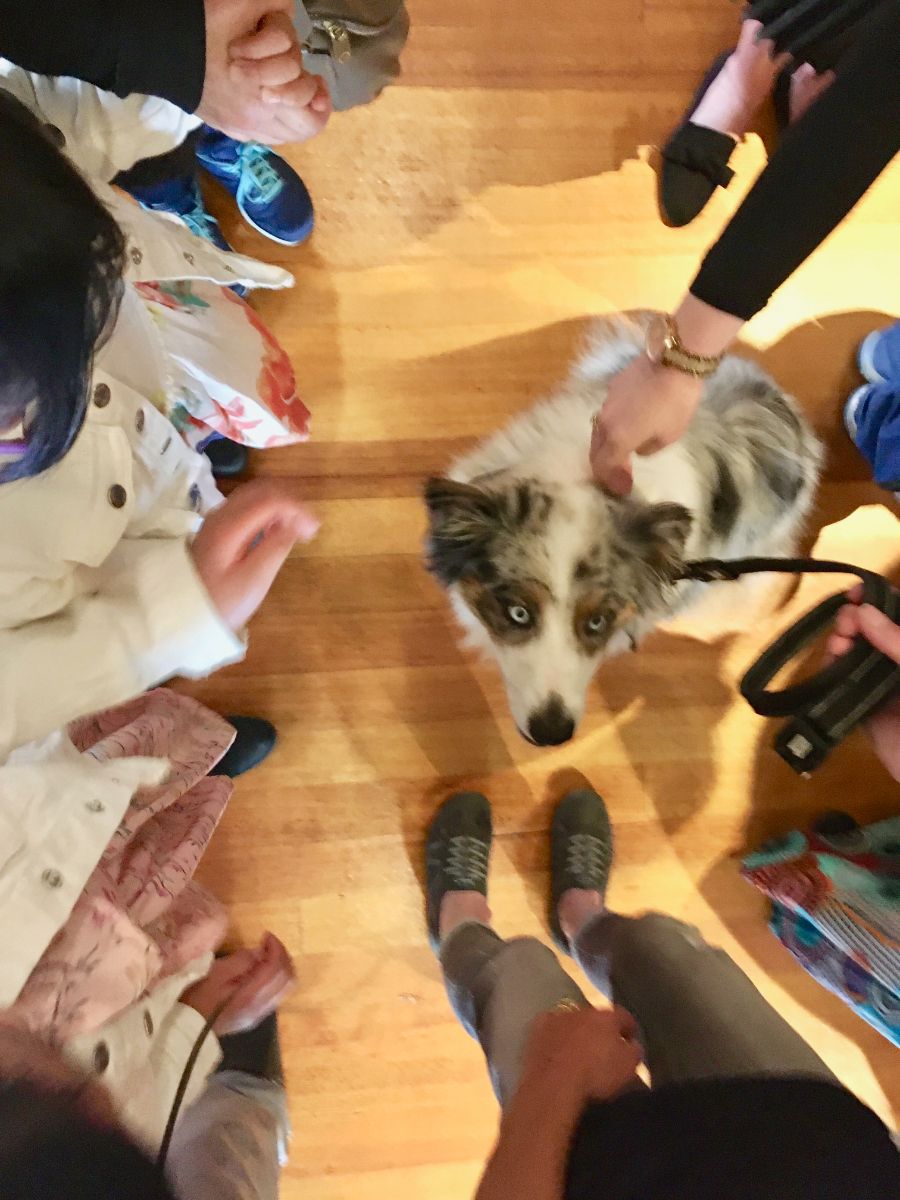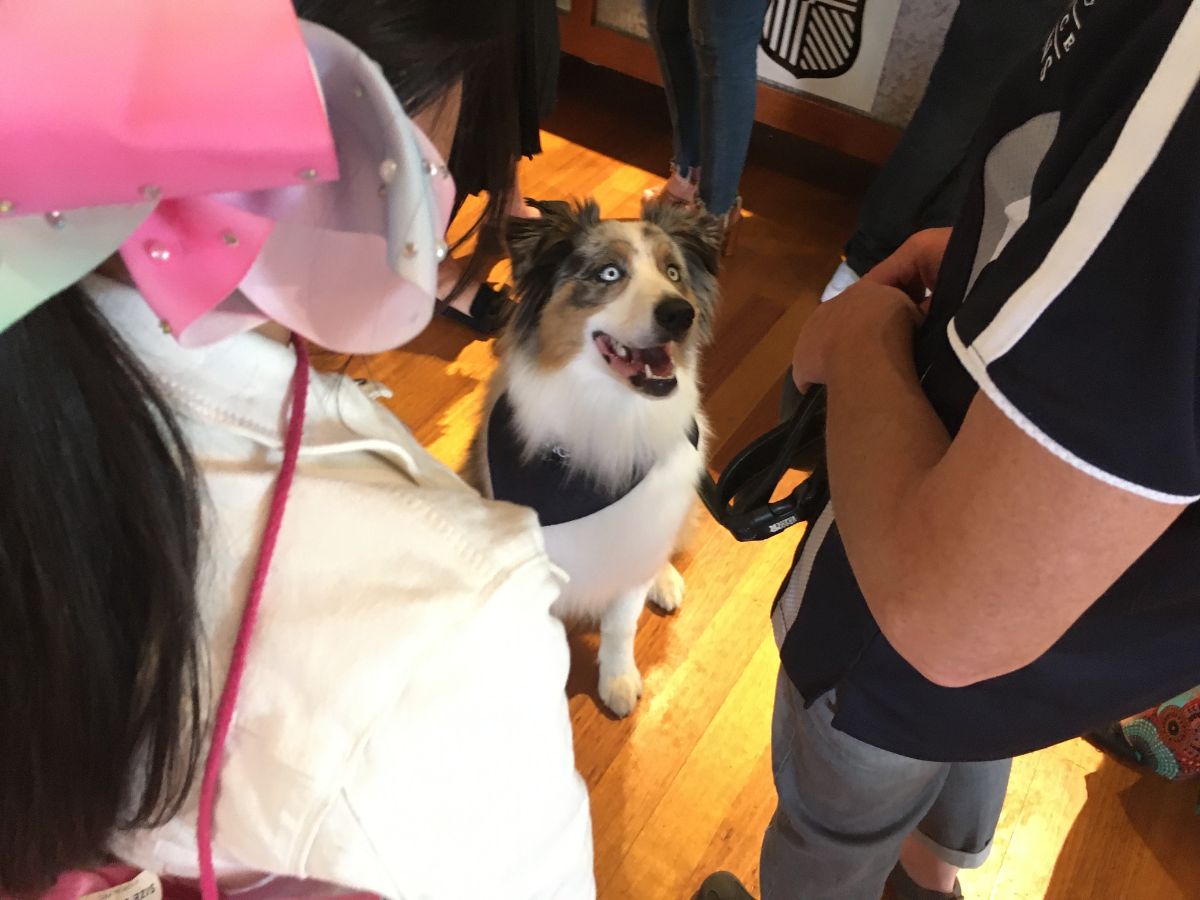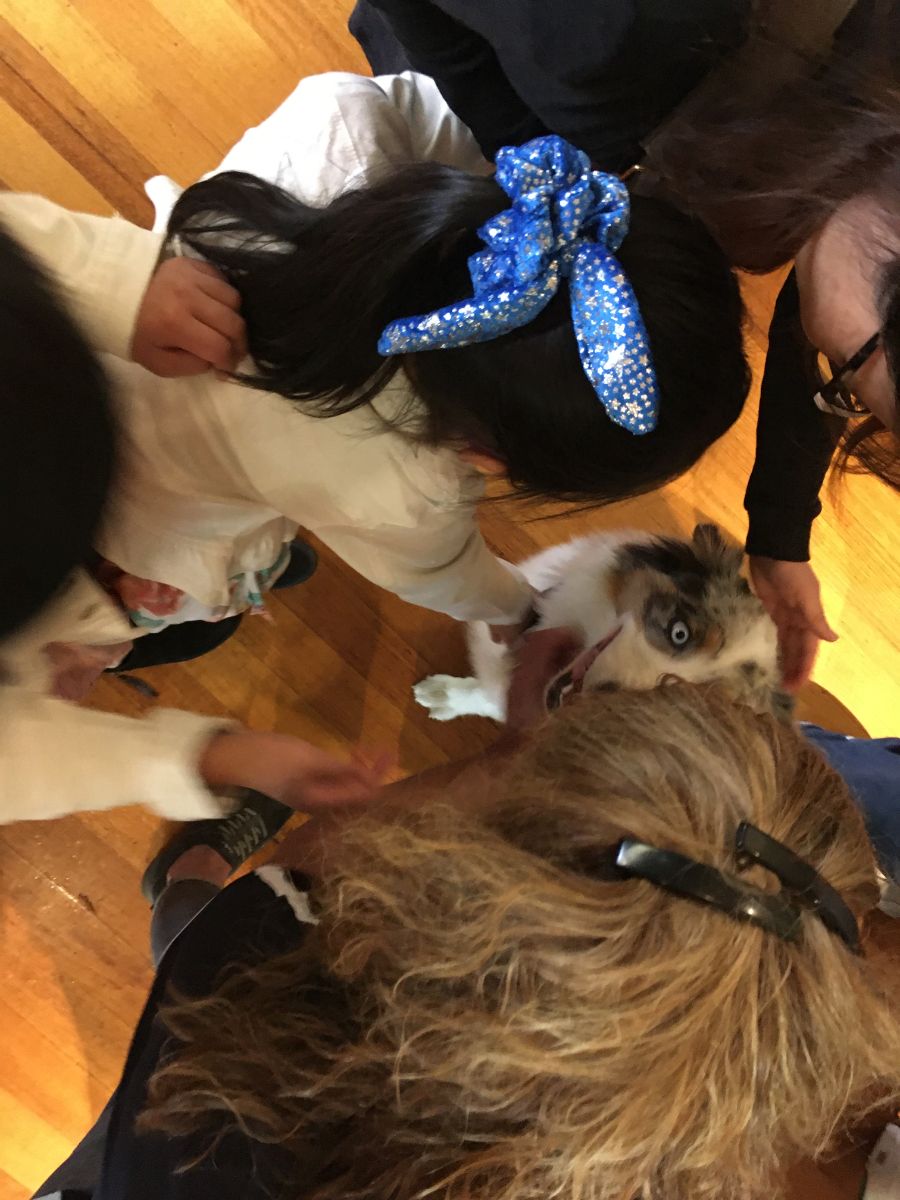 People kept bring wine and food out to our table – so lunch was a leisurely affair with a superb share platter followed by pizzas, none of which I was offered.  They can be a bit rude like that, my family!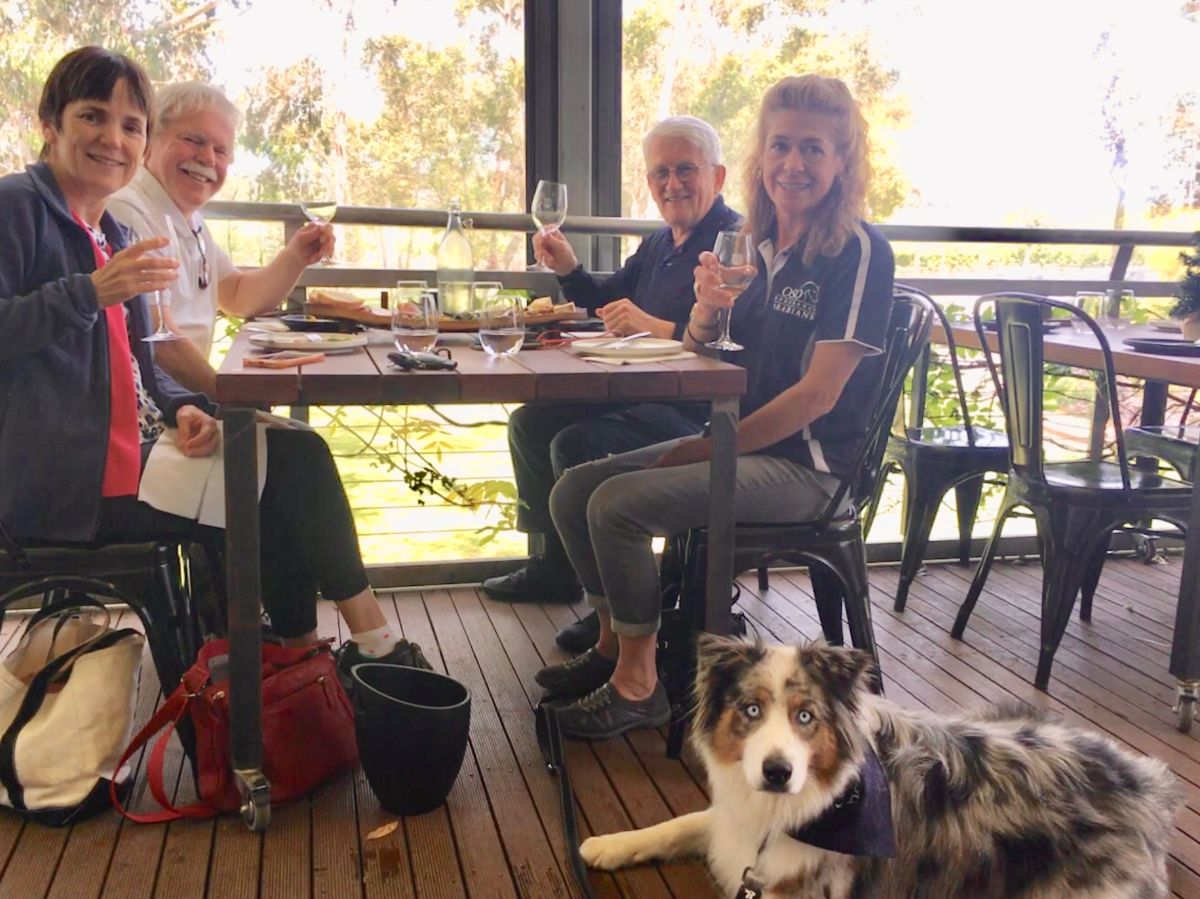 As we were walking back to the van, I offered to pose with my pawrents at the edge of the vines as I knew it would make a wonderful backdrop – and of course I'm aware one doesn't venture into the vines due to not wanting to spread phyloxera and other transferable diseases that can ruin an entire vineyard.  I learnt about this on my viticulture course.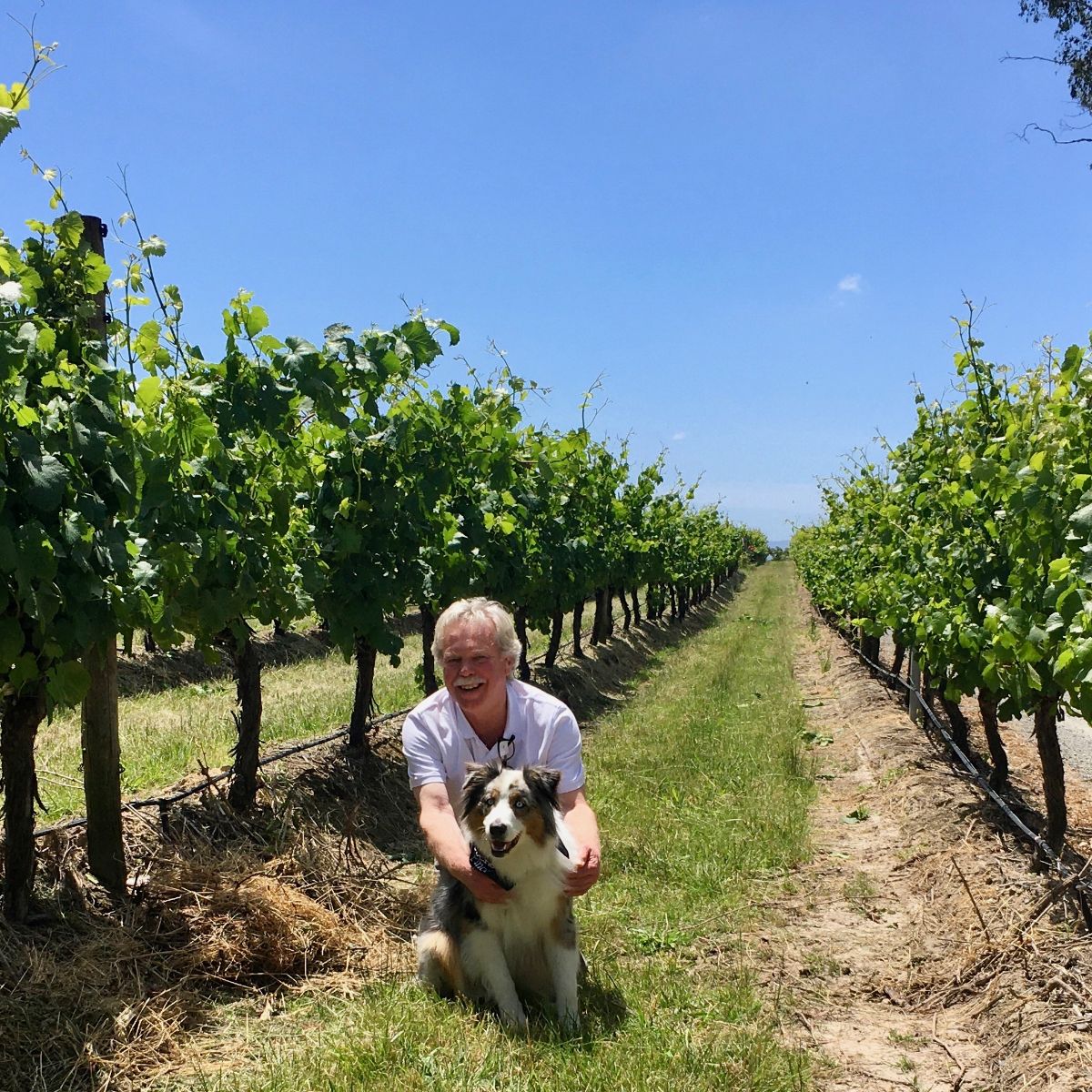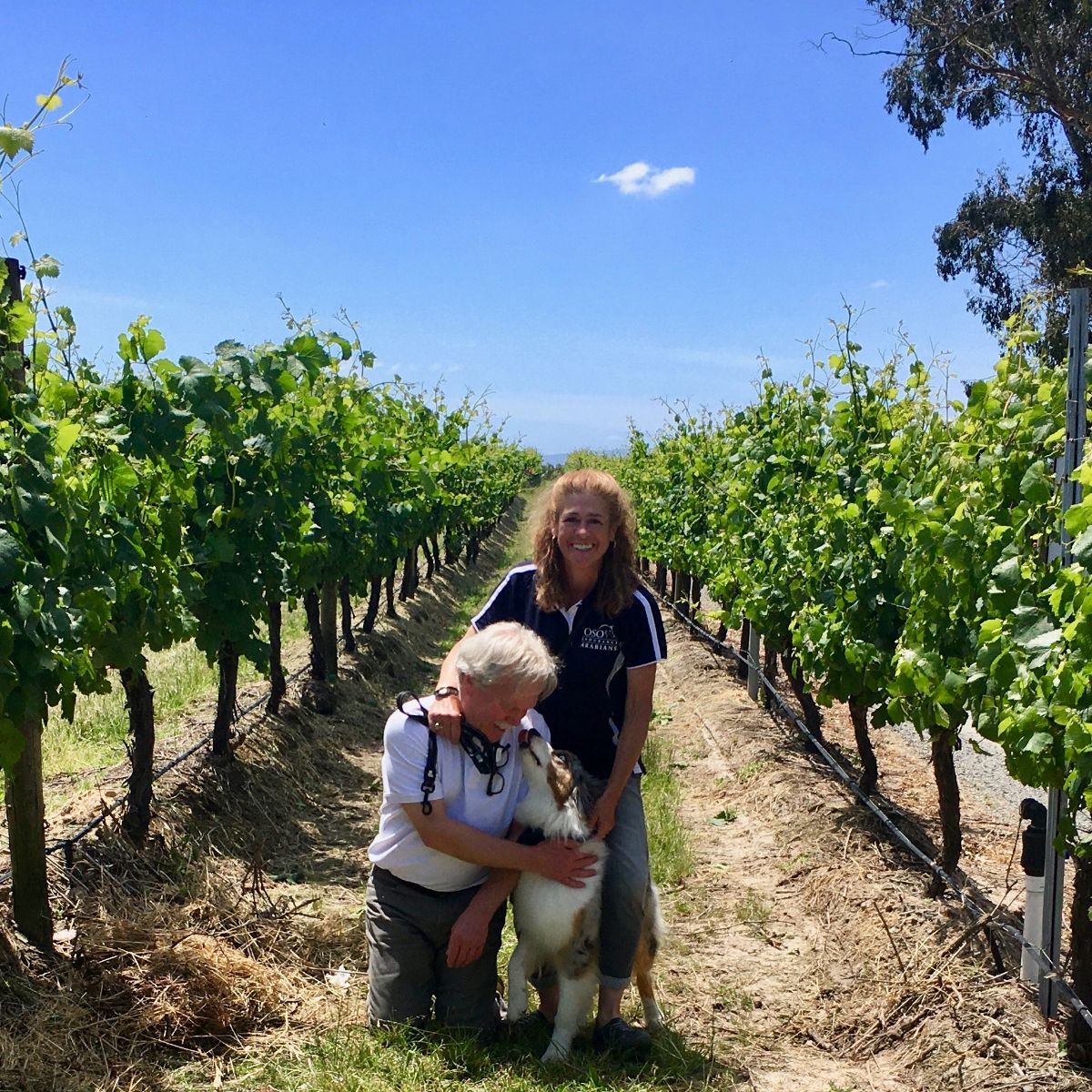 When we got to Maddens Rise we were all struck by how tiny it was and wondered if we would all fit inside but we did very comfortably and while we were marvelling at the view and the amazing fit out of the cellar door (it's very modern and funky) Jeff disappeared and seconds later re-appeared carrying a birthday cake with lit candles and glasses of sparkling wine and we all sang to my Dad because he's really old and that's what you do for old people.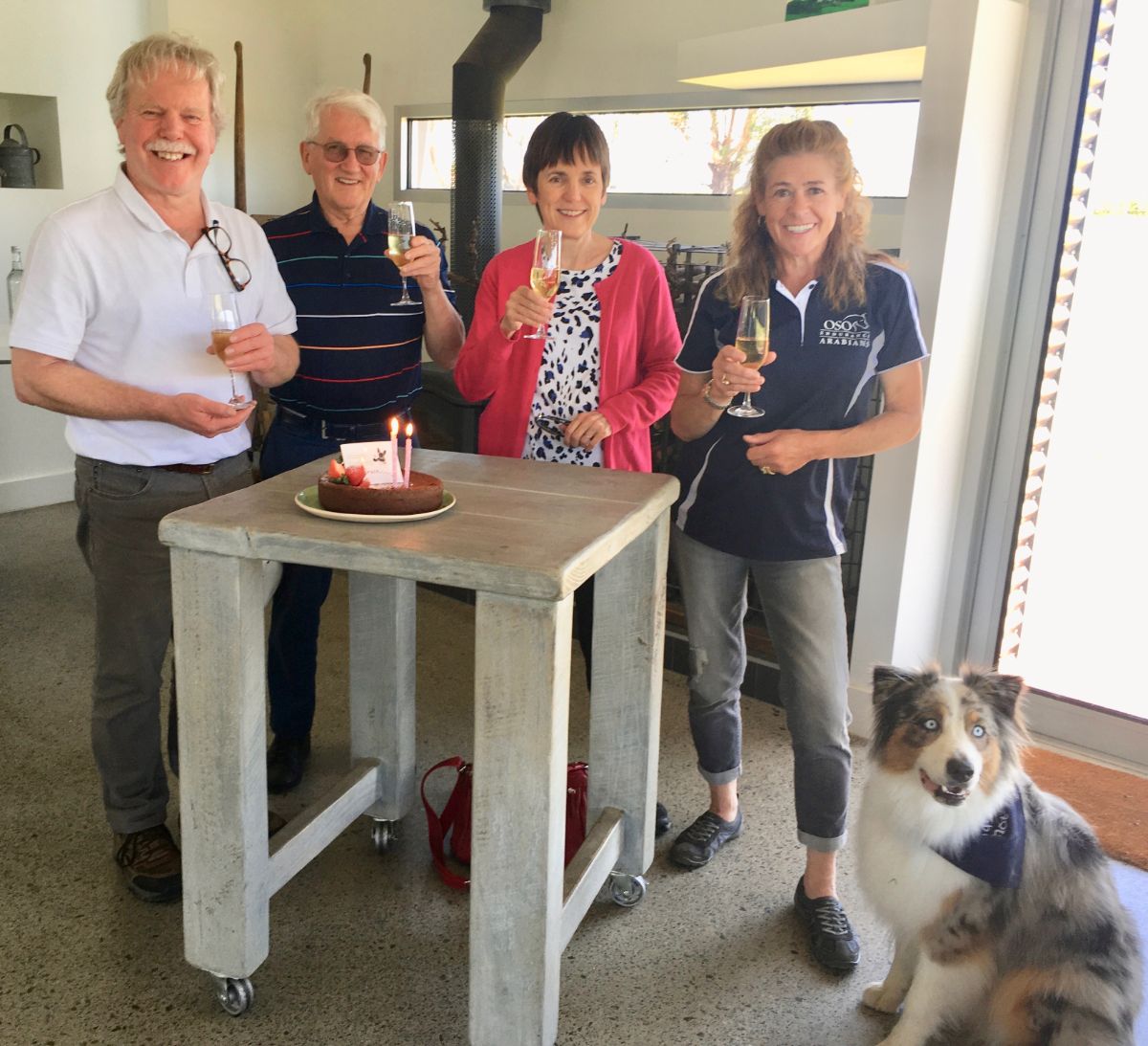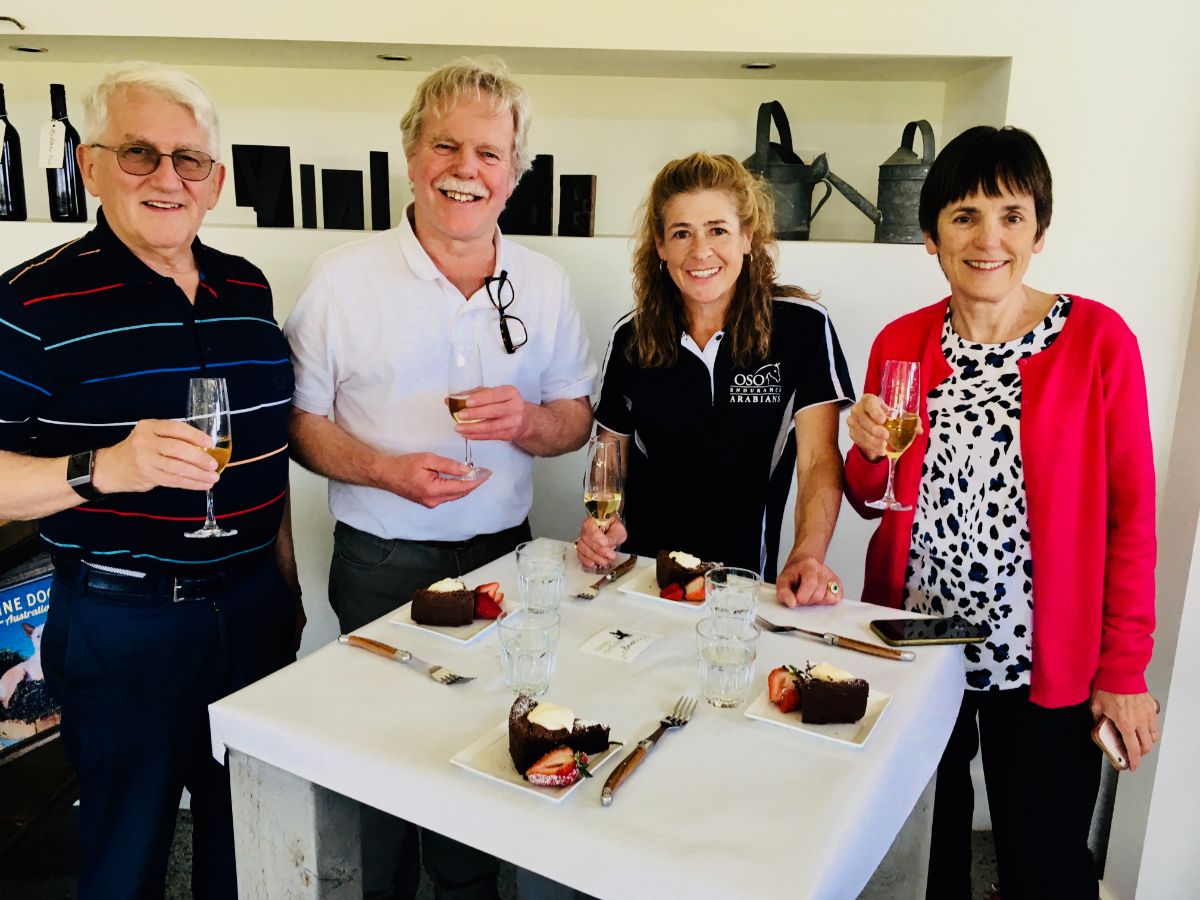 Dad was so chuffed he grinned for ages and they all loved their cake, which had been freshly baked just for him that very morning.  It looked sensational from where I was sitting – moist, with a fudge like consistency and just like the kind of thing I used to like to bake when I was studying to be a pastry chef, back in the day.  Emma then came and did a wine tasting with us and she was lovely and I think I've got a bit of a crush as she's fun and LOVES DOGS.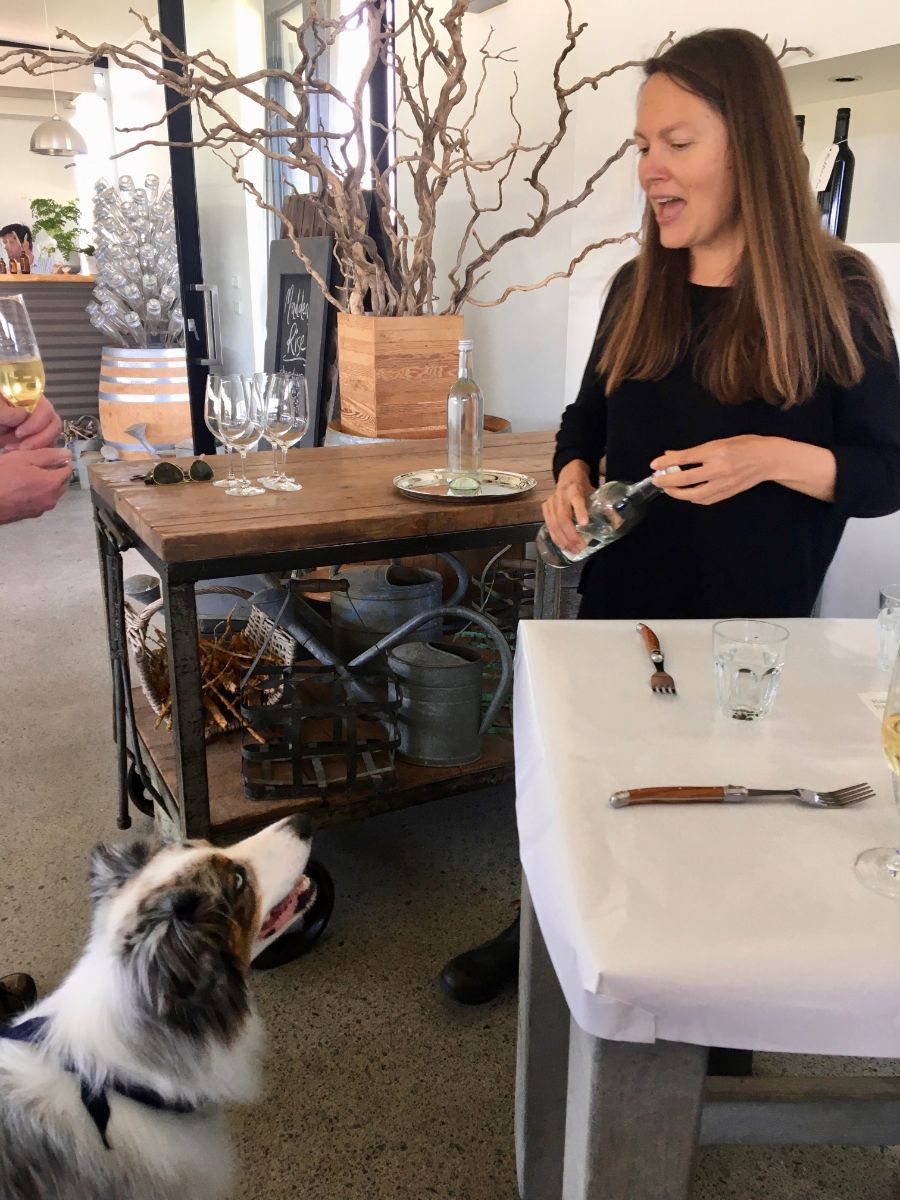 I was beginning to feel quite weary by now, so I had a lie down on the lovely polished concrete floor and cooled my tummy for a while.  I've not had such a busy day with so much stimulation in years.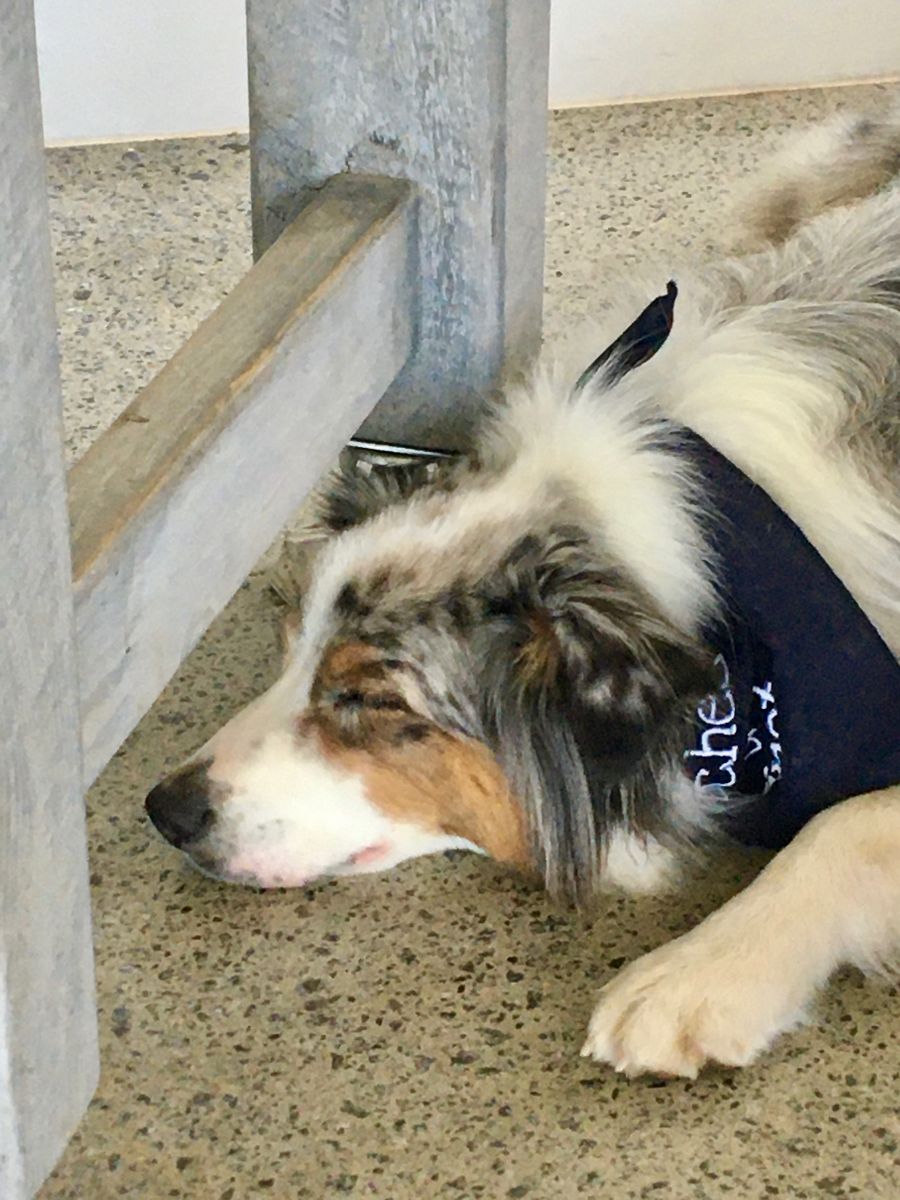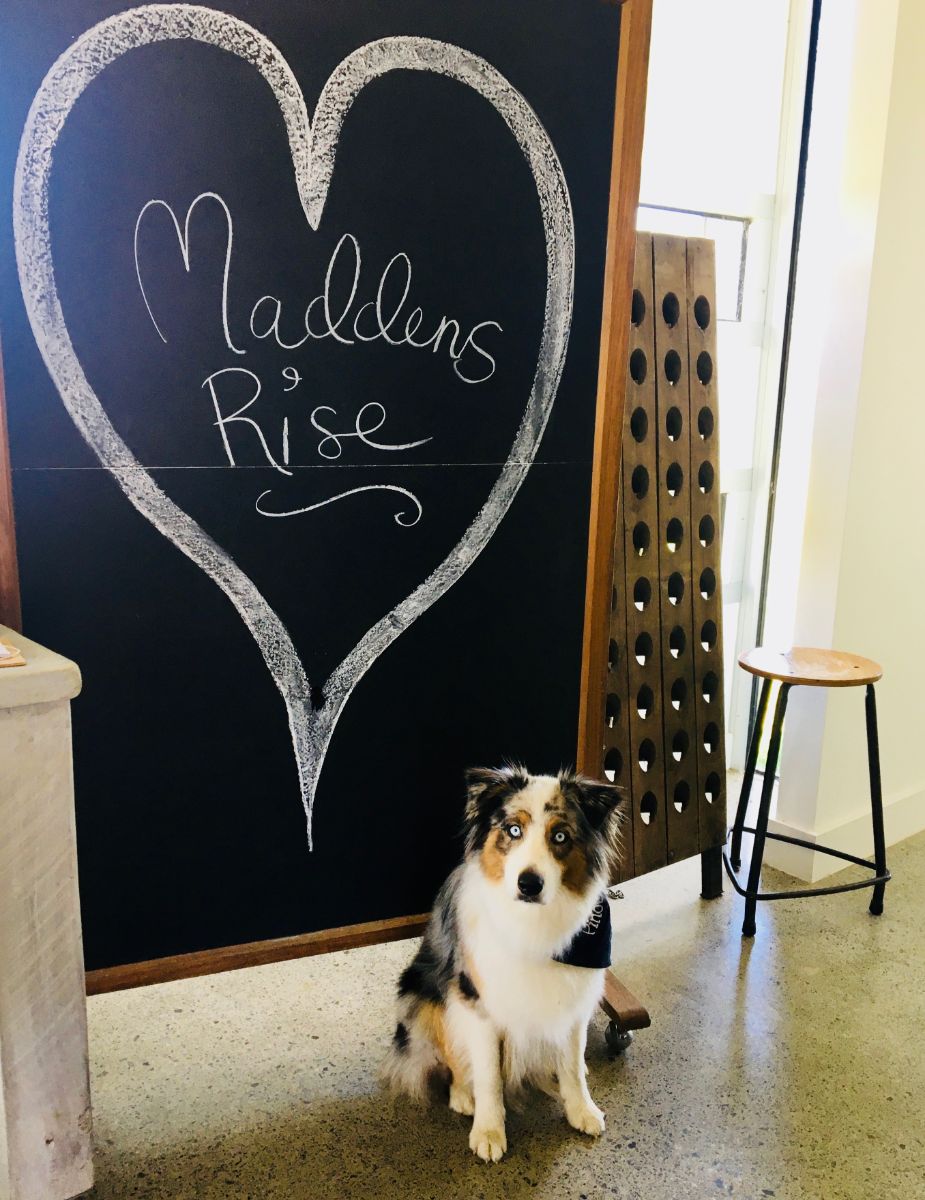 I woke up in time to supervise the putting of yet more bottles of wine into the van and we said our good byes as heaps more people arrived, some of whom were carrying small Mexican dogs!
We set off to our last tasing for the day which was in the town of Healesville at Payten & Jones Winery and get this – the viticulturalist himself Peter Payten did the tasting with my family.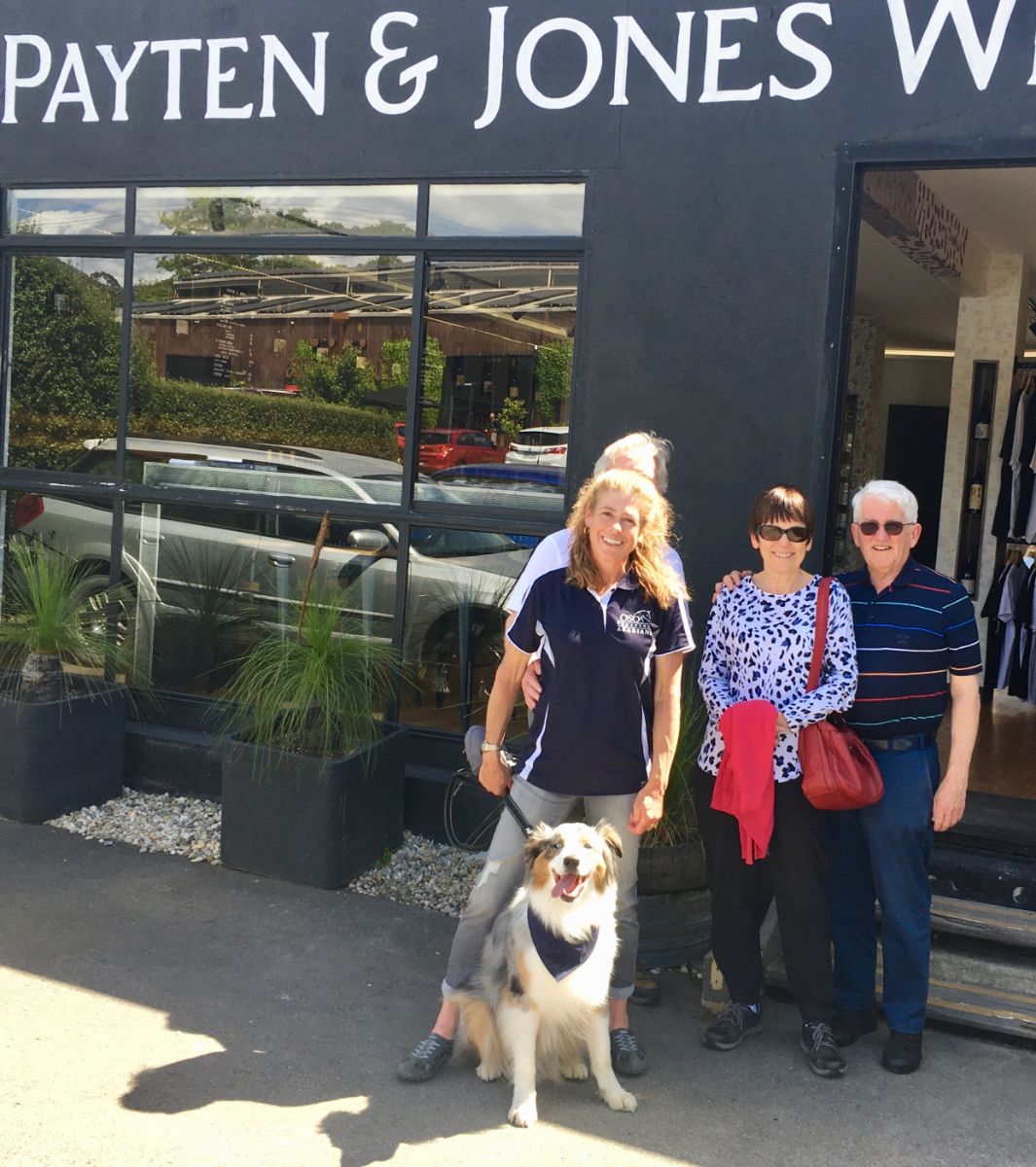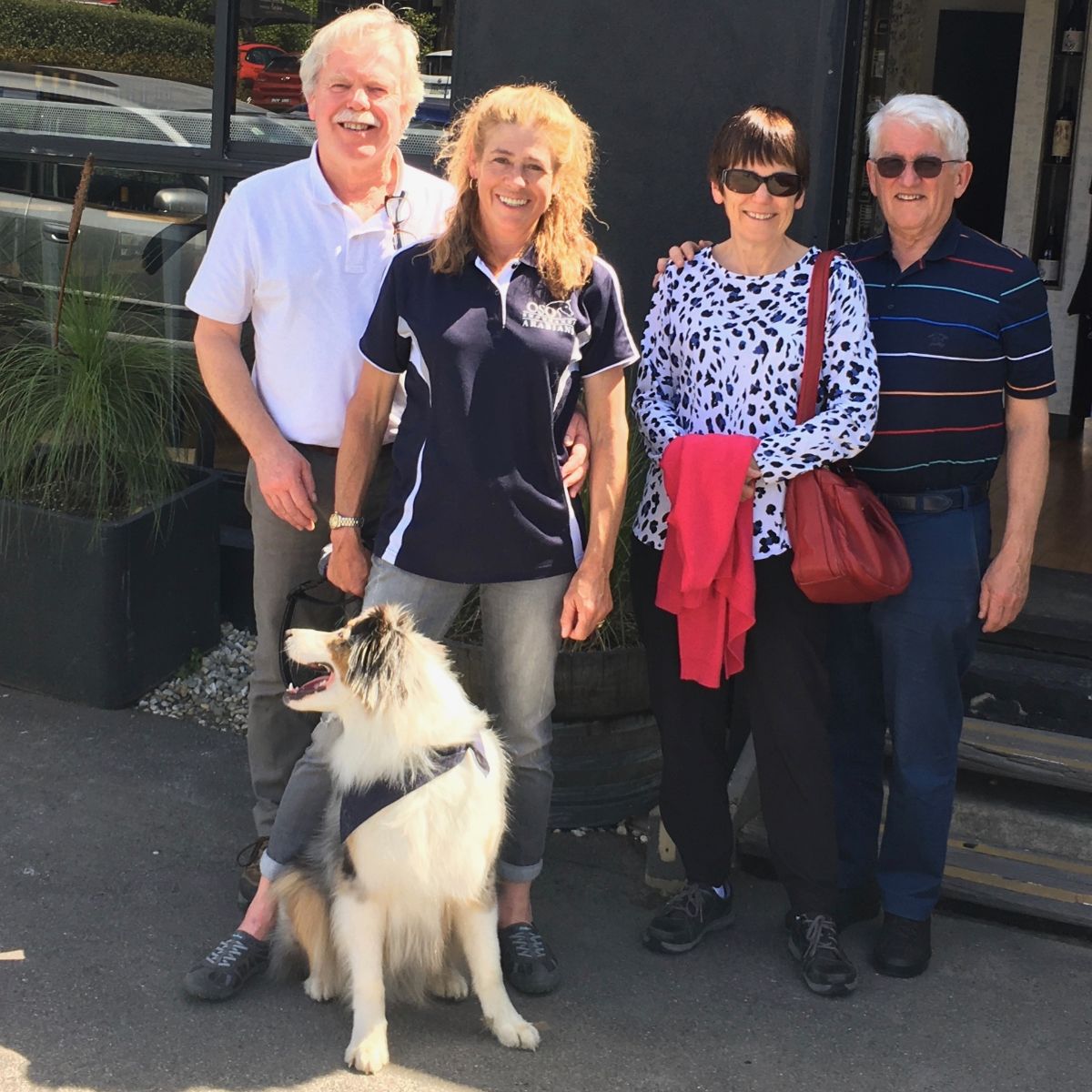 Peter Payten was great and I understood every word he said and he knew his stuff.  It was fascinating learning all about the wines and my family were enthralled and they tasted the whole range.  I gave Jeff a wink when I spotted Mum knocking back her glass with gusto – I learned all about 'knowing when to stop' on my RSA course!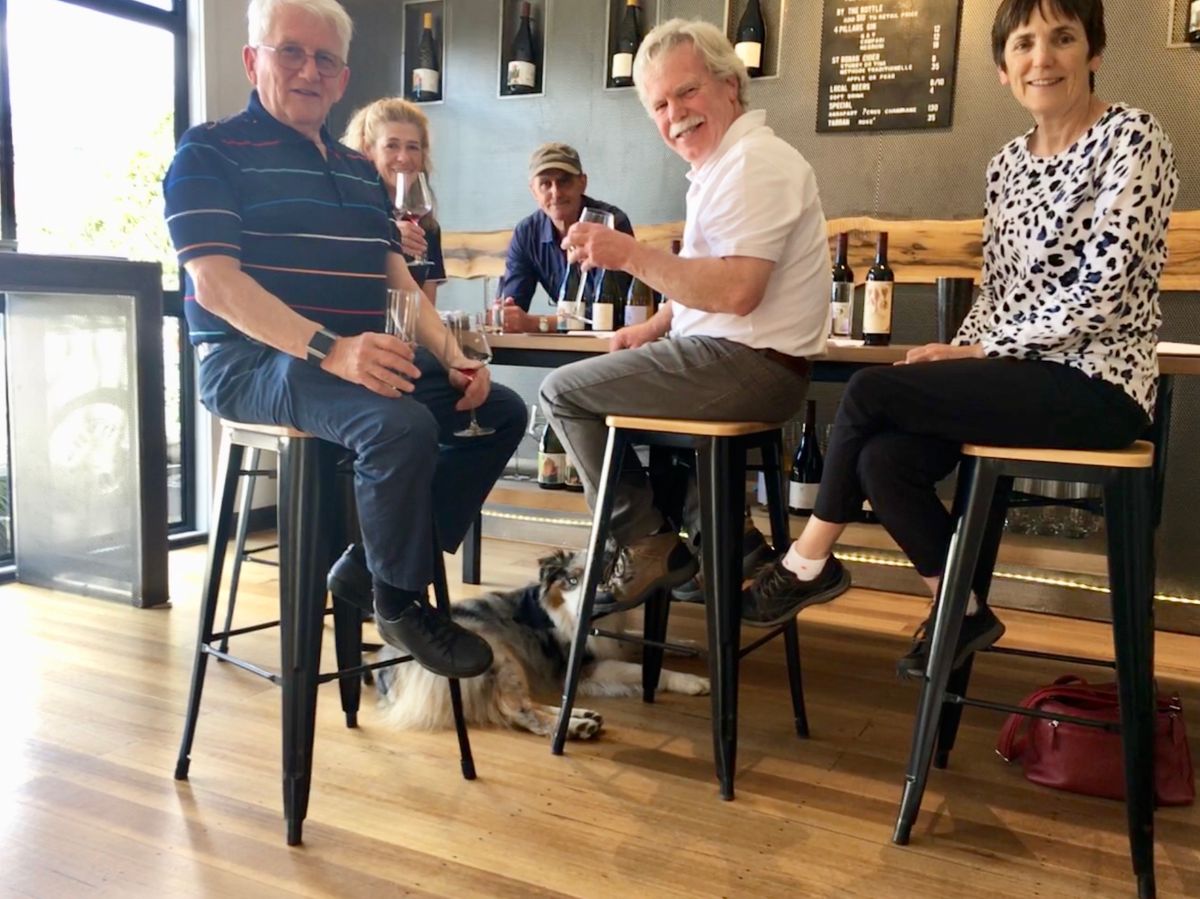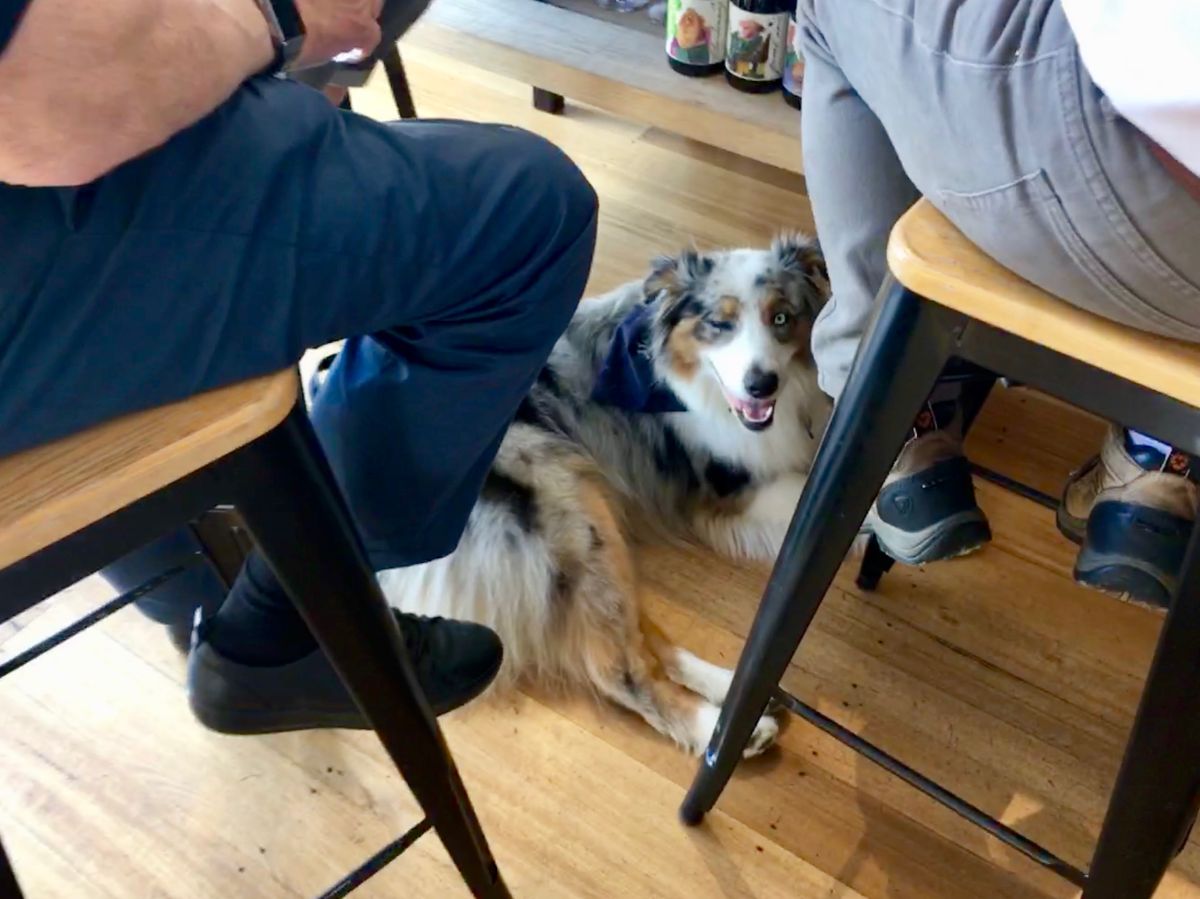 We needed to get some bits for supper, so Jeff took us to the Main Street which has this great deli Kitchen & Butcher and while my family went inside to buy up half the shop Jeff and I went for a wander along the Main Street which is a nice street scape, they've wide footpaths with flowering garden beds and a nod to a bygone era with old fashioned style gas lamp street lights – I have an appreciation of such things having done a course in Town Planning.
I put in one last request and that was to pop up the hill to Pooches & Pinot HQ and meet Helen, the other half of the company, with whom Mum and I had been corresponding to set up this marvellous day, and she was SO thrilled to meet me, we had lots of strokes and cuddles. It was a great way to end our day and Jeff then drove us back up to The Little House on the Hill where we're staying for the night and unloaded all the wine they'd bought during the day and settled in for a beautiful evening with views out over the valley and I knew I'd get to run around the huge garden and meet the resident dog and chill out with my family as the sun set over the hills.  Such a good day.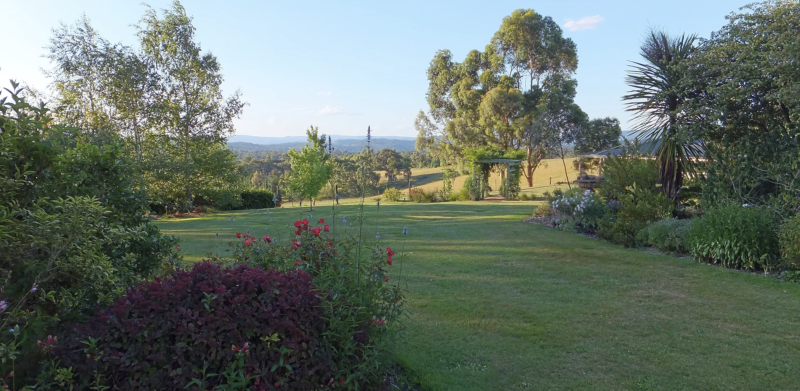 I overheard the grown ups saying 'Let's do the tour again next year' which is music to my ears as I really like meeting new people and hanging out at wineries with Jeff and my fam.  And if I'm to become a wine dog, I really need to hang out at wineries more.  :-)