Eli the Bernese Mountain Dog here.  Charmed to meet you.
Having seen how much fun my Dalmatian friends had on their Pooches & Pinot wine tour back in June, I decided to gate crash the next one with my son Leo (when you're 50kgs, gate crashing comes quite easily!  But he's such a young pup and bigger than me AND naughty so we left him back at our B&B – Wiggley Bottom Farm – with Arthur the Dalmation for company. So Charlie the Dalmatian and I were the chosen dogs for this tour!  #EliAndCharliesWineTour #justlearnedtousehashtags #Ilovehashtags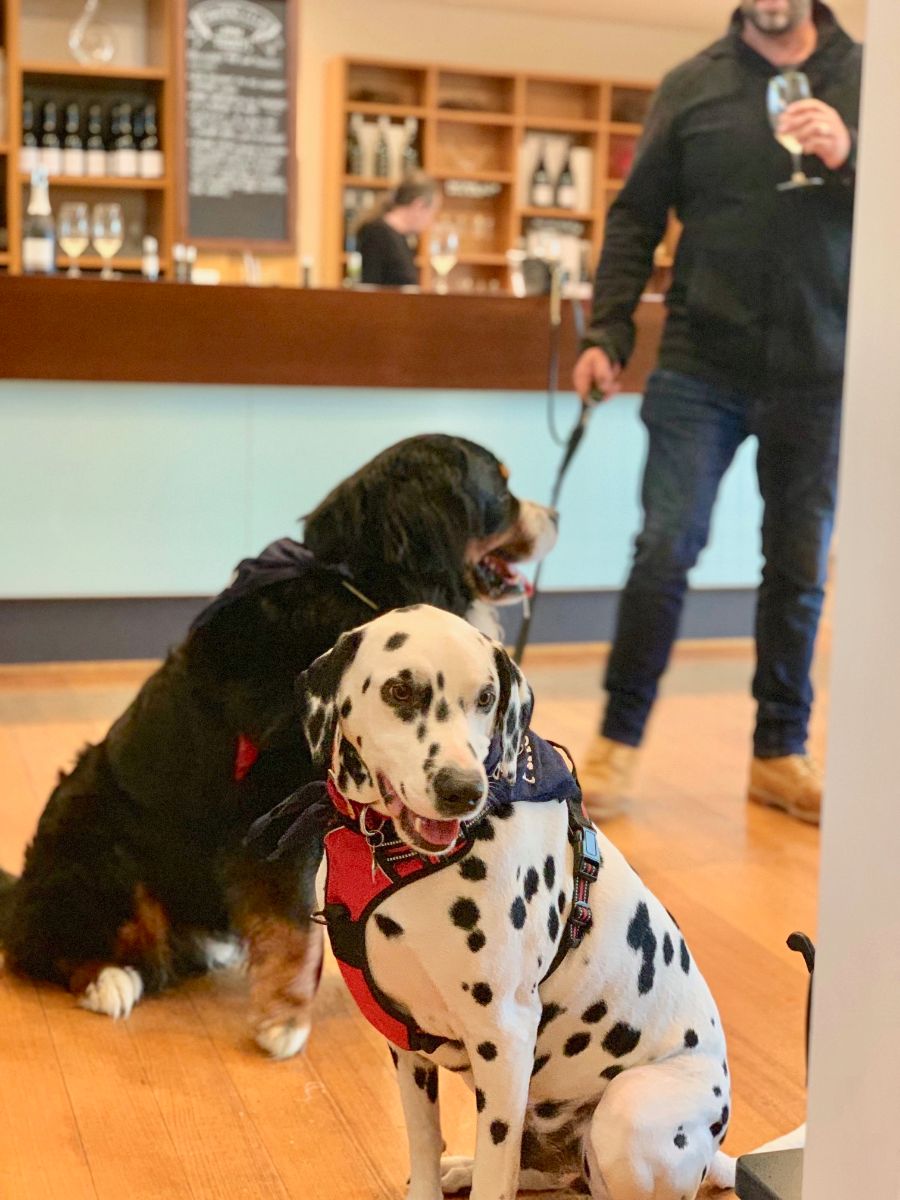 So, my Aunty Nicci and Uncle Hayden arranged a great tour for my pawrents with their pal Jeff and the 4 of us humans and 2 dogs set off in the pouring rain (so Melbourne!) for our adventure around the Yarra Valley.  There's plenty of room in the back of a Mercedes Vito – lucky for Charlie, given that I took up most of it, but I left just enough room for him.  #goodjobDalmatiansaretiny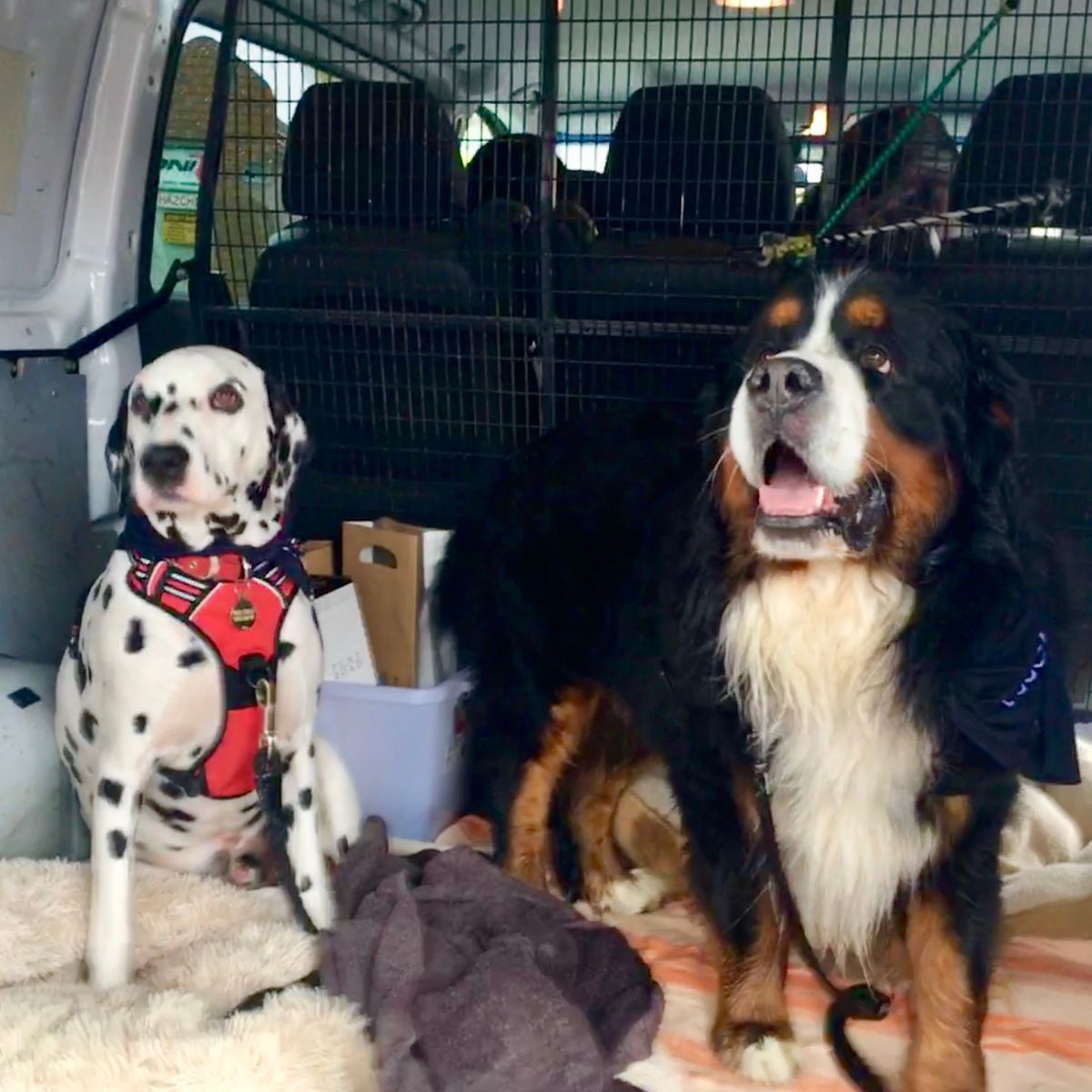 We had comfy beds in the back and Charlie pointed out a bag full of treats (so handy he's done this trip before) so we knew we were in for a great day.  Annoyingly, Jeff pulled over and removed said bag of treats from the back – I think they feared some treat squabbles brewing!  And trust me, they're treats worth squabbling over given they are from Laila & Me. #ImALoveNotaFighter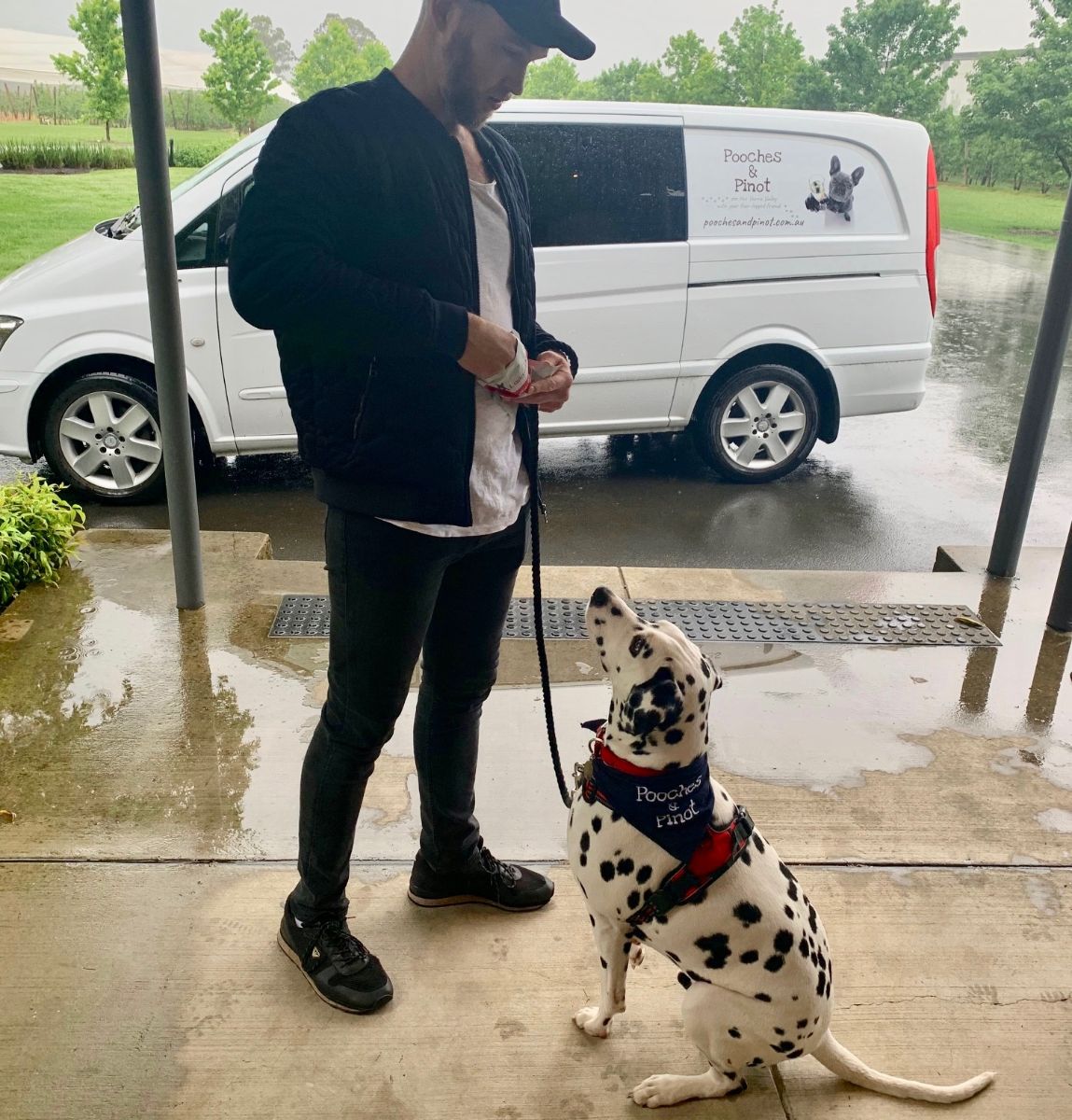 We pulled up at a winery called Helen's Hill right on time (which is very important to me, being Swiss, we can get quite thingo about precision timing).  We arrived to shouts of delight from Scott the cellar door guy who adores dogs, and walked straight into a hen's party, every Bernese Mountain dog's nightmare – and it was the first of many we would encounter today – sashes, rosettes, heels, cleavage, skirts so short they are not really skirts – man, I didn't know where to look!  Well I did, but didn't want to be caught – that kind of behaviour is frowned upon these days, even for dogs!  #noUpskirting.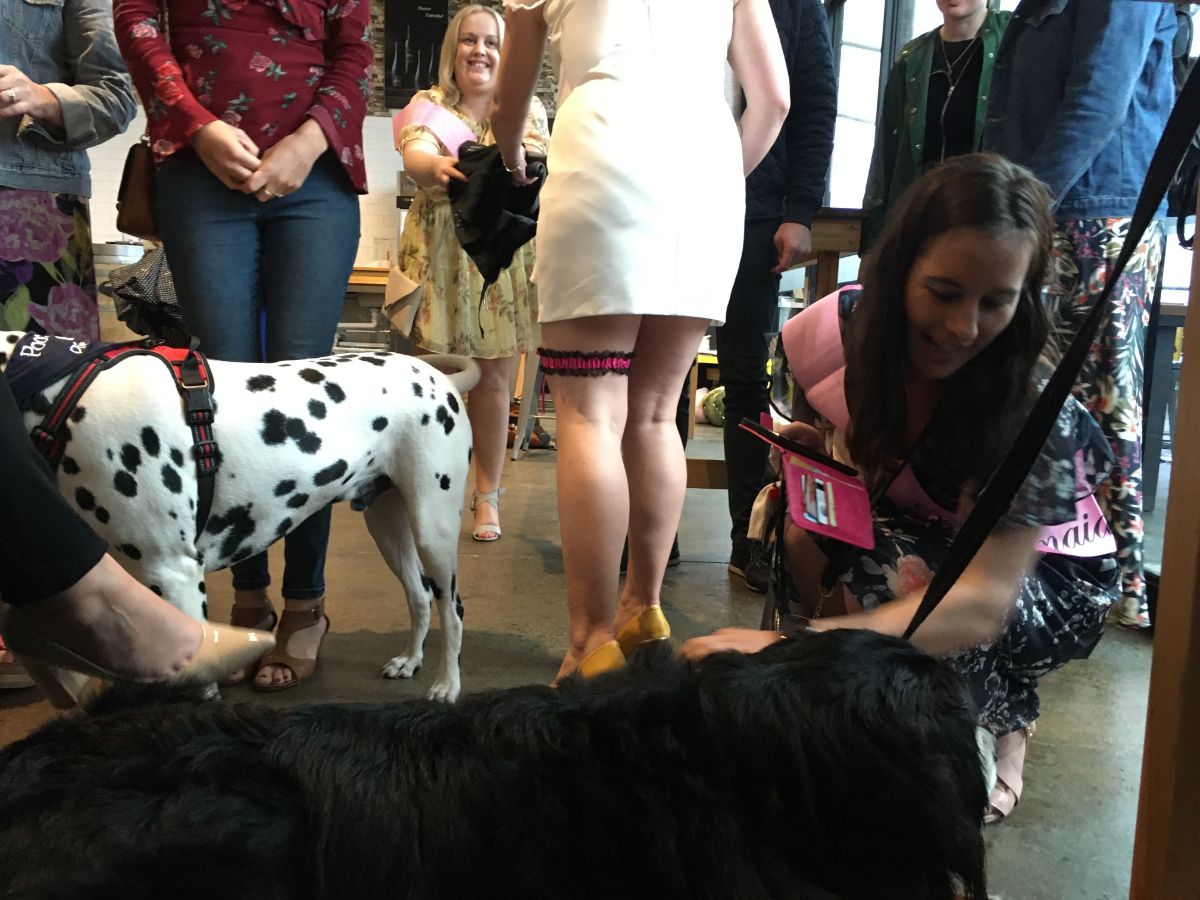 Me, I'm not much of a drinker when it comes to wine, I'm more of a water man, but Dad knows I like to sniff everything, so kindly held his glass down for me to get my snout into – and I immediately detected soft tannins and floral notes on the Long Walk pinot noir.  It would pair beautifully with kibble.  Their Chardy on the other hand, way better with chicken necks. #k9connoisseur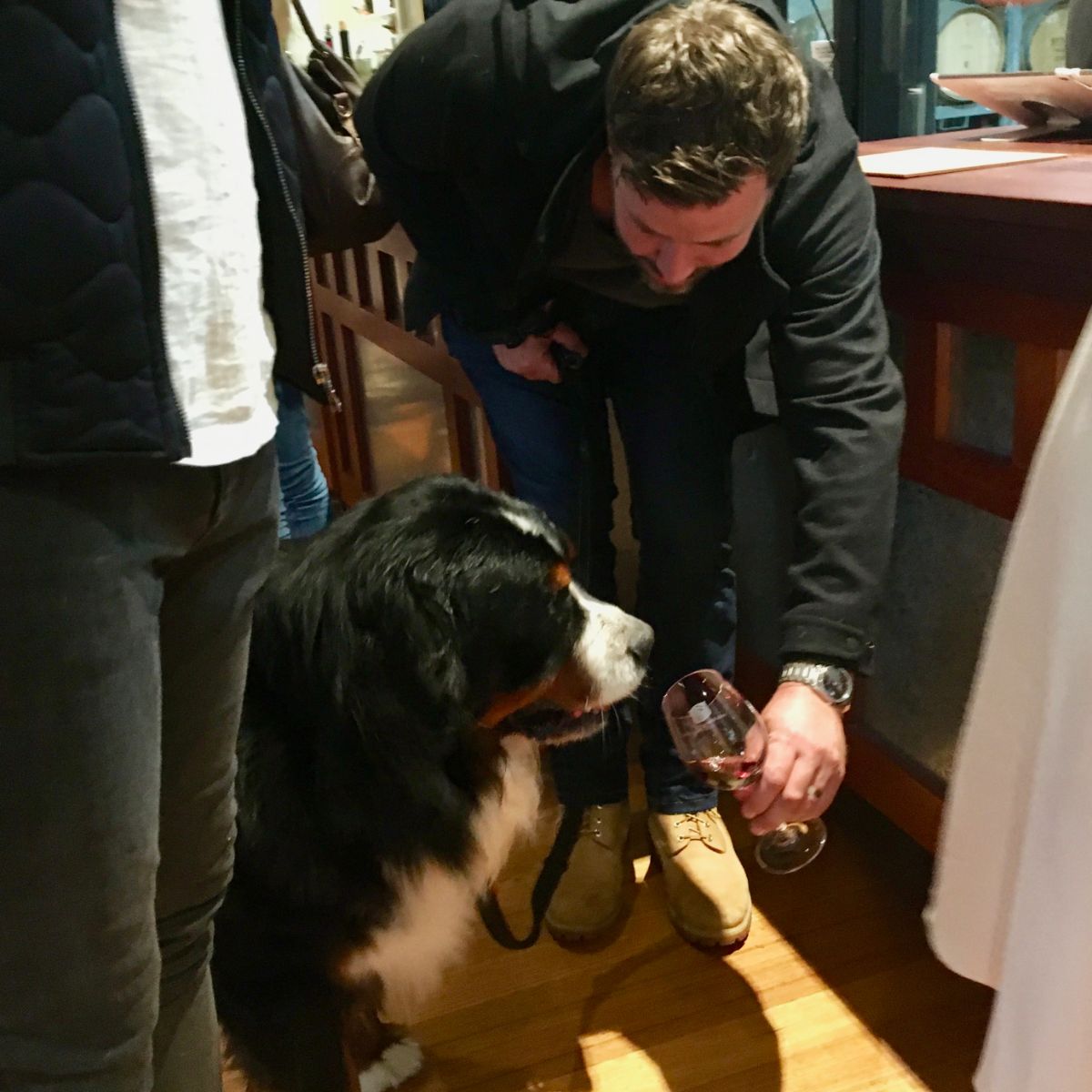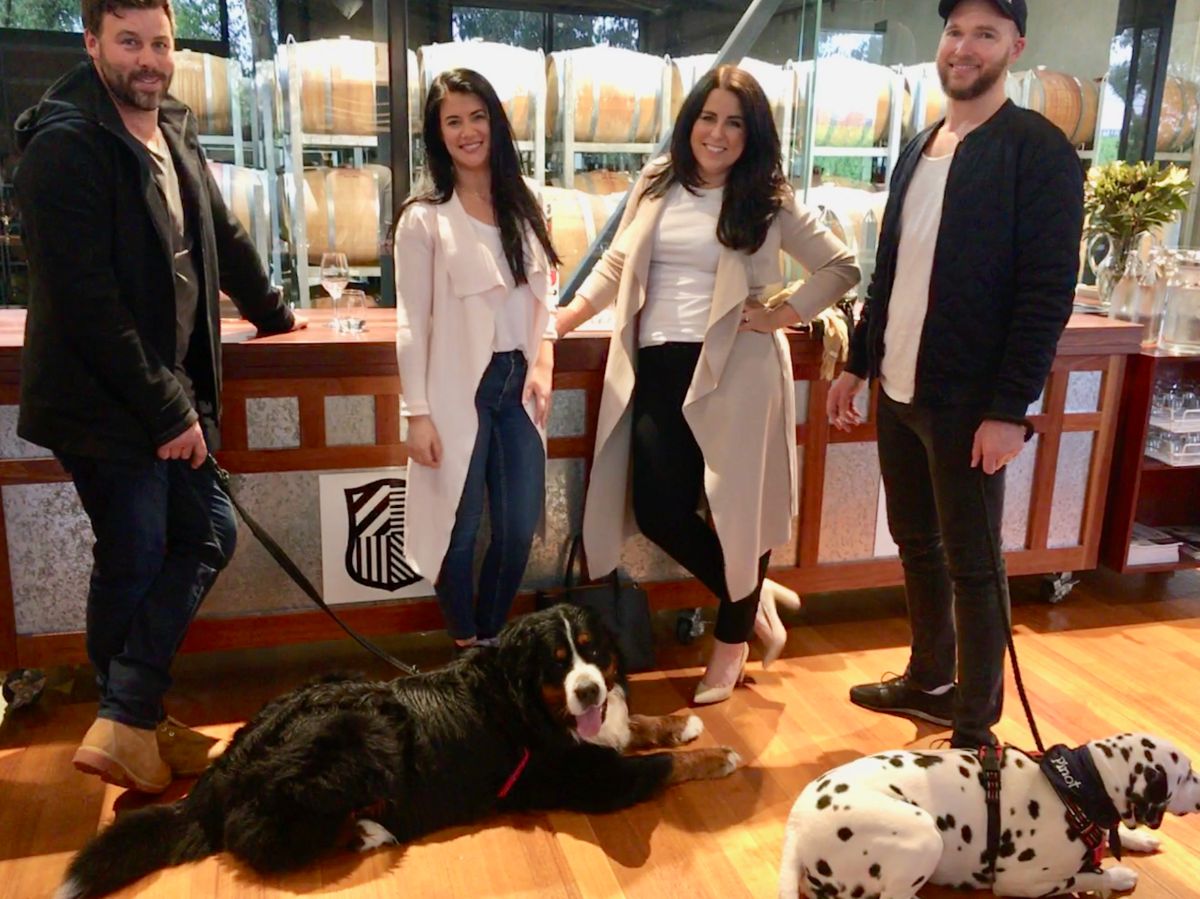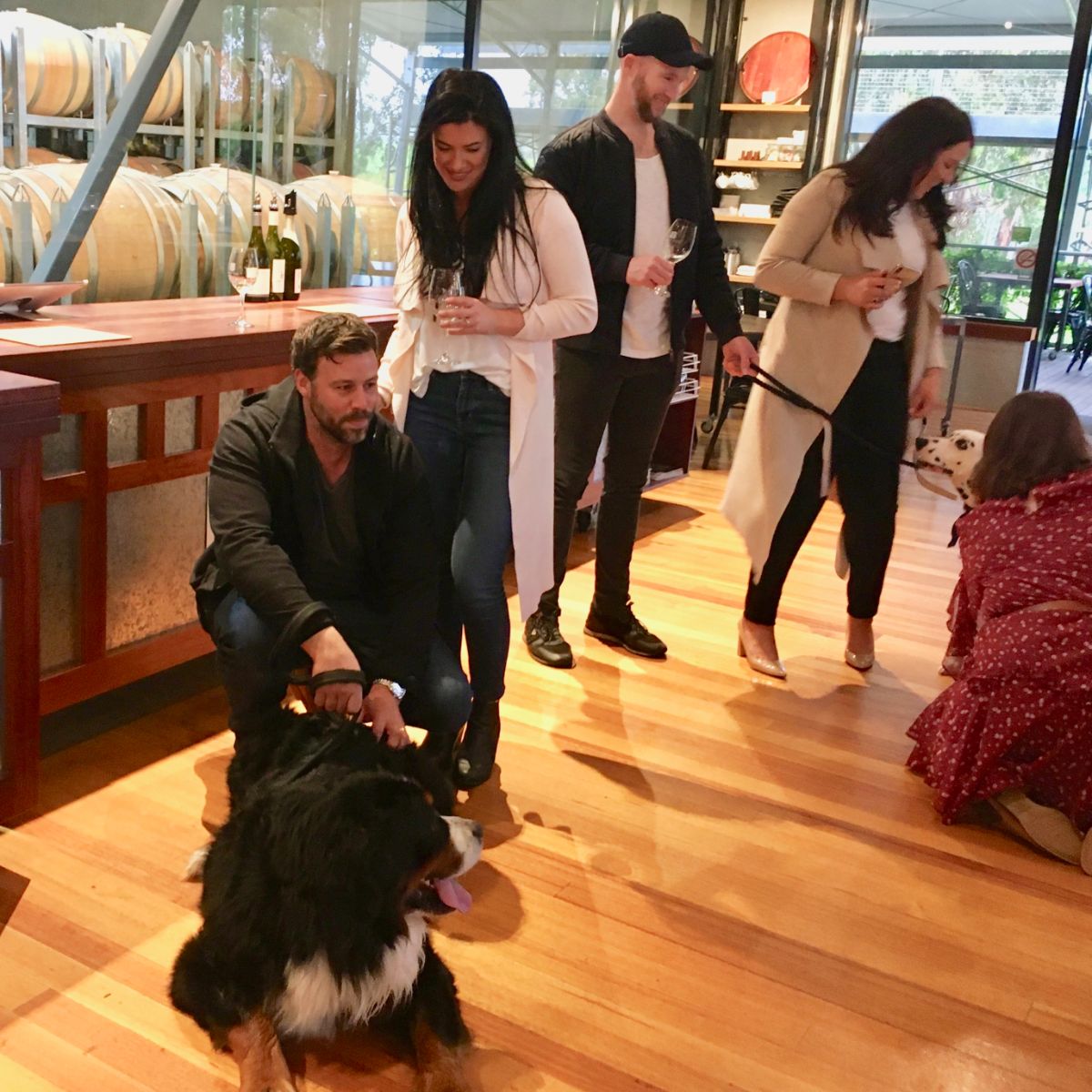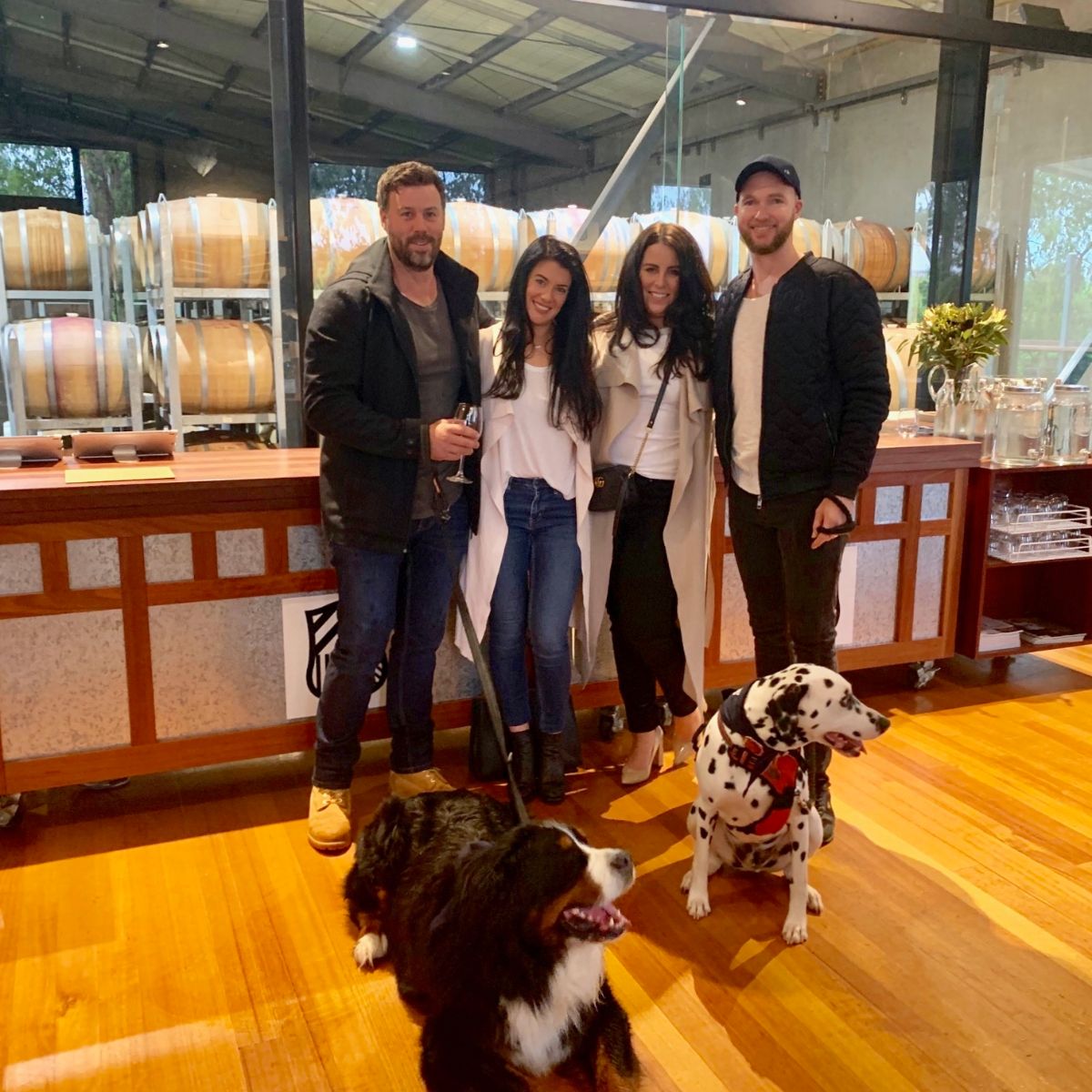 Suddenly, the smallest 'hen' I had ever seen approached me (they sure do get married young these days) staggering on short legs and I thought 'Ooh, great, lunch already'!  Kidding, I knew I couldn't eat a whole one and needed to save myself for more Laila & Me snacks. #toddlerontheloose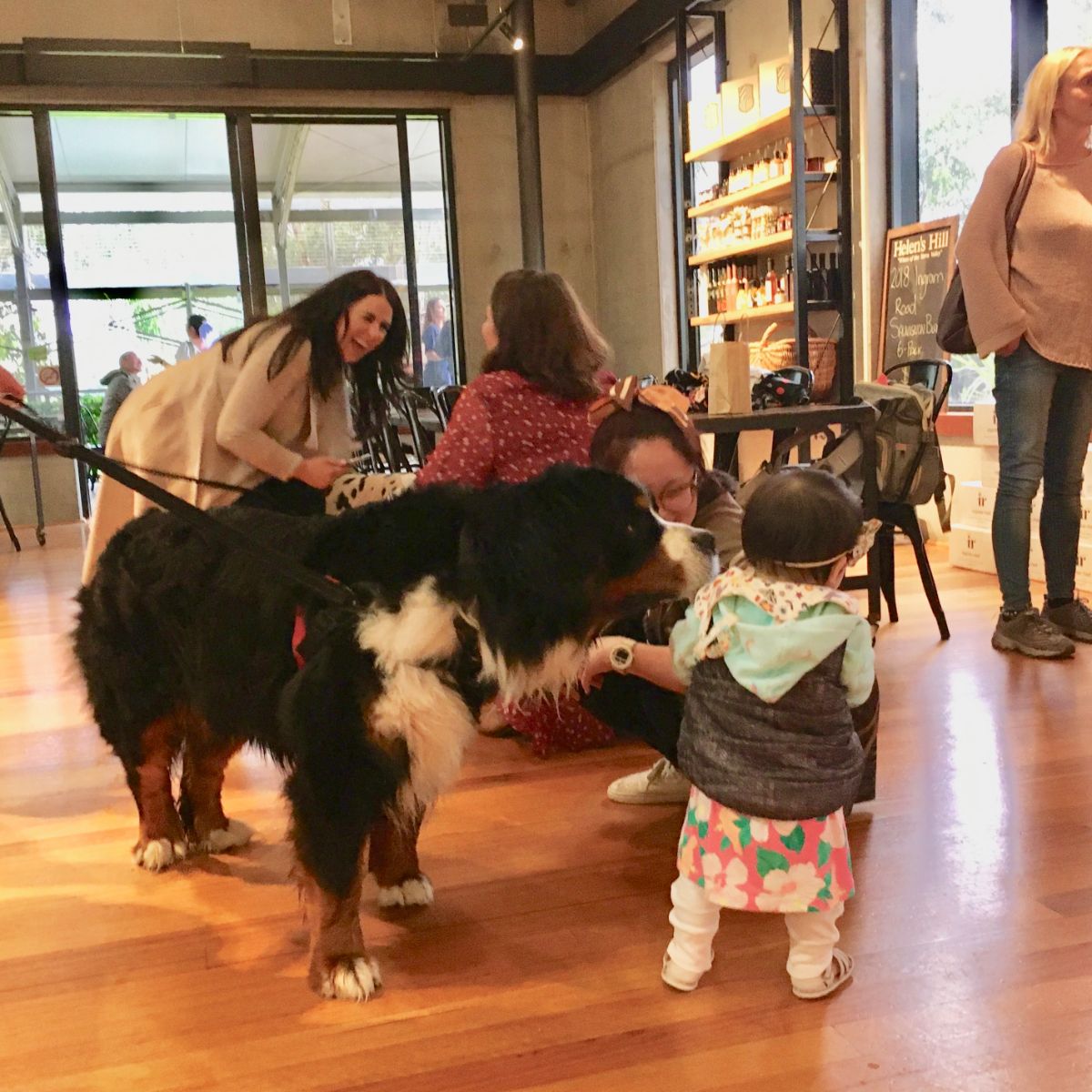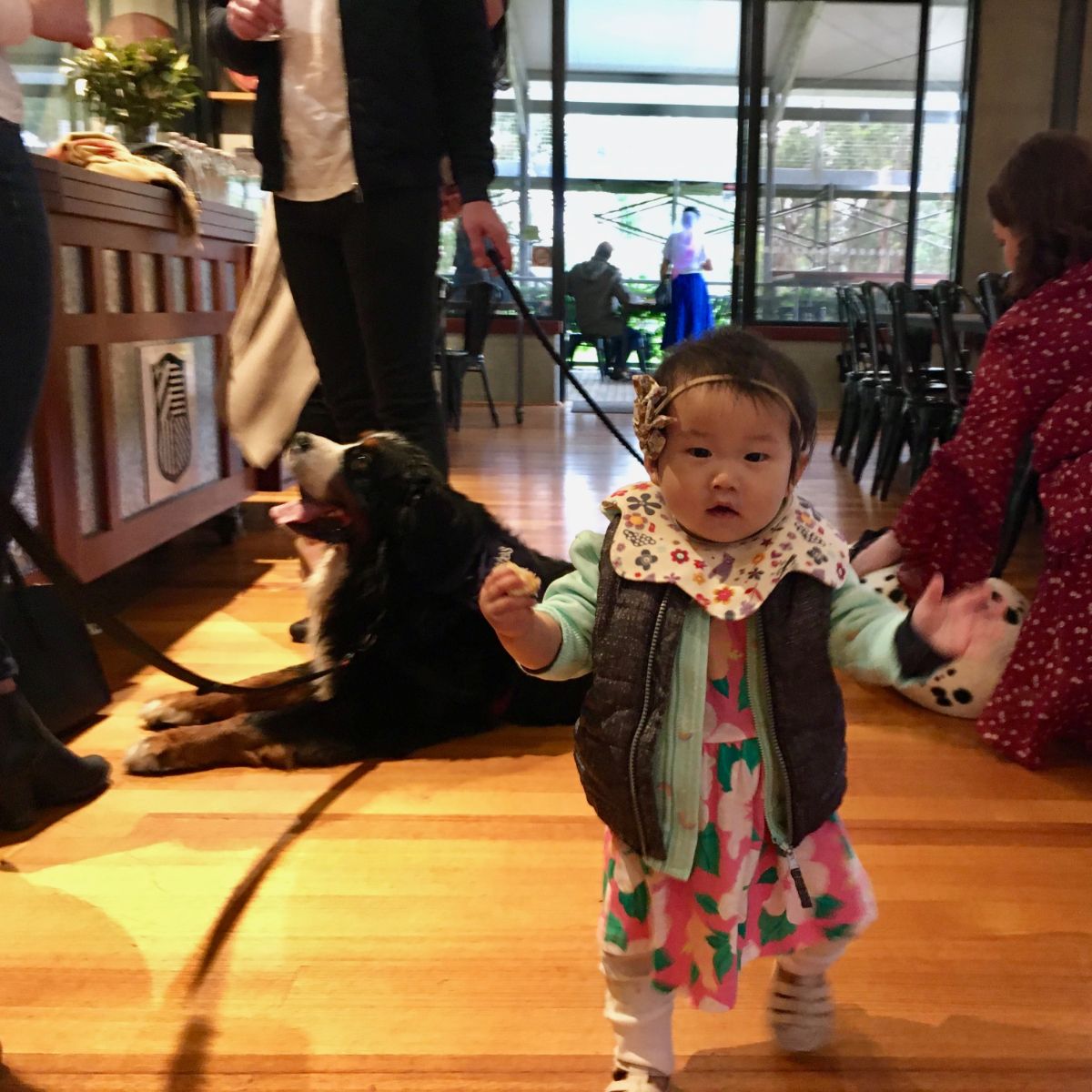 I got all excited when Jeff produced cool bandanas for Charlie and I to play dress ups in: if the brides-to-be can wear a sash, so can we!  And look, it's not a competition, but we were winning! #cravatwearingdogs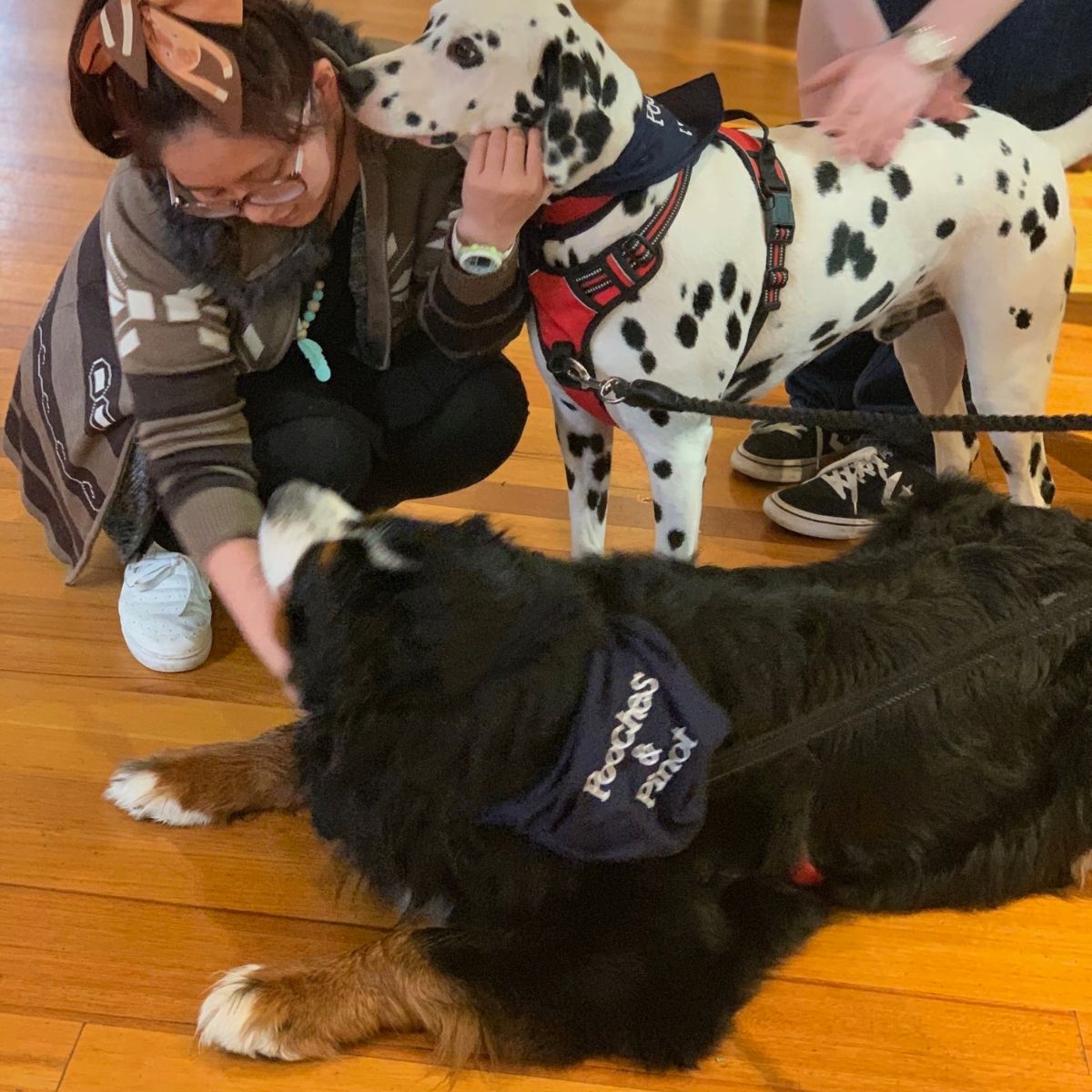 Continuing the theme of wineries owned by Helen, our next cellar door was called Helen & Joey's, where guess what we encountered on the deck?  Sadly not 1 but 2 hen's parties!  I was all for getting straight back in the van, but Charlie, being a ladies man, tore towards the heels and sashes, eager for pats and adoration. It just gets so waring, trying to find something to say to these desperate women – yes I'm adorable, yes I weigh 50+ kilos, yes my name's Eli, yes I'm Swiss originally, no I'm not single, I'm a grandpa FGS!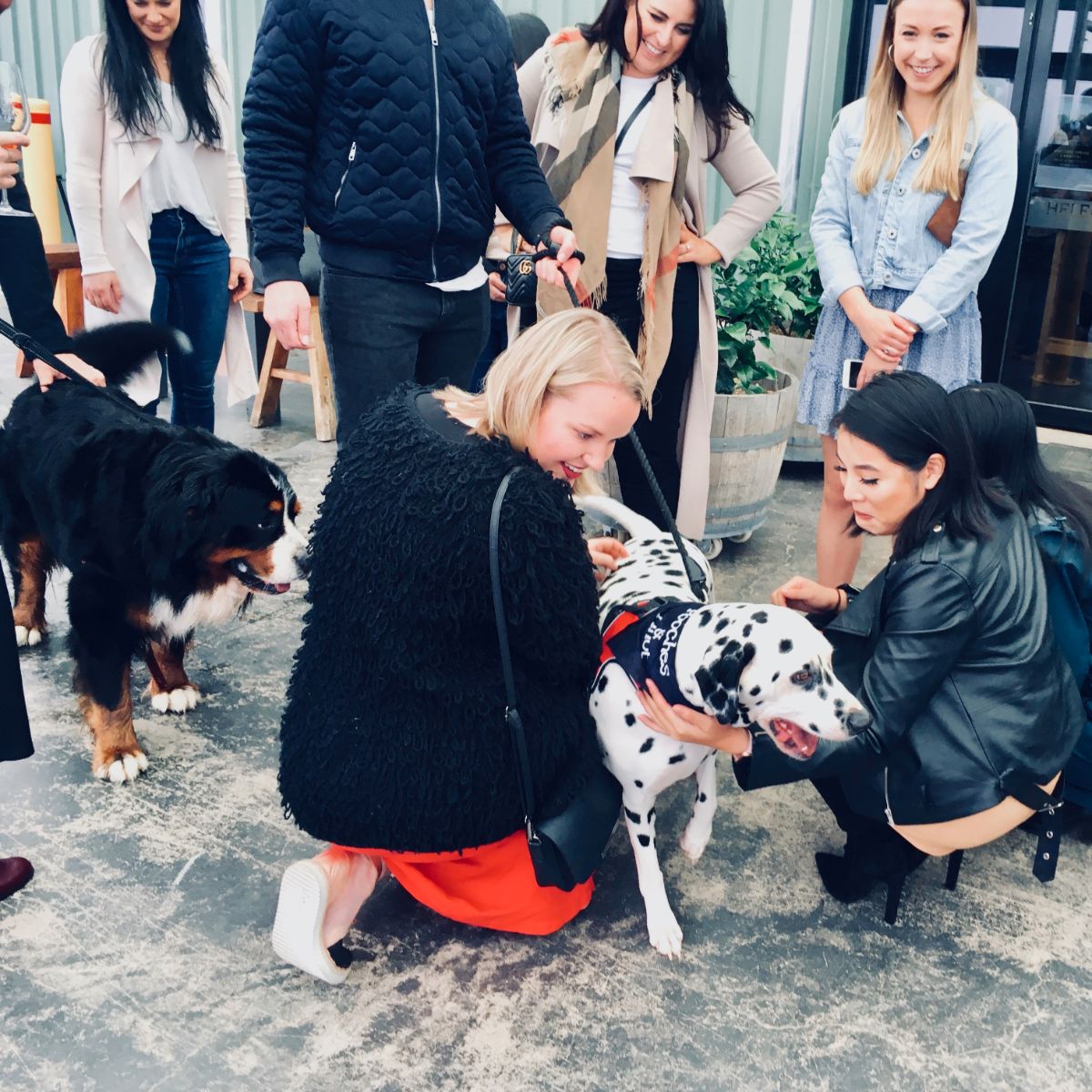 My Dad on the other hand was embarrassingly caught swapping phone numbers with one of these brides-to-be – apparently to give her the name of my breeder.  Yeah right Dad, nice try!  Poor Mum!  #whygooutforhamburgerwhenyouhavesteakathome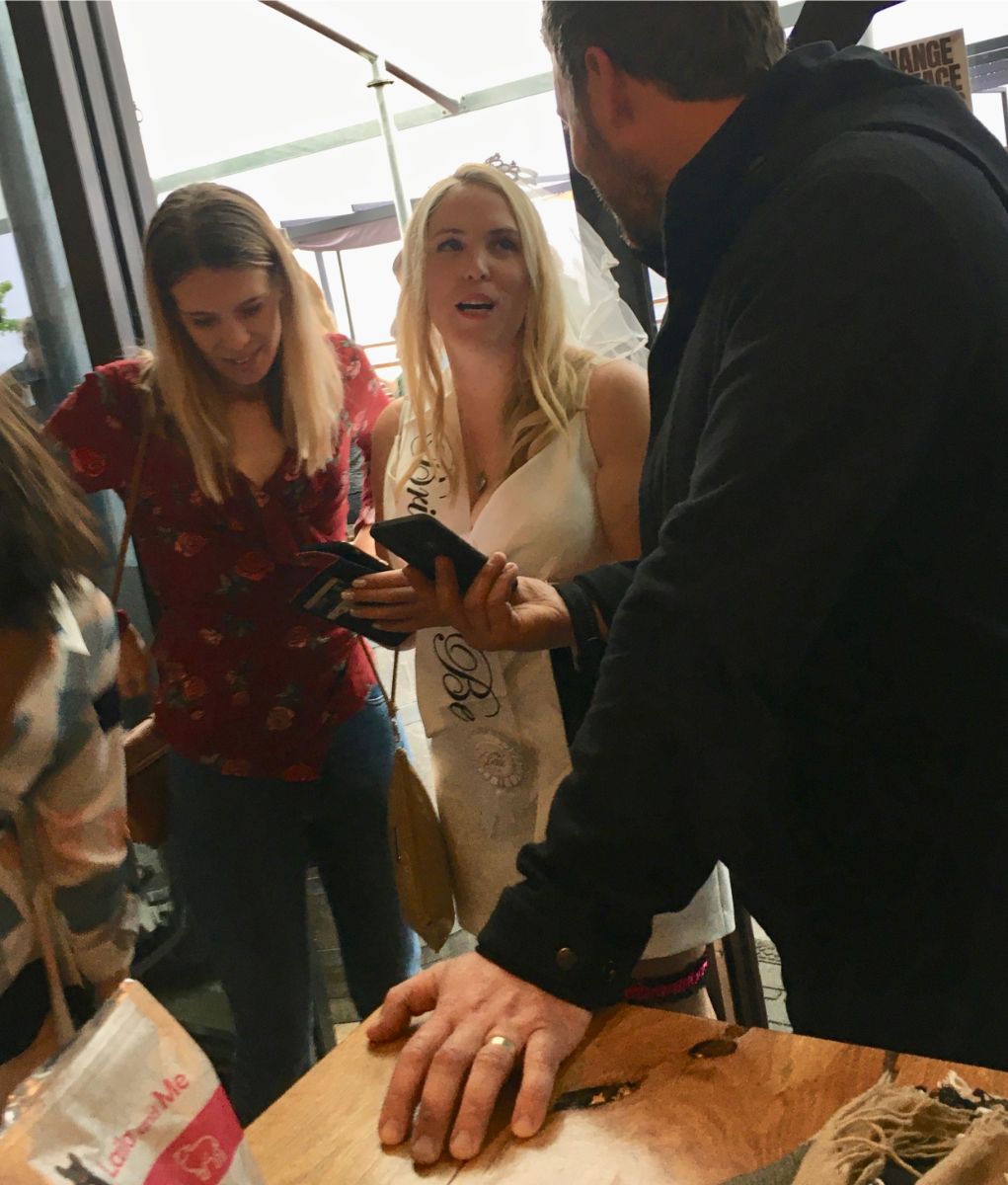 Tori did a great job of trying to do a wine tasting with my humans, given how many people kept interrupting to stroke me and Charlie.  It was our first visit to Helen & Joeys and we loved it out there on the deck and piled inside to continue our tasting when the rain got heavier.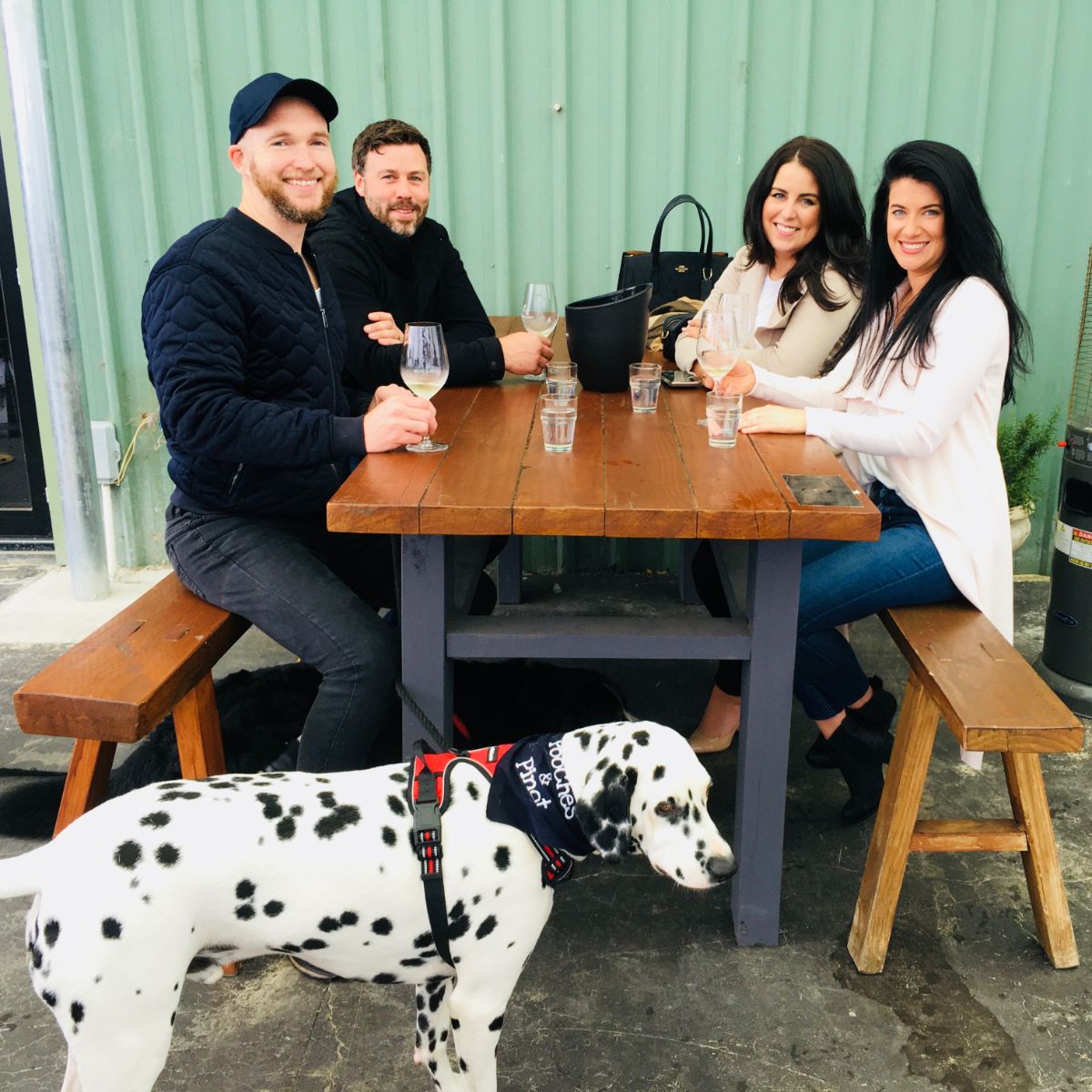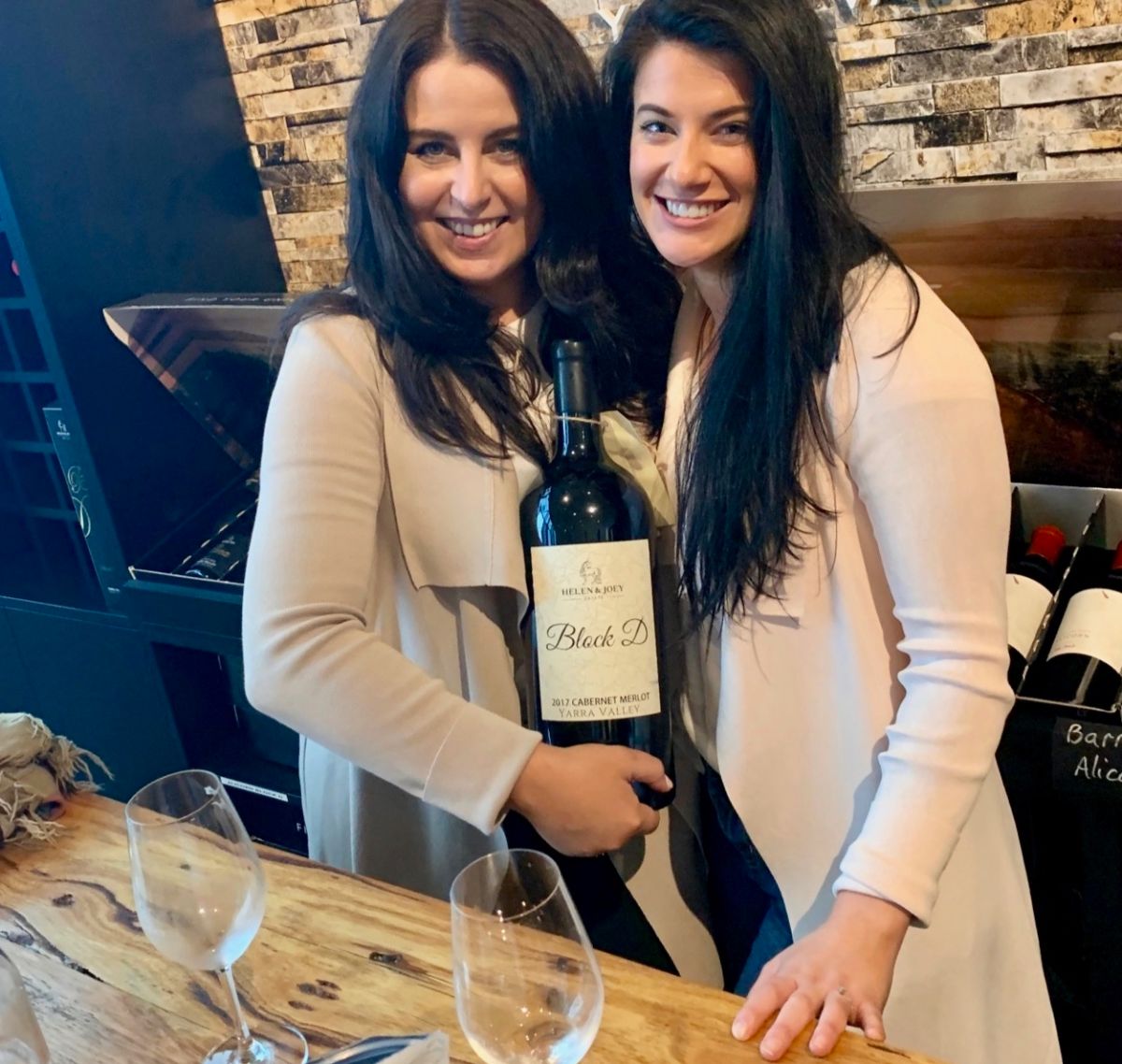 When it was time to leave,  Jeff kindly reversed our van up to as near as he could get, to save our fur from getting wet (you should hear my Mum carry on about getting her fur wet) and after a quick towelling off from Dad, we were on the road again. #notpermissiontosingWillyNelson
We arrived at Punt Road, and went inside where Charlie patiently posed for pictures (he's used to them poor dog!) and then promptly lay down and went to sleep – he'd had an exhausting day yesterday – I on the other hand was quite up for some fresh air, so I hung outside with my new bestie Jeff and then I had to put my paw over my eyes because we spied Mum & Dad busting some terrible disco moves in the cellar door (I know, a public space) and I looked at Jeff and we agreed we were glad we weren't in there with them.  #humiliationbyassociation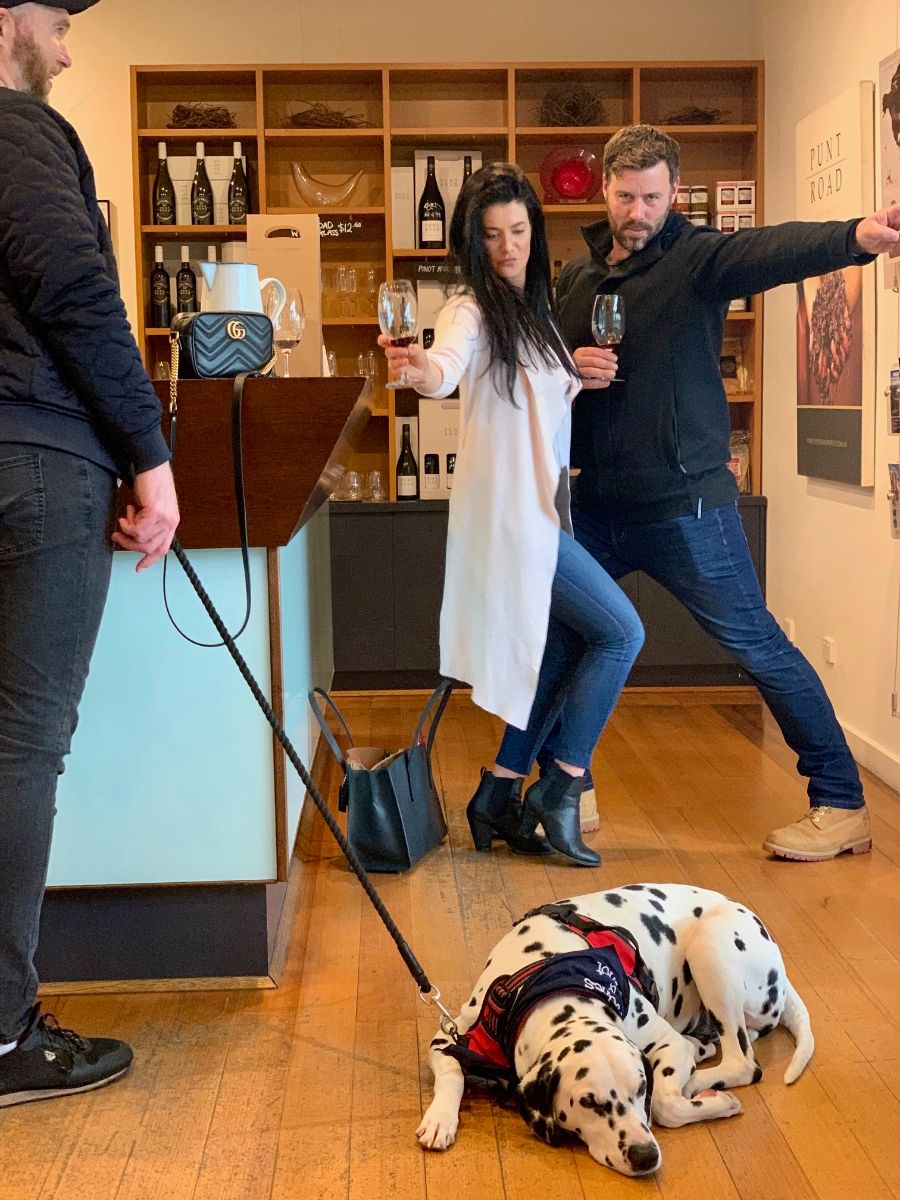 Charlie and his Mum tried to save the situation by doing some far more sophisticated dance steps – (see their paws in below photo) virtually undetectable to the untrained eye.  I refrained from any such manoeuvres – dancing when you're my size can have disastrous (not to mention expensive) results. #bigdogsdontdance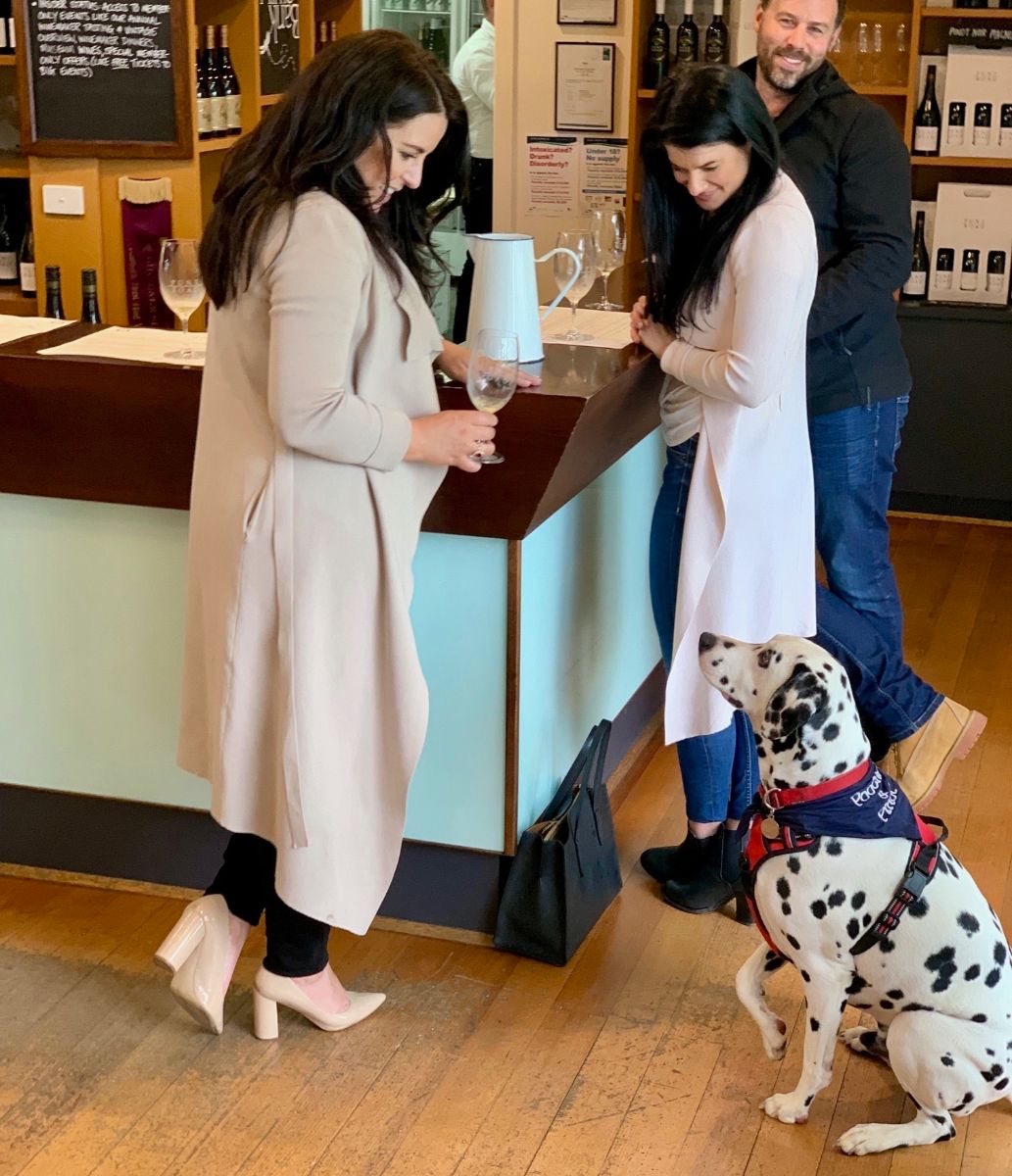 On departure, Jeff once again brought the van around to the door to save our fur, and we had treats while we waited – what a GREAT Day! #treatsbeatwetfur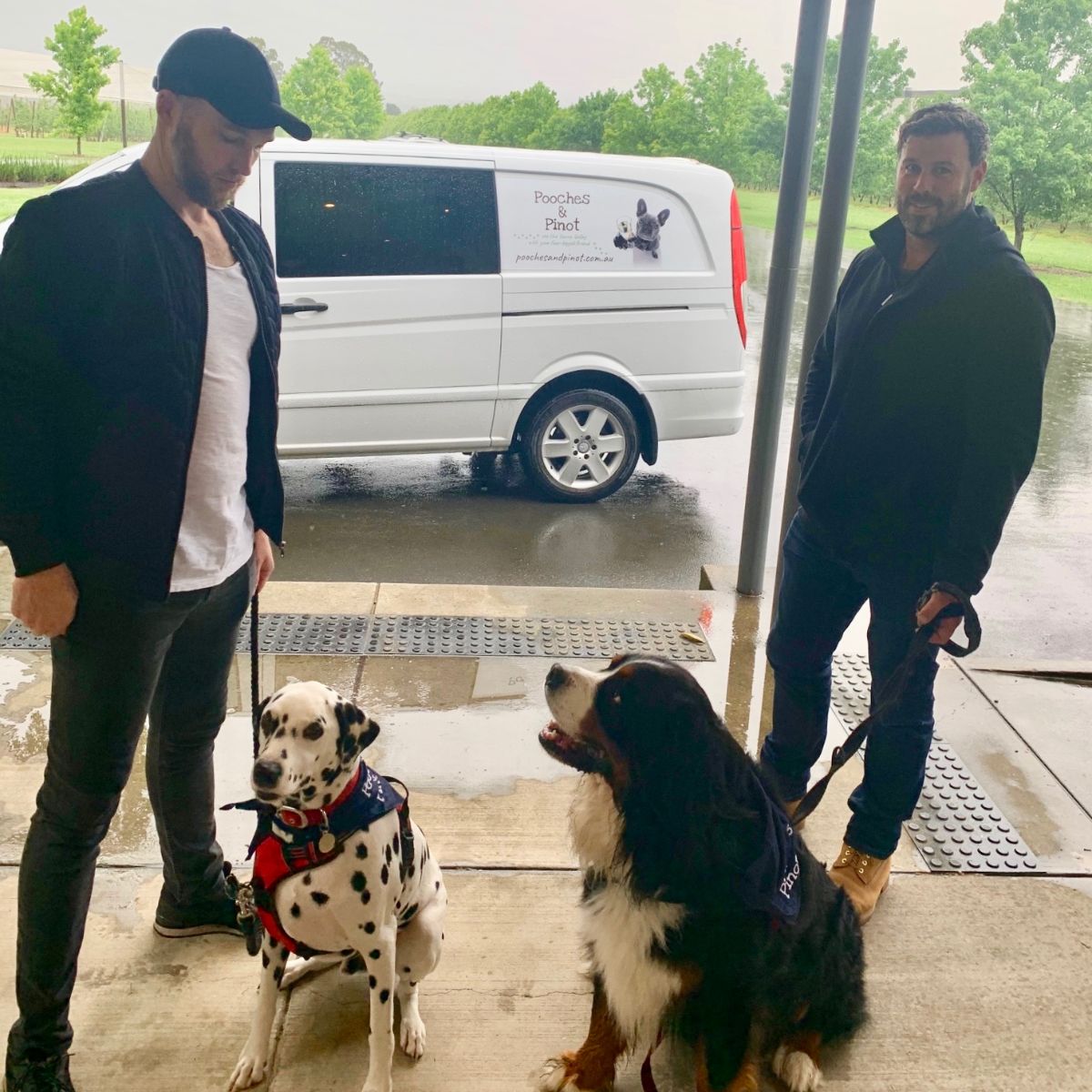 Our final tasting for our tour was at a place called Four Pillars where they sell coloured and see through wine, which they call gin.  They bring it out on pieces of log, in small glasses and everyone raves about it.  A man called Elton (surname not John, surname infact Pinkster, true story) gave the humans the run down on how they make this stuff and while they scoffed it down, a lovely lady called Lizzie came and played with me and Charlie.  I was lying quietly minding my own business under the table where it was a bit wet from all this rain, and when I got up and shook the rain off, it drenched an unsuspecting chap behind me (you have to be 50+ kilos for it to be properly effective).- #besttrickever #theclevernessofme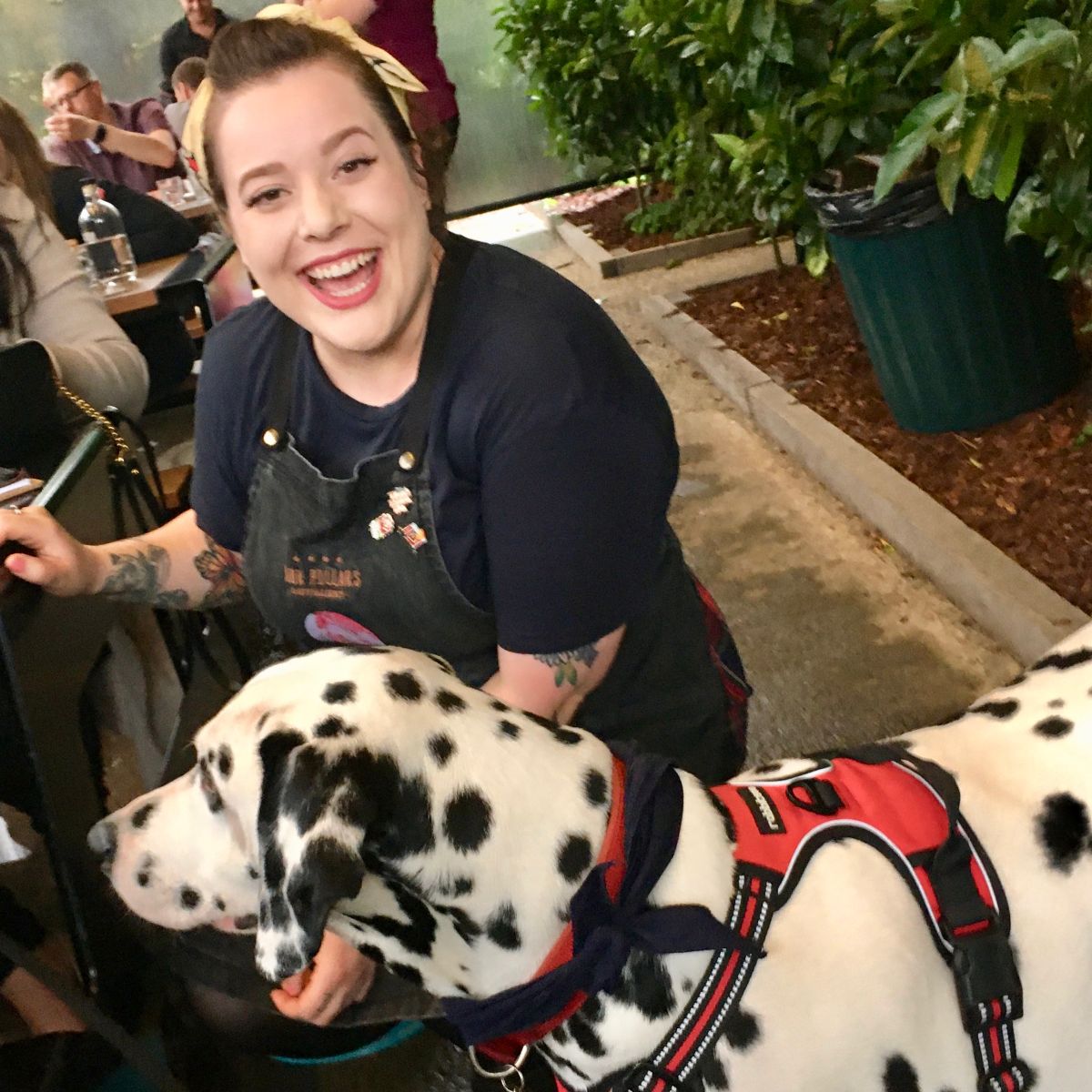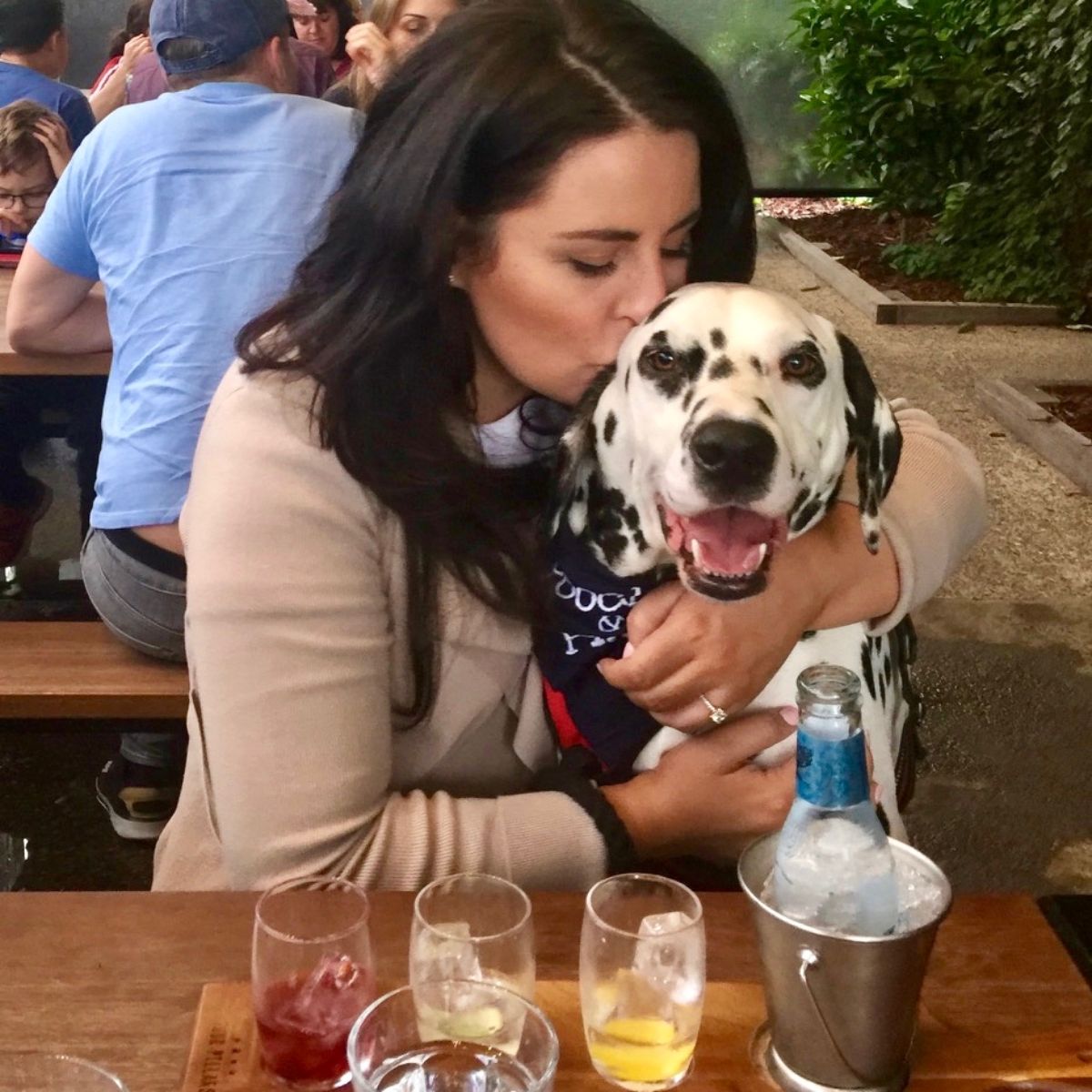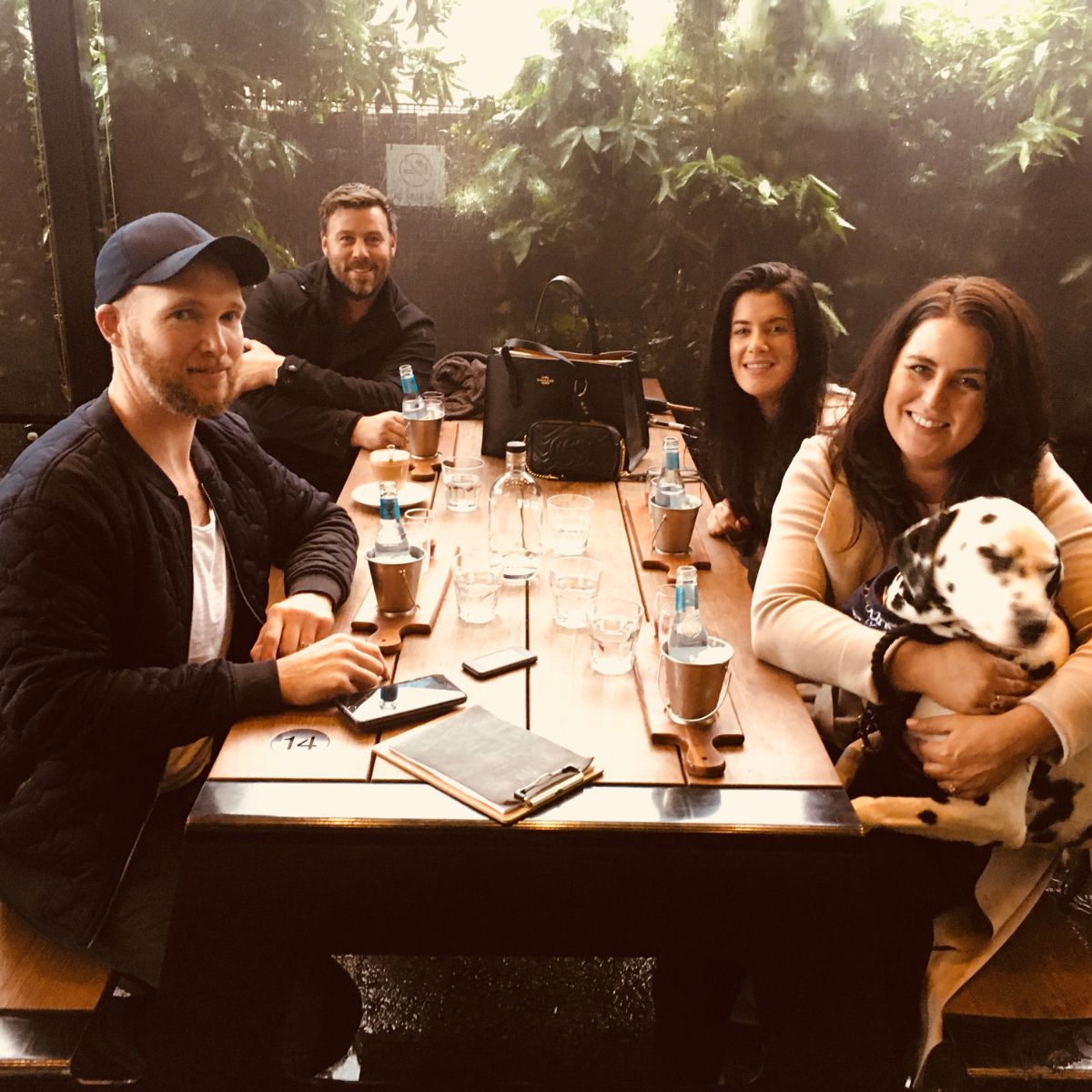 We were now all pretty pooped (and some were pooped and squiffy) and needed to get back to Wiggley Bottom to get horizontal after our adventure filled day and Jeff swung past his own garden to grab the huumans some mint and limes which he was thoughtfully growing for their gin and tonics. #notyouraveragetourguide #VIPtreatment
So, as you can see, we were treated like rock gods on our tour and we reckon you might be too – so take your huumans on a tour with Jeff as soon as you can before it gets impossible to get a booking!  #bookitdanno #wouldmakeagreatxmaspressie #FOMO #wewillbeback