Yo dudes, Donatello here, known to my homies as Donnie.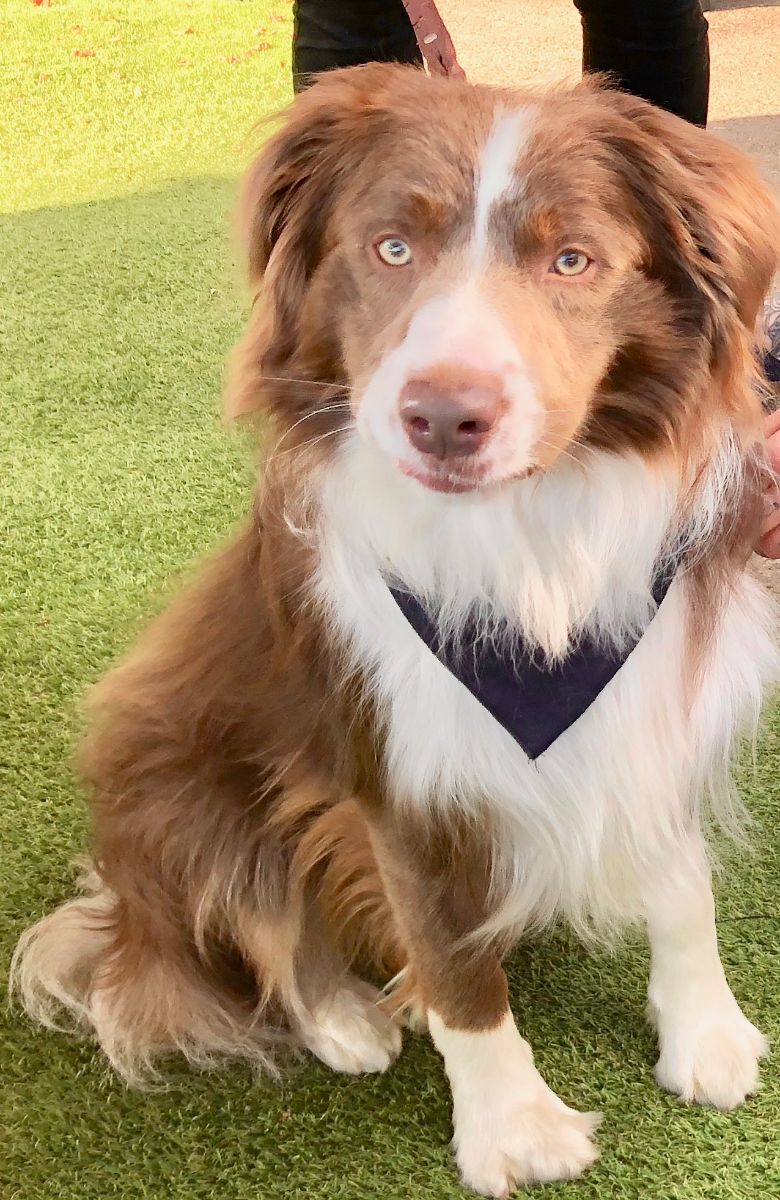 I'd had a bit of a rough week having been taken to the vet to be interfered with (they call it desexing) so as part of my convalescence my pawrents organised a trip away for me to the Yarra Valley.  Oh and it happened to be my Dad's 30th birthday too, which was good timing.
We drove up from Keysborough on the Friday, and checked in to this pawsome apartment on a 15-acre farm, I was in heaven.  It's called Wiggley Bottom Farm and I can see for miles from our deck and I can smell the goats and horses and geese who live on the farm and get this – there are 3 other dogs on the other side of the fence who live here lucky bastards (in my mind they are Leonardo, Michelangelo and Raphael). There's even a fire to keep us warm!!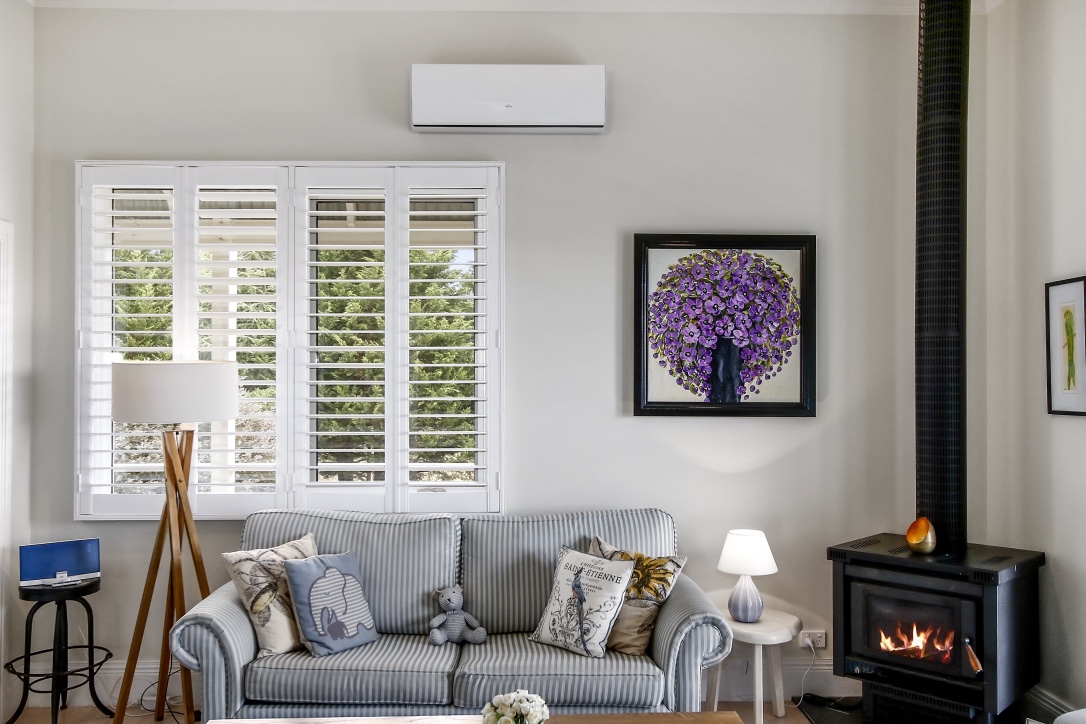 We had all day Saturday to explore and we went into Healesville the nearest town and had great food and then on Saturday night a chick called Helen rocks up at the apartment to meet me and after much stroking and ooohing and aaahing she hands my Dad a bottle of champagne and wished him happy birthday and a great tour tomorrow.  So the locals are friendly!!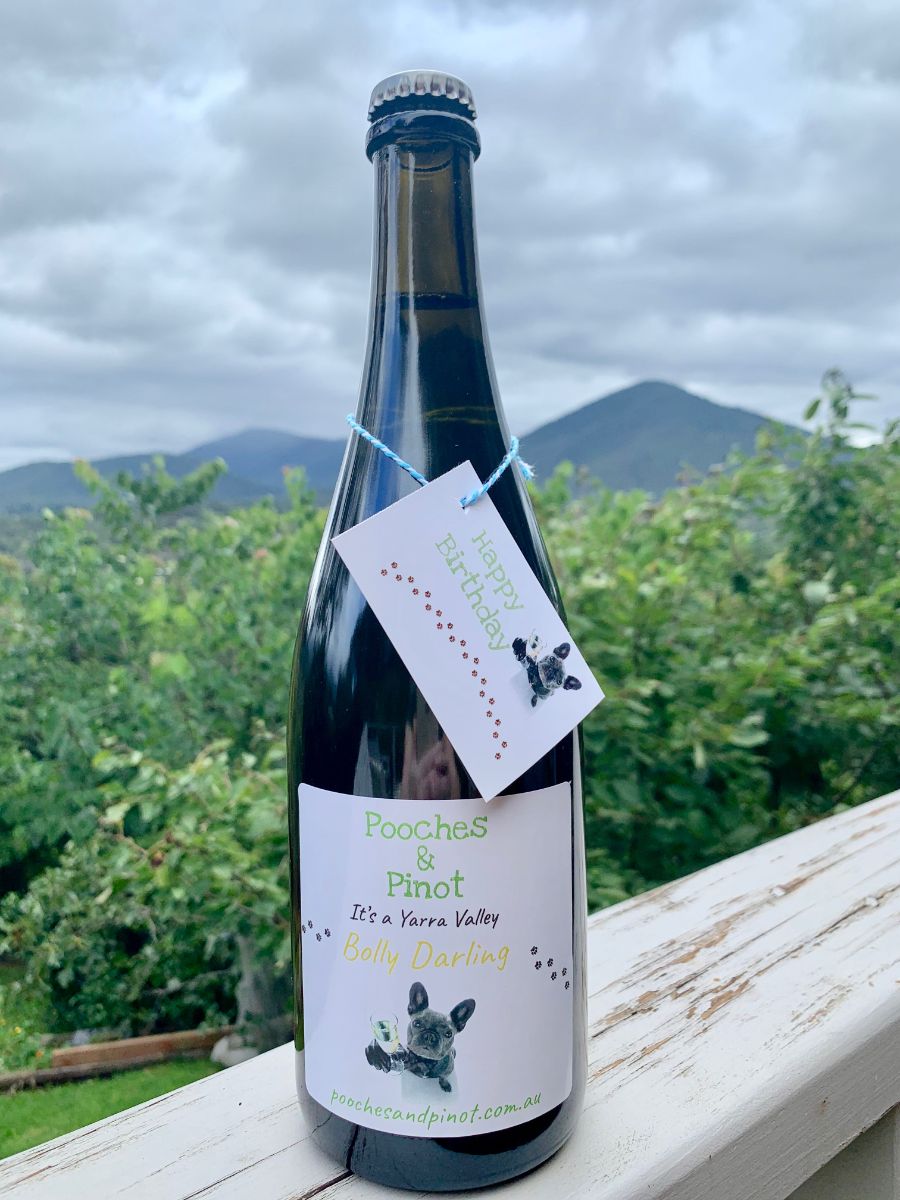 Next morning, Dad goes off to get us breakfast and I spot a white van coming up the driveway – which immediately made me suspicious.  The driver introduced himself as Jeff and then suspiciously wanted me to get in his van and I knew this was all wrong – Dad wasn't here to protect Mum so I knew it was all down to me.  Fortunately, Dad got back and said this guy was Jeff and he was OK, so I breathed a sigh of relief, and in we all jumped.
Off we went and I was loving all the smells in the van, in this great bed that someone had put there for me and soon we were on corrugations on a bumpy track leading to Helen & Joeys, a winery where there are white horses called unicorns everywhere and a stretch limo had arrived as well as a bus of twenty people, so I had loads of people wanting to stroke me.  We were sat at the VIP table whereby everyone who came in or out had to pass me so I got maximum strokes – result!  And while I was being adored, the wine was being poured (did you see what I did there!) so instead of being bored I was in my element!  Booyakasha!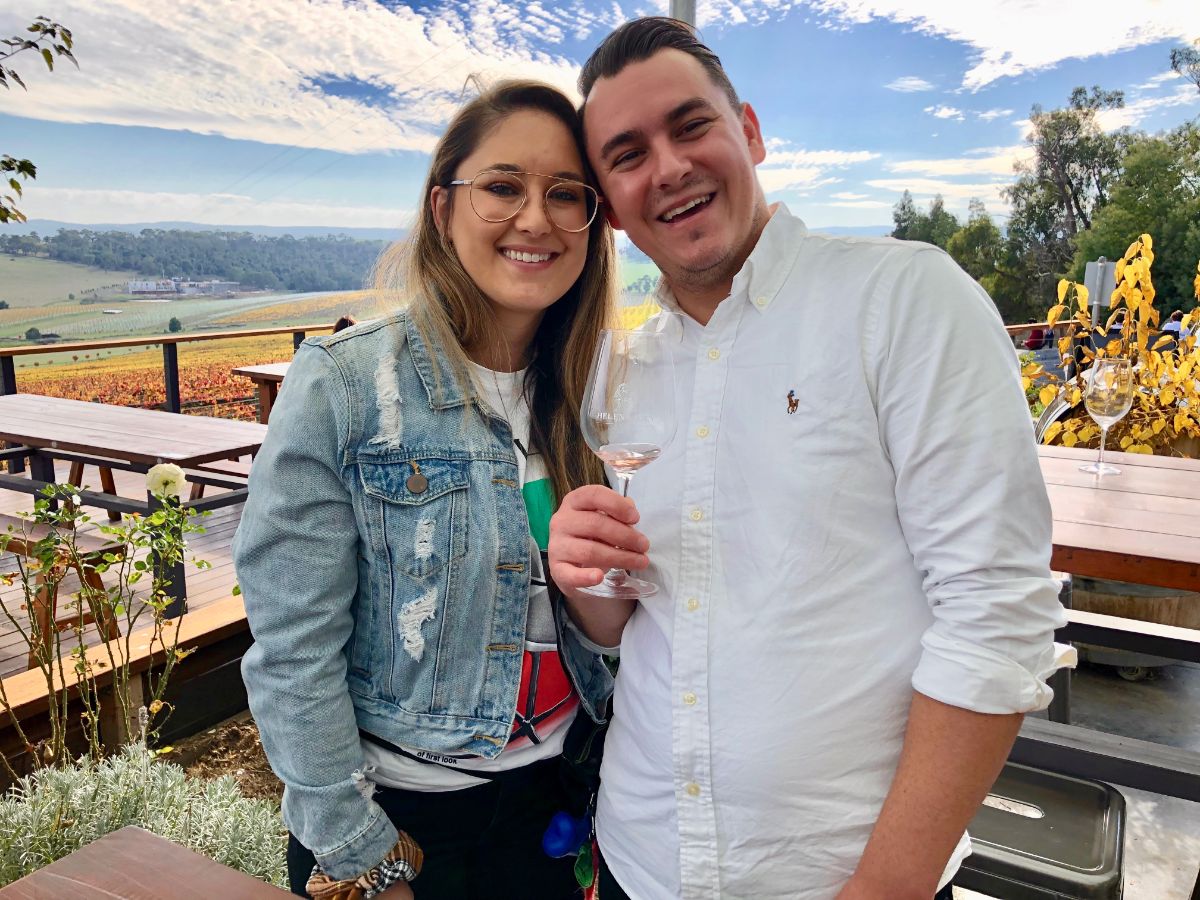 It was a gorgeous day, blue skies and sun and the vines were changing colour and we posed for some photos.  My pawrents are originally from South Africa which is famous for having wineries with staggering views but imho I reckon this tops anything back home (I would say that as an Aussie).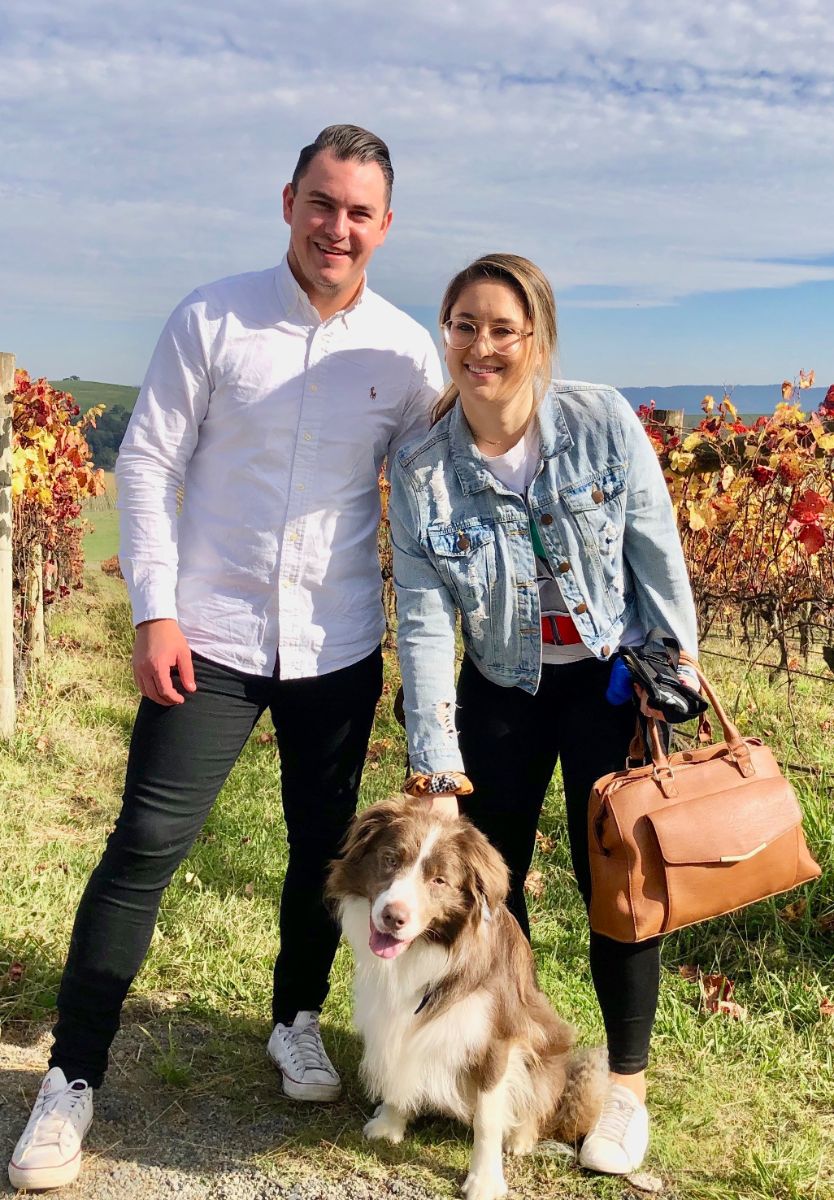 After bravely posing perilously close to a unicorn, we then set off for our next winery which was called Yering Farm.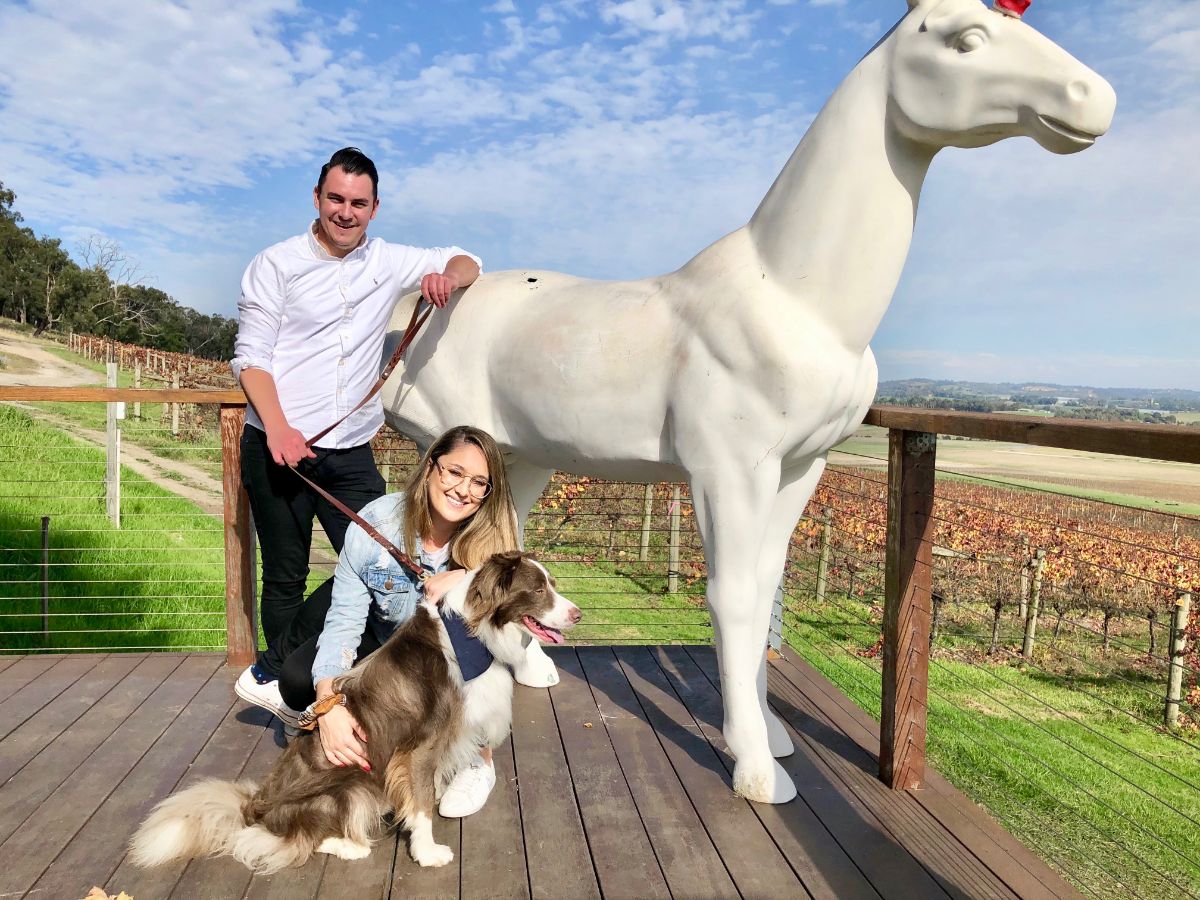 It was great, we were only in the van for 5 minutes and suddenly we had arrived.  It was the coolest place – I was allowed inside their cellar door so I joined my pawrents for the tasting up at the counter and while I wasn't allowed to try any actual wine bcs I'm so young, I was allowed the odd treat!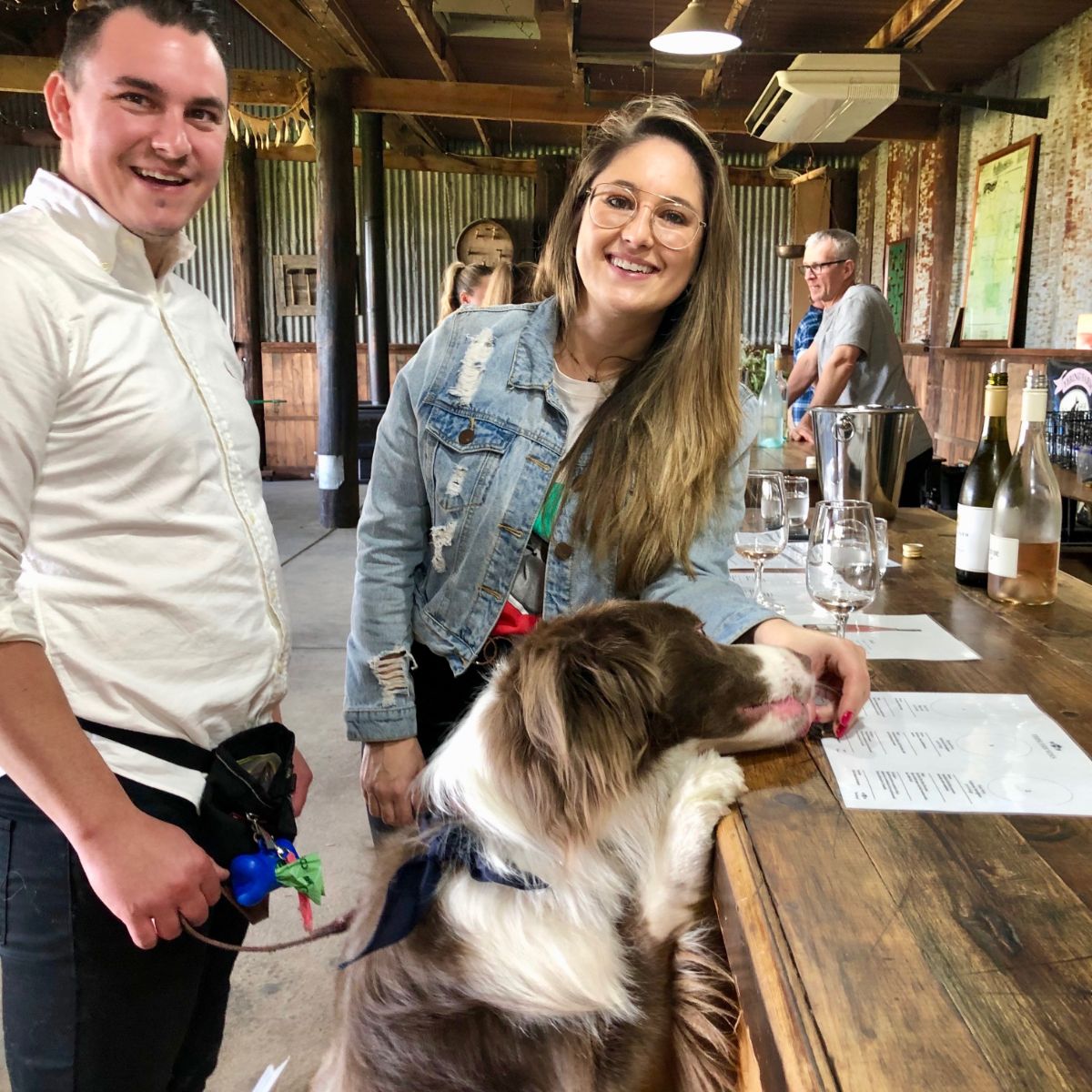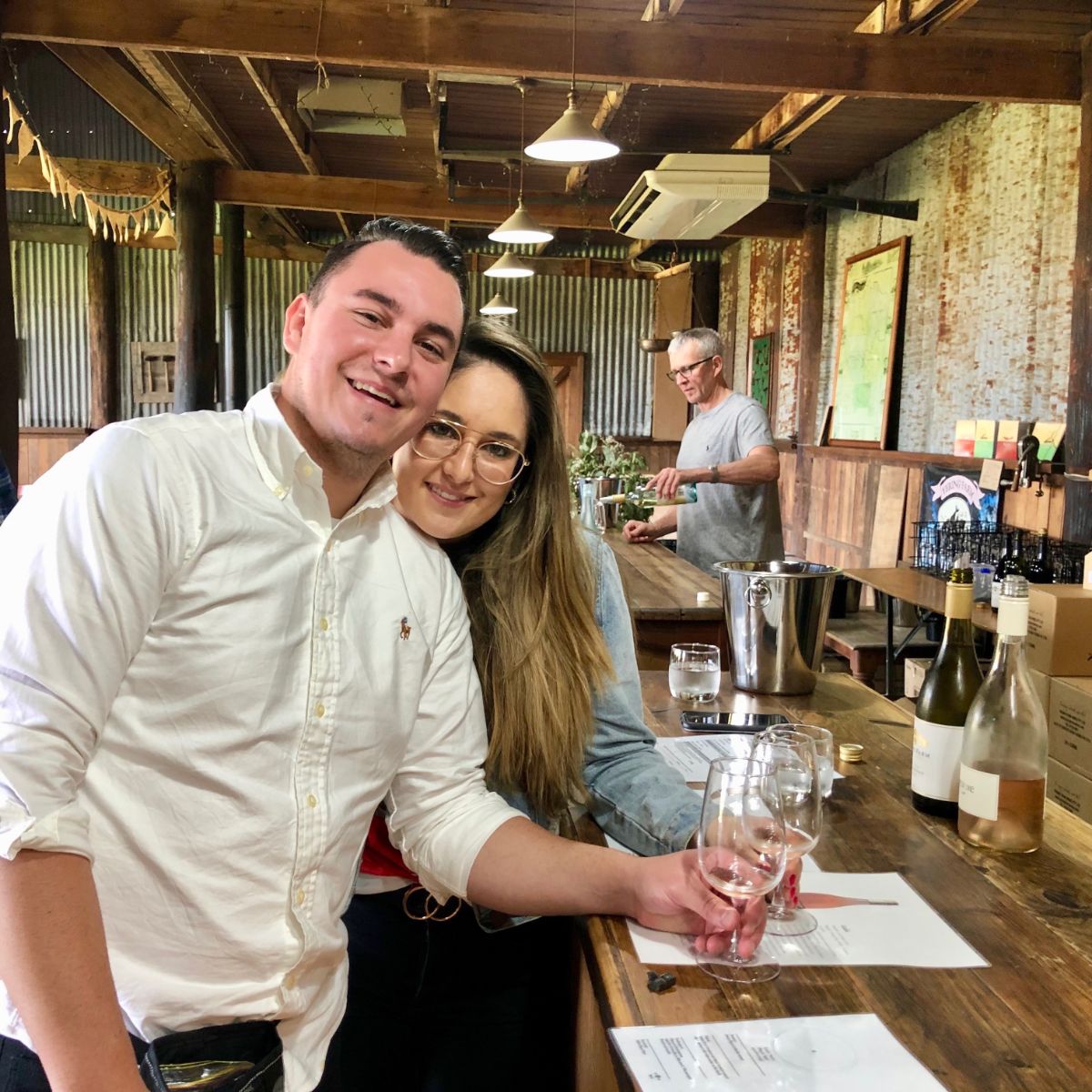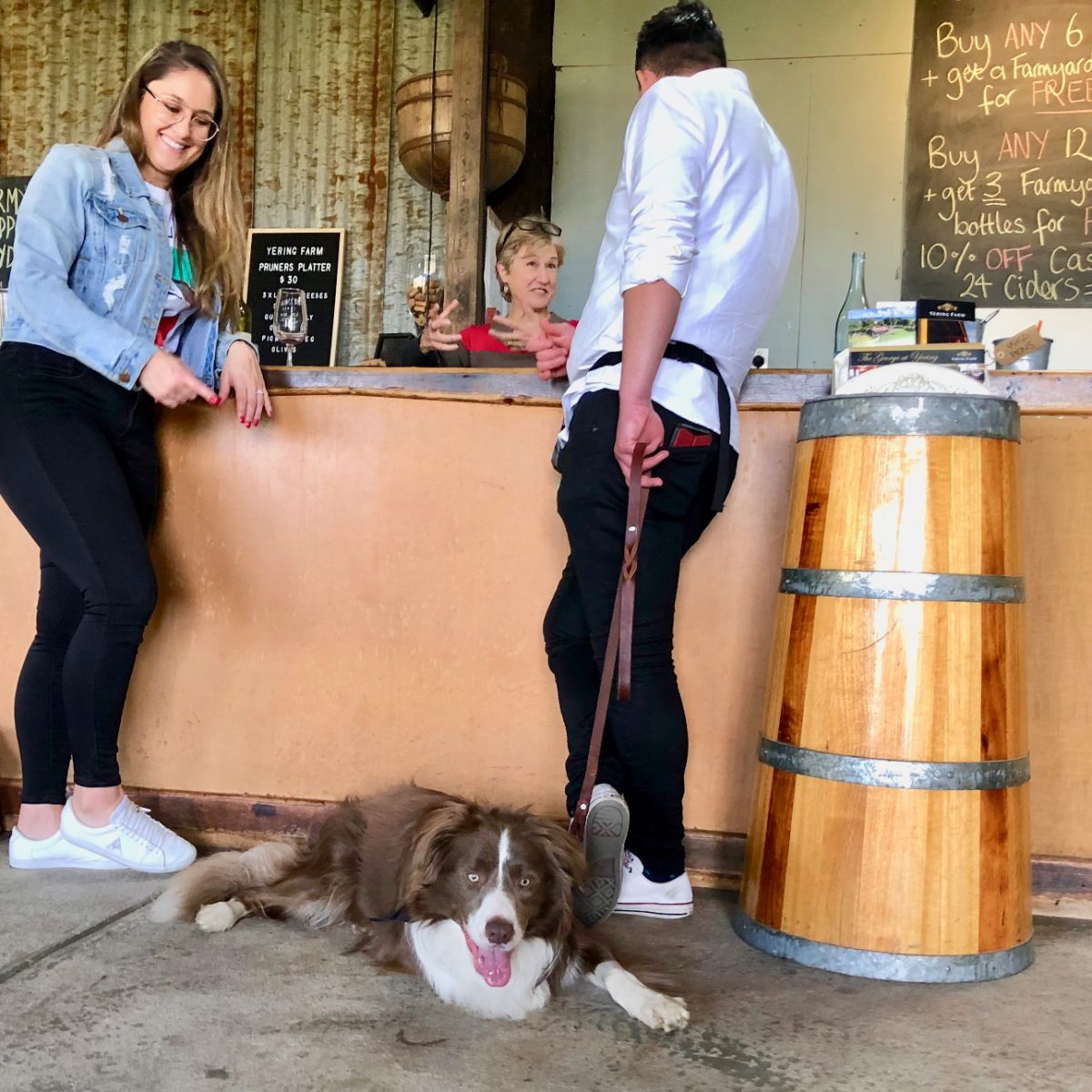 Jeff is such a legend, he could tell I was a bit bored after a bit so he produced a tennis ball and threw and kicked it for me and then a fellow Italian called Dante arrived, so I chased him too.  And get this, he lives here at the winery, the lucky chap – I'd LOVE to be a wine dog, imagine playing all day long on all that grass and having people arriving to stroke you all day every day.  He lucked out did Dante!  Cowabunga dude!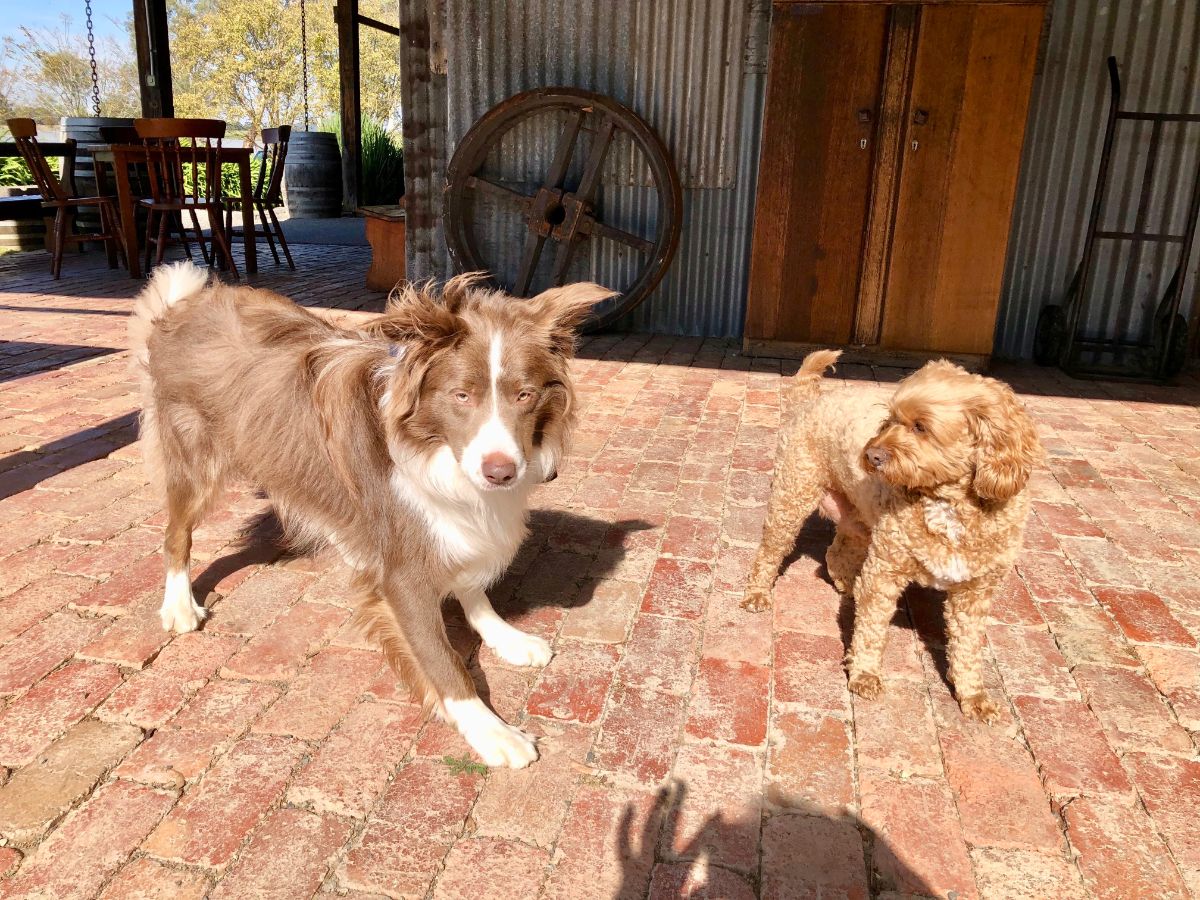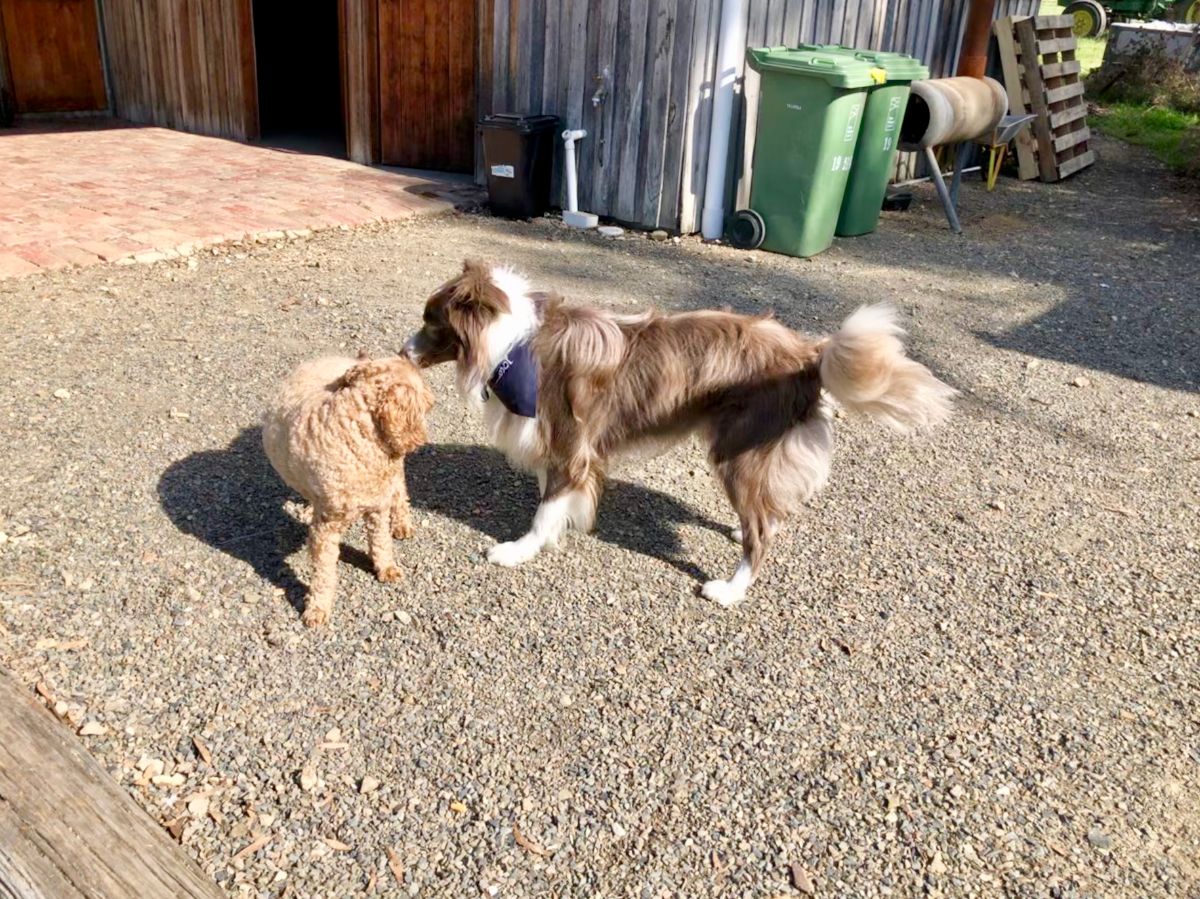 After we farewelled Yering Farm, we drove over to Greenstone Winery which was where my pawrents had another wine tasting and an amazing lunch which Jeff brought out to them on great big boards with glassses of wine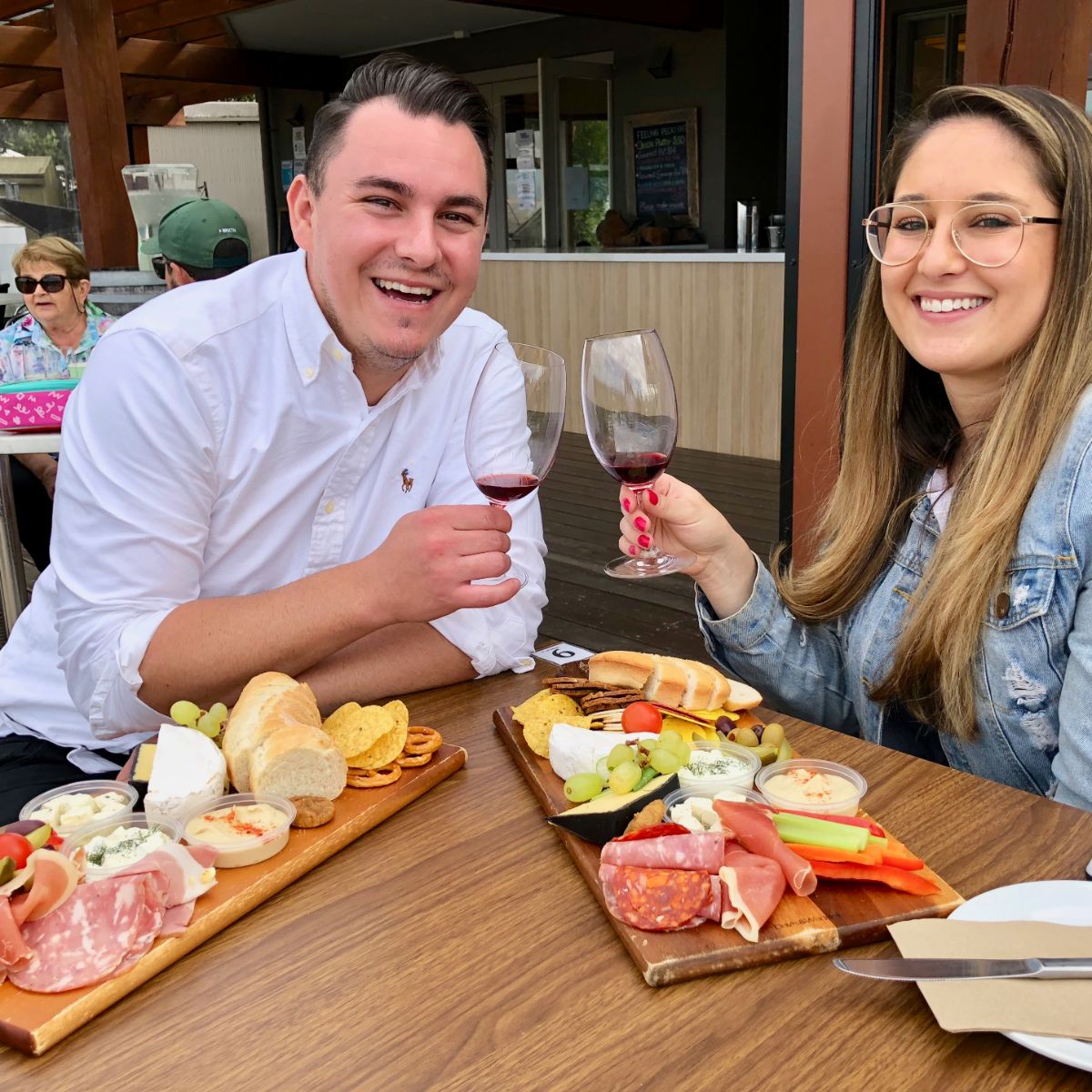 and he'd even made a cake for Dad for his birthday which he made GF so they can both enjoy it, and he presented it to them with glasses of bubbles – is there nothing this man can't do?!  He's my new sensei.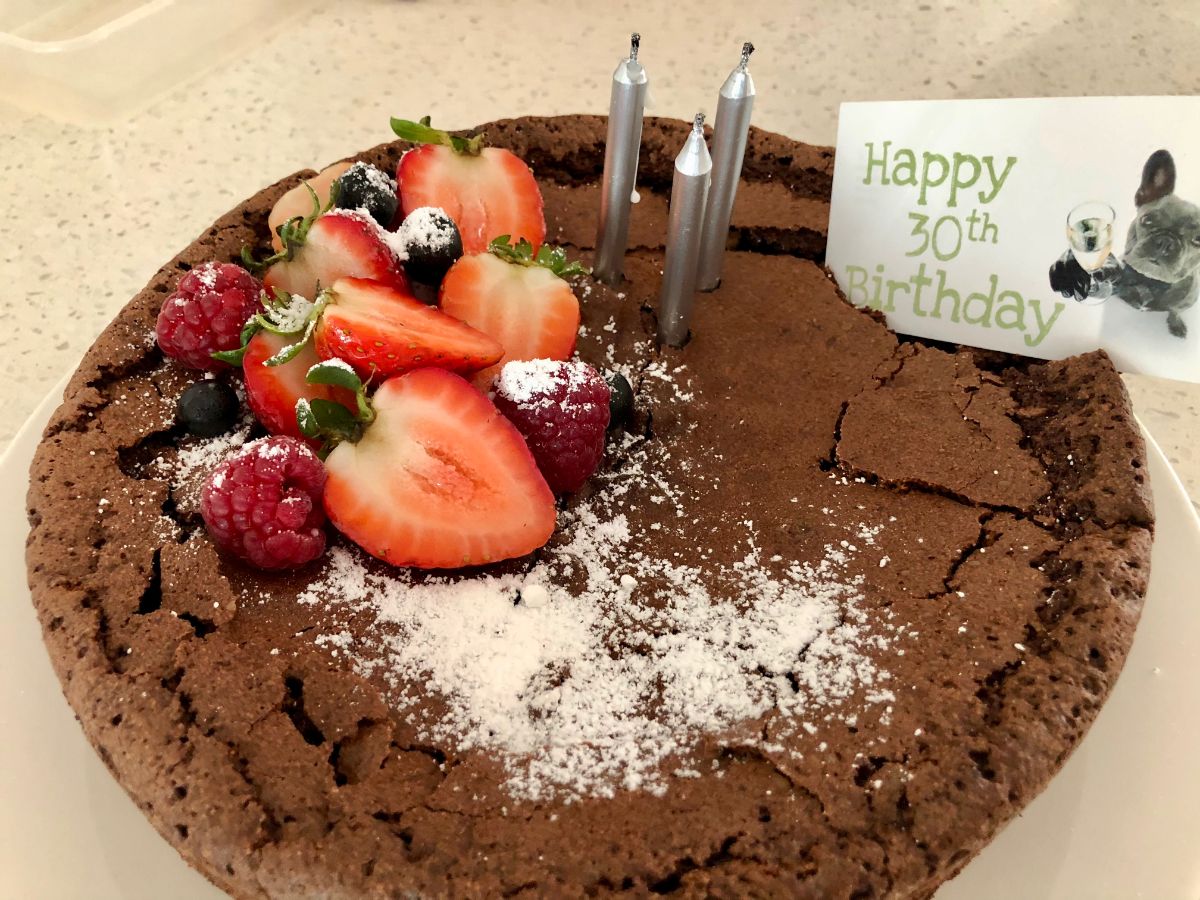 I liked him so much I hung out with him lots and even took him off for a walk near the vines; we bonded big time and not just because he had a pocket full of treats.
We jumped back in the van and I watched the views out of the back window as we were driving; rolling hills, stunning countryside, all whizzing past and then bam, we were at Four Pillars Gin Distillery in Healesville.  There was a mile-long queue of people to get in, but as VIPs we were taken straight to our table (I reckon Sensei Jeff must know the bouncer).  As we settled at our table the famous Lizzie arrived to meet me and adore me and she was delightful and we fell for one another immediately.  She was covered in tats of her dogs Elvis and Barbara Ann (I hope my pawrents will see sense and get tats of me soon too).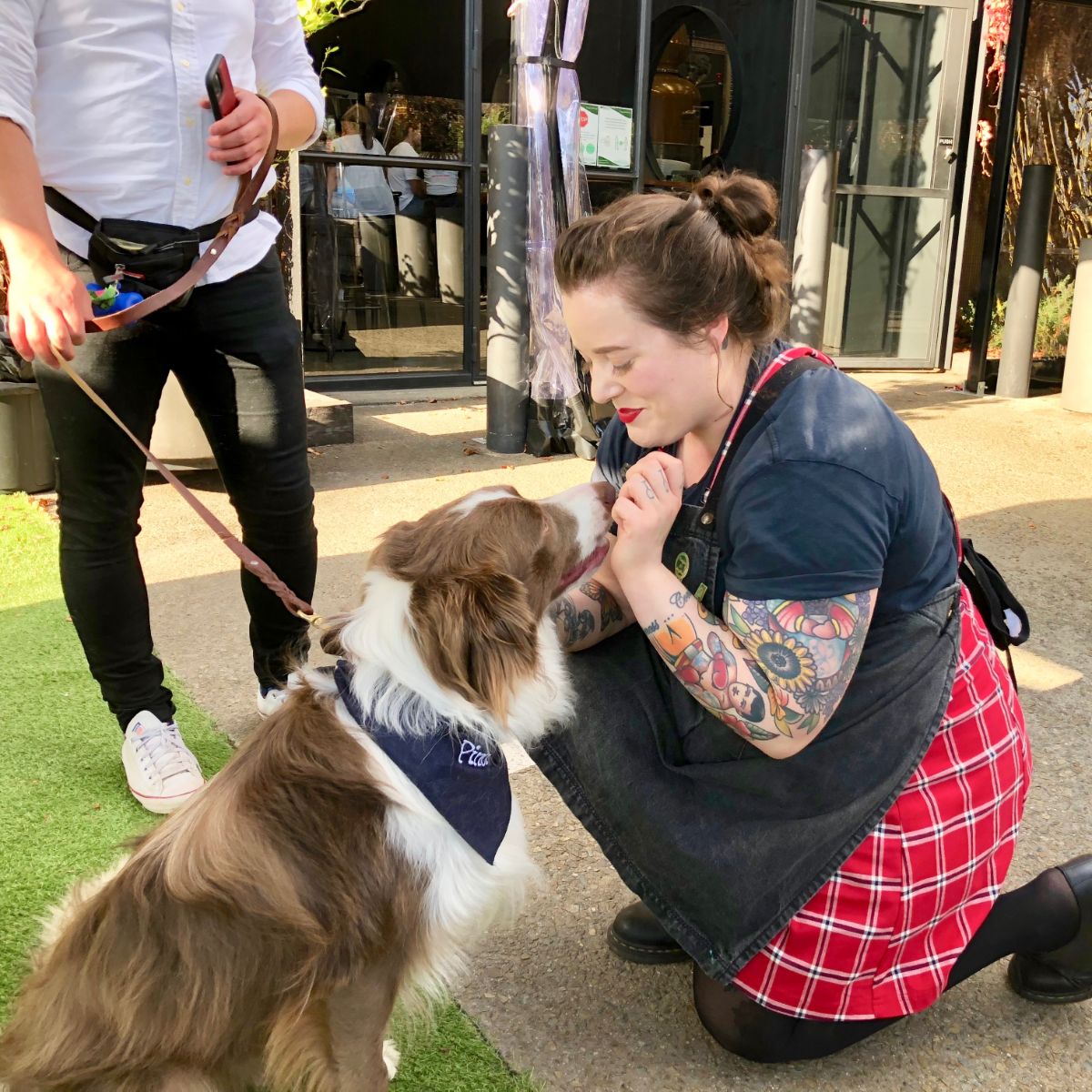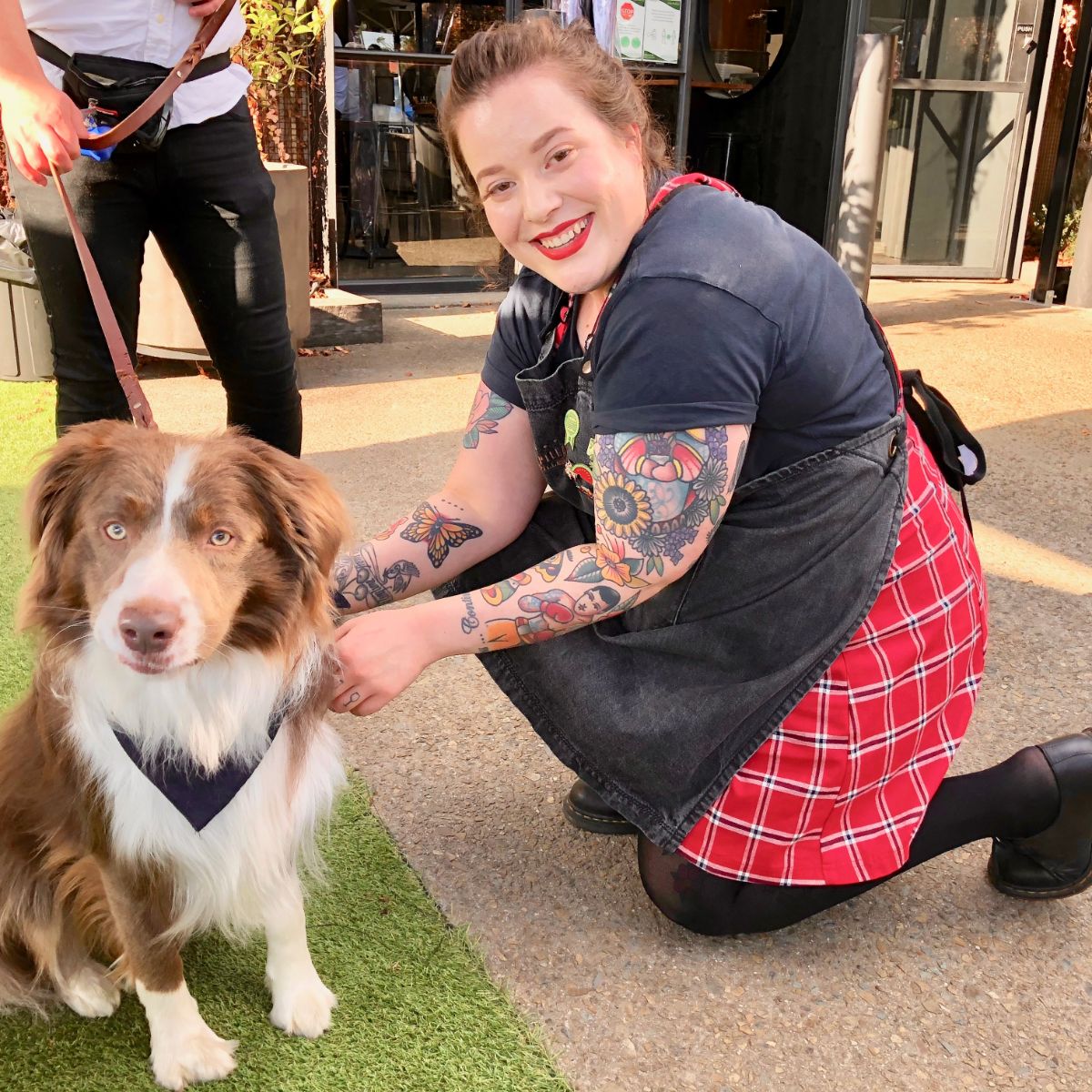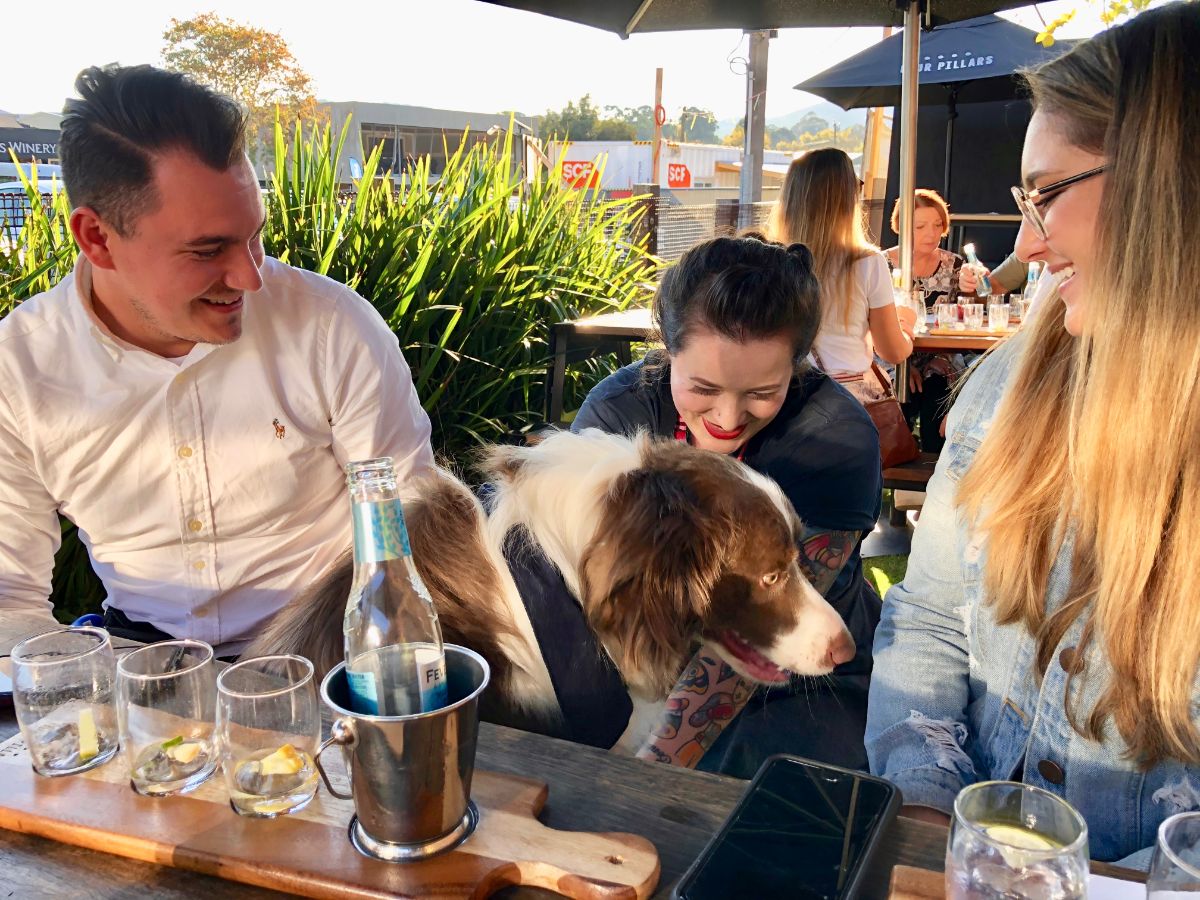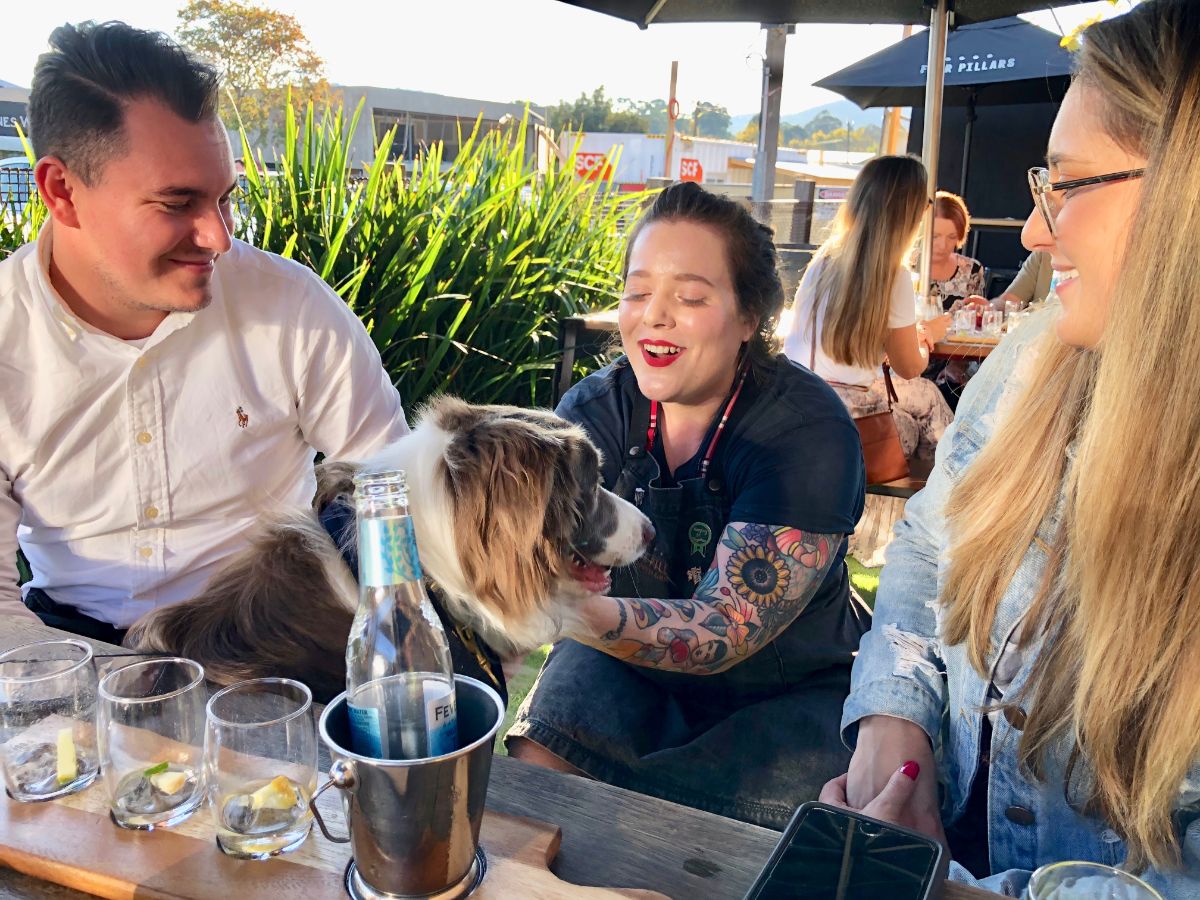 Gin tasting paddles arrived and I tried desperately to get in on the act as I'm sure I'd love gin and have read so much about Four Pillars and all the awards they keep winning, but no-one was giving me any gin so I cleverly chewed through my lead while no-one was looking so I could set off over the road to Payten & Jones which I'd heard was the next cellar door we were to visit, but Sensei Jeff was too quick and he caught up with me!  Nothing gets past that man.
After fondly farewelling everyone at Four Pillars we finally set off for P&J as I like to call it, and we met Ovarn, this rad Jamaican and he could seriously be the 5th Ninja turtle, he was THAT cool.  But we'll have to rename him, he shall be forevermore called Van Go!  He was fascinating (when I could understand him, he's my first Jamaican I've met) and he taught us all about how to read the Baumé (ripeness/sugar levels) of the wine with this gadget you look through.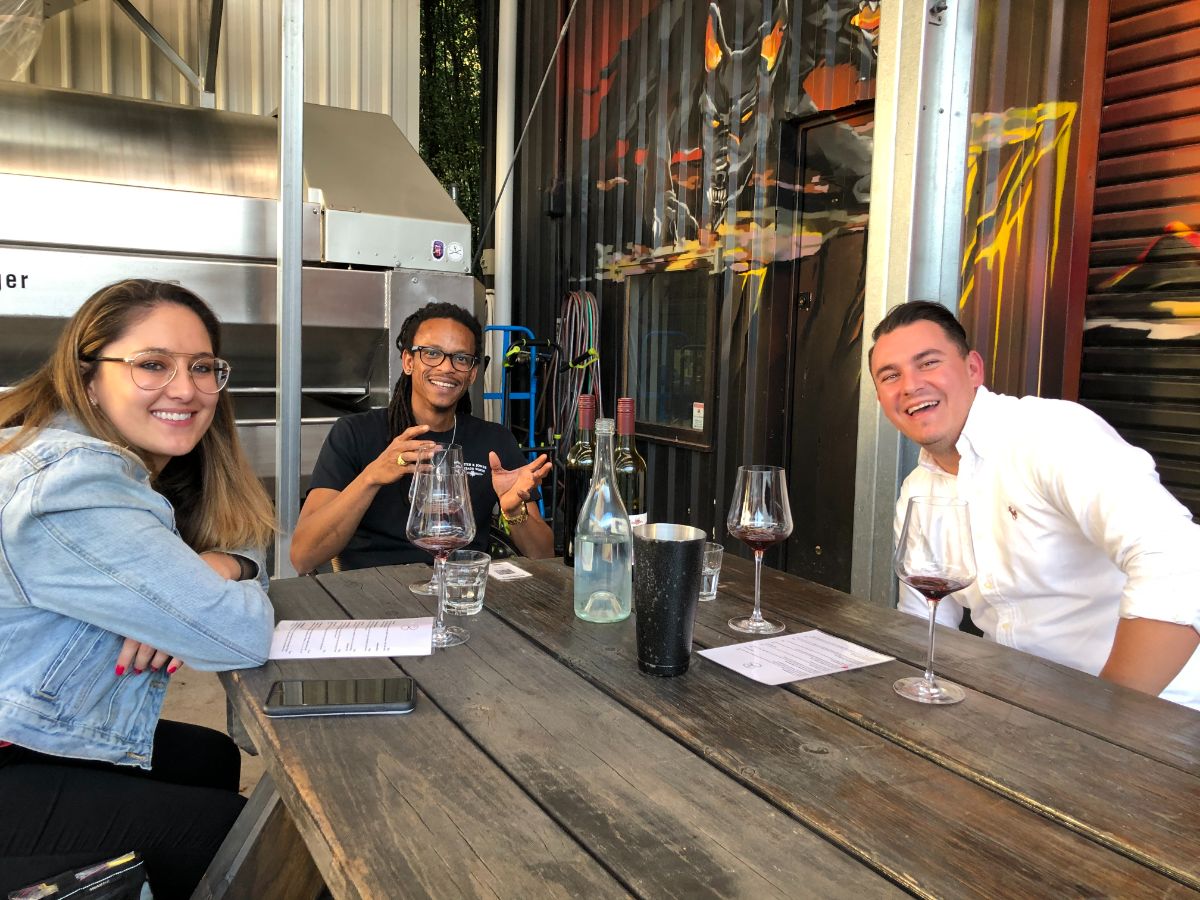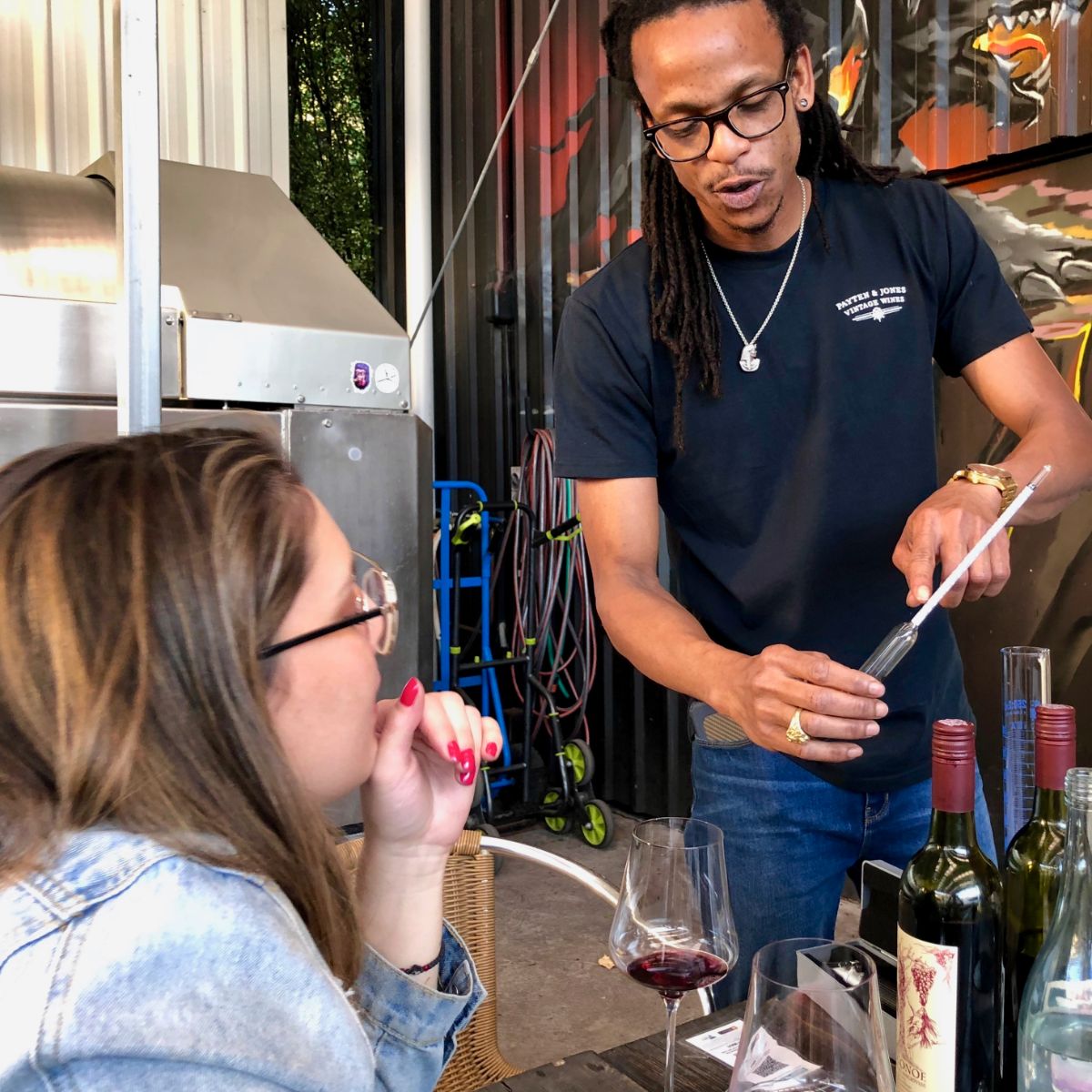 With my superior turtle x-ray vision I didn't need a gadget, I could simply tell by looking through the glass.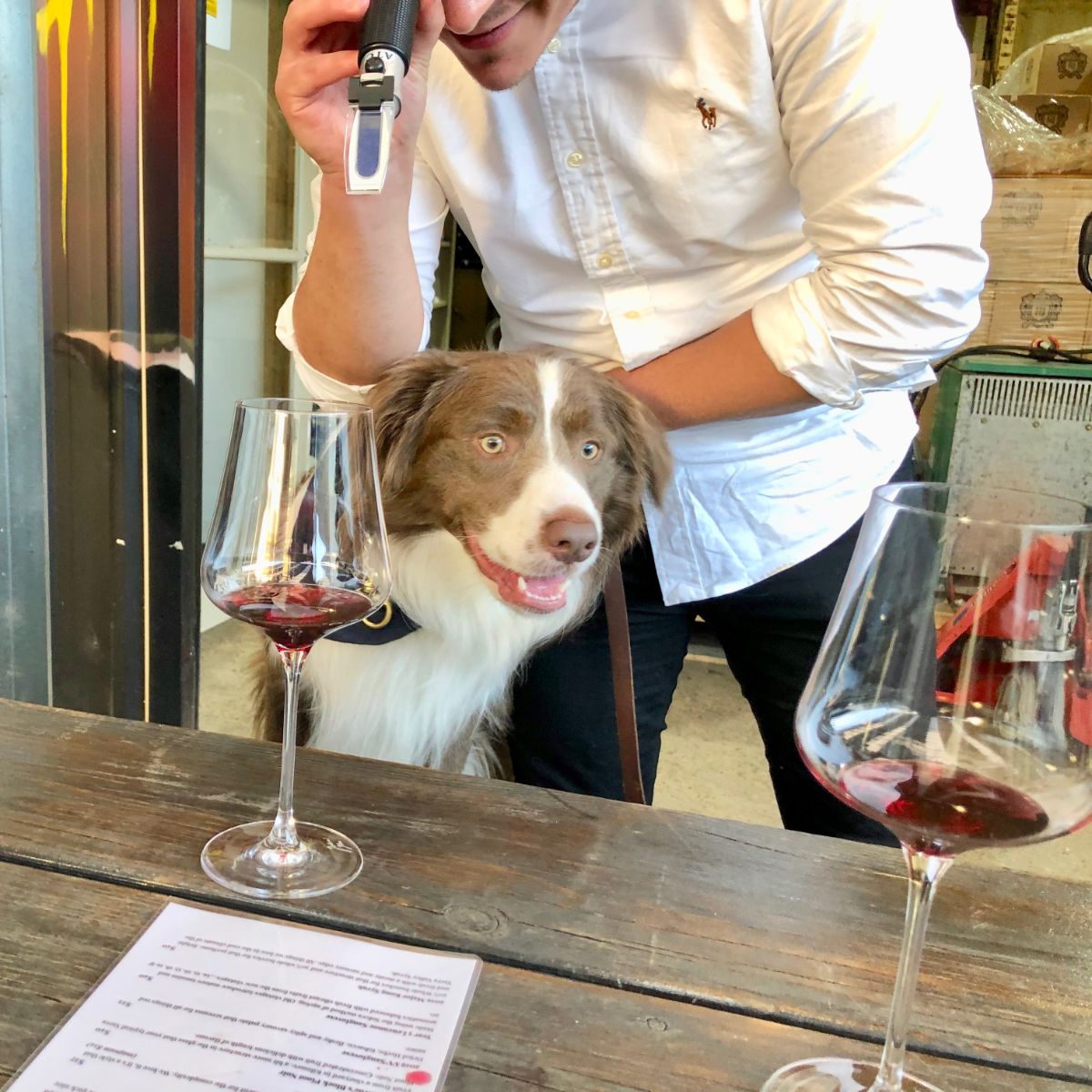 We then typically posed for yet more photos – for a blog or something!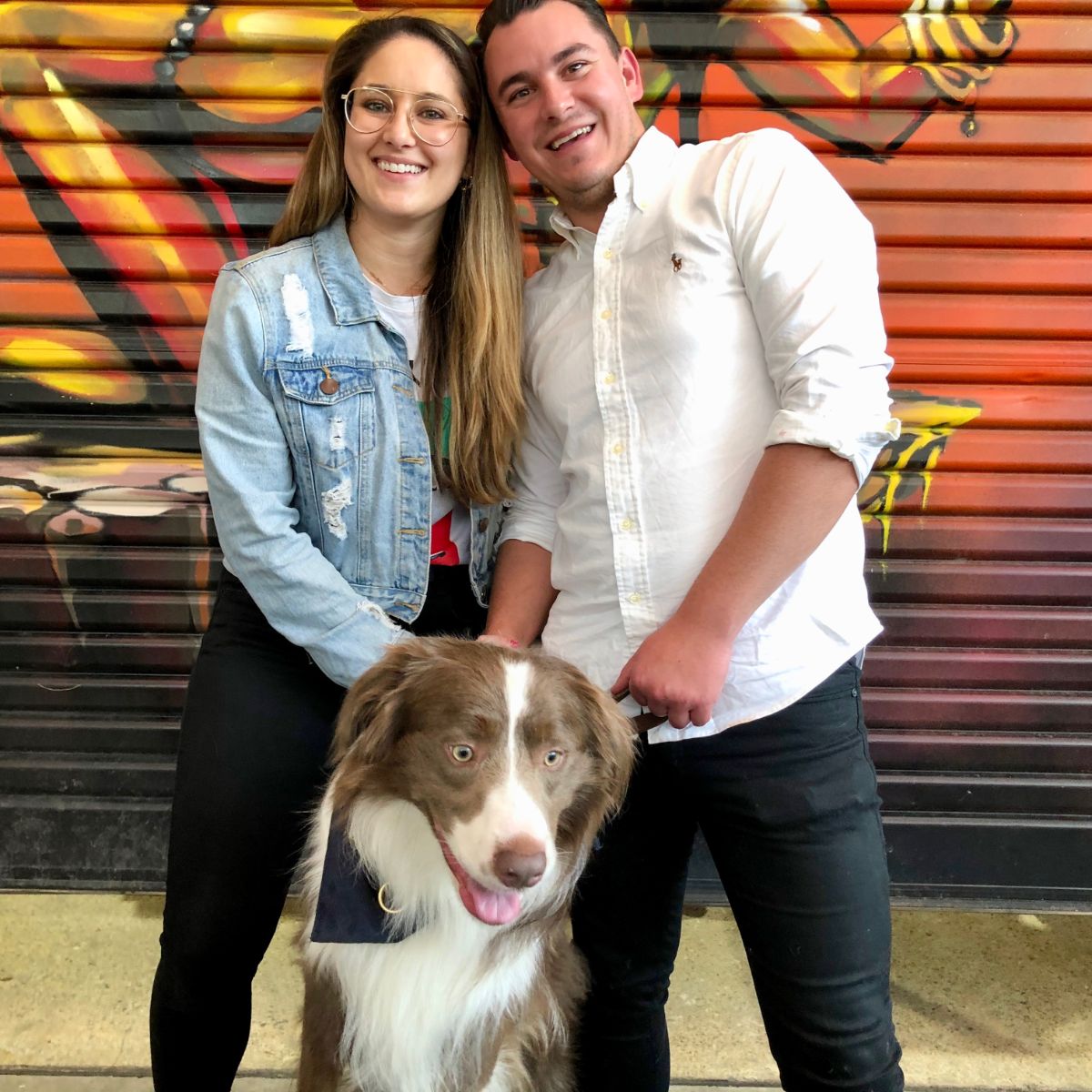 Jeff LOVES the wine here at P&J, and he was getting himself a bottle at the counter and I whispered to my folks that we should get it, to say thank you as we had loved our day so much and they thought that was a genius idea of mine (yet another).  He really had been the best fun and we were treated like rock stars everywhere we went and you know what, it turns out that lovely chick who rocked up with a bottle of fizz for Dad yesterday – that's Jeff's partner Helen who runs P&P – what a pair – wow!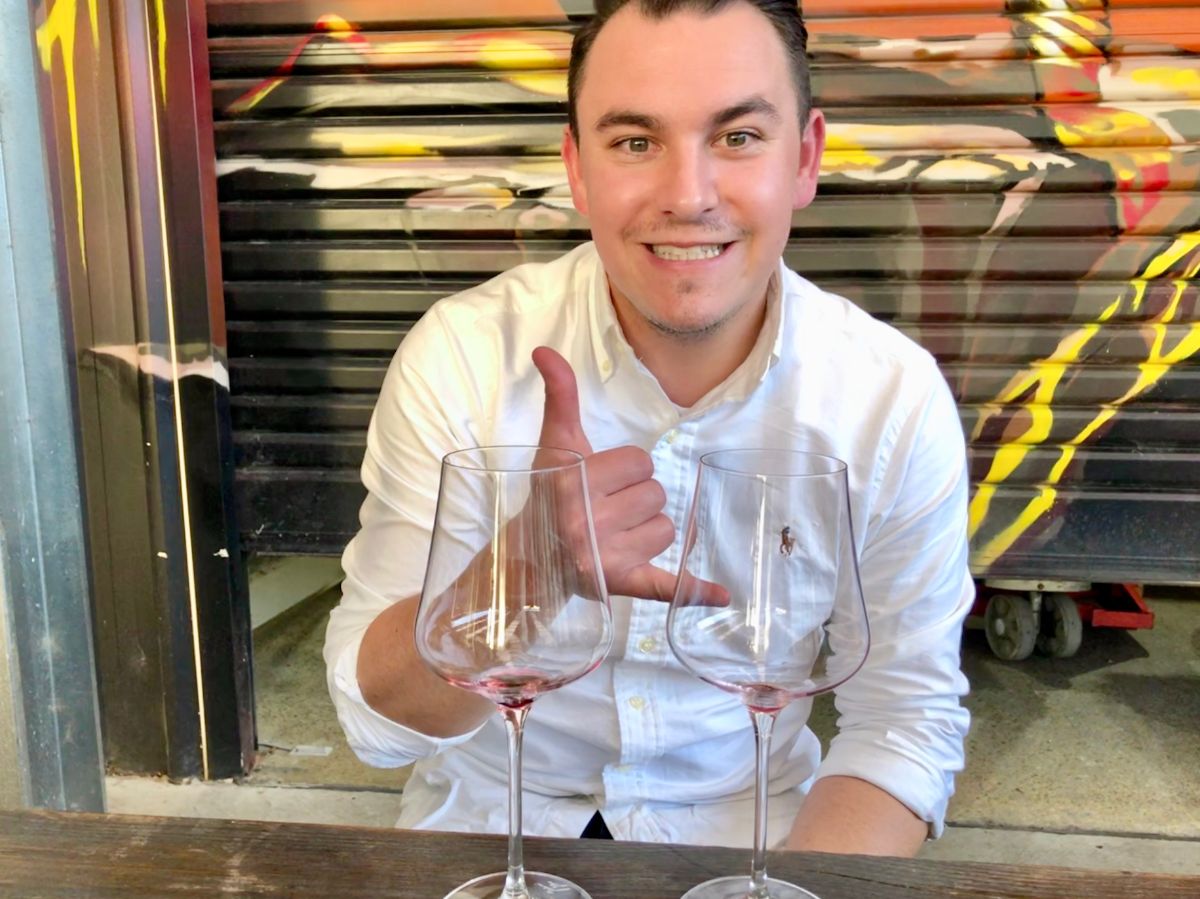 Jeff drove us back to Wiggley and we were sad to see him go, after our brilliant day, but I heard my folks say they'll be doing another Pooches & Pinot tour soon with friends!  Errr, I hope that includes me too as I've loved it!!