Lola here, I'm the good looking one of the two of us, on Dad's knee (seriously, look how small Sophie's head is, it's ridiculous)!
Here's us being collected by Helen from Pooches & Pinot in her shiny white touring van.  She wanted to take us out for the day, and took us all the way from our apartment in Collingwood to the Yarra Valley. We got to sit on Mum and Dad in the back – it was such a treat because normally we're in our hammocks on the back seat and our pawrents are miles away in the front of the car – not today!!  Mum had done her hair specially and wore a nice white top for the special day.  The rain and our muddy paws soon ruined both (chortle chortle)!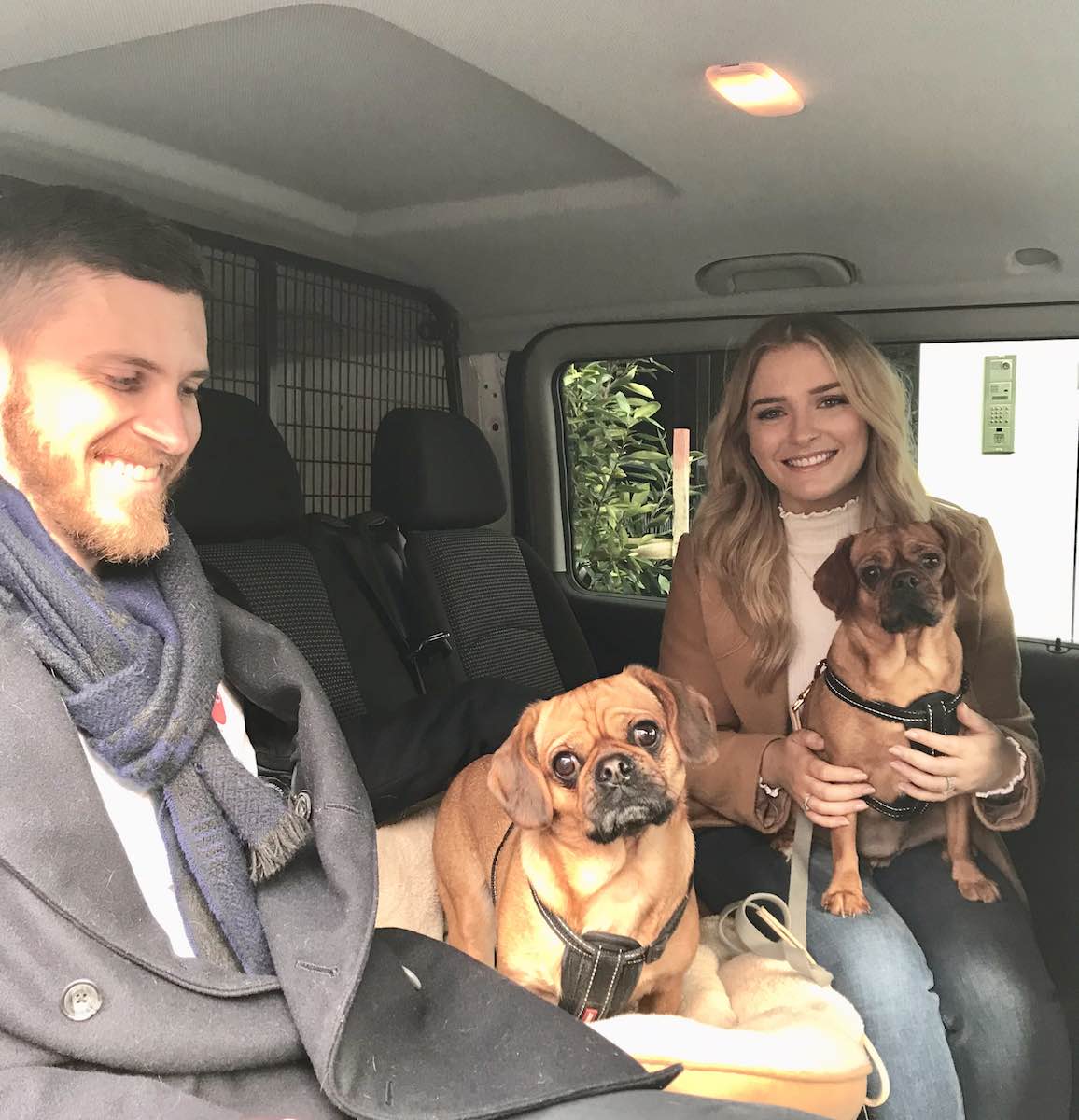 Sophie (the small one with the tiny head) and I had already concocted a plan as soon as we heard we were going to wineries where Mum & Dad could learn about and try wines.  We dared each other to become Pugalear Disruptors – our aim: to make everyone at the wineries stop what they were doing and come and stroke us.  Sometimes we worked in tandem, other times we worked the room alone – it worked a TREAT.  Let me show you.
Here we are arriving at Helen & Joey Estate, the first cellar door of the day for a tasting.  A large group were inside listening to a man talk about wine.  We proved FAR MORE INTERESTING and soon they all forgot about him and came over to pat us.  Result.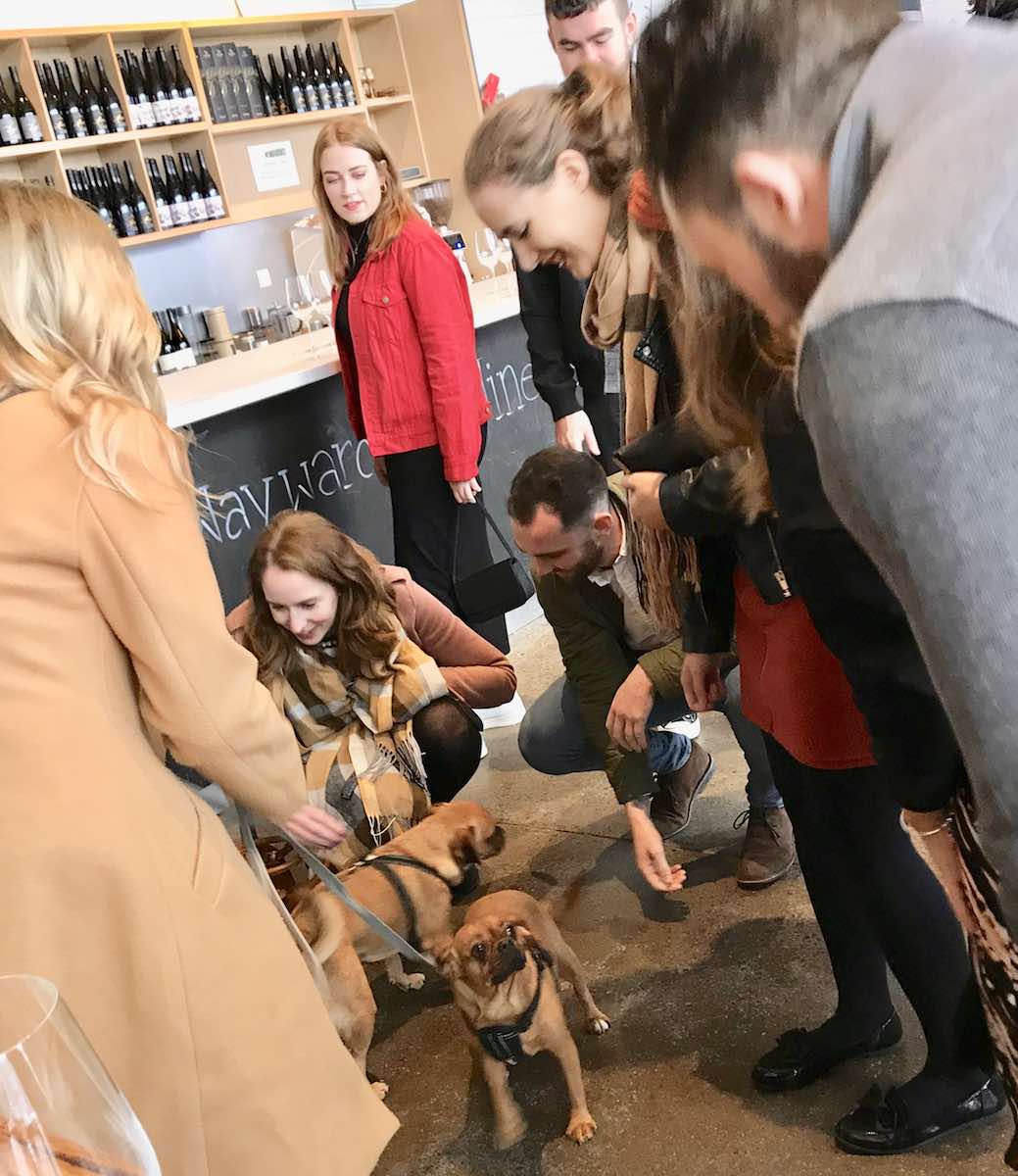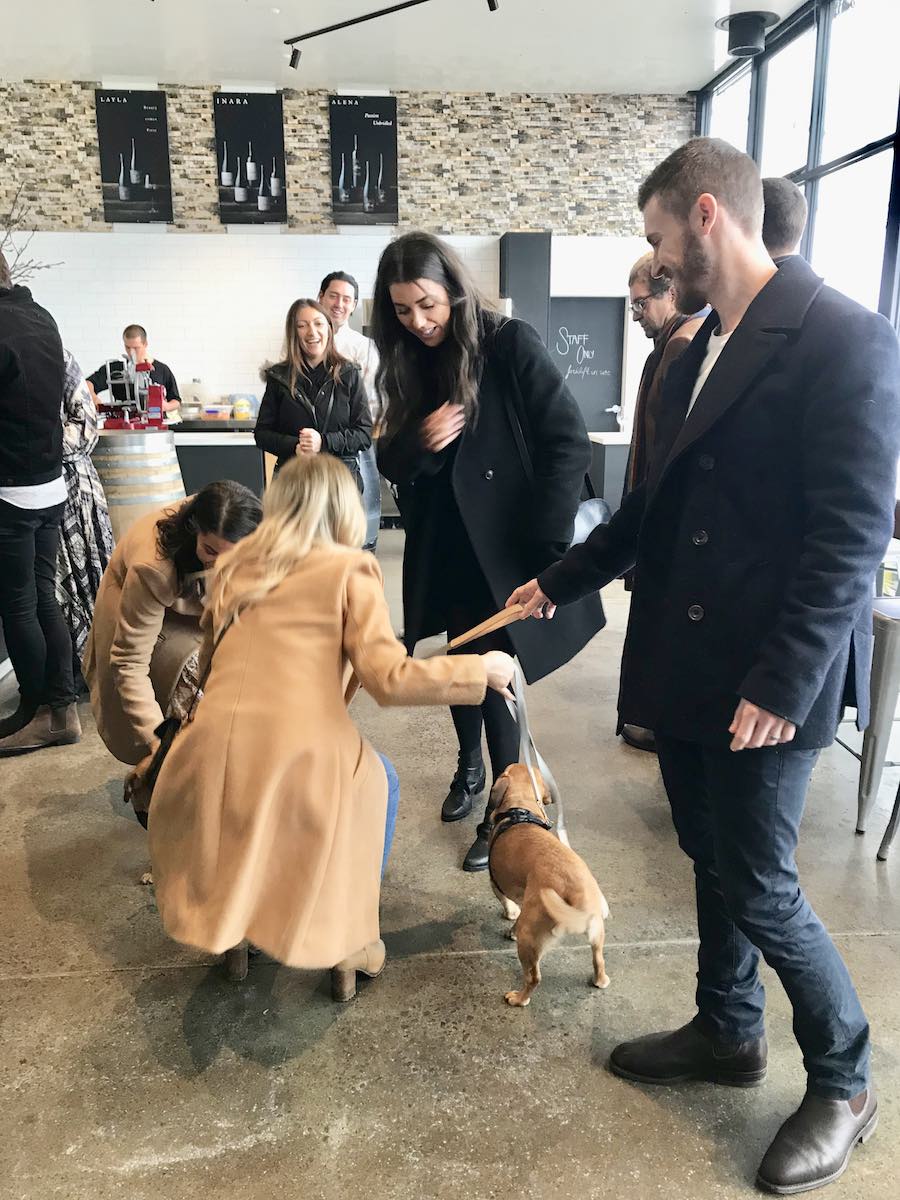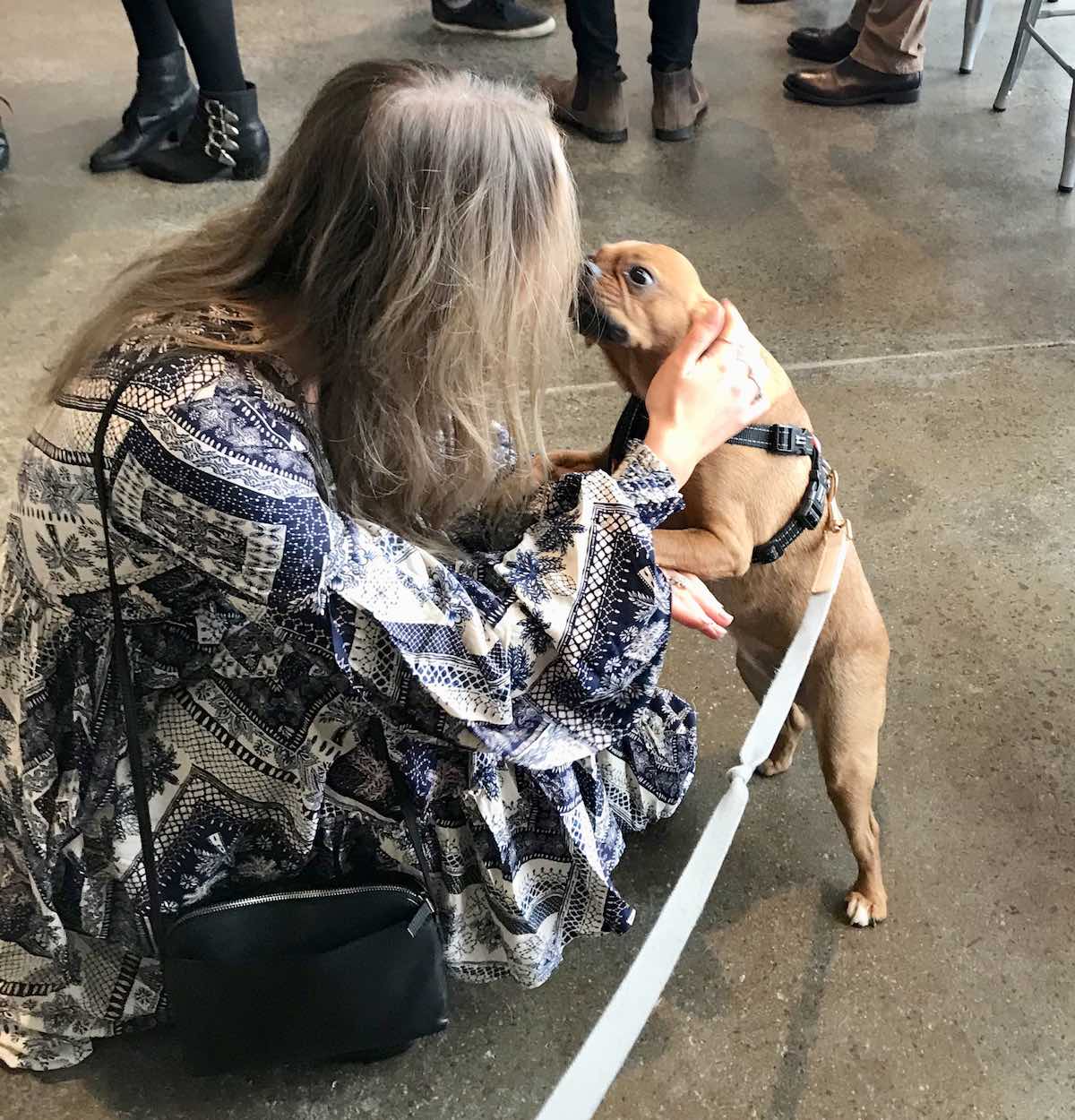 Mum & Dad tried really hard to listen to the lovely lady Ali who was telling them all about the wines they were trying – so we played 'tie our leads in knots' to distract Mum.  It couldn't have worked better!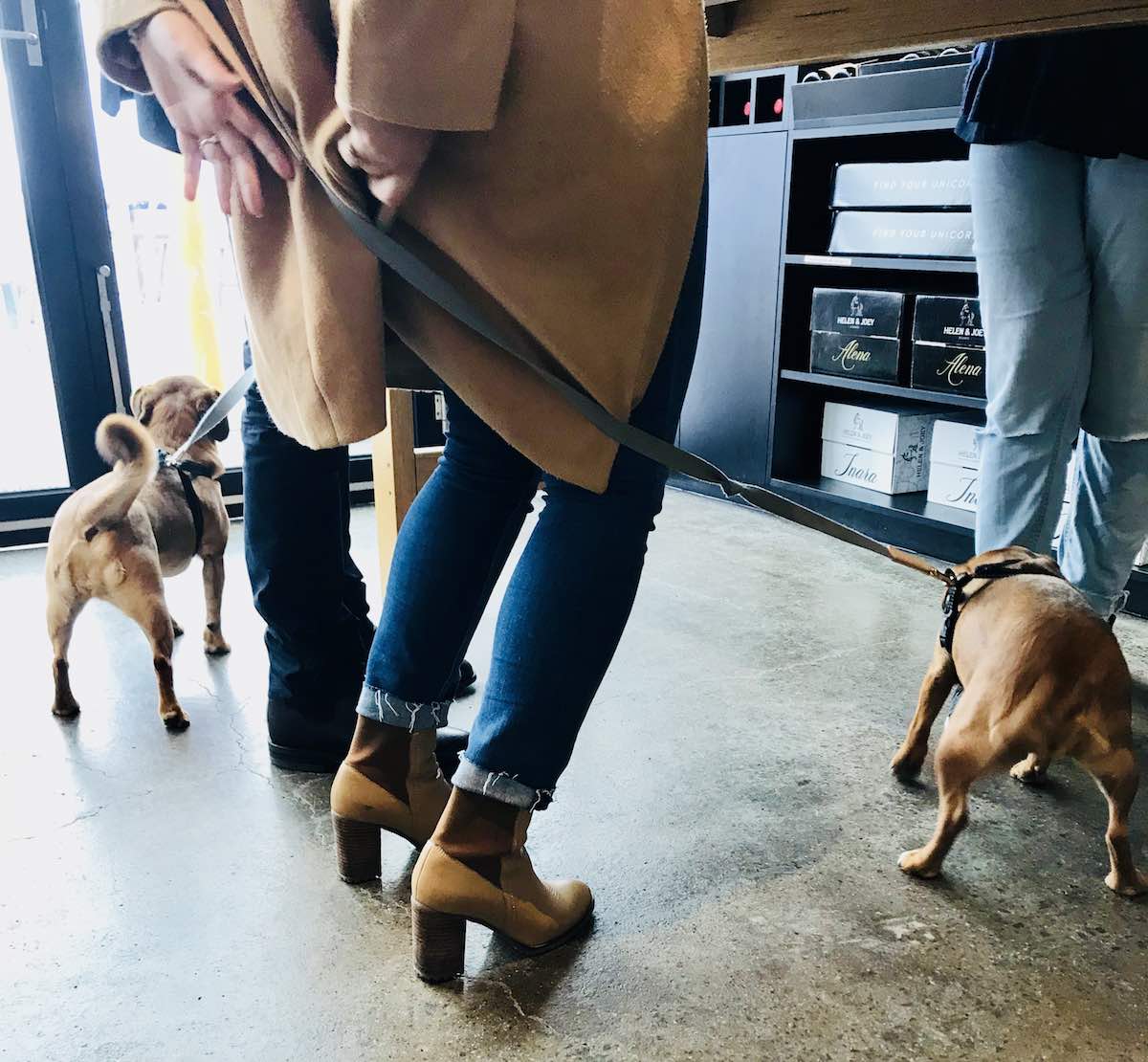 Look at us winning – we have their full attention and poor Ali can't compete.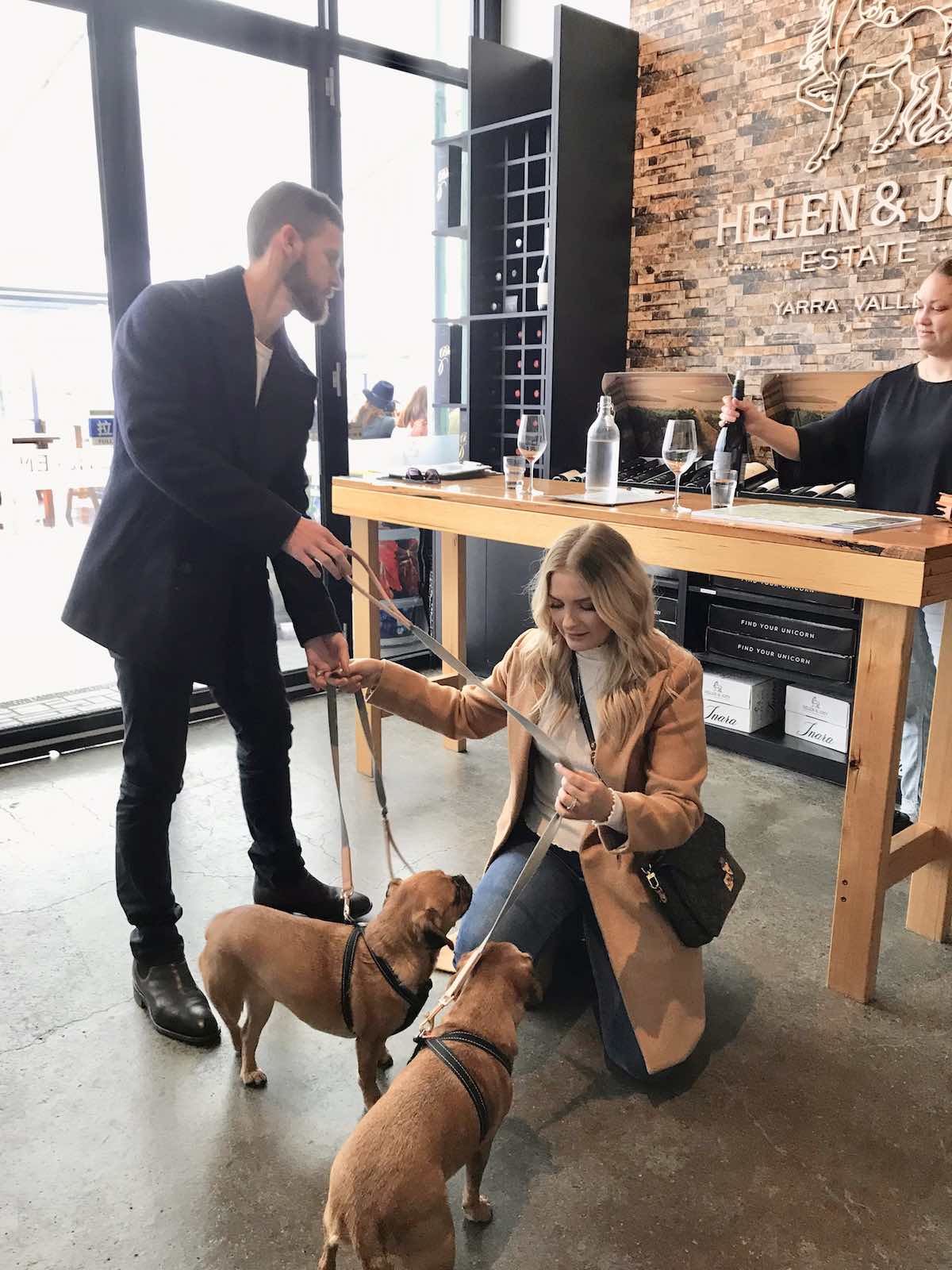 We then found a unicorn outside so that put an end to the wine tasting and we charged outside at speed to be the first pugalears in the history of this winery to sit on it – his name's Bruce and we were REALLY high off the ground which always makes Sophie nervous – I on the other other hand was super cool about the whole thing, look at me all relaxed on Mum's knee.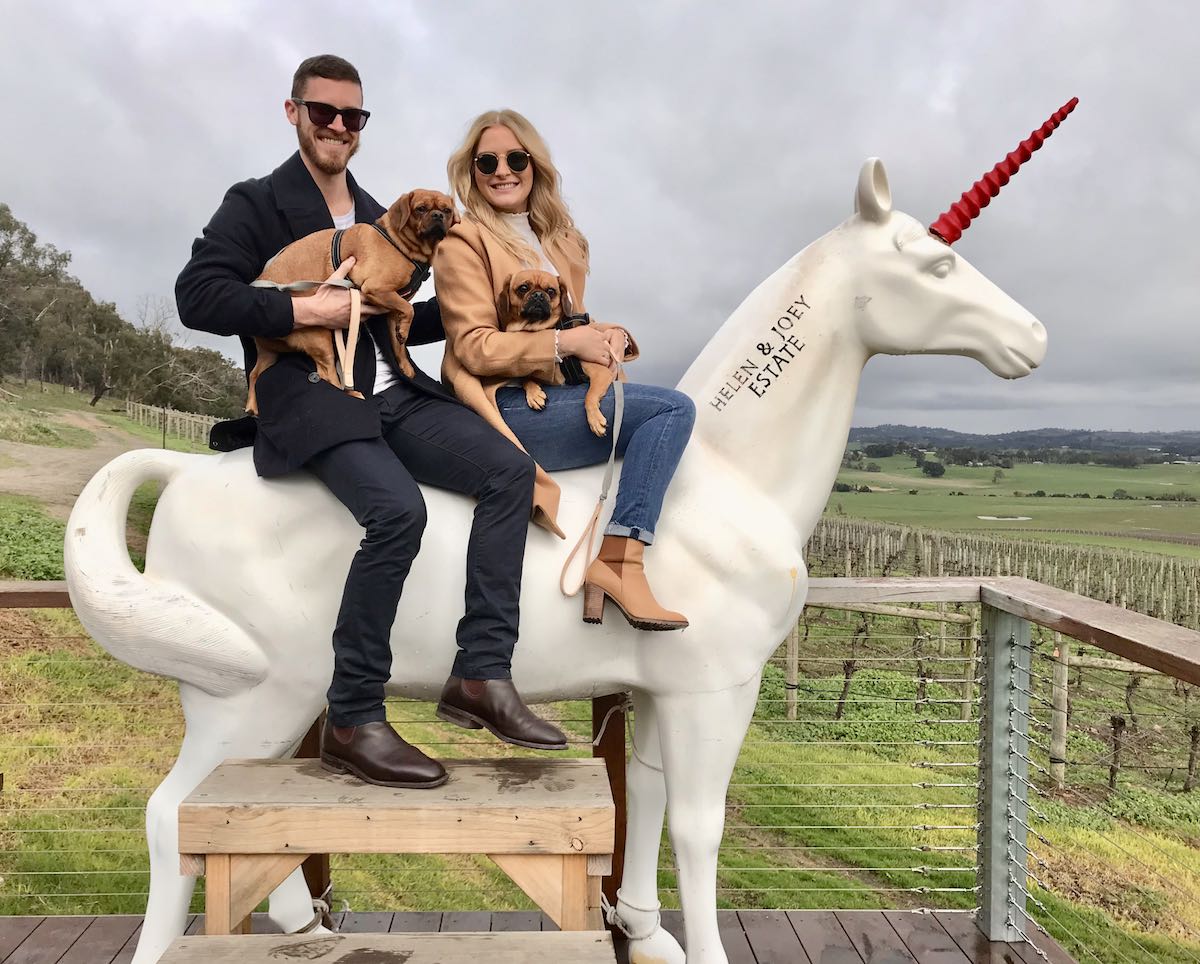 Time to gate crash some more groups – after some family portraits, we set off for Yering Farm.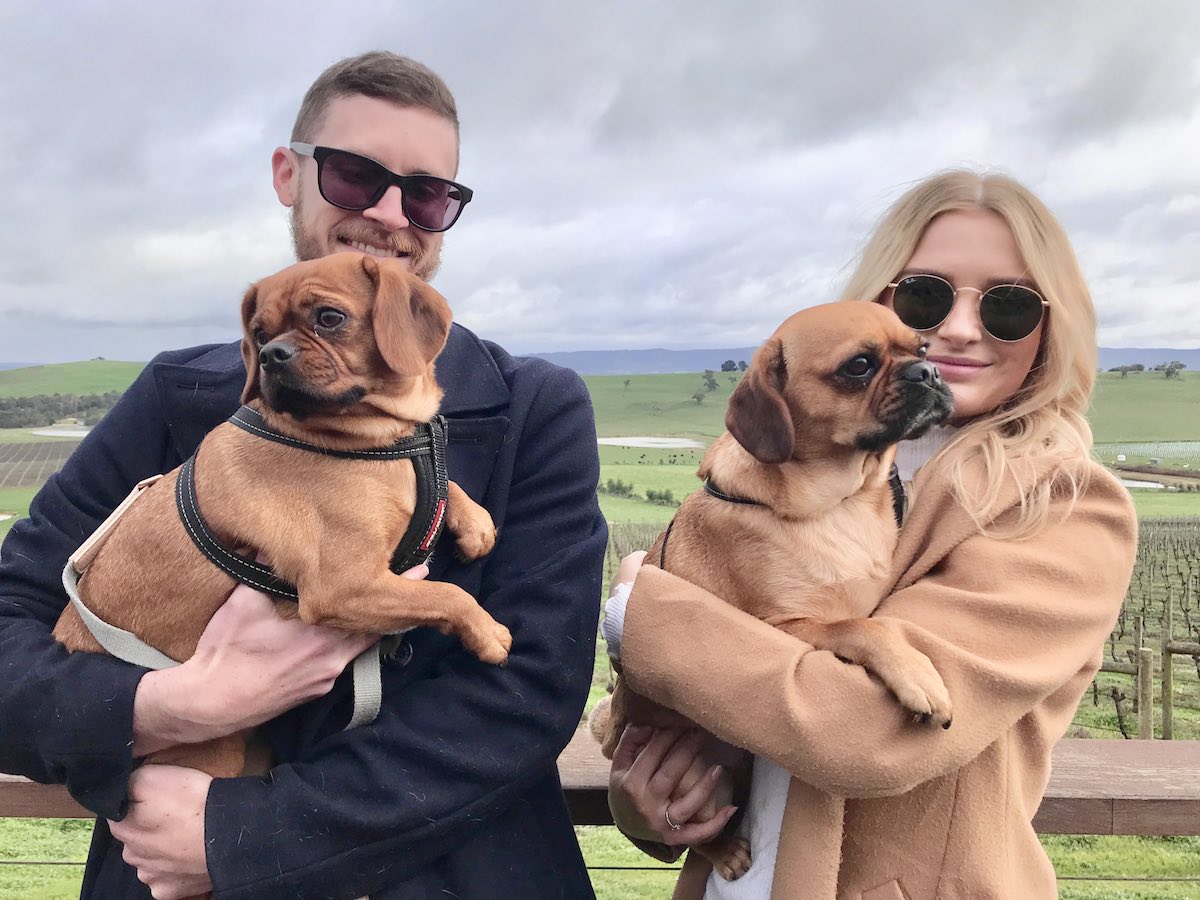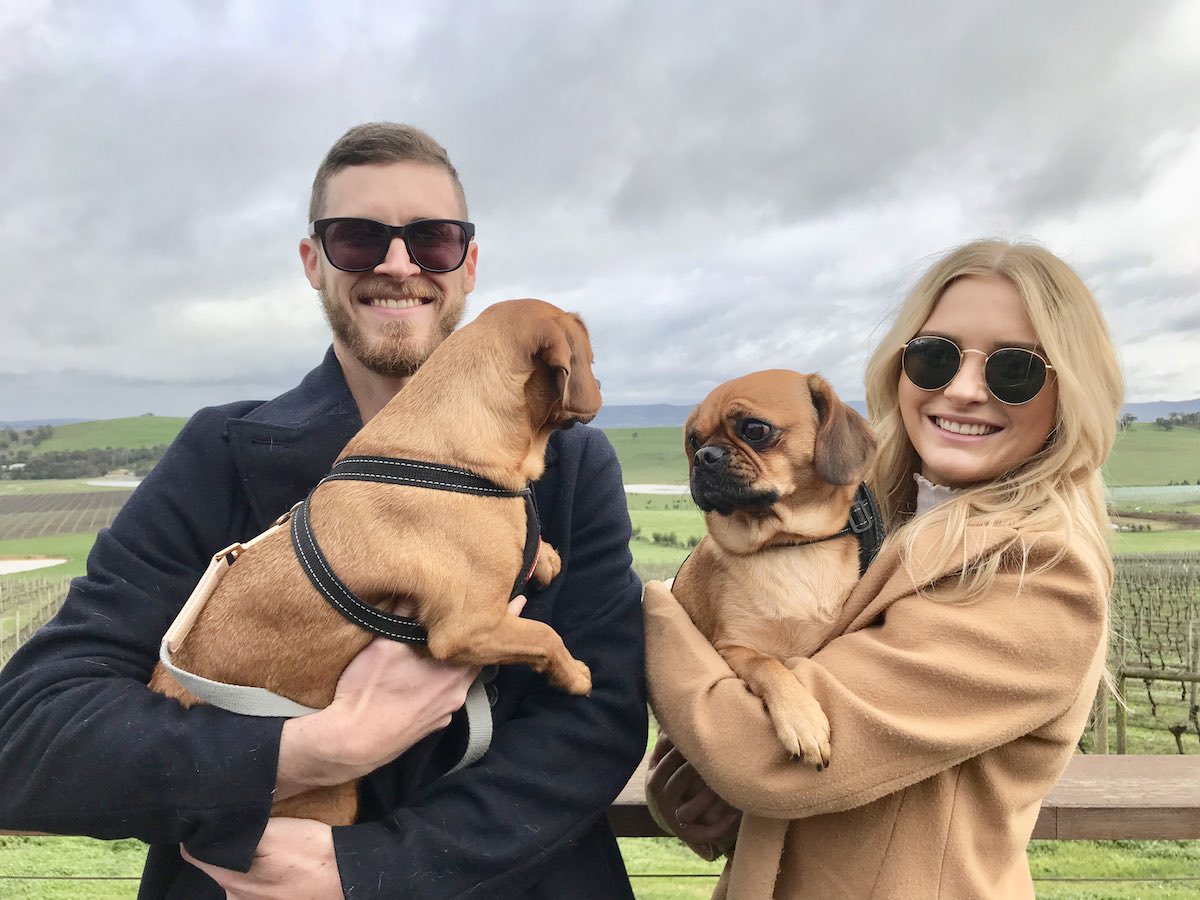 Sophie looked away, I think it's because she's so painfully aware of how absurdly tiny her head is!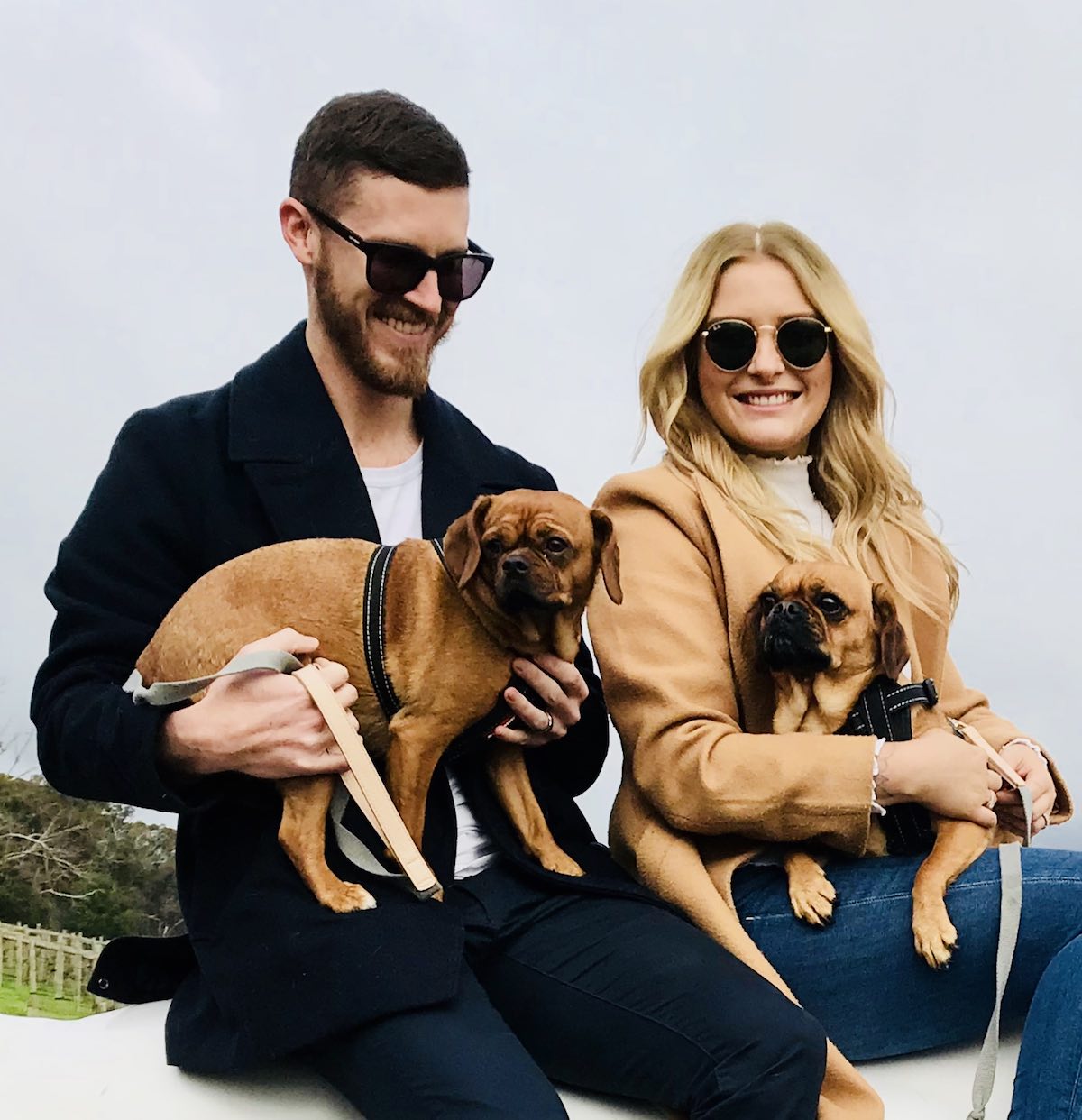 At Yering we disrupted a group of men and made them fuss us and that prompted more people from another group to break free and come over and stroke us.  Poor Dirk, who was trying to tell my Mum & Dad about their wine making process, and whole bunch fermentation, every time he looked around, they were on the floor with us chatting to more people!  Winning!!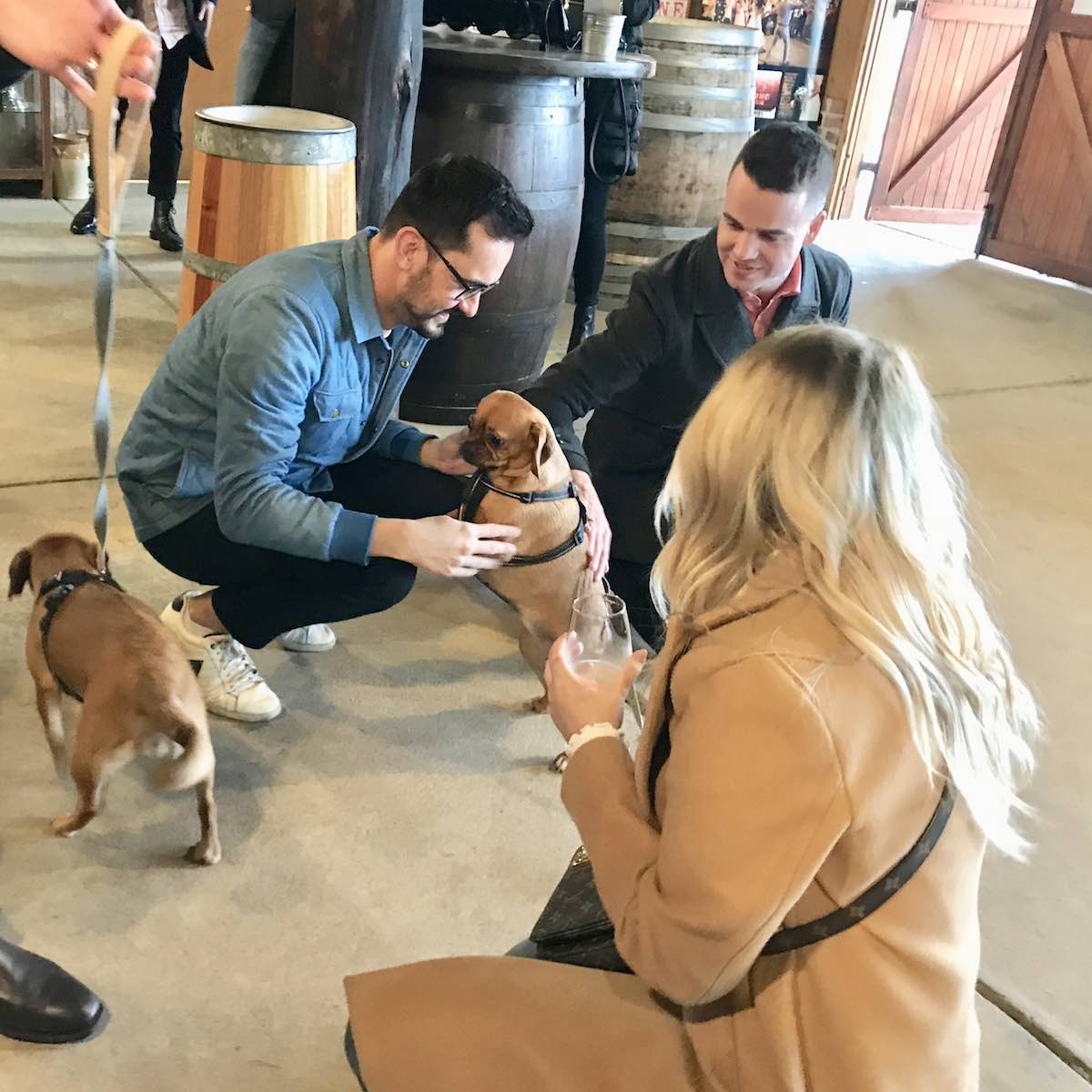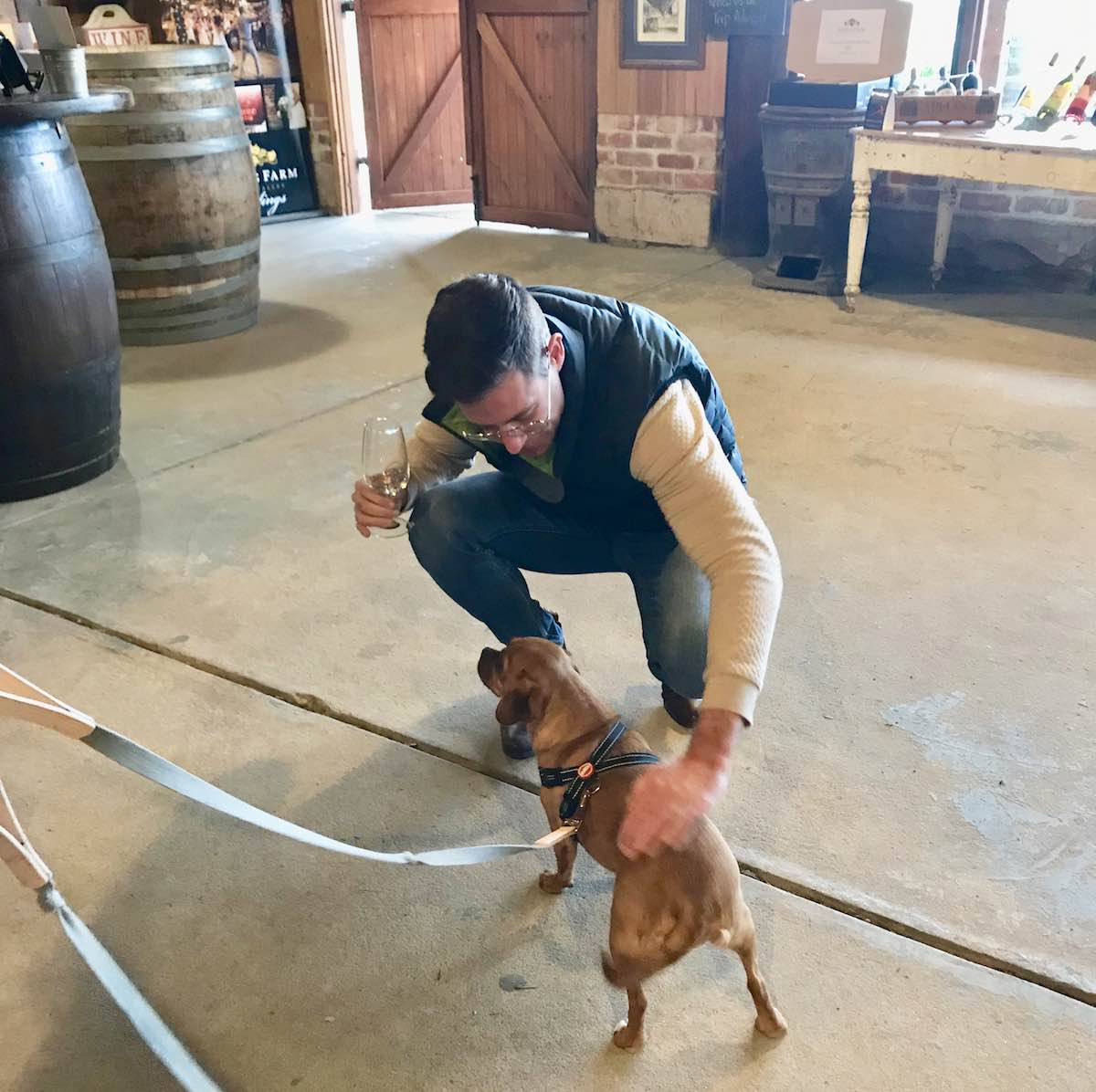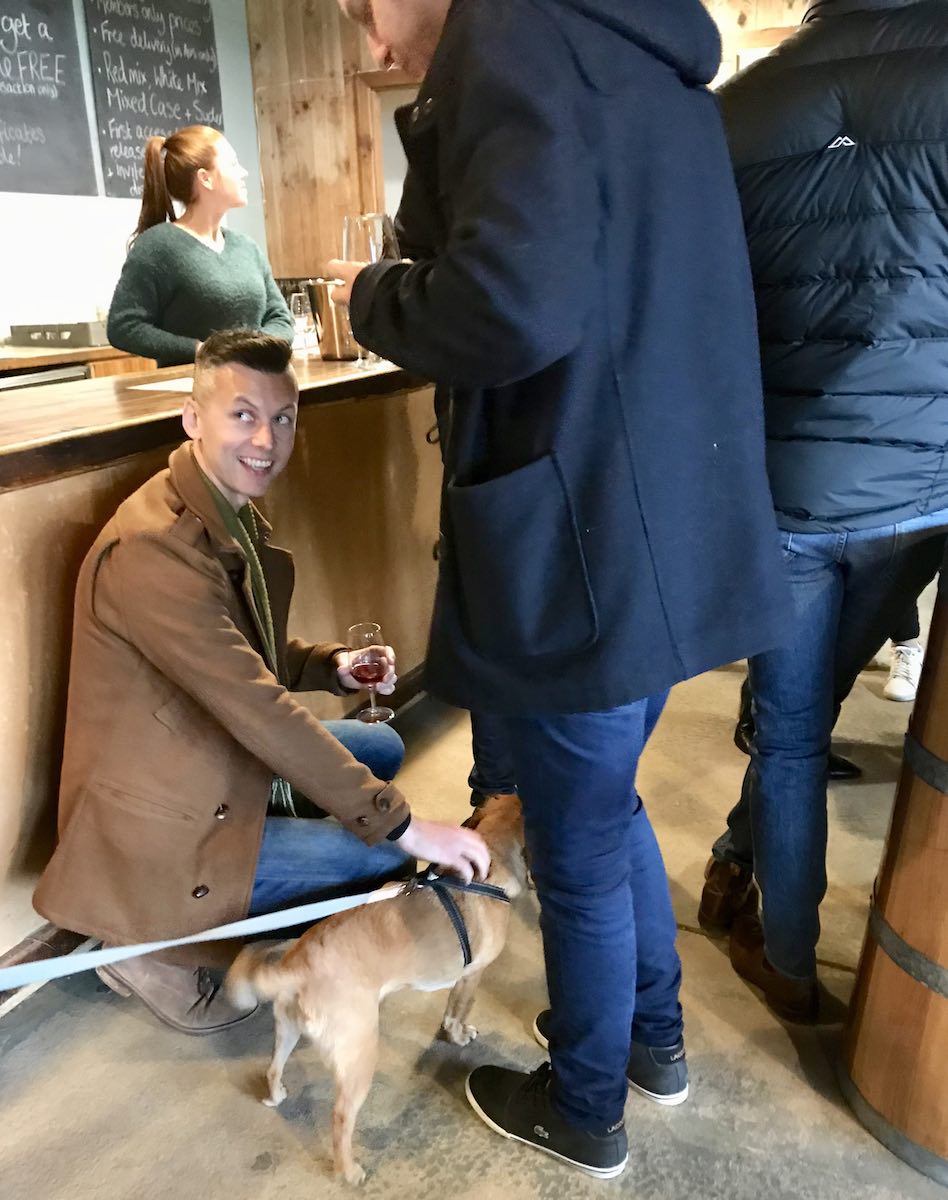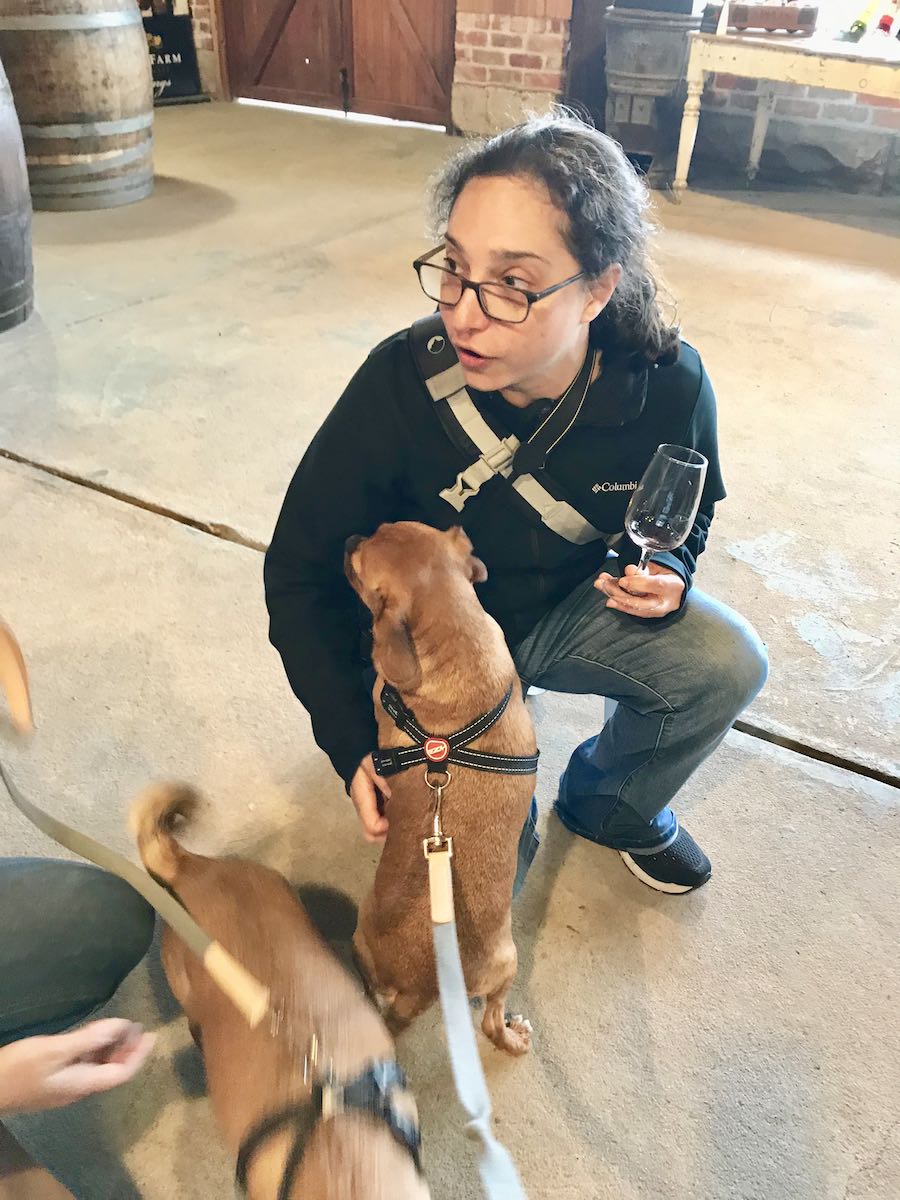 Dirk was very nice and got us a bowl of water but that didn't distract us from our mission for long – we took Helen at speed around the cellar door on the other end of a lead and soon we were outside sniffing away and eating grass and demanding more family photos.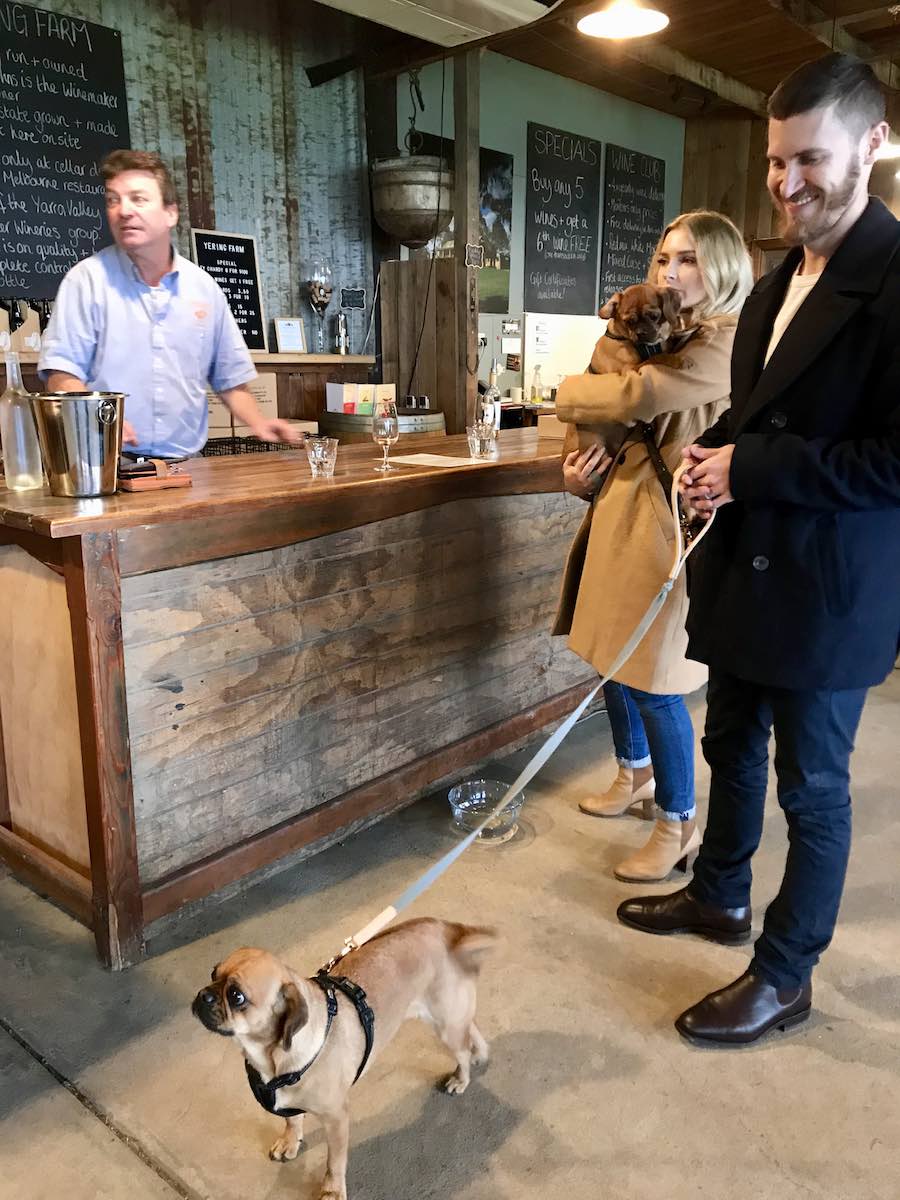 We sat for some treats, to get even more people's attention (humans LOVE it when they see us being all well behaved) then took Mum outside for photos while Dad settled up for wines and syder he was buying (Mum said it was the 'Best cider she'd ever tried' – high praise indeed!)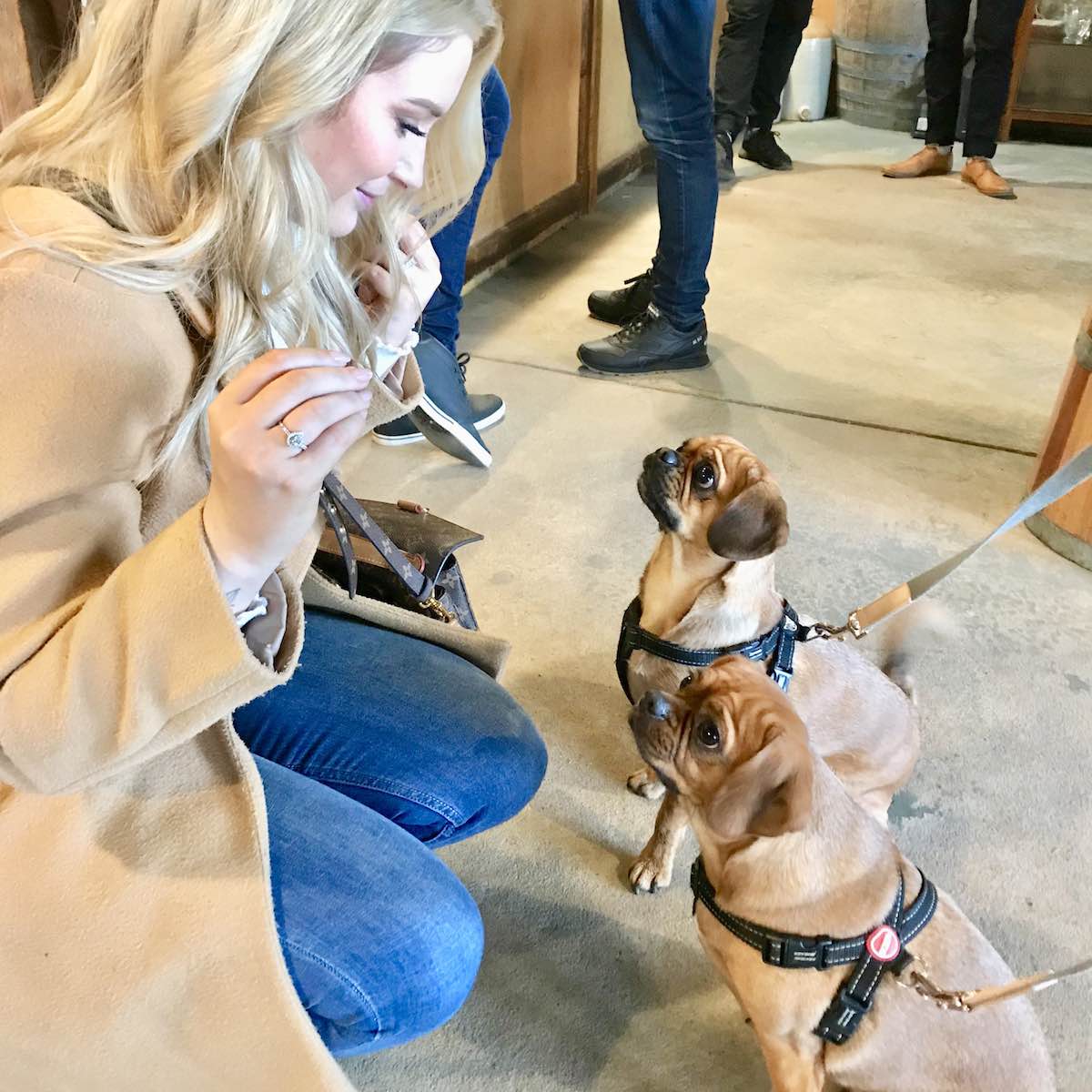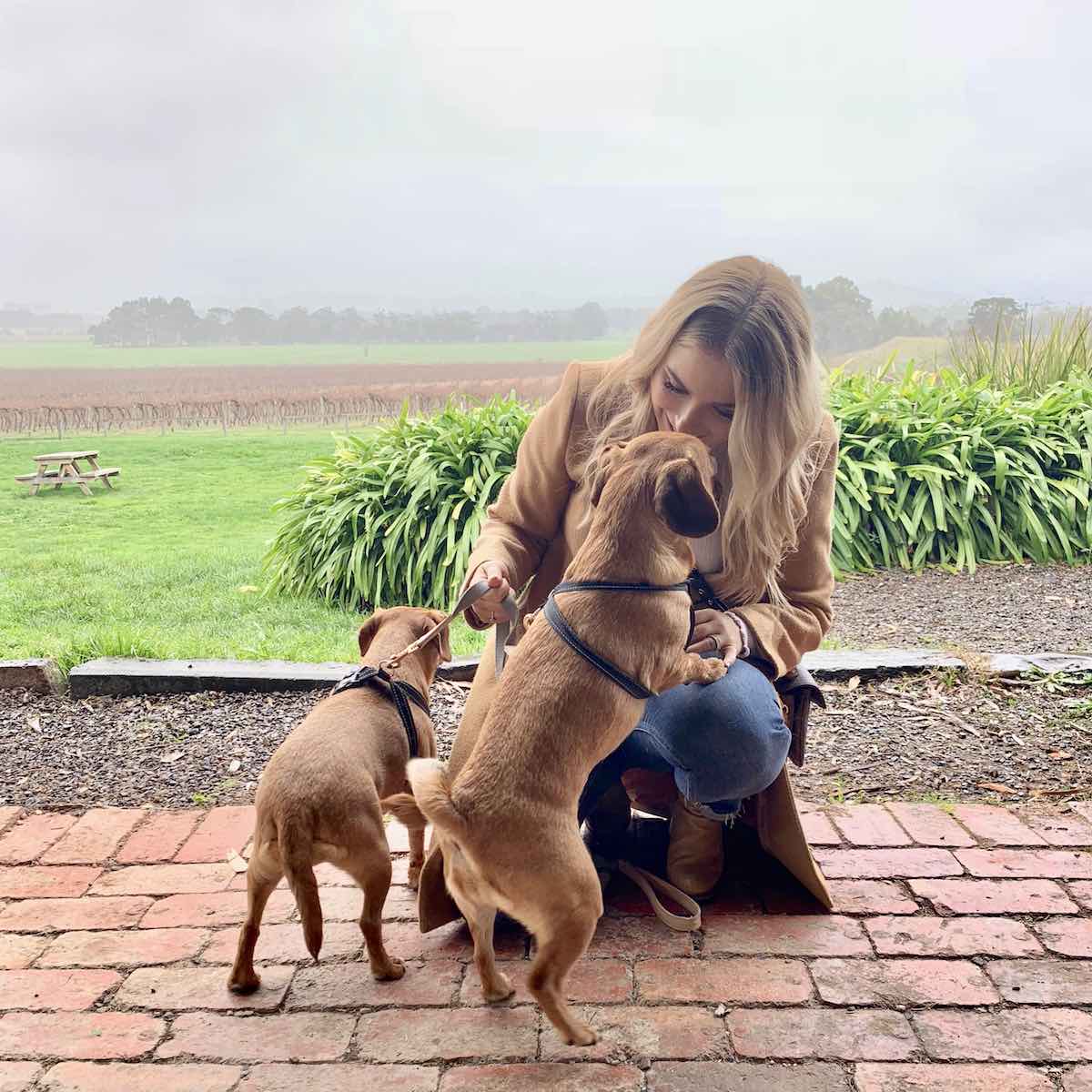 Back in the van, I thought I'd better get some decent shots taken of me – can't let Sophie win on that front!!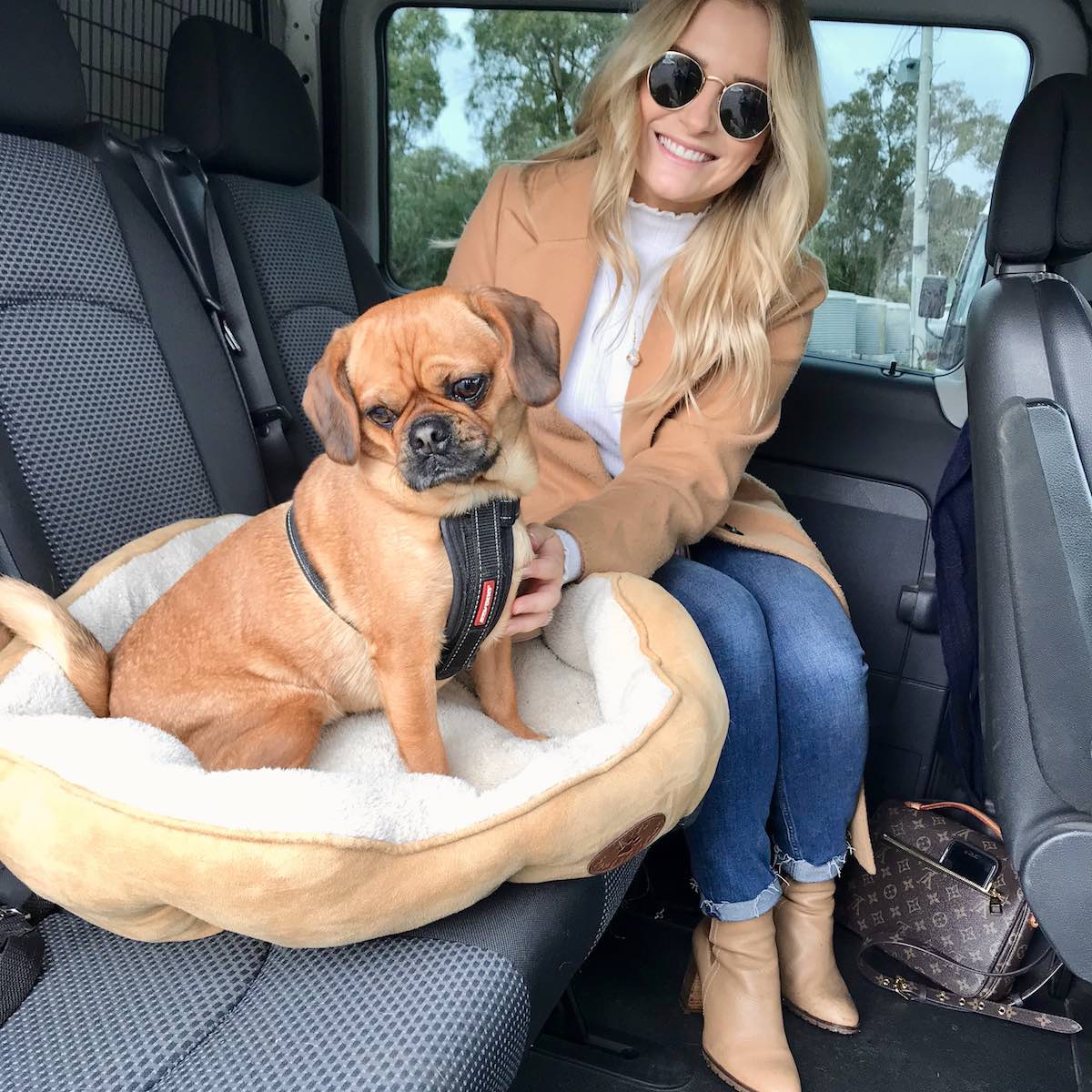 Sophie suddenly got all pathetic – she can't grow a proper winter coat, so she has to wear clothes sometimes to keep the chill off – unlike me, I've got my own winter coat so I'm fine.  Here's Dad struggling to get her into her jumper!  FGS.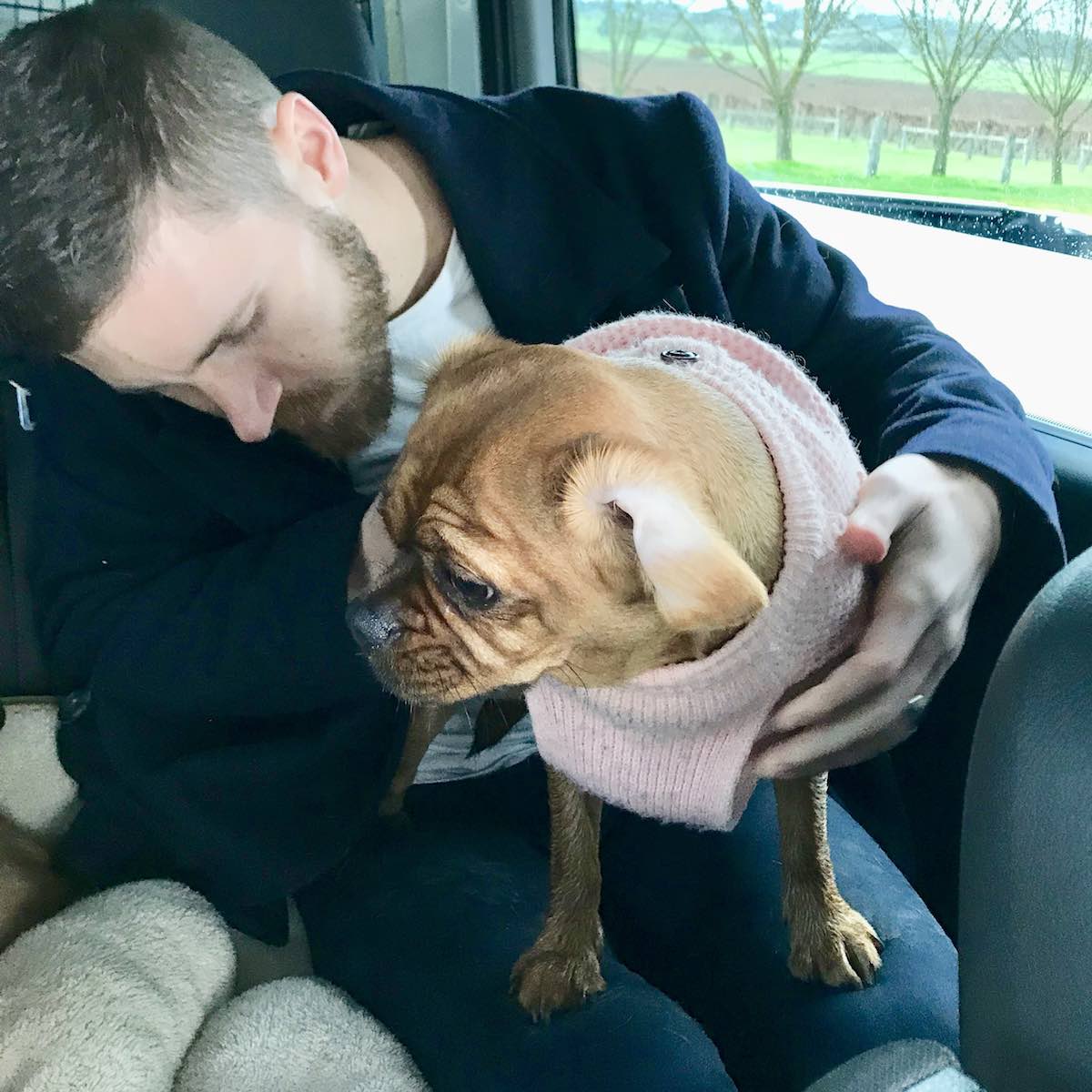 Helen offered to take a family pic of us all in the van – so I thought I'd make one of my eyes look the other way – I'm full of little tricks like that you know!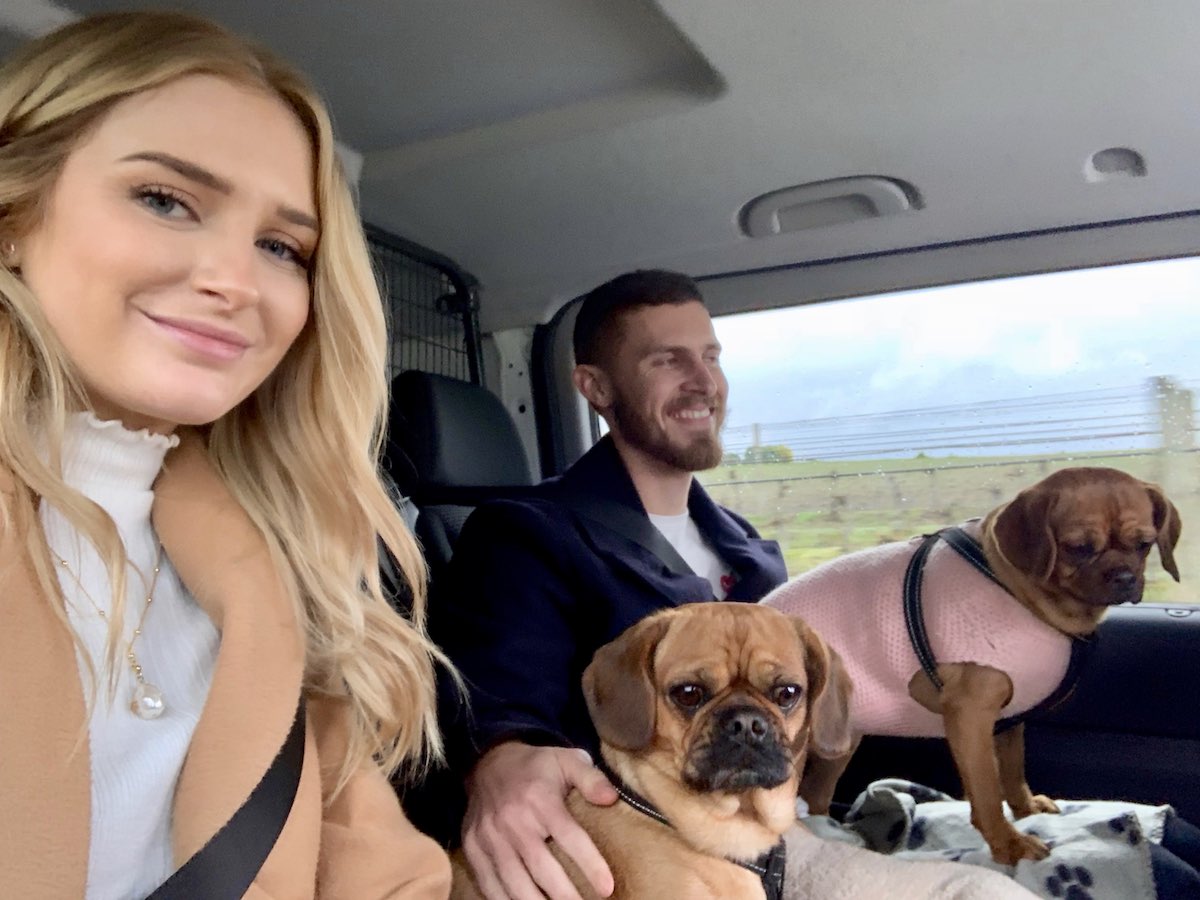 Next stop was Helen's Hill where a nice man called Scott said we could have some off-lead time in the cellar door because there was only one other couple there (who instantly fell in love with us and couldn't stop staring and taking photos).  Look at us charming him.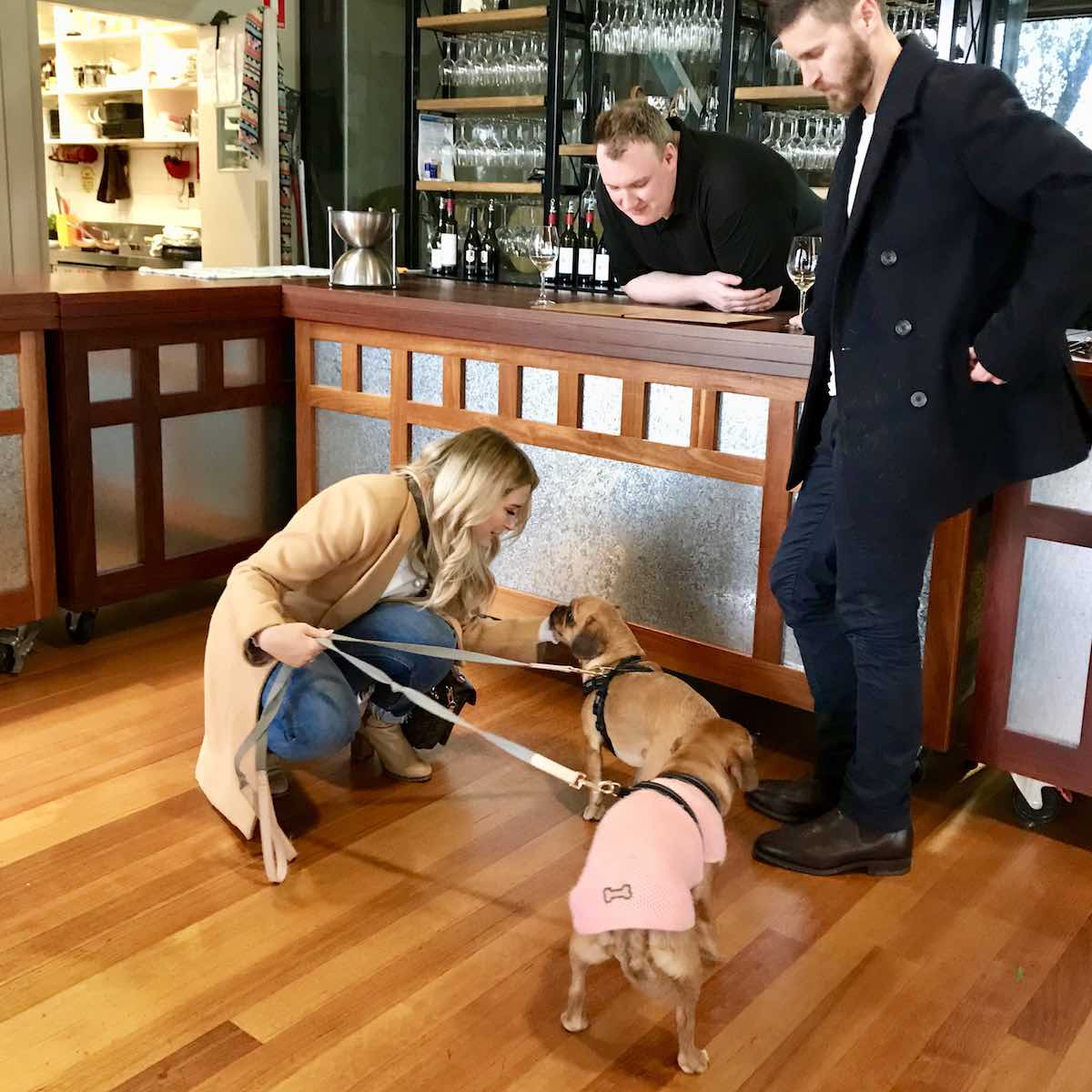 We sniffed every inch of the place, I even popped behind the counter to visit Scott a couple of times, just to endear myself to him even more.  My pawrents did their best to ignore us and learn about the lovely wines they were tasting, but it was hard for them.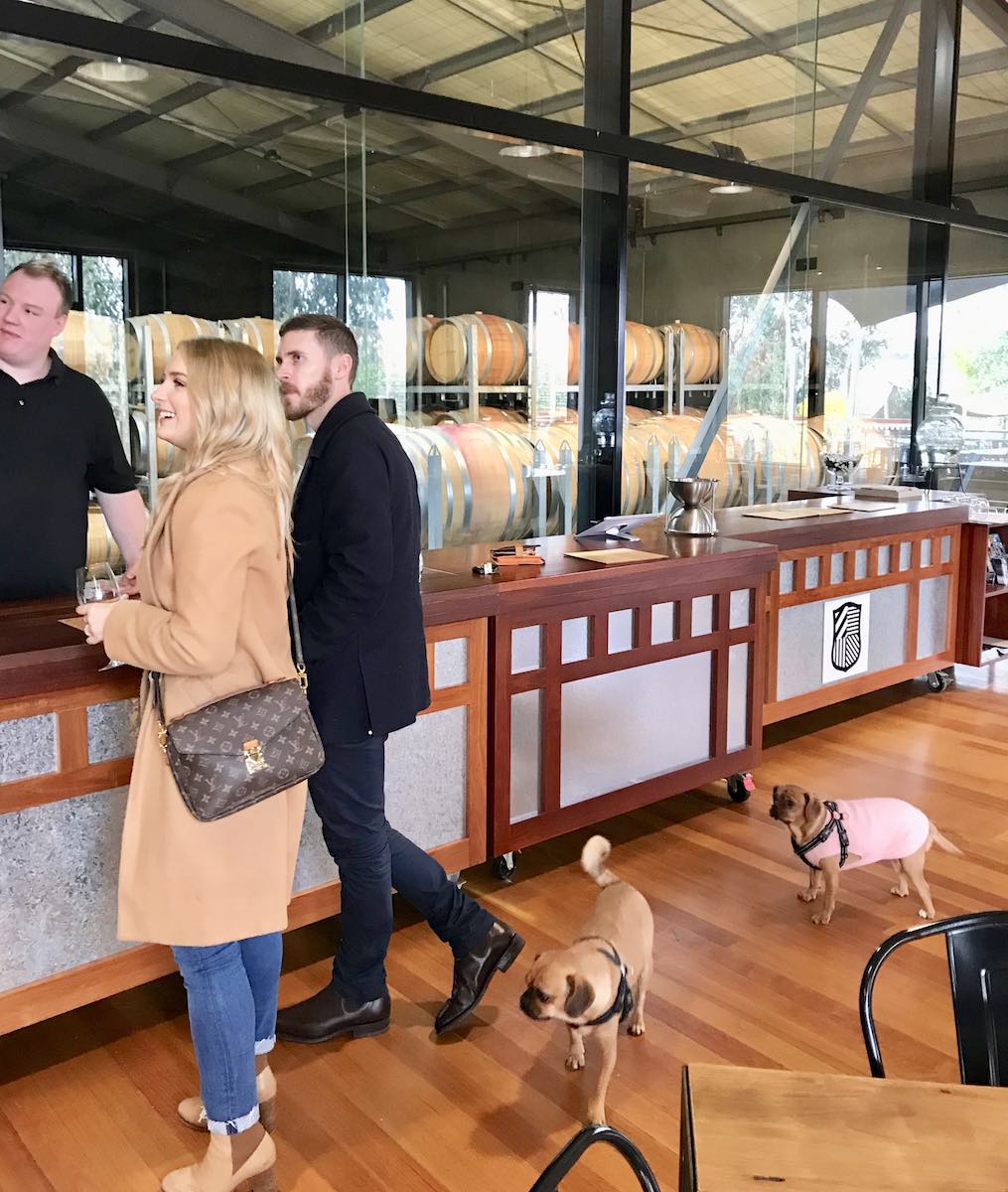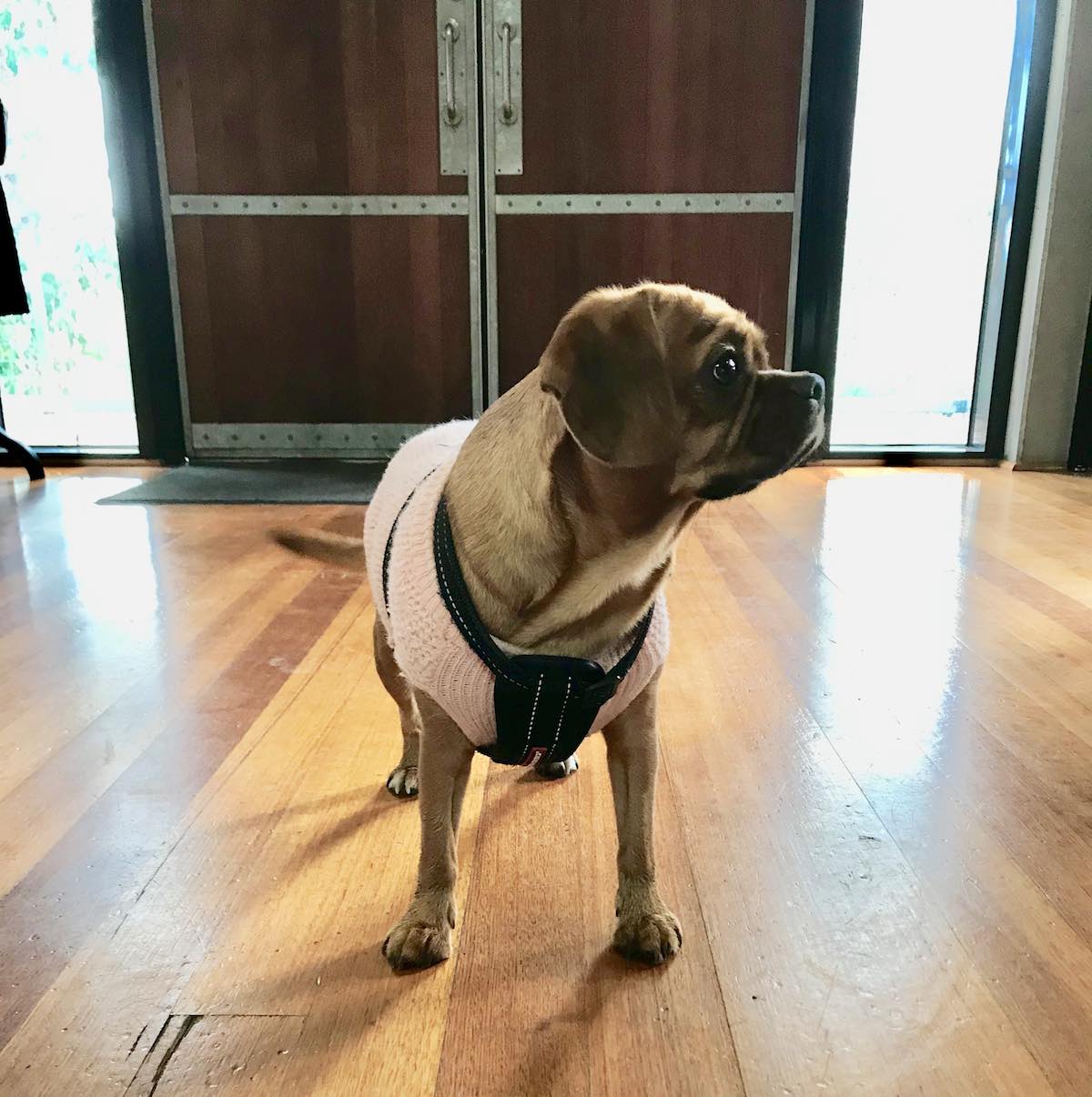 Mum was determined to get a shot of us all in front of the barrels in the barrel hall, but guess who was scared of it!  Yup – Sophie – wouldn't go near the window so we all had to be picked up like babies!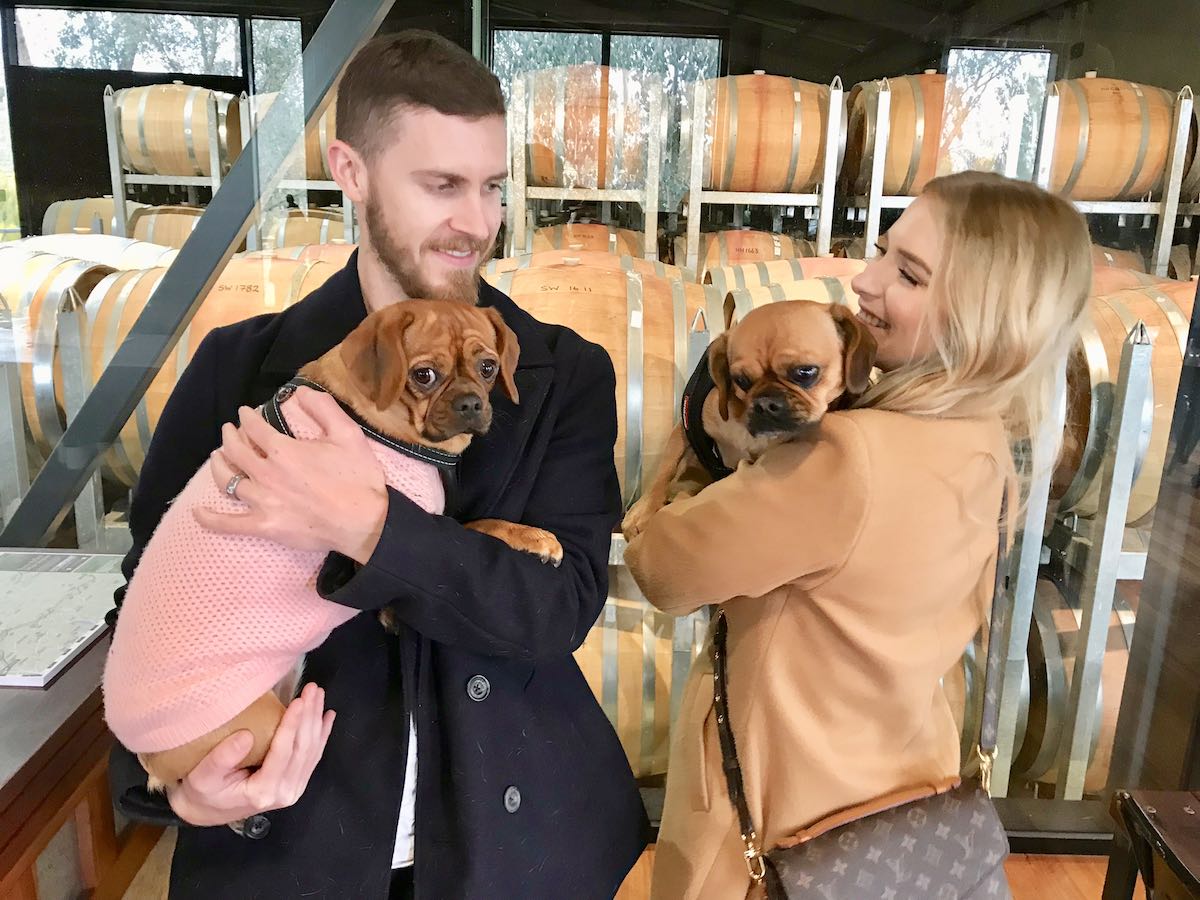 We could smell something terrific and turns out it was Mum & Dad's lunch – they gave us the best table in the house next to the fire, so we could relax in a bed Helen fetched from the van, (she's alright is that woman) and we snoozed in the bed by the fire while Mum & Dad devoured the platter followed by pizza, all washed down with a glass of wine!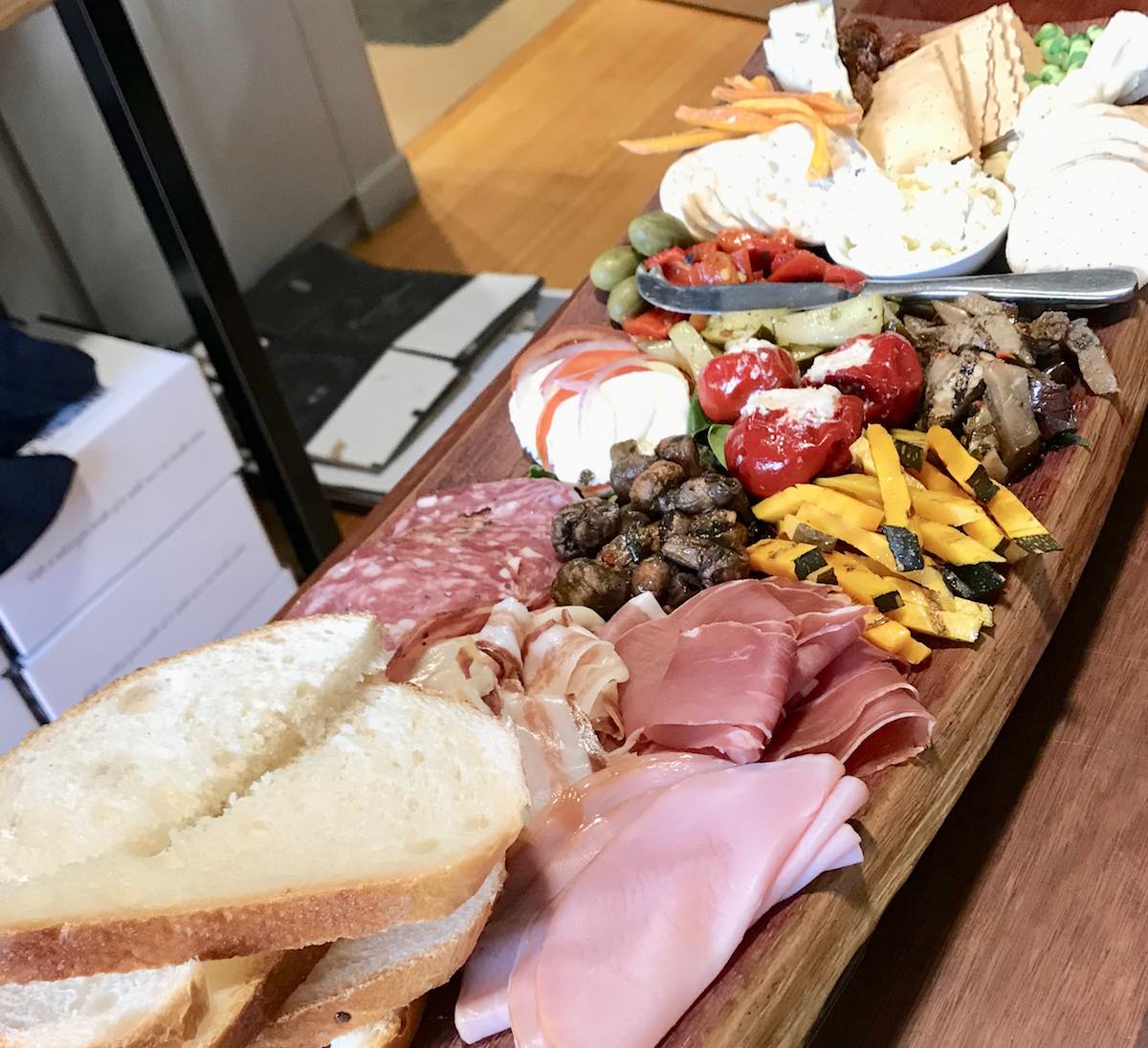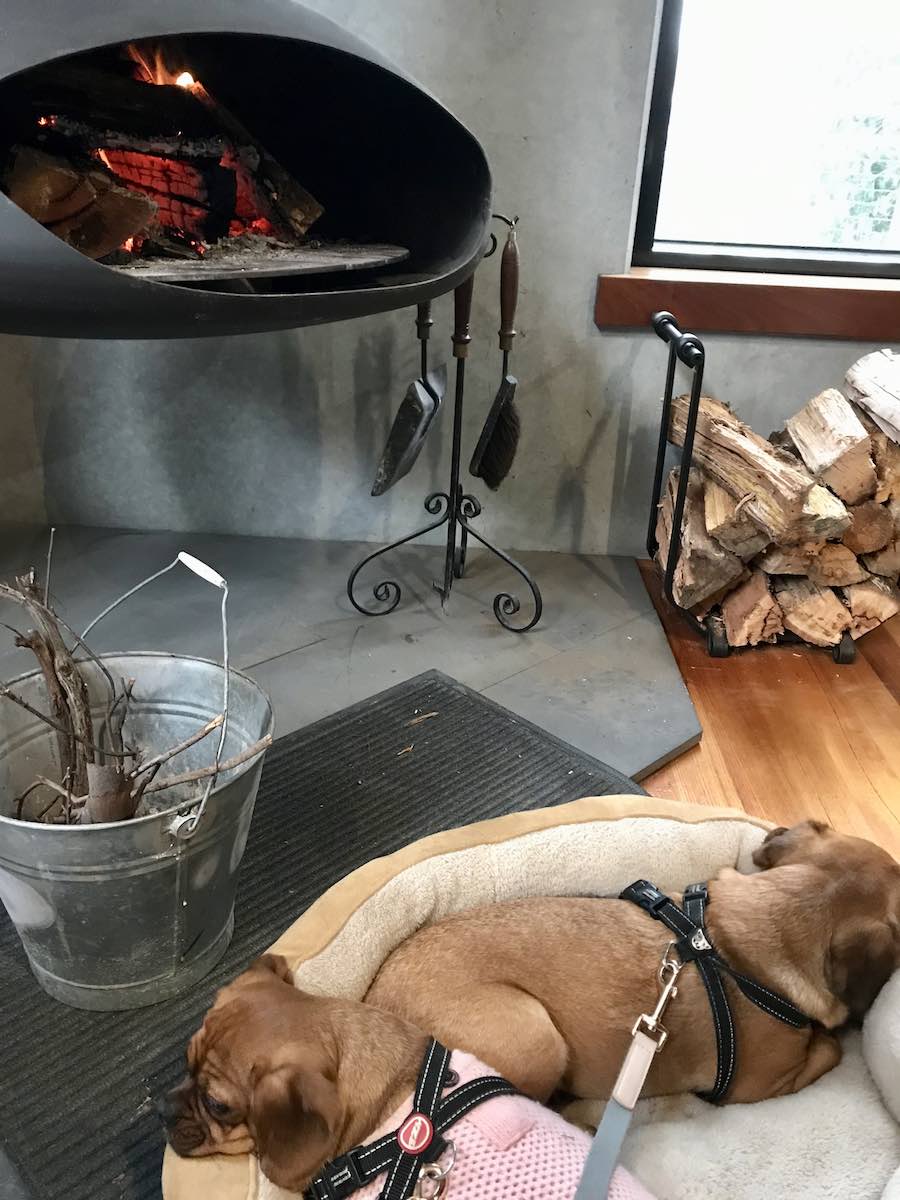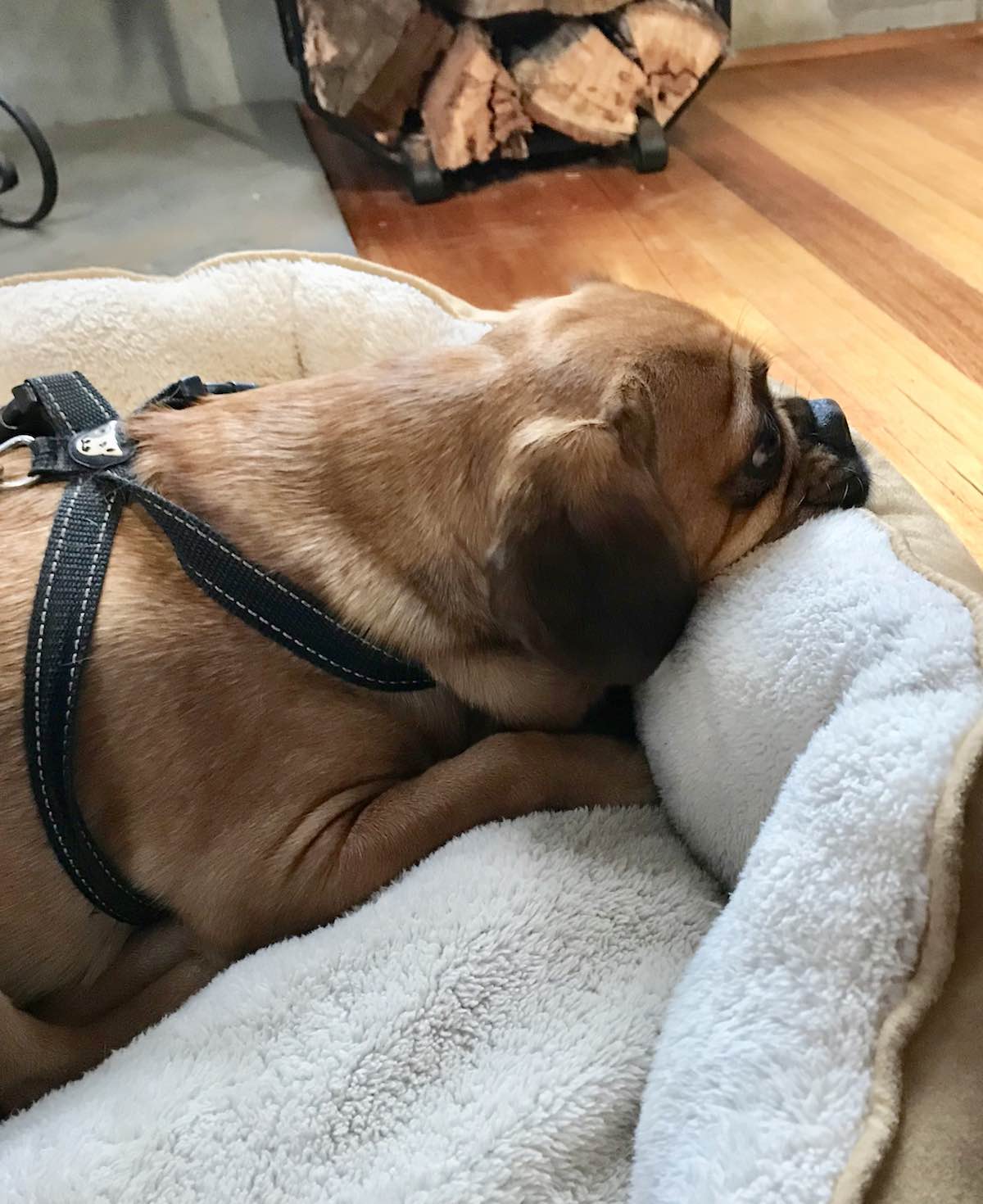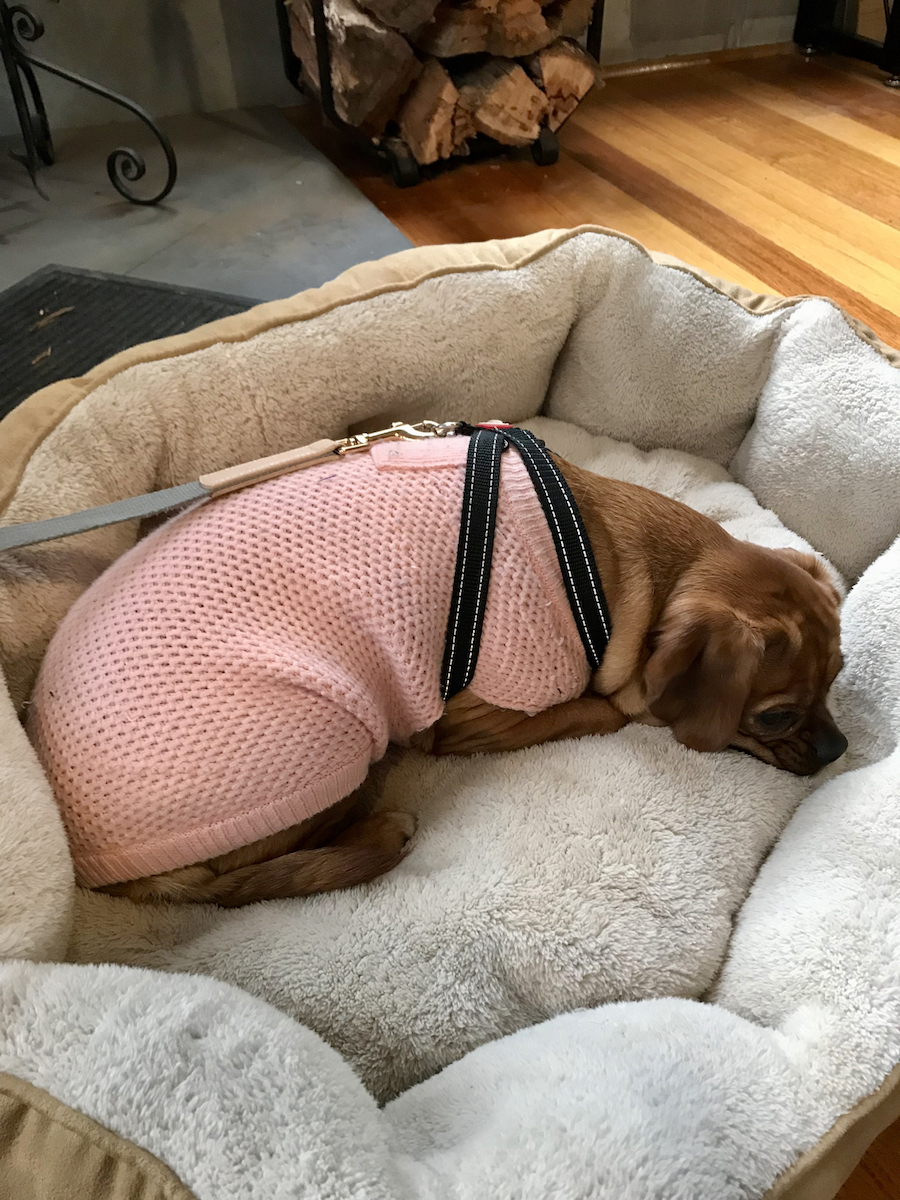 Crikey – Sophie's head looks EVEN TINIER than usual in this shot!  She'll hate it!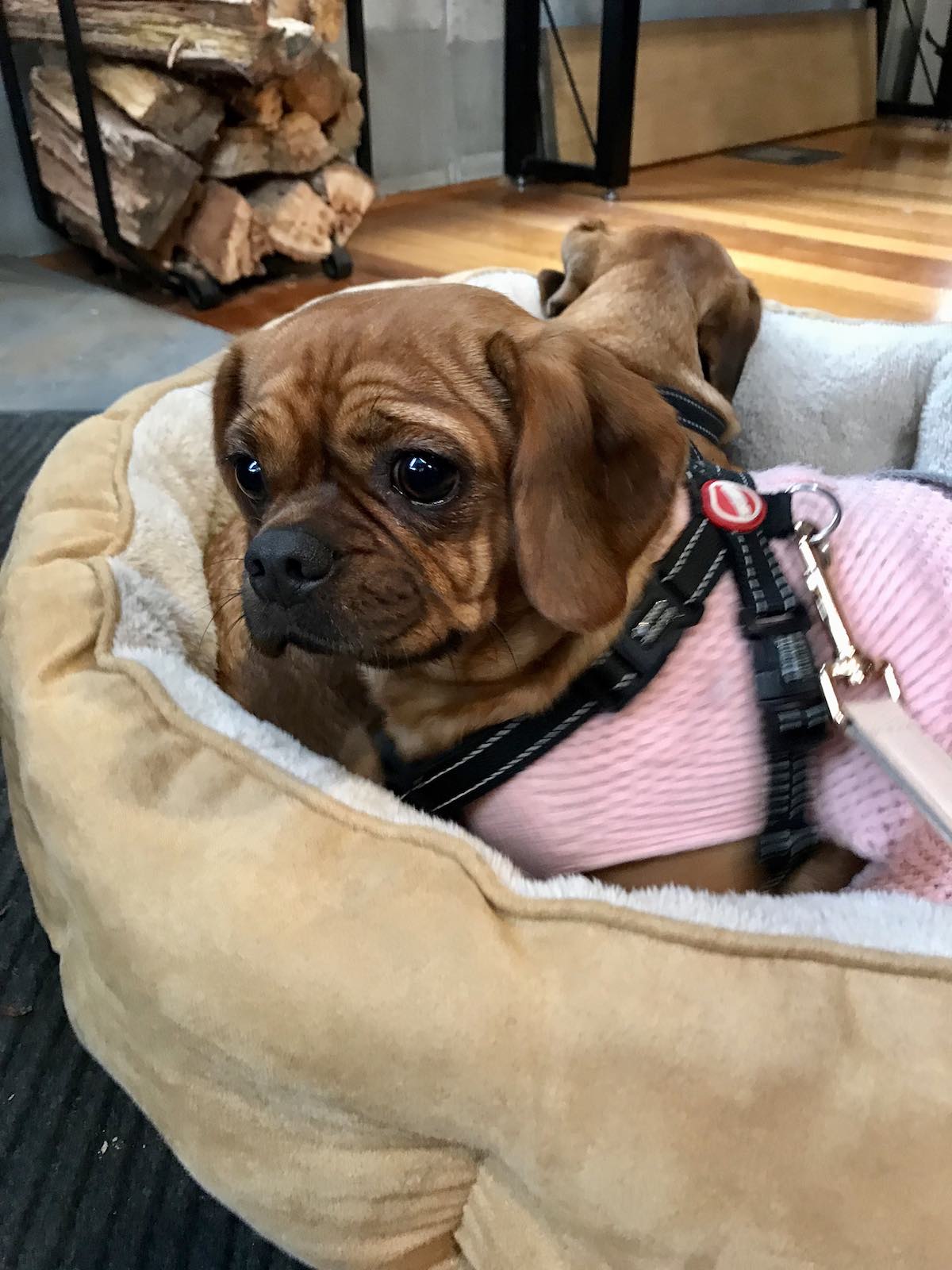 We met the best dog called Paws at Maddens Rise, the next cellar door Helen took us to – he was great fun and we did lots of kissing – with tongues – just to get everyone's attention.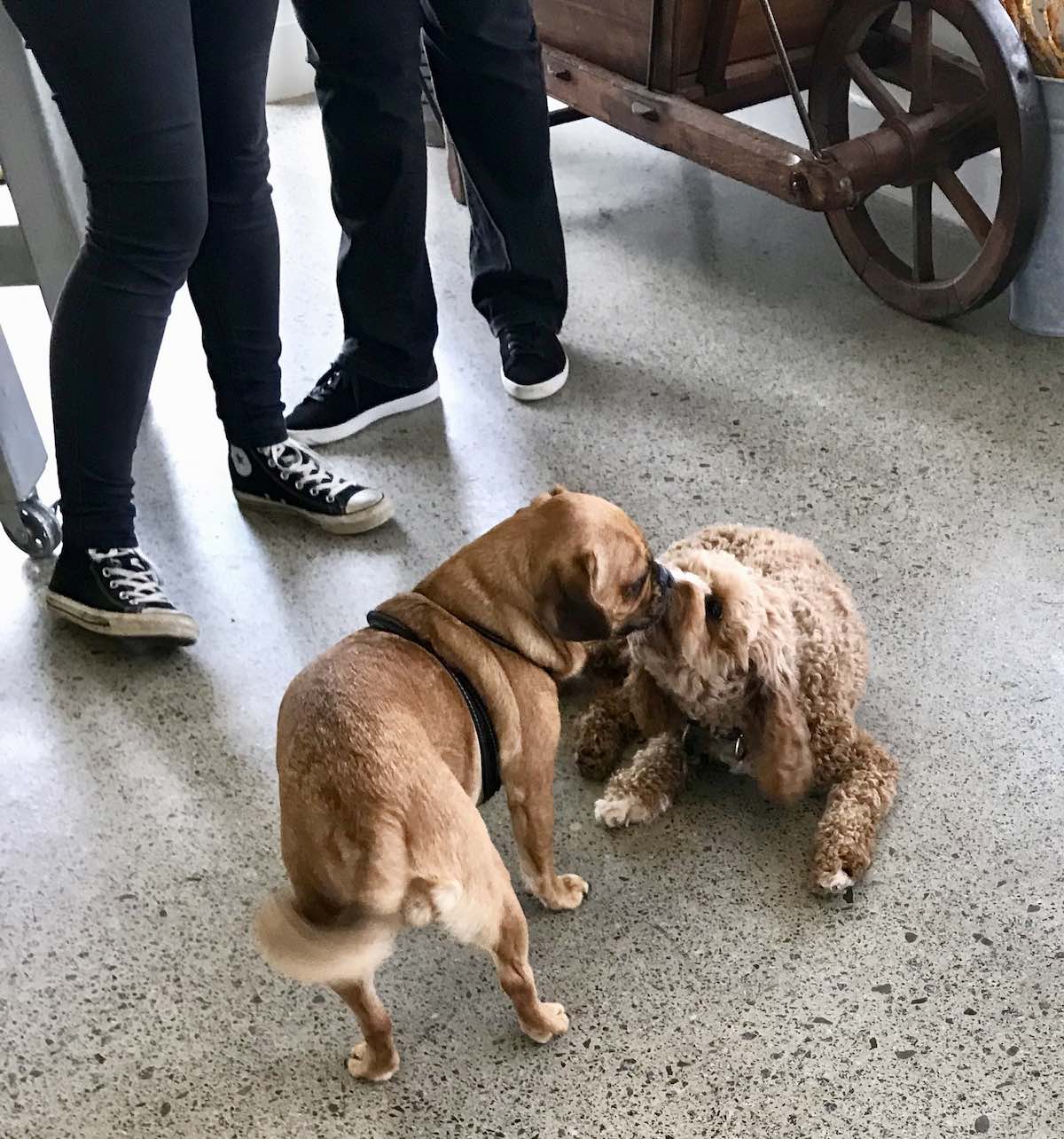 Mum liked him too.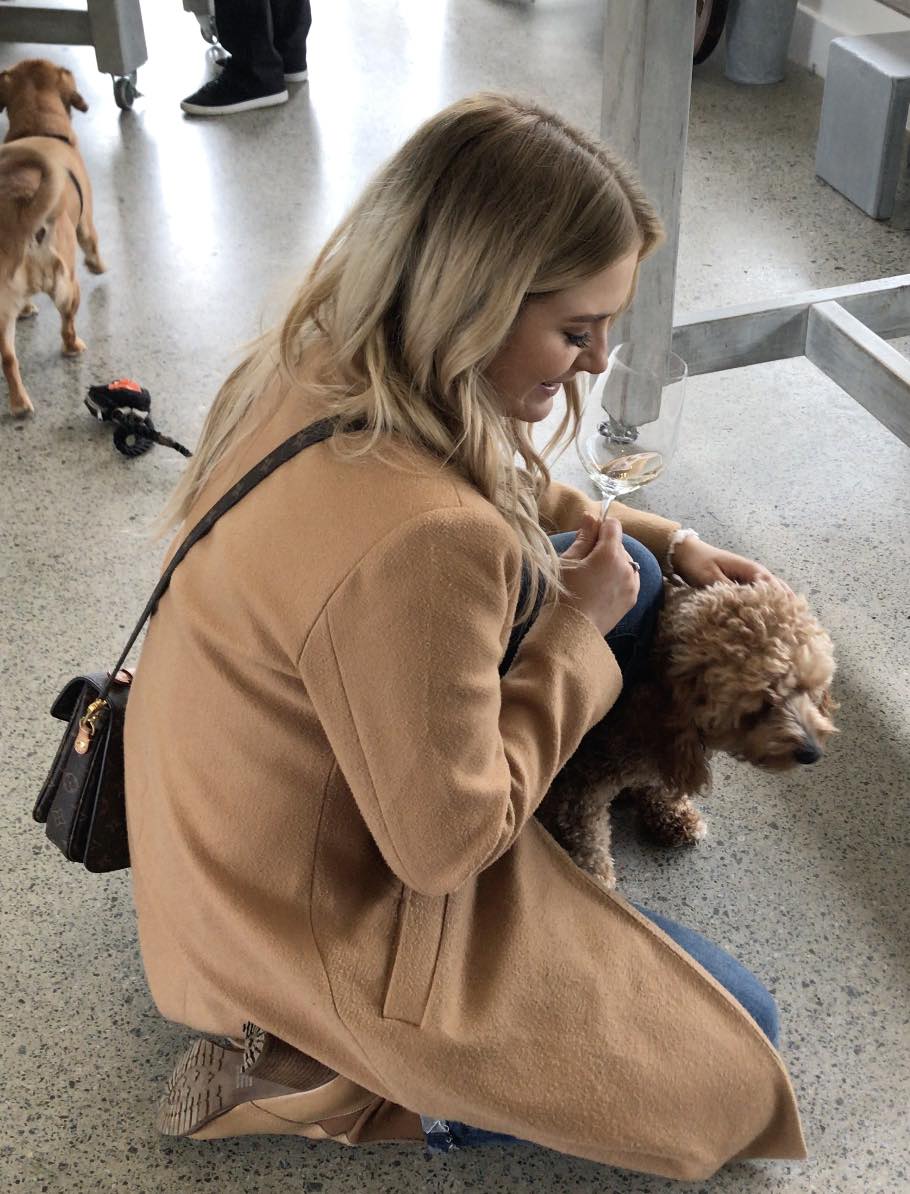 We all did.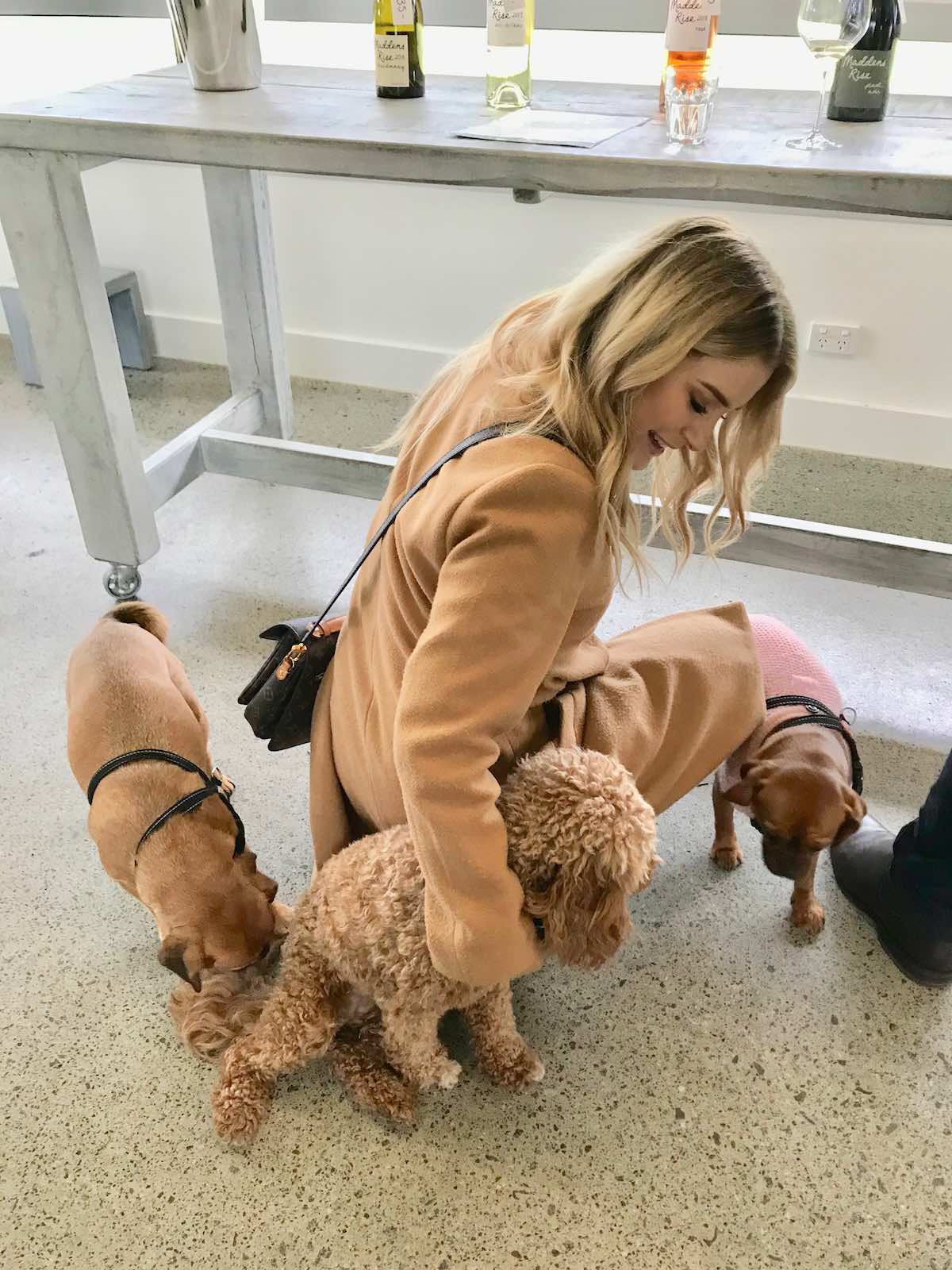 Then, to disrupt things a bit more, I made a beeline for a toddler – I LOVE toddlers, they are so great and they ALWAYS love me back.  Sophie did the same – double points.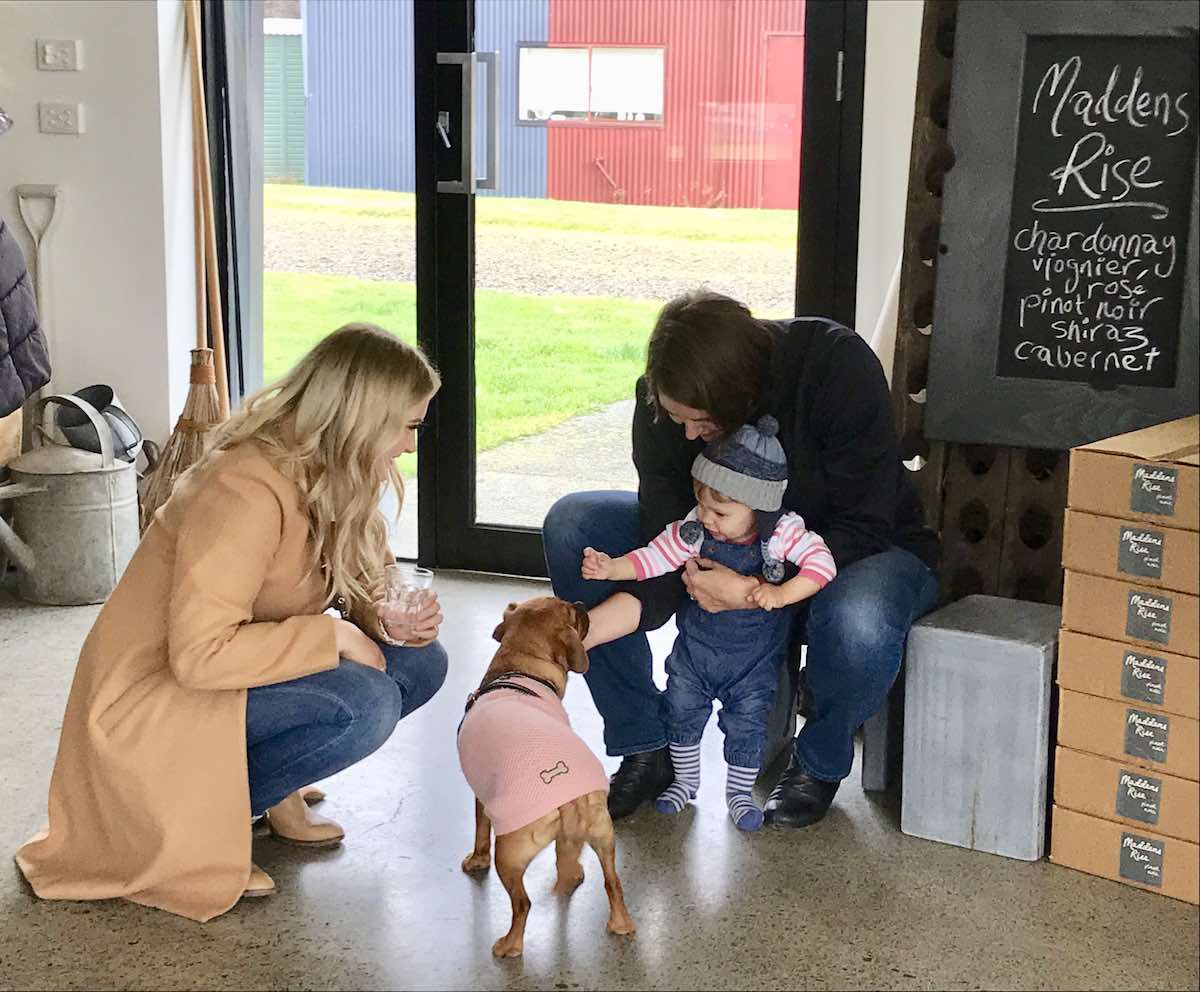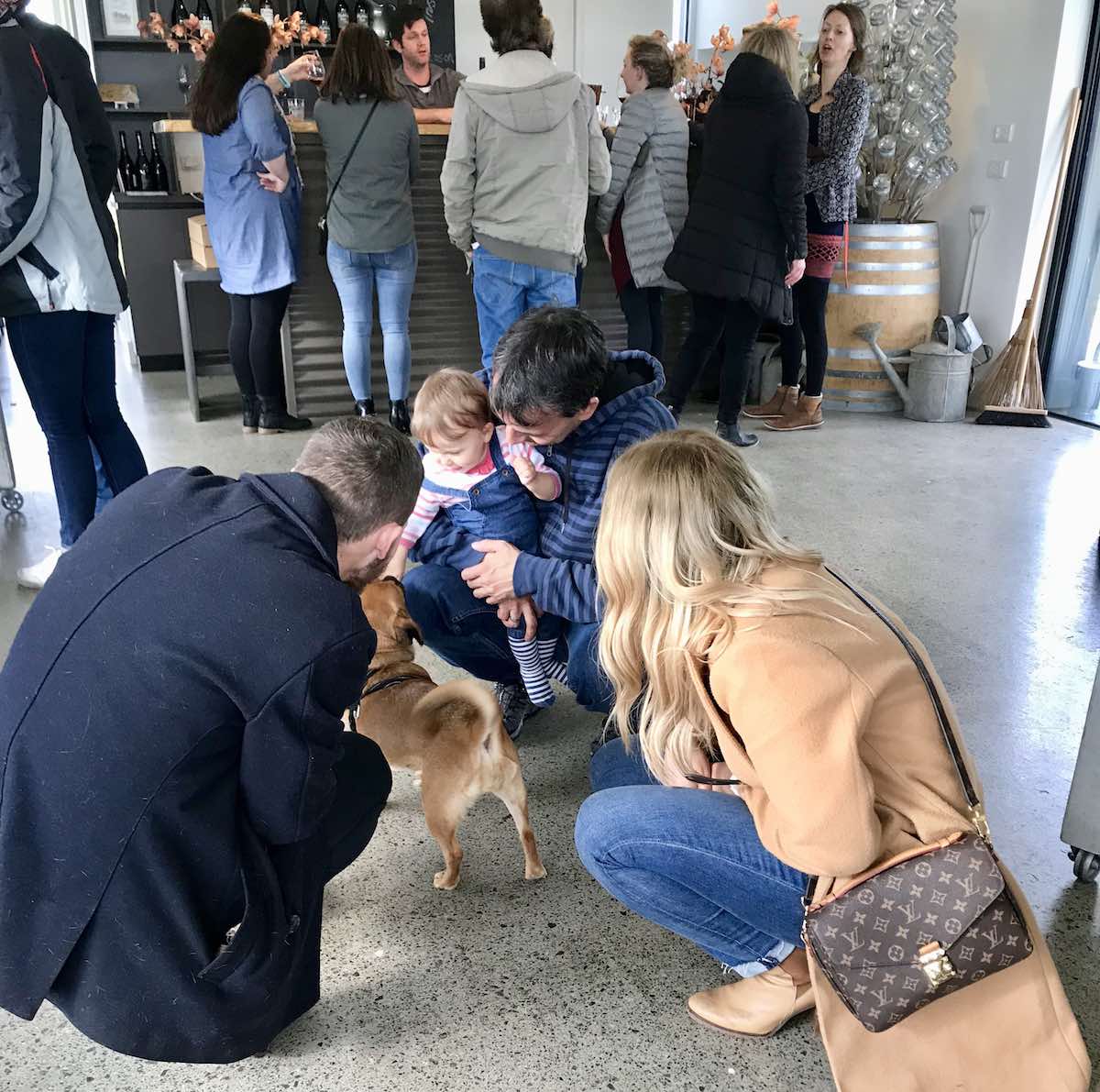 The lovely lady Emma who was pouring wines for my Mum & Dad didn't mind that we were stealing the show and taking over the entire cellar door, because she LOVES dogs too and understands how it is.  I found a stick someone had kindly looked out for me and had a good chew, as did Sophie, and then we went outside for some more photos – we've noticed that the more wine Mum & Dad drink, the more affectionate they become towards us and the more photos Mum always tries to take.  So we stood very still and let her get on with it!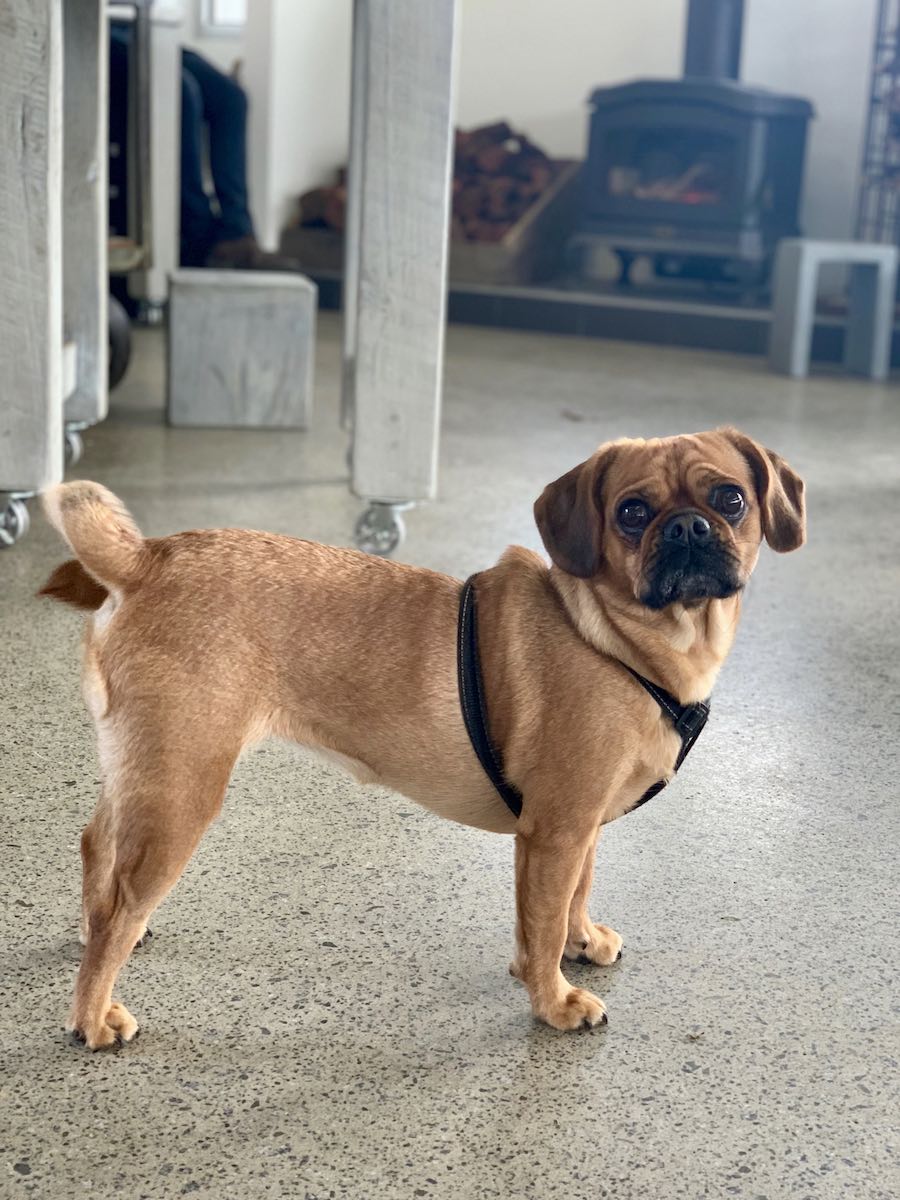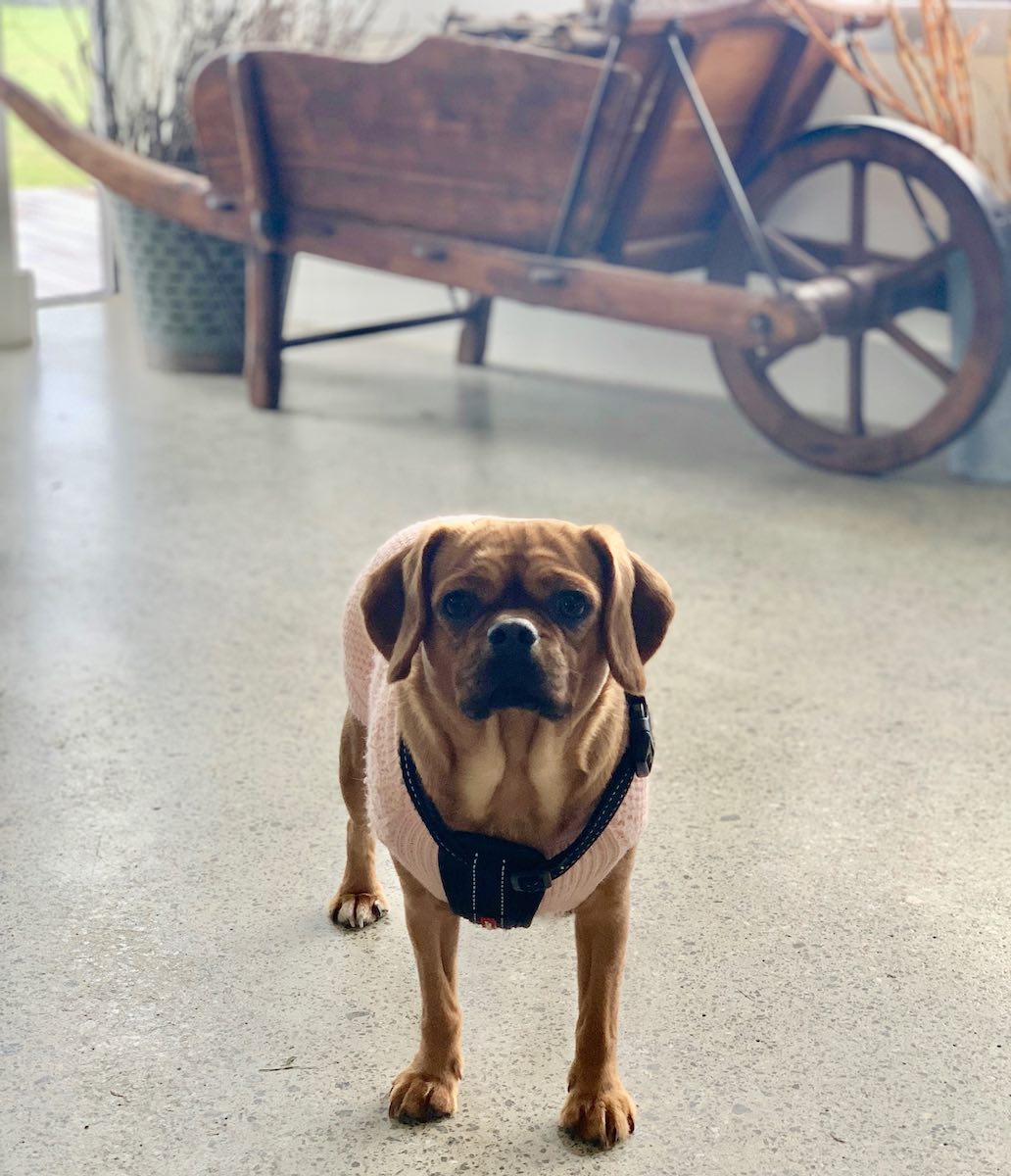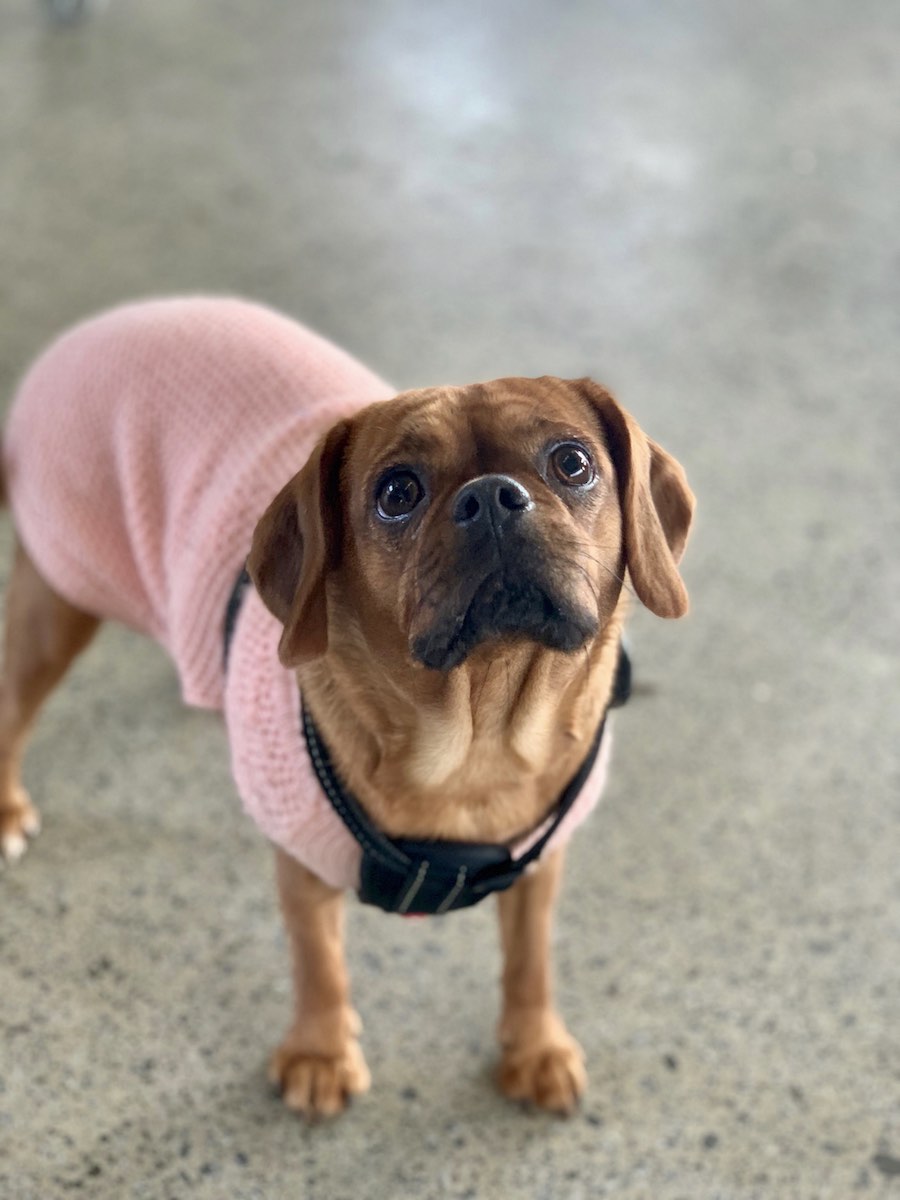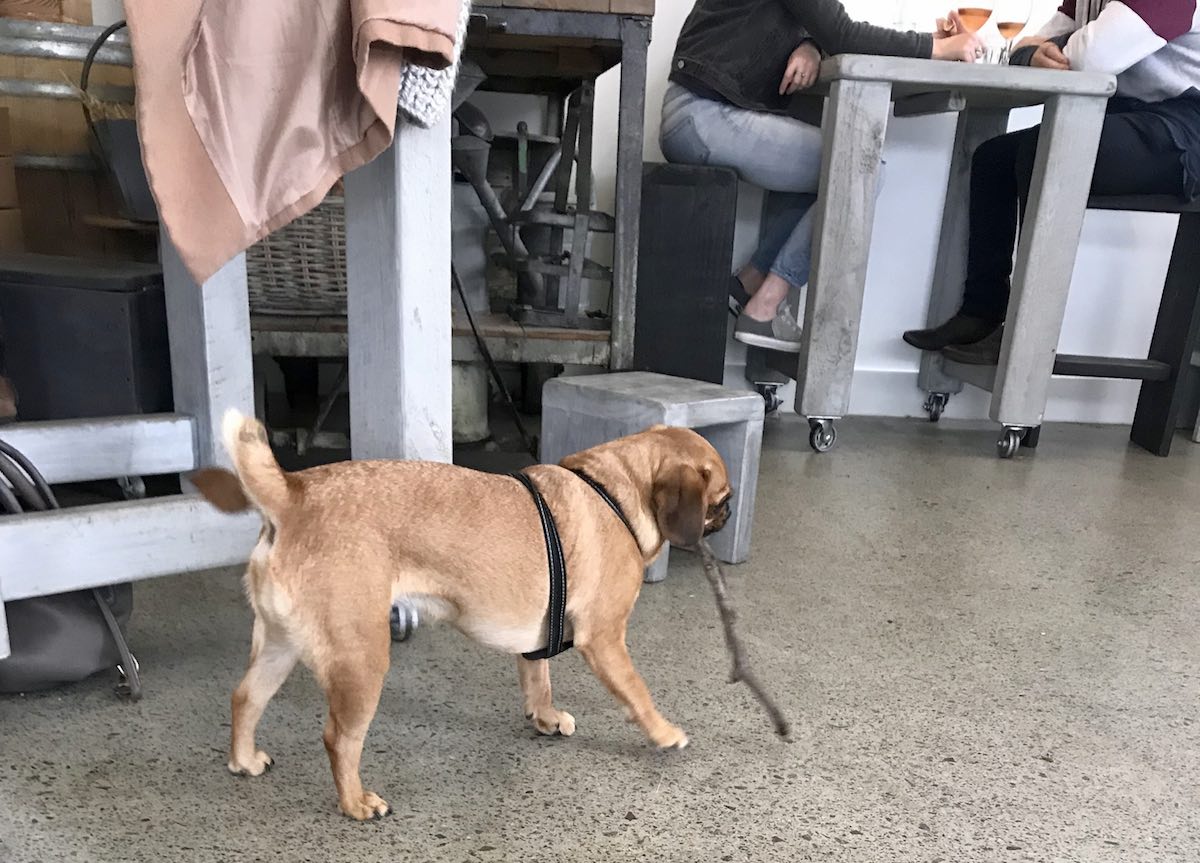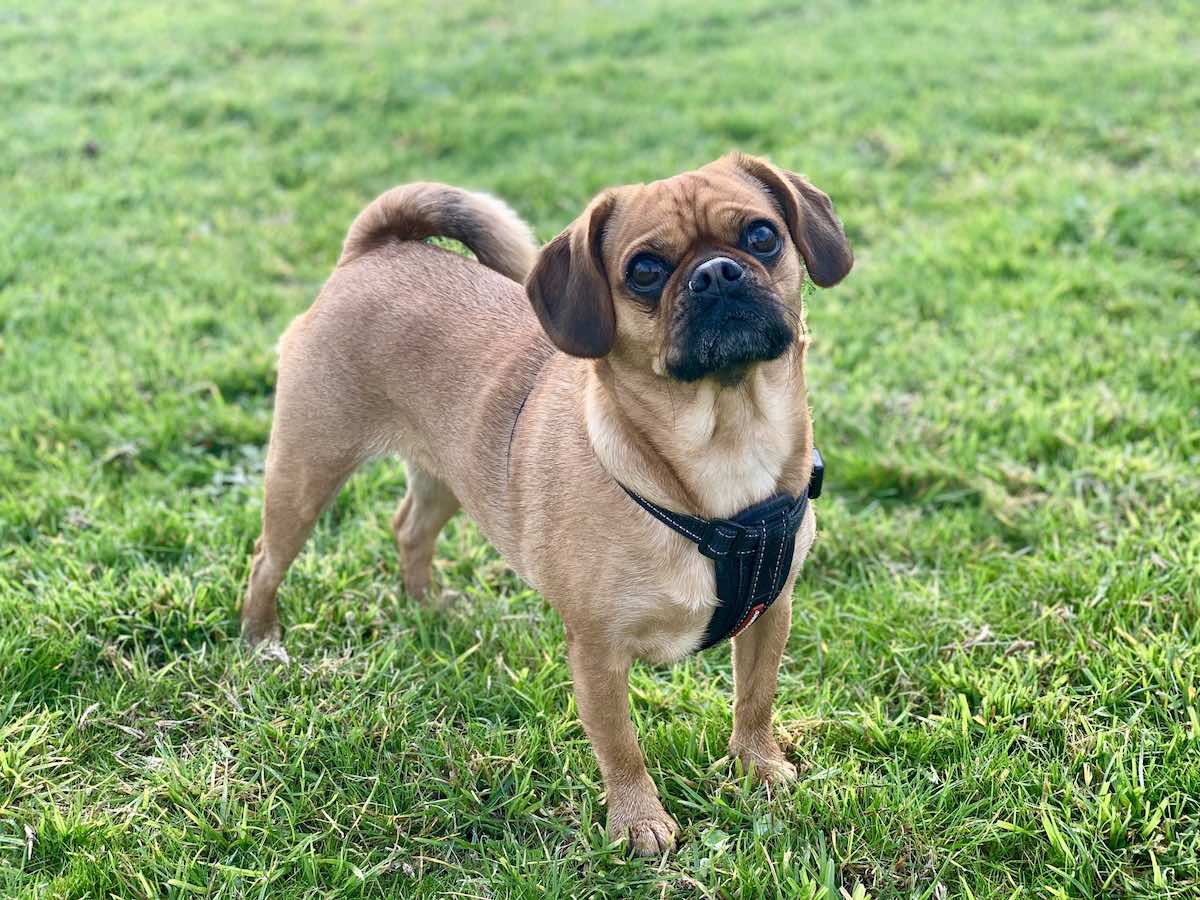 I was starting to get quite tired by now as all this disruptor business is pretty full on, you're 'on' the whole time, brain always thinking one step ahead.  Mum say she can always tell when I'm getting tired because my pug tail loses its curl and becomes droopy straight!
We drove into Healesville and went to a funky cellar door called Payten & Jones that Mum & Dad had been to before and Troy and Behn, the two winemakers whose names are over the door, were there and Troy was super friendly and made Mum & Dad laugh.  Avarn was a cool cat, he did the tastings with Mum & Dad and he took a shine to Sophie and picked her up to do a high five, but she kind of didn't get it, and it was SO embarrassing!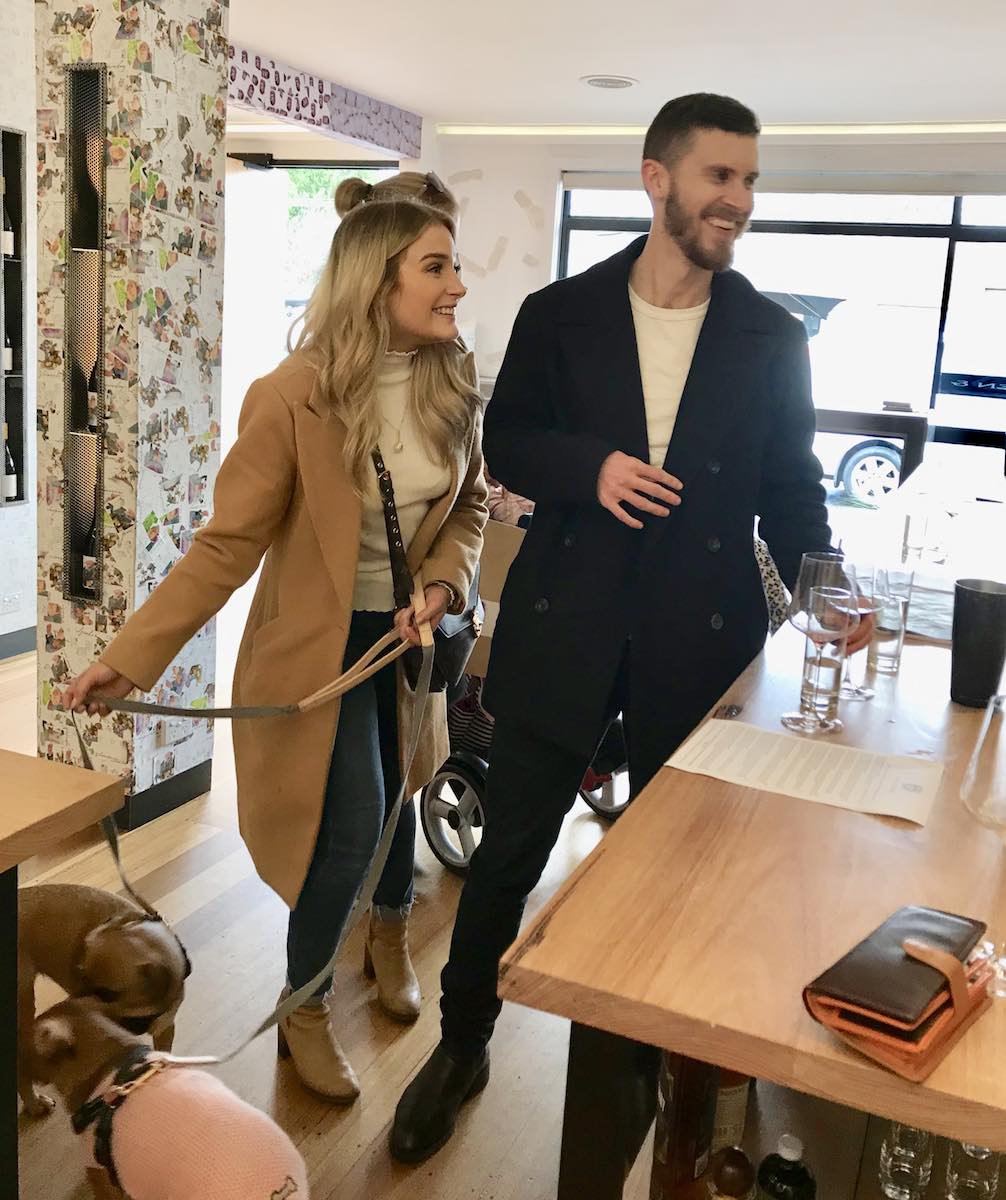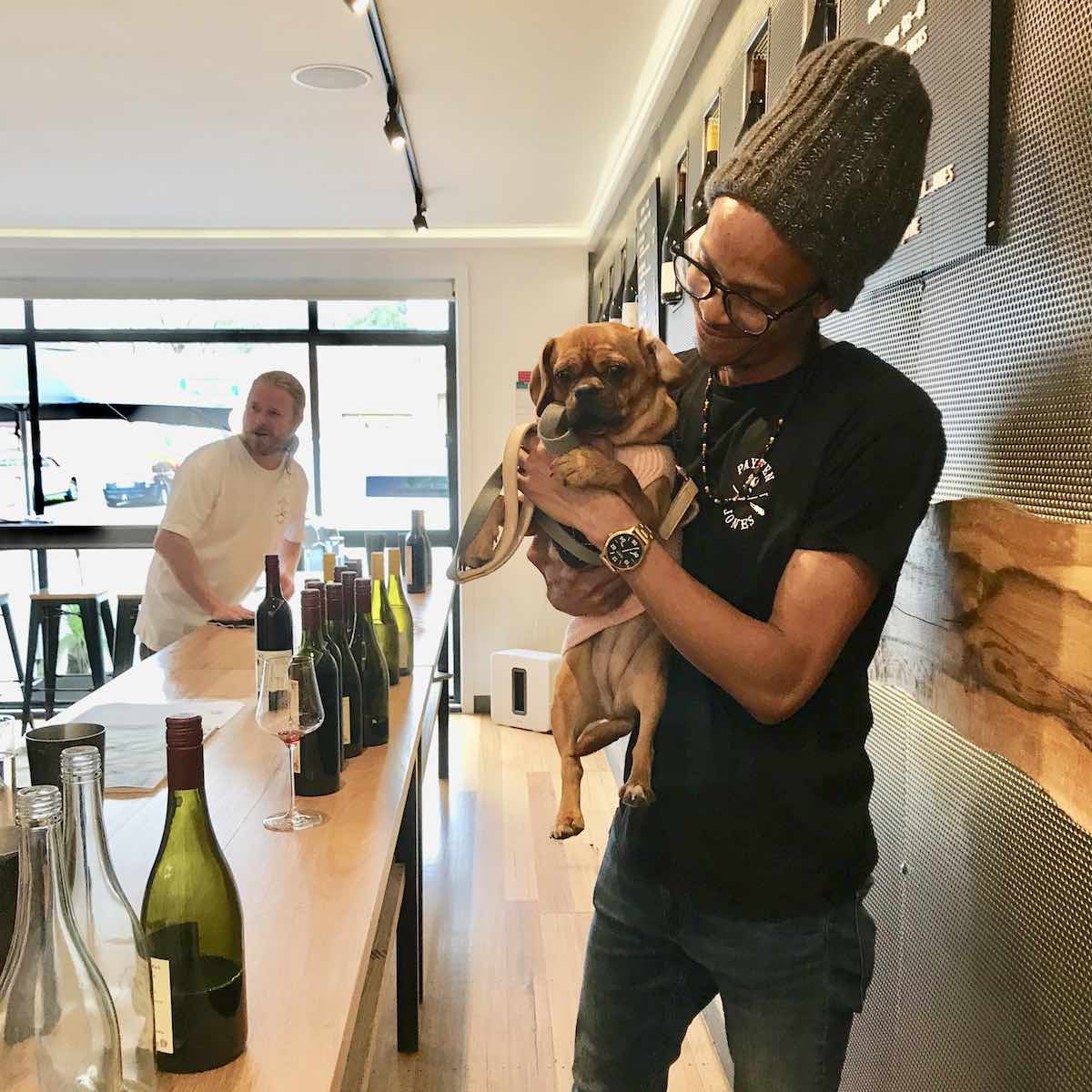 Look at her trying to high five – I'm so glad we're not related!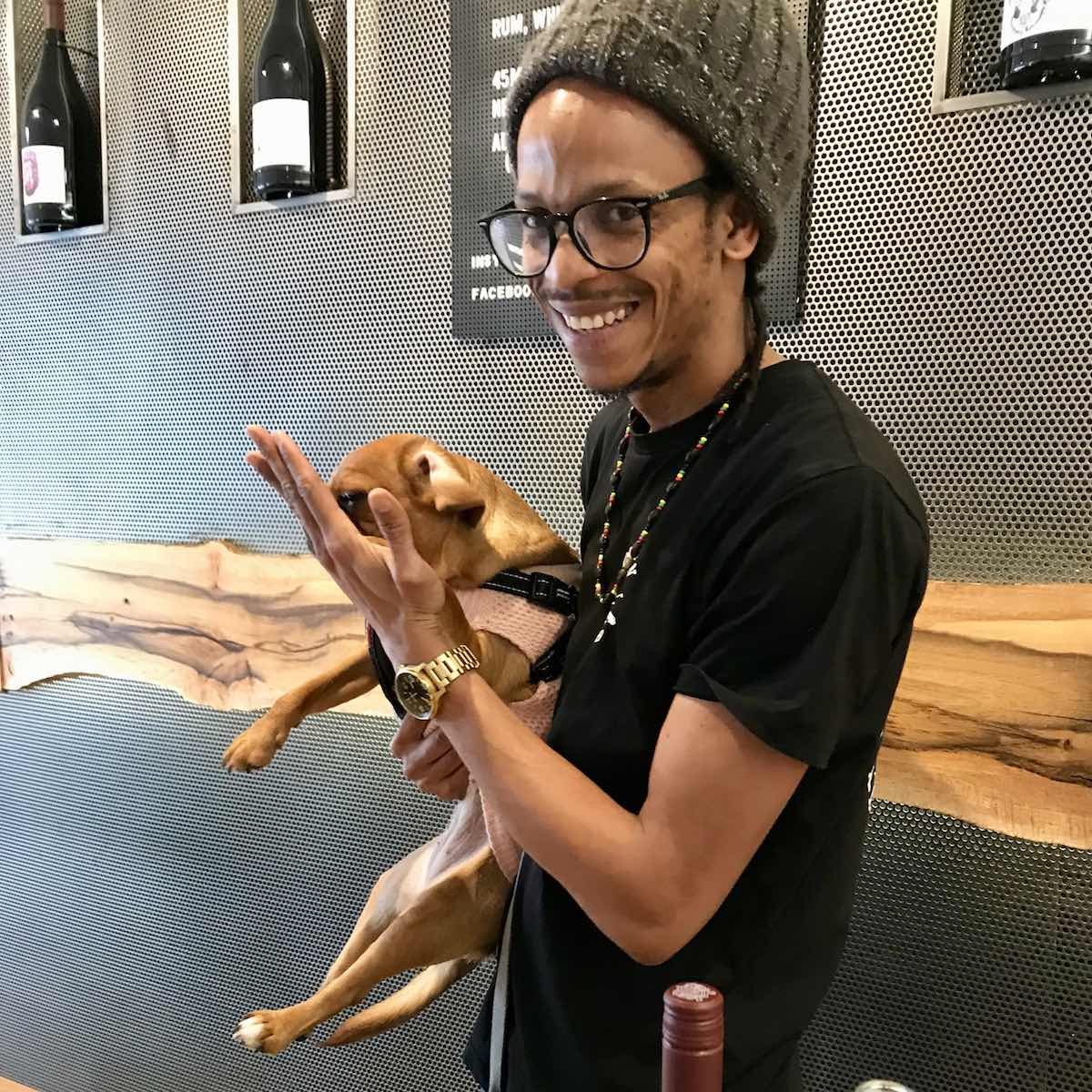 Avarn should have worked out that with SUCH a tiny head, she can't possibly have a big enough brain to know what a high five is!
Mum and Dad bought some wine and we said our good byes and wandered over the road to Four Pillars for a gin tasting.  EVERYBODY loved us, and came and said hello and stroked us and we made friends with Lizzie who has her dog tattooed on her arm – we get that because Dad has us tattooed on his leg, but for a man who'd been drinking for 7 hours he suddenly got all shy and wouldn't show anyone!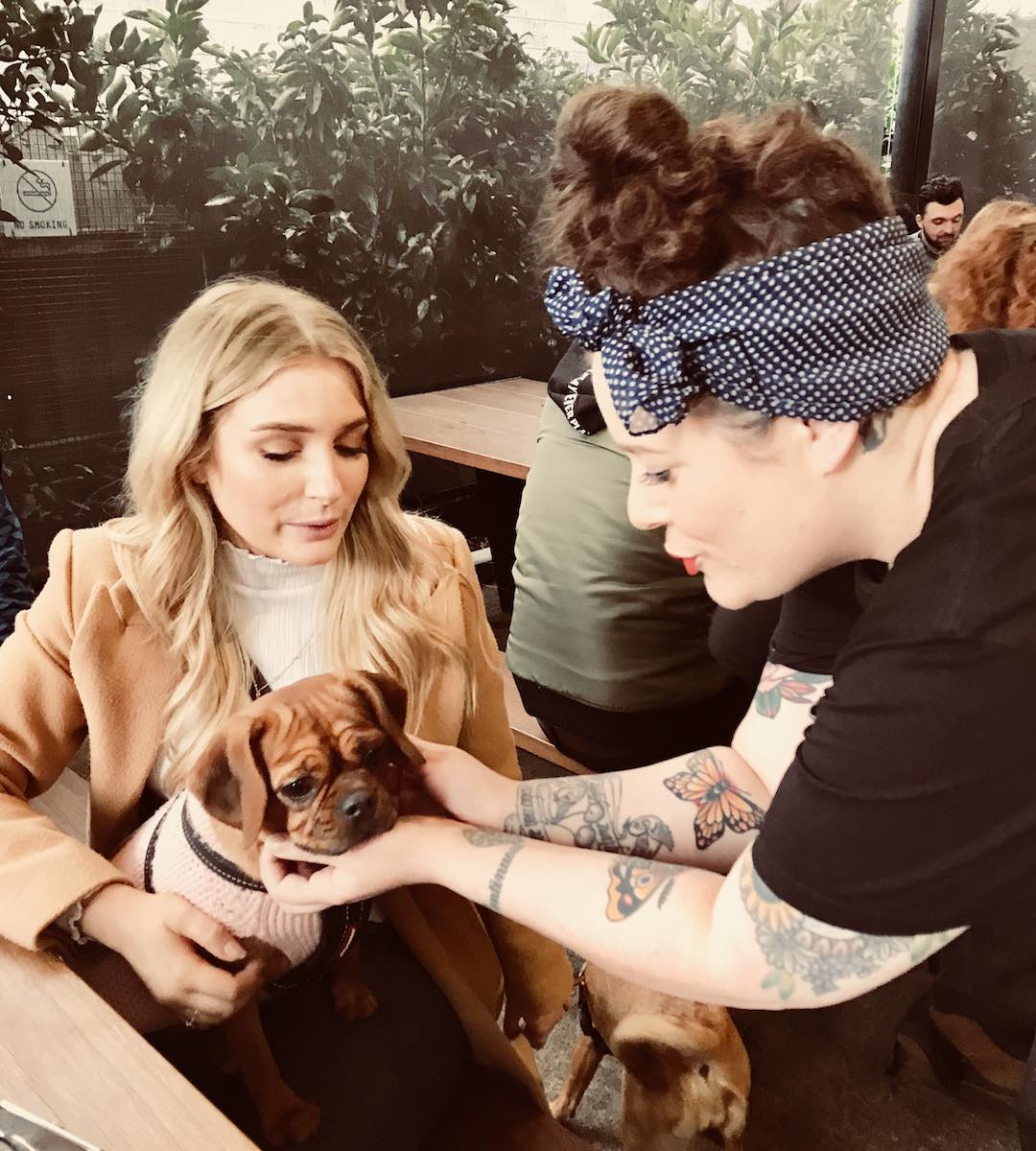 We tried SO hard to stay awake but you know what, for dog's who generally sleep all day, we'd been kept awake ALL day today and it was nearly 5pm and we were EXHAUSTED.  When Soph gets tired her wrinkles increase – it's like she doesn't have the strength to hold them back!
I sat on Helen's lap for a bit – she was nearest – look at me desperately trying to keep my eyes open for the picture!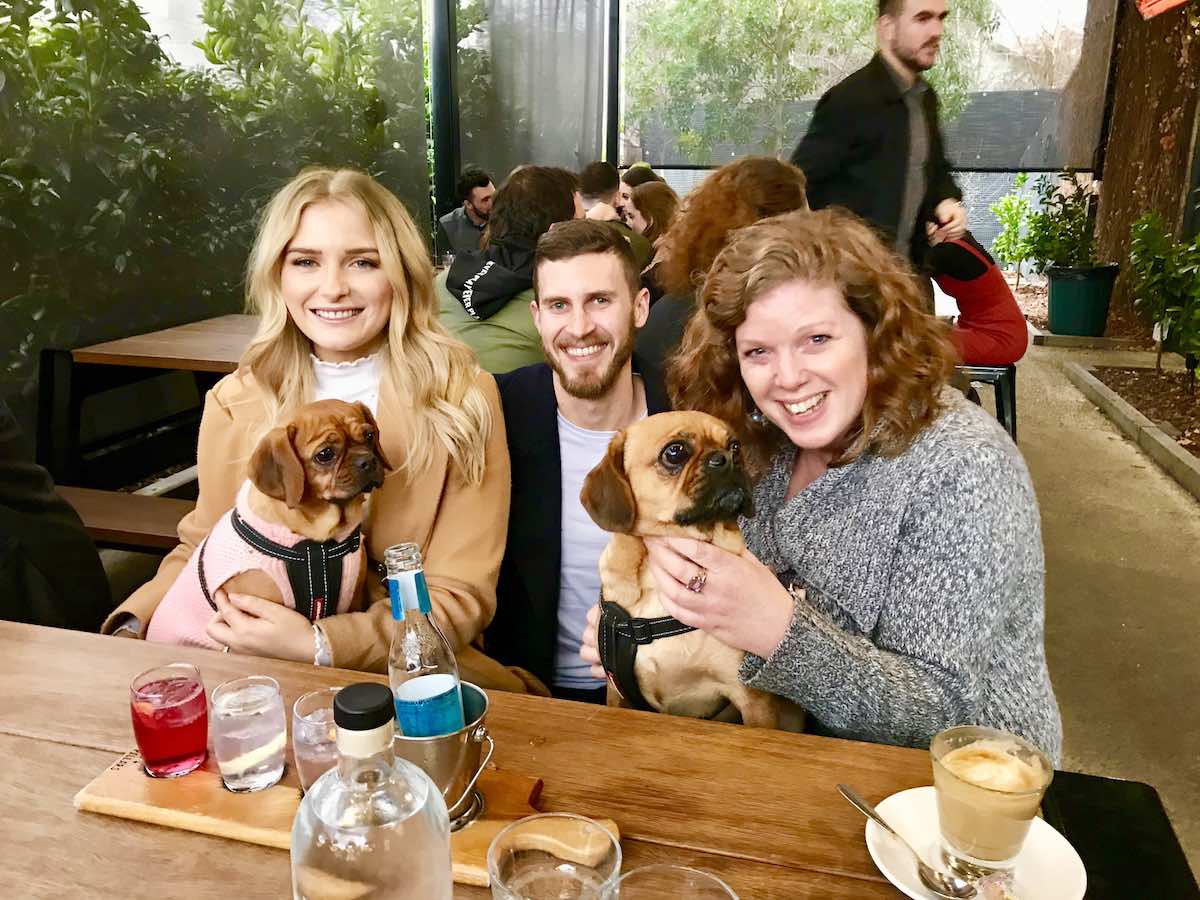 Seconds after that shot was taken, Sophie collapsed her head onto Mum's arm and we were both nodding off.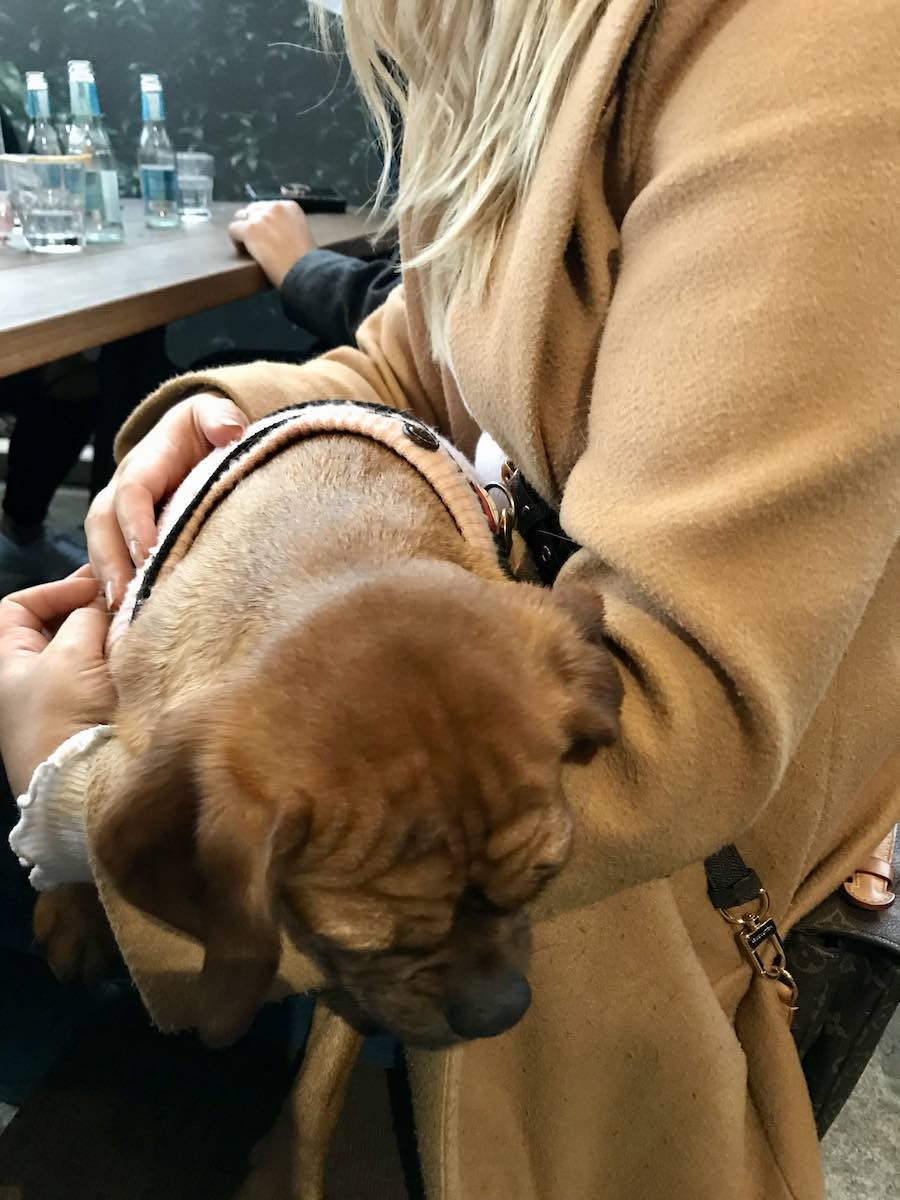 What a huge day it had been for us all – Helen drove us back home to our apartment and we slept soundly all the way home, with just the occasional little snore (from Sophie of course).  Thank god our pawrents were going out to a party that night – so we could finally have some peace and quiet!  We loved our tour, it was ace but it's going to take us a good couple of days to get over it – all that adulation – fabulous, but boy it takes it out of you!