I'm Daisy, I'm a labbystaffyx, I'm 8 years old and already in my life, I have lived with my parents Helen & James in England, India, Australia and now I'm headed to Singapore.  I know right, my passport will need new pages adding soon!  So this was my 'Farewell Australia' wine tour with my pawrents, (who are coming with me to Singapore) and my Aunty Julie and Uncle Andrew (who I secretly call Julie Andrews) who sadly aren't moving with us!!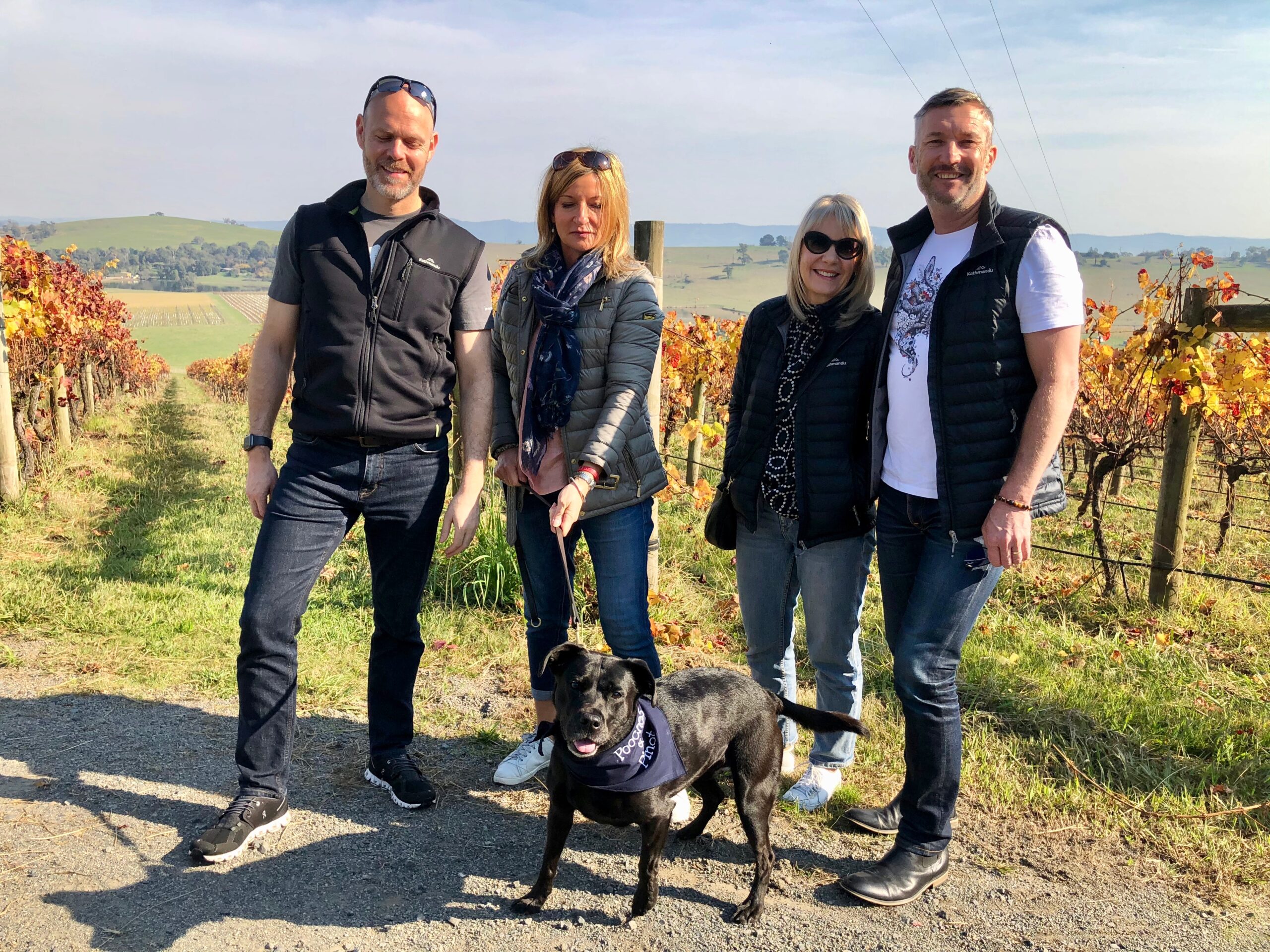 This Pooches & Pinot wine tour has been SUCH a long time coming – my Mum originally booked it for Easter last year but someone called Covid had other ideas!  Julie Andrews became friends with us when we were living in India and then followed us out here to live.  We call them #stalkers, but not in a call the police way.  I have my paws crossed that they will soon follow us to Singapore.  But this trip away to the Yarra Valley together was so much fun.
We stayed at Harvest House and Dairy House, two beautiful farmhouse cottages on a stunning rural property near Healesville Sanctuary – we each had our own cottage but were close enough to pop into each other's whenever we felt like it.  And the lovely owners Karina and Bob gave us delicious stuff they'd grown in their garden to eat for breakfast.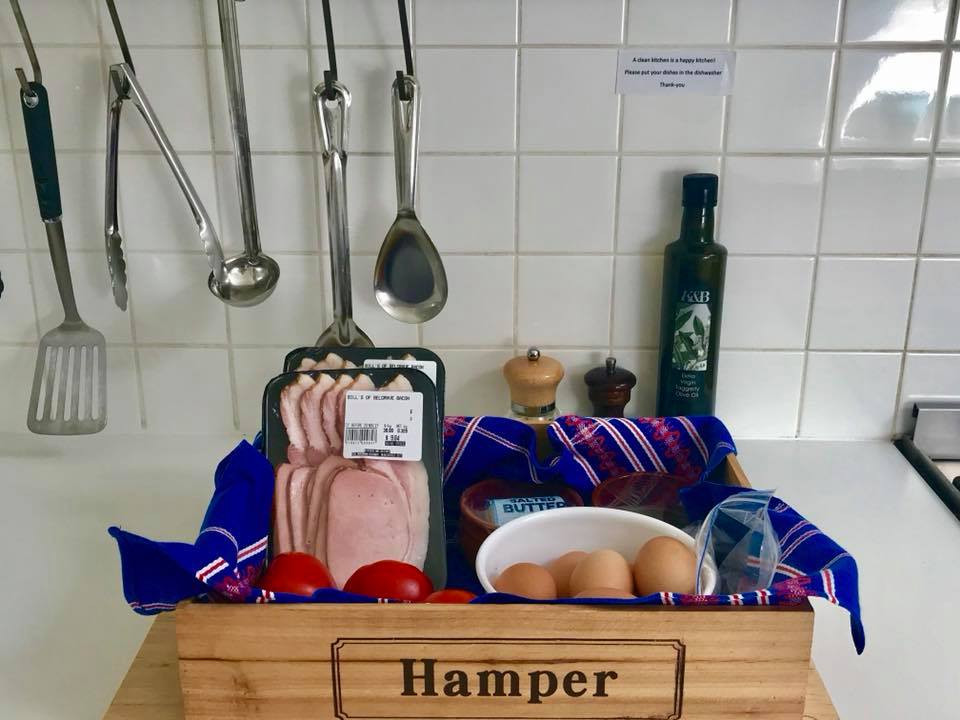 If our Singapore plans fall through, I vote we move here instead.
And then the absolute bestest part – this man called Jeff arrived on Saturday morning in a Mercedes touring van to take me out on a wine tour (I let the humans tag along), and I had the most room of EVERYBODY in the van.  I had a huge bed, I had room to zoom around, I had a water bowl and a harness clip so I was nice and safe and a tennis ball and a bag of Laila and Me treats – it was totally geared for me!  I was even given a bandana to wear which made me feel very spesh.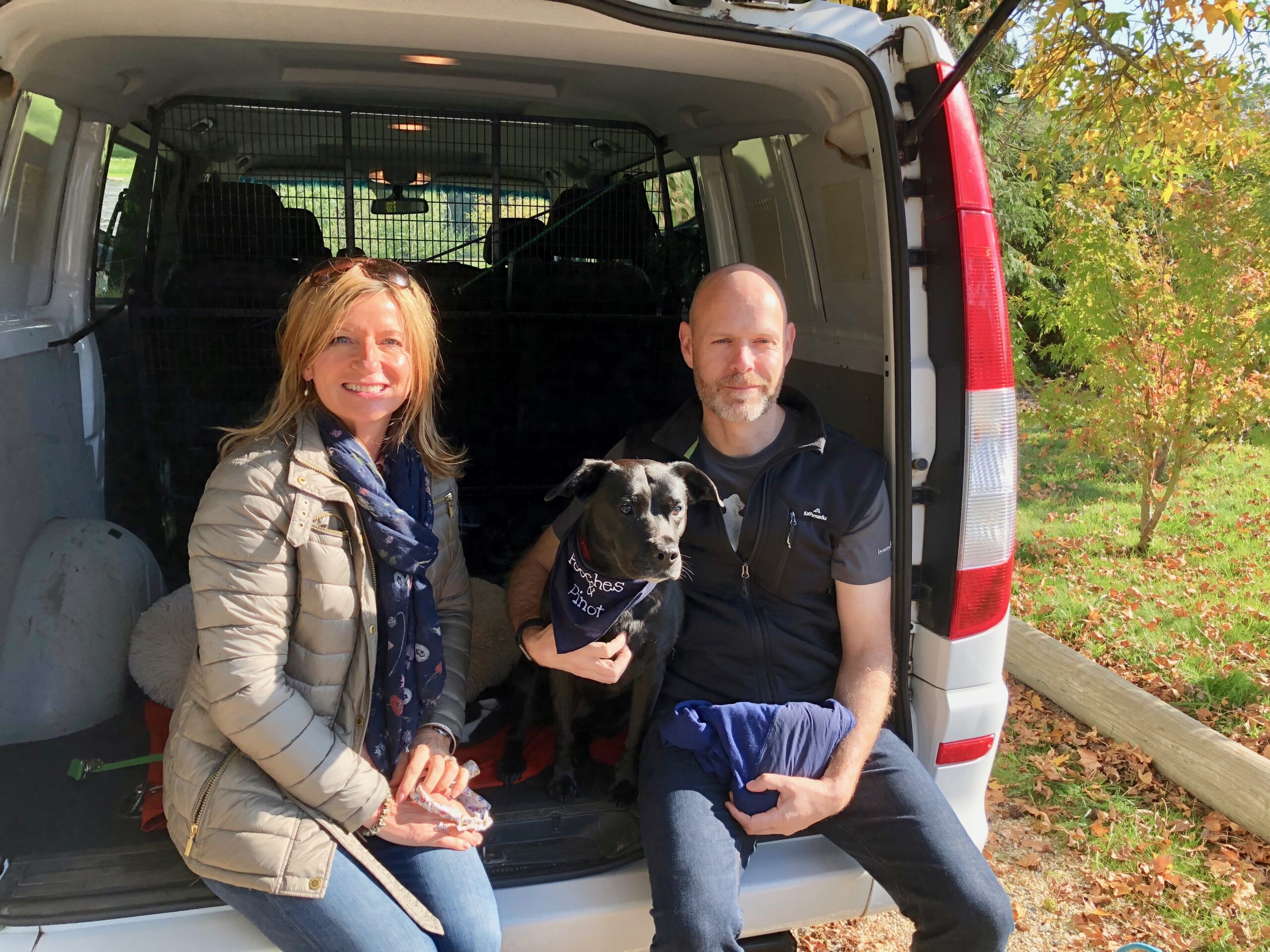 And when I cheekily upgraded myself mid-journey one time to find the others, I saw that I really was in the VIP class – my pawrents and Julie Andrews were all sitting in a row next to one another, they had no room for zoomies – I should have suggested one of them travel with me in the back, but I was too busy enjoying all that extra legroom!
And really the day just went from strength to strength – we went to winey after winery where lovely people poured wine for my humans while I got pats and praise and walks with Jeff and treats and cellar door staff running to meet me everywhere I went.  And each place was full of new smells and the views were staggering!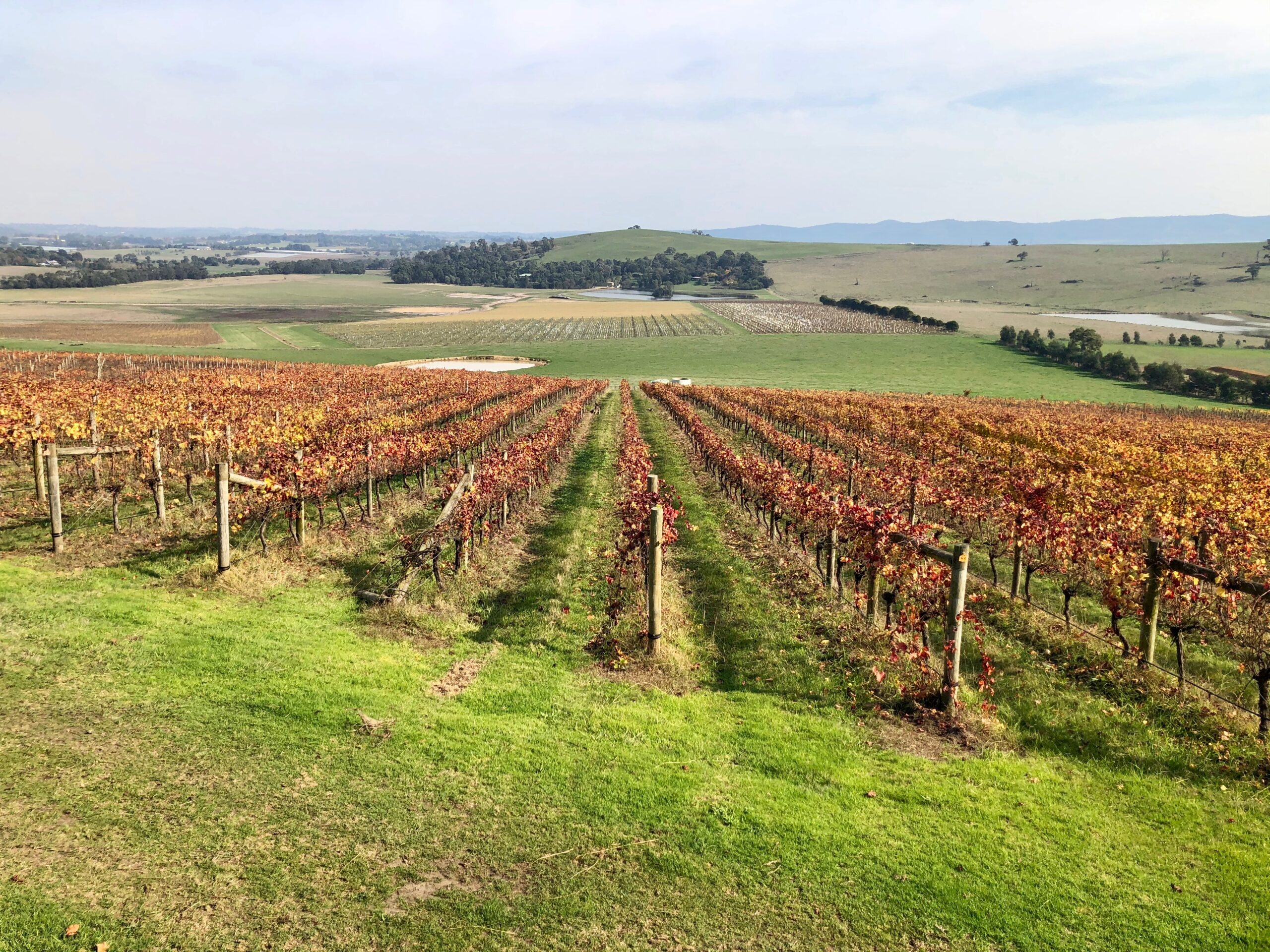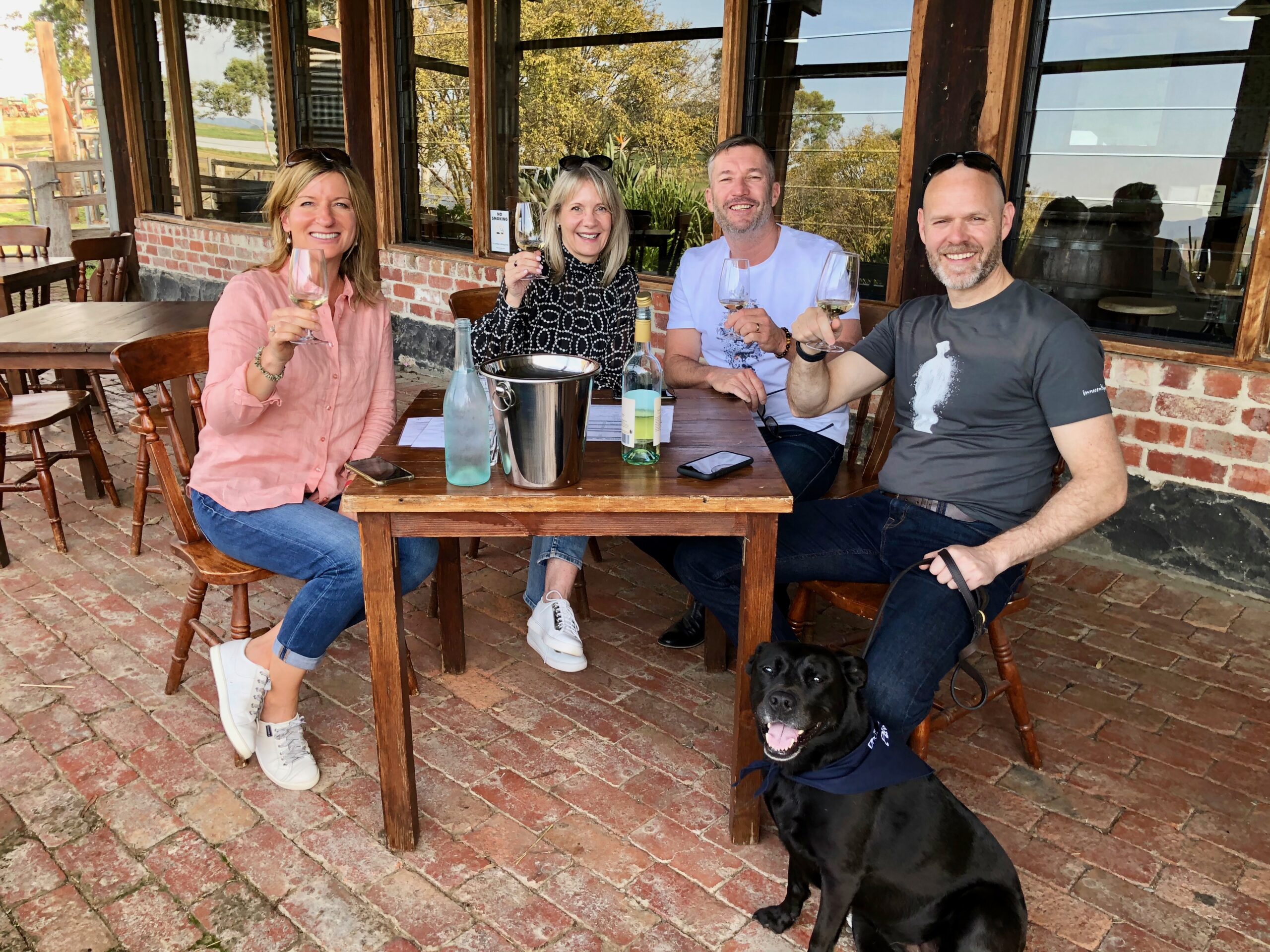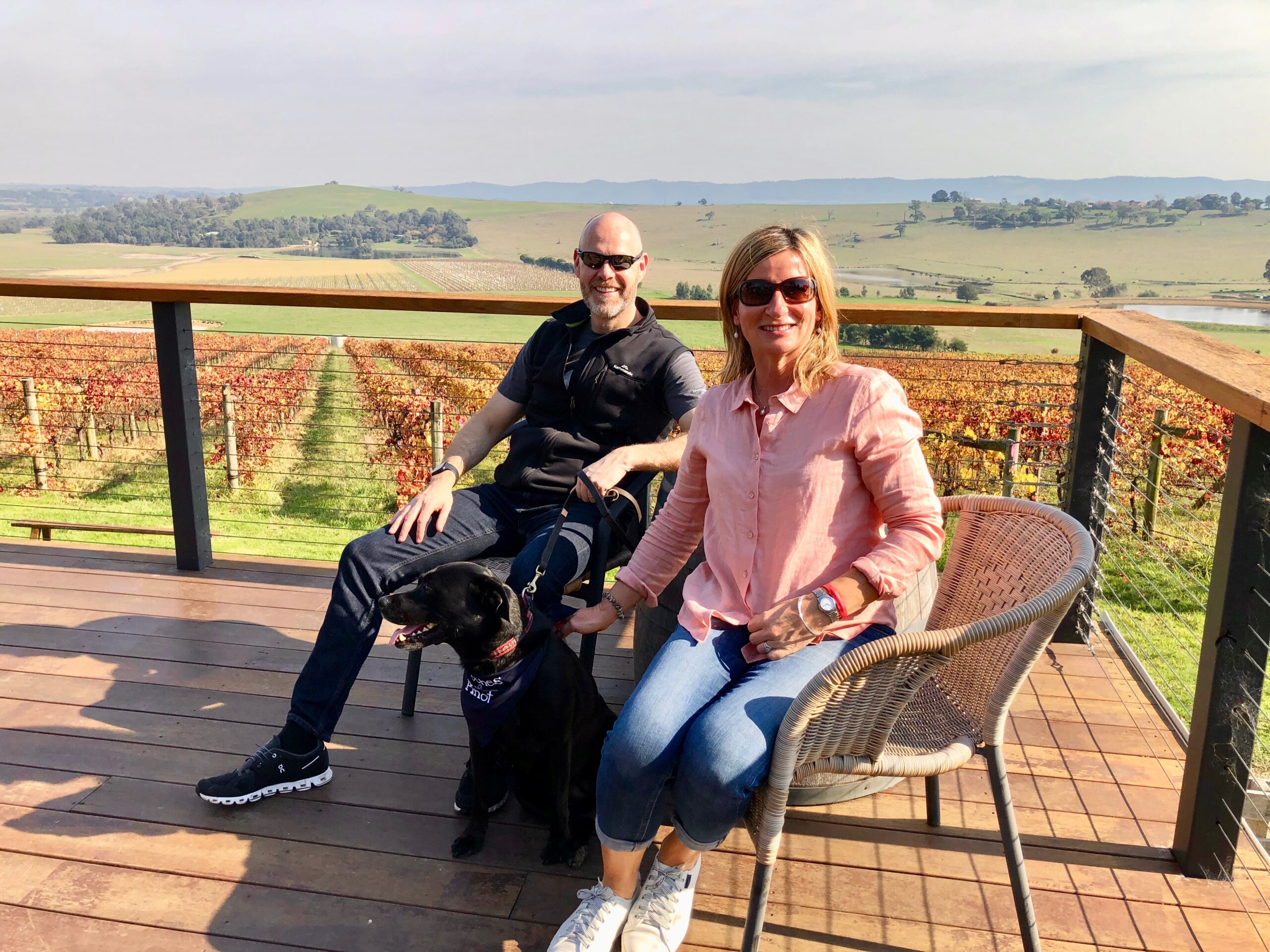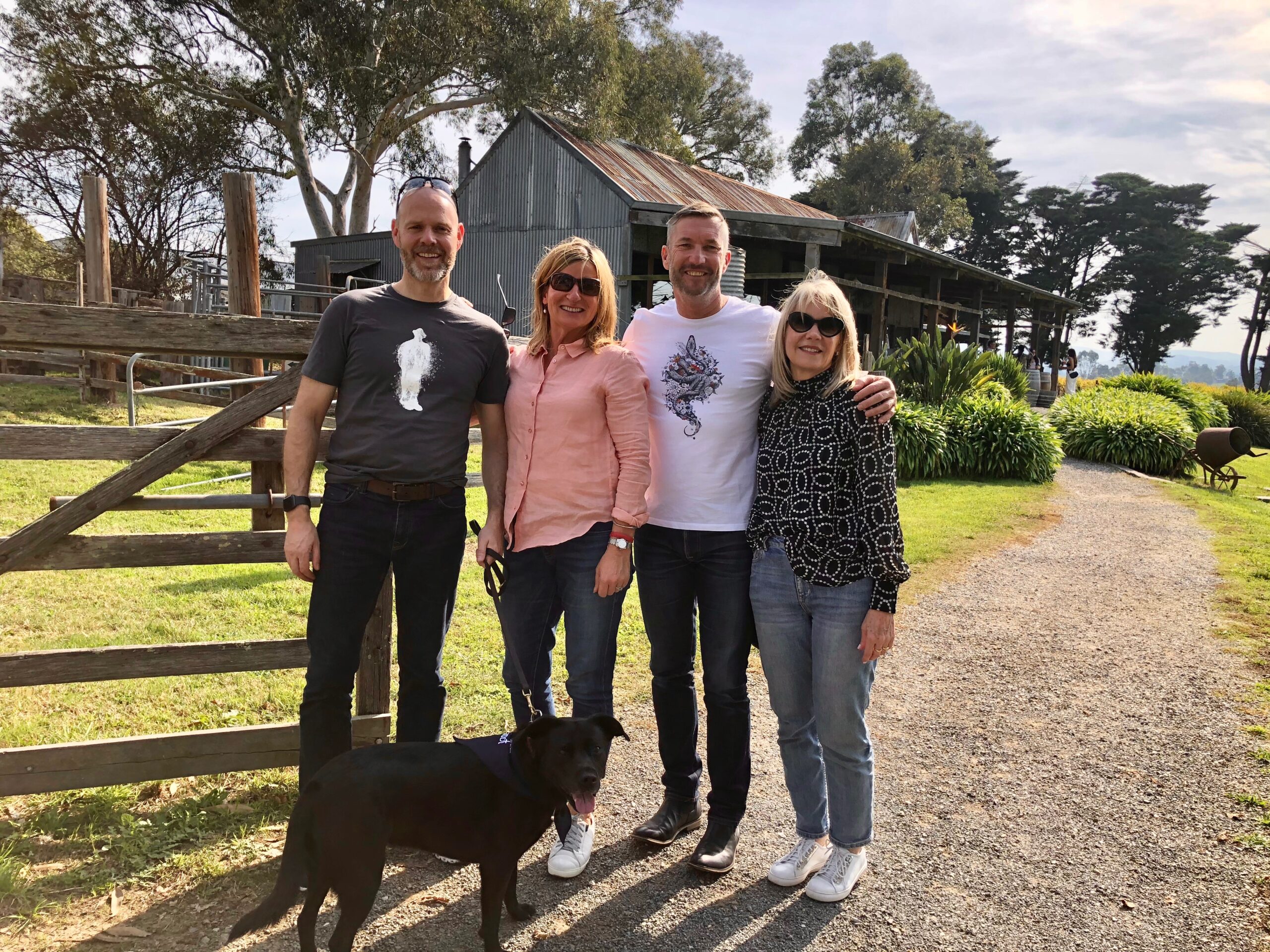 It's funny, my humans might well be ex-pats but I got ALL-the-pats!!  I fell in love so many times during this tour – with Mel at Helen & Joey, Andrew at Yering Farm, and even a French bulldog who took such a shine to me she had to bite my face (they do that bless them), it was so exhausting I had to have a lie down under the table at Greenstone winery, while everyone ate a huge lunch.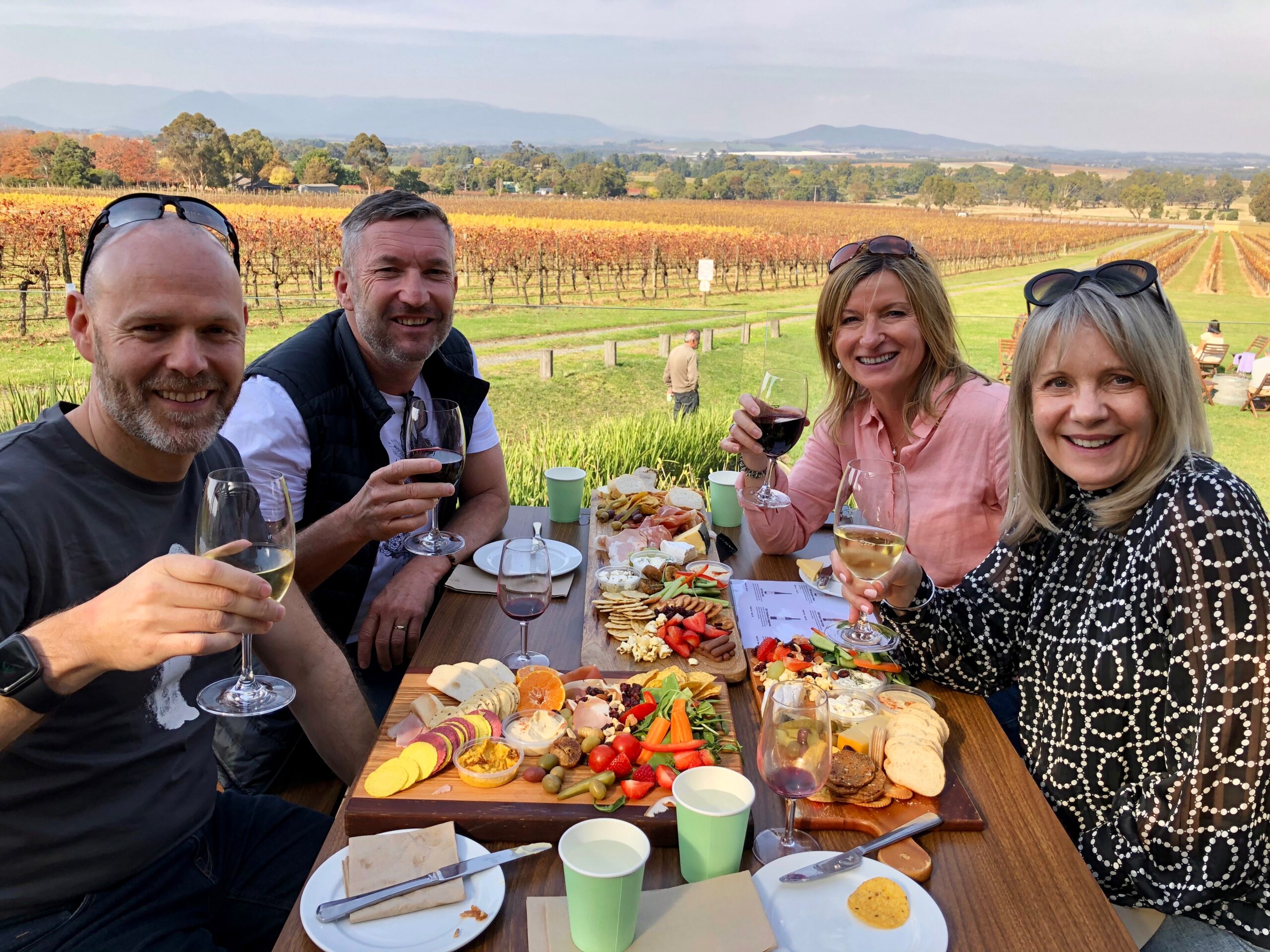 At Maddens Rise I met and fell hugely in love with Emma, the charming cellar door manager while my humans fell in love with the beautiful space she'd created in her tiny boutique cellar door.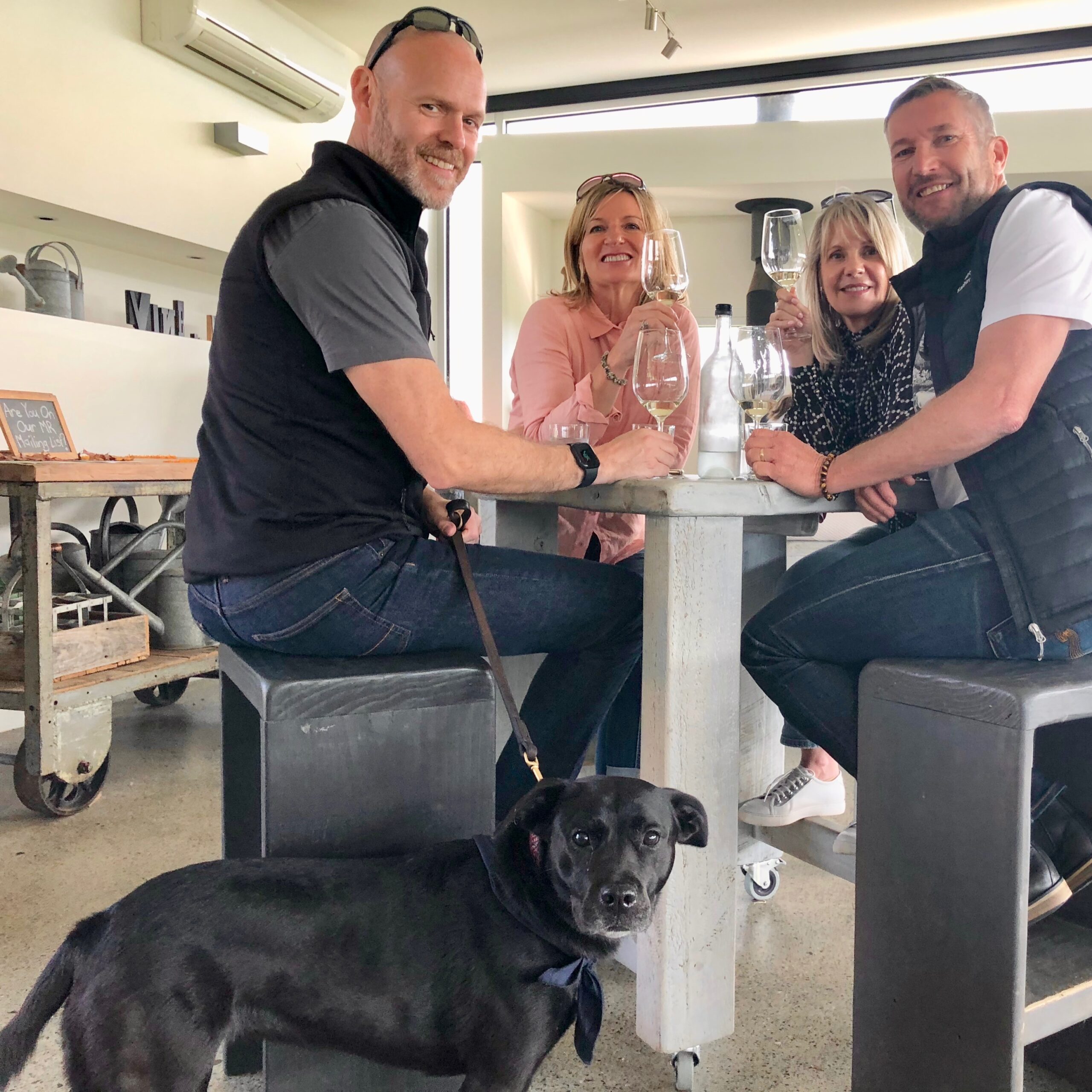 And then we went to Four Pillars Gin Distillery and my heart sank when we got there, as the queue was out the door and down the road like a Chapel St nightclub on a Saturday night, but clever Jeff walked us straight in as of course, we had a VIP booking.  We were looked after beautifully by Kirsty and Brett and the delightful man whose name we didn't get (rhymes with Brett, did you see what I did there?) and when Jeff asked if he would describe all the gins we were tasting and 'do the whole spiel', my uncle came out with a real Dad joke and said 'Is your name Steven Spielberg?' – honestly, I didn't know where to look – he was nearly sent to sit in the van for that one!!  Fortunately, he redeemed himself and bought a bottle of gin, perhaps by way of apology!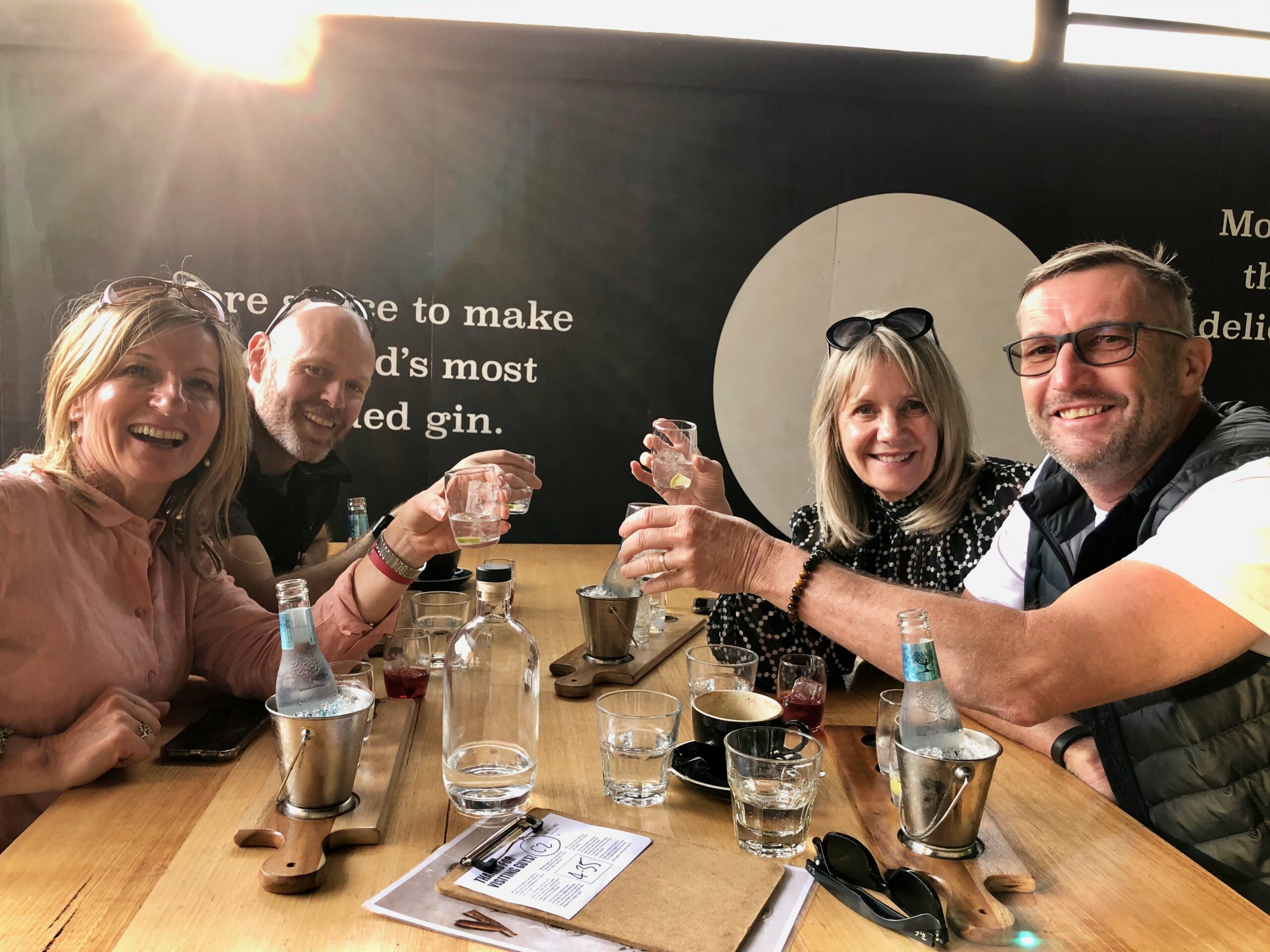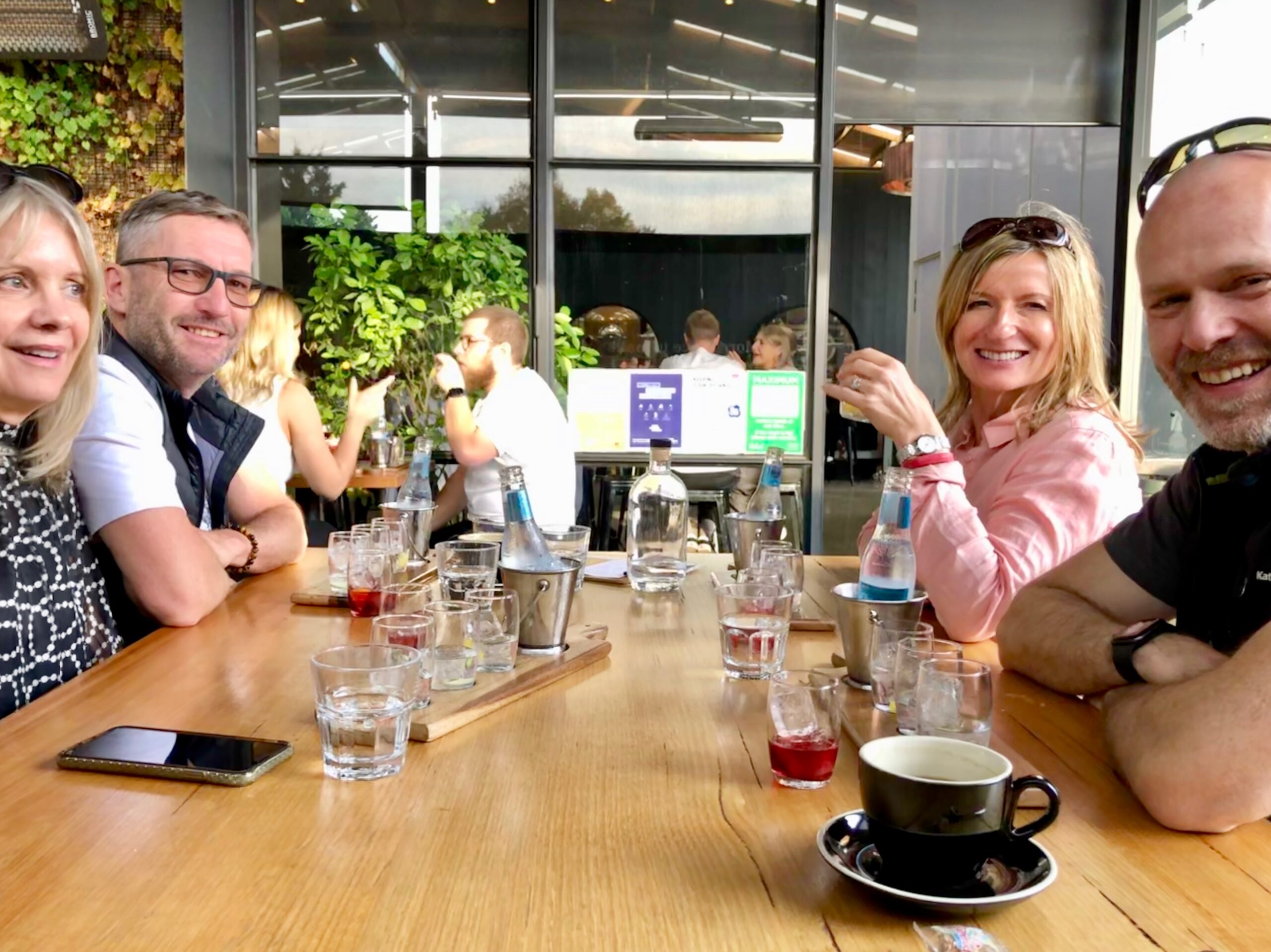 Our final stop on our pawesome tour was at Payten & Jones which I knew from my research was going to be a highlight.  A rad dude from Jamaica called Ovarn started doing our tasting and we were all listening to him intently (you have to, his accent is quite strong) when this lady turns up and starts hugging my Mum and Aunty and guess what her name was – only another Helen!!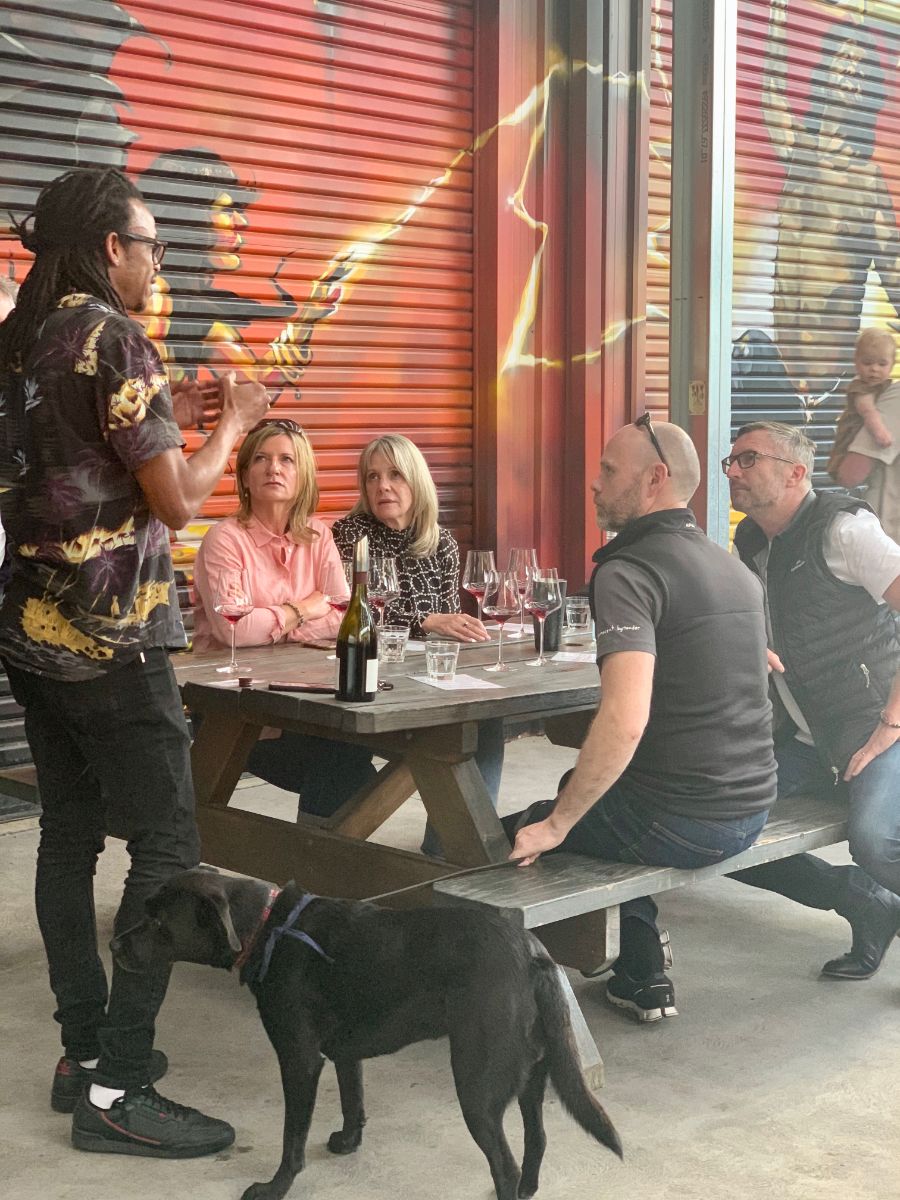 She is Jeff's other half and had been emailing my Mum from P&P HQ about this tour for what felt like forever and she and my Mum felt like penpals so she'd come to find us to say hello. She couldn't stop stroking me and telling me how beautiful I am – so I think I was probably secretly the real reason why she was here.
I suddenly got a bit overcome and realised how just much I love my Uncle Julie Andrews and how much I am going to miss him when I emigrate in a month's time.  I gave him lots of kisses and hugs and then thought Dad might be feeling left out, so gave him plenty of loving too!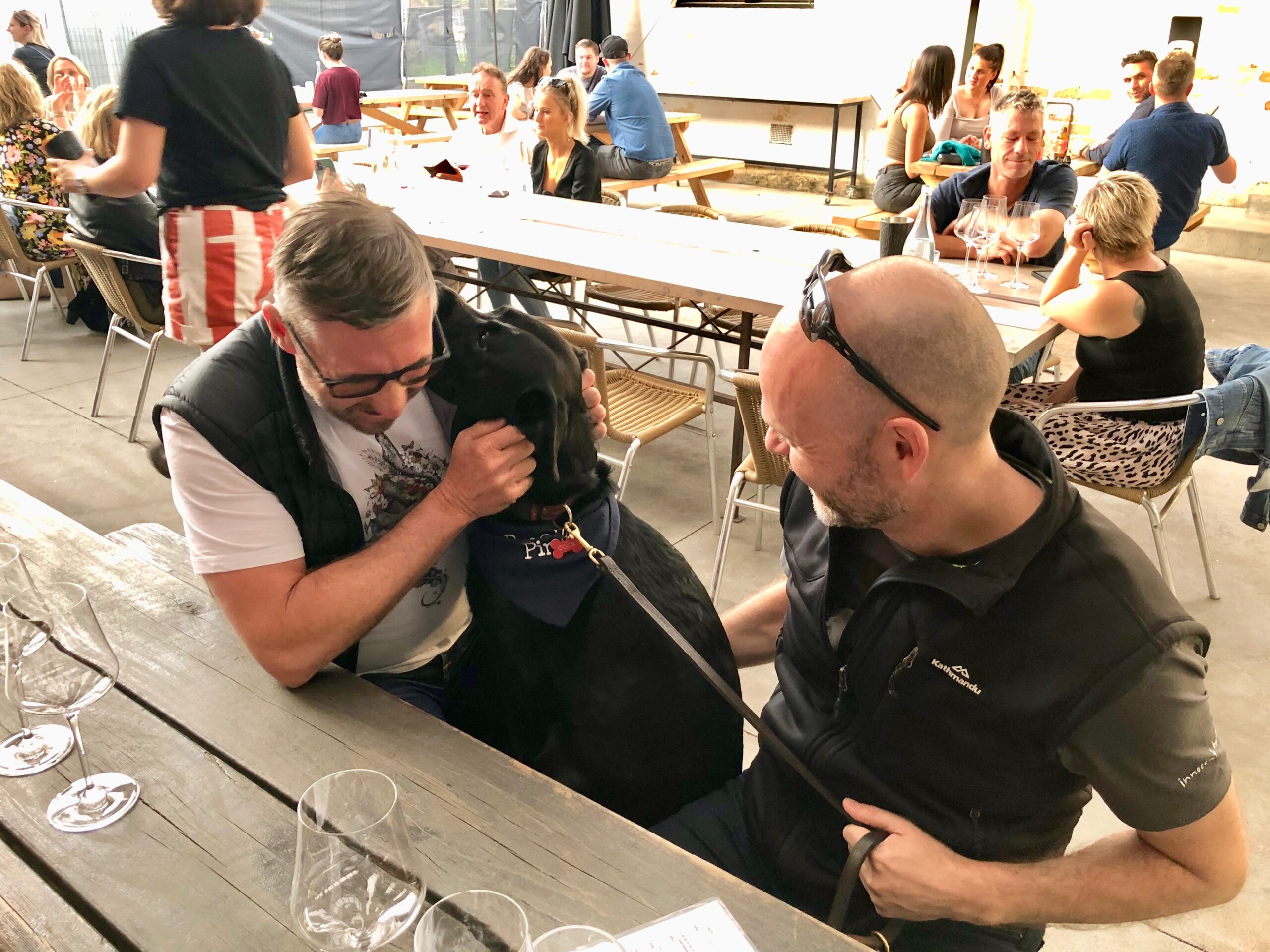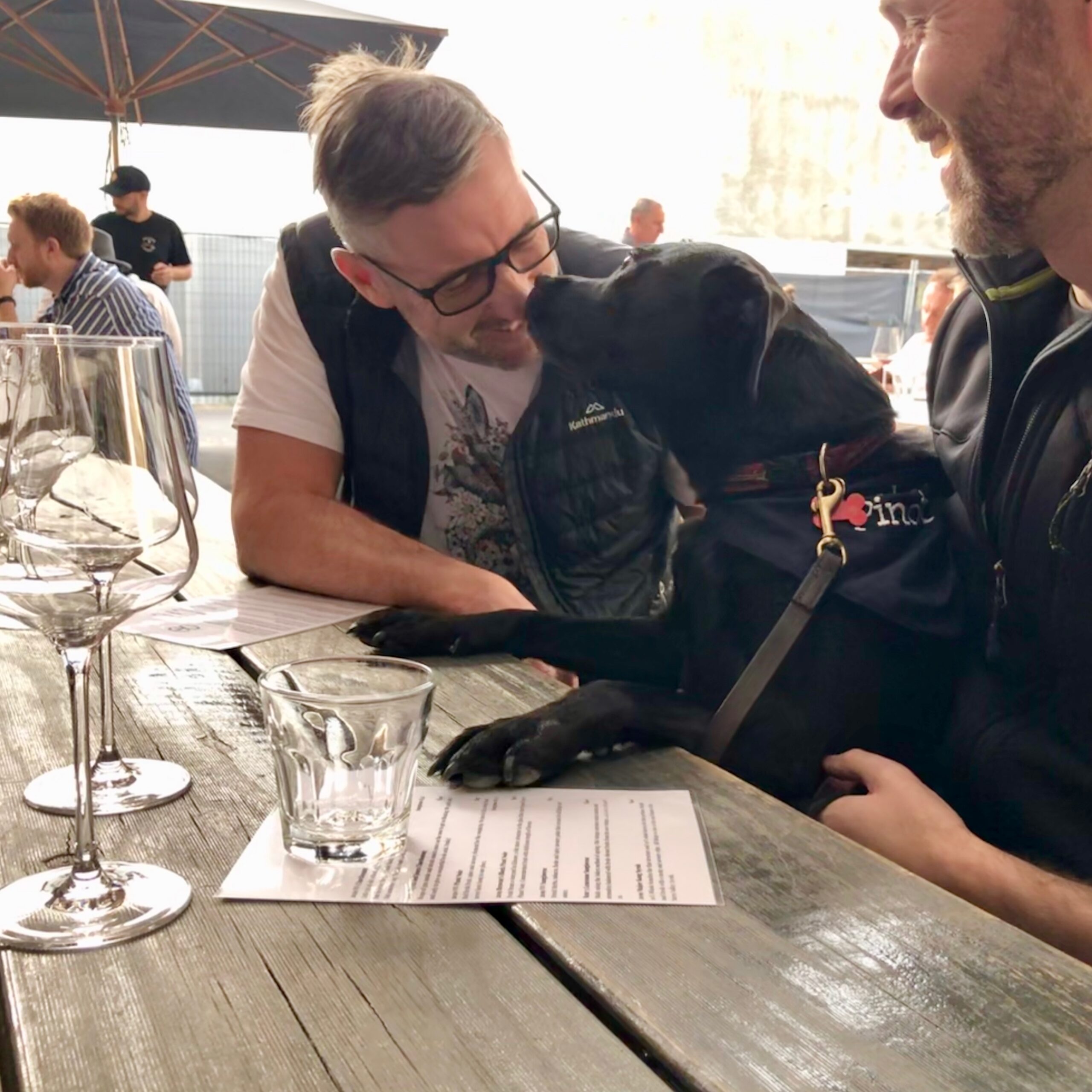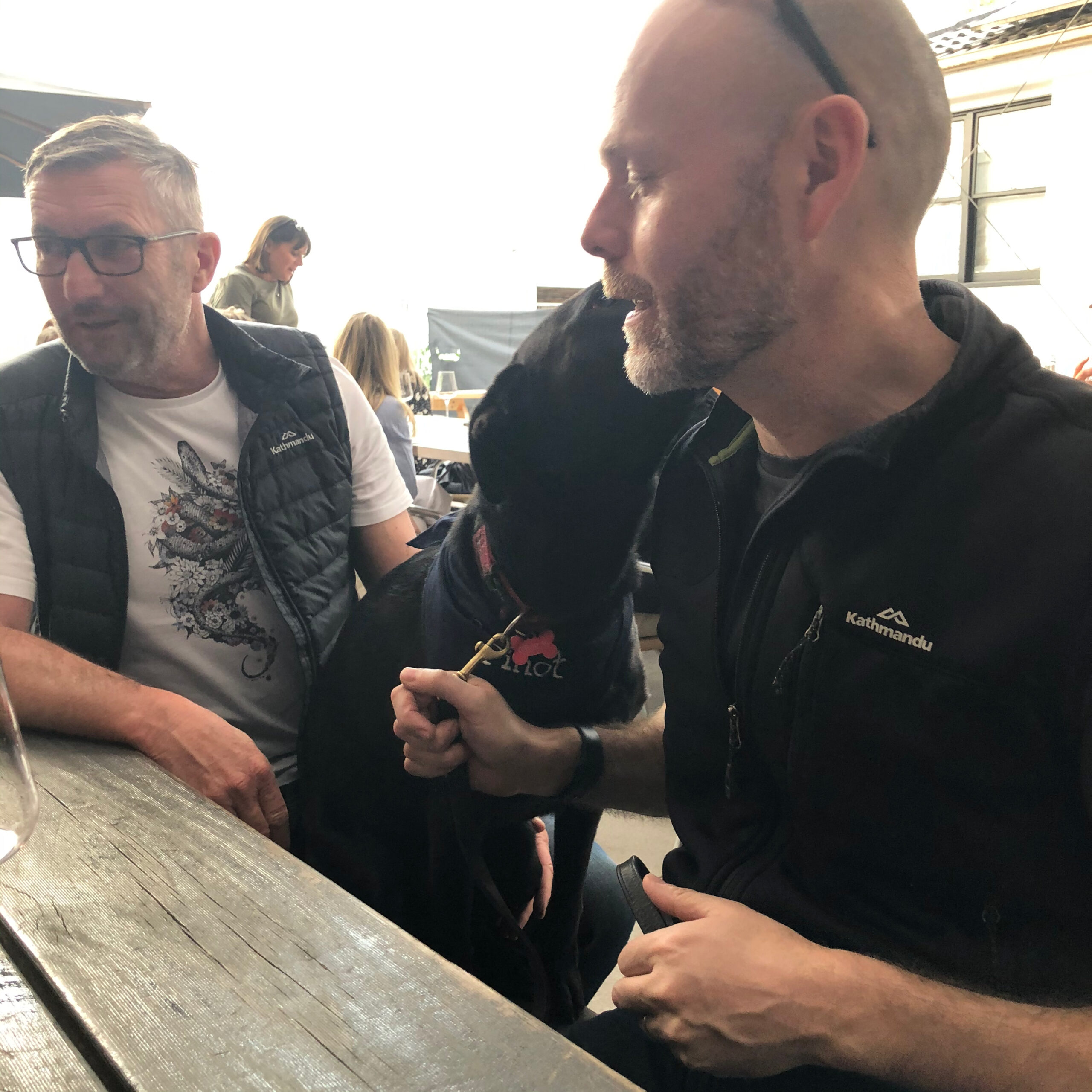 And then typically my Dad got a bit emotional back and did that thing with my ears which he does absentmindedly when he's been drinking and starts to get all soppy over me.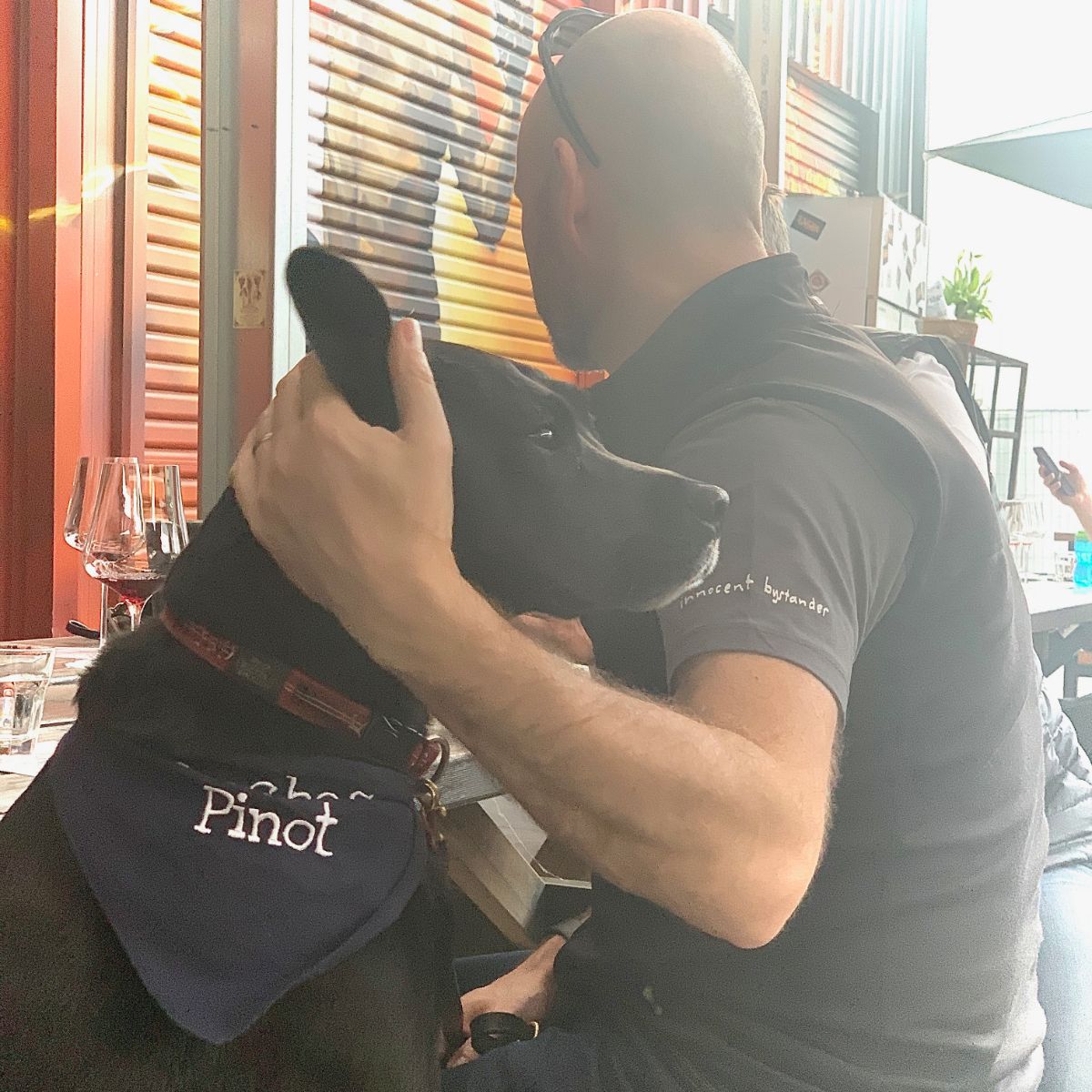 After our fabulous tasting, we bought wine (obvs) and then as we were leaving we bought oysters too from Banjo the Oyster Man in his van.  I was pretty tired by now as it had been a huge day and as I was trying to get back in the van for one final time, to head back to our accommodation, I was mobbed yet again in Payten & Jones' car park!  By fawning women.  People, the attention was unrelenting.  I'm quite looking forward to the anonymity of Singapore to be quite honest!!  With the occasional visit from Julie Andrews I hope.  Who, would you believe are already plotting their next Pooches & Pinot tour.  You can't blame them, I'll have emigrated so they'll need to seek out other fun, fabulous distractions.  They won't need wine for a while tho after this haul!!!  Here's me looking embarrassed for them!  Them, not so much!