Hey guys – Jackson the Dachshund here (say it fast enough it rhymes) and my parents Claire and Chris had a brilliant idea last minute to have a weekend away in the Yarra Valley.  I love weekends away, so donned my smartest tartan outfit, packed some cheese 'for later' and off we went – fortunately we only live about half an hour away, and it's SO relaxing when you get away on a Saturday morning out to the valley and leave the traffic and noise behind.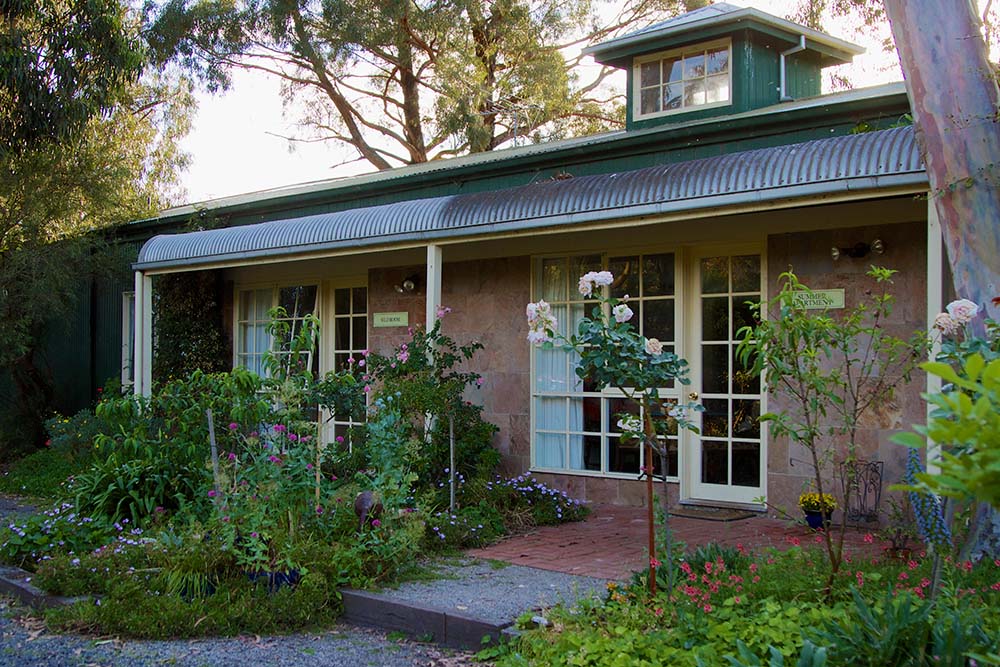 We checked into Holly Lane Mews a pet friendly B&B in Steels Creek which is just beautiful – it's a working thoroughbred farm (we're talking seriously large dachshunds people!) and you know you're on holiday when there are so many good smells for me, as kangaroos, wombats and wallabies all live here too, as do cool frogs and birds so the noises are 'holiday sounds' too.
My parents had cleverly organised with a nice man called Jeff who has a shiny white van, to come and get us all and take us to some brilliant cellar doors where I'm welcome.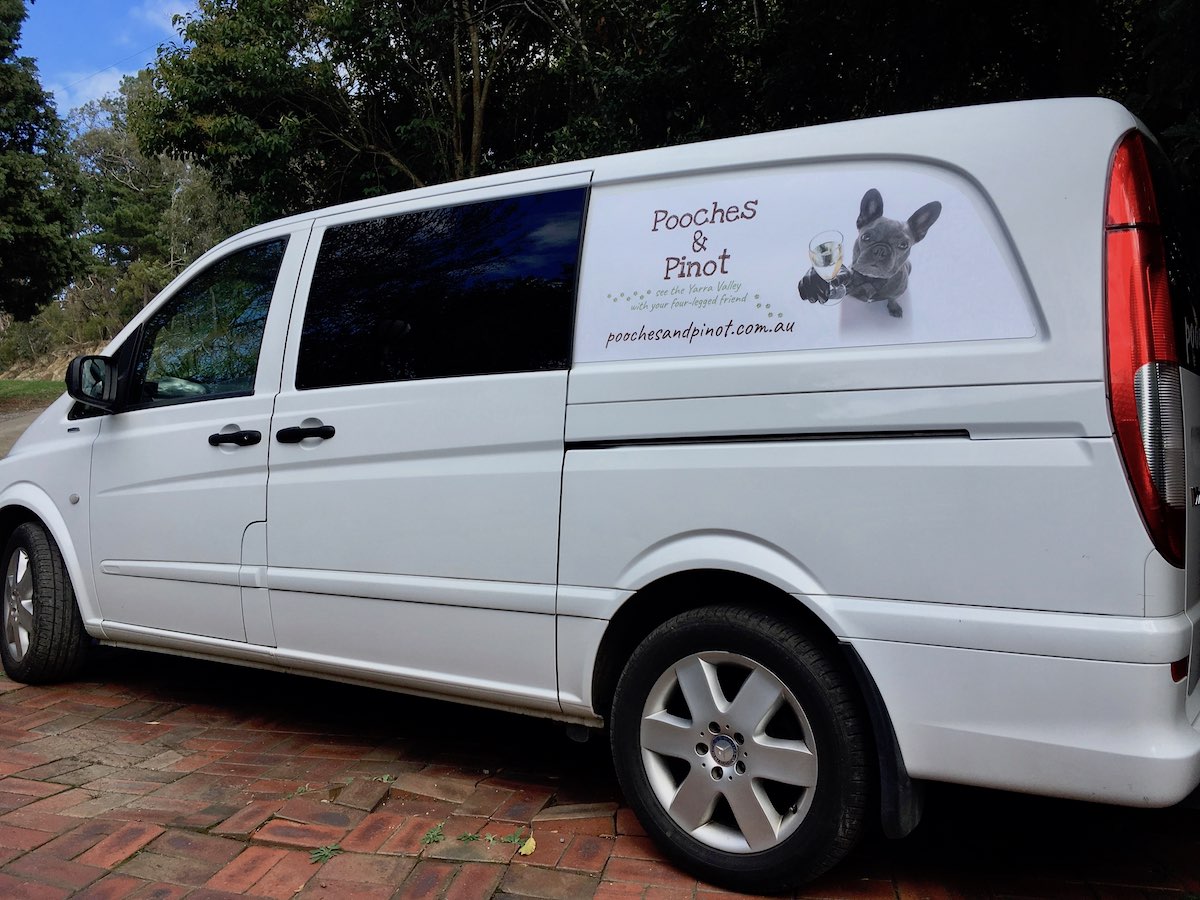 He took us first to Greenstone Winery where I was given a sofa to sit on, on a huge outdoor deck from which I had a terrific view over the vines and a lovely lady called Lyn came and gave us some of her wines to taste. Mum and Dad were particularly taken with their rose and shiraz and while I was running around sniffing everything I saw bags being carried out to the van that made clanging noises as though they had wine bottles in them.  I really liked Lyn, she's my new best human friend.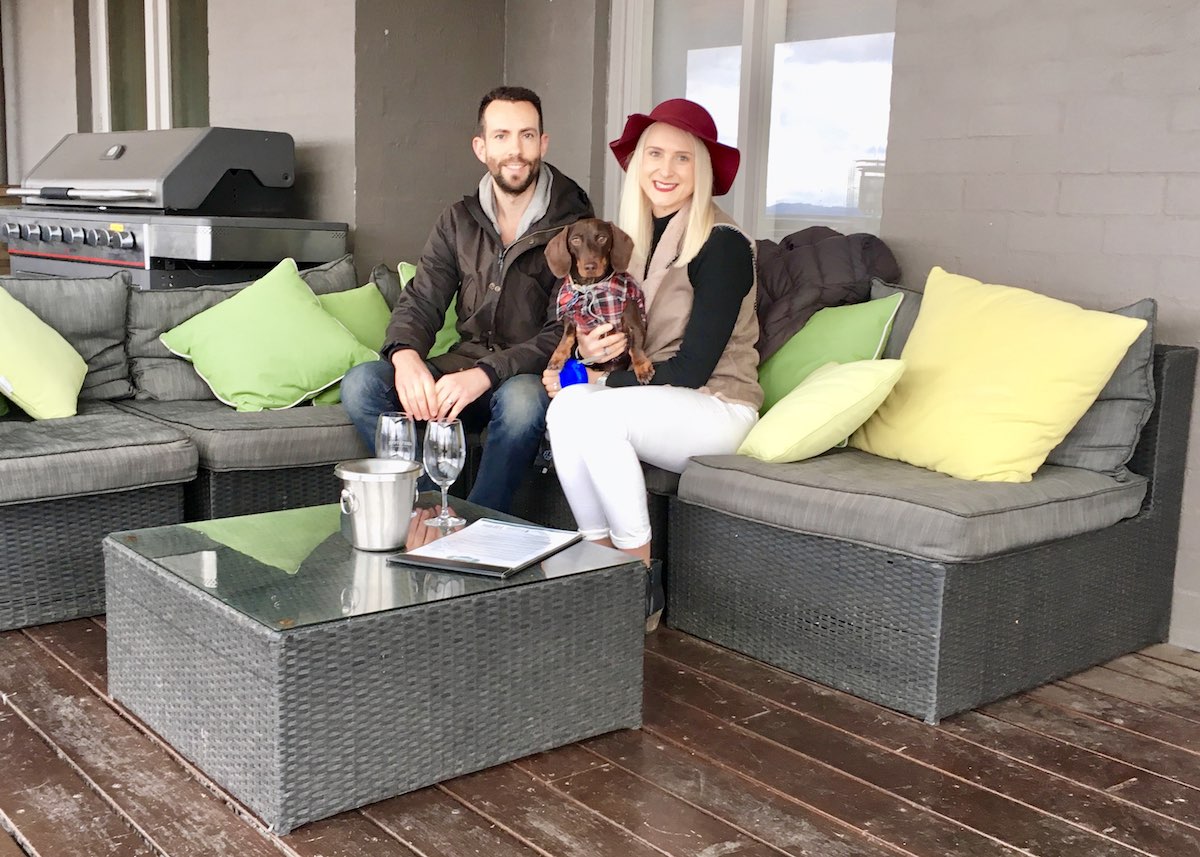 Here I am cracking yet another joke – I love making my Mum laugh.  Look at Dad trying to stay all serious and hold it together.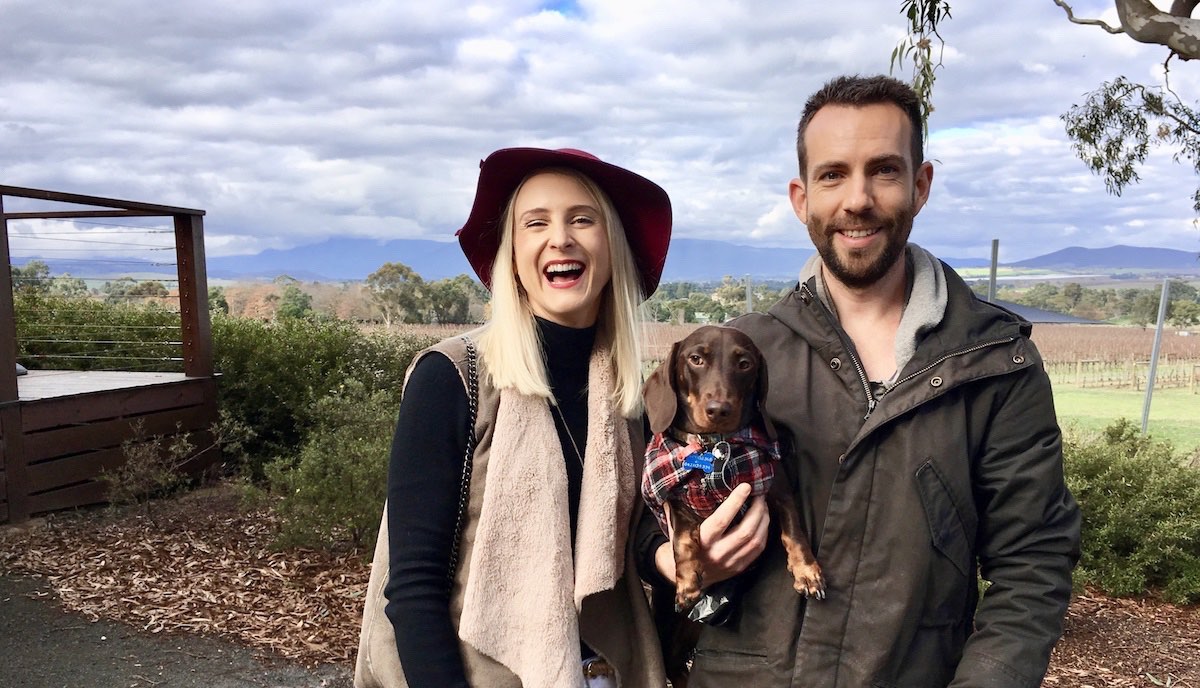 We hopped back in the van and I got to sit on the back seat in between Mum and Dad which is nice as I don't often get to do that.  Jeff did the driving, he was an ace driver and he drove us over to the Tap House where we got to sit outside in the sunny spot and Mum & Dad had fun tasting their ciders and beers while I hoovered up some fallen crab apples, so it was like I was having my own cider and I loved it but I may have had one apple too many.  I was just about to eat my 17th apple when Mum shouted at me 'Don't eat that' and a poor lady, who was innocently reaching for an apple on the tree, jumped back in alarm, thinking Mum meant her.  I rolled my eyes – this sort of thing is always happening to my Mum!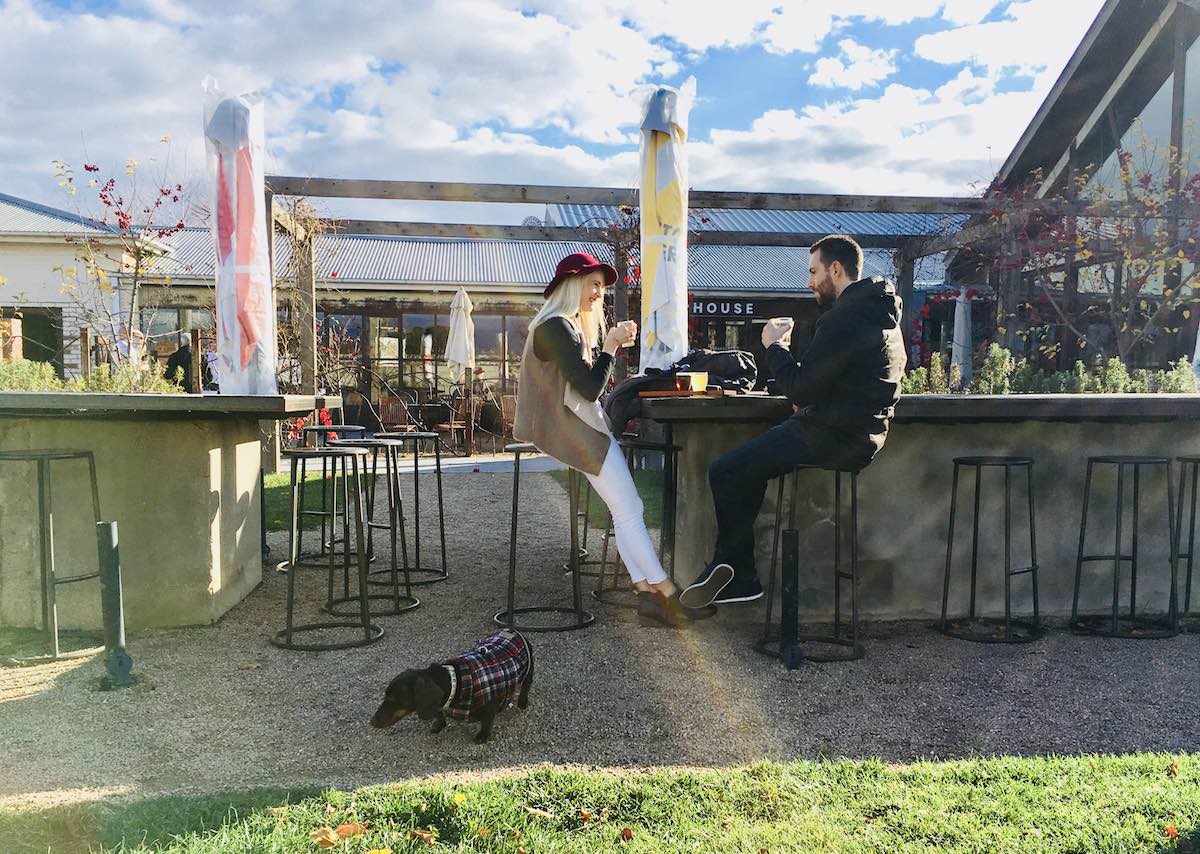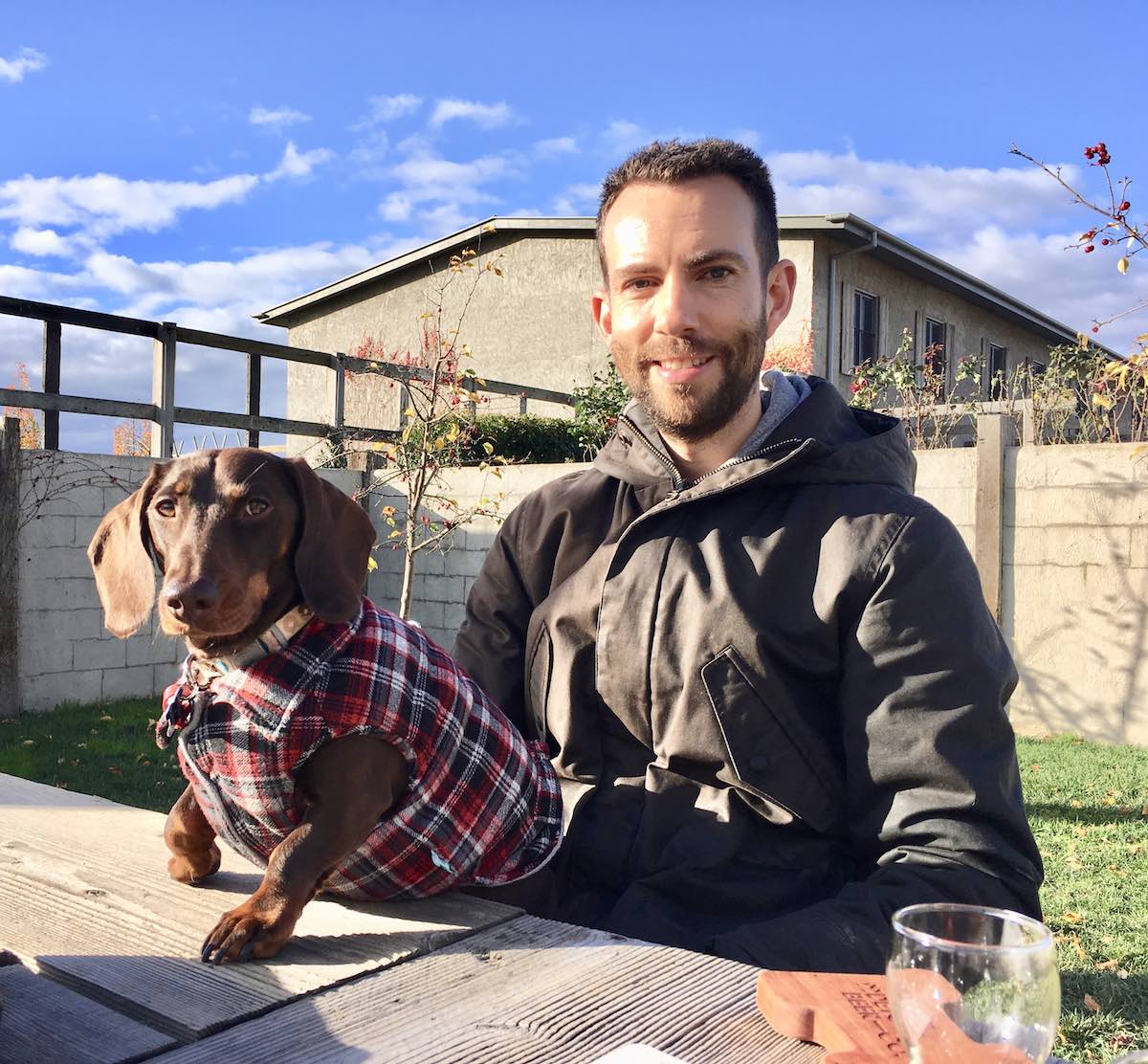 We then explored the Providore which is a shop with loads of things that Mum suddenly 'needed' to buy – I'm more of a sniffer than a shopper and anyway, nothing is stacked at my level so I can't really shop all that easily.  I made some new friends in there too so that was nice.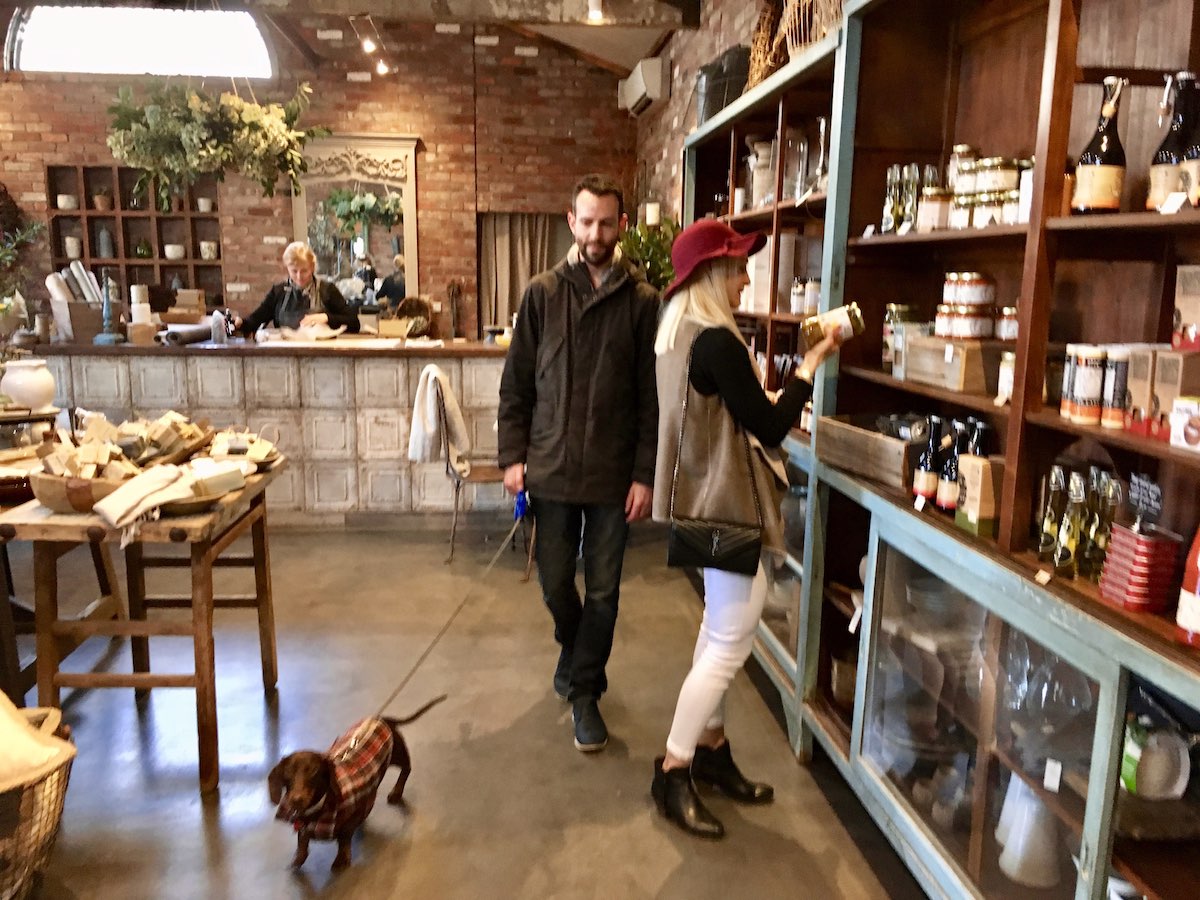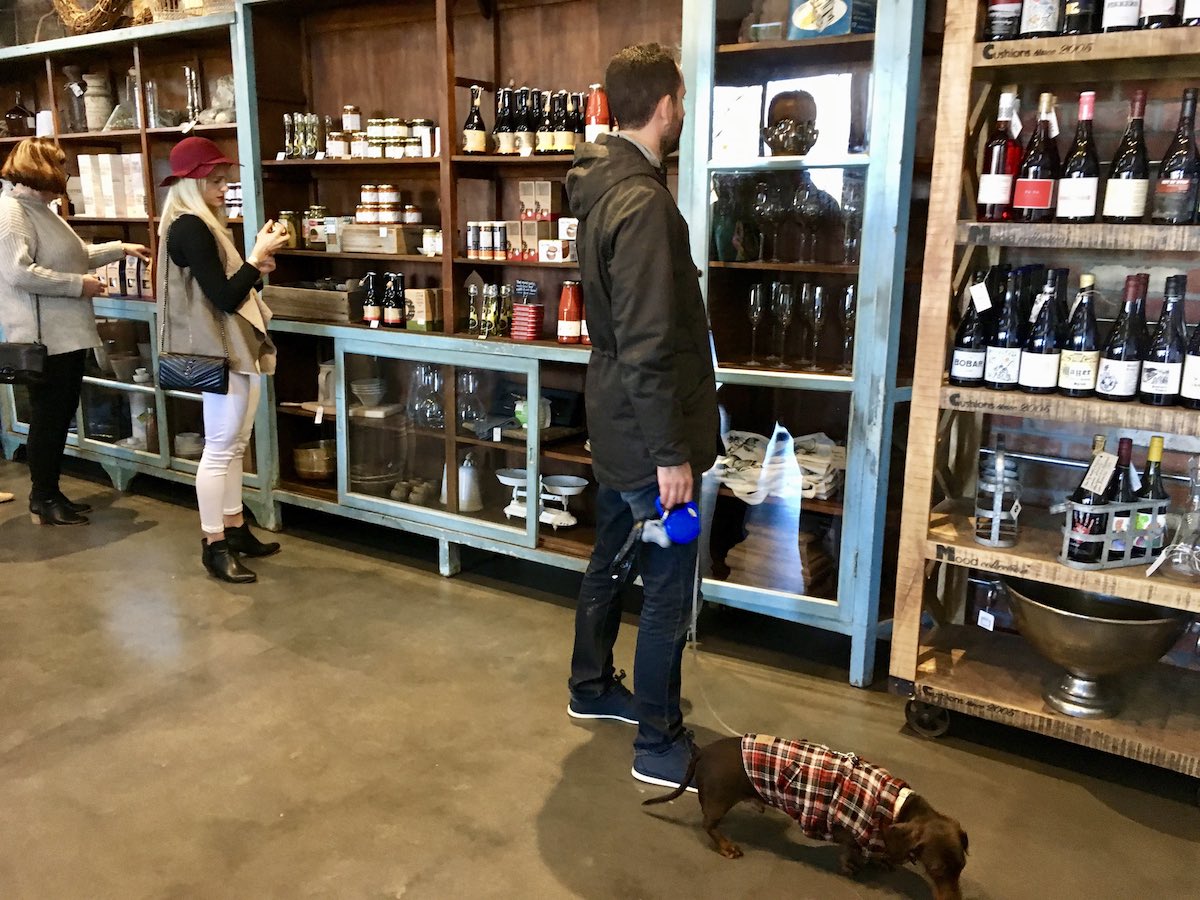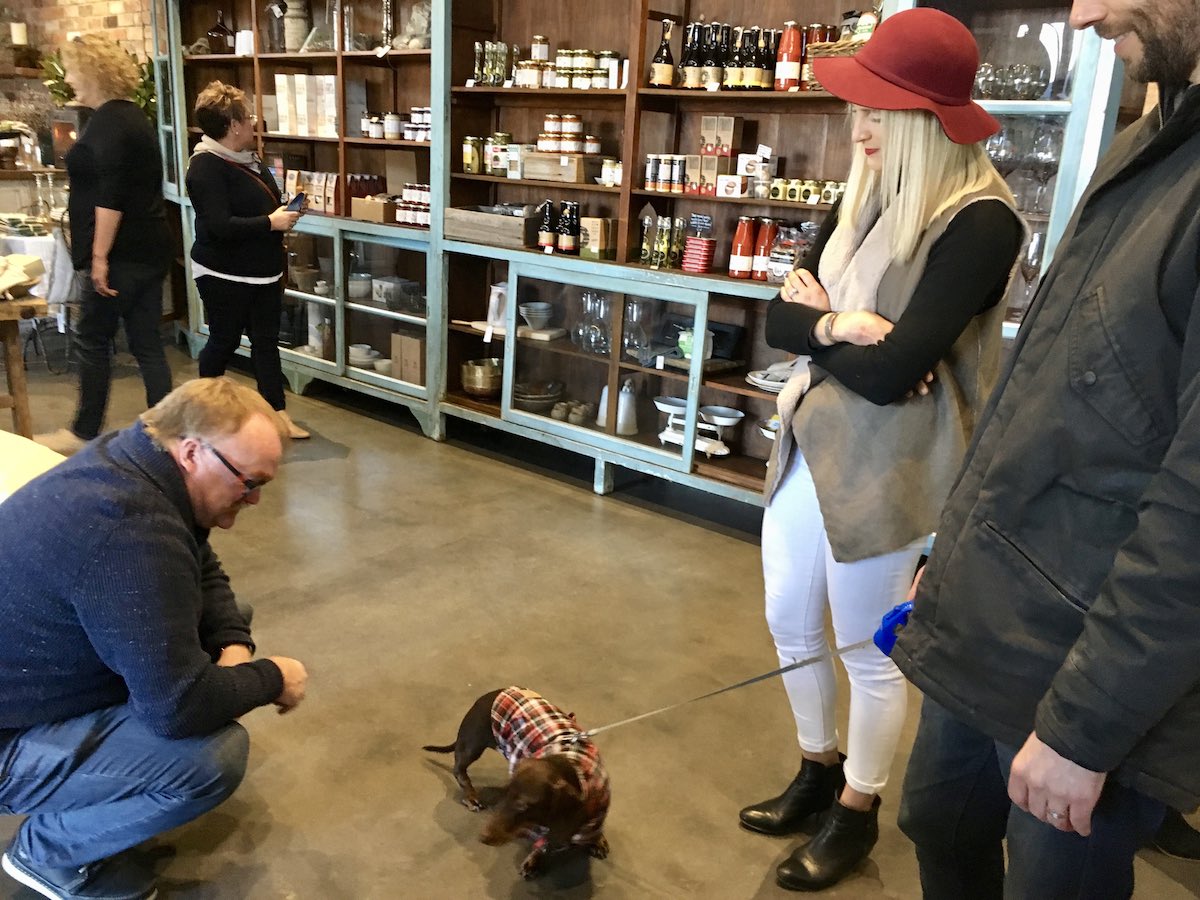 After another fun trip in the van we arrived at a cool cellar door called Maddens Rise where I met my next new best human friend of the day – Lovely Emma.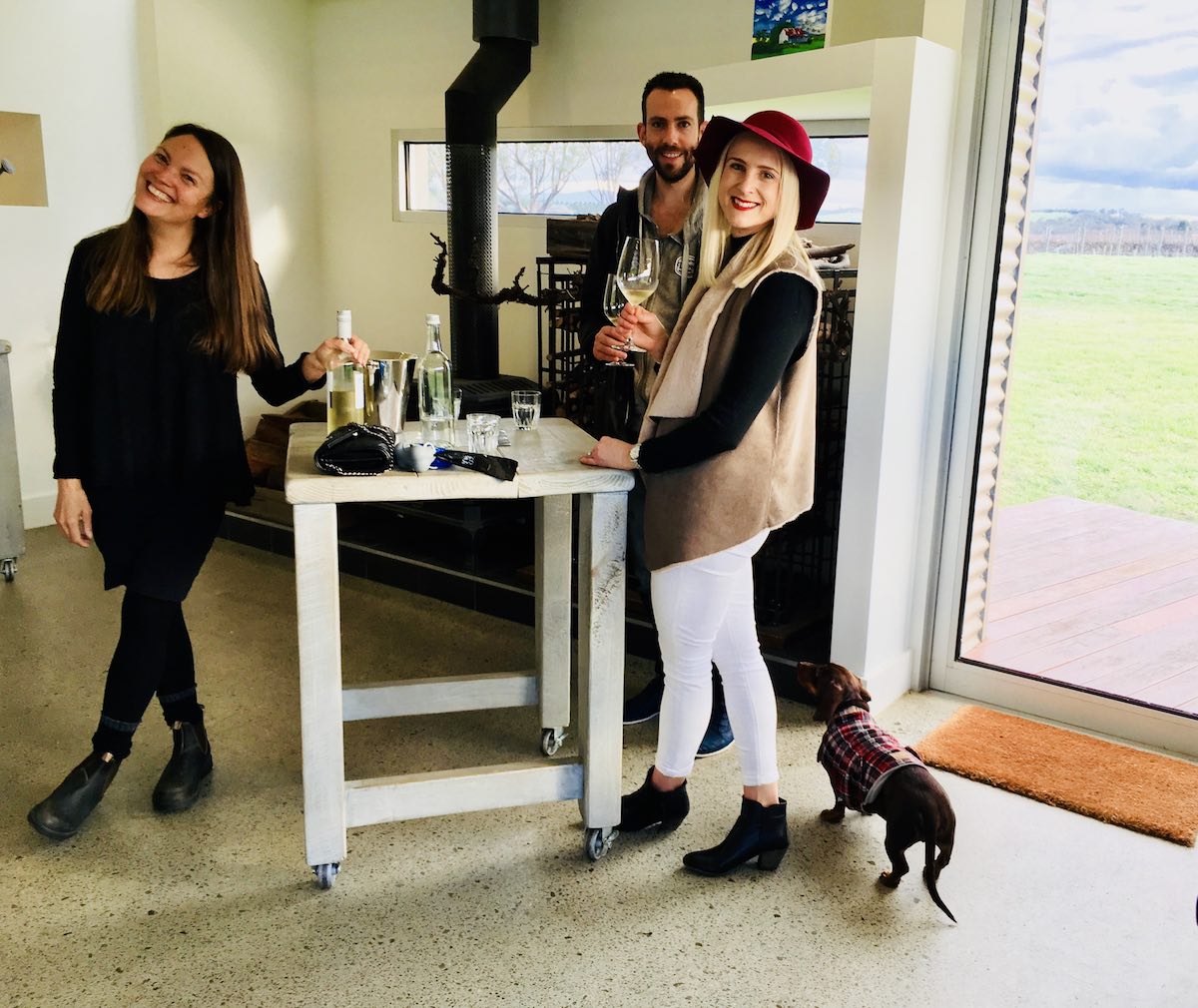 She was so kind to me and suddenly all the other female visitors at Maddens came and made a fuss of me (clearly I'm a chick magnet) and wanted to have their photos taken with me – there's a business opportunity here you know because I'm so tiny and sweet.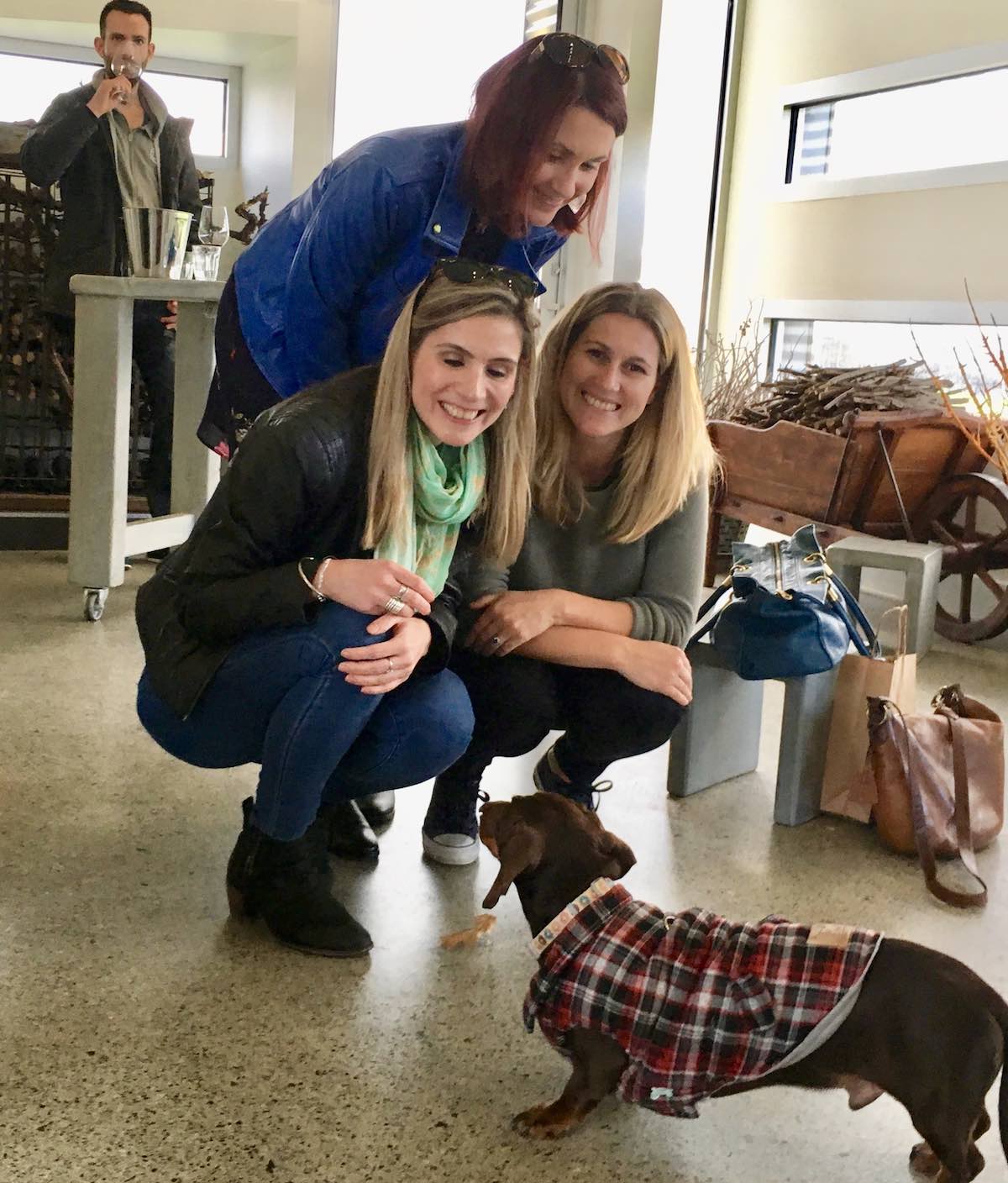 Jeff had some treats for me (good man) and I showed off my sitting and staying prowess and then charged across the cellar door to eat my treats.  There was a ticker tape parade and everyone cheered so I did a lap of honour (in my mind).
The wine rack was full of sticks that I could reach which was a thoughtful gesture – I went to choose one to chew and Mum laughed with her head back – I love making her laugh.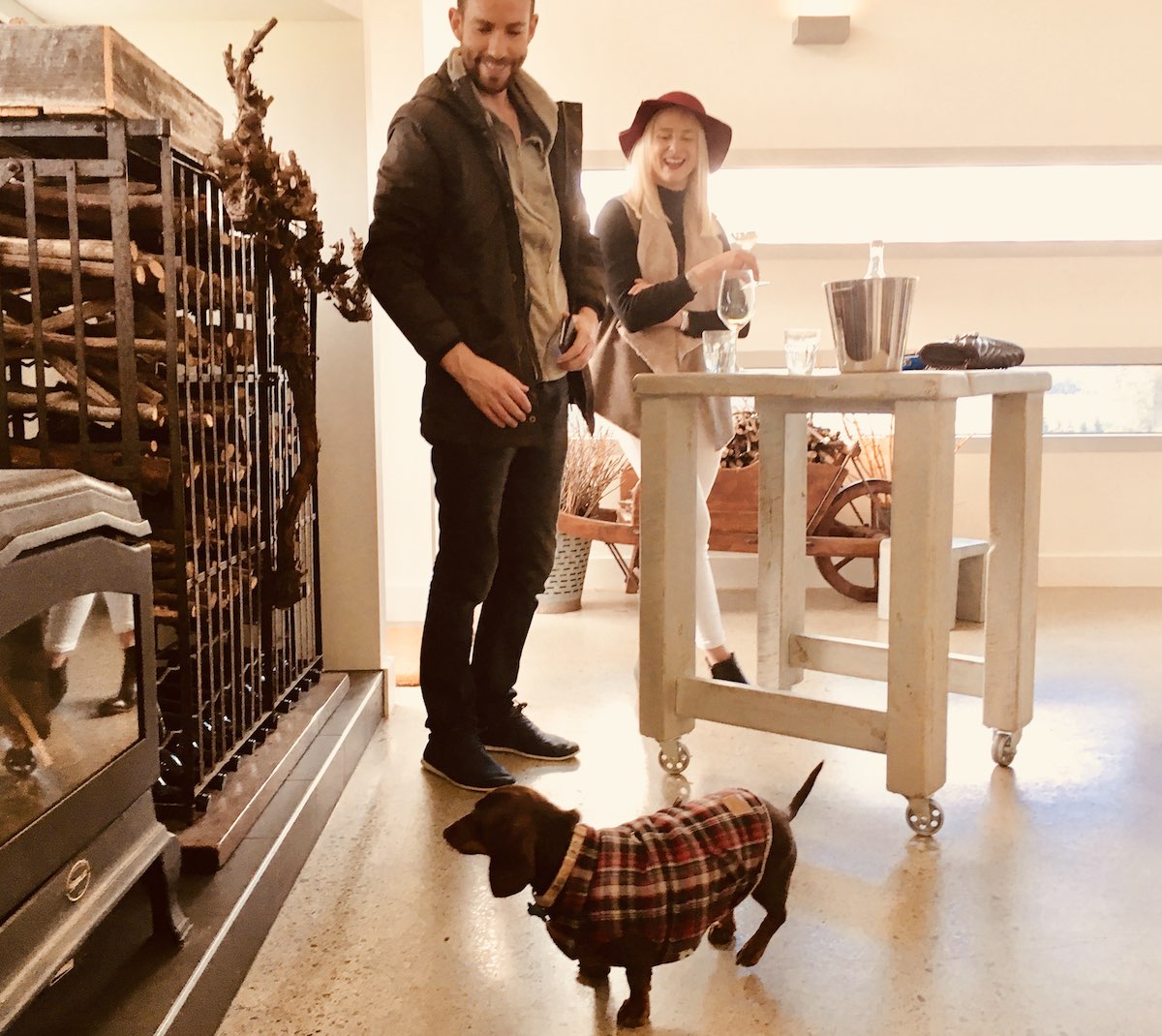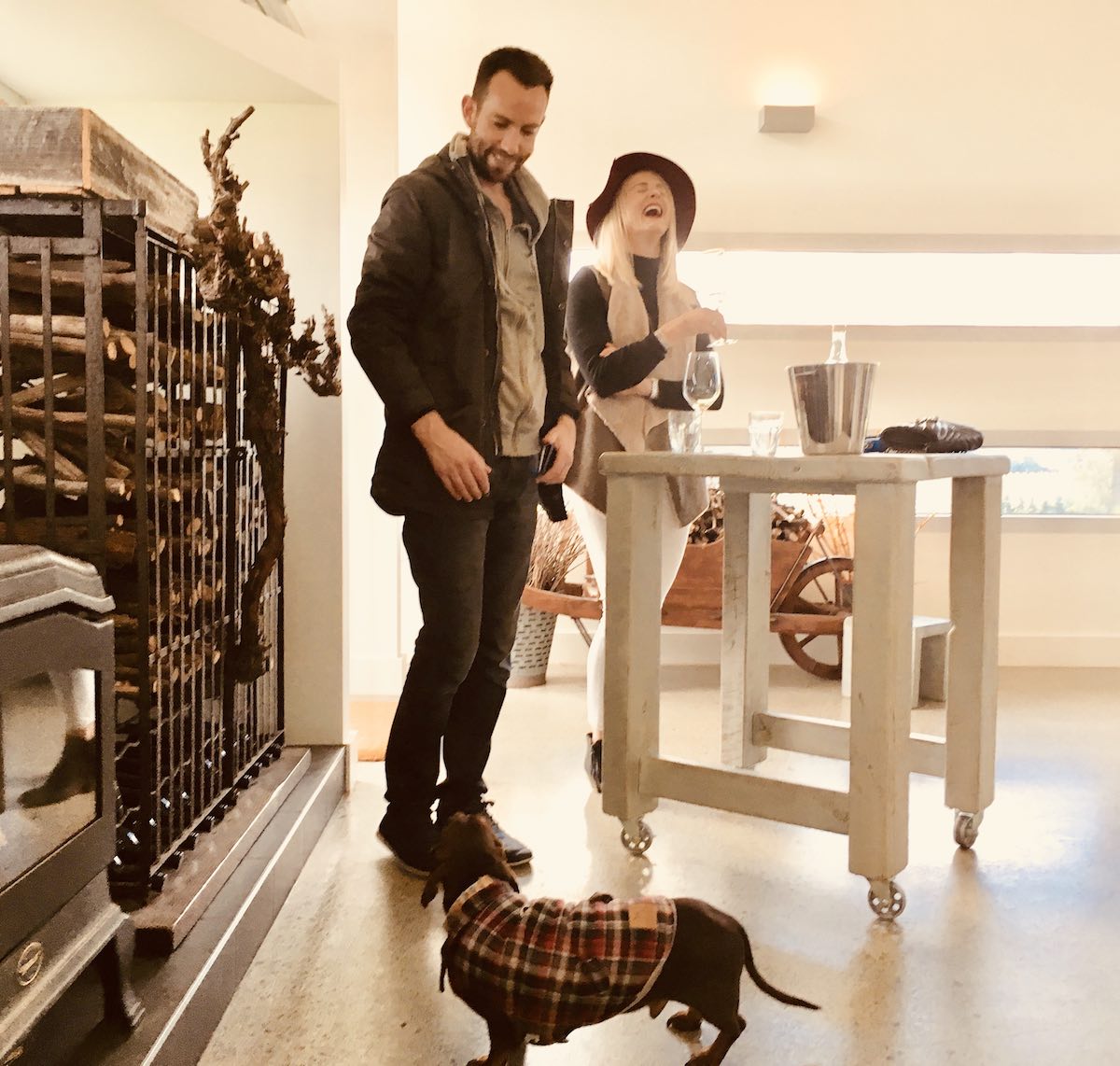 Throughout the tour Mum never could remember to hold the glass close enough to my snoot so I could actually have a try!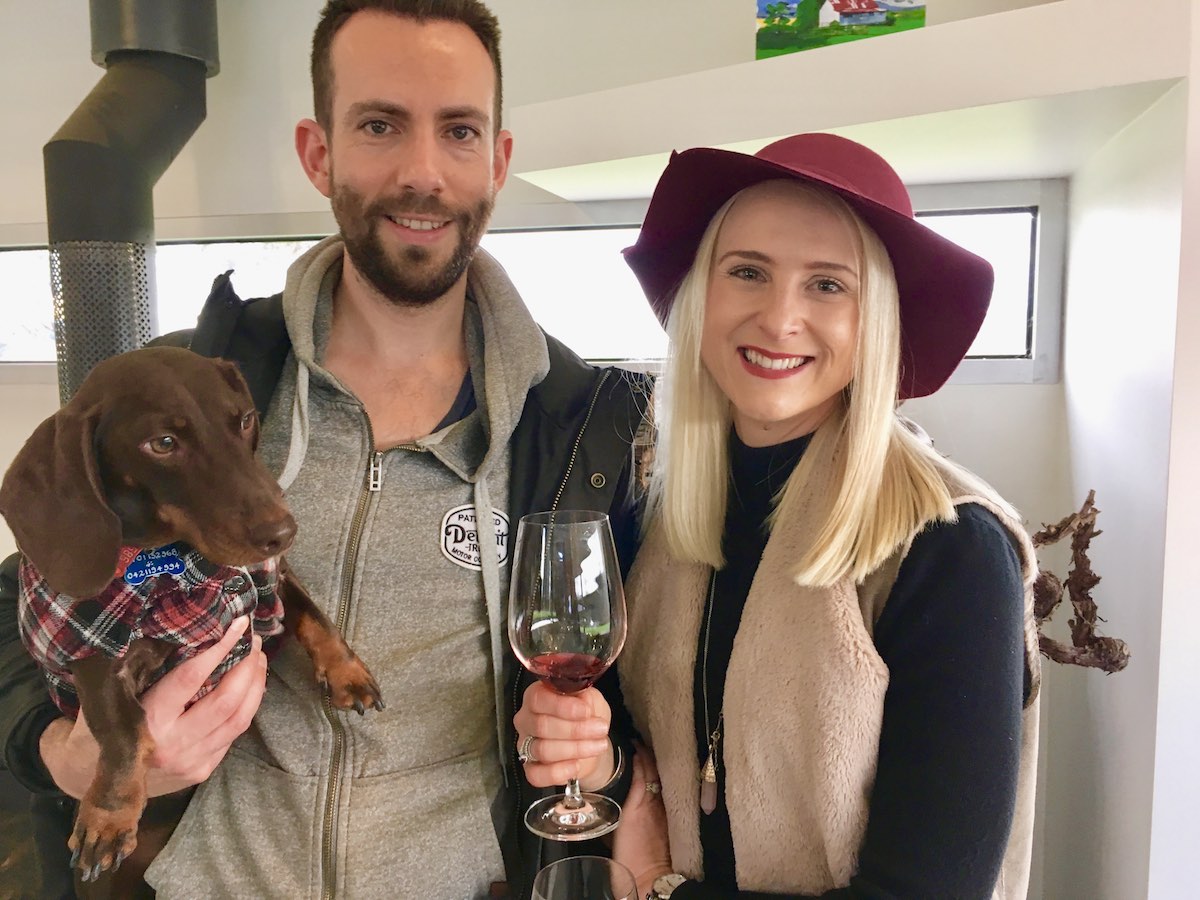 My Mum & Dad could have stayed at Maddens for the rest of the day they loved Emma so much, but after buying more bottles of that wine stuff, we clambered back on board the van (which is a super shiny clean and comfy Mercedes – Jeff said I should mention that in my blog) and Jeff drove us into a town called Healesville to meet another new best human friend at Payten & Jones, Emanuelle.
She loved me on first sight (she's French, I'm German it's clearly a Euro thing) and her cellar door was funky and fun and it had a club vibe to it.  It was super busy in there and my parents were happy trying more wines and I could sense that Jeff needed a walk so I suggested he and I take some air.  I LOVED it, there was so much to see and sniff and hear and take in, what a happening place Healesville is when you're inches off the ground.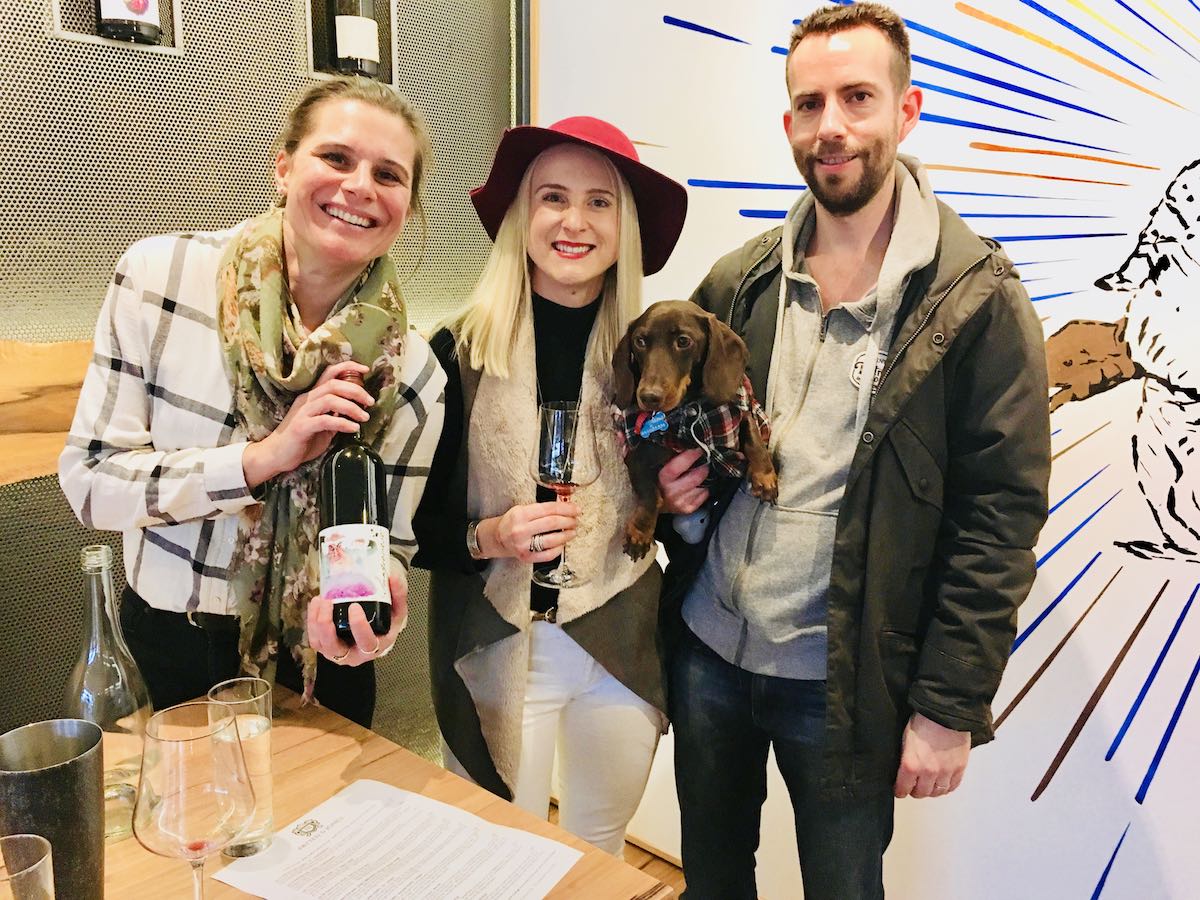 We found my parents back in the cellar door who were busy buying smarty pants 'Leuconoe' Sangiovese and Jeff shouted them a bottle of the Syrah they'd enjoyed during their tasting, so they can drink it all later tonight with me, their favourite person, and some cheese.  We couldn't believe it, but it was nearly time for the sun to go down and for us to finish our tour and head back to our accommodation, so Jeff drove us back towards Yarra Glen just as the sun was setting which was a beautiful end to our pawfect day.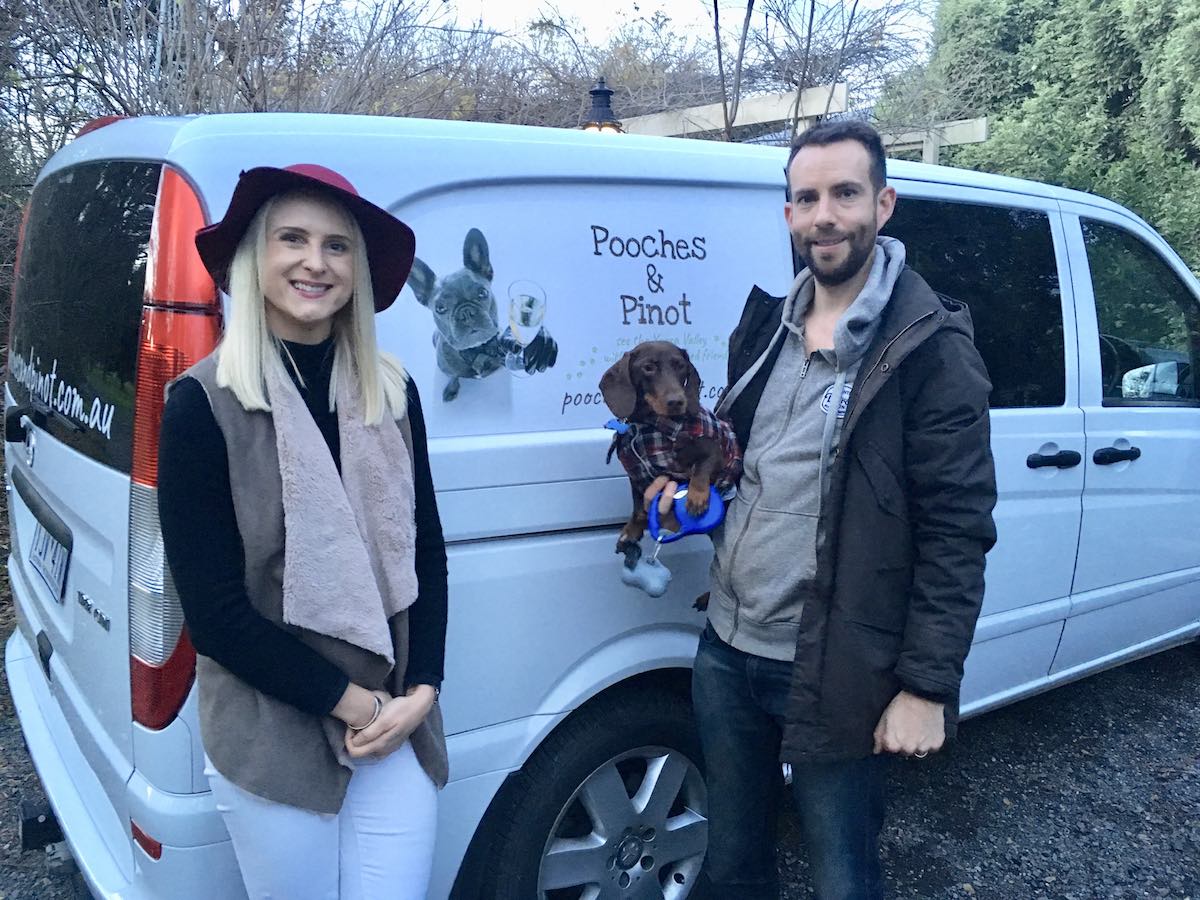 It was a great relaxing day out for us all, no-one had to drive (which I was relieved about as I find it very tiring) and my folks got to go to loads of wineries they didn't know about, where I could come in with them which was ace and Jeff did all the bookings and planning for us – he's such a nice man, I think we'll do it again next time we come to stay.