Hi there folks, I'm Chippy, I hope you can hear me OK, only, I'm a bit senior (15 in fact) which is a pretty good innings for a doggo – 105 years of age in human years if you will!  And damn straight, you betcha, I AM looking pretty amazing for such an old gent.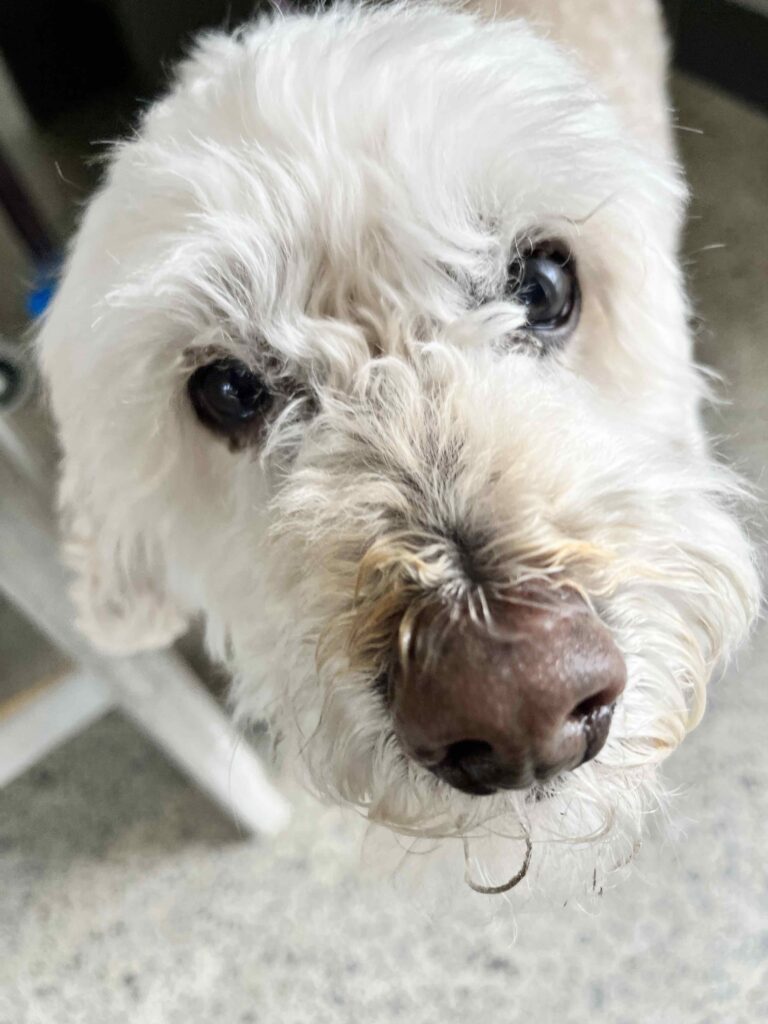 Before I tell you about my amazing day out as a R O C K  G O D, I have to let you know some seriously sad news – my pawrents (I know and you thought I was old – I still have pawrents!!!) and I have had a pretty tough last month, as we lost my brother Peanut to a stroke.  We were all there, it was traumatic and I am still coming to terms with his gone-ness.  He was my best friend, and we were a pack of 4, and now we're down to 3 and it's hard I won't pretend otherwise.  BUT…the great thing to come out of this tragedy is that my pawrents (Ben & Kelly to you) have decided to spoil me in E V E R Y conceivable way they can and suddenly I'm getting up to all kinds of adventures.  AND – I just overheard them telling someone, I'm getting a new puppy to play with – called Pumpkin.  So things are looking up!!
So – B&K (my paws find it tiring to type, you don't mind if I abbreviate, do you?) booked us all a thing called a 'private wine tour' to a place far far away called the Yarra Valley.  Now, I'm no stranger to colossal road trips – seriously, friends, I've driven (well, not literally, I have no opposable thumb, it wouldn't have been safe, I let them drive) all the way from Cairns to Melbourne.  So, the Yarra Valley being an hour from home, wasn't exactly hard!
So, it's Saturday morning and I know something's up bcs my lead is on the table – we all know it doesn't live on the table, but before I can work out why, suddenly the doorbell goes and this lady called Helen is standing here grinning (bless her) trying not to stare at me, and clutching a bottle of Champagne for K (how she knew she's a total lush I'll never know, but K sure does like her bubbles!)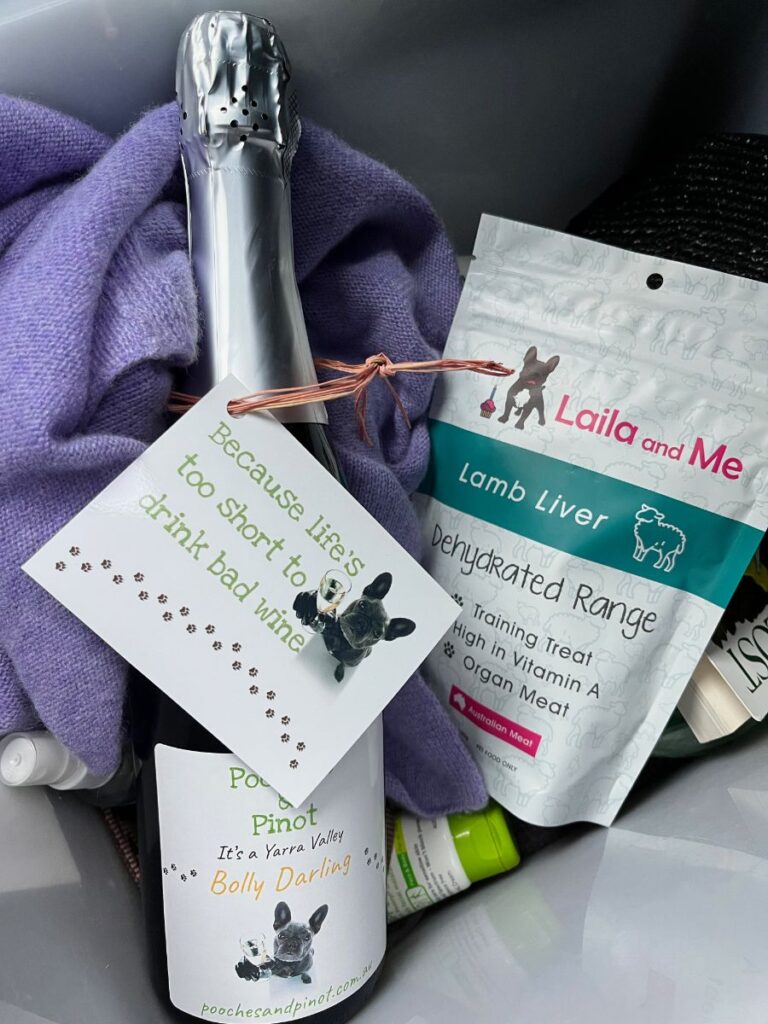 and she suggests we get into her van where apparently we're going to live for the day (odd, but OK!) and GUESS WHAT I SMELL the second I clamber in?  B A C O N.  I kid you not, I love the stuff and there's a box of it, right there at nose height, with (wait for it) my flipping name on it, FGS!  I start hyperventilating naturally with excitement and K thinks I'm anxious about being in the van – no way Jose, I'm wantin that bacon – all of it, at once!  It's a pretty good start to my day let me tell you.  And it's crispy too – maaaan, just the way I like it.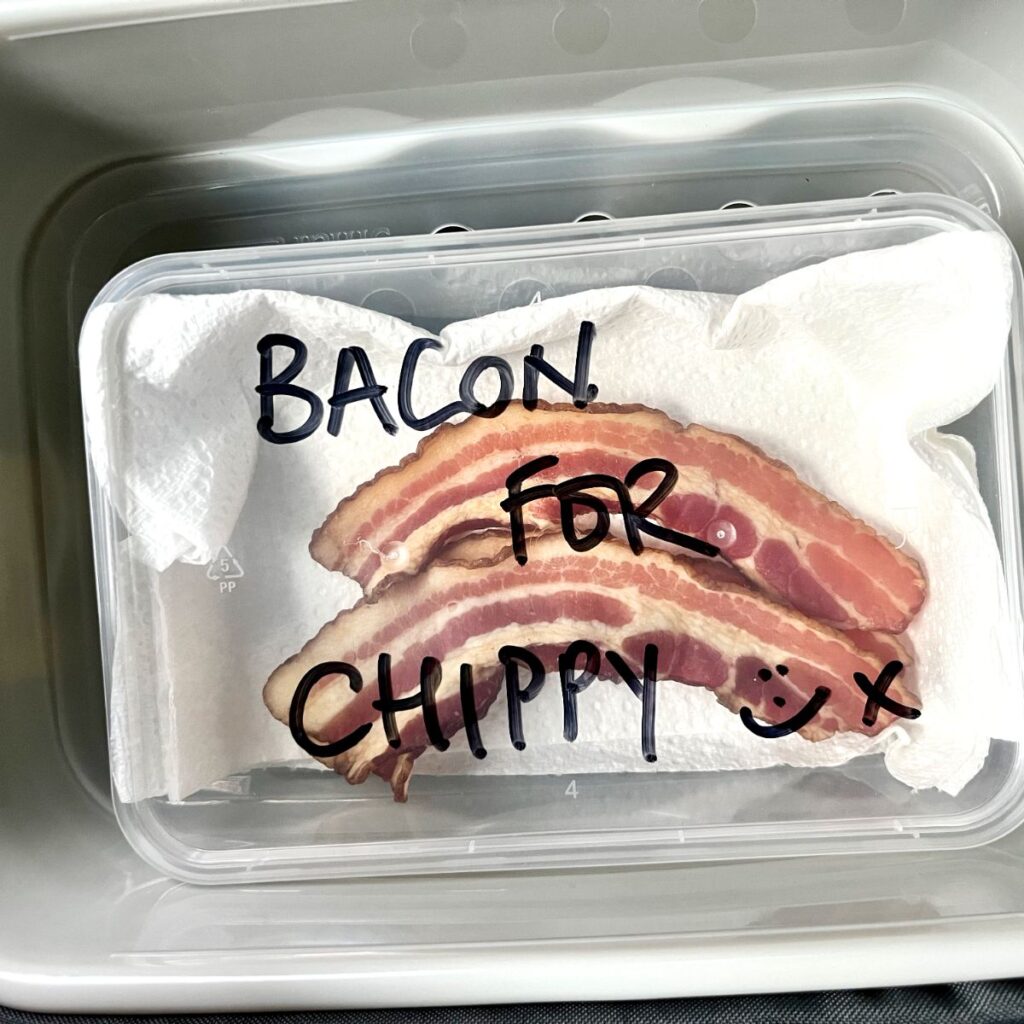 So, there's loads of chatter by all the humans all the way to a place called Rob Dolan and when the door opens, I leap out of the van (sometimes I just like leaping and it's kinda fun because it totally freaks out the humans) and I set off to investigate and Jeez the place is H U G E; there's a fountain I want to jump in, there's a lawn I could play on (I pee instead, on command, I'm exceedingly well trained) and a verandah to run up and down and then hang on a sec, we're invited I N S I D E and I can smell C R O I S S A N T S.  I'm drooling into my beard, I don't know where to look first – there's a wall of coloured water the humans call wine (yum),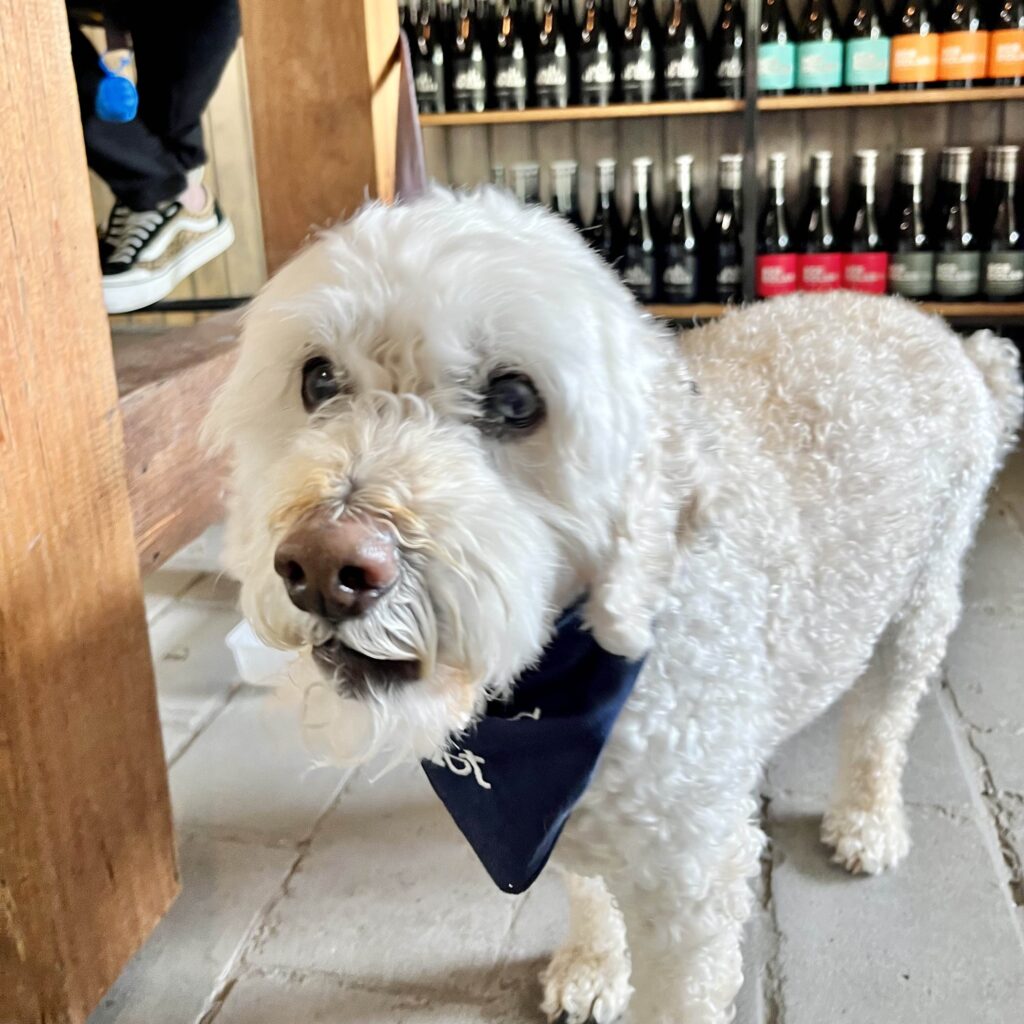 a table full of freshly baked pastries (let me at em)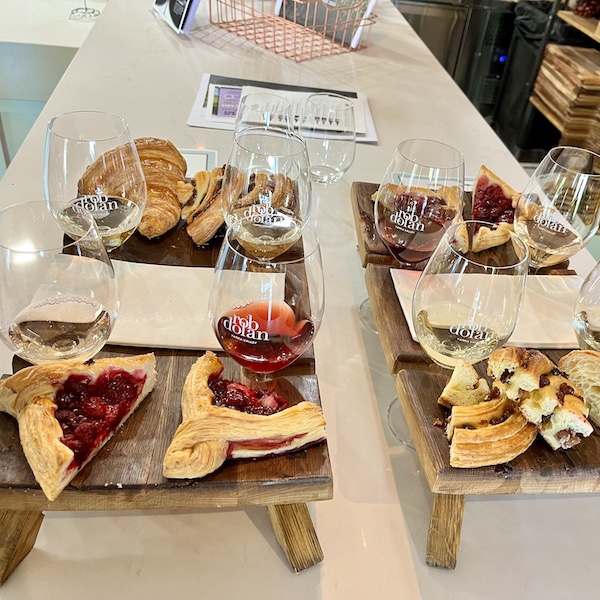 and the lady Helen has a giant pocket full of Laila & Me liver treats.  I'm shaking my head in disbelief; I'm insanely happy.  There I am thinking I might marry her she's so great – when suddenly – she treads on me and just like that, I reconsider that proposal and decide bachelorhood is just fine.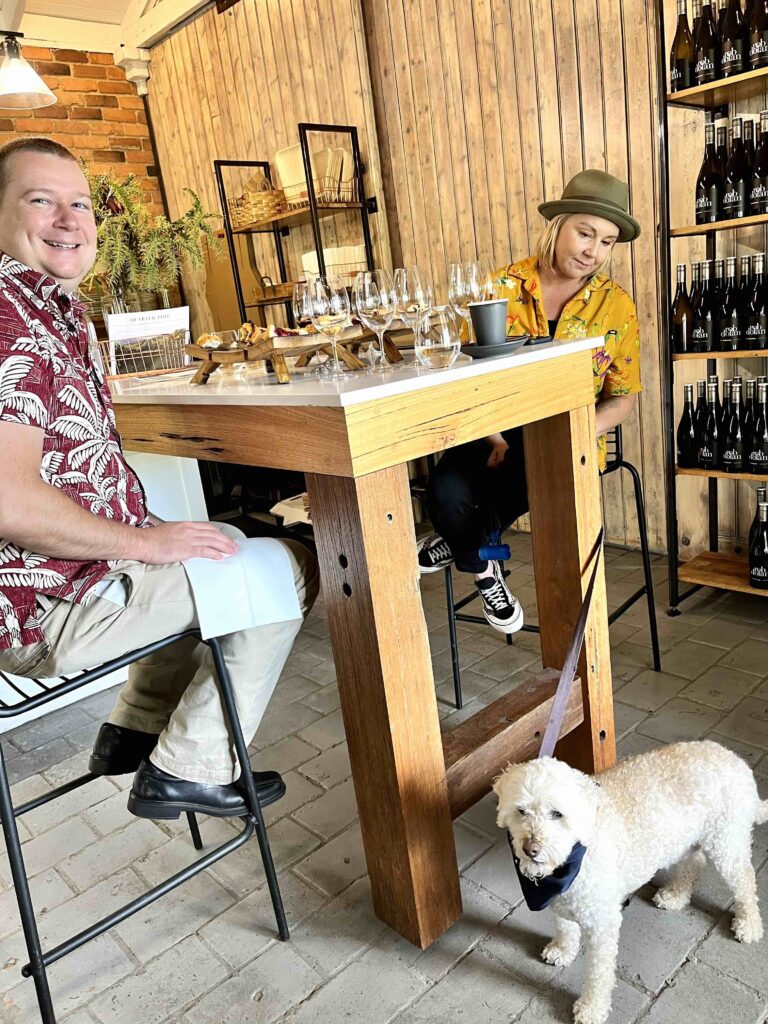 K&B munch their way through 4 pastries each (you bet I'm counting!) and drink coloured water called wine with each one while I explore – I sniff everything, and then I set off behind the counter to see the staff and I'm instantly offered a job.  Cool!  No-one knows what I'm going to be doing here, but I feel rather proud to be a Rob Dolan employee, without even so much as an interview!!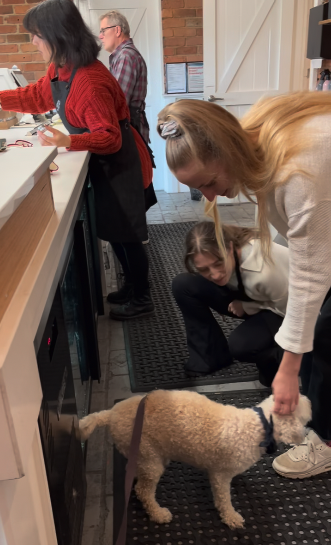 B sneaks in an extra tasting of the coloured water while K isn't looking (she can't see him from the loo) and then they buy bags of the stuff called wine and we head back off on our adventure in the van.  Where I get more bacon.  God, I love this van.  Oh – and here's me with my pawrents; that's K rocking the hat and Dad, rocking his shirt, hatless.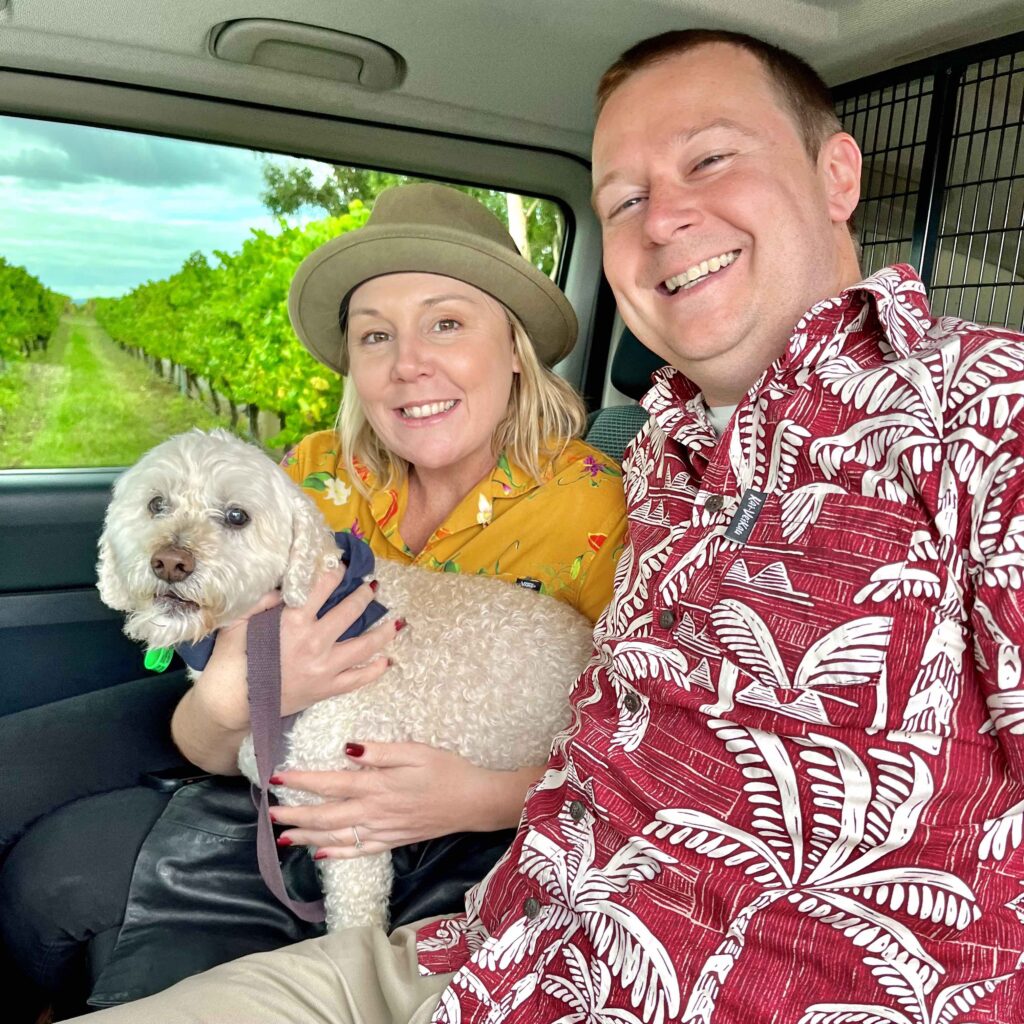 At our next stop, called Mandala Wines, we are immediately seated in the VIP area (they saw instantly we were Rock Gods I guess?)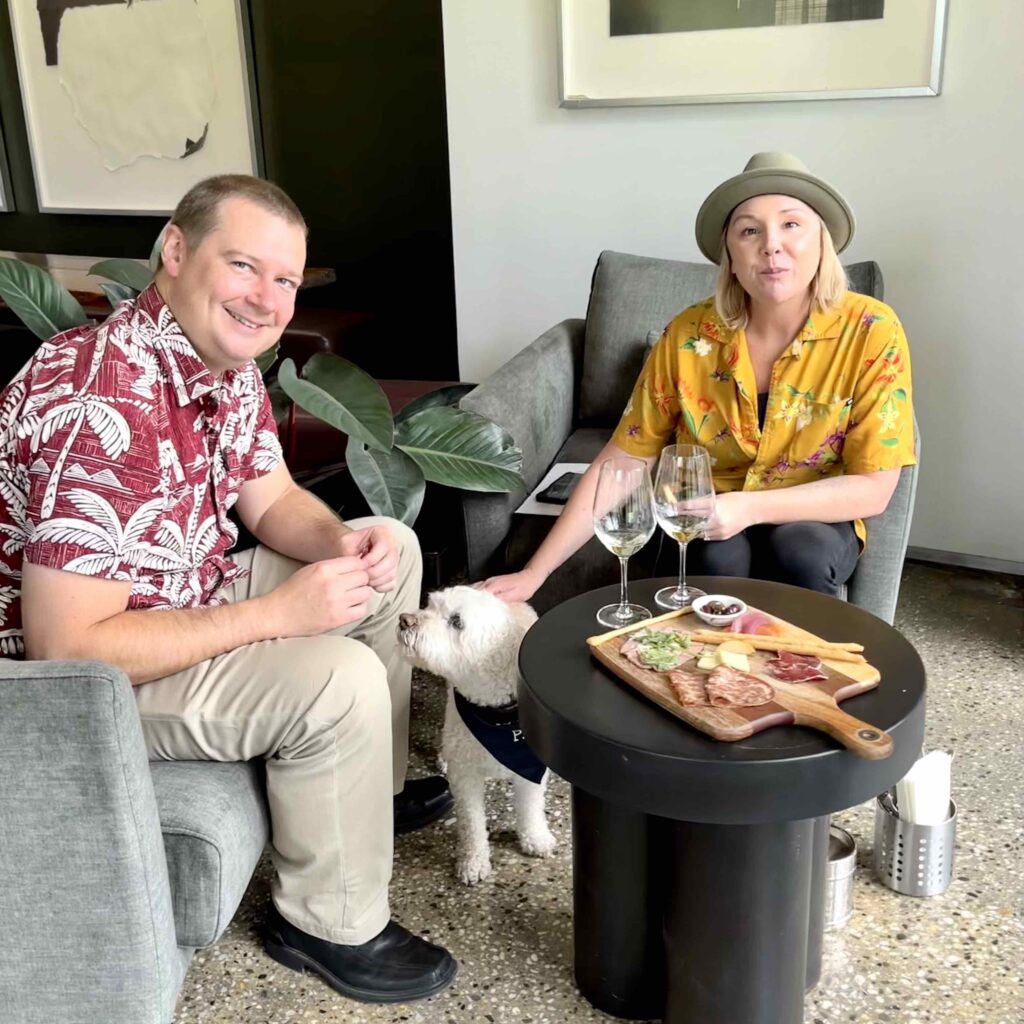 and a man called Rob comes over with a board of all my favourite charcuterie, which I smelt the minute we walked in the door.  It's made and I mean hand-made by Luca, the Italian chef at Di Vino restaurant at this winery.  Just the way I like charcuterie – none of that shop-bought nonsense!!!   The board is put down right at nose height and I am SO well behaved, I just sweetly watch B&K eat it.  All of it.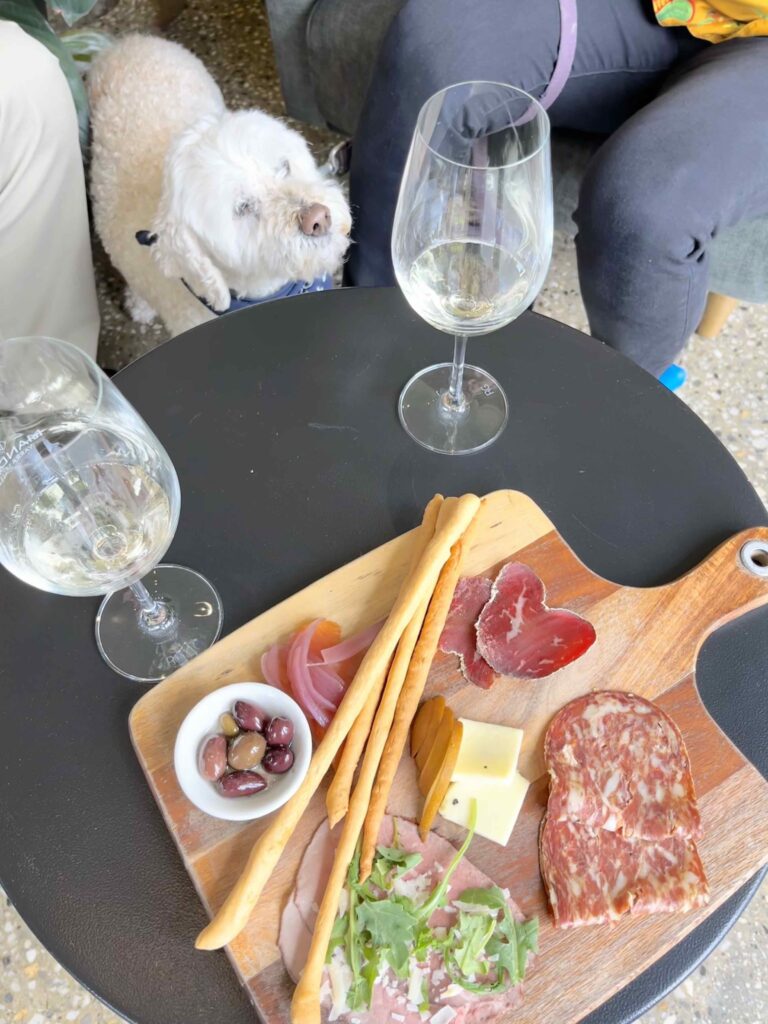 I'm offered the tiniest bit of cheese, so small I frankly can't see it with my fading sight, but shucks, I know I've got bacon in the van and the lady Helen's pocket full of treats AND an extra bag of brand new Laila & Me treats she's already promised me, so hey, I save myself!  Instead, I focus on drinking a lot of the Yarra Valley water I'm offered and I think it's great – why's no-one talking about this phenomenon I just don't know; I tell you what, it's a revelation!?
Look at this picture for self-control.  I've got it in spades!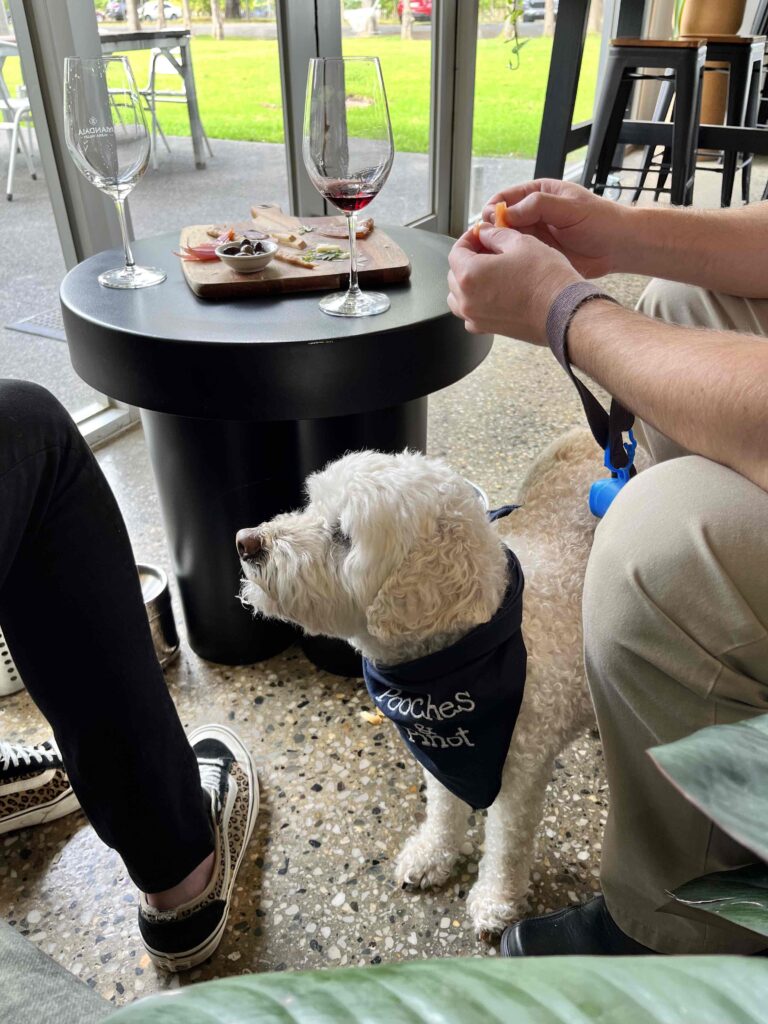 After K&B have eaten all the charcuterie (all of it) and I've wandered around and sniffed everything there is to be sniffed and made Rob (the man pouring the coloured water called wine) fall in love with me,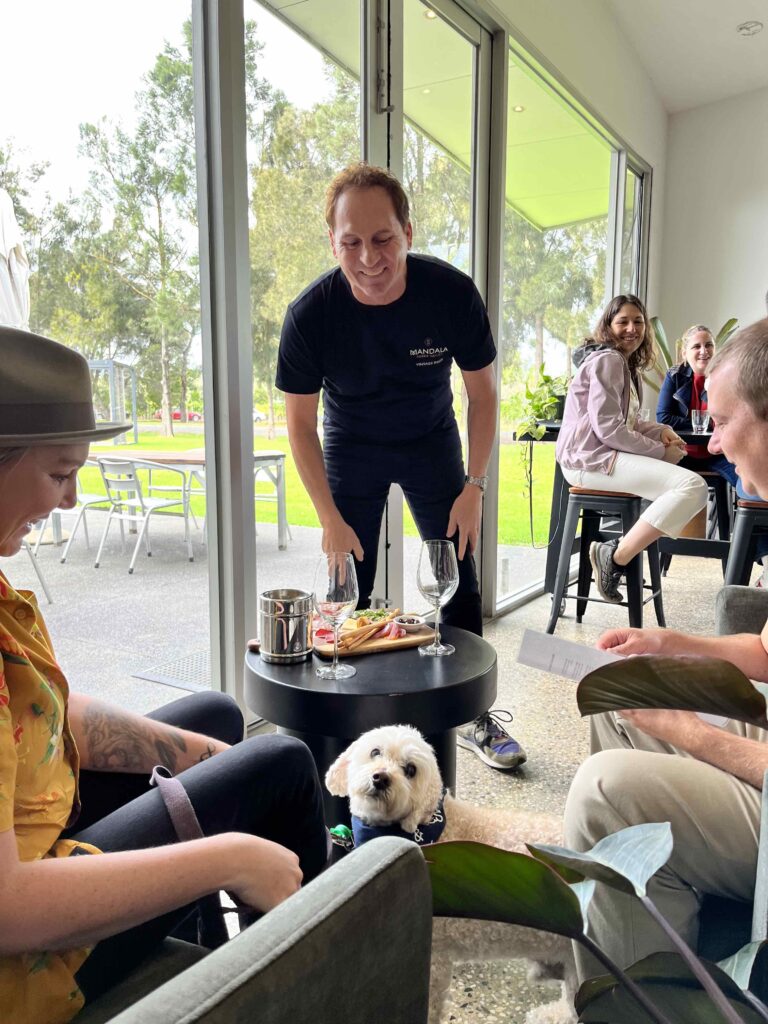 we leave to drive up the road to our next stop where we're (I say WE, meaning K&B) having a 3-course lunch!!  That's 3 lunches!  One for K, one for B and one for me, maybe?
The lady Helen thoughtfully gives me some more snacks to keep me going while I watch E V E R Y O N E else around me eating amazing-smelling food!  People keep pouring more coloured water called wine for K&B and I get …water!  It's all good tho, I'm happy, there's disco music playing which I thump my tail along to, and I notice the man at the table next to me is totally ignoring who he's dining with and can't stop staring at me.  He's using my trick – I stare at people if I want a pat and it always works!!  He is besotted with me and I feel awkward for his friend and slightly anxious I might be about to be dognapped.  But K&B, squiffy tho they might be, have got me firmly on the reigns so no-one will be thieving me today.
I won't show you a photo of him – I don't want to embarrass the poor man.
After they've eaten 3 lunches (yes 3, I got zilch) they waddle off (well so would you, after 3 lunches!!) back to the van and we drive cross-country towards the other side of the valley towards Healesville.  I'm trying to keep my eyes open, but people I'm starting to fade, so I slip in and out of sleep; it's a clever thing I do, power nap during the day so I can spring into action soon as required.
And I do, because after a quick pit stop at Dominique Portet's house to get some more coloured water (B's obsessed with this man's wine), we pull into a teeny tiny place called Maddens Rise but it may be small but the lawn is H U G E – it goes on for as far as my eyes can see (I'm pretty low to the ground remember) so I wee on it and then we go inside where I meet a lady who, surprise surprise, falls instantly in love with me.  She's called Emma and she runs the place and she's very busy carrying bottles of coloured water called wine to all the different tables where people are sitting literally waiting for her to give them coloured water to drink.  That's her in black, hiding behind K!!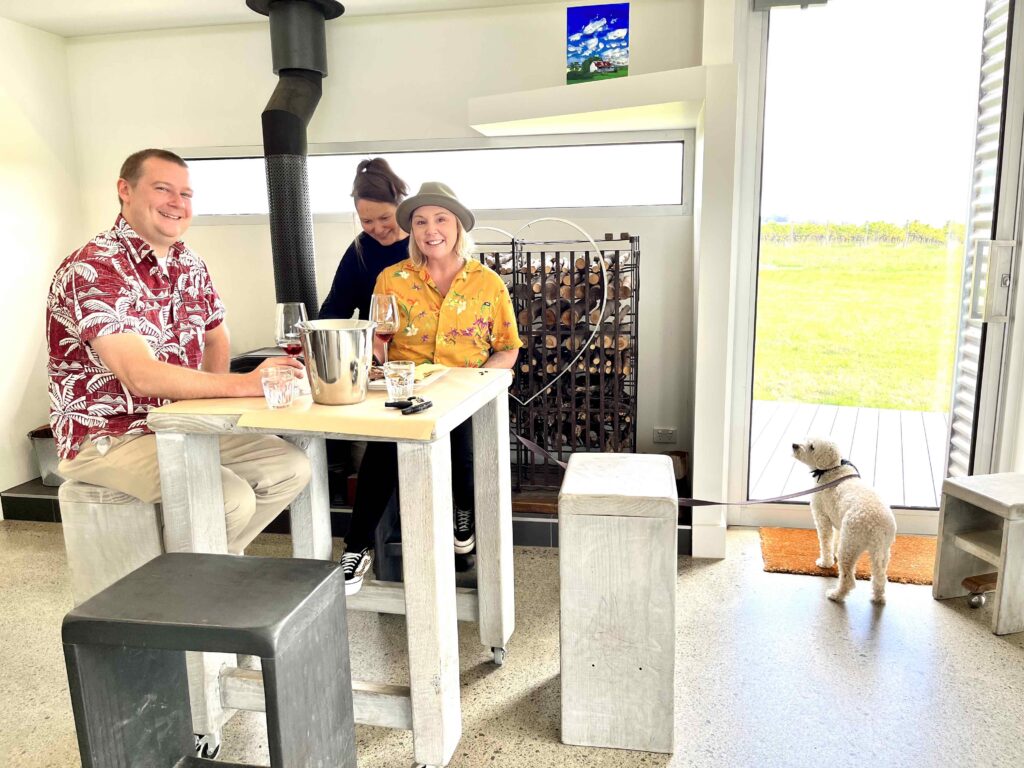 I head for the water instead, and boy it's good.  I have to keep drinking it at every stop because I have to keep weeing at every place we visit to let everyone know I've been there.  You're right, it IS exhausting for me but I'm a pro, I wee on command.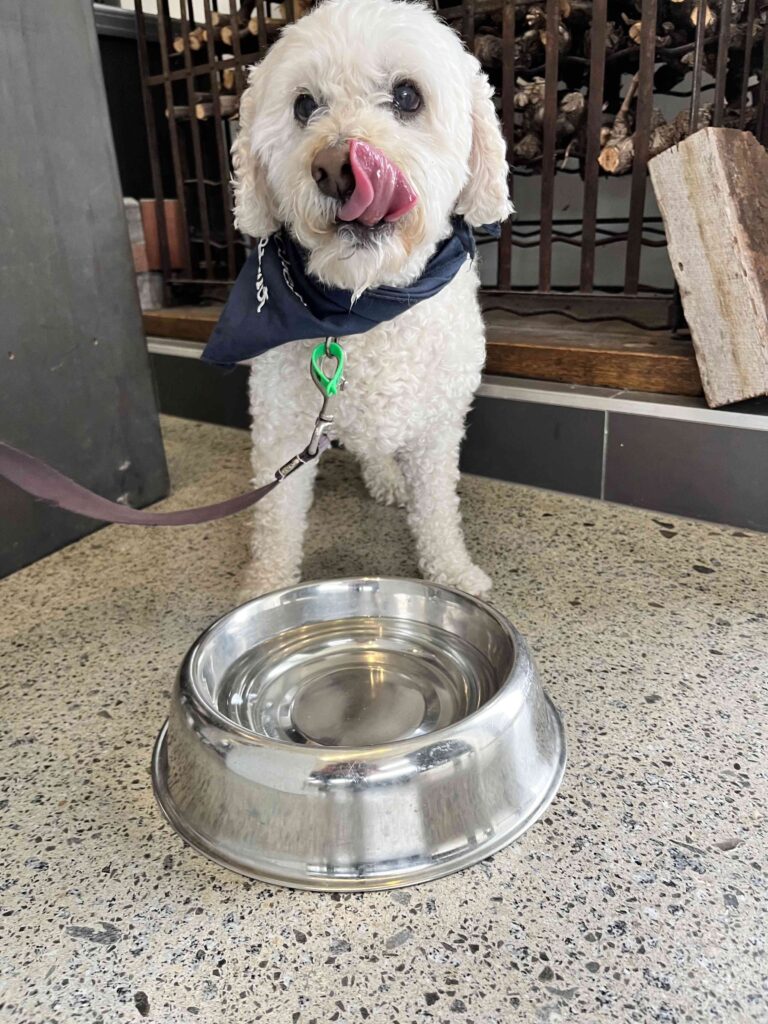 While I'm flirting with all the other people sitting at their tables waiting for Emma, the lady Helen disappears off for a moment and comes back carrying a plate of cheese and chocolate and I'm like, F I N A L L Y, my go, someone's feeding me.  I mean, it can't be for K&B they've done nothing but eat since we left home FGS!  But no, the chocolate 'isn't good for dogs' (how would they know, I've never tried it – it could be brilliant for dogs) and the cheese I notice has got blue mould in it so I'm thinking you know what, you're welcome to it – crikey the things they eat, these humans of mine, it's frankly bizarre!  And yet, I go to eat the tiniest bit of poo and everyone yells at me!!  Go figure.  (B's American, so I say these Americanisms from time to time).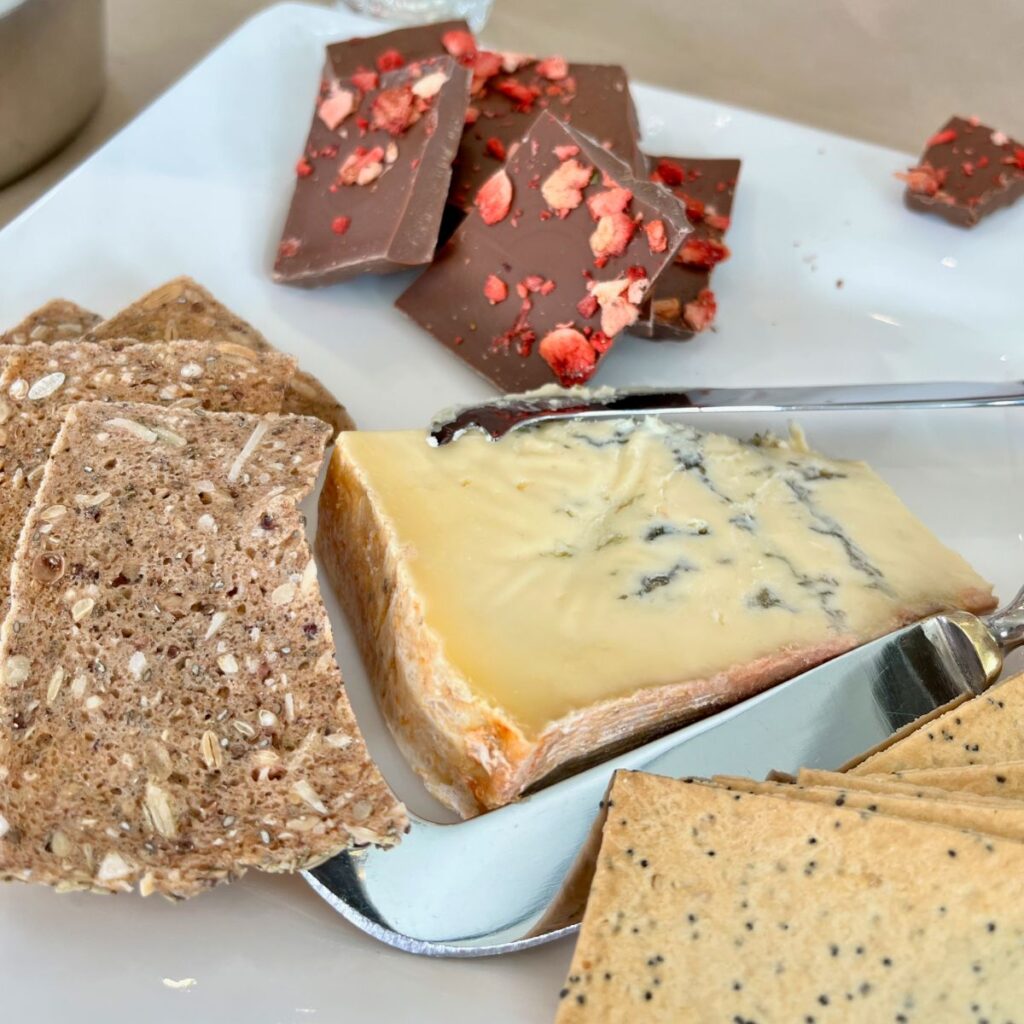 So, I'm being stroked by everyone in the room, my pawrents are bringing on a heart attack and the lady Helen is giving me treats from her pocket and I'm drinking my bodyweight in YV water and I think to myself, life is good you know.  Emma keeps pulling faces at me because she can't help falling in love with me and is wondering how she can steal me and meanwhile one poor lady gets up twice from her table to come over and stroke me – these humans, honest to god, they're mad for me!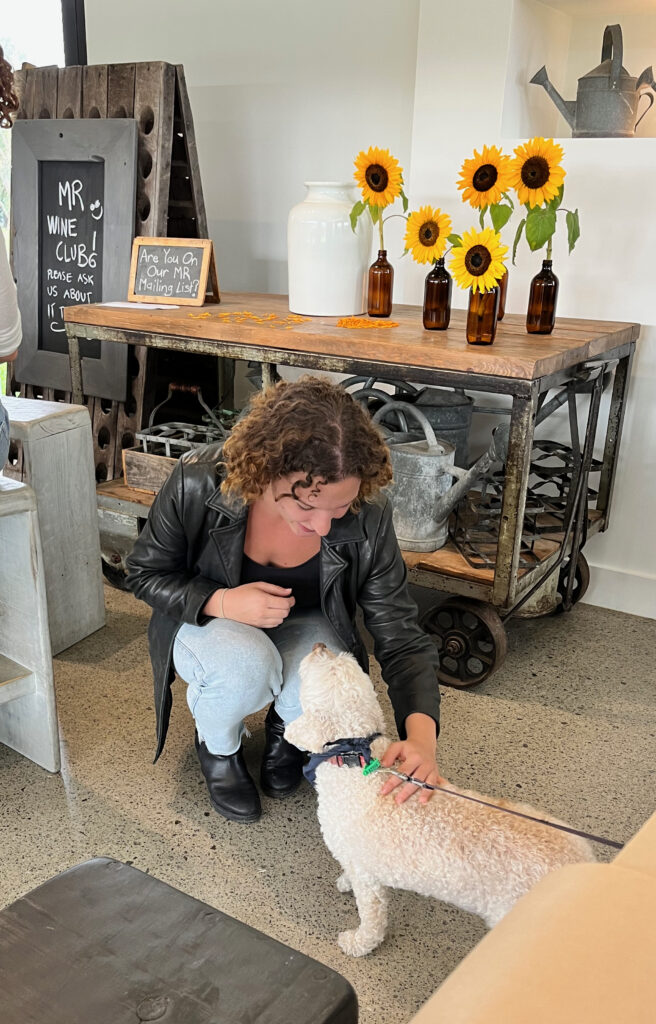 I run back to the van where there is the world's smallest piece of bacon left for me to feast on and before I've finished chewing it, we're pulling in to Helen's Hill, our final stop for the day.  There's so much landscaping I need to sniff and wee on and a ramp to charge up at great speed and when I come into the cellar door there are people everywhere and they're bending down to pat me and telling me I'm beautiful and all the staff stop as they pass me and reach out for a pat and I glow inside knowing the joy I'm bringing to all these people.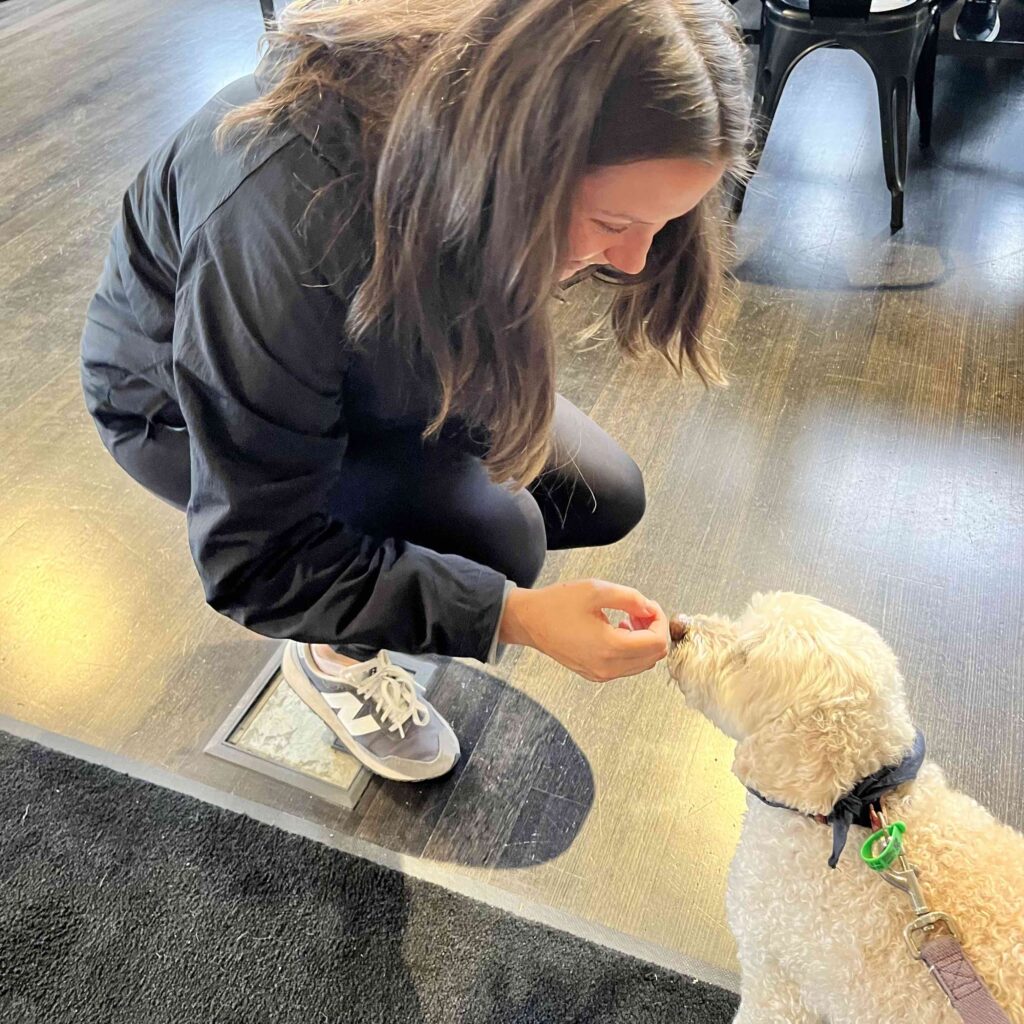 A lady stops, crouches down and the lady Helen tells her my name and age at which point her face crumples and she looks like she's about to scoop me into her arms and hug me to death.  Moments later her husband walks past with their dog which is the polar opposite of me – the world's biggest blackest fluffiest dog I think I've ever seen.  It's a puppy and it wags from head to toe to meet me.  I honestly should be charging; I'd be a billionaire.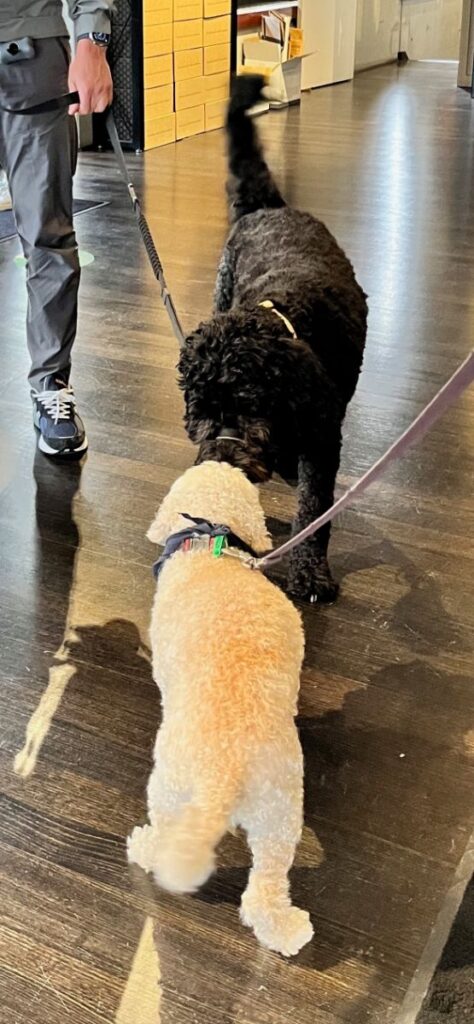 K & B prop up the bar and drink more coloured water / wine but we're all starting to fade, it's been such a fab and full on day.  I just stare into the middle distance and dream of sleeping in the van.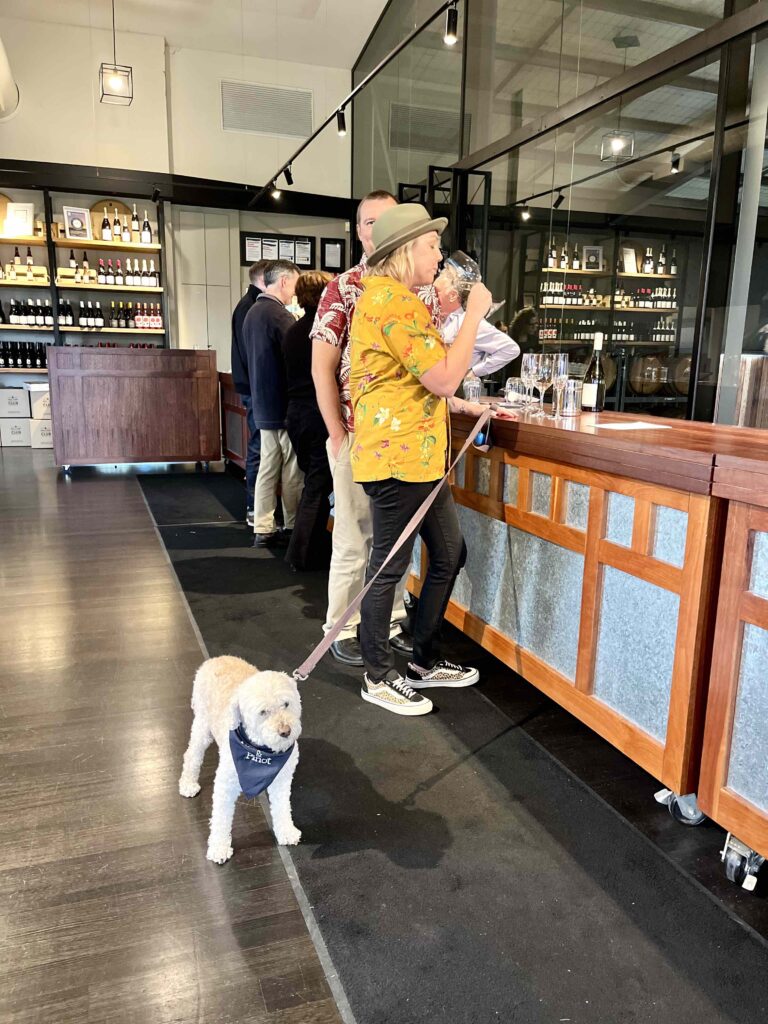 I'm so tired from being a rock god for the day that the minute we get back into the cosy van, and I hear the murmur of K&B chatting to the lady Helen, I rest my head on K and let myself drift off into the nicest sleep imaginable – reliving all the people I've met, all the smells I've sniffed, all the bacon I've consumed, all the Yarra Valley waters I've sampled and all the pats I've received today (not forgetting and the wees I've had in places too numerous to count).  I'm one happy dog.
As I slip into a deep sleep, I realise my neck's quite stiff as it's been in this position all day – hoping some morsel is going to drop in my direction!!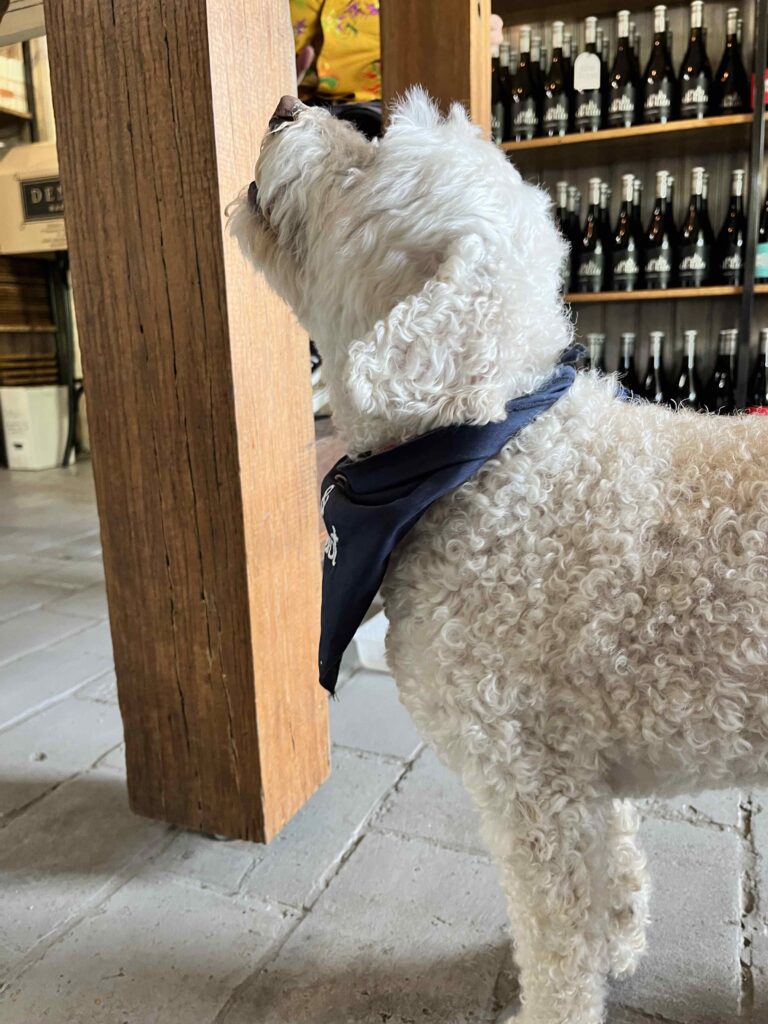 I hear the lady Helen and K&B discuss my grandpawrents' visit in May and there's talk of me bringing them out on another of these wine tours, and while part of me is disappointed that the lady Helen won't be arriving tomorrow morning to collect me again (I kinda hoped it would be a daily thing now going forward but I must have misunderstood) I'm happy that I'll get to do this all over again with grandma and gramps and be utterly adored all over again.  I hope May is soon.  Maybe it's tomorrow after all.  A boy can hope.
I'm dreaming of those croissants from earlier, (the ones I didn't get to eat), when we pull up outside our house.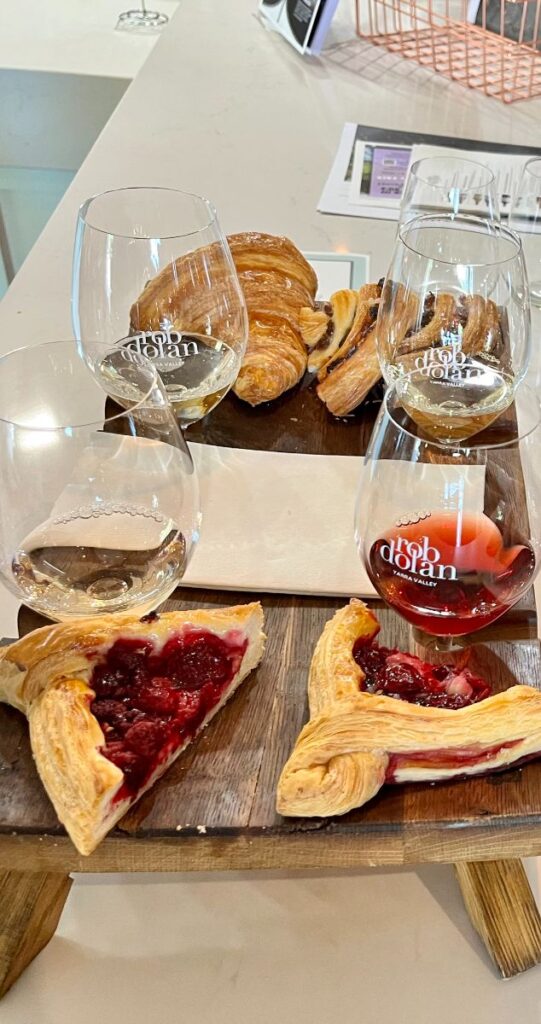 The lady Helen helps us carry all these bottles of coloured water into our house and she gives K&B the rest of the mouldy cheese (good move, she clearly didn't want it!!!) and the chocolate that I'm not allowed AND she gives K the bag of unopened Laila & Me treats for M E.
I knew it, I knew she'd fallen in love with me.  And look, it's fair enough; she's only human, bless her!!