Hi everyone, Fergus here (can you tell my Mother's a Scot?).  I just came on holiday with my Mum Jen and Grandpa Bob (visiting from Aberdeen) to the Yarra Valley and we stayed on a farm called Wiggley Bottom because many of its residents have bums that do wiggle (geese, goats, dogs & horses).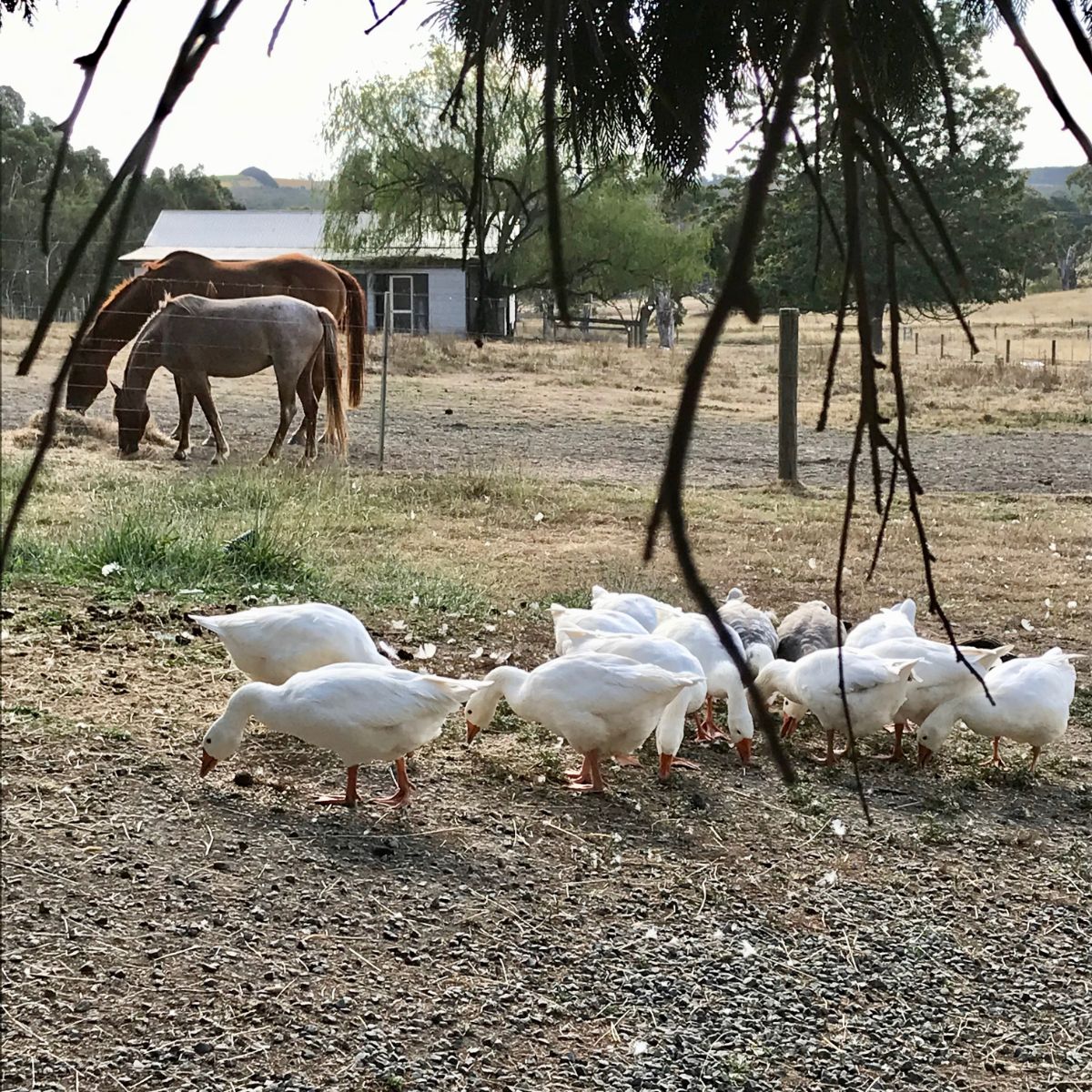 So anyway, I'm lying there one morning in our Yarra Valley apartment, snoozing away quite happily in my usual holiday mode, when suddenly there's a van to bark at in the driveway and a man I've never met before suggesting I get in the back!  My Mum has always told me never to get in a car with a strange man, but she was encouraging me to get in too!  In the end, I made her pick me up and put me in.  I was better once I realised she'd got in the van too!  As had Grandpa Bob so all was well.  Apparently this man Jeff was taking us out for the day to all sorts of wineries so Mum and Gramps could drink wine.  No mention of what's in it for me, so I sang a protest song all the way to our first winery called Helen's Hill.  I love singing.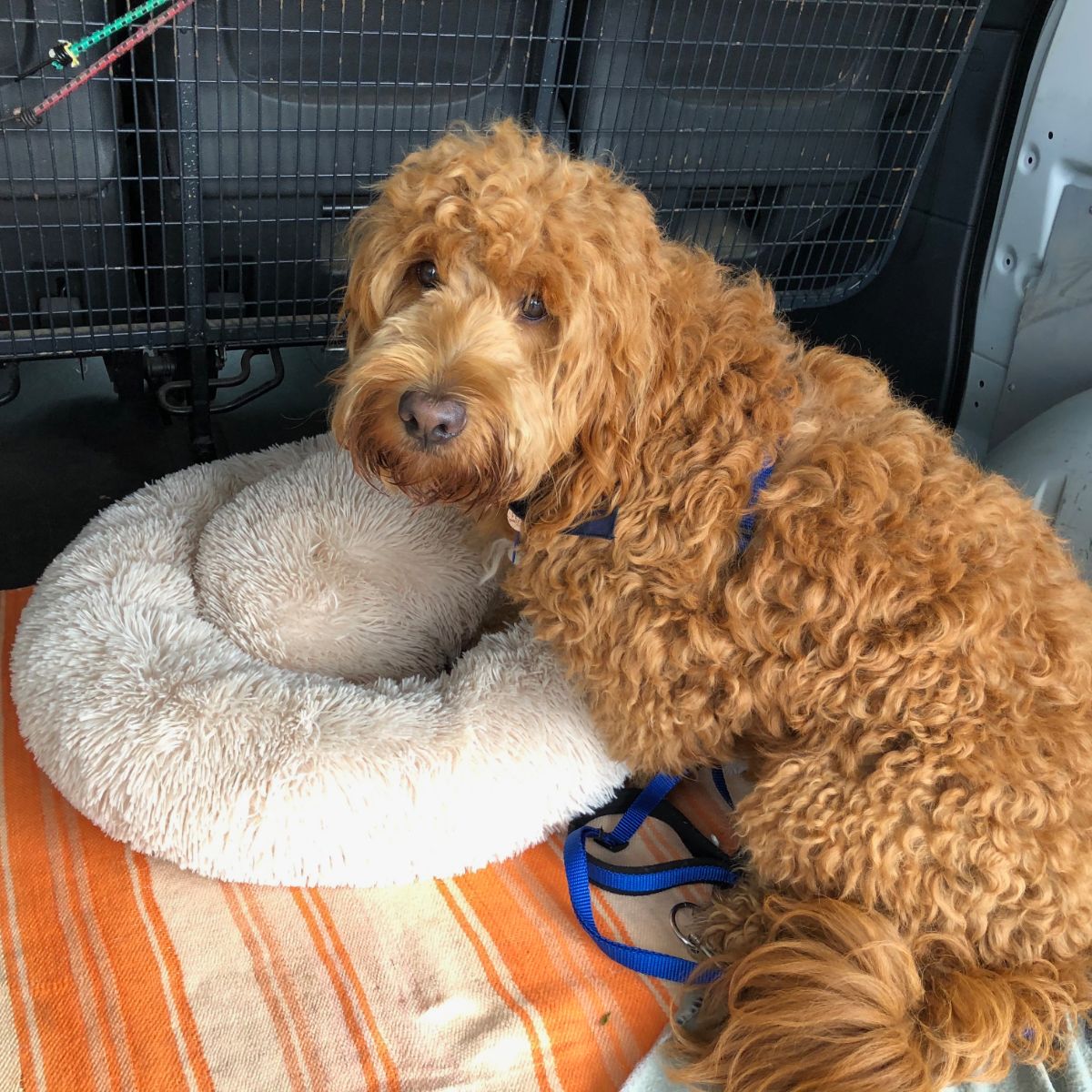 So we get to Helen's Hill and I'm pretty keen to get inside so I charge everyone up the ramp and we go in and meet Natalie who is going to do our wine tasting.  I'm not as interested in wine as the others, so I suggested to Jeff that he and I might like to take a stroll outside on the lawn – way more fun!  We had a great time out there, there was so much to sniff and Jeff walked very nicely on the lead I'm pleased to report.  We came back to the deck where my fam were having their tasting and they looked very pleased with themselves and were just buying some wine at 10.40am, 'for later'!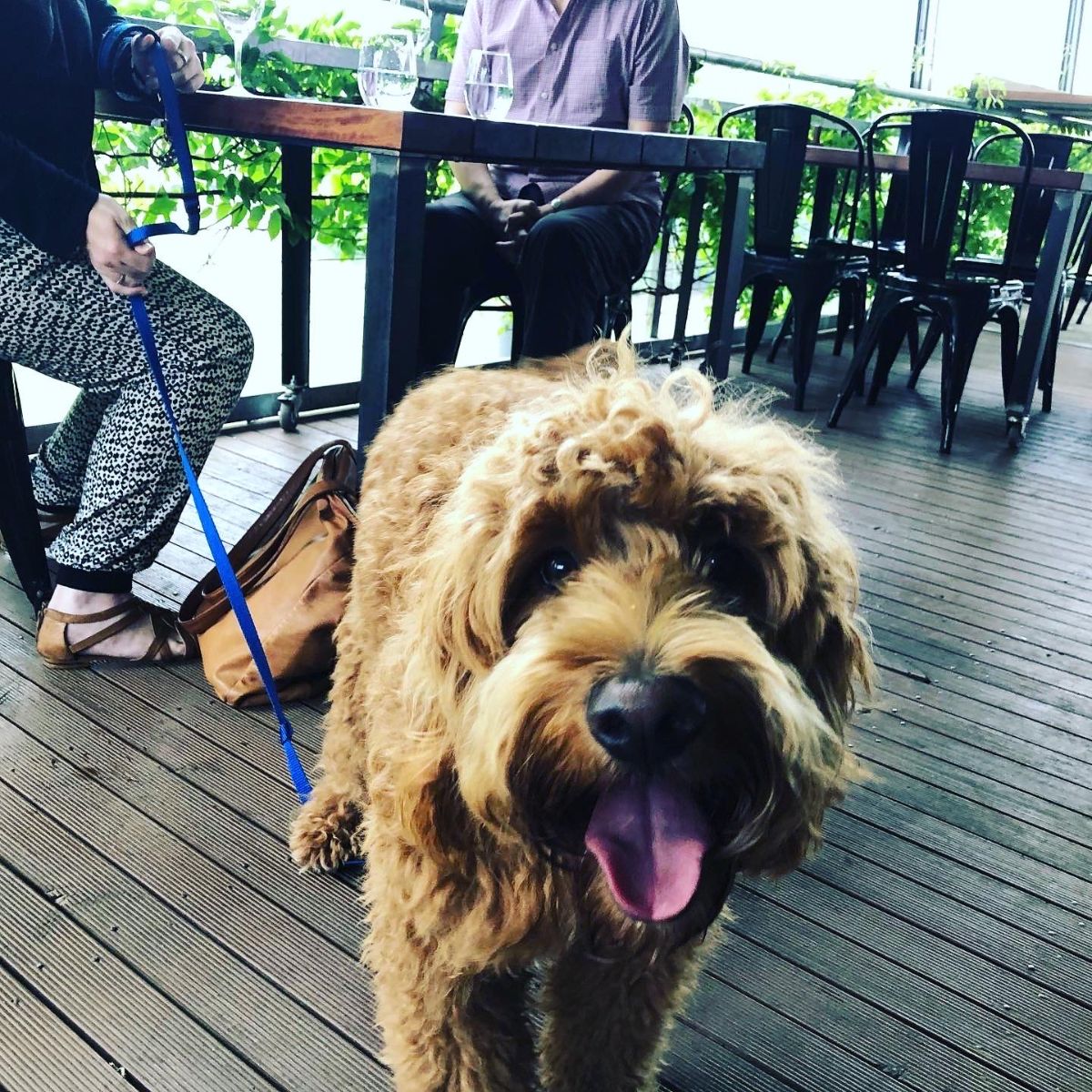 We jumped back in the van (well I refused, so was placed back in) and off we went on our next adventure – up a bouncy dirt road and I was lying in the 'calming' bed in the back of the van, so no need for singing, (I seriously found I was way too chilled and calm for such antics).  We got out and we were at Helen & Joey's winery this time (eveyone seems to be called Helen round these parts) and we set off, up onto the deck where we grabbed a great table with amazing views.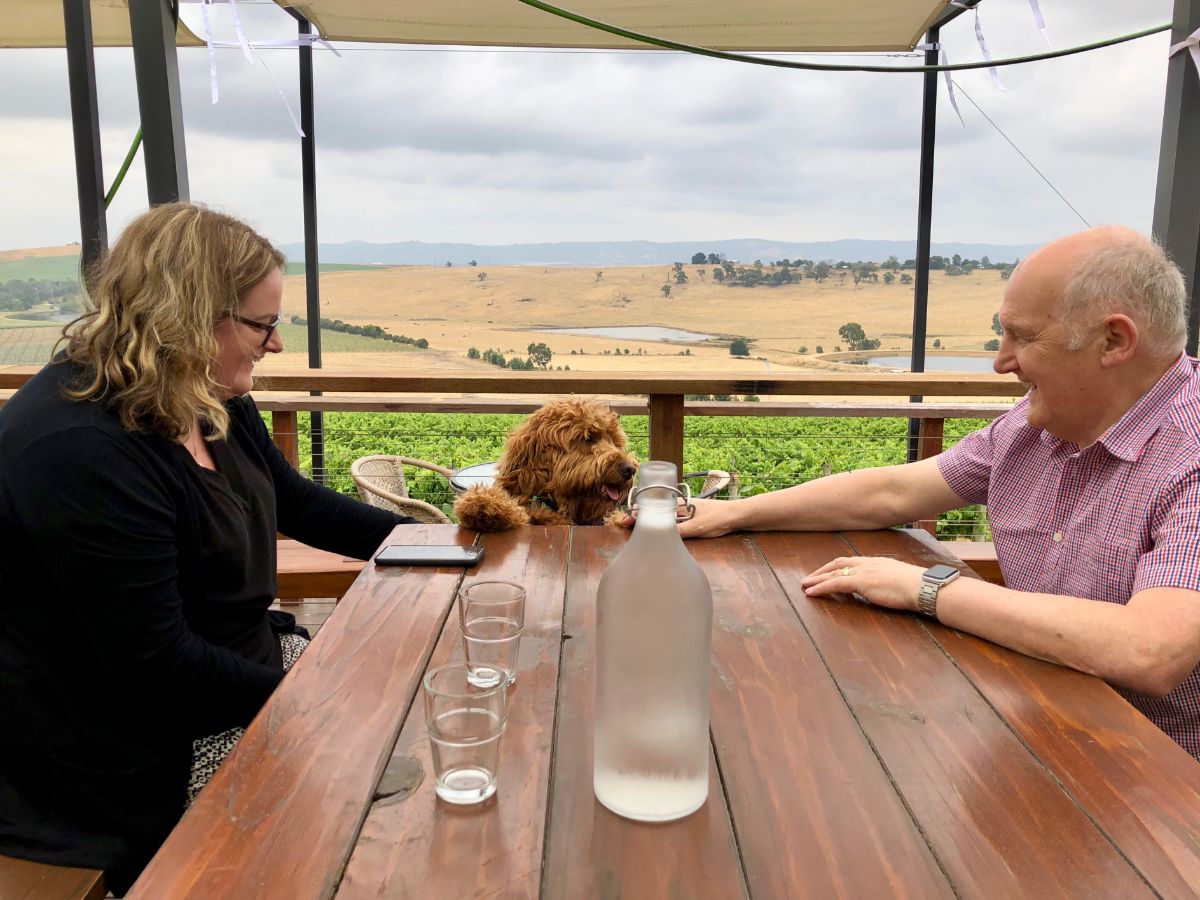 and a lovely lady called Tory came over carrying countless bottles of wine to pour for my Mum and Gramps.  We all enjoyed listening to her and I was very much part of the proceedings.  Gramps was really excited because he normally drinks red wine but here he was on this tour trying white wines and loving them.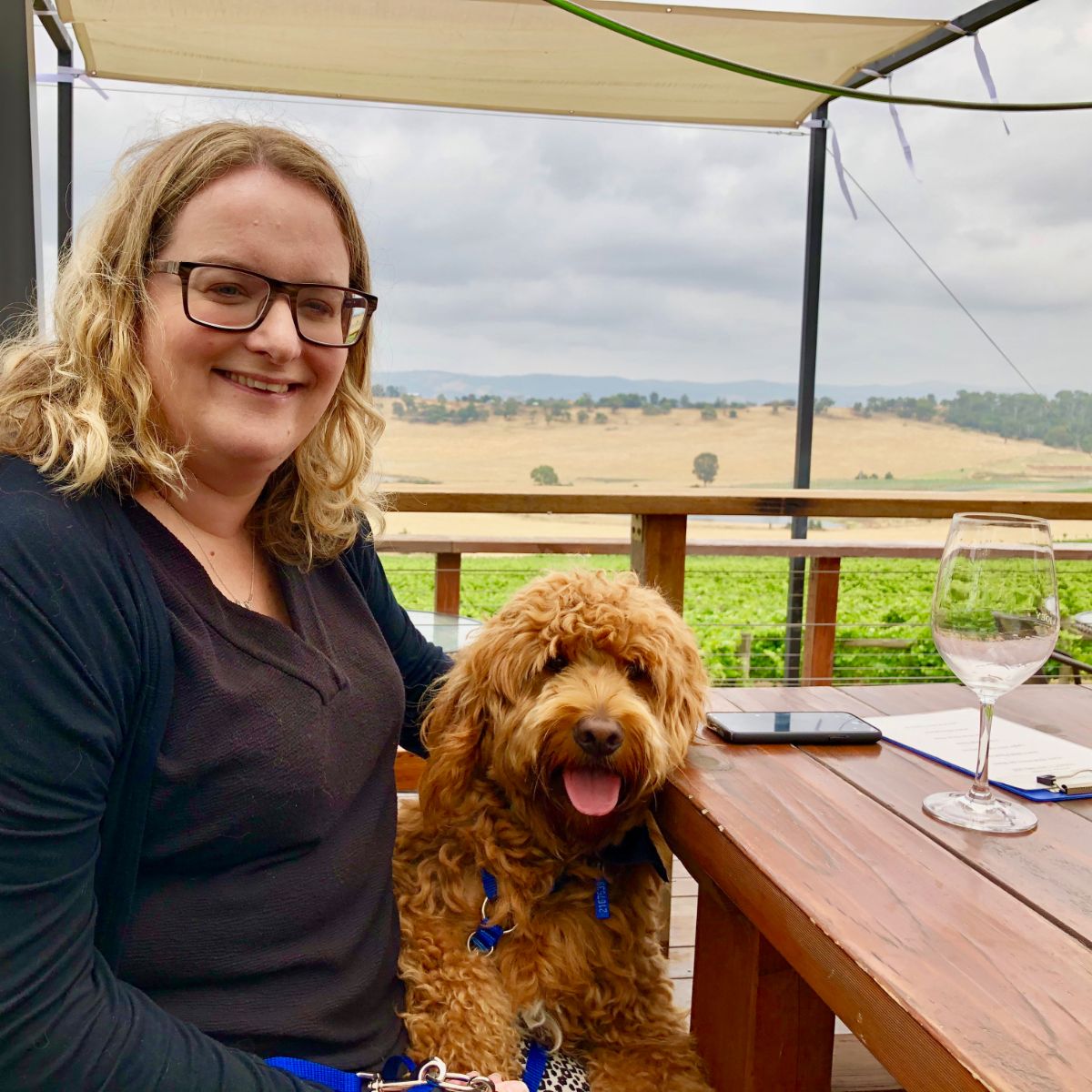 After we'd said our good byes, we went back towards the van.  I again refused to get in the van, even when Jeff tried to tempt me in with Laila & Me treats – I love them but I won't be bought.  Foolish man.  At one point all three of them were encouraging me to get in and I just laughed quietly to myself and stood my ground.  This was becoming fun.  I'd invented a new game!  Eventually Mum had to scoop me up again and put me in the fabulous bed.
So down the hill we went towards our next winery – Helen's Farm.  Ha haaa, got you, just kidding, it's not another Helen, it's called Yering Farm.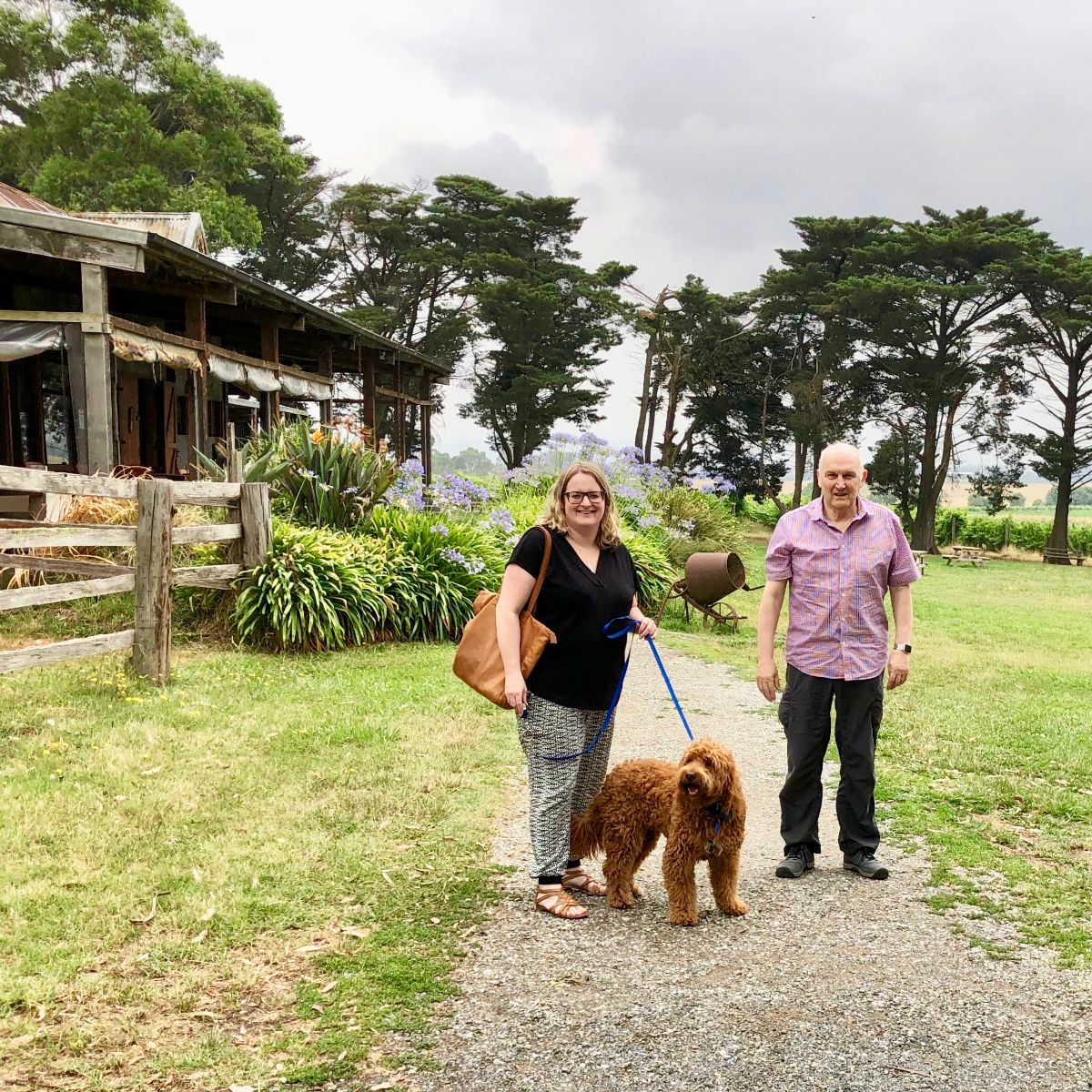 Here I fell in love with a charming lady called Megan.  She seemed to love me back.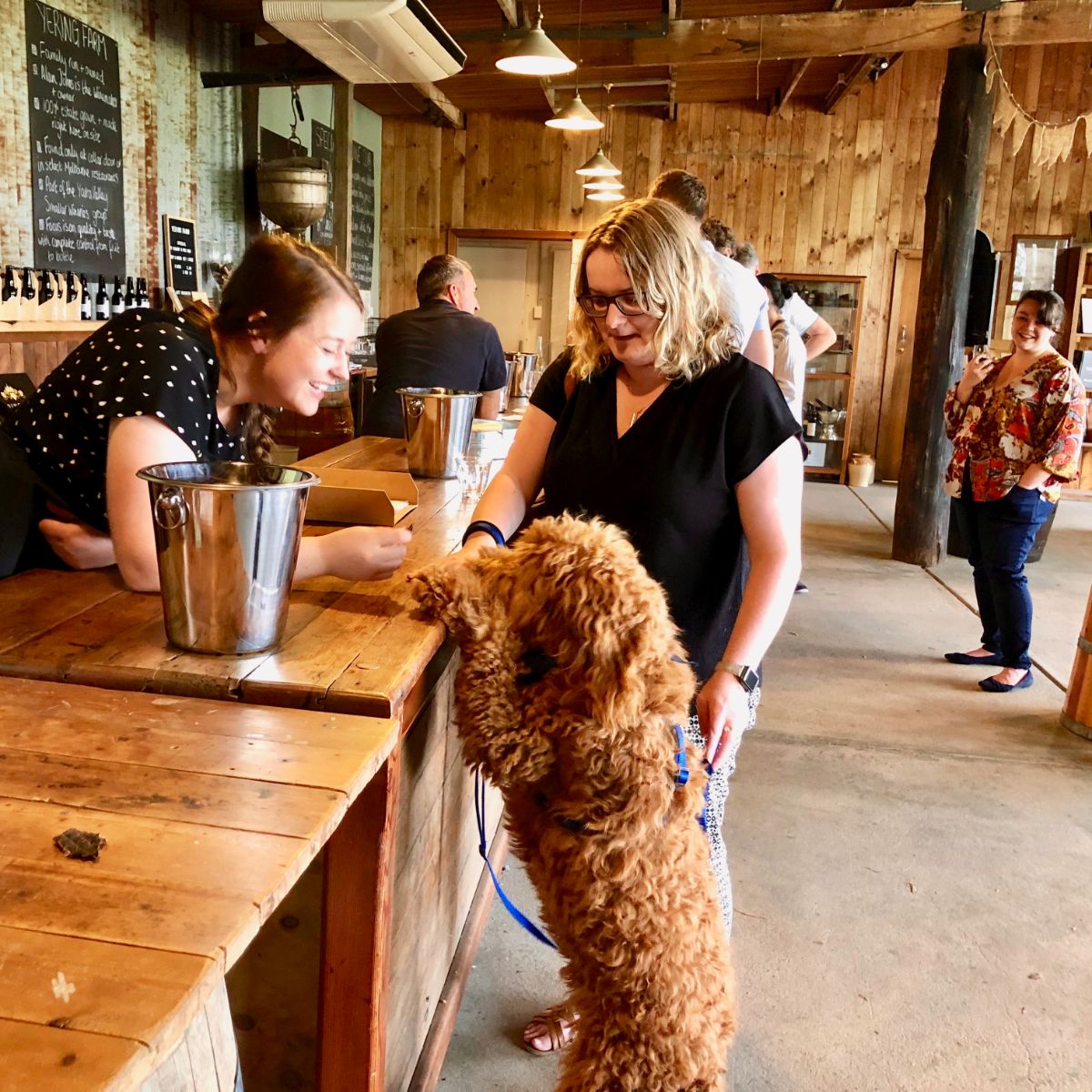 As did the other punters who were meant to be having a wine tasting – I ended up in the middle of them all being adored and stroked and cooed over.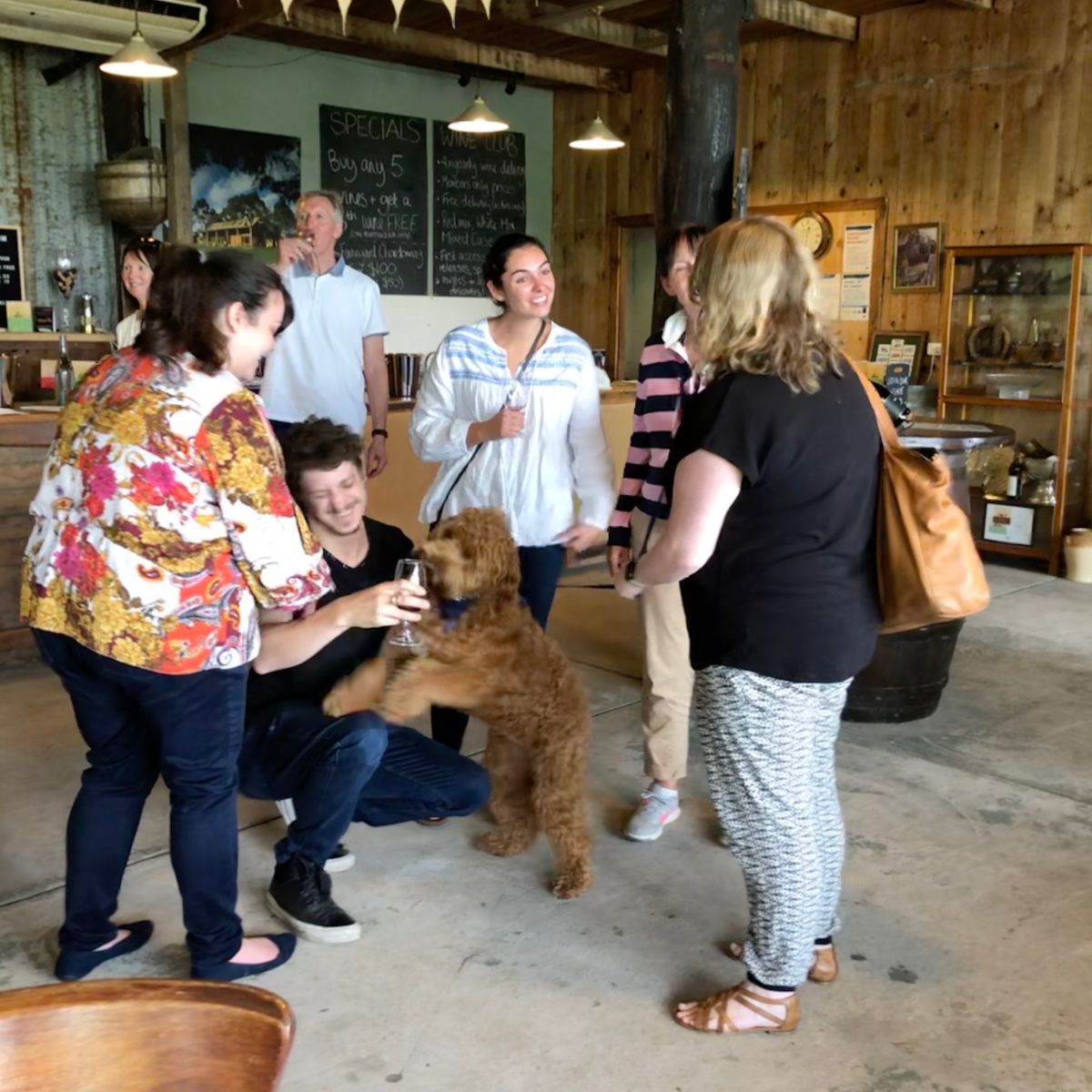 What a riot this tour was turning out to be – who needs to drink wine when you can be petted and fussed over all day long?   I milked it for all it was worth and a lot of people now want to buy groodles!!  Get me – such an InfluencR!!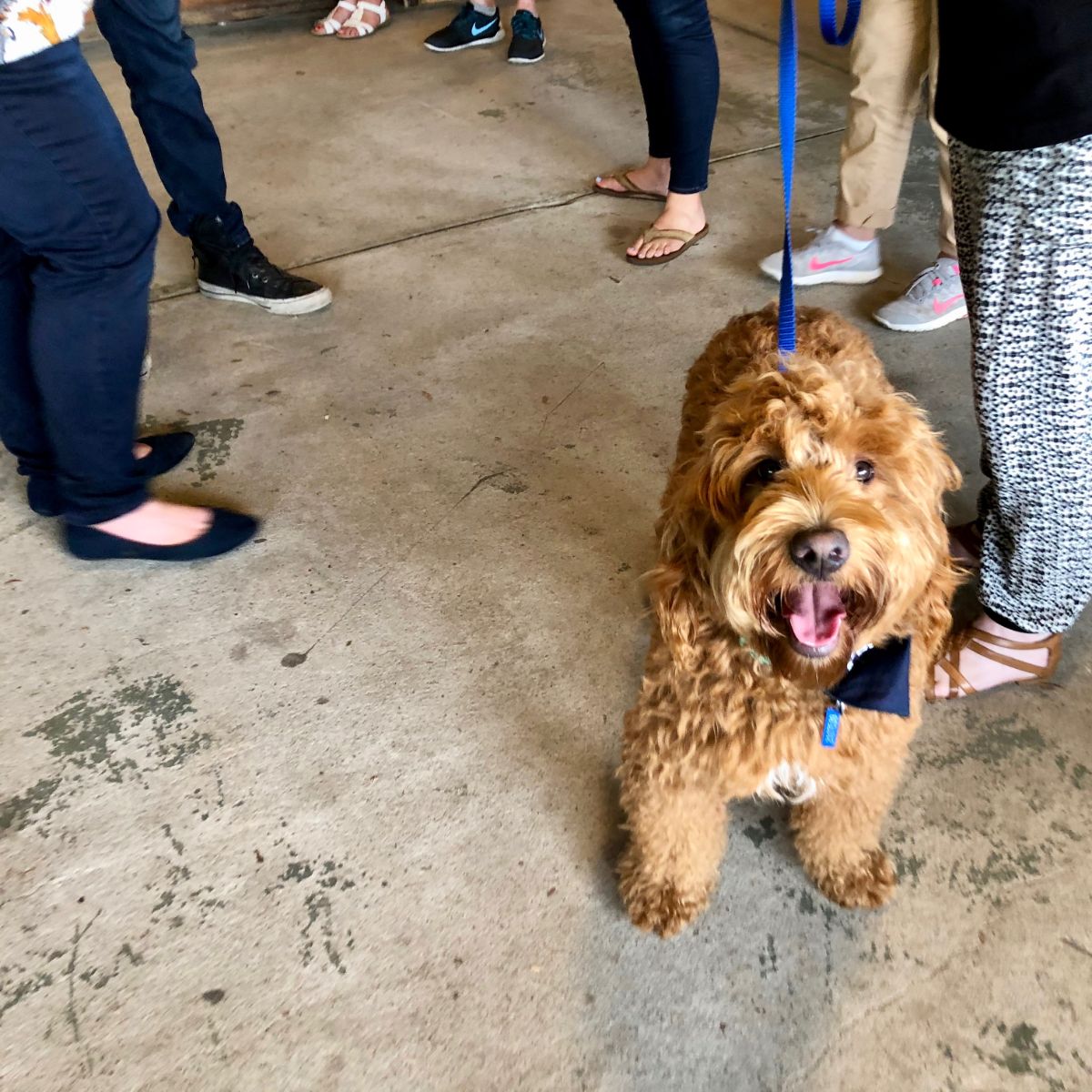 After their tasting, Mum and Gramps headed outside and sat at a table and all this food magically appeared including a quiche that Jeff had made for them.  Apparently it wasn't for me which was a shame as it smelt great.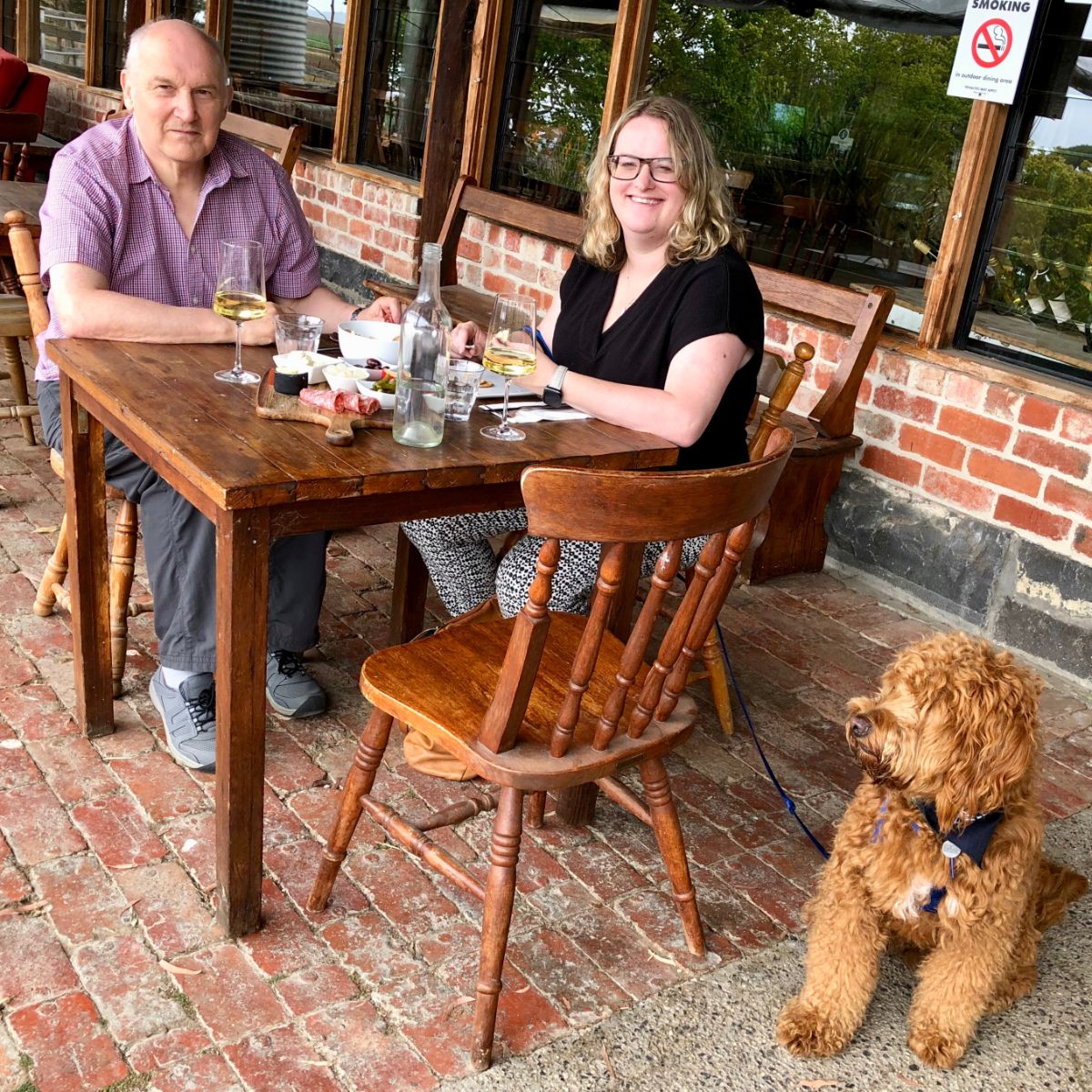 Instead Jeff suggested he and I go for a walk which was great as the lawned area is surrounded by paddocks and vines and guess what lives there?  Sheeps. That's right, loads of them.  I was agog.  We don't see all that many sheeps in Pascoe Vale where I live.  In fact come to think of it we don't see any sheeps at all.  Ever.  I just stared at them happily through the fence. They're ace, but they don't say much.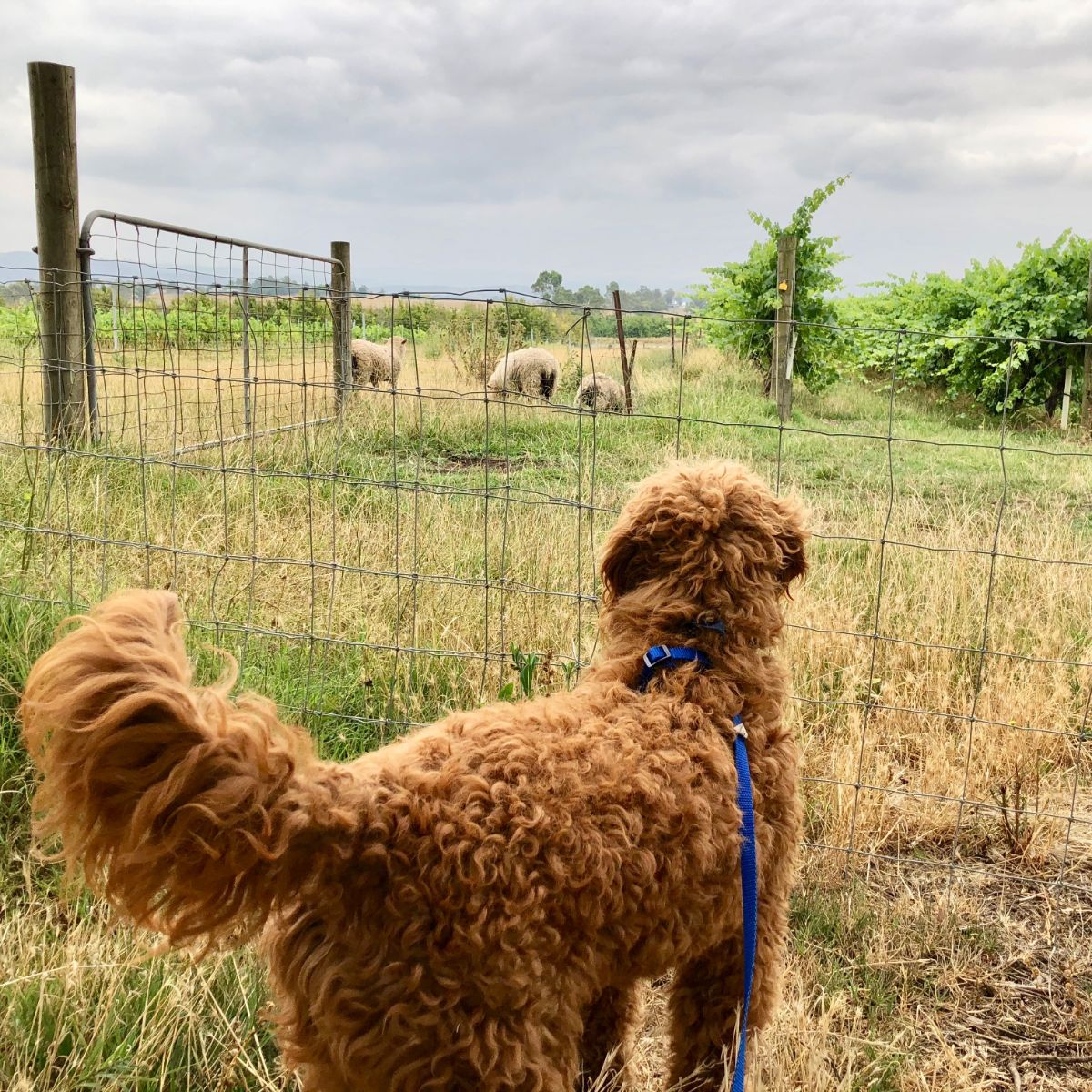 I couldn't wait to get back to the cellar door and tell everyone what I'd seen.  "Meghan, Meghan, guess what I saw?!"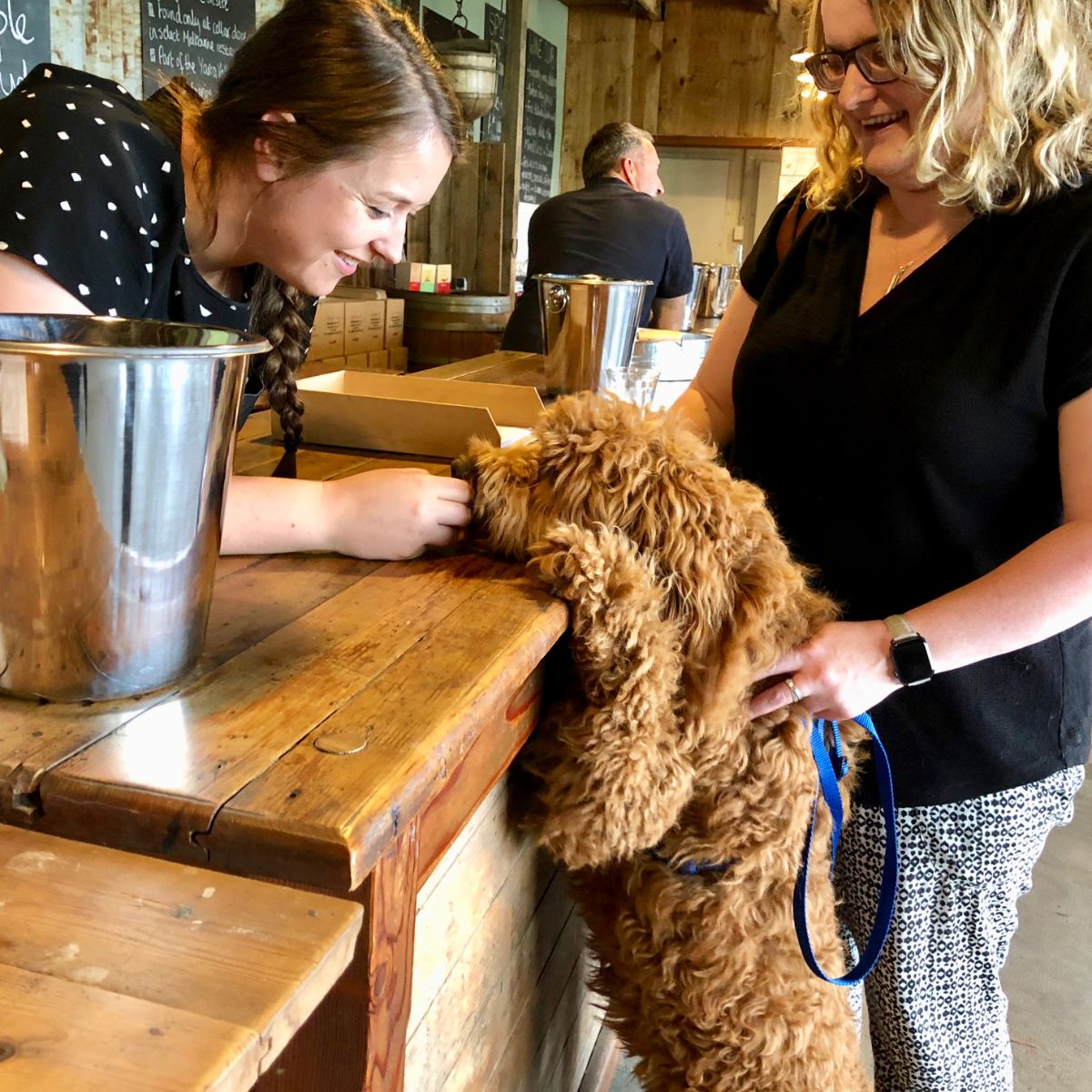 After a fabulous lunch we hit the road again, this time for Punt Road which was just up the road in fact.  And my Mum and Gramps got stuck into their wine tasting while I fended off enthusiatic advances from a couple of ladies who spotted me from where they were sitting outside and came in for cuddles.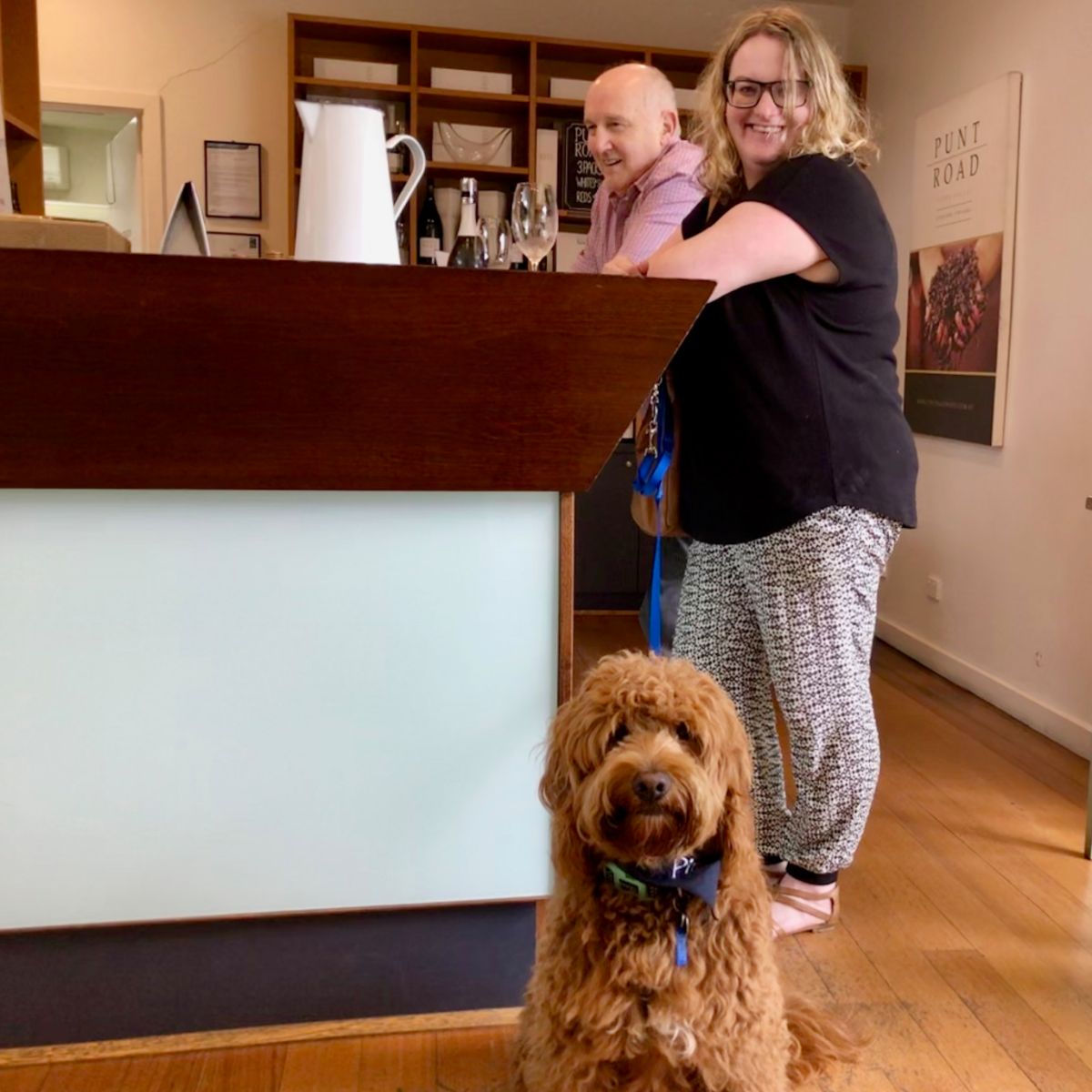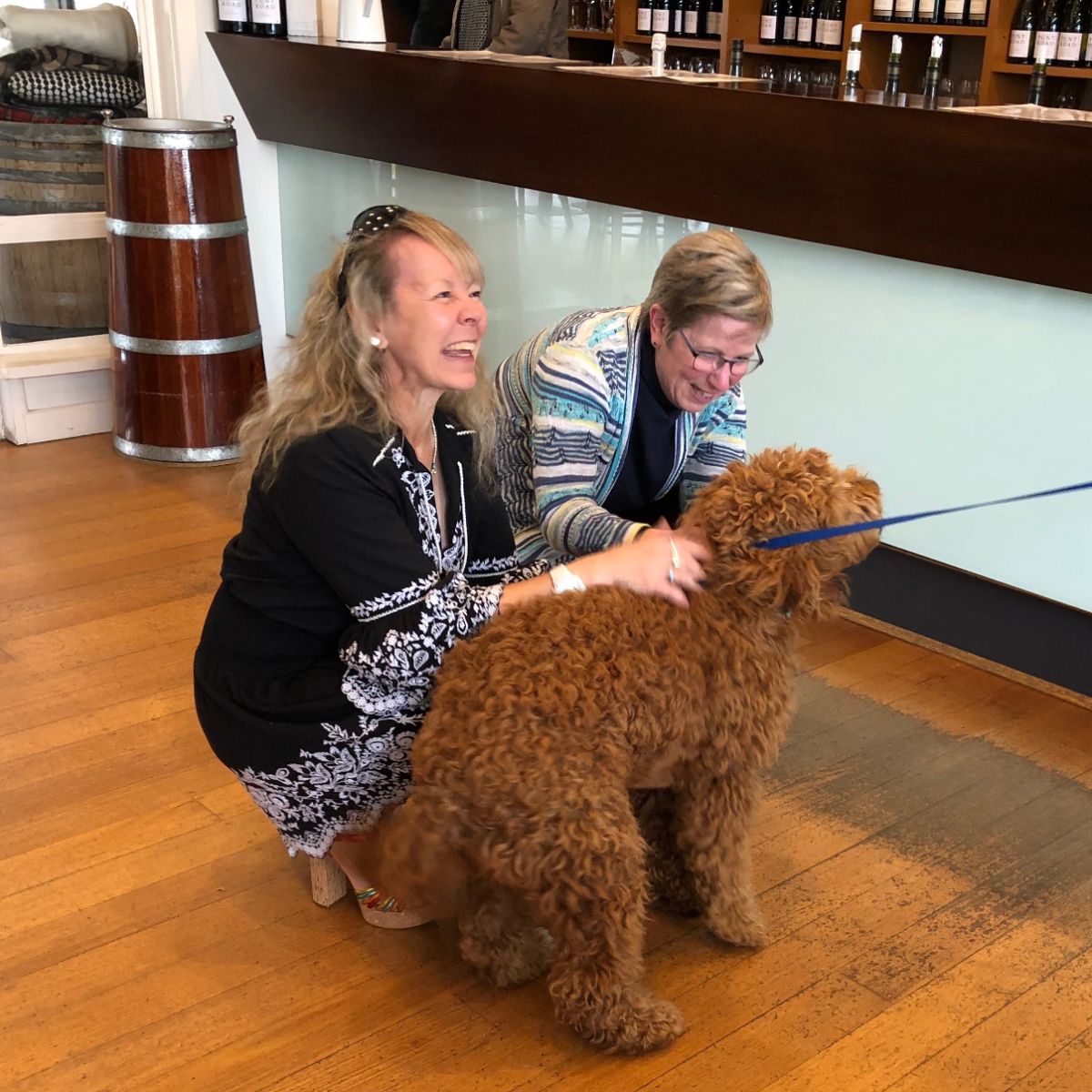 Gramps was very taken with their Cab Sav so bought some 'for a friend'.  I had gardens to sniff so I bid them adieu as Jeff and I went off on our third walk of the tour so far.
Next we were off to drink gin – which was rather exciting, a bit different, and we arrived at Four Pillars Gin and were shown to a table outside and it was heaving out there!  On a Tuesday afternoon people!  Crazy.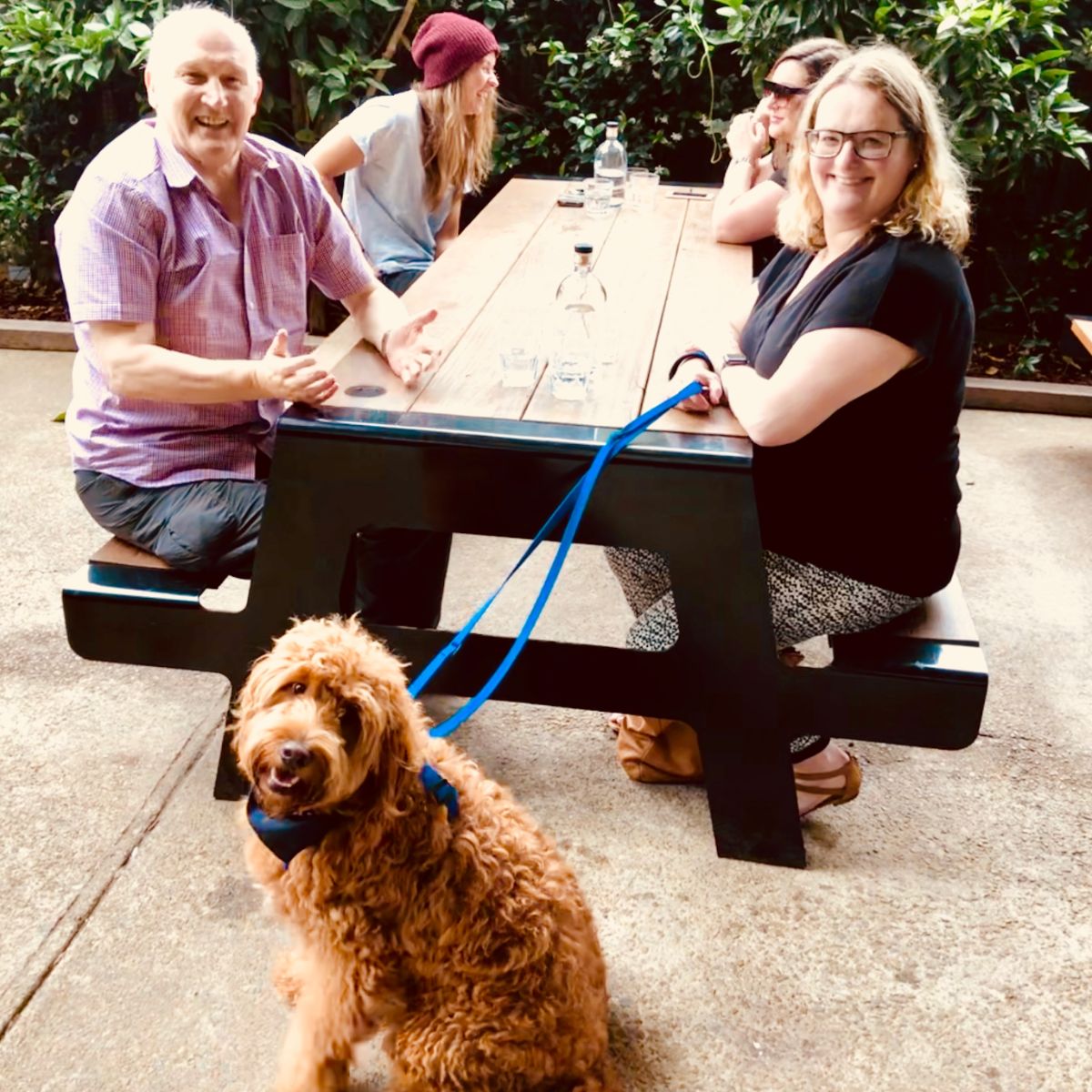 And within seconds of me arriving, all the staff had come out to meet me –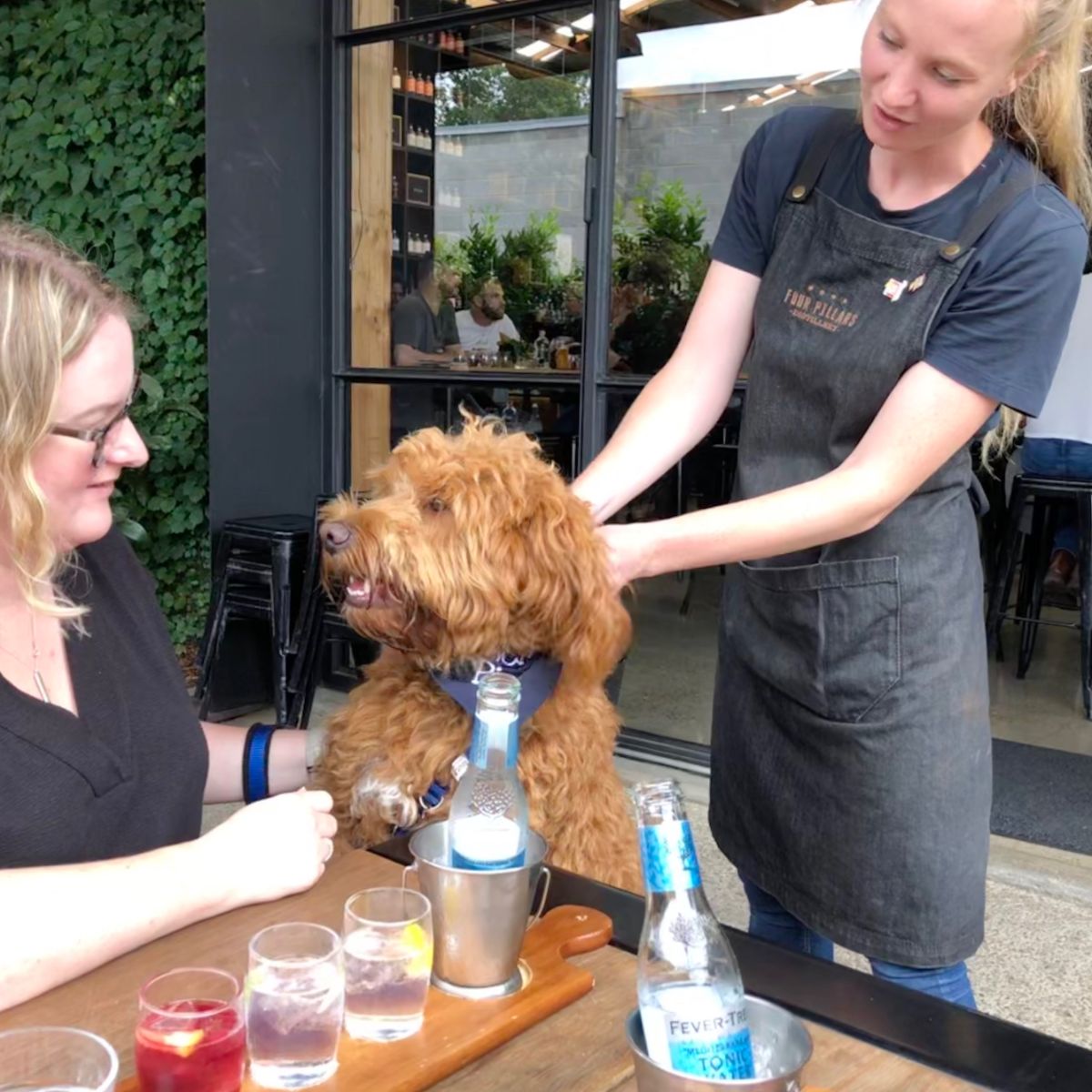 I couldn't wait to meet Lizzie in particular, as I've read about her on other Pooches & Pinot blogs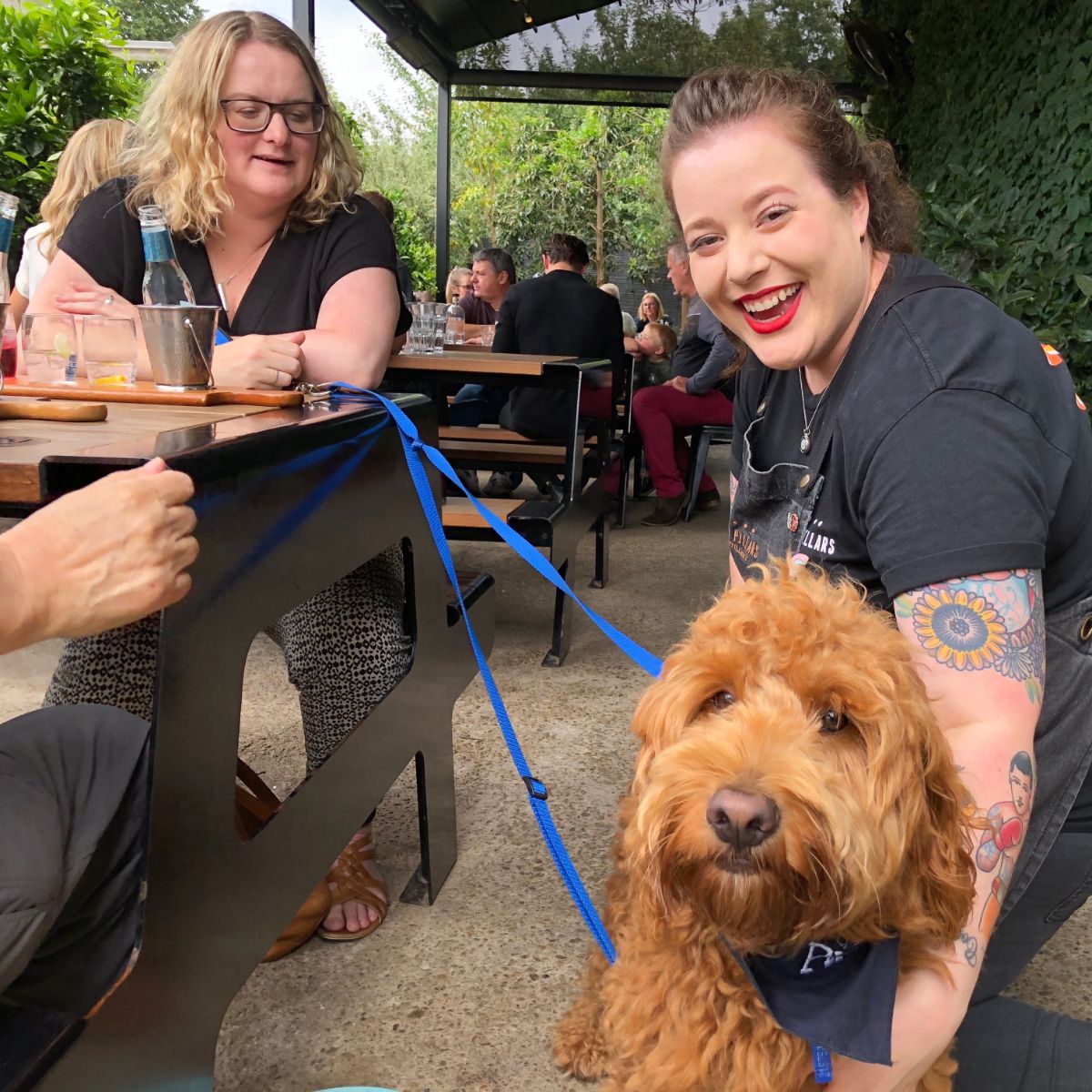 and I gave her a big slurpy kiss which she loved.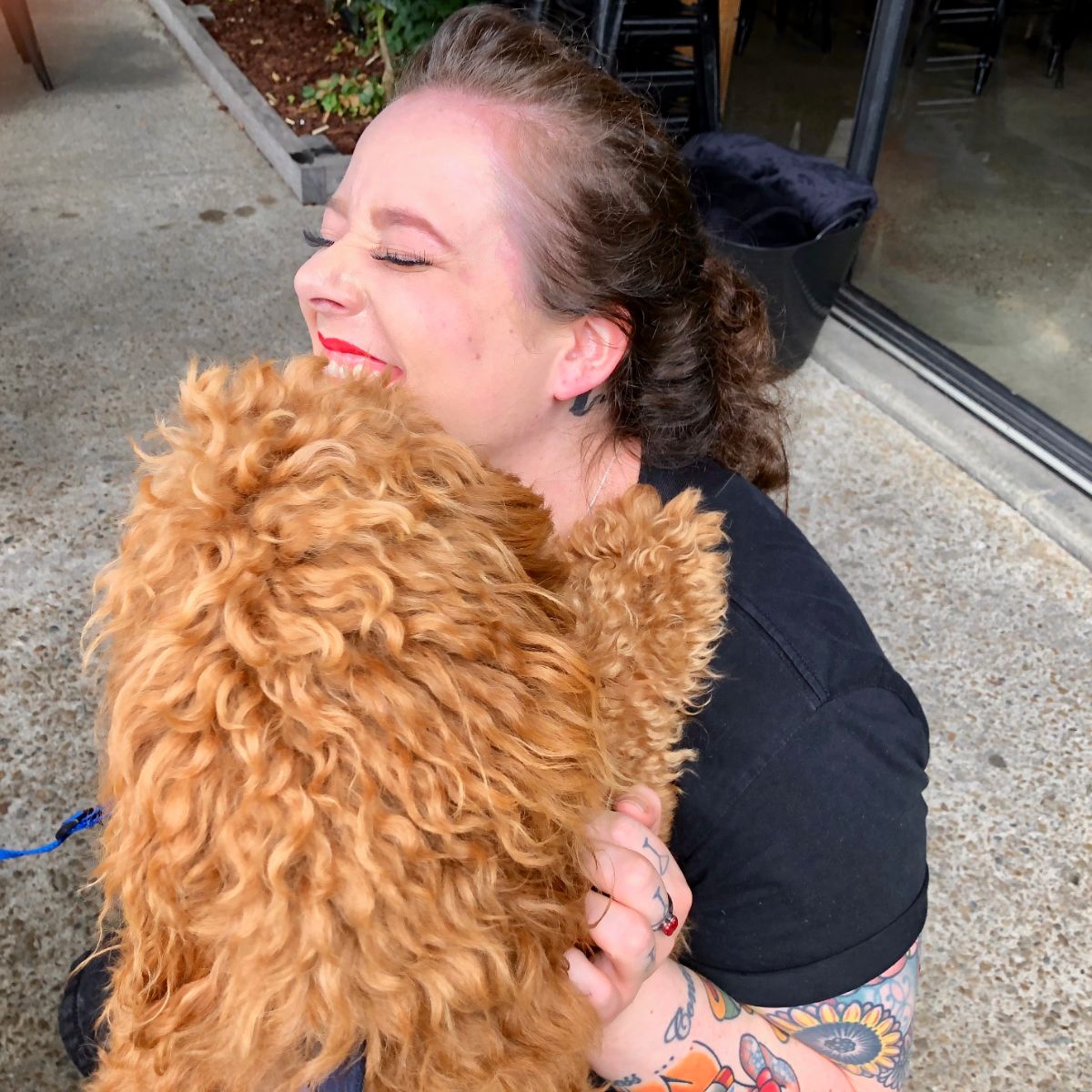 I was also quite interested in sampling the gin, and they had plenty to share as they had a paddle EACH in front of them with three gins a piece, but no matter how much I tried, or how cute a face I pulled, no-one thought to offer me any.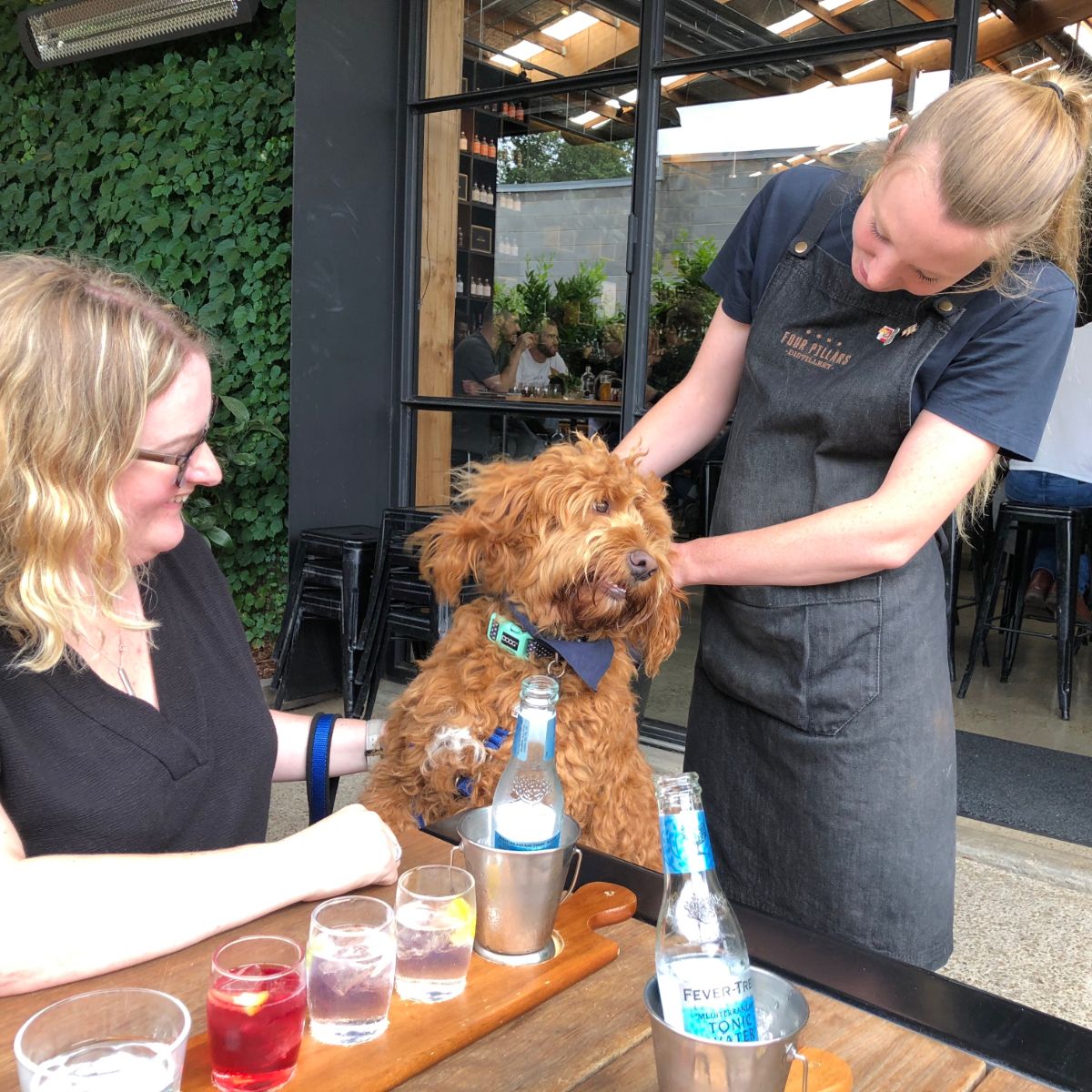 Humans can be so slow at times.
Anyway, I wasn't sad for long because Jeff had another place for us to visit and it was just over the road and when we walked in there was this cool dude from Jamaica there greeting us and I liked him immediately.  His name is Avarn and you really have to tune your ear in to his accent otherwise he's impossible to understand (like the Scots!) but that didn't matter because he and I formed our own way of communicating.  I gave him a high-five and he high-fived me straight back.  It was the coolest thing,  So we did it a lot.  Inbetween paw hits, Avarn did a great tasting with Mum and Gramps and they both ended up buying wine from him as it tasted 'SO good man'.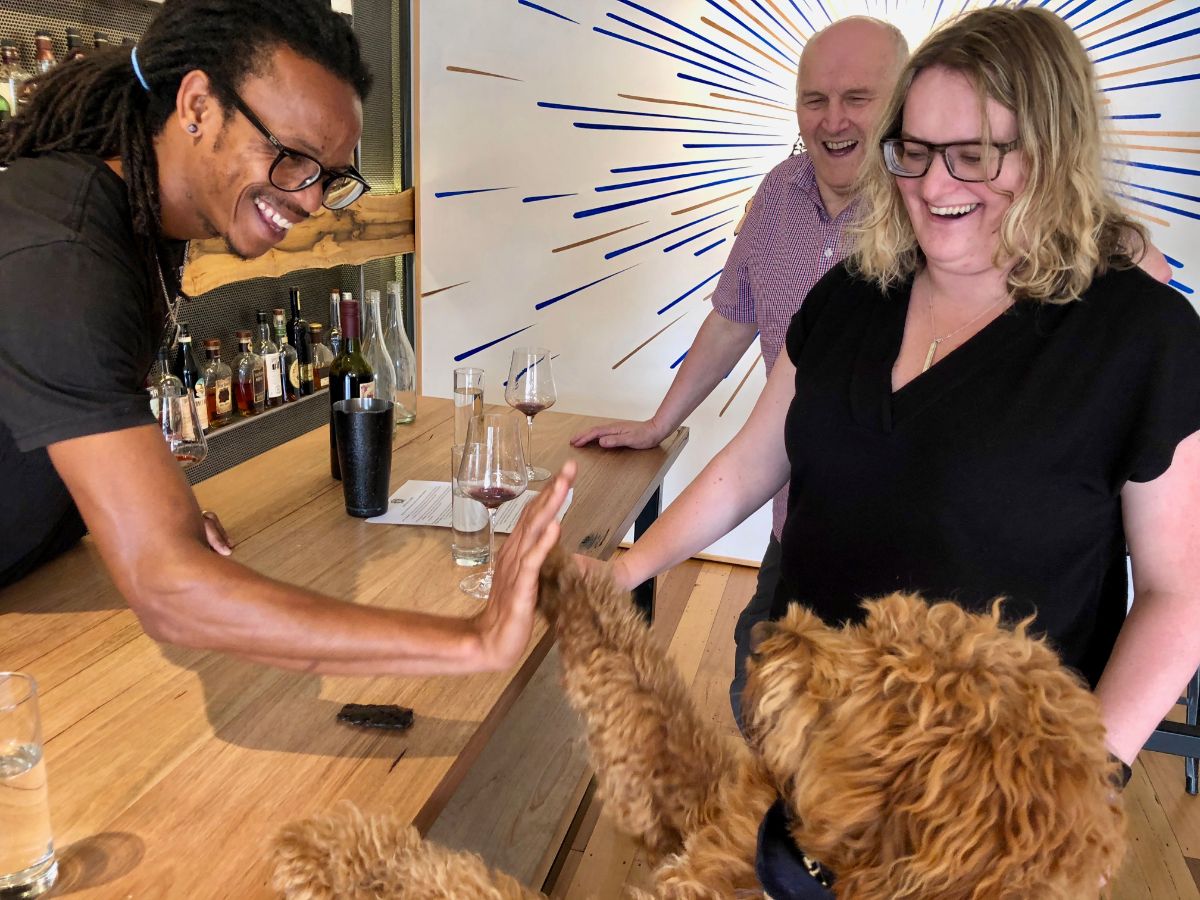 I was pretty exhuasted by now and I could see that Mum and Gramps were too, so Jeff kindly drove us back to our accommodation and helped us unload the wines theyd bought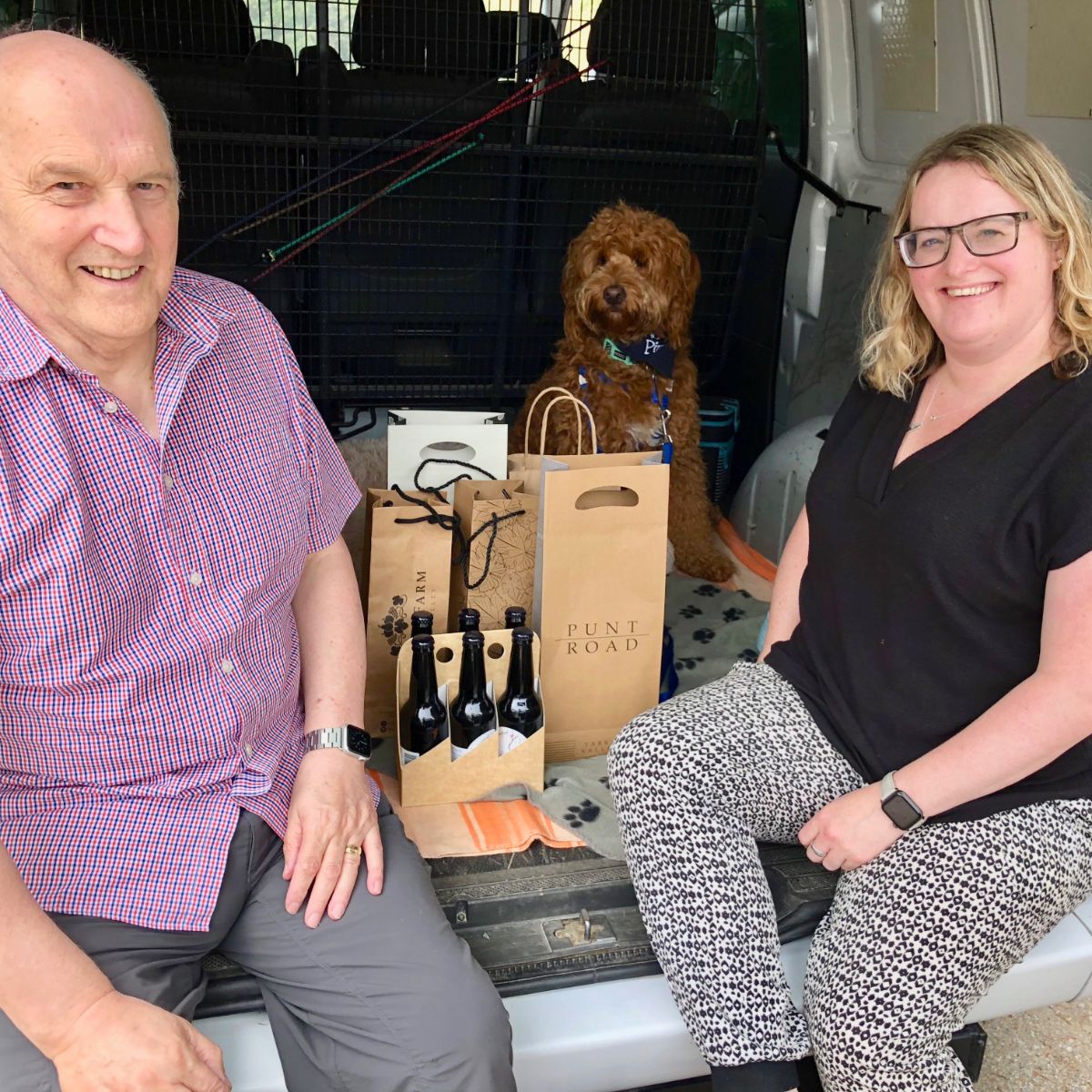 and inside we went – happy to lie down and rest after our exciting day.  To quote The Proclaimers, as you do when your Mum's Scottish, I felt like 'I had walked 500 miles' after today – but in a totally good way.  G'night peeps, sleep well, I know I shall!