Hello hello hello I'm Buffy, I'm part terrier part all sorts of other things and I'm not yet a year old and I haven't really been away on holiday before, let alone been on a wine tour. So I was a tad over excited as you can imagine! And when that happens, I speak really fast and rush around a lot, like I did on my Pooches tour which I'm here to tell you all about. Here's me on my tour with Helen my driver.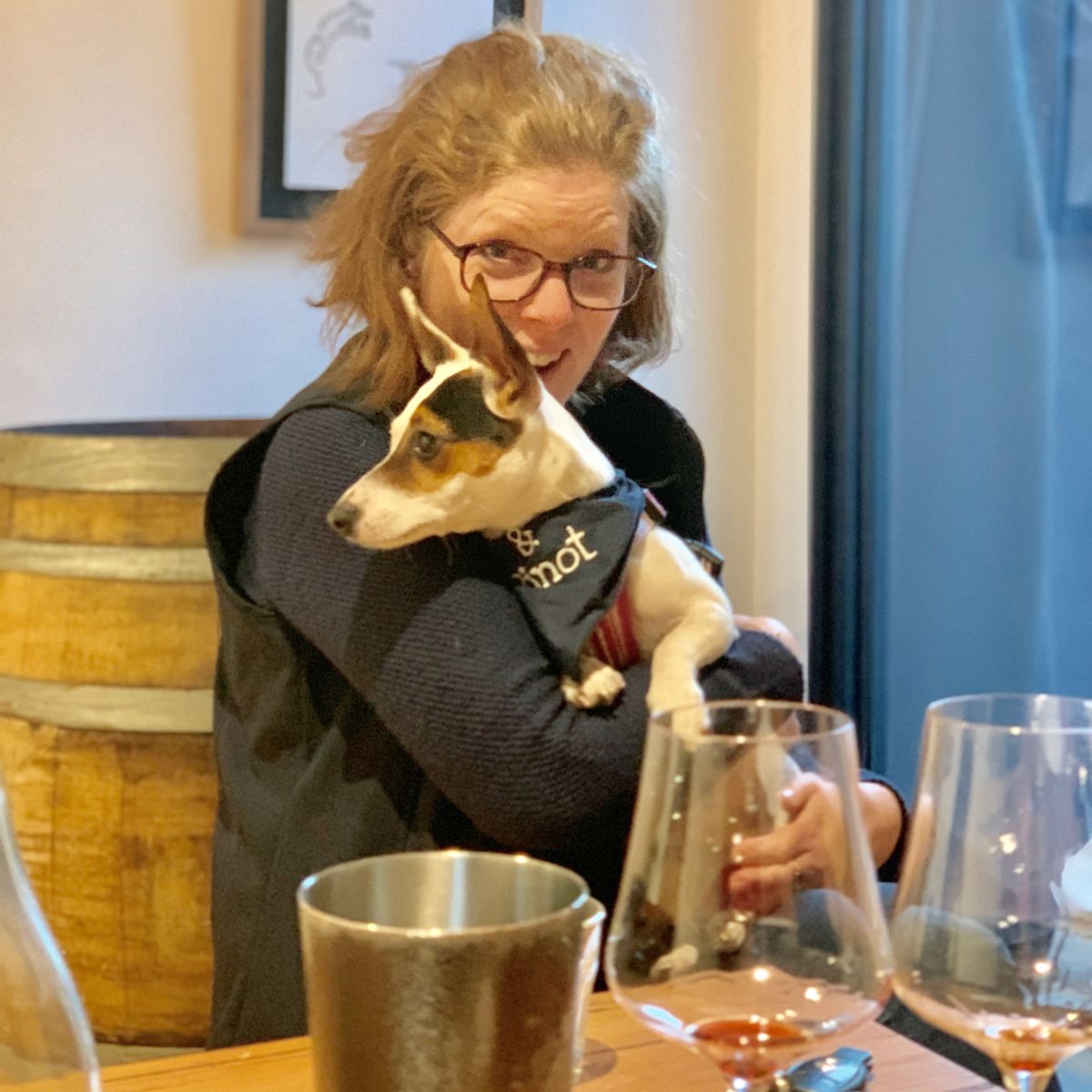 My pawrents Sam and Dayna took me away to stay in an apartment in Healesville for 3 nights (yes 3 whole nights) and today we went on a Pooches & Pinot wine tour with Helen. I now love Helen, she is my new BF. We thought we'd go on holiday midweek so it wasn't too busy with other dogs and tourists and we did a half-day wine tour because I'm so little, my folks worried that I wouldn't manage a whole day (and they were right – given that I conked out fast asleep in the van before we got to the final winery!!)
Helen (I loved her soon as she bent down to say hello and I kissed her in the mouth) arrived in a white Mercedes van and offered me the back seat between my Mum & Dad which was SO EXCITING because I never get to sit between them in the car.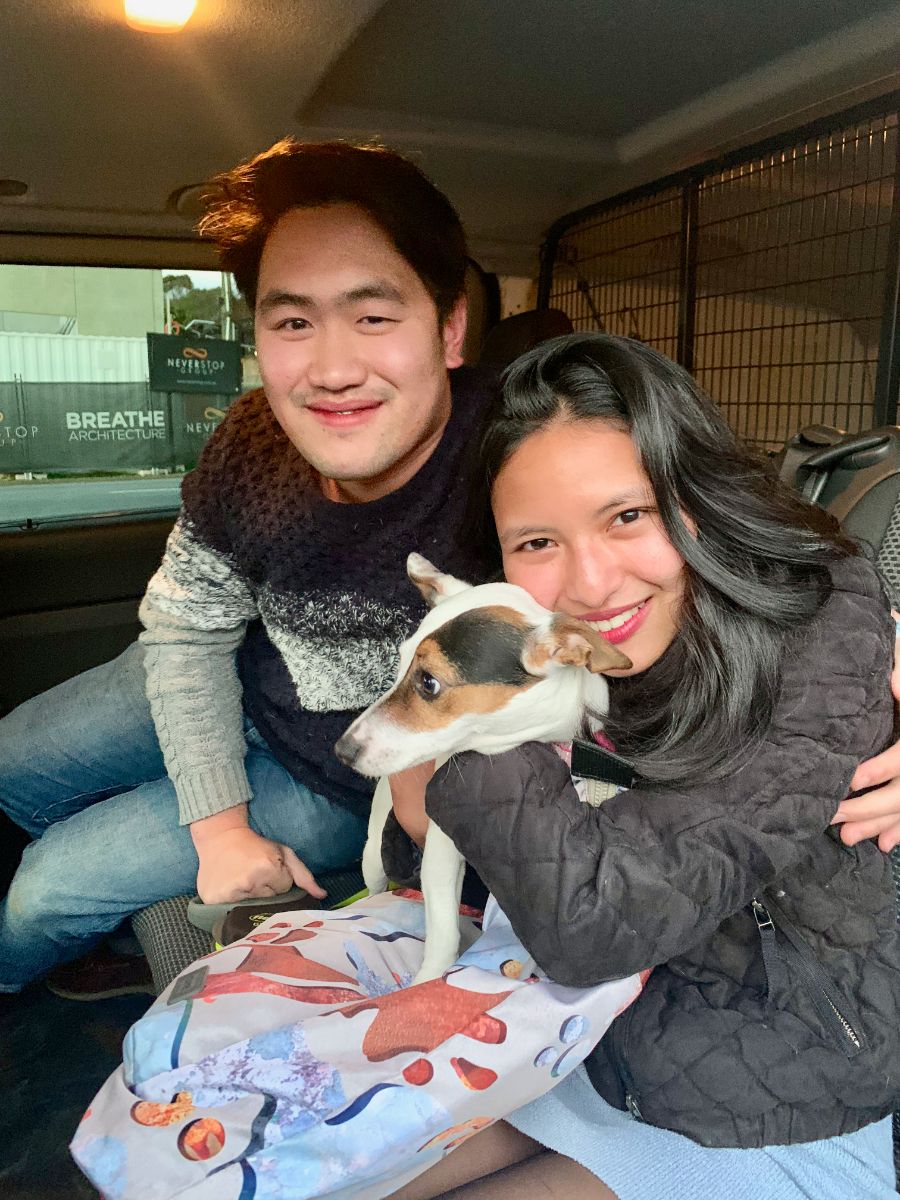 And I had to do the world's biggest leap up into the back and there, would you believe, I found a bandana for me (yes, little old me) on the seat, with a blanky and a seat belt so I could be safely clipped in. AND there was a brand new bag of treats, liver treats, my fave, ALL FOR ME! And get this readers – in the back of the van there was a dog bed, for me, incase I needed a little rest!! She'd thought of everything had Helen and that's why I love her. Oh and because she cuddled me all tour!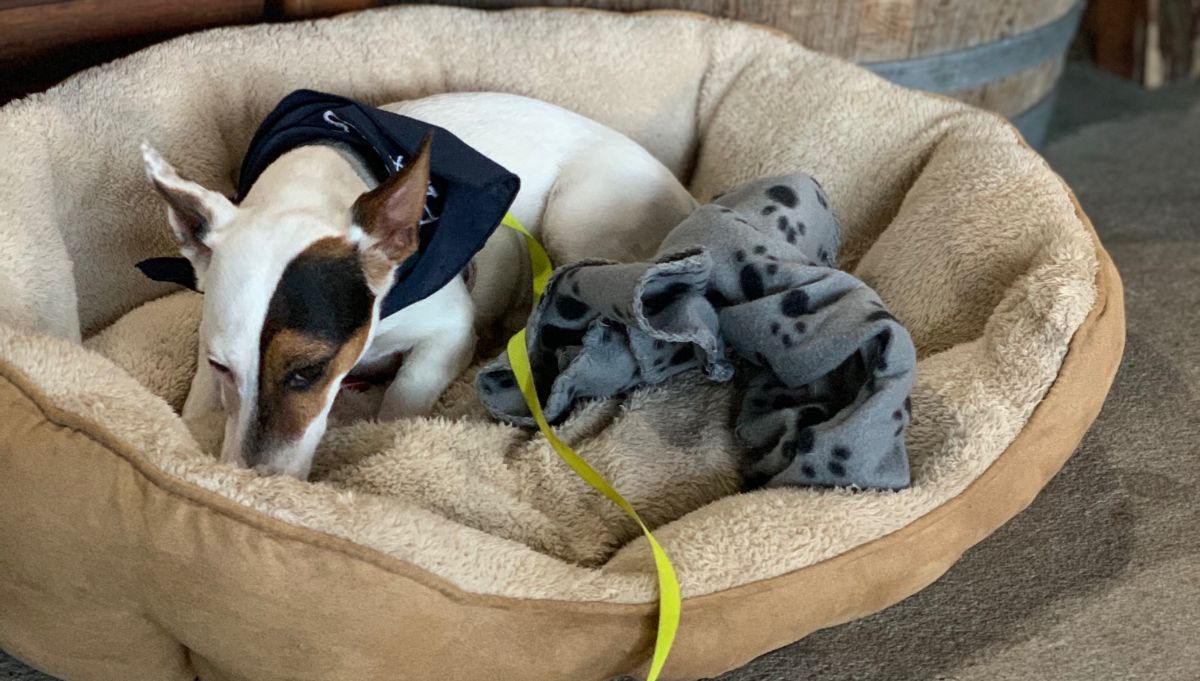 So, I was loving this tour before we'd even left the driveway of our accommodation!
Helen chatted away to us as she drove us to our first winery called Helen & Joeys and we drove off-road (I know, SO EXCITING, through potholes and everything) up a big hill while I watched everything through the window as it wizzed past. I'd never seen so many cows, sheep, alpacas, apple trees, vines, and suddenly… when we turned into the winery…there were unicorns. I know, right, I thought I was seeing things too, but a) we hadn't had any wine yet and b) there they were, white unicorns, all different sizes (and some had RED HORNS). Anyway, what could I do, I couldn't refuse to get out of the van. So I decided to be brave about it all and when the van stopped I leapt out fearlessly and led the way confidently onto the deck and made a B-line for the biggest damn unicorn I could see. And boy it was HUGE. Called Bruce it was. I charmed him and we became good mates. He's like 5,000 times my size – look at how great we are together.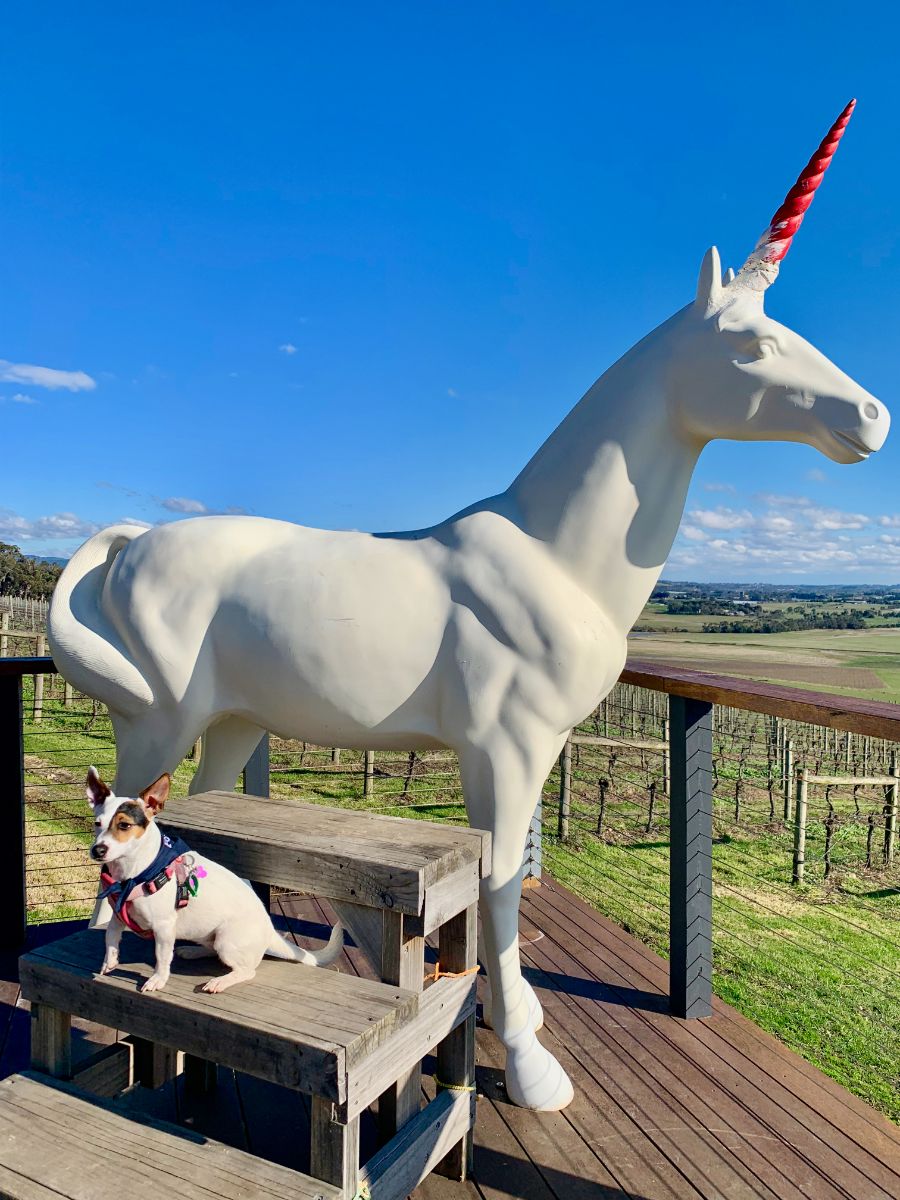 Soon I was wandering around chatting to him as tho it was perfectly normal to have a massive great big unicorn next to me!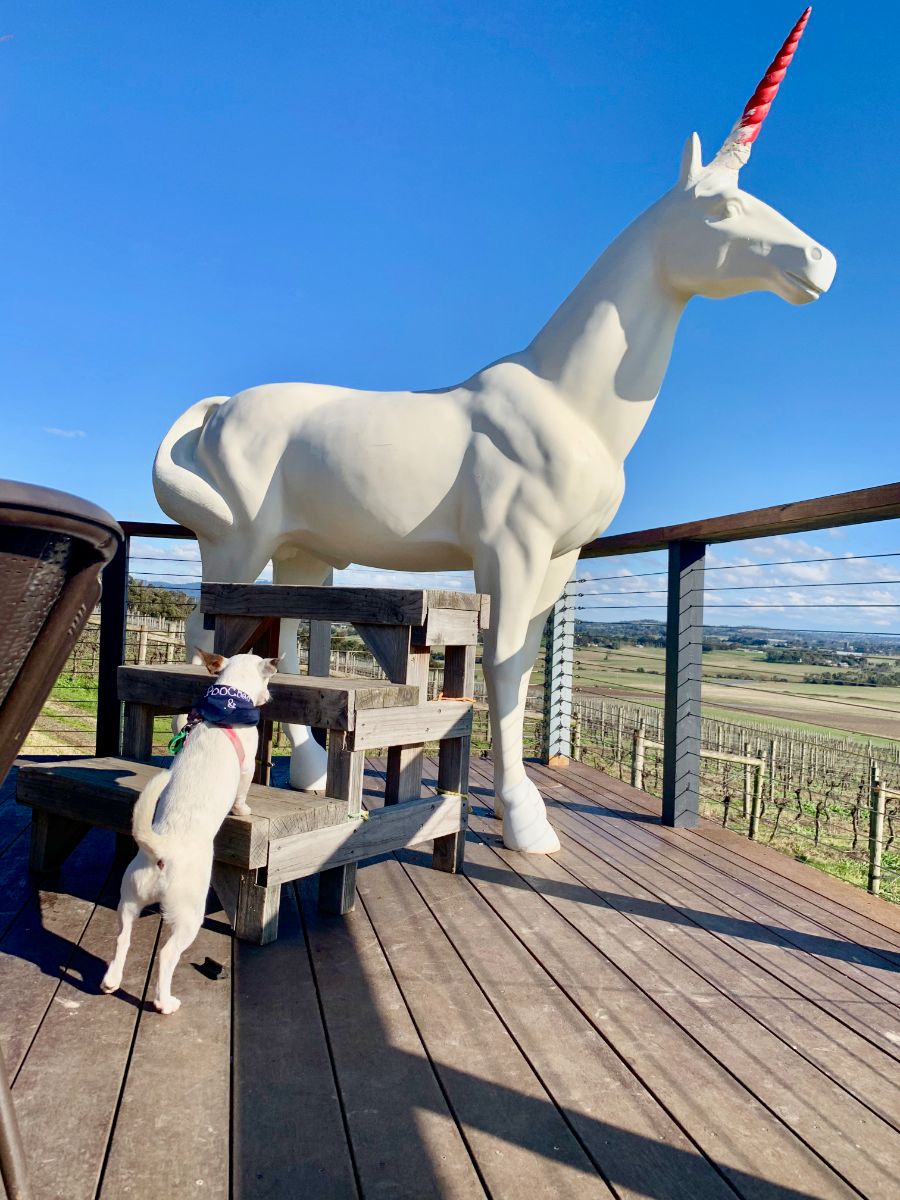 And then I met Sarah – wow, she's GORGEOUS. I loved her immediately.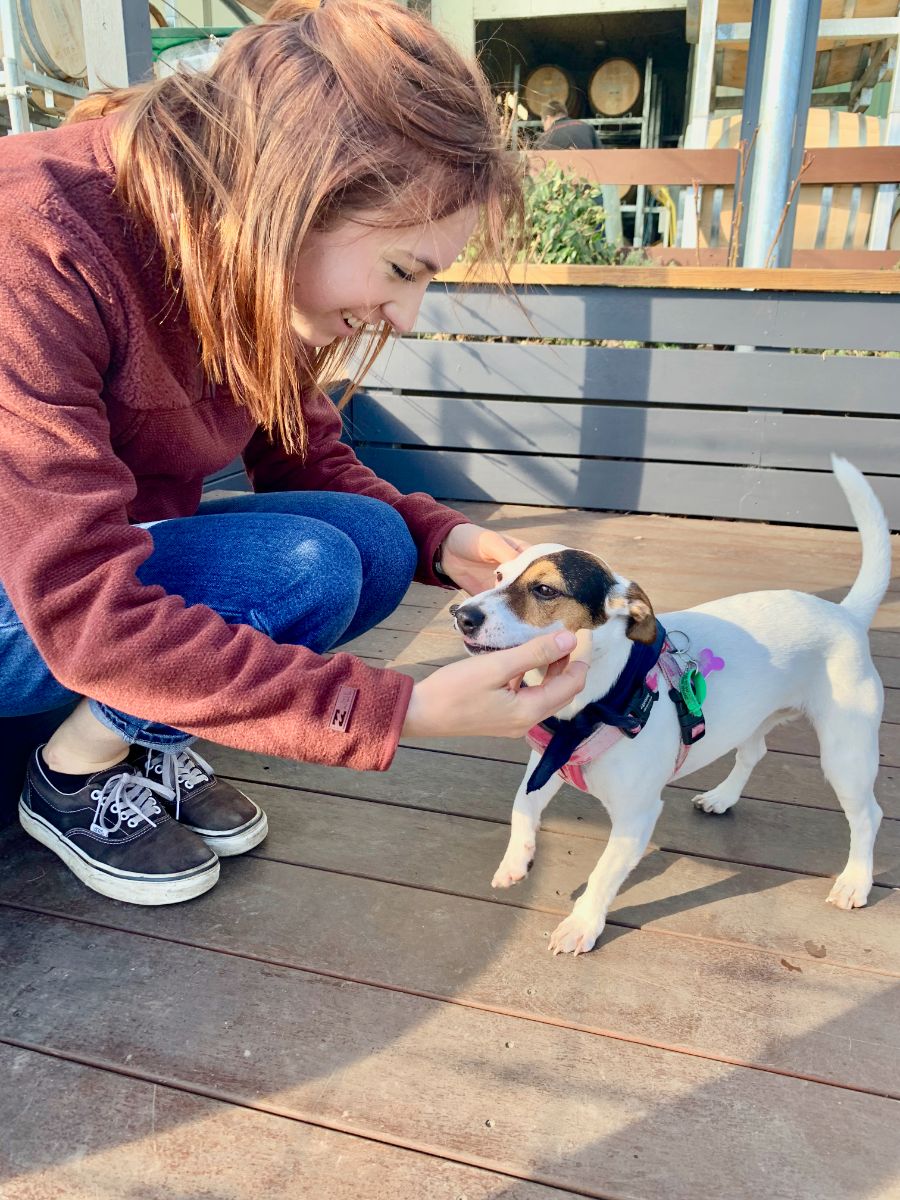 She came over and gave me cuddles and poured us all drinks of wine (well, not me, I'm too young) and told us all about how they make wine and what from and what they add or don't add and why it is a certain colour and where it goes and how long for and we had loads of questions and she kept showing us weird and wonderful things, like this thing they call a wine thief.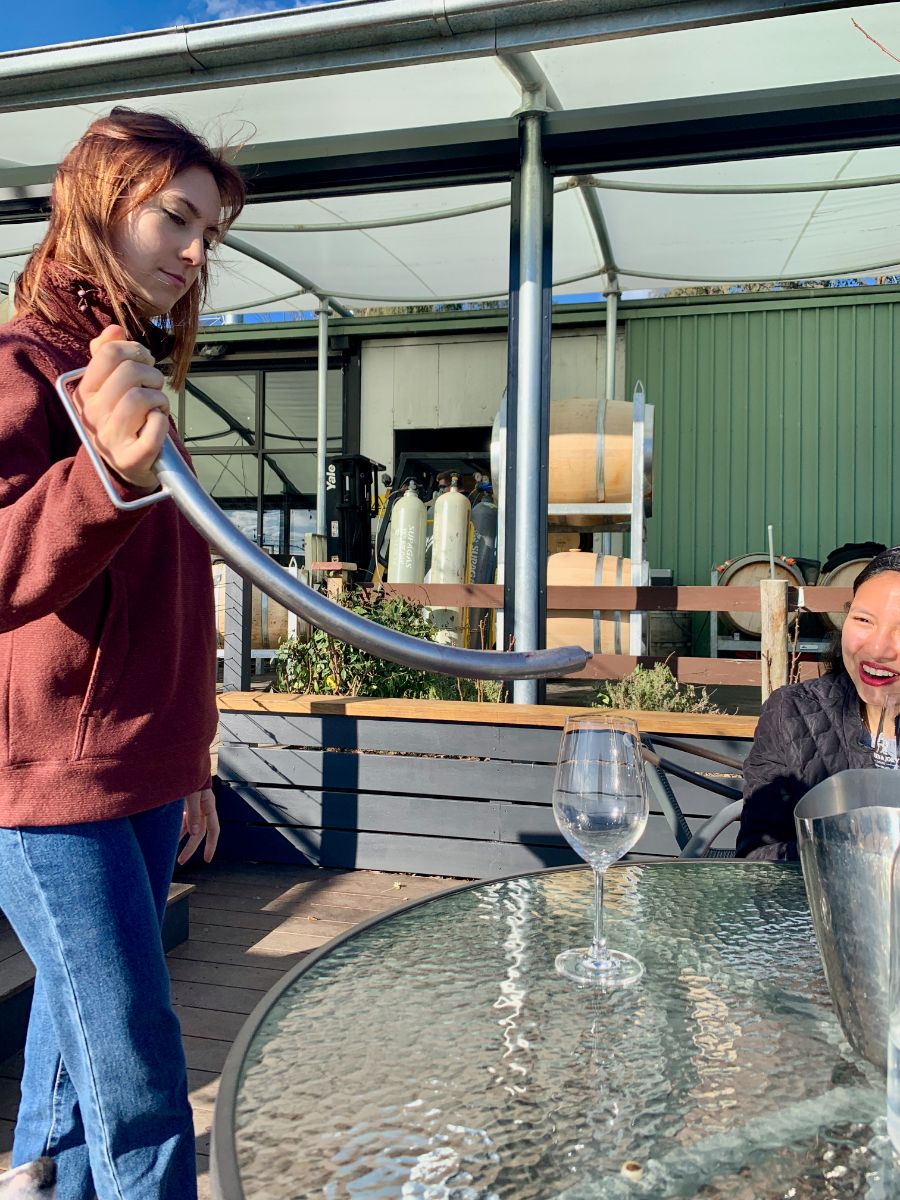 What they do (because I was listening really hard to everything she said) they shove the thief in the wine barrel every few days and it comes out with wild yeast on it (that's the white stuff)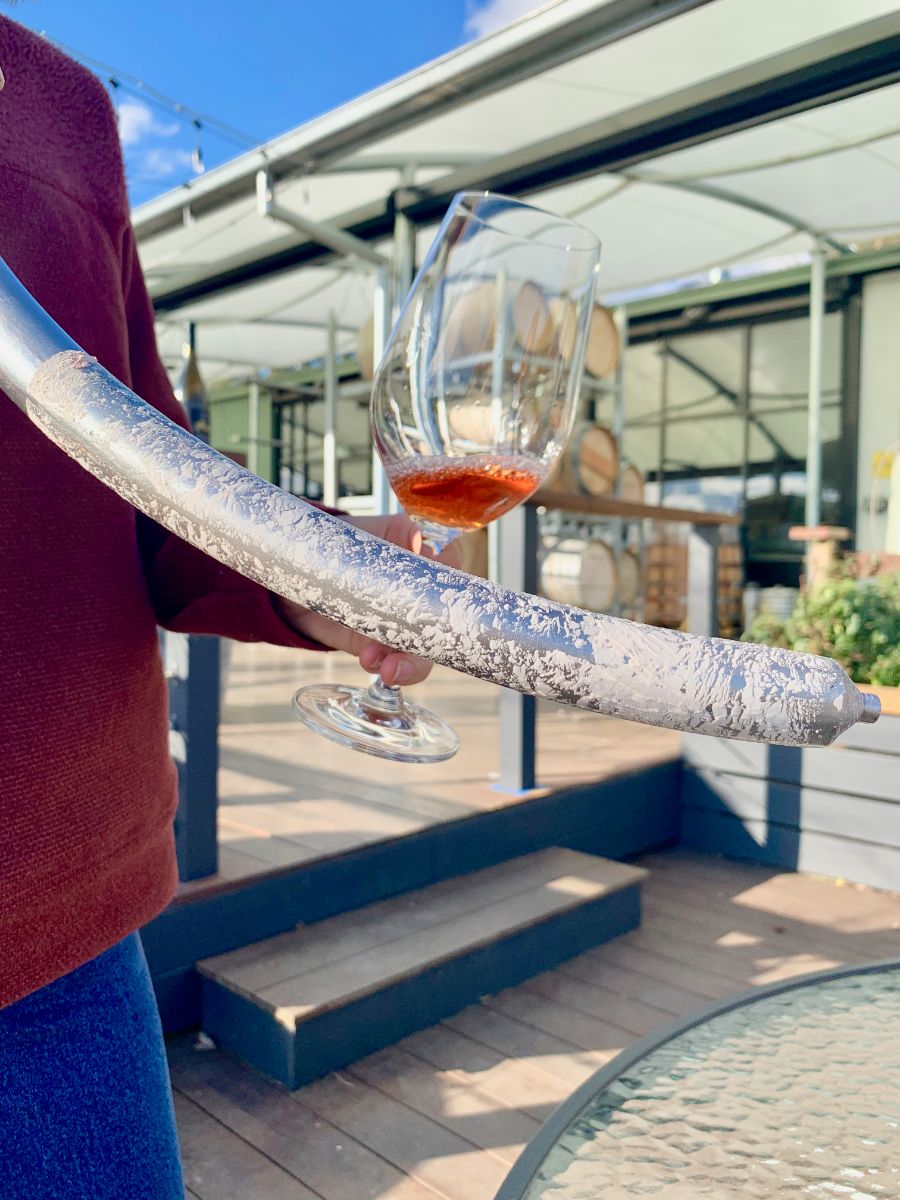 and then they drink the wine to see if it's any good. Brilliant. She gave my folks some of this wine to try – it's called Cabernet Franc and it's got to stay in the barrel a while longer.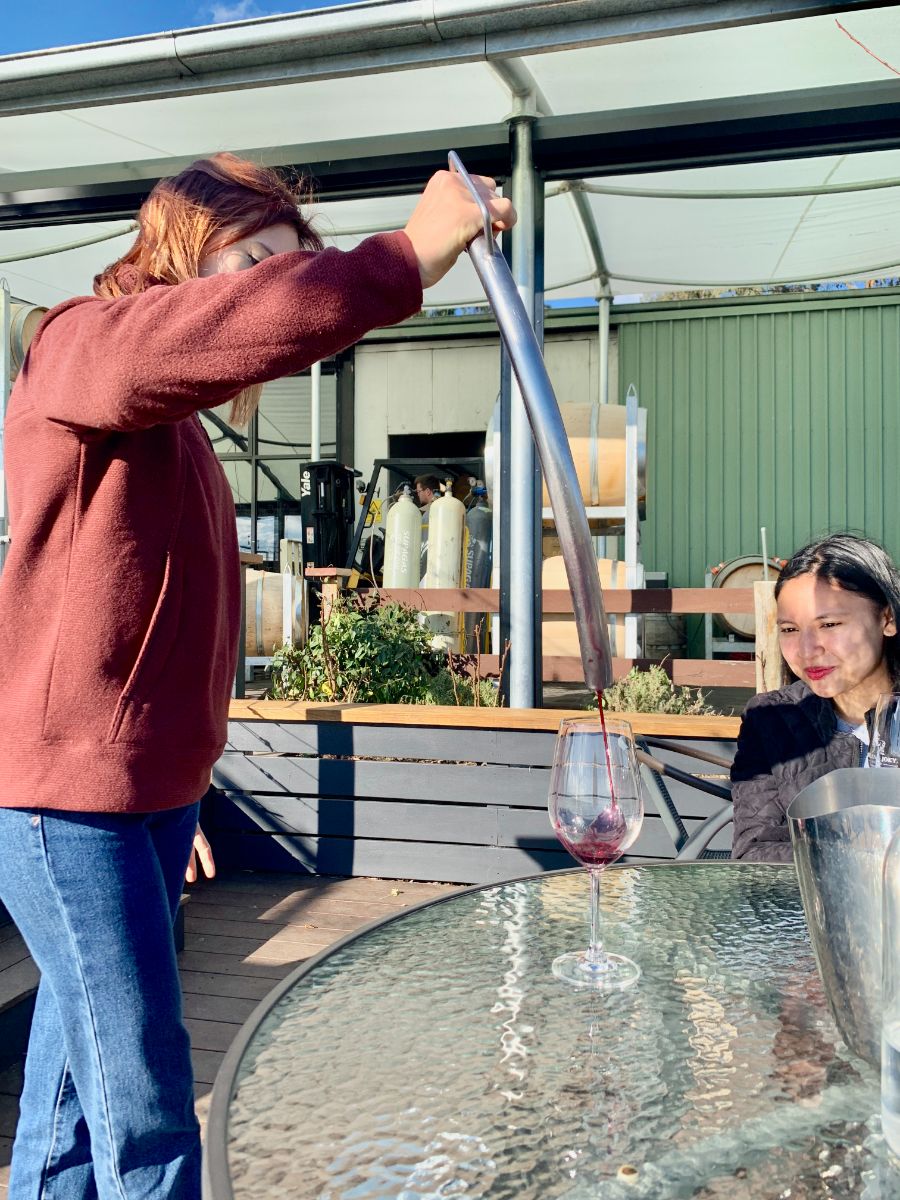 Even Stephen the winemaker came over to meet me, and play with the excess skin on my neck (righto?) so either he thought I was terribly cute or I reckon he could see I have the potential to be a rather fine winemaker. Either's fine with me.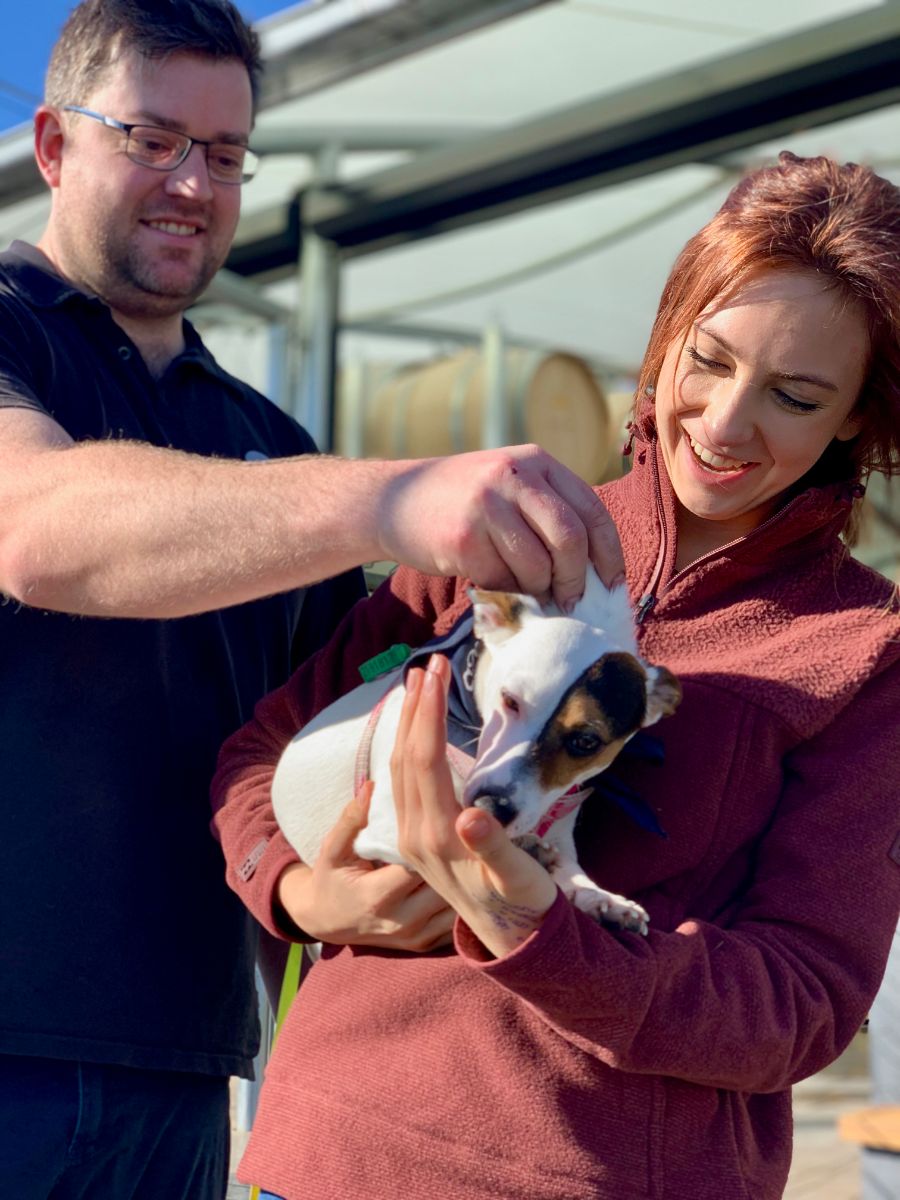 I kept racing off to see new people as they arrived at the cellar door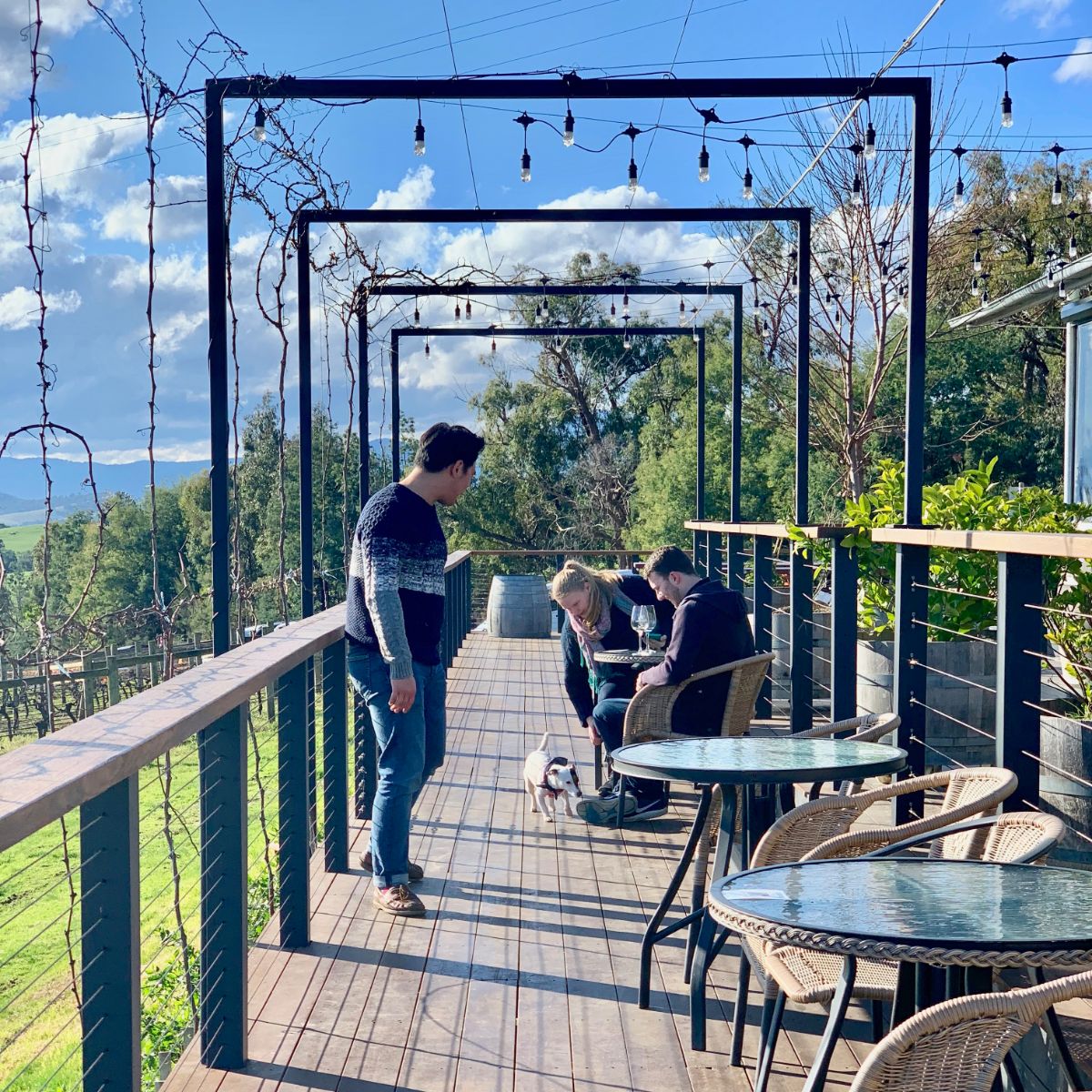 but I always came back and was SO thrilled to see Sarah every time she came to our table with yet more wine for my folks to try.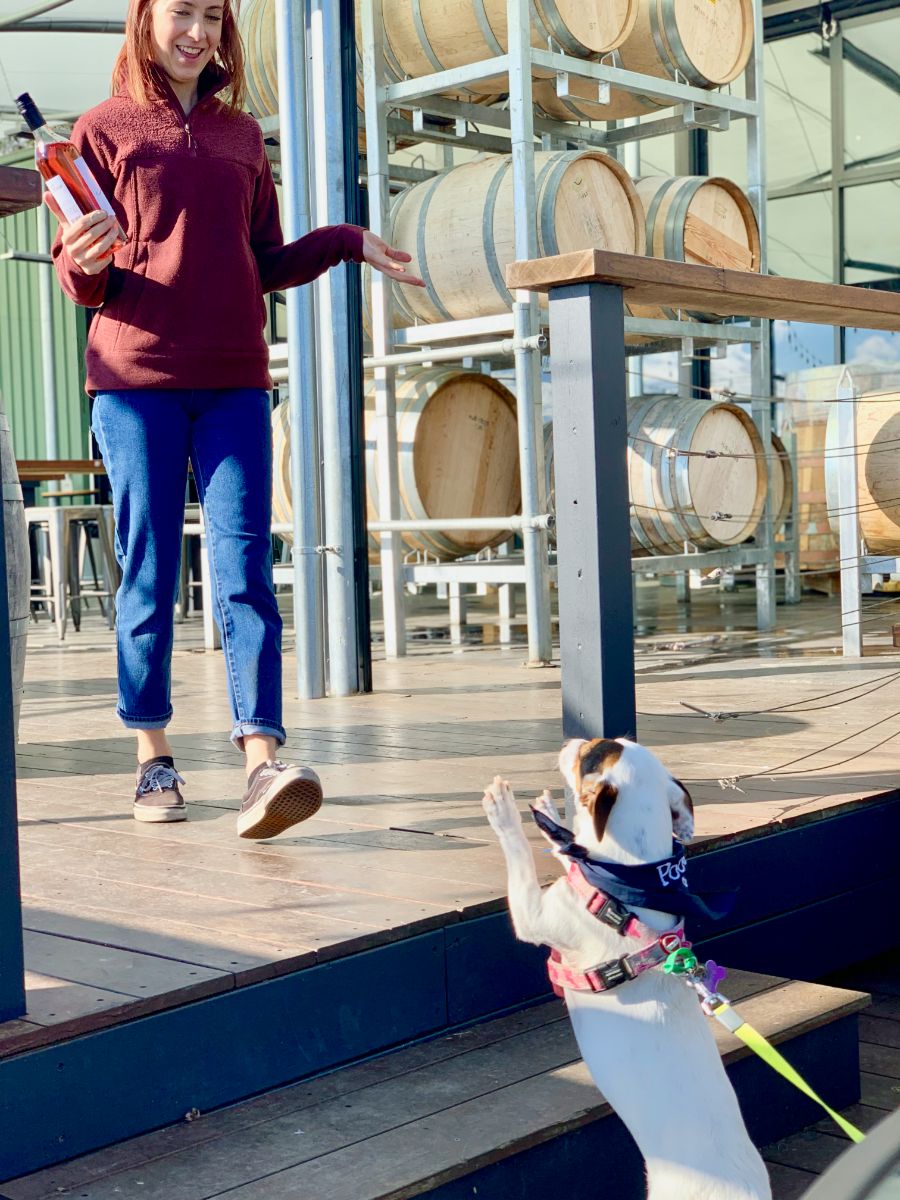 A lovely lady called Helen (another one, not MY driver Helen) who owns the joint came over and she gave me cuddles and a bowl of water. Wow, everyone was loving me and I made sure loved them right back. Helen got a kiss right in the mouth too for being so kind. Which she loved.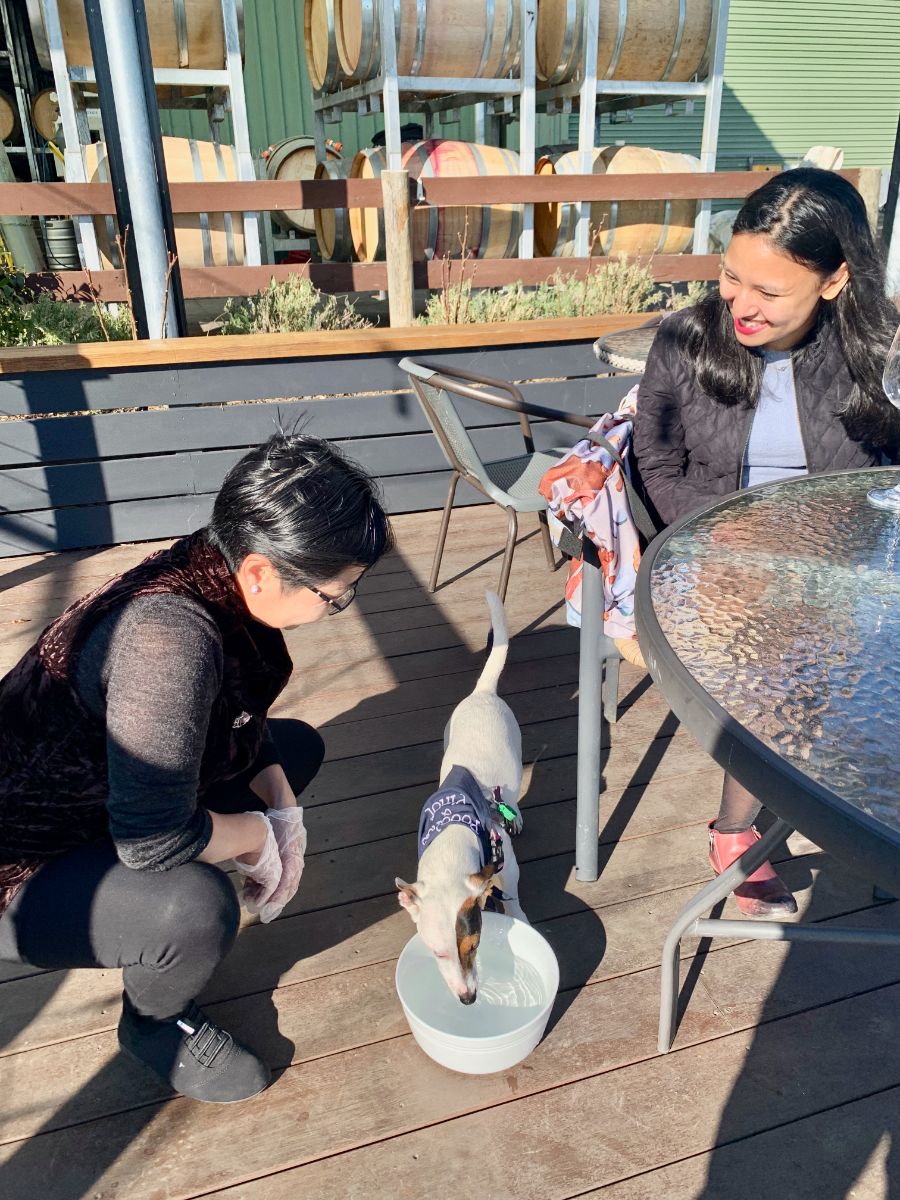 I offered to go and help her with her work as she and Stephen were busy playing with a forklift moving wine barrels around which I knew I'd be ACE at, but they said I was on holiday and insisted that I mustn't do any work.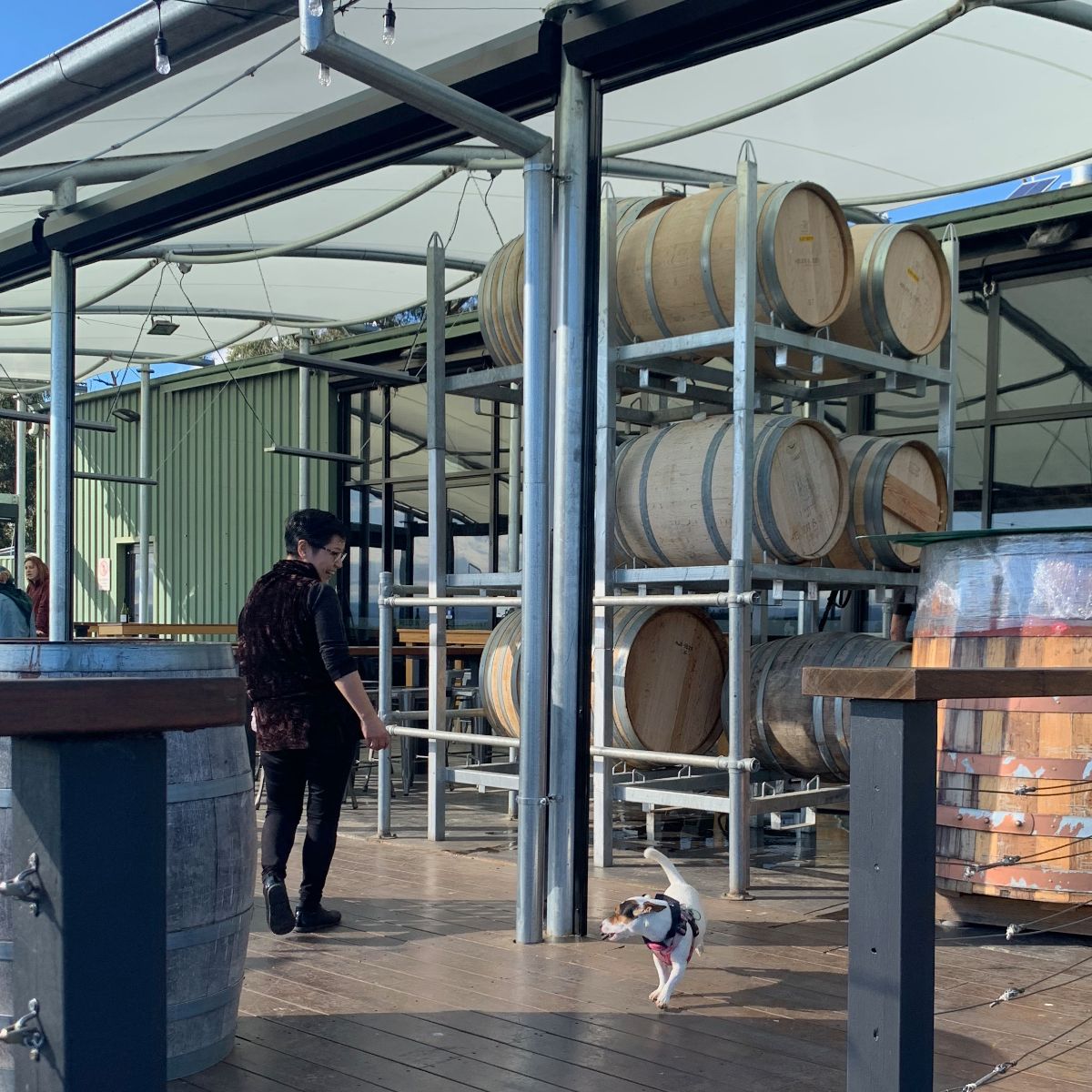 So I ate an ENORMOUS breath-freshening treat (so I could kiss more people in the mouth)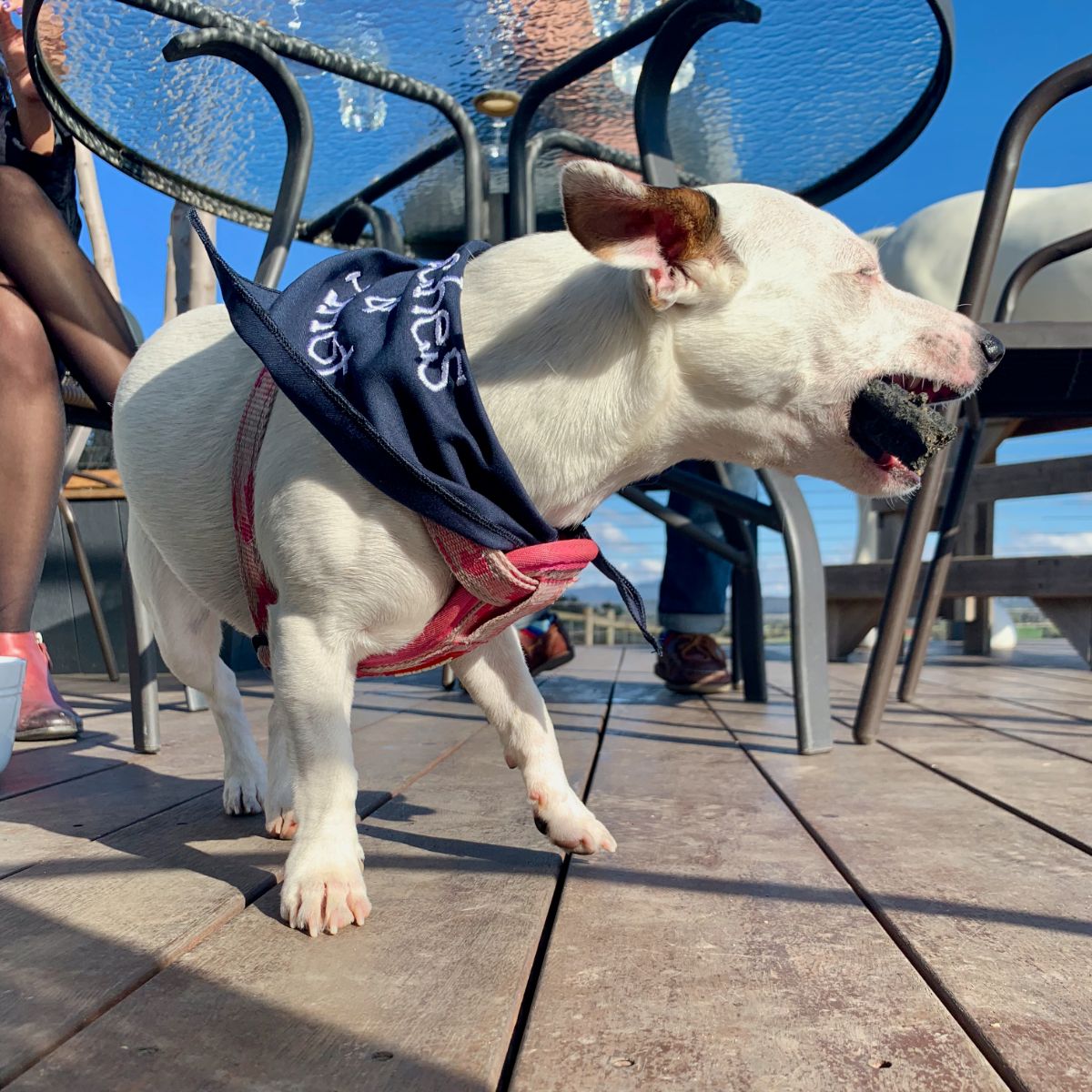 and hugged my folks lots to let them know I was having a great time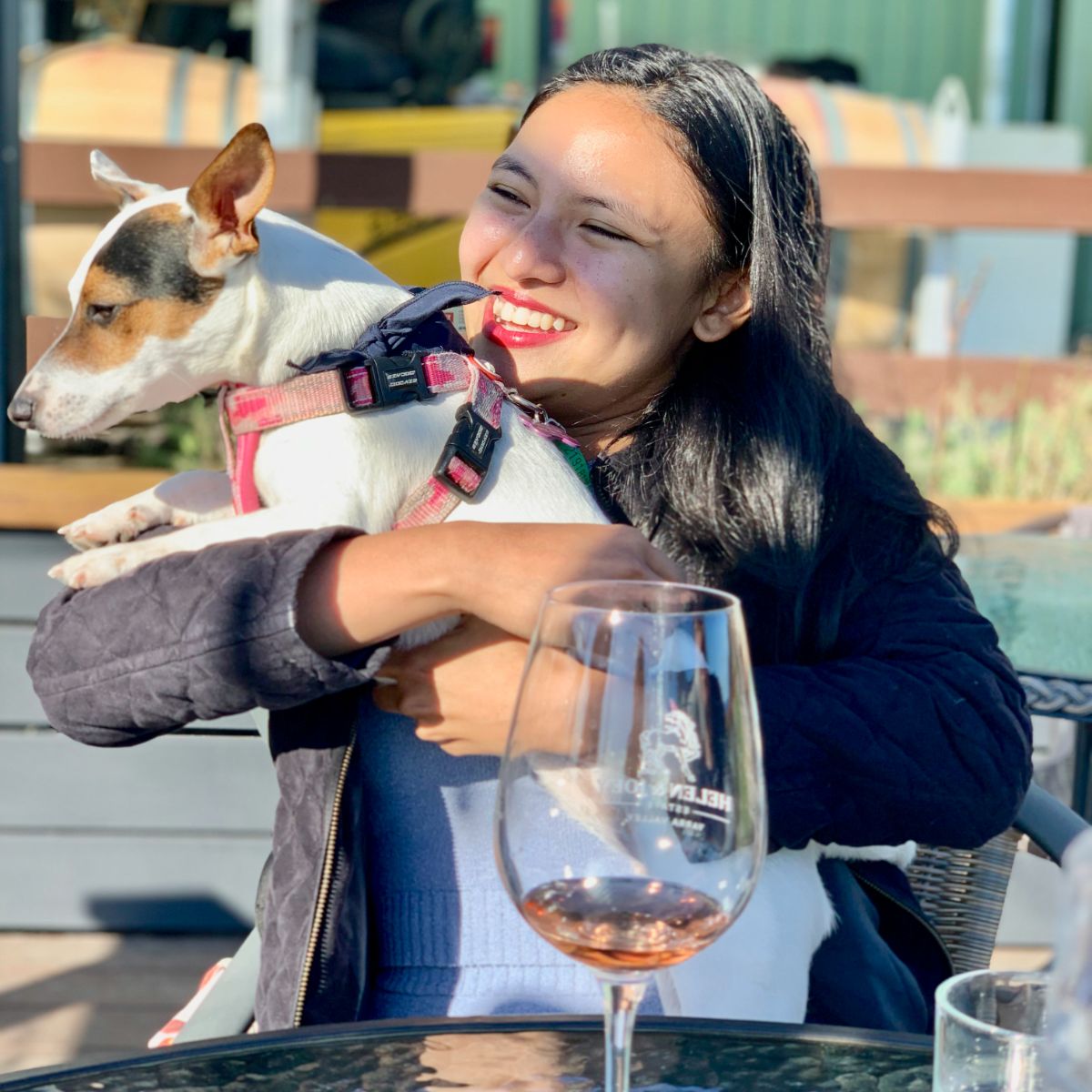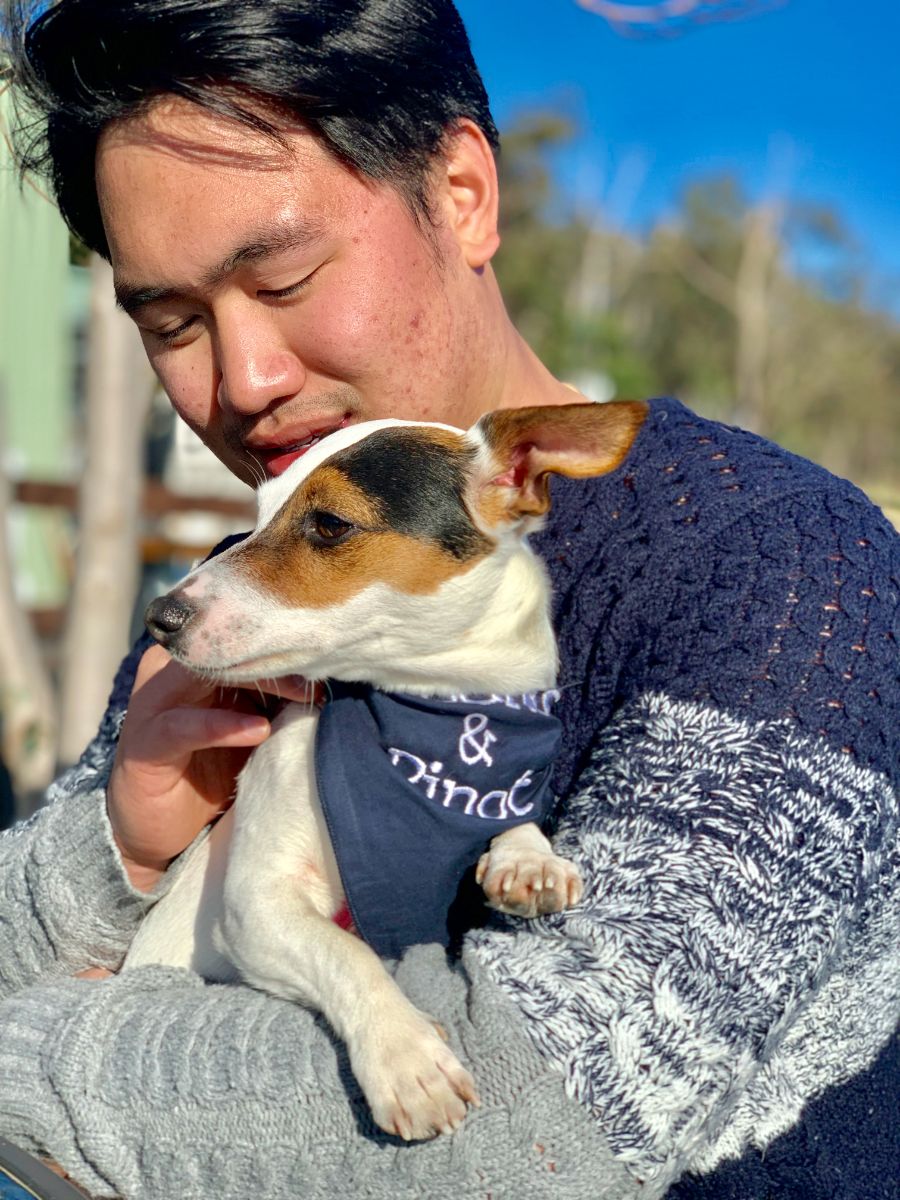 and Sarah of course (couldn't let her feel left out)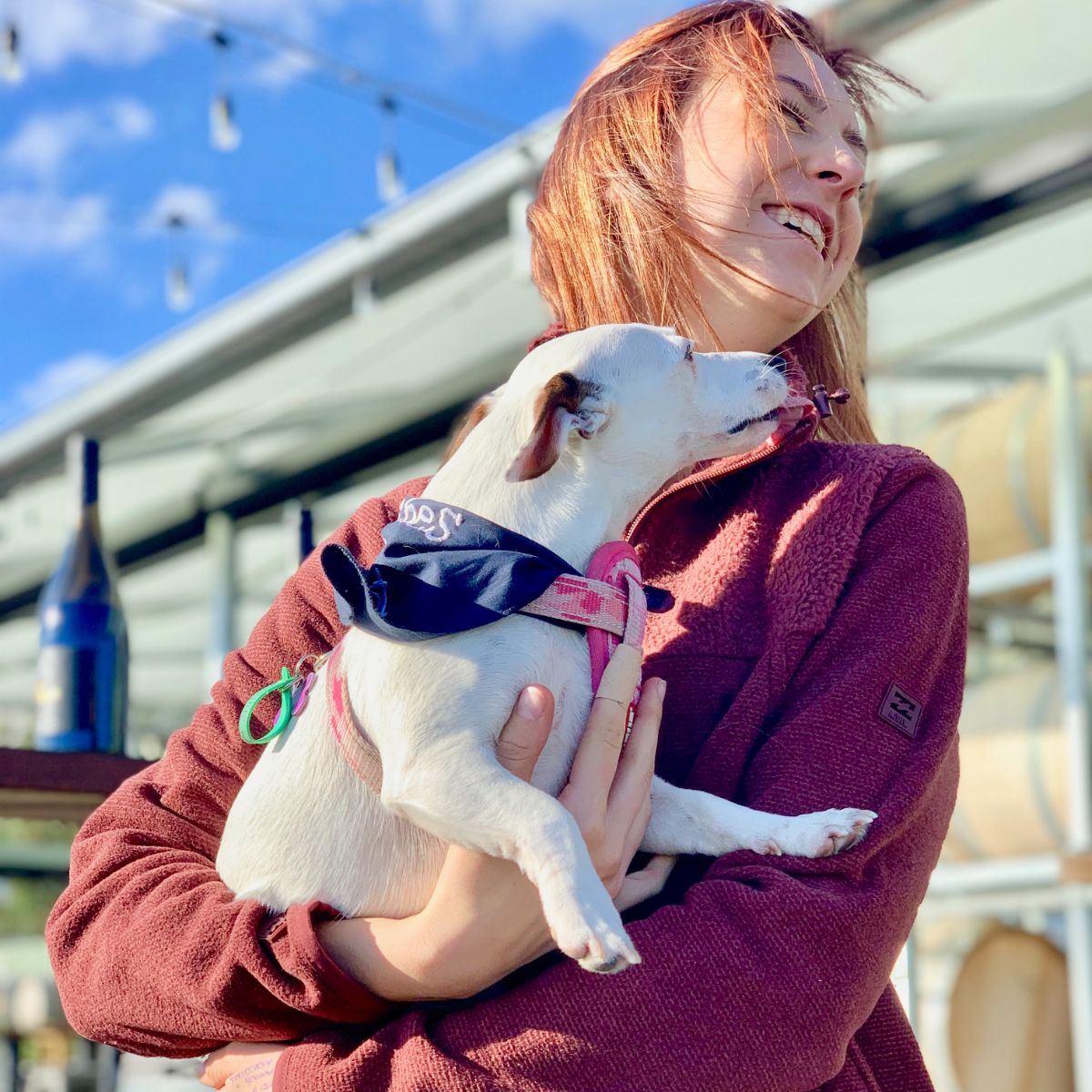 and occasionally tried to snaffle some wine whilst pretending to cuddle her!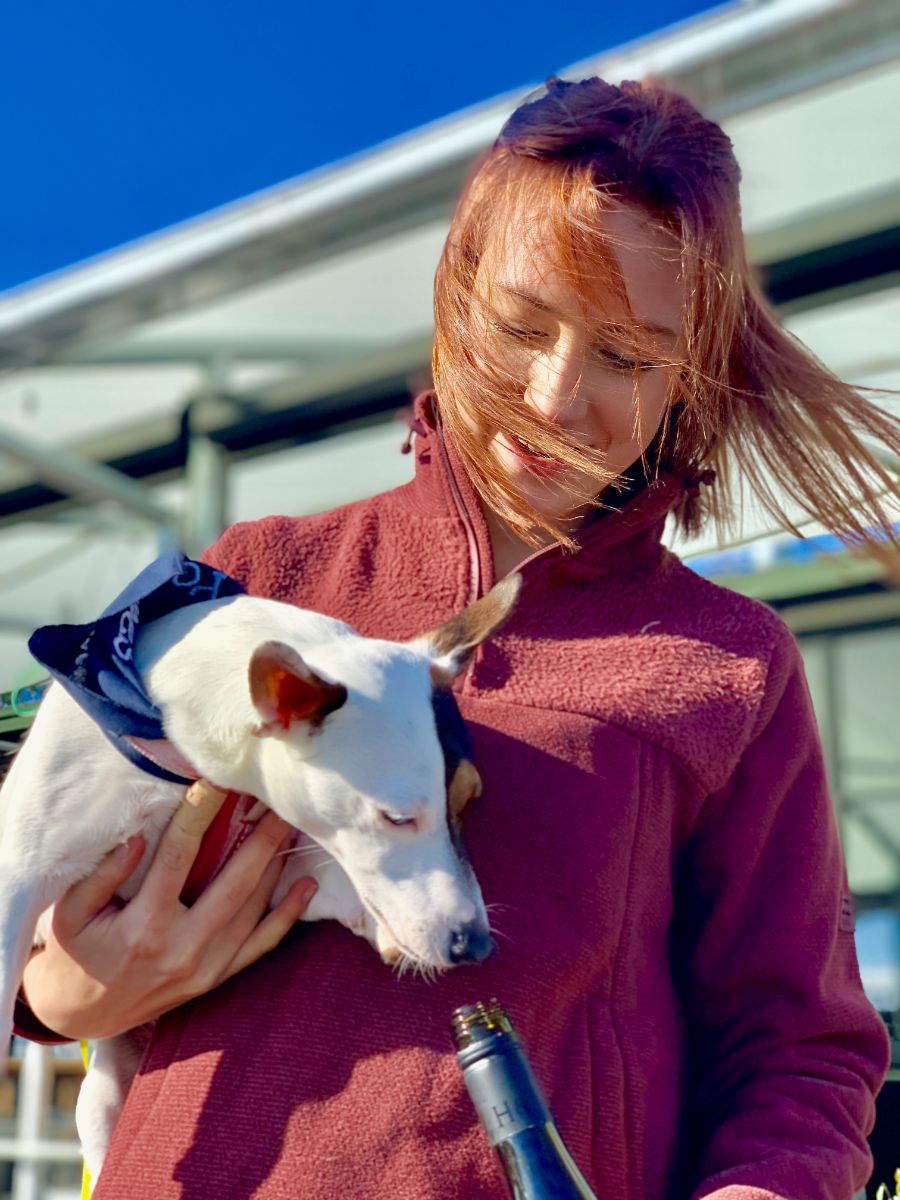 And of course I posed for the requisite touristy 'Unicorn photos' just to keep everyone happy!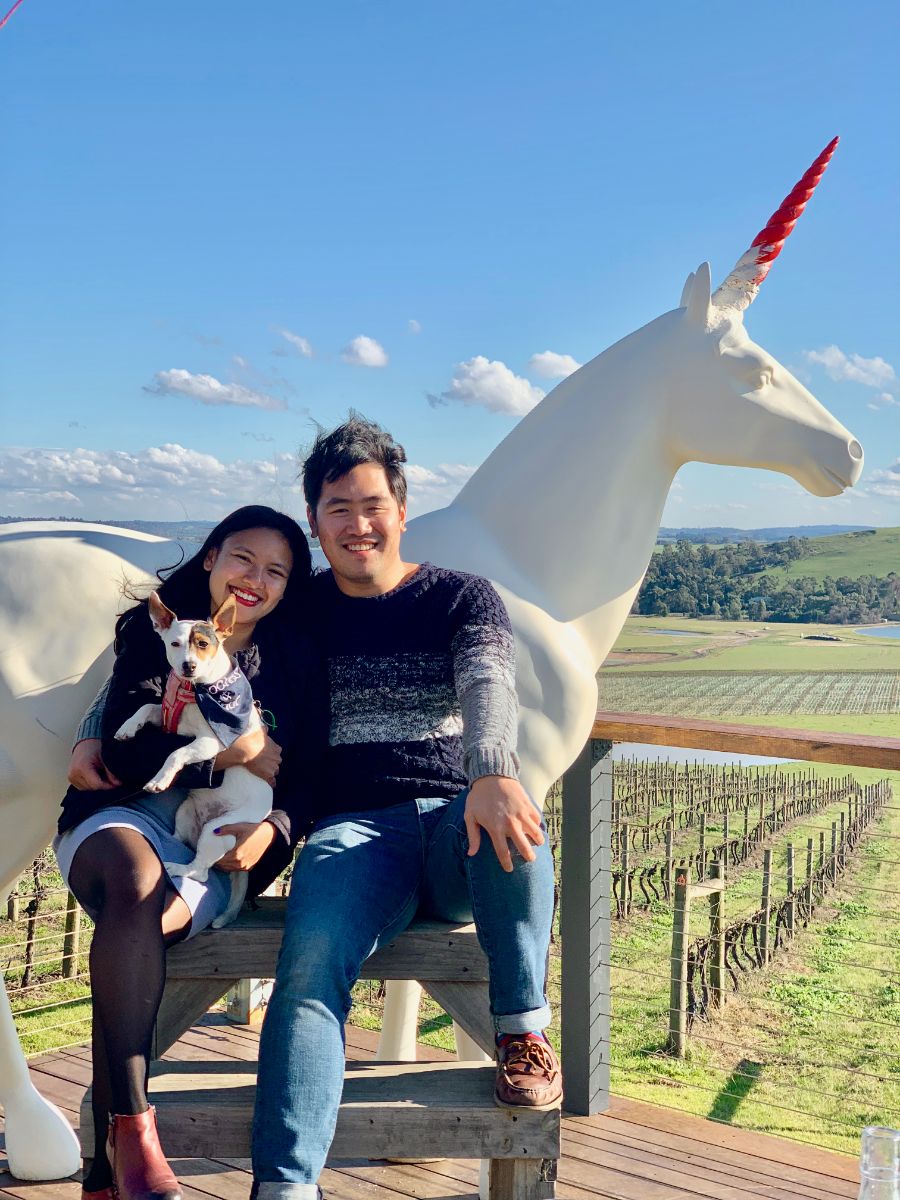 It really was so lovely at Helen & Joeys we could happily have just sat in the sun chilling all day.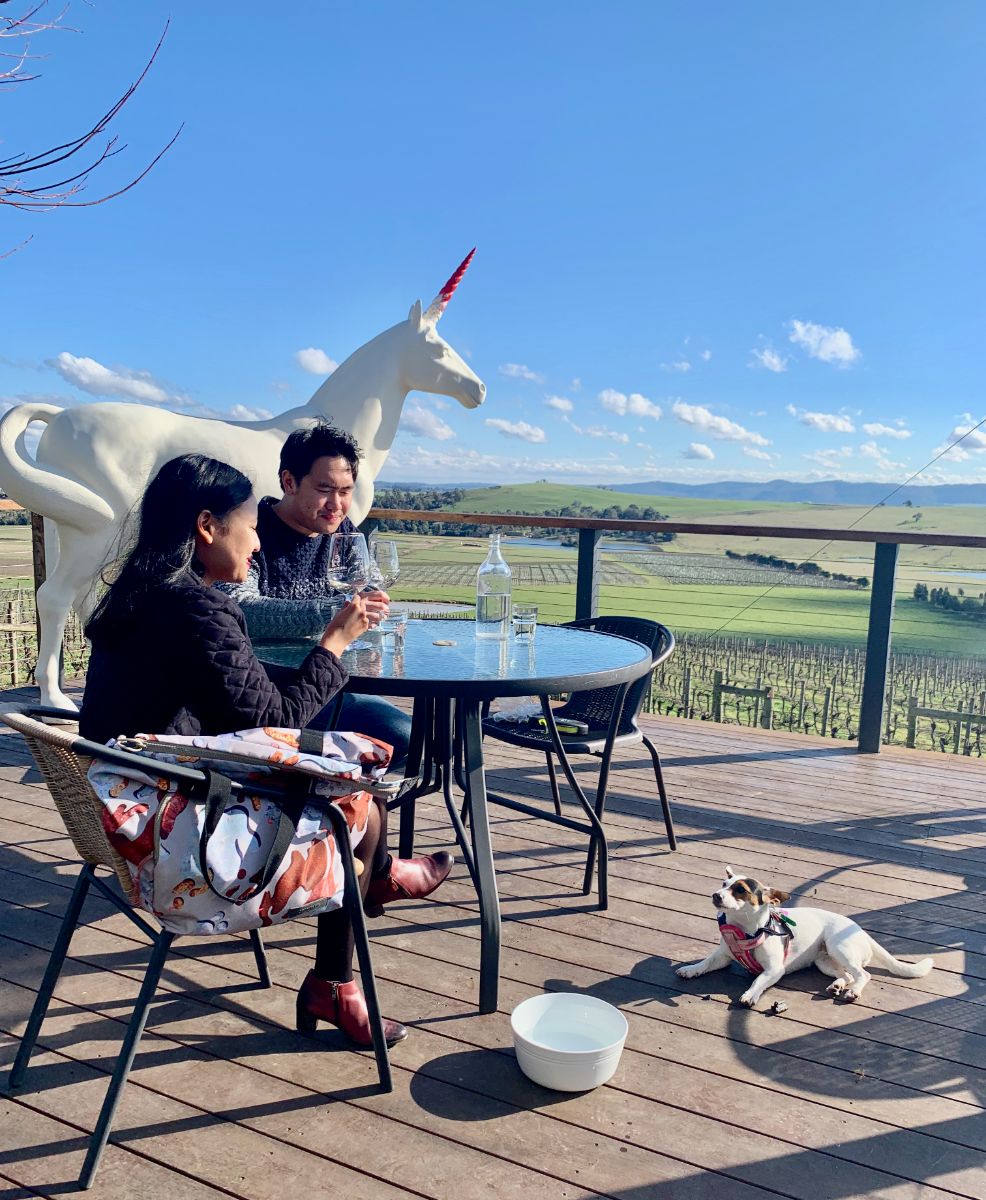 I found it hard to leave Sarah (look how I cleverly tied her up in my lead so she couldn't leave me)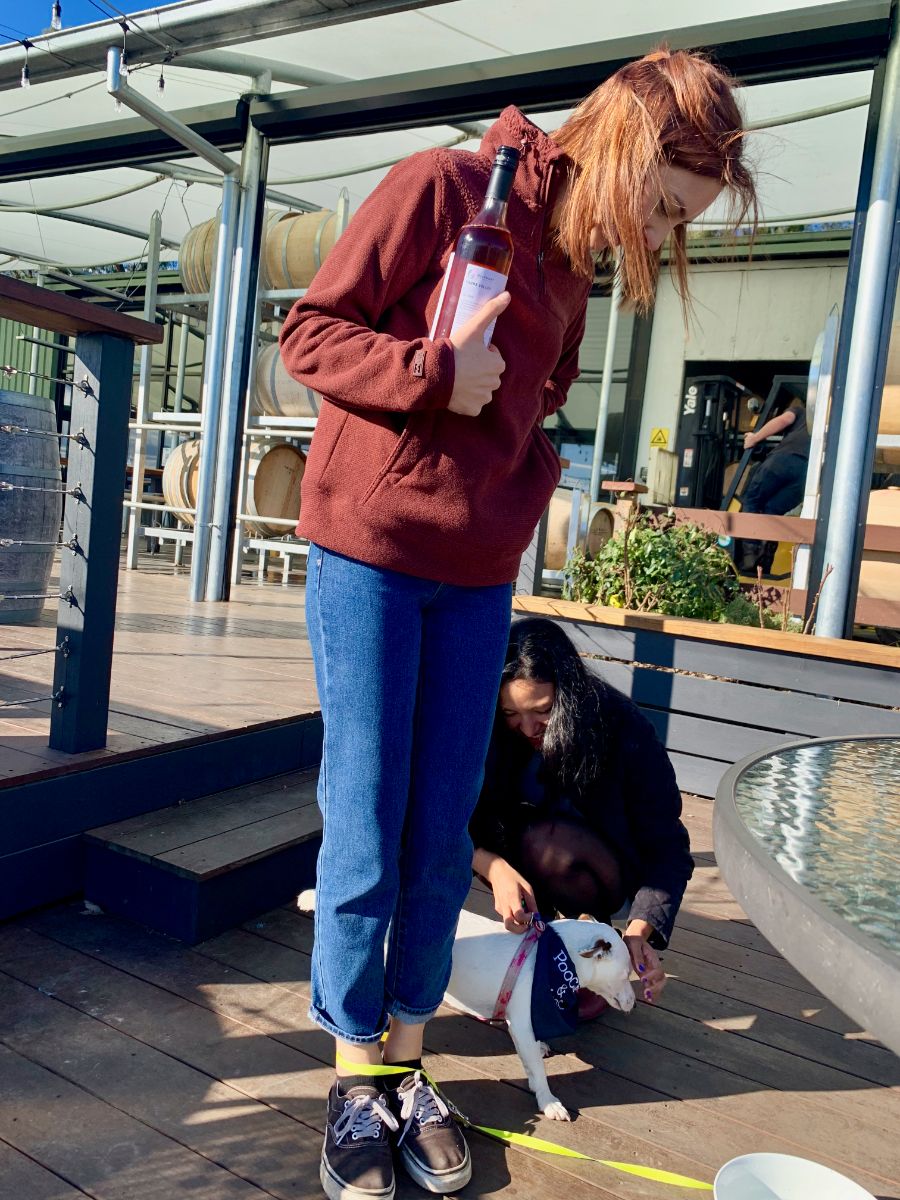 but Helen (yawn) said it really was time to go, so my folks bought their favourite wines and we said fond farewells to Sarah who loved me.
And off we went, back in the big white Mercedes, this time to a place called Yering Farm (exactly – farms are my new favourite place EVER because of the smells) and there was a HUGE lawn to play on and a great big old barn and I was allowed INSIDE and I raced in to say hello and you'll never guess what I found inside. Love people, I found LOVE. In the form of Roy. I found Roy. Just look at him.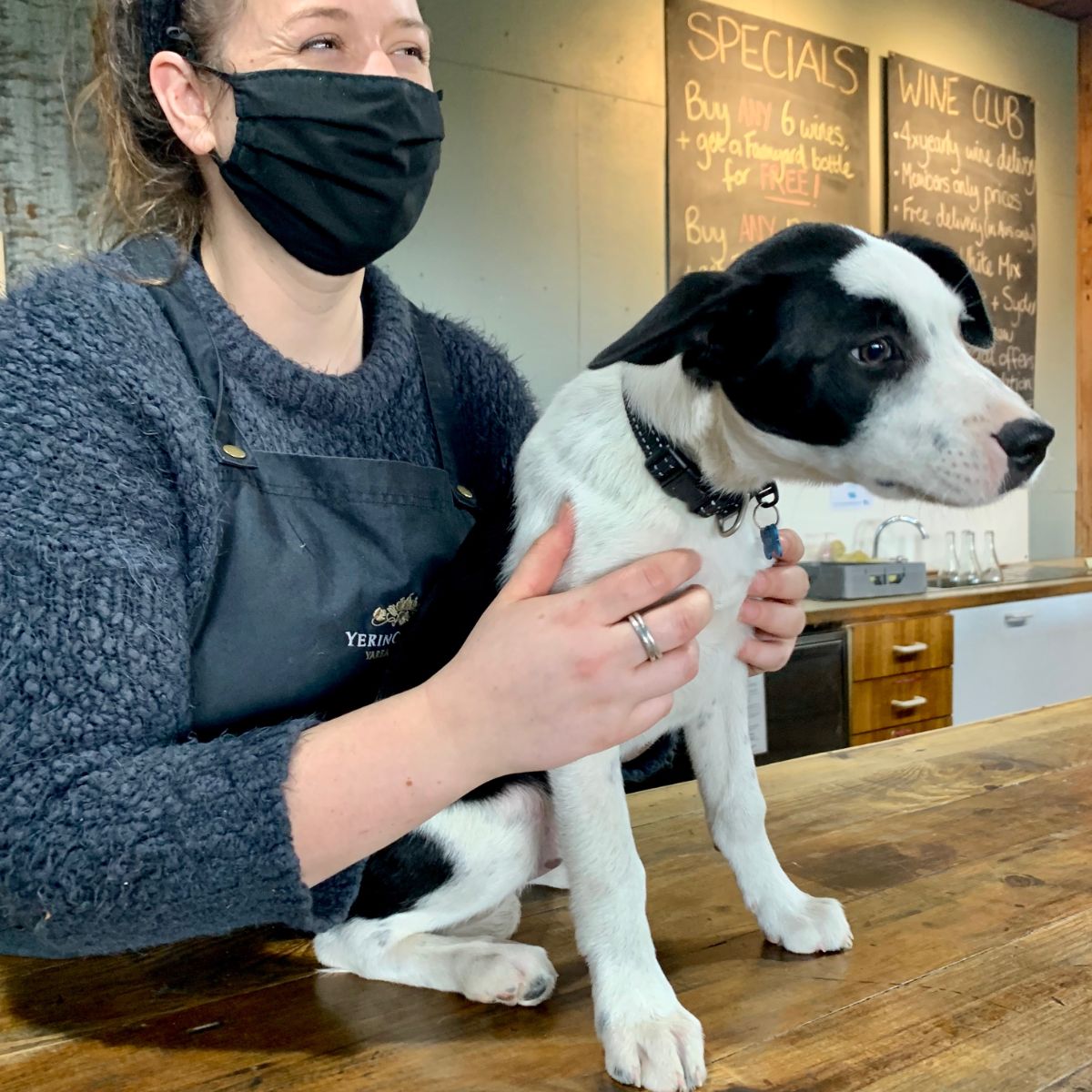 He's a Border Collie and 13 weeks old and he's the most beautiful boy I've ever met. He was with Megan the lovely lady behind the counter and she put him on the counter so I could see him better and we kissed and sniffed and pawed one another in the face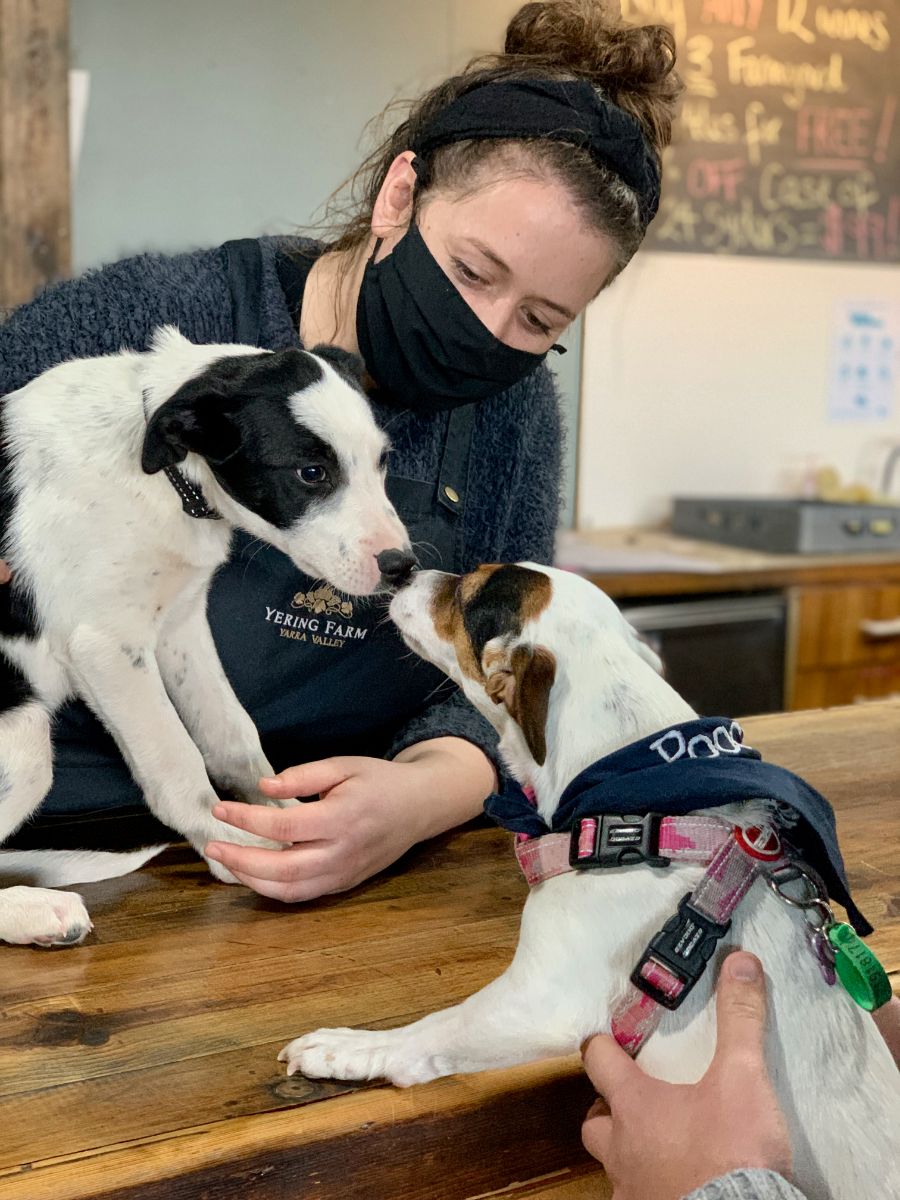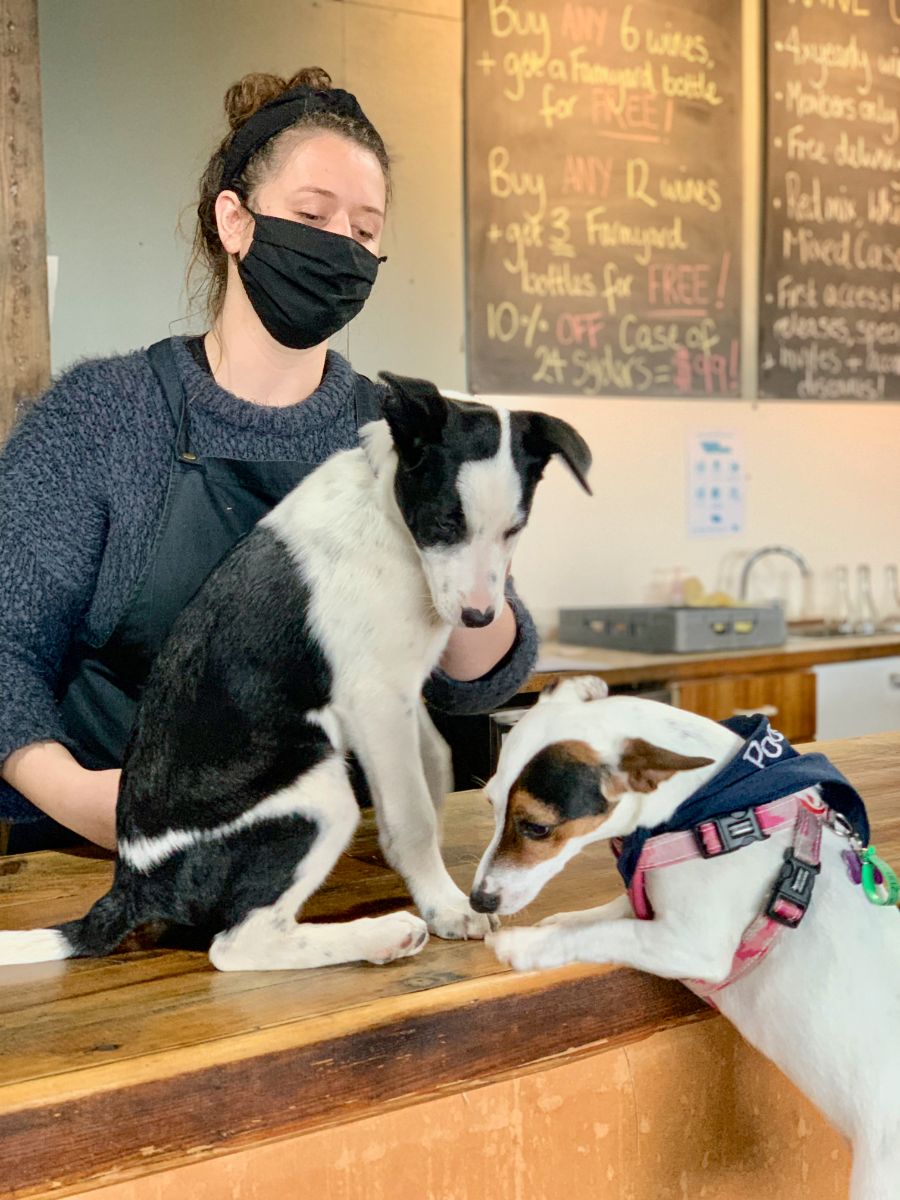 I was on a high. I've never been in love. I don't really know any boy dogs, so Roy totes stole my heart BIG TIME. I couldn't get enough of him.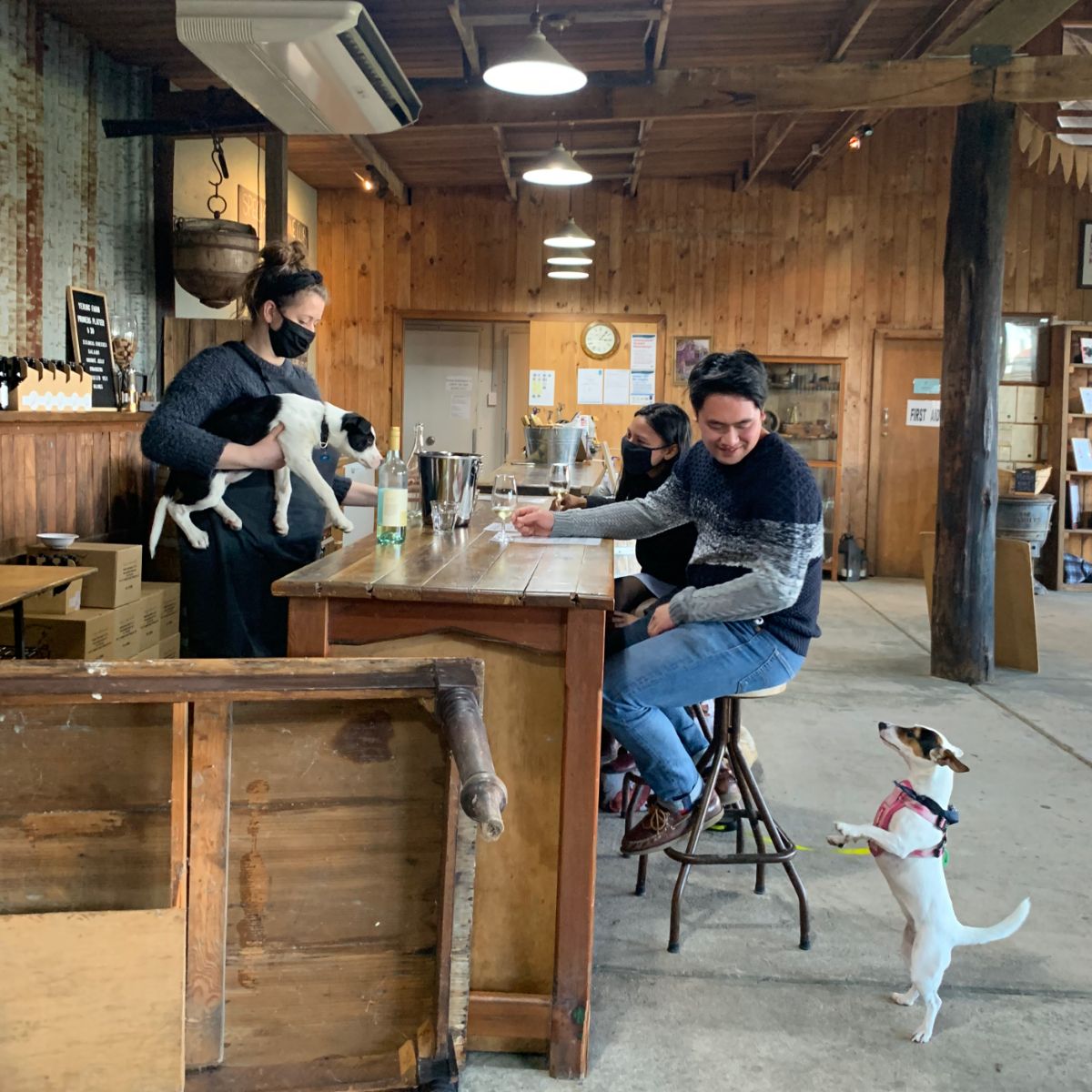 My folks loved him too.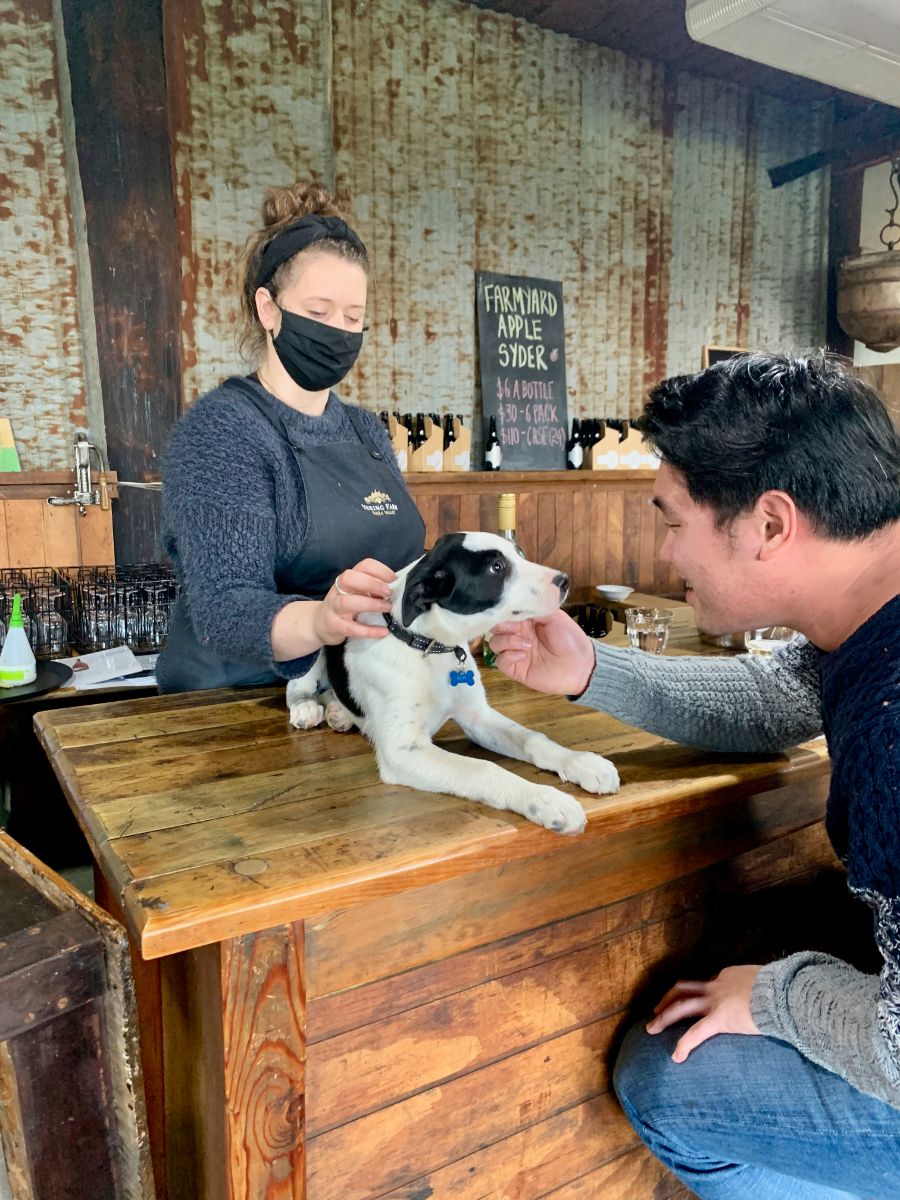 but it got to the point that we all liked him so much and I was flirting my socks off and he was so taken with me that …he had to be put in the kitchen!!!
I could hear him scrabbling around in there (possibly trying to chew his way out to get back to me) and I tried REALLY hard to listen to Megan as she was doing the wine tasting with my folks but really I was listening to my boyfriend Roy. Helen my driver had brought in the bed for me in case I wanted a lie-down but I was WAY too distracted by love. Til Dad got some lunch out for me, so I had lunch in bed instead which was a great idea – I might be in love, but a girl's got to eat!!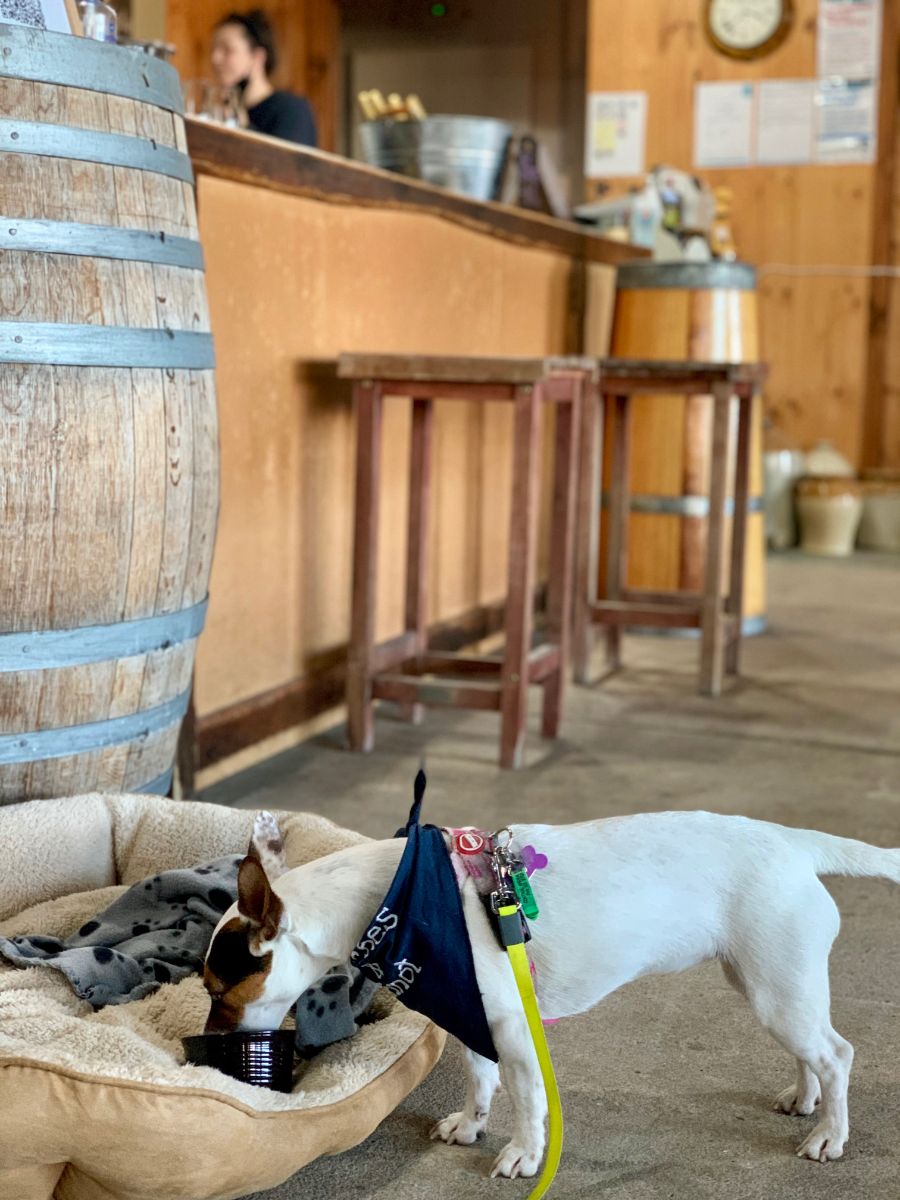 That of course made me thirsty but Megan had anticipated this and before I even had to ask – some water appeared on the counter for me!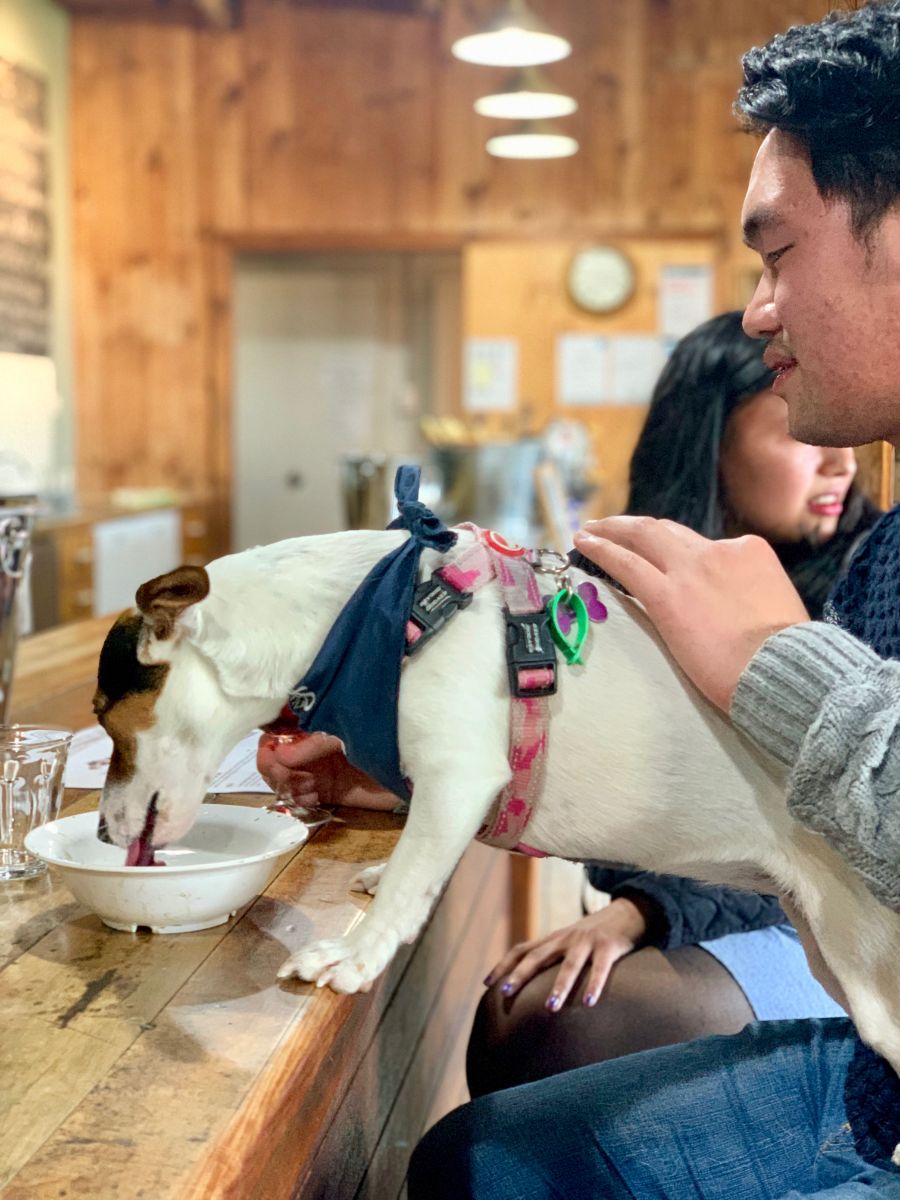 We had a GREAT tasting with Megan and I learnt heaps about their rose and why it's called One by One (planted 1 metre apart, in rows 1 metre apart) and found the whole experience really quite fascinating. It will come in handy, all this knowledge, for when I do my tree change and move to the valley to become a wine maker.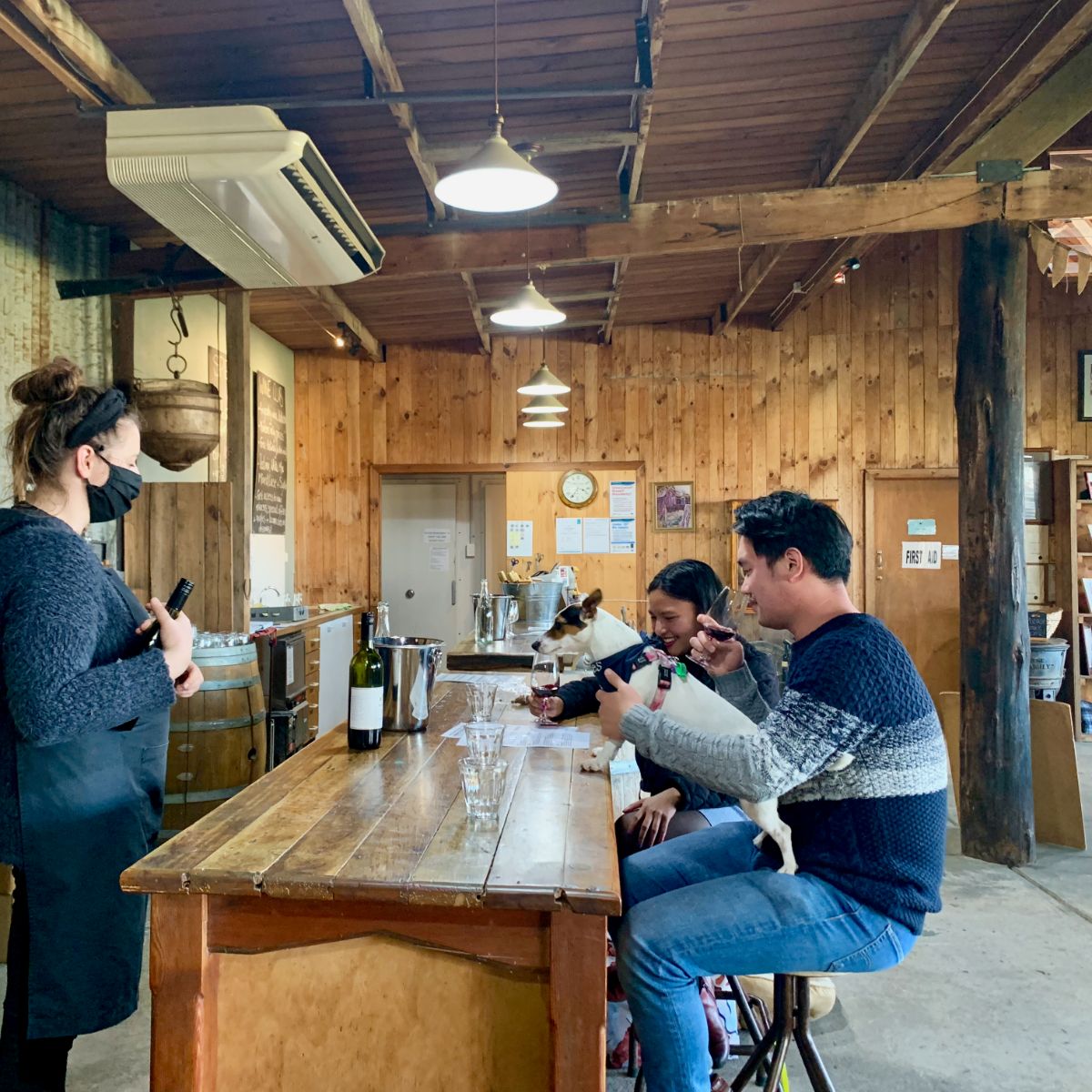 We bought more wine and apple cider too (which Mum & Dad said they could happily have for breakfast!) and clambered back into the van (I'd totally forgotten Roy by now because I was so excited to be off to yet another winery) – this time to try three more different ciders. We went to Punt Road which you can virtually see from Yering Farm, so I'd only just snuggled down between my folks on my blanky on the back seat (thanks Helen) when it was time to leap out and rush around again.
As we walked in there were, of course, more new people to meet and I did my duty and let everyone stroke me.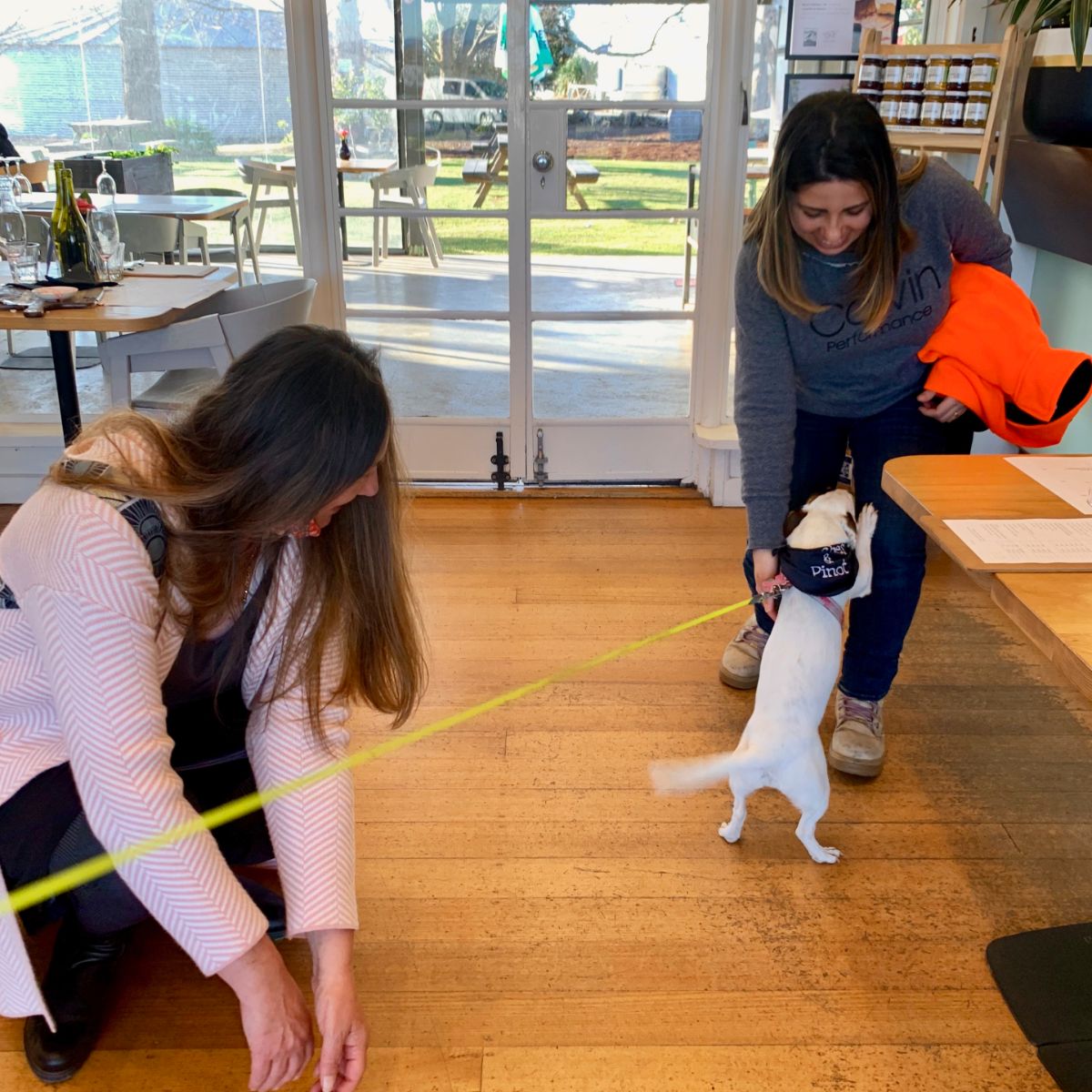 We stood at the counter for our cider tasting and if there's one thing I hate, it's being on the floor staring at everyone's ankles and missing out on what's happening, so Helen quickly figured this out and held me so I could join in and be with everyone. She's got great intuition like that. And let's face it, she understandably wanted to cuddle me and get white hair all over her blue jumper. Des poured 3 different ciders for my pawrents to try and all I kept hearing them say was 'Oh I REALLY like this one' – all day long in fact. Louis was their fave cider so they bought 6 Louis and we went for a scamper in the garden before climbing back on board the van.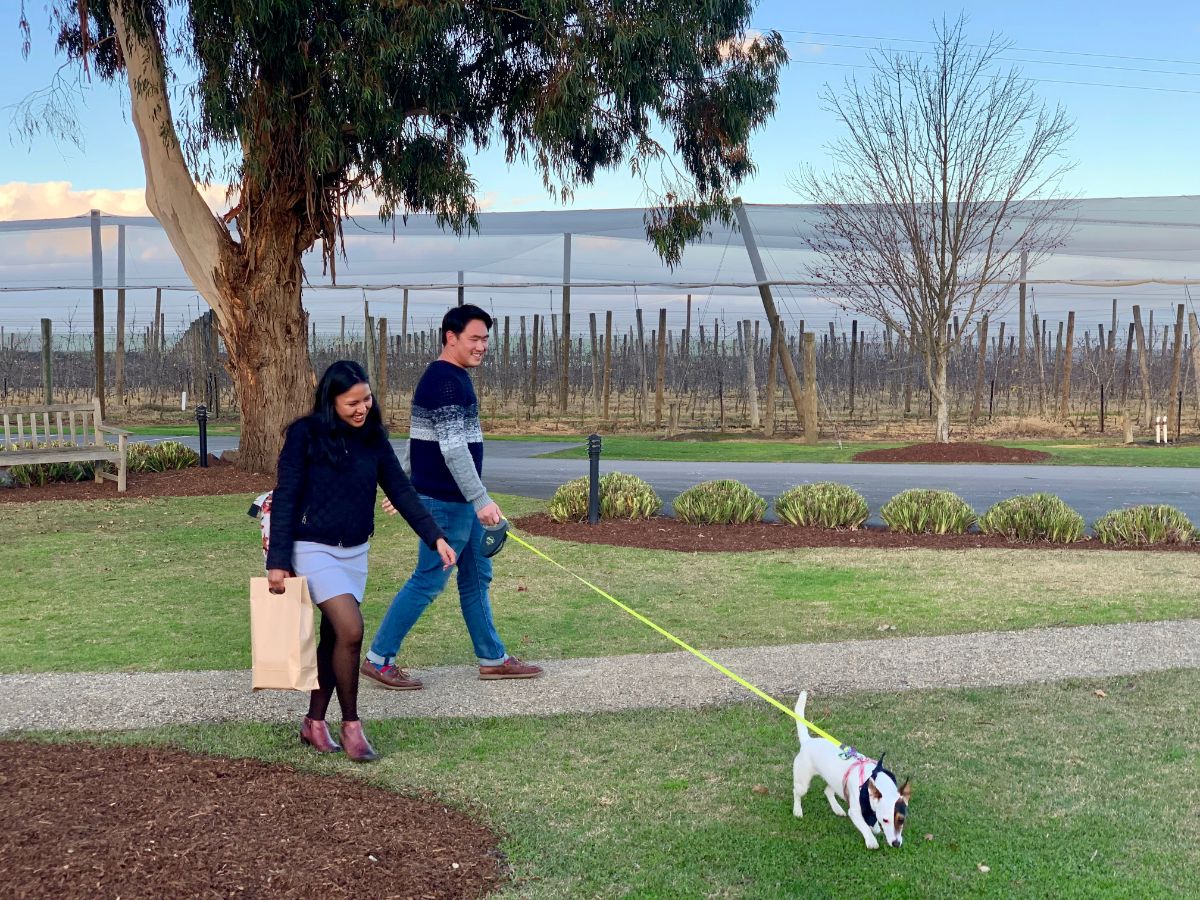 This winery is SURROUNDED by apple trees and I loved it – I could live here you know, and be in charge of these apples and make cider AND wine. I reckon it'd be a great life, chasing rabbits, greeting people as they arrive at the winery, getting pats and cuddles, scarfing down loads of treats and walks would be SO EASY, I'd just run around the farm. My poor Dad works in a hospital and he spent all day saying he'd like to live with me out here on a farm too. Helen says a lot of people say that when they're on a wine tour!
We had one last winery to visit – and it was TOTES different from the others as it's in a TOWN, I know right, how can that even be? Fortunately, it's in Healesville, the town we're staying in, so it's nice and close to home. So how it works, is, Paten & Jones grow their wines nearby and then their cellar door is in town and people come to the cellar door and try their wines there. So we weren't overlooking vines this time, instead, we were overlooking Four Pillars Gin Distillery (which Helen says we would love, as they ADORE puppies over there).
So, I got Helen to 'check me in' with her phone (because I'm not allowed a phone, too young apparently, not even allowed an instagram account!) and I race inside and met MEGS and I LOVED HER.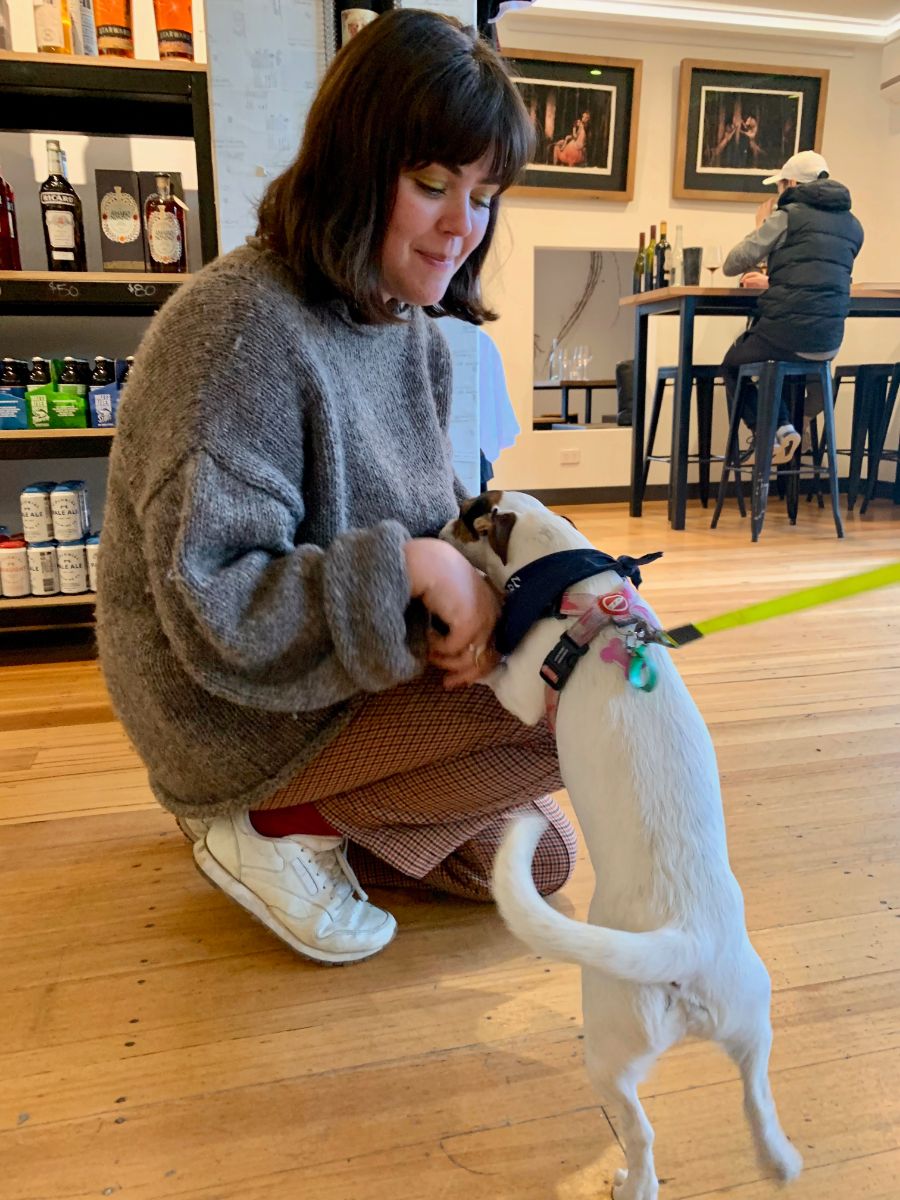 I gave her loads of kisses and then showed myself around a bit and settled into our own private VIP tasting room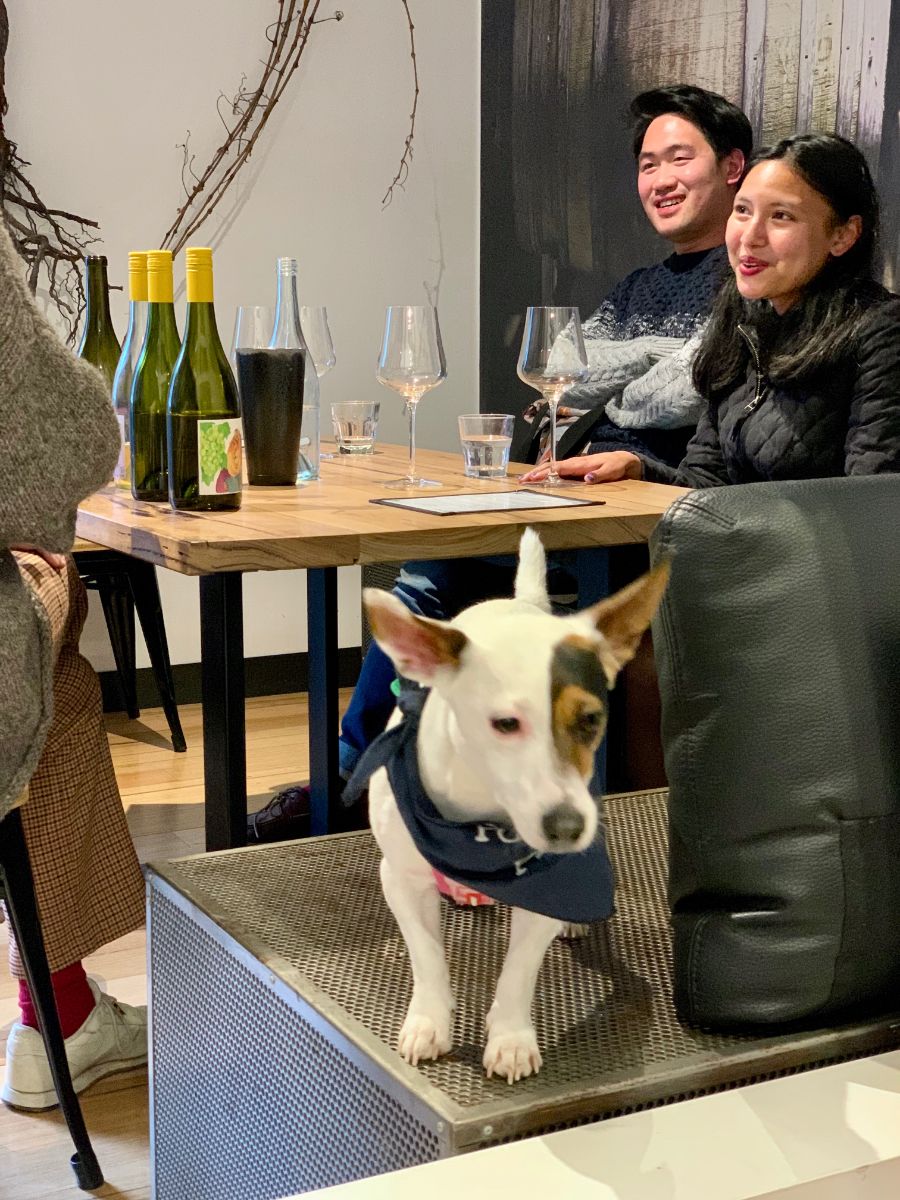 and it had this cool window ledge /gap in the wall so I could still be with my folks but also stand there and survey what was happening in the rest of the cellar door, which is REALLY important when you're as inquisitive / important as I am.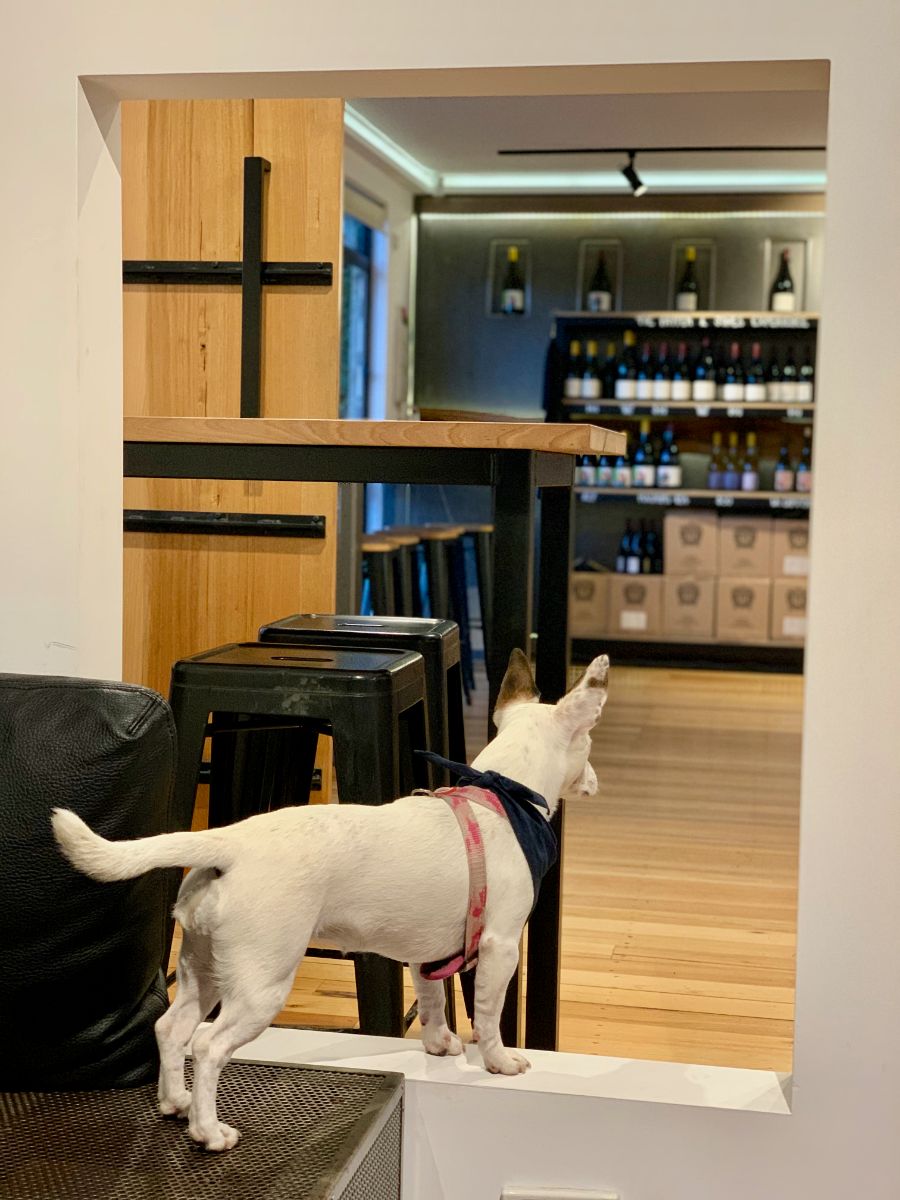 So I was on guard and kept everyone safe while they enjoyed trying HEAPS more wines, literally side by side, 2 glasses at a time.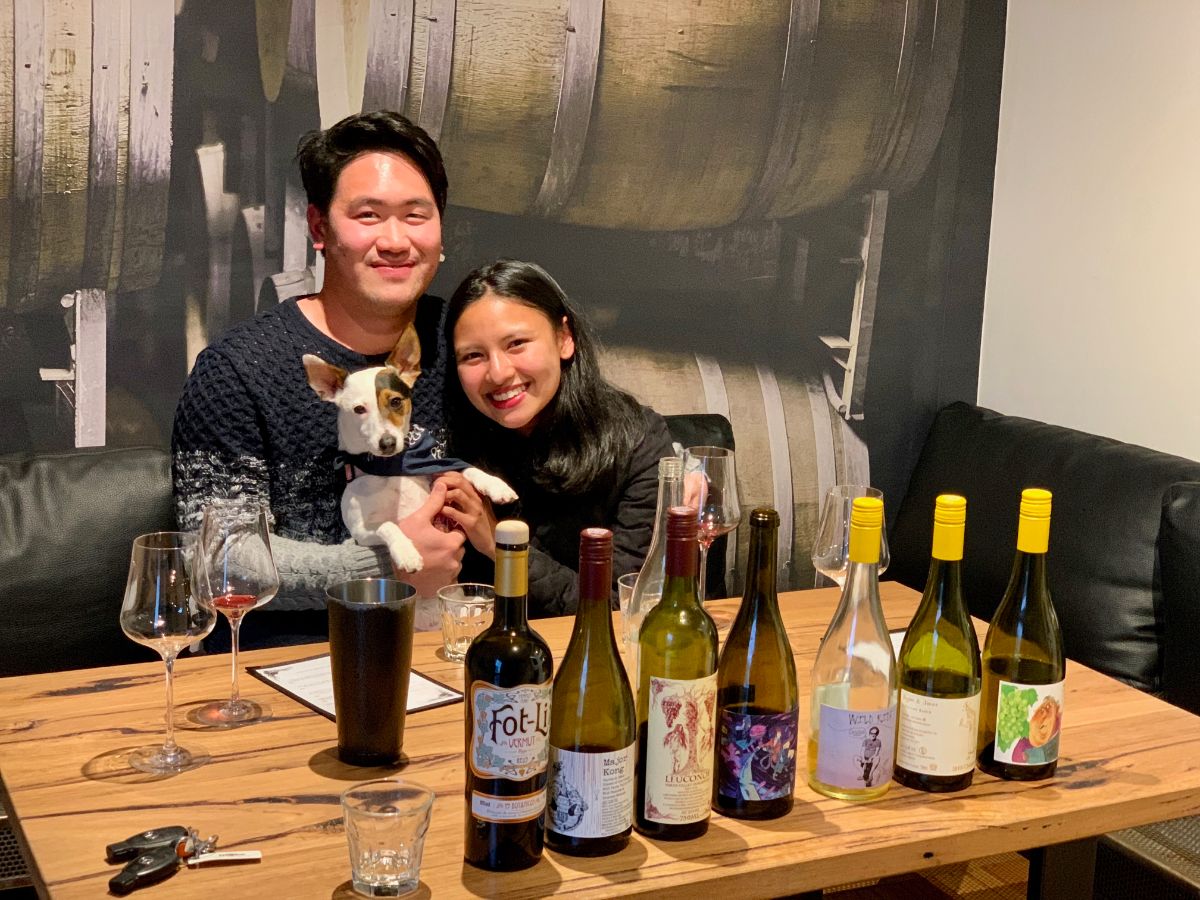 Megs was great and I listened carefully to everything she had to say, particularly about a wine I'd never heard of called Sangiovese, my ears pricked up when she said 'it goes really well with pizza'. I think I'D go really well with pizza too, I'll have to ask my folks!
Speaking of my folks, I was watching them closely and beginning to wonder how on earth I was going to get them up the steep driveway back to our apartment! Fortunately, Helen was watching them closely too and she and I had a little chat and I whispered in her ear that she might want to drive us as near to our apartment's front door as possible. She's a good egg. She did just that!! Good job given the number of bags of wine we had to carry inside too!! Not a bad haul for people who 'don't drink wine really'!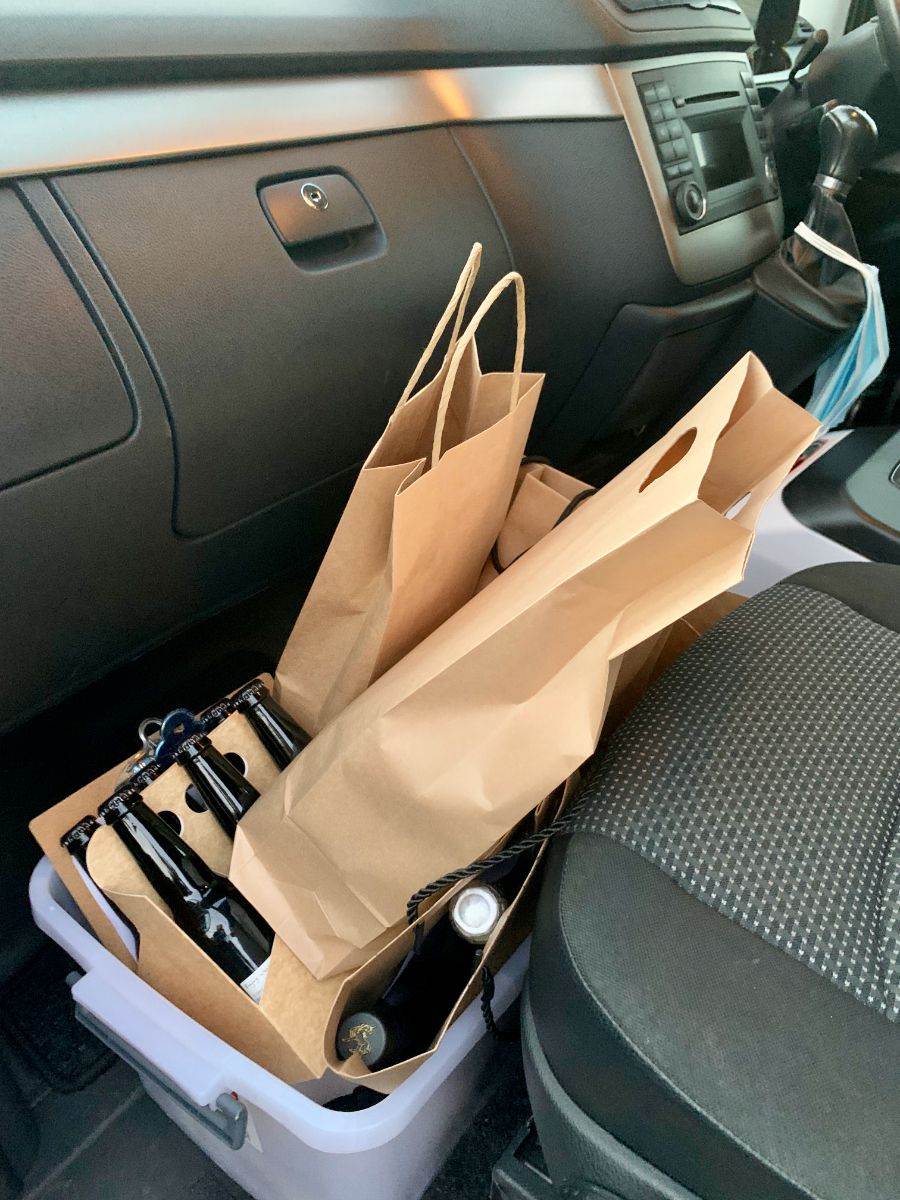 We are home now and all having a rest, even though it's only 6pm, but it was a HUGE day – think about it, my parents drank wine all day and I fell in love with countless people and Roy, I had liver treats and water at each winery and cuddles and met heaps of people and got in and out of the van 3 billion times and saw so much stuff out the windows, and sniffed trillions of new smells and was on guard the WHOLE time, so I reckon I'm going to sleep really well for probs a week as a result.
It's my birthday on 11 July so I will hopefully have just about regained all my energy by then – and d'you know the BEST part? My folks said repeatedly they can't wait to come and do another tour with Pooches & Pinot, and given they only own one dog I assume they mean with ME, and if so, I CAN'T WAIT because today has been so much fun and I've made so many new friends.